Learn how to draw a sunflower with these 25 simple sunflower drawing ideas with step by step sketch guide, printables and coloring pages. These sunflower drawings are ideal drawing projects for the upcoming season. Spring season is just around the corner and it won't be long before flowers will be growing almost everywhere – you will see them in pots, backyards, trees, and parks! Do you plan on taking your children to a lot of parks this spring season to help them connect with nature and have a great time? Well, then you need to tell them about different types of flowers by following these sunflower drawing ideas!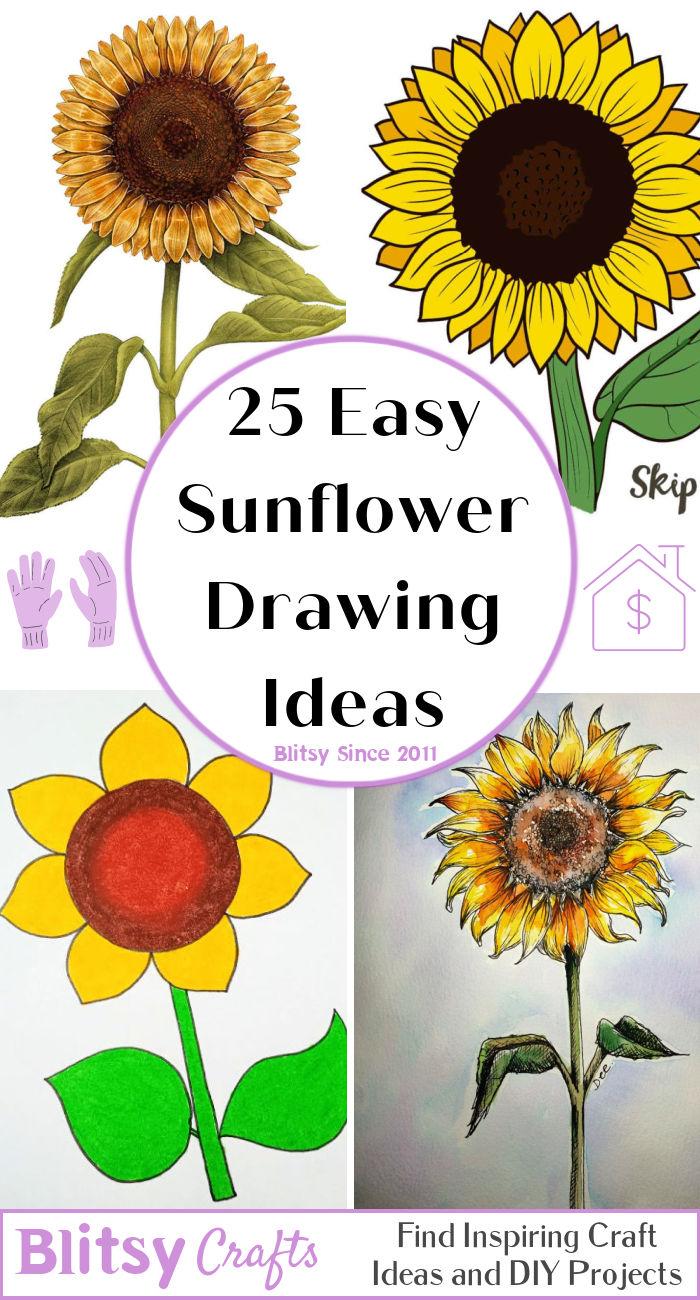 You can have your children look at all of these sunflower drawing ideas and let them pick out their favorite one. After that, ask them to draw these and you can tell them about flower parts and how they contribute to the ecosystem! If you're trying to become a better artist, then there is no better art design right now than sunflowers as they're trending and everyone loves drawing them! This sunflower drawings guide has a variety of projects for you – beginner ones, intermediate level ones, realistic ones, cartoonish ones, simple ones, and difficult ones!
1. Aesthetic Sunflower Drawing Step By Step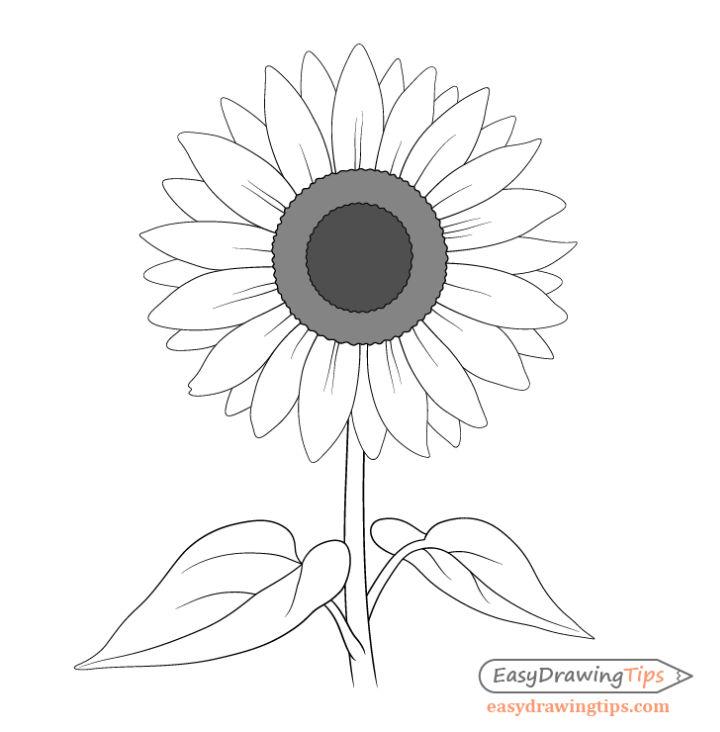 A sunflower drawing is a great first drawing idea for your little ones. If you want your children to learn to draw gradually, then a sunflower is an easier thing to draw and should be added in the initial few projects. Here's a basic guide that covers the whole process of drawing a sunflower in 9 simple steps which are easy to follow. easydrawingtips
2. How To Draw A Sunflower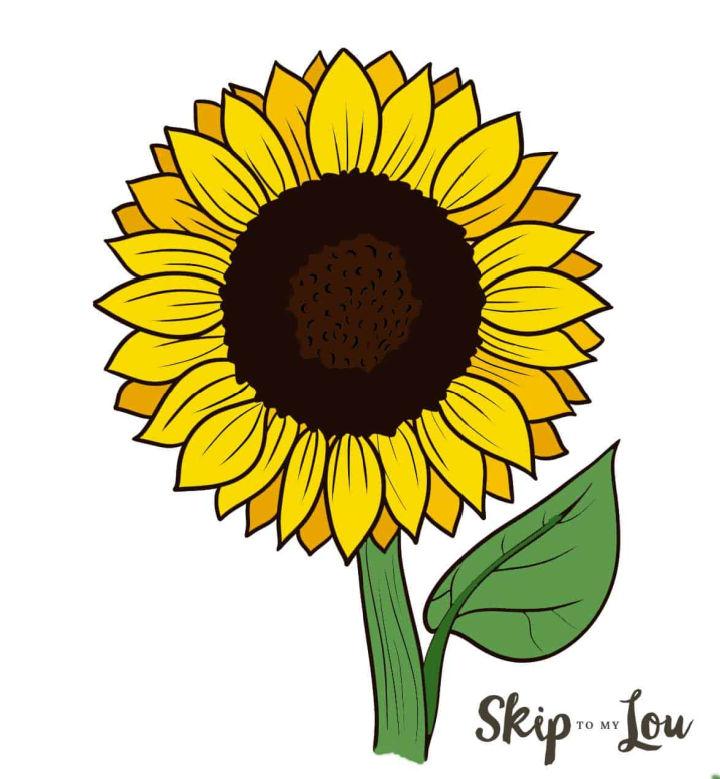 You might think that something as beautiful as a sunflower would be hard to draw and take many steps. However, you will be surprised to find out by following this guide that it is easy to draw. The sunflower sketch here is that you need to draw it cleverly as that will help you save your energy and time. So, are you ready to give this a try skiptomylou
3. Cute Sunflower Drawing For Kids

Little children can find it hard to draw complicated outlines and do shading. It is best to choose a project that does not include shading so your child can only focus on drawing out the outlines properly. Here's a really beautiful and simple drawing that can be completed in a few steps and then colored in with bright coloring pencils! You will love the final product. artprojectsforkids
4. Simple Drawing Of Sunflower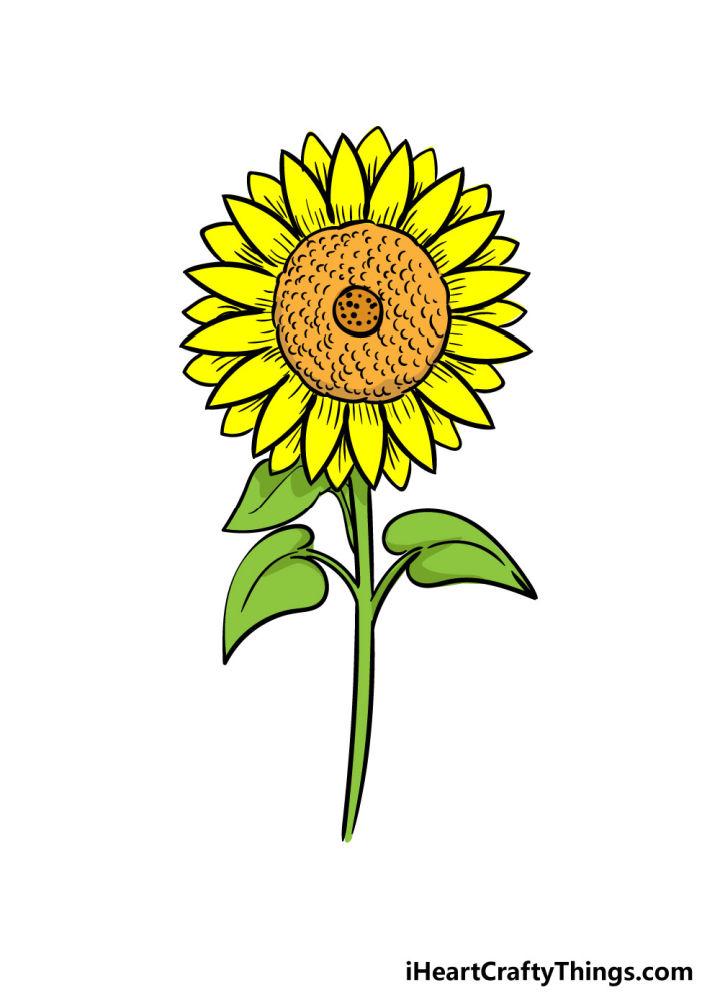 There are many different flowers in nature and it can be hard to draw most of them; however, sunflower is an exception! Why is that? It's simply because sunflower doesn't have a lot of detailing to it and its petals are usually simple without any lines or creases. This is why it's a great beginner art project to have your little one draw a sunflower-like the one in this plan. iheartcraftythings
5. Easy How To Draw A Sunflower

If you want to learn how to make a flower that looks similar to the ones in old animation or picture books, then this is the guide to follow. An artist needs to be familiar with all types of drawings as they can be asked to take on any projects. This is why you need to know this style of art to be a great artist. This sunflower has a really pretty faded color to it. easydrawingart
6. Realistic Sunflower Pencil Drawing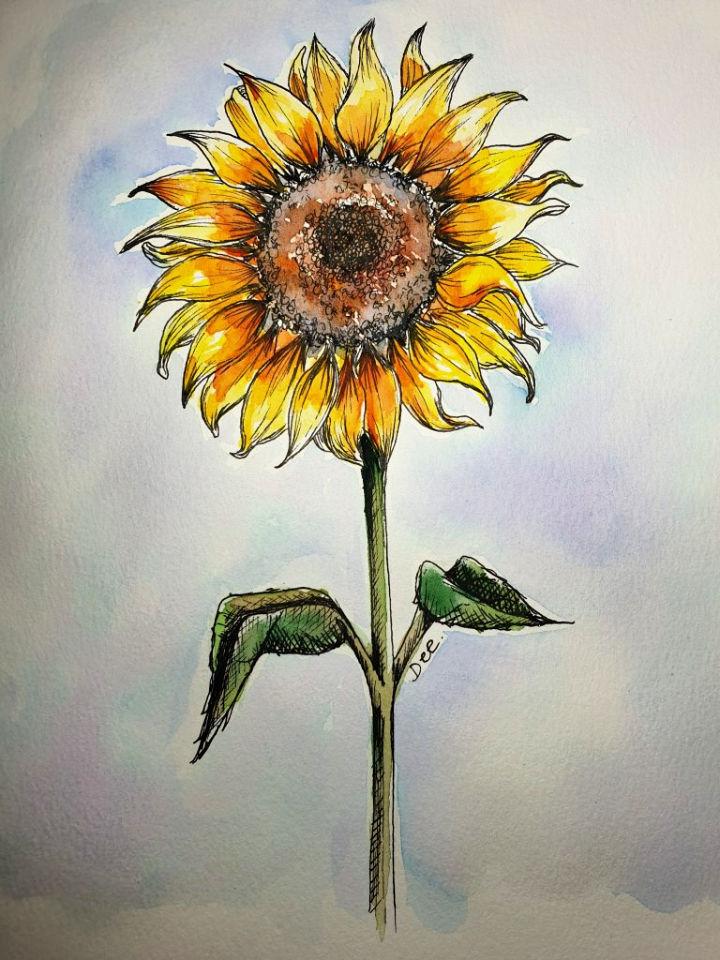 Are you at an intermediate level and looking for an art project that's a little difficult? Well, then here's the perfect challenge for you! This realistic sunflower drawing has so many details – the creases and lines on the petals and other details of this stunning flower – so it will take a whole to draw but the final product will be worth all the hard work! Are you excited to give this a try? artsydee
7. Sketch Sunflower Drawing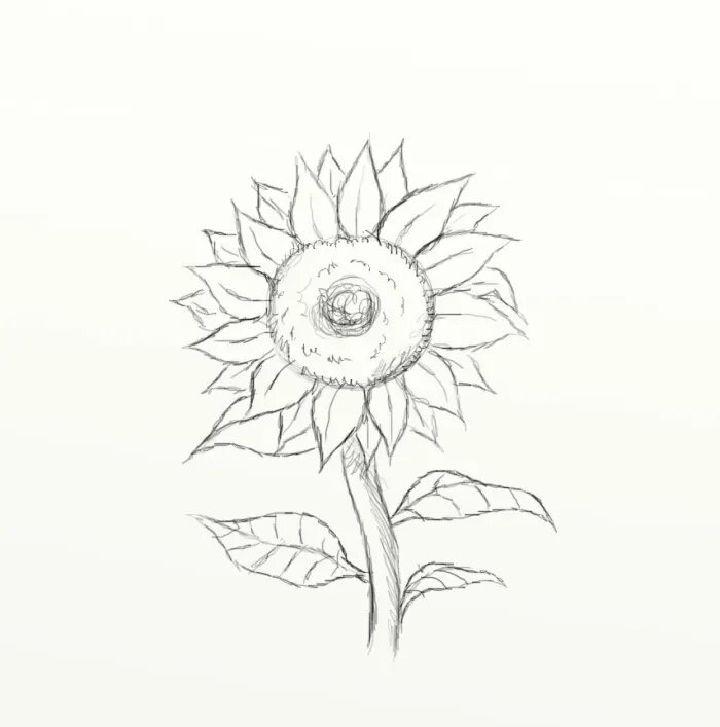 Most sunflower drawing ideas are for entertainment purposes; however, this project is for science students or anyone interested in learning about the life cycle of animals and how flowers contribute to that! This beautiful illustration has a really warm and wholesome vibe to it and can be drawn with labeling to study it. Isn't this exciting? feltmagnet
8. Outline Sunflower Drawing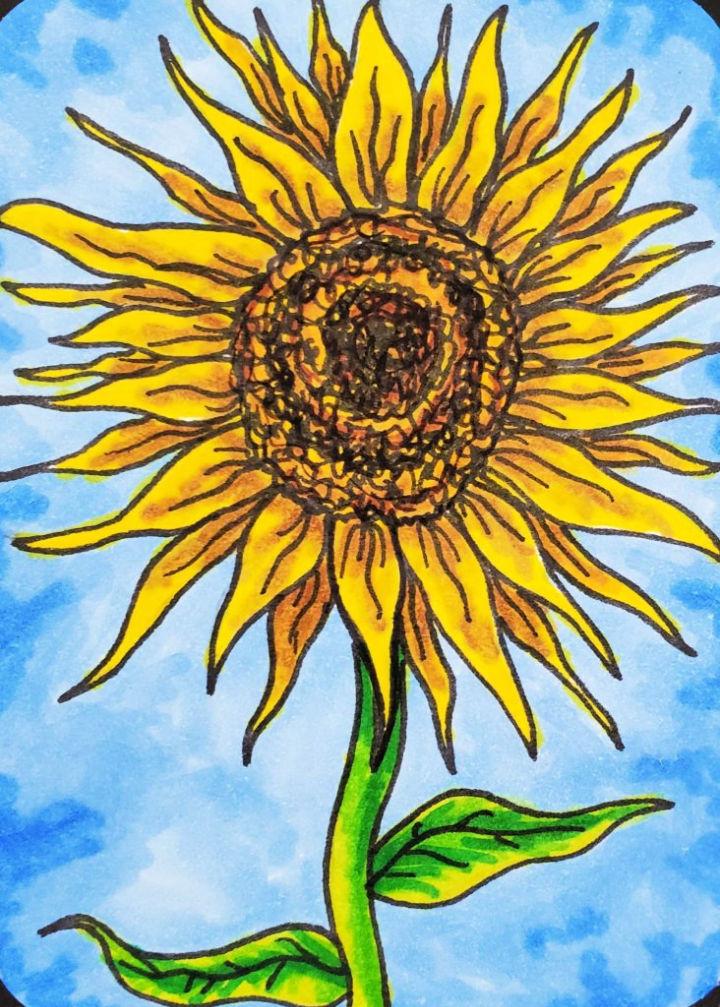 Here's a guide that will not only give you all of the steps to draw a sunflower in detail with descriptions and illustrations but also take you through the process of examining a real sunflower to draw it! Thin black marker, paper, cardstock, pencil, eraser, roll pen, and a few other supplies will be required for you to draw this stunning flower! artbyro
9. Basic Sunflower Line Drawing

Are you looking for a step-by-step guide that will take you through the process of making this beautiful sunflower? This flower has bright and vibrant yellow petals with an inner part that has the seeds detailed on it along with a beautiful thin stem and leaf. This is a great project to introduce to your little ones as they are going to have a great time re-creating it. easydrawingguides
10. Sunflower Drawing Pattern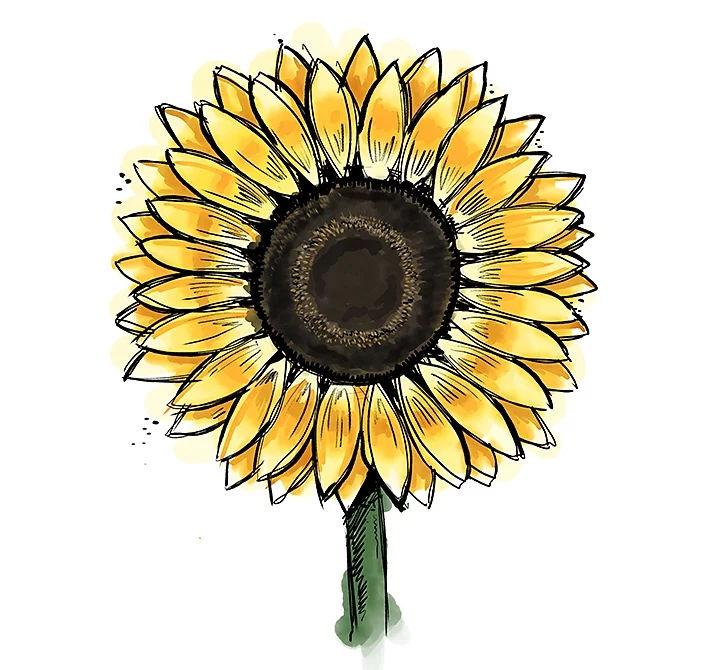 Here's how you can draw realistic flowers that are trendy in most cards and picture books these days. Sunflowers have always been the most underrated flowers but recently they picked up a lot of hype due to the trendy indie kid aesthetic. Sunflowers are now used in cards, digital art, website designing, and much more. Any good artist should be familiar with withdrawing it. adobe
11. Black And White Sunflower Drawing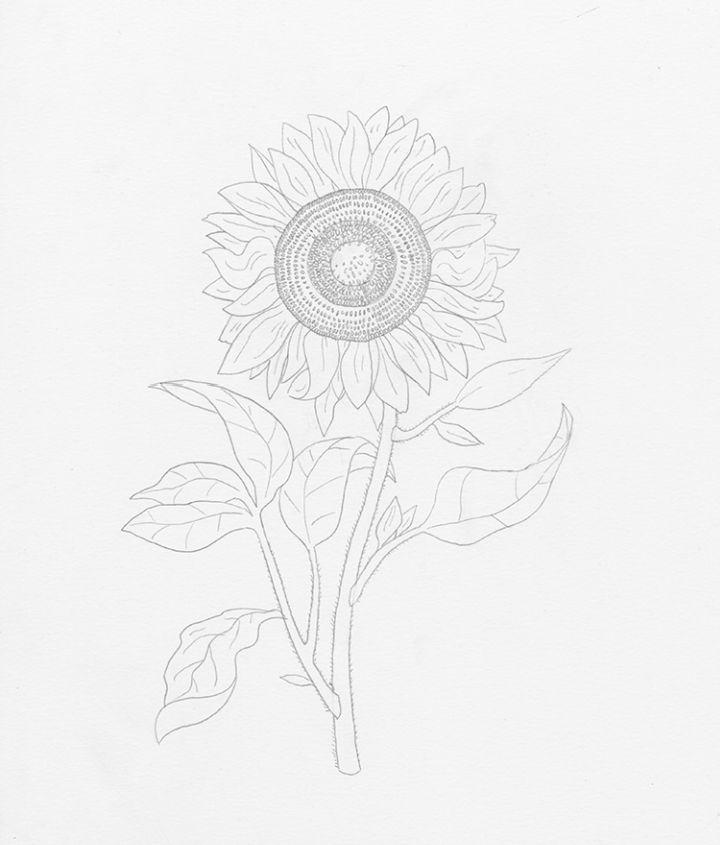 Many famous artists have drawn flowers and it is a big part of their beautiful art collection. If you want to be a famous or good artist one day, then drawing sunflowers can be a great beginner project for you or your little one. This flower isn't essentially tricky to make but you do need to draw it cleverly and this is why it's recommended to just follow this guide and all the steps. mymodernmet
12. How to Draw Sunflowers

Here's a guide that takes you through the process of making a sunflower through instructions that are quite descriptive. If you have a student in your art class who prefers instructions and learns better by following them, then this is the guide that you need to show him/her! The first few instructions are about drawing the outlines and then the others are about coloring and shading. dragoart
13. Small Sunflower Drawing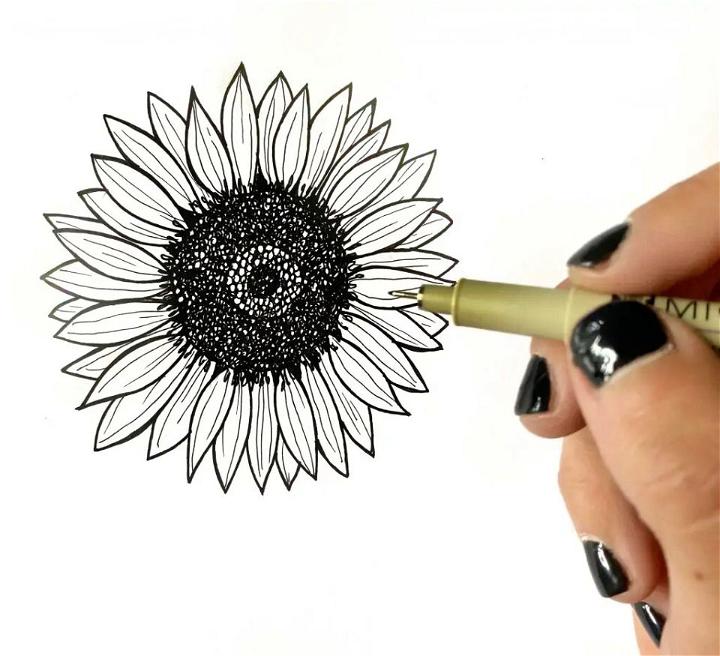 Don't you just love it when sunflowers are drawn using ink pens and the final product turns out looking detailed and dark? It can look really beautiful and this type of art is trendy these days as everyone is doing it to promote their art accounts. You can follow this guide to learn this special technique! Micron pens, Rhodia paper, pencil, eraser, and a few other supplies will be required. thehappyevercraft
14. Free Sunflower Illustration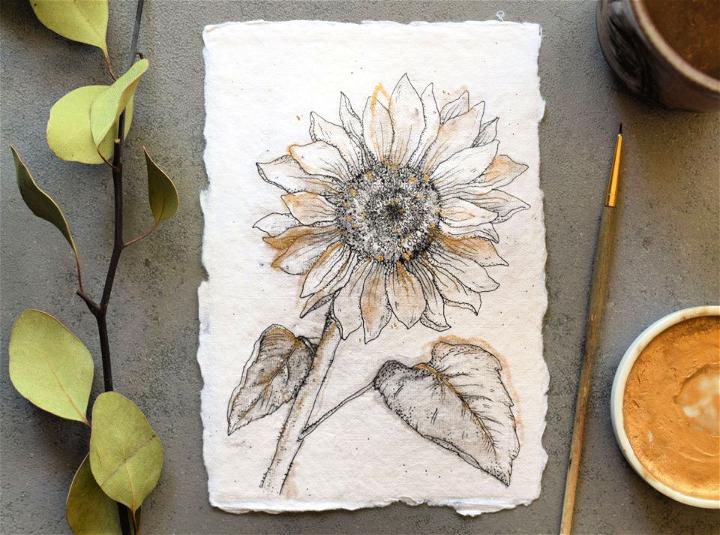 Who knew that a beautiful illustration like this one could only use a few basic supplies? You will need a pencil, a black pen, a gold watercolor, and a brush for this amazing project! In comparison to the other sunflower drawing ideas, this one is unique as the texture of the paper gives it a really pretty watercolor-like finish! Any beginner can follow this plan. thepostmansknock
15. Realistic Color Sunflower Drawing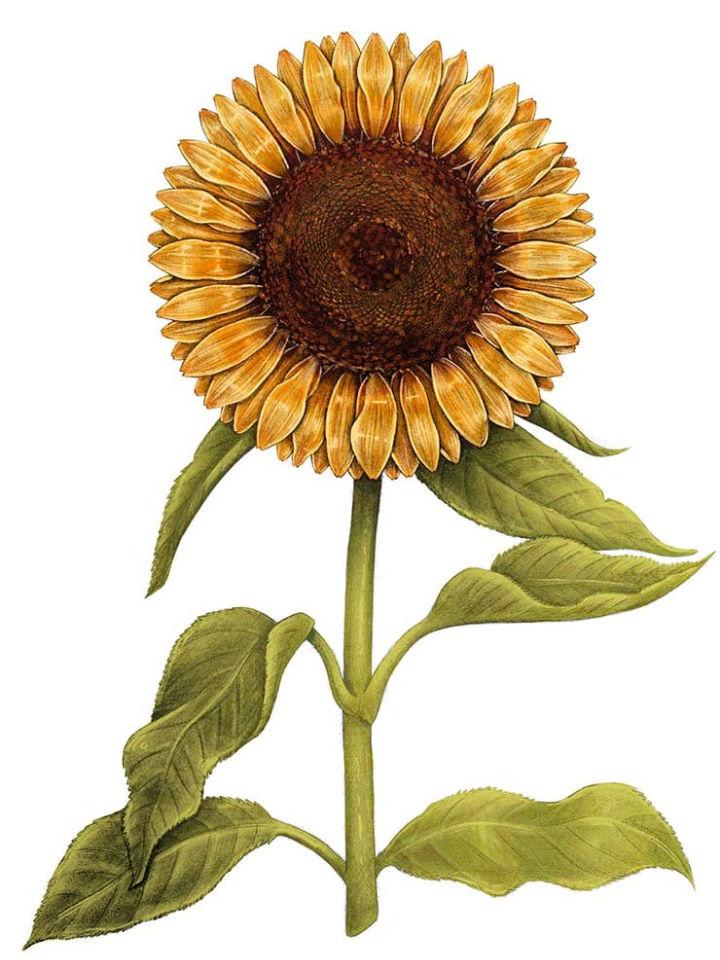 Beginners can often find it hard to start drawing a sunflower as they might not know where to start. It can be a little complicated to think of the whole process of drawing a flower in your head. If you have not been guided to draw flowers in your art class before, then this guide is all you need to learn how to do so! Just follow the instructions step-by-step. riverosillustration
16. Easy and Fun to Draw Sunflower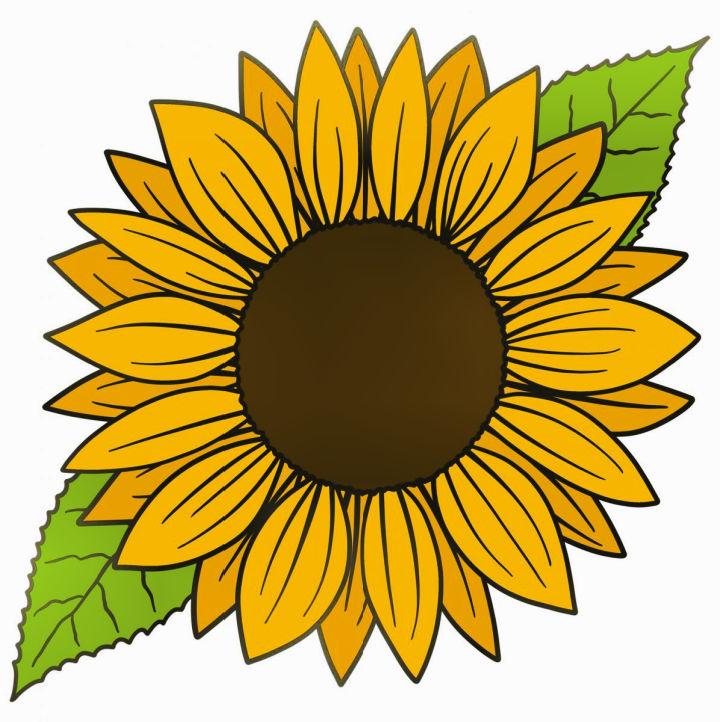 A sunflower like this one is trendy these days and is printed on different things such as notebooks, backpacks, and other accessories. Many indie aesthetic kids are also using this as their wallpapers. So, if you want to make your drawing famous, then this is a great sunflower to draw and add your customizations to! designbundles
17. Draw Sunflower from Plants vs Zombies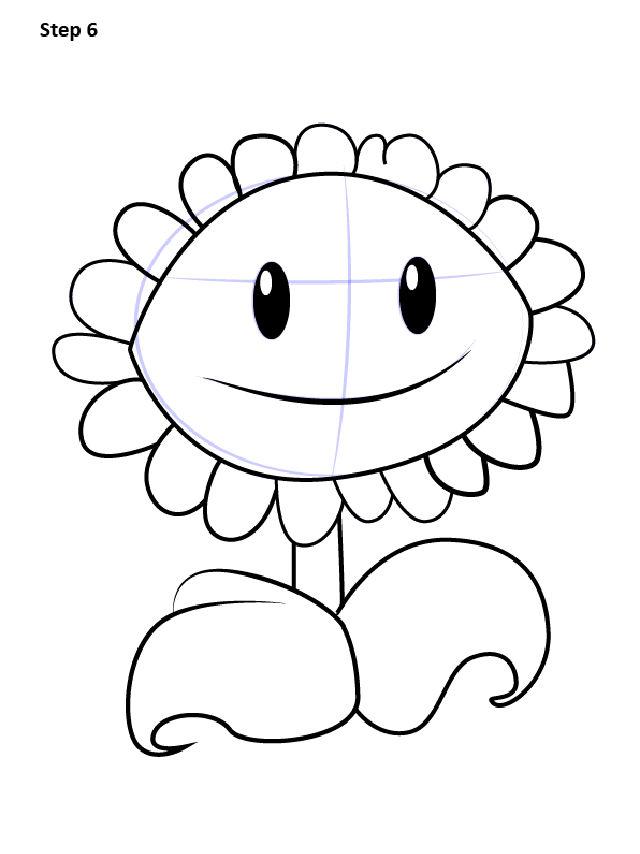 In comparison to the other sunflower drawing ideas, this one is quite different as it features a friendly-looking face. This one is perfect for children's picture books or just to have your little one re-create. This is not only going to help your child to practice their motor skills but also make them happy. Three different options are available to view – standard, printable and step-by-step. drawingtutorials101
18. How To Draw Sunflower With Paper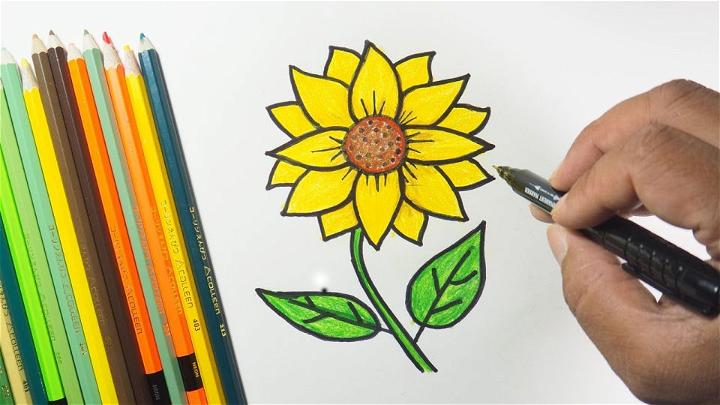 Every parent wants their little ones to be happy and healthy at all times. However, today's education system can make it very hard for little ones to live without anxiety. If your child is unhappy or not feeling upbeat, you can introduce them to this stunning project which will instantly lift their mood ad drawing releases happy hormones into your body!
19. Sunflower Drawing For Kids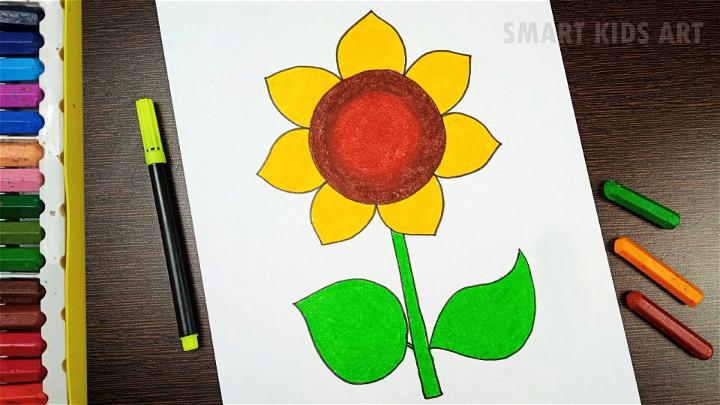 Here's a quite basic sunflower drawing idea which is something that parents or teachers can introduce to their children who are still practicing outlining and not too good at it. Why is that? It's simply because this guide has very straight and basic outlines that are easy to draw. Moreover, this project mostly includes the fun part – coloring with different and vibrant coloring pencils!
20. Sunflower Petal Drawing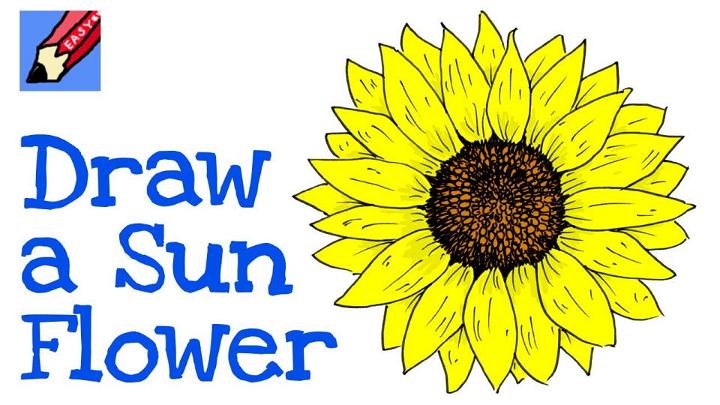 Do you want to learn to draw a realistic-looking sunflower? This plan is one of those which include clever drawing hacks and is super easy to follow. The final product will release happy hormones such as dopamine and serotonin in your body as this drawing is so easy to make and the final product looks professionally made! Don't you just love it?
21. How To Draw Cartoon Sunflower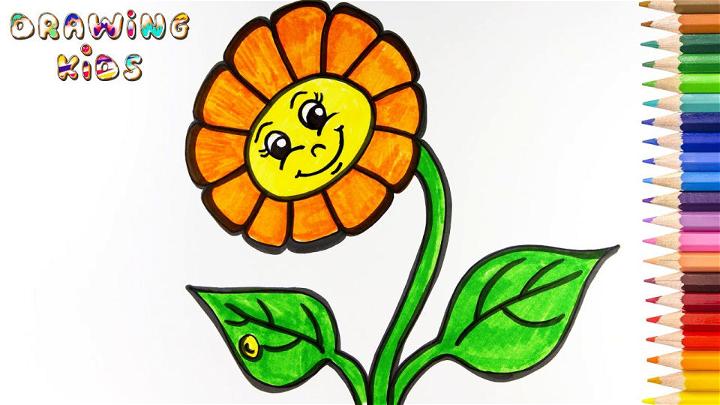 Kids love drawing objects that have smiley faces on them as it makes them think that these things are real! It can be really enjoyable to have your little one draw this beautiful sunflower with an adorable face and cute stem with two leaves on it. Only a few basic supplies will be required- paper, pencil, colored pencils- and you probably have them at home.
22. Sunflower And Butterfly Drawing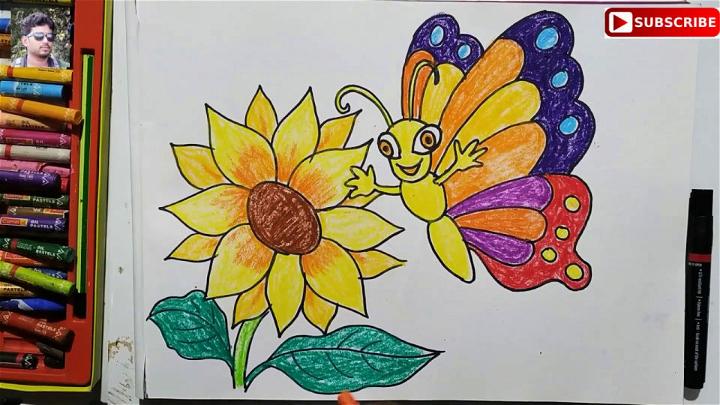 Is your little one finding the chapter on plant reproduction a little hard to grasp? Well, it can be a little hard for them to understand how butterflies play a huge role so you can make this easier for them by having them draw this illustration and telling them all about it in simple words. Pollination occurs with flowers and insects such as butterflies and bees.
23. Super Easy Sunflower Drawing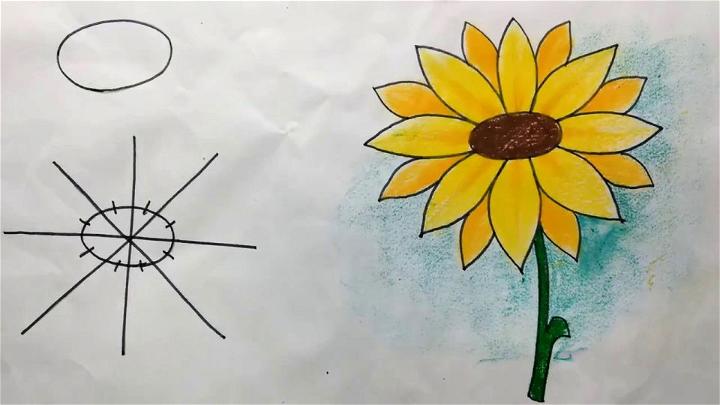 Do you want to teach your child to draw only by drawing outlines? Well, then here's the perfect guide to follow as it will first make a few outlines and a circular shape in the middle – make sure to use a light hand and light-colored pencil for this as it will be erased later. After that, the rest of the illustration is drawn over these lines.
24. Draw Color Sunflower Drawing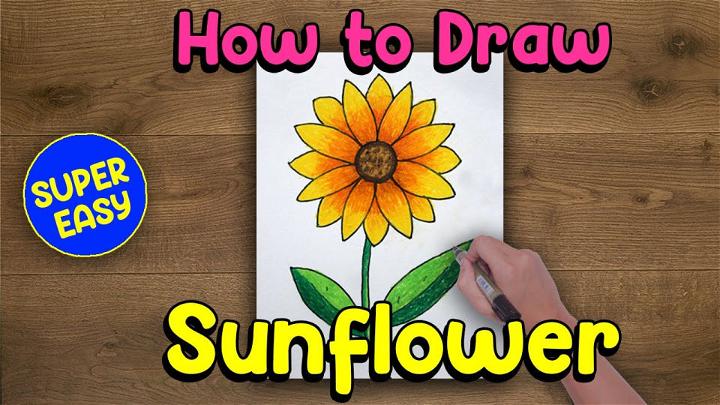 Oil pastels can be exciting to your little ones as painting is something unique and different for kids. If you want to make a sunflower using oil pastels or have your children do it, then here's the perfect project to follow! Camel oil pastels, a pilot sign pen, and a drawing book are all the basic supplies that will be required for you to make this stunning art!
25. How to Draw Sunflower Step by Step Instruction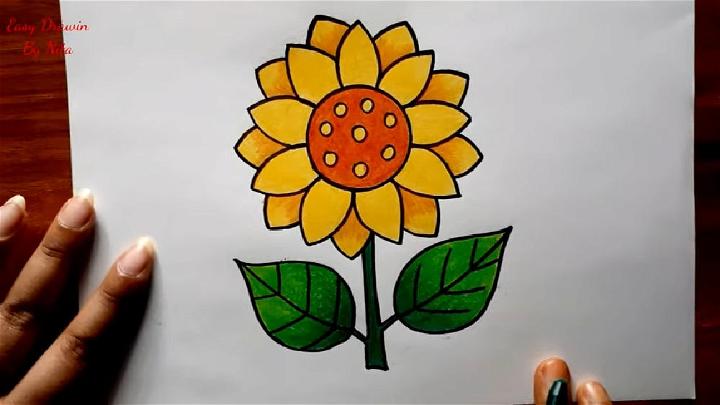 Do you want to teach your little one about the different parts of a flower? It can be a great idea to do so before the spring season as that will be a time when flowers will be growing everywhere and you will get a chance to examine them in real life too! Introduce this amazing video tutorial of drawing a sunflower to your little one and tell them all about the different parts of the flower! youtube
Related Drawing Ideas:
Star Drawings: Learn how to draw stars with simple shapes, from the basic five-pointed star to more complex patterns like the pentagram and the eight-pointed star.
Tree Drawings: Explore these tree drawing ideas that can be a lot of fun and offer room for creativity. Use our easy guide to learn how to create the tree drawing in different styles and with different objects.
Sun Drawings: Looking for easy, simple to understand how-to drawings for your kids? Look no further! Here you will find step-by-step instructions on how to draw a sun – even if you're an artist that doesn't know how to draw.
Conclusion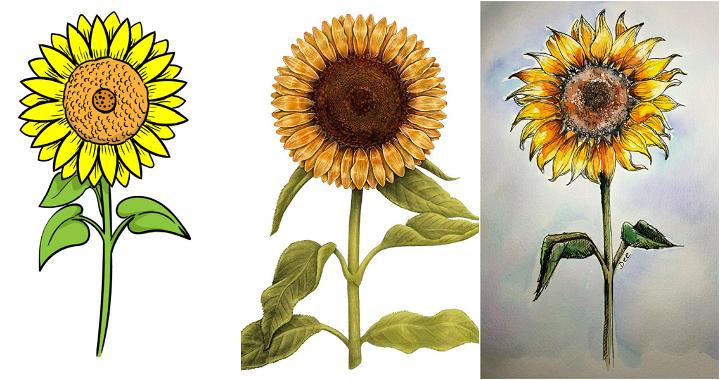 So, are you ready to experiment with these amazing sunflower drawing ideas? It can be really exciting but you need to keep a few things in mind before getting started. Firstly, make sure that you have all the supplies mentioned in the guide. It is recommended to go for the exact stationery brands if you want even better results. Secondly, make sure to place a newspaper on the table so it doesn't get messy if your little one is using acrylic or oil paint. Lastly, make the sunflower drawings session enjoyable for your little ones by encouraging them!