Learn how to draw a tree quickly with these 40 easy tree drawing ideas are perfect for kids and adults art projects and will surely inspire their cretivity! Spring season is just around the corner, which means that your children will have a long and relaxing spring break! What better way to enjoy vacations than to go out in the sunlight, sit on your balcony and make diagrams?
Sketching can be really therapeutic, and people usually tend to enjoy it a lot – it can be stress relieving and make their art skills better! If you're an aspiring artist or just want to relax, then these easy tree drawing ideas are definitely what you need! You will end up learning to draw every tree under the sun – and enjoy it.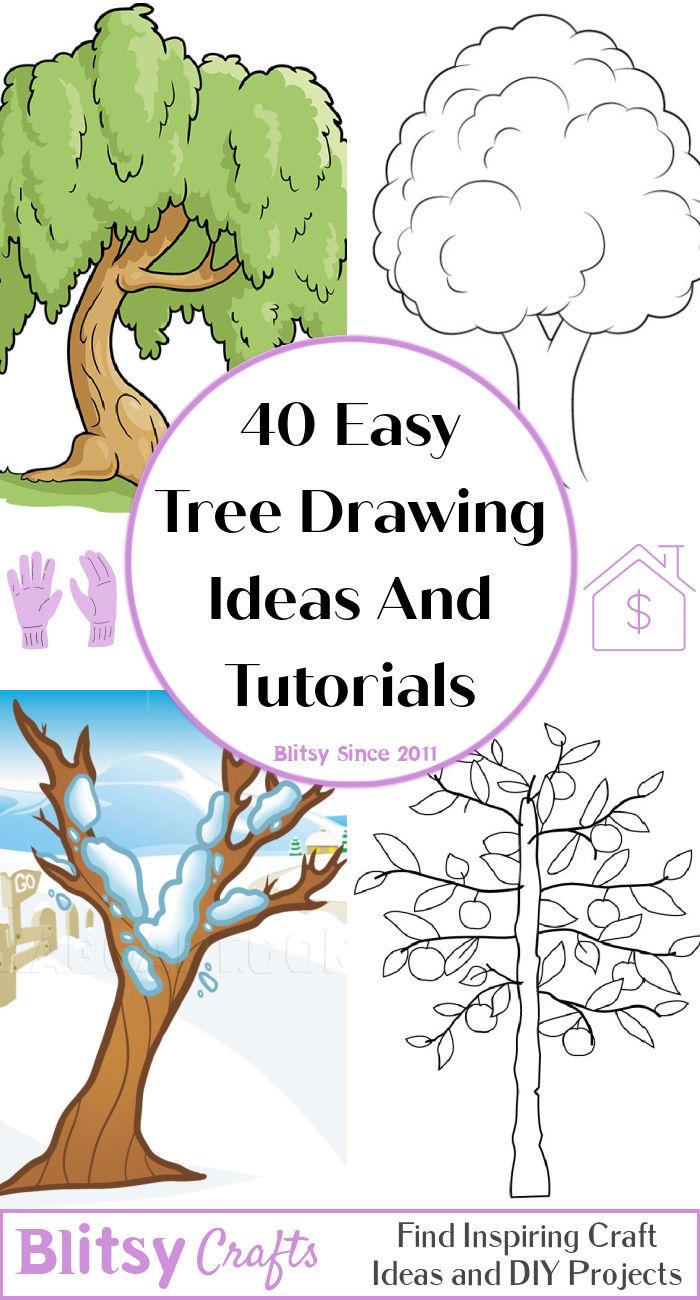 The best part about these tree drawings is that they're all different. There are so many different types of trees on this planet, and it's hard to find sketching guides on all of them. However, this article has many cool trees to draw , and it's more than likely that your desired tree will be a part of this article!
You just need to go through all the tree drawings and pick out the one that you want to draw. If you're not so sure about what you want to make, it's recommended to start off with the beginner options. This article has many different tree drawing ideas – pine trees, cartoon trees, root trees, cherry blossom trees, palm trees, bonsai trees, etc. Just explore the given list of simple tree drawings including step by step instuctions, video guides, free printables and coloring pages to download.
1. How to Draw a Tree for Beginners

Are you a beginner and want a step-by-step guide that will take you through the whole process of drawing a beautiful tree? Then you should definitely hop on to this amazing guide! Furthermore, there is no shading involved, so any beginner can easily grasp this concept and work on their tree drawing skills. Are you excited to give it a try? You will only need a white paper and a pencil! drawingforall
2. Drawing of a Tree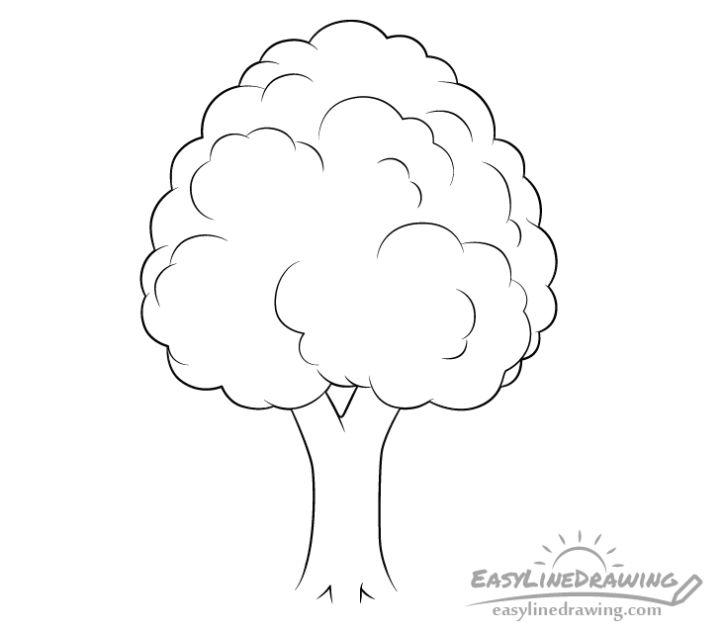 If you want to make a tree that looks a little more cartoonish – then this is the project to follow! There can be many times when you might need to use a tree-like this in your art – maybe when you need to make a comic or make anime-based art. You should definitely learn how to make a tree like this one, and this is the perfect guide to follow if you want to do so! This drawing is also perfect for toddlers to learn. easylinedrawing
3. Easy Way to Draw a Tree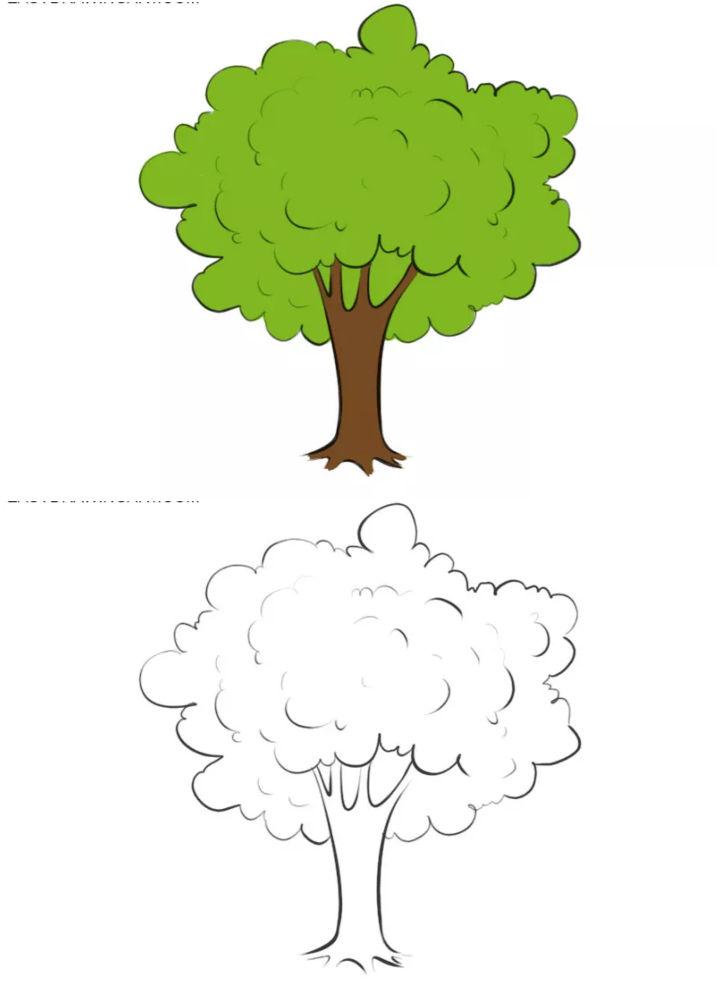 Do you want to paint landscapes in the future and want to get started with the basics so you can get there sooner? Well, one of the most important things you will need to learn is to draw a tree. Here's a great step-by-step guide that will make your tree drawing skills flawless! This guide has eight steps, and any adult, teenager or toddler can follow this quite easily. Start off by preparing your pencils. easydrawingart
4. How to Draw a Realistic Tree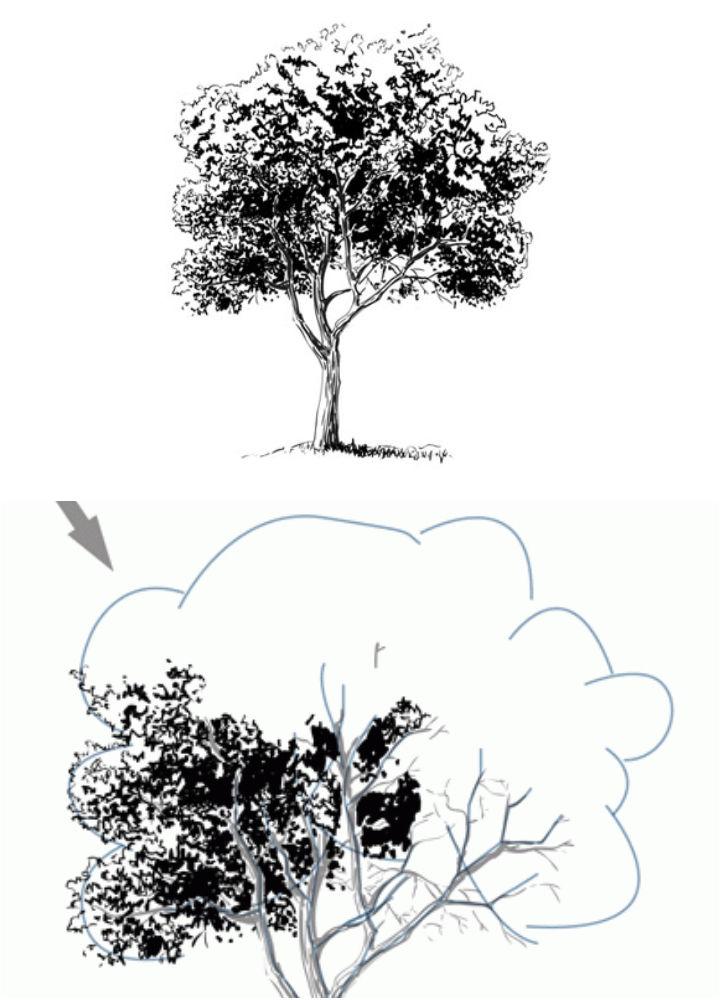 After perfectly nailing your simple tree drawing, you can move to a complicated version – a realistic looking tree! This tree turns out looking absolutely stunning as a lot of shading is involved in this type of sketching. However, once you learn to make an amazing sketch like this – it can really take your art from beginner to intermediate level! So, are you excited to give this a try? It's going to be fun. sketchbooknation
5. How to Draw a Tree with Roots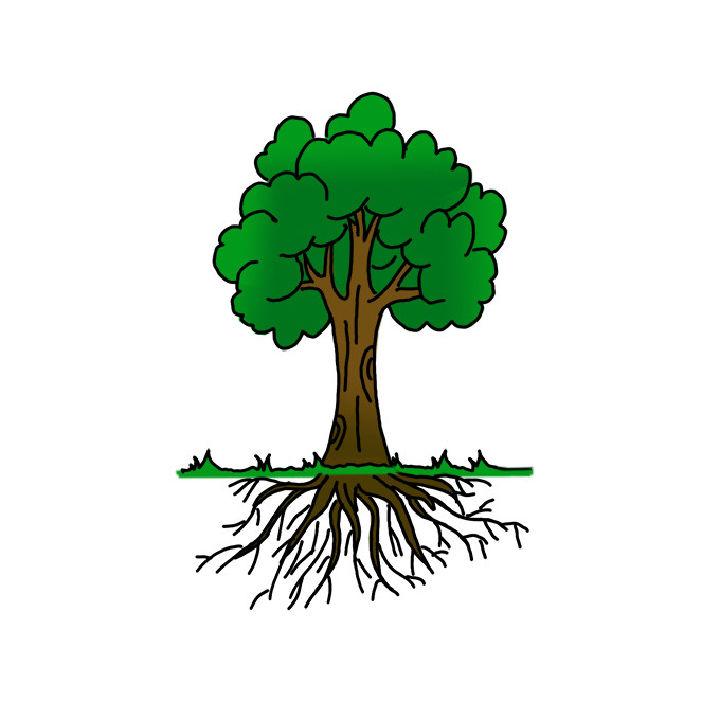 Many tree diagrams miss a really important part of the tree – the roots! Without the roots, no tree can stand on the ground, so you can include them in your next tree diagram to portray this message! However, it can be really hard to draw roots for beginners, so you can follow this amazing guide which will teach you to make roots and make your tree diagram look absolutely stunning. drawinghowtos
6. Tree Drawing for Kids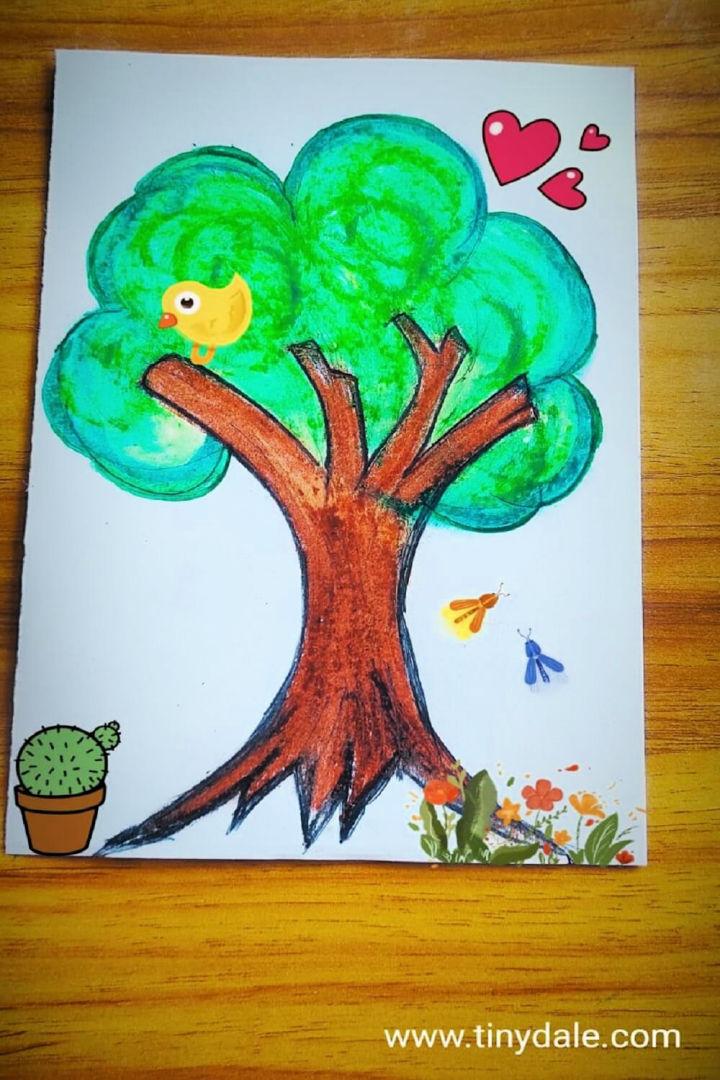 Children tend to have really creative minds, and a simple tree diagram won't interest them enough. If that's the case with your child, then you can show them a fun diagram like this one – it has a beautiful tree with a bird on it, while at the bottom of the tree, there is a girl standing and a few flowers; around her! Your child is going to have such a great time following this guide and making this sketch. tinydale
7. How to Draw a Winter Tree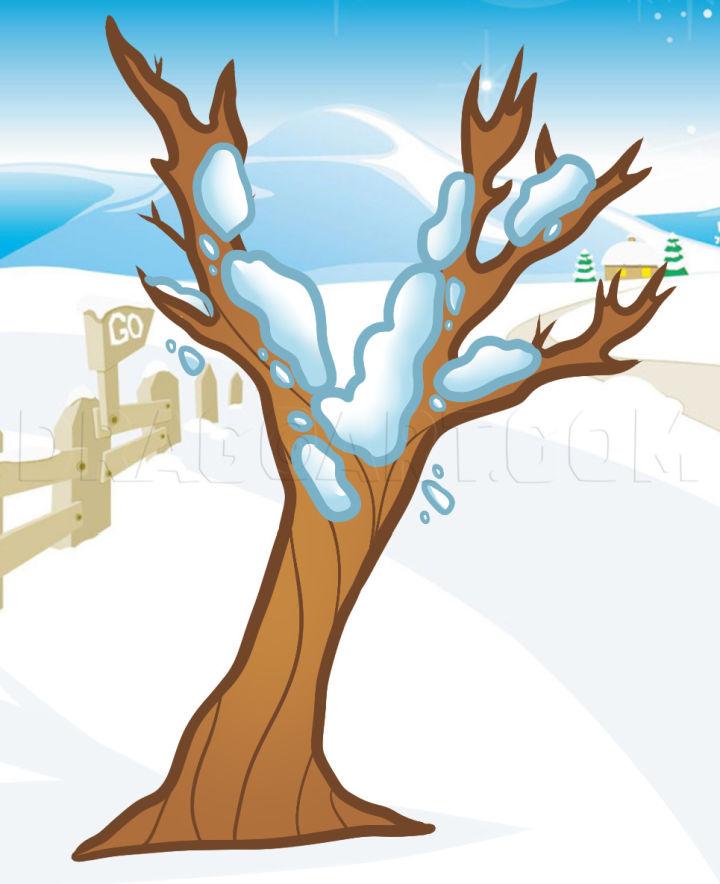 The holiday season is finally here, and it's the perfect time to introduce this winter tree drawing to your children. A diagram like this would be perfect for the season as it will match the festive season and the vibe around. Moreover, this tree has no leaves, so not a lot of detail is required, which makes this an easy project! You just need to draw a branch with some snow on it. Isn't that amazing? dragoart
8. Cherry Blossom Tree Drawing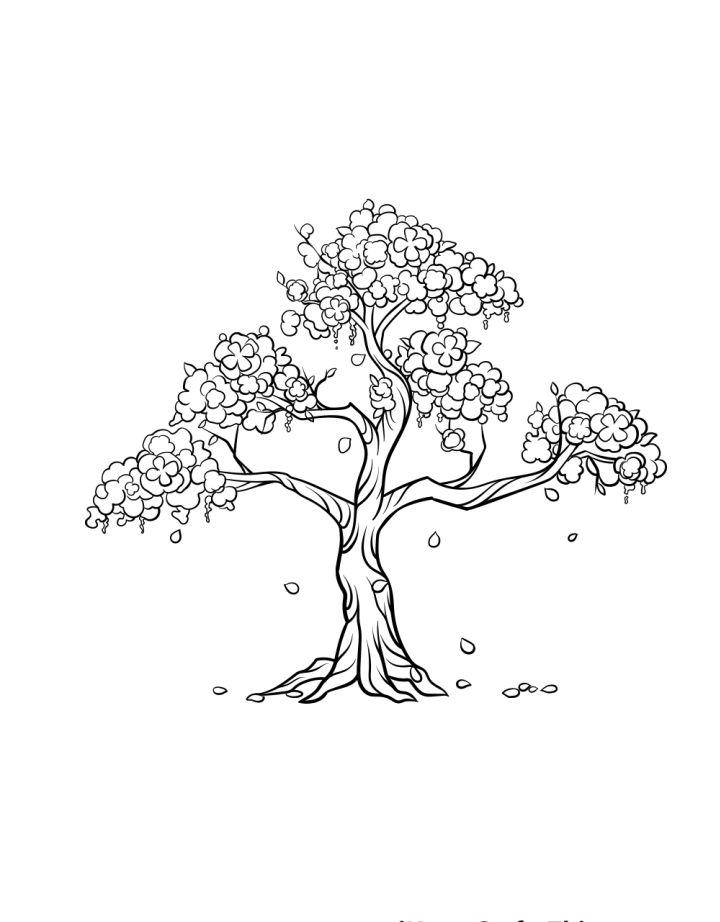 Spring season is just around the corner, which means that it's the perfect time to prepare to introduce this beautiful cherry blossom tree to them! It's going to be so much fun to draw by following this guide for them, and you can tell them all the facts about cherry blossom trees! These beautiful trees originate from Japan, and they have a beautiful pink color, which will make a really pretty drawing. iheartcraftythings
9. How to Draw a Fall Tree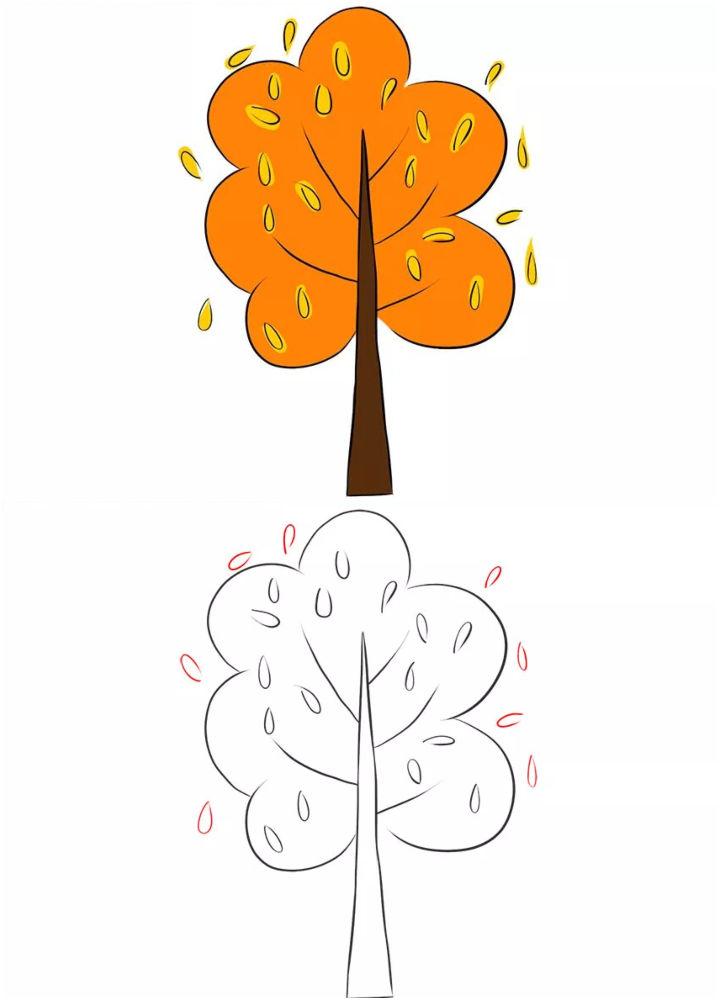 The fall season is the time when your children will start spending a lot of time inside the house as it starts getting too cold outside. You can make this boring time enjoyable for them by introducing them to this beautiful fall tree diagram! It has really pretty colors used – from brown to orange to yellow. This is really easy, and beginners would love this step-by-step guide. So, are you ready to give this a try? howtodrawforkids
10. Palm Tree Drawing Step by Step Guide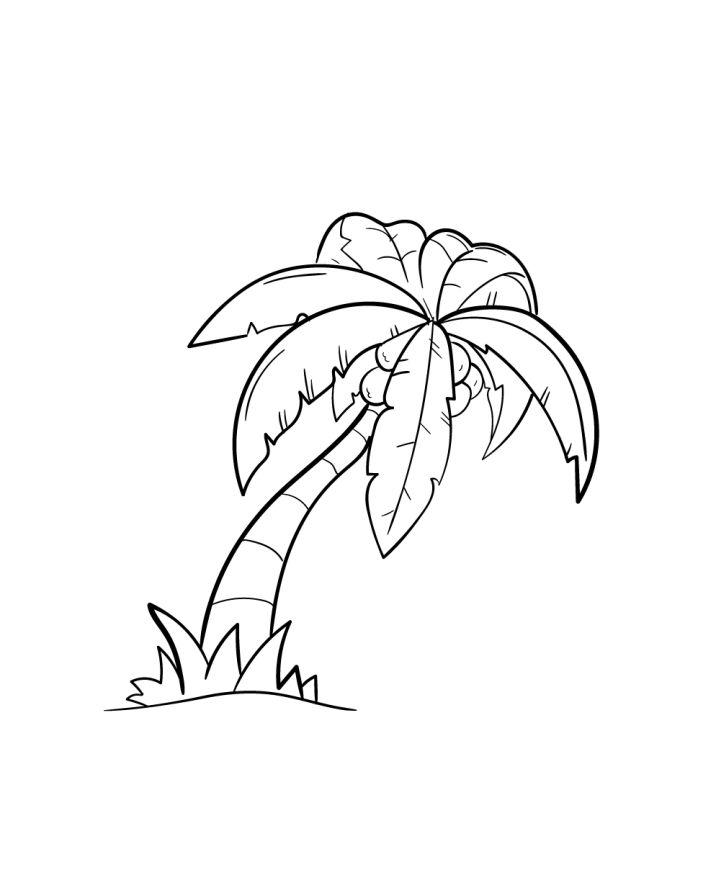 Palm trees remind everyone of the summer season and Hawaii! Do you want a summer theme in your room or apartment? Well, then you need to draw your own palm tree that can be hung up on the wall to create that summery vibe! Here's a great guide that will take you through all the steps. It's a good guide to follow for those who can get easily overwhelmed, as the process is broken down into steps. iheartcraftythings
11. How to Draw a Family Tree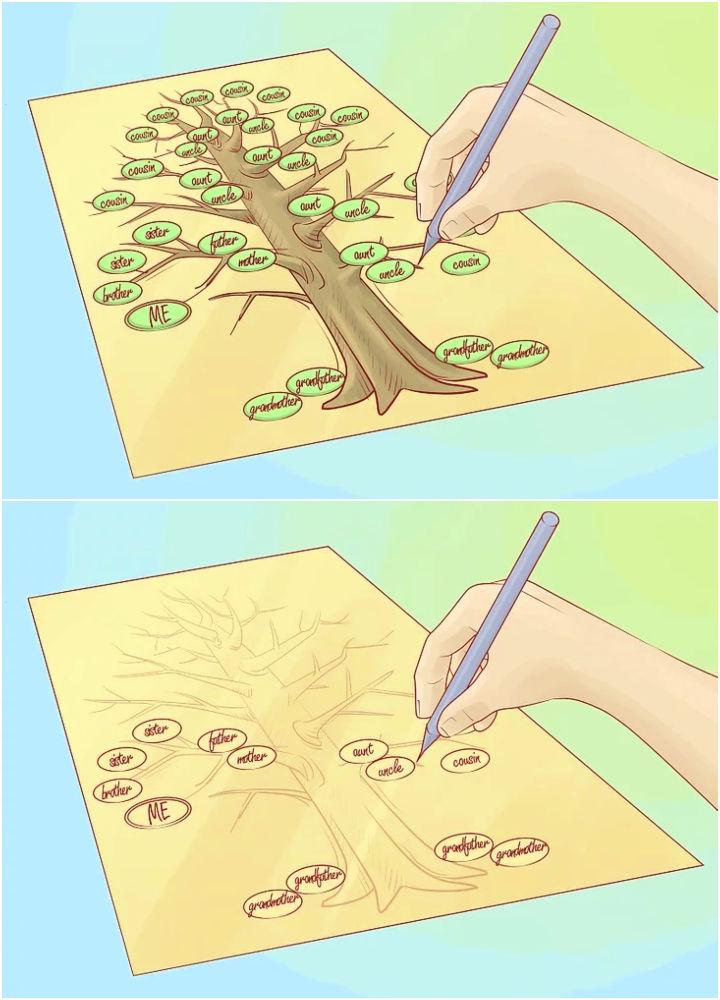 A family tree is a really important tree that you should draw with your children. It can be really helpful to your child to learn their ancestry as it can help them out in the future with relatives and networking. You can introduce your little ones to your whole family by making this amazing tree with them! This guide will teach you how you can do that. It might take a little research, but it will be worth it! wikihow
12. How to Draw the Tree of Life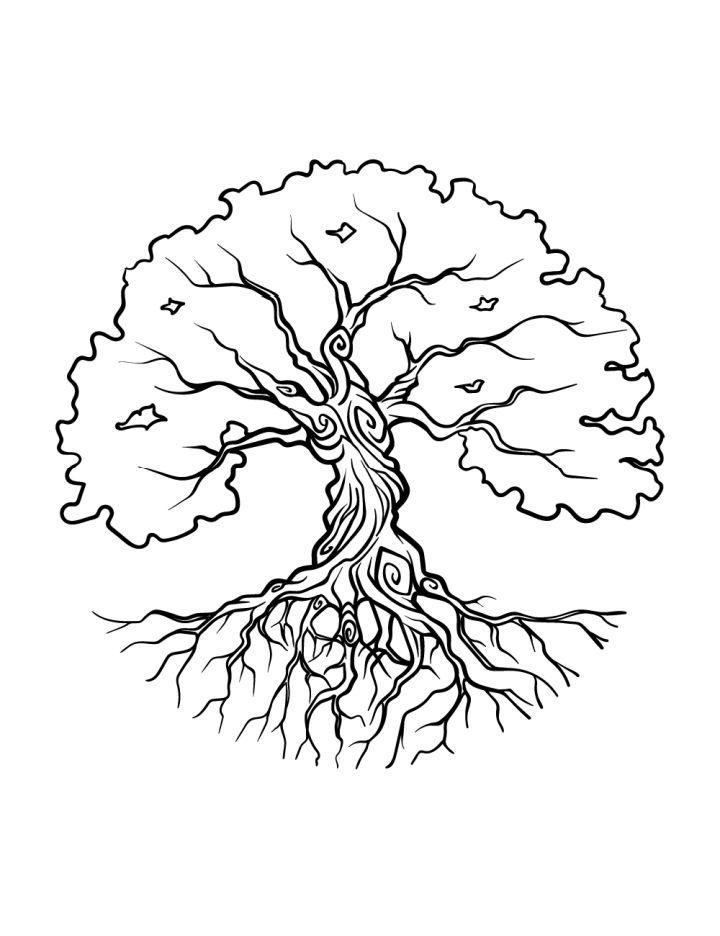 Have you ever thought of drawing a tree of like? What exactly is a tree of life? A tree of life is a concept of life – it symbolizes the cycle of life, the birth and death and the constant cycle that never stops. This can hold a different meaning for everyone, depending on their religions and ideologies. This is definitely a concept that only adults can grasp, so it's recommended to draw this if you're an adult. iheartcraftythings
13. Bonsai Tree Drawing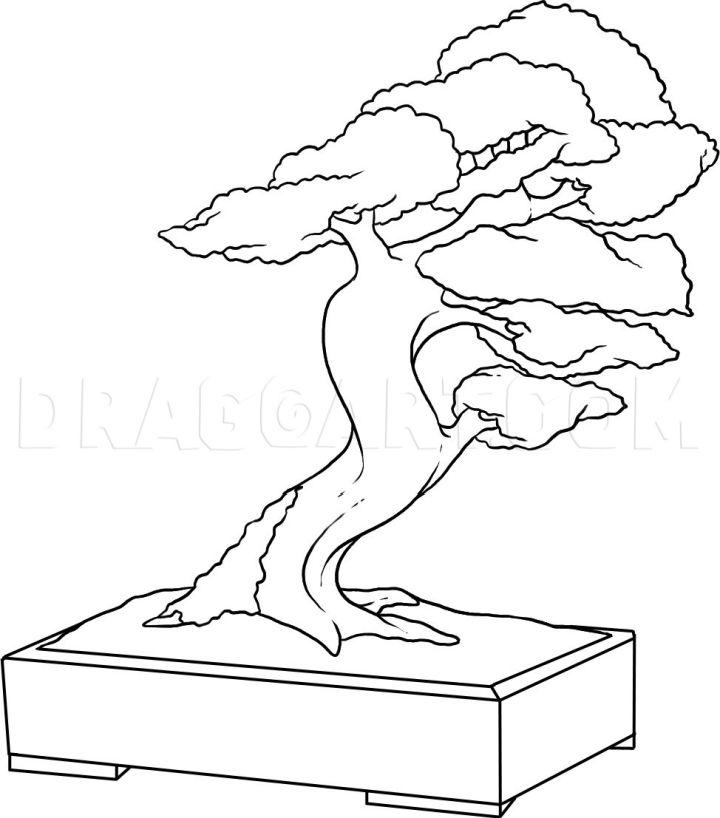 A bonsai tree is a really pretty tree that holds a lot of significance in Japanese culture – you might see it in Japanese anime and movies. This tree first got a lot of attention after the movie "Karate Kid." You can follow this amazing guide and make this beautiful tree with your little ones while telling them all about this special tree. It's going to be really fun, and your child will gain a lot of knowledge. dragoart
14. How to Draw a Willow Tree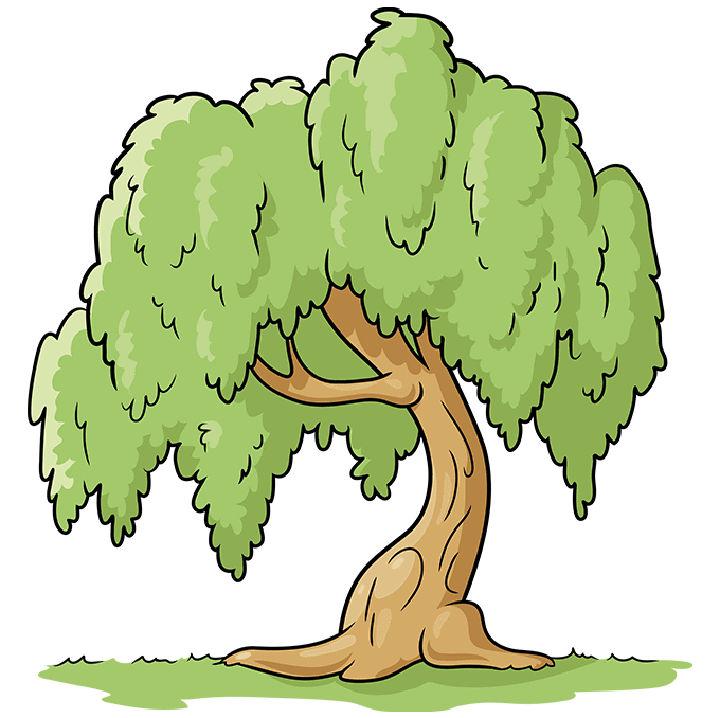 Willow trees often grow near water sources, and their roots can clog up underground pipes. These trees look a little stunted as their branches usually drop towards the ground instead of rising upwards. You can tell your children all about these amazing trees from Disney's animated film "Pocahontas" while re-creating this beautiful diagram by following the instructions in the guide. Isn't this exciting? easydrawingguide
15. How to Draw an Oak Tree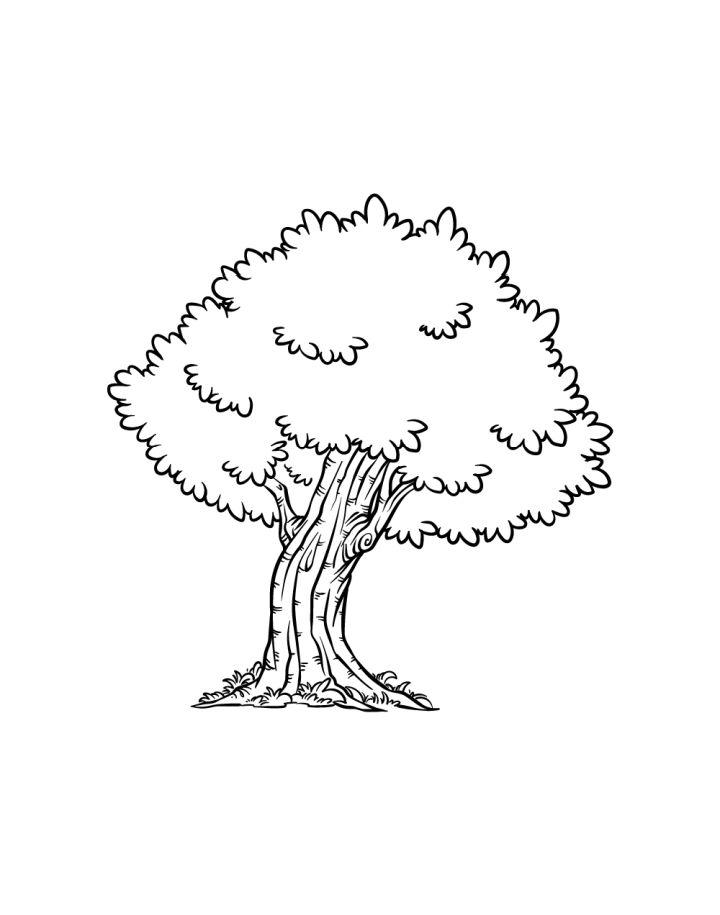 An oak tree is known to last many years and growing to huge sizes. Furthermore, oak trees are absolutely stunning, and they definitely stand out from the crowd of other trees. This guide has a total of 6 steps that will take you through the process of making this adorable diagram of an oak tree. It is really important for you to learn how to make an oak tree, in order to be an artist. iheartcraftythings
16. How to Draw a Sakura Tree Tattoo

Don't you just love this absolutely stunning Sakura tree tattoo) it has a really beautiful pink color along with dark branches that really define the shape of this beauty. Moreover, the link color of the leaves makes it look really pretty. You can draw this and put it up in your room for a feminine vibe. The final result is absolutely stunning. You can re-create this to put up in your house for the spring season. dragoart
17. Pine Tree Drawing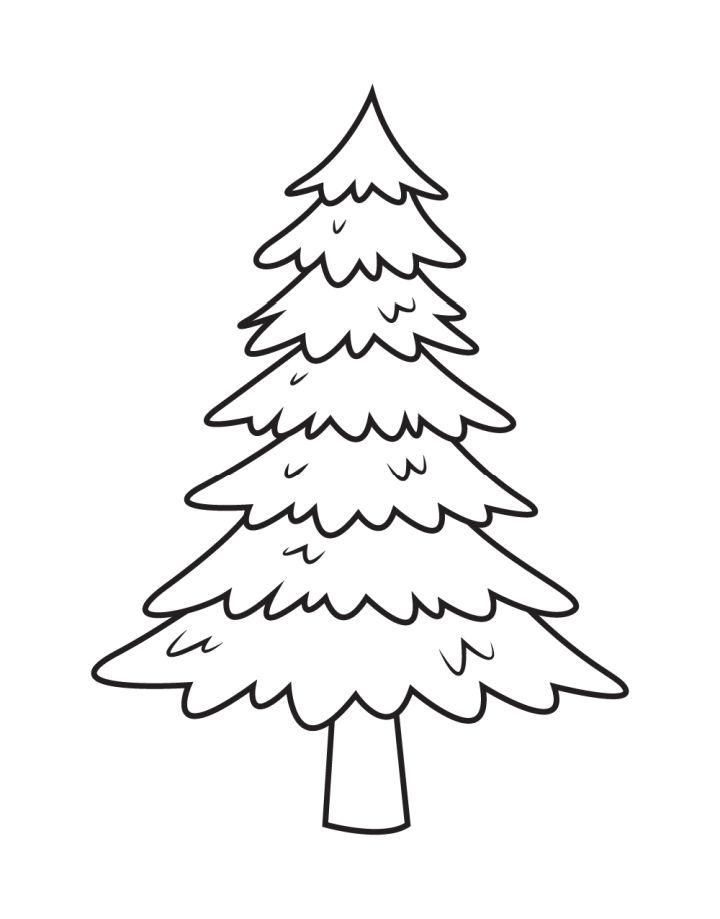 Pine trees can actually grow up to be really high – up to 260 feet tall! Isn't that amazing? Furthermore, pine trees are most commonly used as Christmas trees! You can tell your children all these facts while drawing this beautiful pine tree with them. The instructions are really clear and straightforward, and they are written with illustrations – any beginner will easily understand them! iheartcraftythings
18. Apple Tree Drawing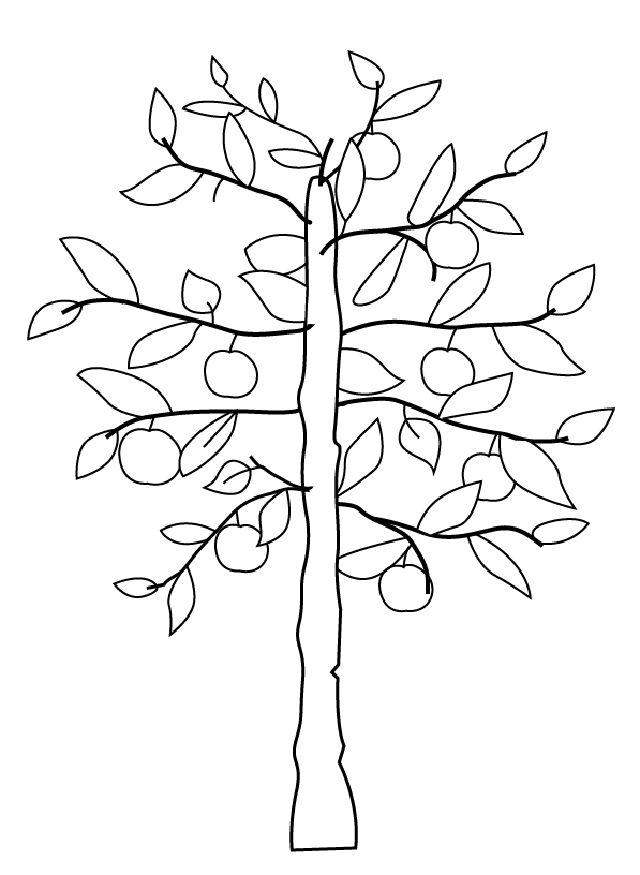 An apple tree is definitely a really common tree, and it is cultivated all over the world, so any good artist should definitely know how to make this tree. If you don't know how to make this tree, then this guide is for you. It has clear instructions with illustrations – you can just copy the illustrations, and you will learn to make this amazing tree in no time! You will need to draw a branch, some leaves and apples. drawingtutorials101
19. Draw a Dead Tree Step by Step Guide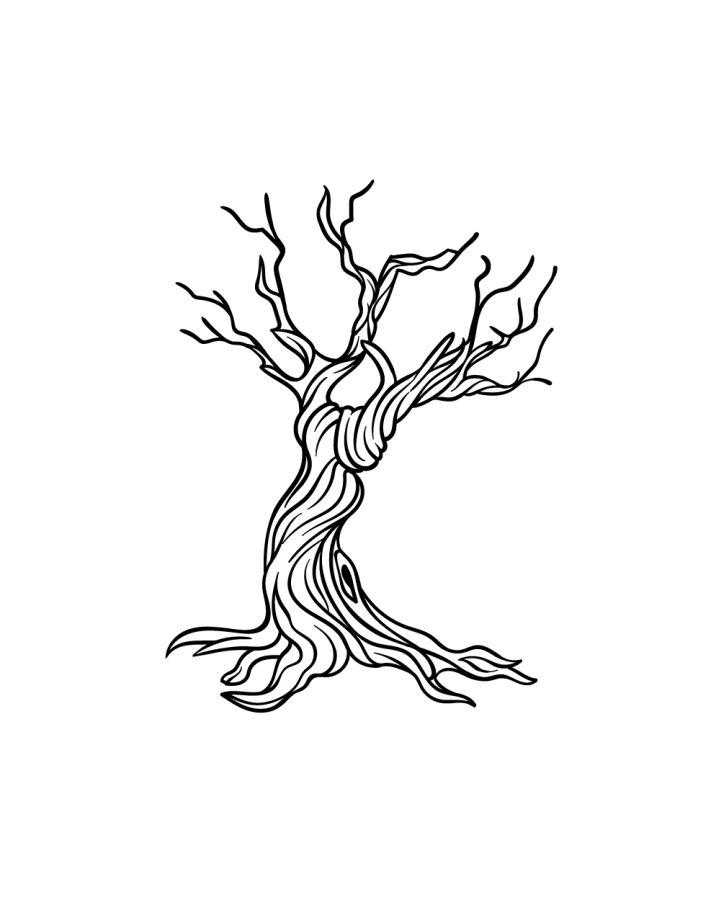 All good artists need to know how to make horror or creepy illustrations. Many artists are hired around the Halloween season to make art, and it can be hard if you're not familiar with the basics. This guide will teach you to make a beautiful dead tree that would be perfect for your Halloween art projects – it has a really beautiful structural branch which gives it a creepy vibe! iheartcraftythings
20. Drawing of Cartoon Tree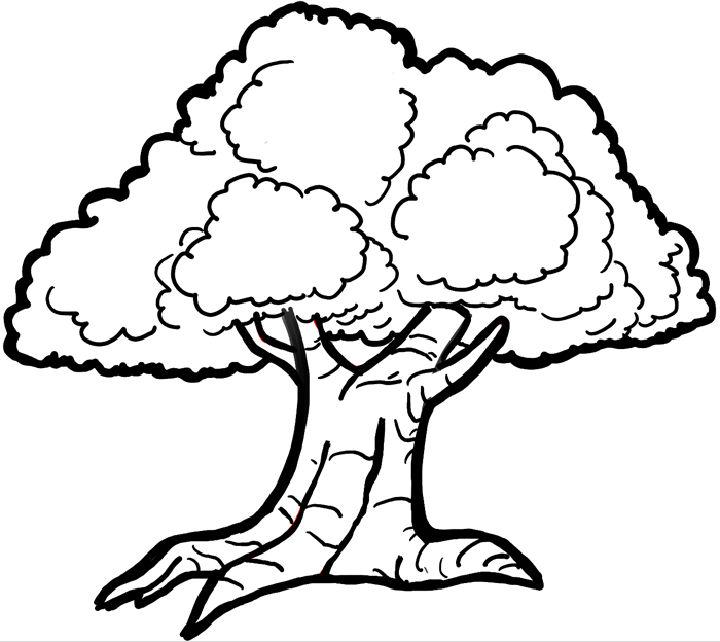 Cartoon trees are really important in an artist's life as they have to make them all the time – for storytimes, comic books and videos. You can easily learn to make a cartoon tree by following this detailed guide. It will teach you how you can make those beautiful branches along with bushes on top of the tree. This guide is perfect for beginners as there is no shading involved, and you just need to make straight lines. drawinghowtodraw
21. How to Draw a Cherry Tree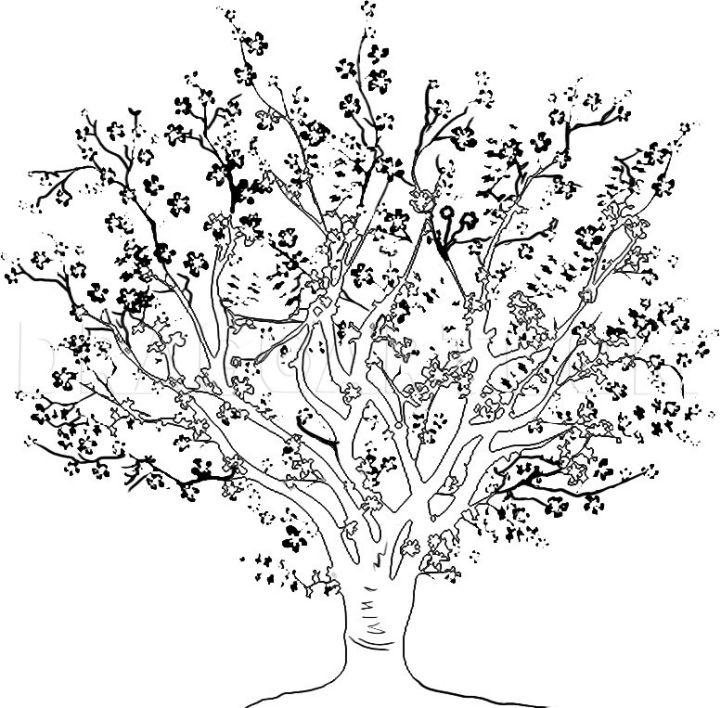 Here's another absolutely stunning pink tree for you to re-create! It turns out looking so beautiful, and anyone can easily make this cherry tree by following the guide. Moreover, there are illustrations and explanations for you in this amazing guide which are perfect for beginners or people at intermediate level. This cherry tree diagram is going to make the perfect spring season decor piece. dragoart
22. Coconut Tree Drawing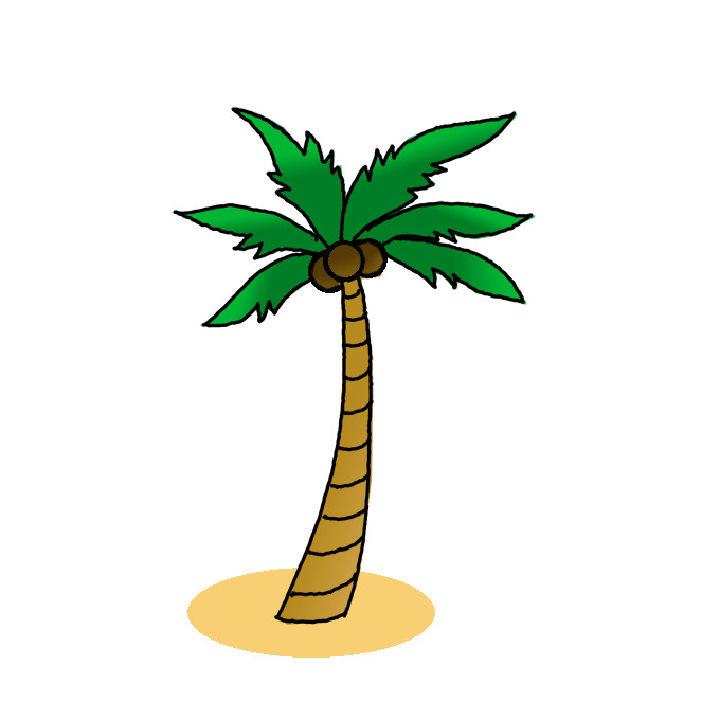 Coconut trees are usually found in tropical areas, and if you want to add a nice and tropical vibe to your house, then this is the coconut tree that you should draw and put up in your house! Furthermore, children are also going to love making this tree as it has coconuts on it. You can answer all their answers about coconuts on a tree while making this beautiful diagram! Isn't this exciting? drawinghowtos
23. Olive Tree Drawing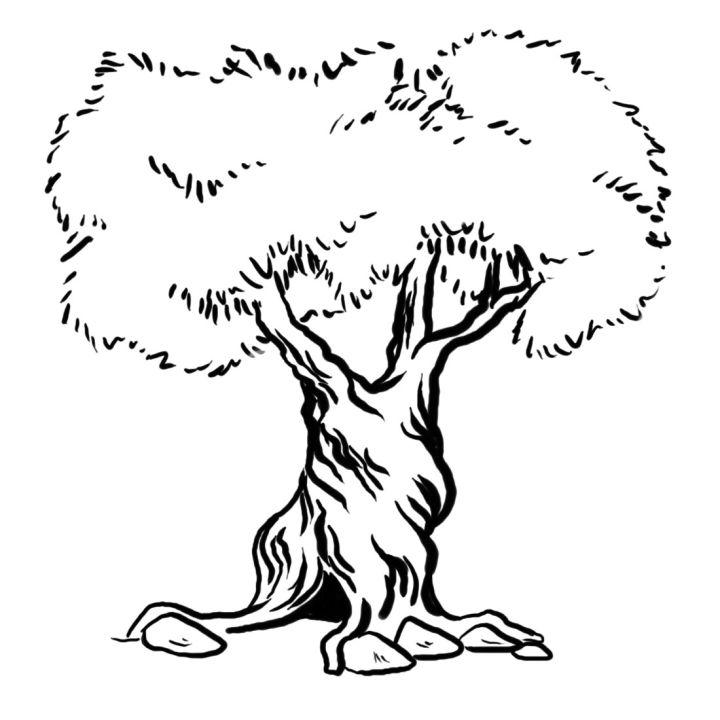 Did you know that olive oil and olives come from olive trees? Olive trees are not very famous despite being the source of these two food staples. However, you can spread awareness about olive trees by making these beautiful diagrams and posting them on your social media! Moreover, these trees have a really distinctive shape to them, which can be really fun to draw! wikihow
24. How to Draw a Spooky Tree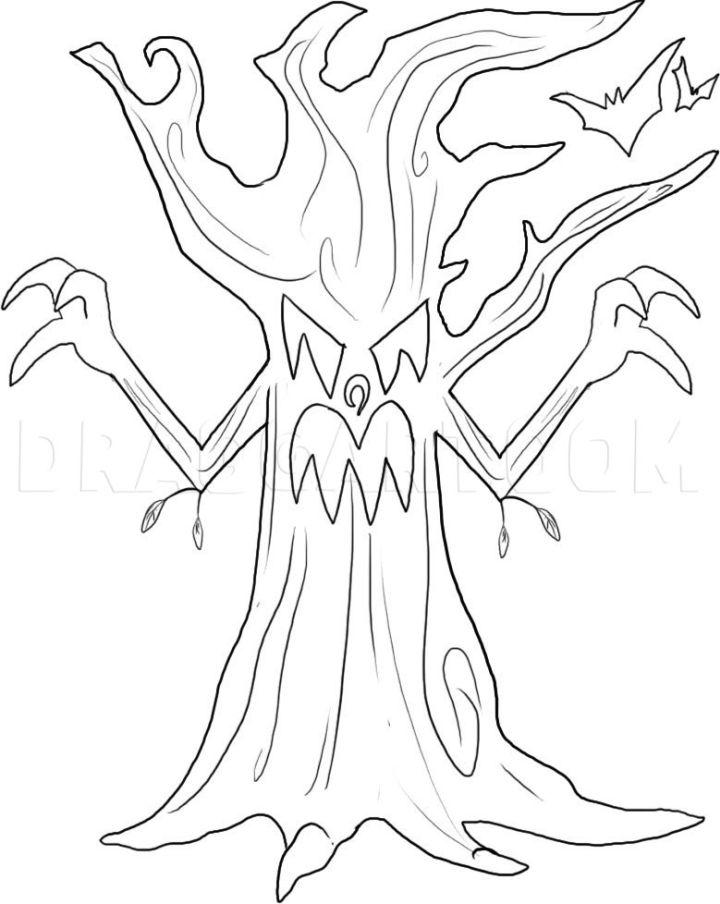 In comparison to the other tree drawing ideas, this one is different as it features a real horror and Halloween-themed tree! Halloween season would certainly be the perfect time to re-create this horror tree – you can use it for your backdrops, props and much more! This tree is very similar to the horror-looking one from the Wizard of Oz. You can always make a few changes and add your own customizations. dragoart
25. How to Draw a Small Tree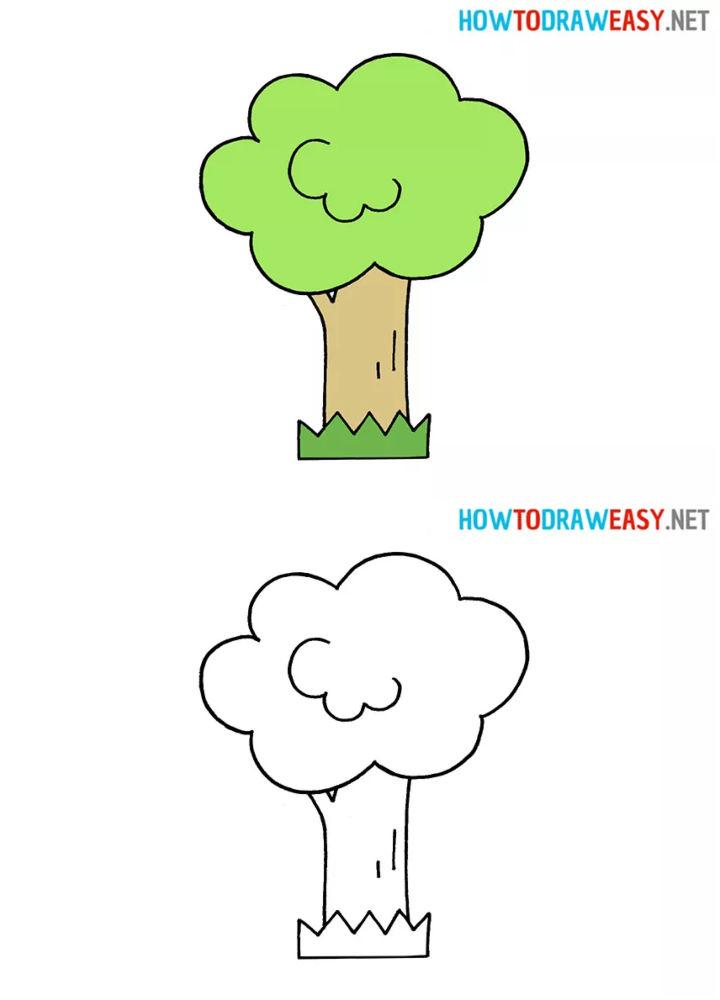 Kids can find it difficult to draw a tree as their motor skills are not fully developed yet. However, you can help them learn to make a tree by following this wonderful and detailed guide. You can also teach your children about the importance of trees to the human reproductive system while re-creating this amazing tree drawing idea for kids. So, are you ready to get started on this amazing idea? howtodraweasy
26. Simple Way to Draw a Tree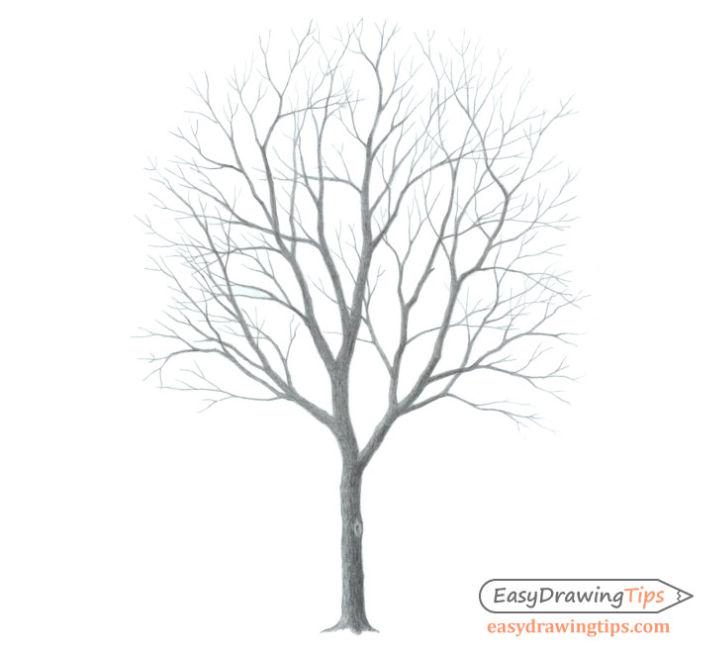 In comparison to the other tree drawing ideas, this guide will really focus on the sketching part of the diagram. It will teach you how you can make a tree without leaves and then draw leaves on it. There are examples of trees where all the branches are visible and then other ones with leaves so you can differentiate between the two and understand the drawing concept of it. easydrawingtips
27. How to Draw a Tree with Branches

Do you ever wish to go outside and draw the trees around you? Well, it can be hard for beginners to really know where to start. Should you start from the roots or the branches? Or should the leaves come first? Instead of confusing yourself more, take a look at this detailed guide that will give you tips and take you out of this complex and difficult stage. You will be able to draw trees in no time! iheartcraftythings
28. Draw a Realistic Tree

It can be hard to draw realistic trees as they require a lot of detail and time. However, if you're willing to give some of your time to drawing trees, then you can learn this technique perfectly by following this guide. The tree turns out absolutely stunning, and it is perfect for people on beginner level as very little shading is used in this drawing. Isn't this exciting? You can introduce this to your children! drawingnow
29. Tree Picture Drawing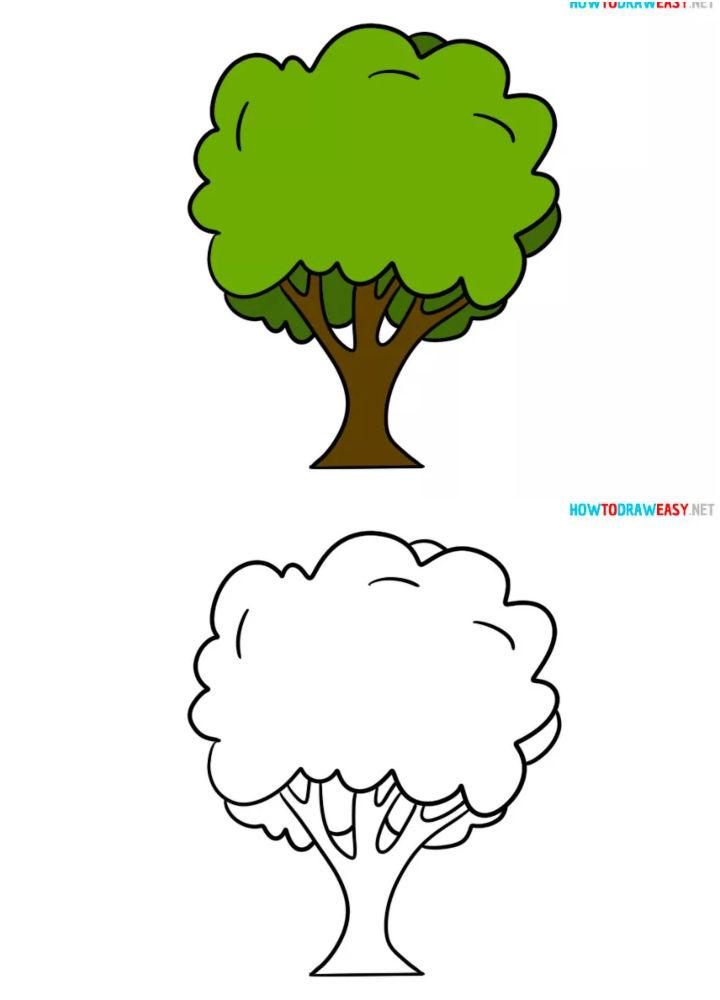 Here's a great tree drawing idea that would be perfect for you to try out in your free time. It is a really basic art skill to know how to draw a tree. If you're still not sure how you can do it, follow this guide! Only a few supplies will be required for this project – pencil, black marker, colored marker, felt tip pens, colored pencils, drawing paper etc. Moreover, this project will take you around 20 minutes to complete. howtodraweasy
30. Cartoon Detailed Tree Drawing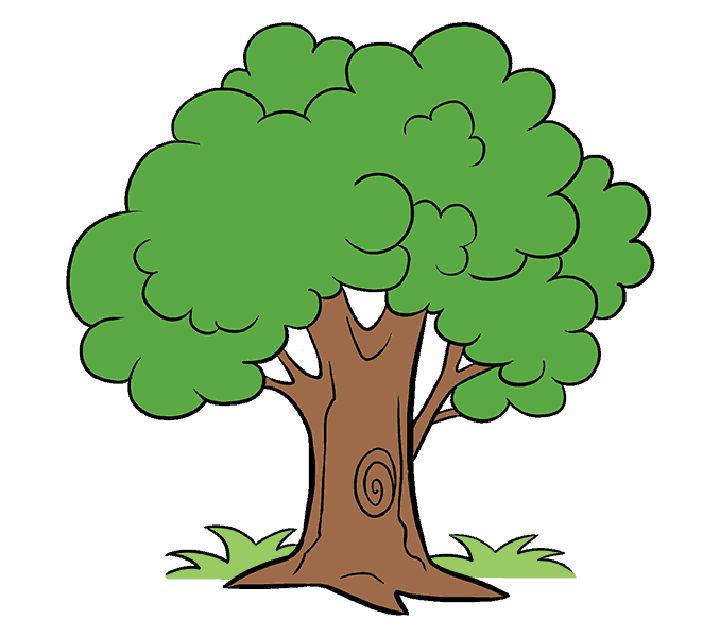 Trees are really important in the circle of life – they provide oxygen to humans while humans provide carbon dioxide to trees. This project features cartoon trees that are really adorable, and your little ones are going to have a great time drawing them with you. Only a few supplies will be required for this project – sheet of paper, pencil, pen, marker etc. You may also need an eraser, crayons etc. easydrawingguides
31. Cool Draw a Tree Clipart Filled with Subtle Shadows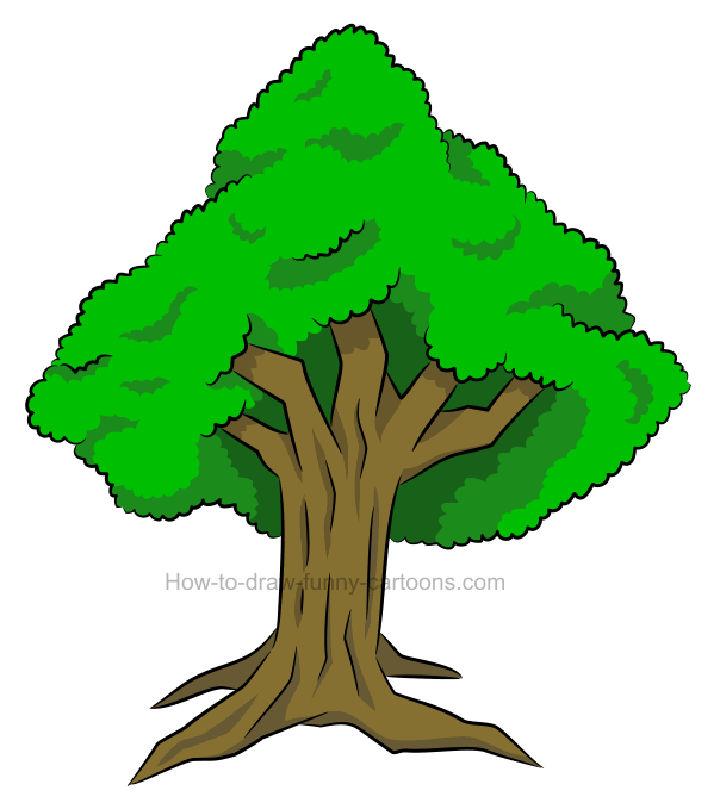 Have you ever wondered how clip arts are made? If you want to make your own, then you just need to take a look at this guide! This clipart will have subtle shadows and small curved lines. Moreover, since this is for beginners – only basic techniques will be used that are easy to follow! After going through this guide, you will understand a lot and drawing these diagrams will get easier. howtodrawfunny
32. Basic Green Tree Drawing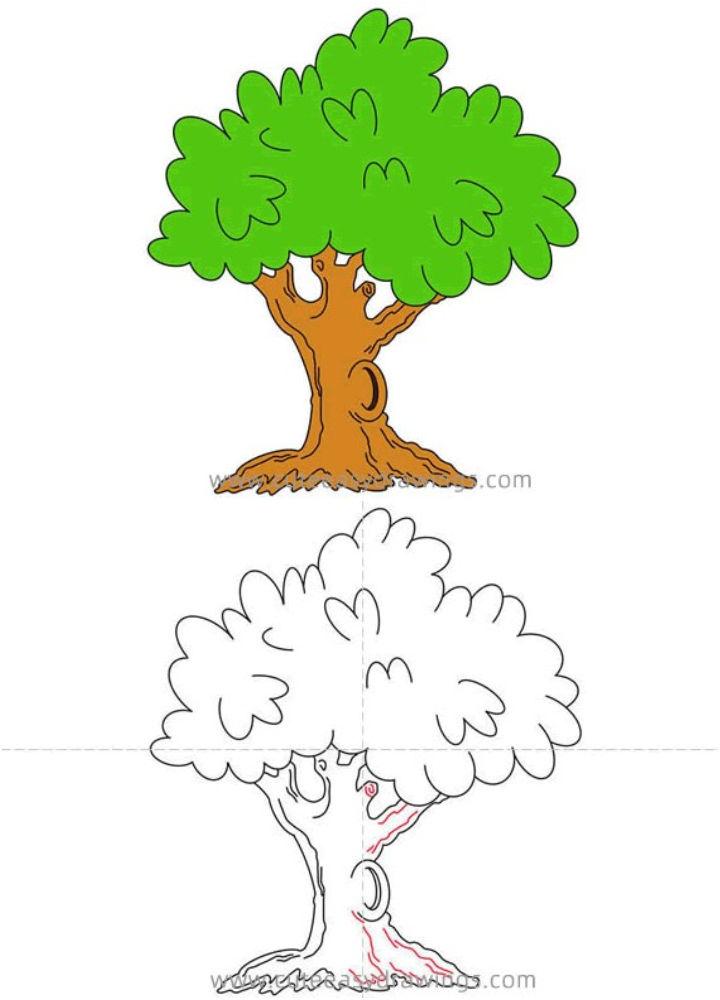 Any child, teenager or adult can learn to make this beautiful tree in just a few minutes. You can not only make this tree but also draw animals and pets on it, which will make it look perfect. Furthermore, any teacher can also ask their students to draw this in art class – it is a great beginner project. You can also ask your children to draw this on a playdate as that will make the party more fun! cuteeasydrawing
33. Tree Drawing Step by Step Instruction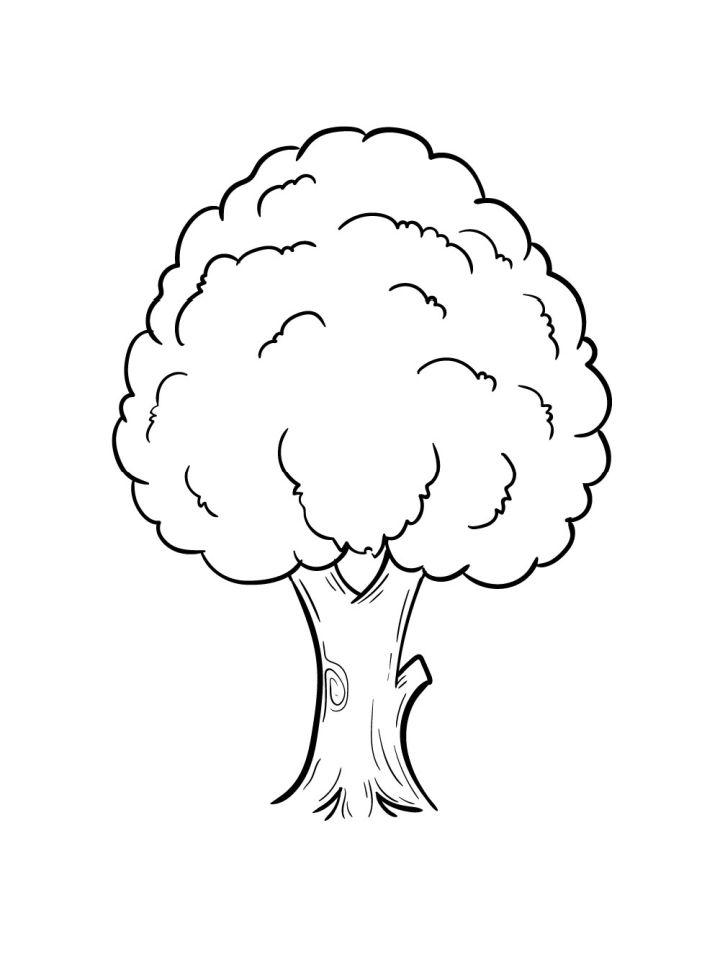 This amazing guide has 7 easy step-by-step instructions for you to follow! It is really easy to understand, and anyone new to the world of the drawing will get used to this really fast. Trees can come in many different shapes, colors and textures. You can draw them in many different ways, as well! Here's a really unique tree drawing in comparison to the other tree drawing ideas. Isn't this exciting? iheartcraftything
34. Draw a Creepy Black Tree for Halloween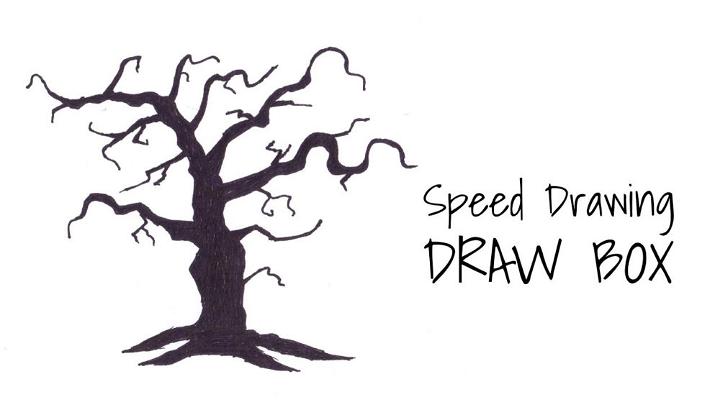 Halloween season is just around the corner, which makes this spooky black and creepy tree perfect and on theme! You can make this on the next backdrop of your party or use it for your props. It's going to really set a moody and creepy vibe. Moreover, this project is a speed drawing, so you can make it in just a few minutes! Isn't that amazing? You will only need a few supplies, as well.
35. How to Draw a Tree in Pencil

Once you've learned to draw a tree, then it's time to learn to shade. Learning proper shading can really take you from beginner level to intermediate one. This guide will teach you to shade properly – the areas you should shade when you draw a tree will be mentioned in this guide. There are also many illustrations and explanations that you can follow to get perfect at shading!
36. How to Draw a Tree Trunk

A tree trunk can be used in many comic books and stories. A good artist should not only know how to draw a tree but also how to draw a tree trunk. This amazing project will take you through the process of making a tree trunk. Only a few supplies will be required – pencil, blank paper, eraser, sharpener etc. Are you excited to get started? It's going to be so much to re-create this amazing project!
37. Tree Sketch for Beginners with Pencil

Here's another tree sketch for beginners that is not only really easy to follow but also turns out looking absolutely stunning! This tree has a really pretty outline that is very detailed. Furthermore, it has shading on the tree trunk and around the surface of the tree – around the roots. The outlines are easy to do for a beginner; however, shading might get tricky, so be careful.
38. Happy Sunset Palm Trees Drawing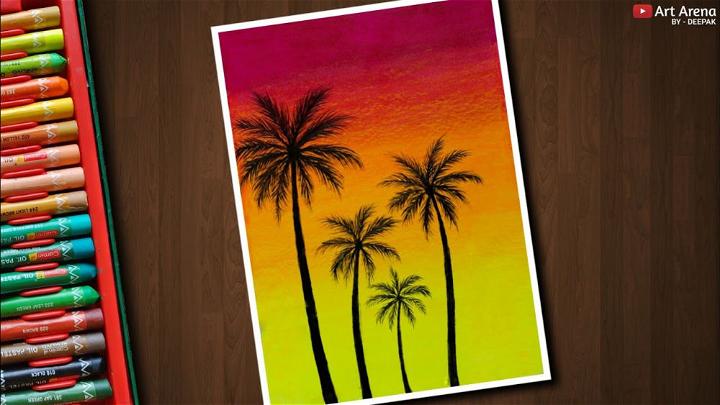 Everyone needs to feel-good vibes once in a while. If you haven't gone on vacation in a while and want to make the most out of staying at home over the holiday – you can follow this tree drawing idea! Compared to the other tree drawing ideas, this one is very different. It features palm trees that give off a very summery and sultry vibe! You might need a few crayons for coloring, as well.
39. How to Draw Tree House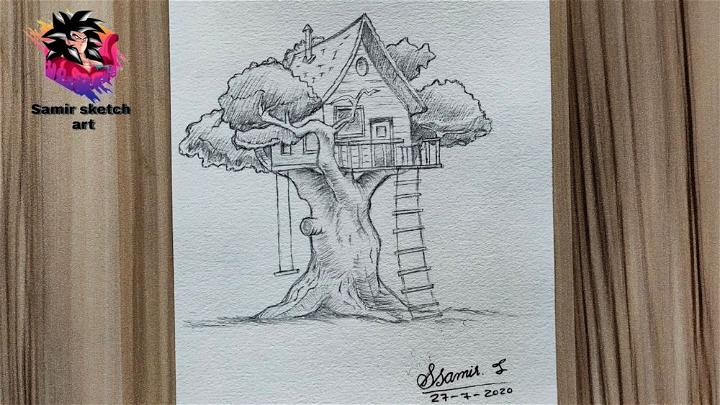 After learning to draw trees and perfecting your shading skills, you can get started on this absolutely stunning project. This project features a treehouse that turns out to look very rustic and vintage once you're done drawing it. Furthermore, the treehouse is on a nice tree branch with a swing on the side and a ladder. You're going to enjoy making this absolutely stunning piece!
40. Draw a Banyan Tree for Beginners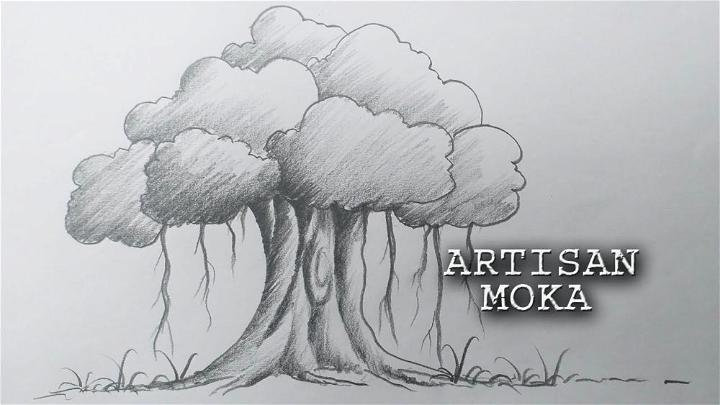 Banyan trees are very unique and different from the other tree drawing ideas. This tree grows on another tree, which is a really interesting concept. Furthermore, this diagram turns out to look absolutely stunning, and almost anyone at any level can re-create this tree drawing! A banyan tree is special because it's considered sacred and represents eternal life in many cultures. You can tell this to your children while drawing these!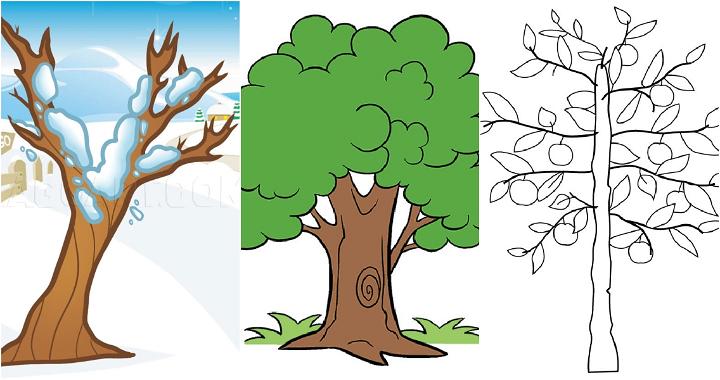 Conclusion:
So, are you ready to experiment with these tree drawing ideas? It can be really confusing on where to start. If you're a beginner and just getting started, then it's a great idea to start learning from "how to draw a tree"! However, you will need to avoid the complicated ones at first and to mess up those can totally gibe a blow to your confidence.
It's recommended to start with the beginner ones and slowly move your way up to the complicated ones. Once you're at an intermediate level, you will be able to draw any tree at any time! Your children can become great artists by following these easy tree drawings, as well.