Learn how to draw a dog with these 25 easy dog drawing ideas with step by step simple sketch outline, printables and coloring pages. These 25 ways to draw a dog are perfect to get your child from a beginner to an intermediate level in drawing. Drawing can be really important, especially for a little child as it can help him/her to develop basic motor skills and also expand the mind and think creatively. Every human needs a little bit of creativity in their life or else everything can be pretty boring.
You can encourage your child to draw by setting up drawing play dates – with their friends, cousins, or yourself! It can be a nice bonding experience for everyone. Drawing can be a stress-releasing and nice experience for adults as well – as it can release happy hormones in the body such as serotonin, dopamine, etc.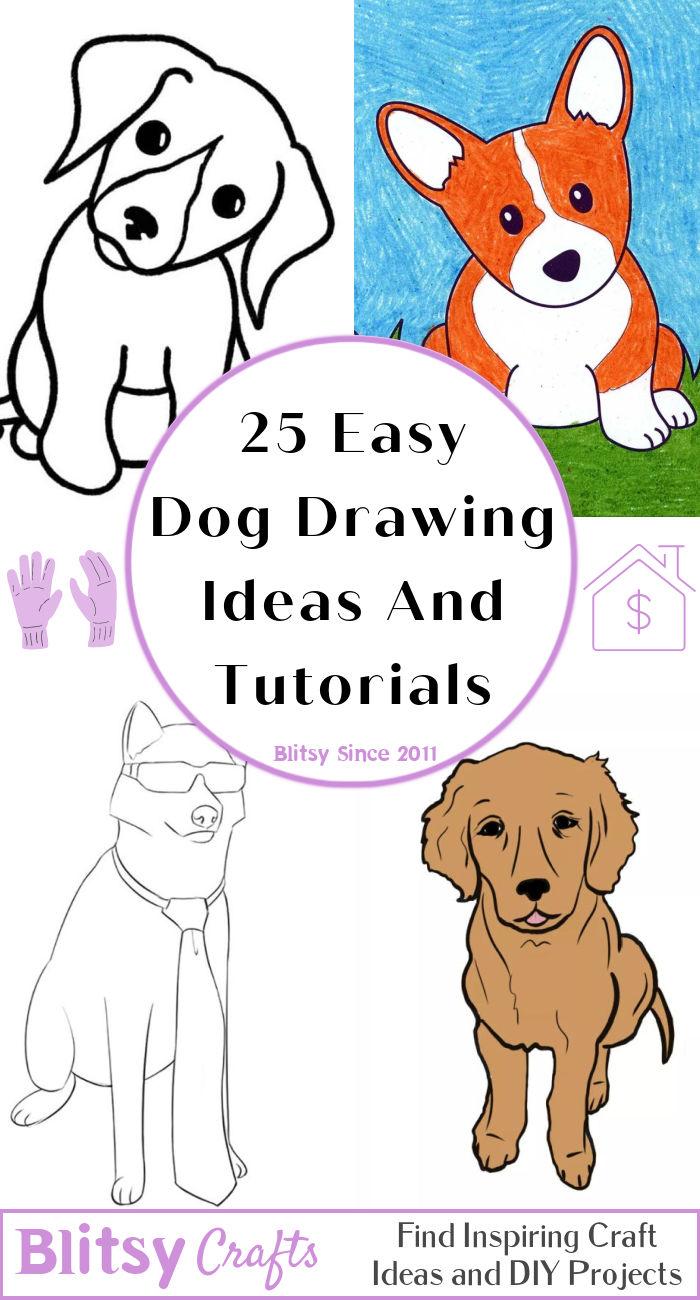 Dogs and humans have had a really old bond – it is believed that humans and dogs have adapted to each other and that's why both of these creatures get along so well. Most dogs have an intelligence level of a two-year-old child which can make them quite smart and emotionally understanding.
Dogs love humans and are loyal partners to them. Are you planning to get a dog in the future and want to get your child ready for it? Well, you can easily do so by making these different 25 says to draw a dog – it features many different breeds and dog behaviors and you can teach your child all about them during these drawing sessions!
1. Easy How to Draw a Dog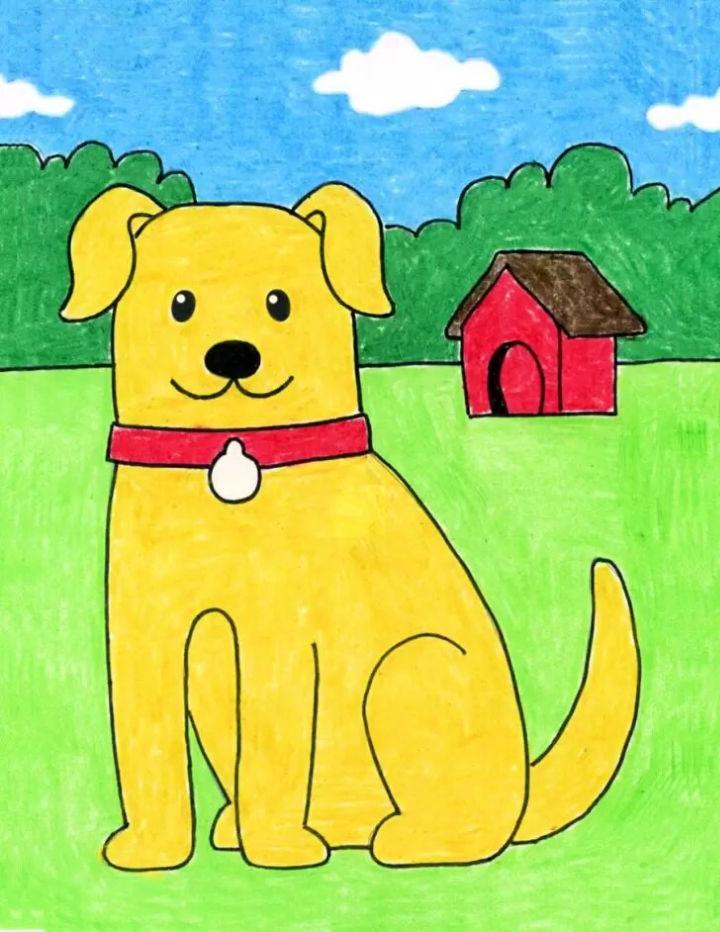 This guide features an adorable dog with a simple face and a body – which makes it look active. Furthermore, the cute dog has floppy ears which makes it even more adorable. The legs are drawn in straight lines which will be super easy for your little one to follow. This simple and beautiful drawing is going to be perfect for your little one to follow and make. artprojectsforkids
2. How To Draw A Dog Step By Step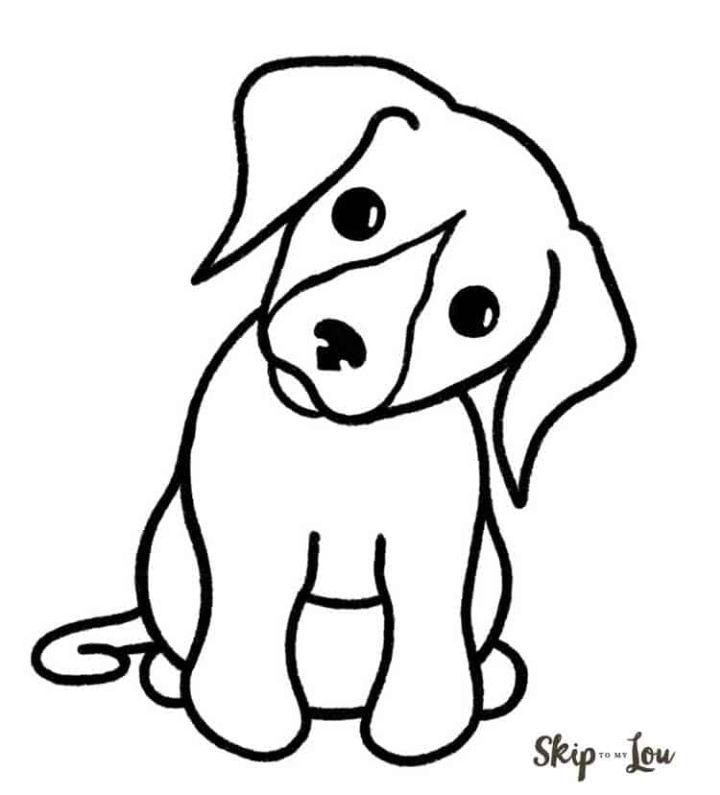 If your child prefers puppies over bigger dogs, then this guide is the perfect one to follow as it features an adorable little Labrador puppy. Since it's made up of basic shapes and straight lines, your little one will be able to make this in no time. Start off by drawing a series of ovals and then the front legs. It's a simple and quick – step-by-step process! skiptomylou
3. Draw A Puppy In 8 Easy Steps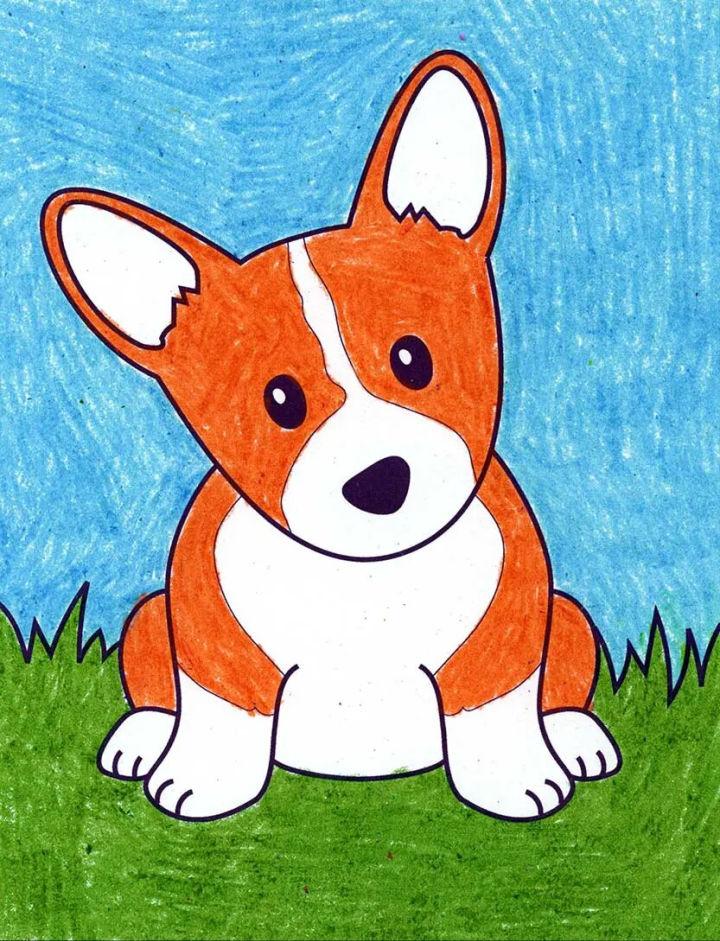 Here's an amazing guide that has pictures of each and every step so you can easily follow it and make this beautiful little puppy. You will need paper, a black marker with a chisel tip, and crayons. It will take around 45 minutes to make this puppy and color it in – you can help your child out with the outlines and let them do the coloring on their own. artprojectsforkids
4. Dog Drawing For Kids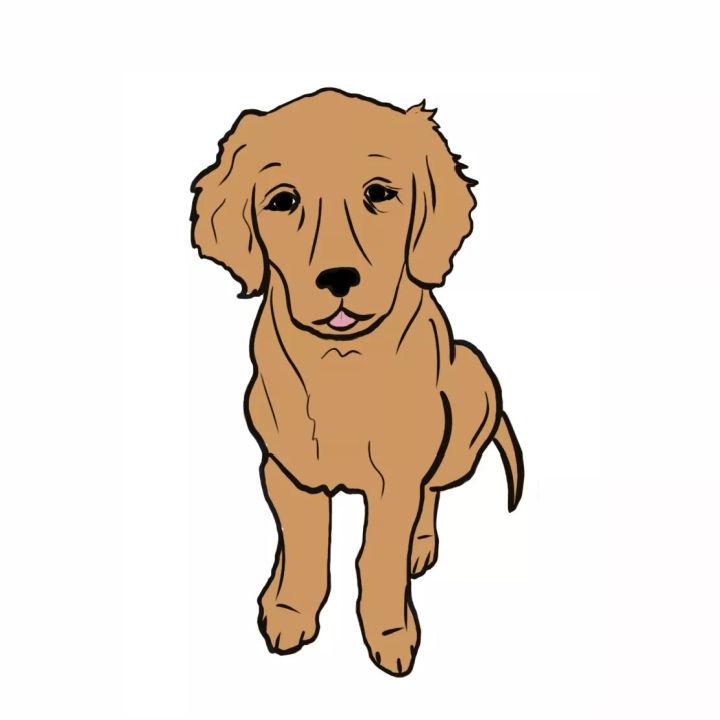 In comparison to the other 25 ways to draw a dog, this one is a little different. Why is that? It's simply because the dog has a lot more detail to it – the lines around the eyes and stomach to add more dimension and depth to the drawing. This will be a better option for an older child or someone who's a little experienced with basic stuff. howtodraweasy
5. How To Draw A Realistic Dog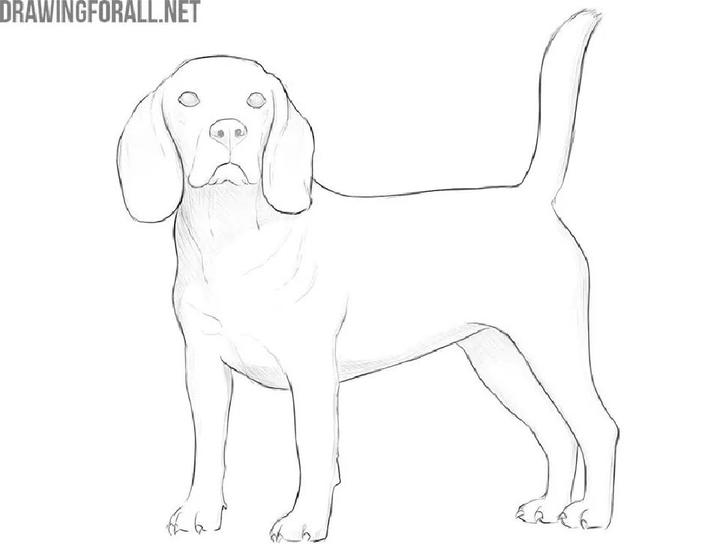 A realistic dog drawing will turn out beautiful if your child has patience and the ability to follow the steps in this guide. However, not every child can shade – especially when they're just getting started. Shading is a big chunk of this guide, so it's recommended to give your little one some shading lessons before getting started on this project! drawingforall
6. How To Draw A Simple Dog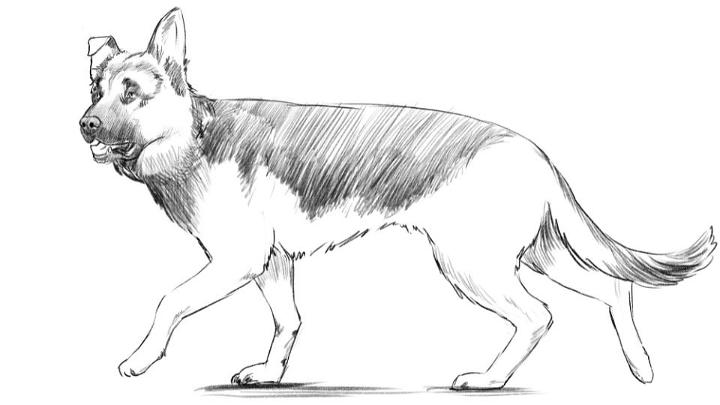 If your child is a huge fan of German Shepherd, then this is the guide for you! It features a realistic-looking and absolutely stunning dog with a lot of shading done on it! It has a lot of detail – especially the skeleton, muscles, and fur! This step-by-step guide will make the whole process easier for your child and make it a super fun project. creativebloq
7. How To Draw A Dog Face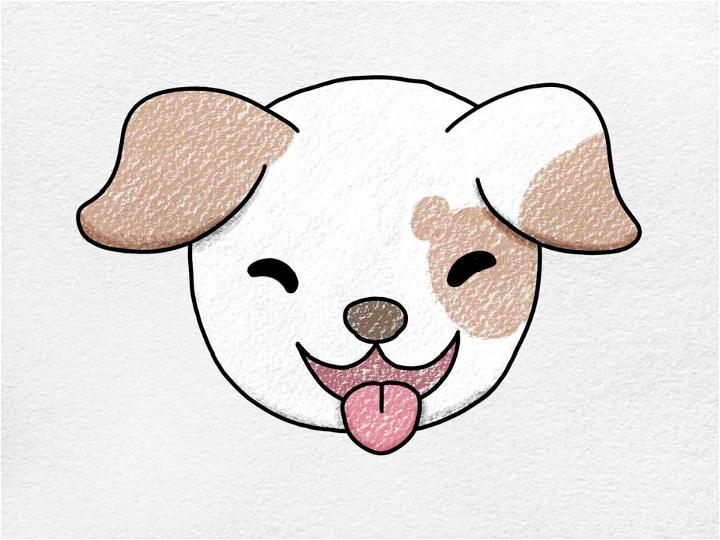 In comparison to the other 25 ways to draw a dog, this one is a little different as it features a cute, little puppy's face. It is a very basic drawing project; however, it can be quite an important development if your child is still a beginner. You will need a sharpened pencil, paper, colored pencils, and a black marker. This guide had 6 steps that are easy to follow. helloartsy
8. How To Draw A Dog Paw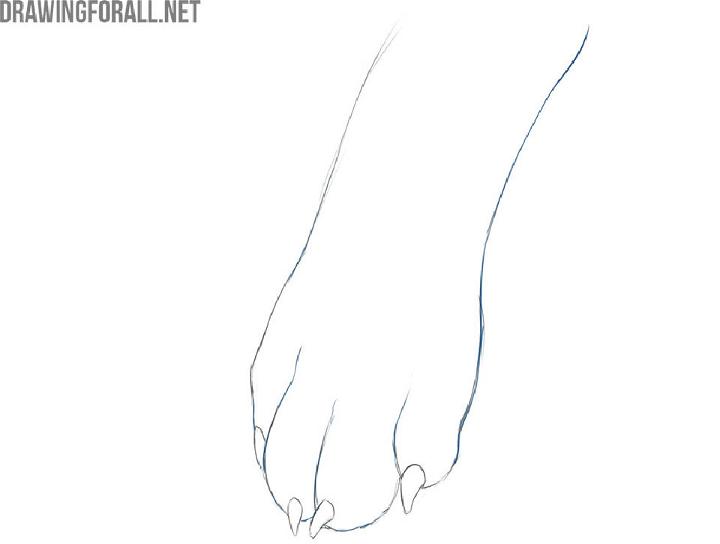 Here's another guide, which is quite basic in comparison to the other 25 ways to draw a dog – as it features a dog paw. Your little one will be able to draw this feature really close up and personal which can improve his/her attention to detail. This drawing is quite stylish and sophisticated – it can make a great décor piece. Isn't this exciting? You will love it! drawingforall
9. How to Draw a Cartoon Dog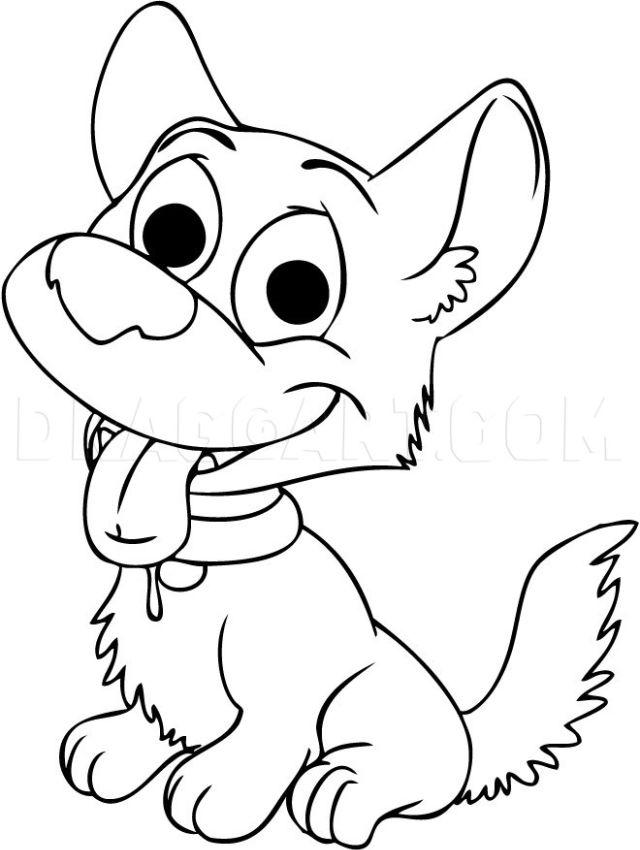 Cartoon dogs are all the rage these days as all kids love to watch them and then draw their favorite characters! Here is a really cute little puppy that your little one is going to love to make! This guide features step-by-step images of how you can help your baby draw out the different shapes and then color them in at the end. It's going to turn out looking adorable! dragoart
10. Draw A Cute Anime Style Dog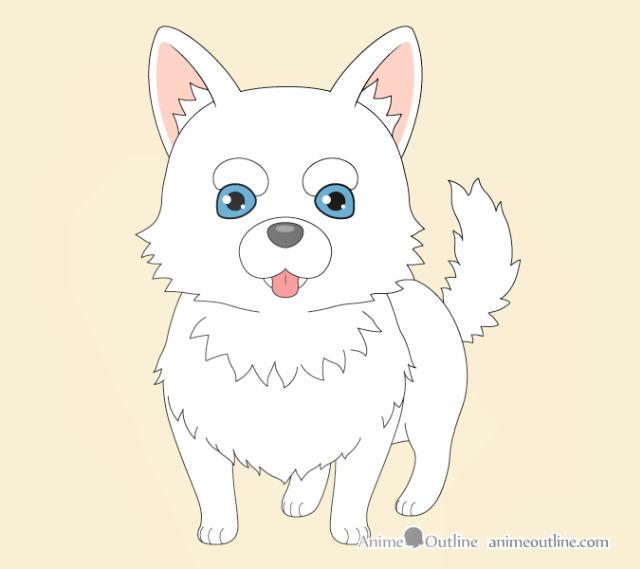 Anime is quite famous these days and all the children and teenagers are watching it. However, in comparison to the other 25 ways to draw a dog, this one can be a little complicated. Anime drawings are very detailed and beautiful – however, if your child follows this guide, it will make the process very easy! This guide has 7 easy-to-follow steps! animeoutline
11. Step by Step Wiener Dog Drawing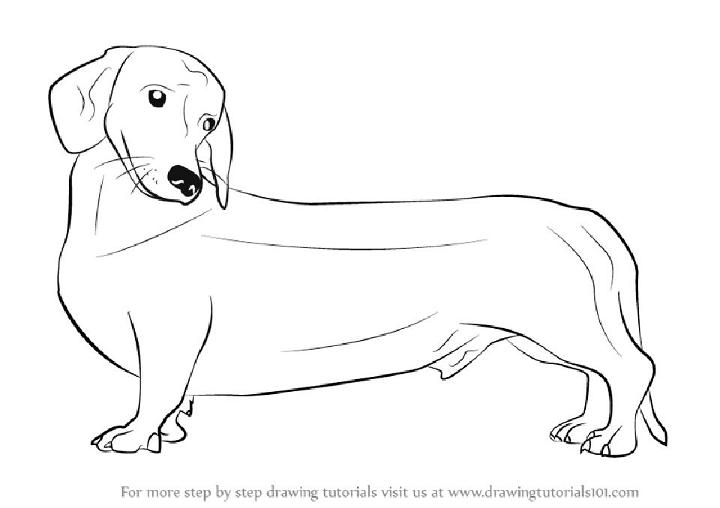 Wiener dogs are absolutely adorable and also super fun to draw! If your child is obsessed with this breed, then you can step up a fun art day and make this beautiful dog with him/her! Step 1 is quite important – drawing ovals and intersecting lines inside them – you can follow the rest of the steps after this and you will be just fine! It's going to turn out amazing! drawingtutorials
12. How To Draw A Cool Dog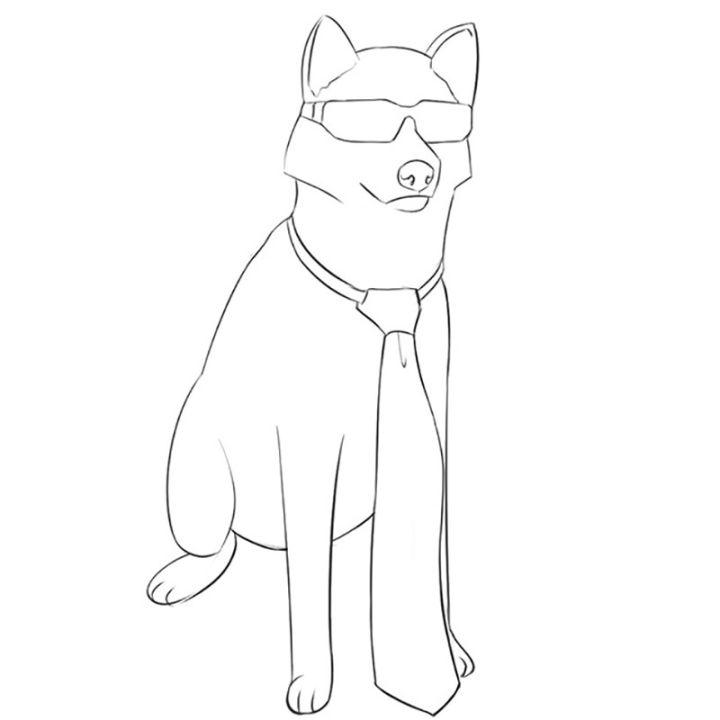 Many kids might want to draw a "cool" dog. Well, what exactly is a cool dog and how can you make it? A cool dog is the sunglasses dog that's usually used in memes all over the internet. You can follow this guide to make a super cool and fun dog – it has sunglasses and a tie! Isn't that the coolest thing ever? Your baby is going to love this! drawingforall
13. Drawing a Dog For Kindergarten

Here's a secret according to this guide – if you want to make an adorable puppy drawing, make sure that the head is drawn extra large! Any baby version of a dog is going to look extra adorable that way. This guide features many different shapes including squares, rectangles, and circles. Pencils, an eraser, sharpie marker, and a pen are all the supplies that you will need. artprojectsforkids
14. Sitting Dog Drawing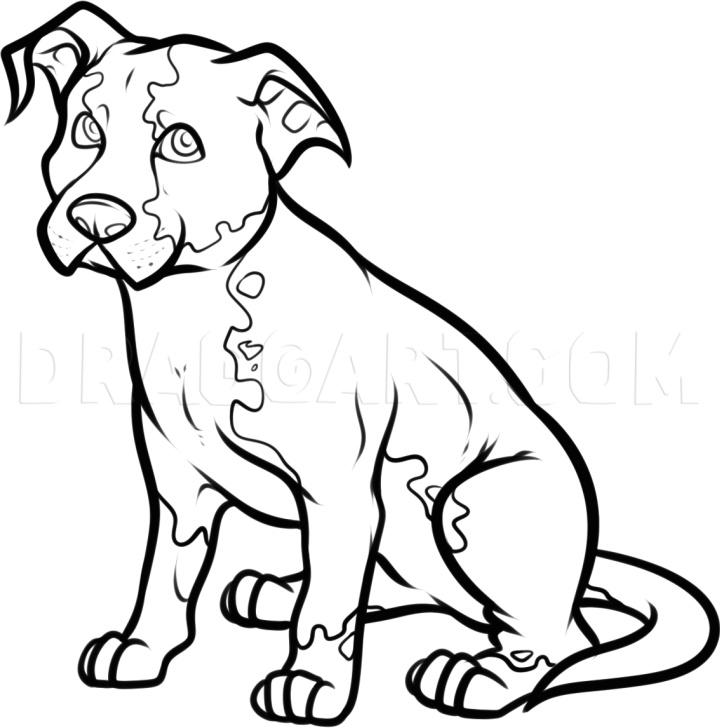 It can be quite important to teach your child all types of expressions and positions of an animal. This can help them think creatively and open up their mind. Here is an adorable dog drawing that is featured in a sitting position! This guide does have many steps in it; however, the final result is quite satisfying as it turns out looking beautiful! dragoart
15. How To Draw A Small Dog Step By Step Guide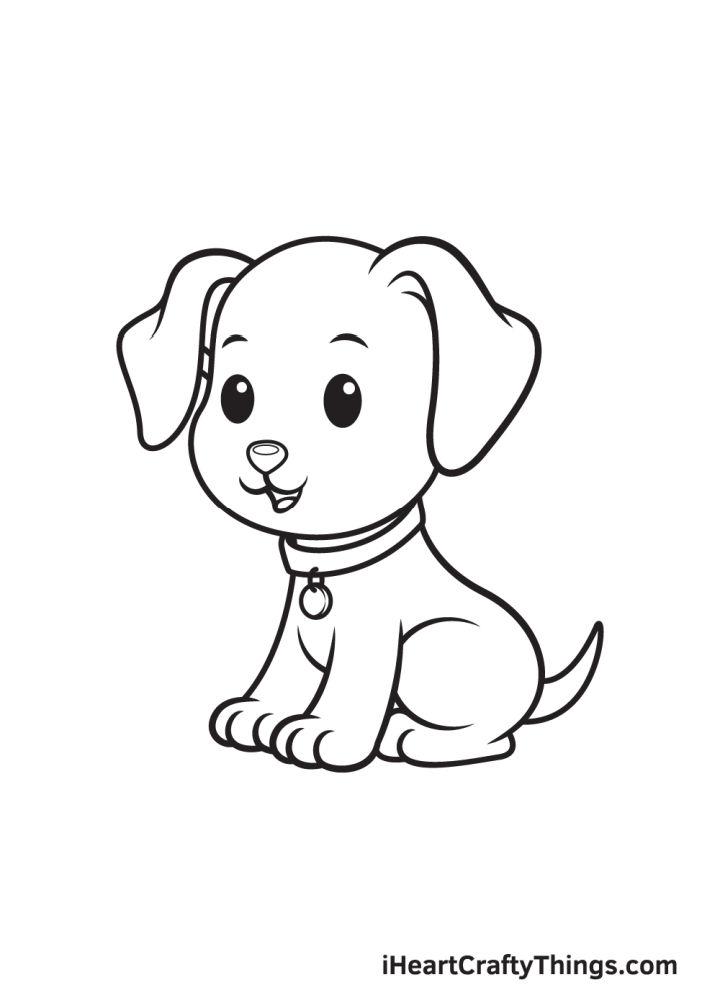 In comparison to the other 25 ways to draw a dog, this one is a little different as it's quick and efficient. Your child will be able to learn how to draw a dog but also super fun – in only 9 steps! You will save a ton of time and your little one will too, for that extra homework. This dog is adorable as it has huge, shiny eyes and a playful and fun attitude! Isn't that amazing? iheartcraftythings
16. How To Draw A Bloodhound

Bloodhounds are very rare and absolutely stunning. You can teach your child a little more about this amazing breed while you let him/her draw this beauty. This guide is super easy to follow and the final result is just stunning! This drawing has a lot of shading and details – such as paws, tail, and face. You will have a great time making this with your little one. drawingforall
17. How To Sketch A Dog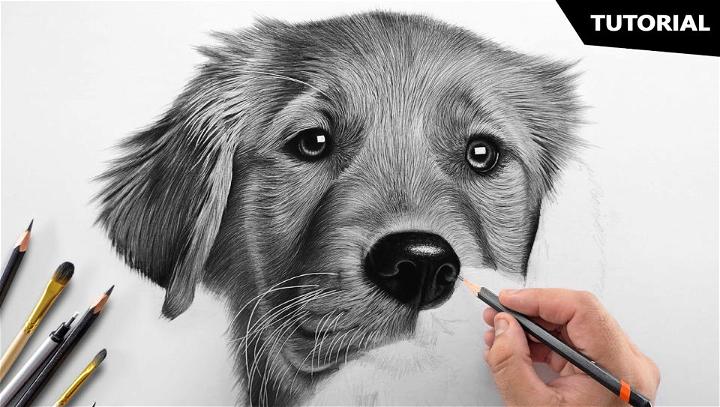 Don't you just love how detailed this pretty drawing is? It might seem impossible for your little one to re-create; however, this amazing video guide features a step-by-step method that makes this possible! The dog has such a beautiful eye and very detailed fur which makes it super interesting and stunning to look at! Even the nose is detailed – isn't that exciting?
18. Drawing A Dog For Kids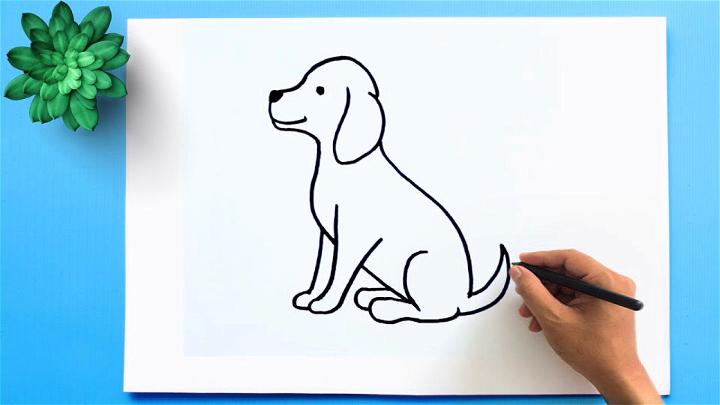 Here's a very simple and easy drawing for all those kids or parents who are looking for basic stuff. You will only need simple white paper and a black marker to make this beautiful and quick dog. You can either let your little one draw this step-by-step or help her/him with the outlines and then let him/her color it using crayons, coloring pencils, etc.
19. How to Draw a Realistic Puppy Dog Labrador Retriever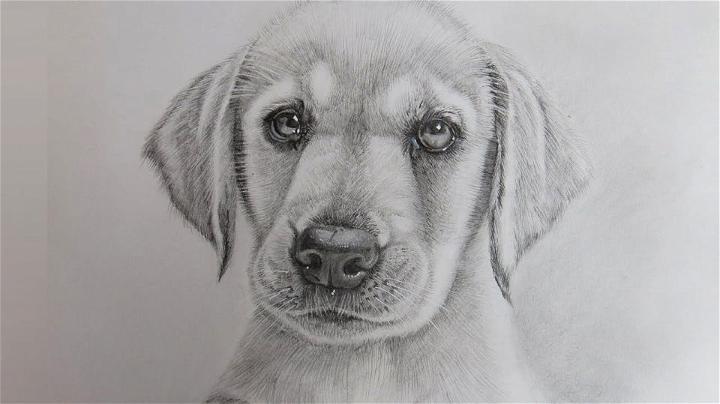 In comparison to the other 25 ways to draw a dog, this one is quite detailed and absolutely stunning! It features a realistic puppy dog – a Labrador retriever! Isn't that amazing? If your child makes it look fantastic, then you can put it up in your house as the original drawing is just stunning! Let your child follow it step-by-step and see what he/she comes up with.
20. Draw A Golden Retriever Puppy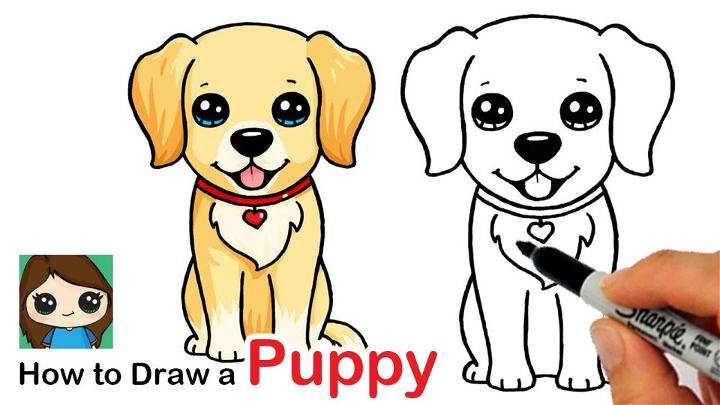 Golden retrievers are the most well-liked and well-known puppy breeds. Here is a guide on how you can draw an adorable little golden retriever! It has cute and gleaming eyes, a little heart-shaped collar, and super cute fur! You're going to love how it turns out as it's super easy to make and it looks so pretty. Isn't this just so exciting? Your little one will find it super exciting too!
21. How To Draw A Dog Step By Step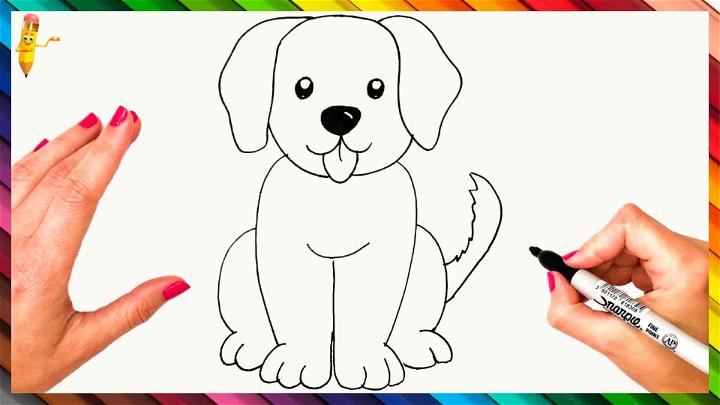 All beginners need step-by-step guides as it can be hard to draw a puppy just out of your thinking. Especially, if you're not an experienced artist. Your little one is going to find this video guide very fun and it's going to be an enjoyable experience to follow it step-by-step and come up with an absolutely stunning drawing!
22. Easily Draw A Running Dog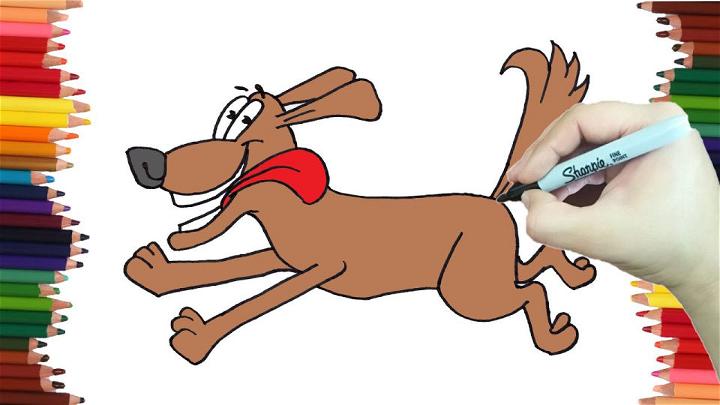 It can be quite important to introduce your child to different dog behaviors, especially if you're planning on getting a dog in the future. Here is a drawing that features a dog that's running! You can teach your child about this while they draw this beautiful little piece. A paper, pencil, marker, and a few other supplies will be required to re-create this beauty.
23. How to Draw a Husky Puppy Easy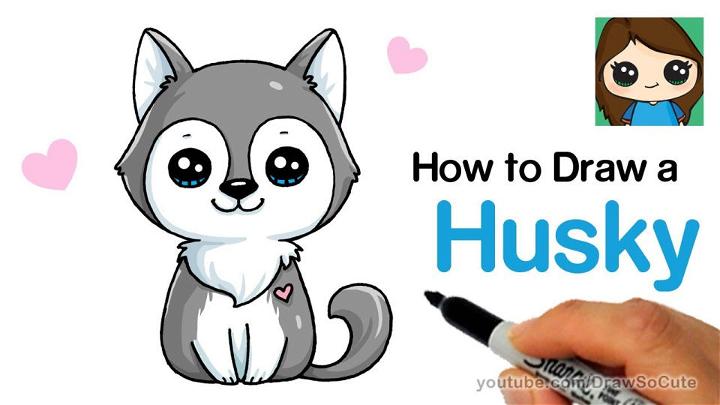 Huskies are beautiful and almost everyone loves this breed. It's not only super beautiful to look at but huskies can also be very smart and intelligent. You can teach your child about all these important facts while you let him/her draw this husky with puppy eyes and an adorable, friendly smile! There are also little hearts around the husky to make it look really cute!
24. How To Draw A Dog Easy Step By Step For Beginners

Here's another guide that features a super cool dog – with sunglasses and the meme dog face! If your child loves meme dogs, he/she is going to love this drawing. This drawing also features a lot of shading so it will be helpful to give your little one a lesson on how to shade before getting started on this absolutely adorable drawing!
25. How to Draw a Border Collie Puppy Dog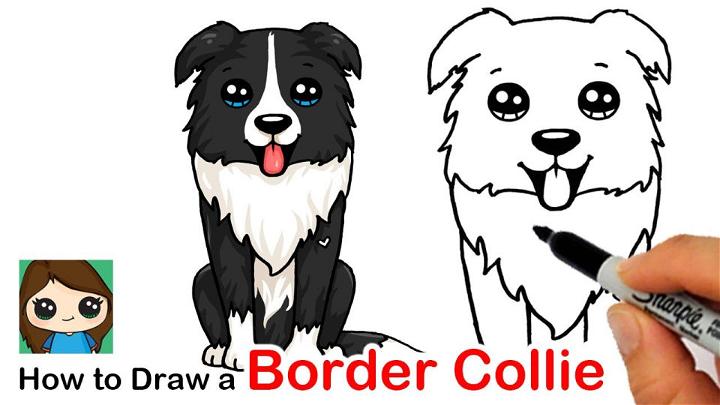 Don't you just love how cute this puppy is? It has black and white fur with gleaming, innocent eyes which adds to its adorableness. The fur is very fluffy and it has a cute little tongue, as well. Your little one is going to love this drawing idea and have a ton of fun with it! You can also help him/her with the outlines as that can be a hard task for beginners.
26. How to Draw a Boxer Puppy Dog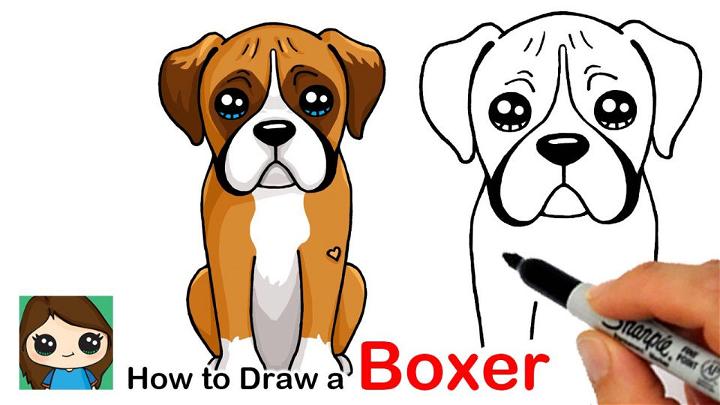 Last but not the least, this guide features a boxer puppy that looks super cute – it has brown fur, a cute nose, and shiny eyes! The ears are floppy and the body is made using straight lines. If your little one is a beginner, it can be quite helpful to choose a drawing that has straight lines and simple steps. So, are you ready to re-create this with your baby?
Related Easy Drawing Ideas:
Discover creative and easy drawing ideas to help spark your imagination. Browse through a variety of art styles and find inspiring, unique approaches for any skill level.
Conclusion: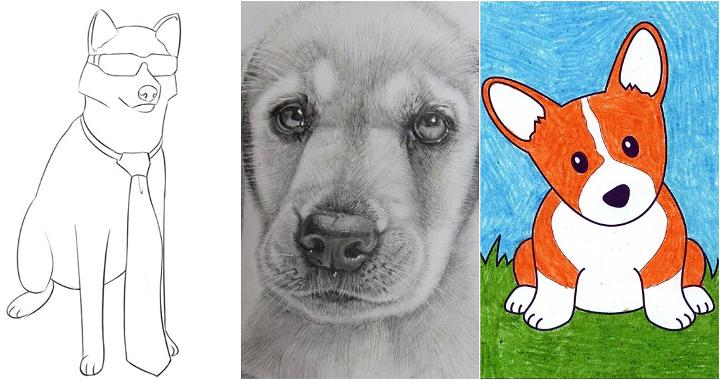 So, are you ready to experiment with these 25 ways to draw a dog? It can be very exciting to think of spending a ton of time bonding with your little one while drawing these adorable drawings. However, it is quite important to also let your child draw a few of these without any supervision or with their friends/siblings. Your child is not only going to improve his/her drawing skills but also learn a lot more about dogs by the end of this amazing drawing session! It's going to be so much fun!