Chalk art is a great tradition to boost the kids summer fun in the sun. It also helps to keep the kids away from the tech gadgets to perform some physical activities. However, the tradition has been evolving for decades, and now there is too much chalk art to draw on the sidewalks and garden walkways than just the stick figures and hopscotch. Explore these 30 easy chalk art ideas and drawing projects that are guaranteed to take your sidewalk chalk art game to the next level.
Dozens of interesting chalk drawing ideas will leave you stunned and will also impress all the passersby. However, these simple chalk art ideas will be the best outdoor activities for kids and adults every season. From Halloween sidewalk art ideas to outstanding Independence sidewalk art to extra brilliant 3D sidewalk chalk ideas, all are included in the list of sidewalk chalk ideas to get impressed with.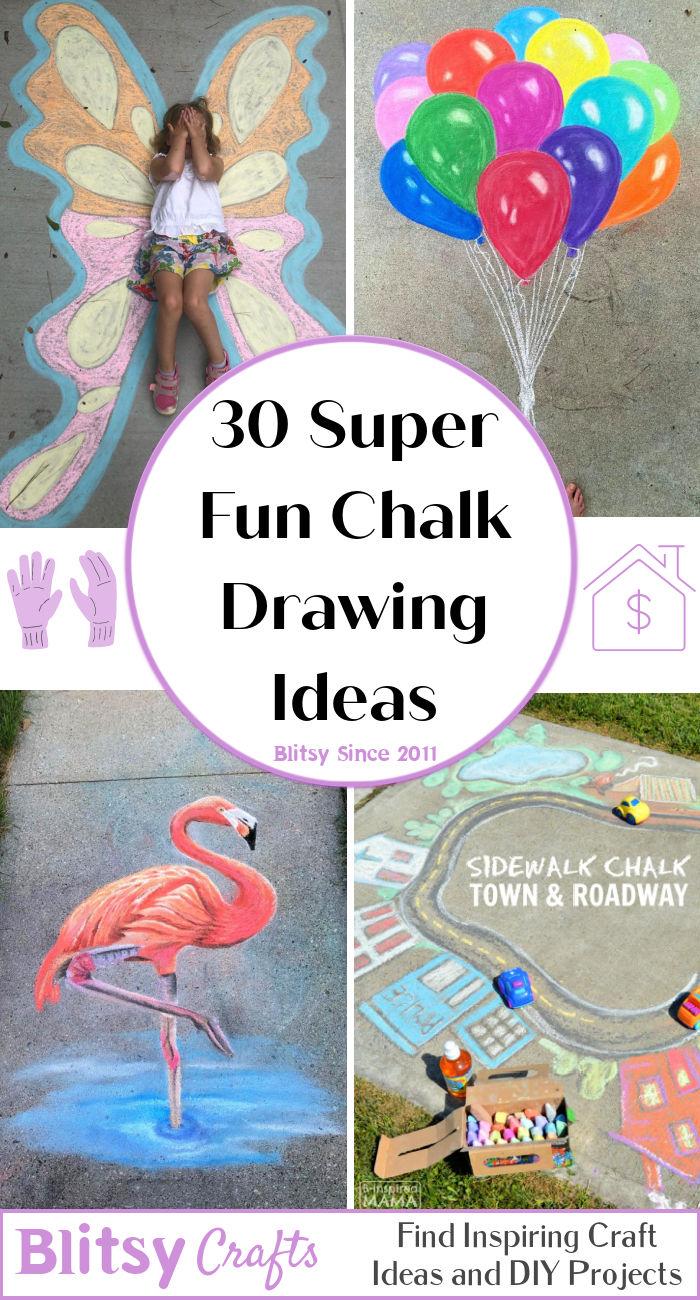 From beginners to intermediate to advanced, there are chalk art ideas for all skill levels. However, you will get here amazing road drawing projects for preschoolers and toddlers too. From aiding in fine motor skill development to improving confidence and creativity, these simple chalk drawings will provide several different benefits to younger artists.
However, many fun animal and flower chalk art ideas are also included in the list that everyone will love to do for sure. However, these sidewalk arts will also make amazing backdrops for photography and will be a brilliant way to add tons of visual interest to boring blank walkways.
1. Giant DIY Chalk Art Town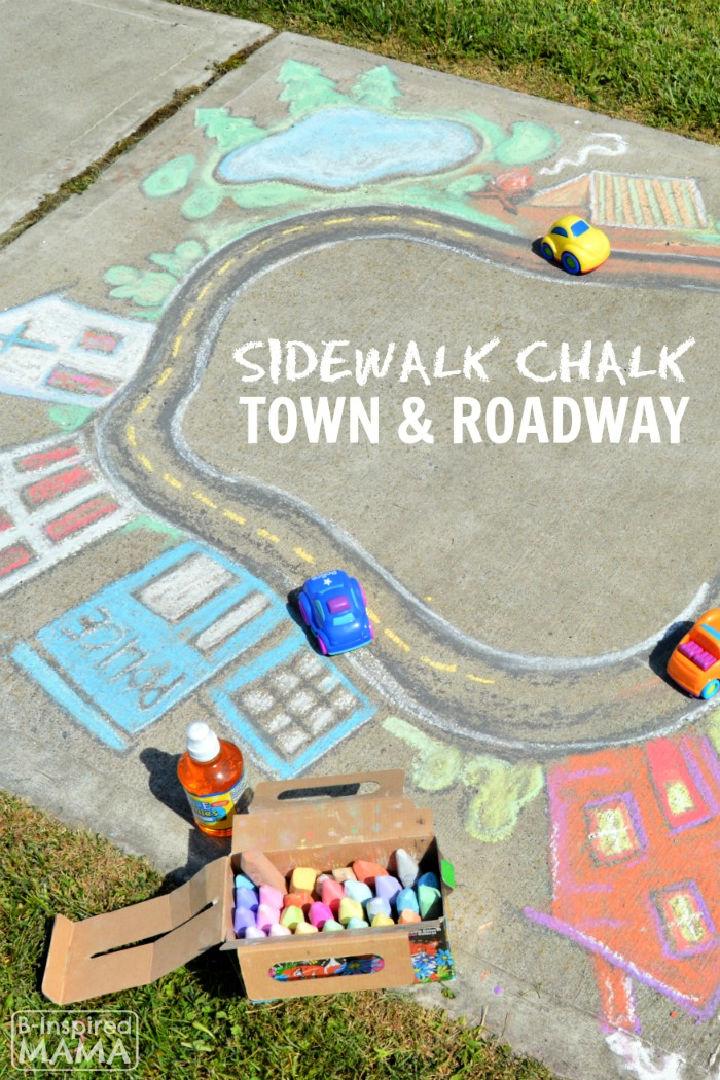 The summers are loved more due to the fun activities it comes with. Have fun in the sun by creating this giant sidewalk chalk art that is visually captivating and will also help bring colors to the sidewalks. This will also help boost your creativity and drawing skills. So, just carry your sidewalk chalks with you and try drawing this giant sidewalk art that is all about making a town and roadway. This will definitely impress the neighbors and other passersby. You need sidewalk chalk, toy cars, Tum-E-Yummies and snacks to do this project. b inspiredmama
2. Stencil Spray Chalk Sidewalk Messages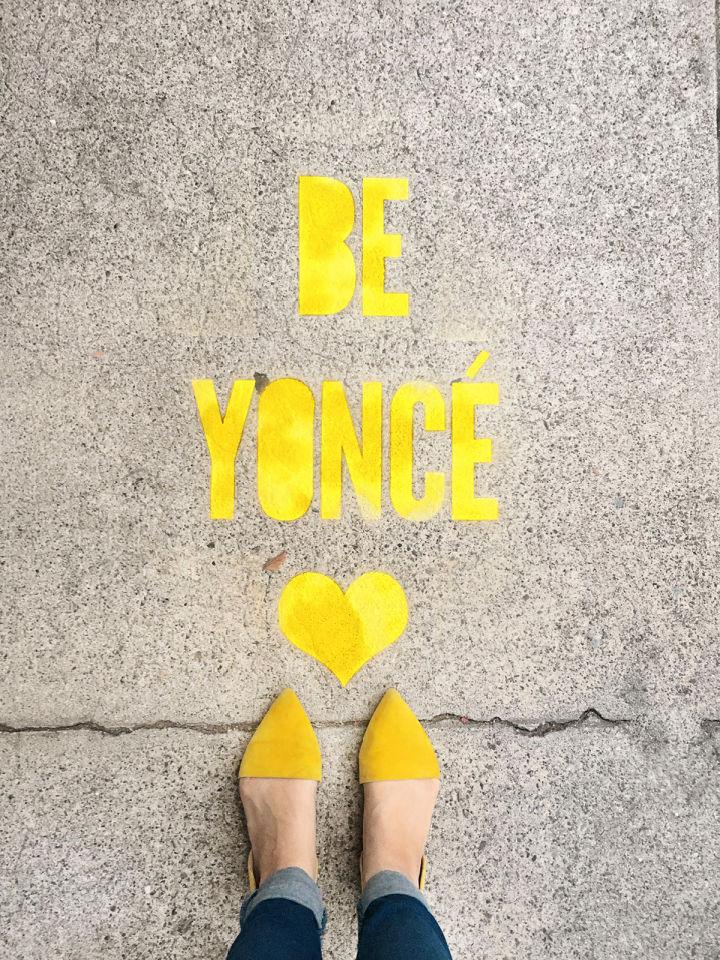 Promote being happy and bring those priceless smiles on their faces by stenciling this gorgeous "BE HAPPY" quoted art. It will complete in just no time, and the addition of heart shape just brings all those romantic vibes to this sidewalk art, sure to be loved by all. However, you can experiment with this project with your favorite colors and stencils, and it will help fancy up the sidewalks. You can write anything that is in your mind. To complete this project, you need stencil paper, a Cricut machine, a long mat, spray chalk, scissors, and damp rag towels. lovelyindeed
3. How To Draw A Chalk Pumpkin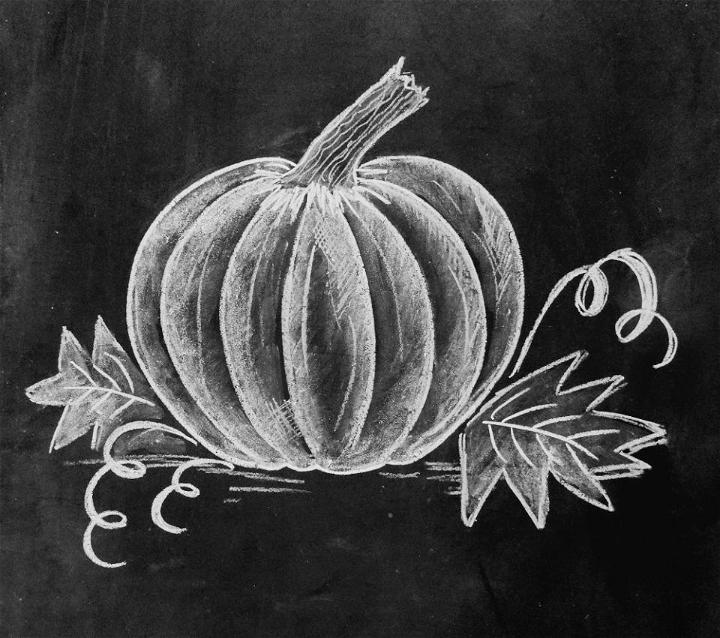 Drawing pumpkins on the sidewalks or the custom chalkboards will rock for the fall and Halloween vibes. Follow here guides and instructions about how to do it nicely and brilliantly using the chalk. You can start drawing the pumpkin by making a big circle, and next, you can fill in custom details in it. Here you need a chalkboard, white chalk, a pencil sharpener and some drawing skills to complete this entire project. From drawing the whole pumpkin to shading and adding details, you will get detailed diagrams for all. lilyandval
4. Color Blending With Sidewalk Chalk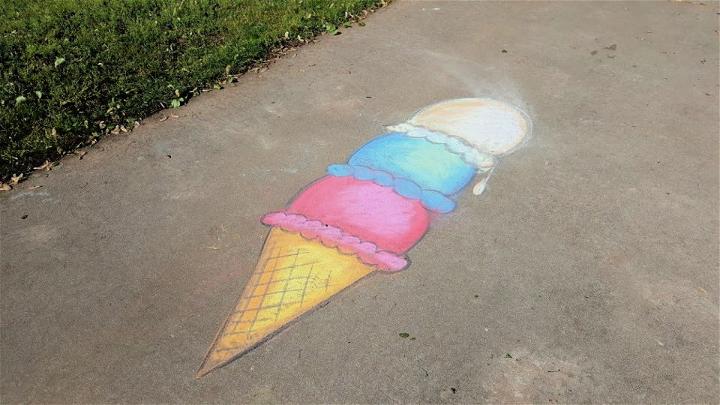 Get here instructions about drawing an ice cream cone on the sidewalk just for bringing some colors and cuteness to the entire sidewalk. You can easily draw the cone by making a triangle, and it will be super easy to add multiple ice cream scoops on it. The main ingredient for the entire drawing will be the sidewalk art, and you can complete the drawing with a customs number of ice cream scoops. The kids will love to do this sidewalk art project, and it will work great for fine motor skill development.
5. How To Draw A Flower With Sidewalk Chalk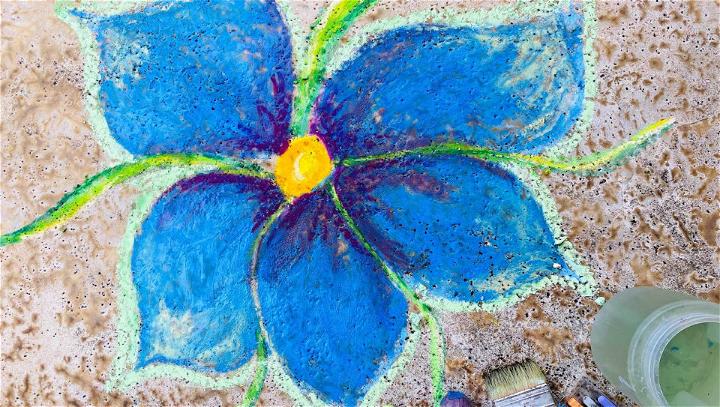 Get here the free video instructions about how to draw the sidewalk chalk flower. It will rock to celebrate the arrival of the season of flowers, the spring. However, you can do it in any season just to satisfy your love for flowers and bring those necessary colors to sidewalks. It can be the best way to sharpen your drawing skills or impress passerby with your drawing skills. The entire project completes in no time once you outline the flower carefully. Start the project by drawing the yellow flower center. You must be a little expert in shading to complete this project.
6. Memorial Day Sidewalk Chalk Art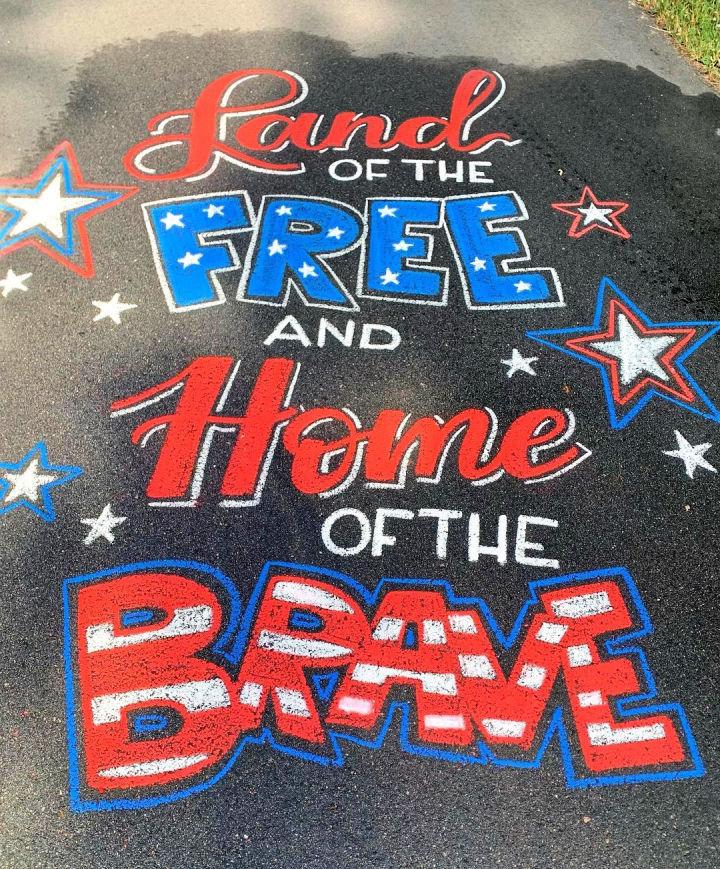 Celebrate the 4th of July Independence Day also by getting busy in the sidewalk art fun. Just draw or write anything on the sidewalk featuring the stars and stripes, and this "Land of the Free and Home of the Brave" quote rocks, and you can even use custom stencils to complete the entire quoted art in no time. Adding red and white stripes in the letters and stars just brings those festive vibes to the entire art. You can even involve the kids to do this project, and it will be loved dearly by all passersby.
7. Butterfly Chalk Street Art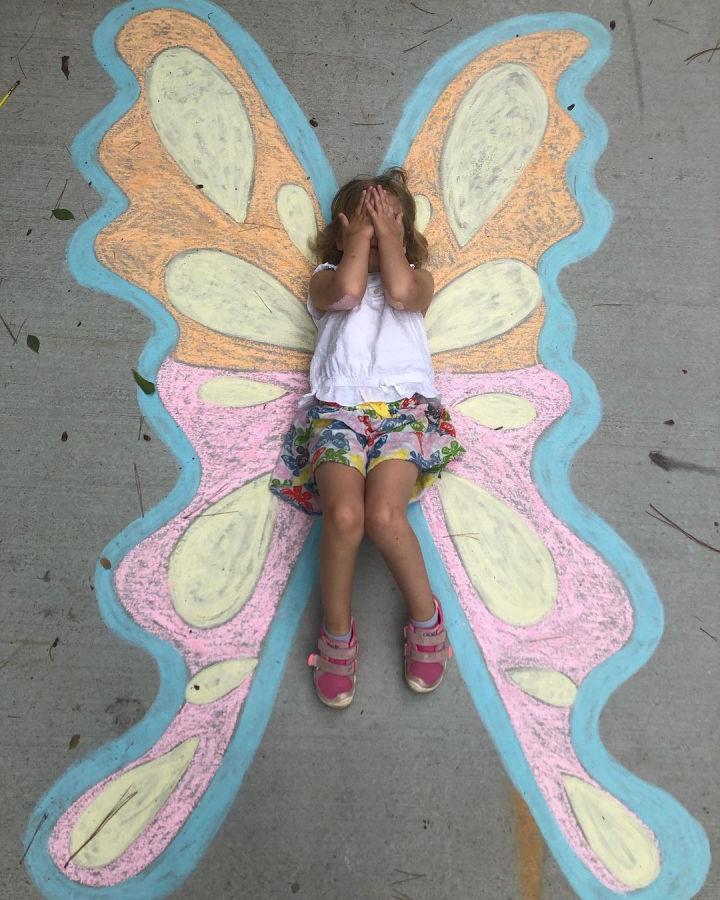 The spring is the season that brings not merely colorful flowers but also colorful butterflies. So, it will be a great way to celebrate the spring season by drawing this butterfly chalk street art, will be loved by all the kids will love it, and it will rock as a backdrop for fun photographs. You must be a little expert in drawing butterflies to complete this project with quite an ease. However, you only need the sidewalk chalk in diverse different colors to complete this project. You can make it at home too.
8. Easy But Cool Cheese Pizza Chalk Art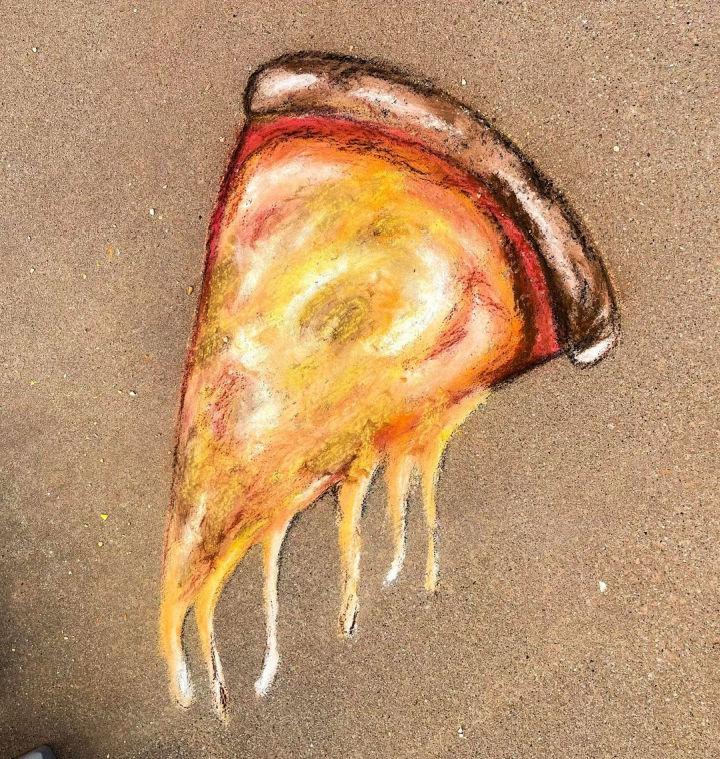 The street or sidewalk chalk art allows you to express all that in your mind and heart. You can even show your love for the pizza by drawing this yummy pizza slice on the sidewalk. It will surely impress all the pizza lovers, and it will be a beginner drawing project for sure. Just outline the pizza slice, then start filling colors in it. The project is all about shading the slice smartly, and it will complete simply in no time. Just get busy with the sidewalk selected in the respective colors to complete this entire pizza slice drawing project.
9. Stained Glass Chalk Art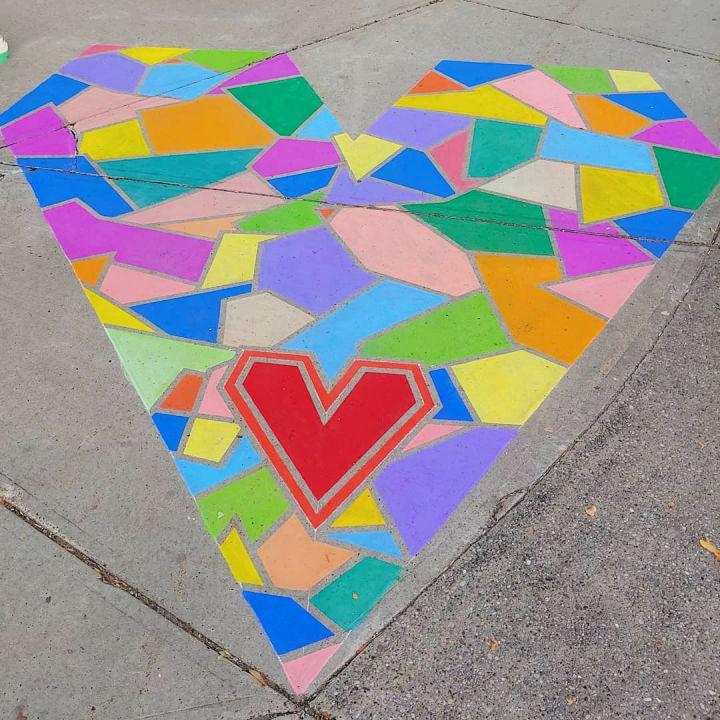 Are you deeply in love with the stained glass decors, then you will surely fall in love with this stained glass chalk art that is much visually captivating and will surely be graceful on any sidewalk for sure. The design of the heart shape is much visually captivating, and you can draw the custom patches to fill with bright custom colors, and there is also a big red heart in the center, which makes it look extra beautiful entirely. One of the best and quick-to-draw sidewalk hearts. You can even use a stencil to complete this project. It will work rock for Valentine's Day also.
10. Sidewalk Chalk Shark Art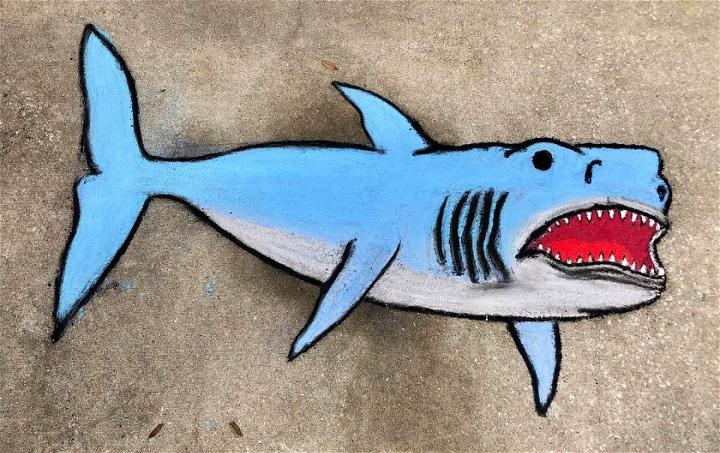 Jazz up the sidewalks with this realistic shark chalk art that will be loved dearly by all and is much visually captivating. It will be super easy to draw the whole fish for the beginner artist, and it will also create too much fun to add the custom details. Outline the entire shark and then start adding the face, nose, fins and other details. The best way to bring a touch of the ocean to the walkways and sidewalks. It will not take that too long to complete this sidewalk shark art.
11. Fun Chalk Bubbles Art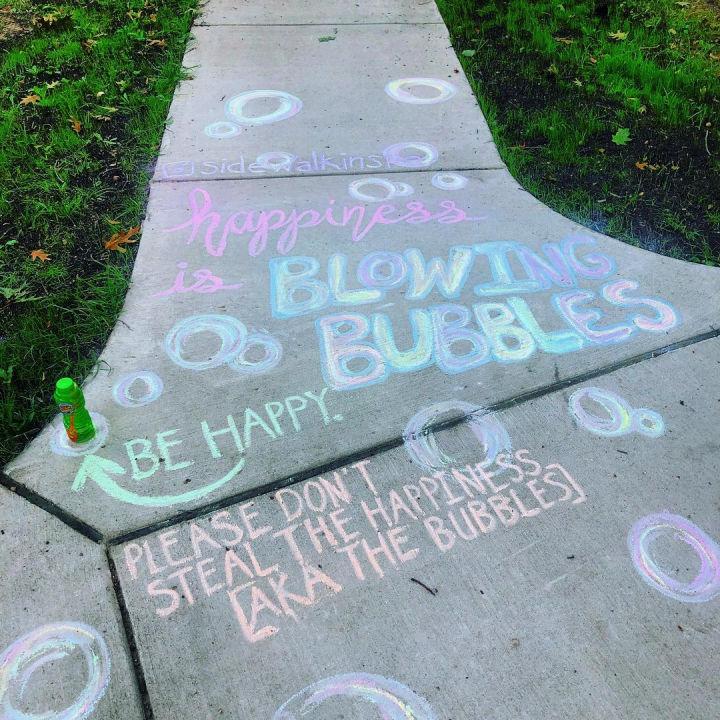 Bring some bright, fun colors to the walkway or sidewalks by adding these colorful bubbles and quotes. Kids will love to draw the small and big circles with chalk and to write the custom quotes on the cemented sidewalks. Here, the chalk is used in pastel colors to complete this sidewalk art, and it will certainly jazz up the whole walkway. This is going to be a beginner sidewalk idea that every little artist will love to duplicate. Just provide your kids with some sidewalk chalks and some snacks to complete this project.
12. Halloween Chalk Drawing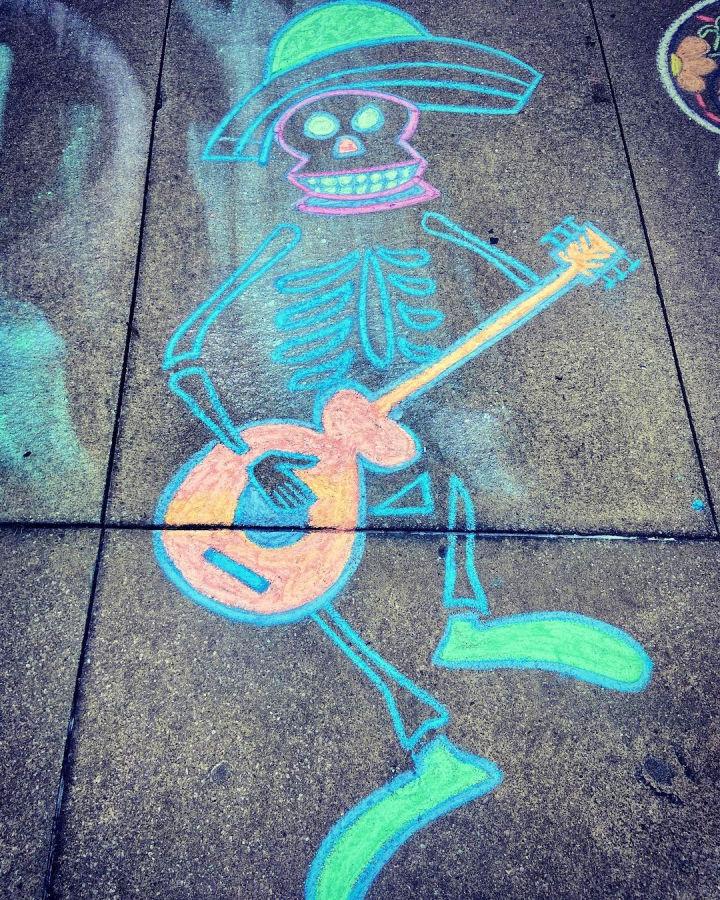 Sorting out the best Halloween art ideas for the sidewalk art? Then why not go with this musical Halloween skeleton that is scary and funny at the same time. It will bring tons of spooky vibes to the targeted walkway and is also a breeze to draw with beginner drawing skills. It will be better if you use the glow-in-the-dark sidewalk chalks for this project, and it will surely be loved dearly by all. At the same time, draw some spiders, ghosts, scary pumpkins, witches and monsters to celebrate Halloween in a brilliant way.
13. Happy Halloween Chalk Art

This is where the most beautiful yet scary sidewalk chalk art that artists will love to duplicate this Halloween season. It features bats, spiderwebs, the scary night and spiderwebs and all is sketched and drawn with the chalk selected in respective colors. The Happy Halloween written in the center will help give a warm welcome to the spooky festival. The drawing will jazz up the entire sidewalk, and everyone will just love to draw it. It may seem to be a bit challenging to complete this drawing, but it is totally easy and quick once you get into it.
14. Dragon Sidewalk Chalk Art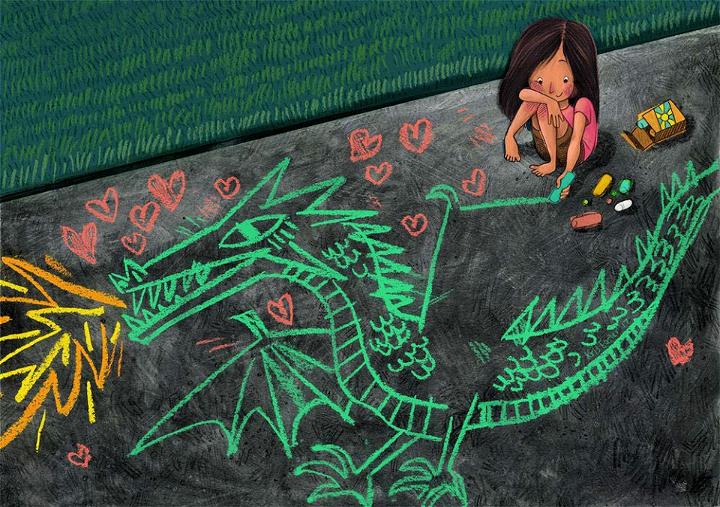 Get inspired by this whole beautiful chalk art painting that all neighbors and passersby will love and appreciate. Here a brilliant dragon art is sketched on the walkway with a little girl sitting insides of it. The added heart and the dragon fire create a dramatic scene on the entire road. The entire idea will rock when you want to jazz up the entire walkways, and it will be the best team project to do outdoor. If kids are also involved, this project will also help develop fine motor skills, academic knowledge, and hand-to-eye coordination.
15. Chalk Mandala Art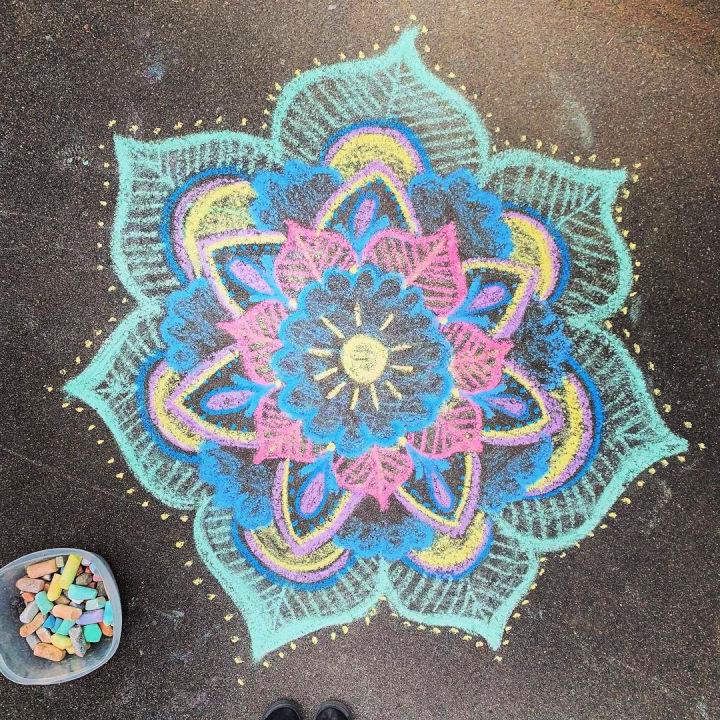 Impress all with your drawing skills by making this chalk mandala that completes in various rounds, and you can add various rounds to it and enlarge it to any size. Even the kids can draw under your supervision, and it will add tons of visual interest to the walkways. Choose this brightly colorful art to impress your neighbor and all living and walking around. Kids can do this project also to boost their outdoor activities, and it will be a total pleasure to complete this artistic mandala drawing. One of the best and quick-to-draw sidewalk art.
16. Peace Groovy Chalk Art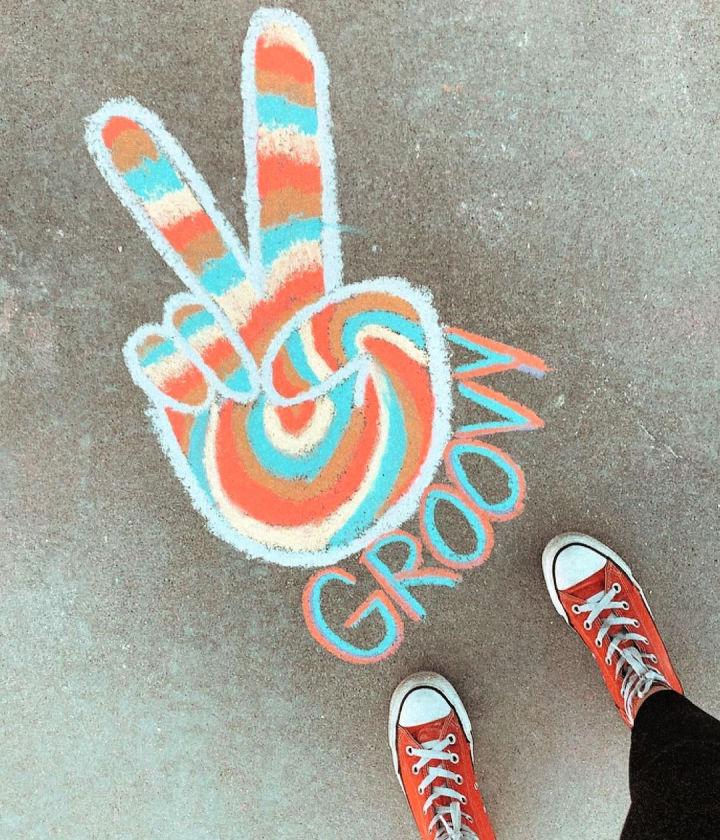 The sidewalk art is what encourages the kids to draw anything that is in their minds. So, if you need some ideas in this case, then this peaceful groovy chalk art will be the most loved one. However, it can be a great victory art also. You have here the freedom to pick your favorite chalk colors for this brilliant artist, and you can also go with custom quotes for added fun and visual grace. Here the orange-red, brown, aqua, white and off-white chalk colors are used for this graceful sidewalk chalk art.
17. 3D Crocodile Chalk Art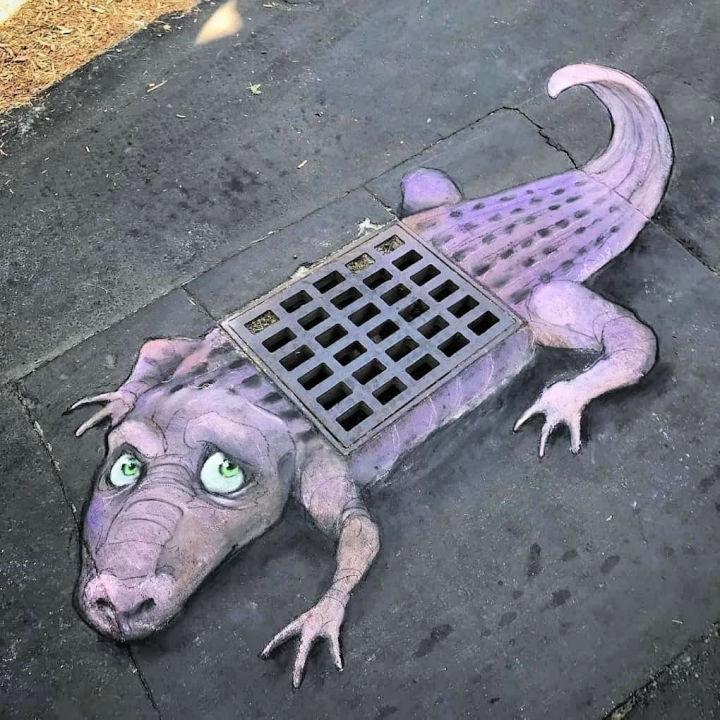 One of the smartest sidewalk art projects is here that will impress at a very first glance. Here is a 3D crocodile chalk art that will bring some great dramatic effect to the entire road and will look coming out of the sidewalk. Drawing this super cute crocodile will surely require some advanced artist skills, and you will love duplicating it too. First, outline, complete the sketch, and then add details by selecting the chalk in respective or favorite colors. So, do get your drawing skills praised by drawing it on the road or the sidewalk.
18. Hopeful Chalk Art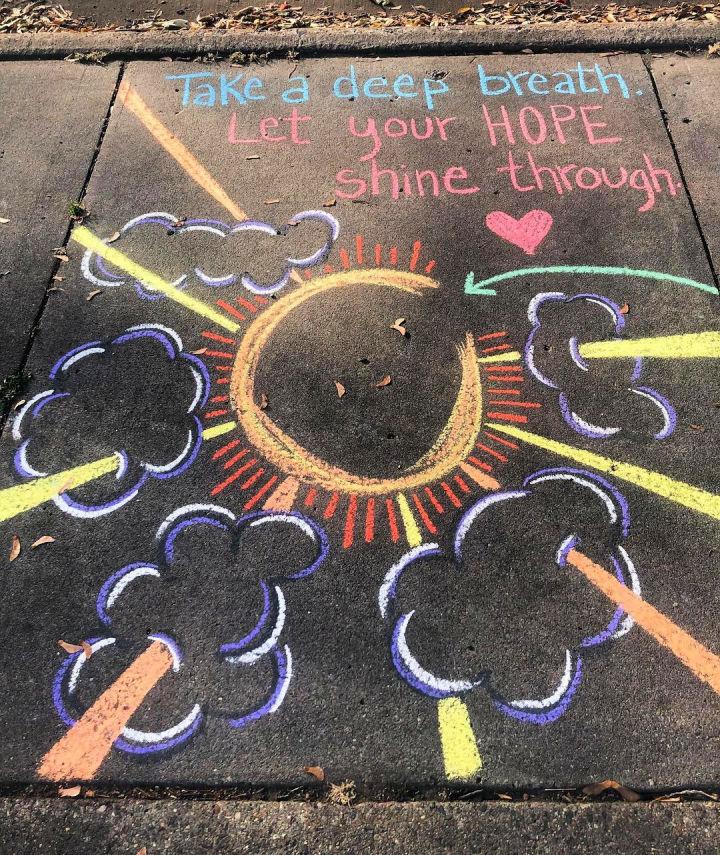 Help people destress with this brilliant chalk art that will give hope to the people in depression. The entire art involves drawing the clouds, sunshine as hope and writing custom quotes on the sides. The entire art will bring a cute smile to the face and will be a total breeze to draw also. The project is just great for beginner artists and kids and will complete simply in no time. Just provide your kids the chalk in respective colors to easily duplicate this sidewalk chalk art. The best outdoor activity for the kids.
19. Drawing Unicorn With Chalk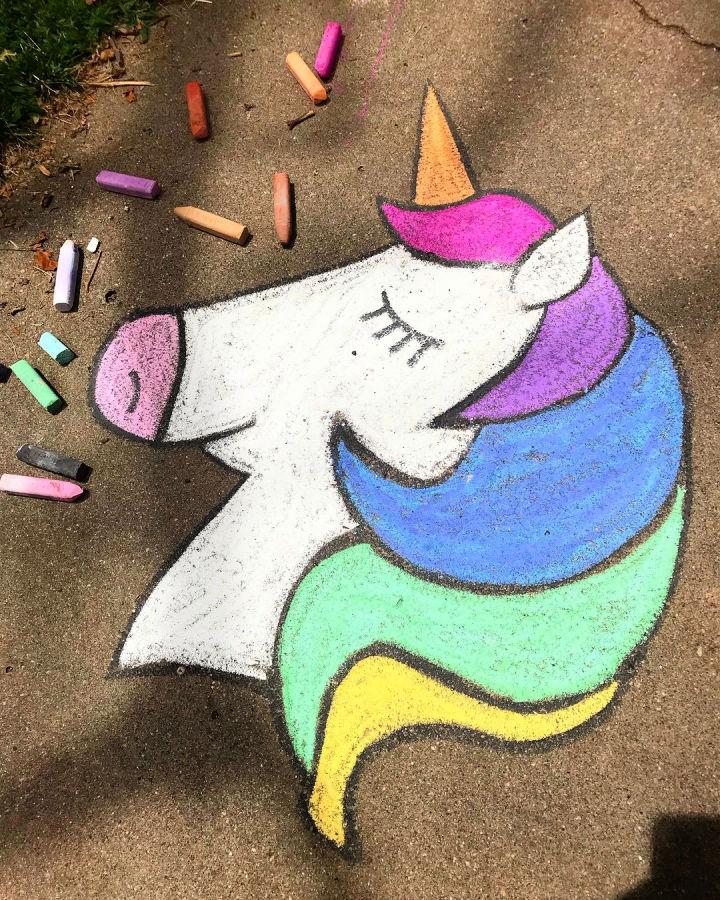 Boost the fun in the sn activities of the kids by making them busy in some sidewalk art projects. This time let them draw this sweet unicorn that is appearing in a variety of colors. The drawing only comes with the unicorn's head and is pretty easy to draw as it involves many details. However, in the case of younger kids, draw the unicorn outline and let your kids fill colors in like the coloring pages. One of the best and quick-to-do DIY unicorn drawing projects that all can do on the sidewalks.
20. Lion Sidewalk Chalk Art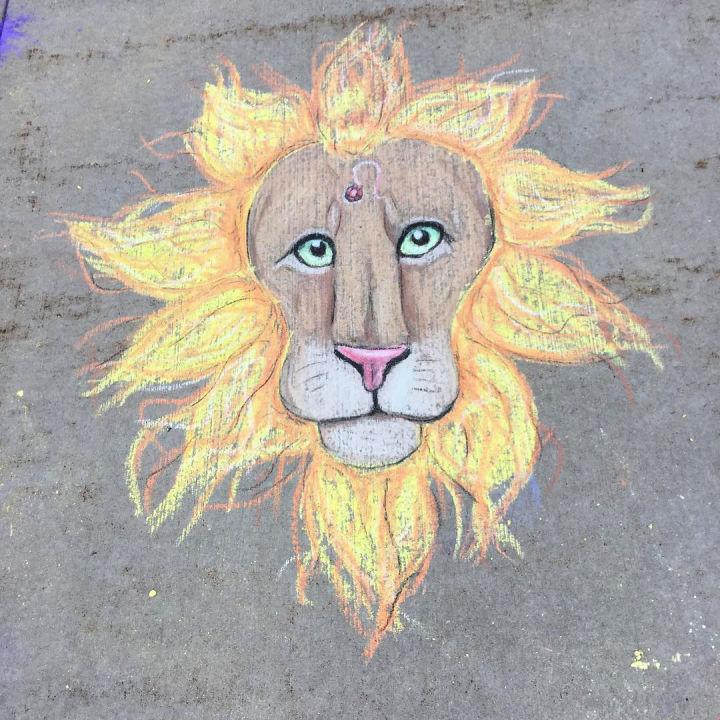 All animal-loving kids will fall in love with this lion sidewalk art that is much visually captivating. Draw it to create that impressive dramatic appeal of the sidewalks, and creating that realistic lion appeal will surely demand some expert drawing and sketching skills. Mainly the project is all bout drawing the face and near-to-real looking face features. Next, you can easily draw the hair all around. A superb drawing art achievement is done with the colorful chalks, and you will complete this project also. However, you can also make the sidewalk chalk at home using simple and quick-to-find ingredients.
21. Cool Rainbow Chalk Art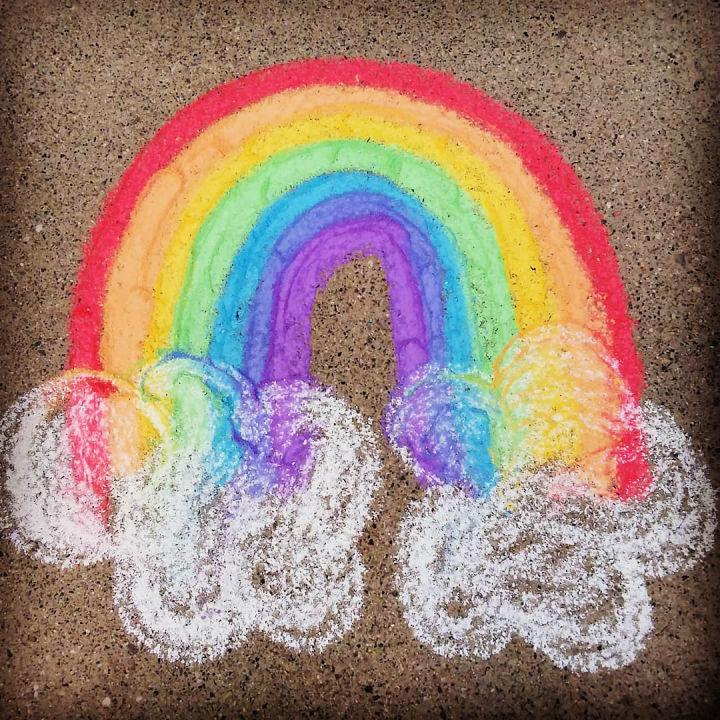 The rainbows are loved dearly by all, and they are a total pleasure to look at. So, why not bring some bright color rainbows to your sidewalks? This will surely help bring some great colors, and the complete rainbow will surely win the heart of the onlookers. The project is beginner-friendly, and even the little kids can complete it with quite ease. You only need some colorful chalks and about 5-10 minutes to see this art on the selected sidewalk. It will be a quick idea to give a decorative treatment to any targeted space.
22. Creative Colorful Spring Chalk Art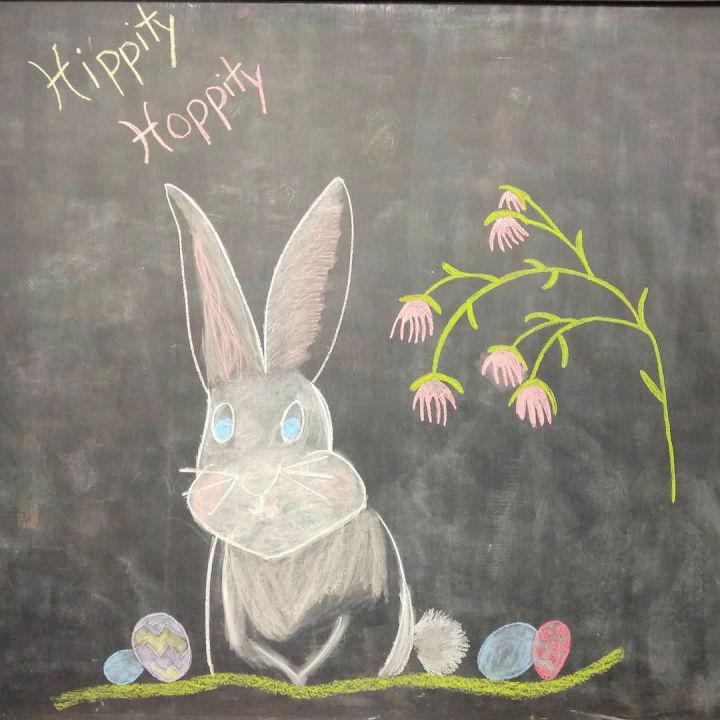 Celebrate the spring season by making this creative and colorful bunny chalk art on the road or the walkway. You can even draw it on the garden walkway, and it will gain the attention of all the kids. Kids with little drawing skills can easily duplicate this creative, colorful spring chalk art, and the entire project will rock for Easter also. Just draw the bunny, eggs, floral art, and write custom quotes to complete this entire project with ease. Shading the bunny will hone the sketching skills of the kids also.
23. Driveway Balloon Chalk Art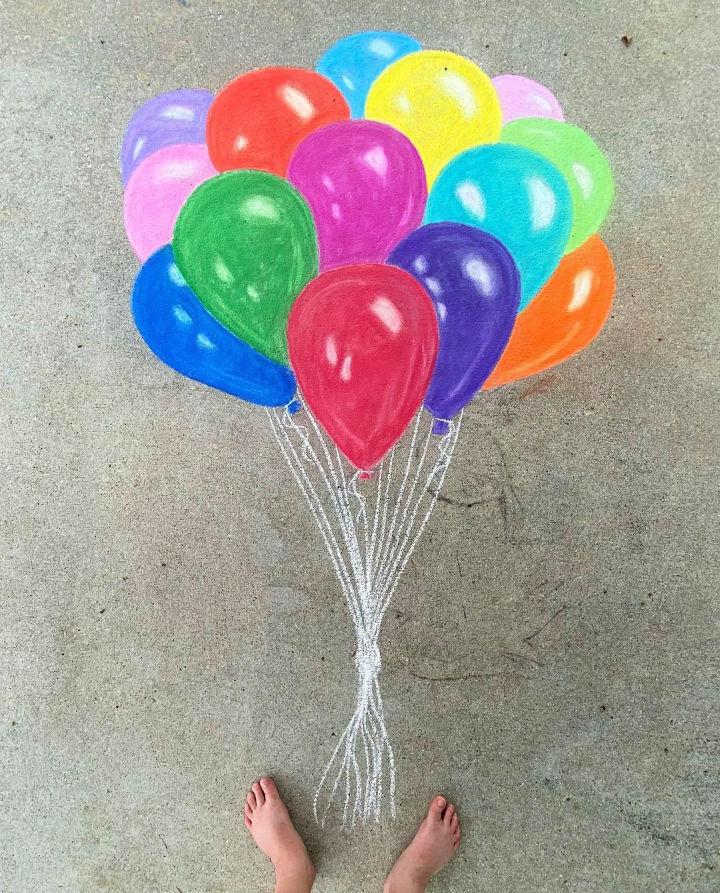 Check out here another great sidewalk art project that kids will love to duplicate with ease. Just provide your kids with colorful chalks and draw these balloons. They will be a great addition to the center of the walkway or driveway. However, these balloons will be a quick way to bring colors to the targeted sidewalk, and balloons will also bring those necessary festival vibes to the sidewalk. One of the best and quick-to-do DIY sidewalk art projects that are a total breeze to whip up even by beginners.
24. Drawing Penguins With Chalk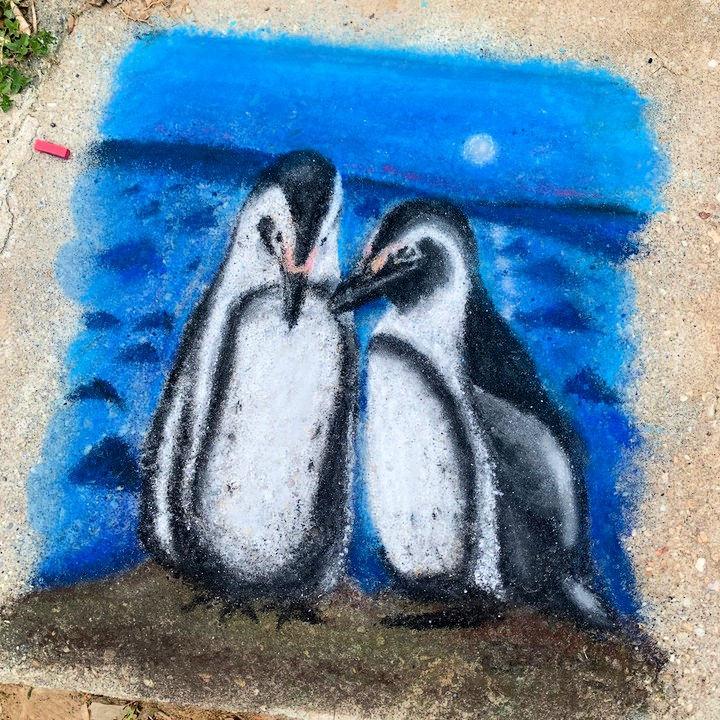 The sidewalk art game allows you to draw anything that is in your imagination. So, win the heart of all the neighbors and passersby with this cute penguin art, sure to give the walkway a glam touch of ocean decors. The penguins are much visually captivating and will be a total breeze to duplicate also. The project is kids' friendly and will complete faster as compared to other projects. However, you can write custom quotes or letters to fancy up this penguin art more. Grab the chalk in black, white, light blue, dark blue and a little pink color to complete this entire penguin art drawing.
25. Cute Chalk Fish Art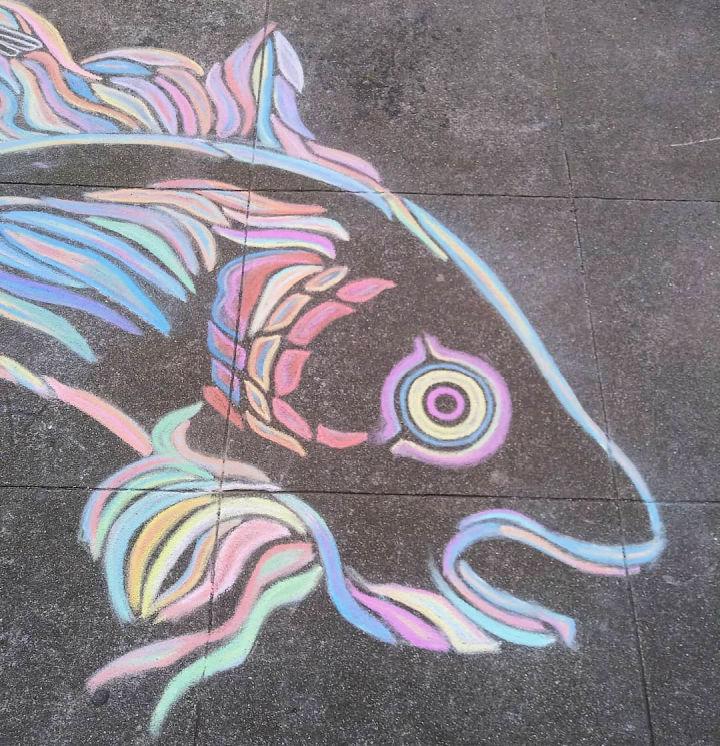 Willing to inspire the younger artists in the home in the sidewalk art activities? Then this lovely fish art will work great in this case. Kids will love to play with chalk colors while drawing this cute fish that can even be filled with custom colors. Here it comes with the basic texture and details and looks great in the neon-bright chalk colors. Completing this fish art will be a total breeze for all beginner artists, and you can also try out this fish art with the custom chalk colors.
26. Sidewalk Chalk Cobra Art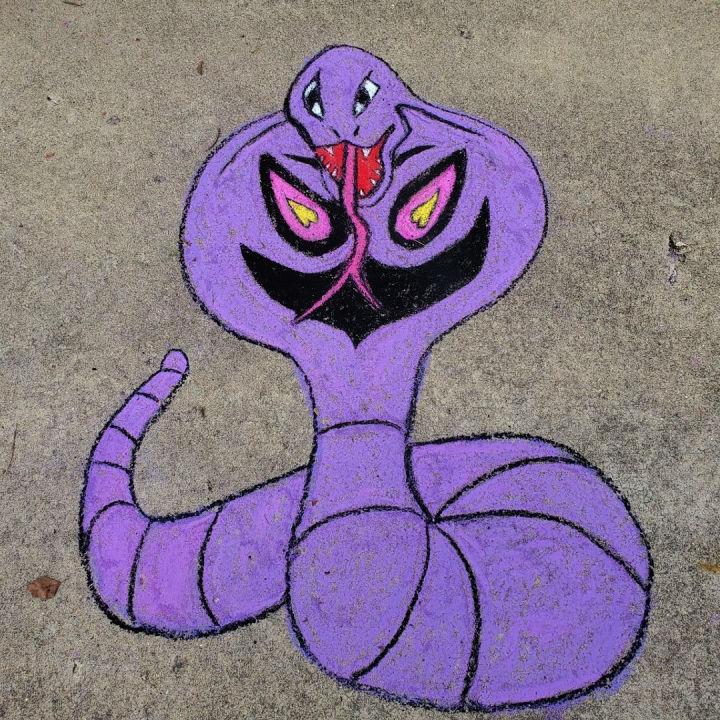 Bring some scary décor statements to the targeted sidewalk area by drawing this brilliant cobra art that is visually captivating. This cartoon cobra painting will bring a big wow factor to the entire sidewalk and will be a total breeze to complete once you outline it. Pick custom colors to complete this cobra art drawing, and kids will love to draw it also with beginner drawing skills. The project is just great for the kids and will also help increase the kids' outdoor activities. One of the best DIY sidewalk art projects to do at home.
27. Easy Beginner Bee Chalk Art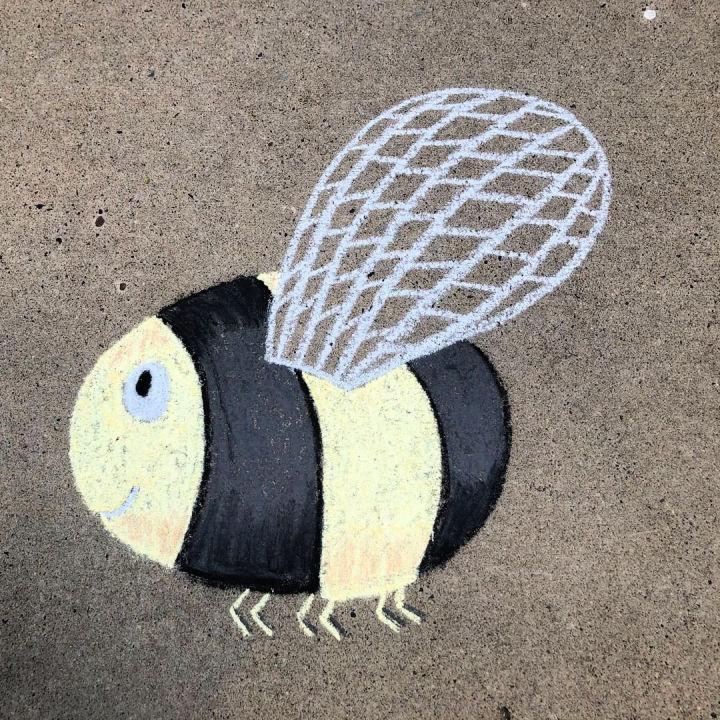 Are you deeply in love with the bees? why not draw some cute bees on the sidewalks for some cute décor statements? Then get inspired by this lovely drawing that is cute and lovely and is easy to draw also. Just draw a big egg on the road and then add the yellow and black color stripes to gain the main body of the bee. Finally, add it up with the cute wings and legs and also with the facial features. The project is just best for the little artists in-home and will surely grace any sidewalk.
28. Fun Chalk Lemon Drawing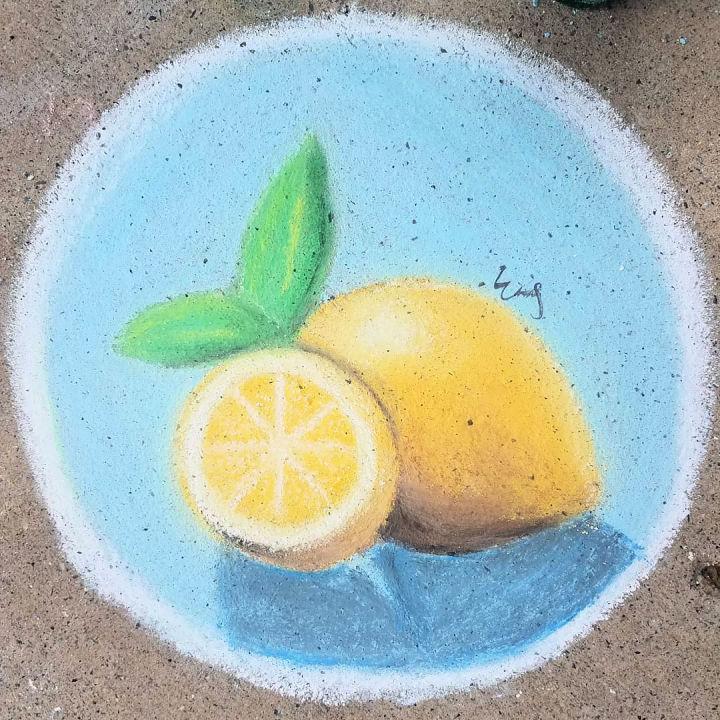 Sorting out the best sidewalk art project for the kids in the home? Then let them draw this fun lemon art on the road. It will be the best idea to feature the citrus fruit freshness on the sidewalks this summer season. It can be fairly easy to sketch up these lemons with green leaves and then a big circle all around it. The art also comes with a lemon slice for added visual grace and charm. Due to being much less in detail, the project will complete in just no time and will be a total pleasure to complete.
29. Chalk Mural To Draw With Chalk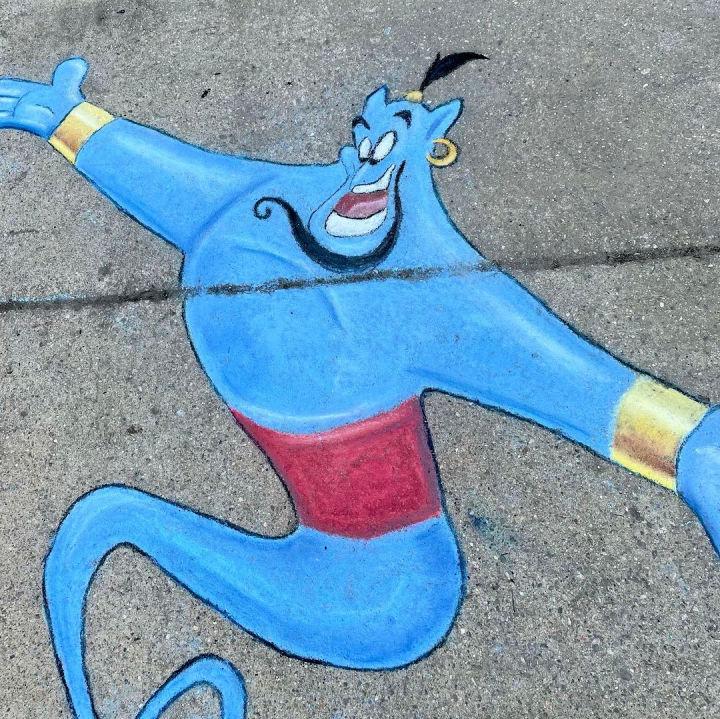 Are you deeply in love with the Aladin series and want to express your love for it on the sidewalk? Then nothing will work great but to draw a giant genie drawing on the sidewalk. Check out a great inspiration for the genus sidewalk art, and it will be totally easy to complete it with beginner drawing skills. Once you outline this Aladin Genie, it will be easier to complete this sidewalk art, and it will also bring a big wow factor to the targeted road or sidewalk area. To complete this Aladin drawing art, you need chalk in white, pink, red, blue, black and yellow gold colors.
30. Flamingo Sidewalk Chalk Art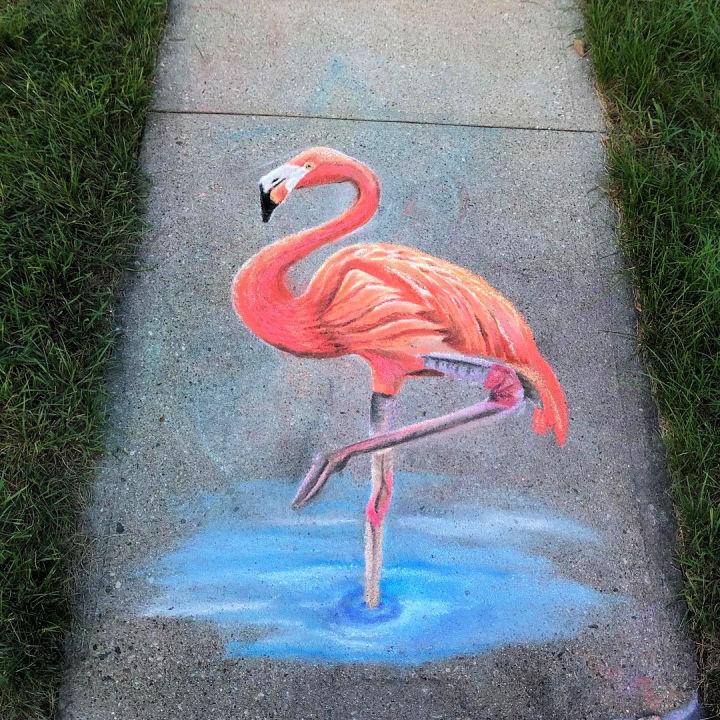 This flamingo sidewalk art will surely get ten out of ten from you. However, you can draw it on the garden walkway also for bigger garden décor statements. The entire art looks more realistic and will impress at a very first glance also. The flamingo is standing in the water and looks much more realistic, and will surely amaze the garden audience for sure. However, you can draw this flamingo art on the sidewalk and garden walkway at the same time. However, you need some advanced sketching skills to complete this flamingo art drawing for sure.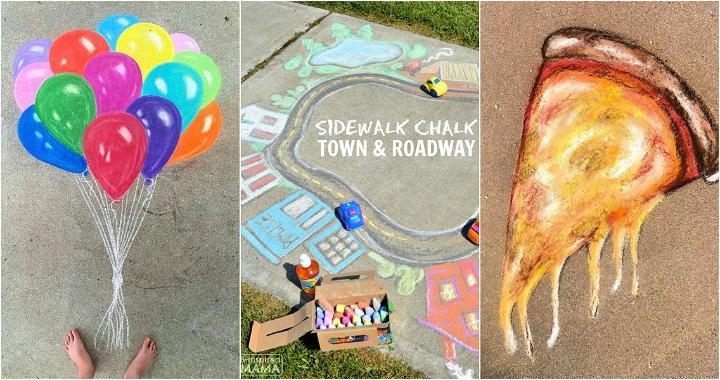 Conclusion:
Are you deeply in love with easy things to draw with chalk but don't know where to start it? Then these best chalk art ideas will give you tons of inspirations to start with. They are all amazing and involve drawing outstanding art for many different festivals and seasons and Independence Day.
From beginner chalk drawing ideas to professional 3D art drawing, all are included in the list. You will get free step-by-step instructions, detailed diagrams, and even video tutorials to easily complete each of the given chalk art ideas beautifully. So, take a quick tour of these amazing chalk art ideas to learn more about sidewalk art tradition.