Learn how to draw a tiger with these 25 easy tiger drawing ideas include step by step sketch guide, printables and coloring pages that would be ideal for the upcoming season for your children. Why is that? Summer season is just around the corner, and soon your little ones will be spending all their free time at home doing nothing. While it can be nice for them to take time off from school, you can still keep their brain stimulated by introducing these art projects to them.
Drawing can be quite relaxing, and many children and adults do it to calm their anxiety. You can help your children have the most relaxing summer by having an art session every day!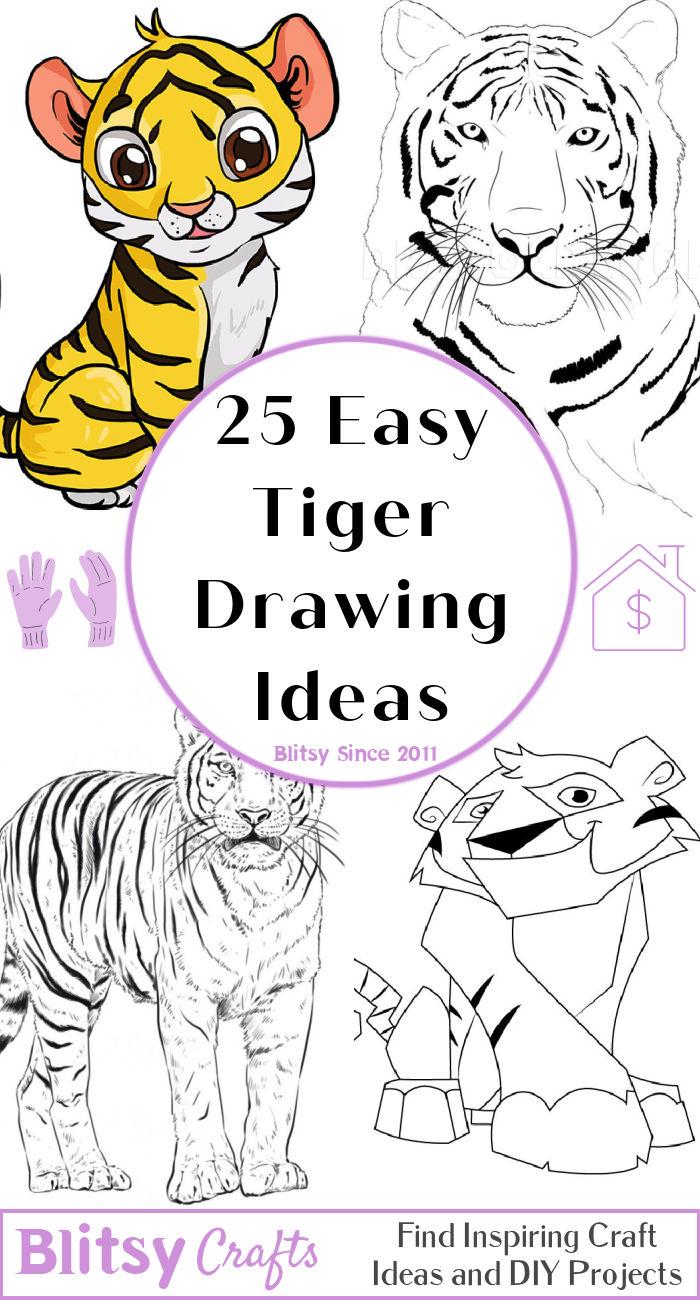 Moreover, these tiger drawing ideas are also great for aspiring artists. Do you want to become an artist and work for bigger brands one day? Maybe you want to become a graphic designer or get into a great art college. Whatever the case may be, it can always be helpful to have a place where you can show off your art – this can be a social media page or a personal portfolio.
You can gather your amazing tiger drawings in it – a hauntingly beautiful tiger drawing would be a great way to impress your audience. This tiger drawings guide has many different types of tiger drawing ideas – Siberian tiger, Bengal tiger, White tiger, standing tiger, roaring tiger, etc.
1. How to Draw a Tiger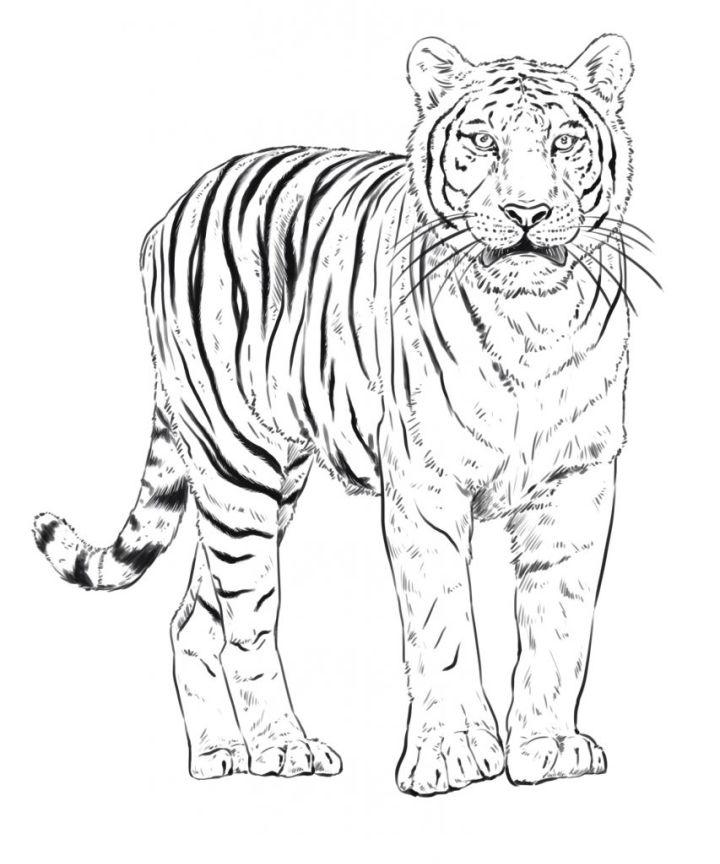 Everyone needs to know how to draw a tiger if they want to be a good artist. This project is perfect for those people who are just at beginner level and want to learn sketching gradually. This guide has many steps, and you can split them into days or do it all in one day. Make sure to take the angles into account when sketching every line so you can get it right. wonderstreet
2. Tiger Drawing for Kids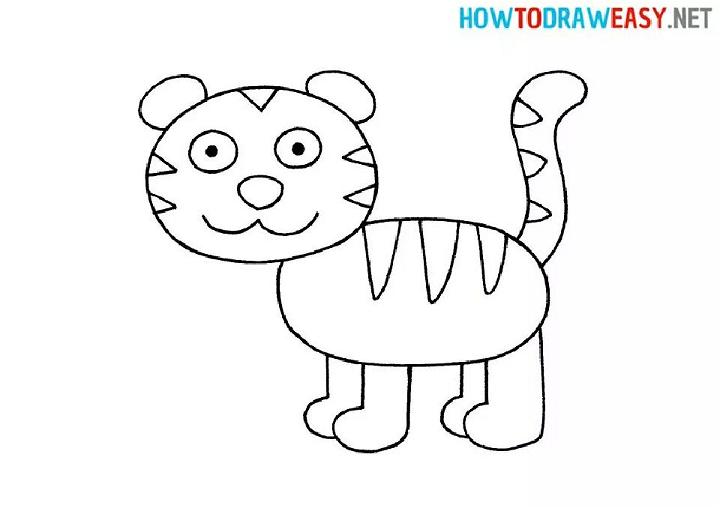 Students at the elementary level should all learn to draw so they can sketch up whatever they want in the future. Sketching can be an important life skill that can be used in many places and also improve the motor skills of your little ones. This tiger is very cartoonish and is a perfect beginner project. So, are you ready to introduce this to your child? howtodraweasy
3. How to Draw Bengal Tiger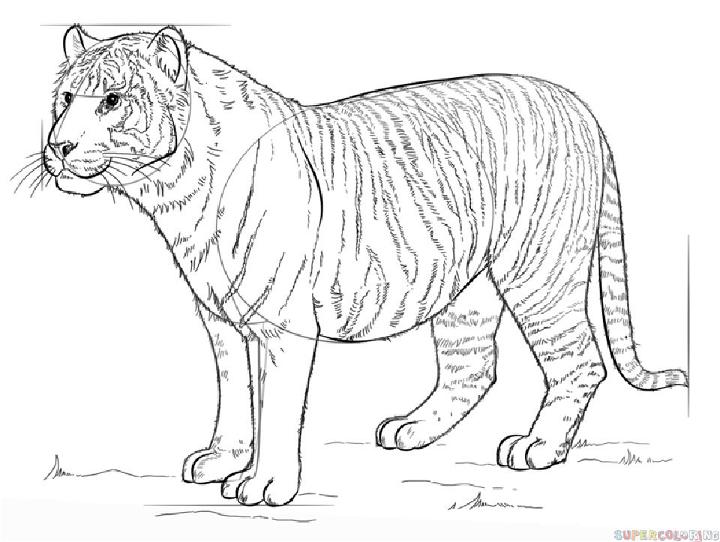 The Bengal tiger is a special species of tiger, and numerous of them are found in Asia. If you want to gift a sketch to your Asian friends or just want to draw something that will look prestigious and beautiful – follow this guide! The final result is stunning and can be framed and put up on the wall! Moreover, this guide has illustrations and descriptions for you to follow! supercoloring
4. Realistic Tiger Drawing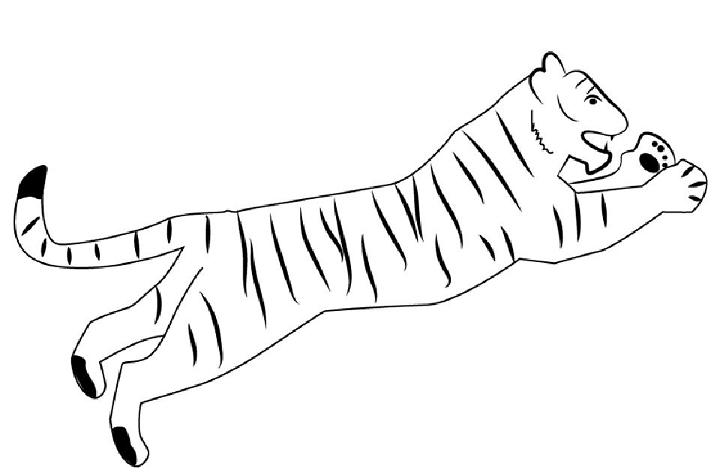 Is your child obsessed with cats and wants to own one? Promise I to get them one once they've learned about every cat in the world! Start by assigning them this beautiful sketch and telling them all about the largest cat in the world – a tiger! This plan is available for you to view in three different forms – standard, printable and step-by-step. drawingtutorials101
5. Tiger Drawing in Just 8 Easy Steps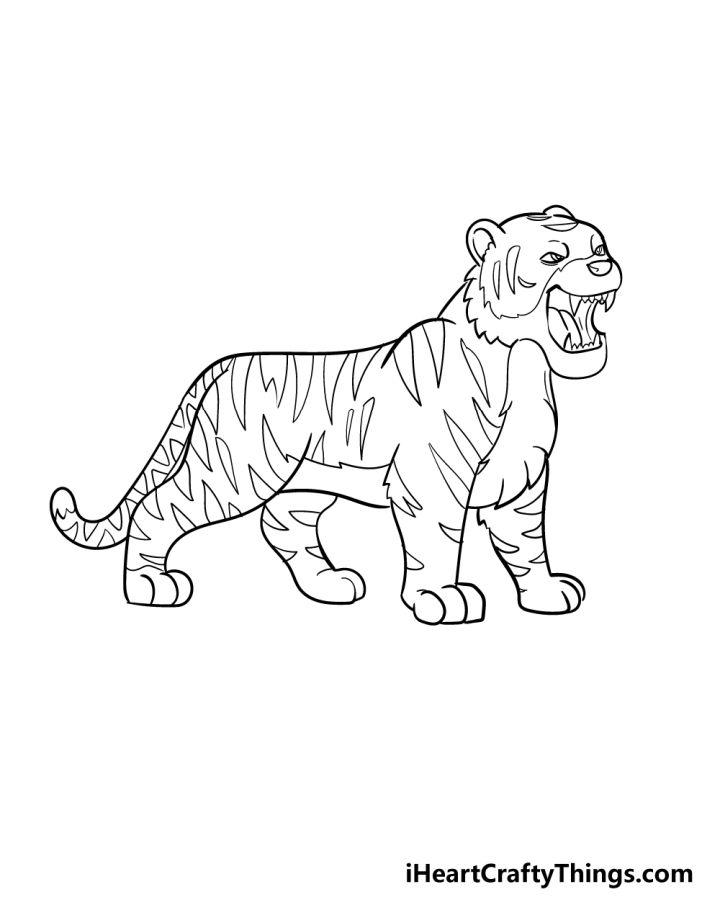 Everyone fears tigers in real life; however, your child might view them in a different light because of cartoons. You can tell them all about the tigers in real life while having them draw this beautiful sketch of a tiger! This art form can be used in paintings, clipart, movies, animation, and much more. You can customize it according to your preferences, as well. iheartcraftythings
6. Easy Way to Draw a Full Body Tiger

Do you want to learn to draw a tiger in just nine steps? Well, then here is the realistic tiger drawing guide for you! In comparison to the other tiger drawing ideas, this one is easier as it only comprises nine steps, but you still get an amazing result! Moreover, this guide has many viewing options – pencil sketch, colored pencils, video, standard, printable and step-by-step! drawingtutorials101
7. How to Draw a Realistic Tiger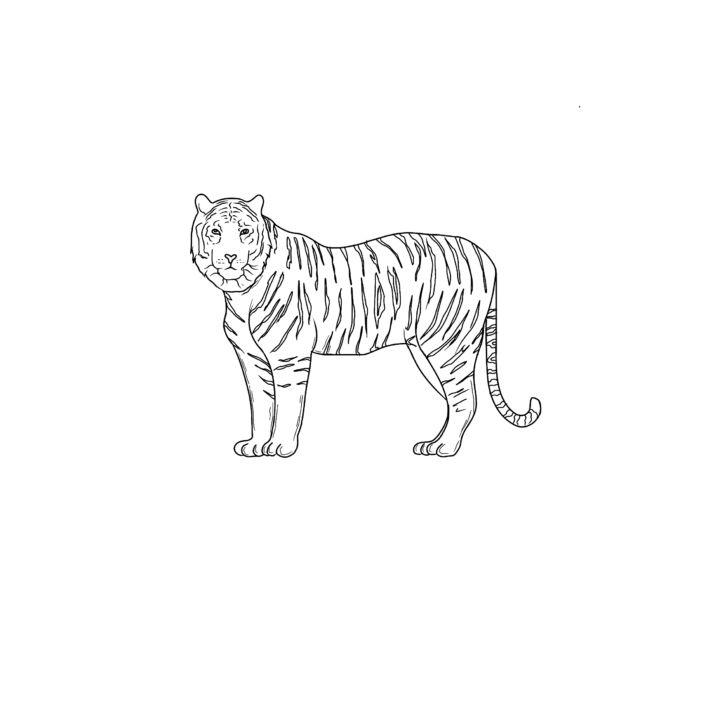 Who knew that a tiger could be drawn in simple give steps? Well, it can be intimidating at first to draw a tiger as it is a beautiful creature and consists of many different details. However, it's easy if you draw it cleverly. You can either draw this on paper or find the best tools to draw this sketch through this guide. Isn't this exciting? jaejohns
8. Nice Drawing of a Tiger for Beginners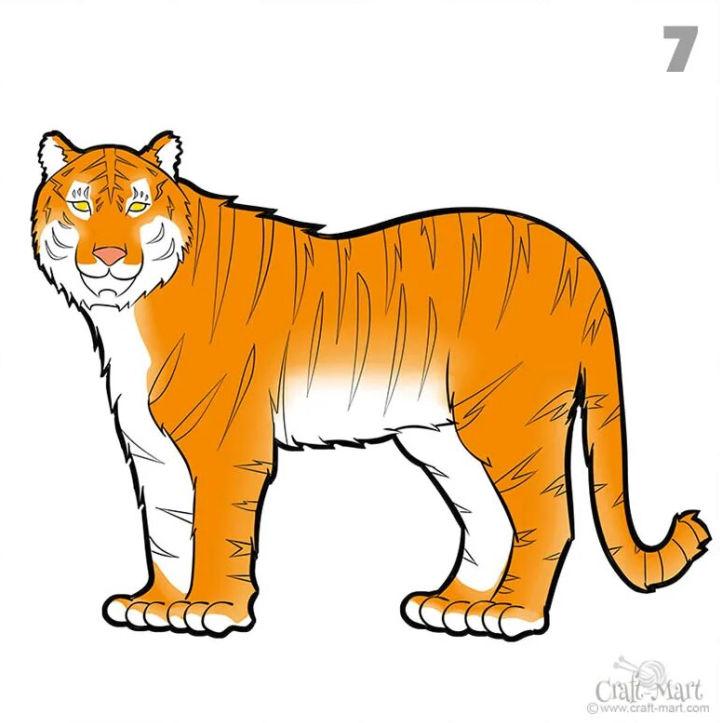 No one has the time to approach a drawing of a tiger seriously for the first time. Firstly, it can be quite time-consuming, and secondly, you will most definitely mess up without any initial practice at hand. It's recommended to go for an easier drawing idea such as this one to slowly get better at drawing. You can print out these papers and use them for tracing, as well. craft mart
9. Create a Tiger Sketch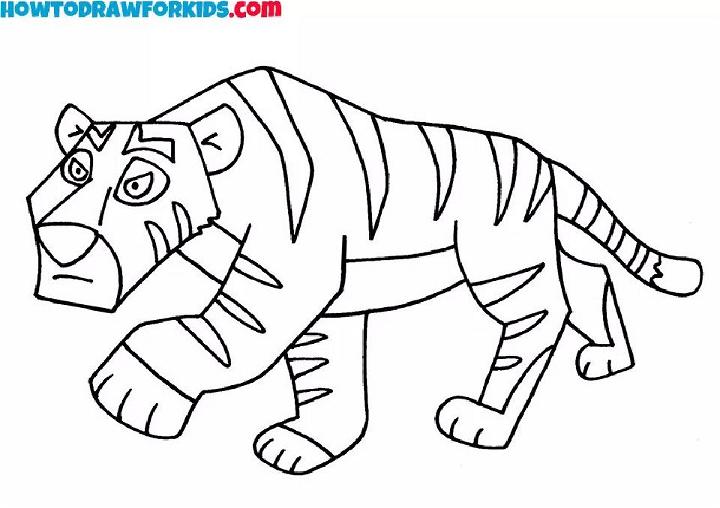 Here's a cartoonish tiger that all the children are going to appreciate a lot! This tiger almost looks like the one that they might see in their animated movies or cartoons. Moreover, it's easy to make and only consists of 9 simple and easy steps. You can help your child with the sketching part and then let them color it in themselves. howtodrawforkids
10. Realistic Tiger Head Drawing – Tiger Face Drawing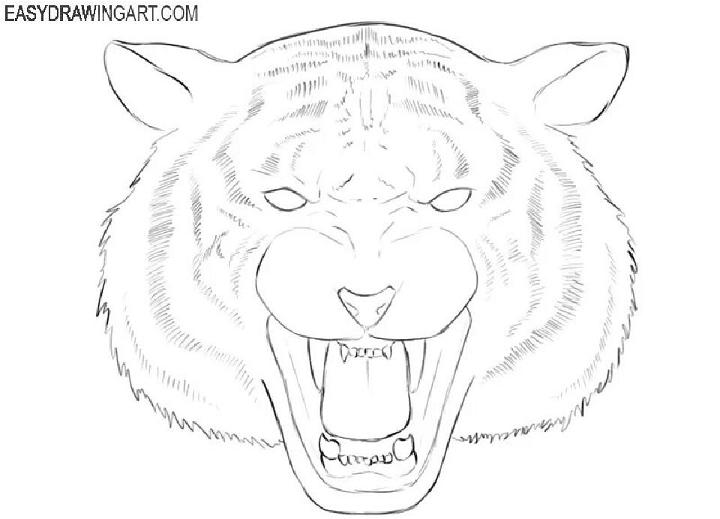 Have you ever tried a tiger head on its own before? Many famous artists love drawing tiger heads as they can look so deadly and beautiful at the same time – which is always something that would attract a true artist. If you want to add depth to your tiger drawings, start by learning to draw the head first by following this amazing and detailed guide! easydrawingart
11. How to Draw a Roaring Tiger Face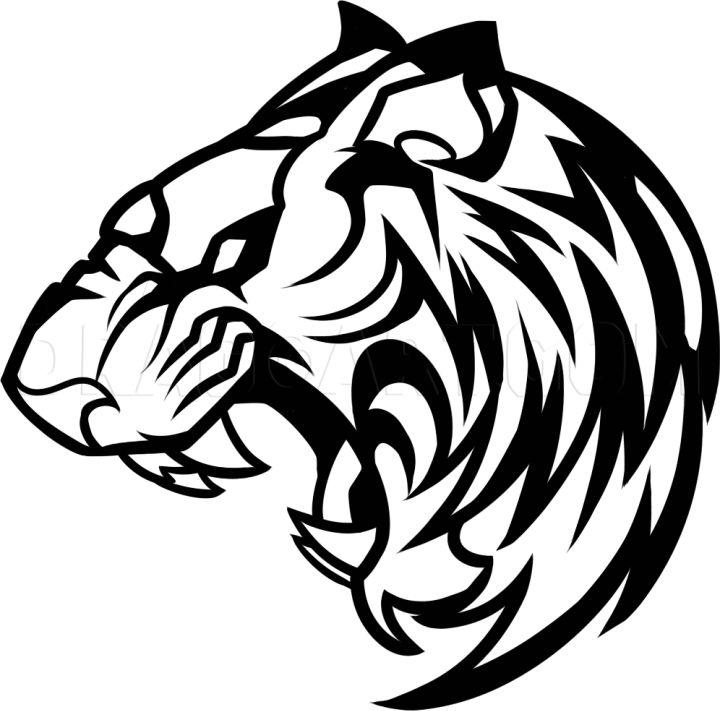 A tiger can be caught in its actual element if you draw it while roaring! Tigers are known to be deadly and dangerous but fierce and stunning. You can capture this in your drawing by showing off the strength of the tiger and filling in your outlining with bright colors to show off the tiger's beauty. Just follow this guide, and you will be able to make this in no time! dragoart
12. Draw a Simple Cartoon Tiger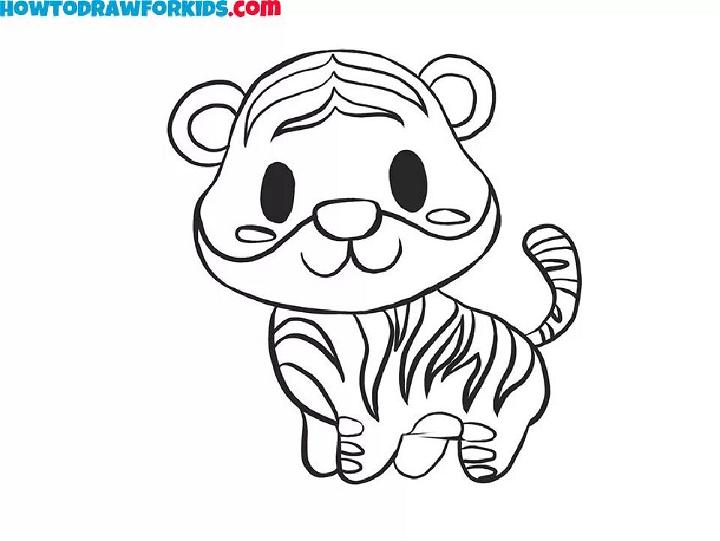 Cartoon tigers can be used in many different ways – for children's picture books, Instagram art accounts, art portfolios, small clip arts, animations, movies, etc. You can draw a tiger in a beautiful art form like this one to make it stand out from the crowd and attract customers. Moreover, this tiger cartoon drawing will also make a marvelous art piece – hanging up on the wall in a frame. howtodrawforkids
13. Step by Step Baby Tiger Drawing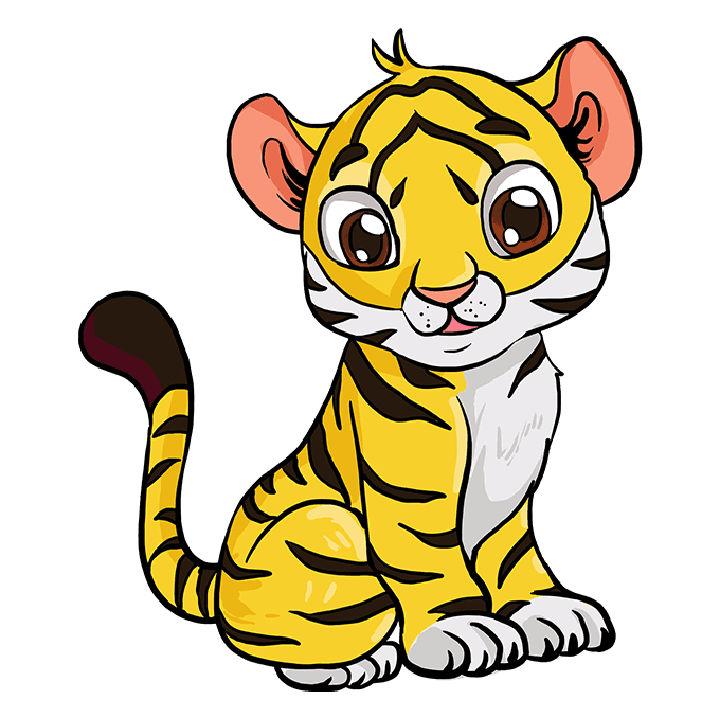 Baby tigers are adorable, and everyone finds them quite similar to cats. If you already know how to draw a cat, then this will be a piece of cake for you. Furthermore, you can also teach this sketch to your little ones so they will be able to draw it in front of their friends and show off their amazing art skills! Isn't that exciting? Gather your supplies and get started! easydrawingguides
14. Draw a Japanese Tiger Tattoo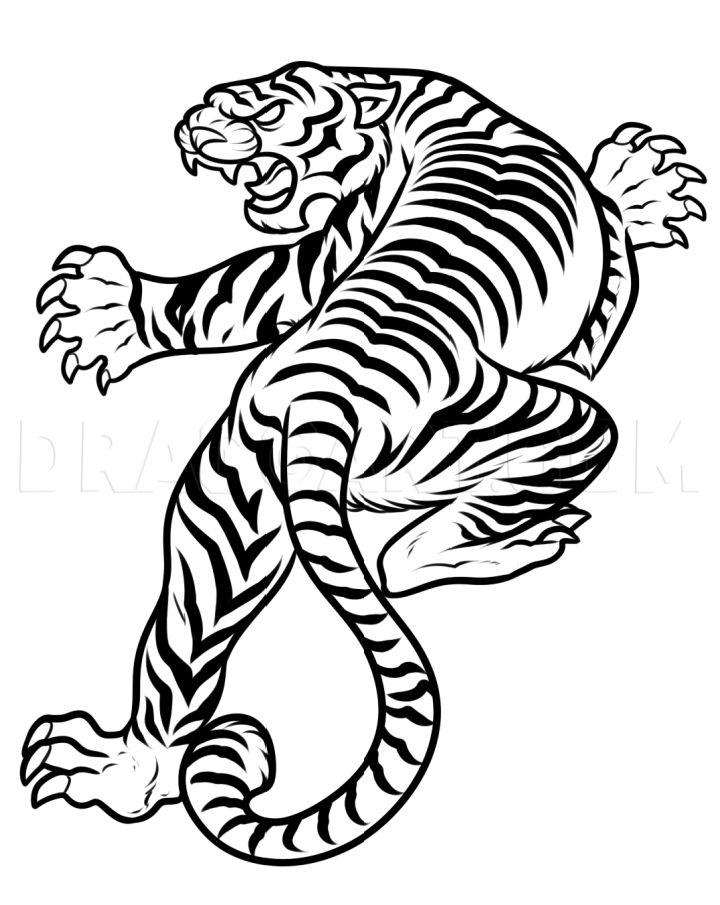 The Japanese tiger can look unique and deadly in comparison to the other tiger drawing ideas in this guide. If you want to capture only the deadly part of a tiger, then this is the guide for you as this image turns out looking horrifying and majestic. This Japanese tiger tattoo guide is quite easy to follow, but you need to make sure that you focus on the detailing. dragoart
15. How to Draw Cute Tiger Cub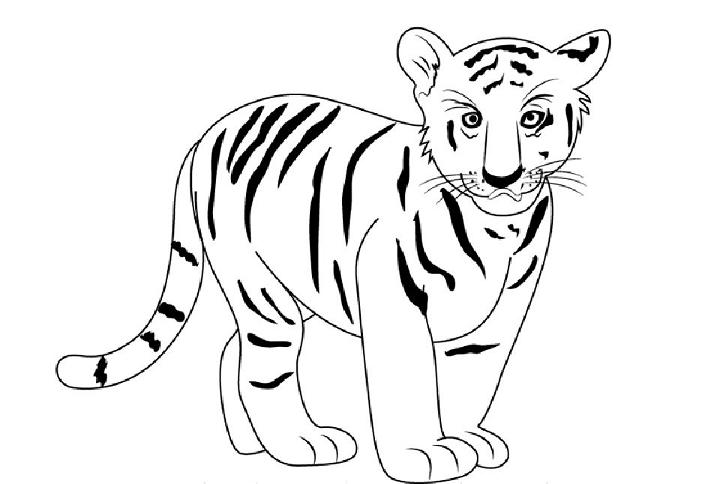 A tiger cub is adorable, and it can be nice to draw. Making a friendly-looking tiger cub like the one in this guide is going to give you and your little one a boost of serotonin. Furthermore, the final result is also going to give you and your little one a satisfying feeling as it turns out looking amazing! This guide is available to be viewed in standard, printable, and step-by-step form. drawingtutorials101
16. Draw a Tiger Face and Head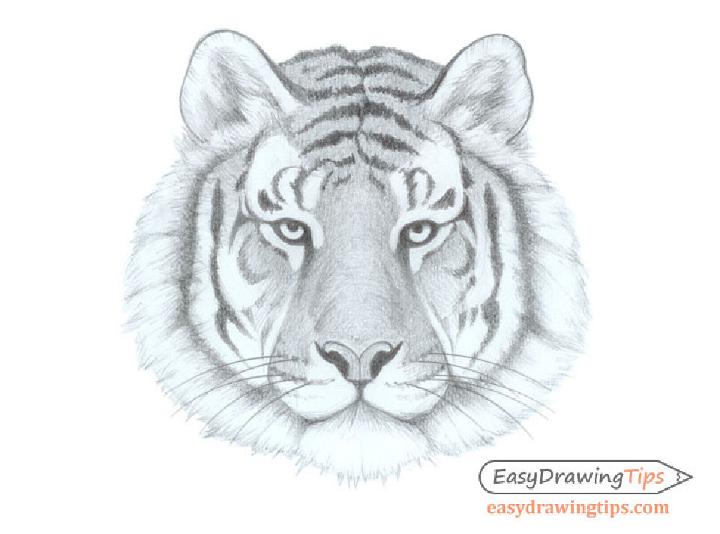 Tiger head drawing can be complicated if you're not following a proper guide. It's just not one of those things that you can do without instructions, as it does take many steps, detailing, and shading! However, by following this guide – any beginner can master drawing a tiger head in just a few hours. Furthermore, this amazing plan will also teach you beginner-friendly shading. easydrawingtips
17. Easy Way Draw a Tiger Jumping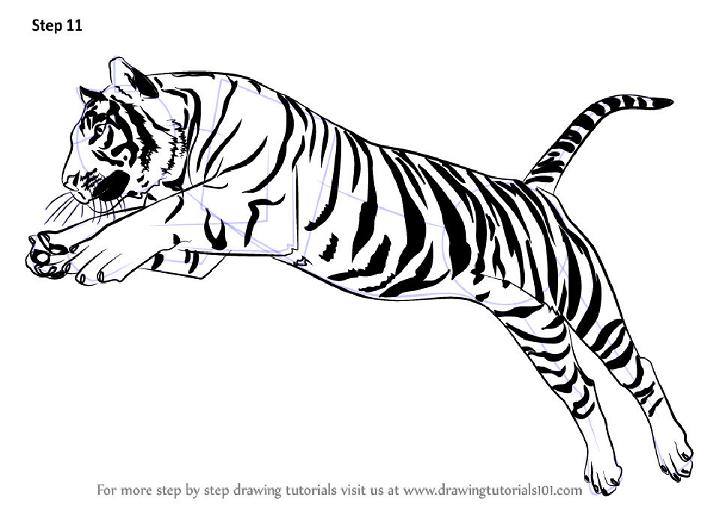 Have you ever seen a tiger jumping? If you recently took your little one to the zoo and want to draw the tiger in different positions, then here's one that will surprise your little one! This amazing guide has only a few steps, and you can follow the steps easily because of the descriptions and illustrations – that can be viewed in a pencil sketch, video, standard, printable and step-by-step forms. drawingtutorials101
18. How to Draw a White Tiger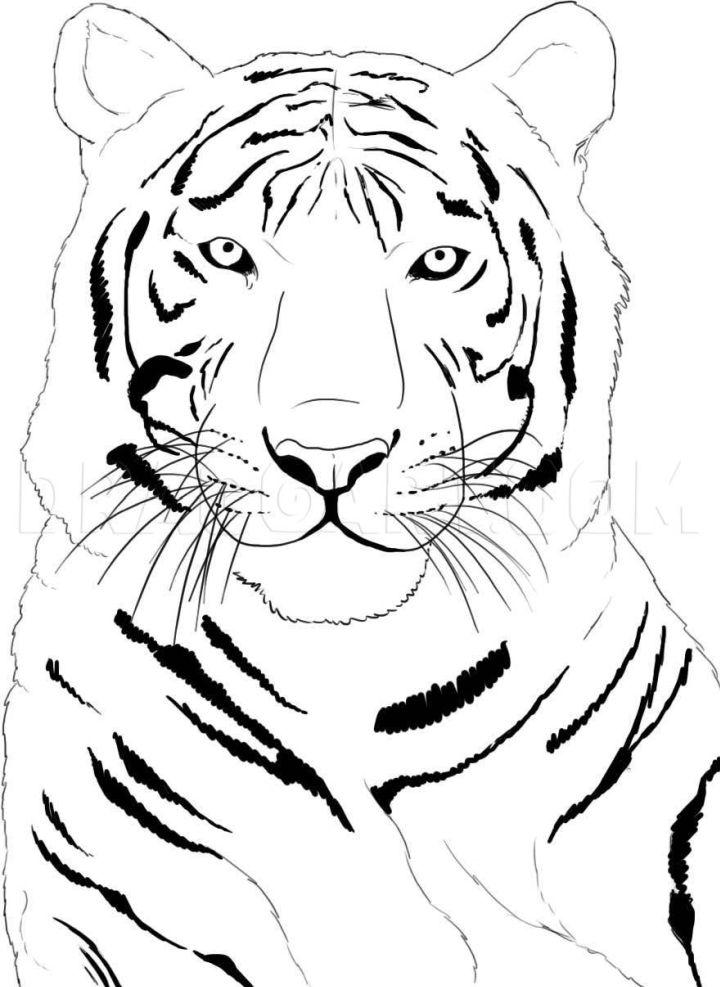 The white tiger is considered to be one of the most beautiful breeds as it has beautiful colored fur and usually icy colored eyes such as icy blue etc. This type of tiger can usually survive in colder areas – you can tell all of this to your kids while they sketch this tiger illustration that you assigned them to do! Isn't this exciting? They will shower you with questions! dragoart
19. How to Draw Tiger from Animal Jam

Animal jam is a cartoon show that children love watching. If your child watches that show, then undoubtedly – he or she may have talked to you about how much they love the tiger character in it! If your little one is obsessed with that cartoon show, then you can introduce this amazing tiger from the animal jam project! They will love drawing it, shading it, and coloring it! drawingtutorials
20. How to Draw a Tiger Eye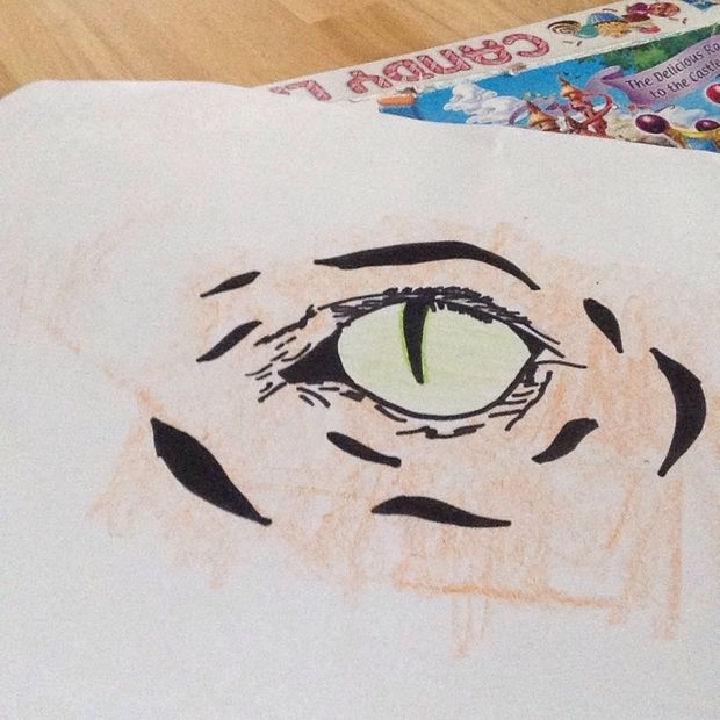 A tiger eye can be quite similar to a cat's eye as it usually has a slit in the middle and can look quite dangerous and deadly if you look at it closely. However, any artist should have the capability of making these things look hauntingly beautiful. If you want to be an amazing artist, then this is something that you should learn to draw! Isn't this exciting? guides brit
21. How to Draw a Siberian Tiger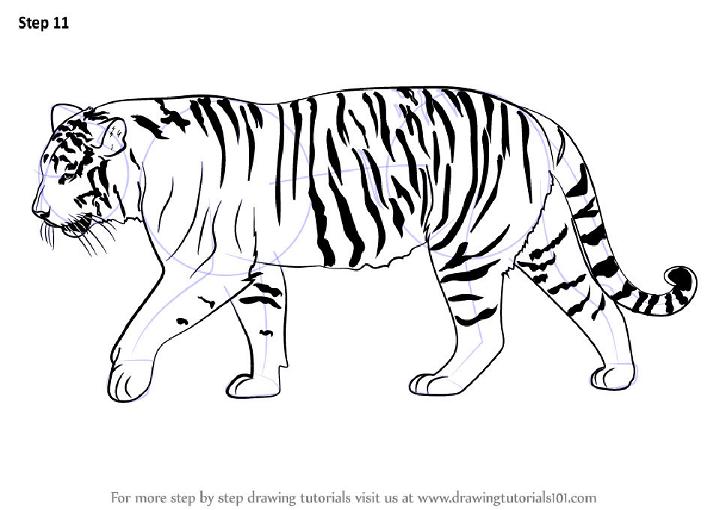 A Siberian tiger is another breed of tiger that is stunning and fun to make! Why is that? It's simply because there are so many details to add to a lion drawing like this one, and you can take hours to days to make this type of drawing – but the final results are always worth it! This guide is available for you to view in many different forms – video, standard, printable and step-by-step. drawingtutorials
22. Easy Tiger Line Drawing

If it's hard for you or any of your students to follow written instructions, then this guide is the one to follow as it will help you make a tiger through video form! All you need to do is to play it at a slow speed and follow everything that the artist does. You will end up with a gorgeous sketch – even if you're a beginner or still learning! Isn't that just perfect?
23. How to Draw a Tiger Laying Down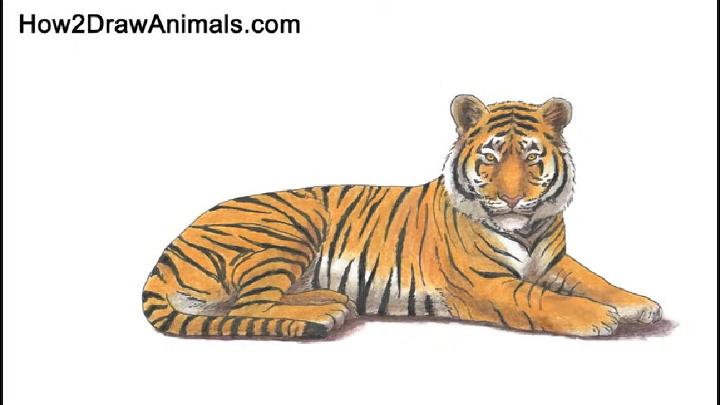 Any artist at an intermediate level might be looking for something difficult and complicated to draw. In comparison to the other finger drawing ideas, this one is different as it features a detailed sketch. This guide will take you through the process of sketching and coloring this tiger just right – to end up with a majestic and flawless art piece.
24. Tiger Standing Drawing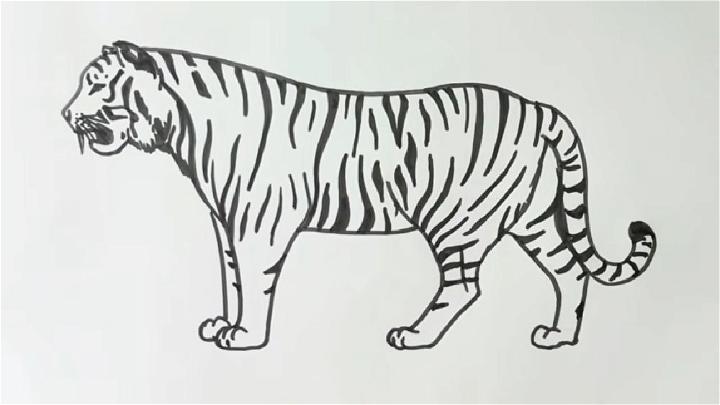 Have you ever seen a standing tiger with its mouth open? I'm comparison to the other tiger drawing ideas; this one is different because it features a tiger that is in movement. This is a great way to teach how a tiger movies and how they can escape it if one ever attacks them. Moreover, this drawing is just beautiful and can be customized by coloring with different colors.
25. Easy Tiger Sketch Step by Step Outline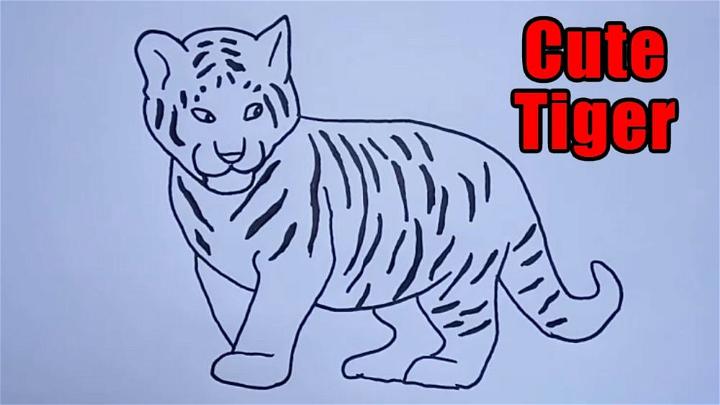 Tigers are mostly drawn looking dangerous and scary – because that's the true nature of this creature. However, if you ever look at a tiger without thinking they are scary – they can look quite cute! Here's a guide that you can follow if you want to capture the cuteness of a tiger in your drawing. The final result looks shy, sweet, and wholesome!
Related Drawing Ideas:
Animal Drawings: Our animal drawing ideas are perfect for kids who want to learn how to draw animals. With step-by-step instructions and easy-to-follow tutorials, these ideas make drawing as simple as ABC.
Horse Drawings: Drawings of horses are a very popular subject for artists, especially for children. Learn how to draw a horse with these easy step-by-step horse drawing tutorials.
Cat Drawings: These easy cat drawing ideas is a resource for people who love cats and drawing, who want to learn how to draw cats from scratch.
Turtle Drawings: To some, the turtle drawings are just for kids. But to others, they represent a long history of creativity and artistic expression. Learn how to draw a turtle with simple step-by-step instructions.
Conclusion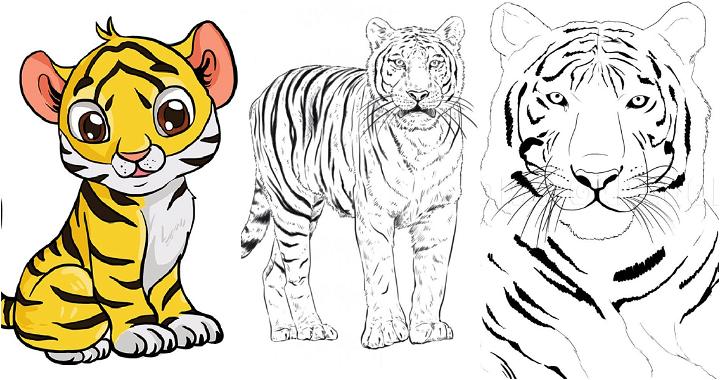 Isn't it exciting to look at all of these simple tiger drawing ideas? Who knew that there are so many different tiger species out there which can be drawn out by following these amazing tiger drawings? You can find any species that you want to draw in this amazing guide. It's recommended to either draw out these tiger sketches on paper and use appropriate and high-quality supplies for the best results or to find the best software tools to draw these tiger drawing ideas.