Learn how to draw a bee with these 25 simple and cute bee drawing ideas with step by step sketch guide, printables and coloring pages. These bee drawing ideas are perfect for the upcoming season. The summer season is just around the corner, which means that your child will be free and at home. Summer vacations can be a great time for them to unwind and relax from a hard school year and just rest. However, you can still have your children learn new and unique things to draw which are less stressful – such as drawing! Bees are perfect for the summer theme as they're seen everywhere during the hot season!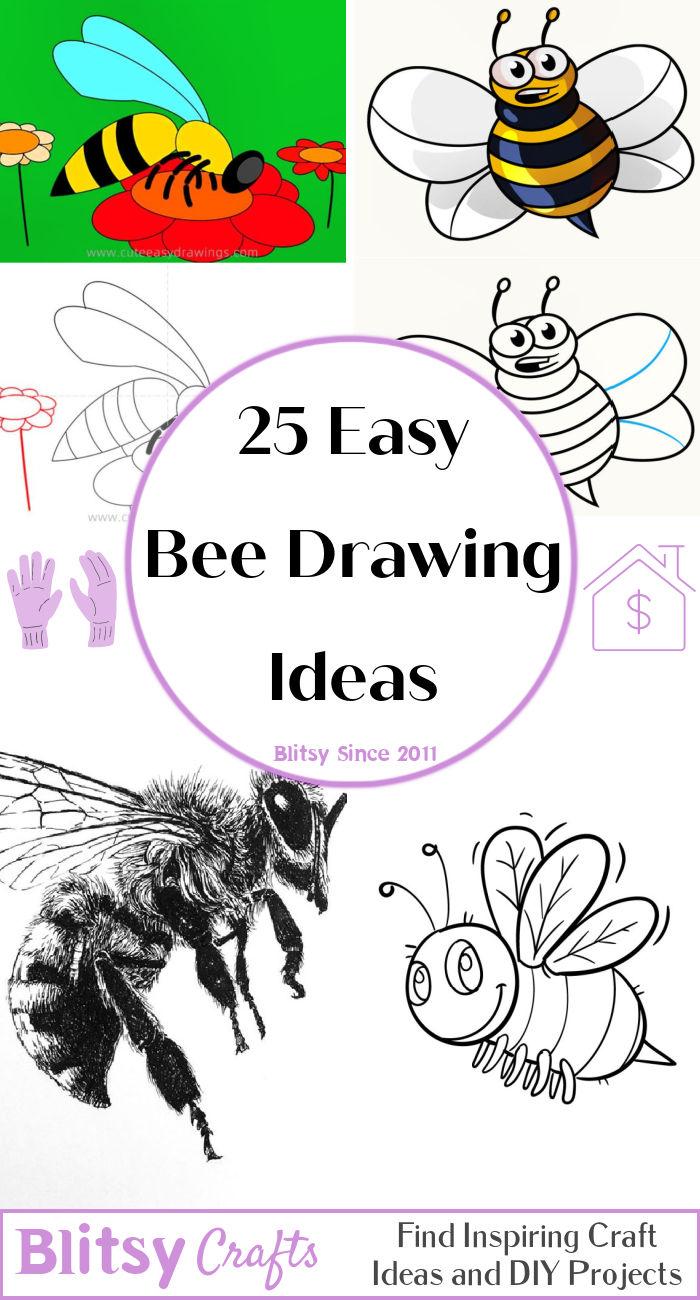 Furthermore, these Bree drawing ideas are the perfect opportunity to get your children to learn more. Why is that? It's simply because when you assign your children this drawing project, it's natural for them to come up with new questions about these unique creatures. Moreover, you can also do your research and collect interesting facts about bees to teach your children. This guide has many different bee drawing ideas for you – simple ones, realistic ones, cartoonish ones, Minecraft ones, etc.
1. Bee Drawing Step by Step Guide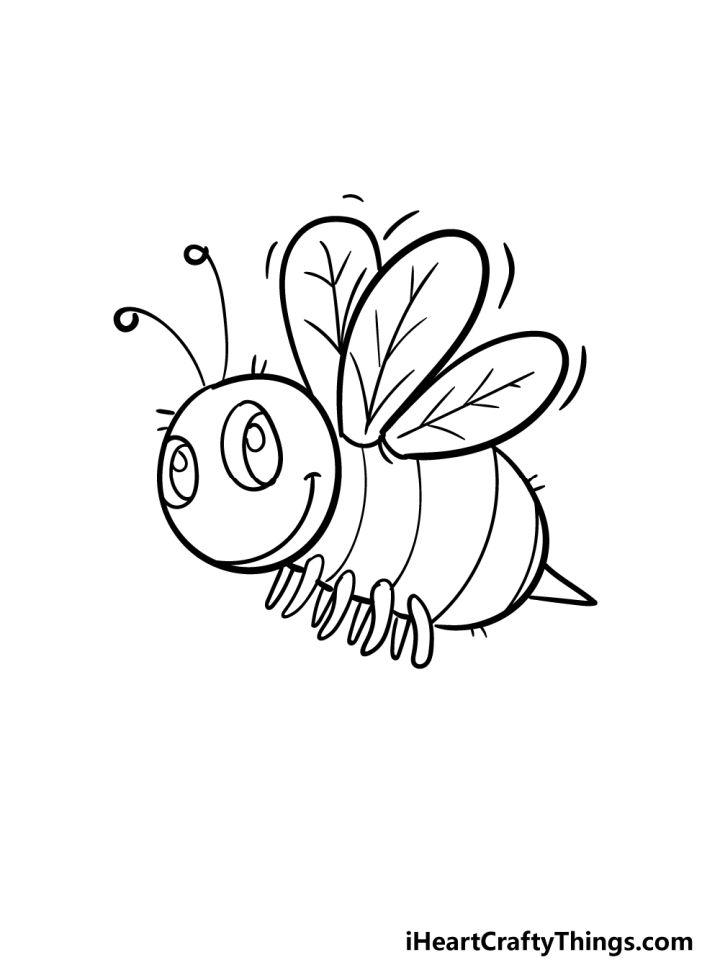 Bees are an important part of our ecosystem and it's important to introduce these insects to your children and educate them on the importance of these creatures. Summertime is just around the corner which would be the perfect time to take your children out to a park and ask them to draw this step-by-step. Moreover, you might even get to see some actual bees in the park! iheartcraftythings
2. How Do You Draw a Bee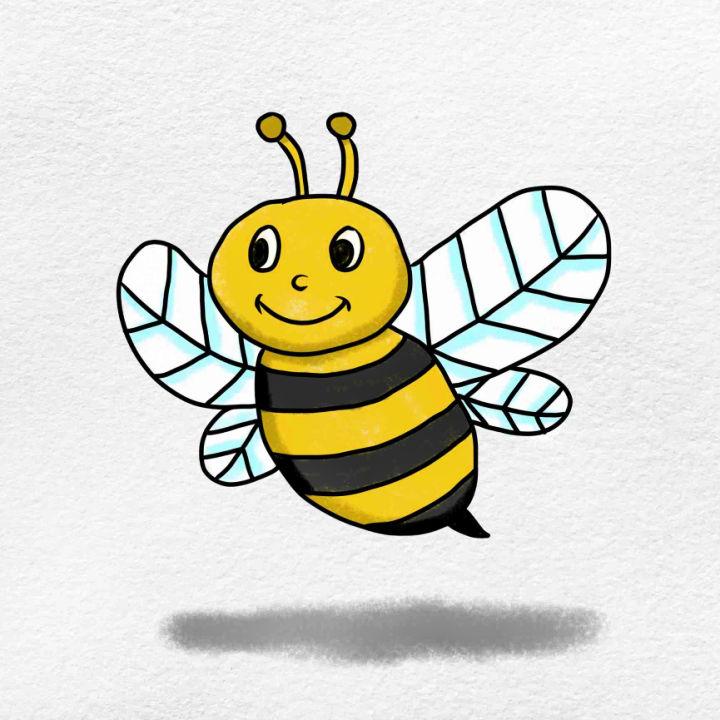 Don't you just love how friendly-looking and adorable this bee is? It has a chubby body and a smiley face with huge wings and cute stripes. The stripes on this bee are in two different colors – yellow and black! Pencil, drawing paper, crayons, colored pencils, black marker, and a few other supplies will be required for you to follow this plan step-by-step. helloartsy
3. How to Draw a Bee with Pen and Ink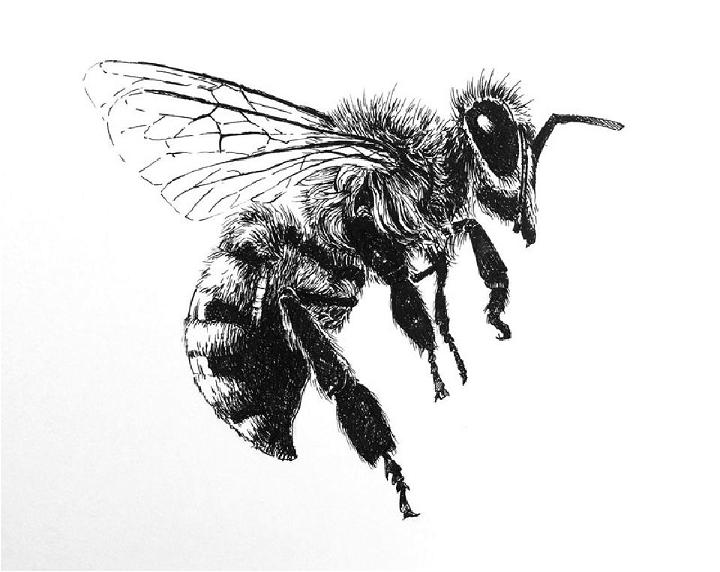 Everyone can draw a bee with a pencil as it's easy to correct the mistakes and shade with a pencil; however, if you want to try out something unique – take a look at this realistic bee drawing plan which is made using a pen with ink! In comparison to the other bee drawing ideas, this one stands out due to how realistic it turns out looking! thevirtualinstructor
4. Small Bee Drawing for Kids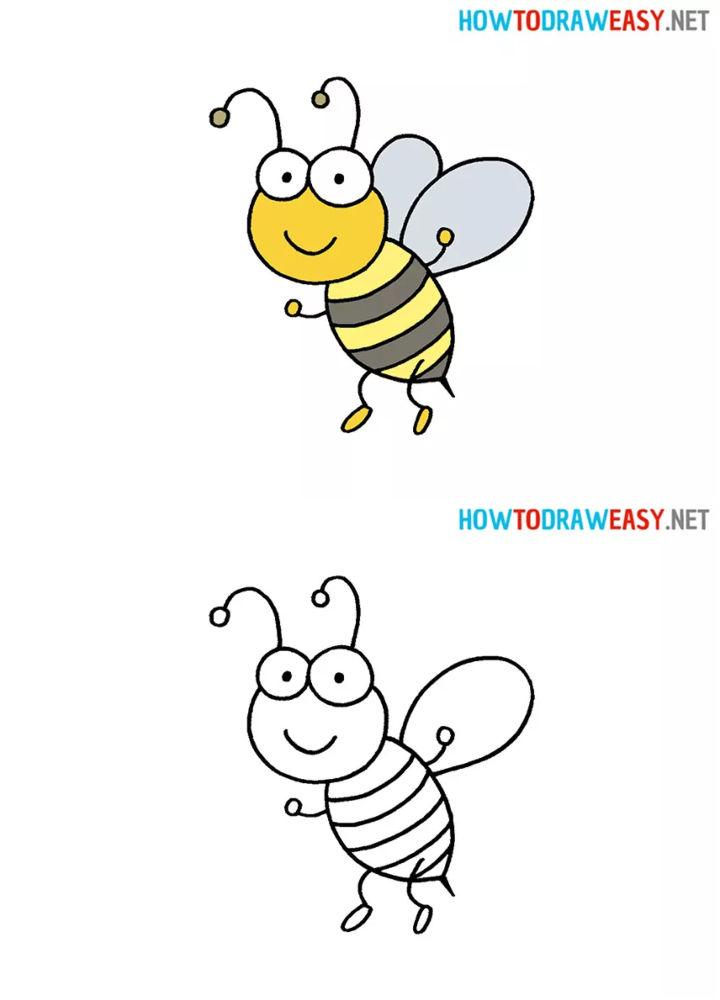 Many children at a young age are still perfecting their motor skills and it's hard for them to hold pencils or pens easily. It can be hard for them to draw straight lines and draw good outlines. However, if you introduce them to these drawing projects at an earlier age, they will start learning and perfecting their skills! So, are you ready to experiment with this idea? howtodraweasy
5. Wonderful Cartoon Bee Drawing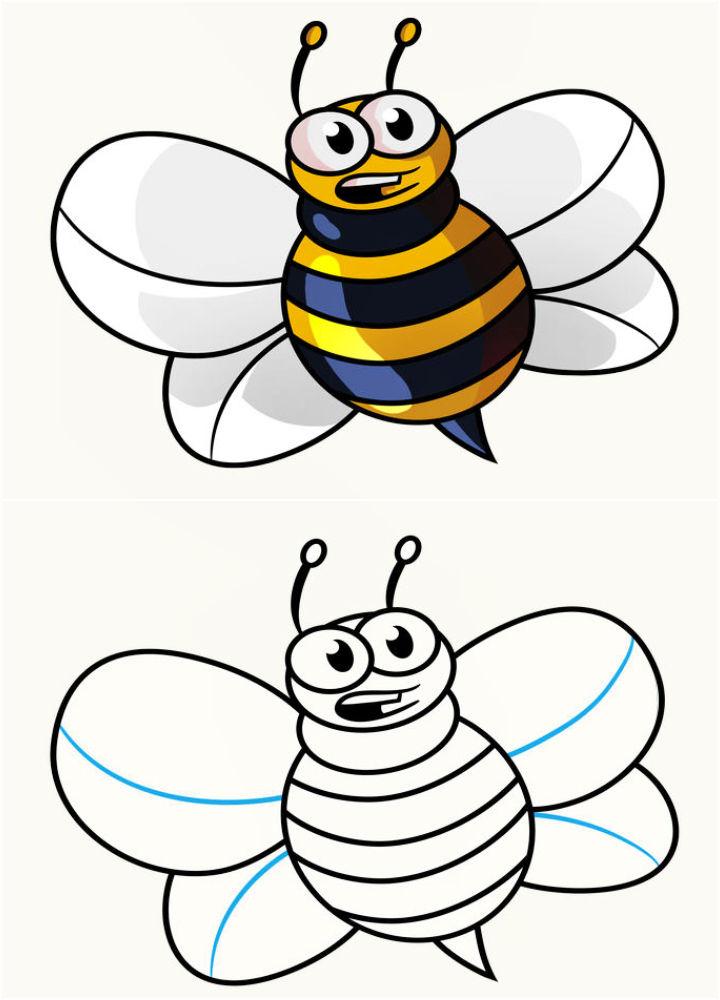 Any good artist should know how to draw the cartoon version of almost every insect – especially, a bee! Why is that? It's simply because bees are really common in the art industry and they're drawn in almost every picture book, animated movie, or manga! You need to learn how to make this beautiful bee if you want to be a good artist and become a professional! easydrawingguides
6. Easy Way to Draw a Bee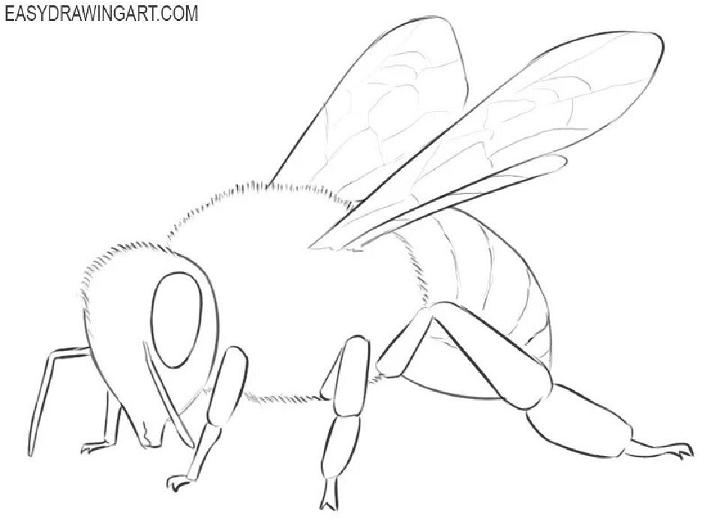 Here's a bee drawing idea that is very different from the other bee drawing ideas in this guide. Why is that? It's simply because this drawing idea is not too realistic but it's also not too cartoonish. Any child who has developed their motor skills but still wants to improve their art to go to an intermediate level can practice this amazing sketch! Isn't this exciting? easydrawingart
7. How to Draw a Bee with Color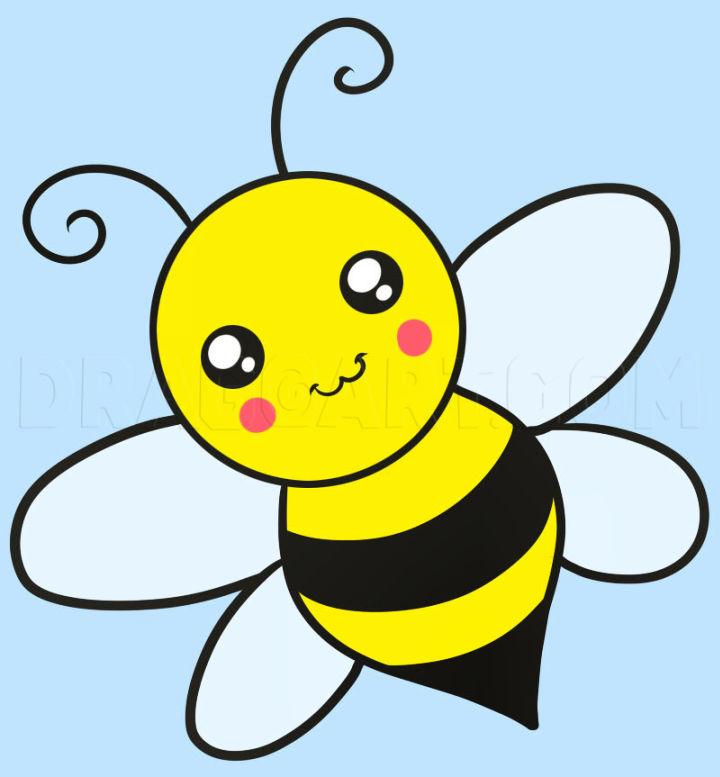 This bee drawing idea is very cartoonish and child-like. Since this is a very child-like drawing, you can introduce this to your toddlers to draw and they're going to find it very enjoyable to re-create this adorable little bee with its cute smile and pink cheeks! Moreover, this cute bee had very bright eyes and rolled ears which makes it look kawaii! dragoart
8. Simple Bee Drawing for Kindergarten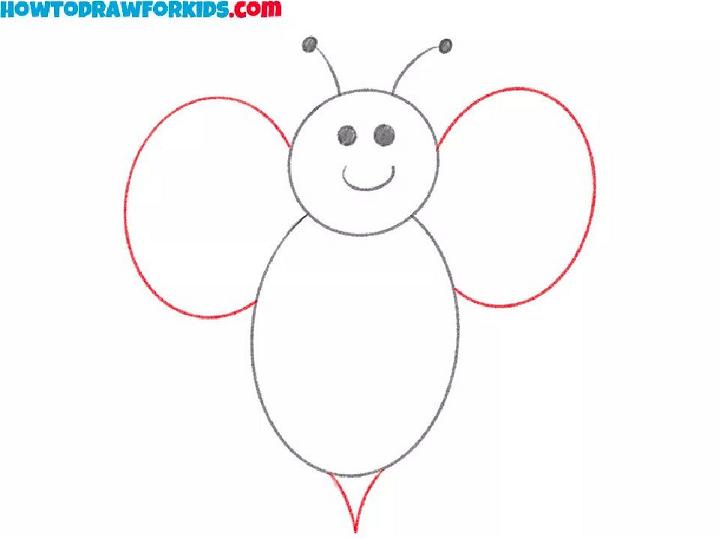 Every teacher needs to cater to their students' needs – some students are visual learners while others learn better by following verbal instructions. Whatever the case may be, this amazing project will cover it all as it had written instructions along with illustrations of every step! You can show this to your students through printouts or on multi-media. howtodrawforkids
9. How to Draw a Bumblebee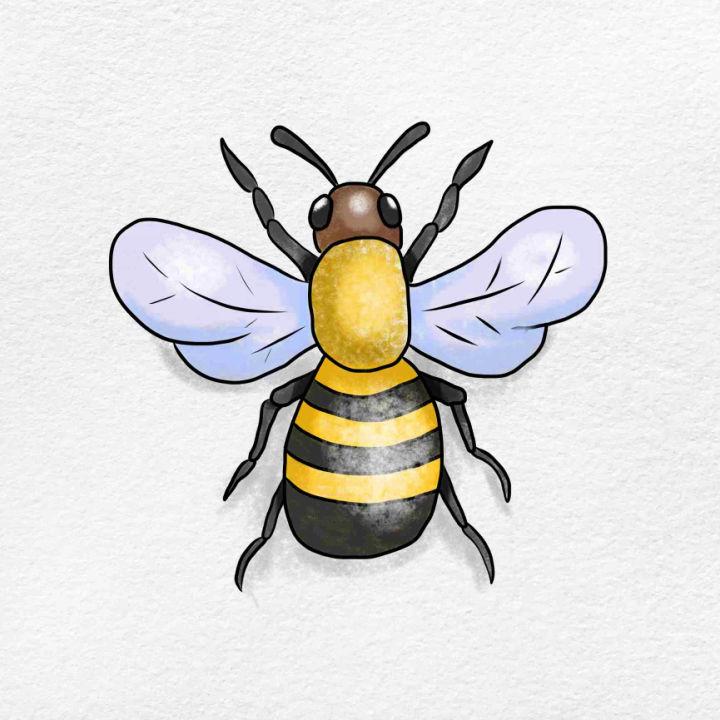 Bumblebee is a very special type of bee and it has a few different characteristics than an actual bee but it's still quite similar. You can tell your little ones about all of these things while you let them follow this project and draw this bumblebee! Pencil, drawing paper, crayons, colored pencils, black marker, and a few other supplies will be required to follow this project. helloartsy
10. Cute Cartoon Bee Drawing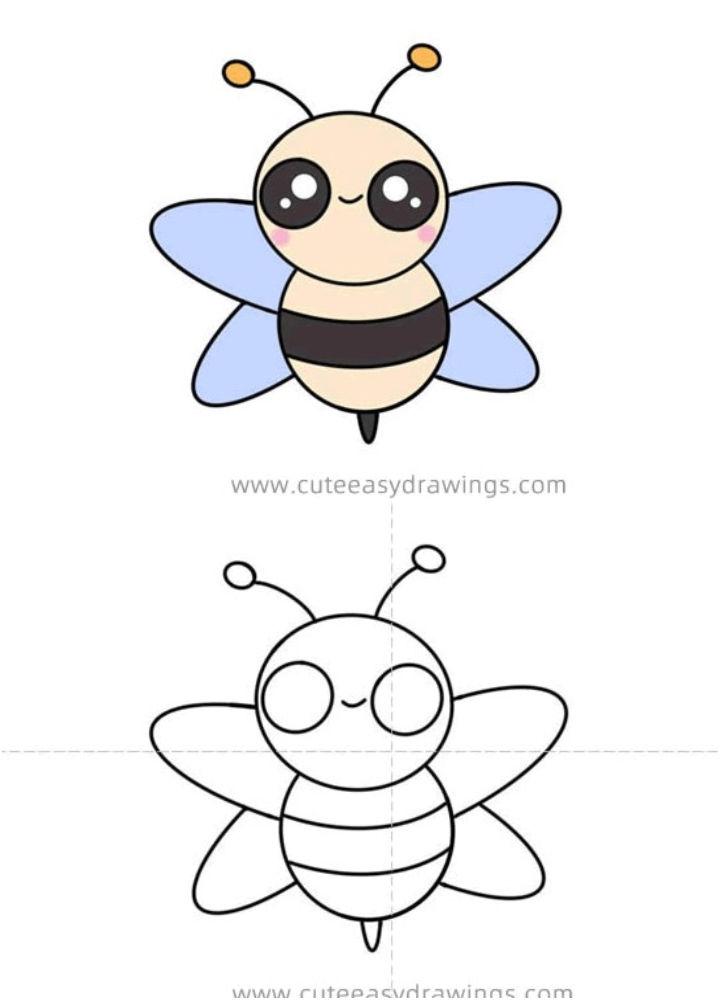 Don't you just love how cute this little, chubby bee is? It has the brightest eyes with an adorable smile and a pure face. Your child is going to find this bee sweet and wants to become friends with it! You can tell your children about how bees are friendly creatures and won't hurt or bite you if you don't do anything to hurt them! Your little one is going to learn so much! cuteeasydrawings
11. How to Draw a Honey Bee

Here's how you can draw a honeybee which will look realistic but in almost a cartoonish way! It turns out to look stunning and can be published in picture books or posted on social media for your art promotion! Moreover, this amazing guide has the instructions in descriptive form, as well as, in the illustrative form! Isn't that amazing? dragoart
12. How to Draw a Realistic Bee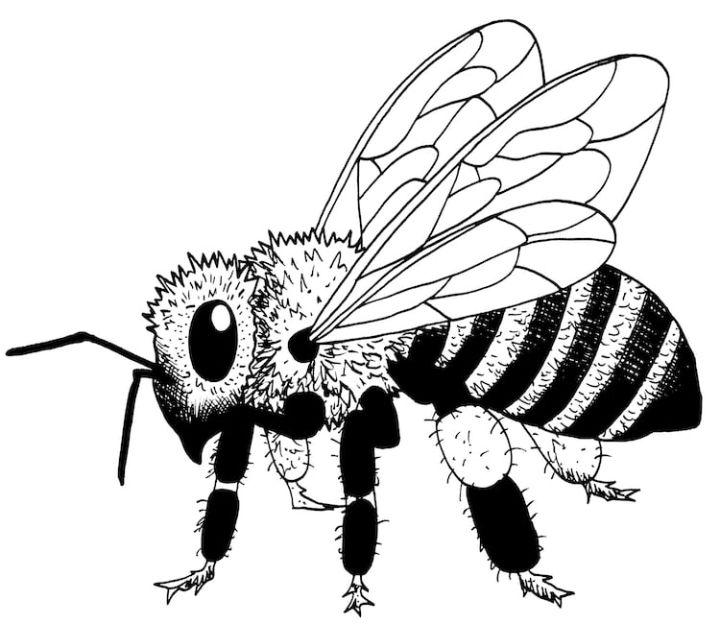 Here's a beautiful illustration of a bee that almost looks realistic and stunning! This plan stands out from all the other bee drawing ideas as it's the most realistic and difficult one to re-create! The illustration features a bee sitting on a sunflower and the bee is pollinating! You just need to follow a few simple steps to make this illustration. mymodernmet
13. Drawing of a Honey Bee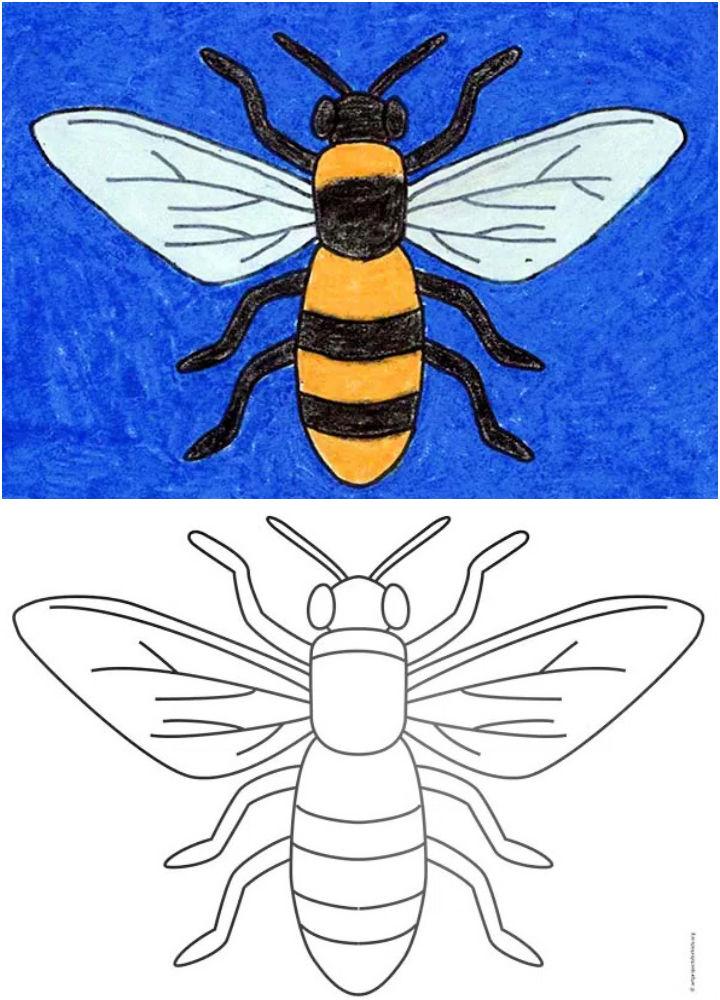 This is a basic and simple honey bee drawing that is perfect for beginners. Any child or adult who wants to start drawing and gradually improve can start by following a basic plan like this one. It will show you how you can make the simple outlines and fill them in with colored pencils. After that, it will take you through the process of shading. artprojectsforkids
14. How to Draw a Bee on a Flower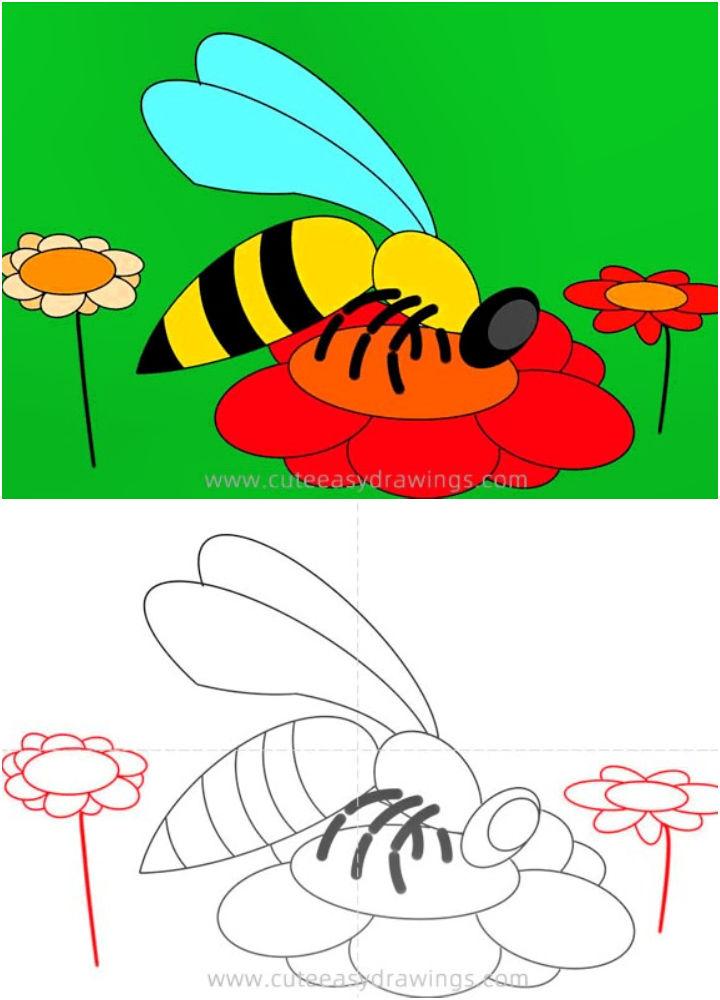 You can teach your children all about female bees with woman's day by drawing this amazing portrait with them and sharing the facts you have gathered from your research. Female bees work every day to create honey and they have imperfect reproductive organs – teach your children all about this and they will be fascinated and shower you with a bunch of interesting questions! cuteeasydrawings
15. How to Draw Queen Bee from Terraria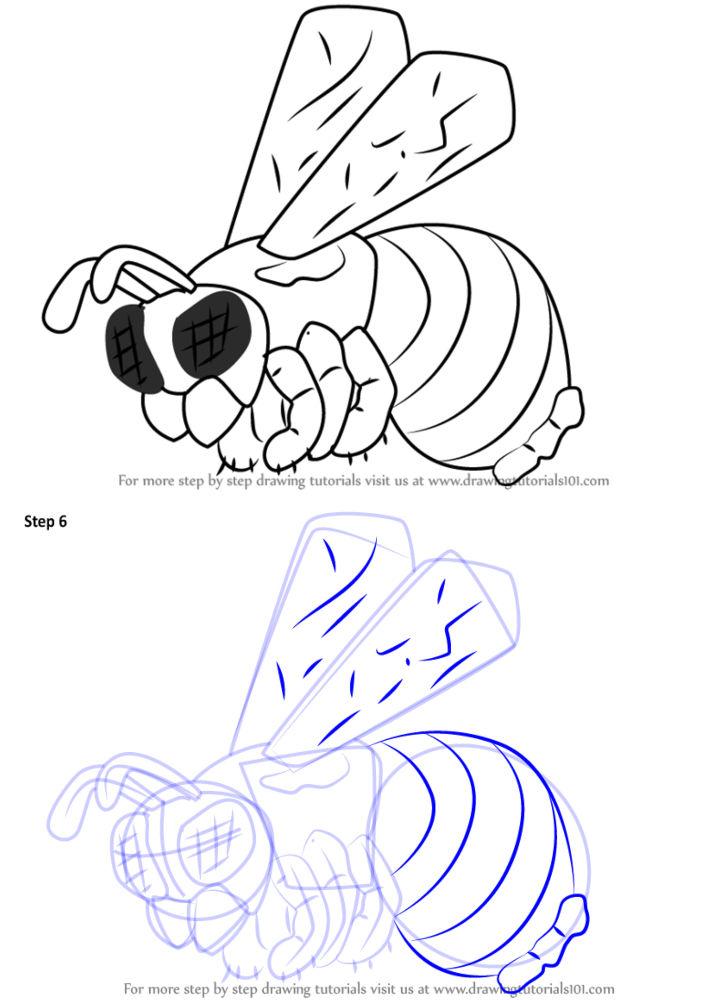 Here's another plan which is easy to follow but the outlines can be hard to draw for children who have not developed their basic motor skills yet. You can either help your little one with the outlining or you can introduce this project to them when their hands are stable. This project is available in three different forms – standard, printable and step-by-step! drawingtutorials101
16. How to Draw a Bee Step by Step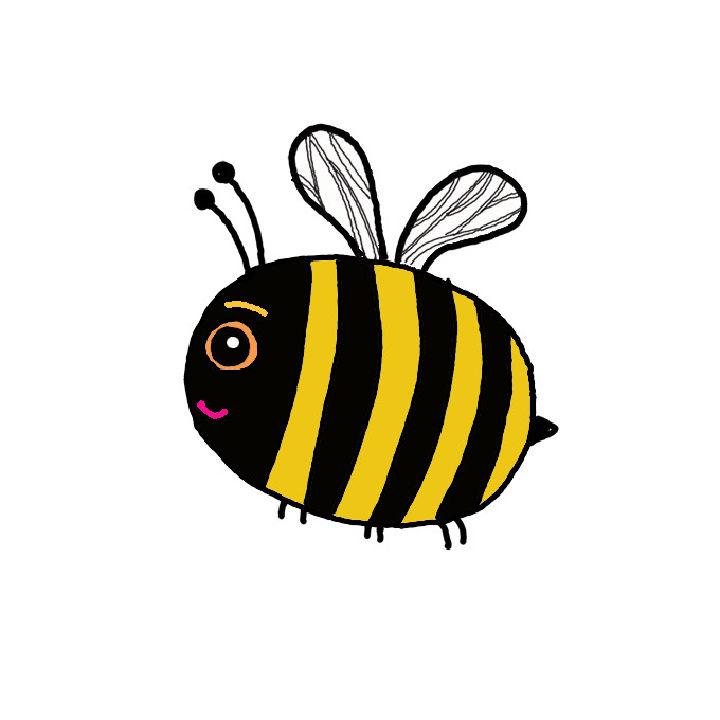 Don't you just love how unique and different this bee is from all the other ones you've seen in this bee drawing ideas guide? Well, the best part about this bee is that it's very thick and chubby! This makes it look adorable and the perfect illustration to draw with your little ones. Marker, sketchbook, pencil, sharpie, crayons, and a few other materials required. drawinghowtos
17. Sketch Bee Drawing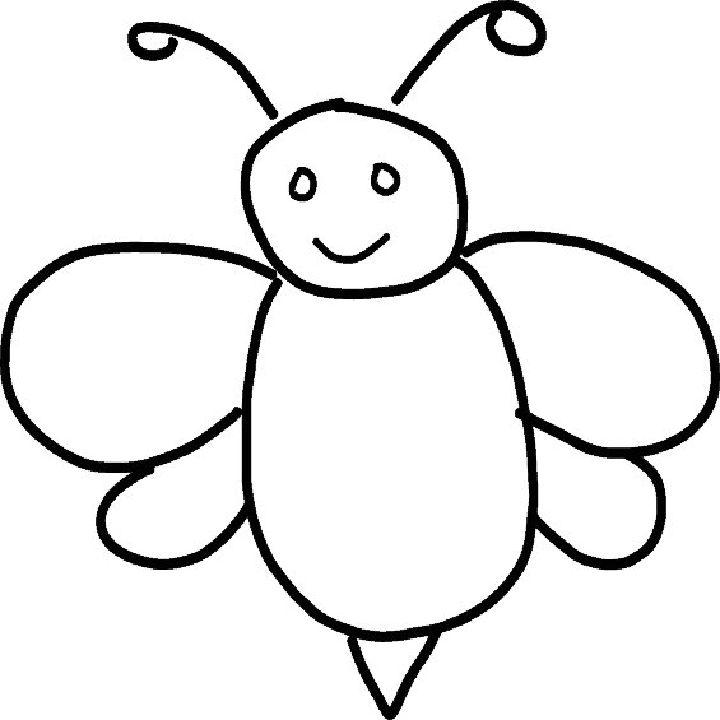 If you're trying to introduce drawing on a tablet or digital interface to your children, then this is the guide to follow as it will introduce you to all the tools and software apps that you will require. The same instructions can also be followed by those who want to draw this bee on paper! The first part is to draw the outlines and the second part is the coloring one! paperflodesigns
18. Bee Hive Drawing for Beginner Artists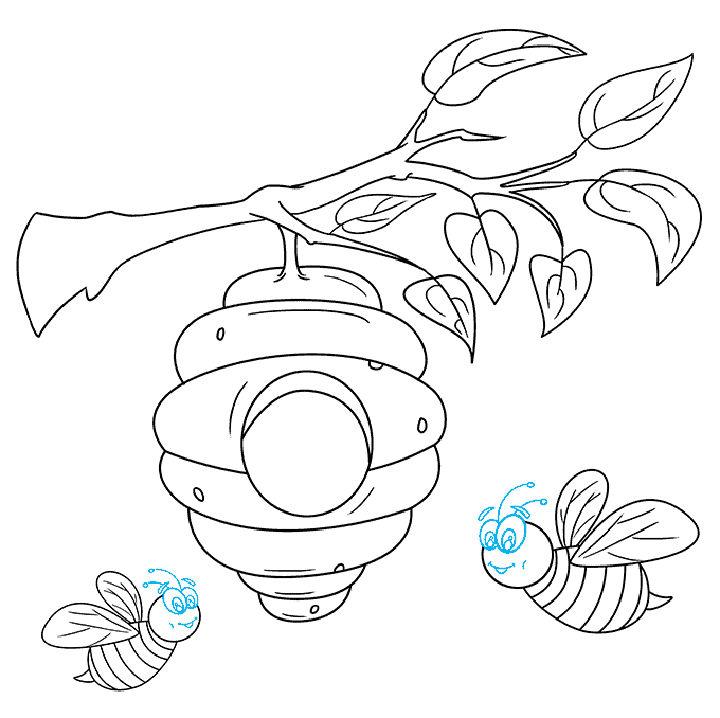 Beehives can be very unique and interesting for children as they might have never heard about one! Maybe your child saw a beehive in a cartoon and won't stop asking you questions about it now! Whatever the case may be, you can make the process of teaching them about beehives fun by having them draw this beauty and follow the instructions step-by-step. easydrawingguides
19. How to Draw a Honey Bee Flying for Kids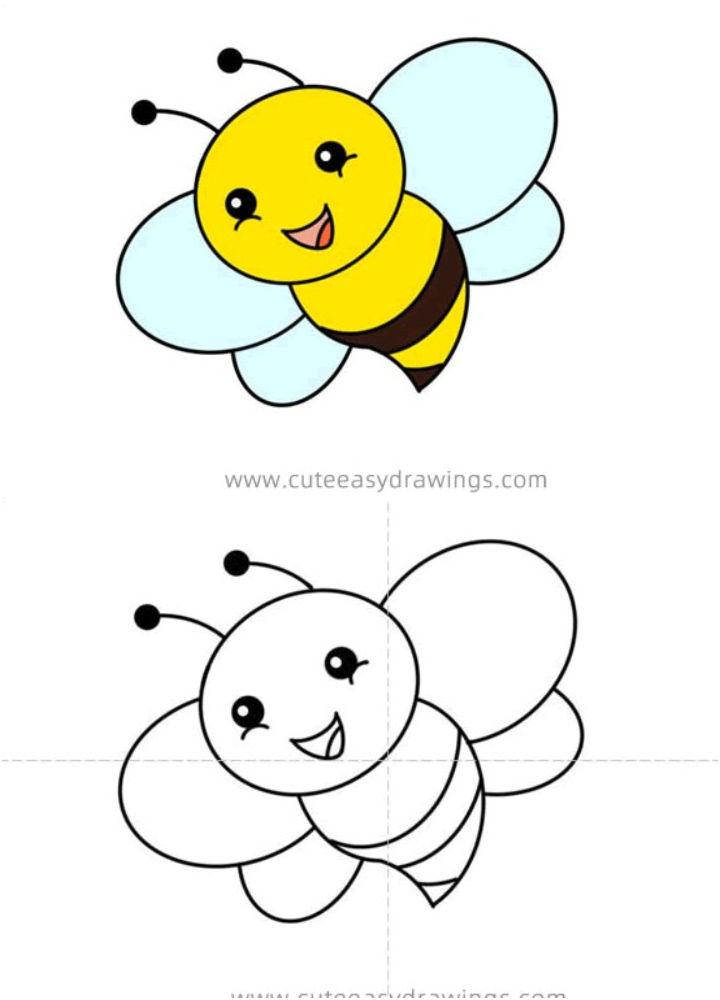 Who doesn't live a cheerful honey bee with a happy face and beautiful features? Don't you just love the bright eyes, smiley face, and cute dimples under the eyes of this bee? The wings are huge and round and are connected to the perpendicular body of the bee! Pdf files, drawing paper, markers, crayons, and colored pencils are all the supplies that will be required. cuteeasydrawings
20. Draw Your Own Bee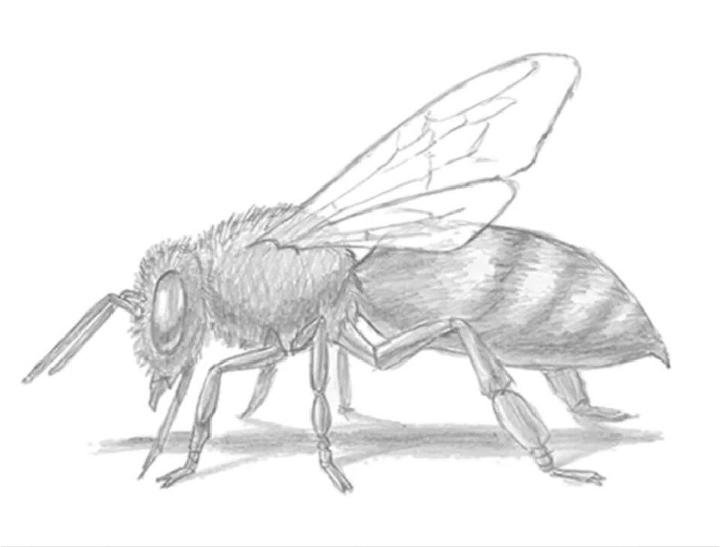 Here's a guide that will help diffuse the confusion that you have in your mind on where to start when drawing a bee. This project starts by drawing the circular face shape and them drawing the wings and connected legs of the bee to the circular body. After this, the face, wings, and legs are properly detailed to make the final product look stunning! 3dvkarts
21. Simple Way to Draw a Honey Bee on Flower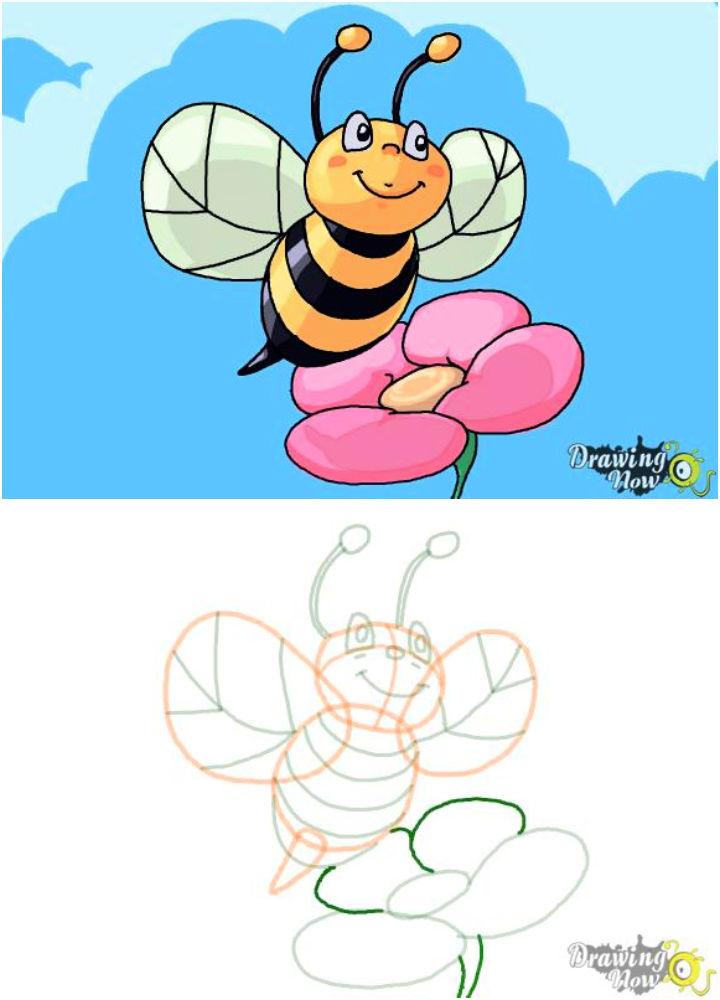 If you want your child to think creatively and become the best artist possible then you need to follow this honey bee drawing. In comparison to the other bee drawing ideas, this project has software on its website which can be manipulated to however you desire! You can change up the speed, change up the step level, play it, pause it, search up the tools being used and even turn it into a full screen for better resolution! drawingnow
22. Bee Wings Drawing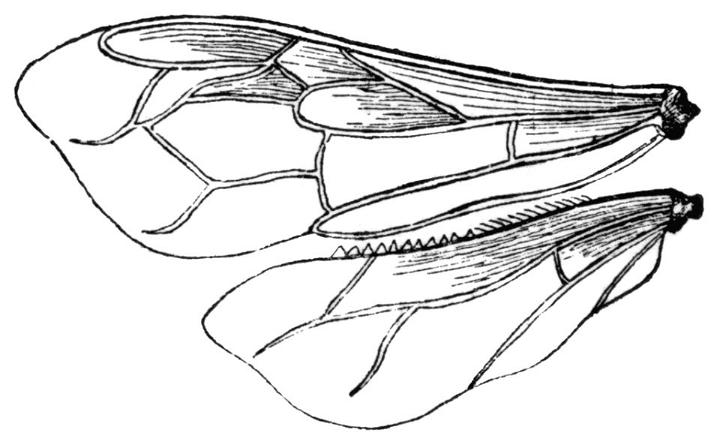 According to many artists, a bee's wing can be a really hard part to draw as it takes a lot of patience and practice. That is because the wing is detailed intricately and you need to draw every line and shadow it with a plan. If you're still a beginner and want to draw the perfect bee, it is recommended to first learn how to draw a wing. The rest of the body will be a piece of cake to draw if you learn this part. etc usf edu
23. Kawaii Cute Honey Bee Drawing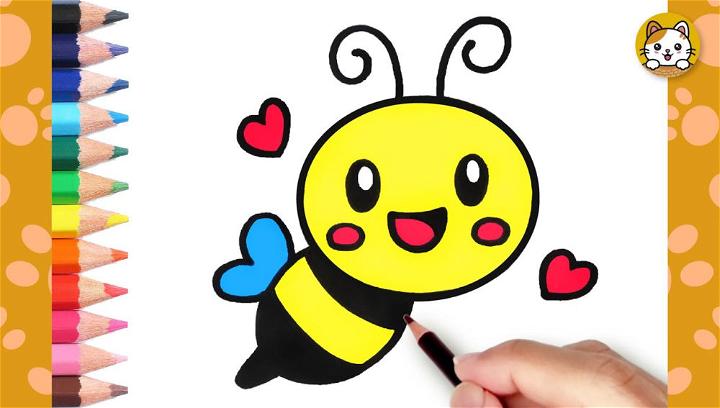 Here's a honey bee drawing video tutorial for all of your students who are visual learners and can't even follow visual instructions. Some students can just learn better by seeing the art being done as they can see how every line is drawn through a tutorial like this one! Furthermore, only a few supplies will be required to get your student ready to follow this guide – pencil, colored pencil, sketch paper, etc.
24. How to Draw Minecraft Bee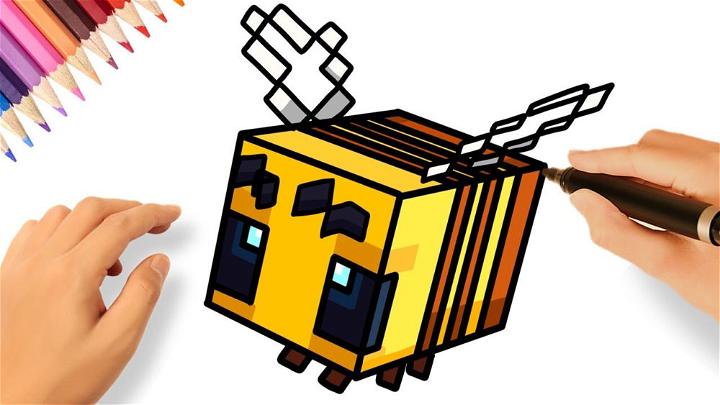 The Minecraft bee is a famous character and most little ones are obsessed with it! It can be quite expensive in the game to purchase this bee and if your child wants to buy it right away you can ask them to draw it for you and as a reward, you can buy them the bee! This is a great way to help them better their motor skills and get them used to the reward system.
25. Minimalist Simple Honey Bee Drawing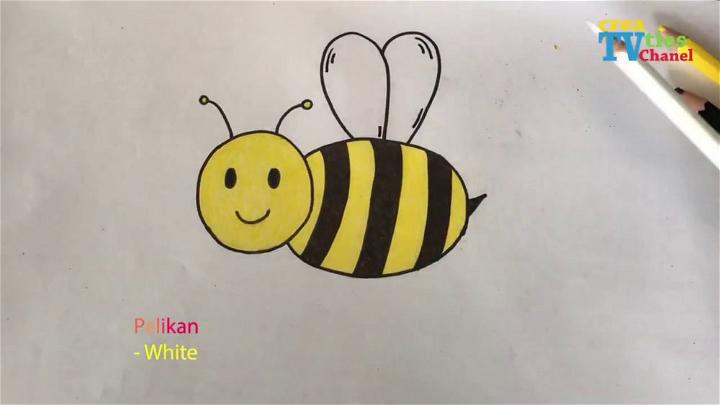 Last but not the least, here is a great honey bee drawing tutorial that is quite basic and simple. If you haven't found any bee drawing idea in this project appealing and you fear that your child won't be able to follow the projects, then you should go for this one! Why is that? It's simply because this bee drawing idea is the most basic one and doesn't require any skills to re-create.
Conclusion: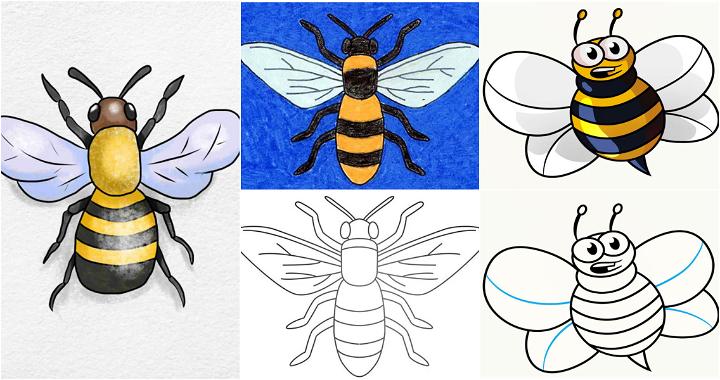 So, are you ready to experiment with these bee drawing ideas? It might be exciting to look at all of these bee drawings; however, it's recommended to keep a few things in mind before introducing these ideas to your children. Firstly, you need to make sure that you know the level your child is on before assigning them a project. Make sure to go with an easy project and slowly built up the difficulty level. Secondly, you can step up a reward system and give your child a present whenever they reach a certain milestone. Lastly, remember to have fun with your children and make this memorable for them!