Learn how to draw a chicken with these 25 easy chicken drawing ideas with step by step simple sketch outline, printables and coloring pages. A fun drawing craft is always a yes for children of all ages! We bring you DIY chicken drawing ideas to work on with your little ones. You can choose your favorite from our variety of 25 detailed plans. Chicken is the most common bird on the land. They are kept by many people for their eggs and meat all around the world. Be it huge farms or house backyards you will find them pecking all over the place.
Moreover, chickens also make good pets as they are social and can develop affection for their caring owners. In addition to this, there are around 24 billion chickens worldwide! One cannot imagine living without them as we are greatly dependent on these amazing birds. So, these DIY chicken drawing ideas are perfect to educate kids on the importance of Hens with a little fun craft.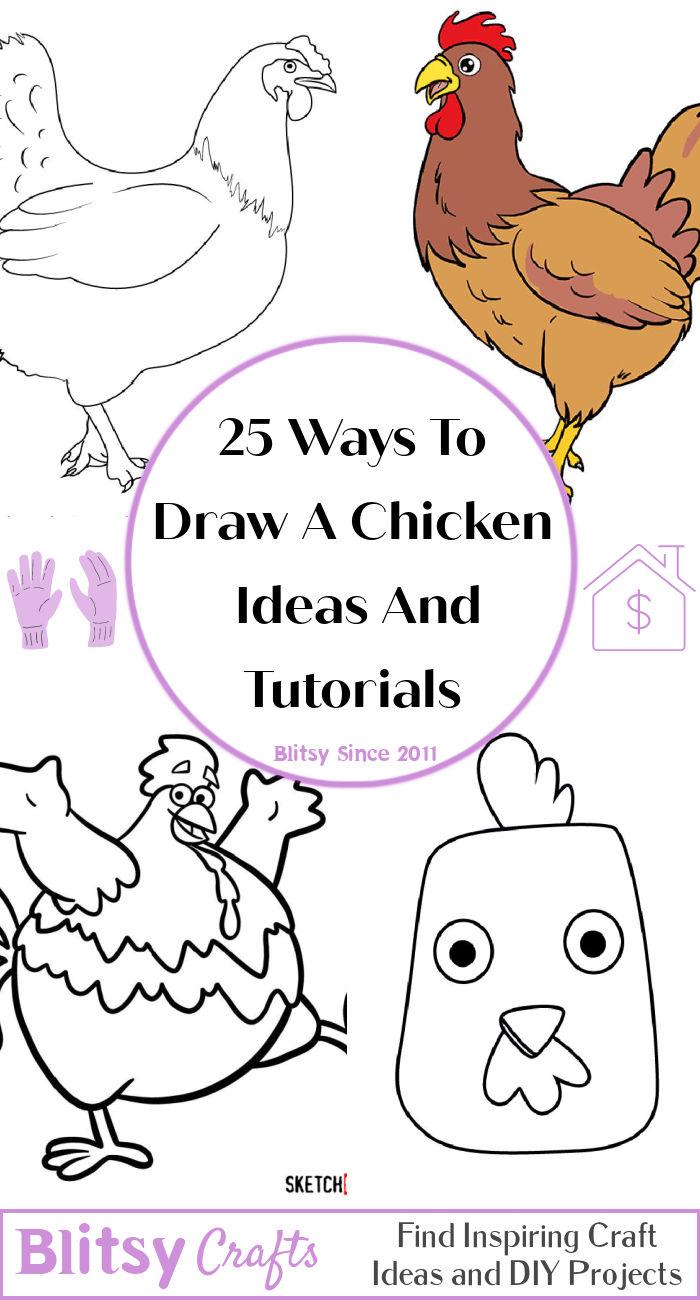 From how to draw a chicken to cartoon chicken drawing and drawing a chicken in 5 easy steps to how to draw a Hen! We have all the DIY chicken drawing ideas right here in one place. Not only are these plans easy-to-follow but also super quick. Also, drawing has endless benefits for everyone, especially children. It develops fine motor skills and encourages visual analysis at an early age.
Moreover, it also helps establish concentration as well as increases one's confidence. Even for adults, it's a great mental-health-boosting hobby to have. In addition to this, these DIY chicken drawing ideas can help your child ace their science lectures as learning is better with being able to visualize. So, are you ready to craft up these super fun ideas? Get together with your little ones and have an activity time along with entertaining them with fun chicken facts!
1. How to Draw a Chicken

Along with studies, kids need to invest their time in creativity like arts. Learn how to draw a chicken with this easy and quick tutorial. These 8 steps help in drawing a chicken easily and anyone can follow these steps. For this, you will just need a pencil and a piece of paper. drawingtutorials
2. Chicken Drawing for Beginners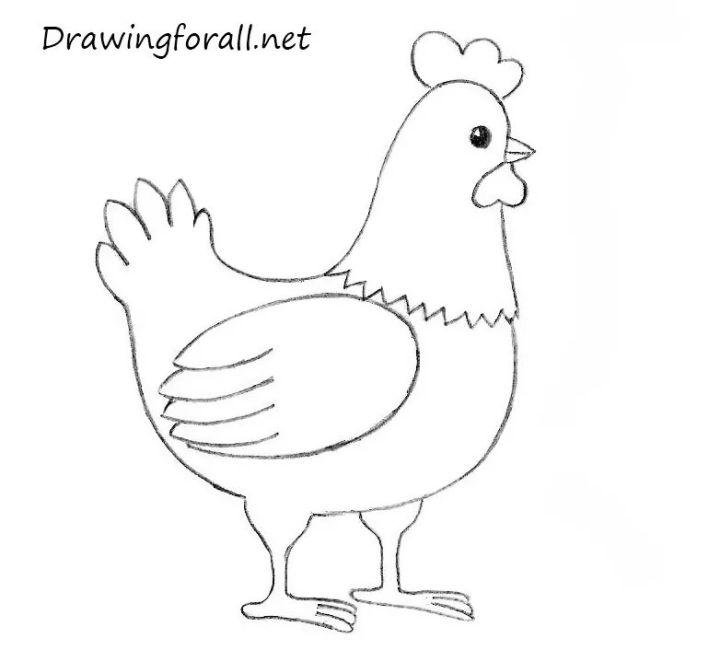 Have a look at this cute chicken drawing idea that you can try for your kid as a beginner. It is really simple and does not involve difficult drawing techniques. The step-wise instructions make the process more easy and more fun. So what are you waiting for? Grab all the necessary supplies and start with this tutorial now! drawingforall
3. Easy Chicken Drawing for Kids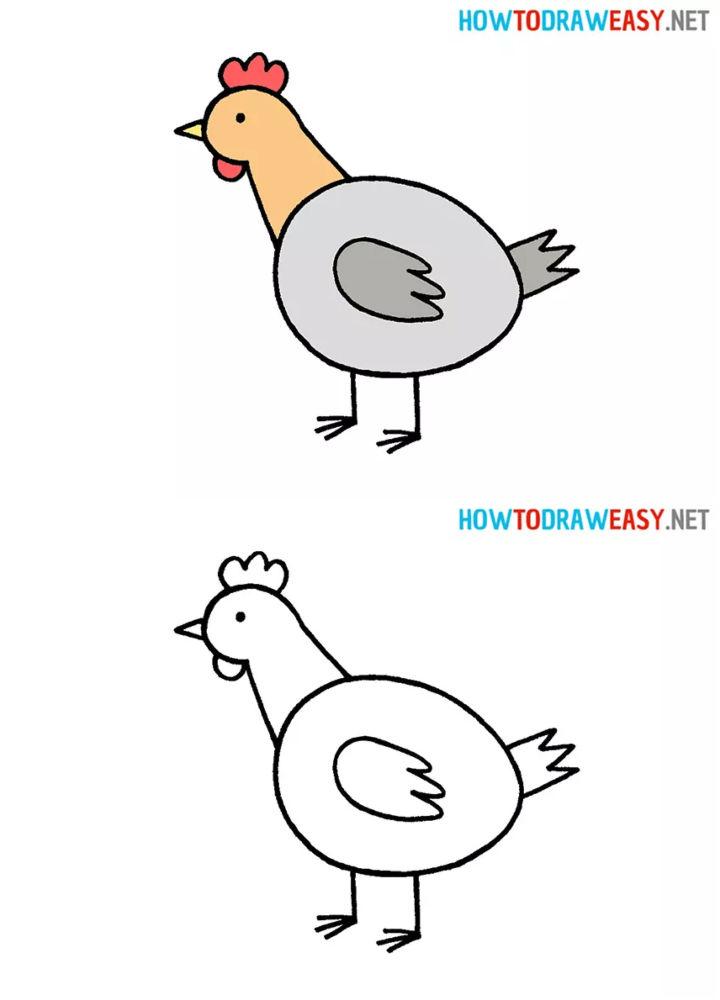 Looking for a fun indoor activity for kids? Why not try this chicken drawing tutorial? You can teach it to preschoolers and beginners as it has really easy steps to follow. Moreover, you can color it in any color your kid likes and make it even more interesting. Just assemble all your supplies and start the project. howtodraweasy
4. Chicken Cartoon Drawing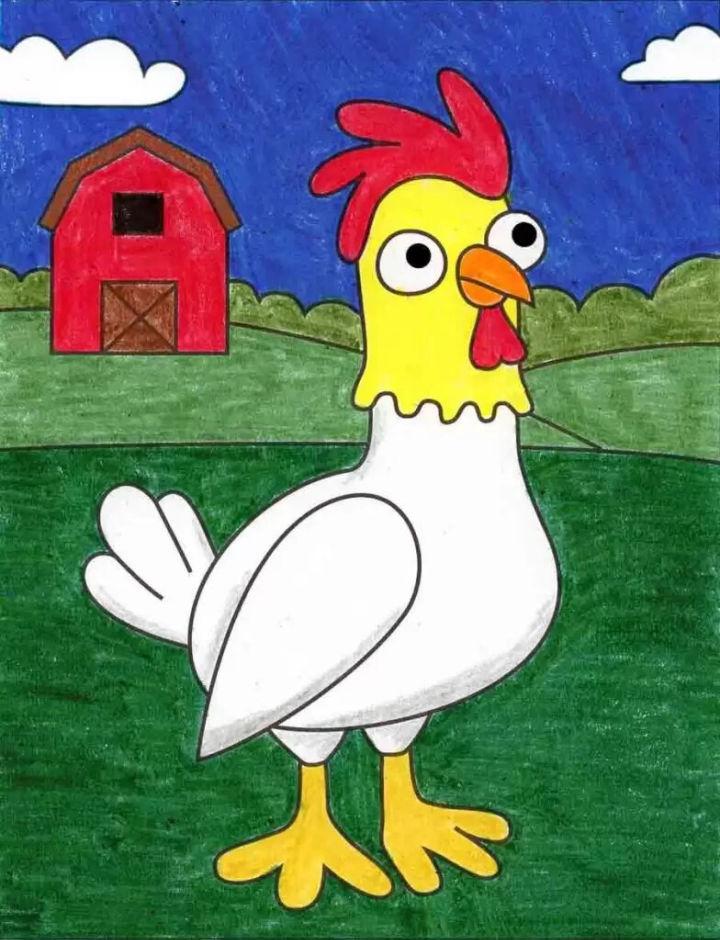 Farm animals are quite interesting and kids love them as well. One of the most popular animals is the chicken, isn't it? So how about we teach you how to draw one? Well, follow this tutorial to make a cute chicken and have fun coloring on a nice, sunny weekend. Follow the given steps to easily draw the chicken. Make sure to have drawing paper, black marker, and crayons with you when you start. artprojectsforkids
5. How to Draw a Chicken Step by Step Guide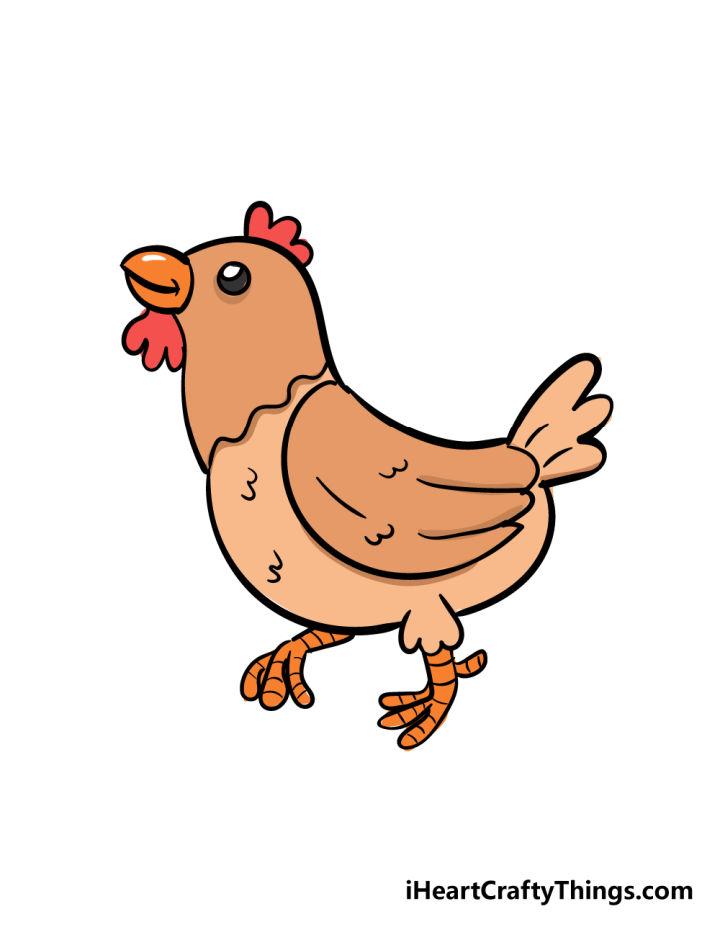 Do we have chicken fans out here? We have a cute DIY for you to make! This chicken drawing tutorial guide is a very fun activity to try out. The 8 steps make the process relatively easier so even if it's your first time drawing, you can follow and make it without much hassle. Additionally, you can give it life by coloring anything using your creative skills. iheartcraftythings
6. Easy Way to Draw a Chicken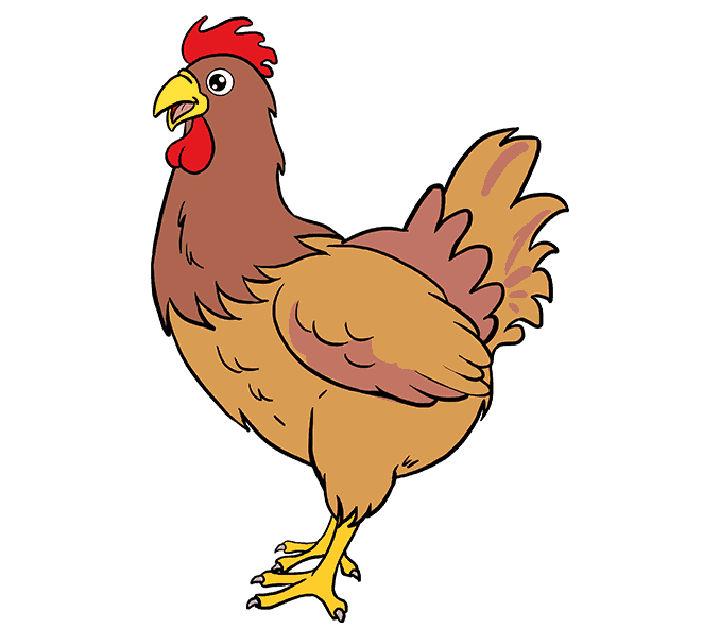 Is your kid starting to learn alphabets? Help them learn it in a fun way using drawings and colorful visuals. For your ease, here we have mentioned a chicken drawing tutorial with you all. Now you can either teach alphabets with this drawing or make your kid practice coloring. Either way, it is a really interesting activity that you can try! easydrawingguides
7. Drawing of a Chicken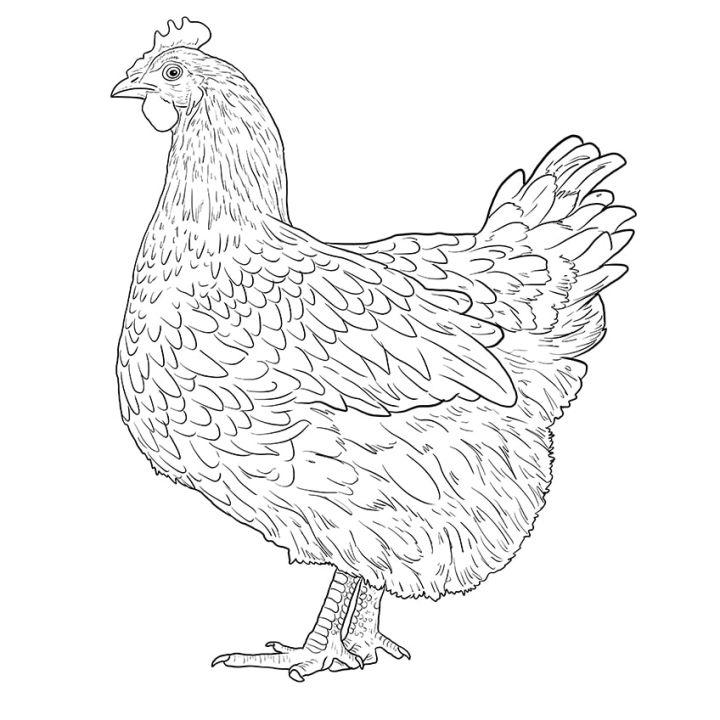 Chickens are domestic animals that are often kept at home as well. They provide us with eggs and meat so it is important for kids to know about them. Make the information engaging by using this chicken drawing tutorial. It is a very simple and useful project which the kids will definitely enjoy. Color it and make it look even more realistic, however, you can decide the medium in which you want to color it. artincontext
8. Draw a Chicken in 5 Easy Steps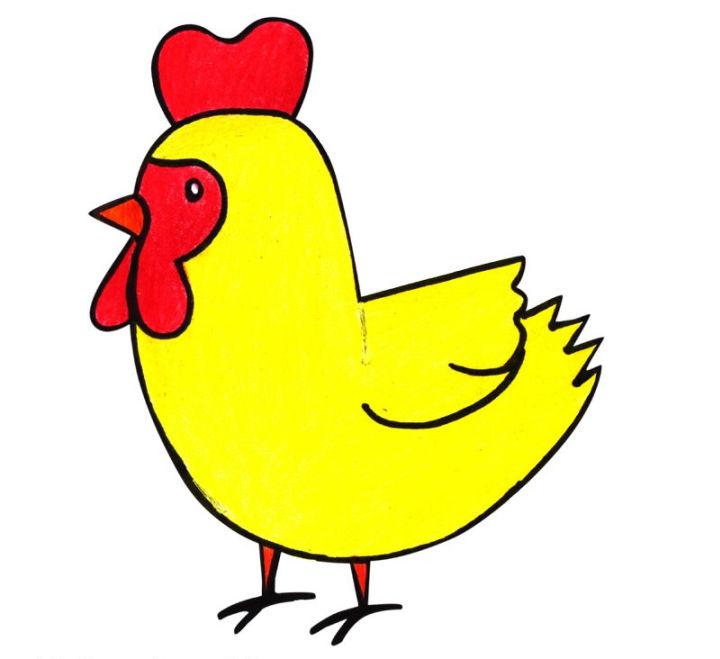 Looking for an easy way to draw a chicken? Follow this beginner-level chicken drawing tutorial and ace the art within a few hours. It is in the step-by-step process which makes it even simpler to follow. The DIY project will become popular among kids so if you have kids at home then you should definitely try out this activity. drawingtutorials101
9. Simple Way to Draw a Chicken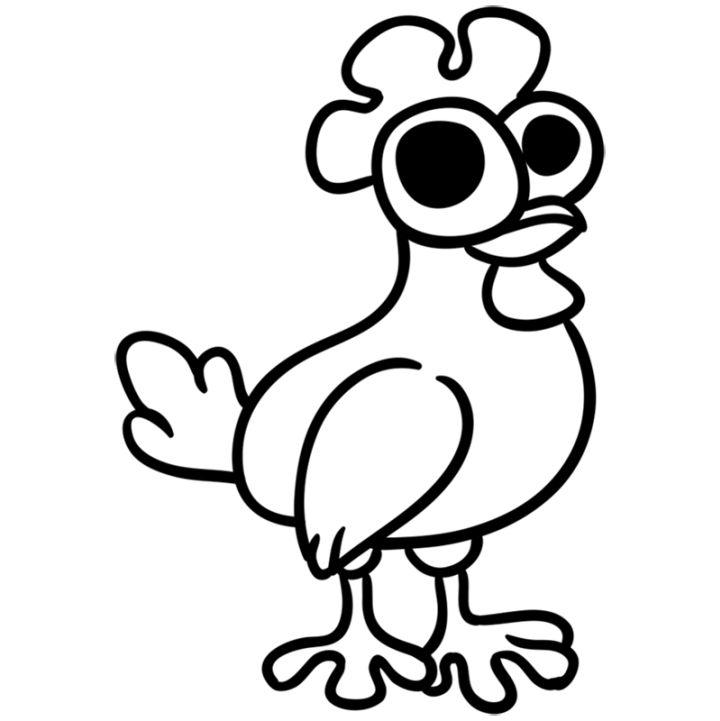 If you are in search of an indoor creative activity for your kids then don't worry, we are here with a great plan. Try this tutorial on how to draw a chicken easily even if you have no proper experience. Make sure you follow the given steps carefully so your drawing can turn out to be an amazing one too! So grab all your supplies and let's start with it. easydrawevery
10. How to Draw Big Red Chicken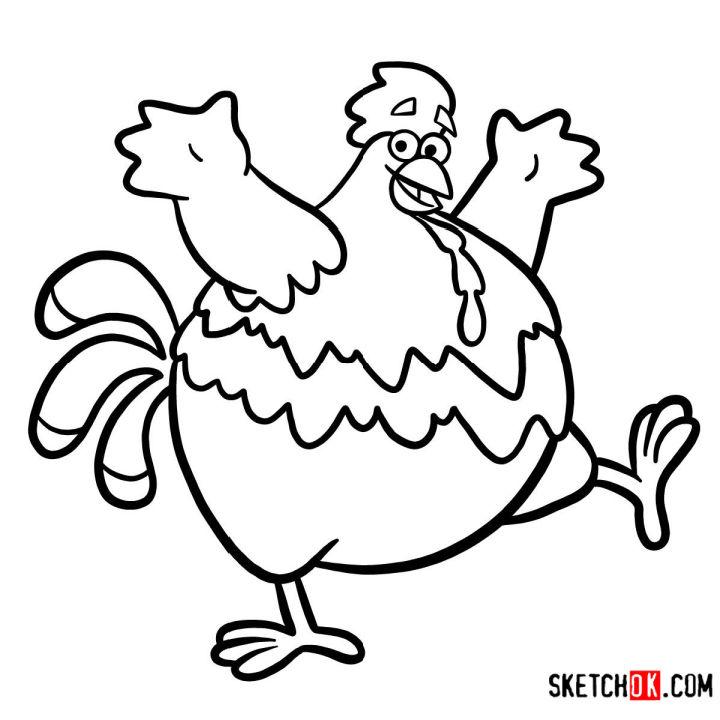 Draw this upper cute big red chicken with your kids and make weekends even more fun. Such activities enhance creative skills in children and their imagination expands in a broader way. Since it is a beginner-level project, anyone can easily try making it. Make sure to follow the given steps accordingly. sketchok
11. Baby Chicken Drawing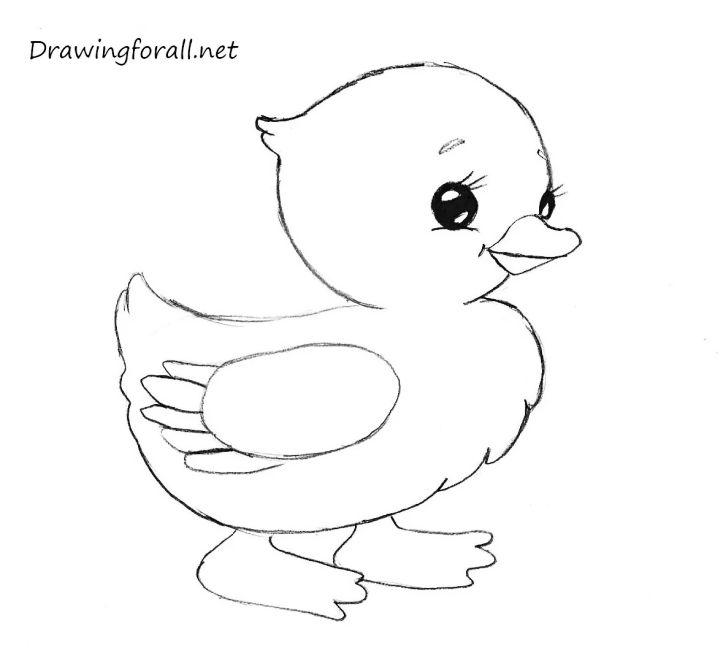 Baby chickens are one of the cutest animals on the planet! Drawing this cute little chicken would be quite interesting as well as enjoyable especially for the kids! Doesn't matter if you're a beginner or an expert, just following the steps will be more than enough. So grab a piece of paper and pencil to start making this cute drawing. drawingforall
12. Draw a White Leghorn Chicken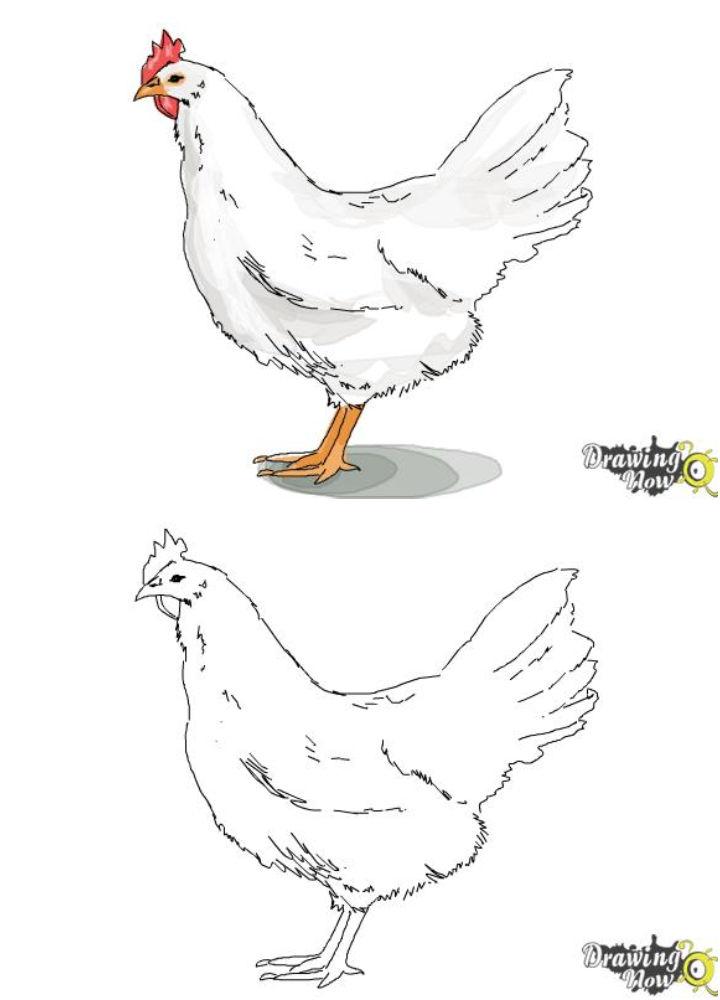 A white leghorn chicken is one of the most beautiful kinds of chicken and is also a domestic animal that you can keep in your yards and lawns. They bring life to the space and look absolutely mesmerizing in their snow-like white coat. If you can't keep them at home, then how about drawing them? That sounds like a fun idea! Involve the kids during their vacations and plan such activities with them! Moreover, it is a very budget-friendly plan for which you only need a piece of paper, a pencil, and some colors. drawingnow
13. Cute Chicken Drawing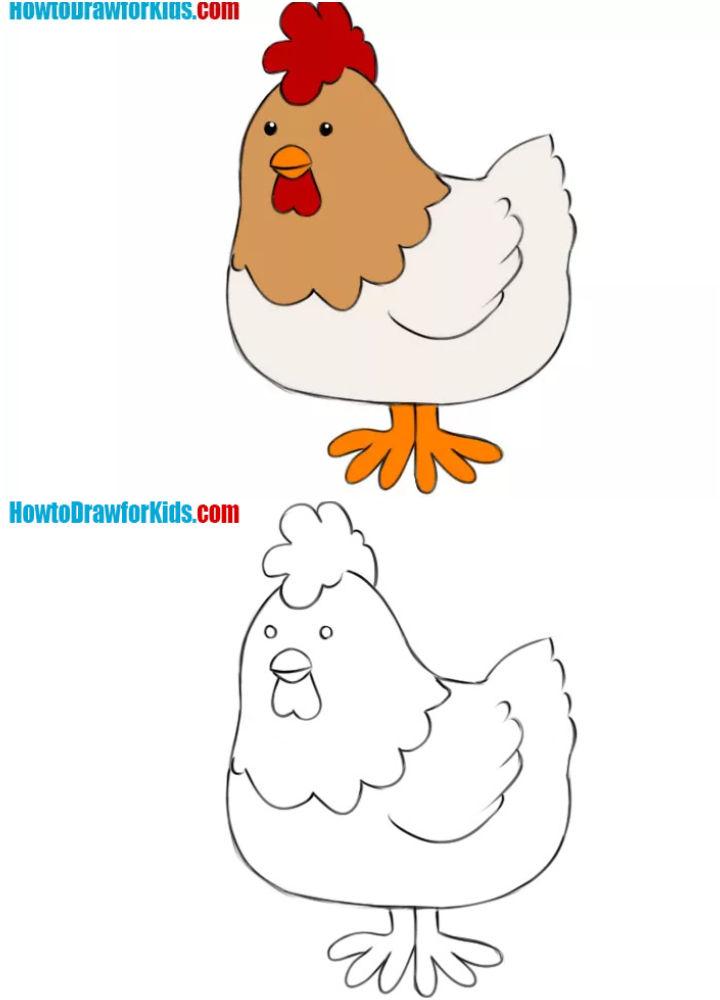 Your kid is having trouble learning the alphabet 'C'? How about we make things exciting and engaging for him? Learn how to draw this cute chicken drawing which will help him remember the alphabet through an interesting concept. Additionally, you can also ask them to color the chicken with their favorite color pencils and improve their coloring skills too! The supplies that you may need for this activity are paper, a pencil, and some colors. howtodrawforkids
14. Draw Ernie the Giant Chicken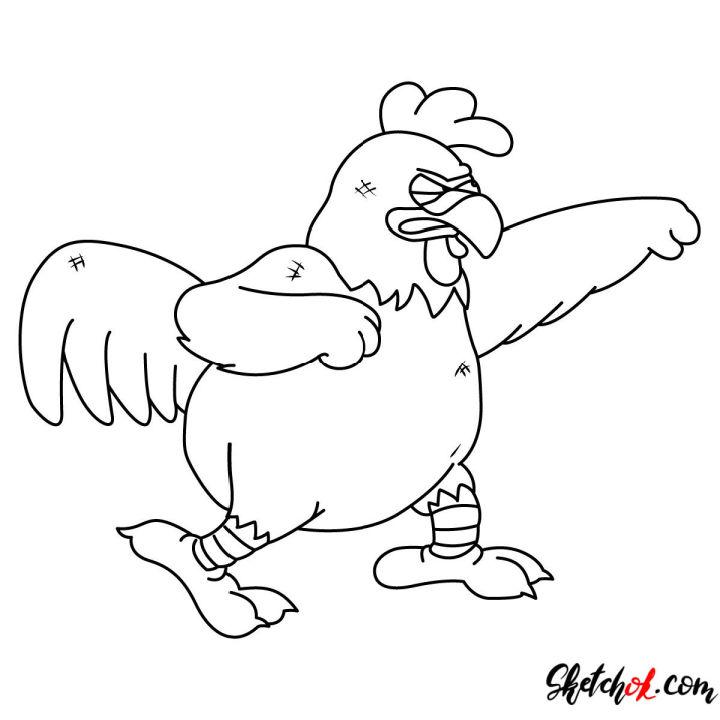 Do we have any 'Family Guy' series fans here? If yes, then you must be familiar with Ernie the giant chicken, right? Here is a simple and quick drawing tutorial that you can make in your free time and practice your drawing skills. Other than that, if you have kids at home, then this tutorial can be helpful for them if they like such creative activities. Nonetheless, it is pretty easy to make and you just require basic art supplies for this. sketchok
15. Easiest Way to Draw a Chicken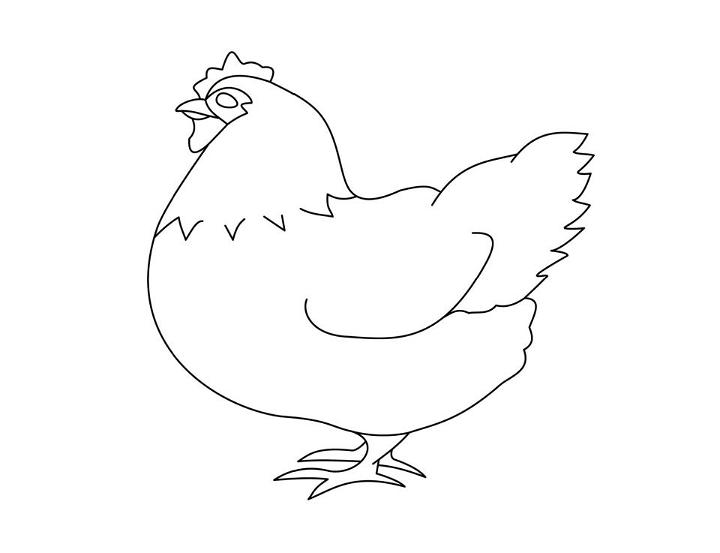 Are you looking for the easiest way to draw a chicken? Well, you are at the right place! Here are step-by-step instructions on drawing a chicken easily. Trust us when we say it will take you around 15 minutes – that's it! Sounds fun? We're sure we have got your attention now. So, if you are ready to start this project, you will need a sheet of paper, a black marker, and a pack of crayons. verbnow
16. Chicken Face Drawing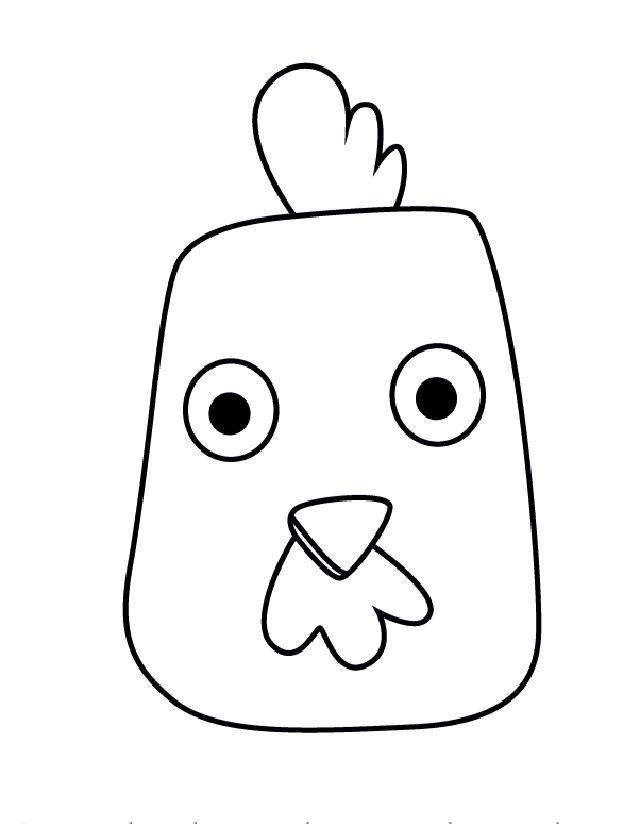 Do you remember the popular game called Angry Birds? We're sure your kid must have been a fan of that game when it came out and had spent hours playing it. How about reliving that time with your child, but in a more creative way? Learn how to make this chicken face drawing given here. It is easily one of the simplest drawings ever and you will need just some basic supplies for it. drawingtutorials101
17. How to Draw a Chicken for Kids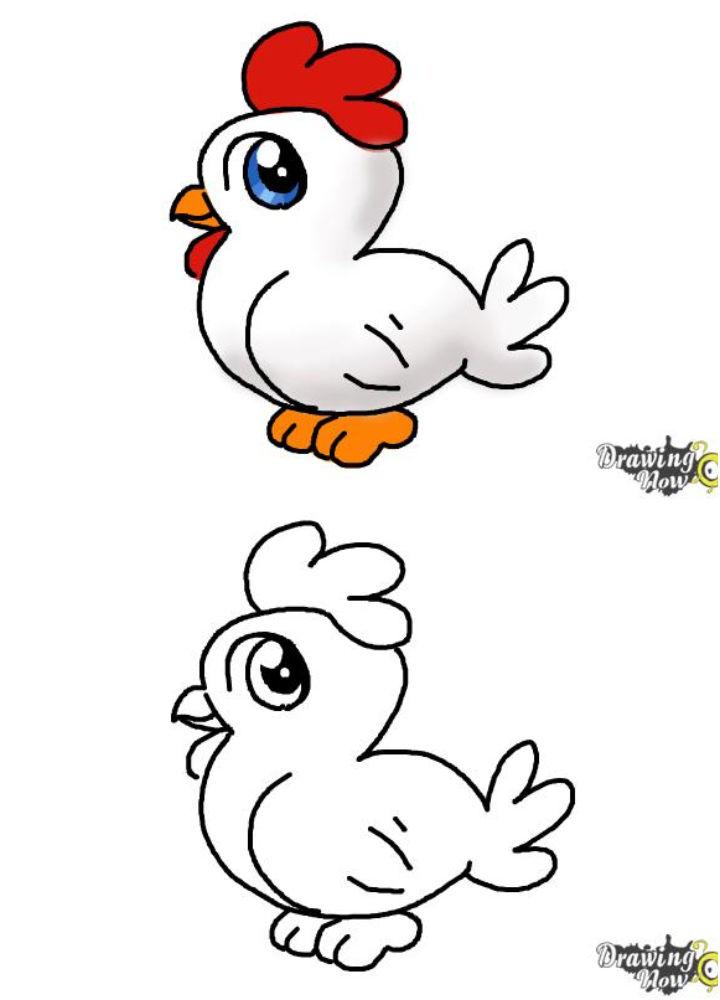 From kids to adults, everyone is going to love this chicken drawing tutorial. It is really cute and importantly, really easy to make. If you have a baby then why not teach them how to make this baby chicken? Sounds fun, isn't it? So get ready to make this project that too, using basic supplies! drawingnow
18. Beautiful Draw a Chicken Mom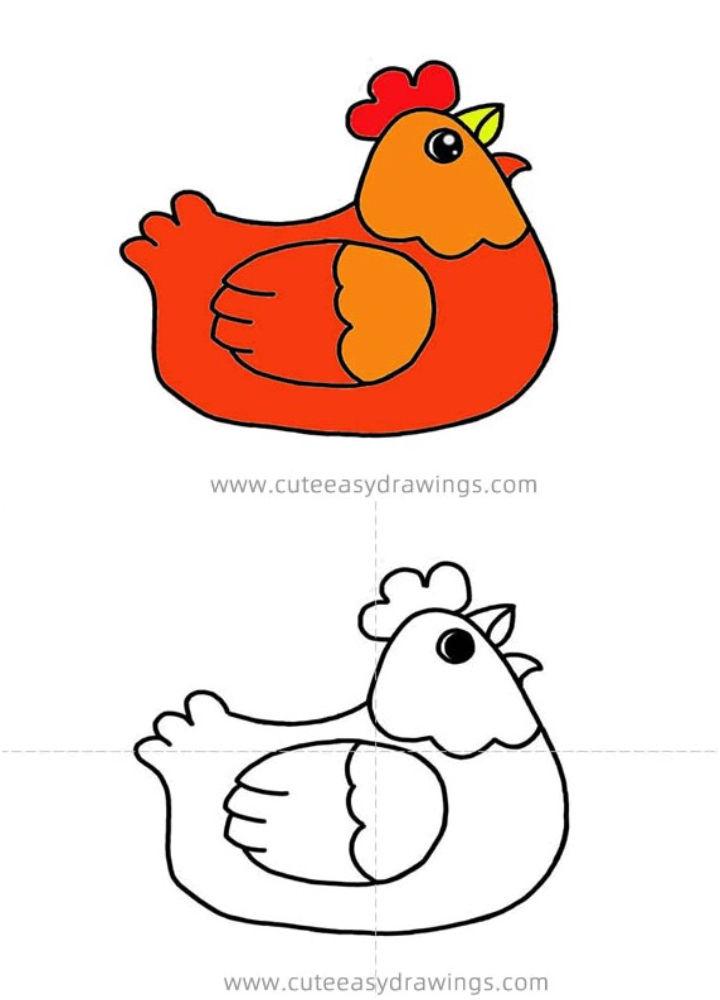 This mother's day tries something different for your mom and makes them this cute chicken mom drawing on a card. It is pretty simple to make and also quite budget-friendly. You just need a few minutes from your day to make this super amazing card. The supplies include drawing a chicken pdf printable, drawing papers, markers, crayons, colored pencils, etc. cuteeasydrawings
19. How to Draw a Hen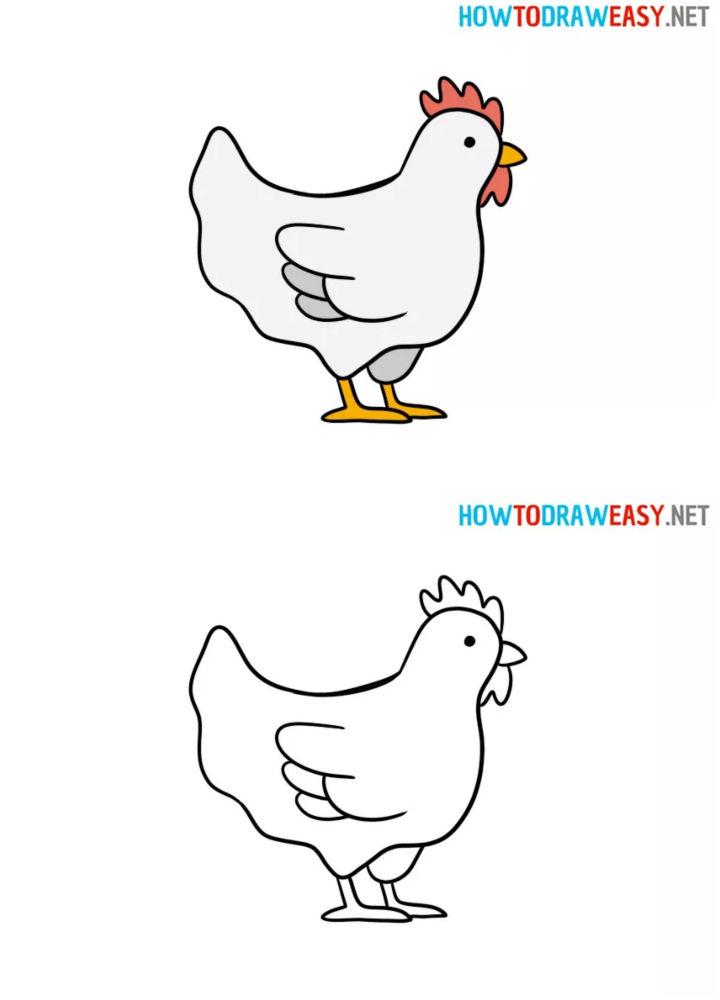 If you want a fun activity that you can try with kids this weekend then worry no more! Here is an easy tutorial on how to draw a hen. In this project, the drawing tutorial is explained through steps so it is easier for people to follow it and make their own masterpiece. Kids will definitely love this! So grab all the supplies and let's start. howtodraweasy
20. How to Draw Cooked Chicken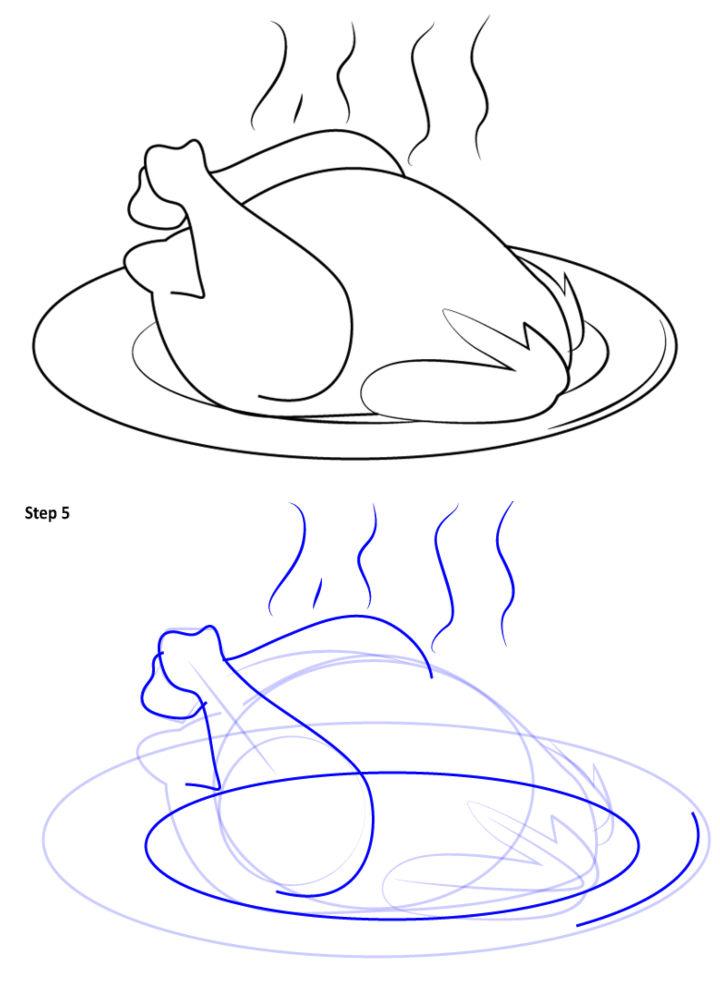 Who doesn't like drawing different things? Well, try out this cooked chicken drawing tutorial. Involve the whole family any weekend and make this fun drawing. The tutorial mentions really easy and simple steps that even a beginner can follow and make within a few minutes. Then color it however you like and add some life to it! drawingtutorials
21. Chicken Drawing for Children

Have a look at this easy chicken drawing for your little ones. Are they a fan of drawing and coloring? Then they will definitely love this art. Even if you haven't drawn anything before, this tutorial will help you follow and make an art piece of your own. Then you may also display it in your kid's room! So make sure you have all the supplies and start the project right away!
22. Chicken Feet Drawing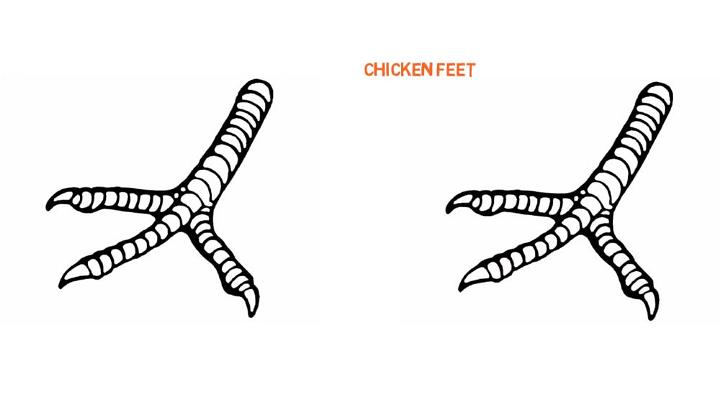 Want to improve your drawing skills? Check out these unique chicken feet drawing! Follow the given drawing tutorial that will help you through the process easily. It is a fun craft and you can get as much creative with it as you like! For this project, you will need a black marker and a piece of paper – that's it!
23. Beginners How to Draw a Chicken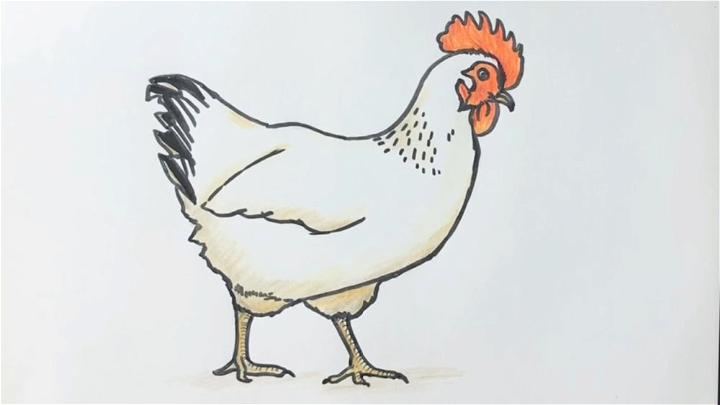 Do you like drawing different things and practicing your art? Here's an idea on how to draw a chicken easily! This is the best DIY chicken drawing idea for beginners and kids. Also, the video tutorial is detailed and will guide you along at each step. The supplies that you will need are plain white paper, a pencil, an eraser, a black pen, and colored pencils or watercolors according to your liking.
24. Draw a Chicken Step by Step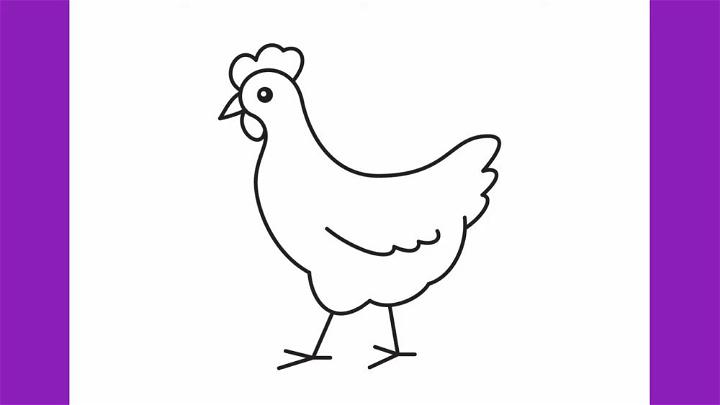 Here's an enjoyable craft to work on with your children this holiday season. Learn how to draw a chicken step by step following this easy video tutorial. It is a pretty simple drawing so even beginners can try making this on their own. Drawing is a quite productive way to pass time and it improves one's creativity and imagination. Moreover, you have the option to color the chicken with your kids and help them with developing their drawing and coloring skills.
25. Chicken Wings Drawing

Have a look at this amazing and easy chicken wings drawing video tutorial. The video tutorial is quite simple and helps the person with easy-to-follow steps which anyone can try out. Moreover, you can color the wings in any medium you like so as to add a more realistic look to them. The supplies needed for this project include a black pen and a piece of paper for this masterpiece.
Related Easy Drawing Ideas:
Tap into your creative side and explore the world of easy drawing ideas! Get inspired with these collection of unique doodles, sketches, illustrations and more.
Conclusion: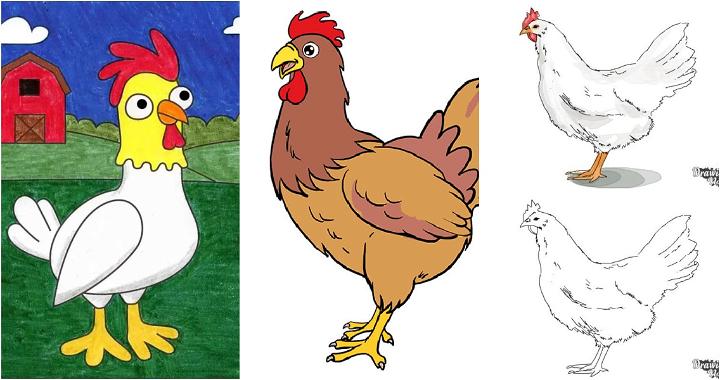 And that's all for now! Check out all the aforementioned DIY chicken drawing ideas to perfect your skills. These easy drawing ideas are easily doable and turn out to be enjoyable pass time crafts. Also, they are a convenient and affordable alternative to other DIY plans which involve complex steps as well as supplies. All the above DIY chicken drawing ideas include the simplest and most materials. You only require paper & a pencil to master these drawings like a pro! Also, it is a fun activity to keep your kids indulged and busy even in their free time. In addition, if you are a teacher and planning an art craft for your class then this is the right place for you. So, what are you still waiting for? Grab your essentials and pick your favorite DIY chicken drawing idea now. Happy Drawing! 😉