The importance of the sun and sunlight can't be denied in any way by us and the whole solar system. There is no harm in admitting that without the sun burning in the middle of all planets, we wouldn't be here right now. We have compiled 30 easy sun drawing ideas for you and your kids if you want to learn how to draw a sun or this ball of fire in a simple fun way. The galaxy with all its might have the beautiful shiny sun in the middle to complete and enrich our earth. Sunlight helps us in a million ways not to mention all its benefits for the plants and animals.
It's one of the biggest joys of life to sit and enjoy sunset and sunrise and no words can describe the beauty of these scenes and no picture can do justice to them. Learn how to draw a sun or small part of these scenes by taking help from these simple sun drawing ideas and making the beautiful sun in different ways.

You can learn to make a cool sun drawing, make sun and moon both, make an easy and simple sun, draw a realistic sun, a cute face of the sun behind the clouds, sunset on the beach, draw a sketch of the sun and many more simple ways to learn to draw a sun for your ease. In addition, find below easy sun drawing instructions, step by step guide and free printables to download.
1. How To Draw The Sun Step By Step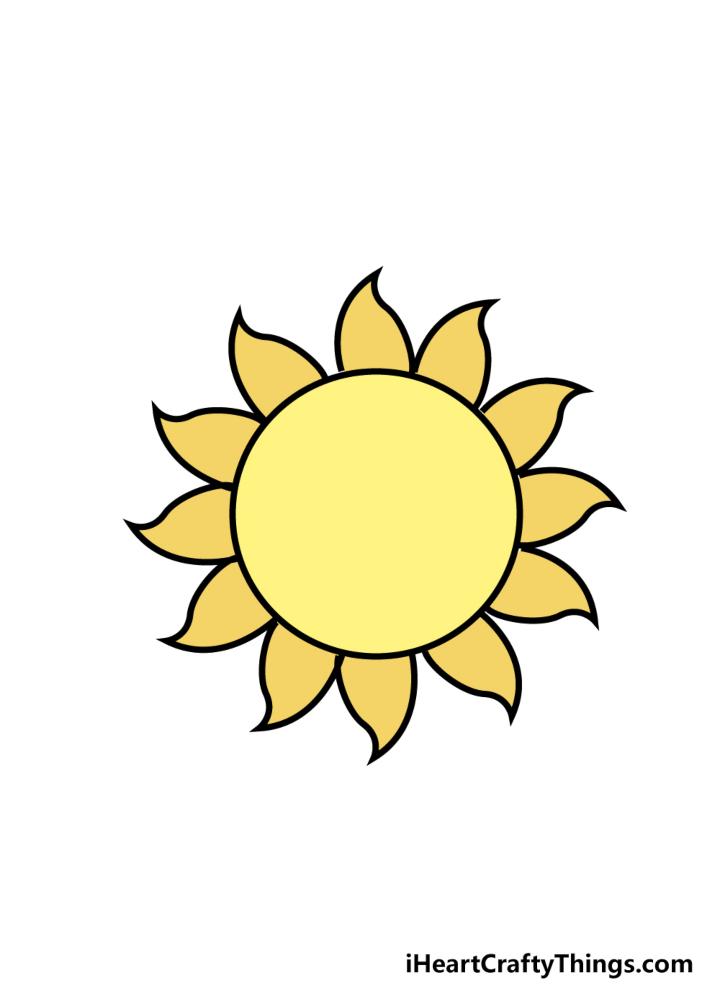 Learn to draw the center of galaxy which is sun in a simple step-by-step guide. You can try to make it by using just a pencil and your drawing pad and following the instructions properly. The drawing starts by just making a round circle in the middle which will determine the shape of the sun. A drawing compass can also be used to make the circle perfectly. The rays of the sun are done in many ways but here just make them in the form of curved lines. iheartcraftythings
2. Cute Sun Drawing for Kids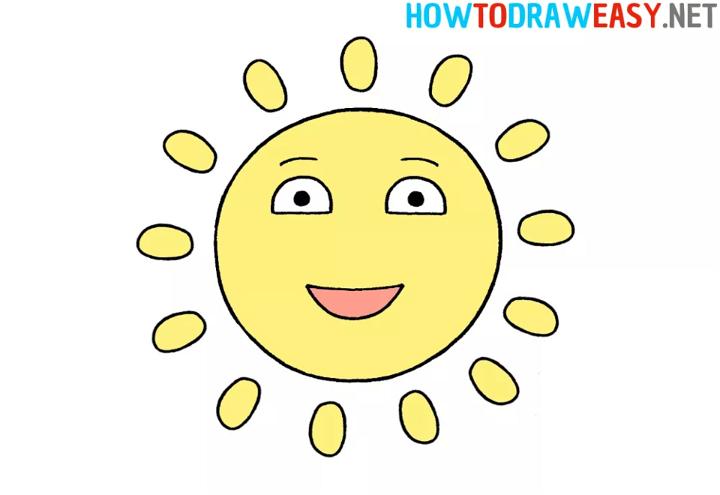 When kids are beginning to learn to draw anything, the certainly struggle with getting everything right. We have made drawing a fun thing for them like making a sun is done in a simple and fun way. Take a look at these sun drawing ideas from which the kids can learn to draw the sun. The sun gives life to everything around hence it is the first easiest thing the kids learn to draw. Follow this step-by-step process and paint it with bright colors. howtodraweasy
3. Drawing Of Sun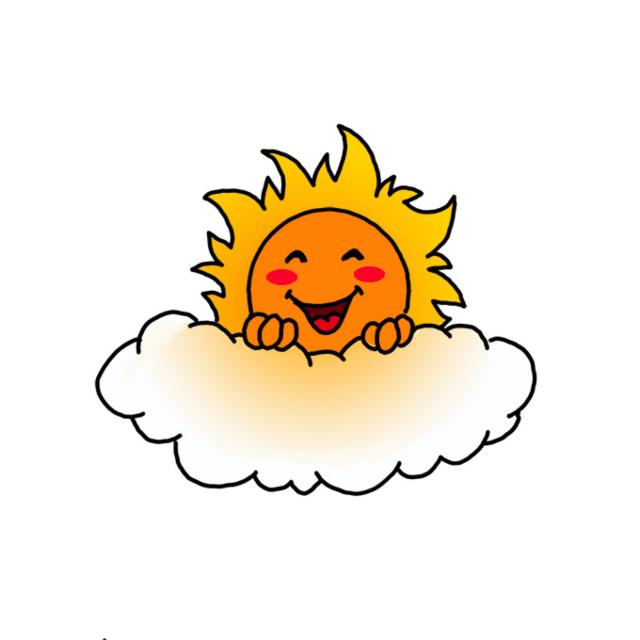 The sun with a smile on its cute face is what we see in animations all the time. It certainly feels like as soon as the sun rises, a smile also appears at everyone's face. Learn to draw this ball of fire by following a few simple steps. Supplies required are a marker paper, printer paper or sketch book, pencil or sharpie and markers or crayons. Draw the cute face of the sun perched upon the clouds followed by its pair of hands. drawinghowtos
4. Cool Sun Drawing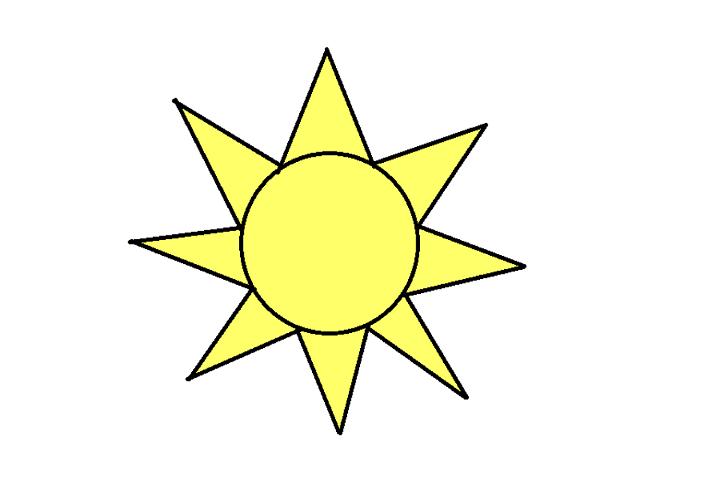 Something cute and easy to draw is probably the best art project anybody could ever offer to you. Here we have shared some easy sun drawing ideas that include an easy step-by-step procedure to draw the sun. The sun doesn't have any complicated lines or shape so it's quite an easy drawing project especially for beginners. Draw a small circle in the middle to make the shape of the sun or use any round object to make the perfect round circle. bujobabe
5. Sun And Moon Drawing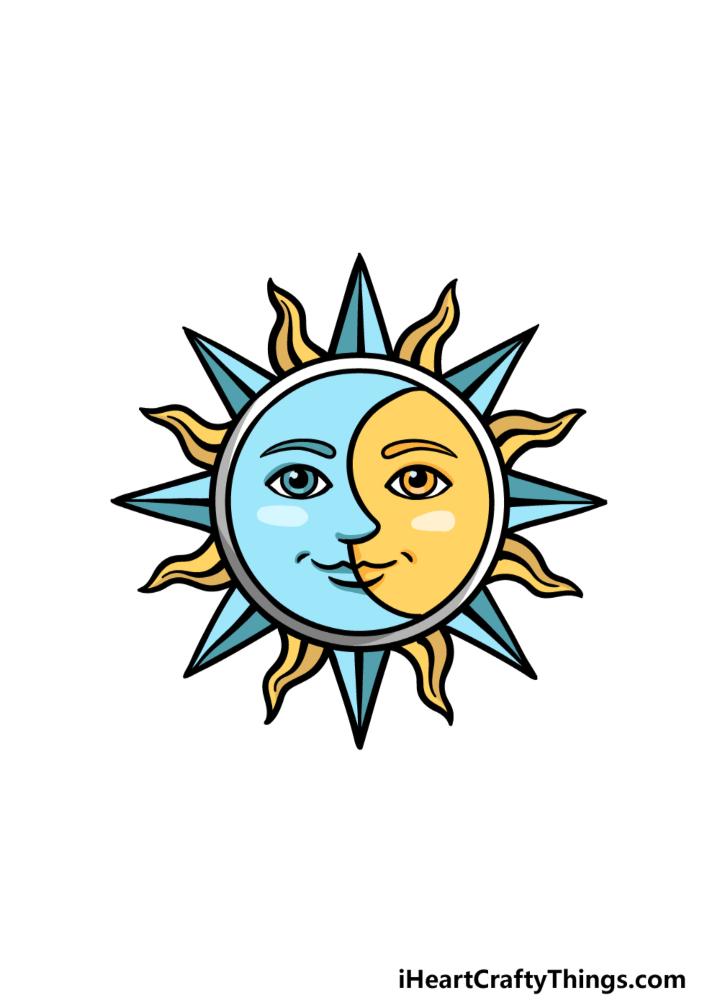 We all know how to draw a sun and moon which mark the start and end of every day. If they are incorporated in the same drawing, it becomes quite an interesting thing. In this tutorial, learn to draw the sun and moon in the same picture by following some simple steps. It becomes quite a classic design and you can start the process by drawing two circles together as one inside the other to make the sun and moon. iheartcraftythings
6. Easy Sun Drawing

Kids normally prefer to draw things that they can make colorful later on using their favorite colors. Kids can learn to draw a cute drawing of a sun in simple steps sitting and smiling from the clouds. With your supervision kids can draw a circle in the middle and make curved lines coming out of the round ball. Make a small cloud at the bottom of the sun to make the drawing more cartoonish. Let the kids use colors of their choice to make it more colorful.
7. Simple Sun Drawing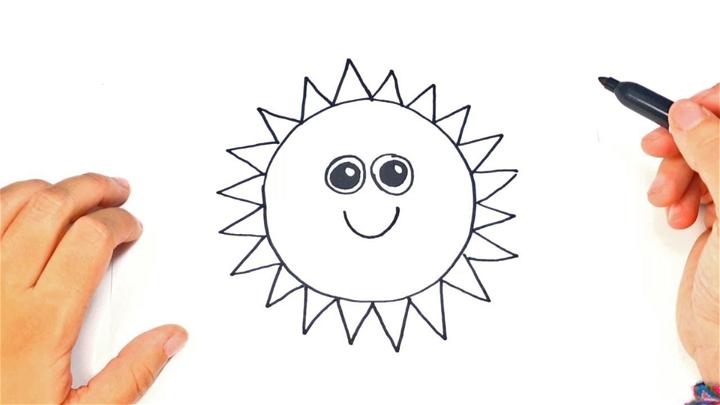 Follow an easiest drawing lesson to learn to draw the sun shining with its rays in a few simple steps. All you need is a simple drawing pencil and your writing pad to do this simple project. For the kids, a small cute face can also be drawn on the drawing with round eyes and a nose. Involve the kids in this easy project by asking them to color it later and hang it up anywhere they want. youtube
8. Realistic Sun Drawing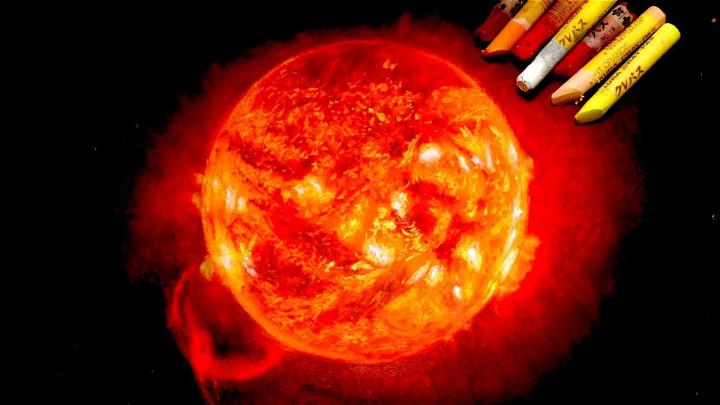 The sun looks so beautiful shining in the morning that there is no way anybody wouldn't want to capture its beauty. The best way to do so is by learning to draw it and making your drawing pretty to do justice to the sight. Use your sketching pencil to draw the fine lines of the circle in the middle and oil pastels can be used to give it the look of the evening sun. This will make your drawing more realistic. youtube
9. Sun And Clouds Drawing With Face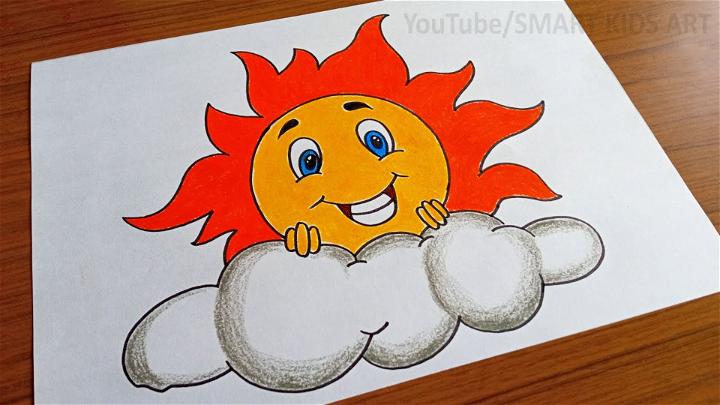 Sun sitting on a small cute cloud is probably the first thing we learn to draw as children. Help your children learn to draw the same thing but in a fun way done in beautiful colors. Learn to make an easy sun and cloud drawing through this simple step-by-step process and make an easy art project worth your while. A little shading done on the cloud will make the drawing more interesting giving the kids a new concept of drawing.
10. Drawing Of The Sun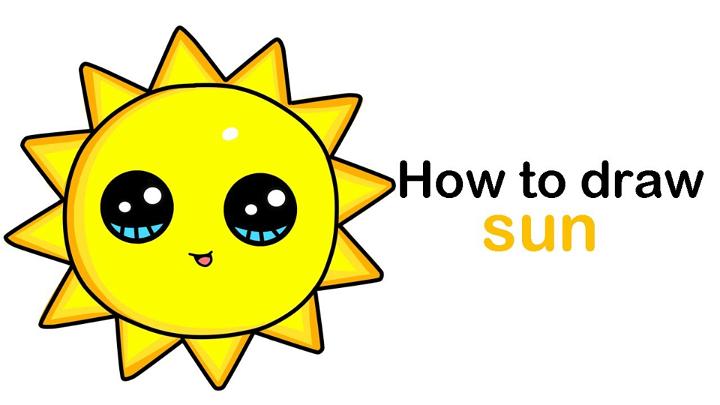 For kids, learning to draw as the first thing can be slightly difficult. That's why we have compiled an easy tutorial for them to learn to draw a cute sun in a few simple steps. The drawing basically has a cute circle of the shape of the sun in the middle with zig zag rays coming out of it. Draw small circles in the middle to make huge innocent eyes of the sun which will give it an animated face. youtube
11. Drawing Of Sun Set In The Beach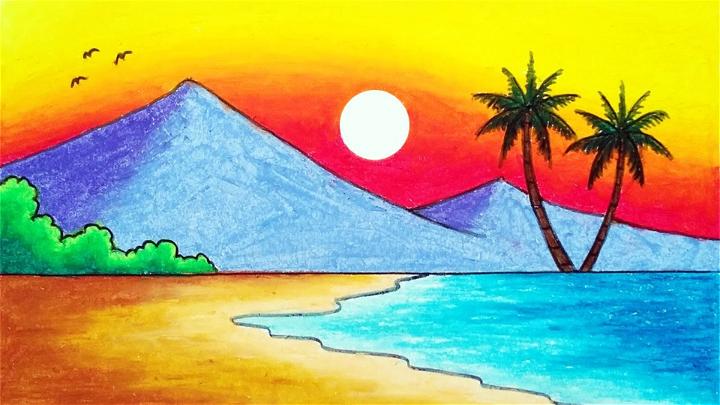 Sunset on the beach is the most romantic sight that can ever be seen anywhere else. The best way to enjoy this sight is to save it up to watch it even at home. This can be done by drawing it and displaying it somewhere in the house to look at whenever you want. You will need supplies like an A4 sketch or drawing paper, snowman twin pen and oil pastels. Draw a beautiful scenery making the sun in the middle.
12. Sun Sketch Drawing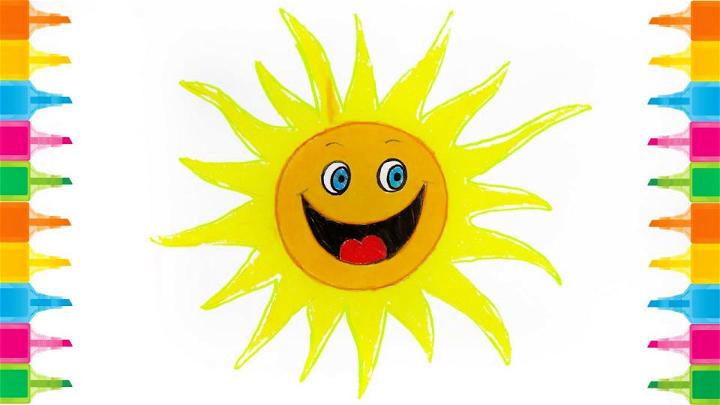 For kids, learning to draw a smiling face of the sun can be an interesting art project. Follow the simple steps given in this tutorial to draw the sun in a fun way and color it as colorfully as they want. You only need pencil for drawing, a drawing paper and oil pastels for coloring. This drawing lesson is a great way for the kids to develop good drawing skills whilst having lots of fun and be done in one sitting.
13. Easy To Draw Sun

A step-by-step tutorial to draw the sun in a fun way is what all the budding artists will appreciate. We have just the thing you need with simple instructions to draw the sun and color it in a fun way. All you need is a black sharpie or marker for drawing, colors of your choice and a drawing paper. Make a circle in the middle for the shape of the sun and then draw rays coming out of it like a small round flower.
14. Sun Image Drawing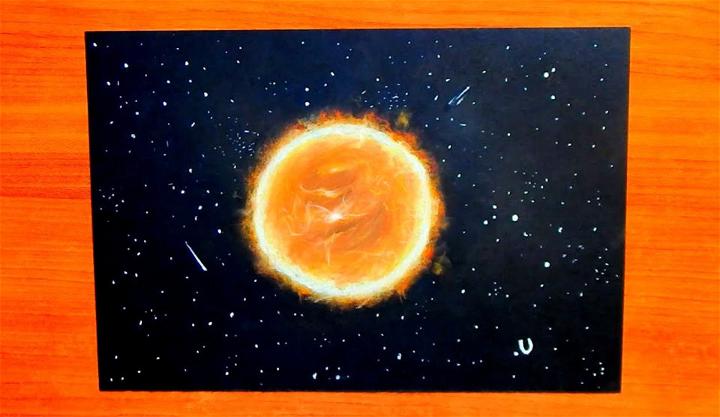 Draw the sun in a few simple steps and enjoy a simple art project if you have a few hours to spare. In this tutorial the sun is drawn as a huge ball of fire so you will need oil pastels in different shades to get the colors right. Make a huge circle in the middle and make shaded rays coming out of it. Oil pastels can be used to make the rays around in different shades of orange.
15. Sun Cartoon Drawing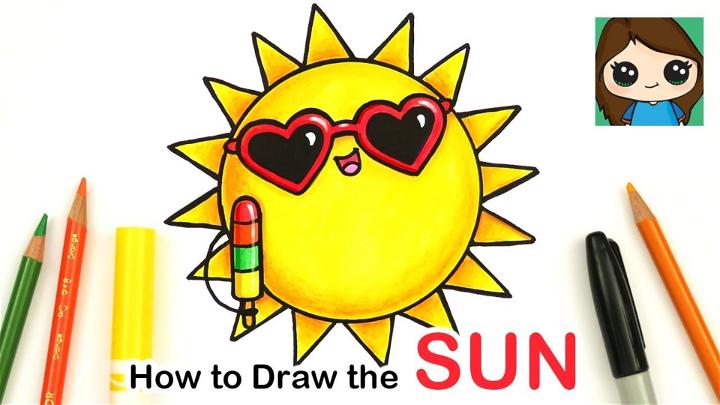 A very cute sun drawing can be made for the little ones following simple steps. Make a cute cartoon sun wearing heart sunglasses and holding a popsicle stick in one hand. For this drawing, you need a mini sketch pad, sketch pencils, color pencils, marker paper, colored markers and Copic markers. You can color the drawing using fun colors like red color for the sunglasses and different colors for the popsicle stick. With a small smile on the face, your animated sun drawing is complete.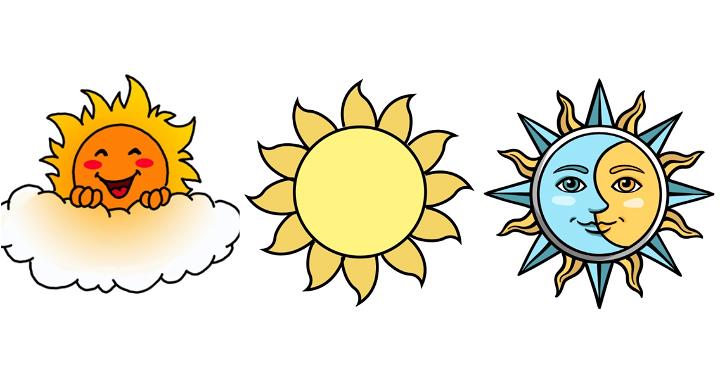 Conclusion
Budding artists and people who just love to doodle on their note pads when feeling a bit artsy have a great chance to learn from these easy sun drawing ideas. Draw sun in different ways and these little drawings can also be used as coloring projects if you decide to involve the kids.
Sun has always been a great source of wonder and beauty and countless art pieces have been made to try to capture its beauty and appreciate God's creation. Learn how to draw a sun to capture its beauty with all its might and create wonderful art pieces for the house or for anywhere else you want. Enjoy drawing!