Learn how to draw a narwhal with these 25 easy narwhal drawing ideas with step by step simple sketch outline, printables and coloring pages. People have been fascinated by the dark deep ocean from the start of times. It has many creatures that are an eye opener. Narwhal is one such creature. These Narwhal drawing ideas are a must-watch if you're interested in this majestic creature.
Narwhal is a whale that has a large tusk coming out of its mouth. It is medium-sized and is normally found in the Canadian Arctic, Greenlandic and Russian waters. It has many preys such as flatfish, arctic cod, and Greenland halibut. They have a huge life span of up to 90 years.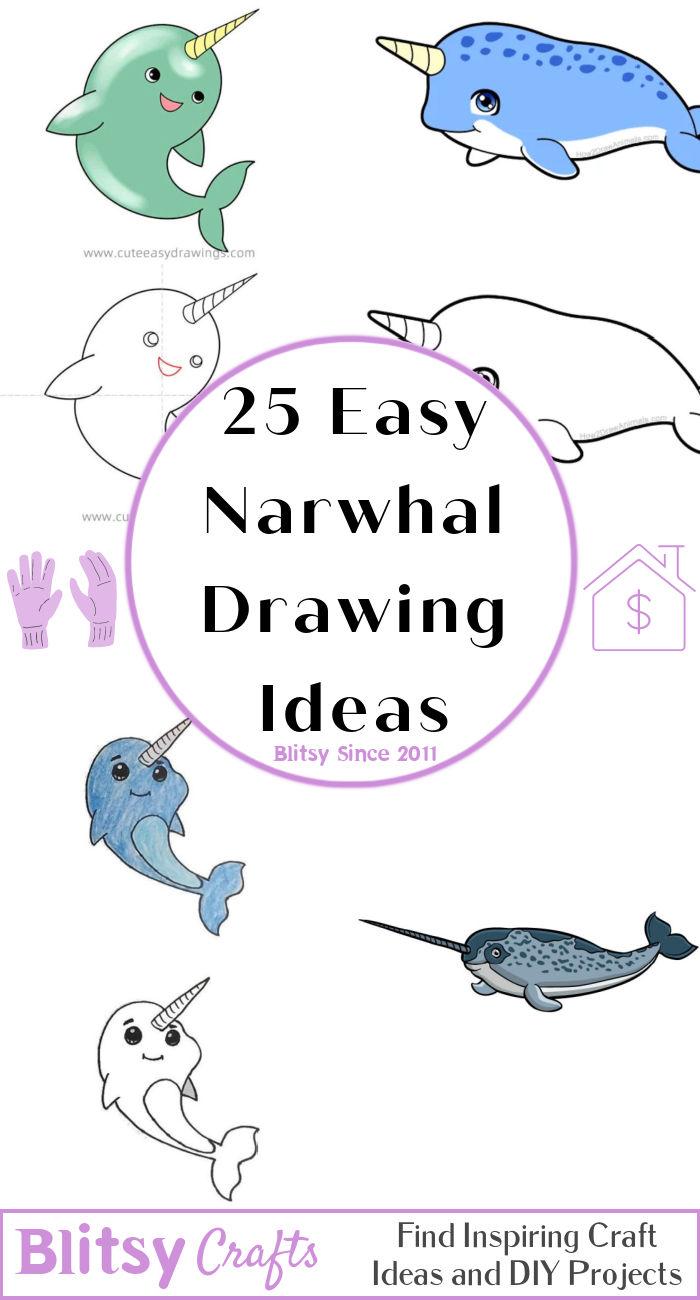 Narwhals are really fun to draw! This is why we've brought you these 25 fun and practical Narwhal drawing ideas. Narwhals are a sight to behold in the animal kingdom; what other way to draw the essence of the ocean than to draw this majestic creature.
This tutorial will introduce you to many different fun and interesting ways to draw Narwhals. You can choose a cartoon style or a realistic style. So, what's the wait? Get ahold of your drawing supplies and get a crack at these Narwhal drawing ideas.
1. Cute Narwhal Drawing for Beginners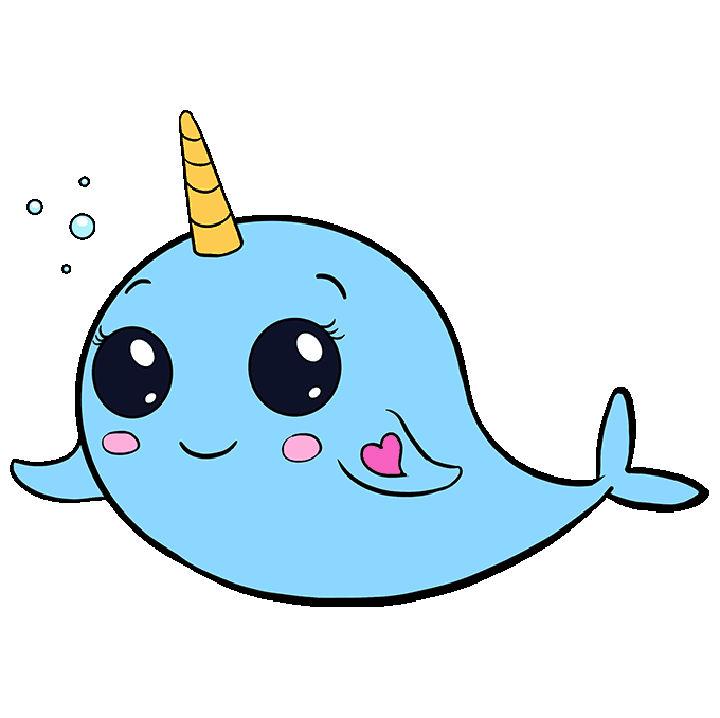 Beginning with an easy drawing of a cute Narwhal. Start with a circle shape and extend to lines from the bottom side in a triangular shape. This will be the tail of the whale. Add two adorable eyes and a small smile. Lastly, attach a horn on its head and two small arms. easydrawingguides
2. How to Draw a Narwhal – Step by Step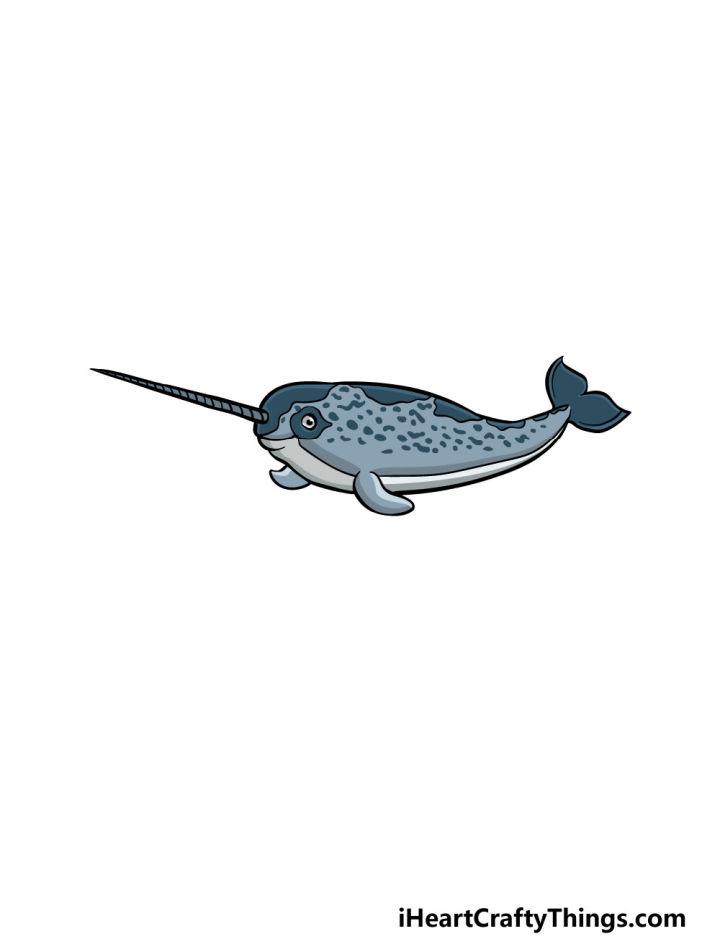 A Narwhal drawing of the realistic, close, looking whale. First, begin with the upper part of the whale to draw its longhorn and head. Curve the line to draw its face and underbelly area. Extend this line all the way to the end until it joins to make the tail. Add detail to the whale with some skin design. Color it blue and white! iheartcraftythings
3. Drawing of a Narwhal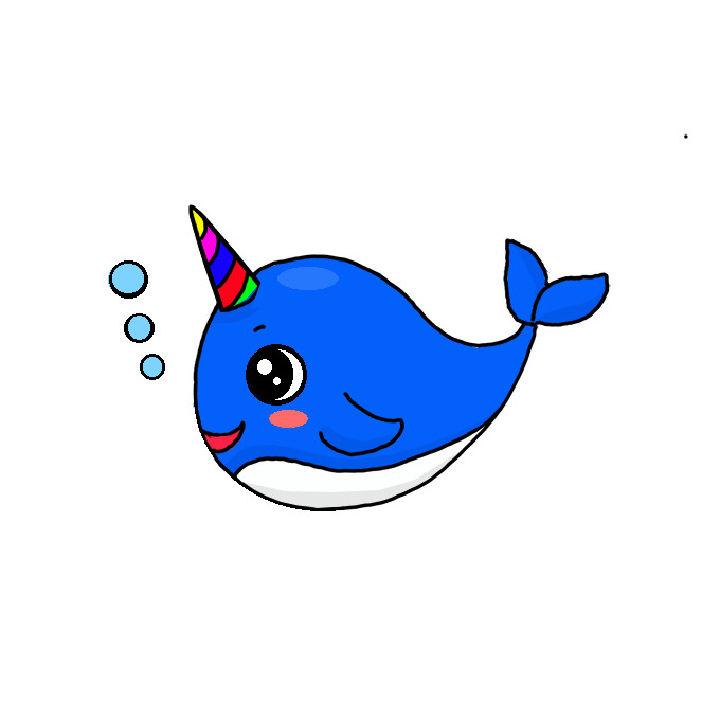 An adorable-looking Narwhal drawing! Go straight at it by drawing the eye first with a bit of sparkle. Then draw a horn immediately on top of it. Try to shape the whale in a jellybean form and curve two leaf-like structures to make its tail. A small arm on the side, and you're done with this Narwhal drawing. drawinghowtos
4. Colorful Narwhal Drawing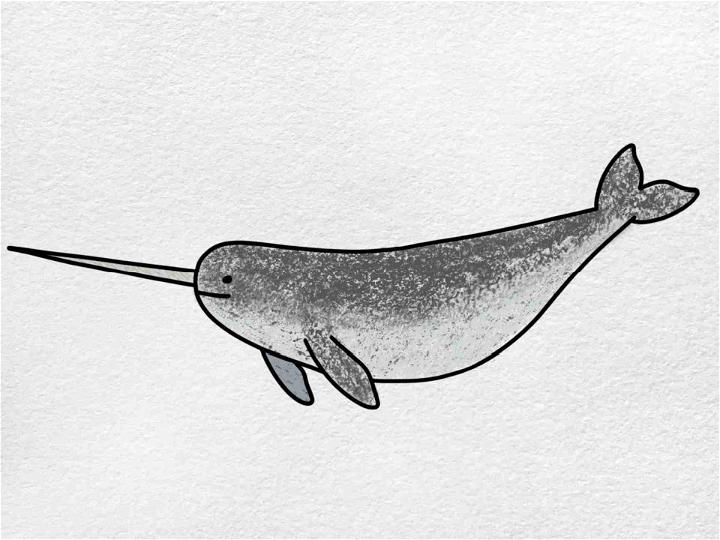 This Narwhal drawing will require a pencil, drawing paper, marker, and some coloring supplies. Time required to make it would be 20 minutes. Begin with the shape of the whale by making a curved line that comes down to create the belly and ends towards the tail. Add the fins and horn. Finally, color it, and you're done! helloartsy
5. Draw a Narwhal for Kindergarten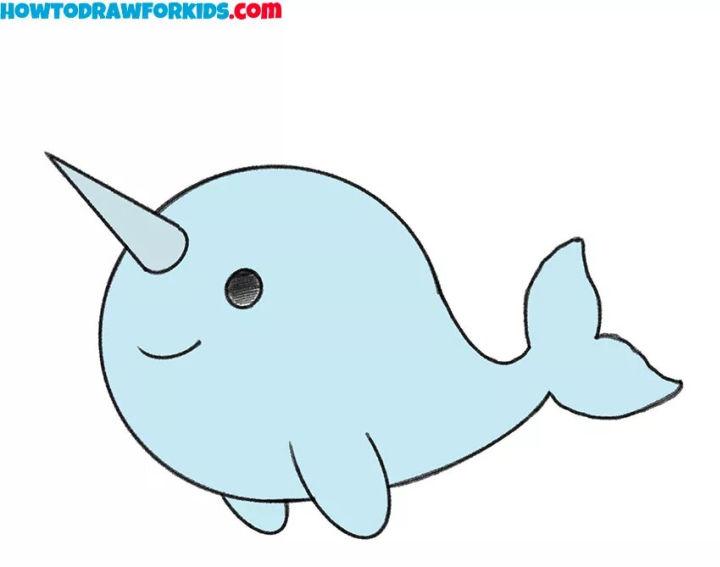 A cute little Narwhal drawing for kindergarten students. You will only need a pencil, eraser, and some coloring supplies for this one. Start with the torso in a balloon-like shape completely bent at one end. Add fins and a tail at one end. Create a happy-looking Narwhal and a horn on top of it. The color is completely blue. howtodrawforkids
6. Sketch Narwhal Drawing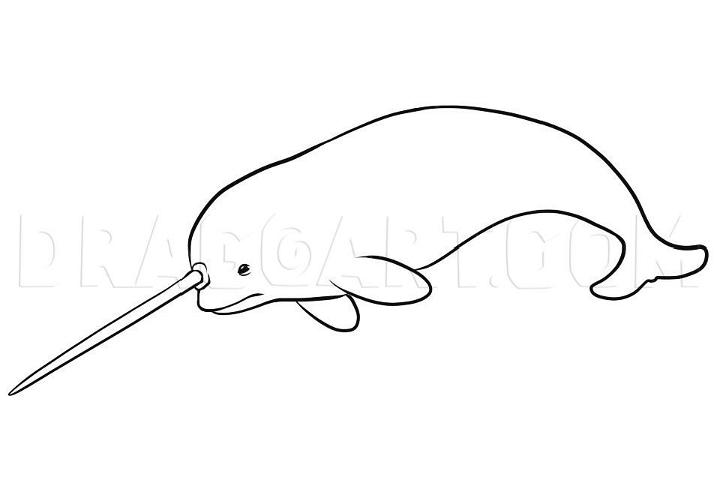 Narwhal in attack mode! Start with simple shapes by creating a circle and curved line. Connect two lines above and below it to create the body of the whale. Next, shape the face and add an eye and mouth. Make it look like it is about to attract someone! dragoart
7. How Do You Draw a Narwhal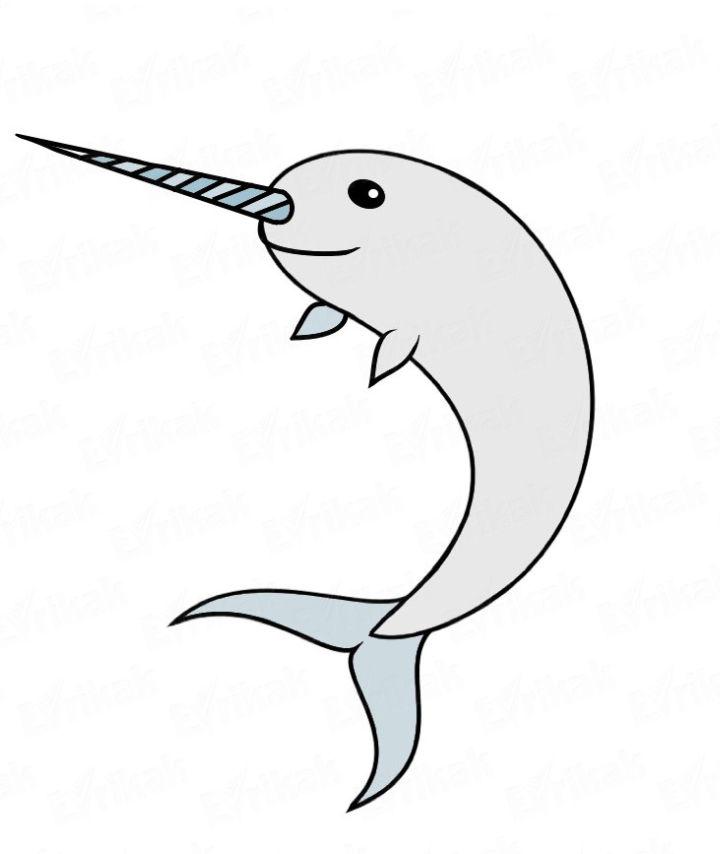 A Narwhal doing a happy dance! All you need for this drawing is a sheet of paper, a pencil, and an eraser. First, form the head with an oval-like shape. Draw out two lines from the sides till they meet at the bottom. Connect a tale at the bottom and a tusk on top of it, with a little smile and two short fins. It is complete! evri
8. Narwhal Cartoon Drawing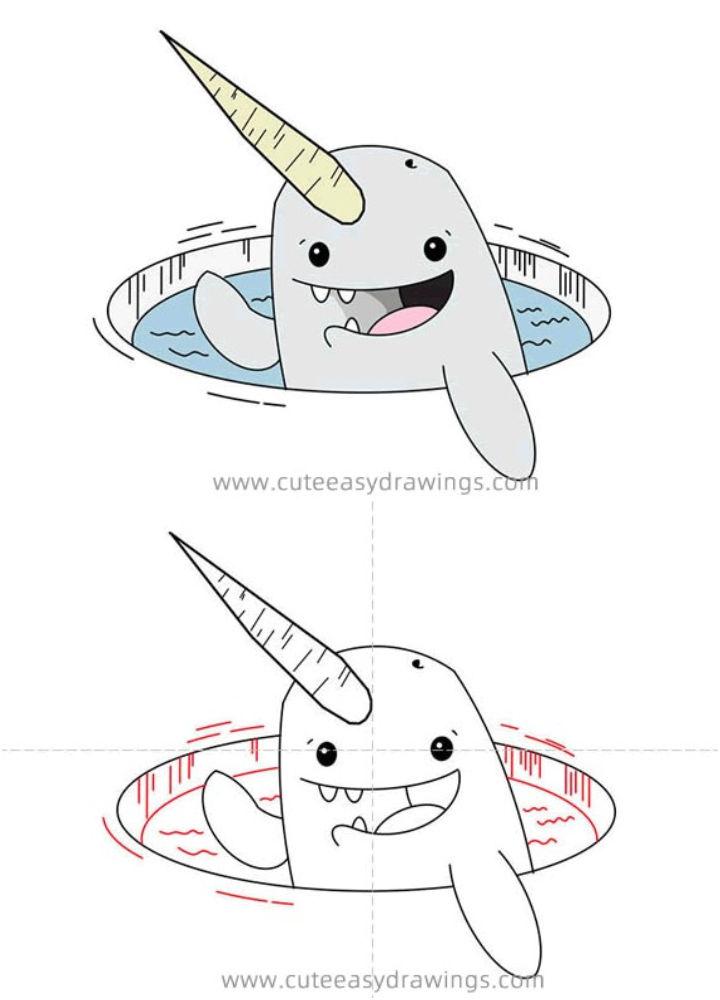 This tutorial is designed specifically for preschoolers and kids. In just 30 minutes, learn how to draw a Narwhal drawing. Begin with the horn that looks like a carrot on top of a whale. Make the upper part of the body as if it's coming out of an ice sheet. Draw one fin in the air to show it wave with a big proper smile. cuteeasydrawings
9. How to Draw a Narwhal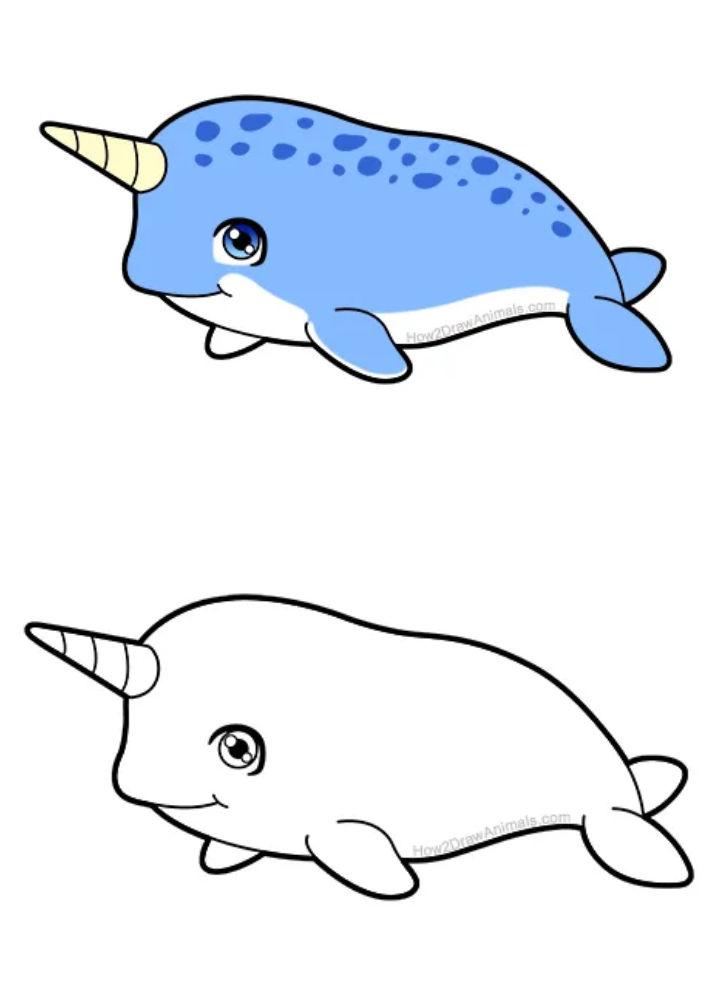 A Narwhal drawing in 9 easy steps. Begin with drawing a big anime eye and a smile right below it. Curved lined will form the top of the head and come down to the bottom to create the underpart. With two small fins and a tail, this Narwhal is completely done! how2drawanimals
10. Narwhal Drawing – Step by Step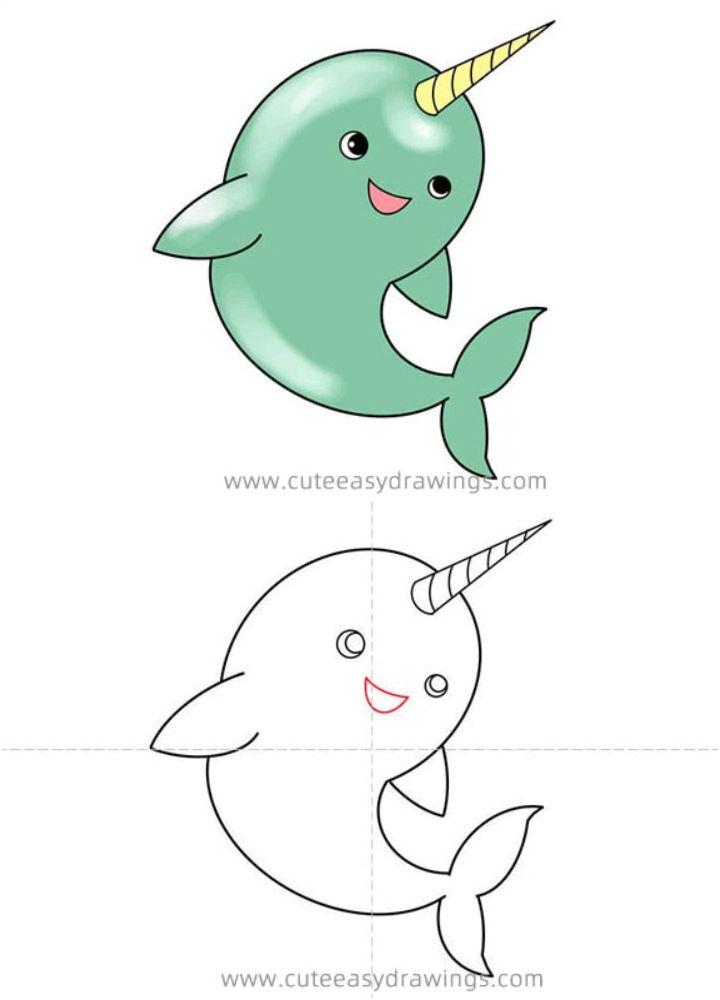 A happy-looking Narwhal drawing that is both wholesome and cute! All you need is drawing paper and a couple of coloring pencils or crayons. Start with the pointy horn with a couple of curved lines on it. On the side of the whale, draw a fin and complete the torso by attaching a tail at the bottom. Color it up, and you're done! cuteeasydrawings
11. Easy Narwhal Drawing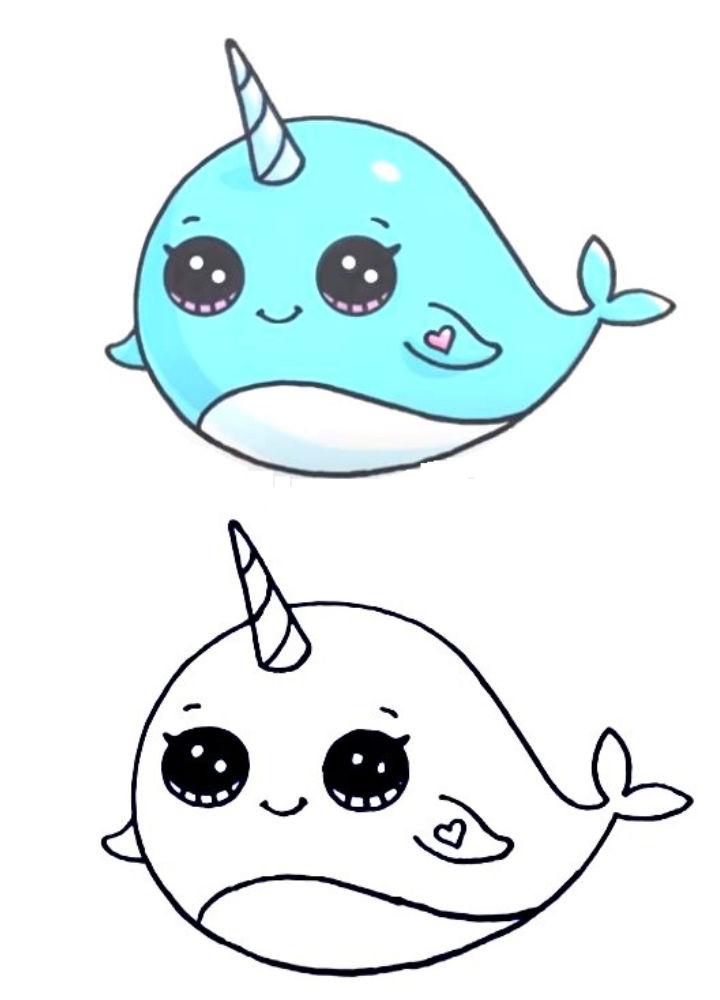 Narwhal drawing for all those who like to spend time drawing anime animal characters. Draw the body shape with a huge oval slightly curved at the bottom. Draw two huge eyes with small dots in the middle to show their innocence. Finish off with fins and horn; color it blue like the ocean! coloringcool
12. Simple Narwhal Drawing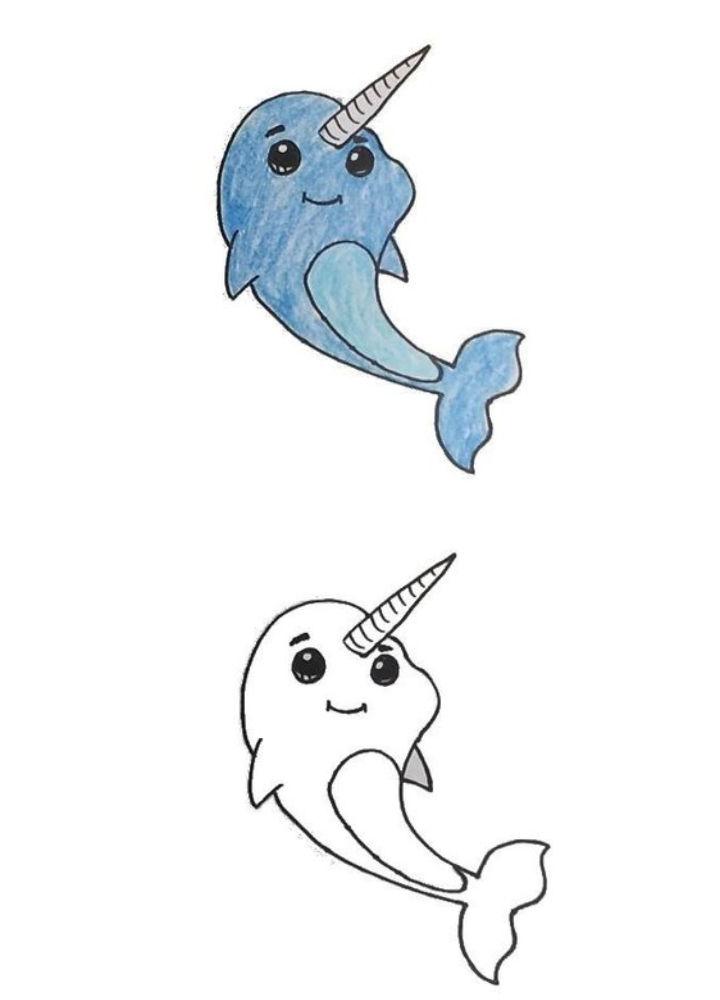 Complete this Narwhal drawing idea with a pencil, eraser, and crayons. Begin with the unicorn-like horn and connect it to the top of the head. Create an underbelly and facial features to add face to it. Here you have it, a blue Narwhal drawing! steemit
13. Draw a Narwhal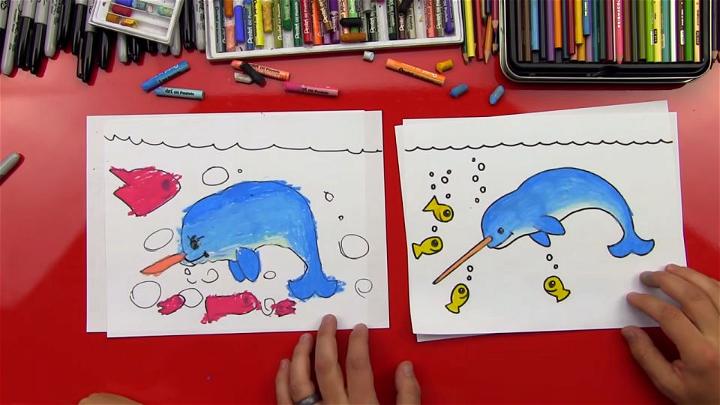 Simply follow along this video tutorial to draw an incredible-looking Narwhal drawing. First, begin with the outline of the body, using a black marker to draw details such as a horn and a smile. Create an ocean-atmosphere with the fishes swimming around the whale. Towards the end, color it using crayons.
14. Draw a Narwhal Whale Unicorn

Use computer software to create this unique-looking Narwhal drawing! Begin with the horn with some curved lines on it. Add a black eye with small white dots in it. Finish it up by adding a fin to the side and a tail at the completer end.
15. Narwhal Picture to Draw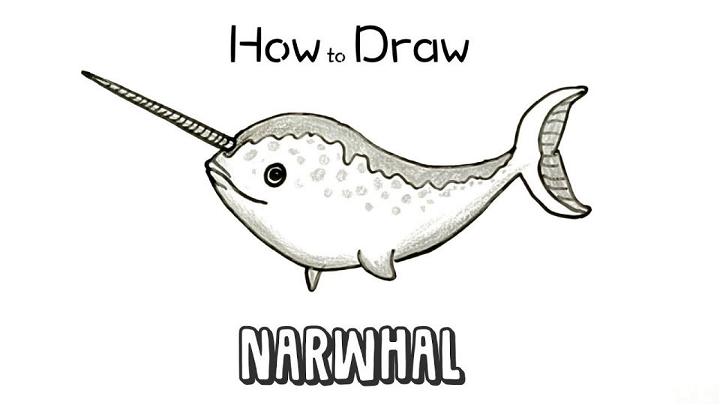 A Narwhal drawing of a grumpy old whale. Focus on drawing the body first so that it is shown swimming across the ocean, with a huge horn on its face and a big tail at one end. Draw the detail on its body in the form of a wavy pattern on the upper portion. Shade it up using a grey color pencil.
16. Cute and Easy Narwhal Drawing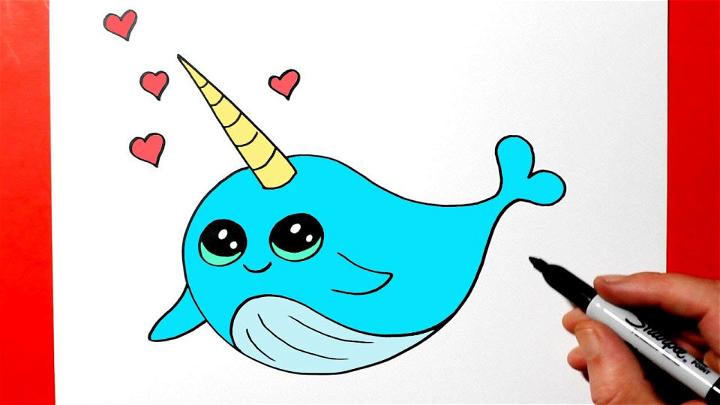 A cute little Narwhal drawing to mesmerize everyone who watches it. It has a simple round body with a slightly bent end. It can be drawn using just a black sharpie pen. Open up the link to see it being drawn out!
17. Draw Narwhal from Roblox Adopt Me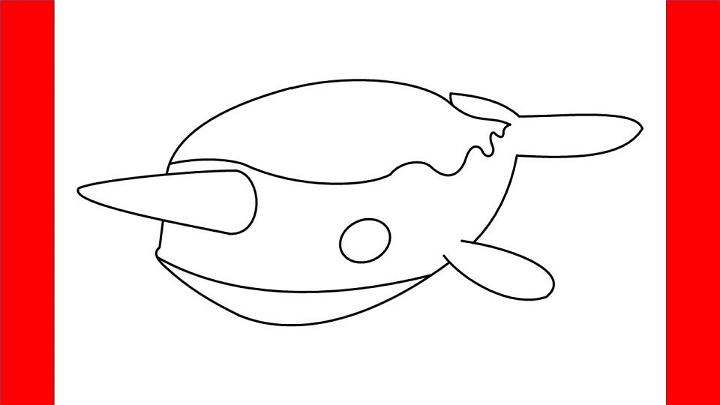 A short yet simple drawing tutorial for the easiest Narwhal drawing you can come up with. This one looks like it has been swimming in the ocean for a long time. Simply begin with the front-end view of the whale and add a huge horn. You can color it light blue and dark blue.
18. Narwhal Drawing for Kids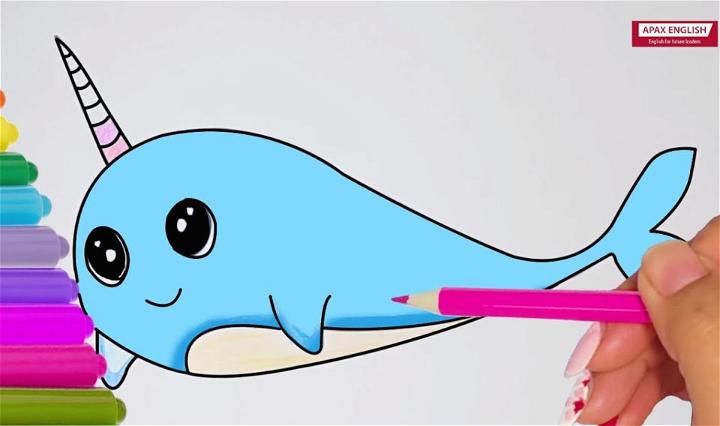 Have you ever wanted to draw a Narwhal drawing capable of winning a competition? Follow along with his tutorial to create and pretty-looking Narwhal that is swimming across the ocean. This is one of the most original drawing ideas, so try it out now!
19. Draw Your Own Narwhal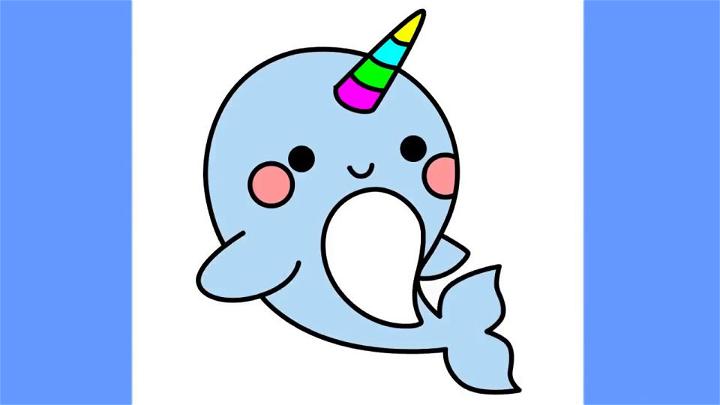 Narwhal drawing that can turn heads! Create this cute anime-looking Narwhal with just a few supplies; it can also be created on computer software. So, what's the wait? Just open the link now! It has this cutest unicorn like horn and you are going to love drawing this one!
20. How to Draw a Cartoon Narwhal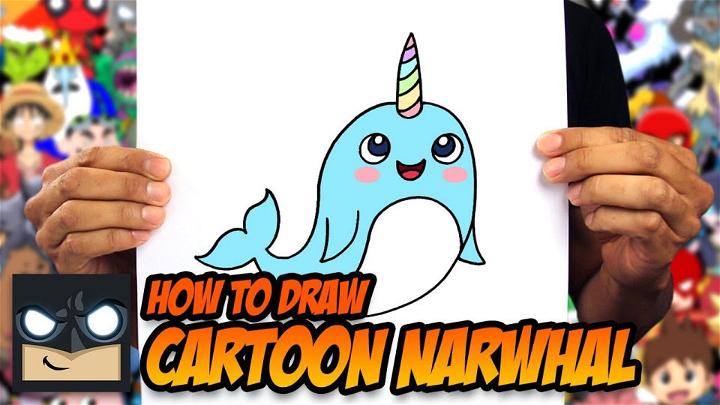 Try out his Narwhal drawing idea that is both simple and entertaining. Create a jellybean shape and attach the fins and tail to its body. With a huge smile and cute eyes, this one can be done in no time! Just head over to the link and get started.
21. How to Draw Narwhal with Color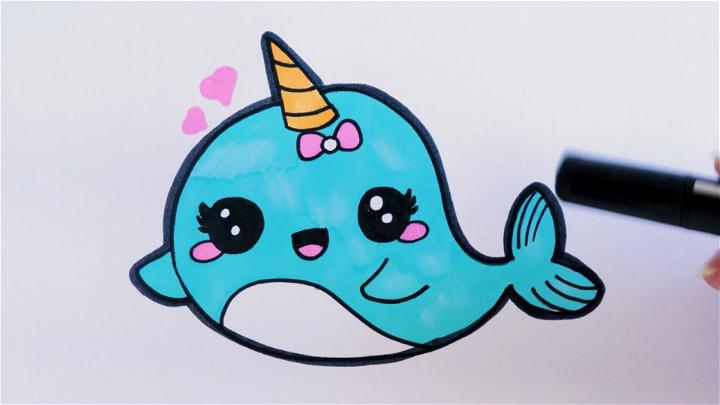 A step-by-step video tutorial to draw a Narwhal. Draw this one using a black sharpie pen and a piece of white paper. Pay special attention to the big black eyes that emit cuteness. Color its undereye pink and drop a bow on its head to show that it's a girl.
22. Kawaii Narwhal Drawing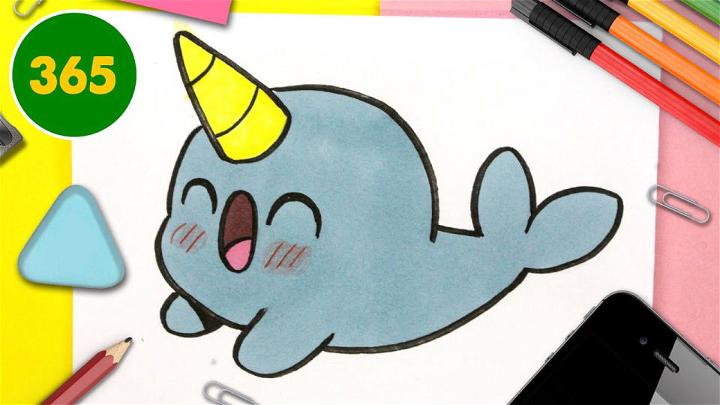 Just a Kawaii Narwhal! Begin using a pencil shade to draw the outline for the body. Then use a black marker over the pencil shade and show a cute little face drawing. The color is dark blue all over, and it's done!
23. Baby Narwhal Drawing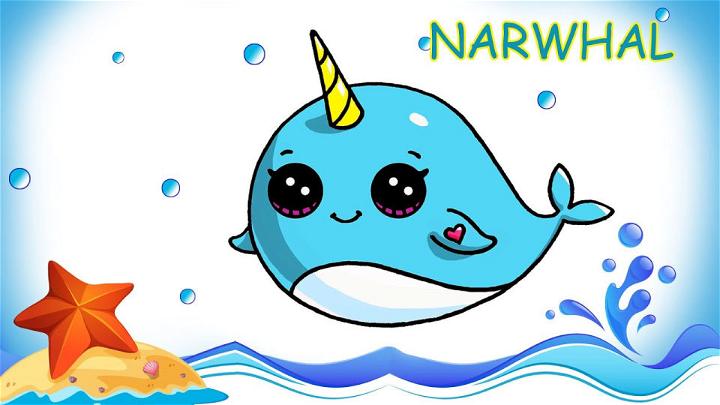 Draw a cute baby Narwhal with this tutorial. Have a go at it by drawing up the shape of the wale and making the horn on one end and a tail at the other end. Color it using blue pencil colors; this is it! Around it make a sea like canvas and let your drawing swim and enjoy!
24. Realistic Narwhal Drawing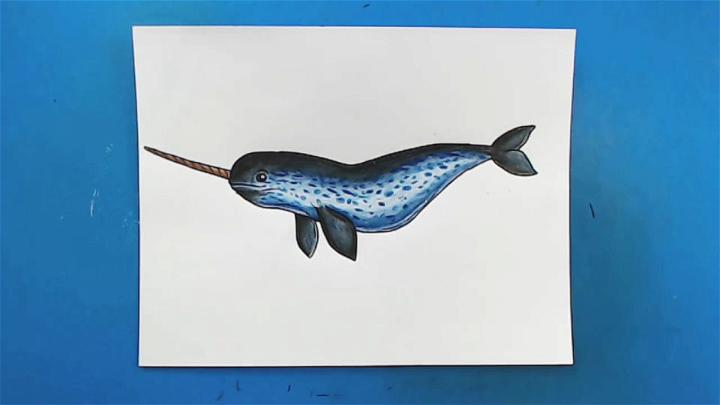 A highly realistic-looking Narwhal drawing. Make sure to follow this tutorial to just start with a big, curved shape of the body of the whale. Add a hump at the bottom part to show its belly. Add shades of blue and white to color its body with intricate textures on it.
25. Easy Narwhal Drawing

One last Narwhal drawing idea, with the help of this video tutorial. Draw a big and unique-looking blue Narwhal by first drawing up the body and attaching fins and horns on top of it. Create small circles on the top to design it, and you're done!
Related Easy Drawing Ideas:
Unlock your creativity with easy drawing ideas! Get inspired and discover tips & tricks to create amazing sketches.
Conclusion: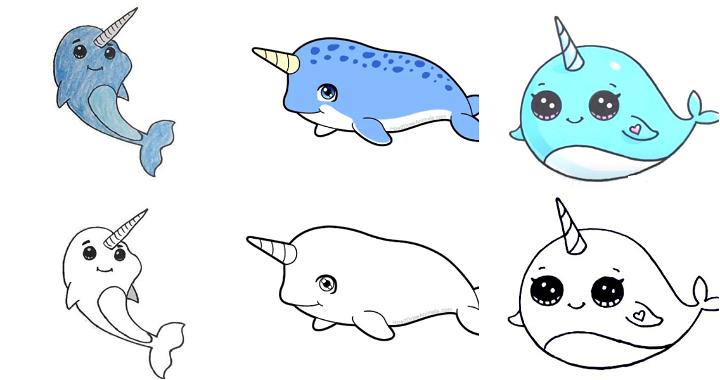 So with this, you're done with all of the Narwhal drawing ideas. Drawing these animals will open up your art style and make you confident to draw even more aquatic and land animals. It is quite easy once you get a hold of it, so don't waste any more time, and make the best use of these amazing Narwhal drawing ideas!