If talking about the most recycled, repurposed, upcycled old woods, the pallet has higher rankings. Millions use them for DIY pallet furniture projects and can be your first choice of free wood for home and garden improvement plans. Find these 40 cheap and easy pallet wall ideas and learn to build a pallet wood wall while using separated apart pallet wood slats. Due to exposure to elements, the pallets already have those natural signs of weathering and no need to distress further for an enhanced rustic appeal. At the same time, they are a highly frugal way to get all those blank walls covered you want to feature in a room or home for bigger rustic decor statements.
Browse these 40 DIY pallet wall ideas and learn to build beautiful wooden pallet walls like a pro. The pallet wall ideas will be easier to do if you have gone through some wall paneling projects in the past. Building these pallet projects will truly move your home decor to the next level under low budget, so most desired and trendy, modern rustic look in no-cost.

Mainly you need to learn to dismantle the pallets first to get a big pile of separated pallet wood slats. Next, you can easily install thin plywood boards or studs to cover the wall with pallet wood planks. You can directly nail the pallet planks on the wall also. These 40 unique wood pallet wall ideas will allow you to build rustic TV or media walls, bedroom background walls, rustic behind sofa walls, and vintage-inspired hallway or stairway accent walls. You will learn here to build a portable pallet wall that can be used as a lovely wedding backdrop and can be got for the professional photo studios to get some rustic backgrounds. So, do read through all these pallet wall projects to get your creativity inspired.
1. Pallet Wall for Bedroom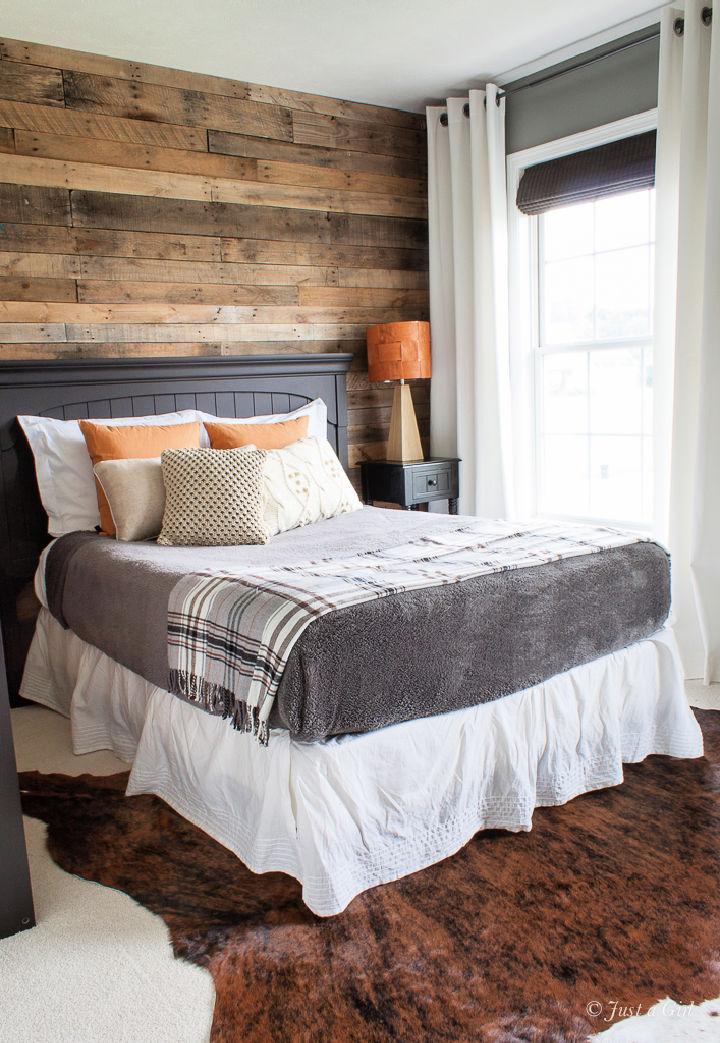 You love the featuring rusticity in your modern interior designs, sure to make you drool over this rustic wood wall. If it has made you swooned at a very first look, then learn here the easy and cost-effective method to get it. The project involves using the free pallets to build this wood rustic wall that is elegantly beautiful and gives a rustic finish to the entire bedroom interior. You can build this wall as an accent background to your bed. It can be featured in any room ambiance and even in the hallway also for bigger decor statements. Add your favorite lights, decors, pictures and mural frames on this wall also. justagirl
2. DIY Pallet Wall For $0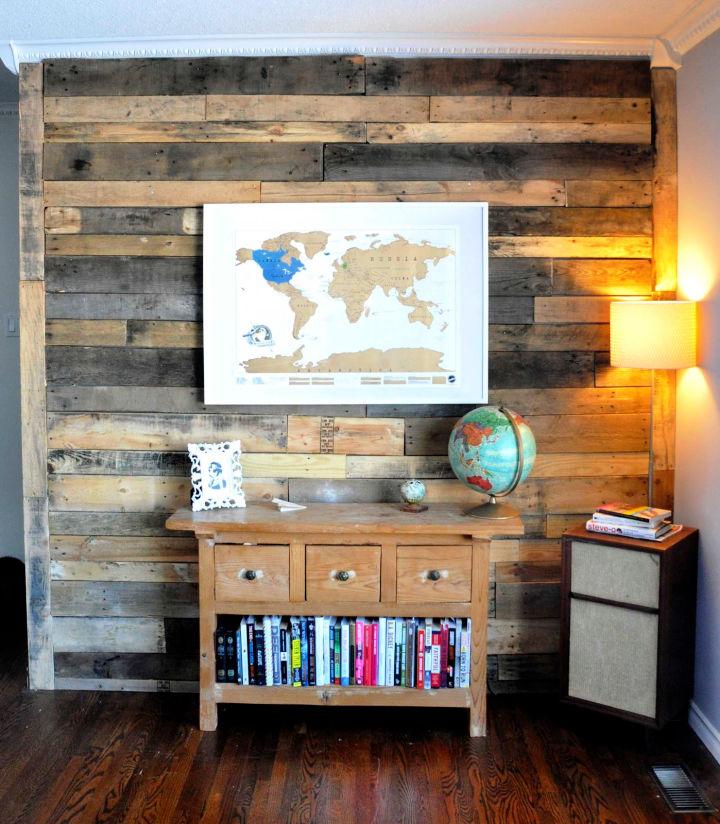 Are you highly obsessed with the rusticity of wood and want to bring it home? This can easily be done by building a beautiful pallet wood wall. Grab here complete instructions about how to build a solid pallet wood wall like a pro. Just get the wall primed first, and then keep adding the rustic separated wood slats until you can cover the whole wall beautifully. You must be an expert in dismantling pallets as this project will involve using a big stock of separated wood slats. artisandesarts
3. Pallet Wood Wall For Nursery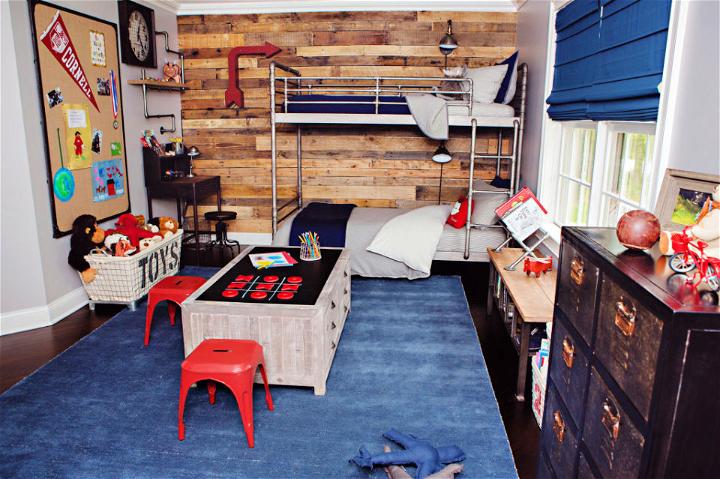 Building the wood wall is the most loved interior improvement project that you can do with free pallets. So, learn to build a flawless pallet wall that will cover almost the 11×8 footwall creating that cabin-inspired look of a wall. The modern interiors always look great with a glam touch of rusticity, and this is where the free way to do so. First, prep the wall for installing pallets plank. Just cover thin pieces of plywood on the wall first to make it easier for you to nail the sanded pallet wood planks in place. projectnursery
4. DIY Pallet Accent Wall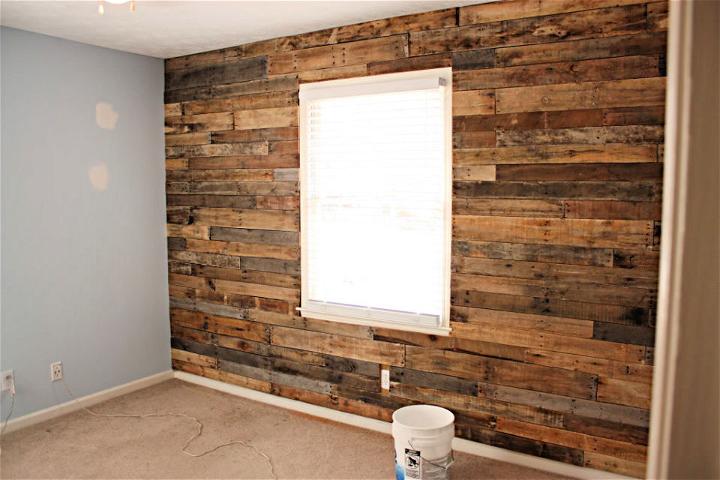 Installing a pallet wood wall is a hot topic, and it can be done in various ways for sure. Grab here instructions and guides to build a nursery wall, sure to bring a big rustic wooden character to a decided room's ambiance. The primary steps involve cleaning the wall and dismantling the pallets. Prime the wall if you need and install the thin particle boards or plywood on the wall first. So, you can easily glue and nail the pallet wood planks on the baseboards to install a beautiful rustic pallet wood wall.bowerpower
5. How To Make And Install A Pallet Wall

You must keep in mind the attacks of pesticides while installing the rustic pallet wood wall; they are a big terror for everyone. The rest of the installation you can learn from this project involves using the deleted pallets to spruce up your blank, boring interior wall. The rustic wood wall will create a stunning look of any targeted interior wall, will be a big love of interior lovers. To gain an instant stockpile of pallet wood, use the Sawzall to dismantle the pallets easily. Use the 1x3s to add over the studs, and next attach the pallet wood planks over the 1x3s boards to complete the pallet wood wall installation. enviromate
6. Building A Pallet Board Wall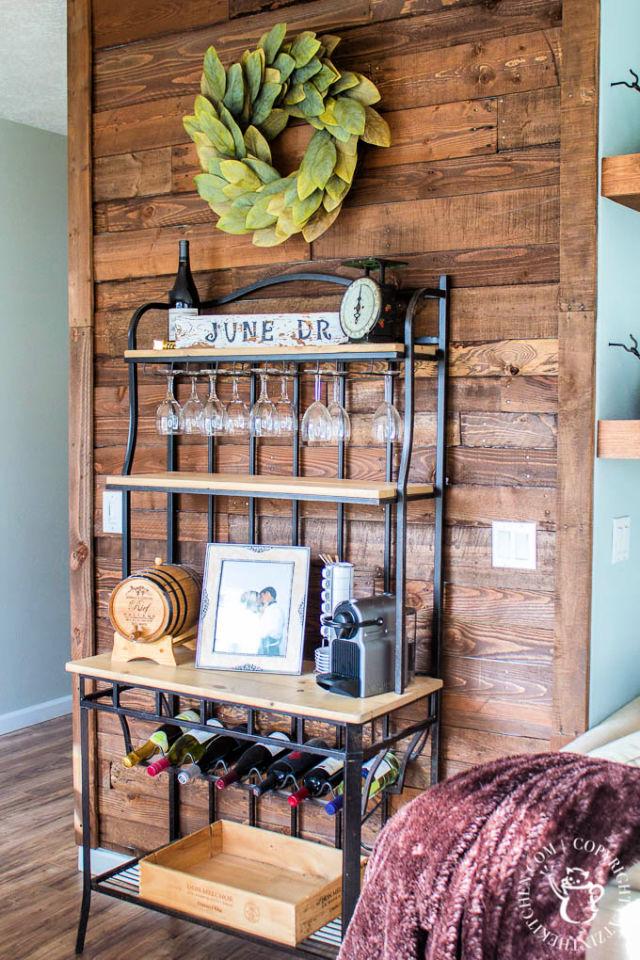 Bring huge amounts of rustic wood elegance to your room or space interior by installing this rustic pallet wood wall. The cost of the project depends on the cost of the pallets. So, it will not cost you anything if you get some pallets for free. Take the pallets into separate plank pieces and clean them through a sanding process. Next, find the studs using a stud finder and mark them up with chalk. The final step would be to cover the whole wall with pallet wood planks featuring the same or multiple wood tones. catzinthekitchen
Pallet garden wall: Explore these pallet garden ideas to build a garden wall. See more ideas about pallet herb garden, vertical garden, flower garden etc.
7. Portable Wall Using Pallets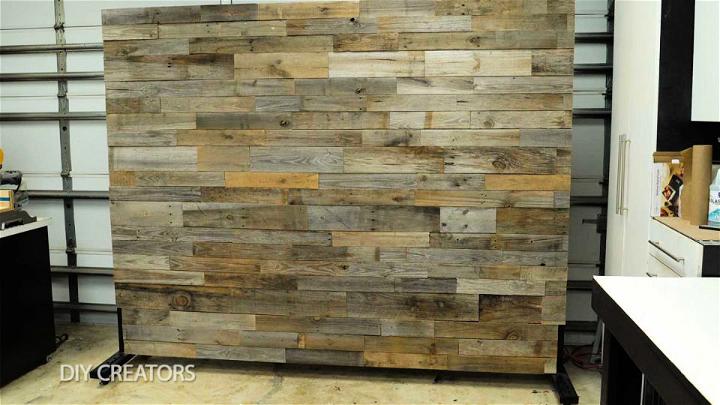 When you love the wood walls, you just want to see them everywhere in and around the home. So, follow here instructions below to build a portable wood wall while using free pallets. You can easily drag this wall to any particular location, and it will also make a great photography backdrop. Hence, you can add it to your photo studio also. You need pallets, 1x3s, ¼" plywood, 1x4s, casters, corner braces, wood glue, danish soil, paint, LED strip per panel in white and RGB colors to build this portable pallet wall. Read through project details to learn a lot more. diycreators
8. Build A Ship Lap Pallet Wall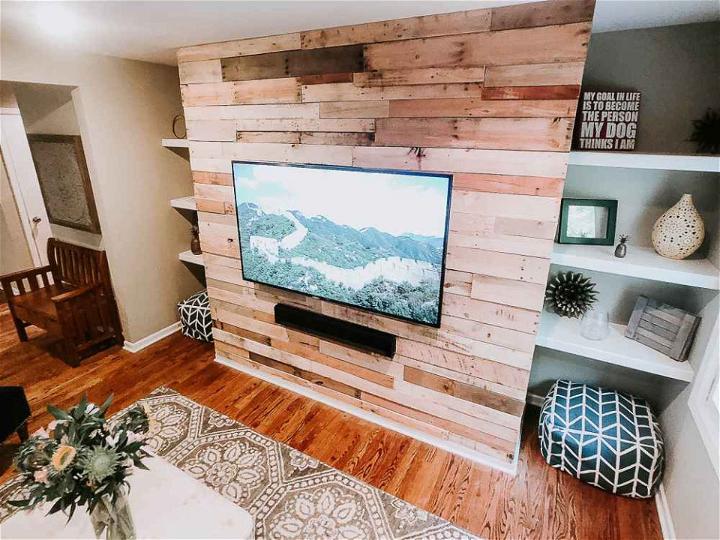 Get here professional tips and tricks about building a pallet TV wall that will match beautifully with the interior wood flooring. The wall will also bring an amazing shiplap effect to the targeted interior and is not a big hassle to build. The project involves adding the wooden boards directly on the wall using a brad nailer. It will be better to add a nail to each corner of a wood plank to keep the boards sturdily in place. Leave the planks unfinished for a better rustic look. sutherlands
9. Bedroom Pallet Wall Plan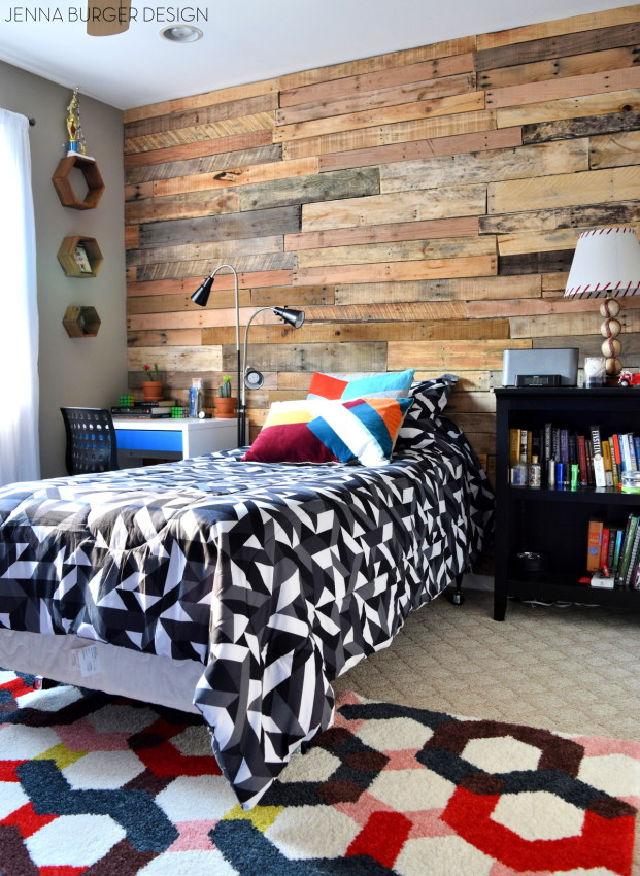 Adding visual stimulation to a modern rustic teen's room can also be done by installing a wood pallet wall. So, if you are a big fan of the rustic-modern interior decors, then this modern rustic pallet wall will leave a great impression on you. Here the pallet wood wall builds the whole beautiful large background of the teen's room bed. It brings the necessary rustic charm to the bedroom space also. The best way to bring the high doses of wooden character to a targeted interior or bedroom. It will be super easy also to hang custom decors, frames and even the lights on this wooden wall. jennaburger
10. Cheap Pallet Wood Wall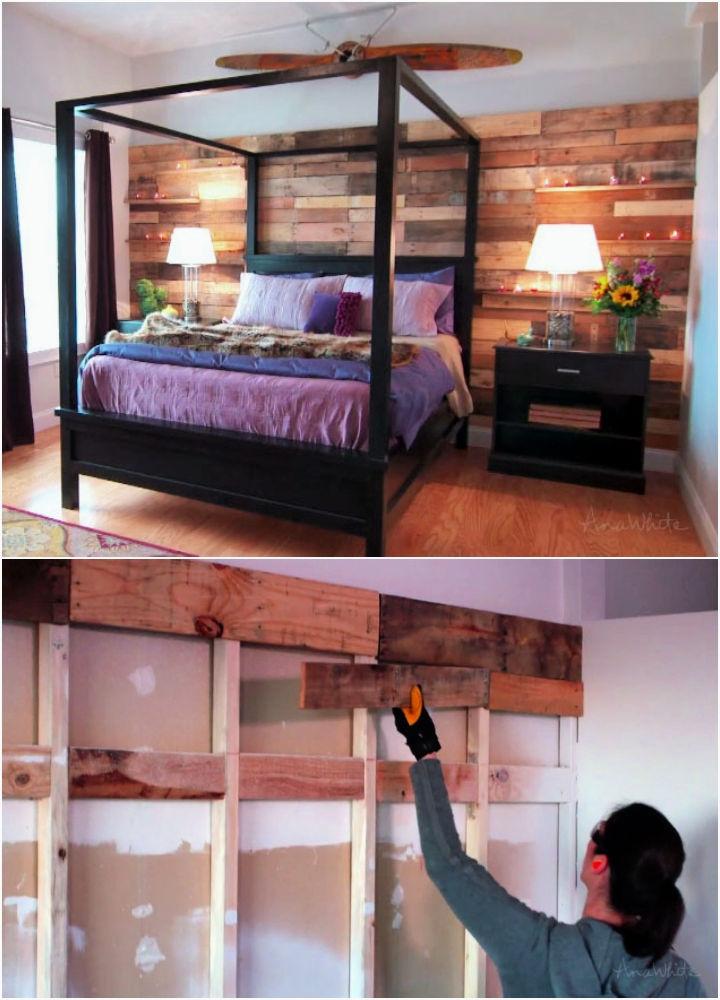 Pallets may be unuseful for many of us after the shipping duties. But we should give them a second chance for bigger improvements and changes to our lives. They are recycled worldwide and have reached the modern interiors and bedroom decors also. Build this accent background bedroom wall to create a big focal point in your bedroom. This will also bring the necessary wood elegance to a targeted interior. The idea is to build this wood wall featuring multiple tones of wood. It comes with some small hanging wood shelves that beautifully hold custom light decors on them. ana white
11. Pallet Retaining Wall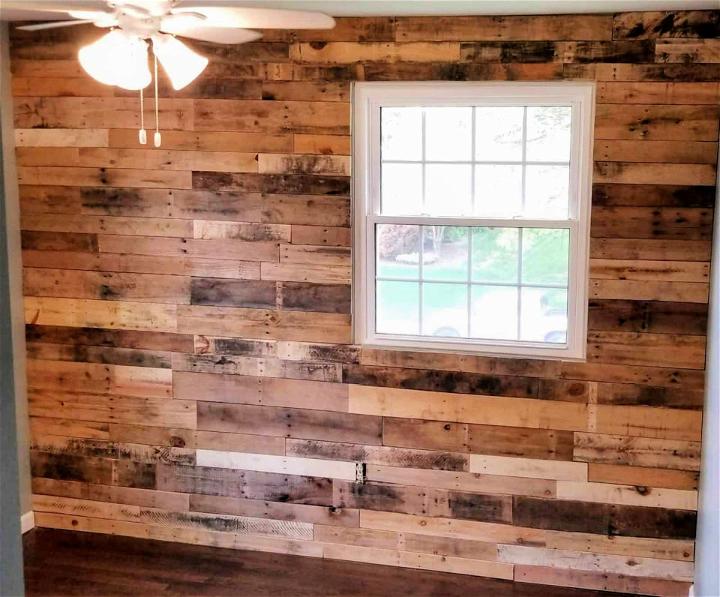 Learn here how tld a rustic wood-paneled wall on a targeted wall for castinto castral wooden look in the entire room's ambiance. Building this wood pallet wall involves getting a big stock of pallet wood planks nicely arranged on the blank interior walls. Layer the glue on the walls and keep on adding the planks on the targeted wall until you cover it entirely. The brad nailer will rock to mount the planks in place beautifully. Finish the entire wall using a custom wood finish, lights, decors and frames, and that's it. hammersnhugs
12. DIY Pallet Wall Instructions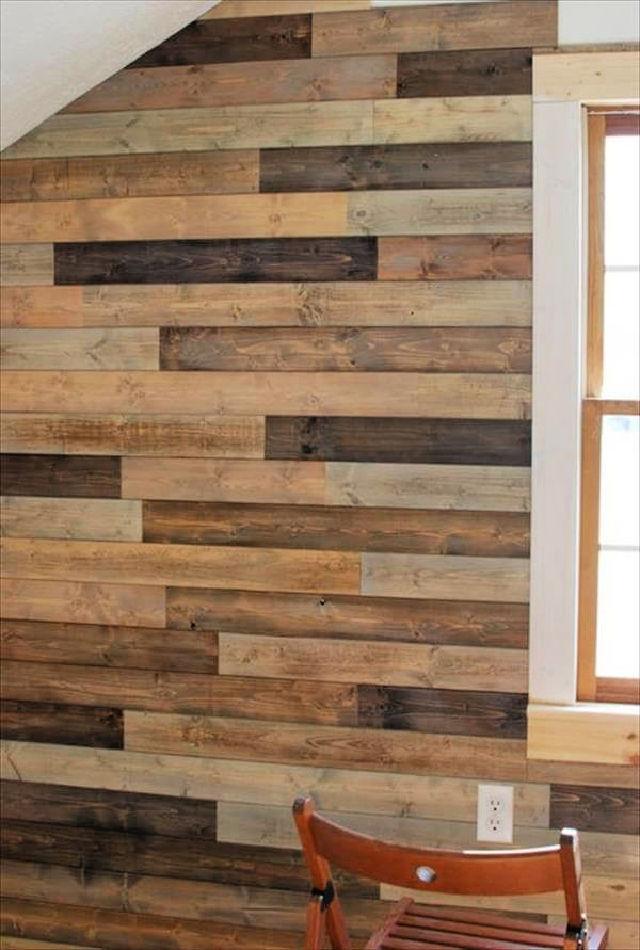 Featuring the rusticity of wood is recommended when you want a roomy interior to be more grateful. Follow here guides to build a pallet wood wall, sure to bring tons of grace to a targeted interior. Separate apart the pallet wood slats and then start arranging them on the wall like a game puzzle. Secure them in place using glue or a brad nailer, and make sure you have covered the whole wall beautifully. One of the best and quick-to-build wood pallet wall ideas. palletlist
13. Pallet Wall Design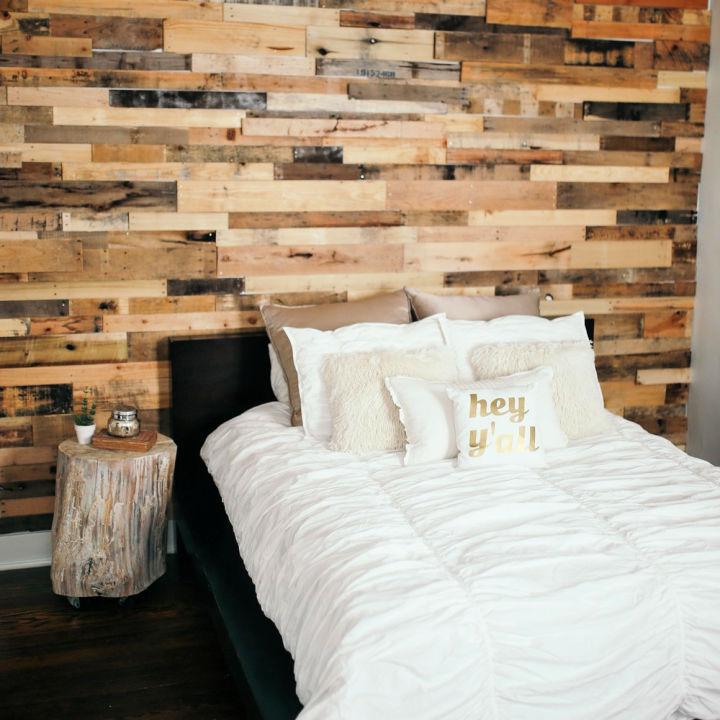 Not merely in the bedroom, you can build an wood wall anywhere in the home, including a living room. Create an impressive view of the entire living room by featuring this rustic pallet wood wall that you can build behind a sofa. The project is pretty simple and quick and involves using the dismantled pallet wood planks and a brad nailer. Secure each plank on the wall by adding a nail to each corner, and you can use a custom adhesive also to layer the planks on the wall. The project is more than easy to do. theices
14. Beautiful Pallet Wall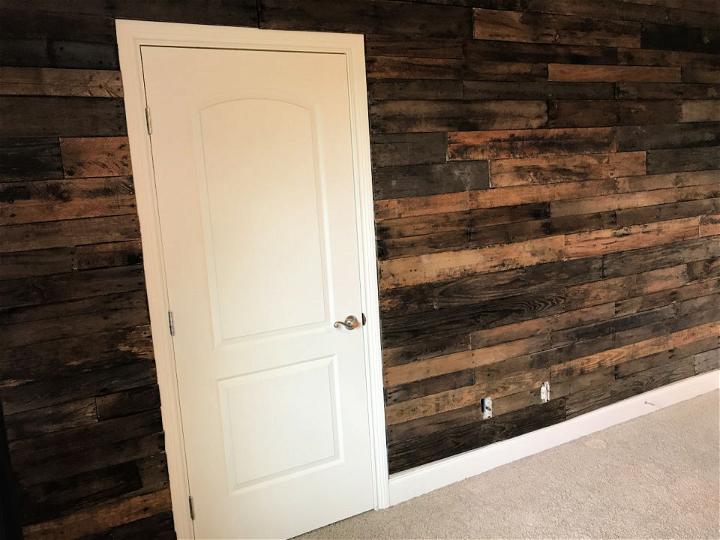 When you have a lot to display, you mostly think of building a decorative wall featured anywhere in the home. So, If you are willing to build an wood wall, then follow here complete guides and instructions for it. The project involves building a pallet wall while using a bunch of free pallets. Dismantle the pallets using a Sawzall and arrange the stock of pallet wood slats on the wall until you get a fully covered wooden wall. First, screw the 1x4s directly into the wall studs and then start nailing the pallet wood planks on them. The easy and quick DIY pallet wall idea. Add also rustic light sconces on the wall for a maximized rustic appeal. medium
15. Pallet Wood Wall In The Man Cave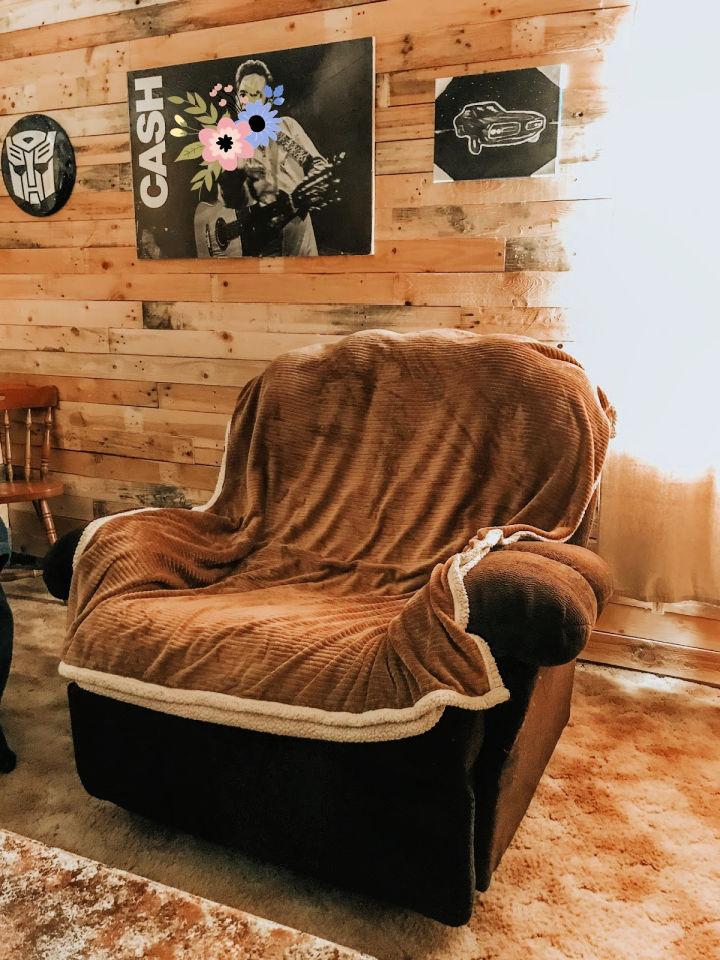 This project involves removing the whole old wall paneling from the wandg the new pallet wood wall. You can use this wooden pallet wall to hang a TV screen and other outstanding decors also, and it will not take that too long to build this DIY wood wall. This is what you will get in revenge when you give a second chance to the pallets laying around useless. First, use a stud finder to mark the wall studs, and next, add the pallet wood boards to build that lovely rustic pallet wood wall. ourcloverhouse
16. Rustic Pallet Wood Wall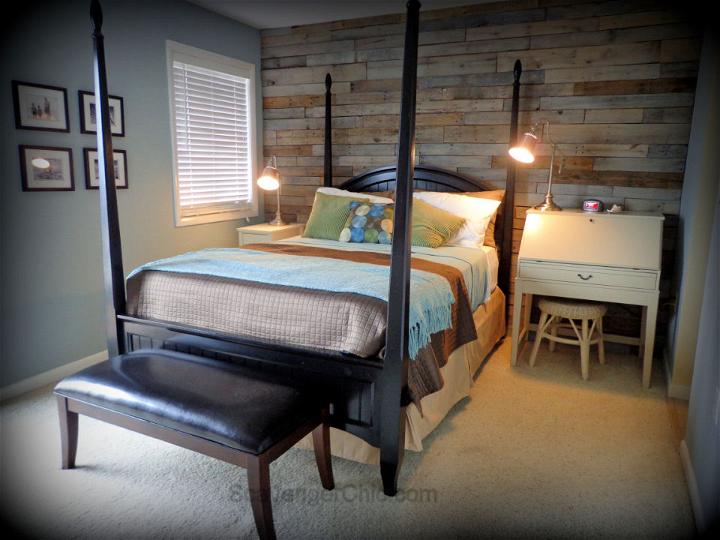 Installing a pallet wood wall is good for various reasons. Along with adding a rustic elegance, the wall will bring tons of warmth also to the particular interior or bedroom. This project involves building the wall to create a stunning rustic background in the bedroom. The project is all about easy dismantling and easy arrangements of pallets wood planks on the wall and will complete in no time. This entire wall costs about $3, and you can also give it a nice finish for a custom wood tone. Add rustic lights and decors to fancy it up more. scavengerchic
17. Pallet Wood Wall Floating Shelves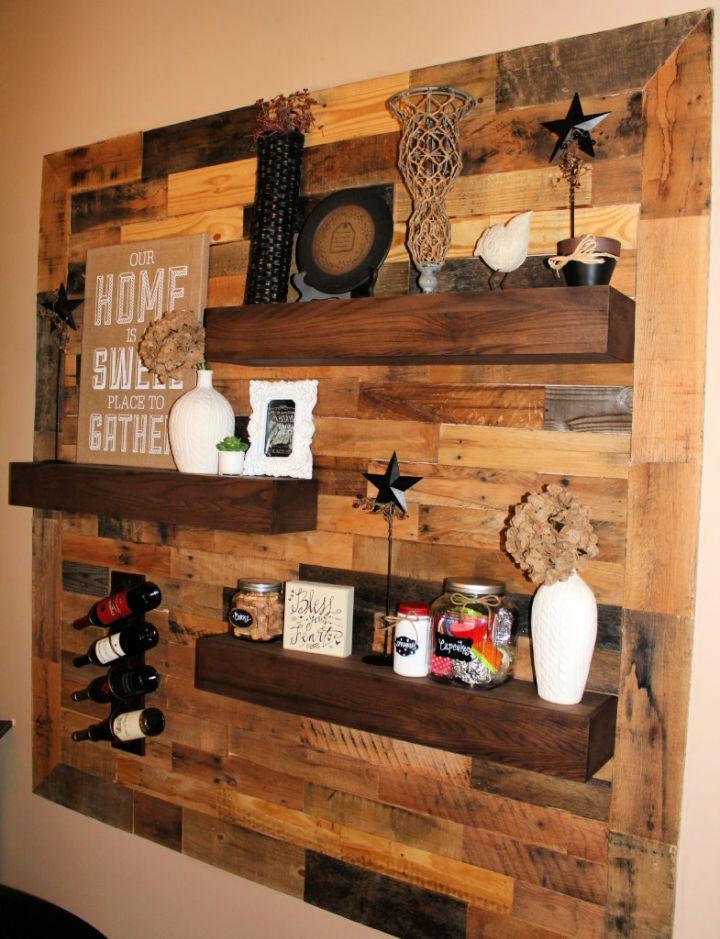 Bring a big wow factor to a dining room you want to renovate. The whole dining room remodeling involves building a lovely pallet wood wall and some floating shelves on it. Just mark the dining room wall area and install accent wood wall using the separated apart pallets wood slats. Until you cover the whole decided area of the wall, install the pallet floating shelves that you can also build with any other wood. Display any of your favorite thing and item on the floating shelves, and that's it. ellerydesigns
18. Wall Made From Pallets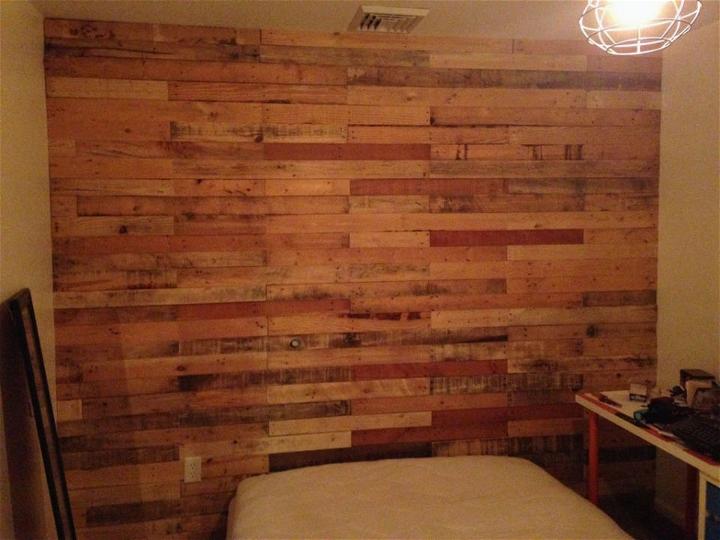 Building the wood walls will cost you big. However, building them up with pallets will simply cost you next to nothing. So, get crafty with the 1x2s and pallet wood slats to easily build and install this wood pallets wall, will be a big love of all. Attach the 1×2 studs on the wall and then start adding the pallet wood planks on them to cover the whole wall beautifully. You need 30 pallets, 1x2s and some screws to build this pallet wood wall. One of the best and quick-to-build wooden walls. instructables
19. Reclaimed Pallet Wall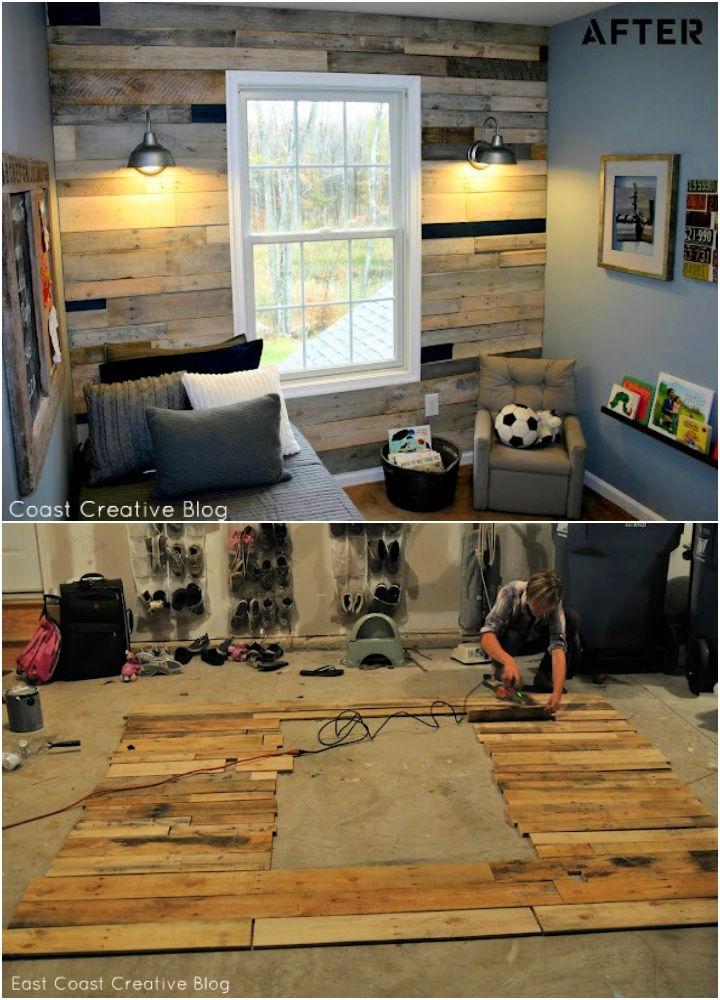 The possibilities are just endless for building a pallet wood wall. Here is another hack to build a beautiful wood wall that makes the entire room look beautiful and elegant. Here a whole beautiful accent wall is built all around the central room window, and it brings tons of grace and beauty to the particular room ambiance and a rustic glam touch. First, build the overall wall frame and then start adding the separated pallet wood slats on them. Also, finish the whole wall with a custom stain for weatherproofing. eastcoastcreative
20. How To Make A Pallet Wall

There are tons of different hacks and tricks to build a stimulating pallet wood wall. Some involve installing wooden studs, and others include building the plywood base panels. Some pallet wall ideas are all about directly nail the pallets on the wall. This project also involves nailing the pallet wood slats of different tones on the wall for a rustic glam effect. Add nail to each corner and even in the mid of a plank to nicely secure it on the wall. The entire wall creates a stunning background in the bedroom and will also rock as a photo backdrop. snappycasual
21. Stained Pallet Bath Wall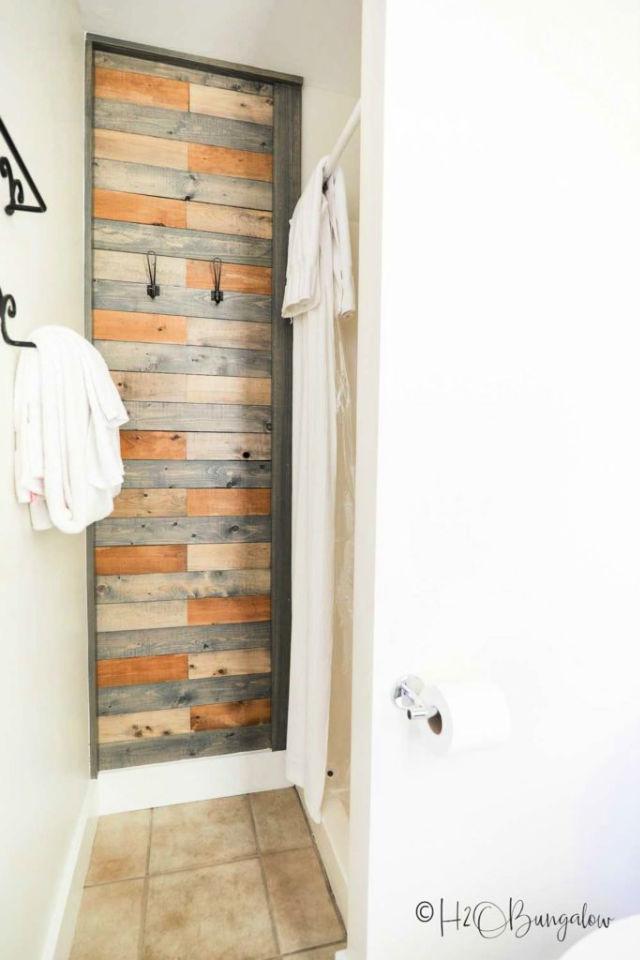 This project involves doing a quick makeover of the entire bathroom and involves building a decorative pallet wall. It will bring tons of rusticity to the modern bathroom interior, and here the bathroom vanity wall is targeted. The whole wall matches with the wood vanity and also comes with a matching mirror frame. You need strapping wood, wood finish, indoor wood sealer, duckbill wrecker, miter saw, brad nailer and 36″ level to complete this pallet wood wall. The project is easy and cost-efficient and will be much doable for all. Give it a stain or paint finish for an extra beautiful appeal. h3obungalow
22. DIY Faux Pallet Wall For Your TV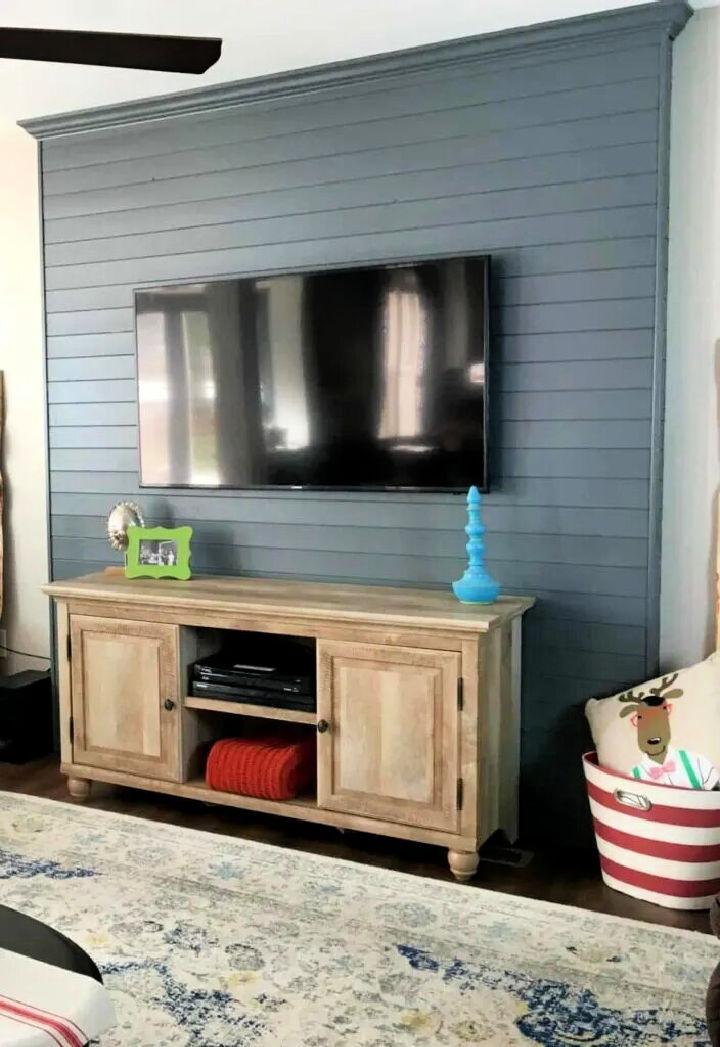 Featuring the TV screen wall is one of the hottest living room or medium room decor trends. You will love the shiplap appeal of this TV wall that is built with custom wood planks. The very required materials for the project will be 2x4s, plank paneling, corner molding, crown molding, wood putty, painter's tape, paint, 1.5″ screws and 3″ screws. This is where the faux pallet wood wall can also build with reclaimed barn wood or any other wood slats. One of the best and quick-to-do pallet wall ideas. aturtleslifeforme
23. How To Create a Pallet Wall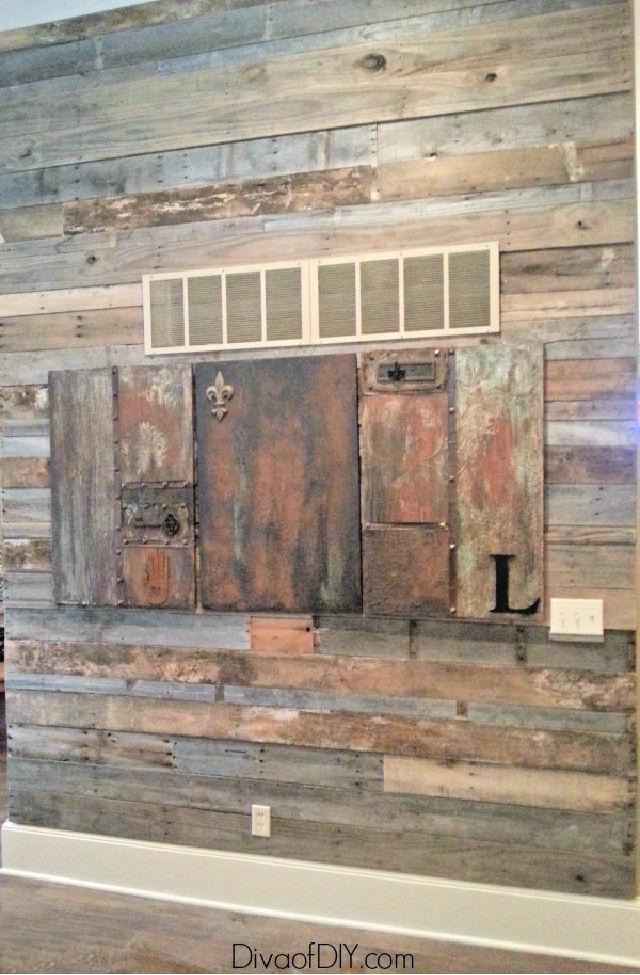 If talking about the easiest DIY pallet projects, then building a plank panel wall is one. Grab here complete free guides and instructions to build a beautiful pallet wall easily, it will be a total breeze to whip up. The completed rustic wall panel is 12″ tall, and it also comes with 24″x36″ pieces of rustic art for added rustic appeal and visual stimulation. The project is more than easier to do and will cost you next to nothing also. Everyone will love this rustic wall, it can be transformed into a media or TV wall also. divaofdiy
24. Pallet Wall For Rustic Decor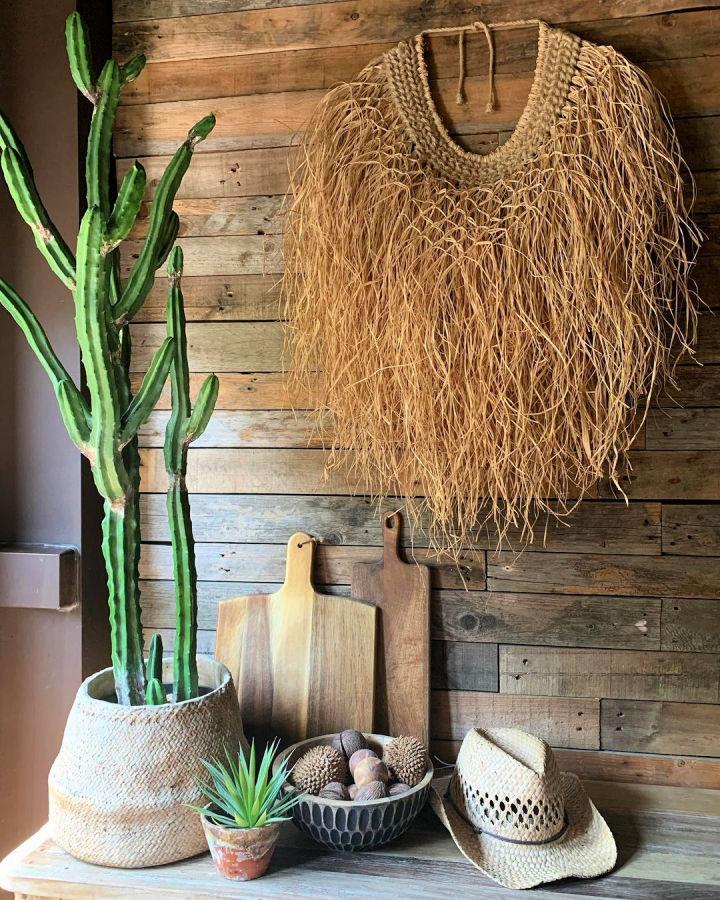 Duplicate this another beautiful pallet wood wall that is crazily easy to build and makes bigger changes in the final look of a room. Again you need a big stock of individual pallet wood slats to build this pallet wood wall, sure to fancy up any particular room or home interior. The whole will add a beautiful background to a foyer table and is crazily easy and quick to build. So, just take out from the home trash store to easily duplicate this pallet wood wall, sure to create a big focal point in the entire room or home.
25. Pallet Wall Ceremony Backdrop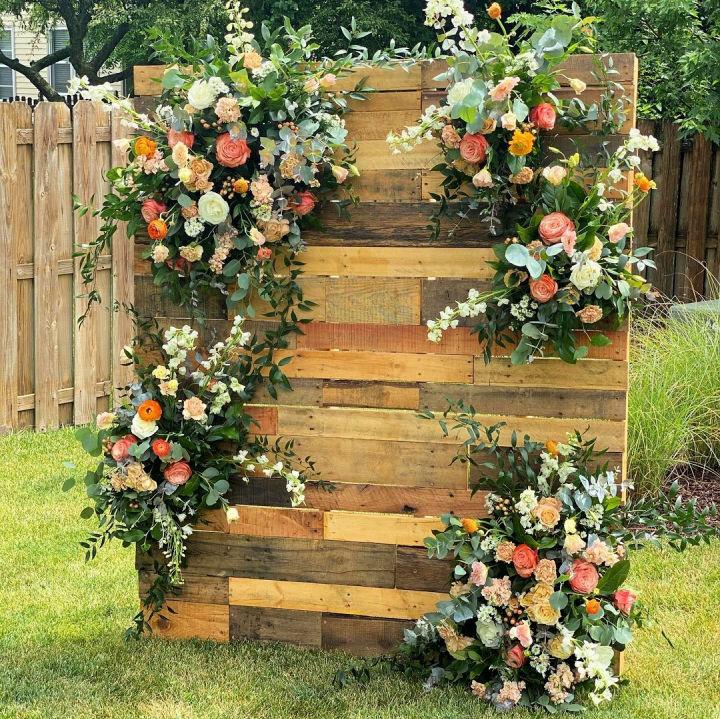 Take the pallet wall game to the next level and building outstanding backdrops with them. Peek into details of this handsome-looking wooden pallet vertical wall that is incredibly easy to build and is loaded with flower bouquets. The best wedding backdrop for the bride and groom photoshoot, and everyone can build it inexpensively using some free pallets. Just grab plywood, OSB, MDF or particleboard etc and then start arranging the pallet wood planks on it. Finish by adding the faux or real flowers densely filled with greenery and fillers.
26. Vertical Pallet Wall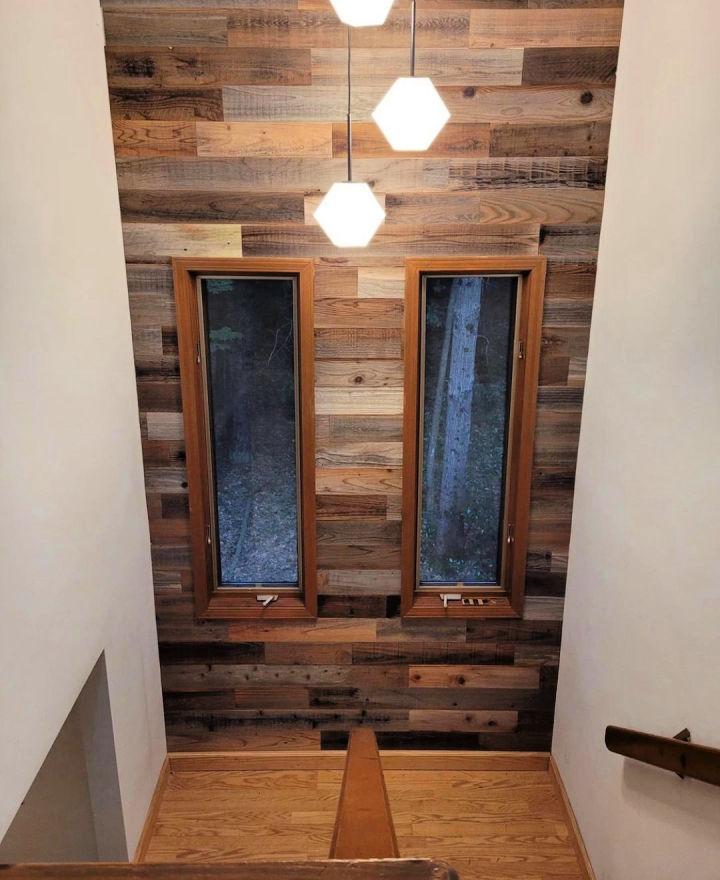 Wishing to build the stairway walls or the hallway walls? Then gain head over to some free pallets to cheap build them in the way you like. Look at the given sample pallet wood wall that comeseautiful windows incorporated and is ideally beautiful for the entire stairway or hallway. It will be easier to build this wall if you have ever gone through wood paneling projects. You can install the thin baseboards or directly nail the pallets wood slats on the wall for some glorious rustic decor statements. This time of pallet wood walls will leave great impressions on the guests and visitors also.
27. Unique Accent Wall Using Pallet Planks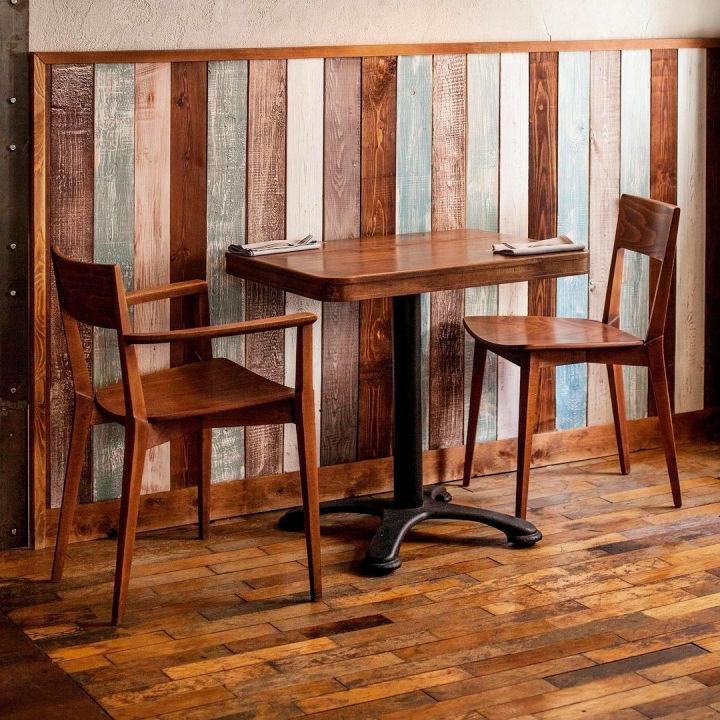 Everyone will love this wooden pallet wall that matches the wooden planked flooring. A big thanks to free pallets again for this adorable wood wall panel that creates a smart view of the entire room or space and is amazingly easy to build. First, install the frame all around the area you want to cover and then add the pallet wood planks to cover it beautifully. The wood planks with custom tones build this wood wall, finished with a nice trim frame.
28. Upcycled Wooden Wall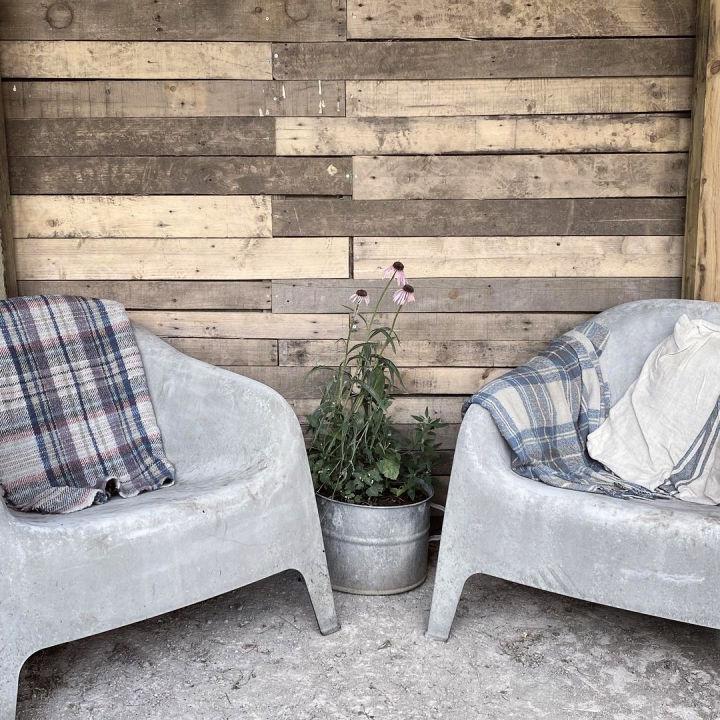 Go handmade with pallets and do some amazing home improvement projects. The free pallets can help you build this shiplap style planked wood panel wall that can be featured in any room or space. It can be an interesting TV wall, a bedroom background wall, and a precious wall to add to your hallway, foyer, or stairway. However, you can build it to the front home porch also as an interesting background. If you manage to get a free stock of pallets, the whole project will cost you next to nothing. Build this wall by installing base plywood panels or custom wooden studs.
29. Rustic Pallet Wood Art Wall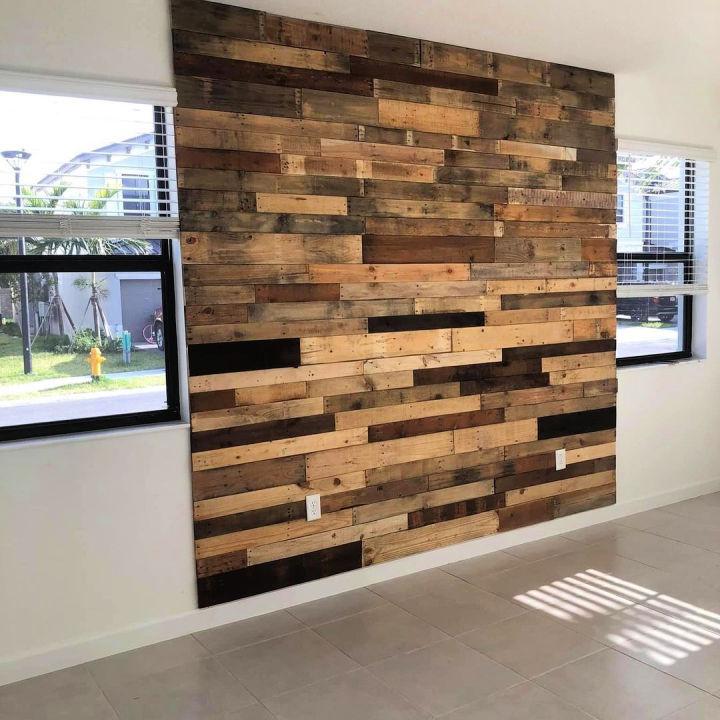 Are your modern interiors missing out on thathe wooden elegance, rusticity and some highly impressive wood tones? Then time to build this pallet wall to bring them all to your home and favorite spaces. Here, this recycled wood wall is raised from the floor to above the windows, and you can also raise it to the ceiling. Just smartly cut out the wood to feature the electrical outlets right on the surface of the wood wall. The project is not tricky but is a simple one. Hang your favorite frames, decors, light fixtures, and other decors on this wall for bigger decor statements.
30. Wooden Pallet Wall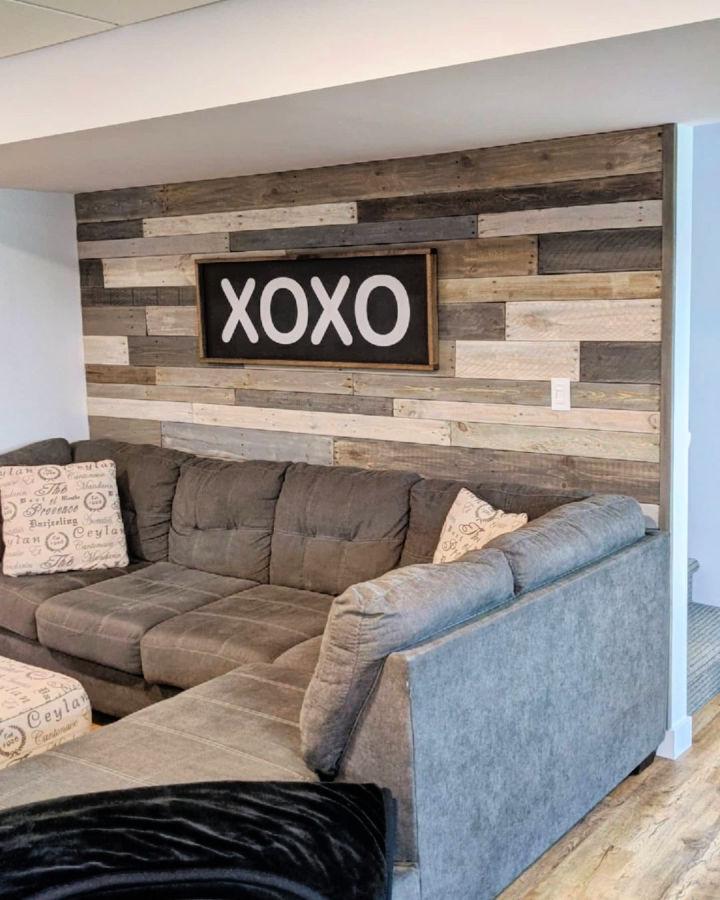 Spruce up your living room by installing this solid wood panel wall that comes with a brilliant decorative "XOXO" sign on it also. Use the leftover wood to make the sign also easily. The entire wall gains attention with the different tones of wood and also with the precise dimensions. The best way to feature the behind sofa wall is inexpensive, and this will also leave bigger impressions on the living room audience. It will not take much time to build this wood wall like a pro.
31. Beautiful Pallet TV Wall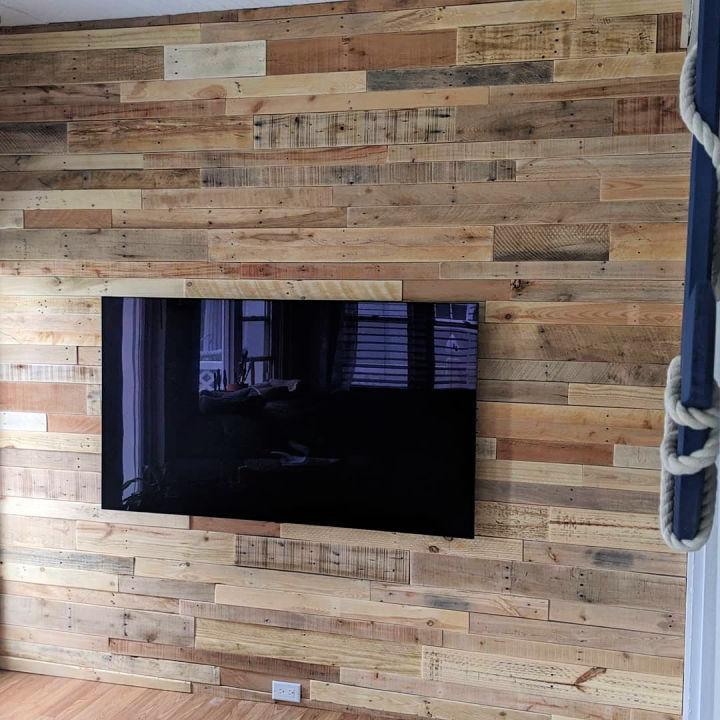 Building the decorative media walls holding the TV screens in the center rock for the bigger decor statements of the interior decors. Get inspired by this durable wooden planked wall, quite easy to build with the free pallets, and it will never get out of style. Here this rustic pallet wall is built to hold the entire TV screen right in its center. Leave the spaces for the electrical outlets and add custom lights, shelves, and decors to fancy this wood wall. One of the best and quick-to-build wooden pallet wall ideas.
32. Living Room Pallet Wall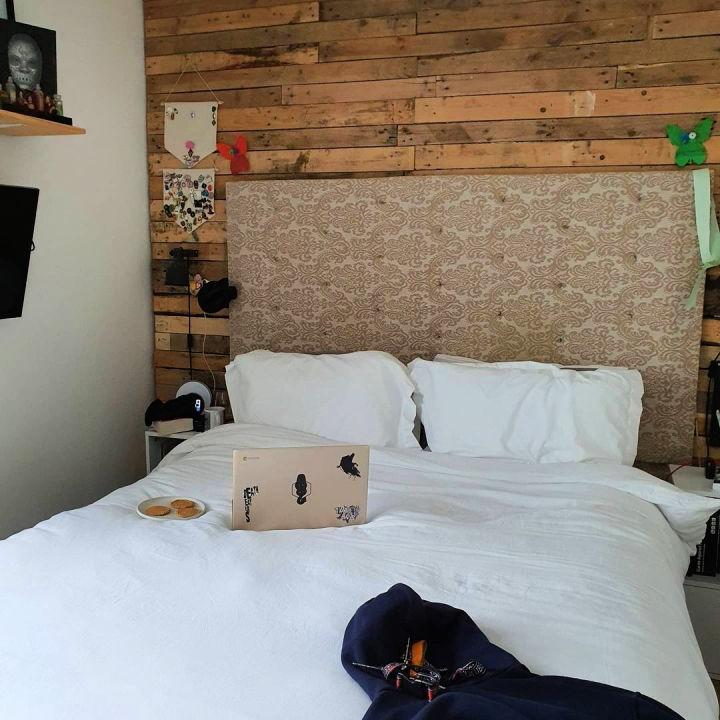 Make the entire bedroom look glorious by adding a rustic wooden background. And this pallet wall will make you do that quickly and without getting a bit expensive. The wall nicely holds the custom hanging decors and the colorful butterflies, and it makes a stunning background for the bed. Adding custom lights, wall frames and shelves, will spice up this pallet wood wall more. A wholly beautiful and quick-to-build wood wall to build in no time. Stain it, paint it or leave blank, the choices are all yours. The rustic look of it is awe-inspiring also.
33. Pallet Wall Project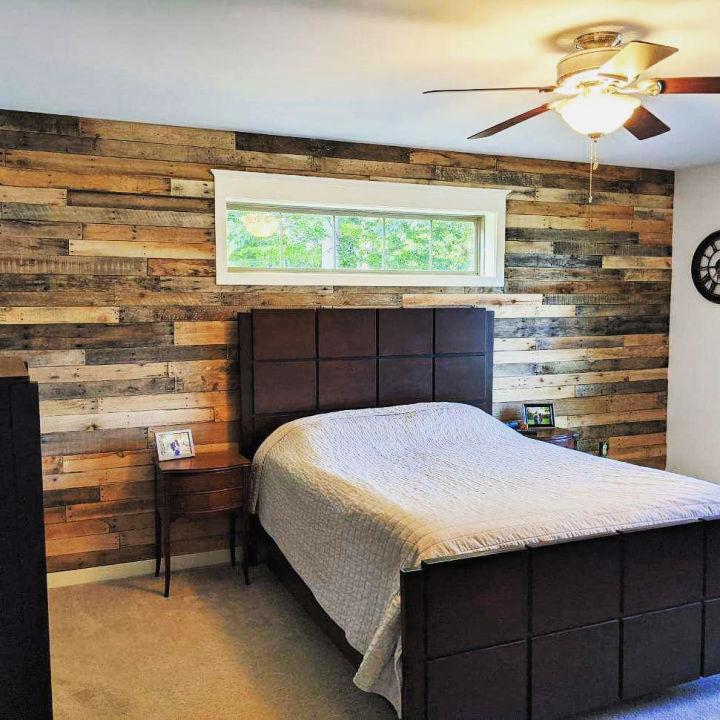 Shipping pallets are again ready to serve you if you have a mind like a genius. Yes, get the pallets for some kind of rustic wood pallet wall ideas. You will love this stunning bedroom makeover done by installing a rustic pallet wood background wall. It complements the bed's headboard and brings a big wooden character to the entire bedroom space. If you have some wood wall paneling experience, then installing this wall will simply be a piece of cake for you. So, tear the pallets apart to do this project with ease.
34. Rustic Pallet Wall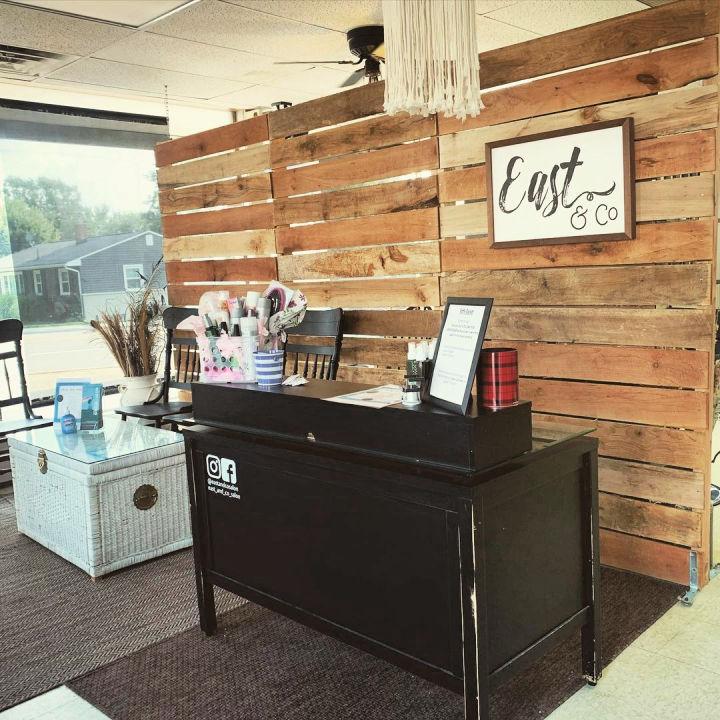 Whether you need to build a rustic background wall or you want a privacy wall or divider, this rustic pallet wood wall will rock for all purposes. This is something highly genius to build with free pallets. Separate the pallets into individual slats and then start arranging them on a durable frame complete this quick pallet wall. Give it a nice wood finish, and hang custom decor over it for bigger decor statements. One of the best and easy-to-build wooden pallet wall ideas.
35. Adorable Pallet Wood Wall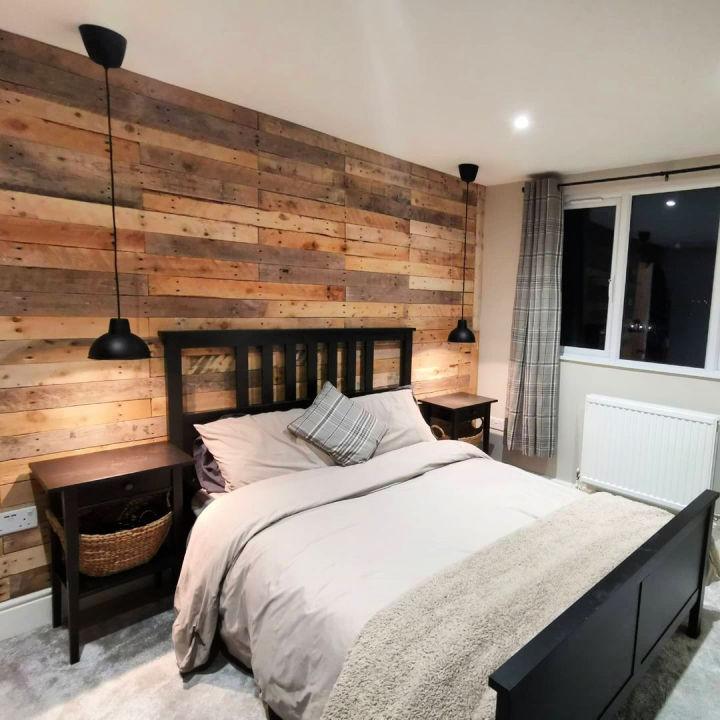 Intending to do a bedroom remodel on a budget? If it involves adding the rustic wood grace and a big wooden style to your bedroom, you must build this pallet wood wall. Find the easiest and cheapest DIY pallet wall ideas to build with 100% pallets. It will bring tons of warmth to your bedroom also along with creating a big focal right in your bedroom. The design is simply slatted but features several wood tones that are super attention-grabbing. Adding custom decors, lights, picture frames and shelves will spruce up this pallet wood wall more. Install the thin OSB or plywood panels first or the wall studs to easily add the pallet wood slats on them.
36. Wooden Feature Wall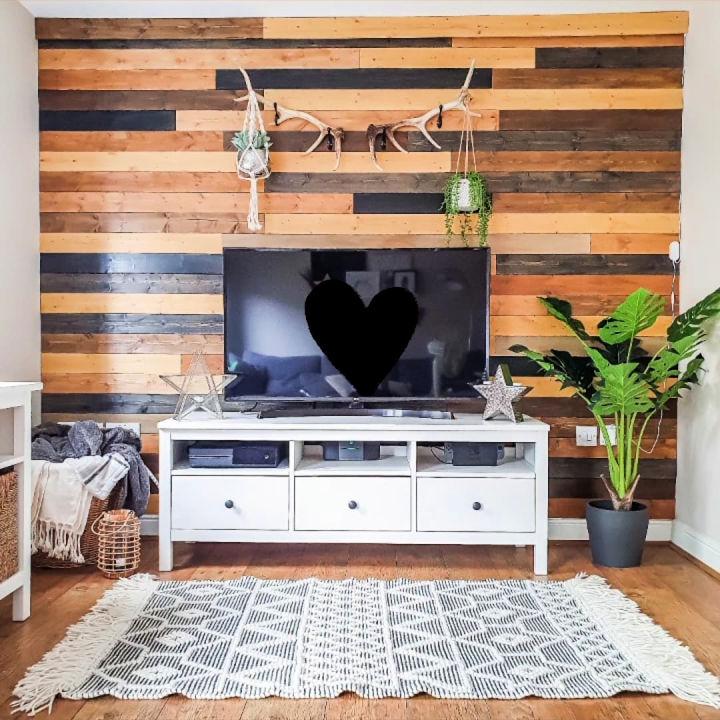 The media wall often features when being on a mission to get impressive modern interiors. A wooden accent media or TV wall will work great also in this regard. So, follow the complete tutorial teaching you how to easily install a wooden TV wall while using wood from some free sources like pallets. The entire planked wall appears in several different tones of wood and is crazily elegant to look at. At the same time, it will allow you to easily install the hardware to hold the TV screen and other items of this kind.
37. Basement Pallet Wood Paneling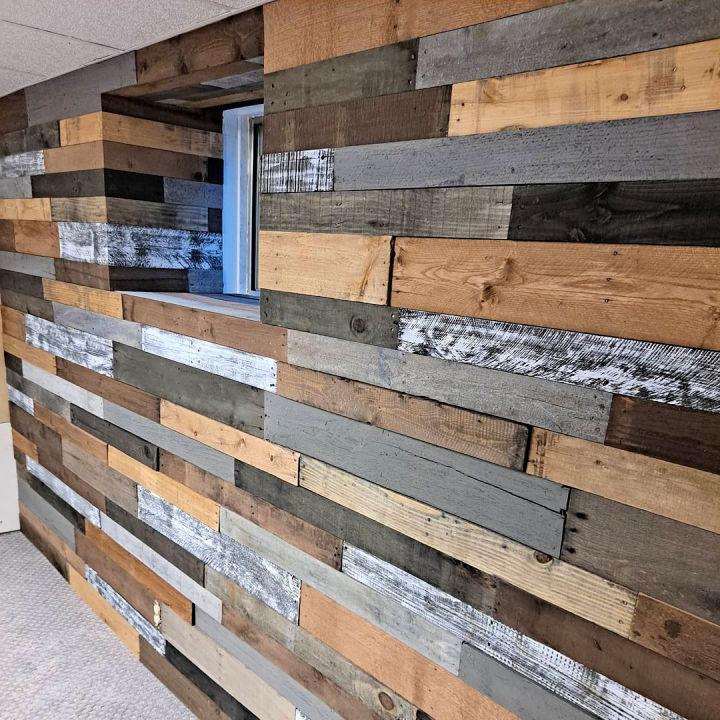 You will love here the amazing reveal of basement remodel, done by adding a significant wooden wall. From adding extra beauty to extra warmth, this wood wall will rock for all purposes. Tear the pallets apart in pieces and then start arranging them on the wall. You can install the thin wooden boards first to to install the planks easily easily can also be nailed directly on the wall. Different colors and tones of the wall create a stunning appeal of the entire wood-paneled wall. Leave the space for the window but cover the inside of the window.
38. Pallet Photo Backdrop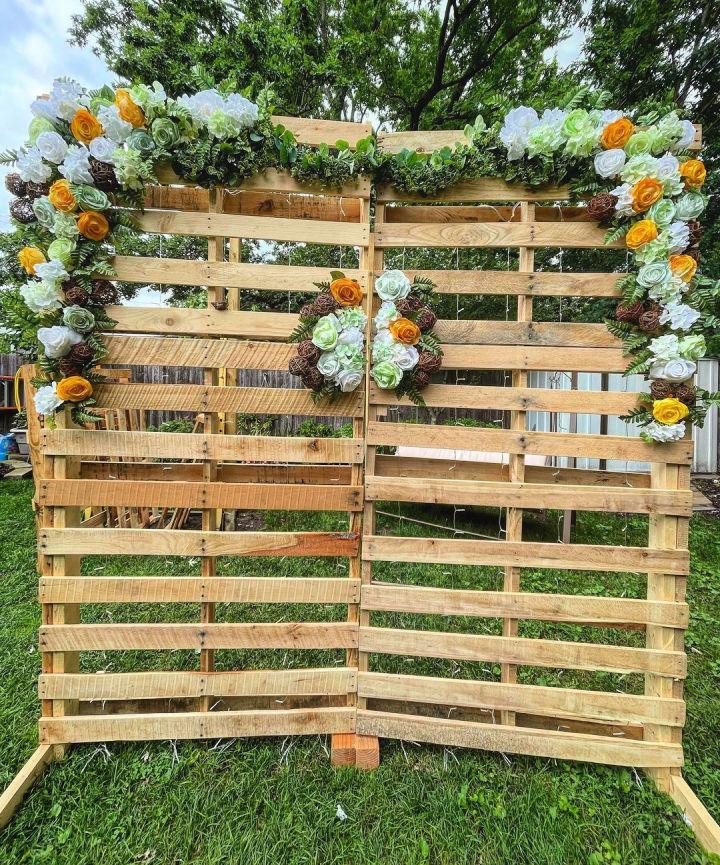 Build the portable giant walls also with some free pallets, which will make amazing wedding backdrops. Peek into the details of the given one loaded with flowers and can be used as a wedding gate, backdrop, privacy wall and much more. The best and sweet gift for a wedding and the entire project will simply cost you next to nothing. The idea is to rebuild the pallets to build this portable pallet wood wall, can be built thick or with spacing among the deck boards, the choices are all yours. One of the best DIY pallet wall ideas that will impress all the onlookers.
39. Hanging Pallet Wall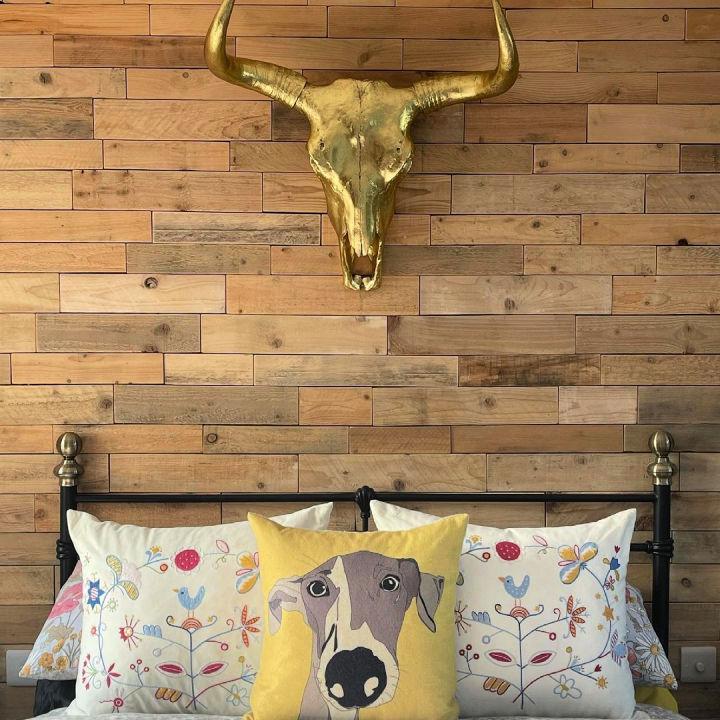 You will love this hanging pallet wood wall that impresses with the tightly and precisely packed pallet wood slats. What makes it look super interesting is the addition of dear head taxidermy appearing in the bright gold metallic appeal. The entire wall design is simple and much visually captivating. You can follow the complete free guidelines to clone this pallet wood wall easily. The best idea is to bring the necessary wooden elegance to a modern home interior for bigger decor statements. Due to being made of pallets, it will simply cost you next to nothing.
40. Pallet Wall In The Kitchen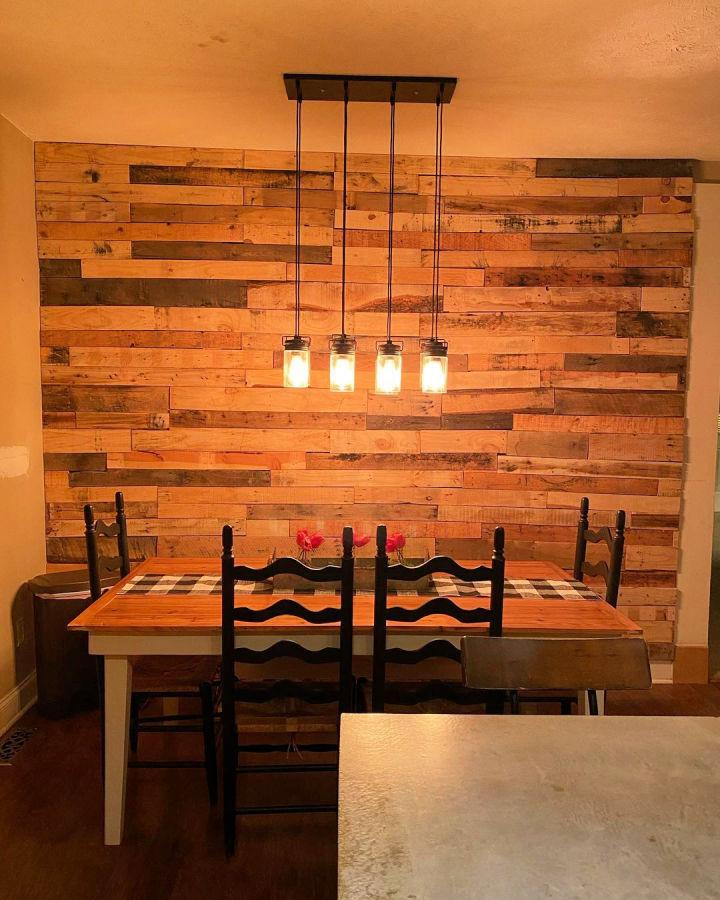 One can build the pallet wood walls right in the kitchen also to bring that great wooden character to the entire kitchen. Manage to have a big stockpile of pallet wood slats by dismantling the free pallets and then arranging them on the kitchen wall for a graceful appeal. The entire wall will create a big focal point right in your kitchen and will not be too difficult to install. This is truly a better repurposing of pallets to bring warmth and rustic wood delicacy to your home without spending even a penny.
41. Pallet Wall For Outdoor Space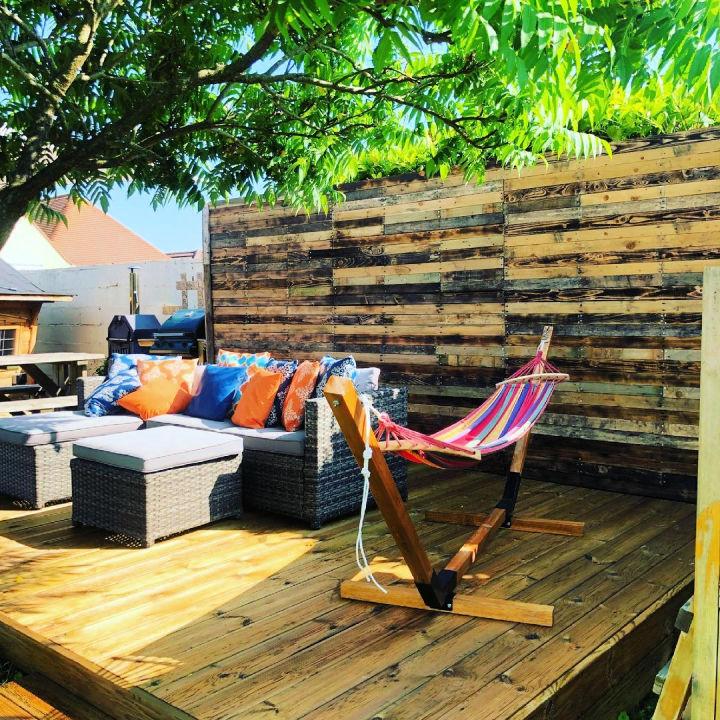 One can build the outdoor privacy wall out of pallets! Peek into details of this given pallet wall, makes a beautiful fence wall also! It can be around any outdoor or backyard deck to make the area a little private! The project will be as easier as to do above all pallet wall ideas! The finally completed wall will definitely have the capability to withstand the harsh weather conditions! However, you can give it a nice wood finish also for added protection against the natural elements!
Conclusion:
Featuring the rustic wooden elegance and bringing that rich wooden character to your modern interiors is highly in trend. So, this can be done easily and economically with these wooden pallet wall ideas sharing the comprehensive guides to use free pallets for building rustic walls anywhere in or out of the home. These projects will provide instructions for all steps, from dismantling the pallets to adding them to a targeted wall to finish the wall with stain or paint. You will be an expert in building rustic wood wall panels after reading through these pallet wall ideas that sharing complete material lists, tool lists, and wood finishing plans.