Anyone can build stylish, durable and budget-friendly furniture with pallets even if you're a beginner to woodworking. This episode of DIY pallet wood projects will show you how to make a pallet chair for your home outdoor or indoor using 100% free pallets. Find these 40 amazing free DIY pallet chair plans that will share different techniques and instructions to turn wood pallets into custom chairs. Both uncut and dismantled pallets can be used to build a custom pallet chair module.
However, it can be comparatively easier even for beginners to build a chair out of uncut pallets. It will involve simply stacking the pallets to build seats and putting one vertically behind as a backrest. On the other hand, with dismantled pallets, you can build any of your favorite chair models you are deeply in love with.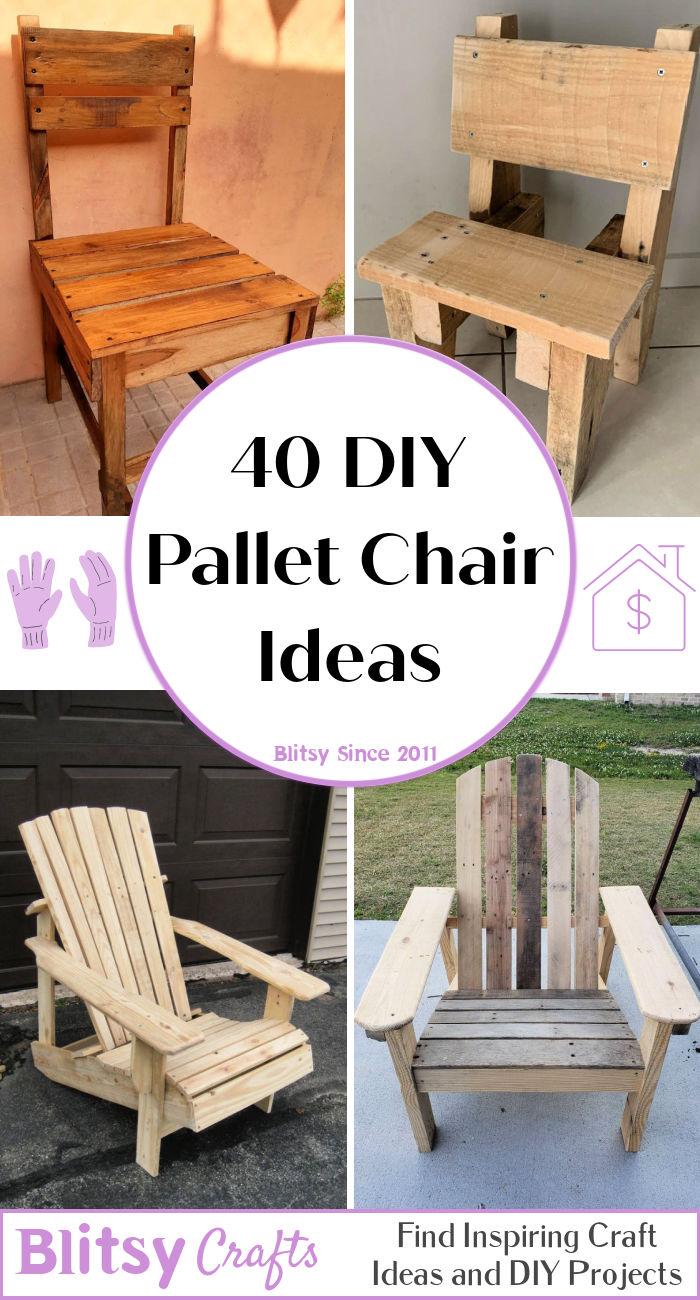 From building single dining chairs to double outdoor chair benches to pallet Adirondack chairs, these free pallet chair plans will involve building all kinds of chairs with pallets. This does not end here; you will get directions to build beautiful chair swings, storage-friendly chairs, and laced chair designs.
The entire list is full of creative pallet wonders appearing as magnificent indoor and outdoor chair designs. You can accomplish all your sitting space desires with these DIY pallet chair plans and ideas that are all frugal and much doable.
1. How To Make A Pallet Chair

The chairs are compulsory when setting up your spaces for casual and routine sitting. If you love the wooden look and feel of chairs, pallets can also be decided to get some free wood chairs. Look at this economical chair, beautifully built with pallets and is solid enough to last longer. First, build an L-shape module for the seat using two modified or trimmed down pieces of pallets. Next, finish it up with solid sides, made of square or rectangular pieces of pallets. The seat gives that boss-like sitting experience and can be employed for luxurious outdoor sitting too. instructables
2. Free Pallet Wood Chair Plan

Outdoor furniture is a big need when you are highly obsessed with the outdoor greenery and weather. So, skip those furniture cost calculations and build free benches and chairs for a reliable and comfortable outdoor sitting experience. This project will share complete details to build a 2 seater rustic wooden bench out of free recycled pallets. Plan the custom sizes of pallets easily to build the seat and backrest of the bench and use the heavy-duty square wooden posts to build the legs of this bench. The overall look of the bench is rustic that is enhanced with the burlap seat cushions. funkyjunkinteriors
3. Pallet Adirondack Chair Plan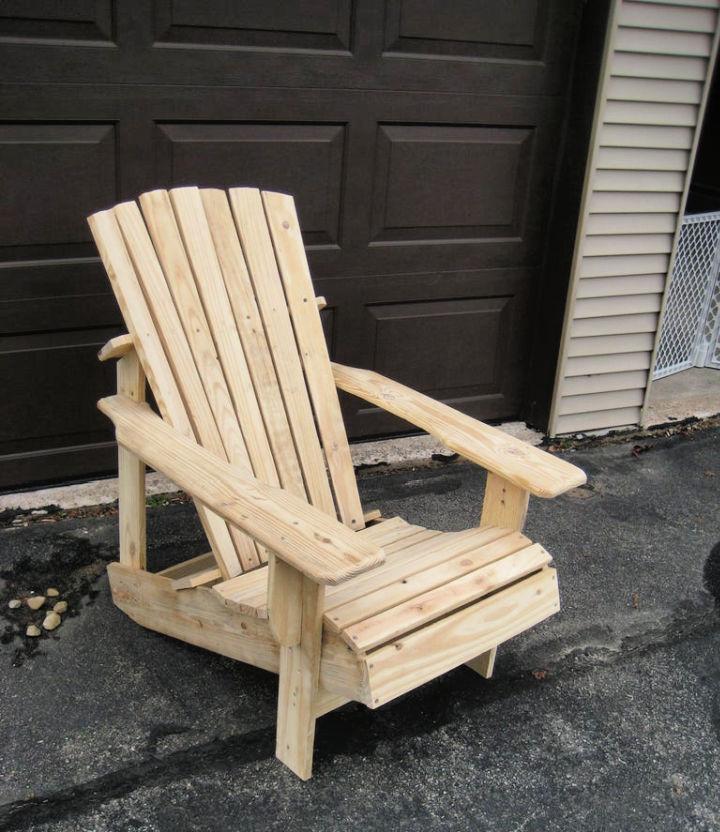 One of the most popular designs of chairs ever built with pallets, the Adirondack chair design. The chair impresses with every dimension, component and feature. The chair is always to build with a plan, and you can easily craft all the necessary chair components with the help of the provided plans. From building the parts to overall assembly, the chair is big fun and ideally suitable for enjoying mountains, greenery, and natural weather. Here you only need some free pallets and necessary woodworking tools to build this arresting pallet chair design. instructables
Chaise lounge plans: Find these DIY chaise lounge plans that come with easy instructions to build custom designs of an indoor and outdoor lounge chair.
4. Wooden Pallet Chair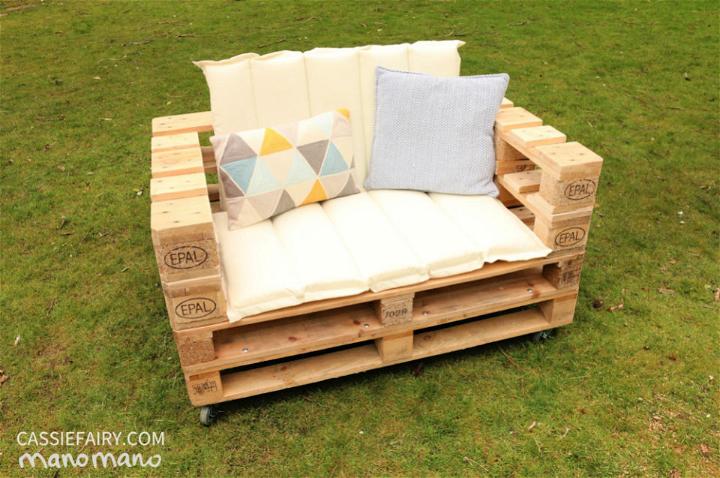 With pallets, you can compost highly fashion-forward designs of outdoor furniture also. This project involves using the 4 pallets to build a unique and solid wooden chair, sure to live years to come. The chair is just super comfortable for lounging in your garden and will be the most relaxing sitting spot for you throughout the summer or spring season. You can build such upcycled pallet chairs for free to gain a whole sitting furniture set for your home deck or any patio. The construction is all about stacking a few pallets, the only thing that can be tricky is to build and install the angled backrest. The addition of caster wheels makes this heavy chair model touch to move. manomano
5. Pallet Wood Lounge Chair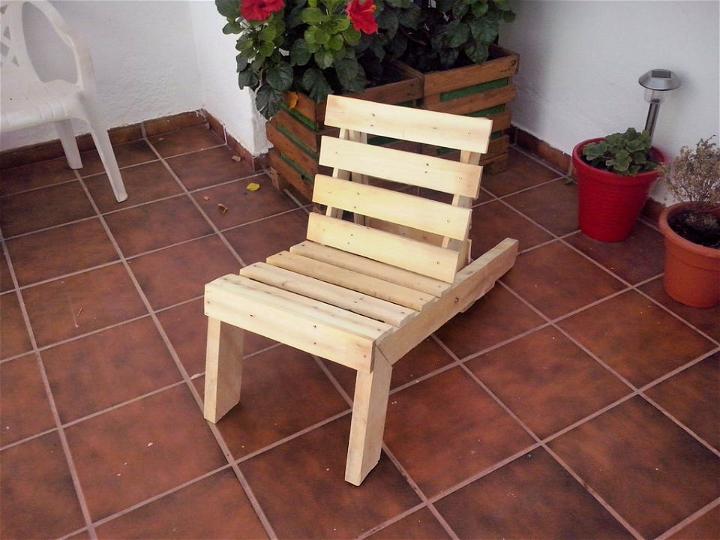 This lounging chair design is one of the most smartly built wood chair designs. What makes it look super interesting is the addition of an adjustable backrest that can be set to any 90, 75, 65-degree angle. The rare legs are flat, and it stands tilted only on the front legs giving you the perfect angle to enjoy mountain peaks, sky scenes and a perfect view of the tallest garden trees. It will take 3 pallets to build this easy yet stylish wooden chair model, perfect for any patio. To build this chair, you need pallets, handsaw, chainsaw, drill, hammer, screwdriver, gloves, glue and custom wood hardware etc, to build this chair. instructables
6. Chair Made From Pallets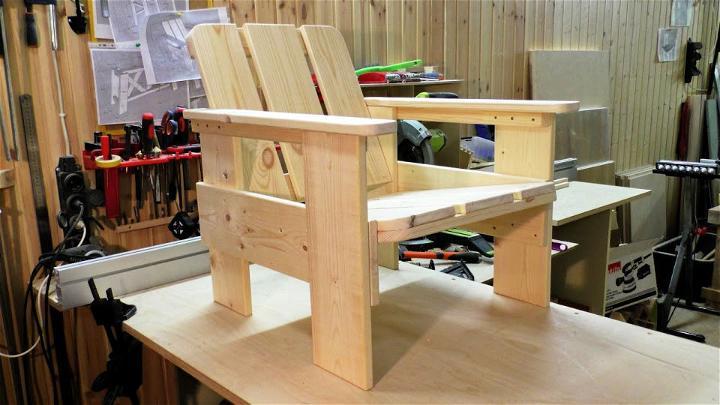 After watching this full video tutorial, you will have no excuse not to build a pallet chair of choice. From cutting the boards to packing them in the decided chair dimensions to assembling them in place, you will get guides for all the steps here. This DIY pallet chair project is for beginners who want to feel the magical furniture-building potential of pallets. They will praise it. The chair comes with mostly round edges, and you can separately build the seat, backrest and other components to attach later in the design. youtube
7. Building Single Pallet Chair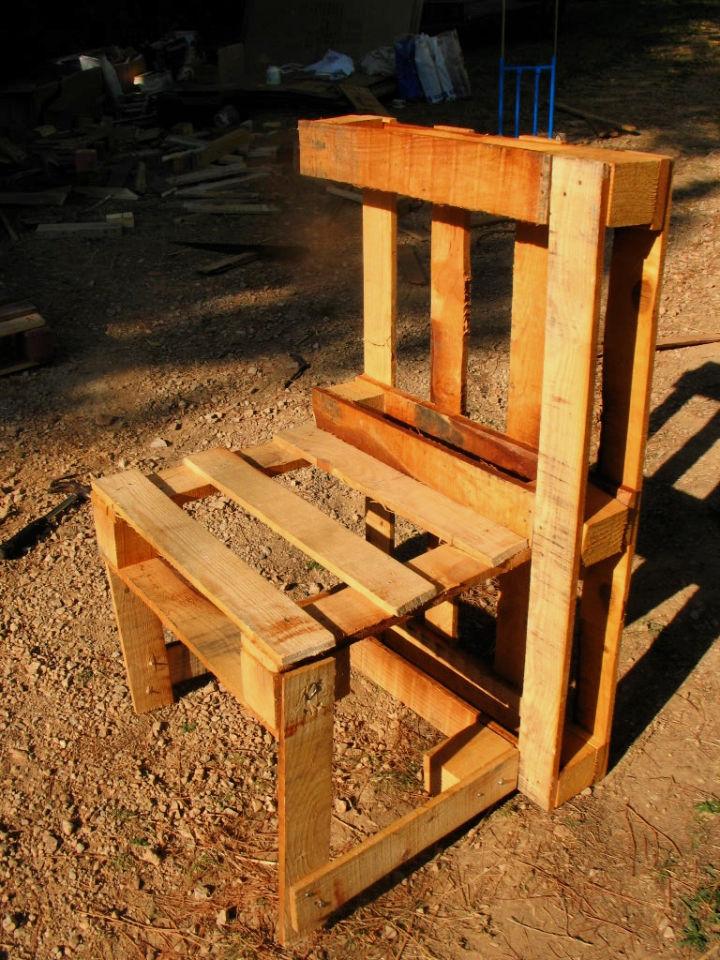 Are you direly in need of a chair and also have a single pallet lying in the home trash store? Then the problem is solved, you can build a fully functional and durable chair out of a single pallet with this creative DIY furniture plan. Cut the pallet into halves and use one half to build the seat, and the rest can be used vertically for rare legs and backrest position. However, you can build this chair with or without the armrest position, and it will provide that high value of sitting comfort to the user. One of the most creative DIY single pallet furniture ideas ever. instructables
8. Deck Chair From Pallets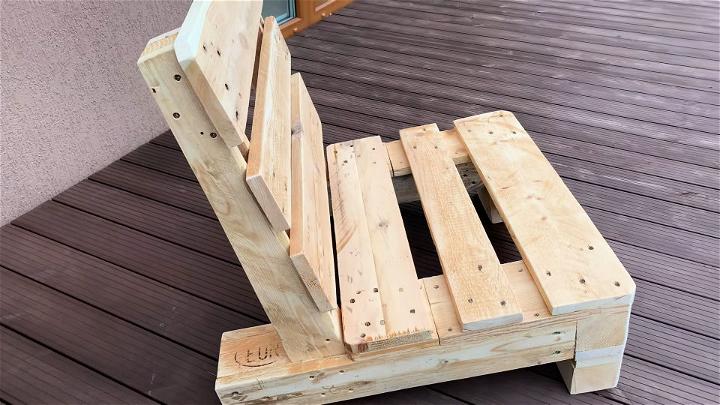 As you all know that there are never-ending chair designs that you can make with pallets. So, there are unlimited strategies also to repack the pallets into custom chair models. One is shared here, it involves building a solid deck chair out of pallets and will be much doable even for a beginner. The chair is made of pallet leftovers and is high instability and performance. The chair only comes with front legs and has rare flat legs. This results into a sloped chair seat that holds the user comfortable for a mind-blowing outdoor sitting experience. The best low and minimalist chair design to build with pallets. youtube
9. Back Deck Pallet Chair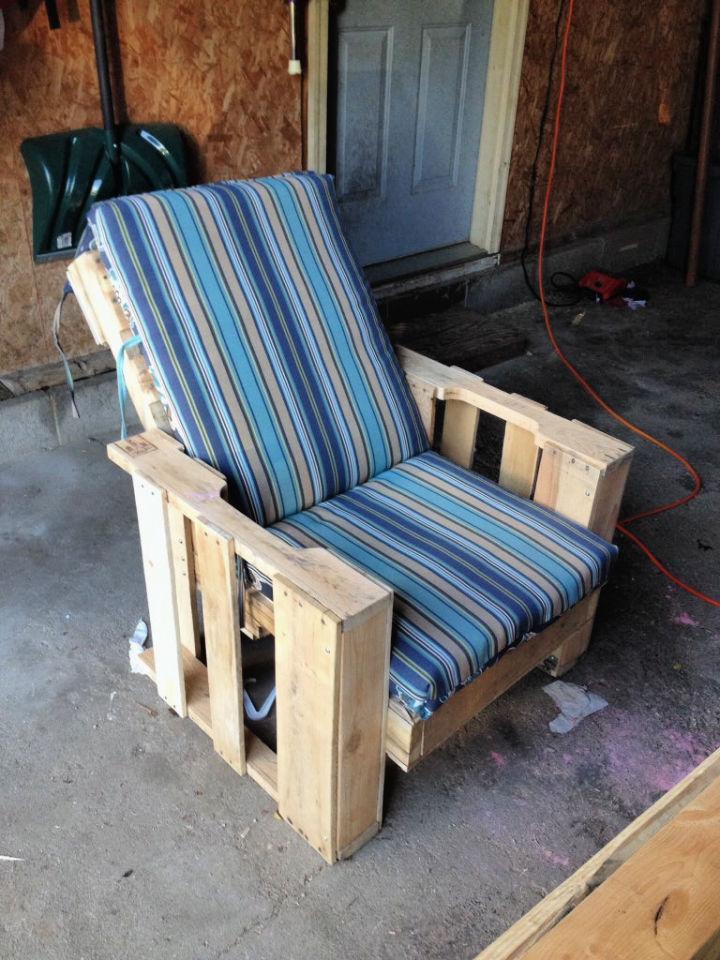 Looking for some sitting furniture to add to your back deck? Accomplish your sitting space desires by adding this hand-built design of back deck pallet chair, which is beautifully built and cushioned. The design features a tilted backrest, flat armrests and a solid seat and goes for a great sitting experience. The chair will make you live the outdoor luxury, and you will love to build this on-trend chair design at a minimal cost price. The best chair to build with cut sizes of pallets, you just need to fully dismantle the pallets to put together this handsome chair module. instructables
10. Chair Made Out Of Pallet

Follow the here guides to build a gorgeous wooden pallet chair while using limited tools. You will get that satisfying feeling of pride after building this pair of chairs simply in no time. Start the construction by building the side frames, adding the stretchers and supports, and filling the surfaces solid using additional pallet wood slats. The angled rare legs are the whole beauty of this exceptionally beautiful design of the chair, made to impress and inspire. The best outdoor chairs to build for kids who love to be in the garden all the time. youtube
11. Paracord Laced Pallet Hanging Chair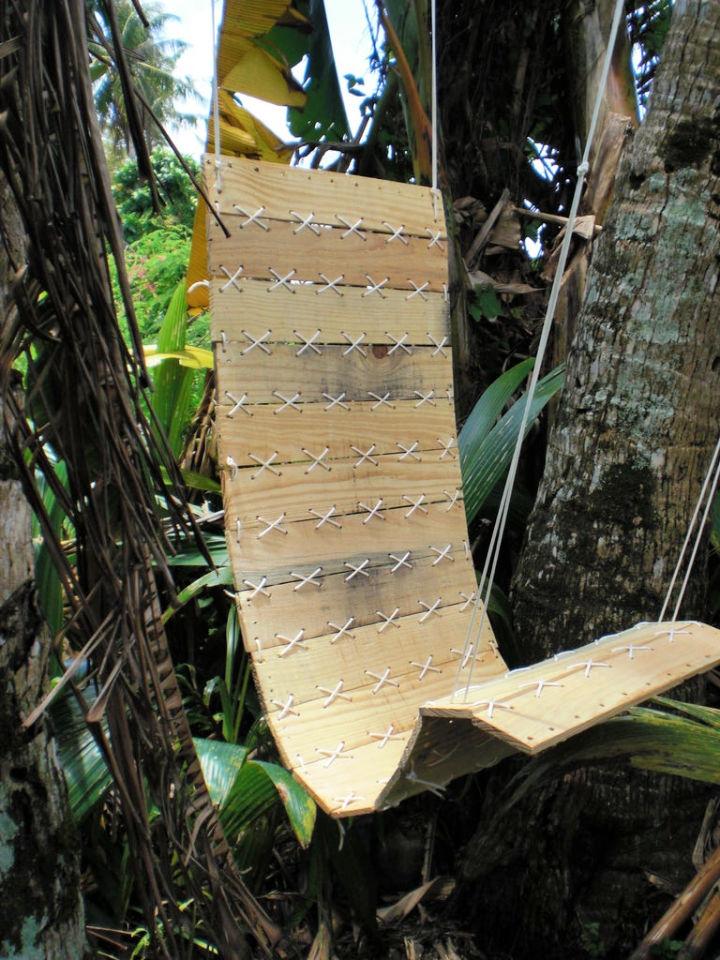 This chair is unique from the ordinary mass-produced and makes the perfect swinging chair for all outdoor addicts. You can easily hang up this chair on a tree branch to get that heavenly sitting experience, and it will hold you comfortable enough to enjoy hours of book reading and daydreaming. You can say it is the best chair hammock ever built with pallets. The way the pallet slats have been packed and laced with paracord is just amazing. The tutorial will guide you through all the construction steps, and you will feel cloning this chair is a breeze. The best chair to build with dismantled pallet slats and paracord. instructables
12. Lawn Chair From Pallets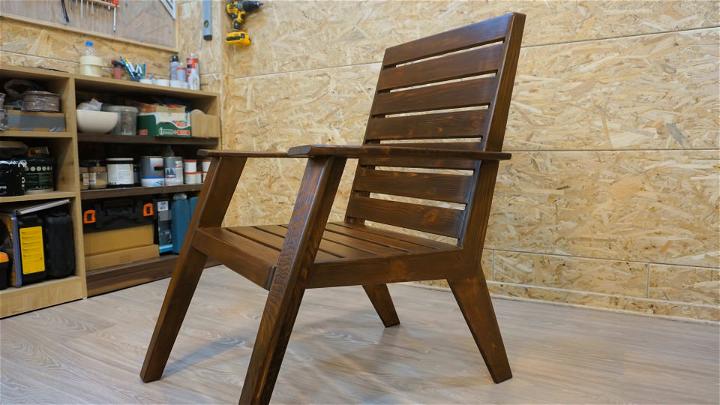 Sorting out the best armchair designs to add to your outdoor? Then time to build some on-trend designs at home with free pallets. The completed chair is like the chair you always buy expensive from the market, but it will be more unstable and less in price tag comparatively. The chair features the stretched outward legs and a super comfy backrest and seat section. The design is just super cute, and armrests enhance the overall beauty of the chair due to having a uniquely curved design shape. Stain the chair for a lovely choco appeal and also for weather protection. youtube
13. DIY Pallet Wood Adirondack Style Chair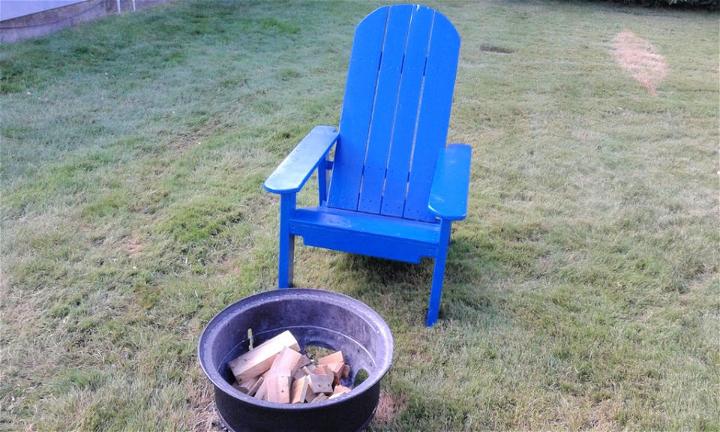 The construction of Adirondack chairs has also added a lot to the so-raised popularity of pallets. They are an interesting outdoor furniture achievement done with pallets. So, follow her complete directions and instructions to build an Adirondack chair with pallets like a pro. Use the square wood dowels and 2x4s to build the overall chair frame and then get the solid and stable surfaces by adding the pallet planks in slatted arrangements. The roundness of the armrest and backrest edges are the whole beauty of this chair. The chair design becomes comfortable with the sloped seat and angled backrest position. instructables
14. Make A Pallet Lounge Chair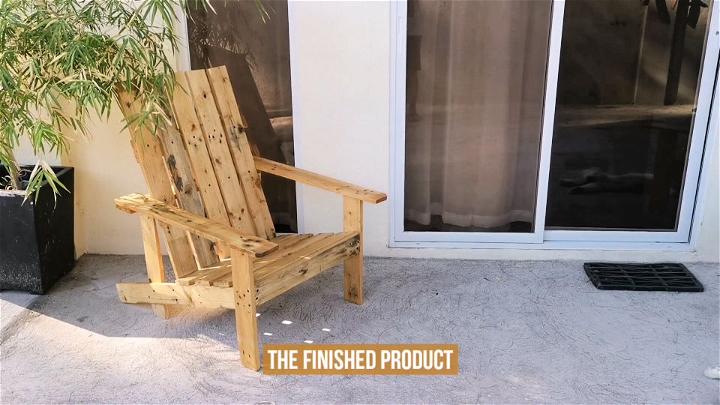 Lack of sitting space is the issue that most of us suffer from. However, pallets can take you out of these problematic situations. Learn here to build the best lounge chairs out of pallets like a pro. The instructions are too easy to follow even for a beginner, and you will also love the completed chair designs. The project is to dismantled pallets and start building the chair design by first building the front section. The electric drill saw bubble level, pencil, sander, measuring tape, ruler, and rag would be the most required tool for building this chair. Finish the completed chairs with the polyurethane matte finish for amazing weather protection. youtube
15. Elegant DIY Pallet Wood Dining Chairs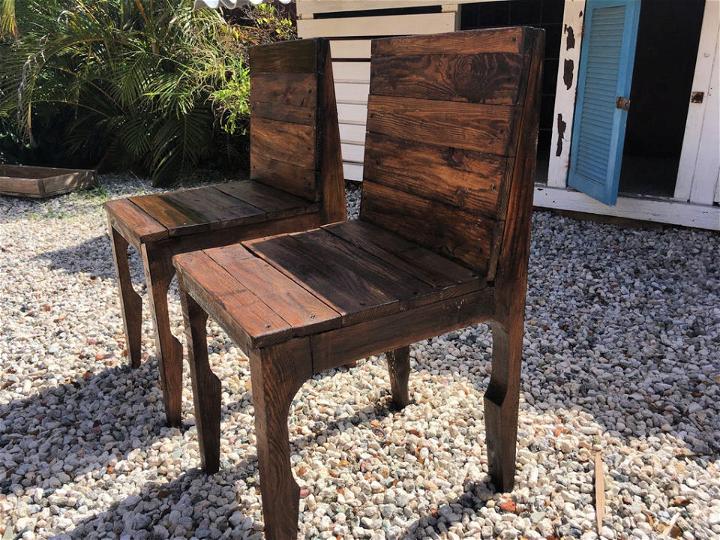 Hopefully, you can build lovely dining chairs also with recycled pallets. Learn to build lightweight and easy-to-move dining chairs with pallets, and they will impress all the users. Along with being lightweight, the chairs are heavy in duty also. You need pallets, screws, wood glue and stain to complete this phenomenal set of chairs, sure to be a big love of all. Sand the entire chair design smoothly and give a custom stain finish for a changed wood tone. All beginners can easily build this arresting design of pallet dining chair. instructables
16. DIY Pallet Chair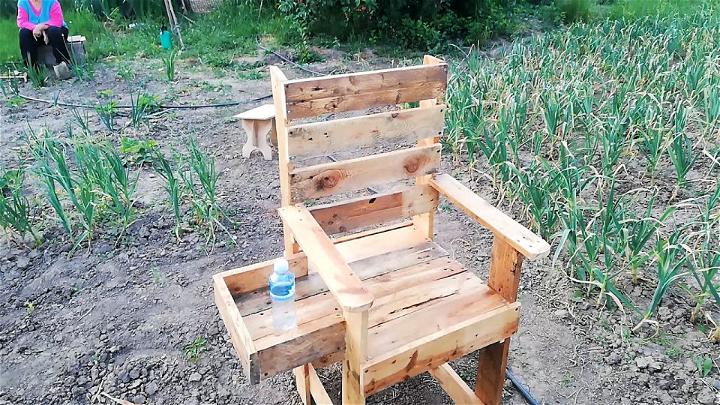 The genius DIY furniture builders share dozens of amazing ways to build a chair out of pallets. Follow here complete guides and instructions to build a highly stable and stylish wooden chair out of pallets. The project will help build a taller stool-like chair with a footrest and an extended armrest that makes the best side table or mud holder. The design of the chair is solid and beautiful and will surely rock for your indoor bar. Sand the whole design smooth and also finish with your favorite stain or paint coats. This project is to do with dismantled pallets. youtube
17. Build A Pallet Swing Chair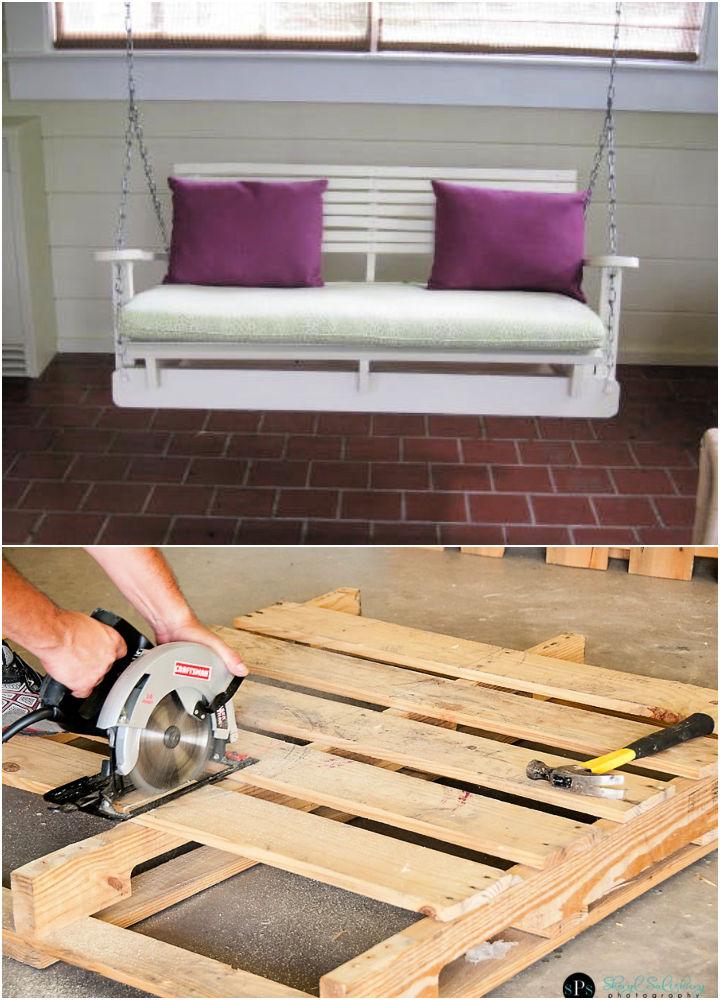 The swings are becoming a part of the luxurious lifestyle and mostly add to everyone's home. Look at this phenomenal wooden swing seat that is perfect for 2 persons. The design gains attention with the solid and elegant design dimensions and is also beautifully cushioned. You need a total of 4 wood pallets to build this arresting design of chair swing. The required woodworking tools will be a chop saw, nail remover, hammer, screw gun, jigsaw. The very required hardware for the swing will be carriage bolts with nuts, metal chains and u-bolts. Paint the completed design to match your home decors, and don't forget to cushion it up. instructables
18. Reclaimed Wood Pallet Double Chair Bench

Feel free to duplicate this arresting pallet double chair bench design that is truly something mind-blowing to look at. The combined central armrest position is too wide to hold all that a side table, like a mug, books and phones. This removes the need for a side table. The perfect couple bench to gift to a newly married couple. You need pallets and 2x4s to build this solid double chair bench. Use the 2x4s to frame the bench, and then use pallet wood planks to solid the surfaces. Don't forget to give it a nice wood finish for weather protection. instructables
19. Pallet Chair Instructions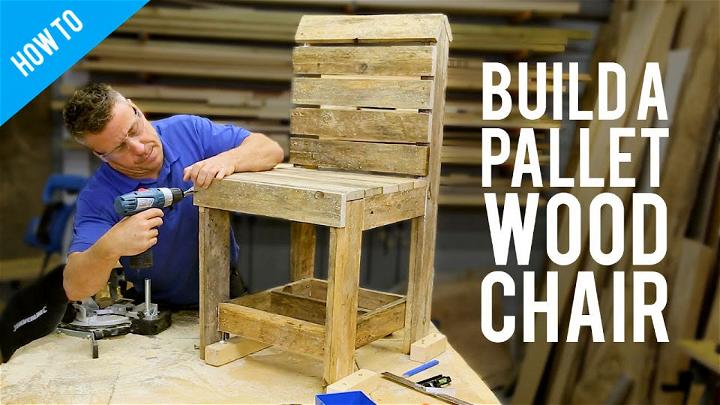 Want to build a lovely kids' chair out of pallets but don't know where to start? Then follow here the video instructions to build one that every kid will like. The chair's design is much like a lightweight dining chair, and you can build it with or without the armrest positions. Here the legs are also made with pallet wood slats but strengthened with heavy-duty cross beams. Make the whole chair appear extra beautiful and modern by applying some paint coats, and it will also look great in the rustic wooden appeal. youtube
20. Pallet Outdoor Chair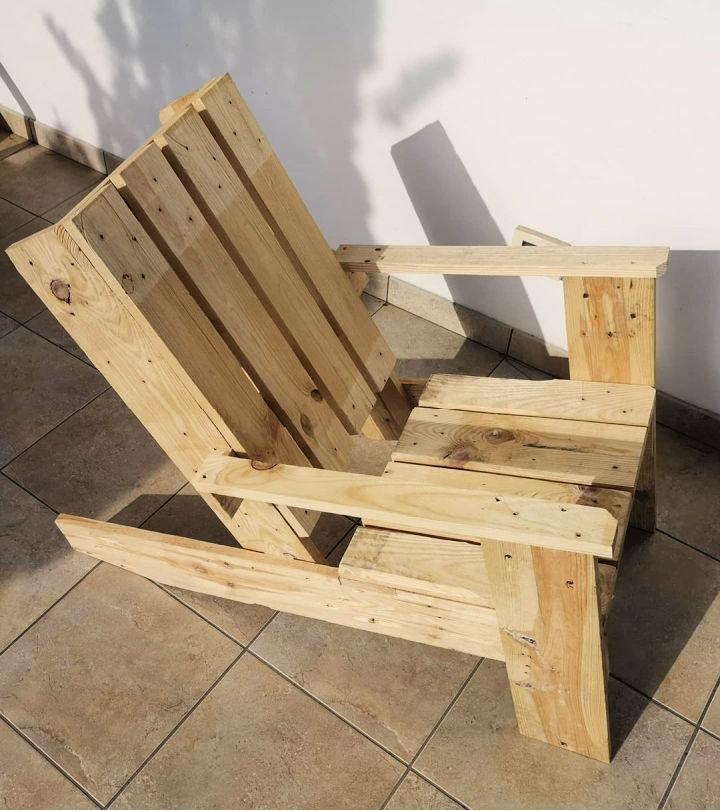 If you have read through the above-given projects, then you can try building this chair design also. The best assignment to do is when learning to build a chair out of pallets. An Adirondack chair inspires the design, but it has straight edges and dimensions like curves and round ones. It provides the tilted seat, backrest, rare legs, armrests and the sitting angle just like the same and can be added with a footrest position. You can easily plan the pallet wood slats to build all components of this handsome chair design.
21. Pallet Chair With Storage Space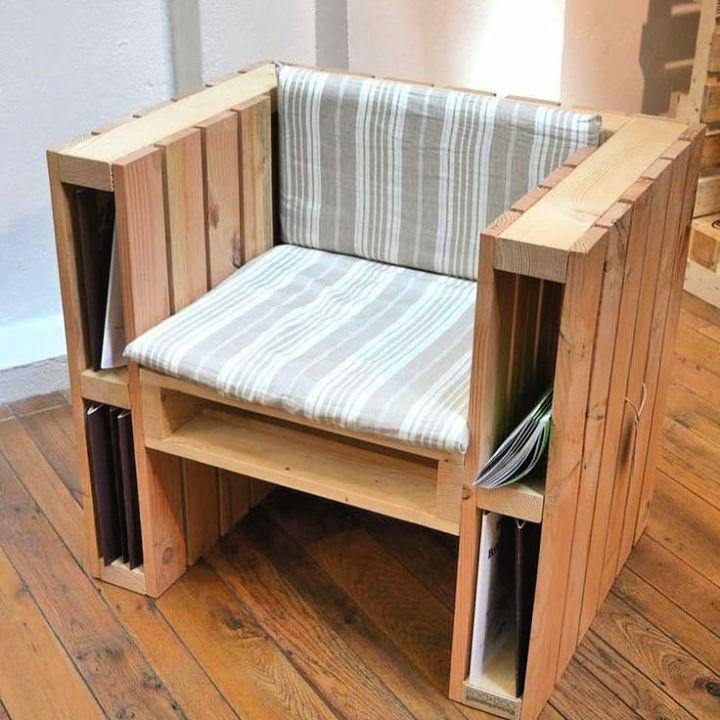 The perfect chair gift for a book lover, it provides the storage cubbies built-in the armrest position that can hold a variety of your favorite books and the completed assignments and notes. The whole chair amazes with the solid block style design and involves using the uncut sizes of pallets to build all from backrest to seat to armrest positions. One of the best sturdy chairs to build with free pallets, and even a beginner can easily plan and build this chair design. The best chair to build with pallets that provide ample book storage space.
22. Pallet Wood Chair Design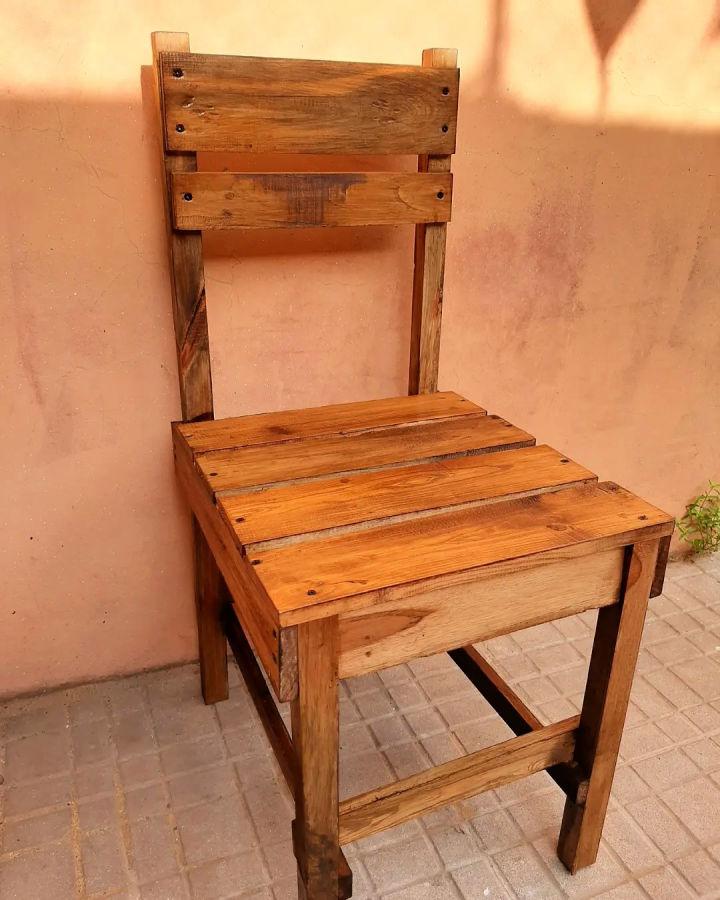 With pallets, you can build whole sets of sitting, dining and bedroom furniture. If you have recently built a dining table with pallets, then complete the whole set by building this pallet dining chair. The chair is lightweight and easy to move and has no armrest positions. First, build the overall chair frame, including the legs, stretchers and cross supports and then fill the surfaces up with pallet wood slats. Go through pallet wood dismantling to get a stock of individual pallet wood slats. The final step will be to give a nice finish, and you can use any stain or paint for it.
23. Pallet Chair For Garden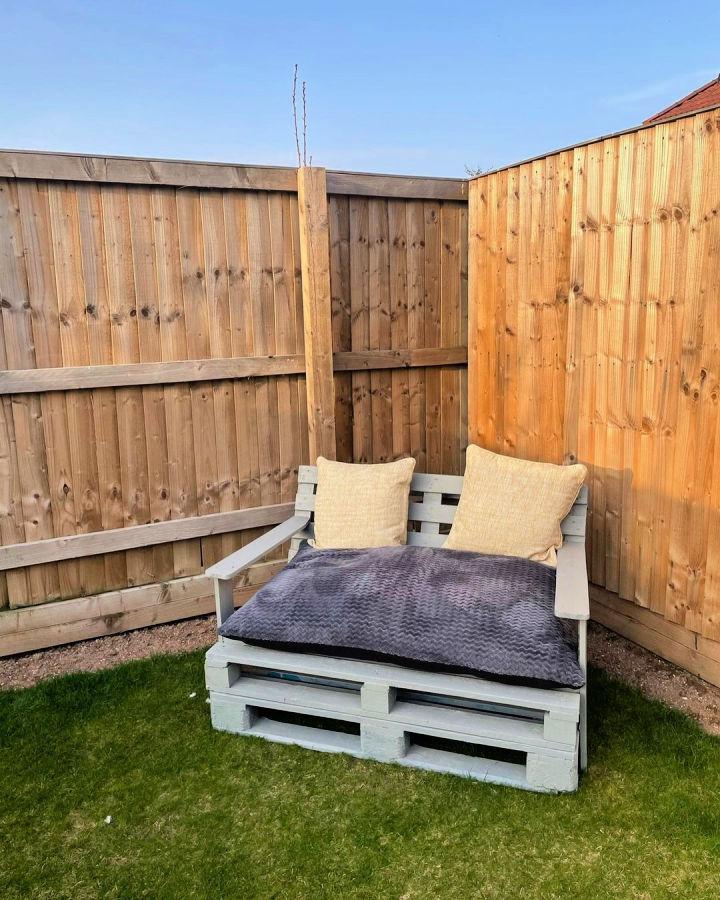 Pallet furniture ideas serve you for all types of home furniture needs. You can clone this grand pallet seat if lacking some garden sitting furniture. The seat is just for 2 persons, and it will be too spacious for one user to get completely relaxed. Stack the pallets to build the seat and then build the rest of the components with pallets. Frame up the separated pallet wood slats to build the backrests and use the same planks to build the legs and armrest position of the chair. Here the finally completed design is painted for a light grey appeal, and it comes with a heavy-duty cushion.
24. Inexpensive Pallet Chair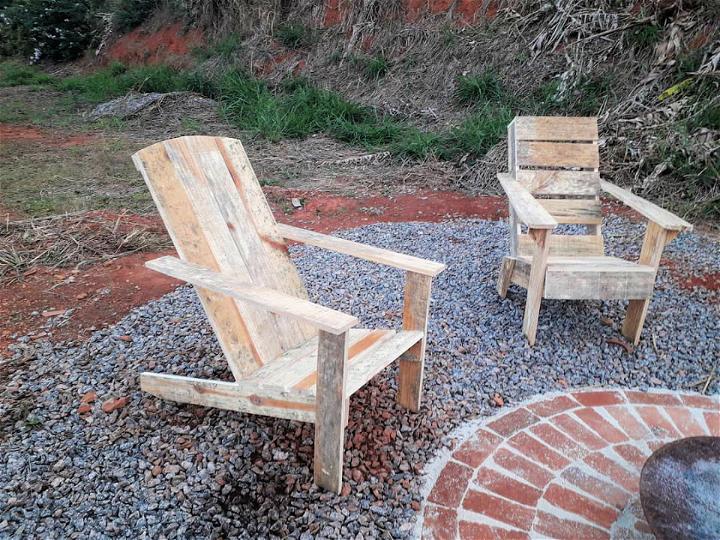 Pallet furniture ideas are life-changing and can help save a lot of fortune also. Sorting out the best chairs to sit around the fire pit while enjoying the chilly evenings? Then look at the given designs that are super easy to clone if you are in the pallet chair-making game. The designs are inspired by an Adirondack chair and will give the user that comfortable sitting position around the firepit. The chairs are made of pallet wood planks, and you can easily plan them to build different chair components.
25. Pallet Swinging Chair

Are you on a mission to boost the outdoor fun of kids? Then also get benefited by the pallets. Build this handsome-looking chair swing with pallets, and it will create never-ending fun for the kids. The design is lightweight and can quickly be built with recycled pallets. You can simply add up a mini pallet with a backrest position to gain the whole beautiful swing seat. Next, use the eye-hooks and heavy-duty metal chains to easily hang this swing chair up in the air. It will not take that too long to build this luxurious pallet wood swing chair for free.
26. Chair From Pallet Wood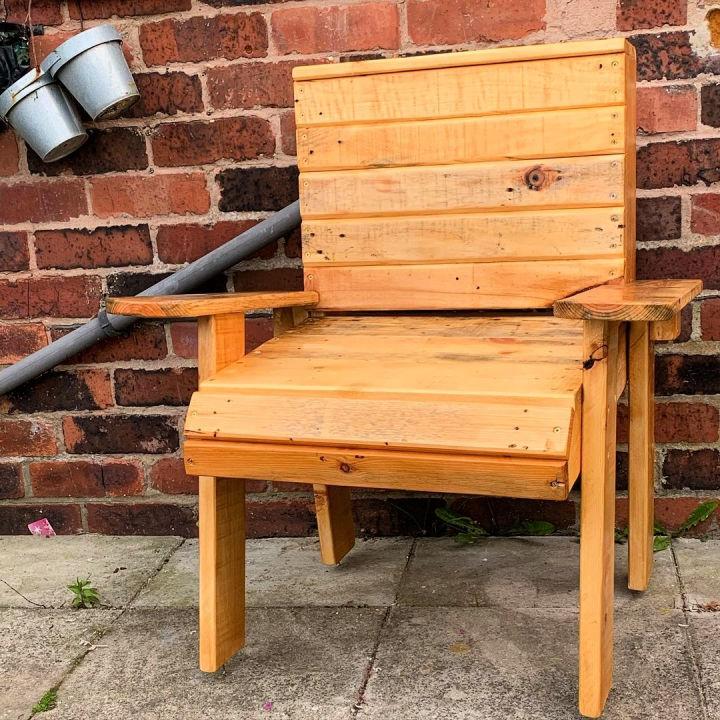 You will keep on staring at the fine dimensions and design curves of this handsome outdoor pallet chair. This is here another Adirondack-inspired chair model to make with pallets. But it doesn't come with an angled seat and provides rare legs also. The sloped front of the seat will go amazing with the user's legs for a super comfortable sitting experience. The chair will not make you tired even if you sit longer in it. The project will start by dismantling pallets, and the next step will be framing and filling the surfaces. To avoid early weathering, do plan a nice wood finish for this hand-built wooden chair.
27. Pallet Adirondack Chair

Pallets are magical skids to easily convert into luxury furniture pieces. So, you will surely fall for this arresting design of Adirondack chair made of pallets. The design is unbelievably beautiful and sturdy and will serve for years to come. Paint or stain it to get that decided appeal and look of it, and it will also make a sweet handmade gift to an outdoor lover. You can easily clone this chair with the help of an Adirondack chair plan. Keep the armrests fronts and backrest top round and the seat a little tilted, as per demands of an Adirondack chair.
28. Perfect Rustic Look Pallet Chair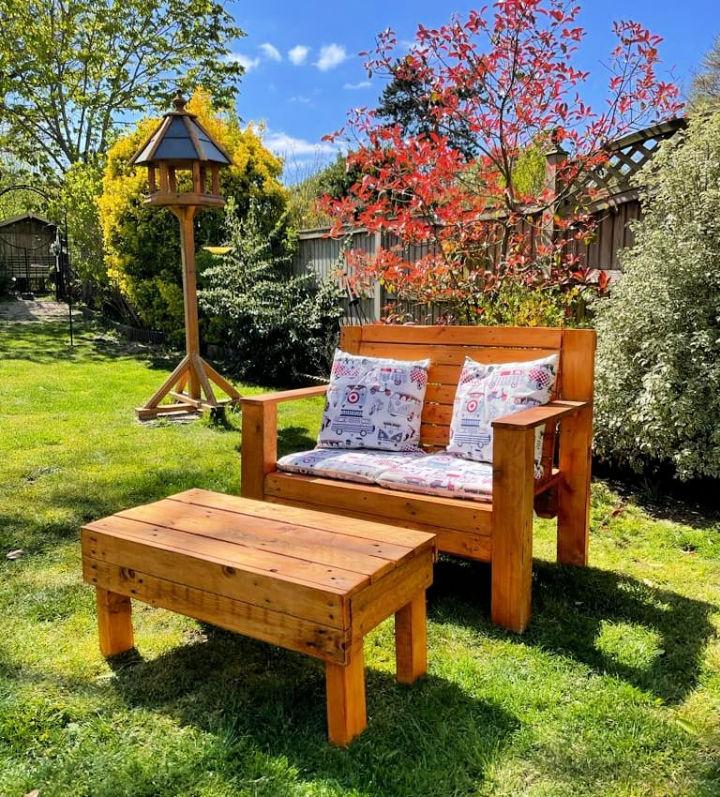 Sit comfortably outdoor with this gorgeous design of rustic wooden chair that is solid and beautiful and is just perfect for 2 persons. The design is highly durable and solid and appears in the blank natural tone of wood. Use the heavy-duty wooden posts to build the legs and build the front coffee table out of pallet and wood leftovers. It will be big fun to build the seat, backrest, and armrest with separated apart pallet wood slats. Cushion up the whole seat for the maximized value of comfort.
29. Upcycle Pallets Chairs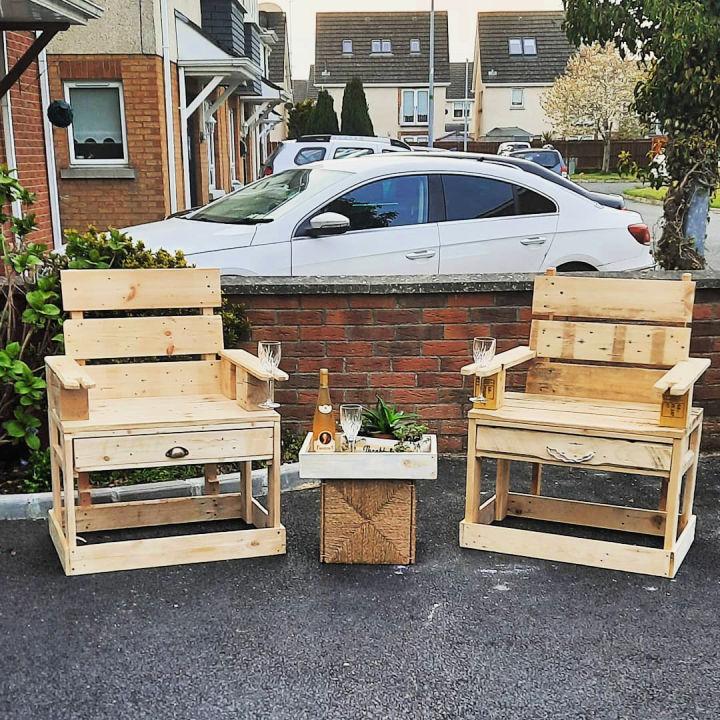 Take your outdoor sitting comfort and experience to the next level with these upcycled pallet chairs. The box-like base, armrests sitting on the pallet shocks and built-in drawers are the main features of these stylishly beautiful pallet chairs. Both chairs can be put together to enjoy a great couple sitting experience, and built-in drawers will surely come in handy to store all the extras. The armrests of the chairs also come with cut slits that will hold all your drink glasses beautifully. One of the best and quick-to-build DIY pallet chairs with storage.
30. Chairs Out Of Pallets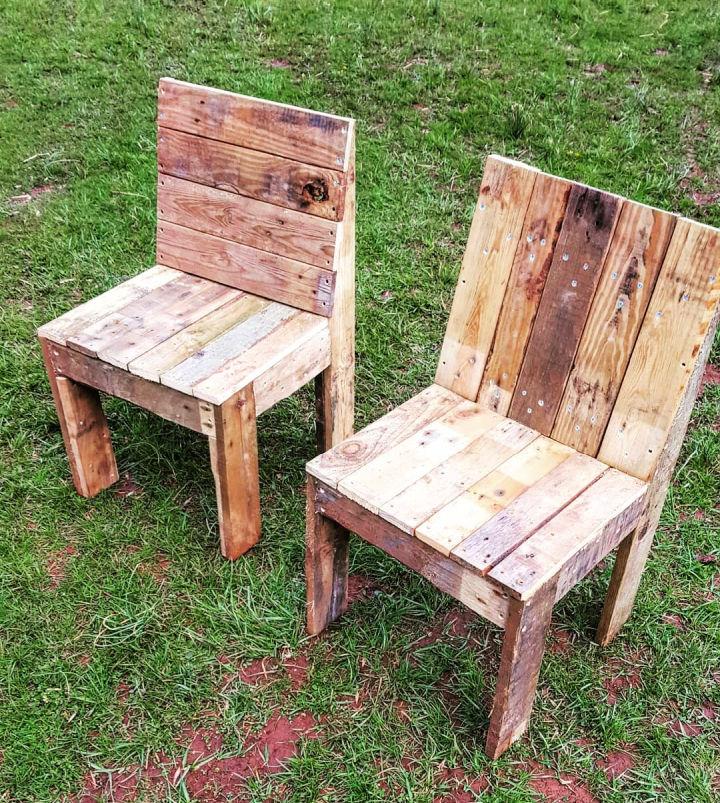 Intending to make some quick chairs out of pallets? Then check out here the design that is much achievable even for a beginner. The chair's design is ideally beautiful to use as a dining chair and is a total breeze to build also. Put together the wood slats to shape up the whole frame of the chair and then fill the surfaces solid using more pallet wood planks. The design is impressive and crazily cute and will never get out of style also. Stain and paint the chairs for added visual grace and weather protection. One of the best DIY pallet chair designs to build at no cost.
31. Cool Pallet Chair For Kids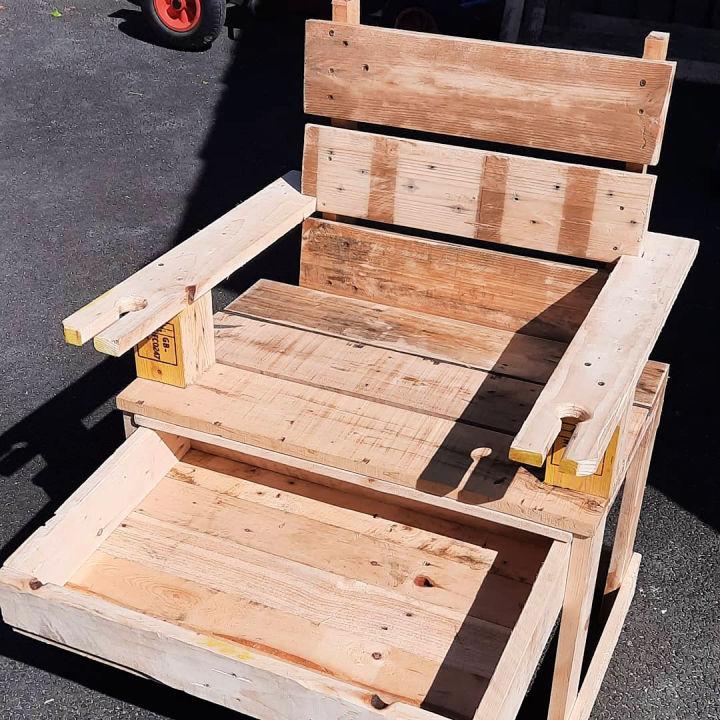 You will surely fall in love with the coolest features of this pallet wood chair that is storage-friendly, durable, and stylish at the same time. The chair comes with a built-in drawer and comes with slits cut in the armrests for holding drink glass. Pallet chocks are used to support the armrest positions. Build first the chair frame and then start filling them solid using the separated apart pieces of pallets. The chair is just amazing to add to any patio, and you can even make a number of such chairs to accomplish your outdoor sitting space desires.
32. Garden Chair Made From 2 Pallets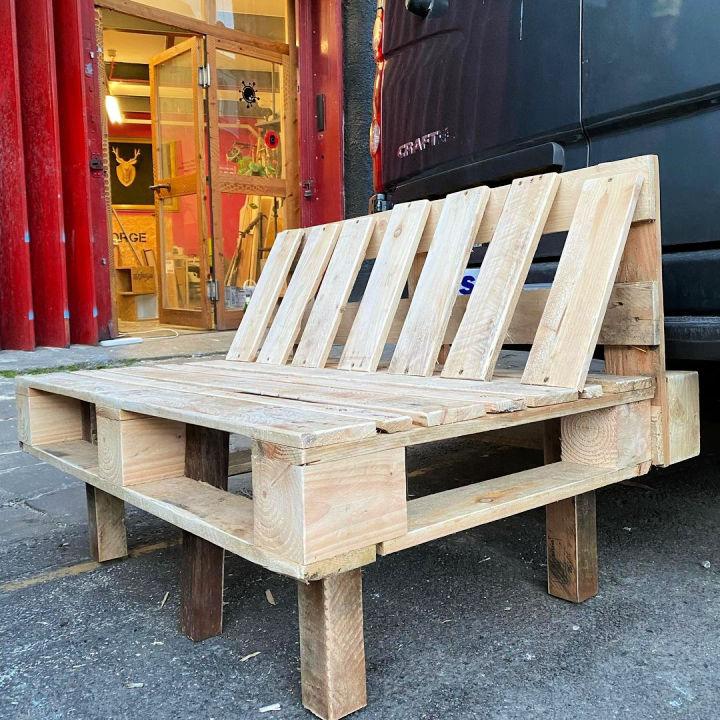 There are tons of different chair designs to build with pallets. Peek into details of this hand-build wooden pallet garden chair that provides an angled backrest and is to build with recycled pallets. The addition of durable legs elevates the chair to a more comfortable height, and a whole pallet makes the chair's seat. Use a modified pallet and separated apart pallet wood slats to build the angled backrest position. Paint the chair for a custom appeal, and don't forget to add high-quality cushions for a luxurious sitting comfort.
33. Pallet Chair From 10 Pallets

This heavy-duty chair will surely make you sit like a boss and is made of 10 pallets. The fine stack of pallets builds the elevated seat of the chair, and you can use the separated apart dice sections and other modified pallets to build the armrests and backrest position of the chair. The whole design will complete simply in no time and provides lots of built-in cubbies to store various extras. Some of the leftover planks have been aligned to give that amazing chevron front that adds a lot to the overall beauty of the chair design.
34. Pallet Chair For Little People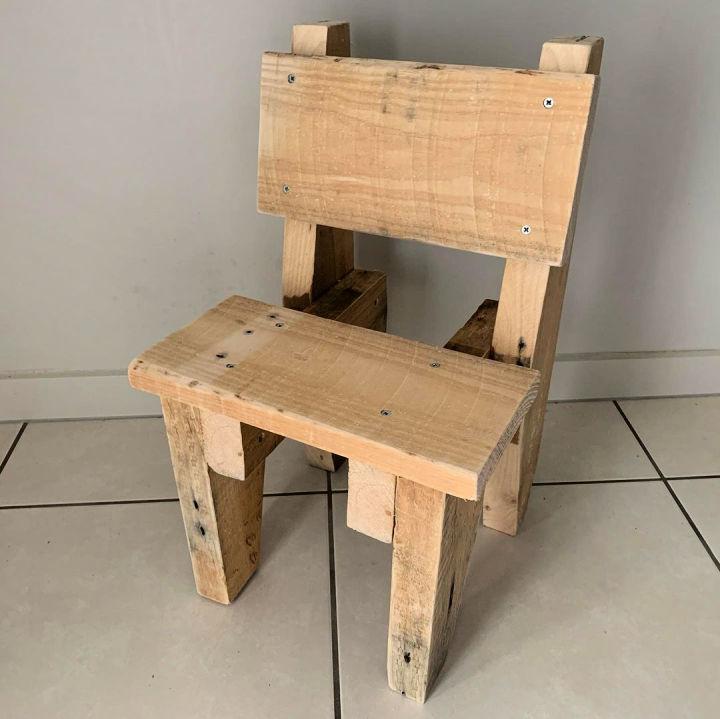 Repurpose pallets to build also lasting longer and stylish wooden chairs for kids in the home. Surprise the toddlers with this handsome mini chair gift that you can even build with a few pallet planks and wood leftovers. Plan a few solid wooden lengths to build the legs and stretchers, and then install the wider boards for the backrest and seat. Use the nails for the overall assembly of the chair. The toddlers will love this handmade chair gift, and it can also be polished and painted for a custom appeal. The design is raised in sturdiness and will last longer.
35. Chair Made From Pallet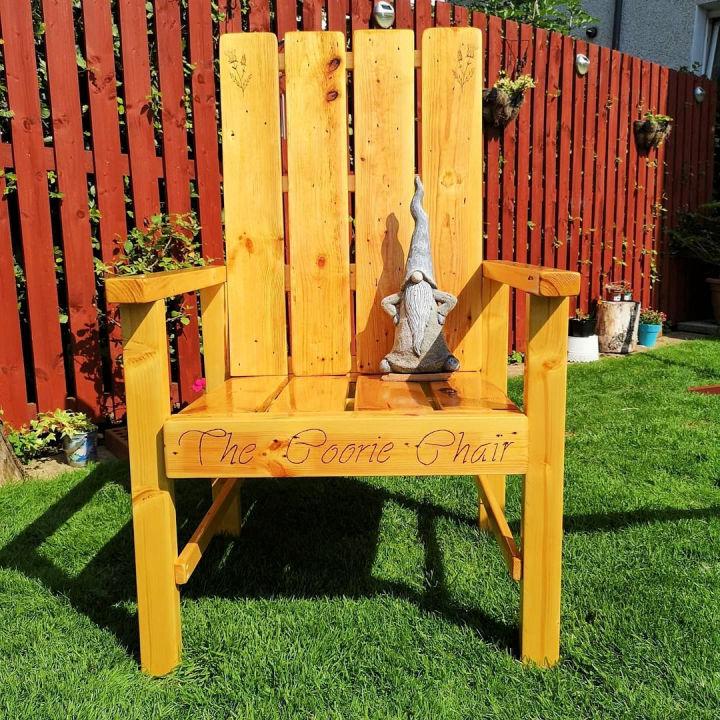 The lustrous gold appeal of this chair and the quoted front of the seat are the main impressive features of this pallet chair. The construction of this chair is mainly about building the L-shape seat and backrest section that can easily be added with custom legs and armrest positions, as you can see. Sand the finally completed design for a no-splinter look and give custom stain coats to bring amazing shine on the wood grains. Use custom stencils or wood-burning tools to write the quotes in front of the chair seat. The whole chair is amazingly cute and beautiful to look at.
36. Turned Pallets Into Chair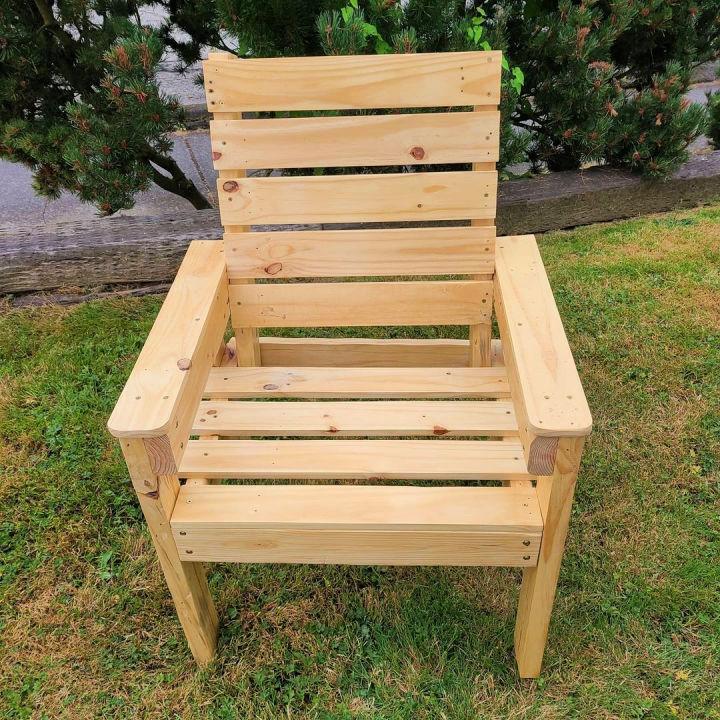 You will love this standard chair design that impresses with the slatted appeal and gains attention with the bright blank tone of wood. Put together the separated pallet wood slats to build the chair frame and then start covering the surfaces with flat cross alignments of pallet wood slats. The chair design is just perfect for both indoor and outdoor use, and you can paint or stain it for a custom appeal also. You can also add custom logos or write custom names and letters on the chair planks for a brilliant personalized appeal.
37. Chair From 4 Pallets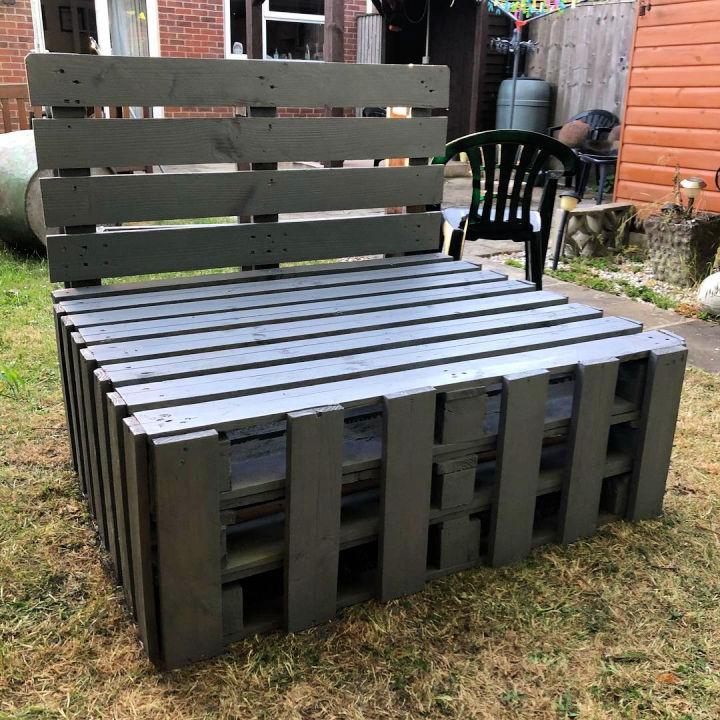 You will love the solid dimensions and wide seat of this grand pallet seat. It is a crazy chair creation done with 4 pallets, and one can also elevate it to any height level. Stack the pallets to build the chair seating section and use extra wood to hold all stacked pallets as one unit. Build a slatted frame for the backrest, and you can get one by removing the dice sections from a pallet also. Stain and paint the whole design for added weather protection and finish with your favorite seat mattress. The most heavy-duty outdoor chair made of pallets.
38. Garden Chair With Free Pallets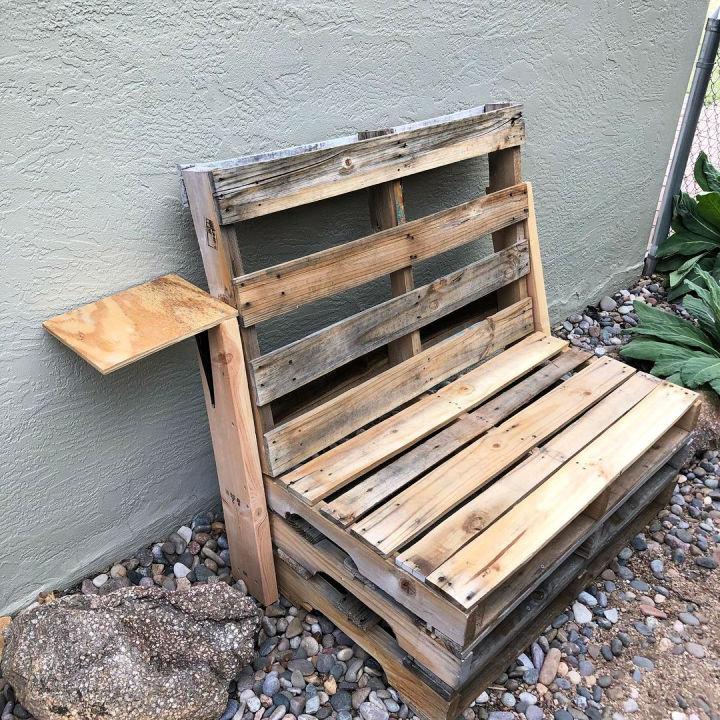 Get relaxed outdoor with this solid wooden pallet chair with an extended side arm making the best side table for the chair. Most of the construction is done with uncut pallets, and you also need some scrap wood boards and a small piece of plywood to complete this outdoor chair design. It will rock as a poolside lounger and be dragged to any particular outdoor to sit and relax. Stack up to 3 pallets to build the seat and let one come on the backside vertically to build the backrest. Use scrap wood boards to build the side supports. The addition of a built-in side table makes this chair design unique and extraordinary.
39. Heavy Duty Chair From Pallets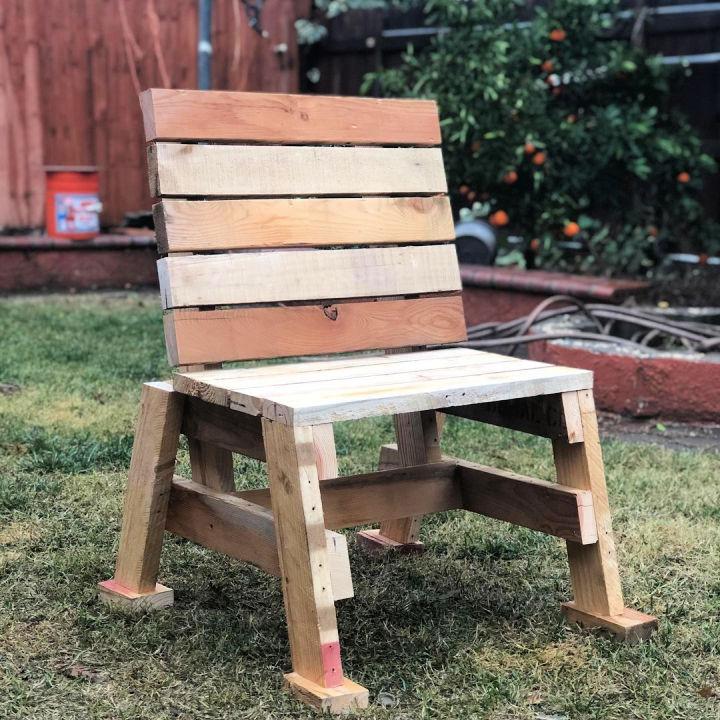 Pallets are amazing to build all kinds of outdoor and indoor furniture. This time duplicate this solid wooden chair that impresses with the unique design. It gains uniqueness from the angled legs and custom slatted backrest and berth positions. The addition of extra cross supports strengthens the chair design more, and it will not take that too long to duplicate this robust wooden chair. One of the best DIY pallet chairs designs to build with dismantled pallets. It will not take that too long to build this robust wooden chair like a pro.
40. Pallet Wood Chair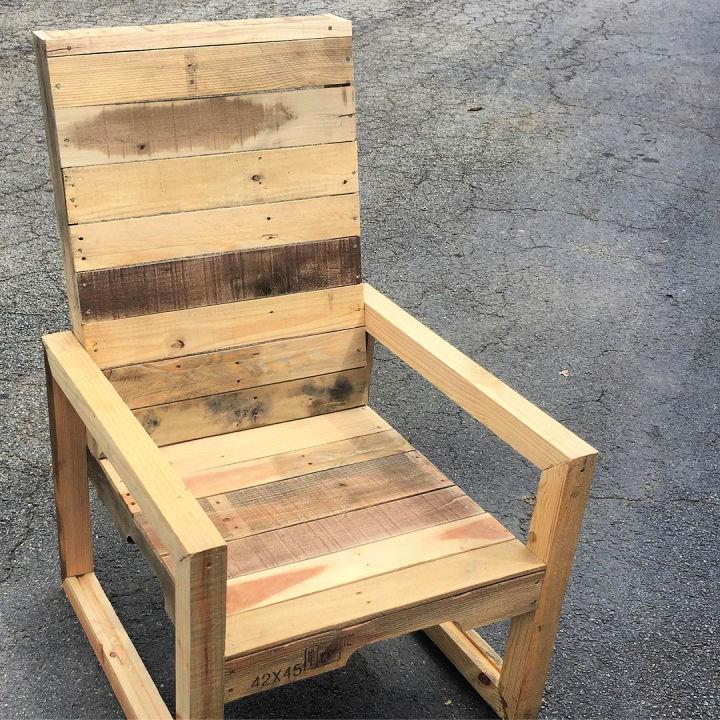 Peek into details of this another one-of-a-kind pallet wood chair design. It gains uniqueness from the box-shaped sides and solid-filled backrest and berth position. The entire construction is a breeze, and you have the freedom to go for any custom dimensions of this solid wood pallet chair. Here the pallet stringer boards are used as the cross supports or stretchers. However, you can also use the square wood dowels to build the box-like side frames that give both the legs and armrest positions of the chair.
41. Old Pallets Into Functional Chair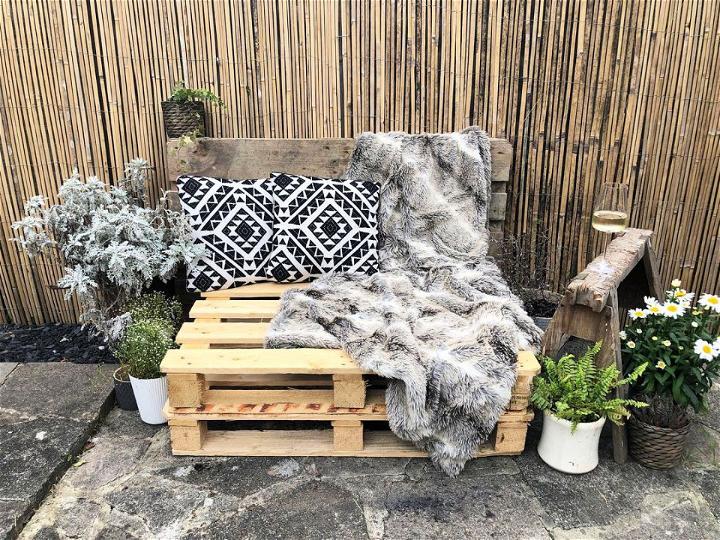 You can do wonders by stacking the pallets up in a simple way. Build this exceptional outdoor chair design by just stacking the pallets. You can sit on the chair in half lay down position to enjoy the naturally occurring scenes and poolsides. Building this chair is a total breeze, and you can complete the seating section by stacking up to 2 pallets. Put a pallet vertically behind the pallet stack to gain a lovely backrest position. Comfy it up by adding custom cushions and pillows.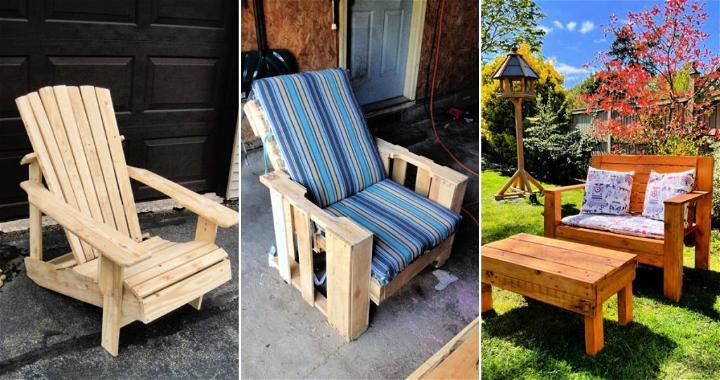 Conclusion:
Building chairs with pallets is super easy for many of us. If you know a little about this technique, simply head over to these DIY wood pallet chair plans to learn about building the chairs with pallets. From easy to intermediate to advanced, there are chair projects for all skill levels, but most of them are beginner-friendly. From building exquisite dining chairs to cute toddler chairs to grand outdoor chairs, you will get instructions and tutorials to build all. You will also get guides about how to finish a wooden chair for added weather protection and a gorgeous, lustrous appeal. So, just be on the list to learn a lot more.