Learn how to make a pallet desk at home with simple instructions. If you need some cool wooden desks to set up a home office or workspace, computer desk, kids table and a study desk. Just follow these 40 easy DIY pallet desk ideas that include PDF plans, detailed instructions and reveal all the tricks about how to construct durable, functional and stylish wood pallet desks at home cheaply. The pallets can be used uncut and without any alteration or modification for building stand-out pallet desk designs. At the same time, they can be dismantled into a pile of separated planks to build every design of the desk you are highly obsessed with.
Explore this collection of 40 DIY pallet desk ideas based on genius hacks and ultimate creativity and will impress at a very first look. From simple toddler desks to L-shape corner desks to multi-functional and multi-user desks, you will learn here to build all kinds of homemade pallet desk designs.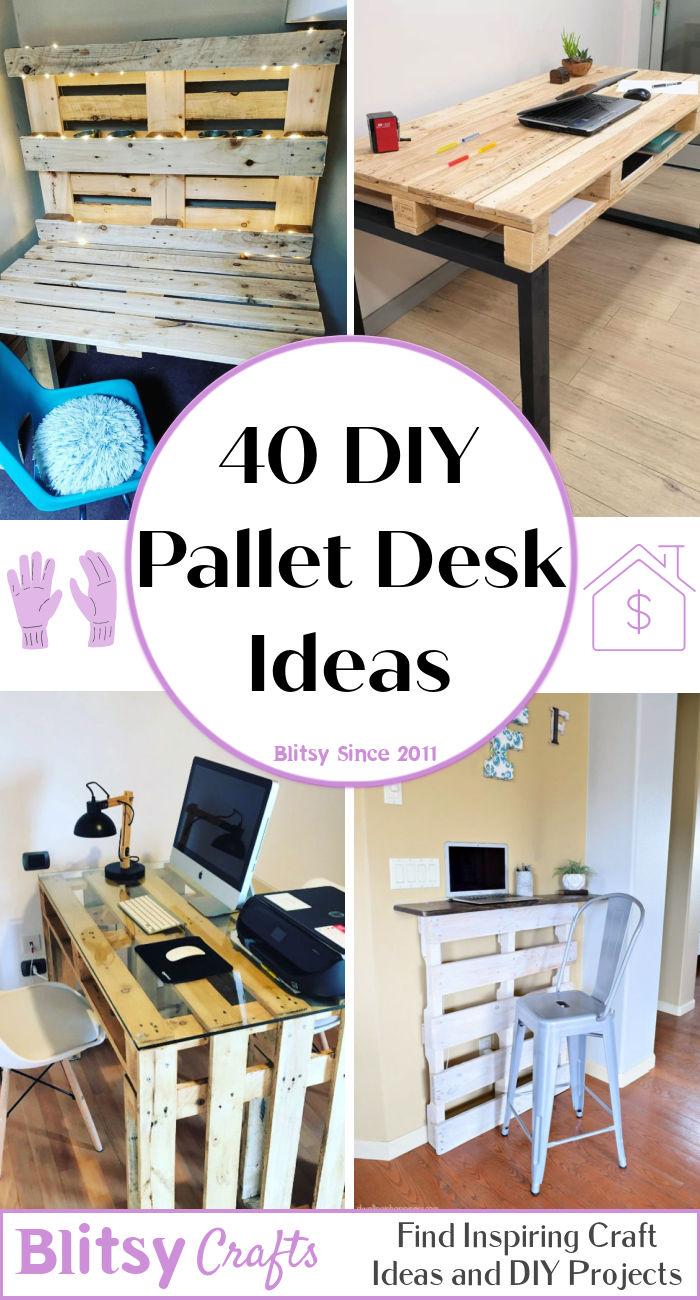 Building a pallet desk can be as simple and quick as finishing a pallet with a metal hairpin or wooden legs. But to build a custom model with lots of features, storage options and even with custom fitting design dimensions can be tricky. The feasible pallet shapes and already cut deck boards will help save your time while making the desk constructions a total breeze. From easy to intermediate to advanced, there are DIY pallet desk plans and ideas for all skill levels. Just take a quick tour of all the diy pallet wood desks to get an expert in making all types of desks.
1. Pallet Computer Desk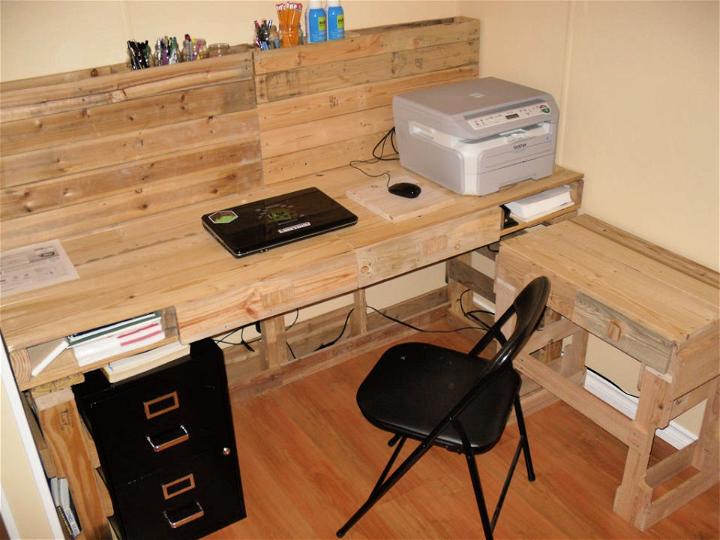 Have you got some free pallets? You can simply build all kinds of pallet furniture that are on your to-do lists. This project will share details about how to build a solid corner computer desk out of pallets. Most of the design is built from uncut pallets, and the dimensions of the desk designs are too robust to live long. Moreover, the cubbies in pallets are as they are and hence allow the user to store various things in them. Learn a lot more by looking at the given design sample, built to inspire. instructables
2. DIY Pallet Farm Table Desk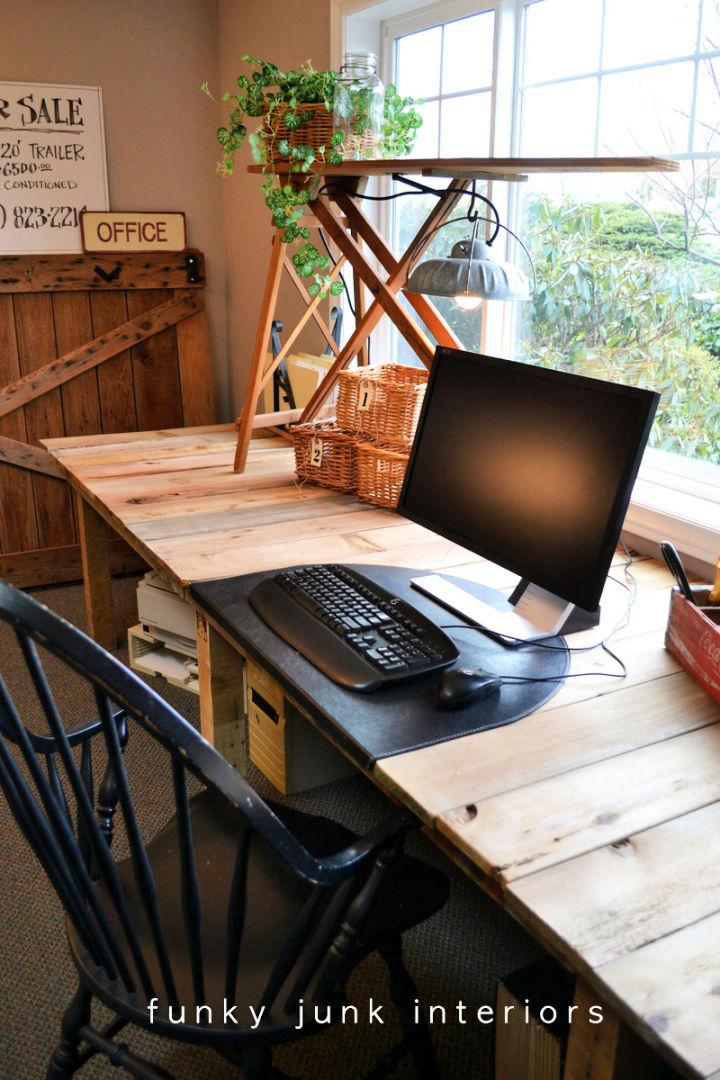 You can organize a whole home office or workspace with pallets. Peek into details of this grand wooden desk made of free recycled pallets. It gives the perfect desk to add to your home office and will cost you next to nothing. Build the frame of the table desk, and then keep adding the plucked apart pallet deck boards or slats on the frame to gain a slatted top. The 4x4s legs will rock to support this extra-large design of office desk. The best pallet table built for multiple users who are willing to work at the same time. funkyjunkinteriors
3. Pallet Wood Desk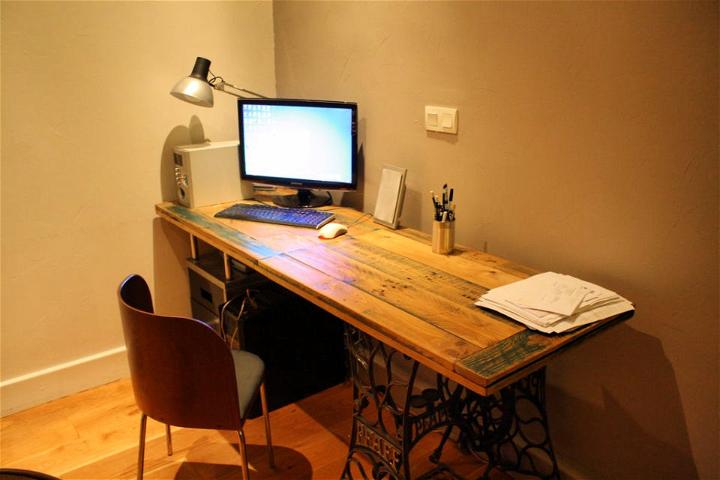 You will love the old historic appeal of this wood pallet desk, a creative remake of an old sewing machine table. This desk is used to organize a whole workspace and is truly something lasting longer. You need at least 4 pallets, an old sewing machine, a cabinet with a drawer, plywood, table legs and spray paint etc, to build this arresting design of an old-style pallet desk. The best desk to add to your home office will rock for both ready and write purposes and for computer and laptop operating. instructables
4. Wooden Pallet And Sawhorse Desk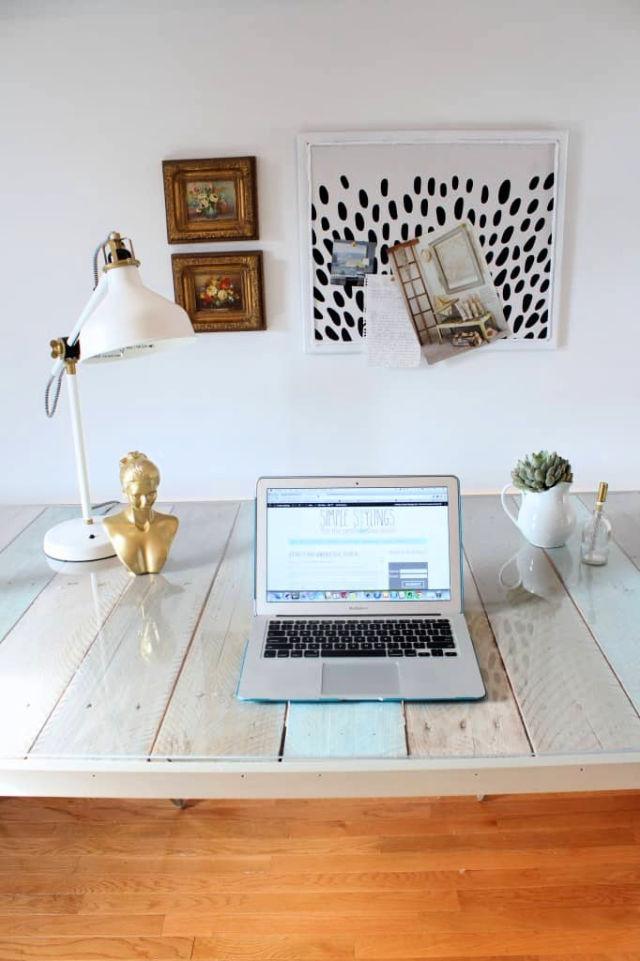 Learn how to make a desk out of pallets by building this antique wooden desk that is large enough for 2 persons to use at the same time. You need some pallets, galvanized steel sawhorses, corner brackets, plexiglass, 1x2s, liquid nails, clamps, old rag or towel, old paint or stain, and custom woodworking tools to build this extra-large sawhorse desk. It will be a great addition to your home workspace, and all antique furniture lovers will fall in love with it. Mainly you need to build a desktop out of pallets that you can rest upon the galvanized sawhorse legs. simplestylings
5. Recycled Pallet Desk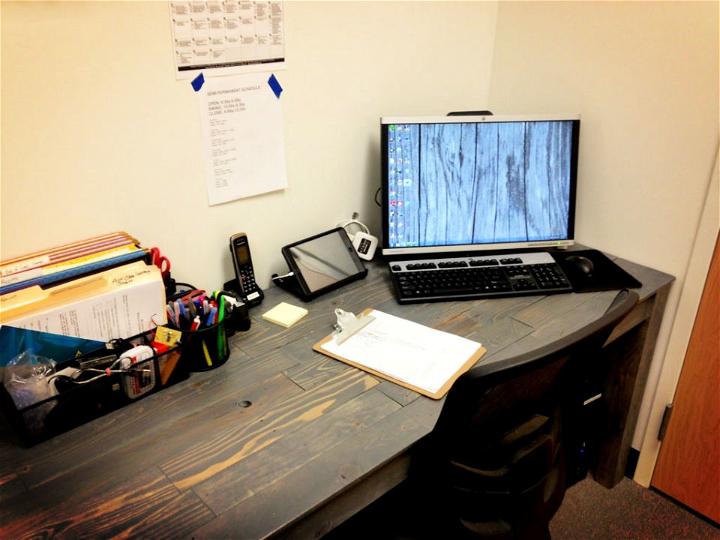 You will love this another modern curved design of desk made of pallets. The design is built for multitasking and provides tons of storage options and features to impress with. You need wooden crossbeams, 2x4s, pallets, Kreg jig system, stain and custom hardware to build this arresting design of the wooden desk. Build the desk's frame with 2x4s, and cross beams will come in handy to support the large design structure and grand top of the desk. Sand the whole desk smooth and finish with your coats of stain or paint for added visual grace. instructables
6. Desk Made From Pallets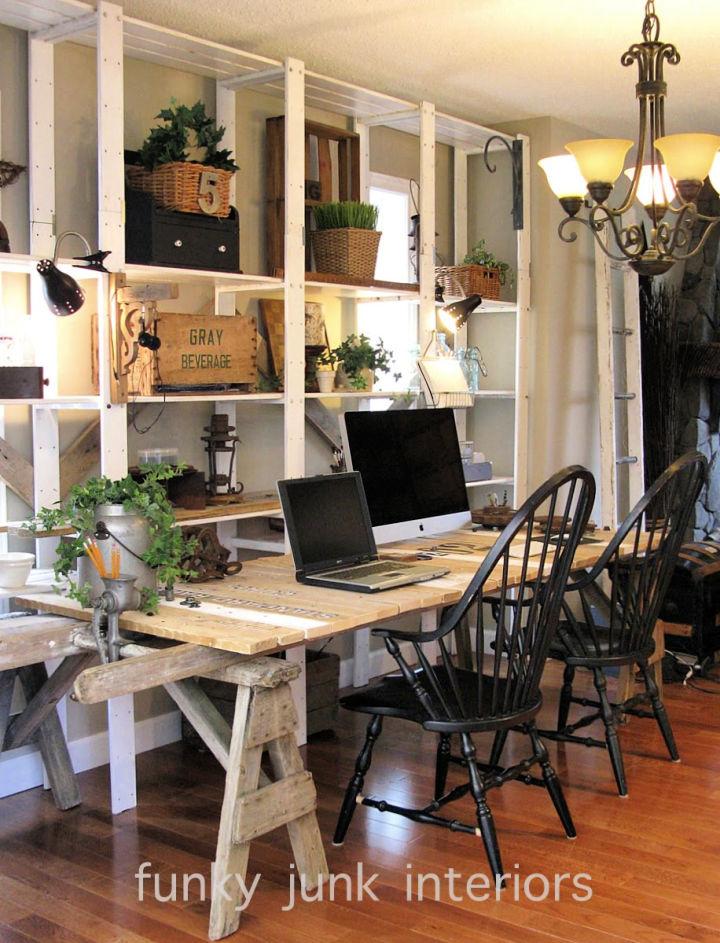 Building desks out of pallets is a hot topic. The DIYers have built tons of desk designs with pallets that are earning fame all over the web. This grand wooden desk is one of them, and it gains attention with the ultimate rustic appeal. Just dismantle the pallets and keep adding the slats flat on a rail of wooden beams to build the grand desk top. Now, make the top stable on 2 wooden sawhorse legs to gain this grand wooden deck design, built to impress and inspire. The completed desk design is too large to work for 2 people at the same time. funkyjunkinteriors
7. Pallet Desk Plan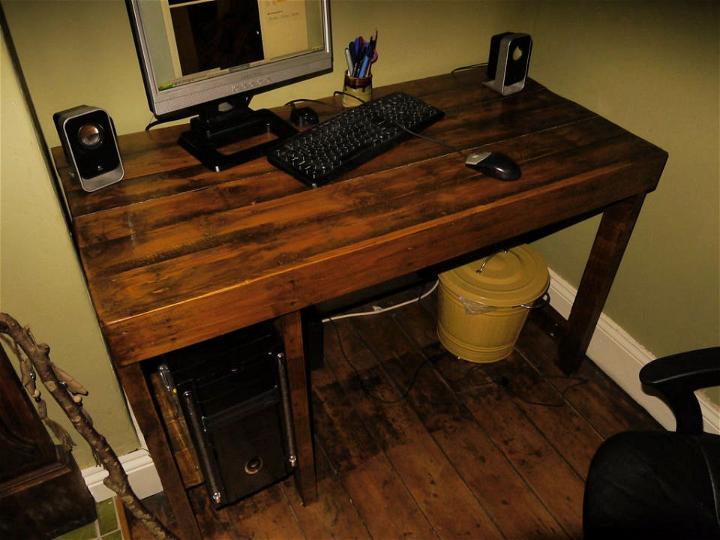 If you have a large pallet stored in your home trash store, you can easily duplicate this exceptional wooden deck design. The desk made from pallets provides a separate built-in compartment to hold your CPU and comes at a decent height for easy computer operating. It will work great for reading and writing purposes also. Start the construction by building the desk frame and then finish by installing the solid wooden top. Stain the finished design for a dark choco appeal and also for weather protection. The completed deck design will make a heart-winning present to a favorite person also. instructables
8. 8 Foot Long Pallet Desk For $50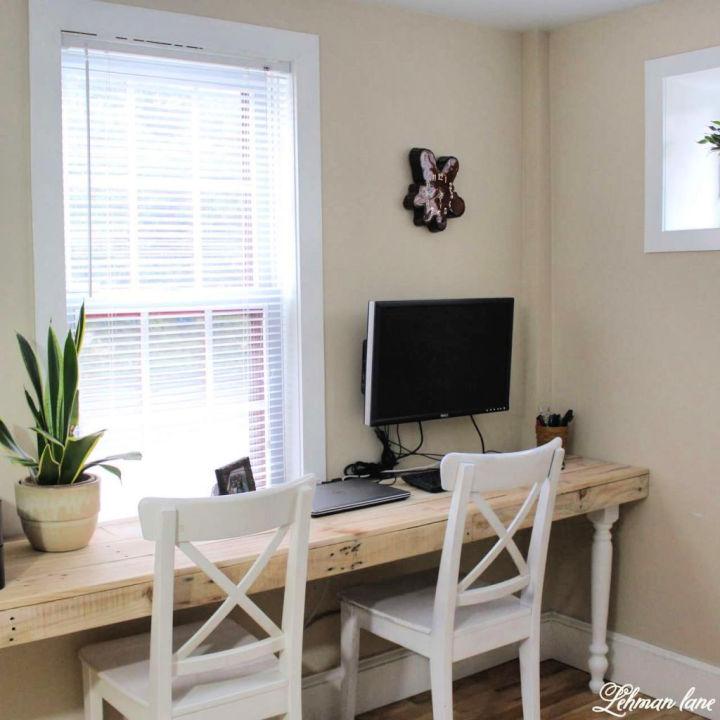 This pallet wood desk creation is just mind-blowing in all aspects. The design, dimensions, and price tags are all highly impressive. The design comes with a grand top with one side supported on the wall brackets and the other on reclaimed wooden legs. 2 persons can easily work on this desk simultaneously. It will last longer than usual due to robust design dimensions. The finally completed desk is about 8ft long and will cost you less than $50. You need 2 pallets, 2x3s, pin nailer, screwdriver, sandpaper and 2 table legs to build this grand desk. lehmanlane
9. Pallet Furniture Desk – Home Command Center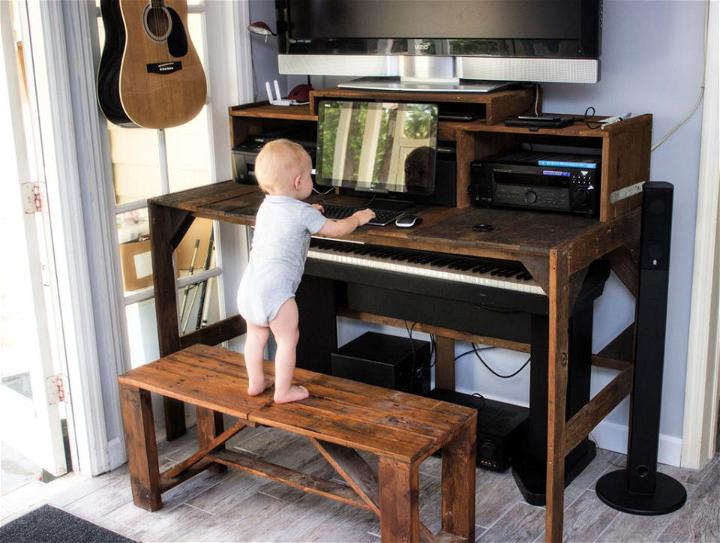 Pallets can be planed to build all sorts of furniture in custom dimensions. Here you will learn to build a large desk, the home command center, out of pallets for free. Along with an elevated desktop, the design comes with a built-in shelf and 3 compartments on the top that holds inside different media gadgets. The large display screen stands on the central raised compartment, and the entire desk will also rock for easy laptop operating. Use the leftover wood supplies to build the matching bench, as you can see. instructables
10. Inexpensive Standing Pallet Desk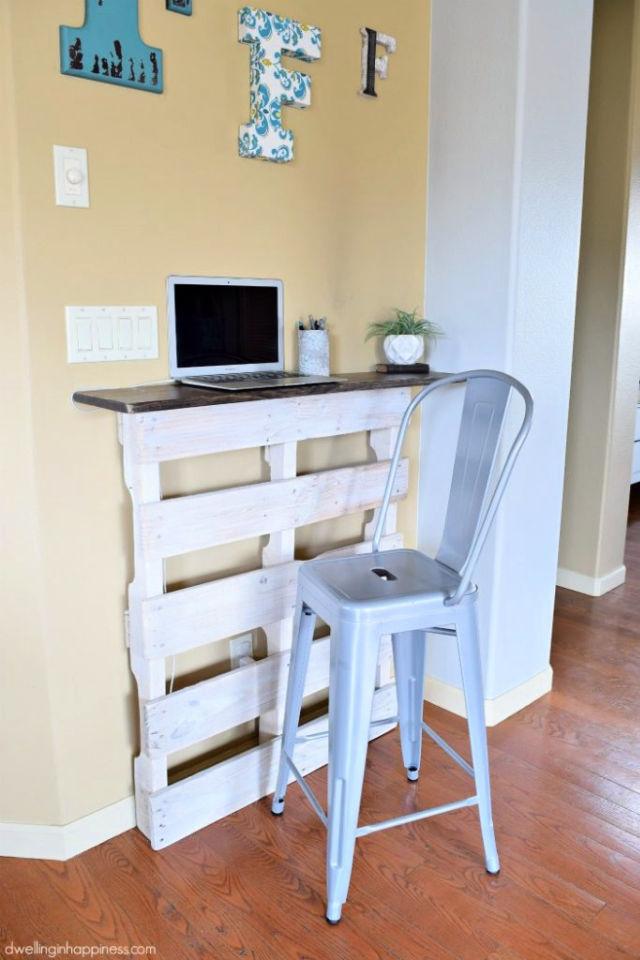 Sedentary sitting kills, and that's why the standing desks have come into the market to avoid sitting too long in the chair. However, you can build a standing desk out of some free pallets also. Duplicate the given design with an easier pallet wood creation and will simply be complete in no time. The construction is all about installing a wooden top on a vertical pallet skid. This will give you that fabulous standing desk design. For a brilliant farmhouse style appeal, paint the whole base of the desk in white and stain the top for a dark choco wooden appeal. dwellinginhappiness
11. Desk Made Out Of Pallets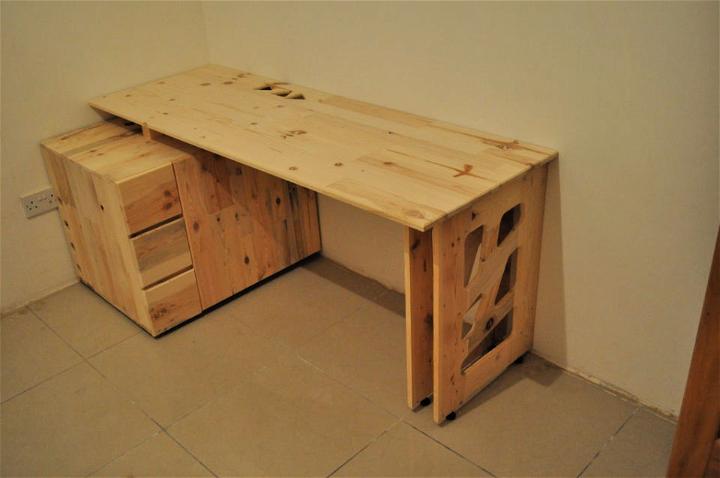 Every unique model of desk you have seen in the market can be duplicated with pallet wood. Look at these genius pallet desk creations that amaze with the solid and unique design and will fit best to a corner space. To build this phenomenal wooden desk, you need pallet wood, 10mm thick MDF, adjustable legs, drawer rails, door hinges, dowels, screws, and custom woodworking tools. The completed design provides custom built-in storage and 3 miniature built-in drawers to store all your items of need. The other side comes with cut-out design patterns that make the entire design look super unique and adorable. instructables
12. Desk Using Old Wooden Pallet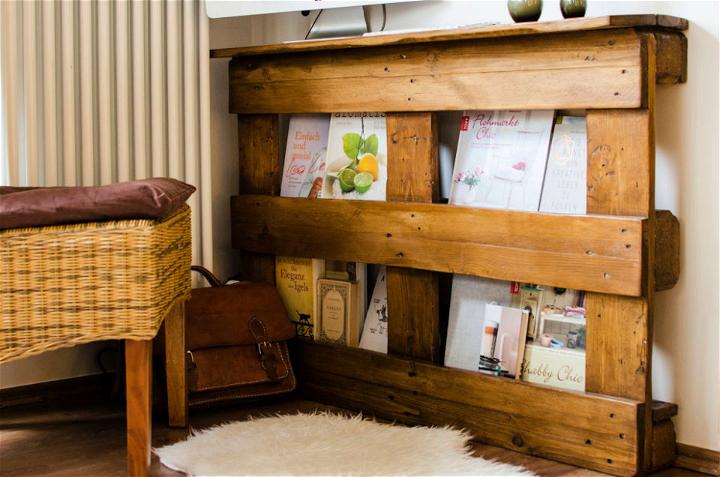 Sometimes it only takes modifying the pallets a little to build a lasting longer and fully functional desk or table. Get inspired by this bizarre pallet desk creation that is to build with a single pallet only. Just remove some deck boards from pallets and arrange them on the top of them to gain an even flat top or work surface. Use the built-in pallet holdings to store your extras, and this type of desk will surely be a great addition to one's home office. Every DIY furniture lover will fall in love with this creative pallet wood desk design. cosymore
13. Handmade L Shaped Pallet Desk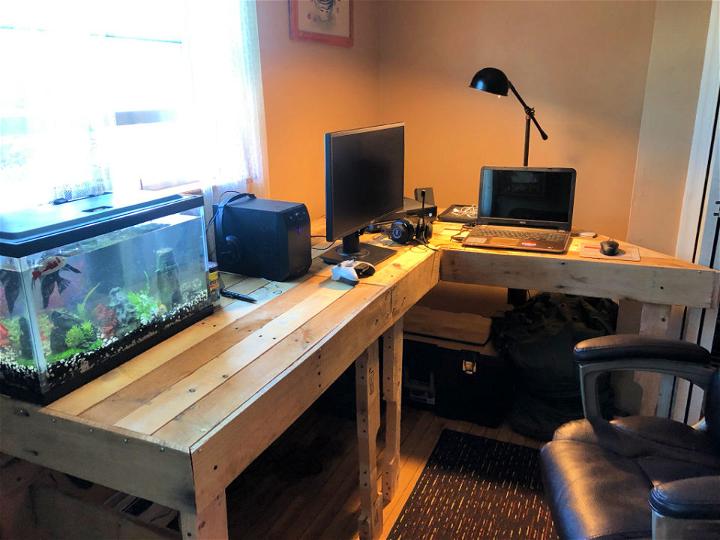 Working with pallets will also allow you to go for custom builds of desks. Build this highly amazing wooden L-shaped desk design that is built exactly to fit the targeted space and is a beautiful pallet wood creation. The project is all about dismantling a big stock of pallets to gain a pile of individual slats. Use the slats to build the grand top of the desk fitting best to the targeted space. Use the separated apart pallet stringer boards to build the heavy-duty legs of the desk. The best L-shape wooden desk to build with free recycled pallets. imgur
DIY L Shape Desk: If you need a custom table to spruce up your home office or workplace, here are amazing DIY L shaped desk plans for your tables.
14. Pallet Desk With Drawers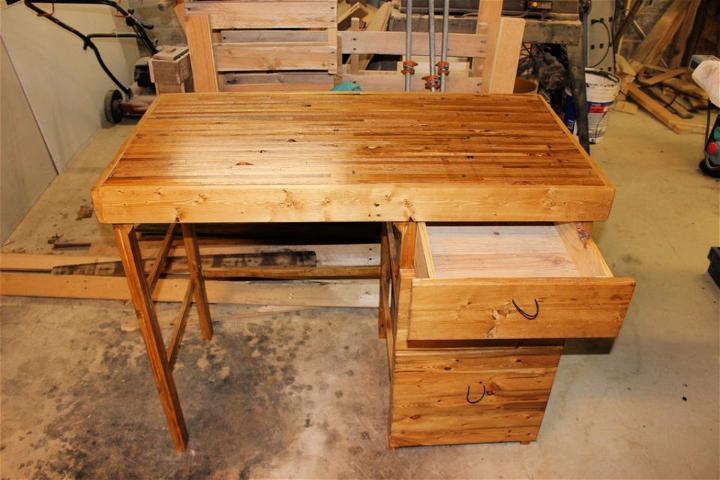 Get here complete instructions to build a solid wood pallet computer desk design with custom built-in drawers. You can simply sketch the design first that you can achieve then easily with pallets. The given desk comes with 3 built-in drawers and impresses with the solid design dimensions. The design is almost 36″ long and 32.5″ tall and can be made in any dimension to fit a decided space. Mainly you need pallet wood, wood glue, wax paper and paracord to complete this desk design. The paracord pieces are used to make the drawer pulls. instructables
15. Pallet Corner Desk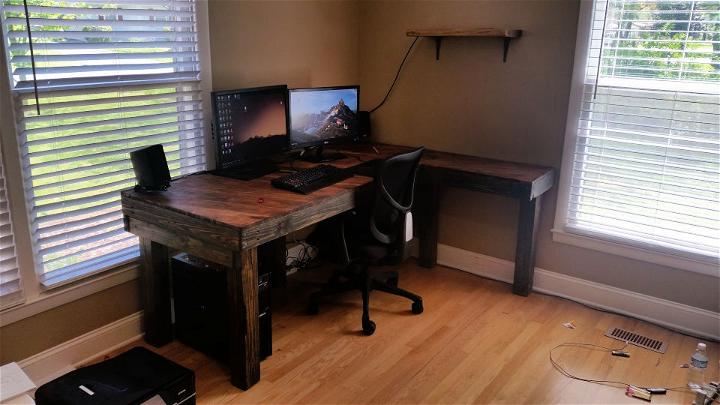 Clone this another L-shape corner desk for your home workspace, it costs next to nothing. Again a big thanks to pallets and some old floorboards for this nice, solid and handsome desk creation. The completed design is stained dark for an impressive dark choco appeal. You can add custom storage options more to customize this desk design, and it will never get out of style for sure. The design gets a perfect corner fit and stands on the heavy-duty wooden legs also. First, build the frame and then start filling it up with evenly flat cross arrangements of pallet slats. imgur
16. Reclaimed Wood Pallet Desk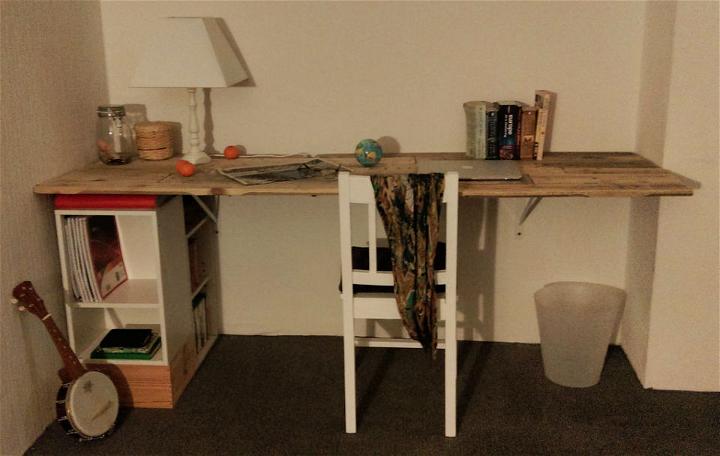 Building this solid wooden desk will cost you around 22 Euros, and you can build this bench to fit any particular space. You need pallet wood planks, wood glue, string, saw, industrial shelf holders, sanding paper, drill and glue gun to complete this arresting design of wooden desk. The completed design is 200c long and 75cm wide, and you can build this desk with any type of pallets you have around the home. The desk provides custom built-in storage options also to hold all your books and other items of need. The entire project is more than easier to do, even for a beginner. instructables
17. How To Make A Pallet Desk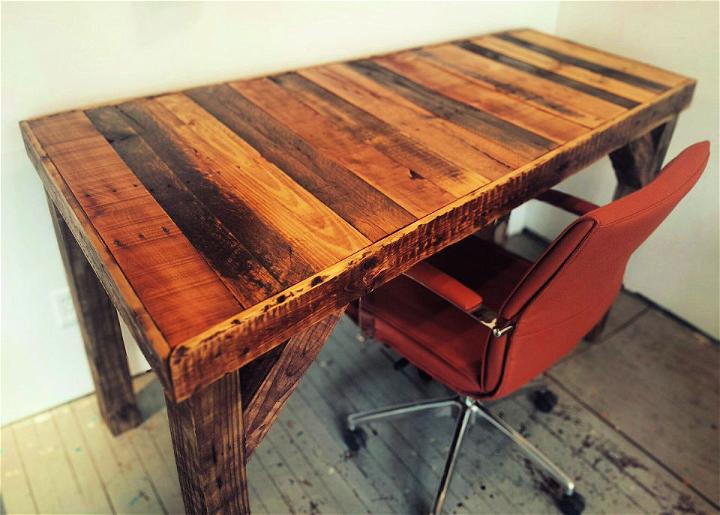 The tables and desks are the most made pallet furniture items. No matter if you still do not know how to construct a beautiful deck out of pallets. Follow the instructions here to learn how to make a desk out of pallets that will impress with the darker appeal and robust wooden dimensions. First, build the grand top of the desk and then install the heavy-duty legs and braces. You can easily construct the top by making a rectangular frame first. Don't forget to finish the completed design with custom coats of stain for added stability and weather protection. fringefocus
18. Building A Solid Timber Desk Using Pallets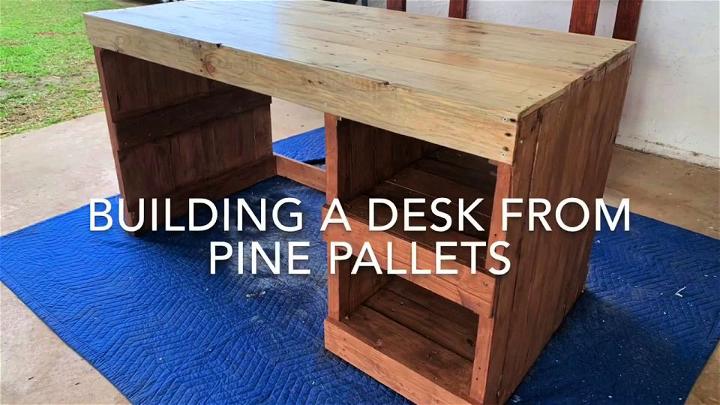 Get here free video instructions to build a solid pine pallet desk, which provides smart built-in storage options. The completed model is about 750mm tall, 750mm wide, and 1400mm long and makes a gorgeous handmade gift to a kid or favorite person. First, you have to build the 3 panels on which the whole design of the desk stands, and they work as desk partitions and legs at the same time. The given desk design comes with 2 built-in storage boxes and can hold a variety of items. You can add drawers also to built-in boxes. youtube
19. DIY Desk From Pallet Wood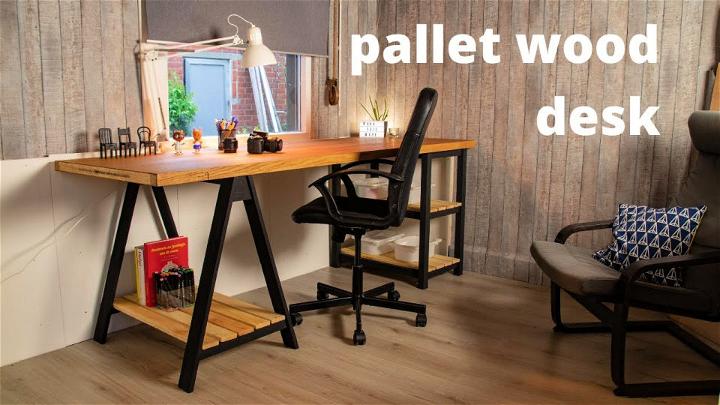 A big thanks to pallets again for this high-end design of wooden desk that provides ample storage space and a grand worksurface. One side of the desktop rests upon a sawhorse or trestle leg, and the other has two built-in shelves or storage compartments. The base framing planks appear dark while the surfaces are left blank in the bright natural tone of wood. This creates a stunning appeal for the entire desk design. Again the project is to start by dismantling the pallets first. The project involves building each desk component separately, like the trestle leg, two shelf cabinets and the desktop. youtube
20. How To Build A Desk Out Of Pallet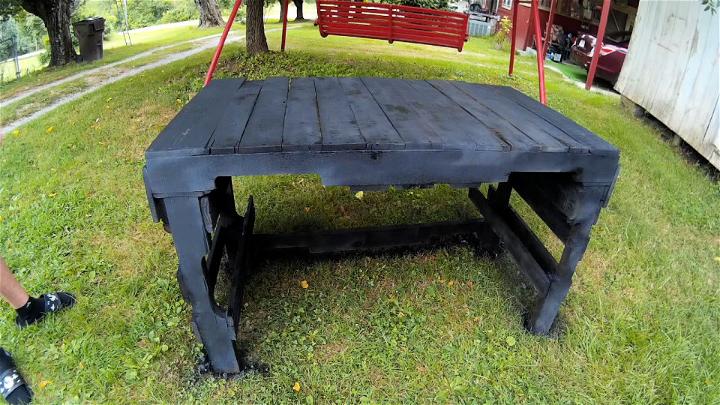 Are you a beginner and intending to build a pallet wood desk? Then follow the here guides to quickly build a lasting longer and beautiful design of the wooden desk. The idea is to cut and modify the pallets to build different desk components like side legs and the grand top of the desk. This will involve adding and removing the deck boards from pallets, and you can use the pallet stringers to install as cross beams. Fill a half-cut pallet size with separated apart pallet slats to build the grand top of the desk. One of the best and quick build models of DIY pallet desks ever. youtube
21. Pallet Reception Desk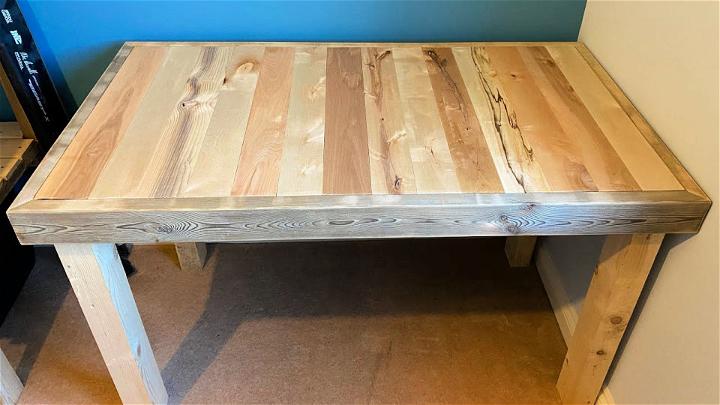 Intending to build a simple but solid wooden desk? Then you must duplicate this given model that amazes with the solid design dimensions, and it stands on the heavy-duty wooden legs. The top is built solid, and it comes packed densely with pallet wood slats. Here other scrap wood pieces have also been used to build this solid, beautiful deck design. The design of the desk is durable and stylish and can be added with several storage options also if you need it. Use a stain or paint in varying its wood tone or overall look of the desk respectively. youtube
22. Upcycled Pallet Desk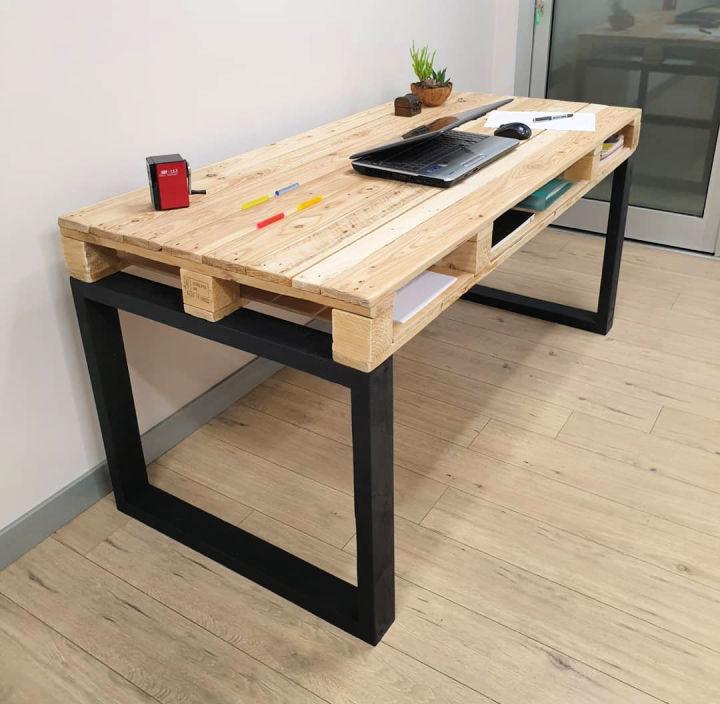 Organize your home office with this hand-built design of desk that is built modern. The box-style legs, a grand pallet top, and built-in cubbies are the main features of this elegant desk design, built to impress and inspire. You can use scrap wood boards like 2x4s to build the box-like legs, and a whole pallet can be rested upon them to build the desktop. Paint or stain the box-like legs dark so they will contrast very well with the bright natural tone of wood. Using the whole pallet as a desktop provides additional benefits in the form of storage cubbies.
23. Pallet Desk For Kids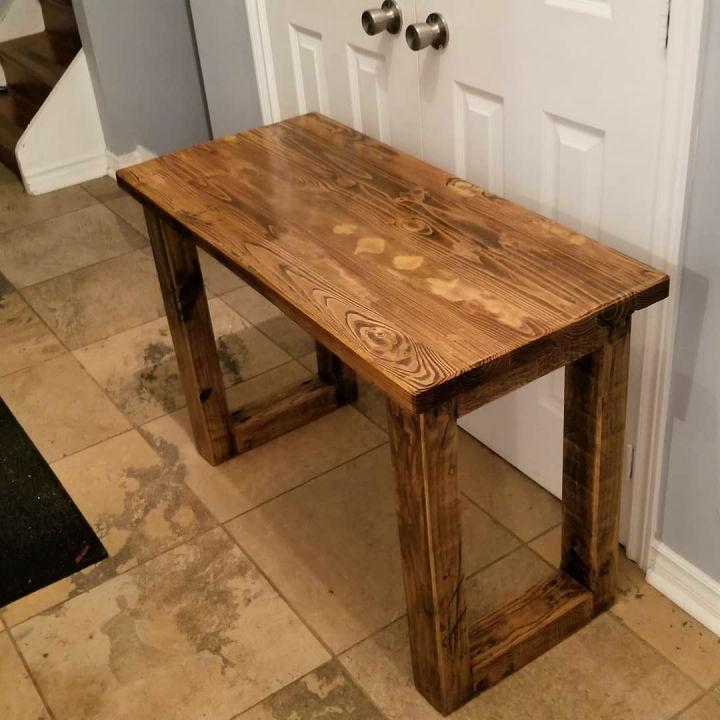 Intending to build a desk for little kids in the home? Here is a brilliant design inspiration for that, sure to impress all the onlookers. Use the pallets and heavy-duty 4×4 wooden posts to copy this kid's desk design. Give the completed design a wood-burning finish to make the natural wood patterns visible. The desk design is simple and provides no storage, but you can modify it according to your needs. It will accept the addition of built-in storage options with open arms. The best and quick-to-build kids' desk design.
24. Home Office Pallet Desk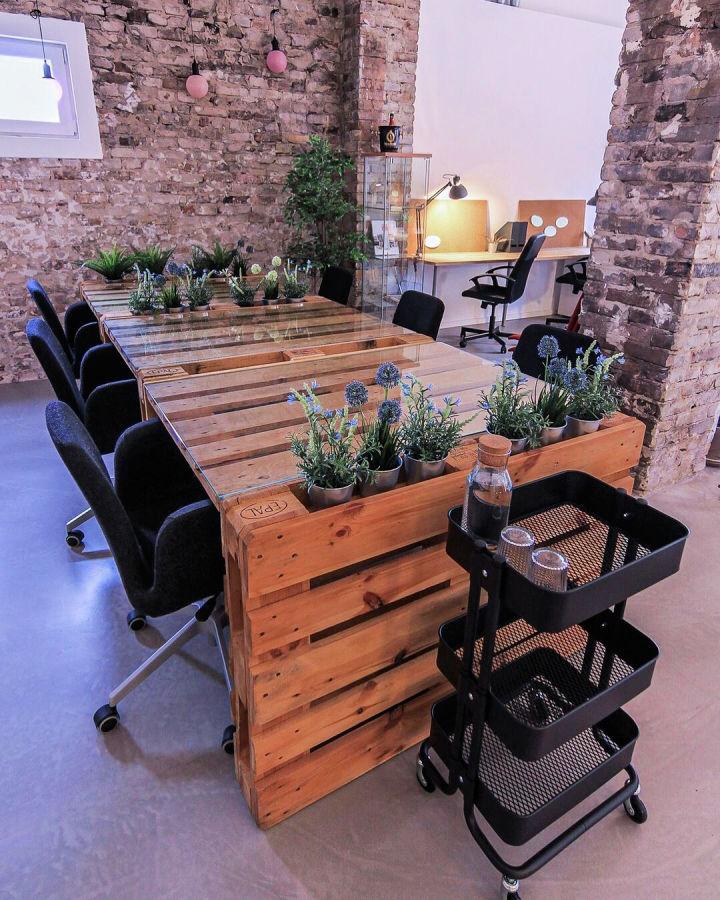 Are you working from home and sorting out the best desk for your workspace? Then do build this grand wooden desk out of pallets, which makes a great conference table also. The addition of garden pots and glass top finish takes the desk's beauty and elegance to the next level. You can easily plan the EURO or EPAL pallets to build this fantastic wooden desk. The whole desk is made of uncut pallets. 4 pallets are vertically aligned to give the durable desk legs, as you can see. Everyone will just love to sit around this wooden desk design.
25. DIY Study Desk From 4 Pallets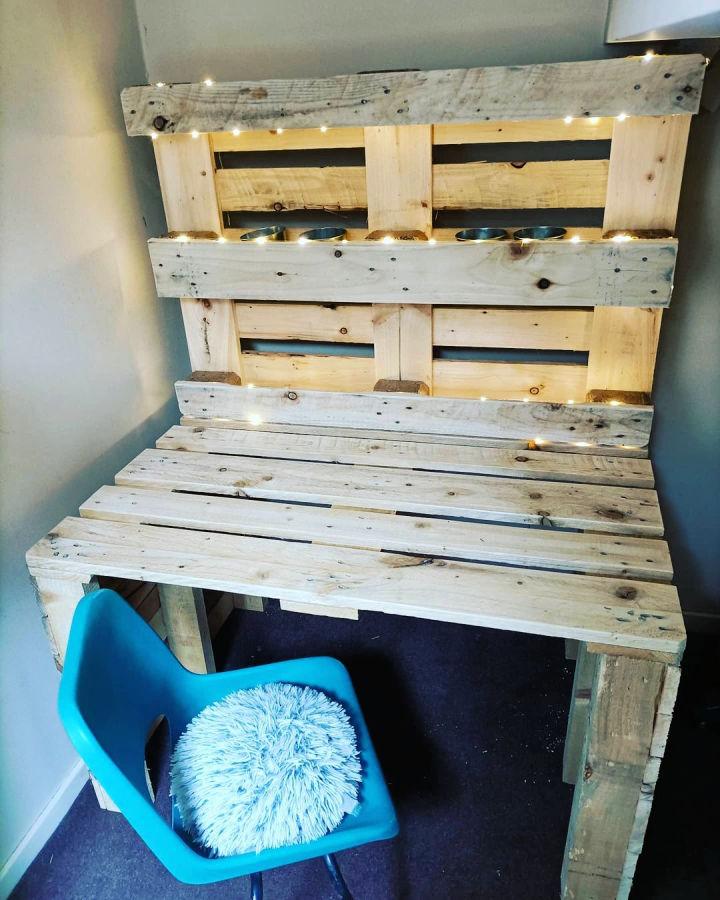 Surprise your kids with this handmade desk gift, a handsome 4 pallet creation. Most of the construction is done uncut, but a little modified pallet and design will be there in just no time. Plan 3 pallets to build the basic desk and use a pallet vertically to install the back wall that is lighted here with LED string lights. The overall design is rustic but can be stained or painted for a modern custom look. Use this desk as a study desk, computer desk and also as a garden potting table. One of the most beautiful pallet wood creations, the solid wooden pallet desk.
26. Pallet Desk Design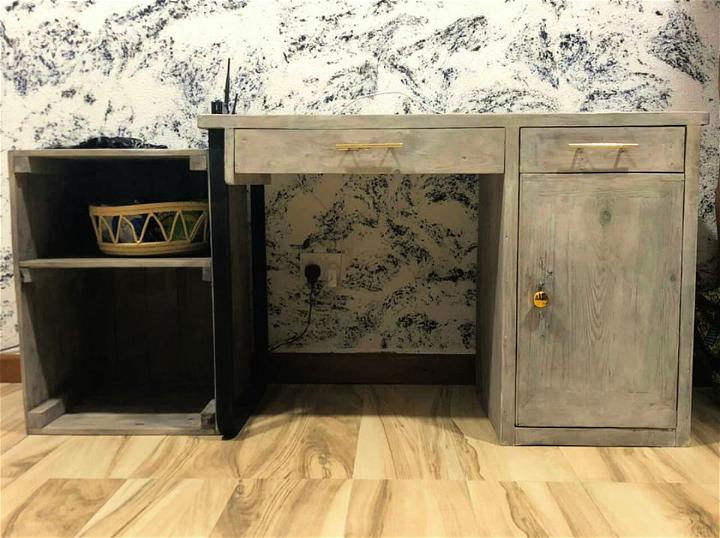 The design ideas for pallet desks are never-ending. Feel free to duplicate this another handsome wooden pallet design that comes with storage cabinet legs and also comes with built-in drawers for most secured types of storage needs. One cabinet comes with a hinged door, and is other is left open to hold your things directly and safely. Stain the desk for a changed wood tone and also paint it to match your home office decors. However, you can add or remove custom features to get it exactly to suit your needs.
27. Fantastic Pallet Desk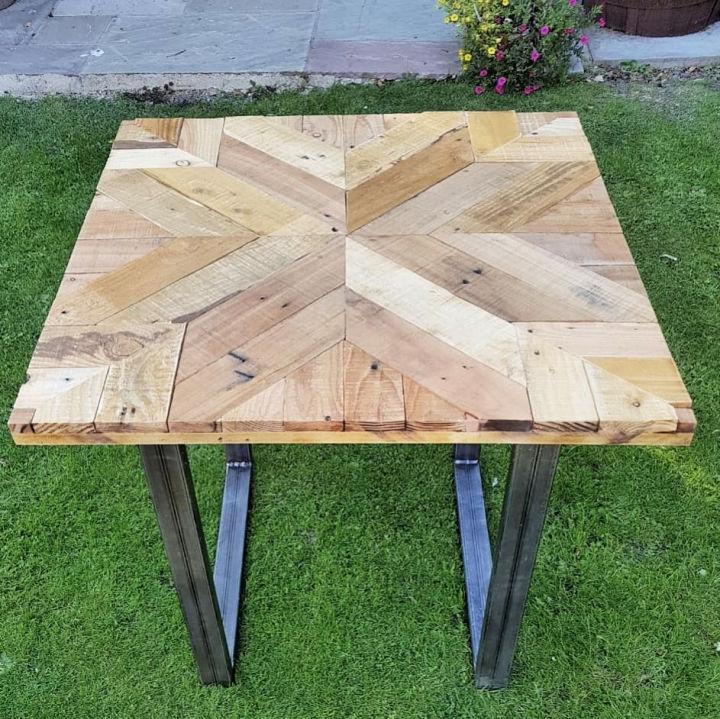 Are you addicted to patterned top tables and desks? Build them also with pallets like a pro. Look at this industrial square desk model that is built to live for years to come. It stands on heavy-duty box-style legs that are built by going through a welding process. For a multi-chevron square top, you can easily pack and arrange the pallet wood pieces on a square piece of plywood or MDF board. The whole design is more than easier to build and will never get out of style. Stain or paint the whole desk design for a custom look.
28. Repurposed Pallet Desk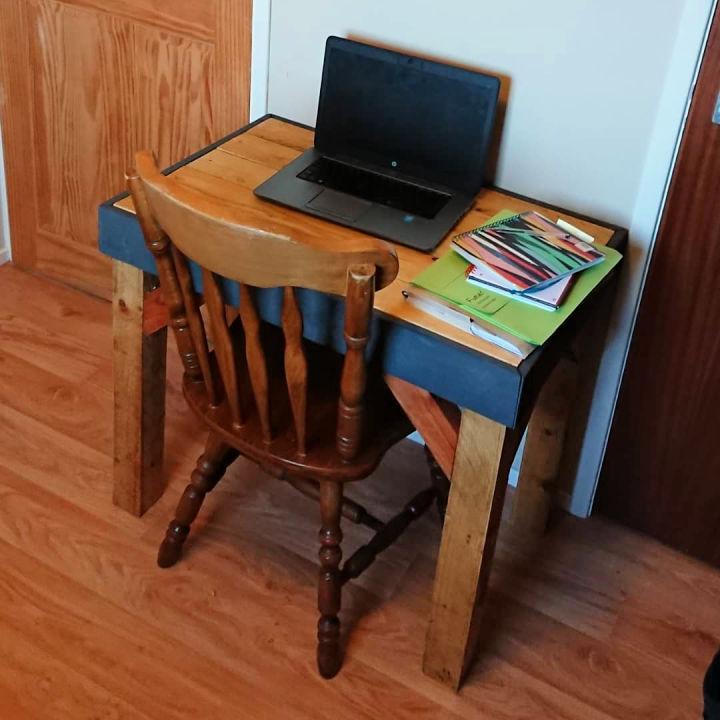 Before buying a kids' desk design, peek into the details of the given sample desk made of free recycled pallets. It comes with a zero-cost price tag and will be unbeatable instability and performance. Put together the pallet wood slats to build first the heavy-duty desktop and then finish the design by installing heavy-duty legs. The square wooden posts will rock as the solid legs of the table. The design is impressive and can be given as a great birthday gift to a favorite kid In-home. Paint or stain it in the way you like.
29. Small Corner Pallet Desk

Duplicate this another cute desk design for kids in the home, impresses with the brilliant triangular design. The separated apart pallets have been packed flat to build the triangular top, and you can easily plan the separated pallet wood slats to build the solid base of the desk. The design is cute enough to give a lovely birthday gift, and it will surely help keep the toddlers busy creatively. Here it appears in the bright blank wooden appeal, but you can also paint or stain it for a custom wood appeal.
30. Pallet Desk For Office Space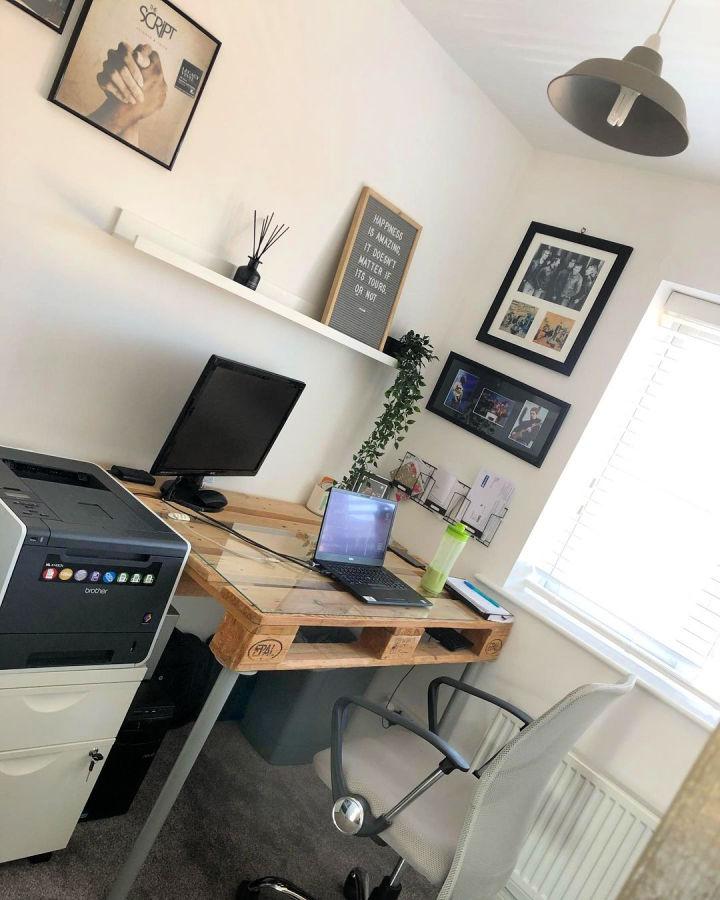 Are you looking for the best modern desk design to add to your office space? Then do duplicate this desk model that is solid, stable and comes with a glass top finish. Just finish a pallet skid, having an exact size of the desktop, with a custom metal pipe or market-bought IKEA legs to build this epic wooden desk. The design is solid and modern and will never get out of style. The best part is that you don't need to go through the boring processes of cuttings and taking measurements while building this solid and modern wooden desk.
31. Fold-Up Pallet Desk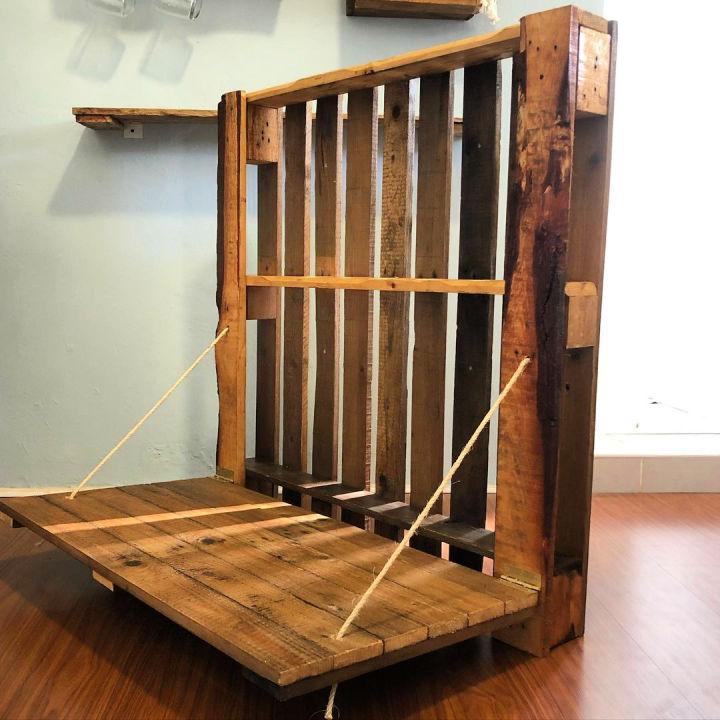 Are you looking for a space-saving design for a pallet desk? Then nothing will work great, but this DIY folding table design. The project is mainly with uncut wood pallets, and you have to separately build the folding surface with plucked apart pallet planks. Use the hinges to allow smooth folding movements, and also use the heavy-duty rope to hold the work surface in place without any extra stretch. When not in use, the desk surface will fold in the frame, and you can easily mount it up on the wall using durable hanging hardware.
32. $11 Pallet Desk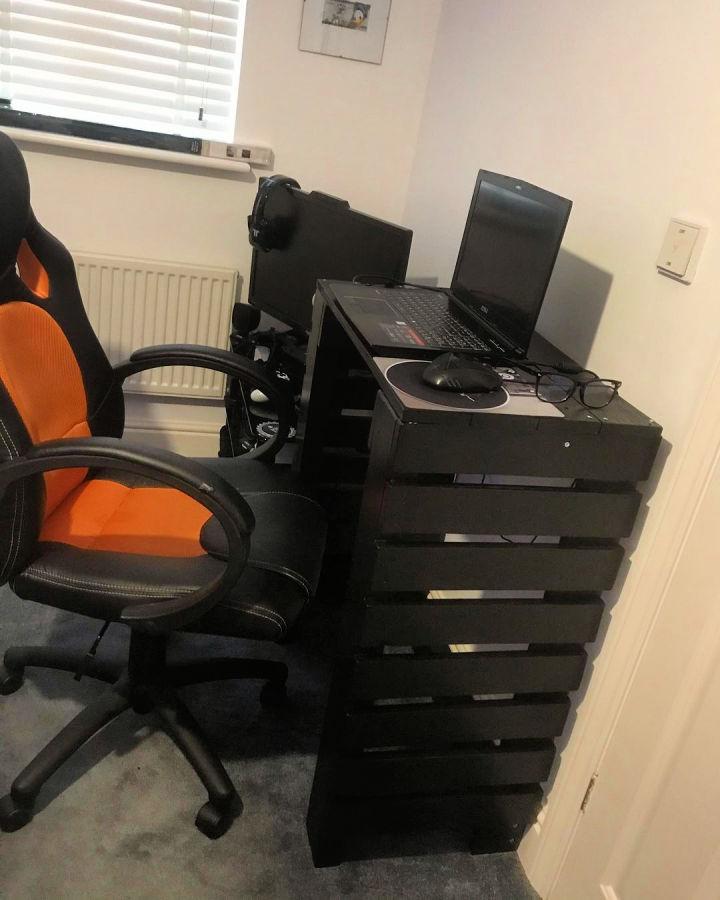 You will surely fall in love with the beautiful appeal of this robust wooden pallet desk that is appearing in the enchanting black color appeal. A wholly beautiful pallet deck built for easy laptop operating and allows you to store custom items underside. It will only take a few pallets and some scrap wood pieces to build this super beautiful wooden desk, sure to impress all. The black painted appeal matches the chair and laptop color, and the entire setup cast a beautiful black theme. You have here the freedom to build this desk with any custom height level.
33. Simple But Functional Pallet Desk

You will surely fall in love with this exceptionally beautiful wooden pallet desk. It hangs on the wall and surprises with the folding out desk surface. Add a whole pallet on the wall as the mainframe and install a folding plywood worksurface using durable hardware hinges. Support the desk surface more using a heavy-duty metal chain, and that's it. The pallet chock sections have been modified to serve as lovely shelves, and it comes with a top decorative mantle. The entire design appears in the blank natural tone of the wood, and it gains the attention of all.
34. Pallet Desk With Hairpin Legs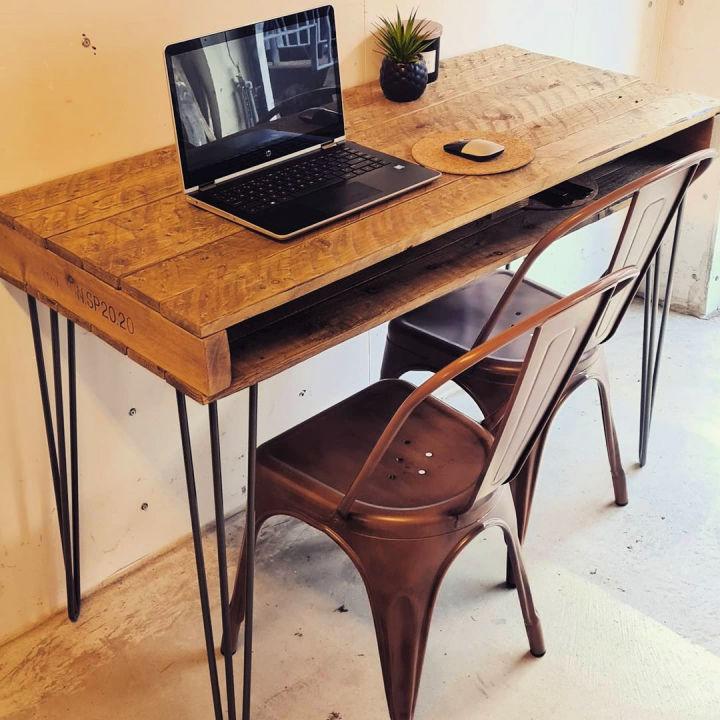 Building a solid wooden desk can be as simple as finishing a pallet with some heavy-duty metal hairpin legs. Look at the given design built in the same way, and it provides built-in storage space to hold your extras. The entire desk rocks for easy laptop operation, and you will love how it will serve your read and write purposes. This is where the best single pallet desk creation and it will never get out of style also. Make the hairpin legs galvanized, and also finish the wooden top with a few coats of your favorite stain or paint.
35. Pallet And Glass Desk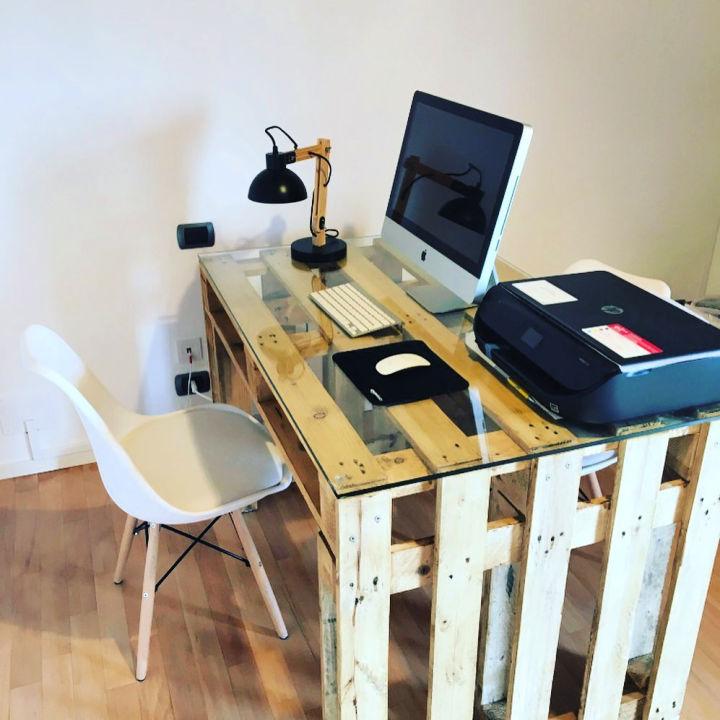 Build also the modern elegant furniture pieces out of recycled pallets. You will love the modern glass top finish and the overall sturdy design of this desk, a smart pallet wood furniture achievement. Finish a whole pallet skid, having a size equal to desktop, with a glass top and then install custom legs to it. Here the legs and sides are made with pallets also. The given desk is solid enough to last long, and you will the final look of this desk built for the home office. The best desk idea and design to build with pallets for free.
36. Pallet Desk With Sliding Draw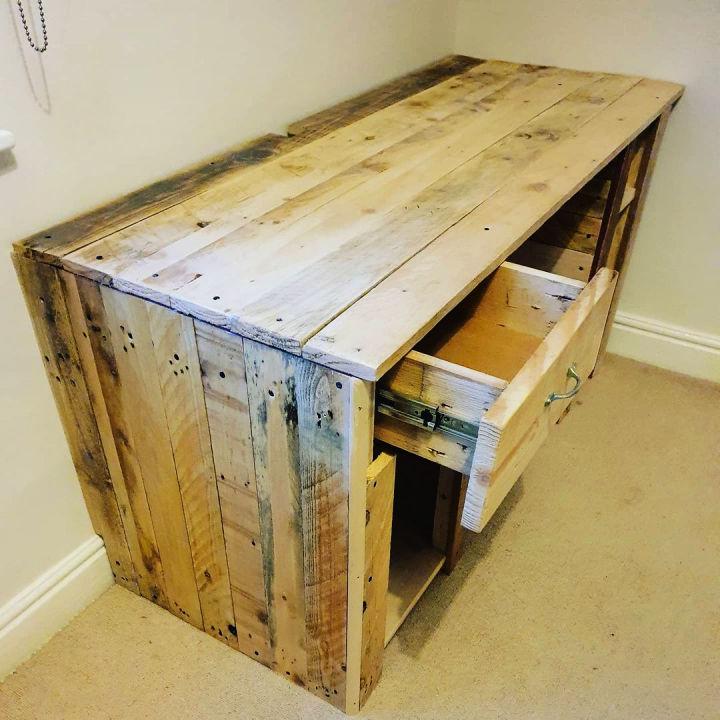 You will keep staring at this elegantly beautiful design of wooden desk that comes with custom built-in storage options. Yes, the design provides sliding-out drawers and offers built-in cubbies also for added storage space. The drawers are installed on the drawer slides, and they are super smooth for opening and closing. The entire design is graceful and much easier to build with minimal carpentry skills. This solid block-style computer desk will last longer than the ordinary mass-produced. Here most of the construction is to do with the dismantled pallets.
37. Fantastic Corner Pallet Desk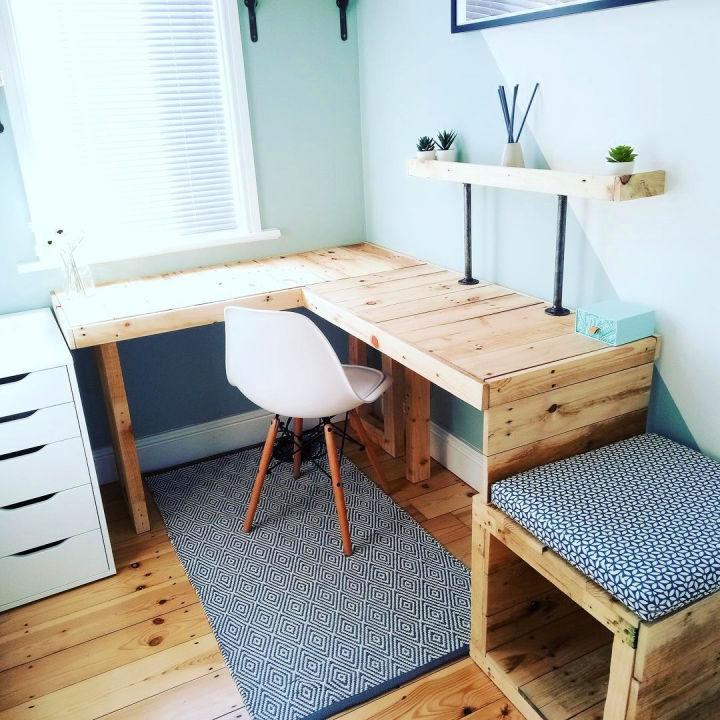 Are you intending to organize your home office and lacking a high-quality wooden desk there? Build this L-shape wooden pallet desk that will fit the targeted corner space best and stands on the robust wooden legs. Build first the design frame and then fill the desk surfaces with separated apart pallet wood planks. Further, a decorative mantle is installed on the desktop using the metal pipes and floor flanges for the lovely elevation. The desk design is just like build two different desks and then put them together finally in L-shape. Everyone will love to sit around this L-shape corner desk to work on a computer.
38. Adorable Pallet Desk Design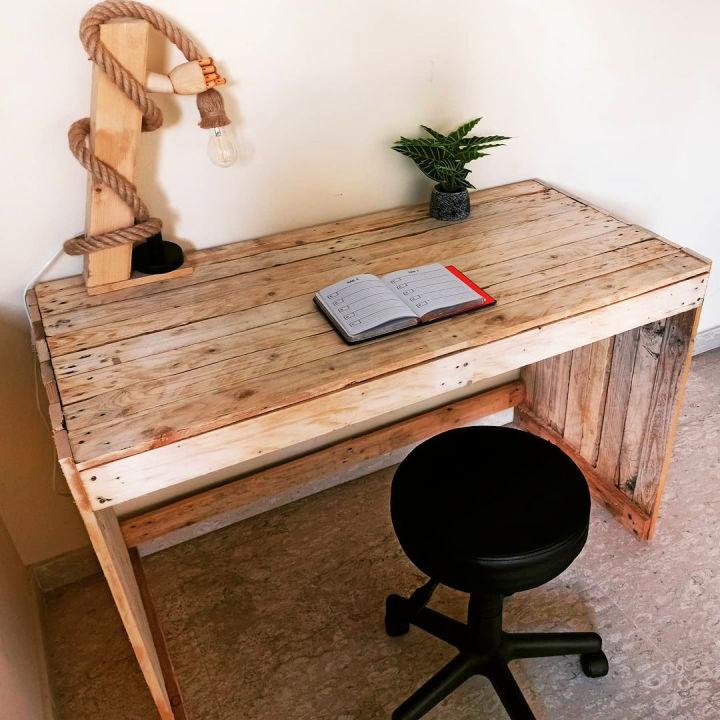 If you love rustic furniture, then this rustic pallet desk will get ten out of ten from you. Here this desk is made with custom wooden panels made of individual pallet wood planks. Put the slats together to build the sides and top of the desk. Finally, the whole design is strengthened with a cross beam support and will make a superior homemade gift to a favorite person. One of the best DIY desk designs to build with dismantled pallets. It will simply cost you next to nothing.
39. Industrial Style Pallet Desk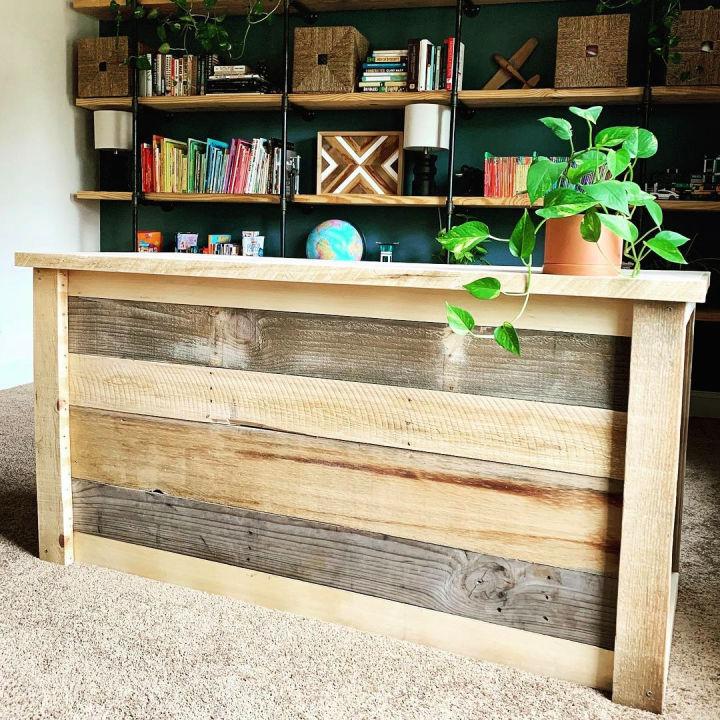 Follow comprehensive guides and instructions here to build an industrial-style solid wood desk that is a breeze to build with minimal carpentry skills and experience. First, decide the design and dimensions and next, use the dismantled pallets to beautifully build the surfaces and different components of the desk. The completed solid wooden desk comes with different wood tones, which graces up the whole design more. Everyone will just love to build this arresting design of pallet desk that comes with a zero price tag. So do duplicate this arresting design of a wooden pallet desk.
40. Rustic Pallet Desk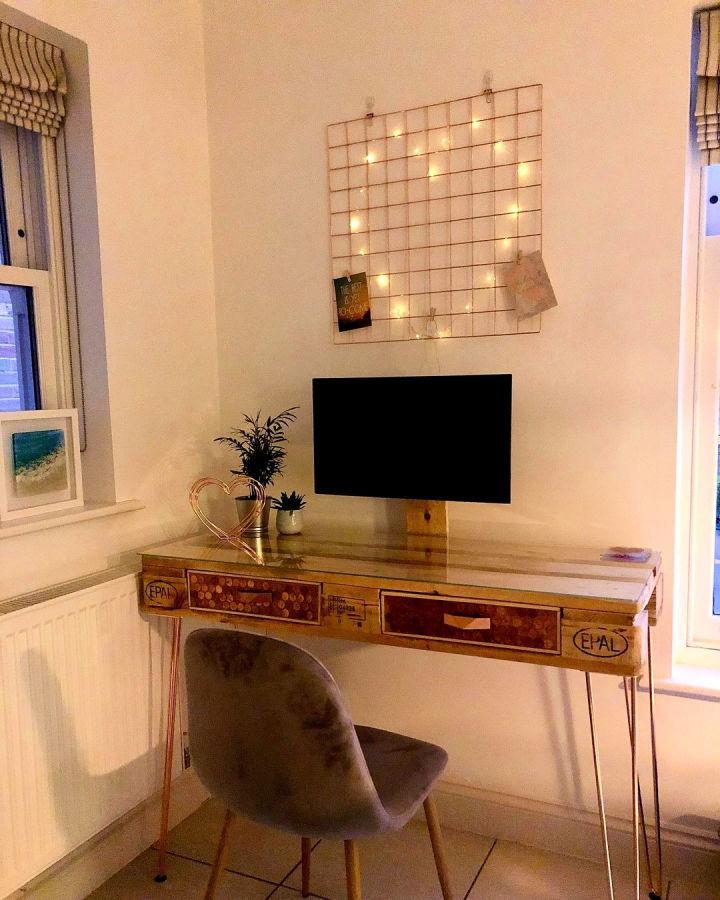 Clone this another fantastic design of wooden pallet desk that stands on the robust metal hairpin legs. Sand the whole EPAL pallet smooth and remove the splinters, and this will help create that bright wooden top of the desk. Next, install the heavy-duty metal hairpin legs to this particular desk design and finish it by installing the storage drawers in the already built pallet skid. The best storage-friendly design of pallet desk ever built at home. It will make a sweet handmade gift also to a favorite kid or person at home.

Conclusion:
From reading and writing to laptop or computer operating, the desks and counters are a big need. So, this list of simple DIY Pallet Projects will share with you different techniques and guides about how to build amazing desks out of recycled pallets. From simple desks to standing desks to custom-built storage-friendly desk designs, you will learn here to build all sorts of desks like a pro. These pallet wood desk ideas will share complete step-by-step instructions, detailed diagrams, complete materialists, hardware lits and tool lists to give you total ease to build a handsome wood pallet desk like a pro. So, check out all the shared projects to learn more about making tables and desks with pallets.