Wooden floors add value to your home and improve the air quality as well. However, installing a wooden floor does not come within everyone's budget. However, find these 15 DIY wood pallet flooring ideas that are cheap to install and come with detailed free installation instructions. Just like the pallet wood wall paneling projects, you can nail the pallets on the floors with or without installing an underlayment.
Browse these 15 DIY wooden pallet flooring plans and see some on-trend designs of them to choose from. Mostly, the pallet wood floor projects are all about dismantling the pallets to have bigger piles of separated apart wood planks. Next, you can use them to cover your targeted interior floors. Not merely installing the wood floors, you will also get instructions for the wood floor grouting and finishing.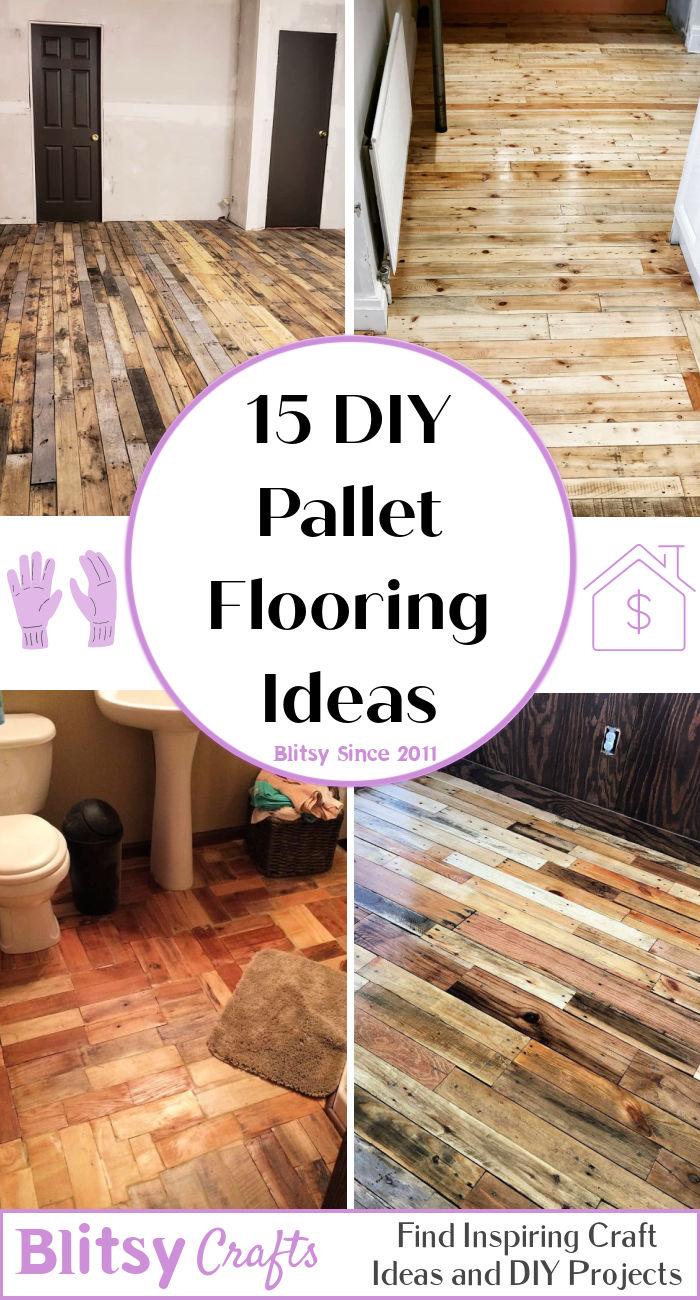 These pallet floors will enhance the look of every targeted space by providing the necessary wooden elegance. The best part of wooden pallet projects is that they will look great in all home decor themes and will also be long-lasting and cost-effective at the same time. Like the other floors, these pallet hardwood flooring will not fade and will also be much low on maintenance. Look through all these DIY pallet wood flooring Projects to see a lot more unique designs. However, you can install these wooden pallets flooring in the bathroom, kitchen, bedroom or living room for graceful wood. You will get here instructions for installing outdoor pallet wood floors also.
1. Wood Pallets Flooring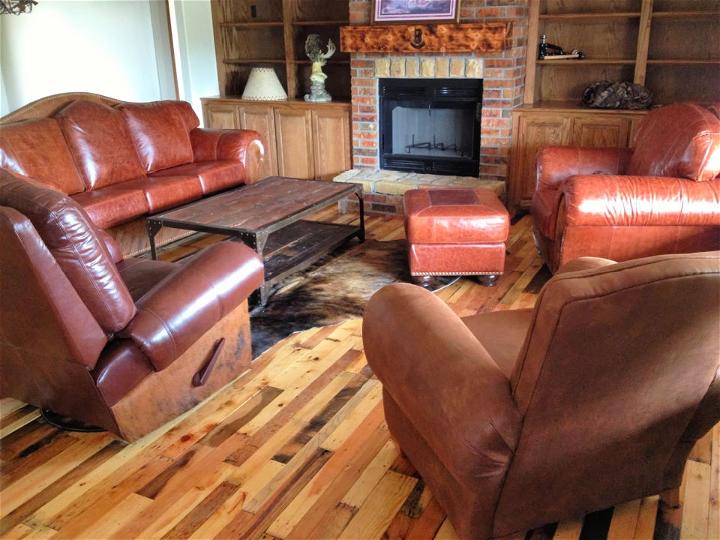 The wooden floor can provide that ideal floor strength while adding that warm natural feel of wood to an interior. But it can get expensive to get a wood floor installed. However, this given wood floor will be ready at a fraction of the cost due to being made of pallets. It features so many different tones of wood and will surely help insulate that particular room interior also. Install the underlayment and then nail down the pallet wood slats to easily complete the entire wood floor. abuildingweshall
2. DIY Pallet Flooring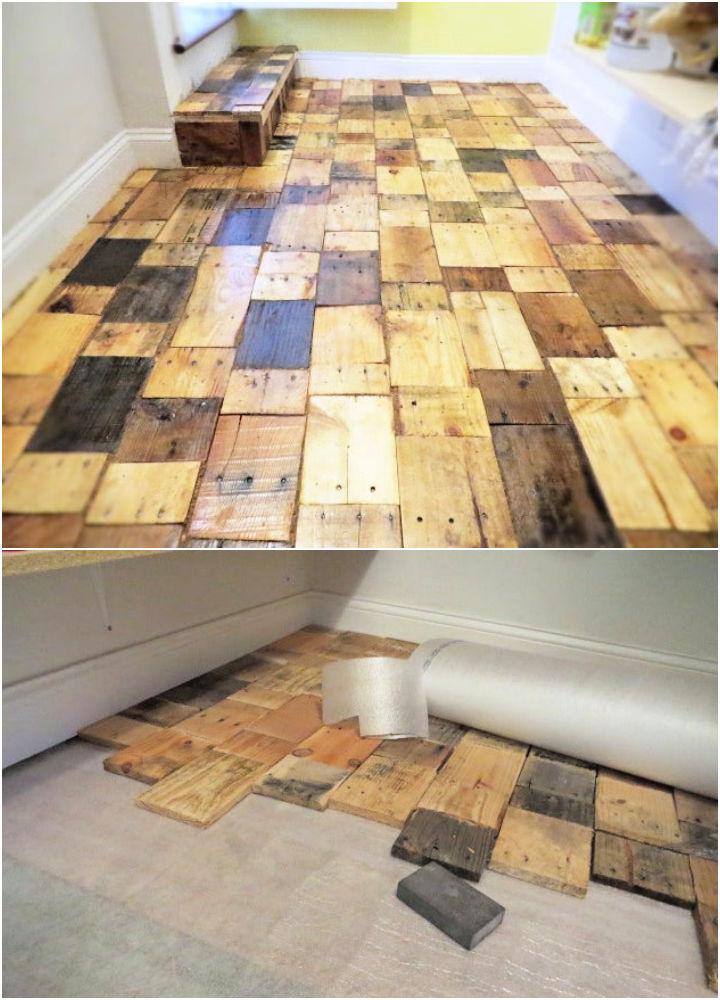 Say bye to those expensive laminate and designer hardwood floorings. Install your beautiful ones using the free pallets. They will look graceful and can be finished for a sleek modern appeal also. However, it will be super frugal and eco-friendly to go with the pallet wood floors. First, just grab a big dismantled pile of pallet wood slats and go for some dry arrangements. Next, install the foam underlayment or insulation and finish with additional wood planks. One of the best and quick-to-do DIY wood pallet flooring projects will surely inspire all. instructables
3. Recycled Pallet Flooring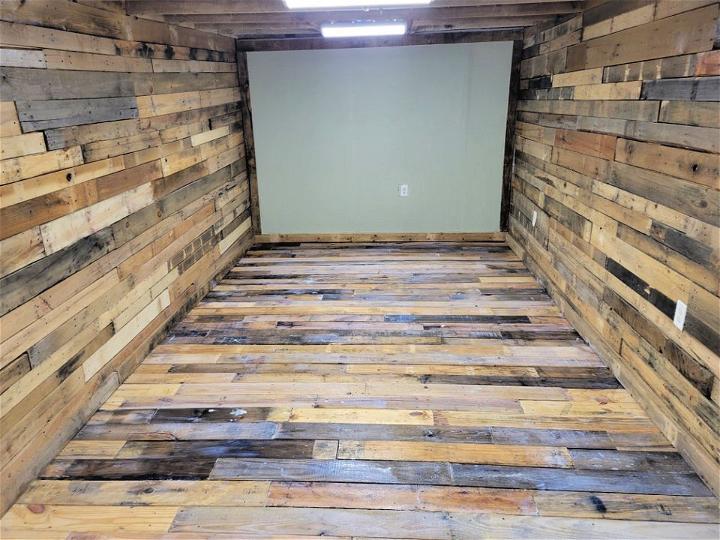 Willing to lift the mood of your home by making some quick improvements? Then a wooden floor can be the thing you opt for. It will bring that natural wooden character and that rustic warmth to a targeted interior. However, installing a wooden floor can be as easy as ABC and will cost you next to nothing when you select the pallets. Look at this given wooden floor that is looking awesome and is done with the free recycled pallets. Just separate the pallets and start arranging the wood planks on the floor and walls one by one. However, you can install an underlayment first for easy nailing of planks. One of the best DIY pallet theatre room makeovers.
4. Wooden Pallet Floor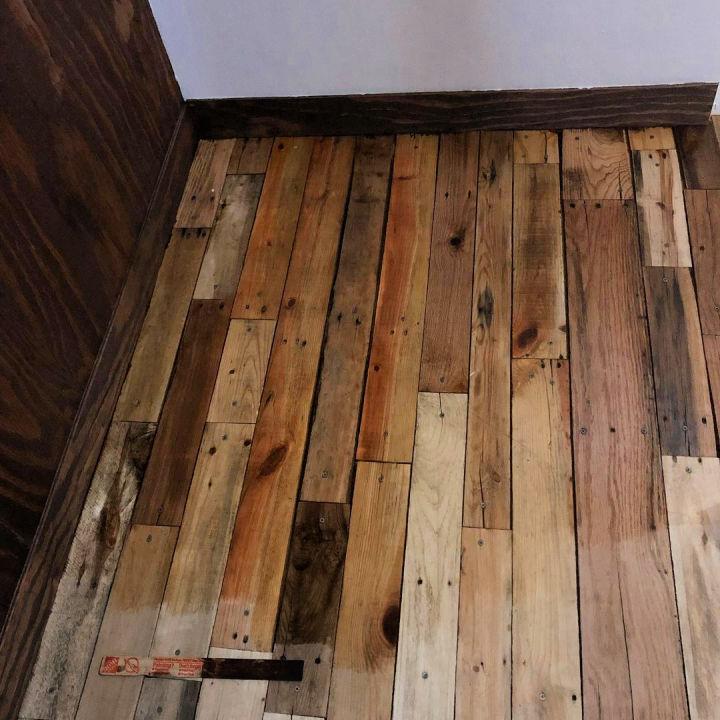 It will take the beauty of an interior to the next level. The handsome wooden flooring is done with free recycled pallets. The rustic wooden appeal will be loved dearly by all, and it will be super solid and comfortable to walk on also. Unlike the laminate flooring and any other wooden flooring, this handsome wooden floor will be ready at a fraction of the cost. You can give a nice varnish or polyurethane finish to the entire flooring just to protect it more from early weathering. One of the quick-to-build DIY wood floors that last for years to come for sure.
5. Reclaimed Pallet Wood Flooring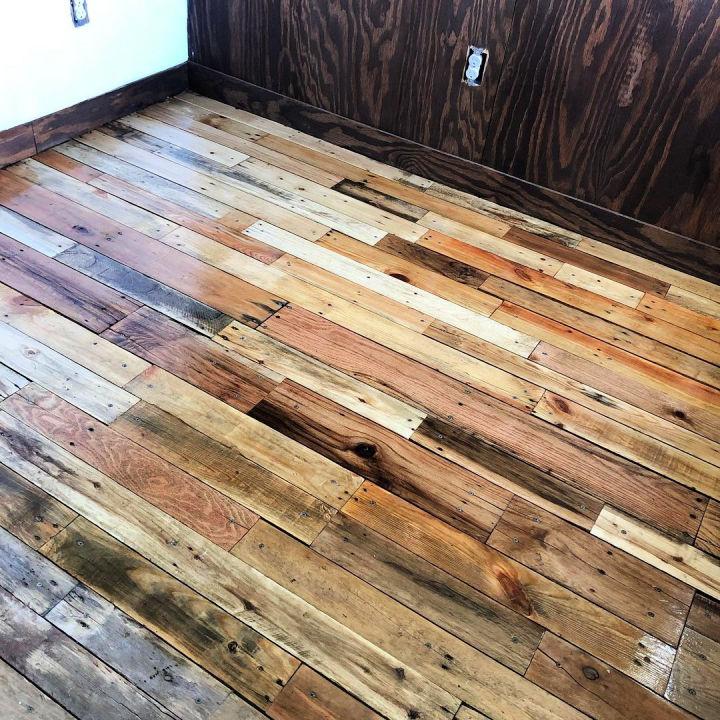 Intending to repurpose the wood pallets for some amazing home improvements? Then installing a wood floor will always be an amazing idea. If you need some inspiration, look at this handsome wooden floor that is stylishly beautiful and shiny. Just install underlayment and then nail the pallet wood planks on it to complete the entire wood floor. A nice boundary all around will surely grace them the entire wood flooring more. The wood planks that are packed together have different wood tons, creating a gorgeous appeal of entire wood flooring.
6. Cheap Pallet Wood Floor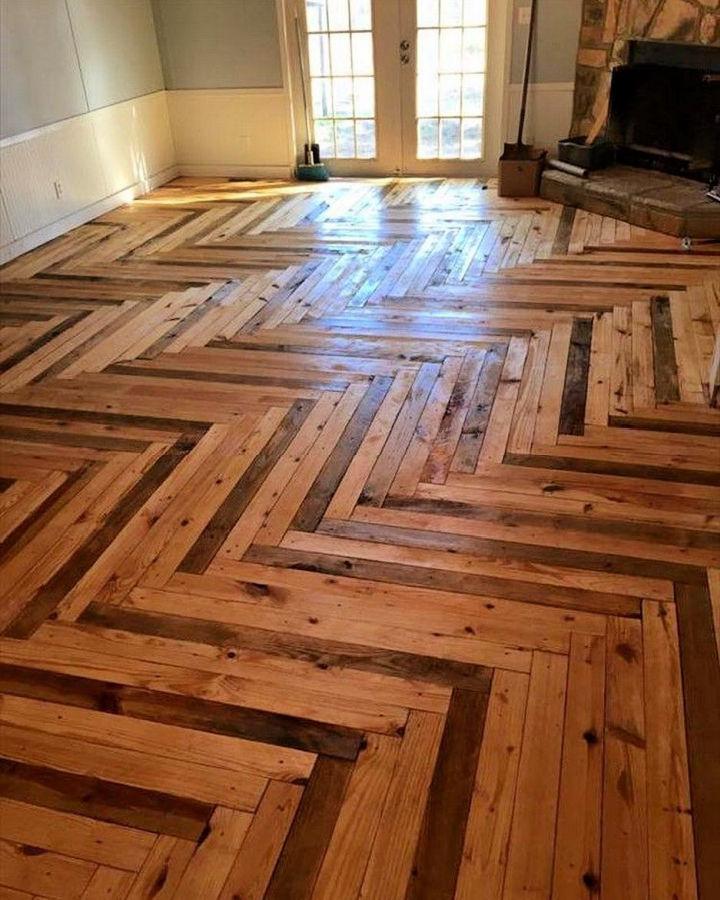 Check out here the brilliant way to bring the awesome chevron effect to your interior flooring. Just install this outstanding chevron pallet wood floor that features light and dark tones of wood. So, a big thanks to free recycled pallets for this solid and cost-efficient wood flooring that is super comfortable and warm to walk on. Installing this hardwood floor out of pallets will be super economical. However, you can grout the entire floor well and give a lustrous wood finish for extra beauty and neatness.
7. Rustic Burnt Pallet Flooring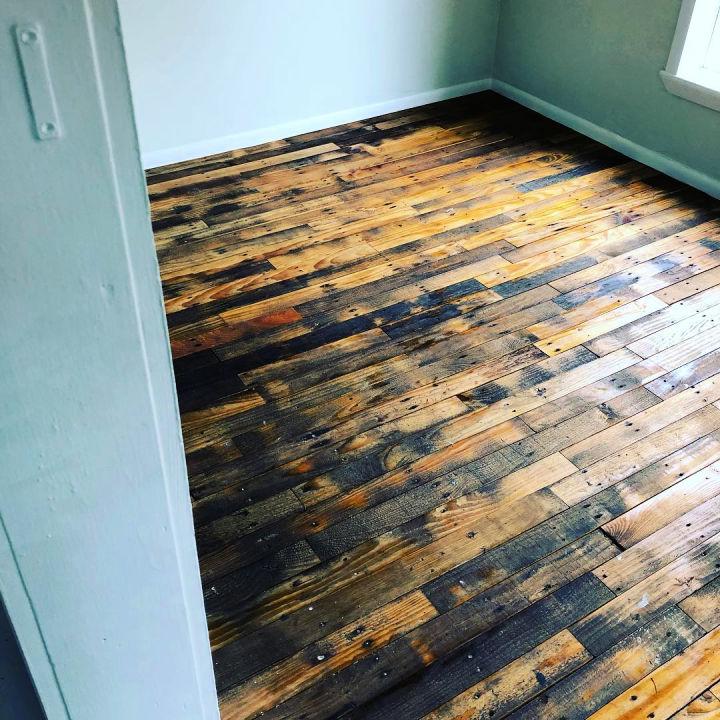 This is another great burnt pallet flooring that looks rustic and can even be done with the weathered pallets. Just take the pallets into pieces and cover the entire room floor with them. The entire wood flooring will impress at a very first glance, and you can even plan a rustic wood finish to add to its rusticity. The entire flooring is unique and much focally stimulating and will also help insulate the entire room. However, this wooden floor will not get too cool or too hot. It will be comfortable to sit or walk on in every season.
8. Reclaimed Pallet Wood Floor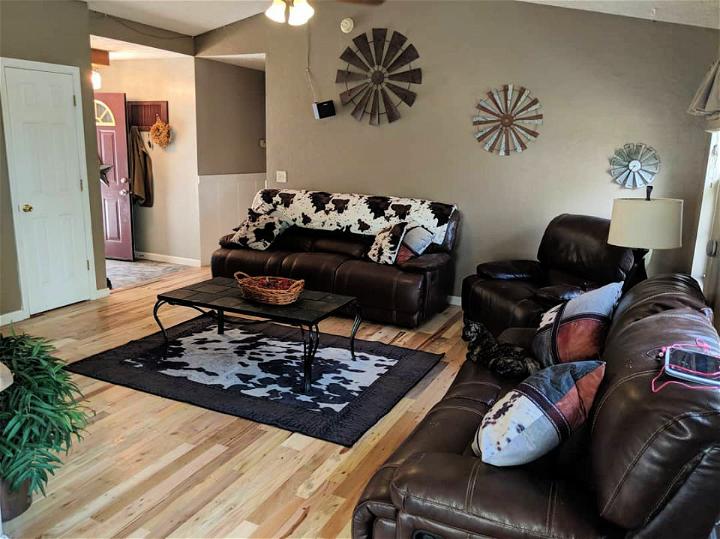 Intending to install the wood floor at a zero-cost price? Then here is the brilliant hack for it. Just repurpose the old wood pallets and plan to easily build a wood floor in a particular room interior. Just pluck apart the pallets and gain a pile of pallet wood slats. Just sand them smooth and then install them to the favorite interior floor for added visual grace and charm. Giving a nice wood finish will bring shine to the wood grains and protect them from early weathering.
9. Pallet Flooring At No Cost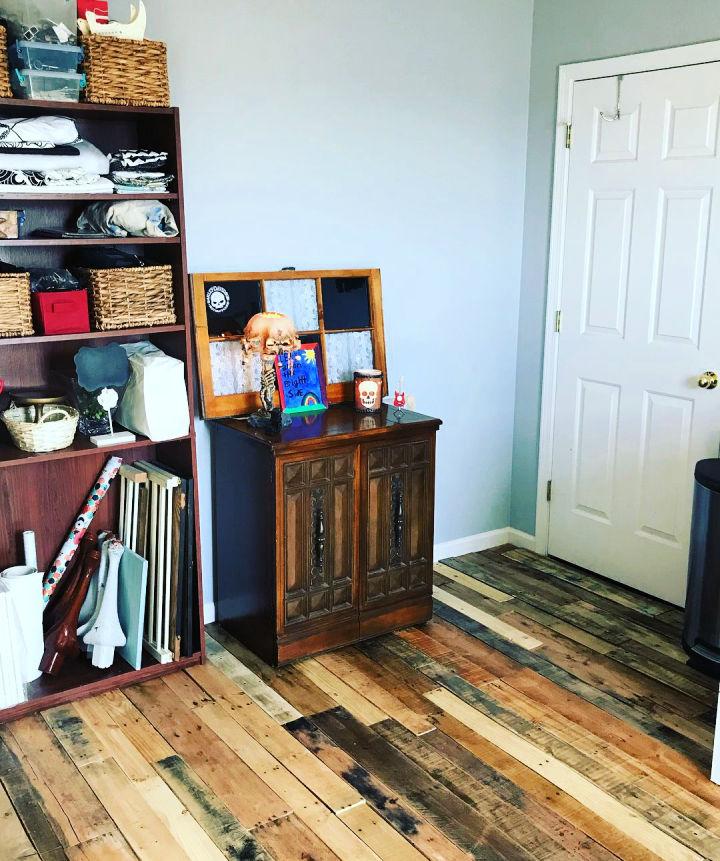 You must know how to install a wood floor to start installing the pallet wood flooring. Just clean your room floor, and you can even wash it for extra neatness. Install the underlayment, and you can even choose plywood underlayments for this flooring project. Due to being made of separated apart pallet wood slats, this entire flooring will last long. One of the best and frugal wood flooring projects ever. The best way to insulate an interior. The entire pallet floor project will cost you next to nothing and be a breeze to do, even for a beginner.
10. Recycle Pallet Bathroom Floor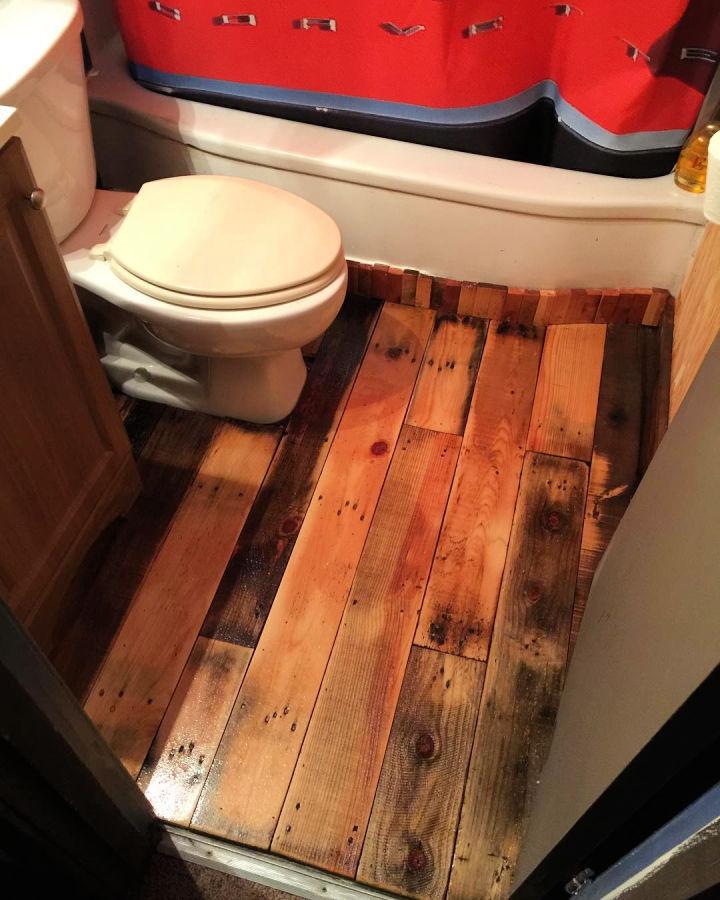 Are you going for a quick bathroom renovation? Then must include installing this bathroom wood floor in your plan. It will bring that necessary wooden character and rustic warmth to the bathroom and cost you next to nothing. The project is more than easier to do for all and will make bigger changes in a bathroom. Dismantle the pallets in the way you like to have a heap of pallet wood planks. Next, use them for installing this floor. The best way to bring more beauty to a bathroom interior along by getting a non-slippery wooden floor.
11. Nautical Pallet Flooring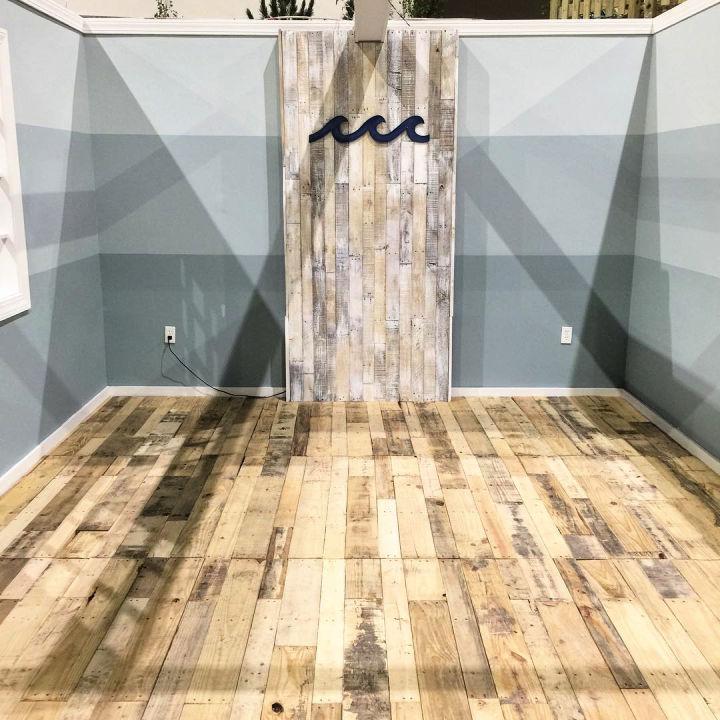 With pallets, you can easily transform an interior and here is a better example of it. Look at this amazing makeover of a room done with free recycled pallets. Here a brilliant DIY pallet floor is installed along with an accent wood pallet wall, creating a fabulous appeal of the entire room. The best nautical pallet wood floor will surely enhance the overall appeal of the entire room for sure. This will be the most cost-effective solution for the interior wood floors that will be expensive to install in every other way.
12. Pallet Hardwood Floor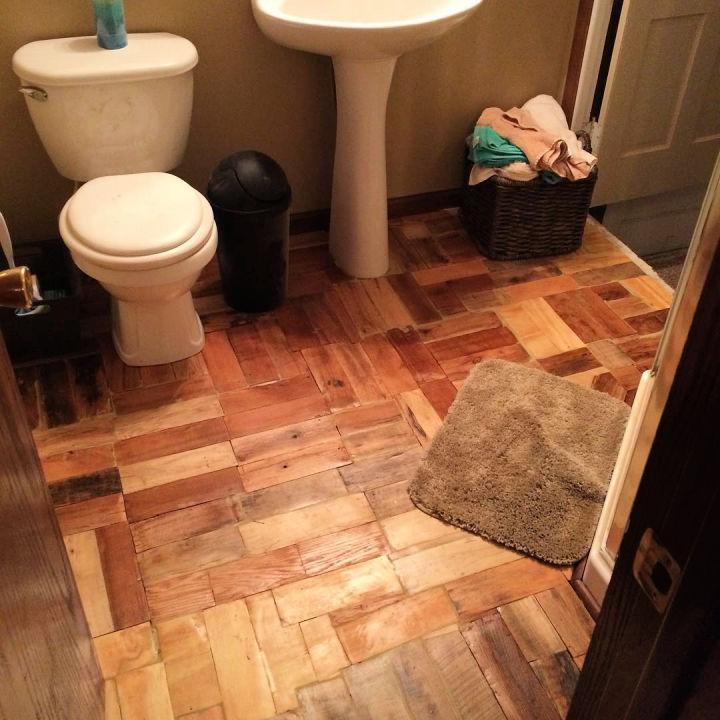 Rock your bathroom interior by installing this quick wooden bathroom floor that is a brilliant pallet wood achievement. Just measure the bathroom floor area and then manage to have the stock of pallet wood to cover that measured bathroom floor area. Here the pallet wood slats have been installed in a brilliant patterned way, and it brings tons of visual attractiveness to the entire bathroom. One of the best and quick-to-build DIY wooden floors, sure to be a great bathroom renovation project for sure. Grout the entire floor and finish it up with a nice wood finish or wood stain for ultimate shine and weather protection.
13. Pallet Outdoor Flooring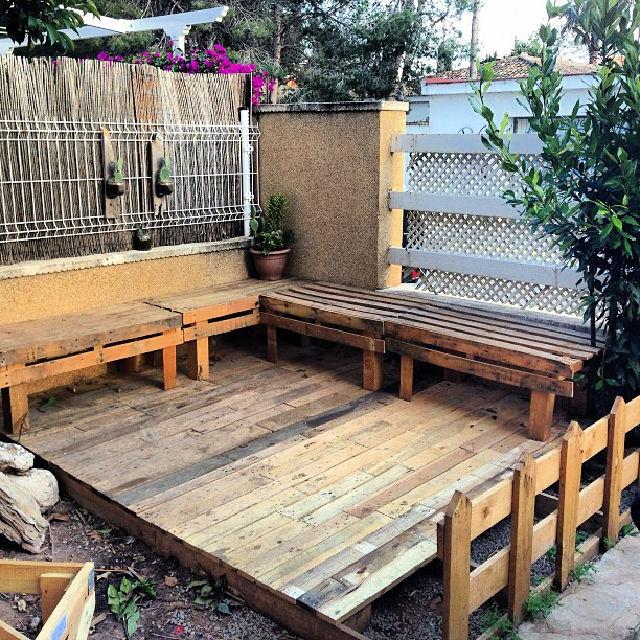 However, you can get free pallets for installing outstanding outdoor floors also. Get inspired by this brilliant wood pallet deck and flooring that is solid and long-lasting and will surely make you get a brilliant sitting spot on your patio. This project can be done for a great home deck renovation and will cost you much less than you have expected. First, roughly put together pallets and then use the extra pallet wood slats to make the entire wood floor solid and beautiful. One of the best and quick-to-build DIY wooden floors ever.
14. Farmhouse Look Pallet Floor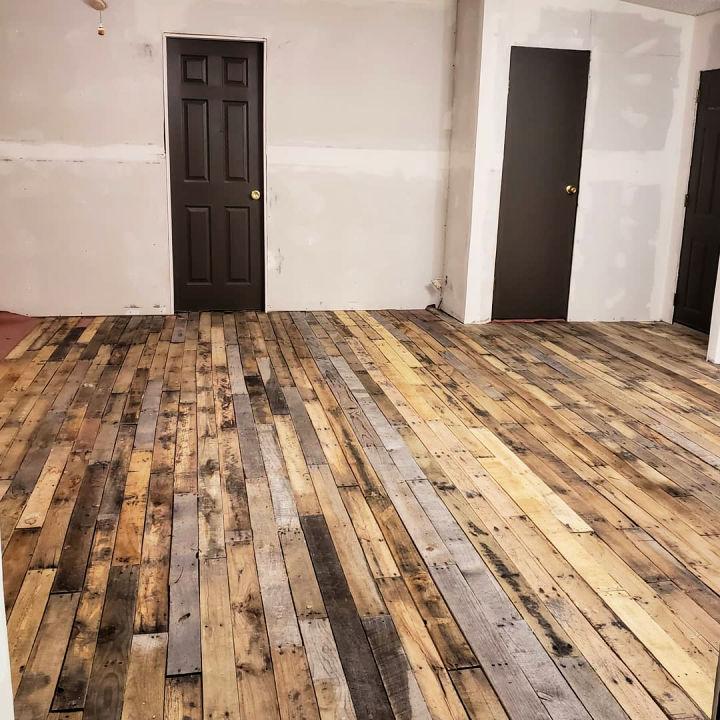 The wooden floors are in trend, and they don't come in everyone's budget. However, you can go with the pallet wood bypass to install the wooden floors in a super-economical way. Here, this outstanding wooden flooring comes with a farmhouse-style look, and it will also rock for a modern interior. The entire project is easier to do and involves nailing the pallet wood planks one by one. However, you can install a custom wood underlayment for easy and quick installation. One of the best and quick-to-do DIY wood flooring projects ever.
15. Pallet Flooring For Your Kitchen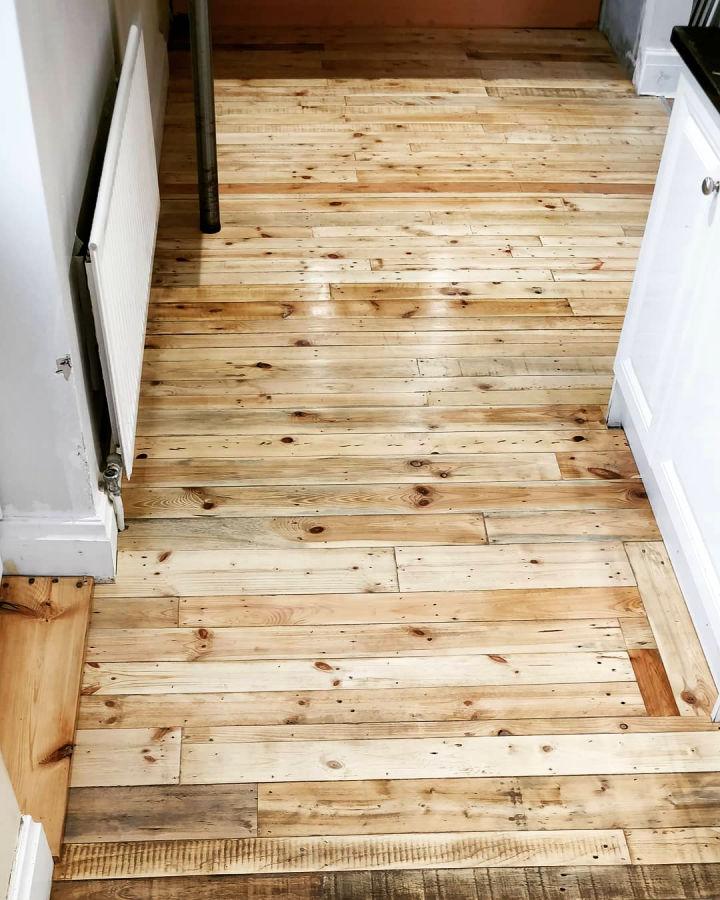 Bring a great wooden character to your wooden kitchen by installing this sleek wooden floor that is exceptionally cute and beautiful to look at. Install the pallet wood slats one by one flat on the floor and make sure they are tightly packed. Grout the floor if needed, and then give it a nice wood finish for a brilliant lustrous appeal. Installing this floor will bring tons of grace and wooden elegance to the kitchen and is a breeze to build also. Even if you are a beginner, you will be able to install this wooden floor. Using an underlayment will make your work a lot easier.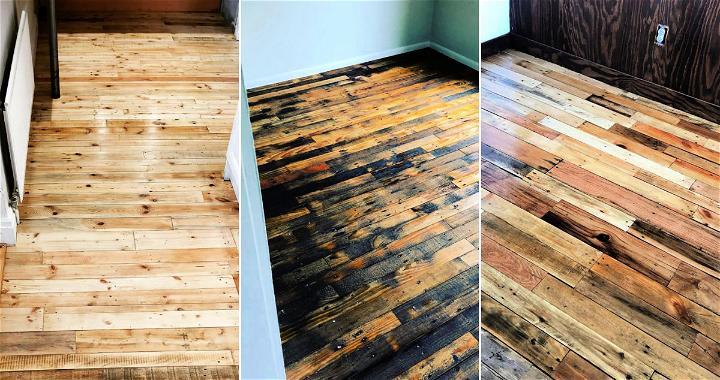 Pallet Furniture Ideas: Discover DIY pallet furniture ideas and how to make your own furniture out of pallets. Use recycled pallet wood to create your next DIY creation!
Conclusion:
Before you invest a lot in the hardwood interior floors, it will be better to take a tour of these DIY Pallet Wood Floor Projects that are economical but will provide amazing results. Above all, these floors will be easy to install even for beginners and help renovate your kitchens, bathrooms and living rooms. You will learn here to build the long-lasting patio floors that will provide a great sitting and relaxing spot for sure. So, you must take a tour of these projects to comprehensively learn to install a wood pallet floor like a pro.