When it comes to adding storage to an interior, the cabinets are considered the ultimate option. So, build all kinds of wood cabinets inexpensively at home with these DIY wooden pallet cabinets involving all from stock kitchen cabinets to custom bathroom wall cabinets to rolling cabinets. The cabinets are built due to their superior appearance and can fit the various unusual places of the home. So, the pallets will provide a free stock of wood to build all types of cabinets that you can build with other wood.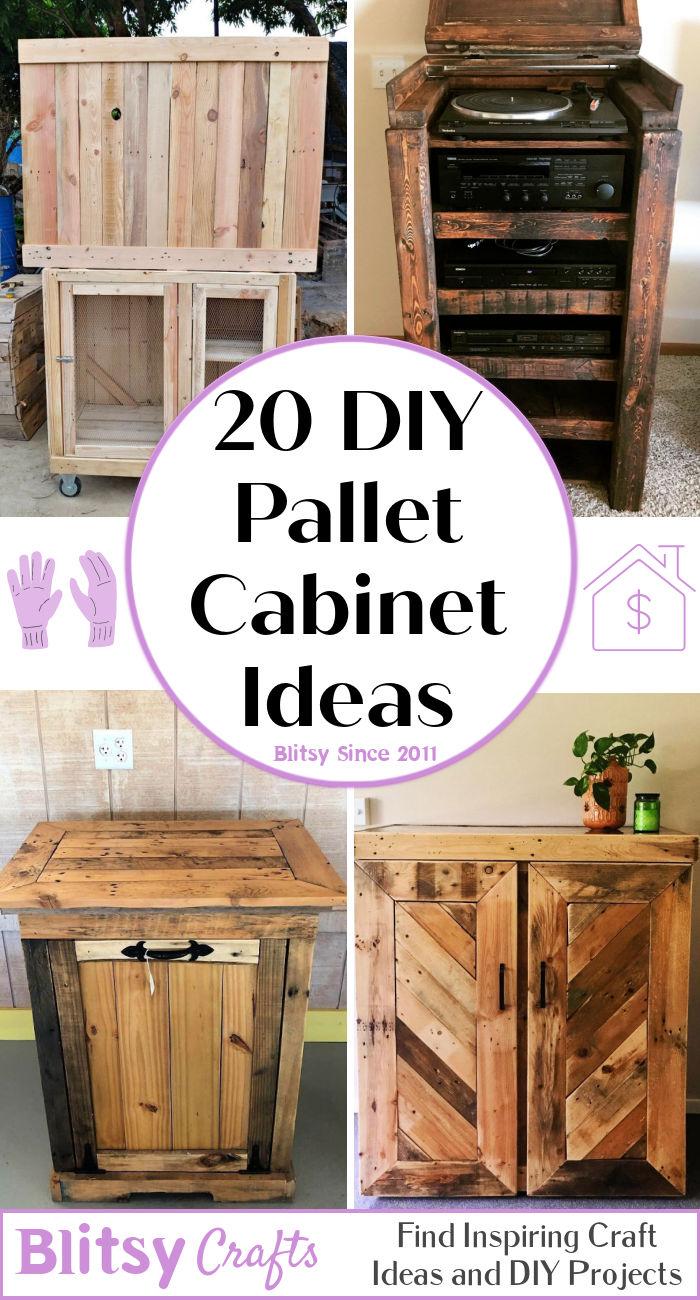 Explore this collection of 20 DIY pallet wood cabinets to see many amazing designs of small, big, wall-mounted, self-standing, and rolling cabinets. Moreover, the list will provide you with custom designs ideas for pallet gaming cabinets, weapon storage cabinets, bar cabinets, tool storage cabinets and pallet kitchen spice and food jar cabinets.
Building pallet cabinets can be a comparatively easier game as readymade shapes of pallets save lots of time on cuttings. You can first build the cabinet frame; next, custom dividers and storage drawers can be added. You can give amazing variations to designs by varying different assembling hardware and doors like glass-paneled or chicken wired doors. Look through all these DIY pallet cabinets to see a lot more unique designs more to choose from. From rustic to vintage-inspired to modern, you will see all pallet cabinets designs below.
1. Dartboard Cabinet From Pallets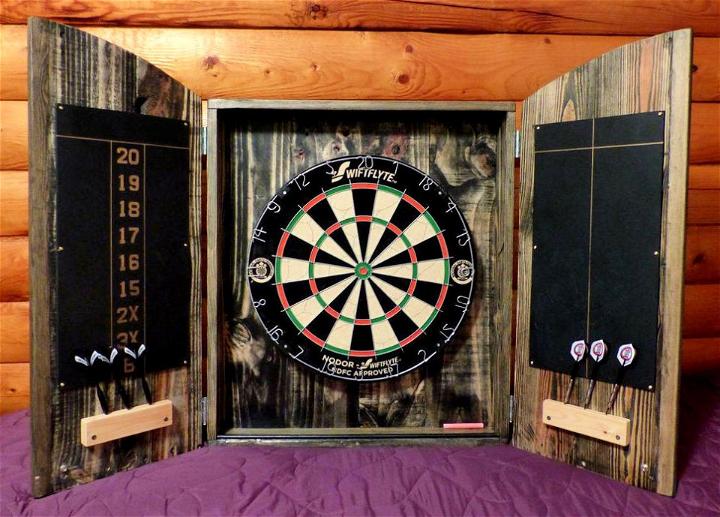 Looking for a cute handmade gift for a person who is engaging in playing dart. Build this dartboard cabinet for him/her or a couple, and you can some free pallets to construct it. To build this wood pallet dartboard cabinet, you need pallets, hinges, stain, varnish, wood glue, and chalkboards etc, to build this wood pallet dartboard cabinet. This gaming cabinet comes with a double-hinged door and provides a tray-like cabinet to the backside. It requires beginner carpentry experience and skills to build this wood pallet cabinet. Sand and stain the completed cabinets for weather protection. instructables
2. Pallet Kitchen Cabinets Plan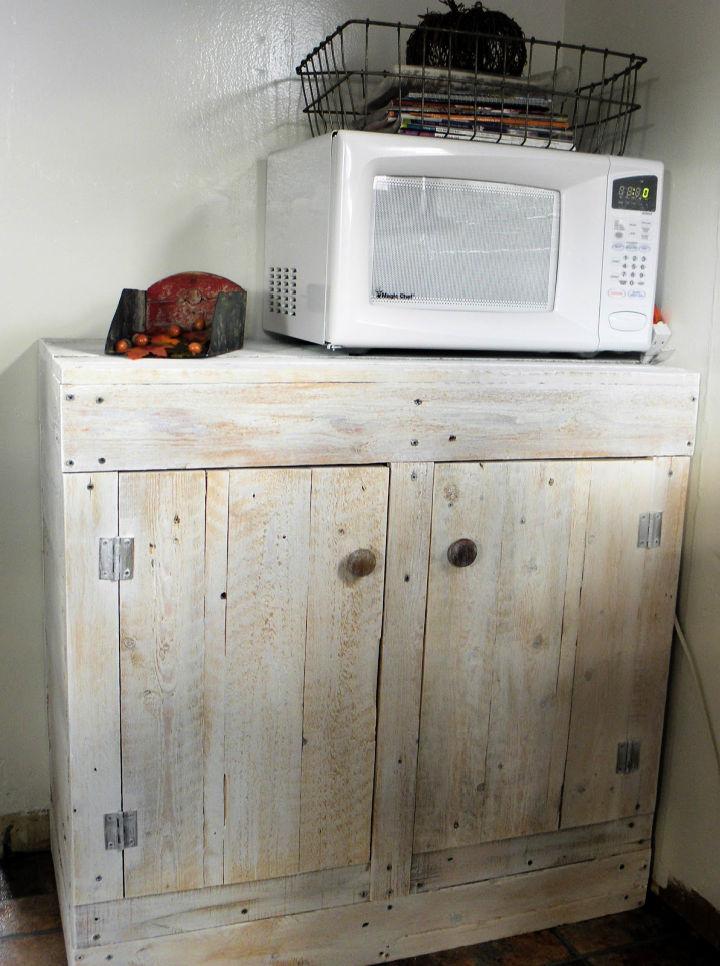 The pallet wood allows you to build all sorts of cabinets in custom dimensions. So, you can install them in your favorite places to overcome your storage space needs. Here pallet kitchen cabinets are built to fit space between the stove and fridge, and it provides multiple different built-in drawers to hold a variety of items. Just frame up the cabinet first and then add the drawers to it. Finish drawers with your favorite knobs and also give a nice wood finish to the completed cabinet design. Finish the completed cabinet design with custom wheels to be touch to move and easy to pull out. vintagemellie
3. Pallet Wood TV Cabinet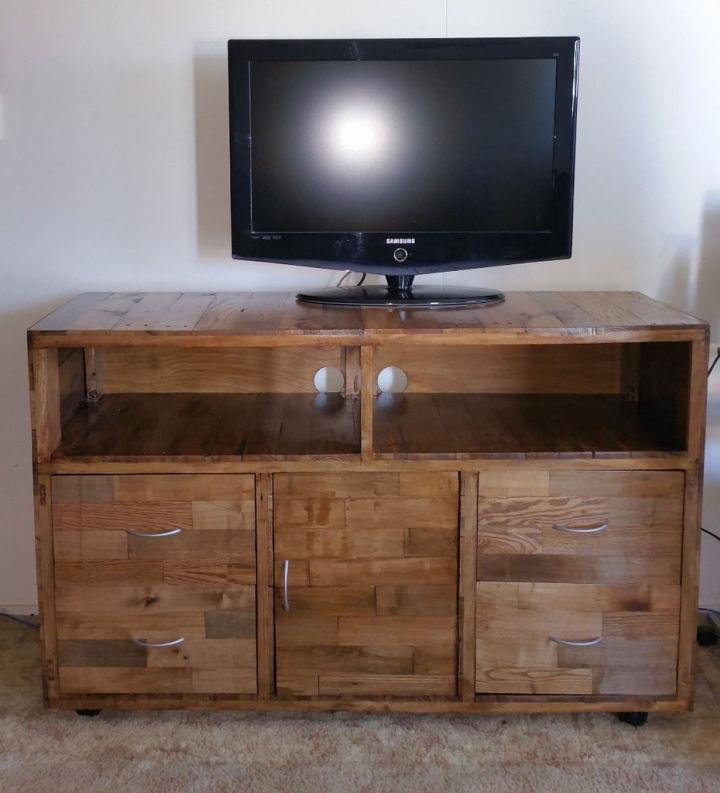 Bring a rich wooden character and get all your media organized while displaying your screen elegantly with this hand-built pallet tv stand. The completed cabinet design provides built-in storage cubbies and cabinets, and it holds the TV screen at a decent height for a graceful view. Grab the pallet wood, drawers and door, 12mm plywood, backing board, 3mm plywood, finish, walnut stain, gloss polyurethane, hardware, glue, drawer slides and soft-close hinges to complete this project. The finally finished design is 1350mm long, 800mm tall and 500mm deep. instructables
4. Pallet Wood Gun Cabinet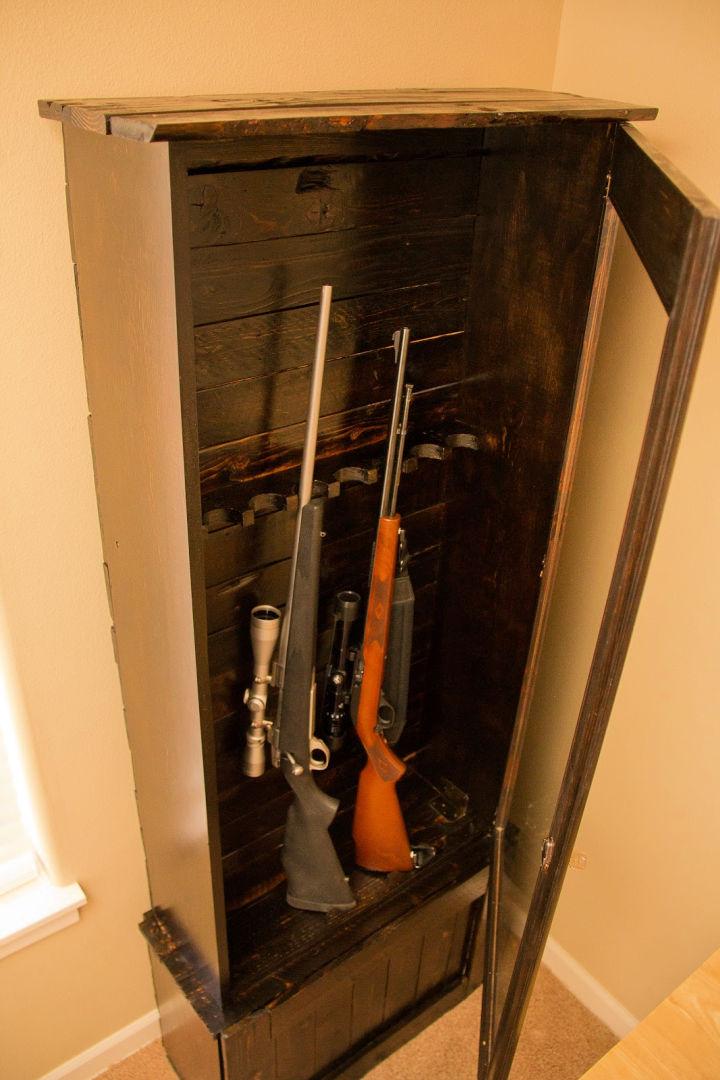 With pallets, you can build any custom cabinet model that will hold a custom set of items. However, you can build the weapon cabinets too with pallets. Peek into details of this wood pallet gun cabinet stained very well for a dark choco appeal and came with custom gun holders installed inside. The front glass-paneled door allows you to peek at the indoor cleary and provides the necessary elegance to the entire wood cabinet model. One of the best and quick-to-build DIY Pallet cabinet ideas that everyone can design.
5. Oval Shot Glass Cabinet Made From Pallet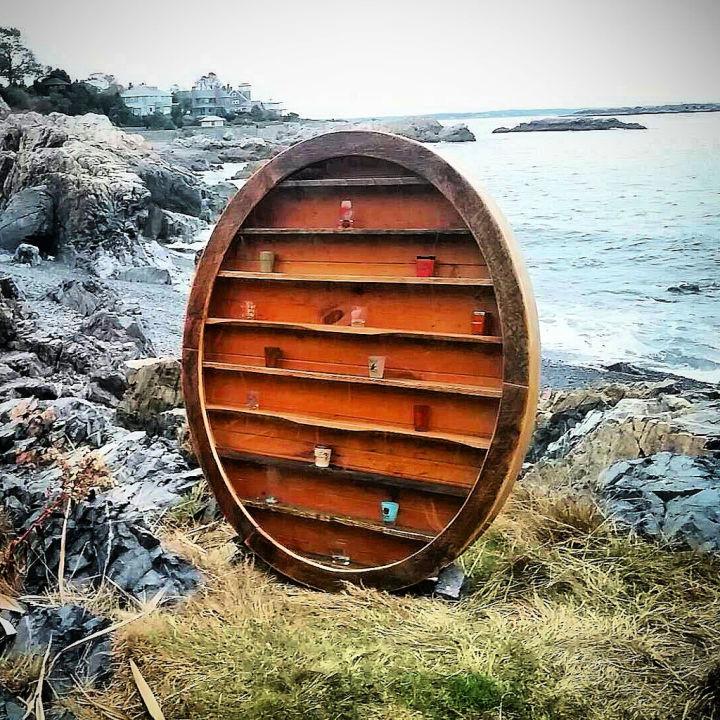 Must add this super beautiful looking cabinet to your indoor bar, sure to win the heart of every party lover. The design of the cabinet impresses with the lovely oval shape and glass front. An impressive pallet furniture achievement that everyone can duplicate with ease. The inside shelves can hold a big range of shot glasses, and it will help make your indoor bar look a lot more interesting and beautiful. However, you can use a design template to easily cut the cabinet pieces. Use the pallet wood, plywood and custom backing boards to build this very interesting design of shot cabinet. instructables
6. Pallet Wall Cabinet for Storage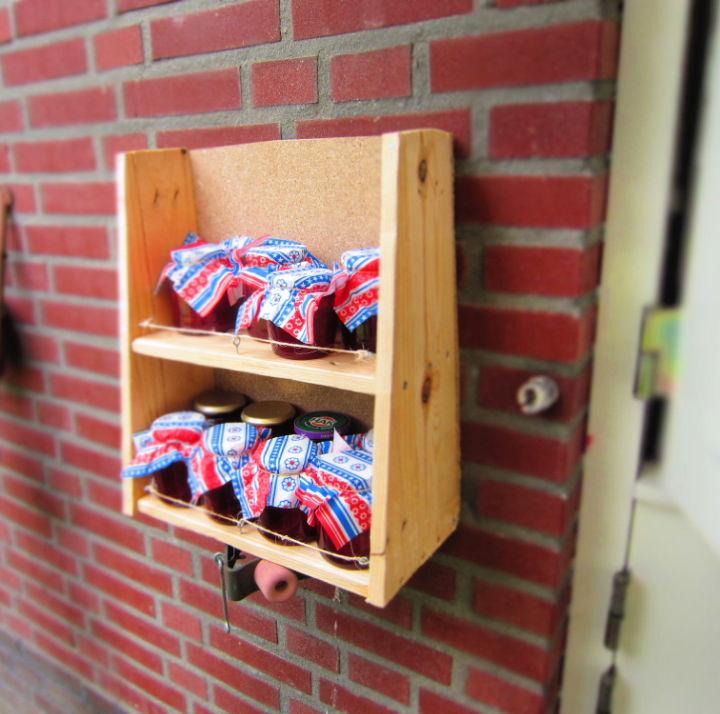 Looking for a cabinet to store your food or spice jars? Then instantly some custom design in custom dimensions using the free pallets. Get inspired by the given adorable design that can hold up to 12 Mason jars filled with food or spaces. You need 120cm x 10cm x 2cm pallet wood planks and some screws and glue to easily clone this fantastic model of wooden pallet cabinet. Peek into the details of the project to easily cut the required pieces, and it will not take that too long to assemble this brilliant cabinet design. instructables
7. How To Build A Pallet Cabinet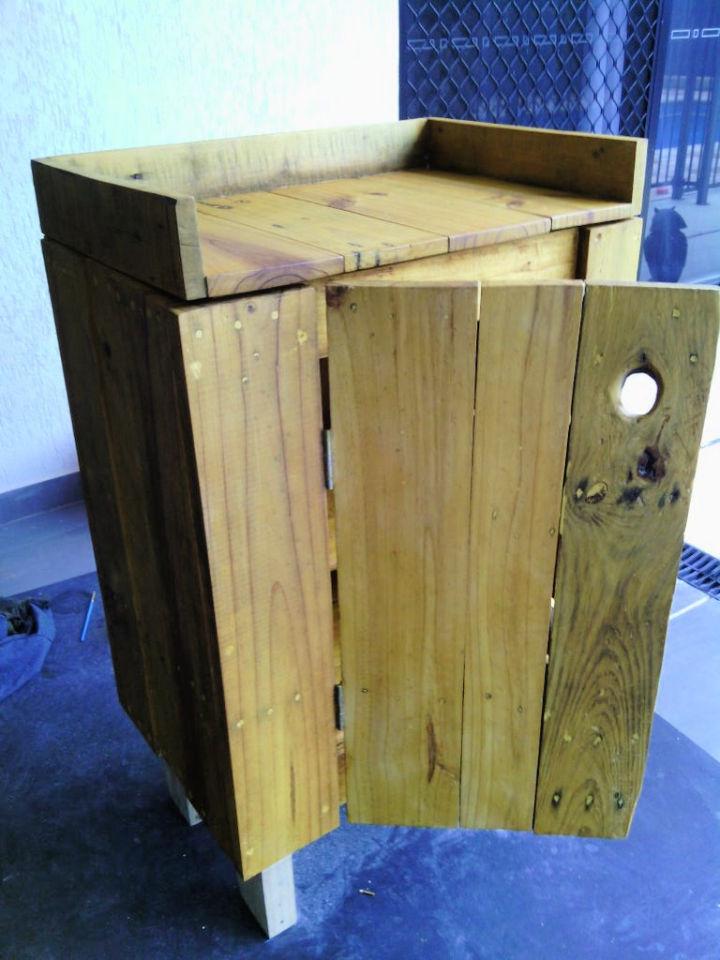 From mini to large, from small to big and from simple to those with multiple storage options and features, build all sorts of cabinets with free recycled pallets. Look at the given handsome design of wood pallet cabinet that comes with a front-hinged door and inside built-in shelves. The tray-like top is perfect for holding an assortment of items safely. The cabinet can be used as a storage-friendly nightstand or side table and is super quick to put together. Frame up the pallet planks to build the basic skeleton and then move ahead to build the other features of the cabinet. instructables
8. DIY Pallet Cabinet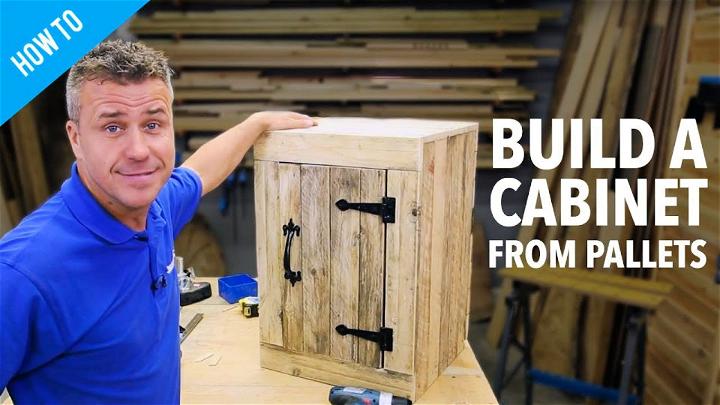 This project will provide you complete instructions about how to build the lasting longer antique wood cabinet. The design qualifies all the features to be the best nightstand or side table. However, you can mount this cabinet to any bathroom or indoor wall to safely and privately store a set of items. The design is wholly built with the separated apart pallet wood planks. Start the construction by building the baseboard first, and it will not take that too long to complete this brilliant cabinet. Use the antique hinges and door handles for an added rustic appeal. youtube
9. Build a Pallet Wood Cabinet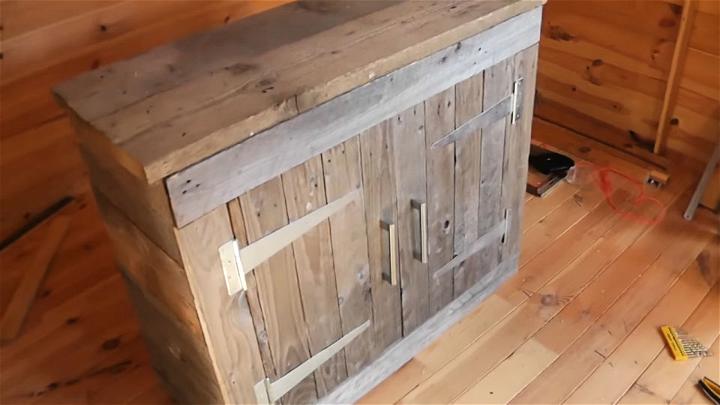 Antique and rustic lovers will surely fall in love with this another graceful model of pallet wood cabinet. It can also be employed as a bedside table and can help store a variety of stuff that holds much dear to you. In features, the cabinet comes with a slatted look and feature large antique hinges and lovely metal door handles. You can easily display a variety of decors on the top of the cabinet. However, you can also build custom dimensions of this cabinet as a foyer or accent entryway table. youtube
10. Cabinet Out Of Pallets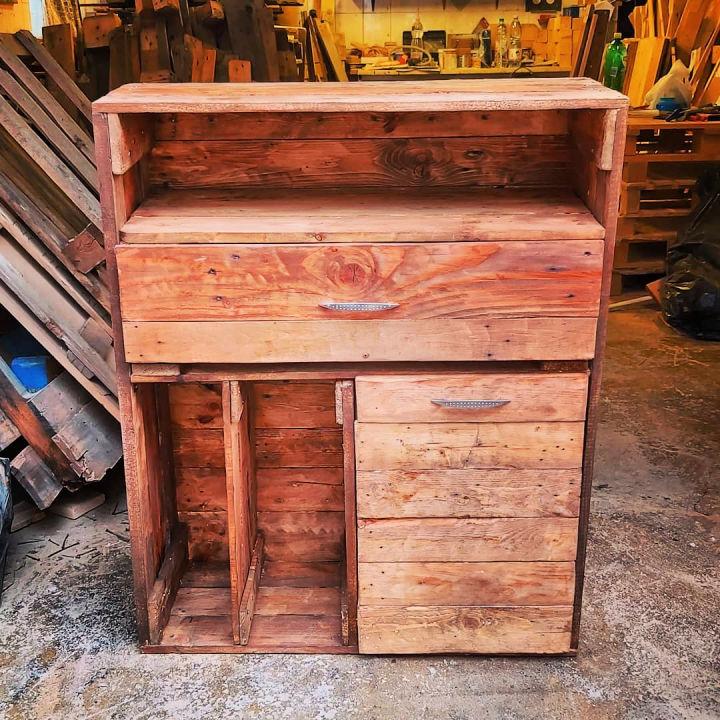 Once you decide the dimensions of the pallet wood cabinet, you can play creatively with it to add custom storage options. Get inspired by this solid wooden cabinet design that features various storage options, including drawers, cubbies and sub-storage cabinets. The design is ideal and suitable for use as an end table or side table, and you can mount it on a bathroom wall to organize toiletries. The entire design can quickly be built with pallet wood slats and will bring a great wooden character to a targeted location or space.
11. Mini Fridge Holder Pallet Cabinet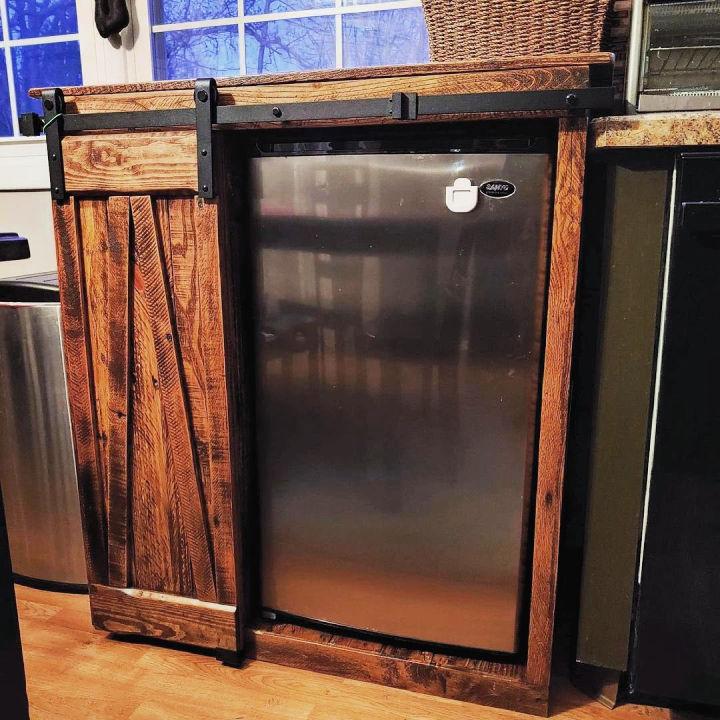 Bring tons of safety to your home appliances by building this fridge cabinet that is solid and beautiful and will provide a safety cover or casing to the whole fridge. What makes the cabinet design a lot more unique and beautiful is the addition of a sliding door, and you can easily put together the pallet wood slats to build this fridge cabinet. The design is much achievable for all beginners, and you will love how it will serve your fridge. The whole design is achievable for a beginner and will take much less pallet wood for the whole construction.
12. Pallet Cabinets for Laundry Room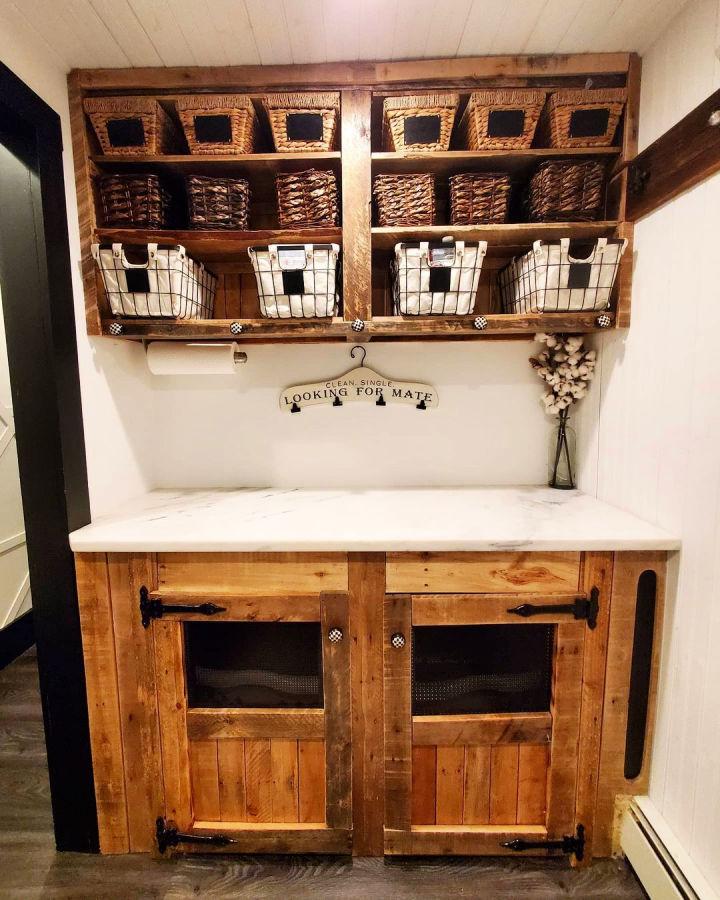 Pallets are much to give you when being tangled in the home storage space problems. Peek into details of the given built-in storage units and pallet cabinets that will cost you next to nothing and will surely help you organize your stuff cleverly. The bottom cabinet provides enough built-in storage space to hold your thing, and the top hanging cabinets also come with custom baskets featuring chalkboard nameplates. The design of the whole cabinet is much achievable and will add to your home storage space.
13. Pallet Wood Hand Tool Cabinet

No matter to which profession you belong, you can build custom storage cabinets with pallets to organize a set of tools you are using. Get inspired by this pallet cabinet design, built to organize all those hand tools and easy and quick to build. The whole cabinet stands on the durable metal shelf brackets and allows hanging tools inside the cabinet doors. You have to build a cabinet with a double door, will be like a box. Add custom hanging hooks and small pallet shelves inside for easy tool hanging. This is here another beautiful cabinet to build with free pallets.
14. Pallet Corner Cabinet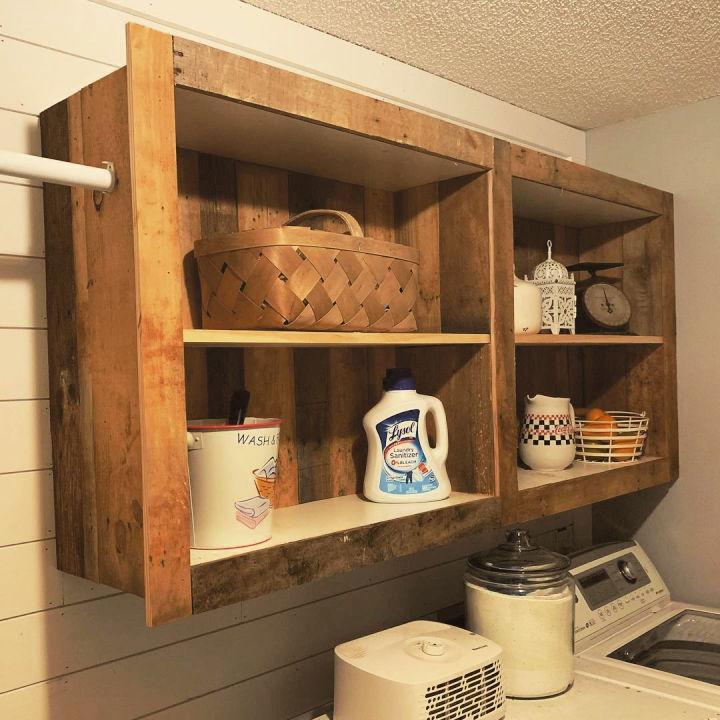 Create that fabulous look of any particular interior room by installing this superior corner cabinet that is insanely cute and comes with custom built-in storage compartments and shelves. This type of cabinets will rock in the bathrooms and laundry room and will rock to display your centerpieces and custom items of decors or need. With pallets, it will be totally easy to build this outstanding wood pallet cabinet. Paint or stain the entire cabinet for an enhanced visual appeal. Everyone will fall in love with this super beautiful design of pallet wood wall cabinet.
15. Pallet Wood Trash Bins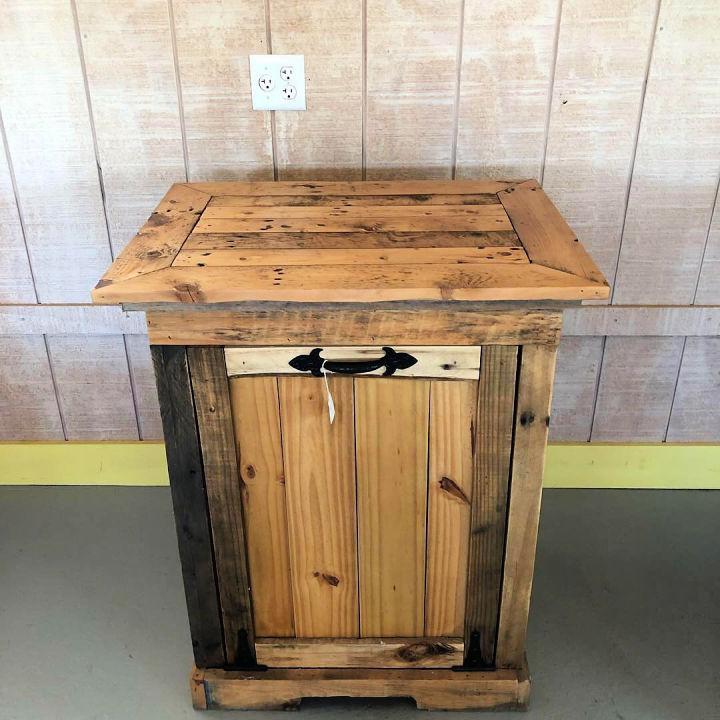 Build also lasting longer and beautiful trash bin cabinets with free recycled wood pallets. Look at the given cabinet that is lasting longer and beautifully holds the trash bin inside. The design is solid and will protect the garbage from accidental scattering also. You can easily pull out the cabinet door to reveal the trash bin. With separated apart pallet wood, you can easily build this handsome design of trash bin cabinet, sure to impress all. Everyone can duplicate this cabinet with quite an ease. Must build this design to bring a great wooden character to your interior home spaces.
16. Pallet Bathroom Cabinet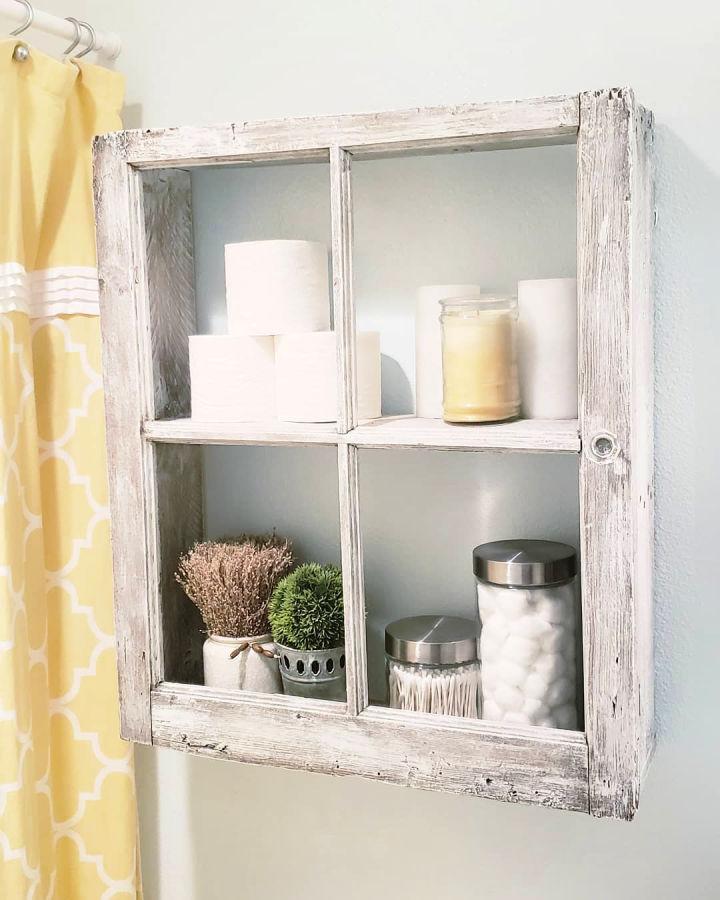 Give your bathroom a glam touch of rustic elegance by adding this distressed white pallet cabinet. With 4 built-in compartments, it will nicely hold all your toiletries and the front glass-paneled door brings that necessary elegance to the entire cabinet. The user can easily peek into this gorgeous wood pallet cabinet that is finished for a distressed white look. This is here a super handsome pallet wood creation that will impress all the homey persons. The design is solid and beautiful and will be completed simply in no time. You can use leftover pallets to construct this cabinet.
17. Pallet Kitchen Cabinets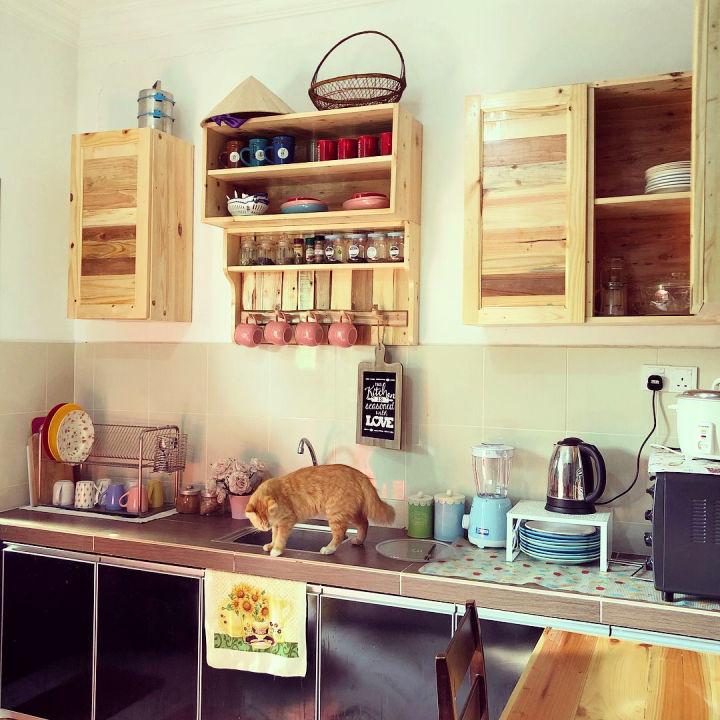 Are you going short on kitchen storage space? Then look at the given pallet kitchen cabinets, sure to bring tons of storage space to a kitchen. The project involves building custom spice racks and storage cabinets with free recycled pallets. Dismantle a big stock of pallets to get a pile of separated planks. Pack them flat to build different cabinets fitting custom kitchen wall spaces. Here the cabinets are left blank in the bright natural wood tone but can be sealed for ultimate weather protection. Building these pallet kitchen cabinets will be an easier pallet wood project for sure.
18. Pallet Stereo Cabinets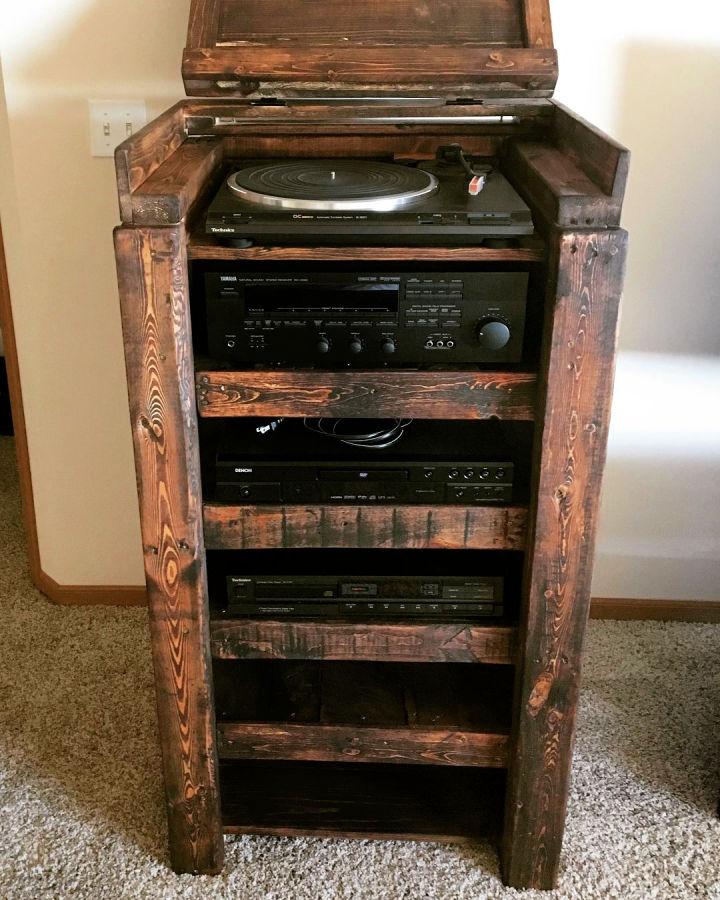 Provide protection and nice built-in storage to your media gadget with this fantastic stereo cabinet, built to impress and inspire. The design is much achievable for a beginner using the pallet wood slats, and the entire cabinet is a solid pallet wood creation. Put together the slats of pallets to easily build this cabinet, sure to be a big love of all the kids and adults. The completed cabinet is finished for a gorgeous rustic appeal, and you will love the way it will serve your media gadgets. The design comes with custom built-in storage shelves that nicely hold a variety of media items inside.
19. Recycled Pallet Wood Cabinets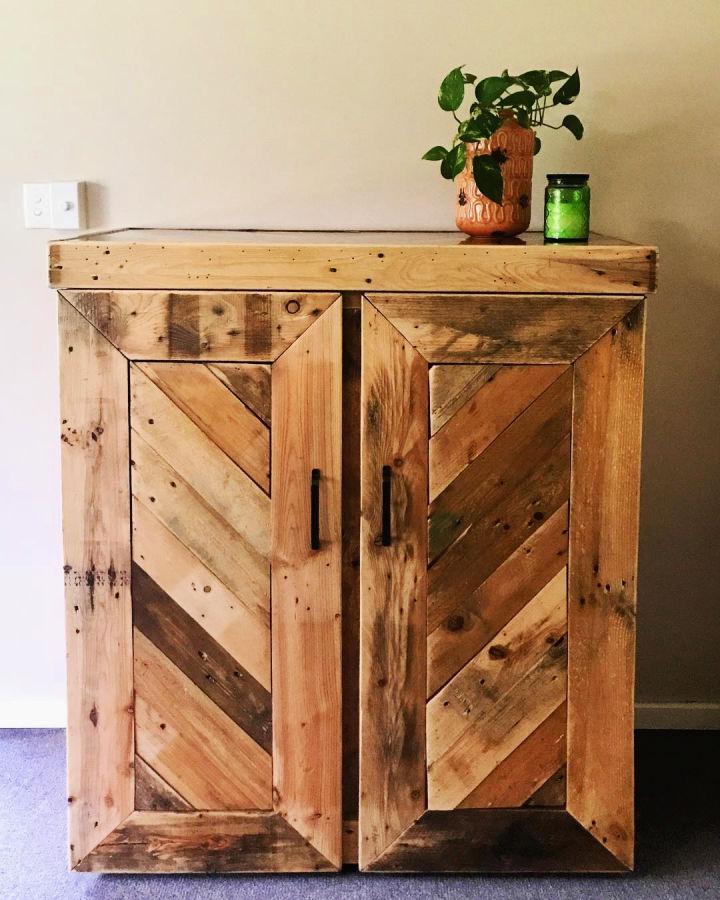 Take your interior storage game to the next level by building solid by inexpensive wooden pallet cabinets. Everyone will love looking at this sterling design of wood cabinet that features the diagonal patterned door and a solid design structure. The cabinet is a big square box with custom built-in storage shelves and compartments and is a beginner pallet project. The design comes with a double door and will never get out of style for sure. One of the best and quick-to-build DIY pallet storage cabinets can also be painted for a brilliant modern appeal.
20. Pallet Mobile Cabinet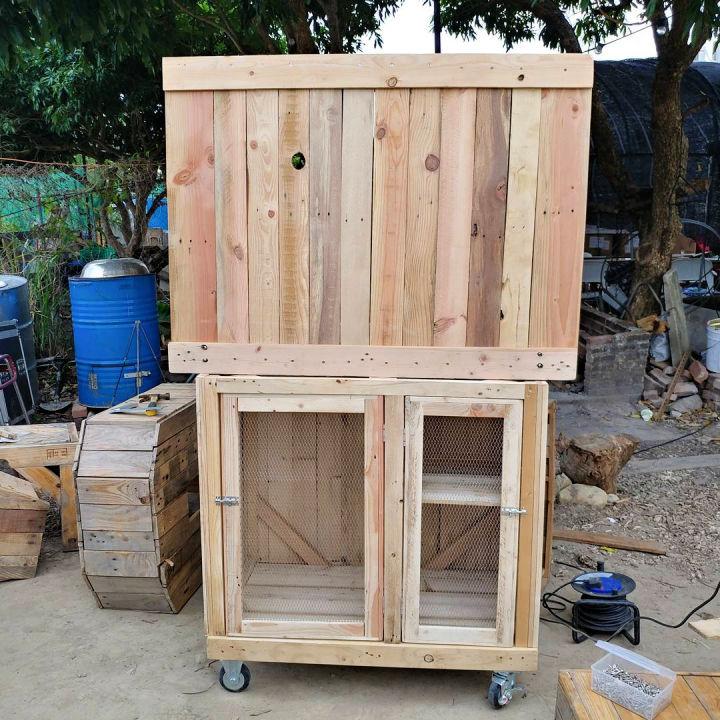 Build beautiful rolling cabinets with free recycled pallets, sure to be a big love of all the homey persons. The design is a perfect square separated into 2 sections, and each is covered with a hinged door. You can add custom dividers to each section to gain custom storage options and compartments, and the whole design is a breeze to build and can easily be raised on caster wheels from touch to move movements. The cabinet doors come with metal lattice, and the cabinet will also rock to use as a birdcage.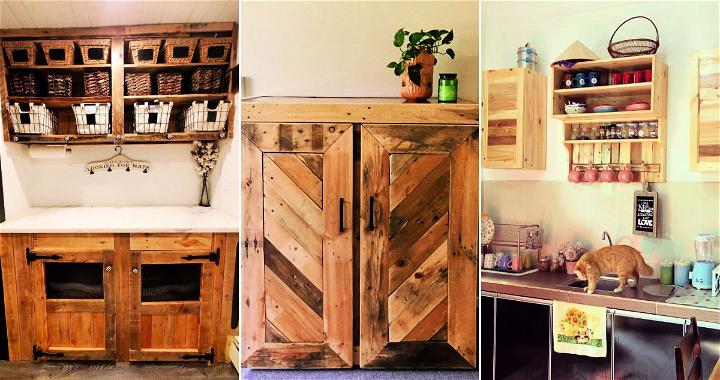 Conclusion:
These pallet cabinets help to organize your things securely and privately. So, they can be comparatively higher in price than other organizers and storage units. But with pallets, they can be just there for you for free. These DIY pallet cabinet plans will share with you a variety of hacks and tricks about how to build lasting, longer and lovely-looking cabinets out of pallets. All these diy pallet projects will share step-by-step instructions, detailed diagrams, hardware lists, cut lists, tool lists and all about to finish a cabinet for a custom look and added stability. So, take a short tour of all the projects to get an expert in building pallet cabinets.