Pallets are easy to find, and sometimes you see them on the roads, dumpsters, and dumping grounds. However, the wooden pallets are not worthy of lying uselessly around. They are magical and life-changing. Can't believe it? See these 40 unique and easy DIY pallet furniture ideas and plans with detailed instructions, and they are guaranteed to make you admire the pallets. Pallets are too feasible to build all types of furniture in all the popular styles like rustic, vintage and modern etc… The whole world is talking about the pallet furniture plans as they have made all sorts of indoor and outdoor furniture in everyone's access.
Explore these 40 wonderful DIY pallet furniture ideas and see how the pallets can be recycled, repurposed, reclaimed and upcycled to build custom furniture items. From building beds to couches to chairs, these ideas will cover all. At the same time, you will get instructions to build custom organizers, tables, storage units, benches, media consoles, kitchen islands and bar counters etc., with pallets.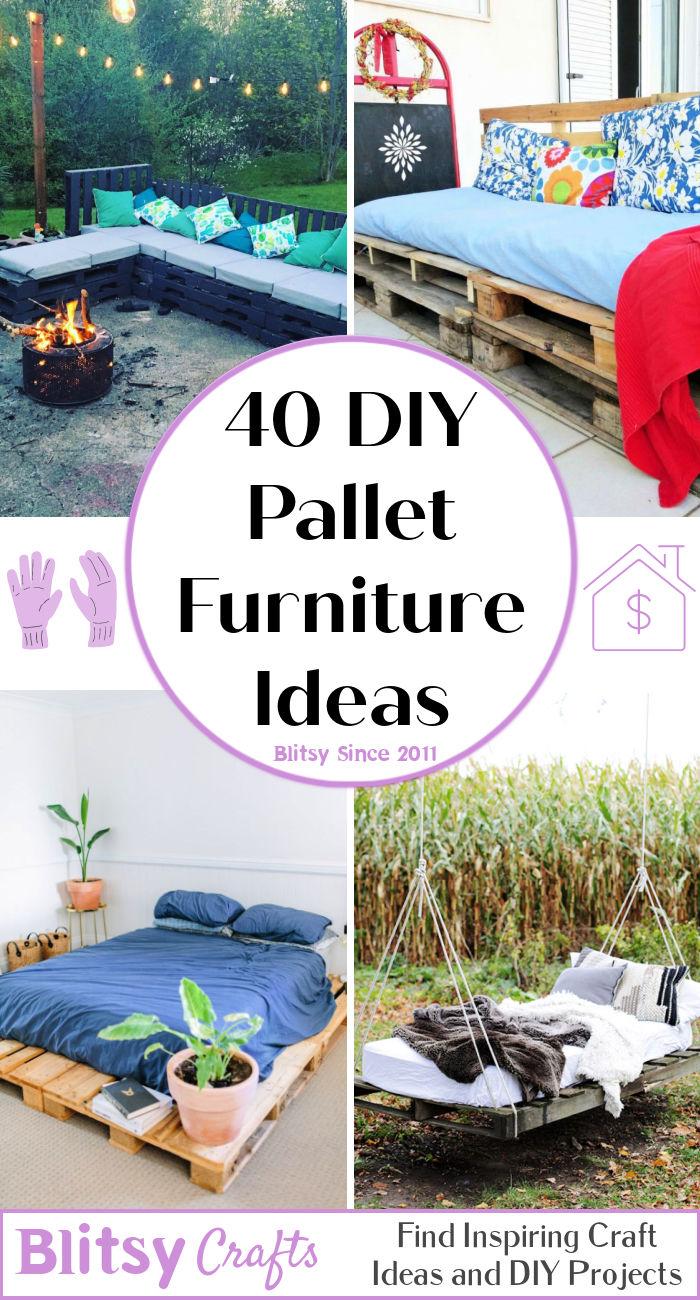 Whether you lack bed space, sitting space or storage space, this unique list of pallet furniture ideas will allow you to meet all your needs by providing respective furniture ideas. From easy to intermediate to advanced, there are pallet projects for every skill level. Some pallet furniture involves the simple stacking of uncut pallets, and others are to do with the dismantled or separated pallet wood planks. Just browse all these wooden pallet furniture ideas to see what we have got for you this time.
1. Pallet Bed Frame To Update Your Bedroom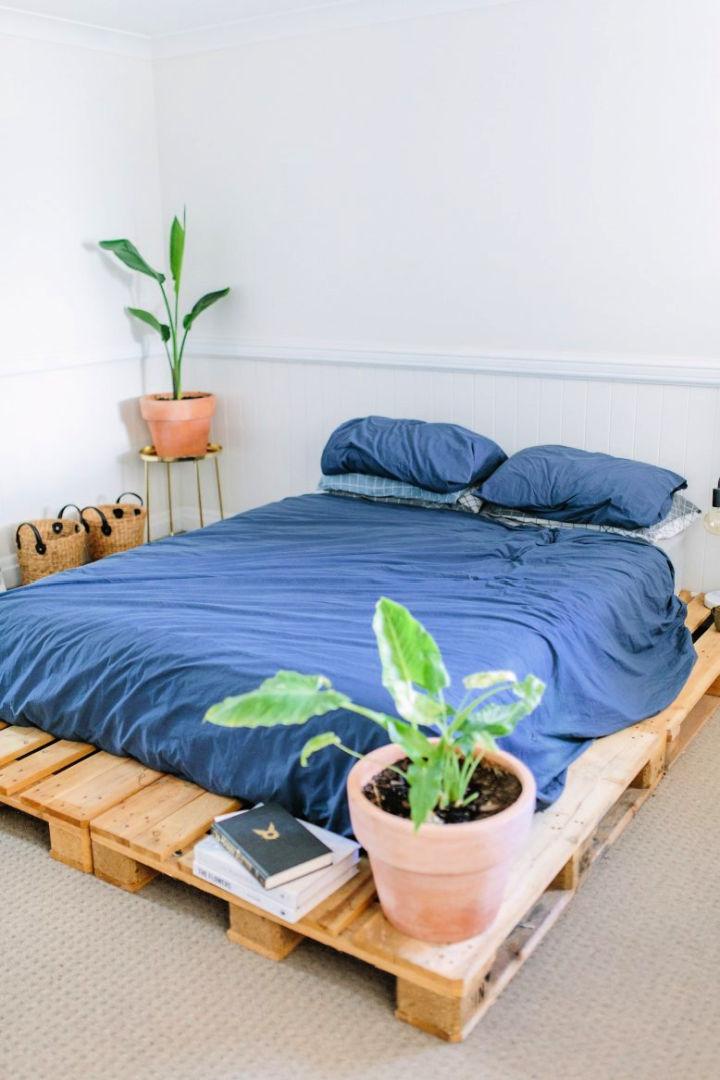 Pallets are suitable for various wood pallet furniture projects, but they are ideal for building all kinds of beds. Put together the 4-way block pallets and quickly build this durable wooden pallet bed. It can quickly be added with a soft foam mattress to provide the ultimate sleeping experience. Here 4 pallets build a beautiful queen size bed. However, you can use other more pallets to vary the size and height of this wooden pallet bed. The bed is extra cozy and provides space to place your pots and books.
2. Coffee Table Made From Pallets

If talking about the design, durability and style, this handsome pallet outdoor coffee table gets ten out of ten in all. However, this glam wooden pallet square coffee table is made perfect for the outdoors by doing a quick makeover. First, just clean the whole pallet table and create a brighter appeal it using exterior paint. Next, use the cedar planking scraps to arrange on the top for a beautiful tiled and paneled look. This makeover makes the whole table look extra beautiful and also more stable to withstand the outdoor climates. Don't forget to finish it up with custom wheels for easy and amazing rolling movements. southernrevivals
3. Crates And Reclaimed Pallet Bookshelf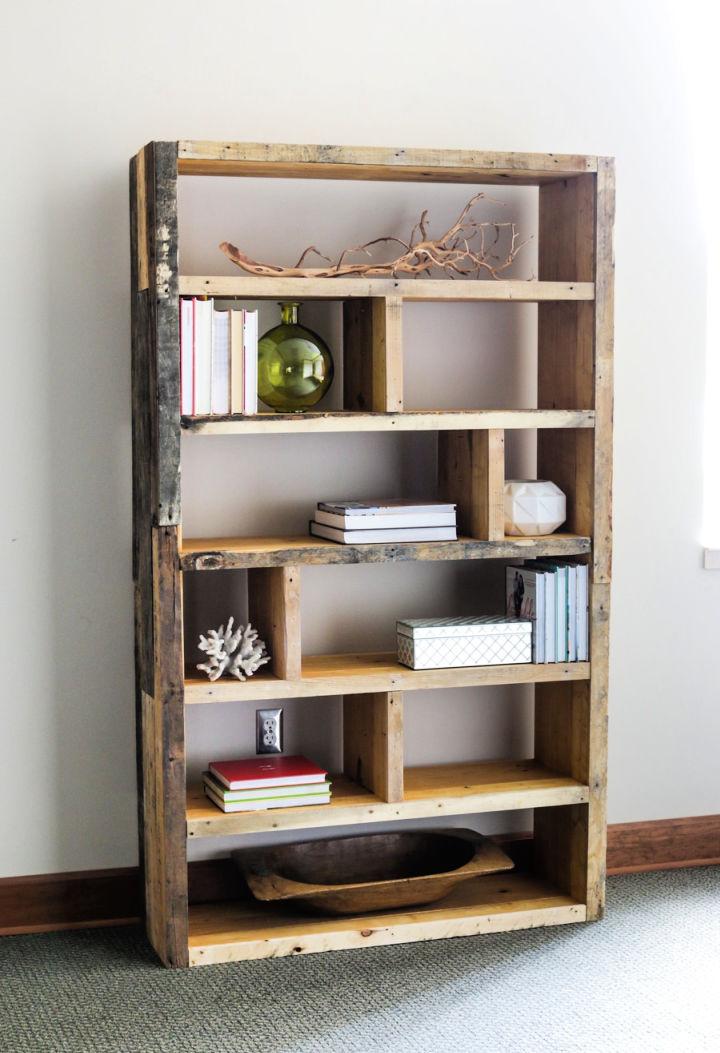 Pallet wood allows you to accomplish your storage also needs when being on a budget. You will keep praising the so creative mixture of wood pallets and crates that results in a beautiful pallet bookshelf. One can employ the crates to store lots of extra items and materials. It will not take that too long to build an insanely cute and lasting longer wooden bookshelf that will rock to display your art & crafts and picture frames. Everyone will love building it for sure. You need 2x4s, 2x10s, reclaimed pallets, large crates, extra-large crates, wood glue and custom hardware to clone it. jenwoodhouse
4. Pallet Patio Love Seat

Every patio lover will fall in love with the design of this chair, sure to make you sit like a boss there. This extra wide chair is to build with the pallets and some other wood scraps and is solid enough to last for years to come. Cut the pallets to size to build the seat and backrest. Next, use other wood planks and square wood beams to build the legs and armrests of the chair. Finish with stain, paint and also with a nice comfy cushion. One of the best and quick-to-build DIY pallet chairs to build in no time. littlevintagecottage
How to Build a Couch Out of Pallets: Explore these 40 DIY pallet couch plans and projects which are sure to make you get with your favorite pallet sofa designs.
5. Pallet Wood Herringbone Headboard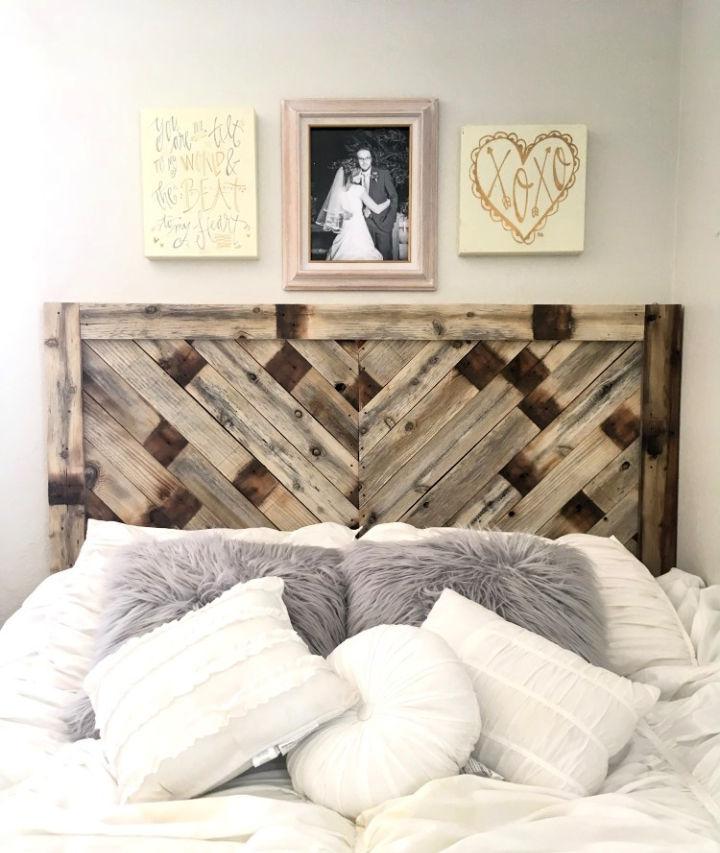 Bring that highly heart-touching chevron effect to your bedroom along with tons of rustic grace by adding this wooden pallet headboard. The bed's best herringbone style accent head will be a total pleasure to build with some free pallets. The completed headboard frame is 6ft wide and 3ft tall and use the 1x1s to build the frame. Next, fill it up solid with the chevron alignments of pallet wood slats, and the whole project will be complete simply in no time. sixcleversisters
6. Pallet Picnic Table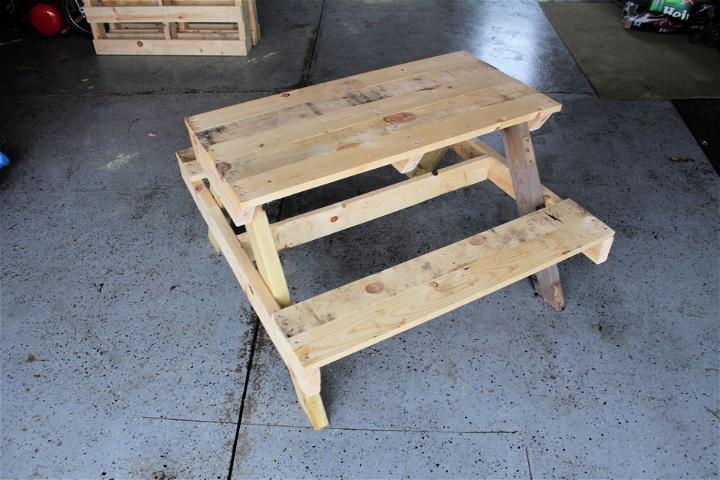 There are amazing pallet wood creations out there that will help boost the kids' entertainment and fun. This solid wooden picnic table is one of those kids-friendly pallet wood creations. The A-frame sides raised tabletop and the attached seats are the beautiful features of this solid and long-lasting pallet wood picnic table. Along with a pallet, you also need 2x4s to build this solid picnic table. Stain or paint the finished design for a longer outdoor life. Make a hole in the center to add a lovely parasol for sun protection. needlesandnails
7. How To Build A Dresser Out Of Pallets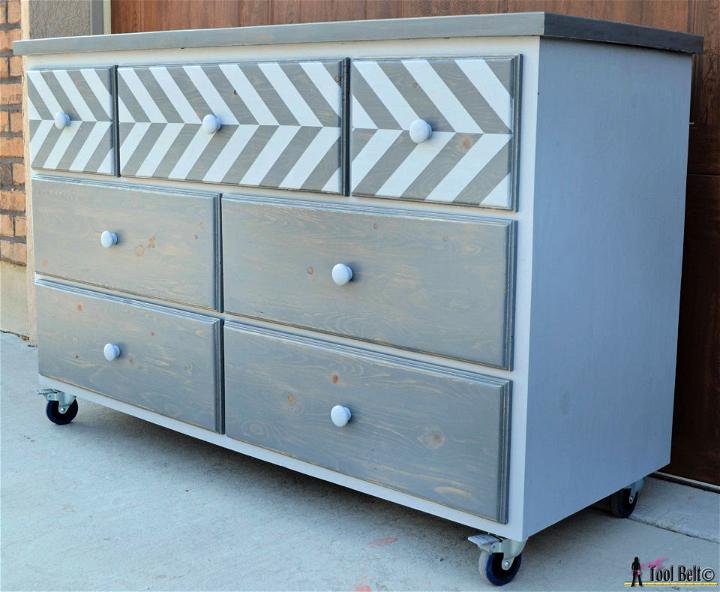 Make a list of all the furniture items you are missing in-home and build them with free pallets. Get here plans and instructions to build a 7 drawer dresser out of pallets. What makes the design look so provocative is the chevron top. Give it a durable stain finish for a changed wood tone, or simply paint it for a modern appeal or a custom look matching your decors. The choices are all yours. Along with some pallets, you also need pine wood boards, 2x4s, plywood and 5mm sheathing to complete this project. The completed design is 30" tall and 52 ½" long. hertoolbelt
8. Bohemian Pallet Patio Couch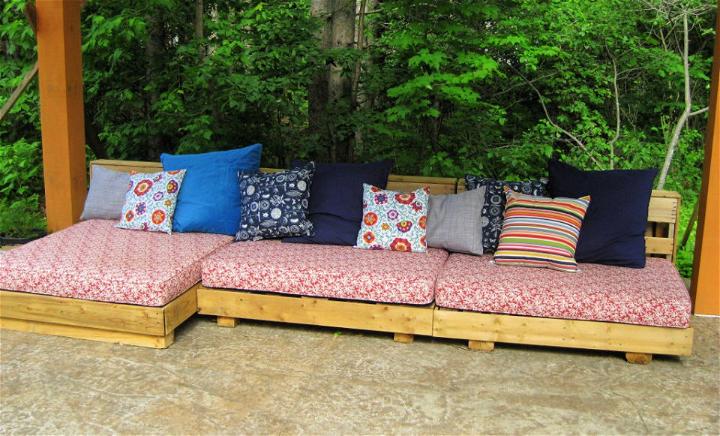 Transform your patio into a big entertainment center and relaxing station by adding this Bohemian pallet couch and daybed. You need 3 full pallets, 3 half pallets, 4x4s, ⅝″ thick deck boards and some creativity to complete this wooden pallet patio couch set. It will make an impressive handmade gift to a patio lover also. The project's total cost will equal the price of the high-density foam mattress and cushions you will add to the sofas and daybeds. The best pallet wood creation that will make you live the luxury at the patio. thelovenlife
9. Make Chair Out Of Pallets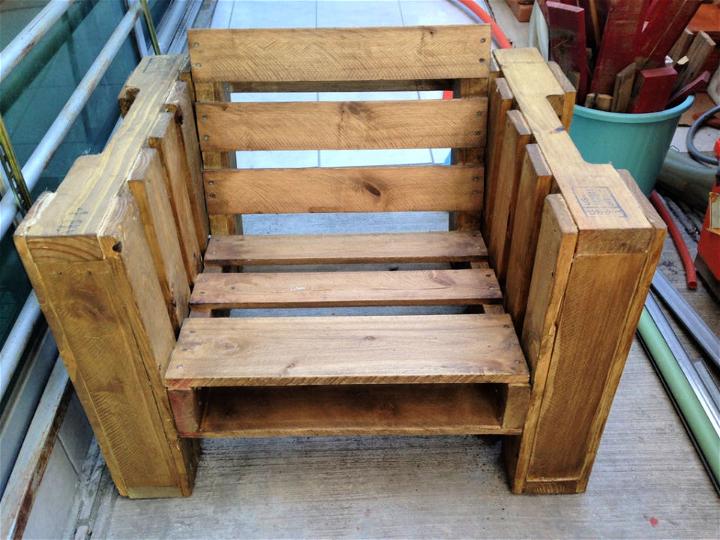 You can easily take the pallets into pieces required to build a solid wooden chair. Feel free to duplicate this wooden pallet chair that is too durable to live for years to come and made with uncut but trimmed sizes of pallets. Take two pallet sizes to L-shape to build the seat and backrest, and then add two clone sizes to both sides of the L-shape chair unit to gain the armrests and legs of the chair. One of the best and quick-to-build wooden pallet chairs that everyone can make in no time and without getting a bit expensive. instructables
10. Pallet Side Table Plan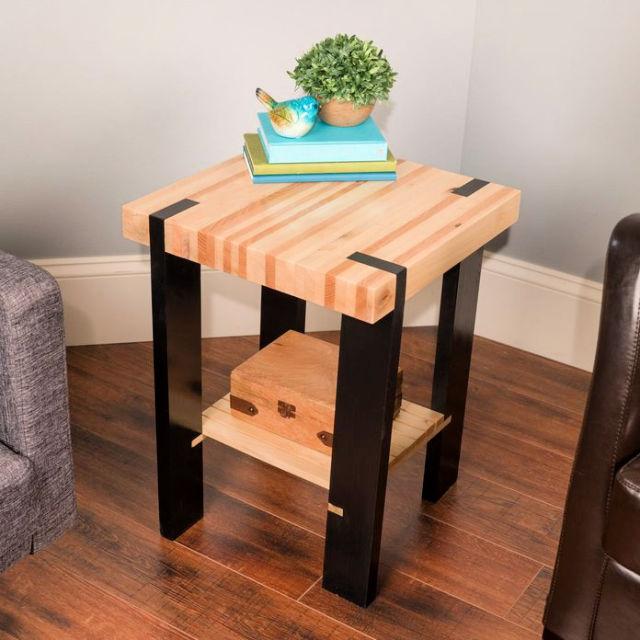 The side tables are a big need and give some amazing services to friends, guests and other members sitting on the couch or chairs. So, you can build lasting longer wooden side tables too out of some free pallets. Don't know where to start? Grab here the complete free instructions to build a lasting longer, and beautiful wooden pallet side table will be a big love of all. You need a pallet, wood glue, skills, and hardware to complete this handsome side table model. The entire project will complete in a day and will cost you around $5. The project is much doable for all having an intermediate carpentry skill level. familyhandyman
11. Low Cost DIY Wood Pallet Bench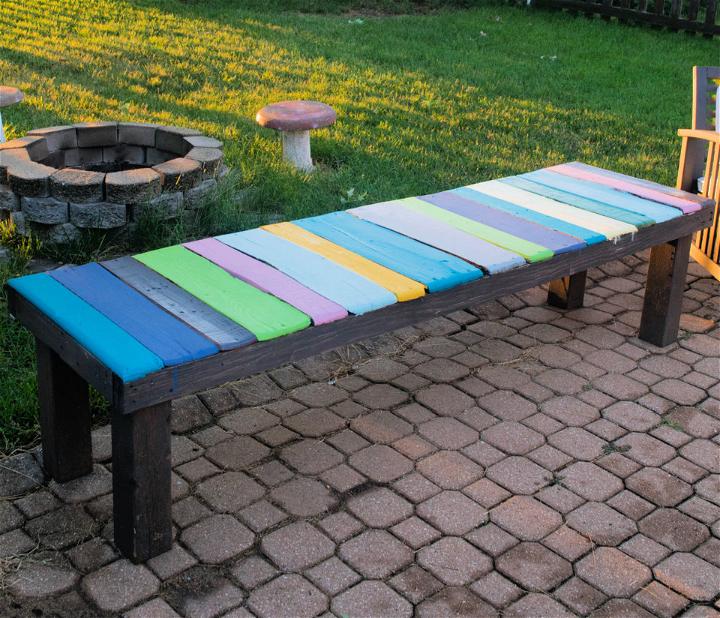 Buying lasting longer and stylish outdoor furniture is a big investment in the patio and home deck renovations. So, you can trim down your expenditures by building some outstanding furniture pieces out of some free wood pallets. You will keep staring at this jumbo wooden bench that gains attention with the rainbow slatted seat and stands on the heavy-duty 4×4 wooden legs. To complete this solid wooden bench design, you need wood pallets, other wood scraps, and heavy-duty 4x4s legs. ourhousenow
12. Outdoor Pallet Table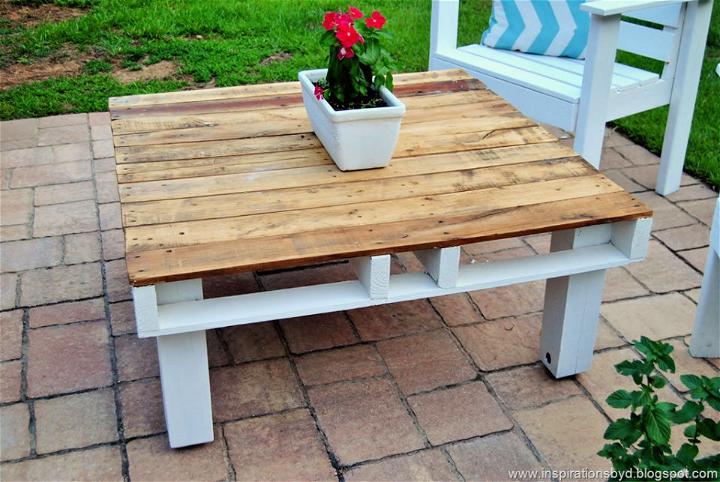 Everyone will fall for this outstanding design of a wooden pallet coffee table. It enchants with the chic white-painted base and also with the solid rustic wooden top. Stain the tabletop for added stability and durability, and the whole project will be a piece of cake to do. Sand smooth a square wood pallet, recondition it using wood stain and then finish it with custom and durable wooden legs. You have here the freedom to use your favorite paint or stain to give a durable and decorative finish to this entire wood pallet coffee table. inspirations
13. Couch Made From Pallets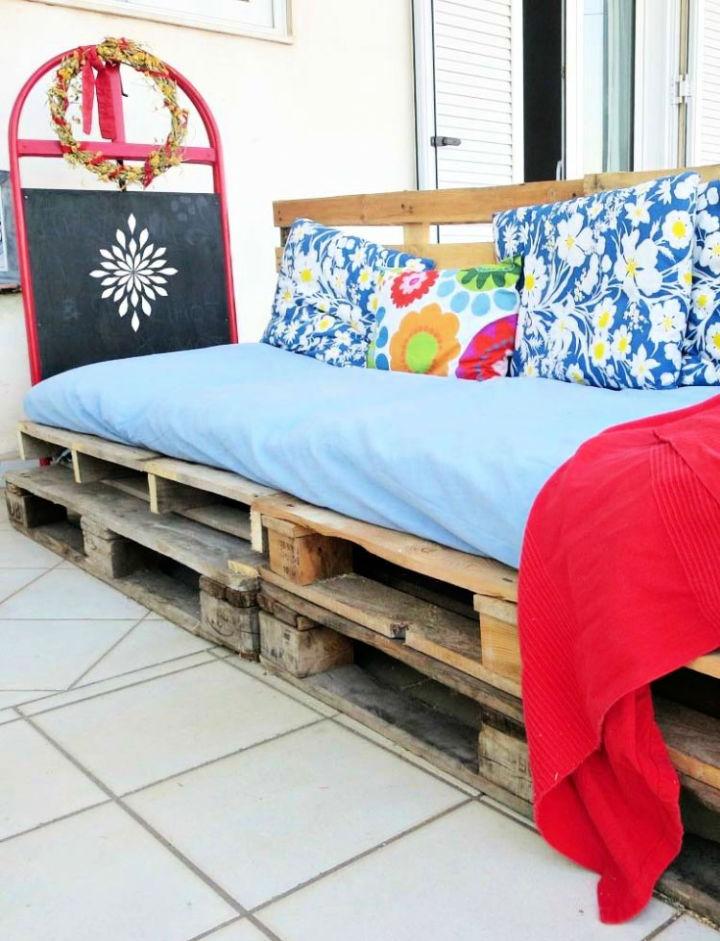 You will find the pallets magical when it comes to building durable and stylish wooden sofas. Consider the pallets as pre-fabricated panels and then stack easily to build lasting longer and highly stable wooden couches and sofas in no time. Here you need a total of 6 pallets to close this handsome and highly stable design of a wooden couch, will never get out of style. You also need a rope to clone this superior model of wooden pallet sofa or couch. Plan a stack of 2 pallets to build the couch seats and use single pallets to whip up stable wood pallet backrests. theboondocks
14. Rustic DIY Pallet Sofa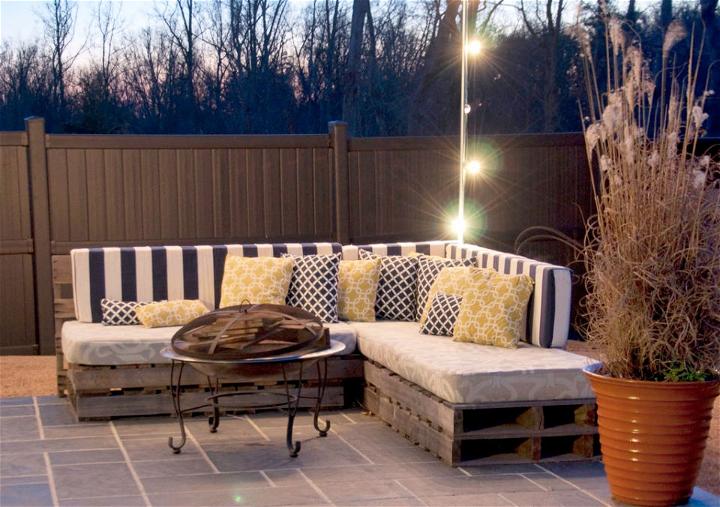 Building couches and sofas are among the most loved wood pallet furniture, and they are comparatively easier pallet wood builts. So, follow guides here to build an L-shape wooden sofa or couch, which will best fit a patio or living room corner. As a big surprise, you will get the built-in storage cubbies that can be used to store anything special and worthy, including books and magazines. Stack the pallets to build seats and take single pallets into L-shape to build backrest for a corner sofa. Use extra wood to fill the pallets' solids or to hide them. Use the luxurious seat cushions and mattresses to complete the whole sofa design. instructables
15. Simple Elegant Pallet Bed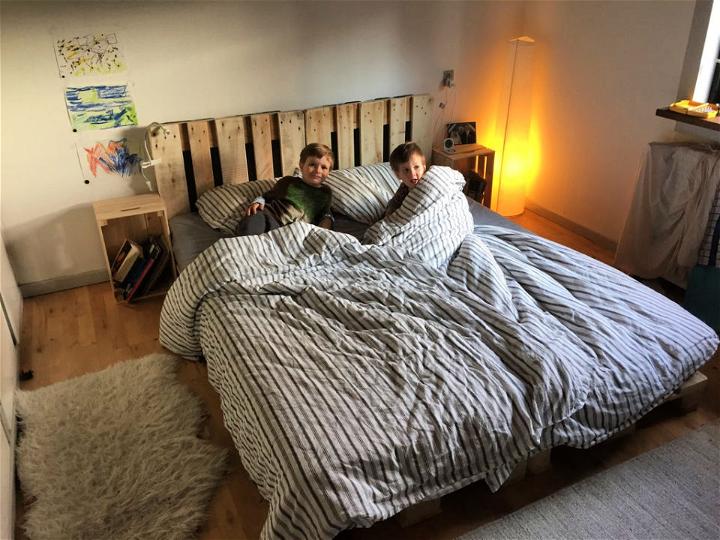 A big thanks to EURO pallets for this magnificent furniture creation, the durable and elegant wooden bed, built for the little kids in-home and will last longer than usual. The finished bed is made of 6 standard EURO pallets and has dimensions 160cm x 200cm. So, you also need a 160cm wide mattress for this pallet wood bed, which can be added to any newly built bedroom. Build the headboard also out of recycled headboards, and you can paint or stain it for some bigger style statements. instructables
16. Wooden Pallet Garden Bench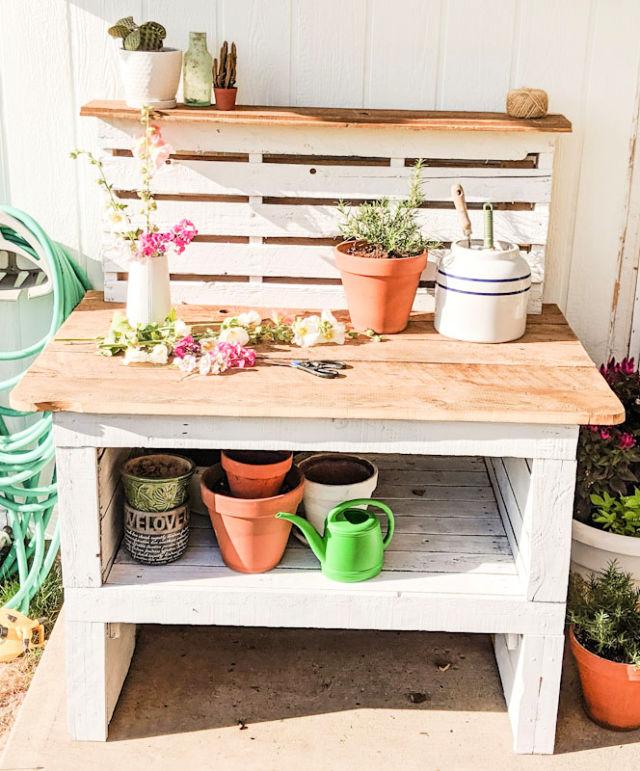 Pallets serve for the amazing garden and home improvements in countless different ways. So, build this a garden potting bench that is always a big need to maintain a good look of your garden. The design offers a big heightened back wall and amazing built-in storage to store and organize your garden tools. Finish the base of the bench for a chic white appeal and leave the surfaces blank in the natural tone of an enchanting appeal of the entire wooden potting bench. The best part is that you have the freedom to build any size of this robust wooden potting bench. myhappysimple
How to Build a Pallet Garden:
Building a pallet garden is a simple DIY project that provides you with growing space for salad, herbs, flowers, and fruit in just a couple of hours.
17. End Table Made From Pallets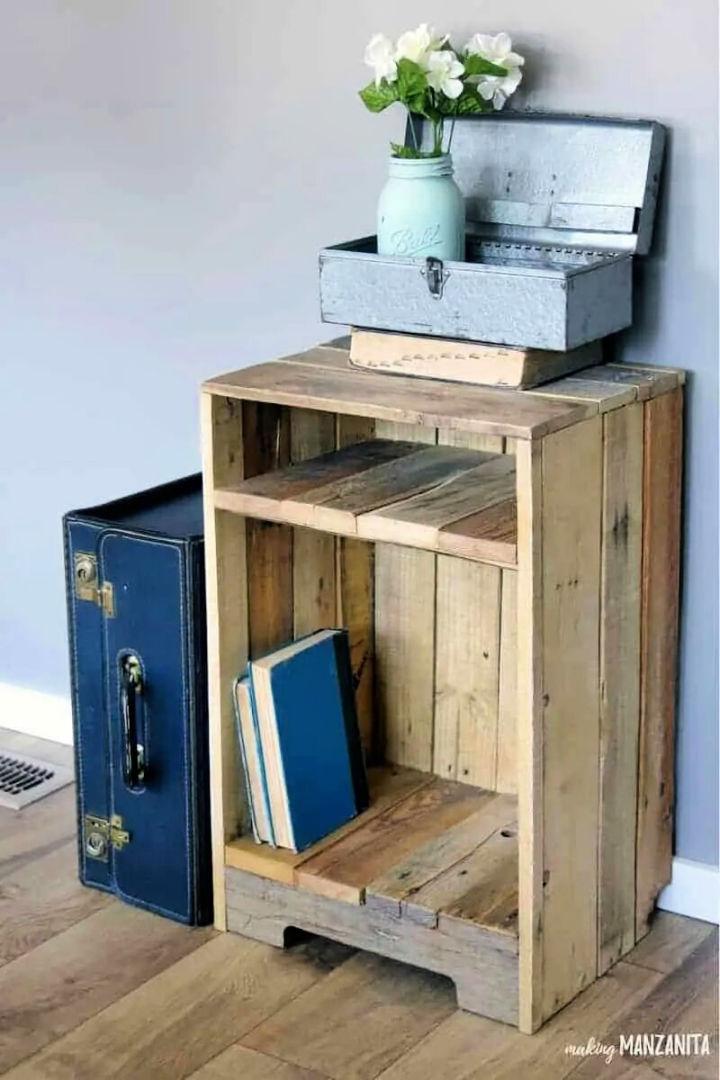 There is no way to build stylish wooden furniture inexpensively but using some free pallets. You will get complete guides about building a fully functional, stylish and durable wooden side table out of some free pallets. The project starts by dismantling the pallets properly. Next, put together the pallet wood slats to build the tabletop, legs, stretchers and surfaces of this storage-friendly wooden pallet side table. It will nicely hold your books inside and also various other items of this kind. Make it hold a lovely light lamp also. One of the best DIY pallet wood furniture ideas ever. makingmanzanita
18. Swing Made Out Of Pallets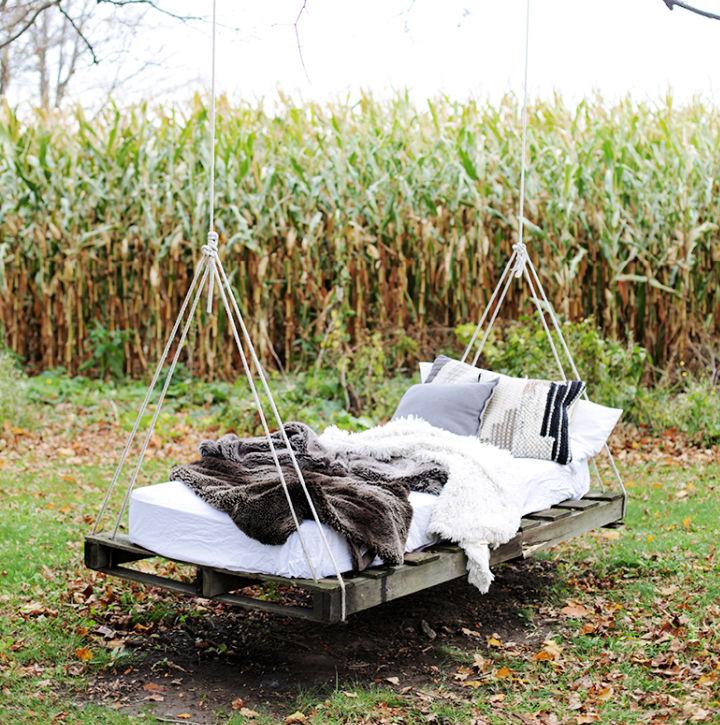 Keep enjoying your outdoors with the amazing swinging experience. The idea is to build a hanging outdoor bed swing, which can be a big investment. Learn here how to build a hanging pallet wood swing bed anywhere in your garden for an amazing sleeping and swinging experience. Just put together a few pallets to get the bed platform and hang it up in the air using heavy-duty rope. Pick your favorite mattress or cushion to add high-value comfort to this awesome wooden pallet hanging bed. themerrythought
19. Pallet Dining Room Table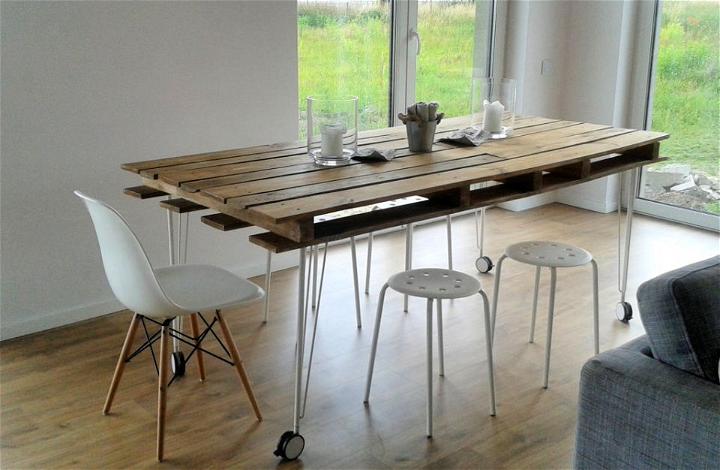 The prices for the wooden dining tables that carry a great style are much higher. However, there is a secret to building a stunning wooden dining table for free. Just use the discarded pallets. You will love the rustic look and appeal of this solid wood dining table that stands on the table legs and is highly something impressive and cute to look at. What makes this entire dining table look extra beautiful is the modern rolling movements on the interior floors. Paint and stain the pallet tabletop in the way you like. instructables
20. Pallet Bar For Under $100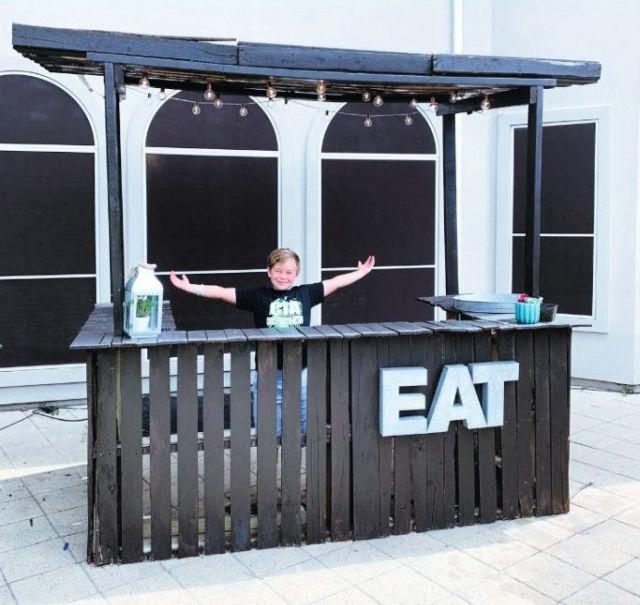 Upcycle the pallets to build stunning bar tables and lemonade stands also, which will be a big need from a business point of view. Learn to build this wooden bar table with a durable lighted roof, and is extremely easy and quick to build. The whole bar is made of pallets and is painted in black for an enhanced rustic appeal. The "EAT" wooden letters take the beauty of the entire wooden pallet bar to the next level. The letters are painted in white, and they pair up beautifully with the black antique stained bar look. So, building an outdoor or backyard bar will be super inexpensive using some free pallets. allmygoodthings
21. Pallet Wood Bookcase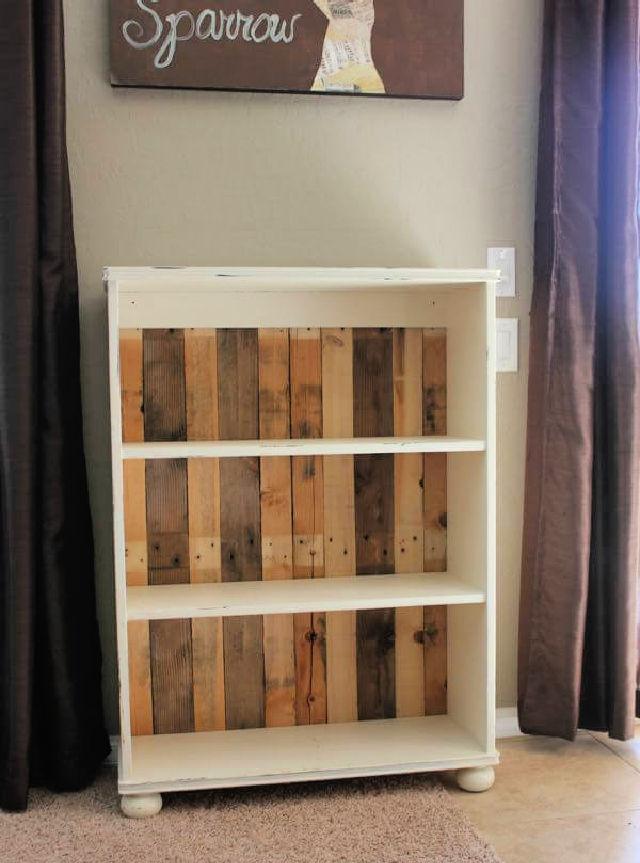 You will love the rustic background of this solid wooden pallet bookshelf, a crazy wood pallet creation. The bun feet and chic painted, painted frame go just amazing with the rustic background of the bookshelf. You need pallets, crowbar, circular saw, drill, screws, and some creativity to easily clone this beautiful wood pallet bookshelf. Pry the pallets to get a big stock of pallet wood slats needed for this bookshelf makeover. Just go with the slatted arrangements of pallet wood slats to easily add the rustic background. notinggrace
22. How To Make A Pallet Desk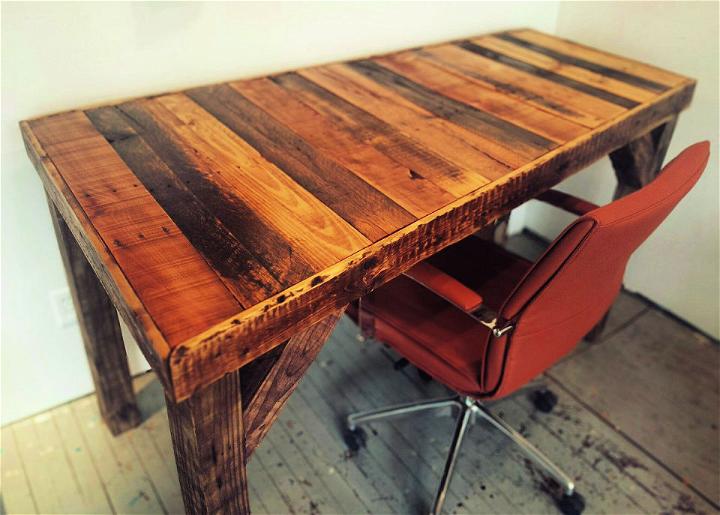 From easy laptop operating to doing the homework easily, a desk is a big home need. Custom wooden desks are always expensive to buy, but they can be made at home at a fraction of the cost using some free pallets. Just put together the pallet wood slats on a plywood board or any other cut to size board and trim the excess to gain a beautiful desktop. Now, you can finish it up with your favorite metallic or wooden legs. One of the best and quick-to-build DIY pallet wood desk designs that makes a lovely gift also. fringefocus
23. Turn A Pallet Into The Ottoman

One can build all sorts of living room furniture out of free recycled pallets. This time get here the professional pallet furniture ideas to build a dreamy ottoman with some free wood pallets. Before you get into construction, get ready with the required materials and supplies. Grab the heat-treated pallet, wooden candlesticks, 4″ foam, spray adhesive, batting, stapler, fabric, and custom hardware to whip up this well-tufted and durable ottoman. It will be the best comfy footrest and an extra seat or coffee table for your living room also. One of the best and quick-to-build DIY pallet furniture project ideas. hgtv
24. Wooden Pallet Stool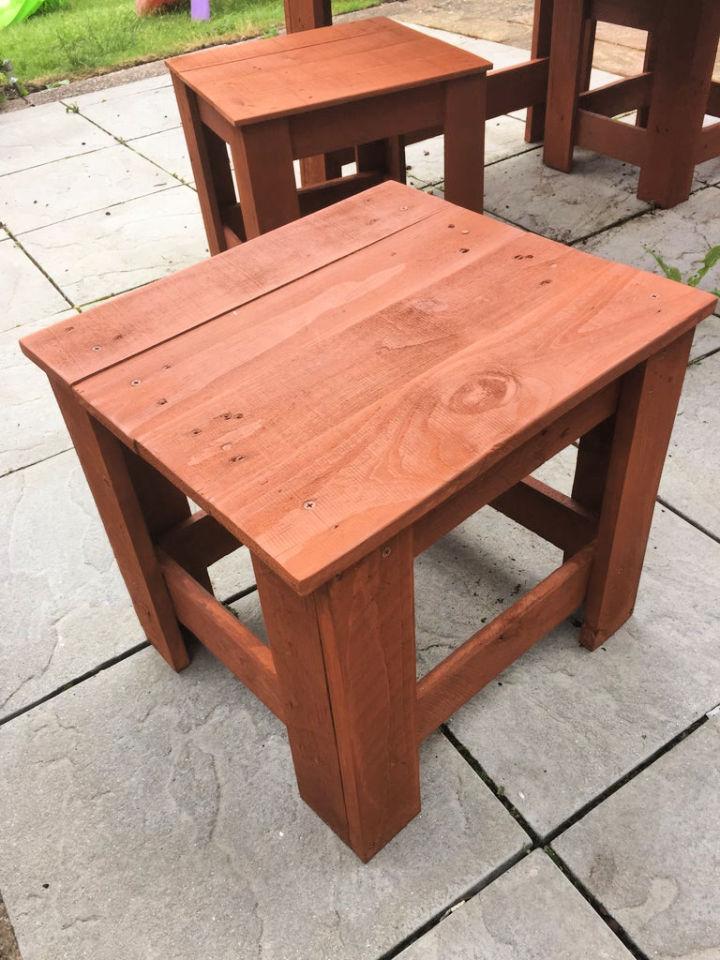 Go handmade with the pallet wood also to build lasting longer wooden stools. See here a lovely sample model that appears with blank wooden surfaces and gains attention with the solid design dimensions. You need to be separated apart wood pallet slats to build legs, supports and top of the stool, and this entire project will cost you next to nothing. So, you can easily build a set of wooden stools in no time while using some free pallets. This will be a great idea also for your make and sell business purposes. instructables
25. Pallet Nightstand Design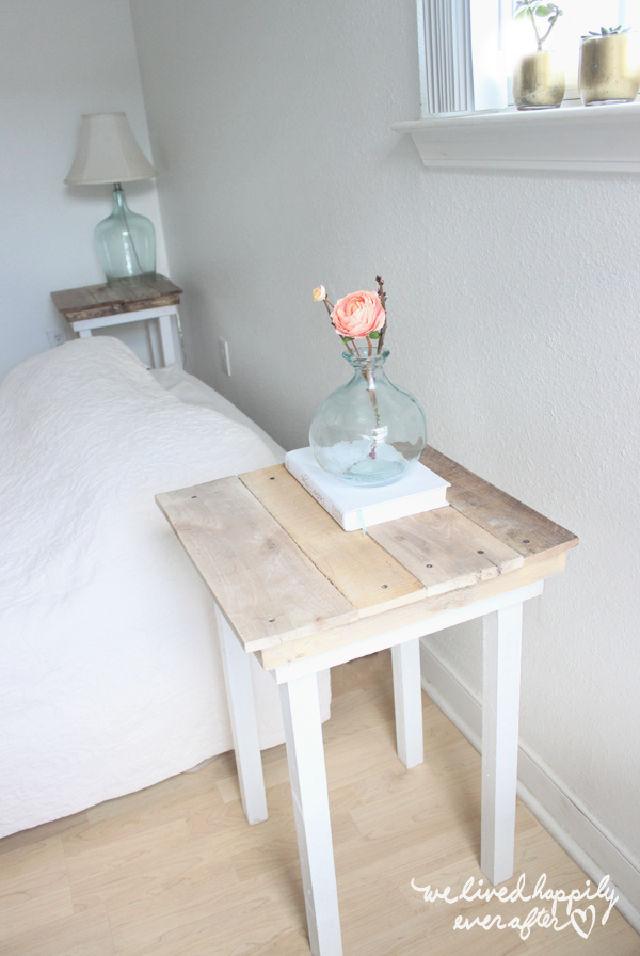 Use the scraps of pallets to construct this minimalist version of the pallet bedside table. The coolest design of pallet nightstand to build with wood scraps and also with leftover pallets. The design is added with custom legs to get raised on a custom height and features a solid wooden top to hold all your night supporting materials. Paint the whole, finally completed the nightstand design, and it will not take that too long to be in your bedroom. The best and proudly pallet wood creation that is both gift-worthy and praise-worthy at the same time. welivedhappily
26. Pallet Wood Toy Box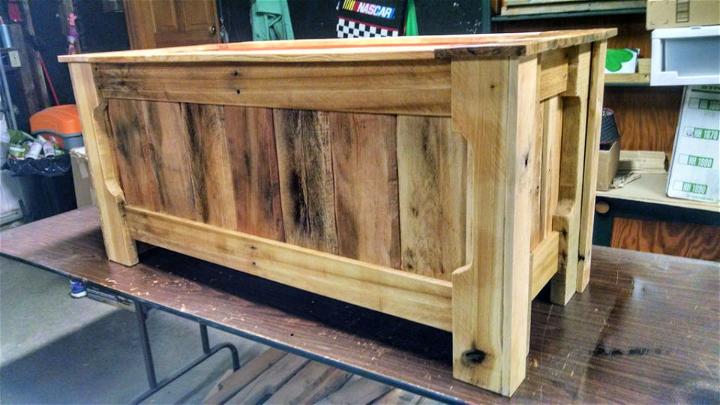 Are you suffering from home storage issues and are lacking some great storage space for storing kids' toys? Then head over to pallet wood recycled and build this wooden pallet toy box that is insanely cute and durable to look at. The solid design dimensions make this box look extra beautiful and enchanting. One can use it as a big planter box, and you can also finish it up with custom casters for touch-to-move movements. One of the quickest and easy-to-do pallet furniture plans that every beginner can do with ease. You have here the freedom to build any particular size of it. instructables
27. Repurposed Pallet Patio Couch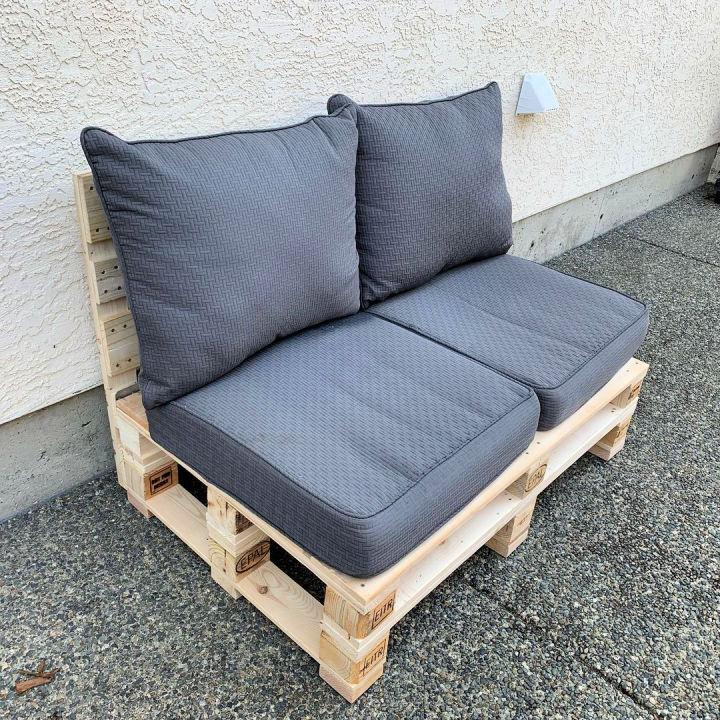 Repurpose the pallets also to build instant beautiful couches having multiple seats. You will keep staring at the bright wood tone and perfectly cushioned seats of pallet wood double seater couch. The best EURO pallet creation that enchants. The construction is about stacking two pallets for building a couch seat. Add a modified pallet board to build the whole beautiful back of the couch. The design is super beautiful and can be added to your newly built living room, patio, and any particular home space. This is how you can fulfill your sitting space needs using pallets.
28. Wooden Pallet Stool Plan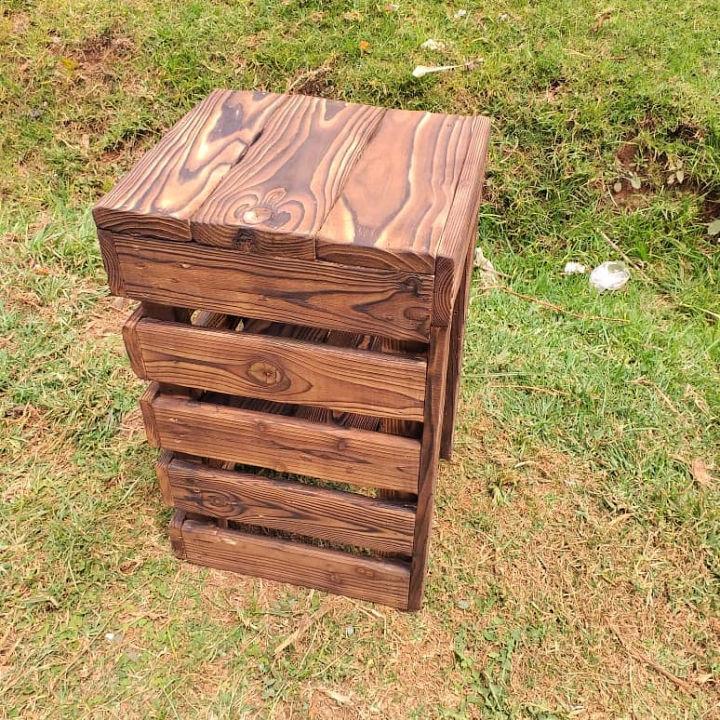 You will love this wooden stool's darker tone and brilliant wood design textures, a handsome pallet wood creation. The design is filled solid using extra pallet wood slats, and it can also be cushioned to provide ultimate sitting comfort. However, you add custom built-in shelves for getting some extra storage and adding a steel bar will also rock as a footrest. Do build this stool for your indoor or outdoor pallet bar, and it will rock for a kitchen also. The best design of wooden stool to overcome your anywhere sitting space needs.
29. Low Budget Pallet Lounge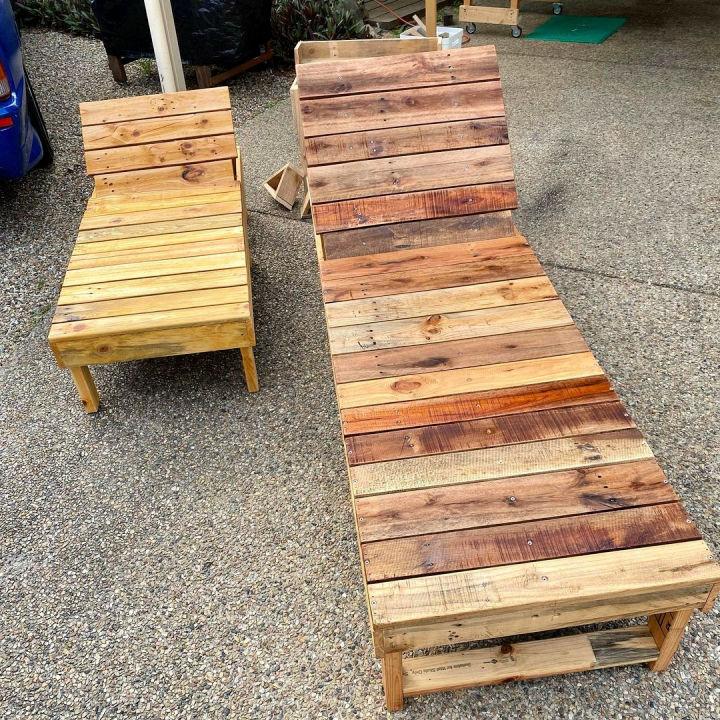 Build all sorts of furniture out of free pallets. Fancy up your poolside and other patio spaces with these wooden pallet loungers that are robust and look much visually captivating. The slatted design is super impressive, and the added backrest is sure to make you sit in a super comfortable. First, build the lounger's frame by adding the side rails and stretchers and then fill it up solid using custom separated apart pallet wood slats. The backrests can be adjusted to any particular angle to get a maximized value of comfort.
30. Vintage Pallet Bathroom Vanity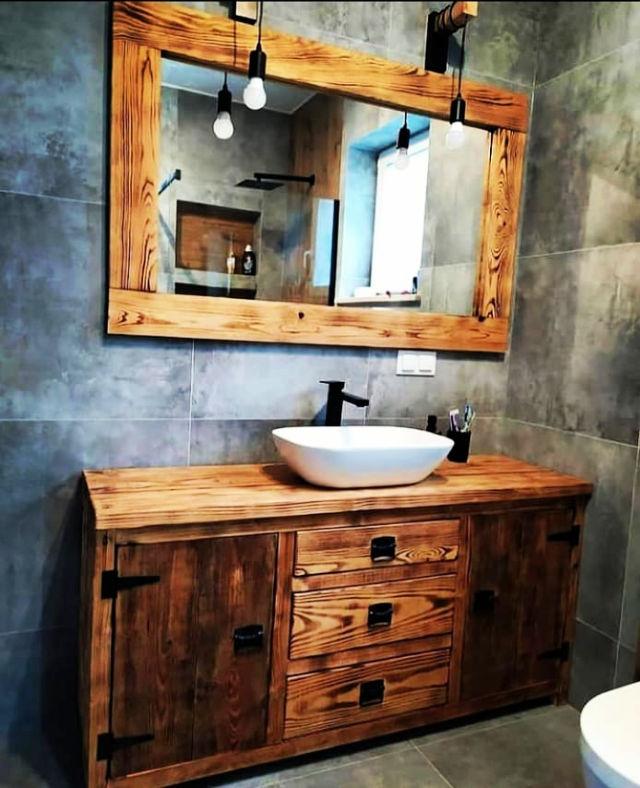 Give your bathroom a glam touch of vintage living by adding this vintage vanity and mirror set. The vanity comes with 3 built-in drawers and also the two side sub-cabinets. The antique hinges and rustic wood tones make the whole vanity appear extra beautiful. For making the whole beautiful bathroom mirror, just frame up the whole bathroom mirror. The whole project is amazing and encourages the audience to recycle pallets. The whole project is beginner-friendly, budget-friendly and will complete simply just at the drop of a hat. The best bathroom mirror and vanity set to make with the free pallets.
31. Pallet Patio Daybed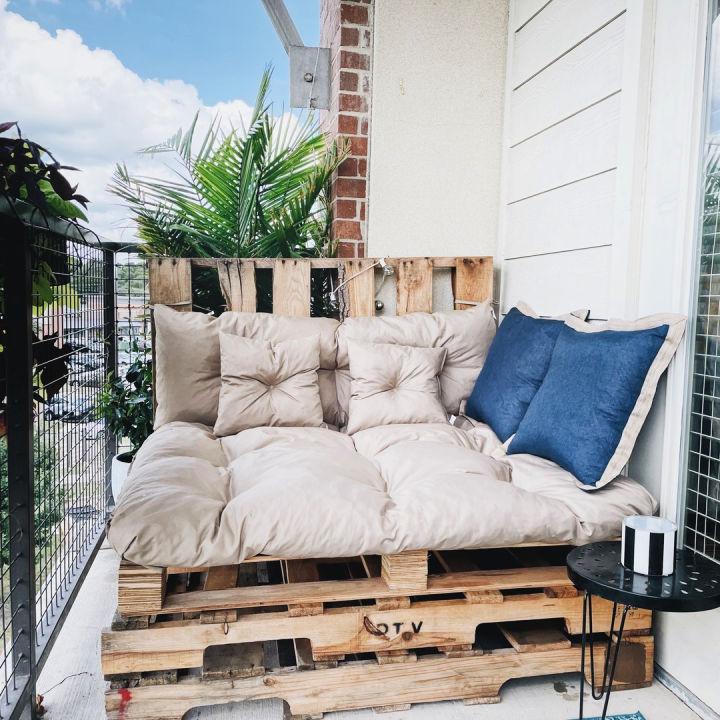 Willing to get relaxed at the patio? This will take skillfully arranging some pallets to build this patio daybed, sure to provide luxurious sitting and sleeping comfort. Just stack a few pallets to build the seating section and add a pallet to the backside as a solid backrest. Use your favorite cushions, mattress and pillows to bring tons of sitting and sleeping comfort to this wooden pallet daybed. The most cost-efficient and quick-to-build wooden pallet couch or daybed design. One of the best DIY patio furniture ideas.
32. Pallet Hall Tree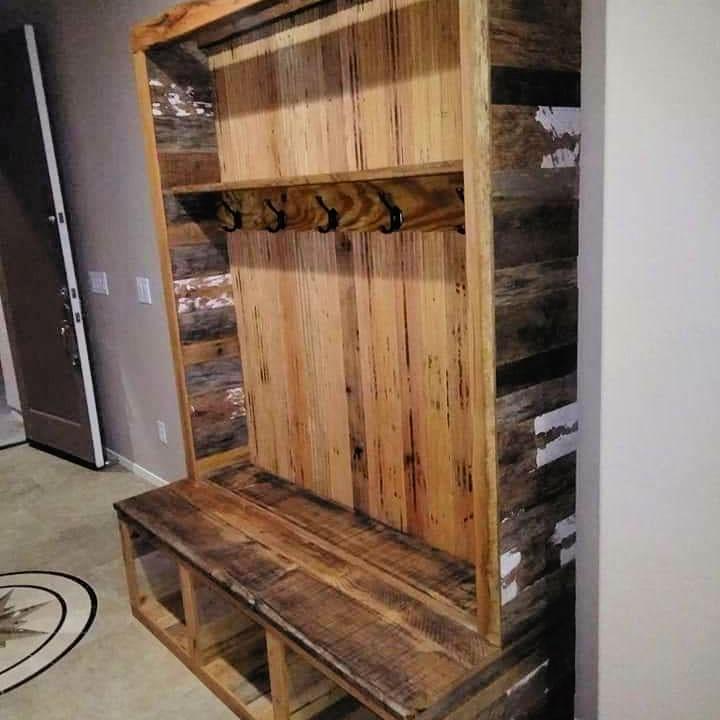 You can simply build all types of wooden furniture with some free pallets. Get inspired by this wooden hall tree that impresses with the bottom storage bench, top shelf, and the hanging hook section in the mid. Tear the pallets apart into pieces and then plan to build this stunning piece of hallway furniture easily. One can also paint this hall tree to match the hallway and home decors. You can simply store a variety of shoes in the bottom storage compartments, and the top-shelf will rock to display your decors and hold your other items like gloves, hats and much more.
33. Pallet Butcher Block Island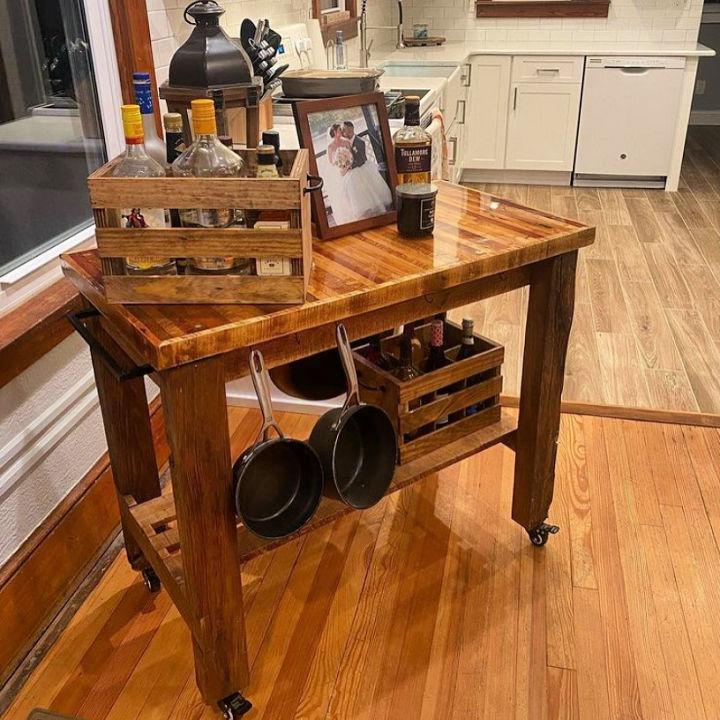 When it comes to stability, the butcher block furniture items rank on the top of the list. So, rock your kitchen with this stunning butcher block kitchen island design that also comes with a bottom shelf to store all the extra items. Put together the pallet wood slats to build the bottom shelf and the solid butcher block top. Use other scrap wood pieces and wooden beams to build this kitchen island's frame and solid legs. Add the hanging hooks to hang your pots and install the towel rack to one side of the table. Finish the entire table with locking caster wheels.
34. Pallet Bunk Bed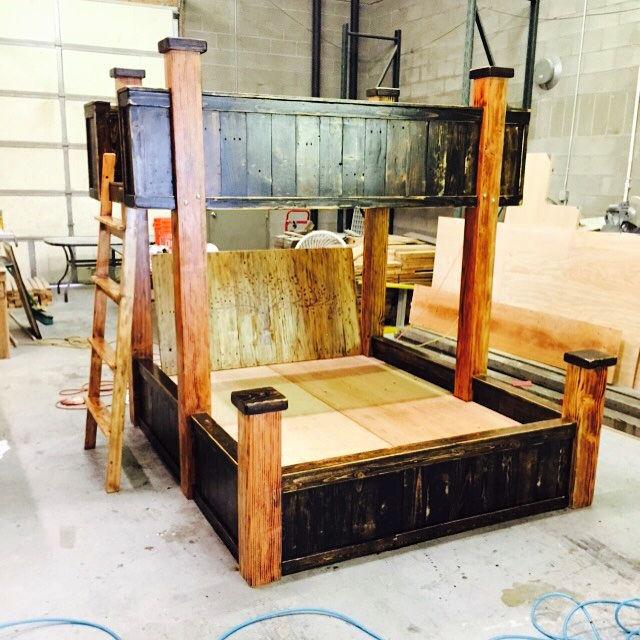 The pallet furniture ideas are never-ending. Depending on your creativity and skill level, one can build anything out of pallets, even this solid wood bunk bed. Use heavy-duty wooden beams, other wood planks and plywood to complete this solid castle-style bunk bed. It will be a great addition to any kids' room and is crazily easy to build with some intermediate and advanced carpentry skills. The half-stained and half-natural wood tones create a stunning appeal of the entire castle bed. One of the best and quick-to-build wooden pallet bed ideas.
35. TV Stand Out Of Pallets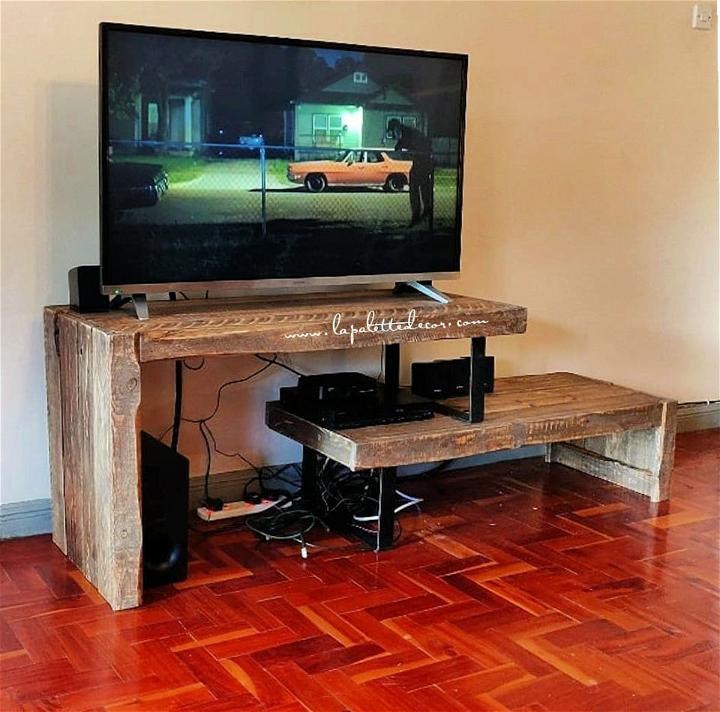 Willing to build something modern and much aesthetically pleasing also with pallets? They duplicate this gorgeous wooden pallet TV stand, amaze with the L-shaped wooden components that have been put together using durable hardware to duplicate this beautiful and stylish wooden pallet media console easily. This stepped minimalist wooden media center will create a big focal point right in your bedroom. The project is more than easier to do and will also be complete simply in no time.
36. DIY Pallet Garden Sofa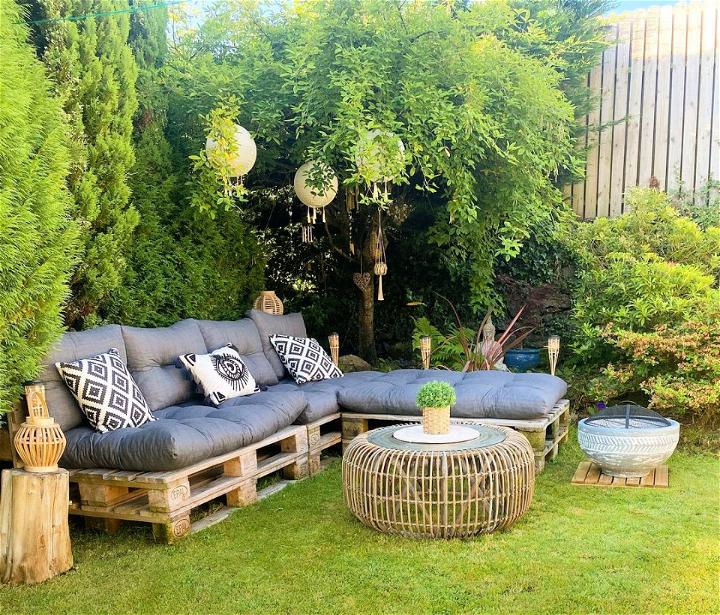 Everyone will just keep on staring at this extra beautiful L-shaped wooden pallet couch. It will be a significant addition to one's green space and can be cushioned beautifully for a maximized value of sitting comfort and also for a serene look. Just stack the pallets to build the instant beautiful seat frames and add some pallets to the backside of the couch for lasting longer backrest positions. One of the best and quick-to-build wooden pallet patio sofa that will fit any corner space. You have here the freedom to build any particular size of this wooden pallet sofa.
Pallet deck: Pallet decking is a great way of improving your garden space without any cost. Pallets are cheap and a free source of wood. See how to build a pallet deck at no cost.
37. Pallet Lounge Chair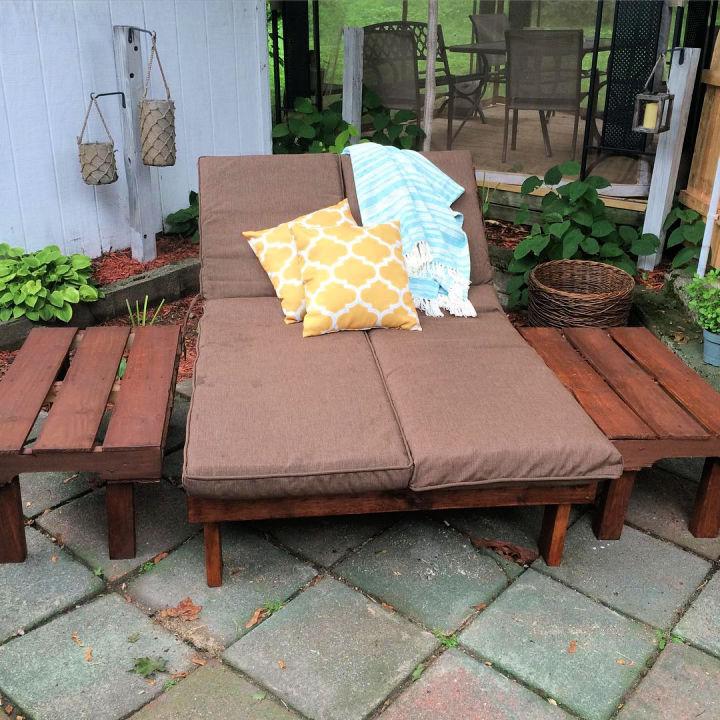 The pallets come with highly feasible shapes and can be put together or rebuilt into many functional and stable furniture items. Peek into details of this given wooden pallet lounge chair, cushioned for an extremely luxurious appeal. Use the leftover pallet wood to build the matching side tables, which will hold your oils and refreshments while catching some rays or enjoying the poolside. Build the adjustable backrests and also cushion up the whole seat beautifully for a maximized value of comfort. You can add the custom leg lengths to vary the overall height of these poolside chairs.
38. Pallet Mud Kitchen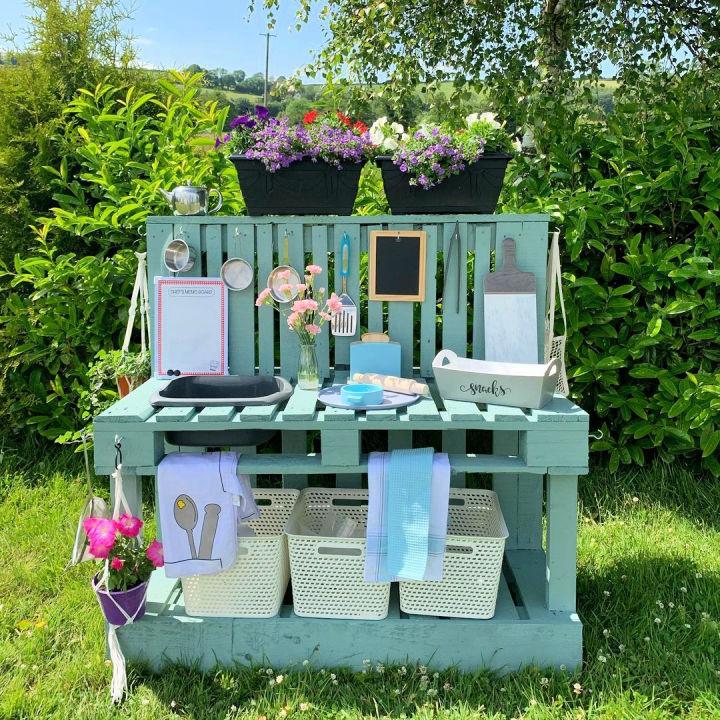 There is a lot to build with pallets that will help boost kids' fun, physical activities, and outdoor entertainment. This wooden pallet mud kitchen is an interesting example here. It impresses with the solid bottom shelf and offers a lovely back wall and a worksurface also. The sink, stove and other hanging hooks are added to boost the fun and functional behavior of the entire mud kitchen. 3-4 pallets will be enough to construct this lasting longer design of wooden mud kitchen, sure to be a great addition to one's garden. Paint it for a custom look and appeal, and also give custom stain coats for weather protection.
39. Pallet Sectional Couch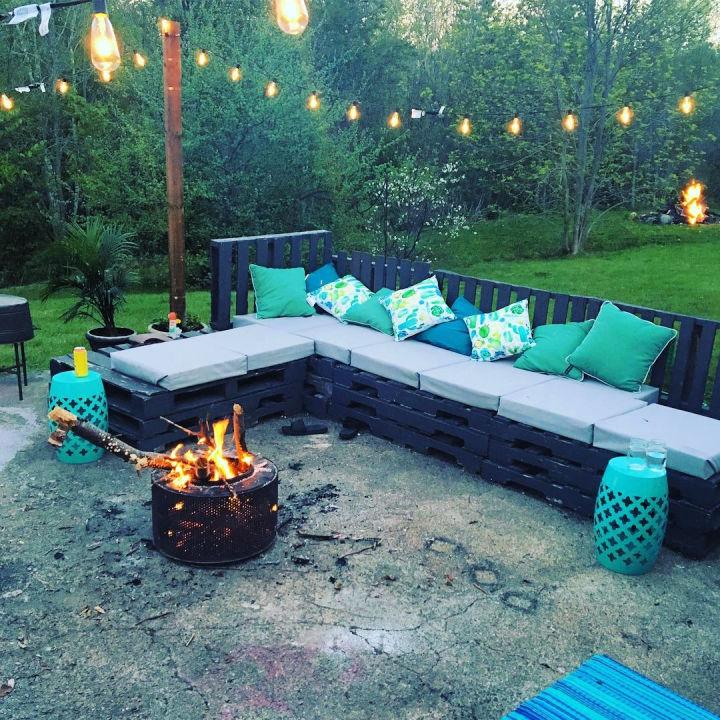 Do you love the winter night gatherings and love to sit around an outdoor firepit? Then it may require some bigger outdoor sitting plans. So, the pallet wood allows you to build lasting longer and wonderful large outdoor couches and sitting furniture sets for free. Look at this given L-shape extra large sitting set that is crazily beautiful and awesome to look at. Here this entire project is all about putting together the uncut pallets for building the entire sofa set. Stack the pallets to build seats and add some pallets vertically behinds the stacks to serve as sofa backrests.
40. Wooden Pallets House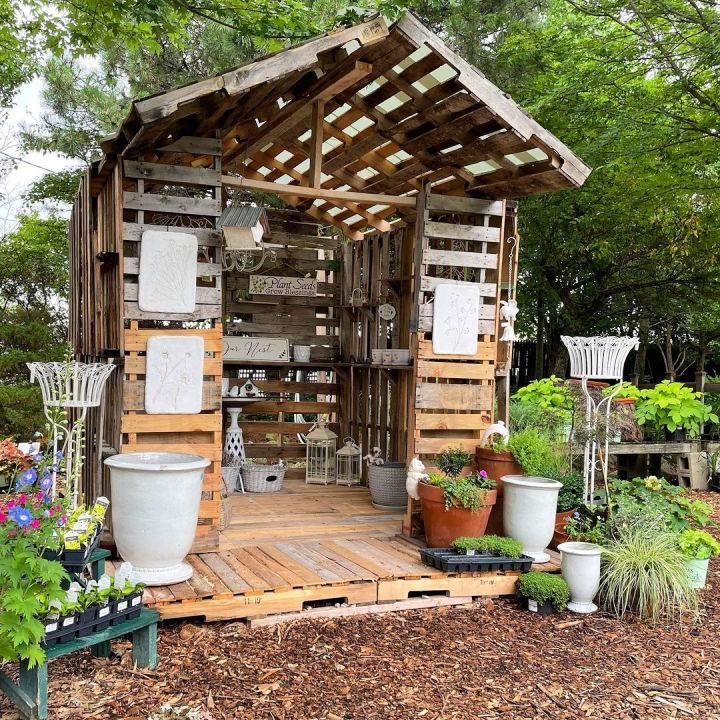 Do a little planning with pallets also to build a greenhouse. Get complete guides about putting together the pallets to build a solid wooden house with a chevron roof. Start by building the solid foundation and pallet wood flooring. Next, raise the walls and also add the chevron roof to the entire outdoor house design. This project needs some advanced skills to get completed, and you can also build custom sheds and kids' playhouses with the free pallets.
Conclusion:
Many of us do not know that pallets are recyclable. At the same time, many of us are unfamiliar with DIY furniture and home improvement projects to do with pallets. So, these amazing pallet furniture ideas will share a big list of unique, stylish and stable furniture items to build with free pallets. This will inspire your creativity, and you will love building your favorite furniture at home also. These pallet furniture plans will share comprehensive written and visual guides and the complete material and tool lists to be much doable even for beginners. So, take a tour of these projects and pick your favorite pallet furniture idea to duplicate at home.