Do you love decorating your home for Memorial Days? Then celebrate the 4th of July, Independence Day, with these DIY pallet American flag designs, sure to make amazing 4th July decorations. These DIY pallet flag projects involve making all the historical and modern versions of the American flag using free recycled pallets. You must be skilled a little in carpentry and painting to do most of these projects. The majority of these projects are both beginner-friendly and budget-friendly.
Explore these 25 beautiful and inspiring DIY pallet flag ideas to see a wide range of pallet American flag designs built with 100% pallets. Along with making all versions of the American flag, these projects also involve building custom Texas's flag, Gadsden flag, and Unversity of Michigan flag. This not ends here. The projects will guide you to make country flags of various other countries and states, like Mexicano and Colorado.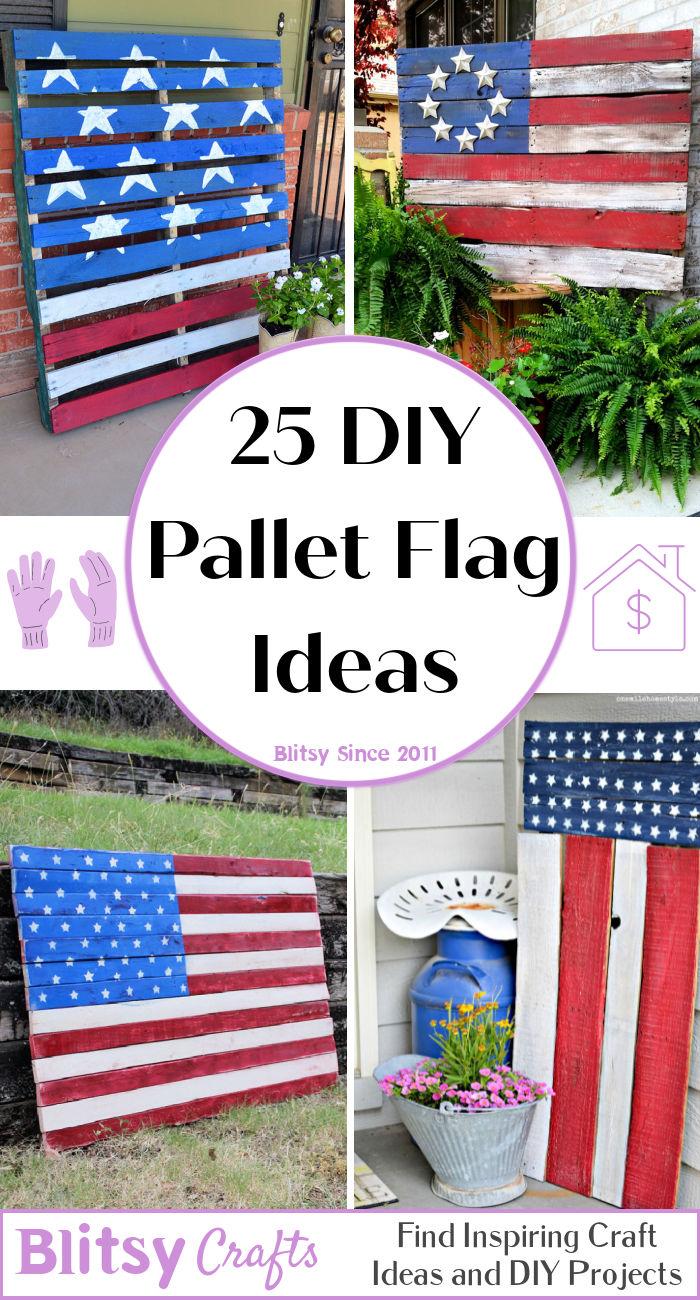 First, you have to decide the size of the flag you need. Most of the pallets come in rectangular shapes that always suit flag-making. However, you can paint the country flag directly on the pallets or make a wooden board first out of dismantled pallets to paint a custom flag on. You have to paint the stars and stripes for the American flag, and there will be tons of choices for the stars. You can stencil them or use the white star stickers, using the white painted wooden stars will also work great. Explore all these DIY pallet flag ideas to see a lot more amazing stuff.
1. DIY Pallet American Flag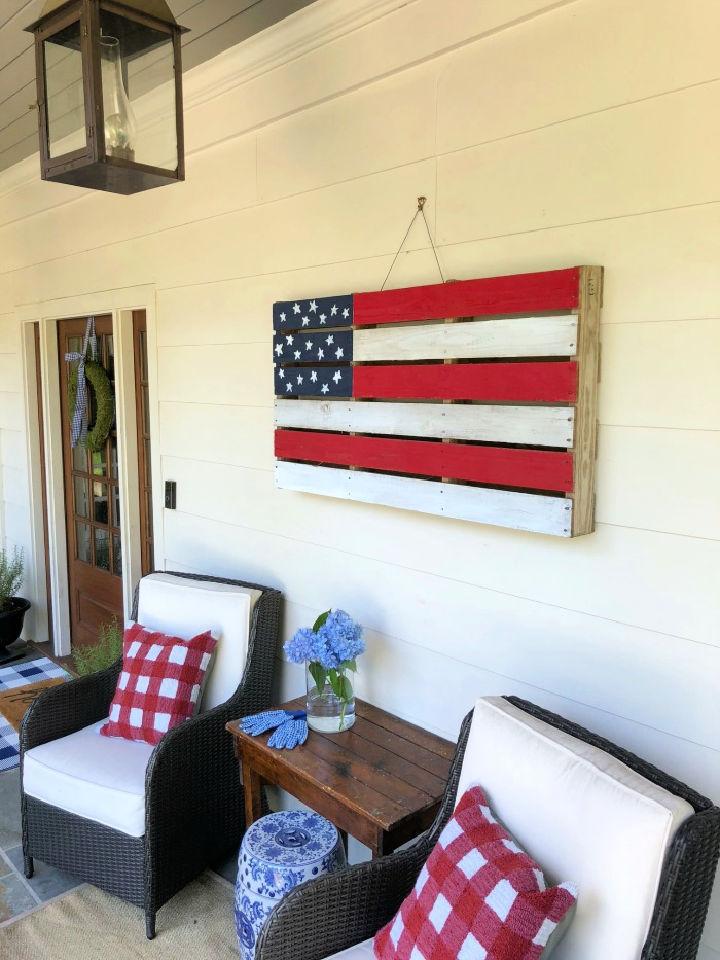 The pallets are ideally sized to think for the country flag projects. Without modifying and altering their shapes, they can be painted to make outstanding country flags, which will rock for Independence Day for sure. Check out here a pallet painted for the stars and stripes and is a perfect 4th of July pallet project that every beginner can do with ease. Next, you can easily hang it to the interior or home exterior wall using wire or rope loops. So, they will speak volumes for your country's love. southernstate
Pallet Projects: Learn how to turn ordinary wood pallets into amazing home and garden projects. See a great list of pallet wood projects, and many only need basic tools.
2. US Flag Made Out Of Pallet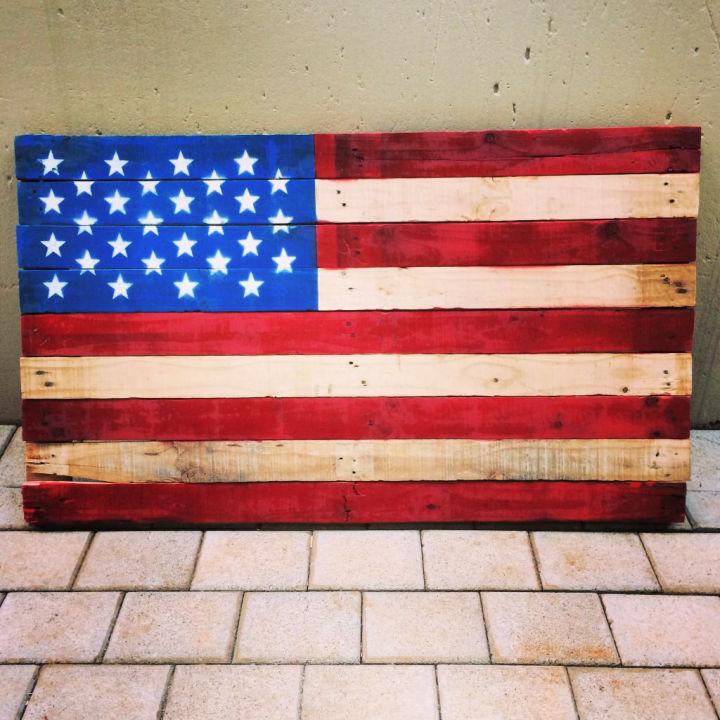 This will probably be the easiest DIY pallet project, and you will love doing it also. The idea is to paint a single pallet into a country flag. Just paint the pallet deck boards for red and white paint flag stripes and decide the top left corner to paint blue with white stars inside. The project is more than easier to do and is also totally beginner-friendly. You need a saw, hammer, nails, sandpaper, box cutter, printer, ruler, masking tape, paint, varnish and some painting skills to complete this fabulous pallet flag project. instructables
3. DIY Patriotic Pallet Flag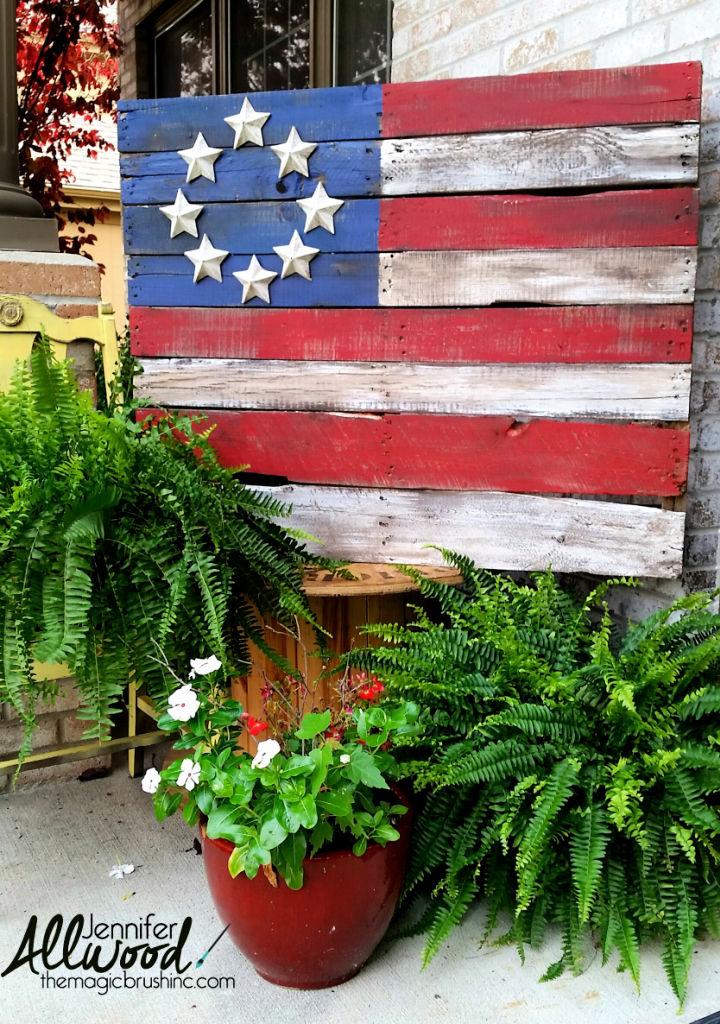 Recycle the pallets while showing your patriotism. The idea is to make this wooden pallet flag that can be added to your Independence Day decors for the sake of your country's love. Here the project is to do with the dismantled pallets, and you can easily plan the separated apart pallet wood planks to shape up a wooden board. Paint the finally made wooden board for an instant beautiful country flag look. Here hobby lobby 3D stars are used for the blue painted section. One of the easiest DIY Pallet wood craft ideas ever. Everyone will love building this country flag for sure. jenniferallwood
4. Wood Pallet Art American Flag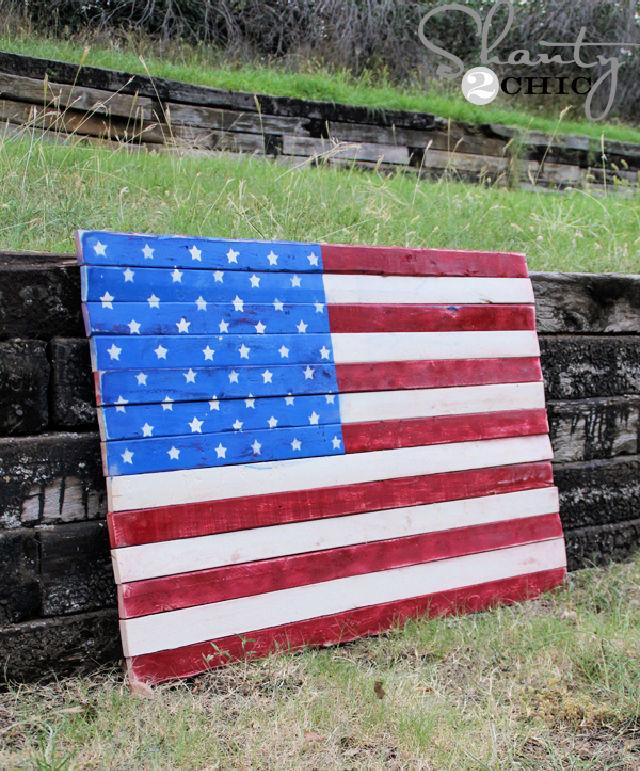 Put your painting skills to the test by making this country flag with pallets; the project is all about painting the pallet for stars and stripes. A pallet can be painted directly for a country flag look, but it will be better to plan the separated apart pallet wood planks to make one. The best 4th July décor to build with pallets in an hour, and it will cost you around $10-$15. Just put the separated apart pallet wood slats flat on the floor. Add the back supports to get a slatted wooden rectangular board. Next, start painting it. shanty 2 chic
5. How To Make A Pallet Flag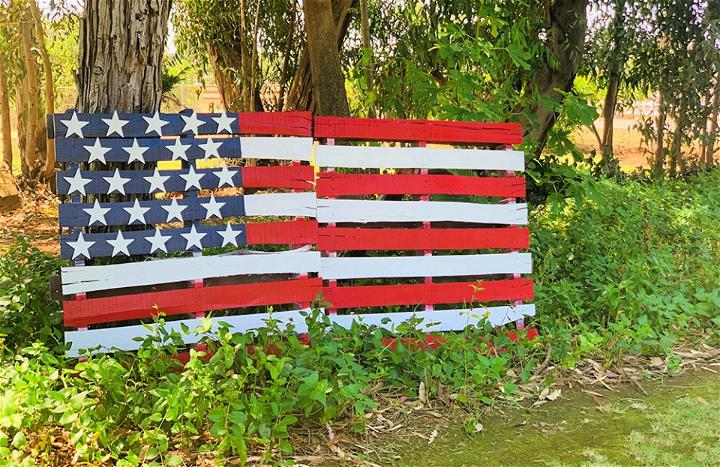 Sometimes you need extra large flags to tell the audience more about your country's love and patriotism. Here 2 pallets are used to build a lasting longer and extra-large American flag. It is a total pleasure to look at. So, the required supplies for the project will be 2 pallets, spray paint, wood stars, painter's tape and industrial wood glue to complete this project. One of the best and quick-to-build DIY 4th July décor ideas that every country lover can duplicate with ease. It will be there in your garden on the exterior wall simply in no time. mycolorshot
6. Flag Painted On Pallet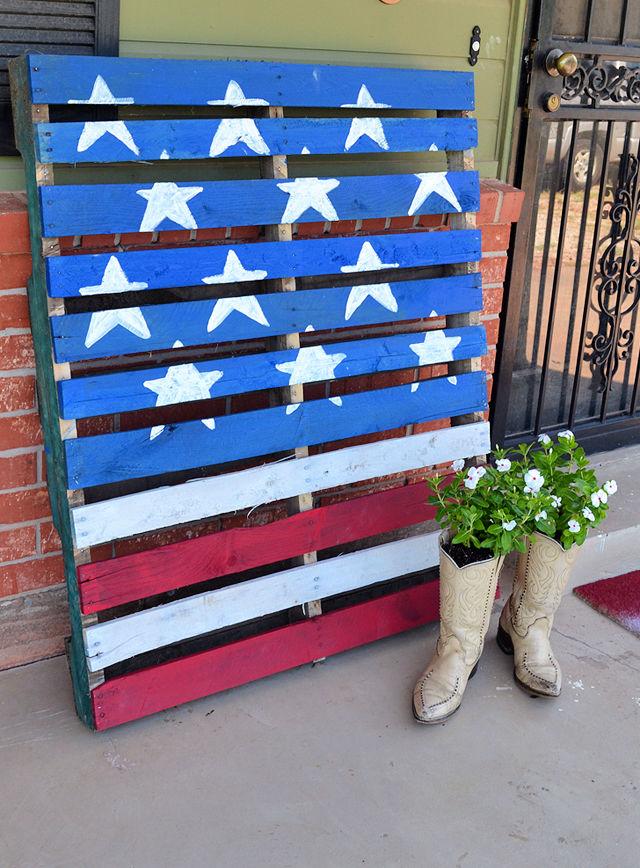 Rustic lovers will also find the pallets great when it comes to making the Independence Day decors. Celebrate the 4Th July by whipping up this rustic pallet country flag that is one of the easiest pallet creations that everyone can duplicate with ease. Peek into details of the given sample that is solid, antique and beautiful to look at. You need pallets, trim nails, crowbar, pry bar, hammer, nail gun, and paint in red and white and blue color to easily clone this fantastic antique-looking pallet country flag. Everyone will love building this wooden pallet country flag. momspark
7. How To Paint An American Flag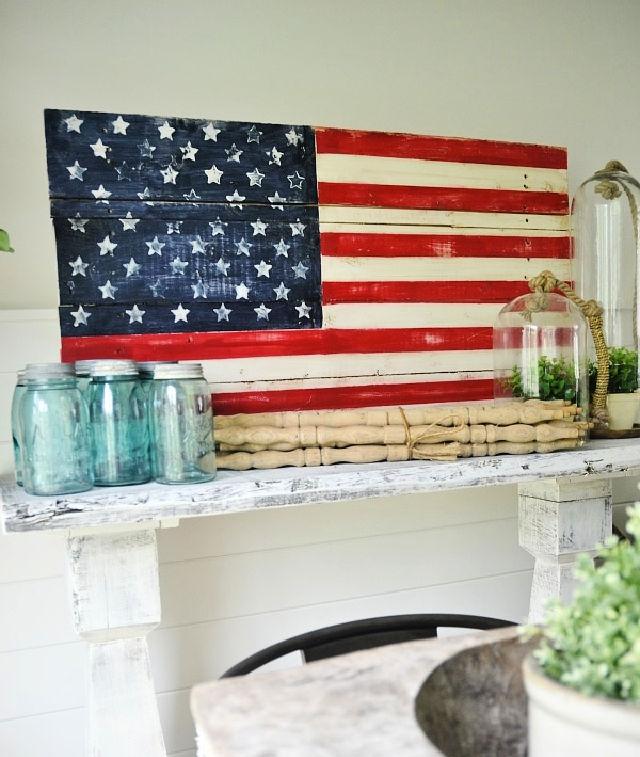 Follow here easy guides again to build a cute country flag out of pallets. It will hang like a charm on any exterior wall and is crazily easy to make. Pick your favorite wood pallet, paintbrushes, star stamp, sandpaper, wax and paint in red, white and blue to clone this extra beautiful American flag décor. One of the best DIY Pallet Independence Day décor that everyone can duplicate with ease. You can place this homemade country flag on a decorative mantel or shelf for bigger statements of Independence Day decors. After you paint the stripes and blue section, just use the star stamp to add the white stars. lizmarieblog
8. Pallet Flag For Front Porch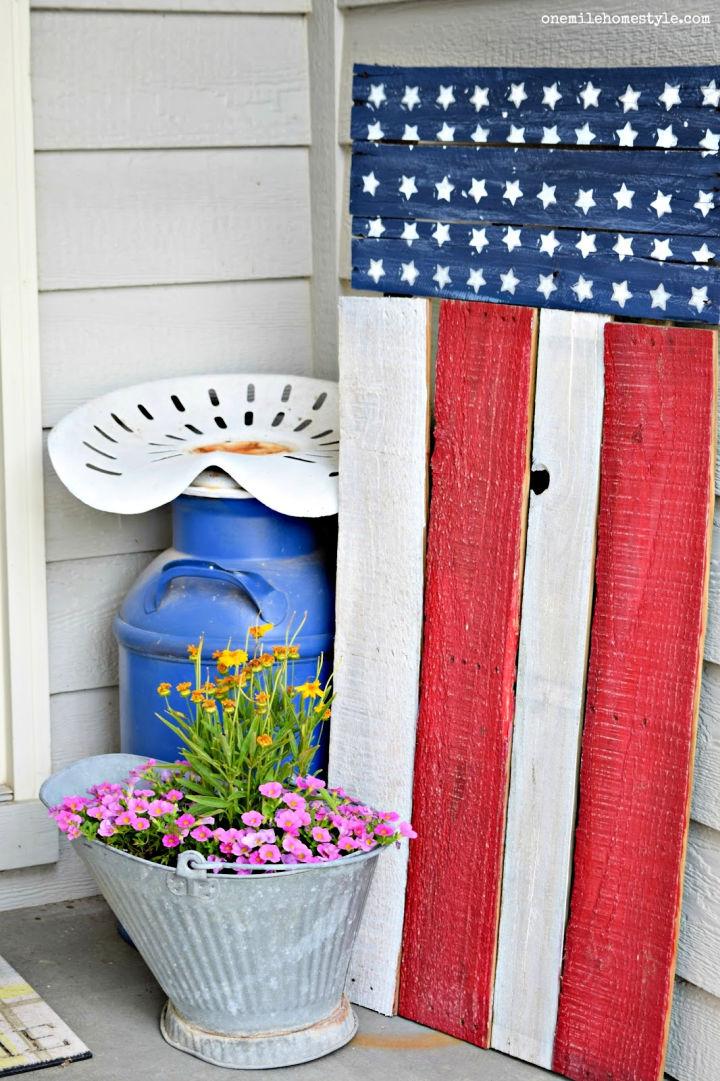 You can build a beautiful country flag at the last minute when getting crafty with pallets. Another beautiful and gorgeous wooden country flag to make with both long and short pallet wood boards. Add the short boards horizontally on the longer vertical boards and paint the longer ones for stripes and shorter ones for stars. Install the back supports to hold the planks in place, and you will love creating this magnificent country love décor. A crazy pallet wood creation that everyone can duplicate with ease. Here the 33" and 20.5" pallet wood boards are used for this project. Use the start shape stencil for painting stars. onemilehomestyle
9. Making A Pallet Wood Flag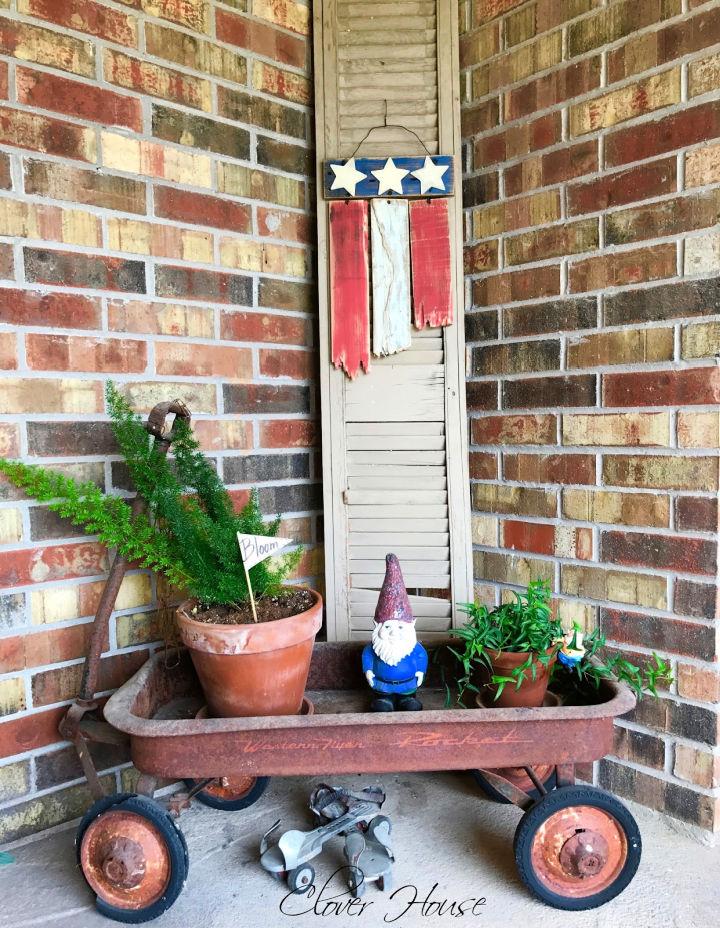 To make this wooden antique country flag, you only need 4 rustic wood slats, even with the signs of wear and tear. Put together the longer slats for the stripe section and put a single plan right over them for the blue star section. Here little wooden stars are used for this project. Just paint them in white and add to the blue-painted plank. Use wire to hang this rustic country flag sign on your favorite wall hooks. The most rustic country flag to make at home in no time. ourcloverhouse
10. Pallet American Flag Plan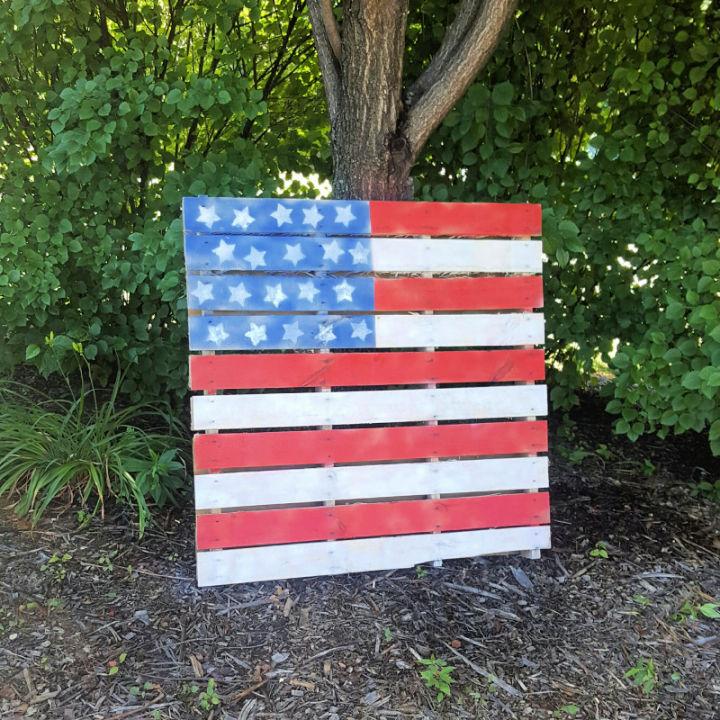 Willing to feature the country flags all around the home while celebrating Independence Day? Then time to whip up this solid and beautiful looking wooden American flag that is a total breeze to make with minimal crafting and painting skills. Just grab a pallet skid having a size suitable for the country flag size you want. Use spray paint in white, red and blue colors to paint the country flag stars and stripes. Manage the cardboard to avoid the paint from going on other sections. Use a cardboard star stencil to paint the stars in white. parentsofadozen
11. Rustic Pallet Wood American Flag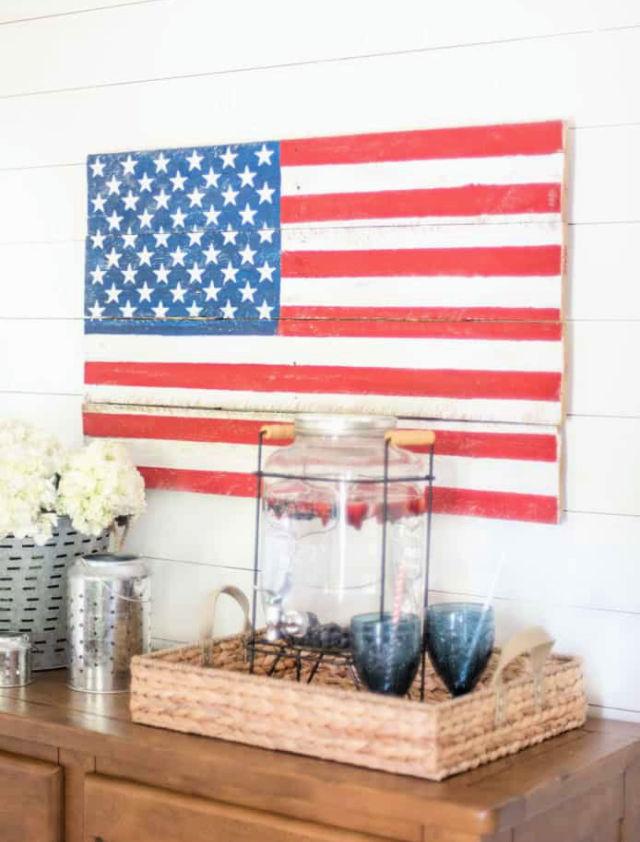 This project will surely stimulate your patriotic emotions, beautiful hanging pallet wood American flag. So, now you can recycle pallets to make outstanding country decors also. The project is all about making a quick wooden slatted board out of separated apart pallet wood slats. Next, paint it for a country flag look using respective paint colors. To complete this project, you need 6 pallet boards with length 36″, 12×18″ stars stencil, painter's tape, and paint in red, white and blue color. You can also use the 1x6s in place of pallets while doing this project. ninahendrick
12. Pallet Flag Project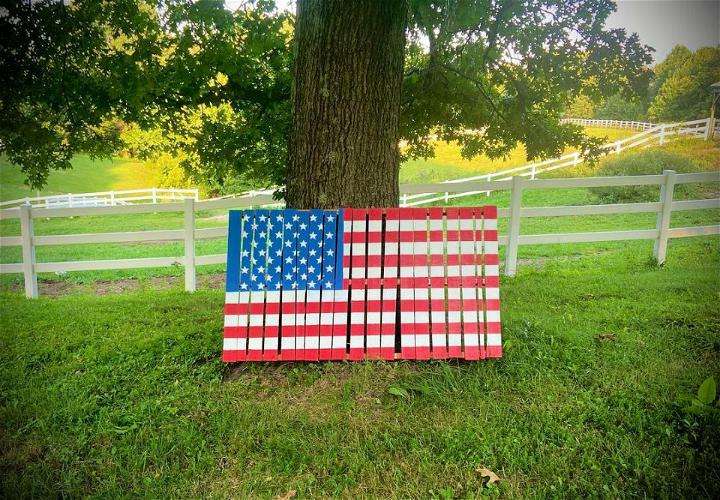 Rock your Independence Day parties and celebrations with these hand-build country flag designs, amazingly cute and beautiful to look at. You can easily see the slatted arrangements of wood slats, and you can do this project with both uncut and dismantled pallets. Carefully paint a corner of the board for the blue sections and then paint the rest for red and white stripes. Use custom stencils to paint white stars. However, you can also use the white-painted wooden stars or white star stickers for this epic country love décor.
13. Wooden Flag Made From Pallet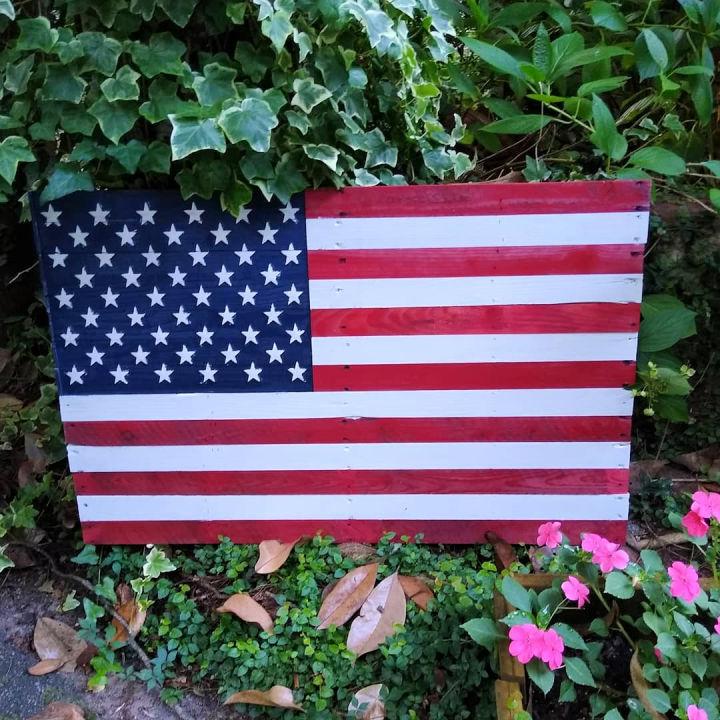 Pallets are the ideal material choice for various DIY projects, and they can also be planned for Independence Day decors. You will fall in love with this stimulating wood pallet American flag that can be featured anywhere in your garden to express your country love. The project is all about painting the whole flag on the pallets, and you can easily decide on the deck boards for painting red and white stripes. Paint a section in blue and then stencil it for white stars. Use the custom wooden stars also for the project if you like.
14. Hand Painted Wooden Pallet Flag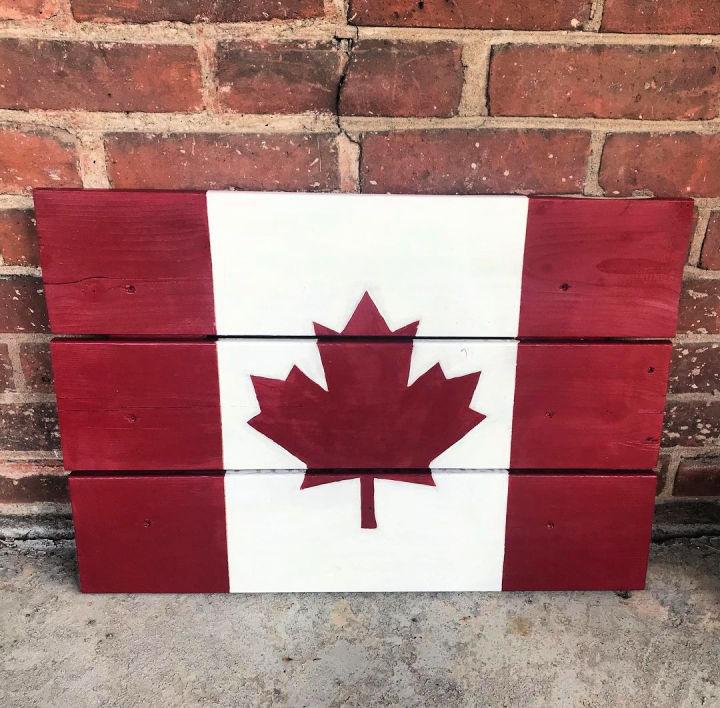 However, you can paint and plan the pallets to make any country's flag. Celebrate Canada Day by making this beautiful pallet Canada flag, sure to be there in no time. Just paint the sides of the pallet or the pallet-made board in red and the middle in white. Next, add the red maple leaf in the center using a custom stencil also. So, after the pallets, you only need white and red paint to clone this flag, quite something beautiful and beautiful to make in no time. You can hang this Canada pallet flag on the wall or can place it on a decorative mantel to celebrate the country's love. It can be featured in your garden also.
15. DIY Pallet Wood Flag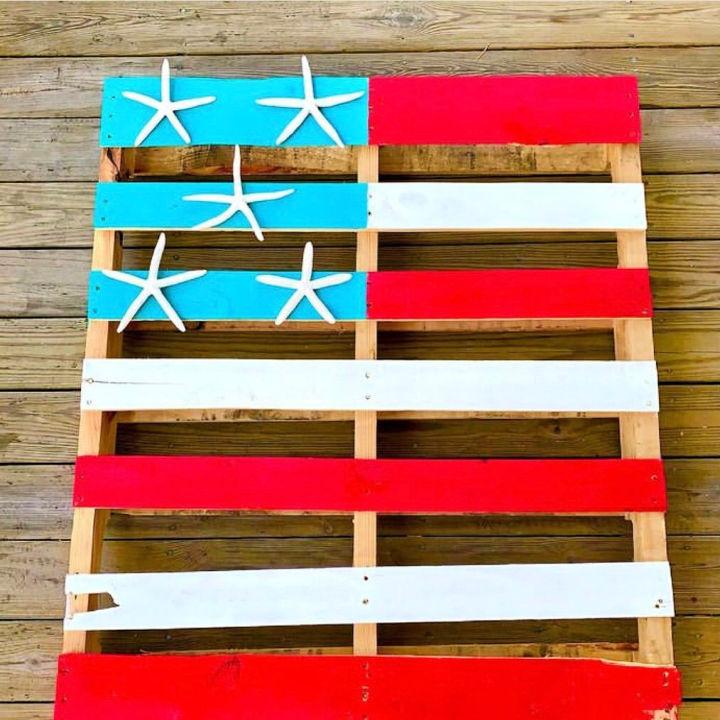 Look at this another phenomenal pallet country flag creation, sure to impress all the onlookers at a very first look. This design comes with extra spacing among the top deck boards, and it is painted for the country flag look using the paint in respective colors. This project makes it easier to paint the top corner blue section and use the miniature starfish figurines to add as stars. You can easily hang the pallets up on the exterior or any interior wall for bigger 4th July décor statements.
16. Pallet American Flag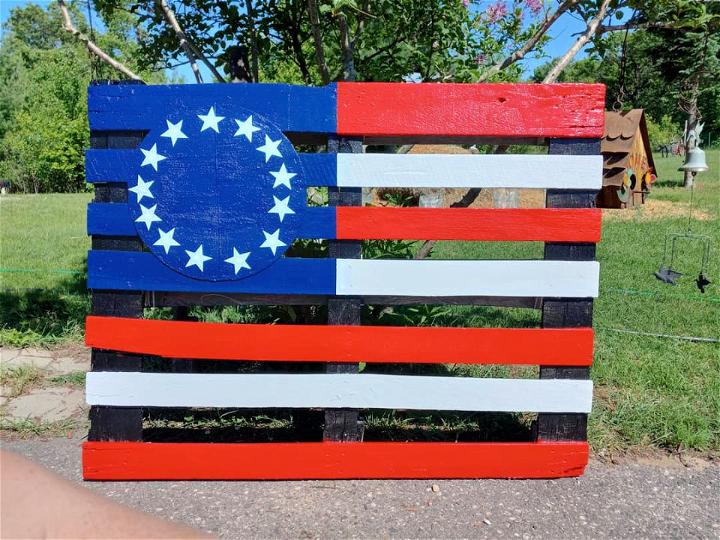 Feel free to duplicate this another fantastic and beautiful wood pallet country flag that is extra beautiful and is quite something quick and easy to build. The entire project is all about painting a whole country flag on a pallet. What makes this pallet country flag design look unique is the addition of a round star section, and this will surely impress all the country lovers and fans for sure. You can use any wood or cardboard round for the round star section. One of the best and quick-to-build DIY Pallet Flag ideas ever.
17. Pallet Texas Flag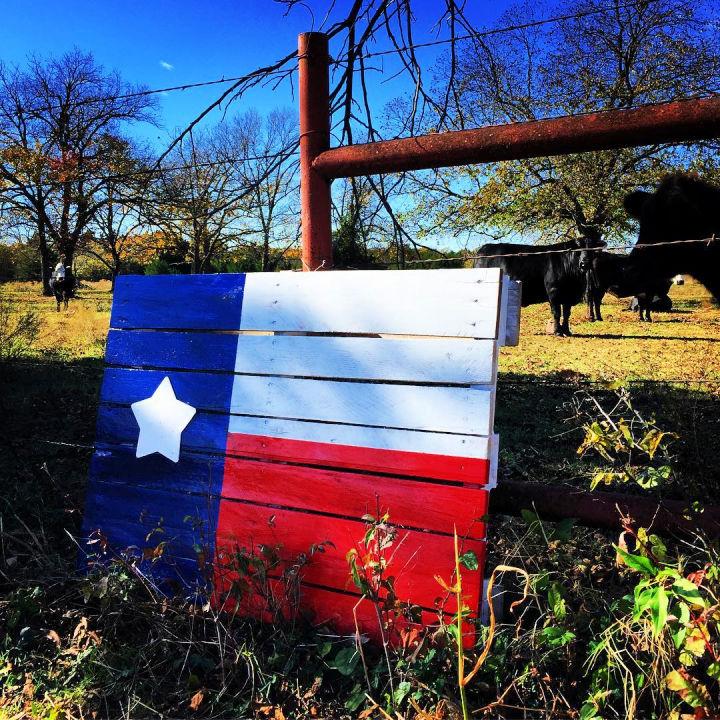 The American flag comes with lots of versions that are designed for the custom united states. So, learn here to make a texas pallet wood flag will be more than easier to make. The project is to do with uncut pallets, and it will complete simply in no time. Just divide the whole pallets into 3 sections, 1 vertical and 2 horizontal. Next, paint the single section in blue with a white star in the center and paint the rest in white and red as you can see. One of the quickest DIY Country Flag Project Idea Ever. Everyone will love making this solid yet beautiful pallet Texas flag.
18. Pallet Colorado Flag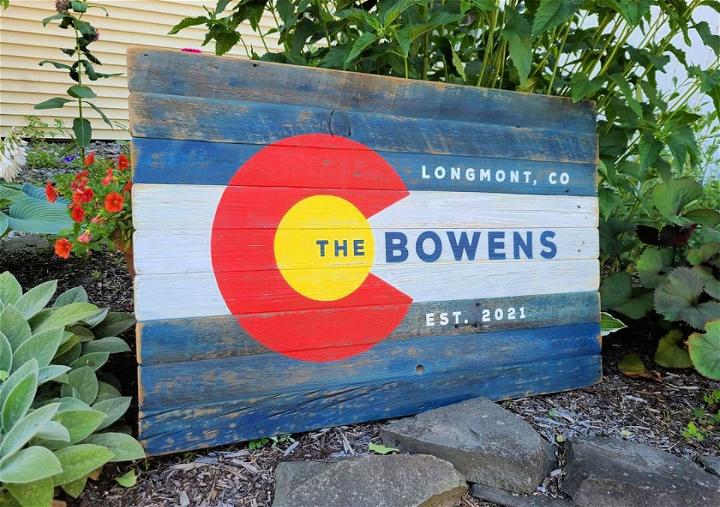 You can paint the pallets to make any country's flag. Get inspired by this Colorado flag that is rustic and elegantly beautiful, and flawless-looking. It will not take that too long to duplicate this another beautiful wood Colorado flag. It also comes with custom stenciled letters and monograms that make it appear extra beautiful. Just put the pallet slats together evenly flat to shape up this Colorado flag, the easiest DIY country flag project. Every country lover can easily duplicate this flag using custom stencils and painting skills.
19. Handmade Pallet Flag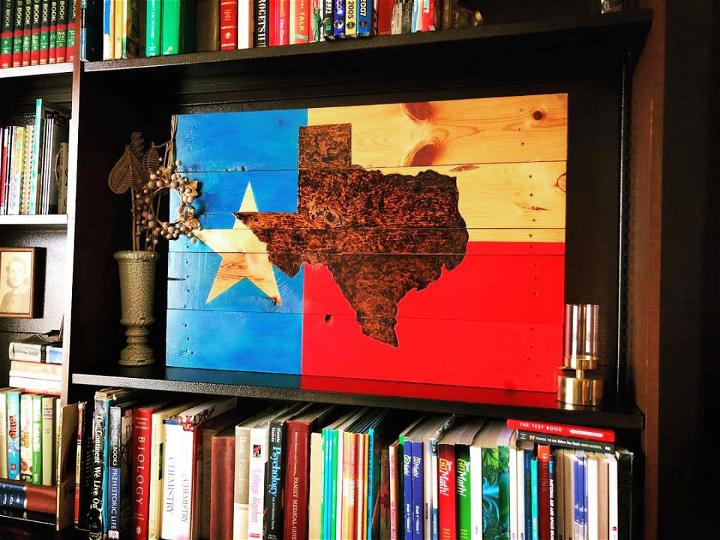 Duplicate this another fetching country flag with the Texas map in the center, and is an easy pallet wood creation. Use the map and star stencil to easily paint the pallet for the Texas flag and map. Use custom embellishments and decors also to fancy up this sign more. You have the freedom to make any particular size of it that will fit a custom bookshelf compartment or wall area. You need some pallet wood boards, star stickers, a Texas map, and paint in blue and red to complete this beautiful country flag project.
20. Pallet Jolly Roger Flag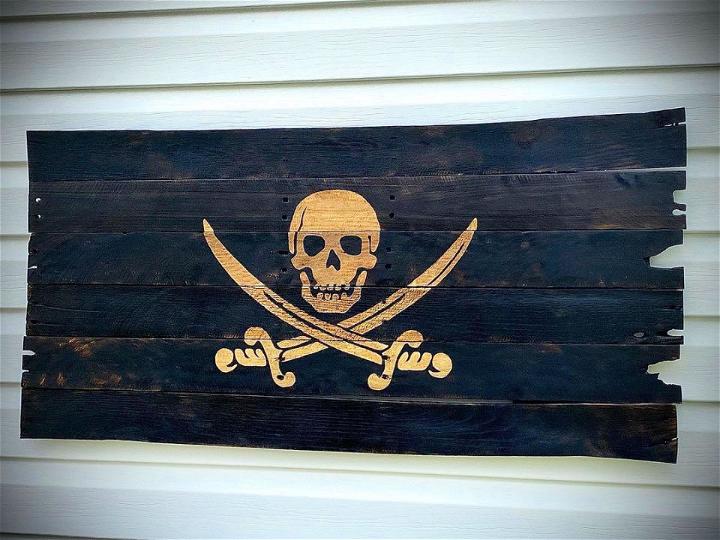 Using your painting skills, you can simply make any special country flag out of recycled pallets. Look at the given Jolly Roger flag that is insanely cute and beautiful and impresses with the antique details. The central skull and sword logo can be painted using custom stencils and can also be left unpainted using the respective type of stickers. One of the best DIY flags ever made, and you can easily hang it aloft for bigger scary décor statements too. It will not take that too long to whip up this pirate ship flag.
21. Pallet Texas Flag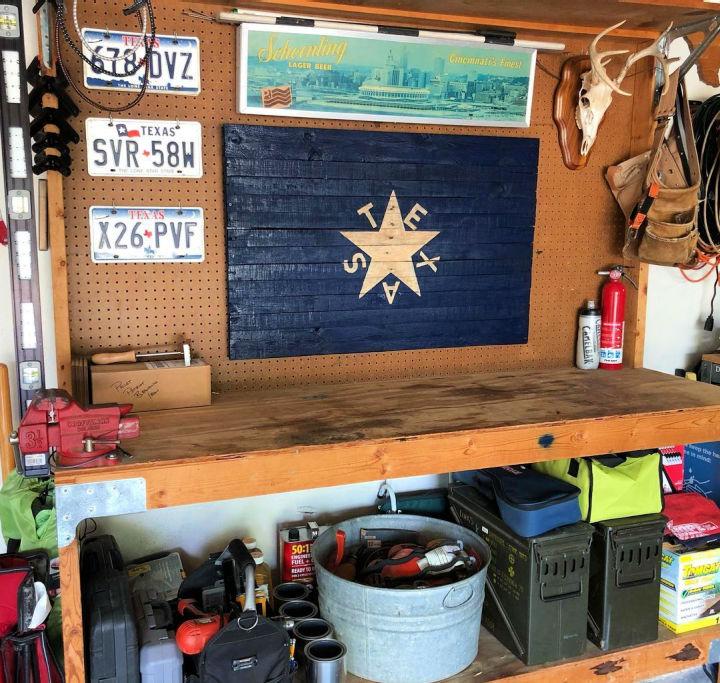 No matter in which country you live, you can easily make a country flag of that at home using free pallets. Duplicate this black-painted Texas flag that comes with the entire star logo and letters unpainted. Simply use the stickers to cover the area you don't want to paint. At the same time, you can also use the stain and custom paint colors to easily duplicate this fetching country flag design, sure to be a big love of all. Opt for durable hardware hanging systems to easily hang it up on the wall.
22. 3rd Ranger Battalion Pallet Flag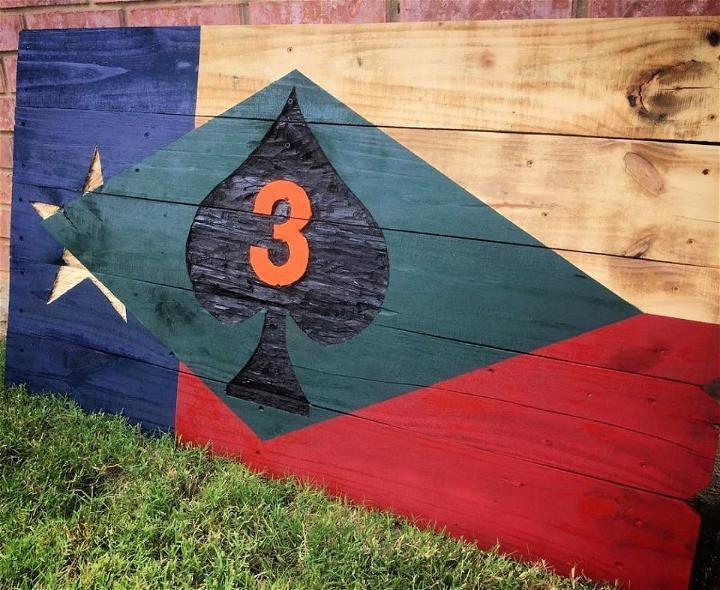 You can simply make any custom flat out of pallets when skilled enough in painting the pallets. Get inspired by this 3rd ranger battalion flag with comprehensive design details and easy and quick to make. The size of the flag will depend on the size of the pallet your will choose. However, you can trim short a pallet also to build a custom country flag design. First, you can mark the sections and areas on the pallets to paint differently to gain the 3rd ranger battalion flag. One of the best DIY pallet flag ideas to make at home.
23. Pallet Gadsden Flag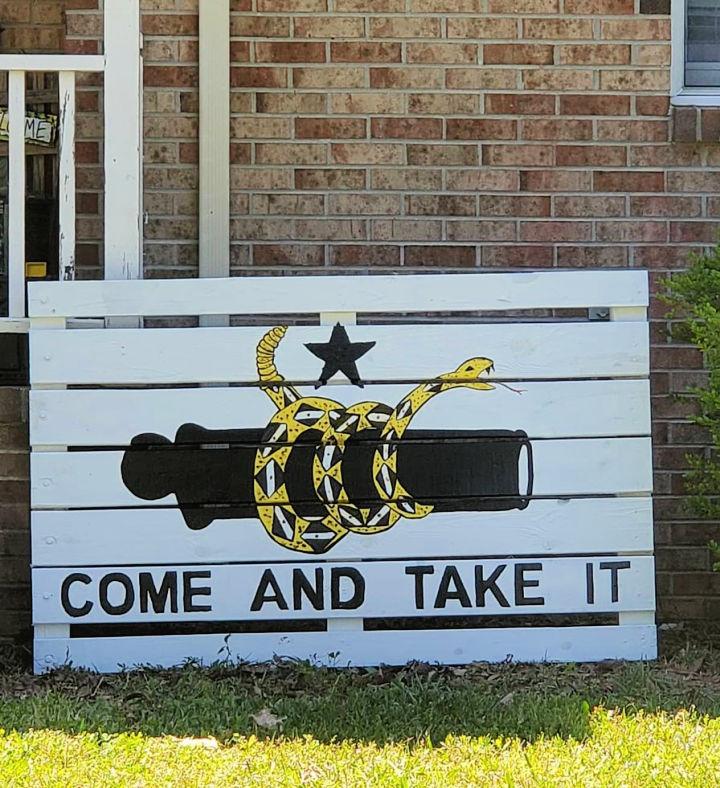 Follow here guides to make a traditional and historical flag out of a single pallet. The flag is often used in the united states to symbolize gun rights and limited government. Use your painting skills to easily paint this flag's details on a pallet. It includes painting a rattlesnake also. Moreover, it features custom stenciled or painted quotes like "Come and Take It" and a start monogram in the top center. Mainly the entire pallet is painted in creamy white for a glorious background color. However, it may take some time to paint the flags. Using stencils will make your work a lot easier.
24. University Of Michigan Pallet Flag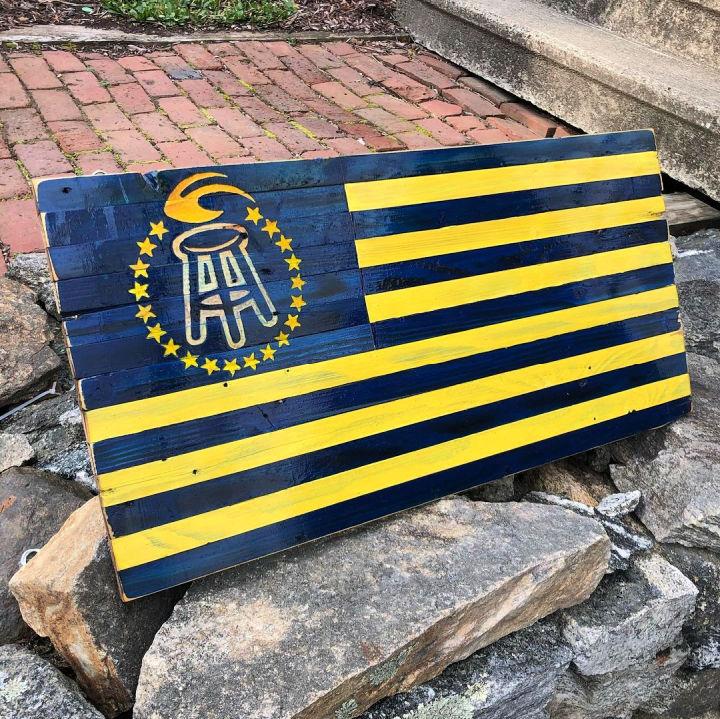 Get ready with the pallets and dark blue and bright yellow paint colors to duplicate this University of Michigan flag. Another great and graceful pallet American flag to make quickly at home. The flag also comes with a nice University logo that you can paint and stencil in the right place. The dark blue and yellow paint stripes make this flag appear extra beautiful and graceful. The whole project is easier to do, and you can easily hang the finally completed flag on the wall using custom hanging hardware.
25. Mexican Pallet Flag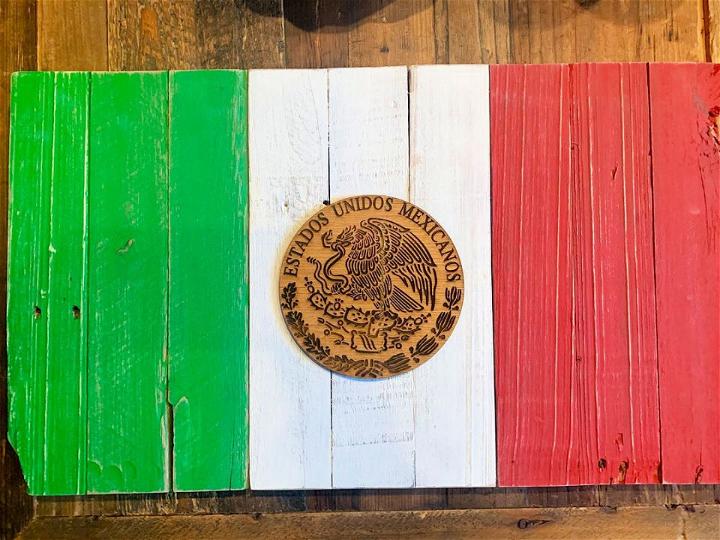 Take a look at the given sample of the Mexican flag, another creative and handsome pallet wood creation. To duplicate this Mexican flag, you need a pallet, a central wooden monogram round and paint in white, green and red colors. You can easily burn the Mexican flag eagle logo on a wooden circle that can be added to the center position of the painted pallet Mexican flag. This shows how you can plan to make different country flags out of pallets, sure to boost the fun of Independence Day for sure.
Conclusion:
Looking for some best Independence Day décor projects to do with pallets? Then try making the country flags out of pallets, which can be featured anywhere in or out of the home for bigger statements of country decors. So, these DIY Pallet Flag Projects here will share with you all the hacks and tricks about how you can quickly build country flags out of pallets. The basic idea is to simply paint the whole country flag on the pallets directly. However, you will learn some advanced stenciling and painting techniques that will help you paint any minor details of the flag on pallets like a pro. Take a quick tour of all the DIY wooden flag projects to get yourself inspired.