If you're looking for a cheap and easy way to build a compost bin, pallets are a great option. You can usually find pallets for free or very cheap at your local hardware store or recycling center. And with a little effort, you can turn old wooden pallets into a functional compost bin. Learn how to make a pallet compost bin with these 25 easy DIY pallet compost bin ideas, including step by step instructions and pdf plans to download.
Everybody aspires to live green these days and be friendlier towards the environment; composting is a great way to do that. Work on easy pallet projects to make pallet compost bins of any size or place you want, and practice making them using recycled materials with a very small or no investment at all. Anything in your garden, including organic materials like grass clippings, dead leaves, scraps of fruits, vegetables, food, and manure, is broken down through composting into a rich fertilizer that ultimately benefits the garden. This also helps reduce the number of materials thrown away by average homes. So composting being done at home brings many benefits to the garden and the whole household.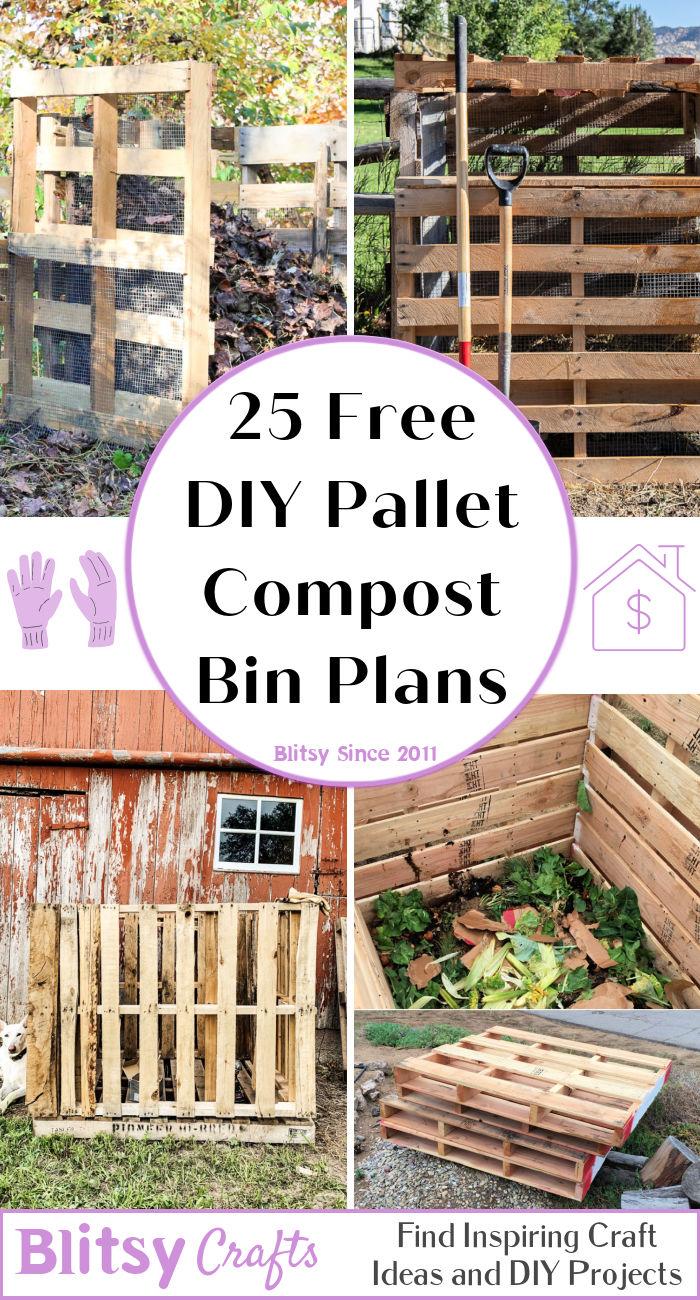 Customize the compost bins you make according to the size you require, as they can be as small as a gallon or big enough to house enormous piles of scrap. The only problem is that they might cost hundreds of dollars, so making a pallet compost bin at home can save you a lot of money. You can make a homemade pallet compost bin, a pallet compost bin with a lid, use pallets to make a compost bin in just 10 minutes, learn about the construction of a pallet compost bin or build a compost in for free using shipping pallets.
1. Build A Pallet Compost Bin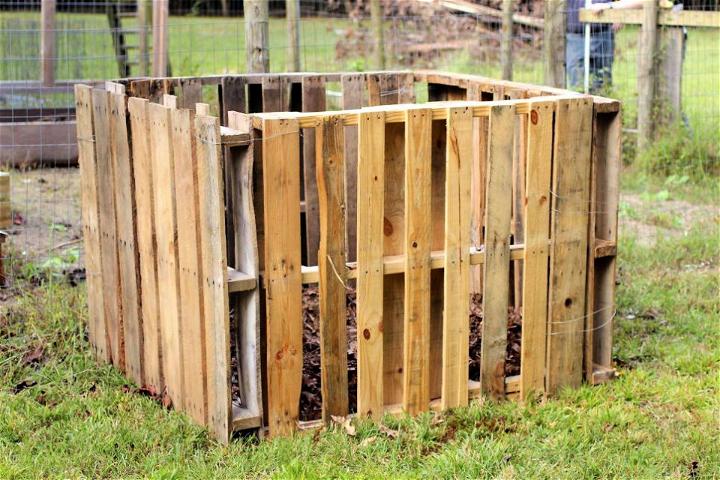 A surprisingly easy build can be a pallet compost bin for your backyard using only a few cheap materials like recycled shipping pallets. In this tutorial, you have step-by-step instructions to construct an easy pallet compost bin. All your garden junk like vegetable and fruit scraps, old dead, dry leaves or manure can be turned into a rich fertilizer that will ultimately benefit your garden in a million ways. It won't cost you much if you use recycled materials for your build. hgtv
2. Wood Pallet Compost Bin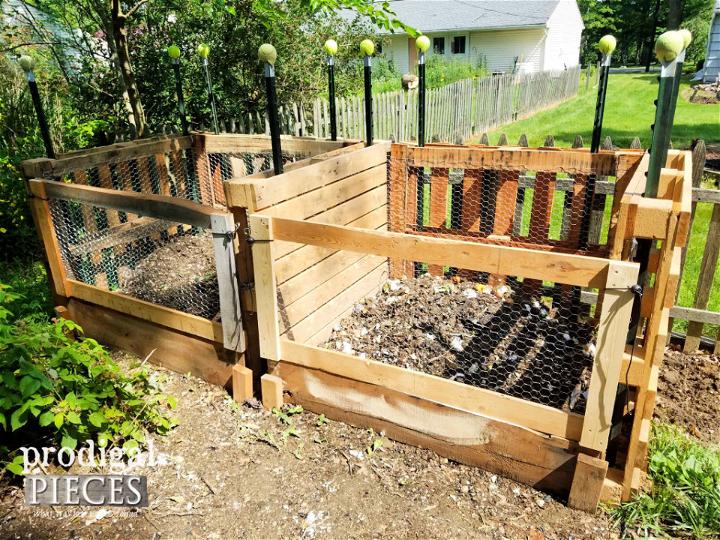 If you are in love with pallets, you can make your own birthday gift this year. Build a large pallet compost bin as pallet infatuation has swept the whole world over. Make your backyard a target to build this compost bin in any size you want. You will need a food-grade 50-gallon drum, a handmade crossbuck and some old and broken pallets etc. Make sure that your pallets are heat treated so that they don't leech chemicals into your compost. prodigalpieces
3. DIY Pallet Compost Bin Plan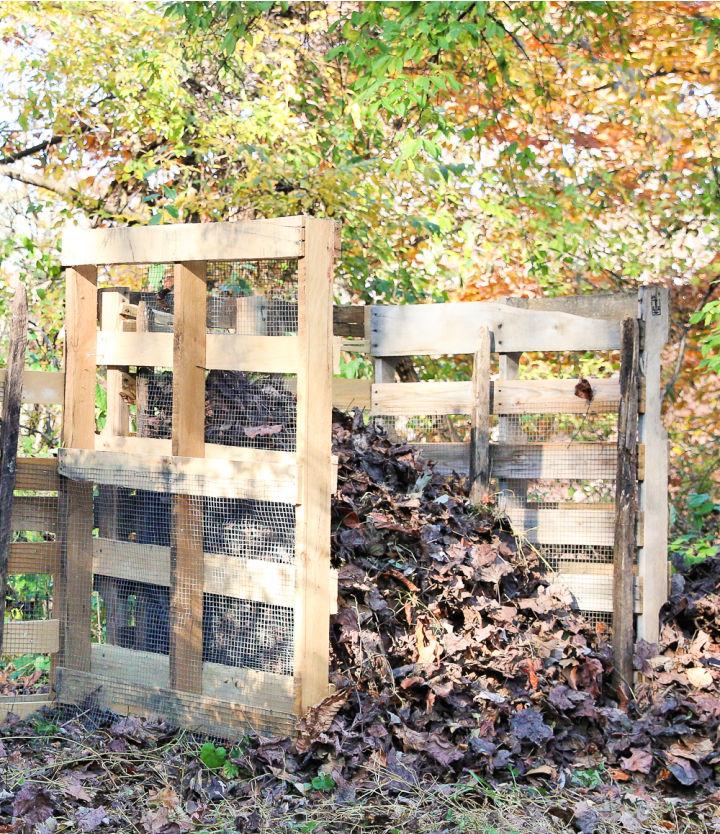 Use free and repurposed materials to build a pallet compost bin by following easy instructions. Composting has a lot of benefits and is very environmentally friendly. Become a self-proclaimed composting nerd and use an upcycled rain barrel that sits directly on the soil. It will be a very effective way to contain a whole pile of junk whilst keeping it hot. Supplies required to build your own low compost bin are wood pallets, screws, nails, some chicken wire, a nice drill and a staple gun. honestlymodern
4. Building A Pallet Compost Bin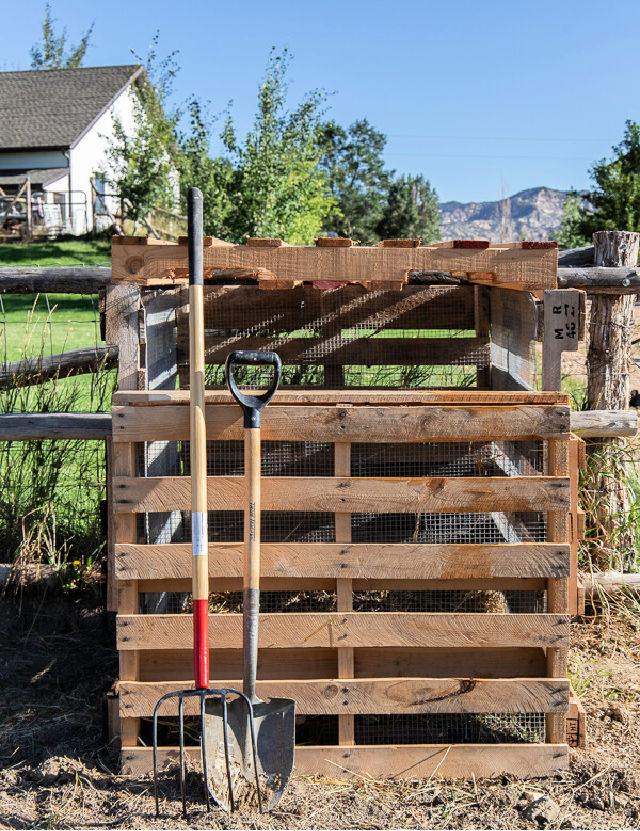 A specifically important and useful item in your backyard would be a pallet compost bin. Pallets have many uses, and they are quite easy to take apart too. A pallet compost bin will provide you with the greatest garden fertilizer of all time without having to spend any money at all. It's also a great way to reduce all sorts of garden waste too. Supplies required are 4 pallets, reciprocating saw, wire mesh or hardware cloth, long screws, screw gun or impact driver, staple gun and cardboard for the bottom of the bin. twelveonmain
5. DIY Pallet Compost Bin With Lid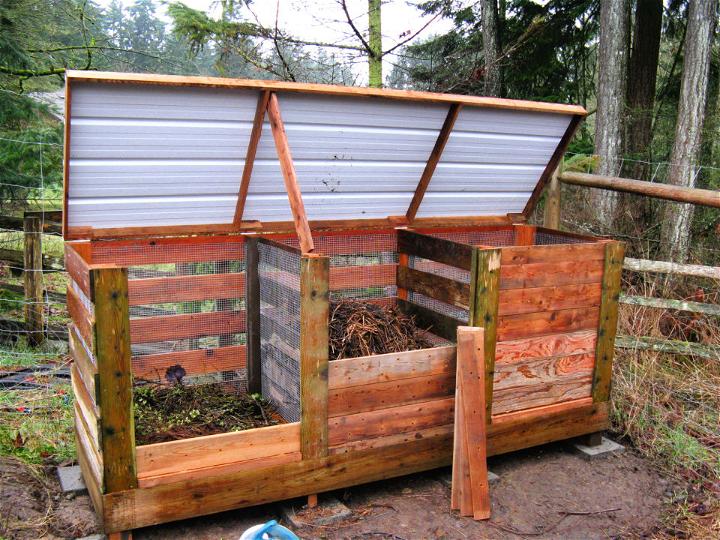 When great weather begins, it calls for great outdoor projects too. Make a great compost bin that can give your garden a new whilst being extra functional, storing away all your junk way safely. However, make sure that you build your bins in a way that they are off the ground for rodent proofing and will also make shoveling at the back easier for you. Make a sturdy design by using a hardware cloth on your bins. A metal roof for the lids will keep the compost curing in its home. backyardfeast
6. Homemade Pallet Compost Bin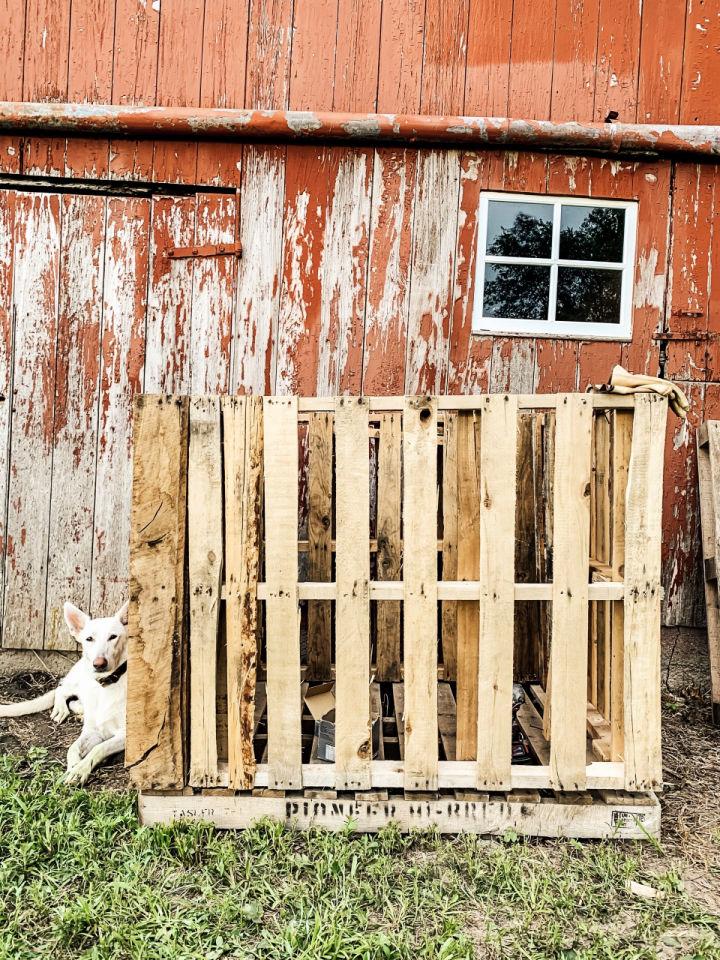 All garden owners will agree that sheep doodoo turns out to be an excellent fertilizer on its own. To utilize that efficiently, build yourself a pallet compost bin that can contain all the garden leftovers turning it into an excellent fertilizer for your plants. The supplies you will need for this project are a drill, screws, hinges, wire fencing and gloves to be safe from the splinters. If you're lucky, you might be able to find the pallets somewhere for free. midcountyjournal
7. 10 Minute Compost Bin From Pallets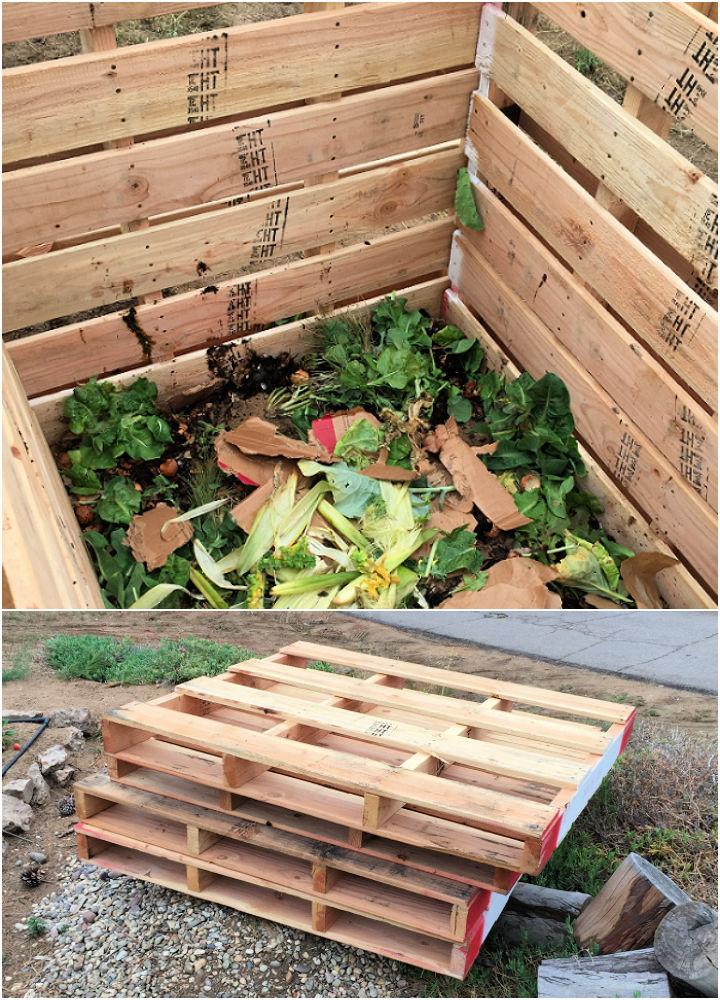 A quick and easy pallet compost bin for your garden can be a winner-winner chicken dinner for everyone! You will be able to get a classy compost bin for your garden, which will be very functional in curing your compost and keeping it safe. You will need 4 pallets, some heavy-duty zip ties and a nice level spot for your compost bin. Start assembling the pallets by using zip ties to form a straight angle of 90 degrees. therealfarmhouse
8. DIY Pallet Compost Bin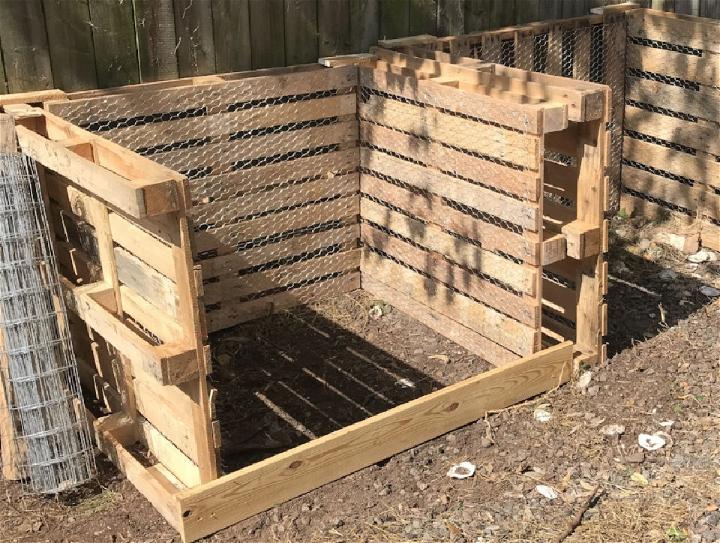 A current trendy craft material these days are wooden pallets, as they are excellent building materials. You can also build an easy and long-lasting compost system with them for your garden if you find the right type of pallets. For urban gardens with a little space, you can keep on adding materials to the active bin, which will rotate your operation without taking up too much room. Use 9 pallets to make a three-bin setup. One bin will be active, one will be cooking, and one will be ready with the compost. kitchenplot
9. Construction Pallet Compost Bin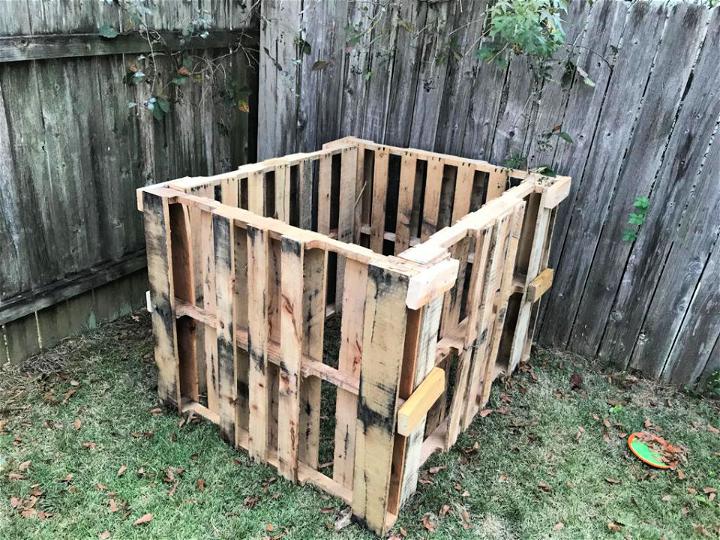 Kitchen scraps and fall leaves can be put to good use by throwing everything straight into a pallet compost bin. This process is as simple as throwing all your junk on the ground, or it can be complicated if you want. So add a little order and a good spot to contain the compost by making a pallet compost bin. With your pallets gathered, you can just put on a good show and enjoy making this simple build. Don't forget to include the little ones for doing simple tasks. thesurvivalgard
10. Compost Bin From Pallets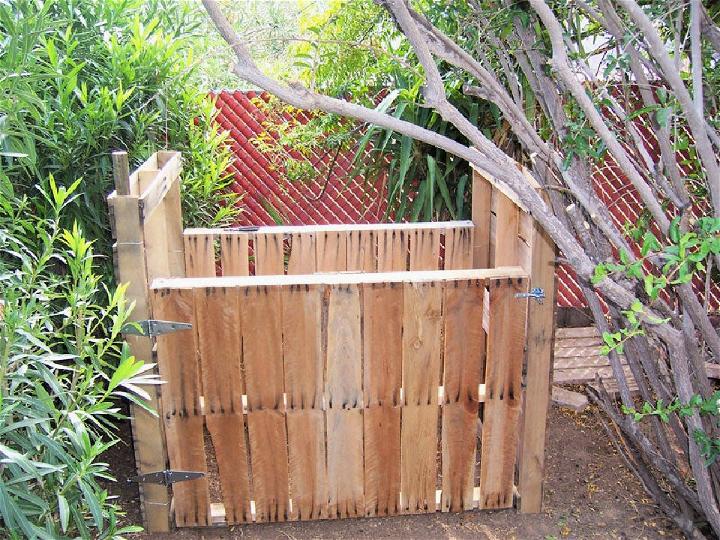 In your garden, all the grass clippings, plant pruning and other leftover garden junk can be easily turned into compost that you can utilize. You will need some pallets, a wire to bind the pallets together, some simple tools and extra hardware that you think you will require. In this design, you can make three sides of the bin with a door. Start your project by cutting the wire into a workable length. You can also make a make-shift hinge using the wire. instructables
11. How to Build a Compost Bin Out Of Pallets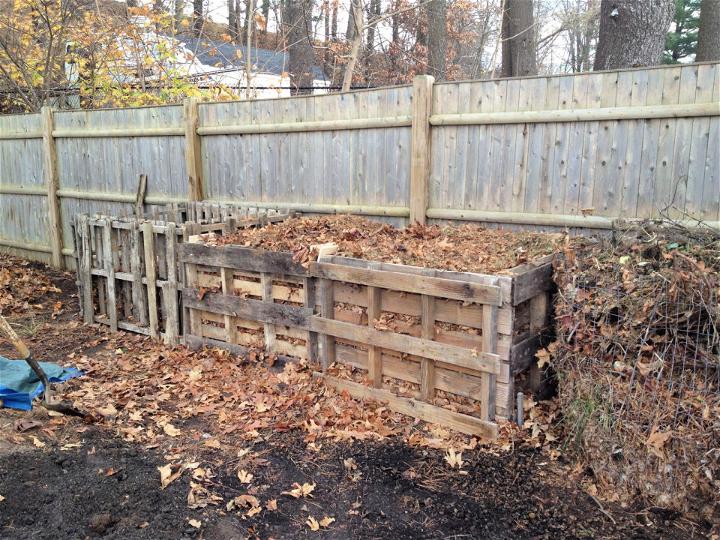 Another trash-to-treasure accomplishment for all the garden owners is the building of a pallet compost bin. Make simple compost bins using all the leftover pallets that you have lying around from other projects. All the dead leaves of the garden, including kitchen scraps and other garden waste, can be put to good use with this compost bin. The pallets are stable and heavy enough to tad in place while the bracket will keep them together. Also, they will be easy to remove when you want to turn the pile inside. portpotager
12. Build A Compost Bin Out Of Pallets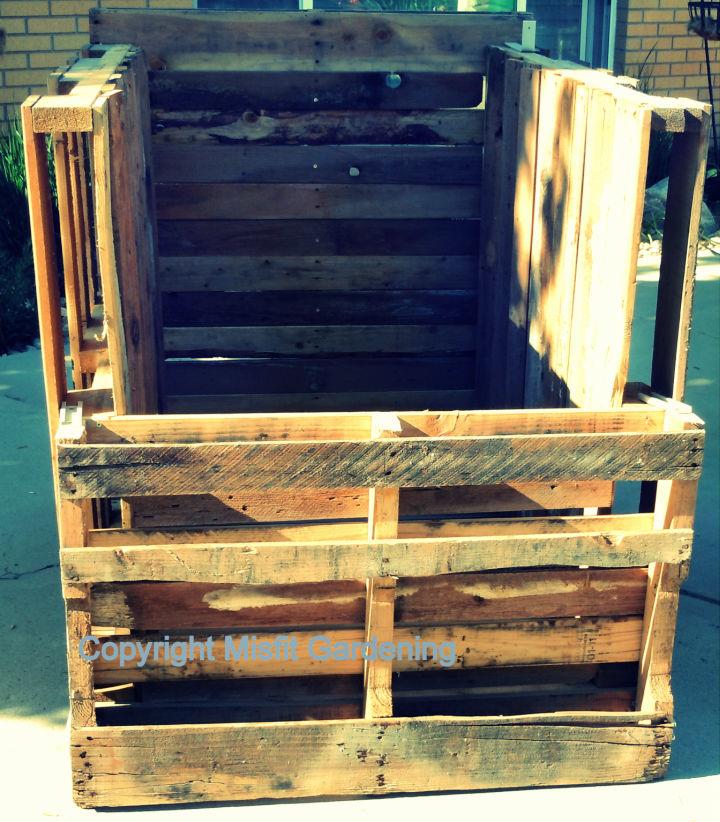 It's really quite easy to churn out more green waste in your garden and make more compost by building some fine compost bins in the garden. Just pick up some pallets from anywhere around and build compost bins so that the compost doesn't sit straight on the ground. Start by assembling your pallets and putting them together. Place one pallet on top of the other to make its one side. Use screws to secure the upright pallet to keep it in a standing position. misfitgardening
13. Make Compost Bin For Free Using Shipping Pallets

Make a compost bin for your garden for free using shipping pallets. This will turn out to be the best composting system for your garden, turning all your waste efficiently into something of use. Supplies required will be a box of screws, drill and shipping pallets depending upon the size of the bin you want. This compost bin helps you to contribute towards a greener world whilst benefiting you and your garden in many ways. The design also depends upon the space you have available, from having open piles to some expensive dual bin and closed devices.
14. Building Pallet Compost Bins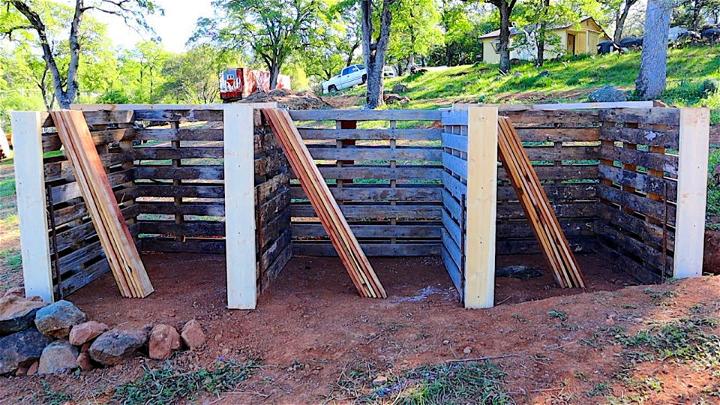 Get ready to utilize the garden space you have available efficiently by making a pallet compost bin. You can go a tad overboard with your design if you have a lot of garden waste and kitchen scraps that you want to get rid of. Supplies required to build this pallet compost bin are pallets, drills, screws of different sizes, screwdriver, long nails, bolts, wire and measuring tape. Make sure that you cut the pallets according to the measurements taken at the start before you start the project.
15. How To Make A Compost Bin From Pallets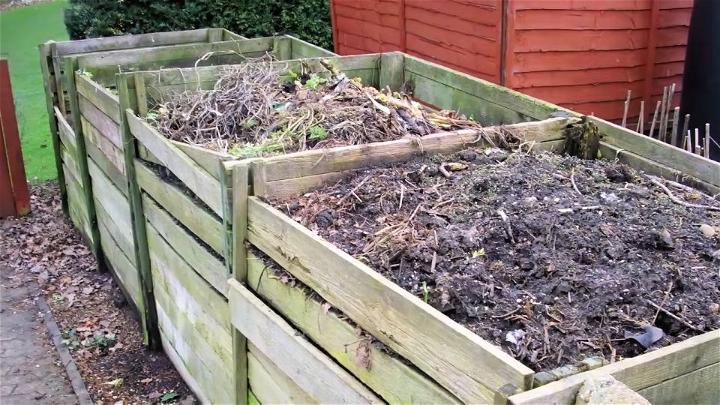 A gardener's way of recycling all the old plant material into some rich soil nourishing compost is done through composting. All the garden plants love it, and you also get benefits at the end. The wooden pallets available normally are perfect in size and are free to source for making a pallet compost bin. The compost piles actually have a habit of looking messy, so this pallet compost bin will give your garden a tidier look while turning the trash into something valuable.
16. Making Compost Bins From Pallets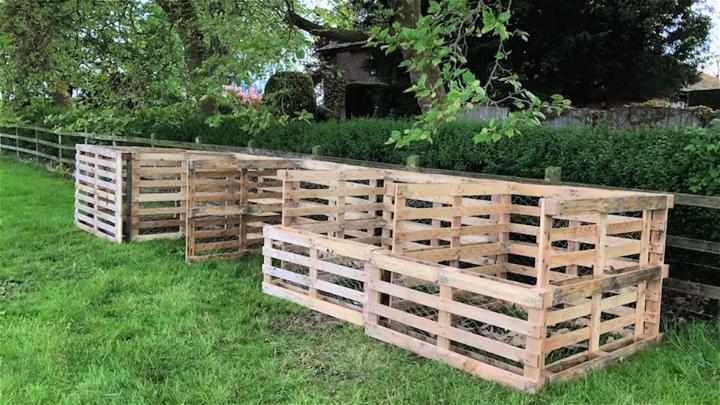 Improve the health of your garden soil and make amazing organic matter for your garden through the easiest method of composting. Compost is perfect to be used as mesh, a soil improver or even as growing media for anything you want. Use pallets to make your compost bin of any size and recycle all sorts of garden waste in it, including the green food waste and scraps of anything. All this junk will be turned into fantastic compost through your pallet compost bin.
17. Compost Using Pallet Wood Bins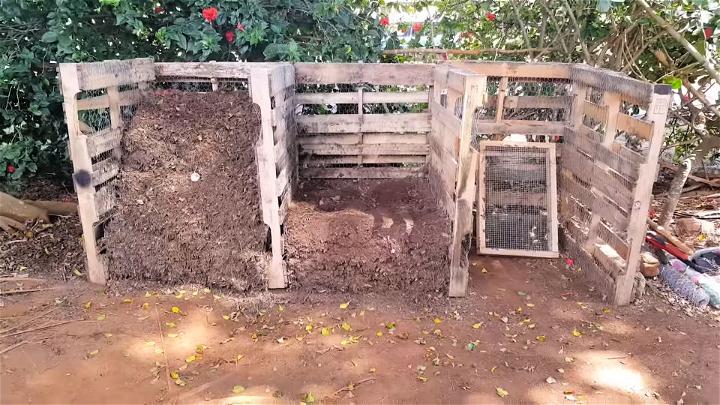 The easiest way to make compost in your garden is by building wooden pallet bins. Your backyard garden can use tons of this compost which will fill up the beds and supercharge all your plants. In just a few days, make some excellent compost using nothing but the old dead leaves and some grass in your garden. Supplies needed are pallets that can probably find for free, screws to keep them together, the chicken wire that will be attached together using horse-shoe nails.
18. Build Compost Bin From Recycled Pallets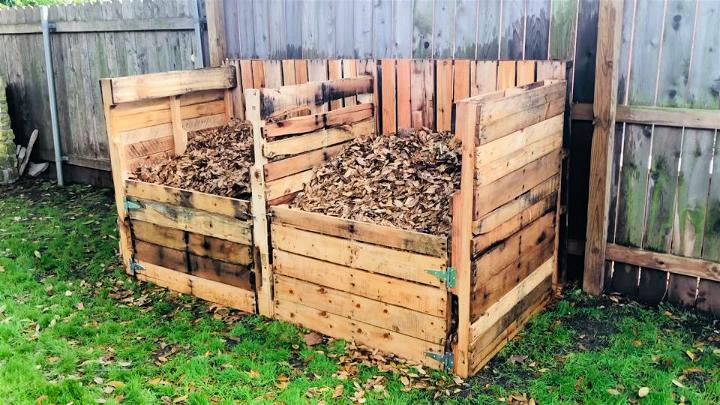 Use recycled pallets and build a compost bin for your garden for free. You will only be sending a little on the hinges, but chicken wire can also be used to make some make-shift hinges. Start by preparing your pallets and then measure them according to the size you require using a measuring tape. The pallets can be cut using the woodcutter's ax and then use a hammer and screws to put them all together. Build three separate bins and make sure that you allow enough airflow.
19. DIY Compost Bin Made From 7 Pallets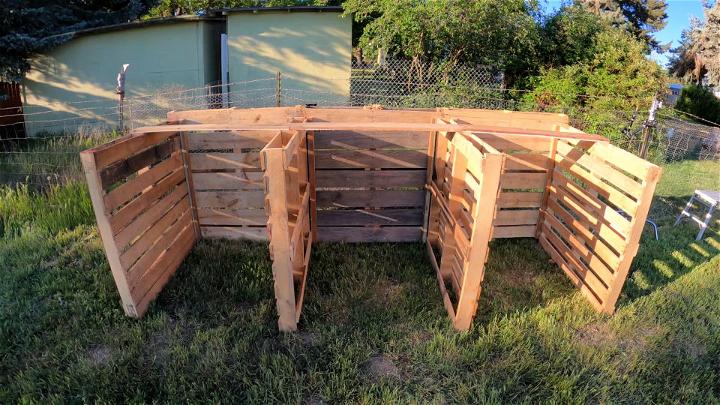 Expensive plastic compost bins are available all over the market, but they need to be replaced from time to time whilst costing a lot. You can make your own compost bins easily at home by scoring just a few pallets from an alley. Fill them up with screws, and you're ready to churn out some premium organic soil by the ton. This process is the best way to keep all your trash at bay whilst using it for your own benefit.
20. New Compost Bins From Old Pallets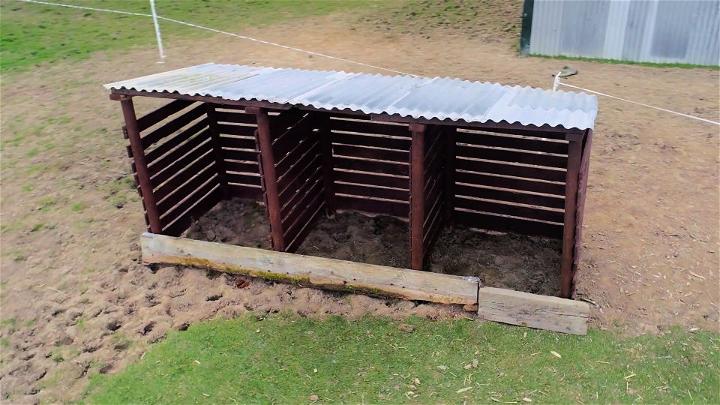 Here's another one from our pallet compost bins collection. If you are looking to make some space in your junkyard, this guide uses 3 bins. The trick or tip here is to use a ply bar or an ax to pry the boards apart. However, try to be not the split the boards in two while prying them apart from the sled. For the roof, use galvanized sheets. Hit the link for the complete video tutorial.
21. Compost Bin Out Of Old Pallets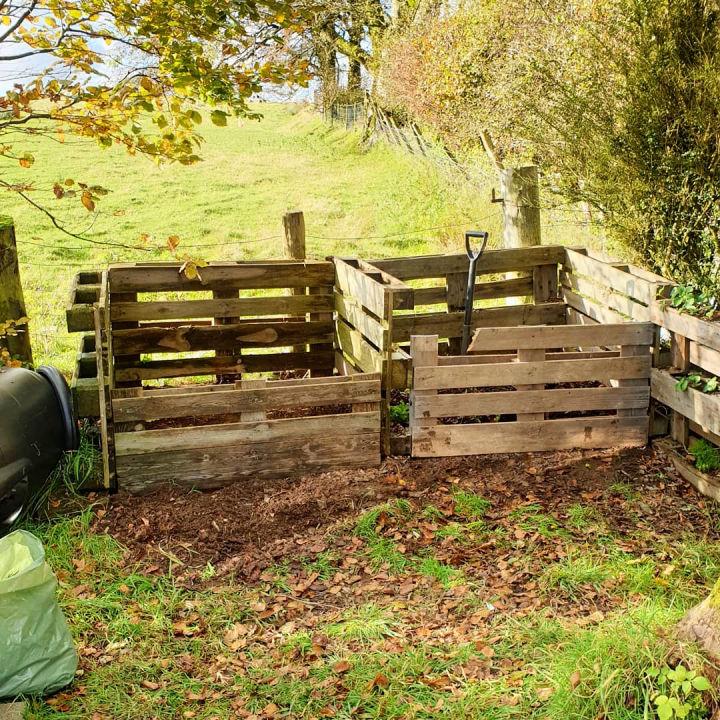 Old pallets can certainly have many exciting uses, but the most environmentally friendly one is definitely a compost bin. Get your hands on supplies like old pallets, hammers and screws. Make 2 small and separate bins if you wish to keep the compost separated in different bins.
22. Pallet Compost System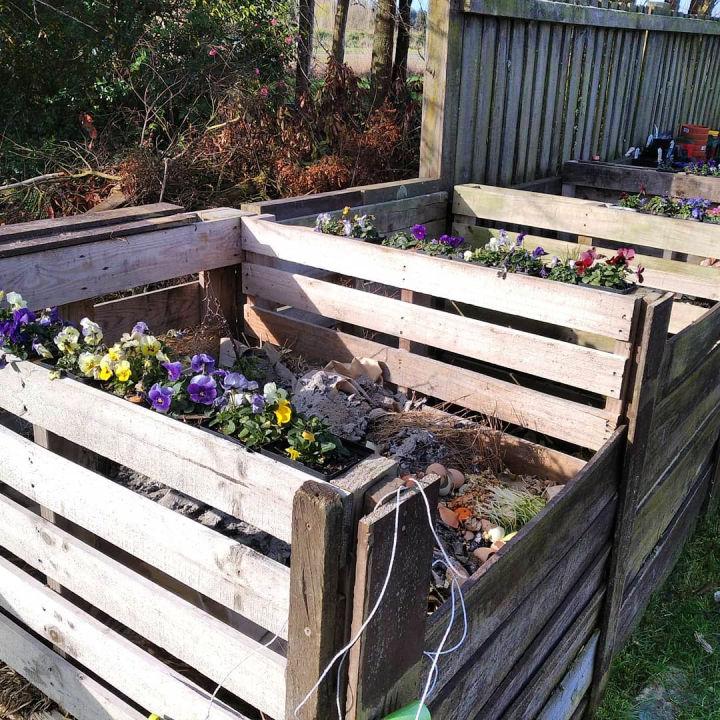 This pallet compost system certainly looks flawless. If you are the kind of person who likes to give their garden a completely non- tidy look but rather an aesthetically pleasing appeal, this is going to be your go-to plan. You can cover the compost bins with a wooden board and put some garden rocks on the surface for the extra tidier look.
23. Compost Bin Made From The Pallets

Keep it simpler and tidier at the same time! Get your hands on some old pallets and get started with this pallet compost bin. You will need a hammer and some screws to stick the pallets together for making a boundary around the compost bin.
24. Simple Pallet Compost Bin For Free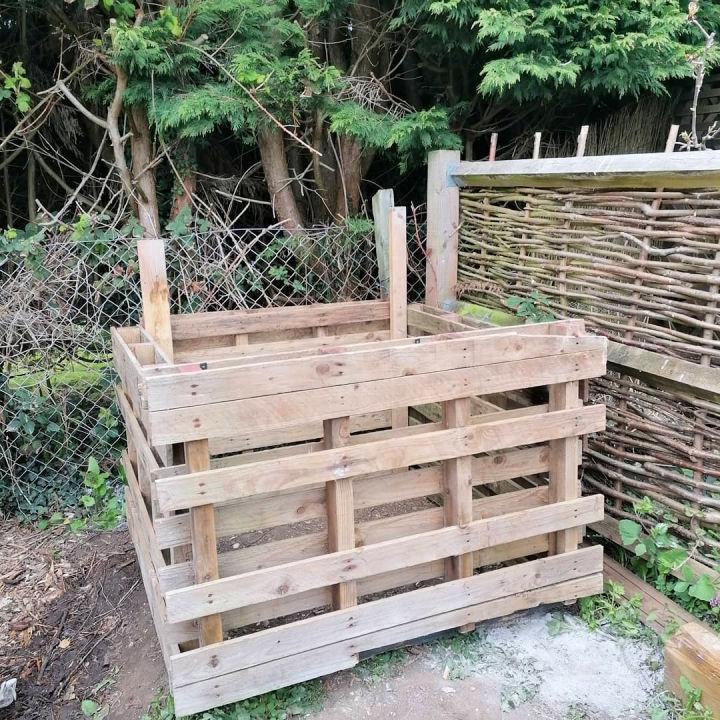 Here's another simpler and easiest way to spruce up your pallet compost bin. If you don't want to get into a lot of woodworking, you just need to find some sturdy wooden pallets and join them together using screws. Make your work easier by choosing such a space that already comes with 2 sidewalls.
25. Pallet Compost Bin With Door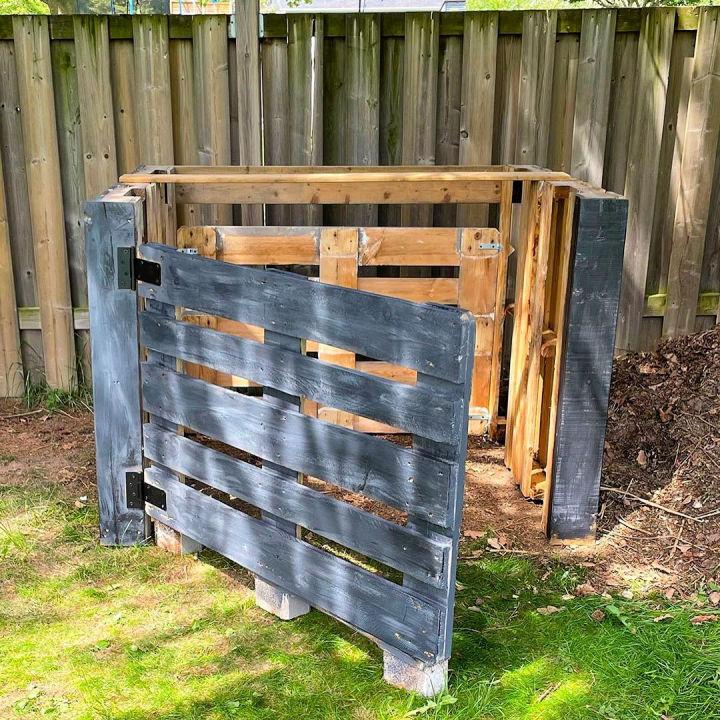 This one here is for a rather more enthusiastic composter and gardener. The pallets are joined together using screws, and metal hinges will help you up with the door part. For the front side, to make it aesthetically appealing, you can use some paint that goes with the rest of your garden decor.
Related Drawing Ideas:
Pallet Fence – Looking for pallet fence ideas? Here are a few examples of how people have used pallets to create fences.
Pallet Garden – If you're short on space or just want an easy way to garden, consider using a pallet. Following these pallet garden ideas, reuse old pallets that can be easily converted into a raised bed garden.
Pallet Planter – Looking for some fun and easy pallet planter ideas? Check out these ten creative ways to upcycle a wooden pallet into a beautiful garden container!
Pallet Deck – In need to build a pallet deck? Check out these cheap pallet deck ideas for inspiration! From simple pallet deck designs to more functional ones, there are sure to be ideas you can use for your own pallet project.
Pallet Bench – Want to build a pallet bench? This DIY pallet bench is a great addition to any room. It is perfect for sitting on and provides much extra storage space.
Pallet Pool – Looking for an affordable way to cool down this summer? Check out these DIY pallet swimming pools! You can easily transform old pallets into your own pool with just a few simple supplies.
Conclusion: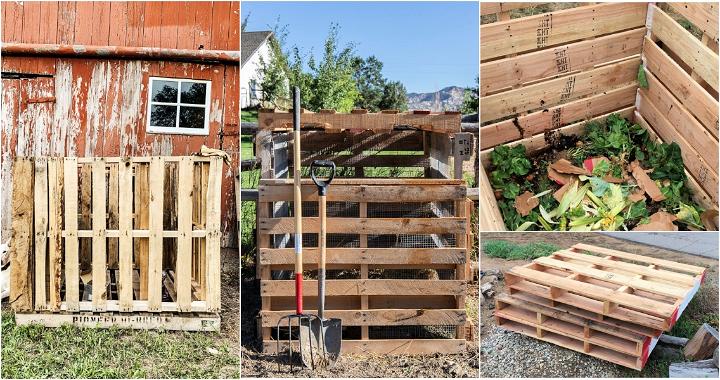 You know you are a junker when you think a hundred times before throwing away your garden scrap, so these ideas to build a pallet compost bin can really help to keep your garden junk safe. It will actually help you in a lot of ways, and all your junk will turn into something so worthy that it will help to keep your garden and whole house going. Use repurposed materials from the house and construct yourself a beautiful and mighty pallet compost bin and save all your garden scraps in a useful to help improve your garden life. It can turn out to be a great outdoor project for you and your family, and everyone can have a great time helping you. Happy constructing to you!