Whether you need a sofa for your office, home living room or for any particular indoor or outdoor space, you can get benefited from these Pallet Couch Ideas sharing an exclusive range of homemade sofas. The whole collection of ideas provides excellent design samples that prove the pallets the magical wood-crafting material. Due to the hardwood nature of pallets, these wooden couches will have higher capabilities to survive in both indoor and harsh outdoor weather. So, you can get them for any patio, backyard, garden or outdoor area. Most of the shared designs are built with uncut pallets that can easily be stacked for the necessary seating sections.
Find these 30 inexpensive DIY pallet couch ideas that include easy instructions and a material list. See a variety of tremendous pallet sofa designs that are made of 100% pallets. From 2 seater to large L-shape sofas to extra large sitting plans, you will learn here to build all with pallets. As pallets can handle a lot of weight, these sofas will be highly stable in type.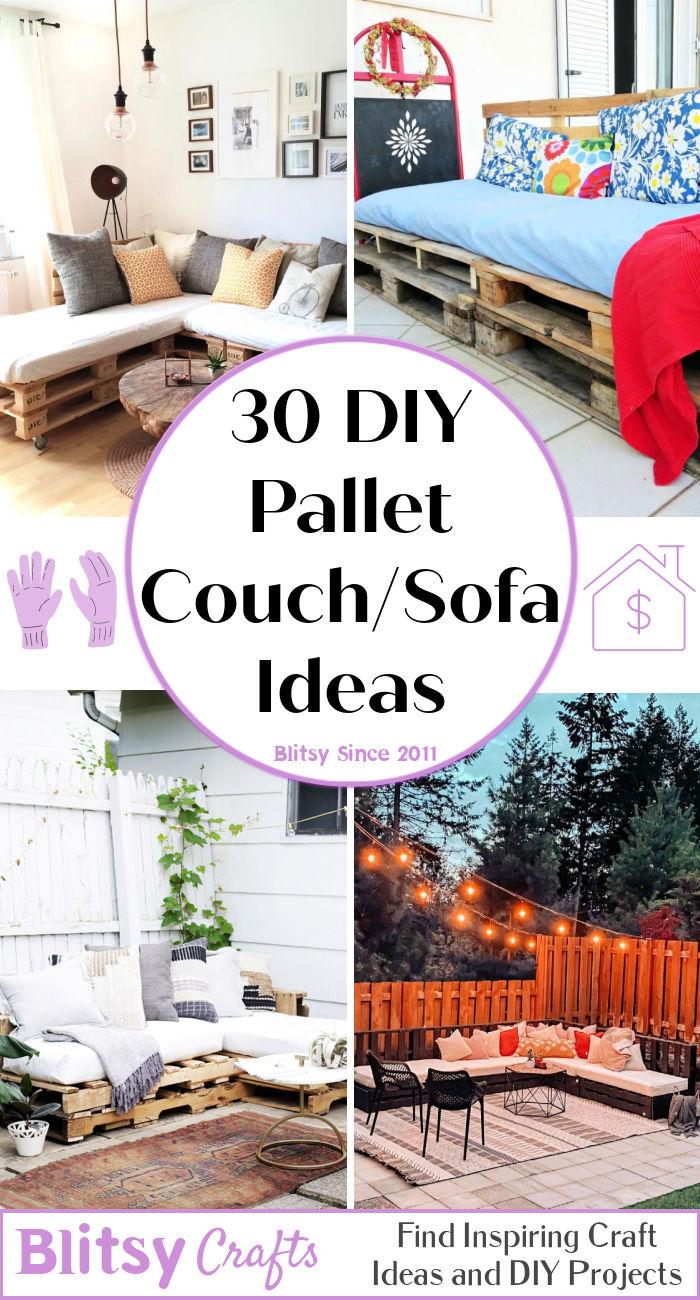 These DIY projects involve the simple stacking of pallets to build a pallet sofa or couch in any desired size. Next, they can be added with a single pallet backrest and assembled in shape using durable hardware. If you don't like the pallet openings, use extra wood to cover them all solid. Depending on the height of the couch you want, you can stack more or fewer layers of pallets. Also, paint the pallets for a custom look of the sofa and make sure you cushion the completed design very well. Peek into details of these DIY Pallet Couch Projects to add tons of sofa-making hacks more to your whole bag of tricks.
1. DIY Pallet Couch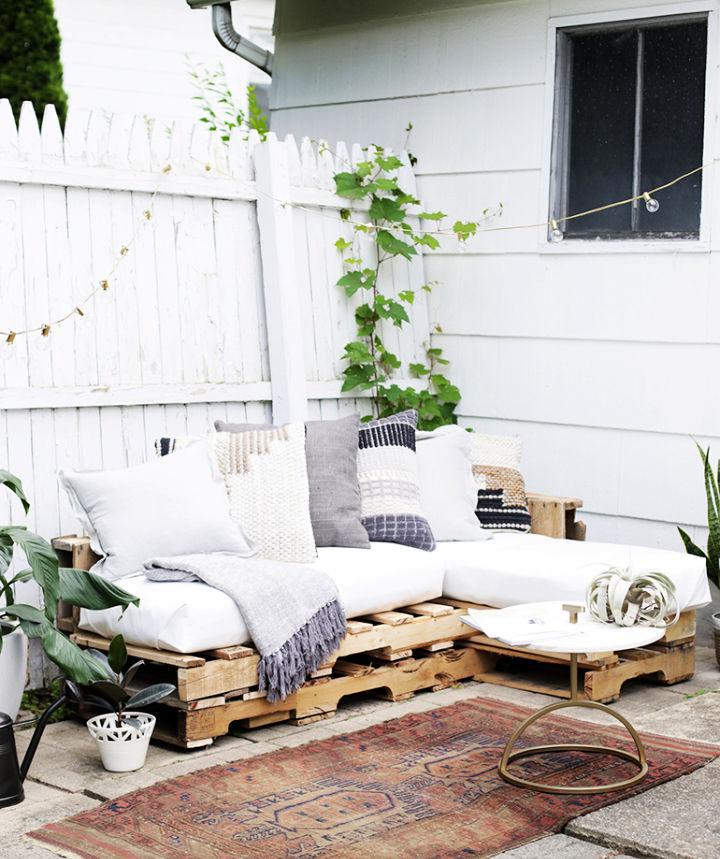 The hotter days make us spend more time outdoor. So, getting your outdoor look serene will require installing some comfy seats, hanging beds and swinging chairs to your outdoor. Manage to have a cozy outdoor sofa at almost no cost with these DIY Pallet Couch Ideas that will be there in no time for luxurious sitting and sleeping affairs. So, avail the pallets to build sophisticated couches. A big thanks to already built shapes and durability for this fancy L-shape sofa creation. All beginners can easily set up the free pallets for this instant beautiful wooden pallet couch. themerrythought
Pallet furniture is very much in style now days and it's easy and greatly cheap to build with. Here are some gorgeous pallet furniture ideas and tutorials that come with detailed instructions and a material list.
Want to Build Your Own Pallet Cofee Table? Then Check These 40 DIY Pallet Coffee Table Ideas that are made with 100% free pallets!
2. Super Easy DIY Pallet Couch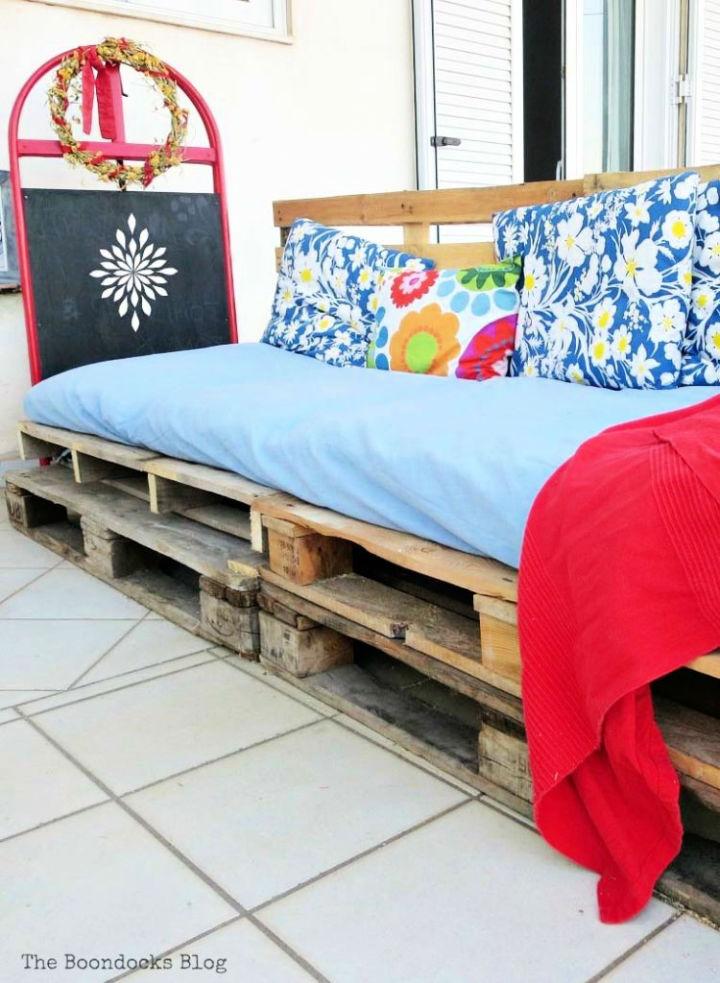 Have you ever thought to build a wooden sofa without using any tool or power tool? What if you get that couch also free of cost? Yes, this is all possible with the free pallets. Peek into the details of this durable wooden pallet sofa model, made by piling up the pallets easily and quickly. Stack the pallets neatly until you reach the perfect couch height. Next, add the single pallet backrest positions and ensure you are doing the assembly with durable hardware. Next, add any leftover cushion on the couch to gain a level wooden couch in no time. You need a total of 6 pallets, a saw and a rope to complete this project. theboondocks
3. DIY Pallet Patio Couch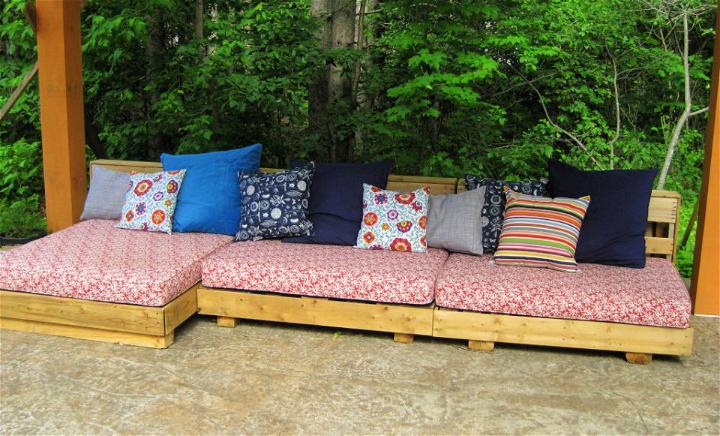 Everyone will fall in love with this exceptional patio couch, which comes with an elegant low-height design. It will serve for comfortable outdoor louching and will be the perfect spot for outdoor guest entertainment also. You need some pallets and extra wood to duplicate this sophisticated model of the large outdoor couch easily. Use it as a grand pallet daybed, and you can easily clone it for your home deck and backyard. The project's total cost is equal to the cost of the cushions, and the rest of the entire couch will cost you next to nothing. Here all cushions will cost you around $684. thelovenlife
4. Building Couch Made Out Of Pallets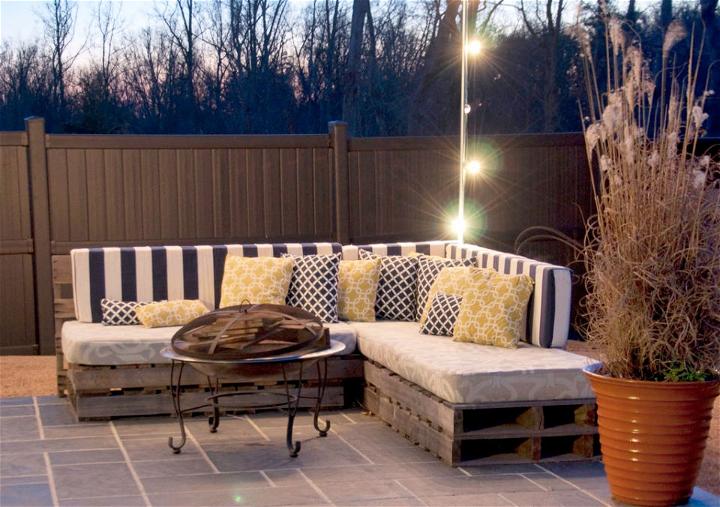 You will fall in love with the clean dimensions of this sophisticated pallet L-shape couch. The perfect corner sofa to whip up in no time. Benefit the ready-made shapes of pallets to build all the sofa components quickly. Stack the pallets directly for instant beautiful L-shape couch design, and then use the modified or trimmed pallet sizes to build the sofa backrests. Cushion up the couch entirely with a high-quality seat mattress should also be added to backrest positions. Next, add the pillows and cushions on the couch also. instructables
5. Outdoor Pallet Couch – Weekend Project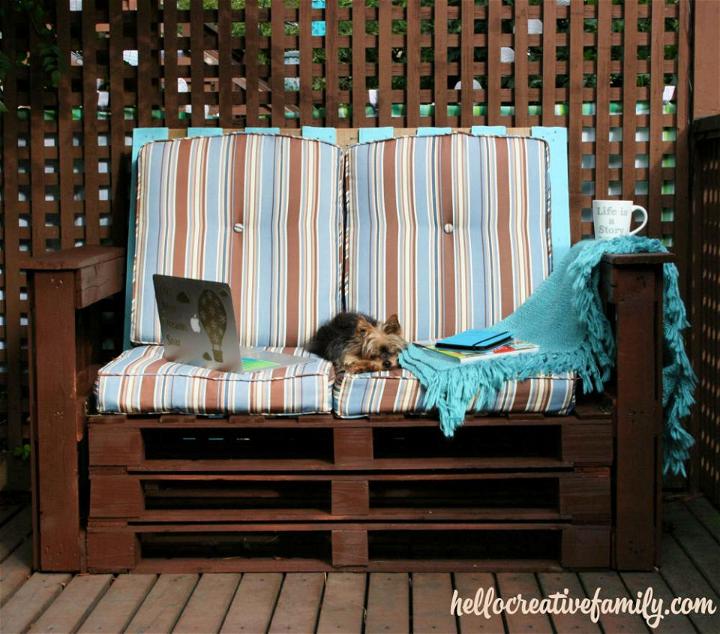 Just like the couches, you can build lasting longer wooden chairs also out of pallets. Duplicate this given cushioned chair that is much aesthetically pleasing and is total comfort to sit in. Here, this entire chair to build with 6 wooden pallets, and you can use your beautiful cushion to bring tons of sitting comfort to this hair. Here, the completed chair is stained very well to avoid early weathering, and you can use your favorite tools to duplicate this solid wooden chair easily. The required tools and hardware will be a drill, 1 ½" decking screws, L-shape corner brackets and saw. hellocreativefamily
6. Pallet Couch For Balcony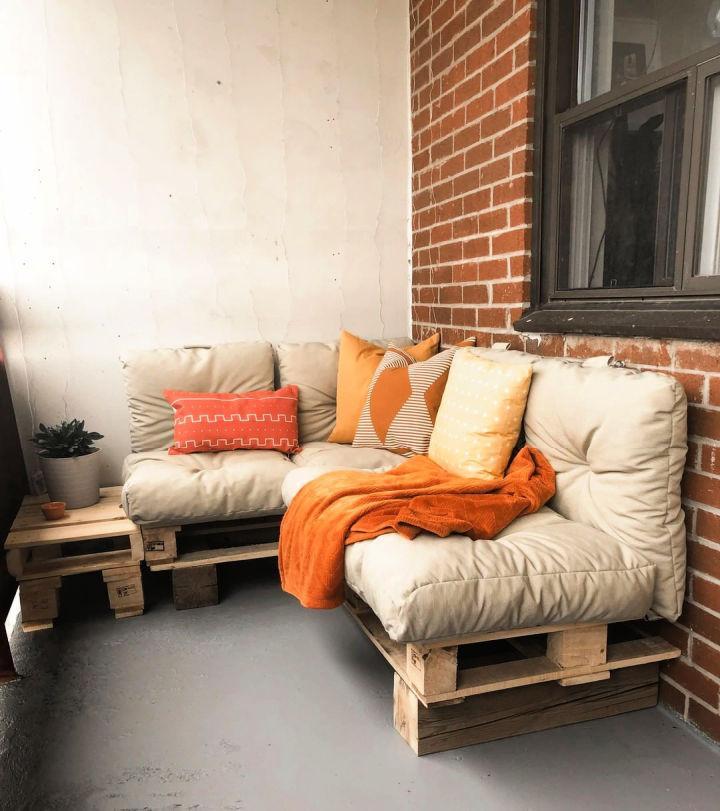 Sorting out the best couch or pallet daybed for your balcony? Build this handsome-looking L-shape pallet sofa for your balcony corner, sure to help you overcome your sitting space desires there. Just raise the solid modified pallets on some heavy-duty wooden supports to reach standard couch height. Next, finish the miniature pallets with short wooden legs to instantly build a side or end table for your L-shape couch. The entire project is wholly easy and quick to do and will also cost you next to nothing.
7. Mobile Pallet Couch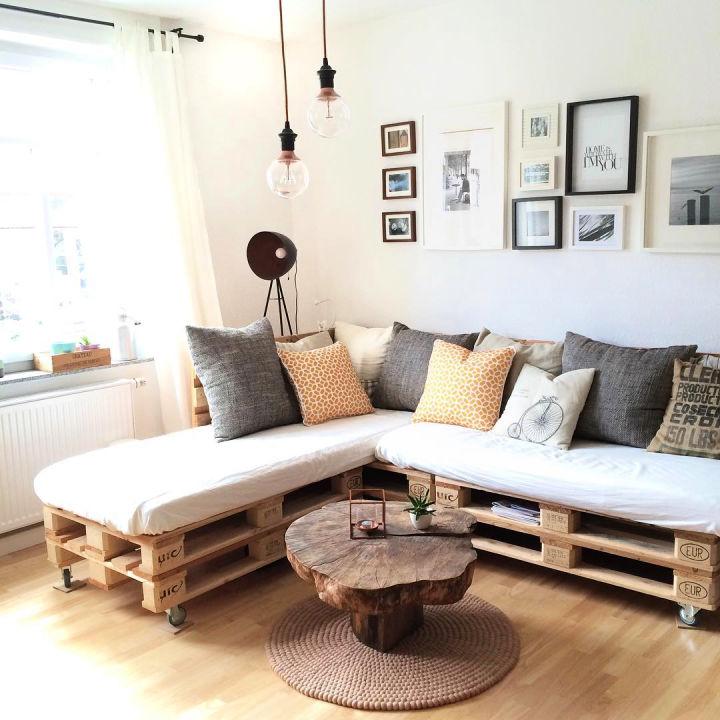 Opt for this mobile couch to be dragged to any indoor or outdoor location to get instant comfortable sitting space. Here this L-shape sofa design is to make with solid wooden EURO pallets, have nicely been stacked. Finally completed sofa design is finished with rolling caster wheels, and you can also add the soft foam mattress to seats for ultimate sitting and sleeping comfort. The couch also provides little openings in pallets to store a bunch of your items, including newspapers, magazines and lots of other items of this kind. Use the pallets with separated apart stringer boards to easily add the backrests.
8. Pallet Couch For Backyard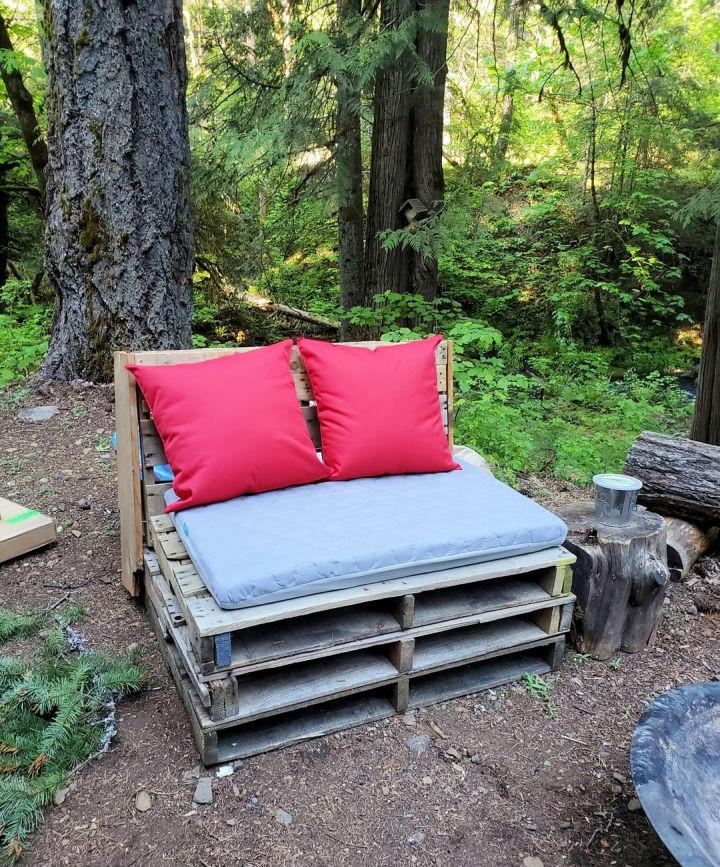 Accomplish your backyard luxury sitting desires with this flawless wooden pallet seat that is well-cushioned. Stack up to 3 pallets to easily build this couch seat and, next, finish it up by installing the solid wood pallet backrest. Also, add a wood log or stump in the sides of this pallet wood seat to serve as a side table or end table. Leave the pallets as they are, or assemble the stack with rope or with heavy-duty hardware. The entire project is more than easier to do and will bring tons of grace to your backyard.
9. Terrace Pallet Couch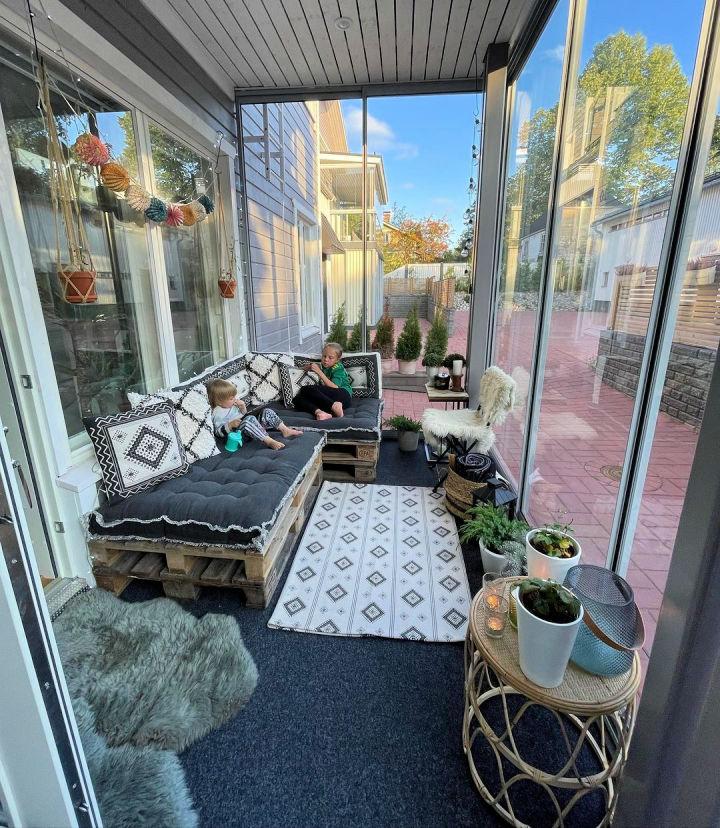 Intending to organize your terrace for part-time sitting? Then time to do it easily with this handsome pallet wood sofa that impresses with the L-shape design. The design is separatable and is wholly an easy pallet wood creation. Stack the pallets in L-shape to instantly get the sofa frame and then finish it up with cushions of choice. Here you can build this sofa model with or without the backrests because the back walls will serve great for this purpose. The best terrace daybed or couch to make at home will be a great terrace entertainment center also.
10. Wooden Pallet Couch For Porch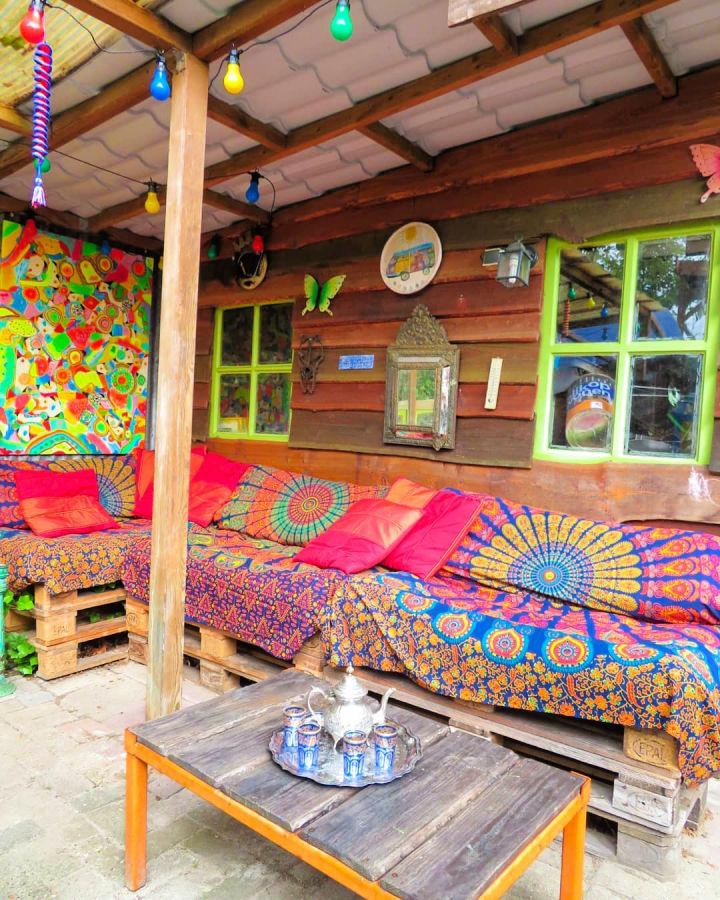 The front home porches allow you to have a peek at your outdoor while staying indoor. Maybe you are doing some plannings to organize your porch area to enjoy the summer season more. So, do check out this low-cost wooden pallet couch idea that will help you get a comfortable patio sitting sofa at almost zero cost. Again the stacks of pallets have been cushioned to get this L-shape comfy porch sofa easily. Just use the durable hardware metal brackets, screws and even the nuts and bolts to hold the stack of pallets. Make sure you are using the pallets for this project that are equal in dimensions.
11. Pallet Couch For Outdoor Living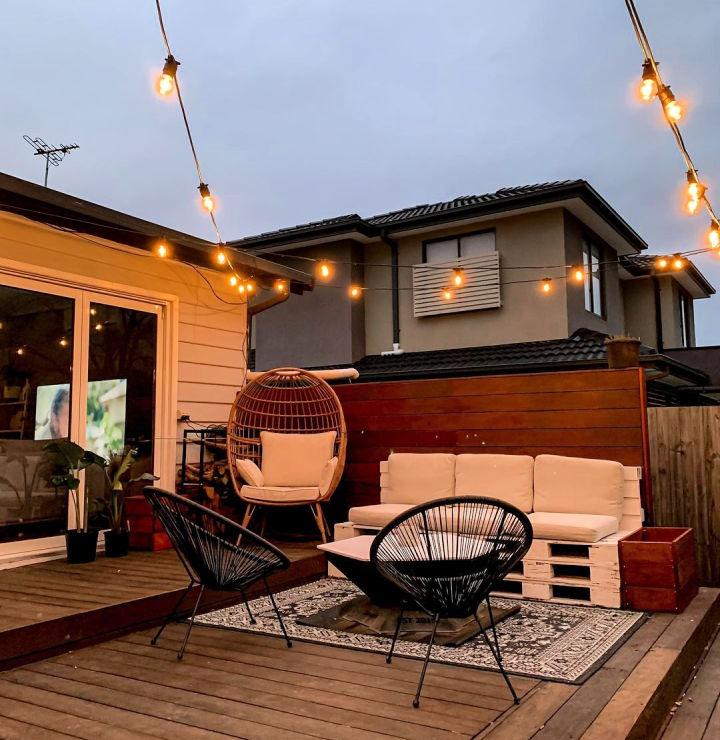 No matter you need some instant sitting space at the porch or you are willing to set up a sofa set on a wooden home deck. The pallets are to accomplish all your sitting space desires. Look at this chic white wooden pallet 3 seater couch that is well cushioned and can easily be achieved by arranging the pallets up to 3 rows. Place some pallets behind the stack vertically to serve as a durable backrest position. For cushions, make a few ones at home or recycle the old cushions from home. The choices are all yours.
12. Pallet Couch Design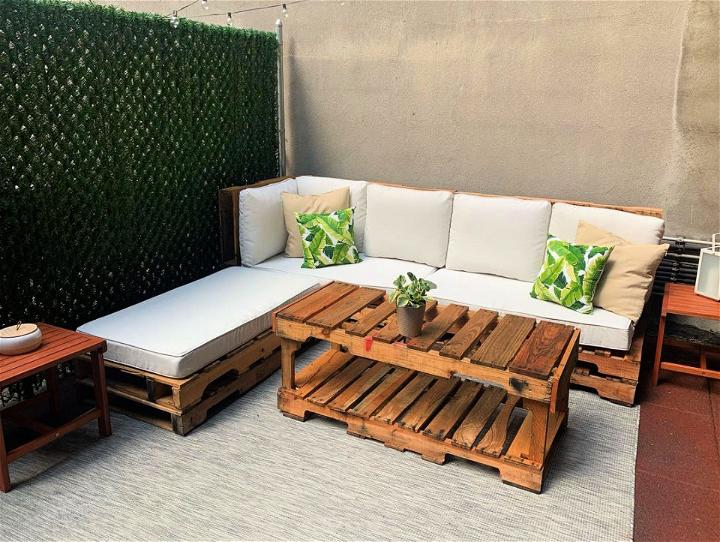 You will surely fall in love with this sectional wooden pallet couch that is just perfect for 6-8 people who want to enjoy it together. The whole sitting set is just best for any patio, porch and terrace area and is also super easy and quick to build. A quick stack of pallets can be available as a durable sitting frame that you can enlarge to any length or size to get the desired cushioned sofa. Stacking the pallets and put a few ones vertically behind them is whole; you need to build this sectional couch. Finish the entire pallet-made sofa with custom couches to easily get a comfy couch for porch, patio and terrace.
13. Oasis Outdoor Pallet Couch

The pallets come in handy to easily build all kinds of sofas like those that come with legs, backrests, and those that are a low height and have no legs. So, peek into the details of this project and see how to evenly lay down the pallets flat on the floor to build a platform sofa. This will be an amazing sitting sofa setup to install around the firepit. Just put the wood pallets all along the walls of the space and then cushion them up. You have the freedom to cover any desired area with this kind of low pallet couch setup.
14. Countryside Pallet Couch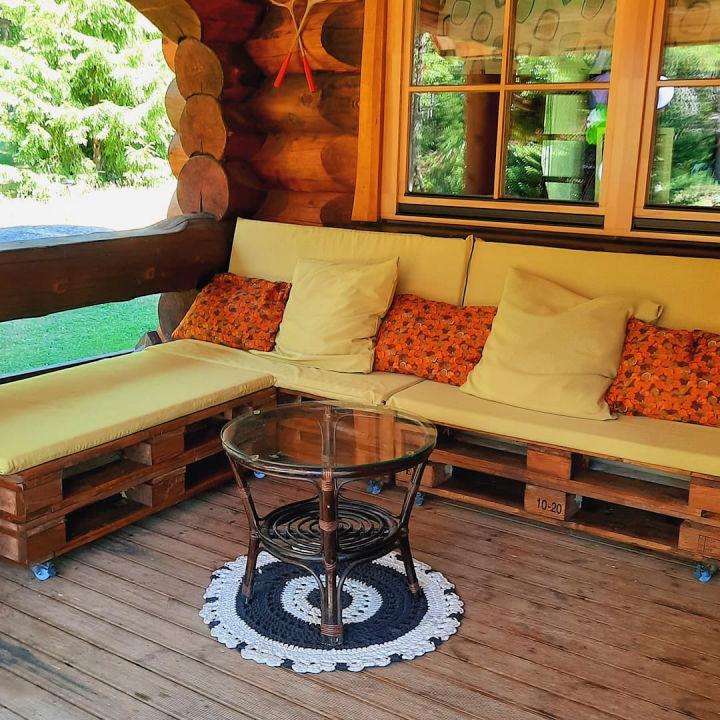 Another big reason behind the so raised popularity of pallets is their rustic appeal. So, this makes them perfect for all kinds of rustic and vintage furniture projects. So, presenting here guides to build a countryside sofa out of pallets, will be touch to move due to addition of bottom coaster wheels. The best L-shape mobile sofa can be set to any room or patio corner and is truly a bliss to build. Just use the latest hardware, assemble the pallets in stacks of 2 and then put them all together, building the rolling couch frame. Next, use quality foam or seat mattresses to cushion them up.
15. Outdoor Sectional Pallet Couch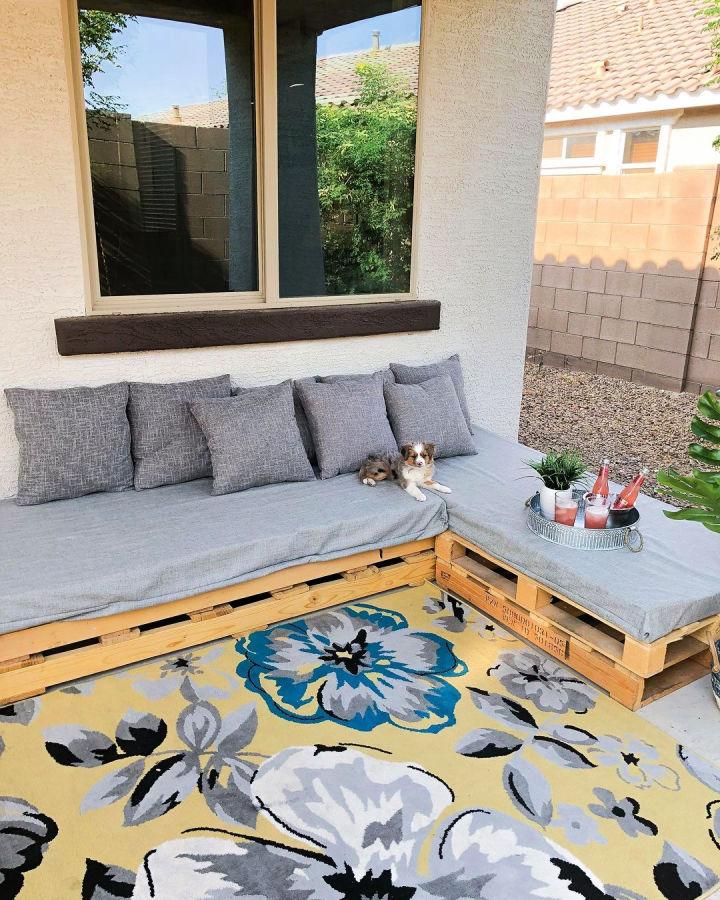 Sitting on this low-height pallet couch will be a total pleasure when being with a bunch of guests and friends. See how beautifully the pallets have been arranged to accomplish your outdoor sitting space needs. It would have cost you big to get outdoor furniture in any other way. So, a big thanks to pallets for this brilliant L-shape sofa, totally built and will not cause any load on your wallet. Finish the laydown pallet frames with high-quality foam mattresses, and this will give you the luxurious sofa at no cost for never-ending outdoor entertainment.
16. Pallet Garden Couch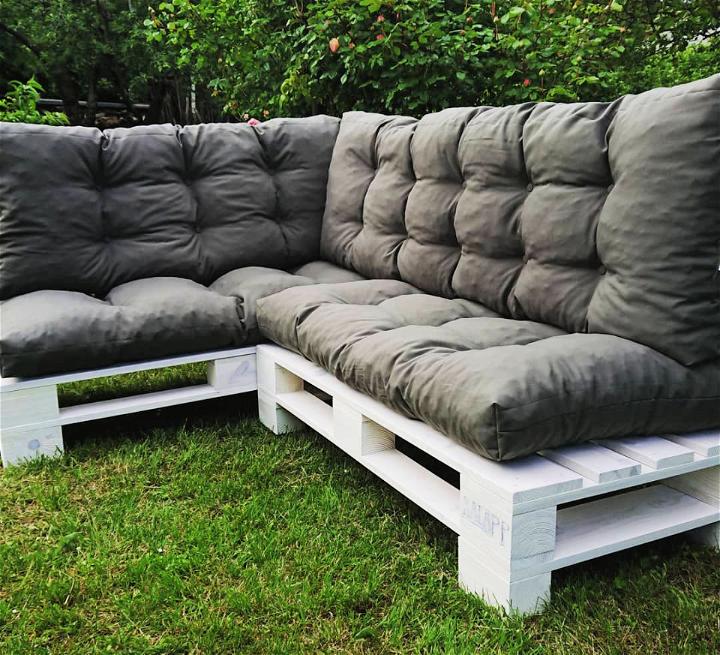 You will not be visiting the shops and markets for an expensive sofa if having some pallets and an old sofa mattress or cushion at home. Yes, this is whole you need to build a luxurious sitting couch in or out of the home. Stare at the given phenomenal model of the couch made with chic white painted pallets and holds a comfy, high-quality cushion over it. Use two or more pallets to stack together while building the L-shape frame for the sofa. Find the comfy couch from home or make a new one using the highest quality foam and fabric.
17. Pallet Wood Couch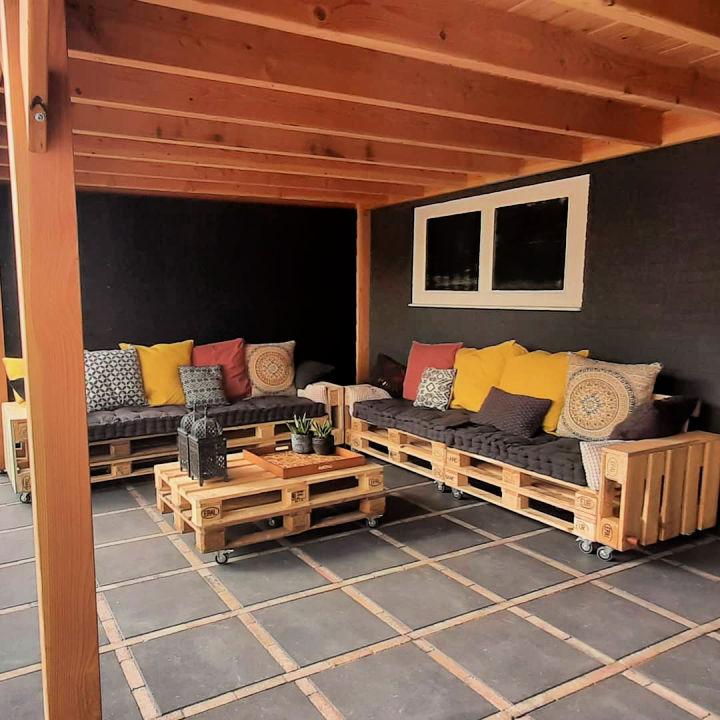 All of us will be loving the pallets more than ever before after taking a look at this sophisticated sitting sofa set. Super creative repurposing of pallets to fulfill the front porch is sitting space requirements. Here, you will find the pallet stacks magical that help you build both sofa seats and the central coffee table. The pallets are too heavy to drag, so the entire sofa is raised on caster wheels for easy dragging and pushing. Use the miniature or trimmed downsizes of pallets to build the sides and armrests of the couch, as you can see. Use the latest hardware to assemble the hole design in place.
18. Modern Boho Pallet Couch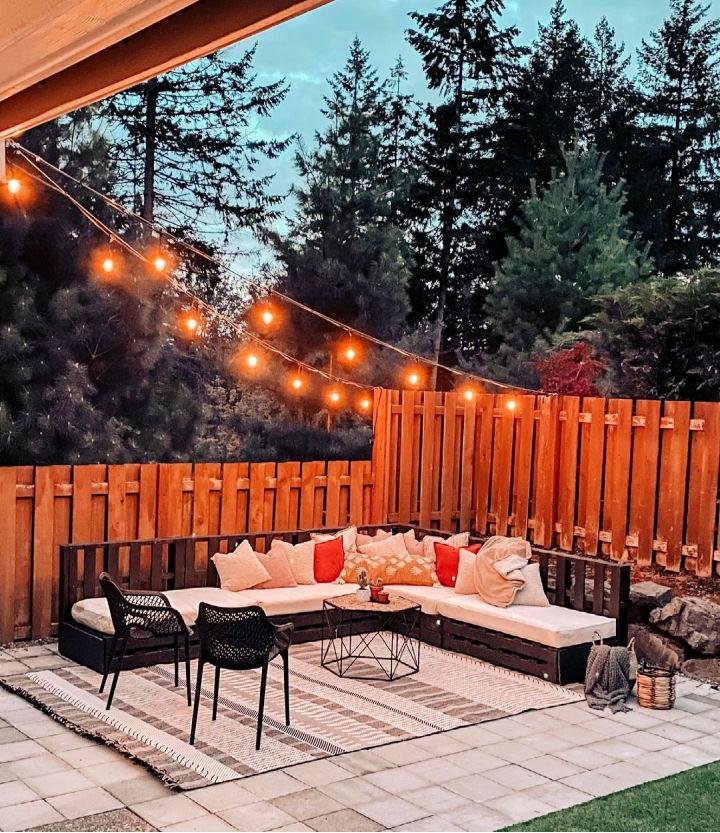 Are you a big fan of bohemian wooden furniture? Then, clone this modern boho outdoor L-shape couch enchants with the low-height and dark choco wooden appeal. Put some pallets vertically behind the stacks that build the seats to gain beautiful instant backrests. You can even build this home deck sofa set without using any tool or power tool. You have the freedom to finish this couch with your favorite wood stain and your favorite seat mattress. The best sectional couch to build for any patio, terrace and home deck.
19. Pallet Daybed Couch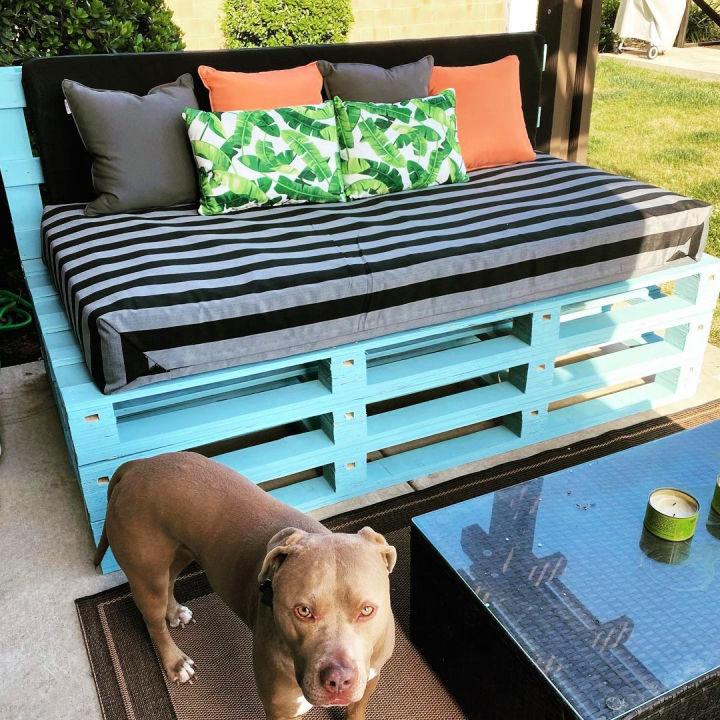 It will leave you stunned to build durable and expensive wooden furniture at home without using any tool. The magical item that will make you do so is the wooden pallets that help build a long and durable wooden couch with a wide seating section. So, you can use it as an outdoor dayed also without any hesitation. The design is much achievable even for a beginner, and it involves piling up the pallets neatly. There is nothing tricky, complicated and challenging in this wooden pallet daybed construction. Paint it for a custom look and appeal.
20. Pallet Couch And Coffee Table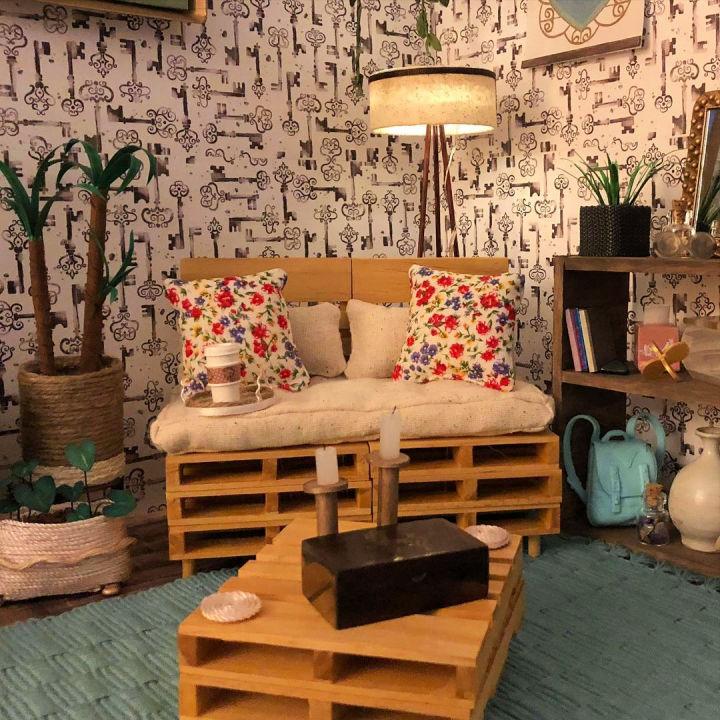 As for us, there are pallets, and the budget is no more an issue to get the luxurious sitting furniture. The pallets allow you to easily build durable couches, coffee tables, and a variety of custom seats and benches for all sorts of sitting space needs. Look at the praise-worthy 2-seater couch design. A wholly easy yet beautiful pallet creation provides inside storage also. 3 pallet stacks build the couch, while the 2 pallet stacks will be enough to construct the matching coffee table. Cushions and pillows can be of your own choice. Here the couch is finished with custom short wooden legs.
21. Pallet Couch For Balcony Decor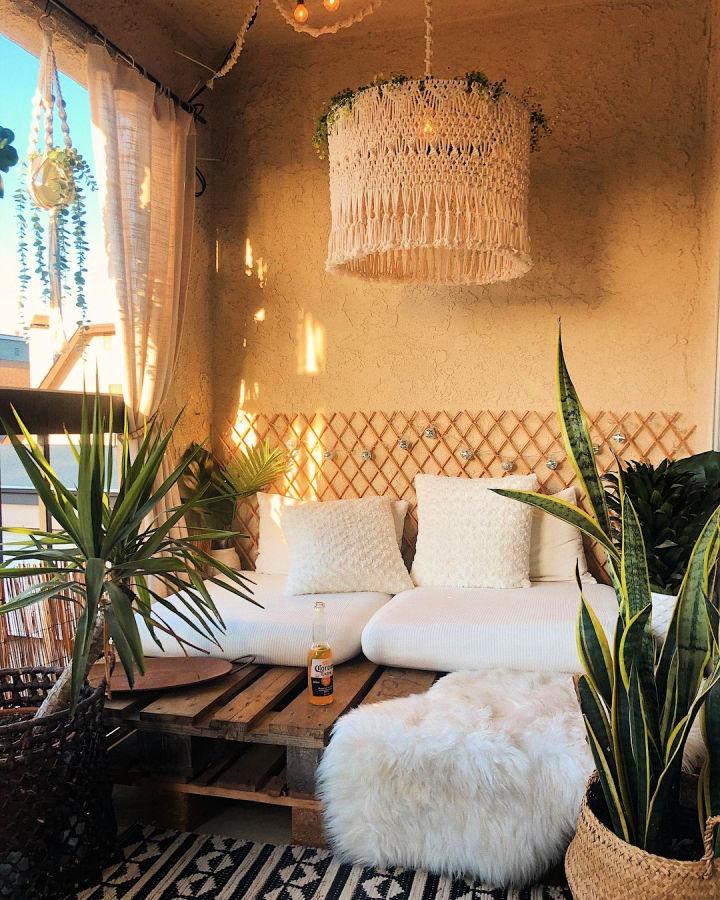 Many of us love to enjoy the morning and evening by sitting on the balcony. But is your balcony having all to give you a luxurious sitting experience? If not, then time to a quick, beautiful and luxurious sitting couch for a balcony using some free pallets. Just stack the pallets to build the instant beautiful couch frame, and next, put your favorite mattress and pillows on the frame. You can fancy it up more by putting custom pots around also by adding some lights. The choices are all yours. Here this couch comes with a decorative wood lattice background.
22. Make A Couch With Pallets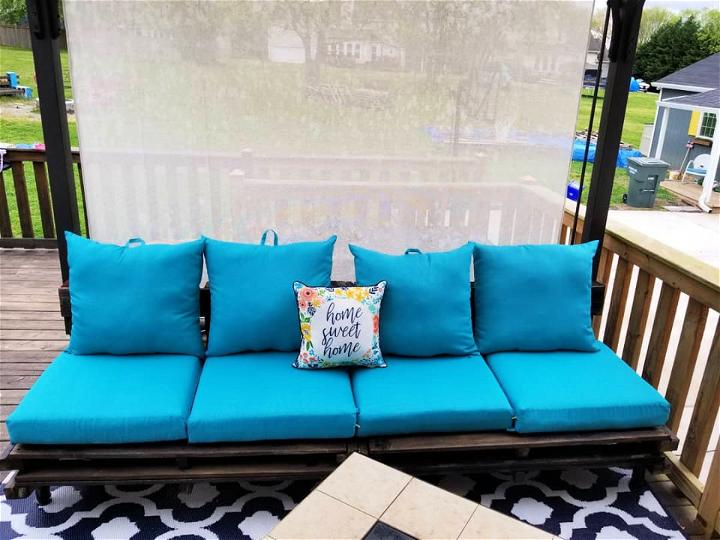 It can be more than easier to build a sitting couch out of pallets. So, even if you have zero carpentry experience, you can build this beautiful pallet couch. It comes with blue seat cushions and backrest cushions and can easily be put together using a few rustic pallets. Finish the whole couch with custom short legs or with wheels. The couch is built for 4 people sitting, and it will be an amazing addition to one's wooden deck or patio. The whole couch is easier to build and can also be gifted to a favorite person or neighbor.
23. The Perfect Outdoor Couch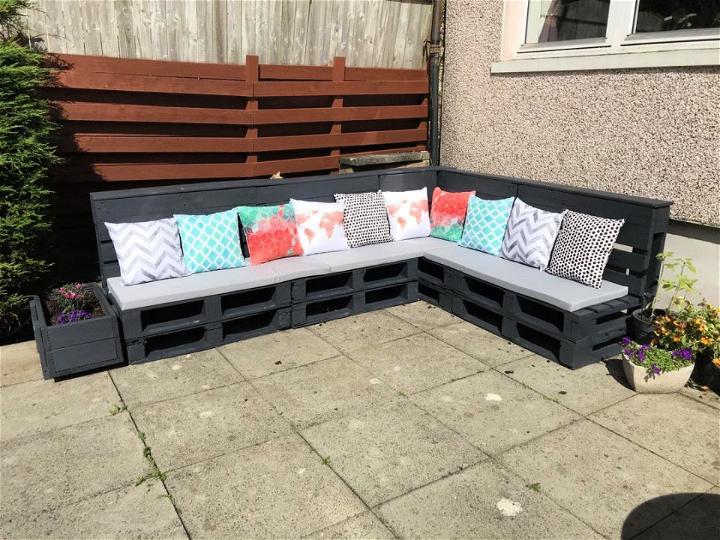 The pallets are magical, helping you overcome all sorts of outdoor sitting space issues. Look at the perfect sitting arrangements of pallets, resulting in a beautiful corner couch. Each pallet is stained for a dark appeal, and it will take about 12 pallets to clone this L-shape pallet couch. The design is amazing in the matching planter and the backrest top mantels, where you can display various pots and decors. One of the best and quick-to-build DIY couch ideas that everyone can duplicate with ease. A brilliant DIY furniture project that requires no tool.
24. Couch Made From Salvaged Pallets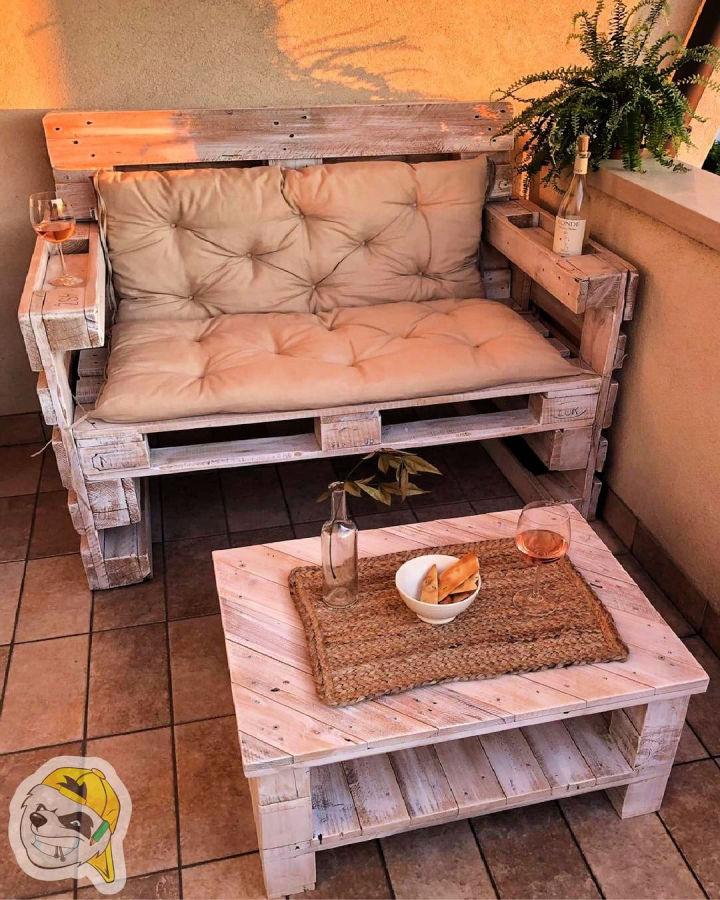 You will love to sit like a boss on this wooden pallet couch that is solid and beautiful. This is here an amazing pallet wood creation that involves no cutting. Here custom pallet sizes make this white couch's seats, sides, and backrest perfect for 2 persons. Here, the table is separated from pallet wood slats, which impresses the diagonal striped pattern. The best homemade rustic furniture set that is guaranteed to make you live the luxury. Building both items will only a few minutes.
25. Beautiful Pallet Couch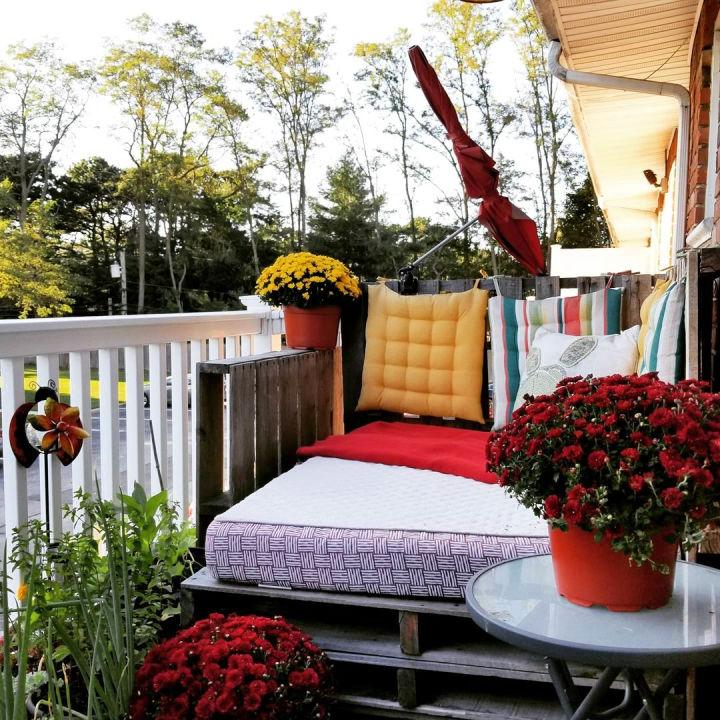 You will love this graceful setup of wood pallets installed into the balcony space, and you will love the final look. They lay the pallets down for a quick, beautiful seating section and put some pallets vertically insides to build the armrests and sides. The design is much doable even for a beginner and will complete simply in no time. No boring cuttings and no boring hardware assembly is part of this pallet sofa construction—the best and low-cost way to accomplish your home balcony furniture desires. Everyone will just be building this instant beautiful wood pallet sofa set.
26. Pallet Deck Couch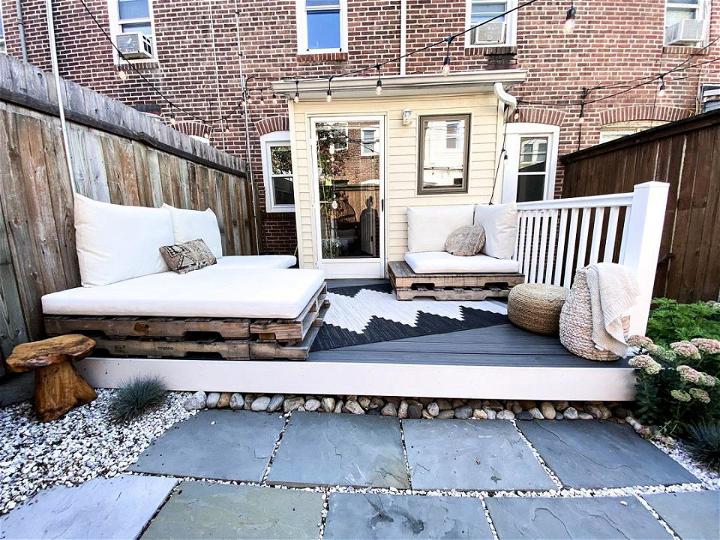 Plan the pallets to overcome your deck sitting space issues. Stack the larger skids to build instant beautiful low-height seats that can be cushioned soft to provide high-value sitting or sleeping comfort. The project is simple and is free of complications. Everyone will love building this awesome-looking wood pallet couch. It will be the perfect outdoor place to enjoy family gatherings and outdoor parties. At the same time, this is going to be one of the quickest pallet wood creations too. This project also doesn't use any power tool.
27. Build a Modern Pallet Couch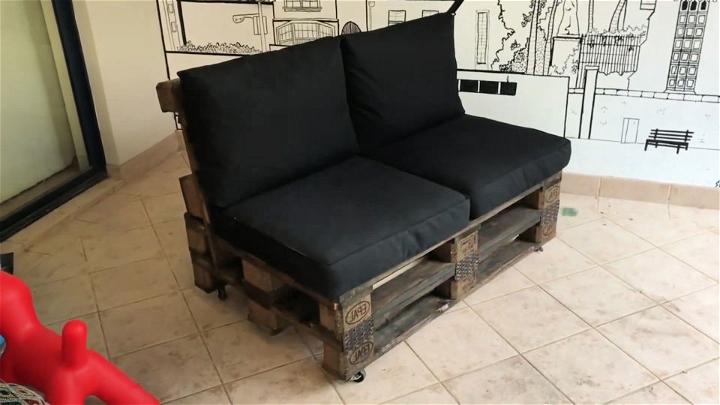 The pallet wood crafting can be beyond your imagination too. If you think that the only good thing is to recycle pallets to build rustic furniture, you are wrong. Build the modern sofas and chairs also with old and recycled wood pallets without getting a bit expensive. Feel free to duplicate this sophisticated design of a modern couch that is cushioned up black. Stack up to 2 pallets to build the seat and put one vertically behind to gain that solid backrest position. Finish with your favorite cushion or mattress. Finish the whole modern couch with custom caster wheels for outstanding rolling movements on the interior floors.
28. Wood Pallet Couch Plan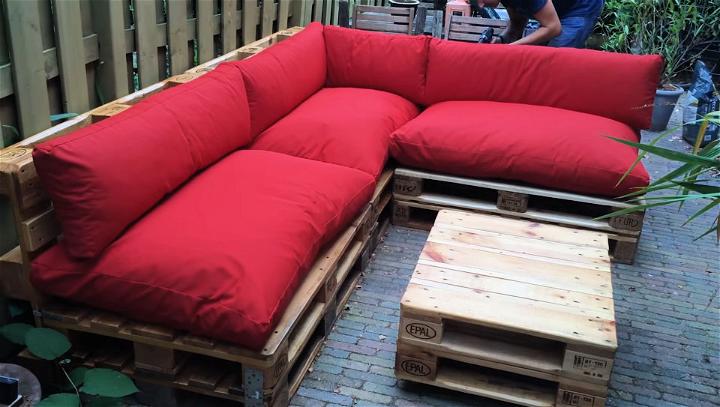 Enhance the look of any deck, patio, balcony or front porch with this lasting longer and super comfy wood pallet couch. The design is elegantly beautiful and praise-worthy and can quickly build with the EPA or EURO pallets. The leftover pallets are used to build a matching coffee table, and hence you get a complete sitting sofa set for free. This is here the best repurposing of the wood pallet to accommodate your outdoor sitting space desires. This L-shape wood pallet sofa will fit best to a home deck or balcony corner space. So, duplicate this sofa to install a perfect sitting spot at your outdoor to enjoy evenings and mornings with family and friends.
29. Making Indoor Pallet Couch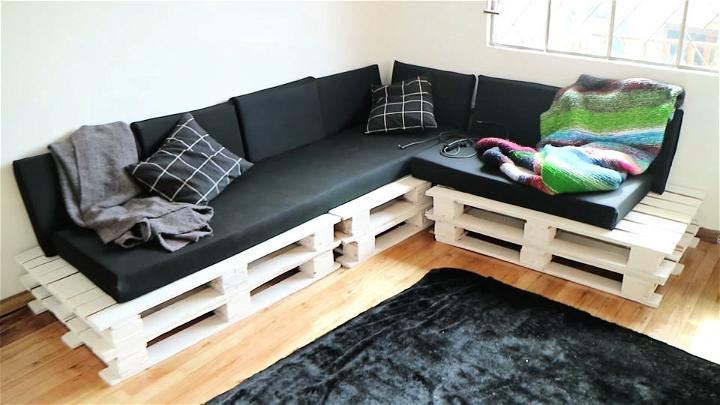 You will keep on staring at the modern appearance and overall design of this handsome-looking L-shape wooden couch. This is a proud pallet wood creation that can be added to any interior space to gain a big entertainment center or a comfy sitting spot to enjoy the gossips and conversations. This is how you can reuse pallets to fulfill your home furniture and sitting space desires without getting a bit expensive. Paint the stacked pallets in any custom color and choose a custom sofa cushion, to vary the overall look of this pallet couch.
30. 20 Foot Pallet Sectional Couch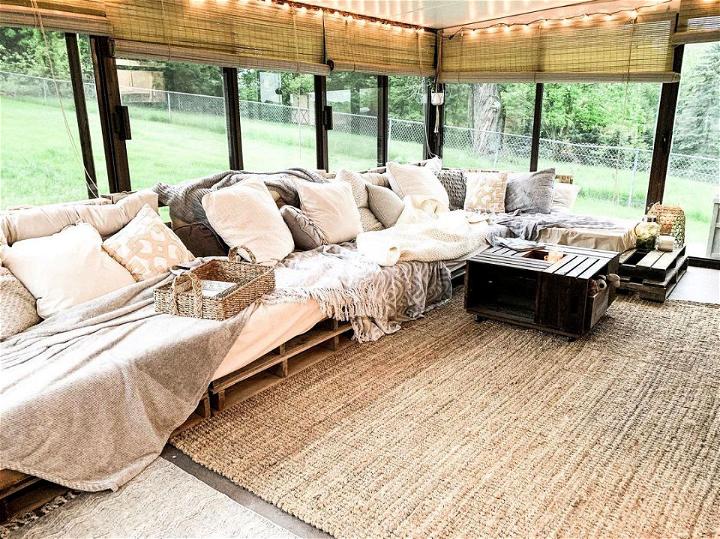 The pallets allow you to build extra-large sitting furniture and couch sets. So, if you have planned a spot for part-time recreation and entertainment and need a large sitting space there to manage the friends and family gatherings, then this sofa set is for you. Stack the pallets covering the decided area and finish them with comfy custom cushions to gain an instant beautiful wood pallet couch or sofa. You only need a big stock of free pallets to duplicate this grand design of an L-shape sofa.
Conclusion:
A sofa set is the most expensive and highly needed item of home furniture. Buying a luxurious indoor or outdoor couch will cause a big load on your wallet. So, go handmade with the rustic pallets and learn to build a whole beautiful and lasting longer pallet couch design for free. From building office couches to home living room sofas to outdoor furniture sets, you will learn here to build all sorts of pallet couch designs with free pallets. These pallet sofa projects are sharing the complete guides and creative hacks about building a pallet couch from scratch. Moreover, the ideas will share complete material lists, tool lists, hardware lists and step-by-step written and visual guides to clone any couch designs easily. So, do take a tour of all these pallet projects.