No doubt, an inspiring and creative workspace offers more courage to work. Therefore, it's essential to organize and design the workplace or home office according to your mindset and needs. Not only for the office, but you also have to focus on the surrounding area while working from home. A DIY corner desk is a great way to build a comfortable space in your room corner for working. It will allow you to work more creatively and efficiently. The best option for corner space is L-shaped desk designs. Learn how to make a corner desk by following these 25 homemade diy corner desk plans including free instructions and PDF guides.
On the other hand, you can keep all your office and work stuff well-organized in the drawers of these customized tables. If you want the desired corner desk in your room or office but don't have ideas, get help from mentioned below 25 DIY corner desk plans. Indeed, you'll find out the one that fulfills all your needs, as well as you can build it effortlessly.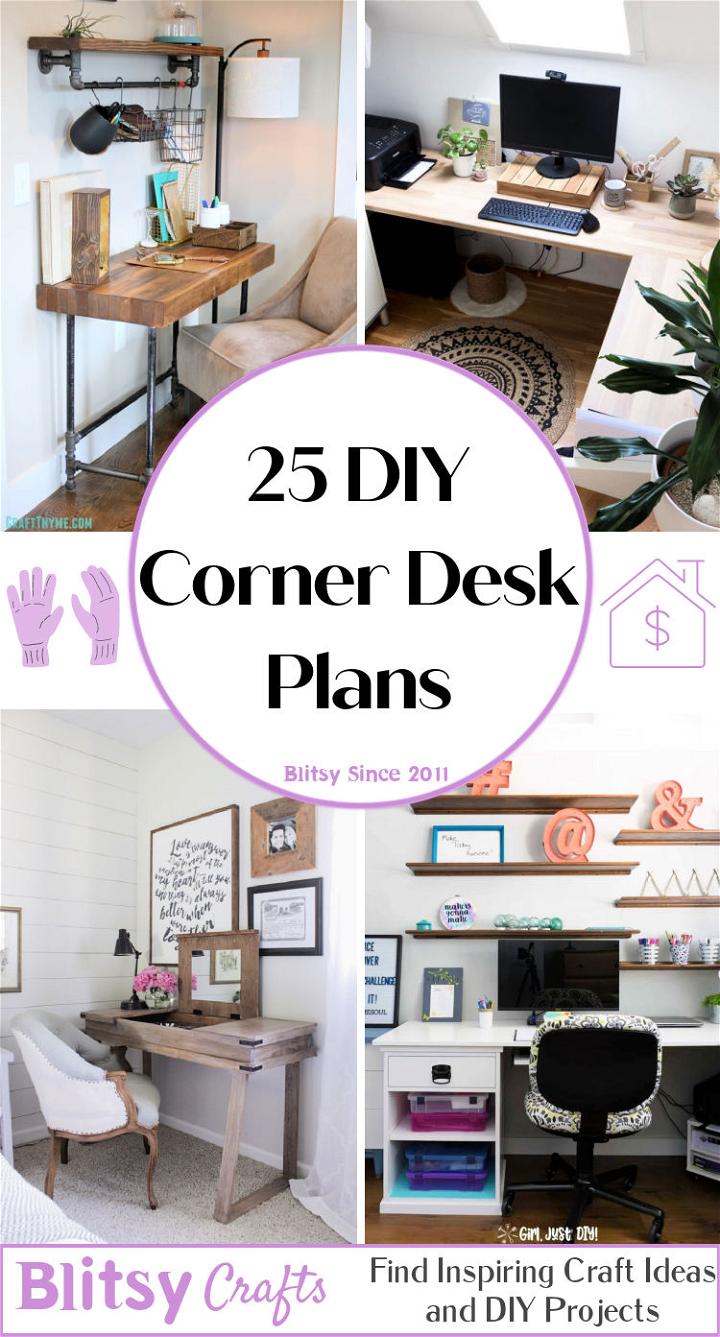 These free diy corner desk plans and ideas make it much easier to craft a corner desk with step-by-step guidelines and written instructions. Moreover, you can choose a standing and sitting desk according to your choice from the following free DIY corner desk plans. Let inspire yourself to create your own workspace that suits your needs and requirements with free corner desk plans!
1. DIY Corner Computer Desk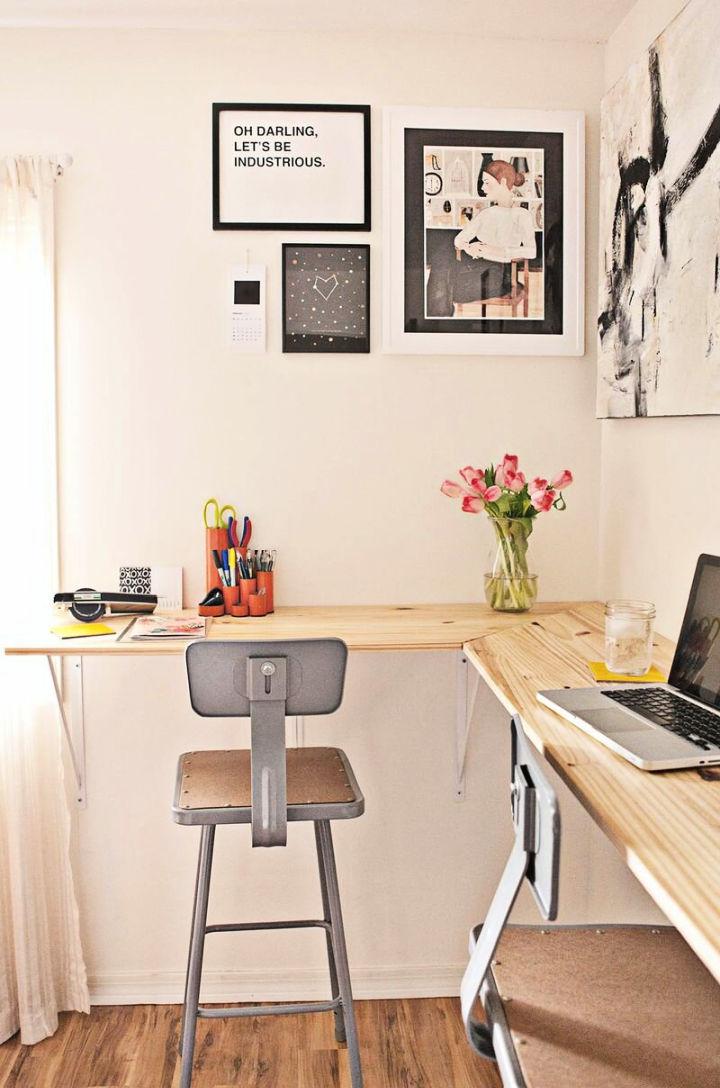 Enjoy working on your system by placing it and sitting in a comfortable place! For this, you can customize your own DIY computer desk. You can use lumber or wooden boards for this project. Additionally, you require bracket anchors for mounting this desk on the wall. The best thing about this diy desk is that you can work on it, even while standing. So, this project is an ideal option to consider for your workspace. Make it more stylish by painting with wood stain and any other color paint spray. abeautifulmess
2. DIY L Shaped Corner Desk Plan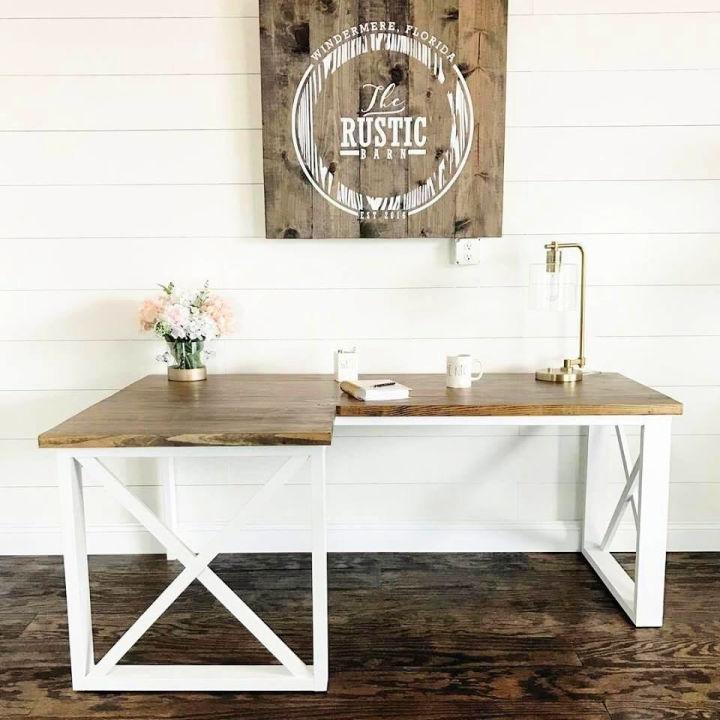 L shape corner desk would be the best piece of furniture for your room. You can place the centerpieces, vases and also books on it. The main reason for considering the L structure is to save the excess space. Build this desk yourself with a wooden board in different measurements for making the leg, base, and top frame. Moreover, use the jigsaw pocket hole system, hammer drill, miter saw, and clamps. You can start working by cutting the structure. However, it's better to cut and make the legs frame firstly. So, you can complete this corner desk quickly and efficiently. handmade haven
3. DIY Corner Desk With Drawers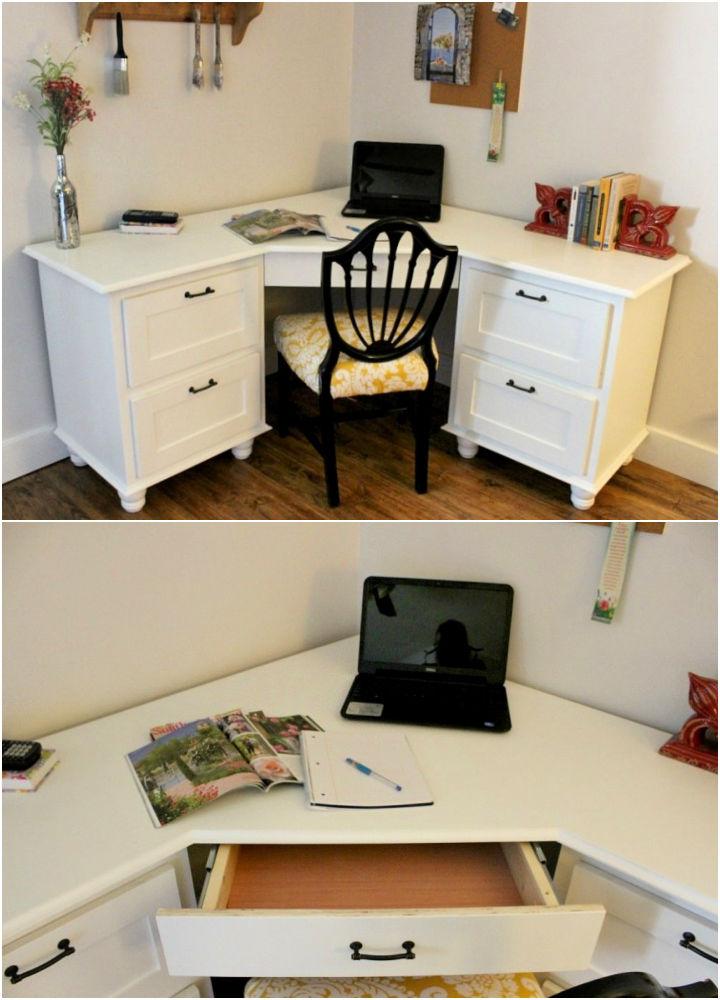 Are you looking for a new desk to do work from home comfortably and reliably? If yes, you don't need to buy a workbench from a store. You can make a corner desk for this purpose by yourself. For this, you can use plywood sheets, wooden boards, drawer slides, pocket hole screws, drilling tools, jig, miter, and circular saw. If you are new to wood-crafting projects, you can also build this desk without cabinets for ease of work. Paint this customized desk with white primer or paint to make it looks more stylish and attractive. woodshopdiaries
4. Cheap DIY Corner Desk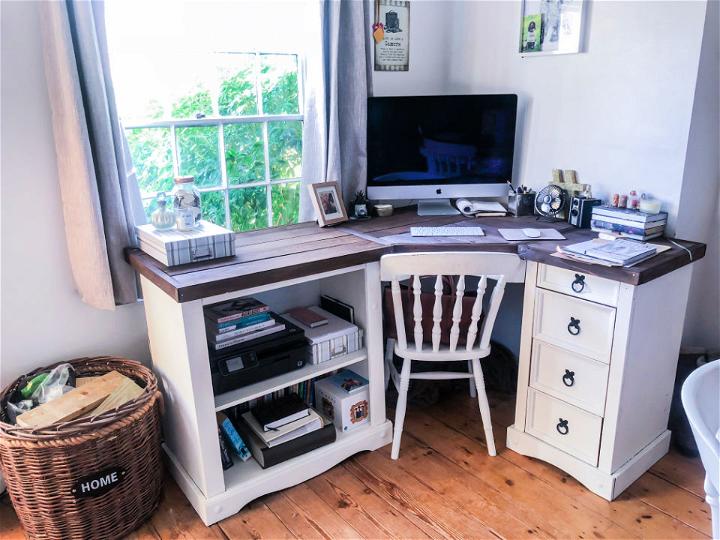 If you want to keep all your stuff organize and work on the system comfortably, this cheap corner desk is the ideal option for you. Excitingly! You don't need to buy it from a store. Make it yourself with plywood and lumber. You can also go with wood leftover from your craft store to build this desk. Additionally, you can also add the side drawers to this counter to make it more productive and functional. Enjoy working and storing all your stuff in a mess-free place! sophiecallahan
5. DIY Butcher Block Corner Desk

Butcher block corner desk is the best and ideal option for gaming and professional systems placing. You can set a large desktop with all accessories on this counter efficiently. Make this desk yourself instead of buying from a store. For this, use a butcher block countertop, metal legs, and some essential hardware supplies. Additionally, you require wooden blocks for building the shelves. You can vary the number of frames according to your needs and space specifications. imgur
6. Herringbone L Shaped Corner Desk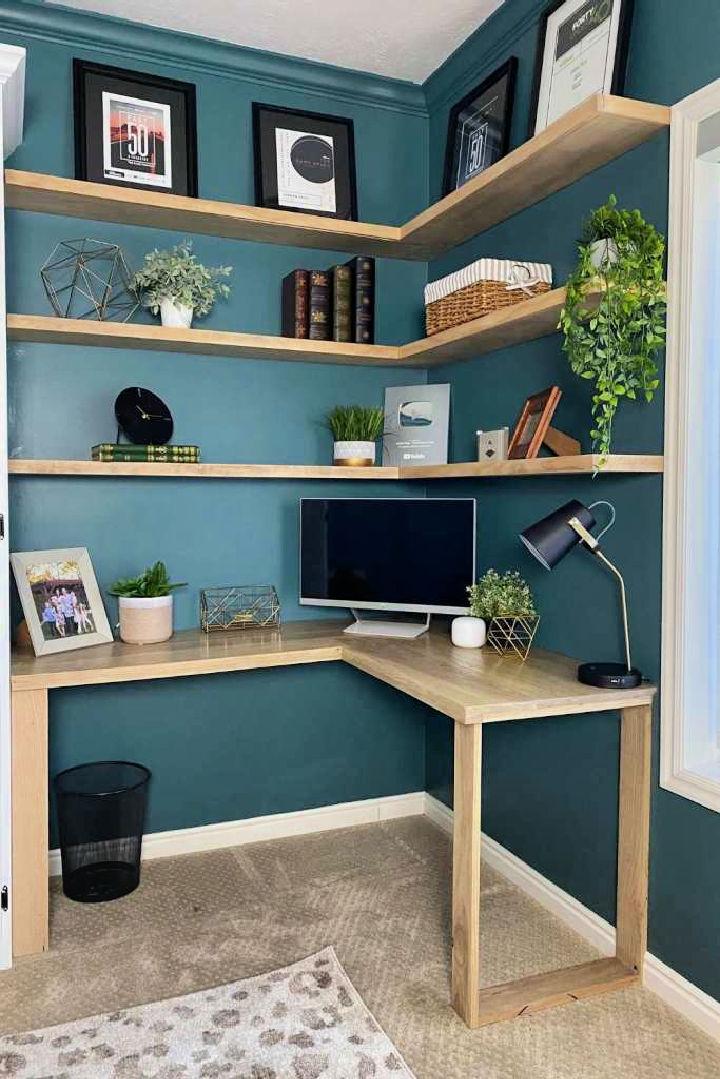 Are you looking for stylish but still less expensive workspace ideas? If yes, you can make this herringbone L shape corner desk in less budget and time. Luckily! You can customize this table with fewer supplies. Use wooden boards, sandpaper, glue, plastic wood filler, and drilling tool for building this table. However, you can make it more budget-friendly by using lumber. But the board is the most durable option. honeybuilthome
7. Corner Desk For The Room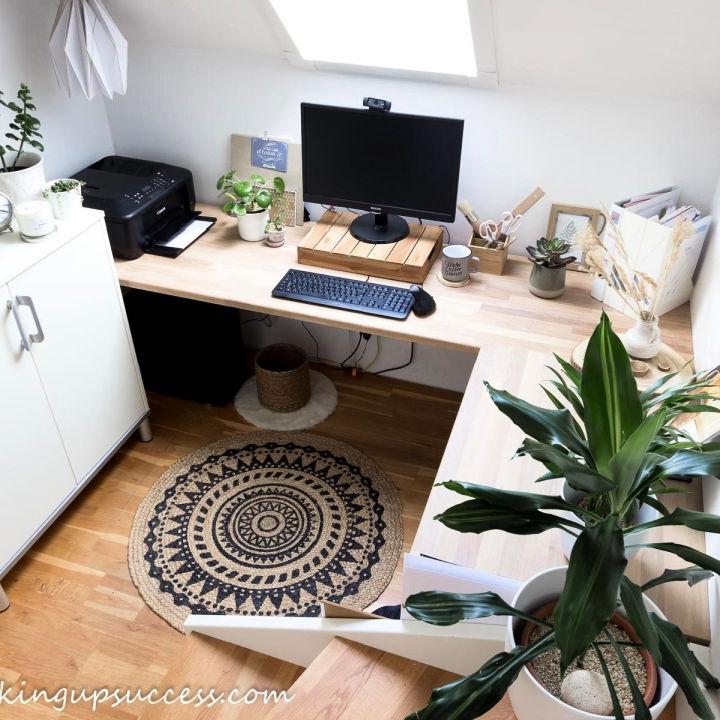 If you want to adjust your system also in your room, you can consider this corner desk. You can make it quickly and efficiently with a template. Moreover, use a raw oak countertop, electric sander, circular saw, and adjustable legs. The main reason for considering these legs is that you can use them on your desk without difficulty. You can organize all stuff and accessories in the same place with this highly productive corner desk for the room. chalkingupsuccess
8. Farmhouse Corner Desk With Storage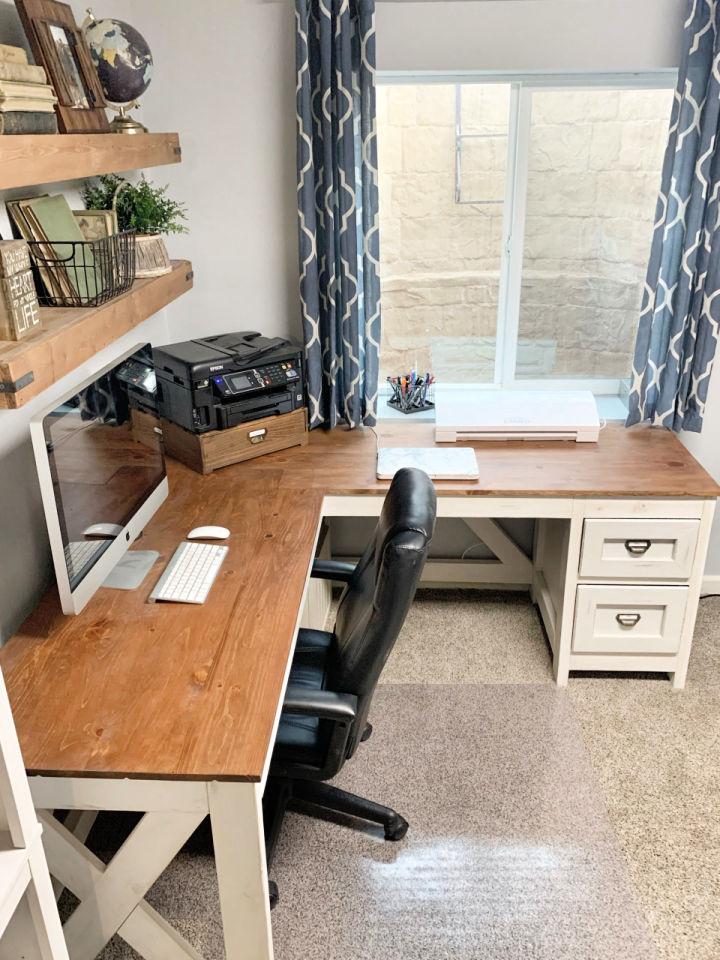 Give a farmhouse vibes to your working place with this super adorable farmhouse corner desk. Excitingly! You can get more storage space by building this desk. As it also includes side storage and drawers. For making this table, you require a wooden countertop, plywood sheets for legs, and side framing. Furthermore, use hardwood for creating the drawers on this desk. Not only for the home place, but this corner desk is also a suitable option for your new workplace. Paint the legs and drawers with white paint spray to give this table a smooth finishing. ashleydianndesign
9. Small Corner Office Desk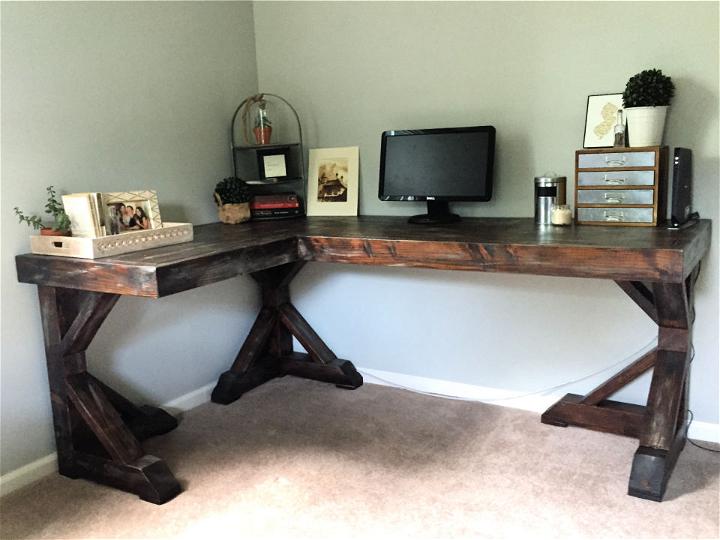 Give your home an aesthetic feel with this super gorgeous small corner office desk. This table is not only for workplaces, but you can also build it for your home office. The main reason for considering this DIY corner desk is its simplicity and affordability. You can make it like a pro with a plan desk design. Use the wooden boards and planks for building this productive table. Once you have assembled the legs, base, and top of this table, paint it with wood stain or any other paint color. littlehomehappiness
10. DIY Floating Corner Desk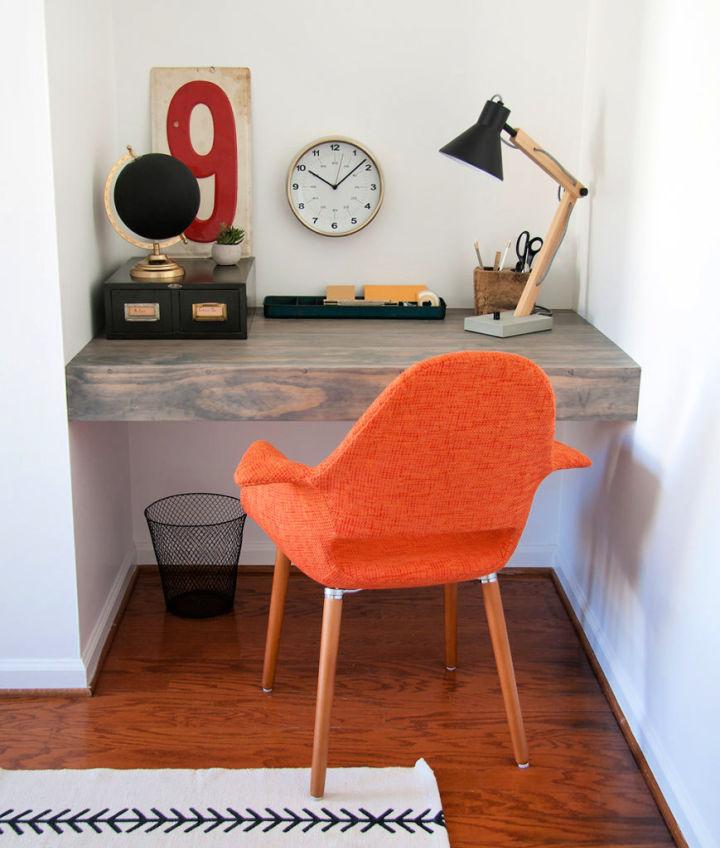 If you have less sitting space, this floating corner desk is the best option for you. Excitingly! This DIY desk is not only space-friendly but also budget-friendly. You can make it, even by using wooden scrap and reclaimed wood. However, it's better to consider wooden boards to get a long-lasting product. The only thing you need to do is mounting this table on the wall with pocket hole screws and a power drill. Lastly, you can also paint it with a wood stain or primer for better finishing. iliketomakestuff
11. Corner Desk For Under $150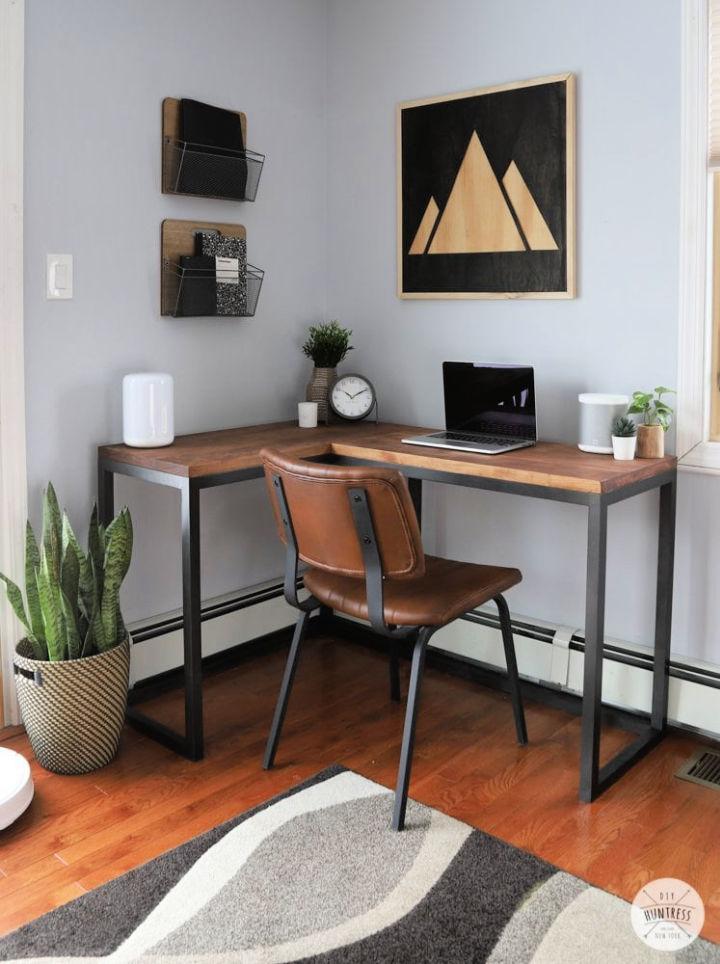 Use an unused corner of your room more productively by placing this customized desk. The best thing about this table is its affordability. You can make it under $150 efficiently. Use wooden boards, square strips, pocket hole screws, drilling tools, sandpaper, wood stain, and wood clamps. You can build it in less time and effort by installing iron legs instead of wood. In this case, you only need to assemble the countertop and legs. Paint them with wood stain. You are all set to place this corner desk in your room! diyhuntress
12. Building a Custom Industrial Wooden Desk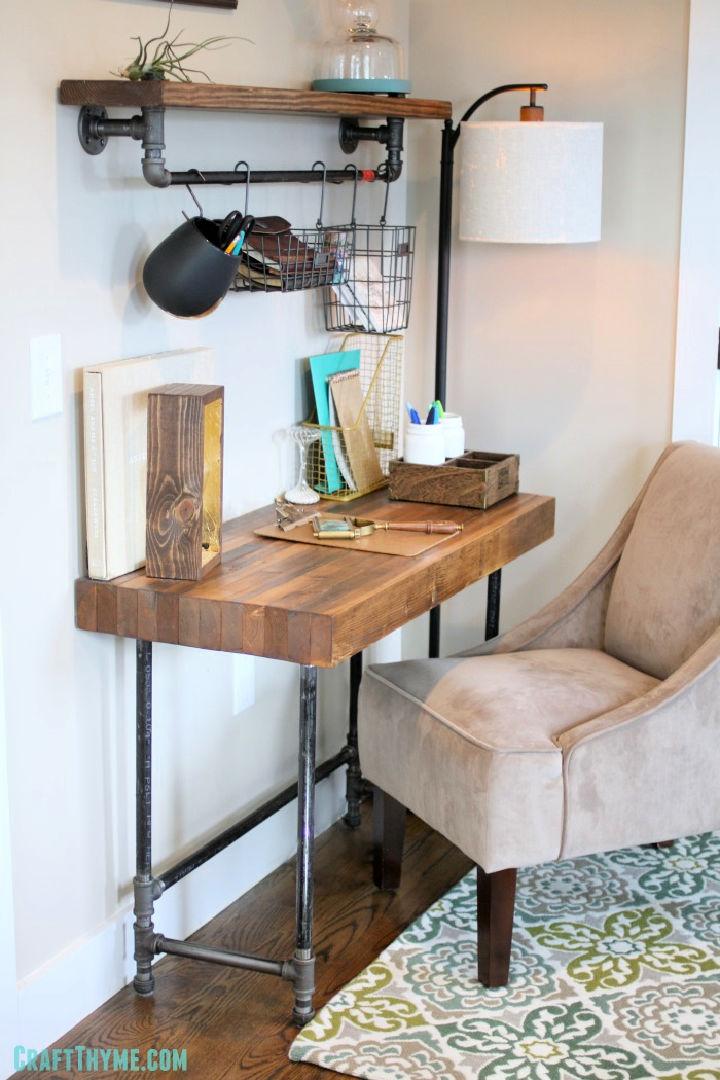 Build this custom industrial wooden corner desk with leftover supplies and workshop material. You can make it quickly and budget-friendly by using the lumber scrap from your store. Moreover, use the black iron floor flanges for legs, steel nipples, black iron cap, sandpaper, wood glue, screws, and polyurethane. Cut the lumber for making the base and top of this table. Lastly, assemble the flanges using nipples and iron caps with this crafted lumber corner desk. The best thing about this industrial table is its durability. craftthyme
13. Large Computer Desk Plan

Do you want to set up a more prominent sitting place for working from home comfortably? If yes, you can consider this more oversized DIY corner desk for this purpose. However, you require more place and area for placing this table. Therefore, build it according to specified and appropriate measurements. For this, you need a customized cut keyboard tray and desktop placing area. Moreover, use iron flanges, pocket hole screws, and wood board supply. You can follow a tutorial and written guidelines to get all material and infrastructure-related details of this desk. One more thing, making this table requires intermediate-level wood-crafting skills. simplifiedbuilding
14. Corner Desk With Shelves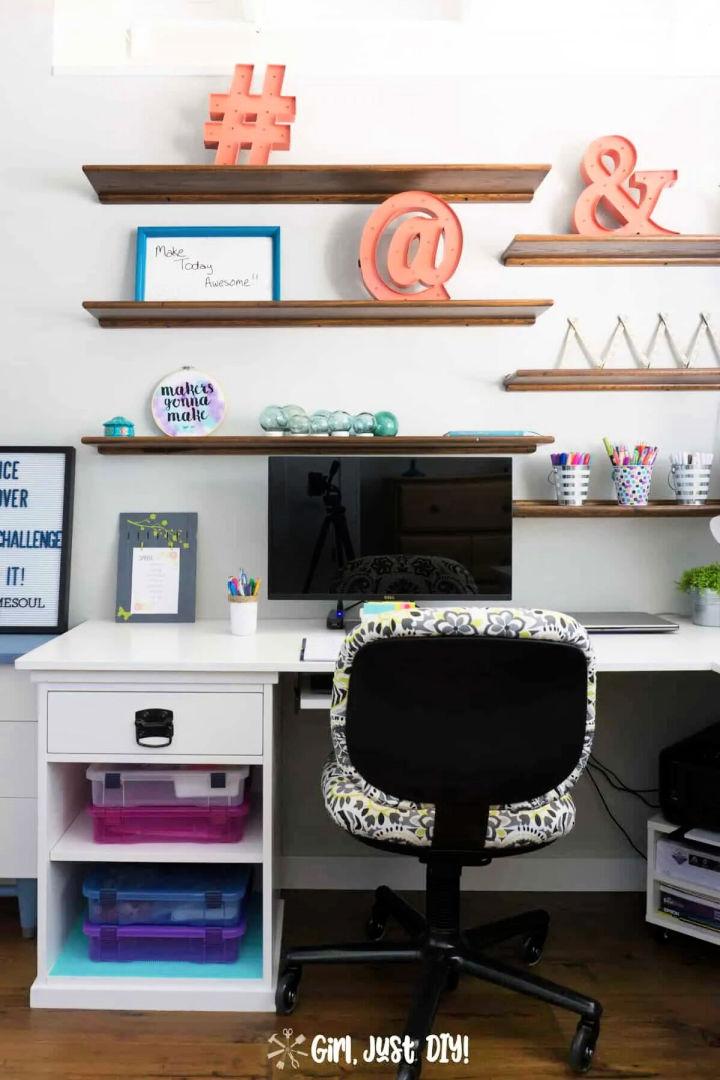 DIY this beautiful corner desk with shelves by yourself instead of buying from a store. No doubt, there are endless options for store-bought tables and workbenches. But choosing one of them for your place may affect your budget. Therefore, it's better to customize a desk by yourself with wooden boards, shelves, corners, and brace brackets. Apart from this, you require wood-crafting supplies and drilling tools to get your hands on this super stylish workspace corner desk. girljustdiy
15. Live Edge Wood Corner Desk

If you want to build a quick and affordable workspace for working from home, this live edge DIY corner desk is for you! Make it easy and effortlessly with reclaimed wooden boards. The only thing you need to do is adjusting and mounting this table board on the wall. For this, you can use the screwdriver, power drill, wood clamps, and nails. You can also make this most straightforward desk more stylish with wood staining and painting. themerrythought
16. Modern Corner Desk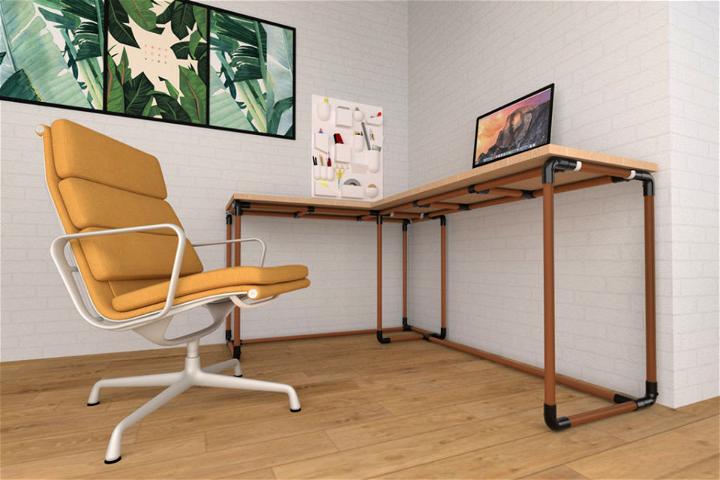 DIY this super easy and quick corner desk with the most straightforward supplies and materials. To make this simple DIY pipe desk, you require a plywood sheet for the top, pipe clamps, elbow, cross, and T joint set for making this table. Moreover, use copper pipes with screws for the table's legs. The first thing you need to do is assemble all the lines according to the planned desk design. Once you have done with it, place the plywood countertop on this customized leggings frame. Consequently, use the screws for firm adjustment of plywood on the pipes. tinktube
17. Best Corner Desk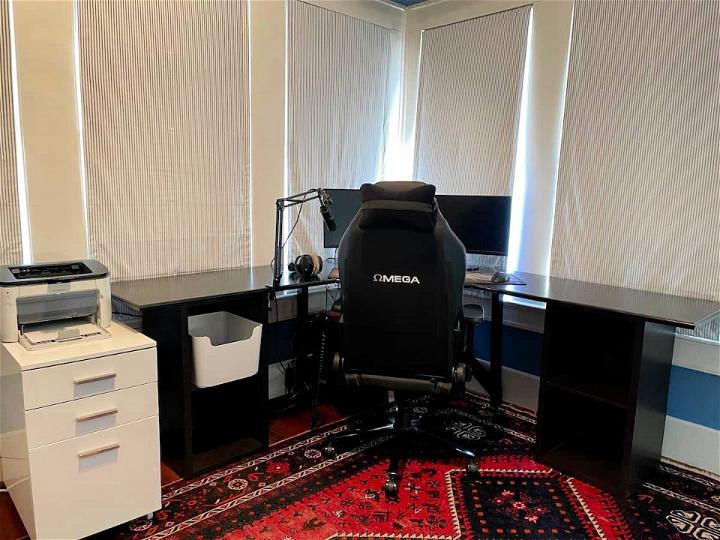 No doubt, it's becoming harder to get hands-on store-bought furniture because of higher rates. But don't worry. Use your creativity and build the table by yourself. So, what's about making this best corner desk? Surely, yes! Create it with an appropriate template, plywood, wood glue, wood trim, and wood screws. It would be much easier for you to customize this stylish table with a plan. Therefore, draw a design or plan on paper before start working on this corner desk. designmorsels
18. DIY Corner Desk Height Adjustable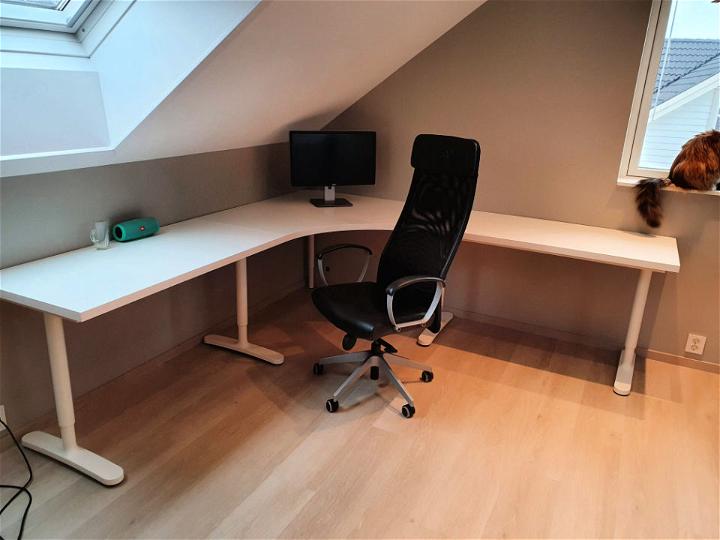 Decorate your home office with this super stylish and affordable DIY L-shaped desk. Use IKEA supply for making the top, sides, bottom, and legs of this table. However, the underframe of this desk is wider than the upper. Therefore, you have to choose the material accordingly. Craft it more beautifully by painting with white paint or wood stain. But adjust all the parts and pieces of this desk before painting. dehnes
19. Corner Desks With File Cabinet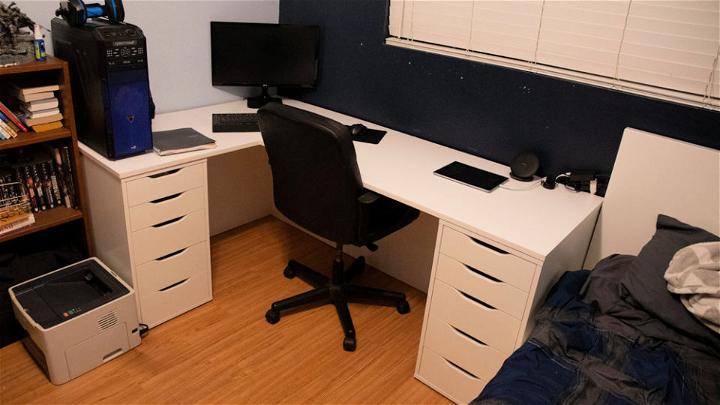 Build a space-friendly and secure corner desk for your office work. The best thing about this table is its side cabinets for placing the essential files and documents securely. For making this highly productive workbench, use IKEA desk hacks. You can use this supply also for making the base, top, legs, and cabinets. But if you want to keep it more budget-friendly, go with lumber for customizing drawers. Once you have done making it, paint it a white color. azdiyguy
20. Simple DIY Corner Desk Free Plan

If you are looking for a simple corner desk-free plan, this is for you! Build it like a pro-wood-crafter with this format. However, you can modify it according to your space specifications. Use plywood for the overall framing of this table. You can make it more attractive by customizing a lid on the top side of the table. Use screws with a power drill and screwdriver for firm adjustments of all desk parts. Moreover, use the steel hinges for joining the lid on the top. shadesofblueinter
21. Corner Desk Plan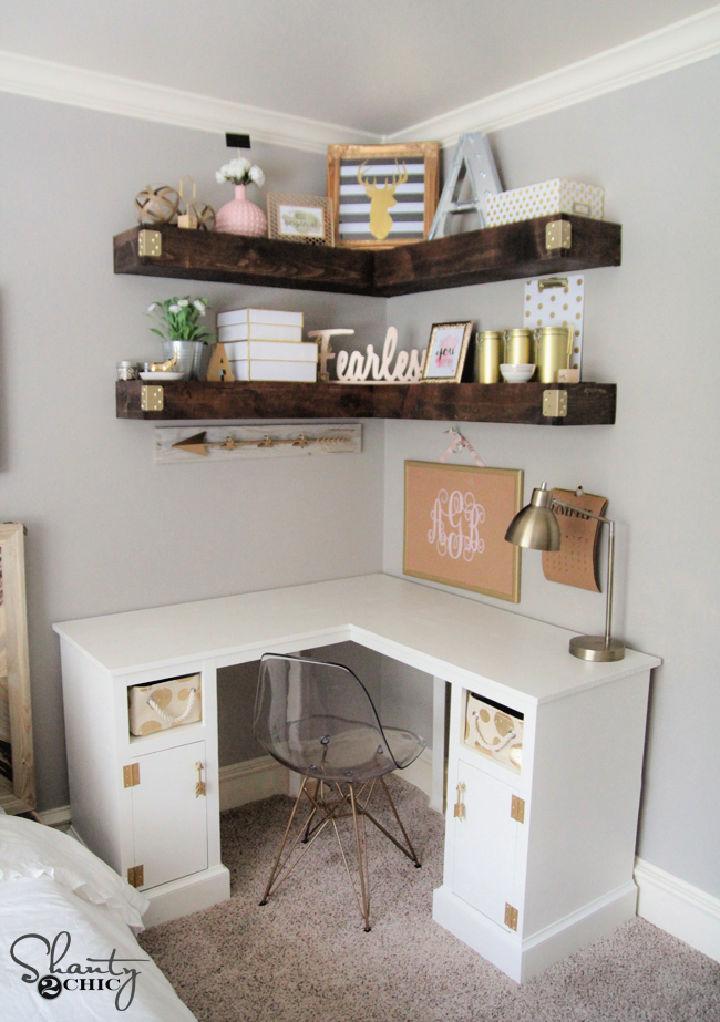 Build this super easy and good-looking corner desk with wooden boards. You can keep the infrastructure of this table as simple as you can. So, beginner crafters can also work on this project efficiently. Even making the drawers and storage cabinets on the bottom sides of this L shaped desk design would be effortless with a planned design. Use wood and pocket hole screws for assembling legs, top, and other parts of this desk with a drill machine. shanty 2 chic
22. Reclaimed Wooden L-Shaped Desk Plan

Reclaim and upgrade your old office bench into a highly productive desk with provided method and guidelines. For this, you have to disassemble your old table before redoing it. Moreover, use wood screws, sandpaper, power drill, circular saw, measuring tape, wood clamps, and other essential wood- crafting supplies. It's better to get ideas online before thinking about reclaiming and makeover an old workbench. So, you can get the desired reclaimed corner desk. instructables
23. Build A Corner Desk For Home

Make your work from home more comfortable and exciting with a corner desk. Build this desk by yourself with Oak plywood. The best thing about this table is that you only need to cut a single larger Oak piece for it. You can set up this oak top on a customized and handmade table base. For making the base, you can use the wooden board and lumber. Give this corner desk a fascinating look with colorful LED lights. instructables
24. 2 Person DIY Corner Desk with a Farmhouse Style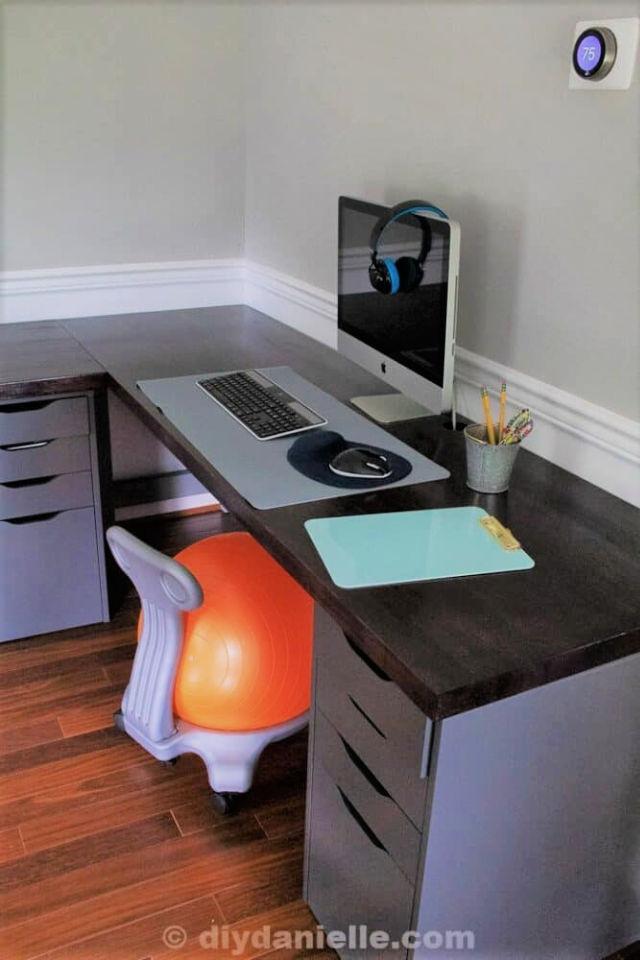 Design and build this two-person corner desk with a farmhouse style using drawers, IKEA legs, and butcher blocks. You can use the same design and template but with different measurements to efficiently make a four or five-person desk. On the other hand, you also require wood-crafting supplies with power tools and machines for crafting this super gorgeous corner desk. Place stylish and worth displaying chair in front of this table to make it looks more attractive. diydanielle
25. DIY Space Enhancing Office Desk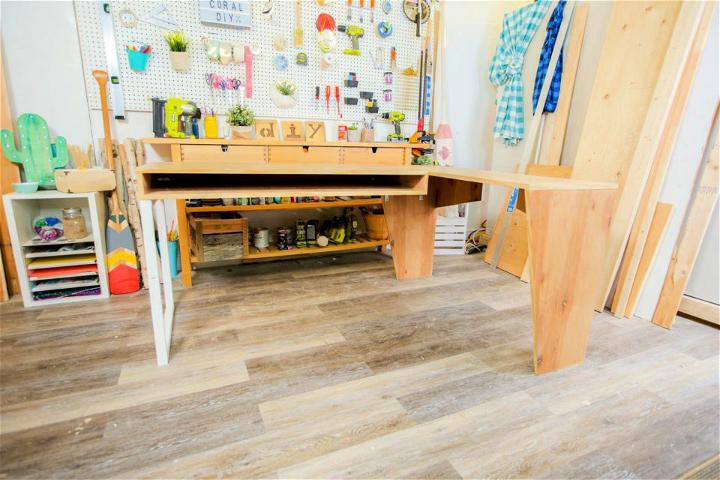 Organize your small working place with this super affordable and easy-to-make space-enhancing corner desk. Build this workbench using pine boards, sandpaper, wood glue, drill machine, screws, hardware for corner braces, interior paint in the desired color, and paintbrush. Start cutting the wood frame using the circular saw. After that, make the leg frame and assemble the cubby and legs using wood glue. Once you have done creating this desk, paint it with white paint spray or wood stain according to your choice. hgtv