Keep your books well organized and safe with perfectly installed book storage options otherwise books. So, organize all the messy stacks of books with one of these 30 DIY pallet bookshelf ideas that are indeed a treat for all book lovers. These pallet bookshelf ideas will share so many different ways to build the custom design of diy pallet bookshelves. You can directly cut the wall bookshelves out of pallets, as already built in their design shape. However, you will learn to build custom self-standing bookcase designs also out of dismantled pallets. They can be made to meet your requirements and choices. You will get here guide to build all sorts of popular pallet bookshelves.

See the very new and innovative pallet shelves design by exploring this selection of 30 DIY wooden pallet bookshelf ideas that are easy to build. From box-style wall bookshelves to those tiered wall bookshelves to a self-standing XL bookcase design, these pallet projects will provide instructions to build all the designs.
The tree-style vertical bookshelves and custom self-standing corner book shelving models will be highly eye-catching and new to add to your space. You can look through all these DIY pallet bookshelf ideas to learn more about rebuilding pallets into lasting, more extended DIY built In Shelves. You will find design models that will complete just by making a few readjustments in the deck boards.
1. Simple Pallet Bookshelf

Are you addicted to book reading habits? This will surely make you build a bookshelf to organize all your treasures of knowledge, the books. So, if you are in dire need of one, then build an instant one with free pallets. Cut apart the sections of pallets that look like the bookshelf, and then mount them on the wall. Use durable hardware hanging systems for stable wall mounts. For personalization, you will have tons of different options, including stain, paint and stencils. The best and free way to overcome your home storage desires. creativeoutlets
2. How To Turn A Pallet Into A Bookshelf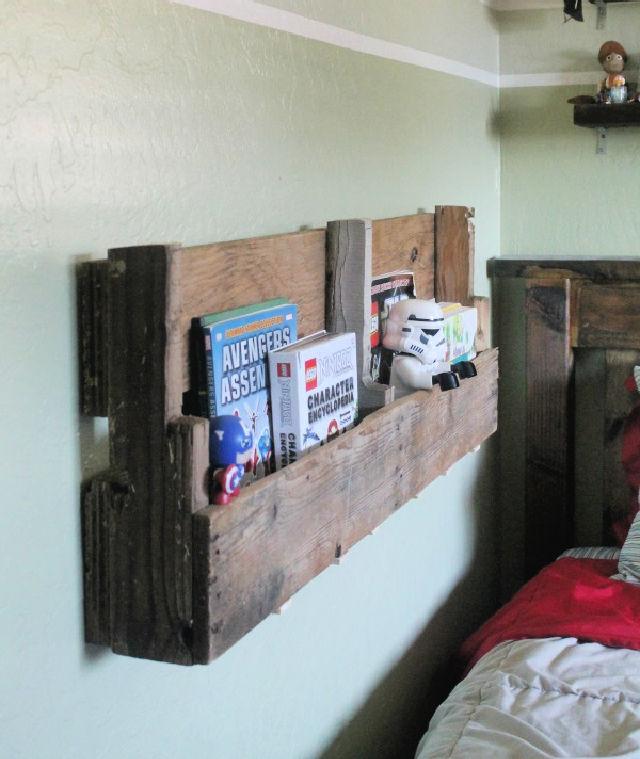 Do you love reading storybooks while lying down on the bed? Then here is how to manage a stock of your favorite books right insides of you. Just build this wooden pallet bookshelf that lasts longer and is rustic but can be painted modern. This type of wooden bookshelves is already built-in pallet shapes. You only need to find them and cut them apart. Here the finally completed bookshelf is stained for an impressively dark and rustic appeal. Even a beginner can duplicate this bookshelf in quite an easy way lollyjane
3. Bookshelf Made From Pallet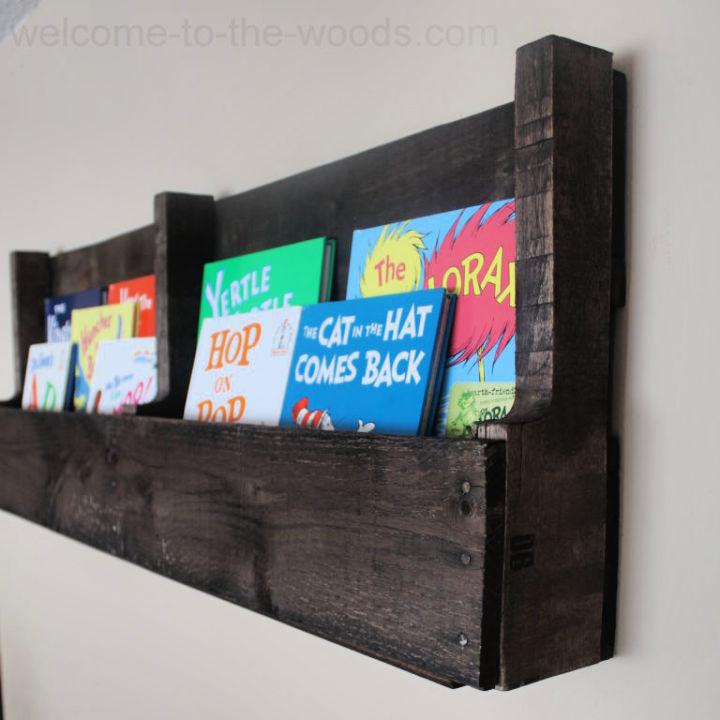 It is a total breeze to build a wooden bookshelf out of a pallet. Peek into details of the given pallet that can be cut smartly to give two beautiful bookshelves simultaneously. Cut the pieces apart that make a lovely bookshelf, and then cover their bottoms solids to get the storage pockets of the shelves. Next, use paint or custom stain to give a durable wood finish, and that's it. However, you can use custom stencils, accents and embellishments also to fancy up these shelves more. welcome to woods
4. Pallet Bookshelves Instructions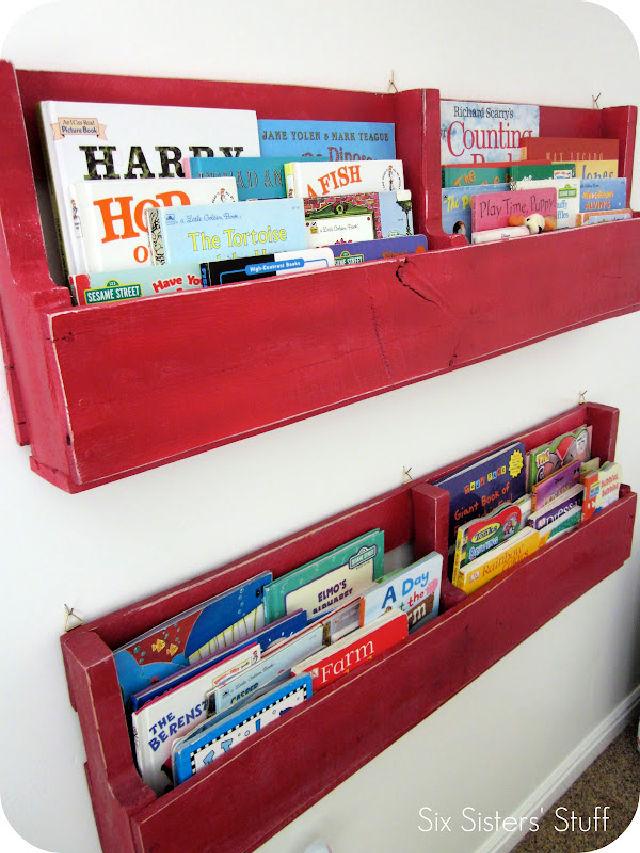 The best wooden pallet bookshelf idea for the kids' nurseries. Again cut down the pallet pieces making a good mini bookshelf, and paint it to match the targeted space decors. Next, use the swivel hangers to hang up the completed and painted shelves on the wall to serve the purpose. These bookshelves will be ideal for organizing magazines, storybooks and other items of this kind—the best pallet wood bookshelf idea for kids' rooms. The project will also provide detailed diagrams for marking the pallets to cut a perfect bookshelf apart. sixsistersstuff
5. Pallet Wood Bookshelf

Pallets have lots of fantastic to give to book lovers and this miniature, but the beautiful bookshelf is one of those worthy items. These shelves will be there for you just at the drop of a hat and can be painted or stained to match any particular décor. At the same time, you can add the front of the bookshelf with custom knobs to hang a few of your worthy items also—the quick and beautiful handmade gift to give to a friend who loves reading books. The given sample is panted for a dark navy blue appeal and comes with a chalk quote written in front. popsci
6. Wooden Pallet Bookshelf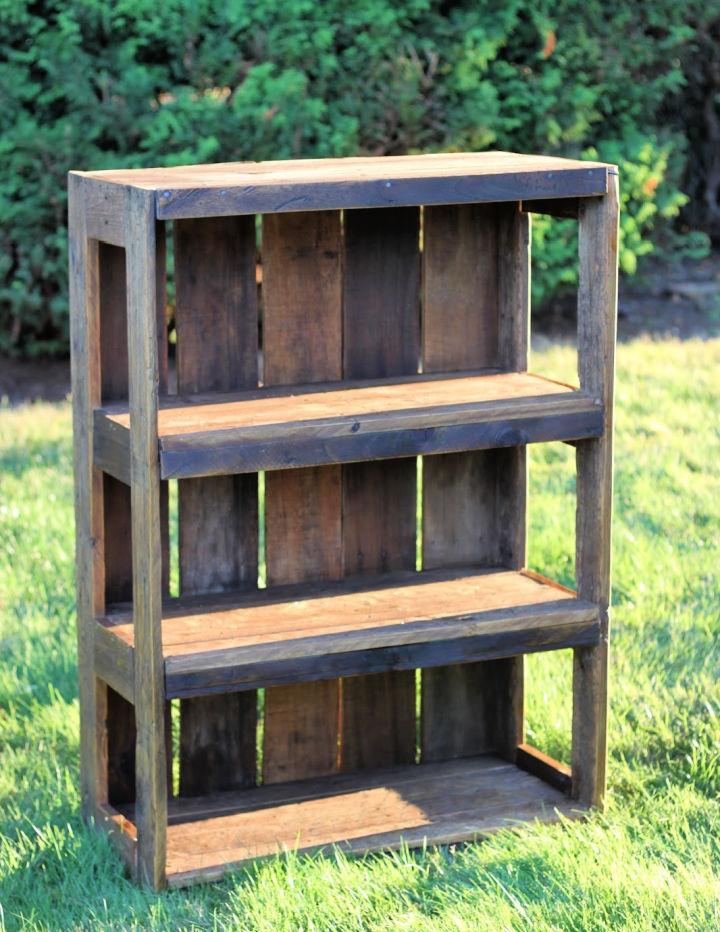 This tutorial will clearly explain all the steps to build a bookshelf with multiple levels of storage. Moreover, this bookshelf design will be super solid and portable and can be dragged to any particular indoor location. With three built-in shelves, this particular book shelving unit provides ample storage space. Use it also as a great display station, and you can employ it as a liquor cabinet also. Staining, painting and personalization depend on your own choices. You have here the freedom to add or remove several shelves. madewithlovetc
7. Crates And Reclaimed Pallet Bookshelf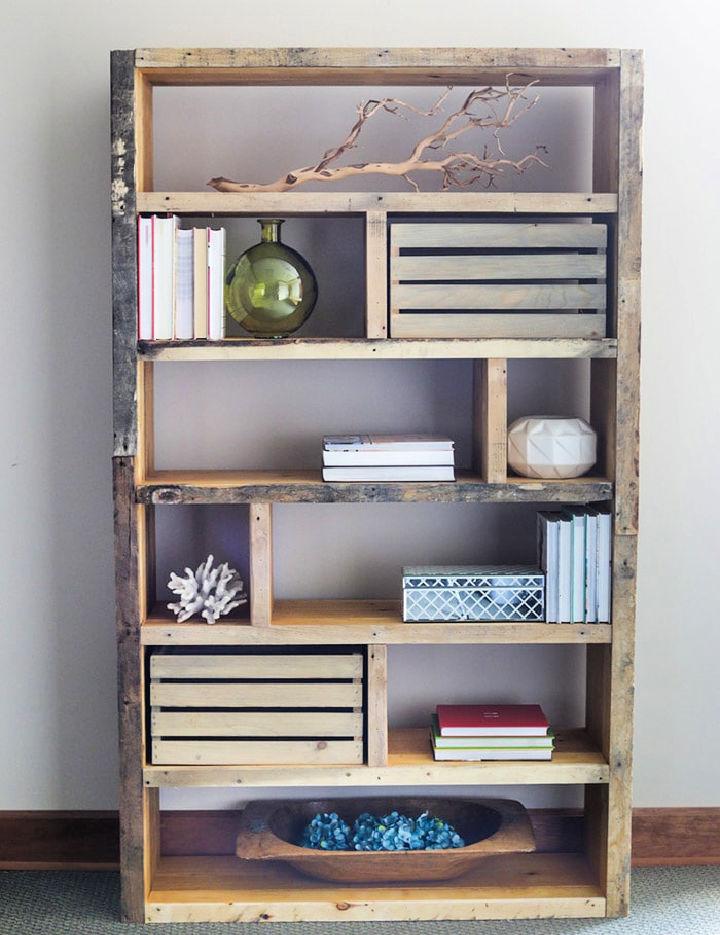 Pallets have brought a big source to build durable DIY furniture, and they can be planned to build any custom item of furniture in custom dimensions. Check this amazing list of pallet furniture ideas to save a lot of your money and build custom furniture at home. Now, peek into details of this gorgeous model of wooden bookshelf that provides an assortment of small and ample storage and display compartments. From organizing your books to displaying your decors, this bookshelf will be suitable for all purposes. Put together the separated pieces of pallets to easily accomplish this easy design module—one of the best and quick-to-build DIY pallet bookshelf that can stand alone. However, you can mount it to your favorite wall also. jenwoodhouse
8. How To Make a Pallet Bookshelf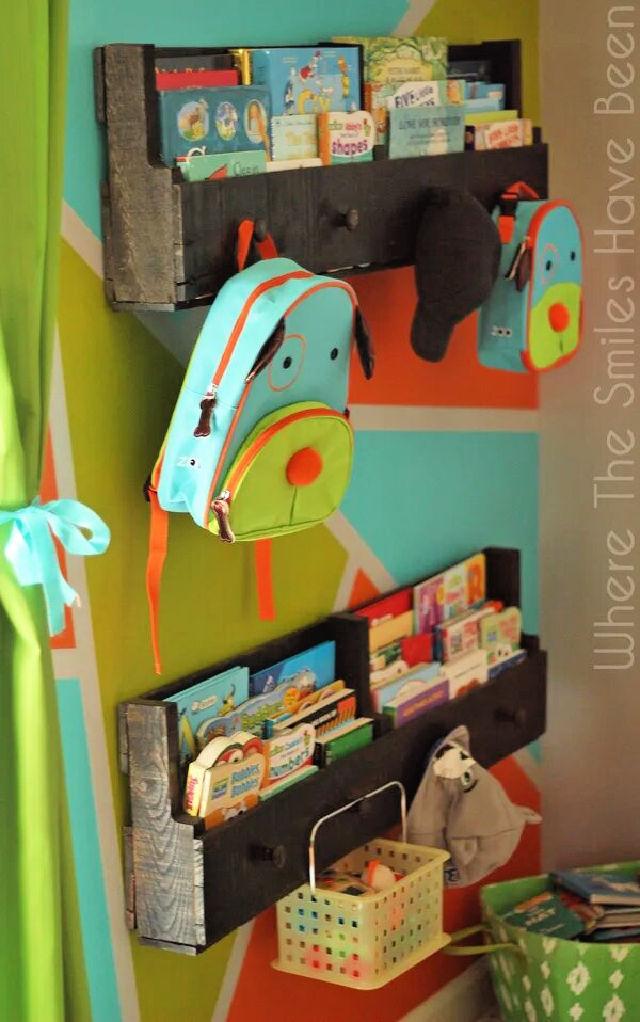 Overcome your interior storage space desires with pallets. Yes, the magical skids can efficiently be planned to build lasting more extended storage units and bookshelves. So, get here instructions to build a bookshelf like a pro. Here the sample model also comes with knobs and allows hanging different items and baskets. The given bookshelf will be there on your wall in no time and can easily be cut apart from a pallet. The bookshelf is a hanger at a low height on the wall to quickly reach the kids. Paint or stain it to be extra safe as your kids will touch them daily. wherethesmiles
9. Making Bookshelves Out Of Pallets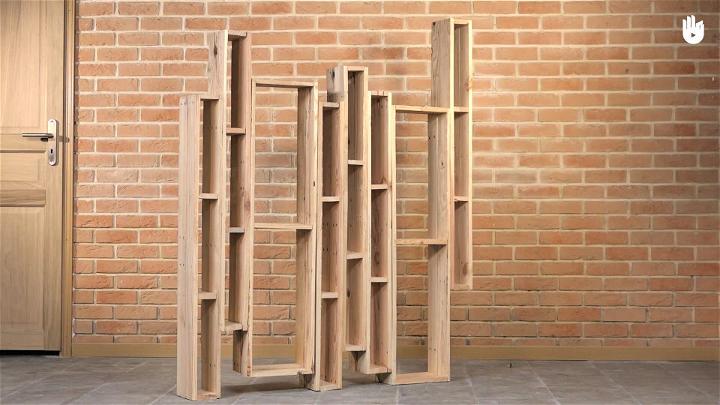 There are a variety of different ways to make solid and stylish bookshelves out of pallets. But the given design is going to be extra special, modern and stylish. Put together the custom vertical pallet wood slats to build the slim long vertical shelving levels. Put them all together to gain a marvelous book shelving unit. It will surely impress all the guests and friends and can be planned for displaying your decors also. These vertical shelving units vary in height and also in widths, as you can see. youtube
10. DIY Pallet Bookshelf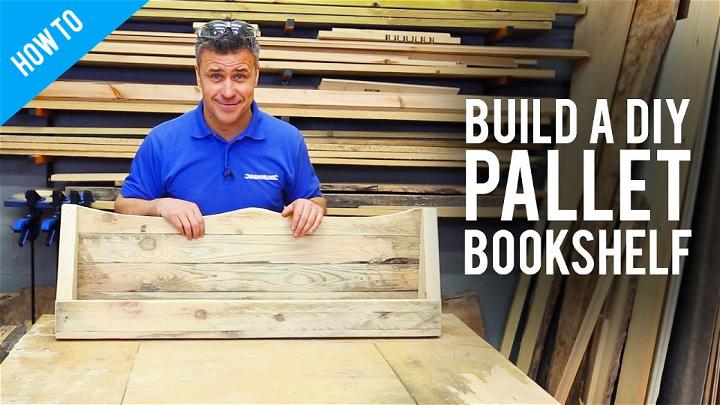 You will surely keep staring at this beautiful design of bookshelf that is crazily easy and quick to build with minimal carpentry skills. The finally completed design will make a great bathroom shelf and a wall shelf. Go handmade with the rustic separated apart pallet wood slats to build this lasting, quick, and beautiful bookshelf design, which can be stained for durable weather protection. Stencil or paint the shelf or a gorgeous custom appeal. Add it up with the front knobs also for hanging a variety of your materials more. Everyone will love building this crazily cute and lovely bookshelf. youtube
11. Book Shelf From Pallet Wood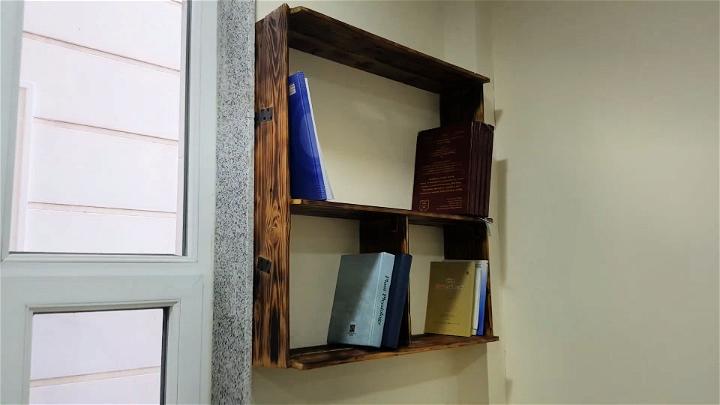 You will get here instructions about how to build a stable square frame bookshelf out of a pallet. You only need a few pallet wood slats to whip up this handsome design of wall shelf, quite an easy DIY pallet wood furniture project. Put together the slats to quickly shape up a wooden square frame of sufficient depth. Install a divider shelf in the mid and that's it. Here the finally completed design is sanded and given a burnt wood finish for an excellent rustic appeal. An easy and quick-to-build pallet bookshelf idea ever. youtube
12. Pallet Kids Bookshelf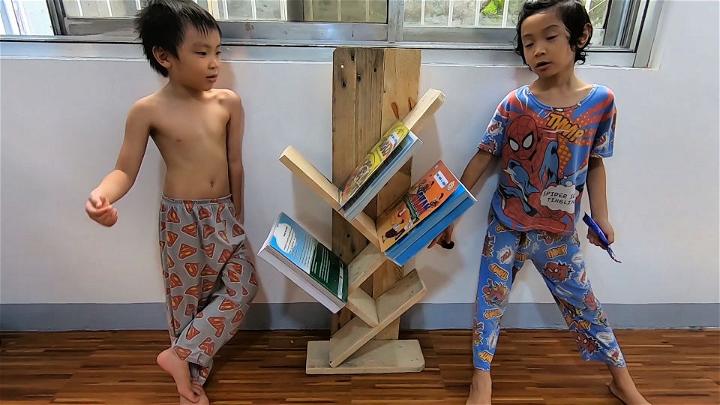 Peek into details of this one of the most beautiful and easy-to-build pallet bookshelf. It provides the art style shelves hanging on a vertical pallet frame and is easy and quick to build. This is here a pallet tree bookshelf that can stand along to hold your decors prominently, or you can mount it on the wall also as an exciting piece of wood art. The project is to do purely with the separated apart pallet wood planks, and you can start building this art-style bookshelf by building first the vertical frame. A beginner-friendly yet beautiful design of homemade pallet bookshelf. youtube
13. Bookshelf Made Out Of Pallets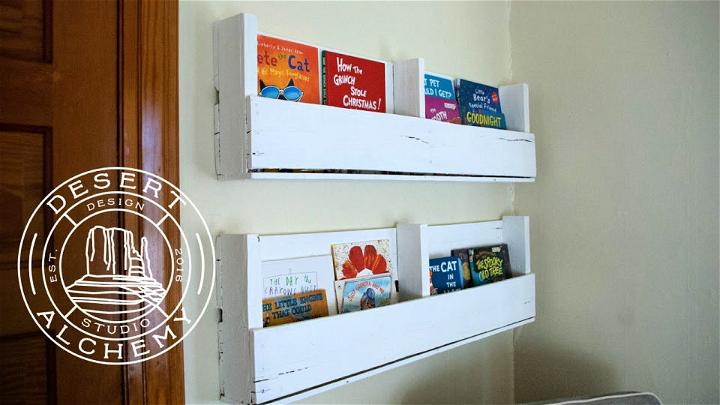 Learn here to build a pallet shelf in a better way. The provided video guides will explain all the tricks to you about building a sophisticated bookshelf design in just a blink of an eye. The project is all about making intelligent cuts to cut apart the whole bookshelf, sure to be a big love of all. Here the finally completed bookshelf is painted in white, and it makes a lovely handmade gift also. You cut the desired number of such shelves to add to the wall in a tiered way to accomplish your shelving space needs. youtube
14. How To Build An XL Pallet Shelf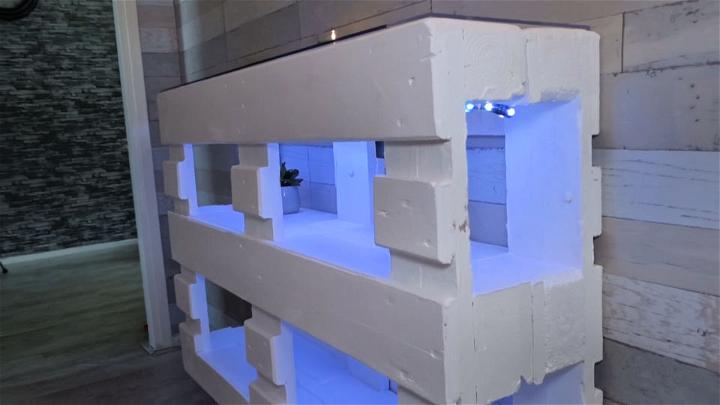 Get directions and instructions to build an XL pallet shelf to solve all your storage space problems. This is here a lighted pallet bookshelf painted in white but comes with a modern plexiglass top. Hence, it gains that fantastic modern chic white appeal. The addition of lights makes the whole design extraordinary and one-of-a-kind. 2 pallets can easily be put together vertically to gain this XL bookshelf model, which can be added to any bedroom or corridor. One of the best and quick-to-build DIY modern pallet shelves that all beginners can make. youtube
15. Homemade Vertical Book Shelf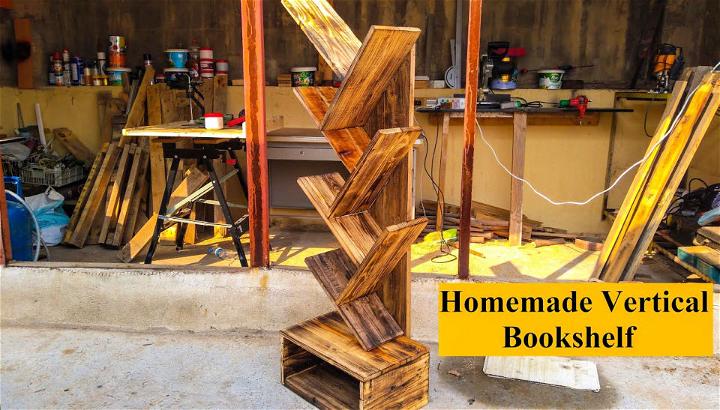 By adding this vertical bookshelf, you will also be adding to your home decors as it comes with a beautiful artistic design. Dismantle the pallets and start the construction by building first a vertical frame. Next, add the custom shelving levels no the vertical frame to gain the final art style of the vertical bookshelf. One of the best and quick-to-build wooden pallet-tree shelf design that everyone can duplicate with ease. Sand and stain the whole completed model for weather protection and fantastic luster on the wood grains. Here a burned wood finish is given to the entire model to make the natural wood patterns more visible. youtube
16. Pallet Wall Bookshelf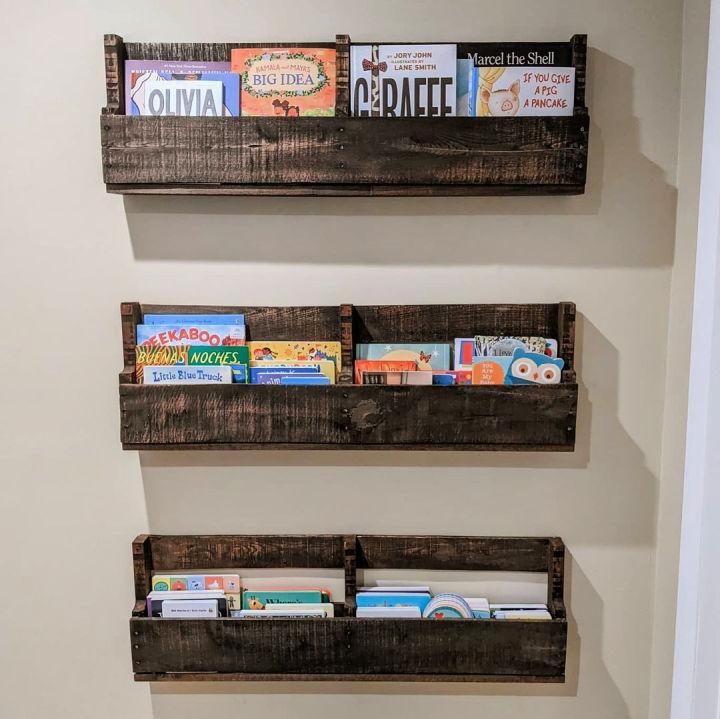 Building a pallet shelf is one of the easiest DIY pallet furniture projects. Check out here this trio of wooden pallet bookshelves that are rustic and durable at the same time. The finally completed designs impress with a rustic glam appeal. However, you can plan a custom paint or stain finish for these shelves also. These shelves will rock to hold your magazines and books and will rock for kids' nurseries. It will not take that too long to build these tiered bookshelves on the wall.
17. Bookshelves Out Of Pallets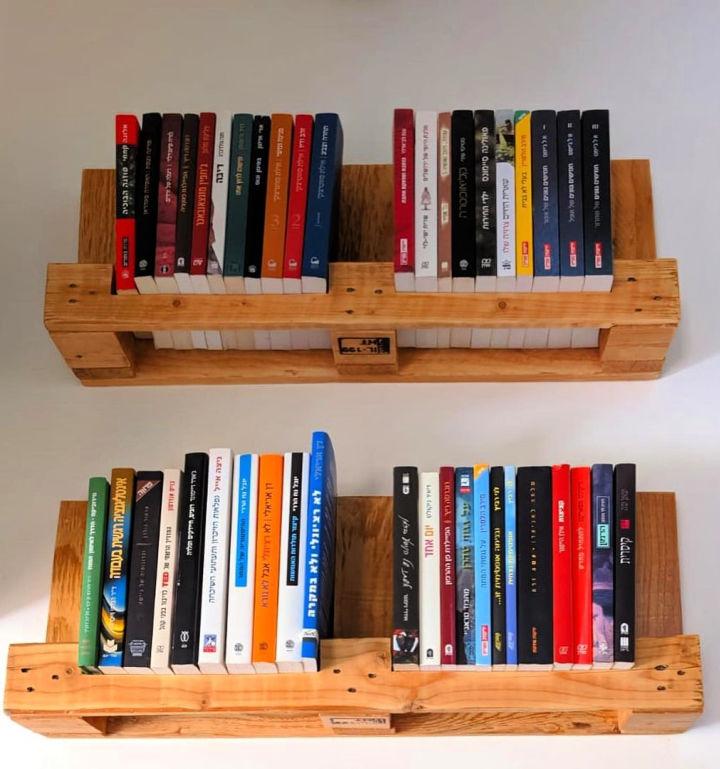 Inspect the pallet a little, and you will find some of the sections that make the best bookshelves. Look at the previous model of bookshelves that impress with the natural blank wooden appeal and elegantly hold the book stacks. However, you can get two or more such a bookshelf out of a single pallet skid. At the same time, these wood wall shelves will bring a tremendous wooden character into the entire room. However, you can stain or paint it also for a custom appeal—one of the best and quick-to-build DIY bookshelf ideas that everyone can duplicate.
18. Pallet Bookshelves Plan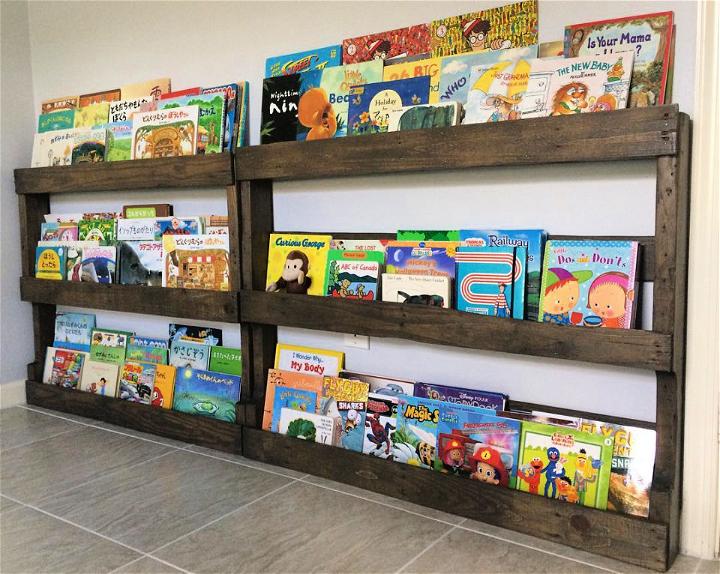 Are you looking for some best XL bookshelves? No need to invest an immense fortune to get a few ones fitting your needs and desires. Just build these durable and lasting longer wood bookshelves that appear with rustic glam appeal. Each shelving unit is a modified pallet that provides three levels of built-in shelves. Give a nice wood finish to each of the given models and put them together in a sequence to build a large bookshelf. This type of bookshelves will rock for kids' nurseries.
19. Rustic Floating Pallet Shelf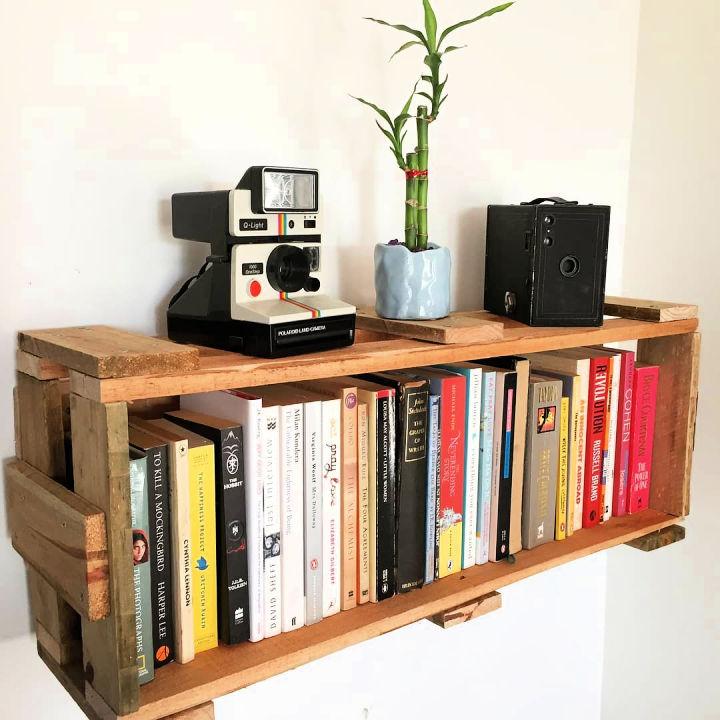 Check out the best hand-built model of a wall-mounted bookshelf that is solid and appears in the natural blank tone of the wood. The design is just like a large rectangular wooden box and can easily hold stock of books. However, it provides a top shelving level also to display your items of decors. Go handmade with the leftover pallet wood pieces to easily clone this arresting design of bookshelf. However, you can also vary the dimensions and overall appeal of this bookshelf in the way you like—the best shelf design to bring a rustic wood character to your bedroom or living room.
20. Pallet Wall Bookshelf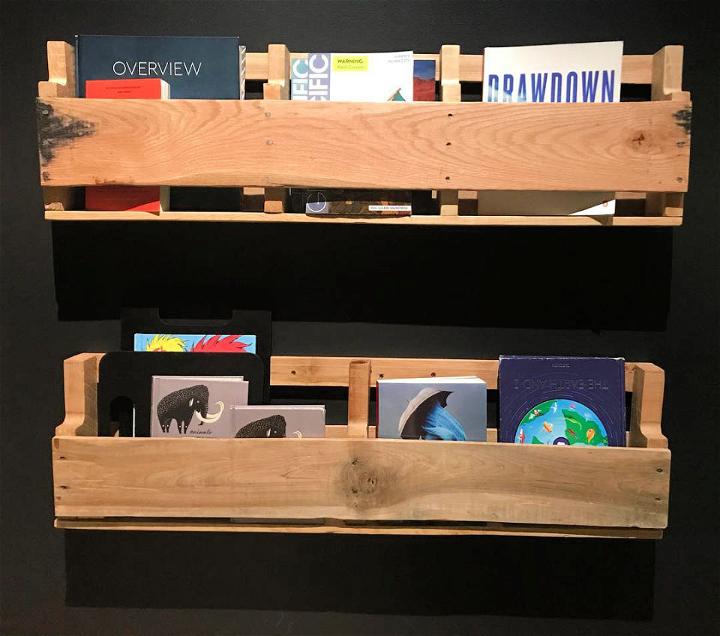 Pallets are serving us all storage furniture needs these days. However, they are ideally suitable for getting lovely wood wall shelves even in the last few minutes. Take the sections apart from the very bottom and top of the pallets, and you will get this type of wood wall shelves. Install them to your favorite wall in a tiered way to get lovely bookshelves. These shelves are deep and a little fenced from the front side, so they will not let the books fall off. Paint the front of the bookshelves in the way you like and also stencil them for custom letters, words or quotes.
21. Bookshelf Out Of A Pallet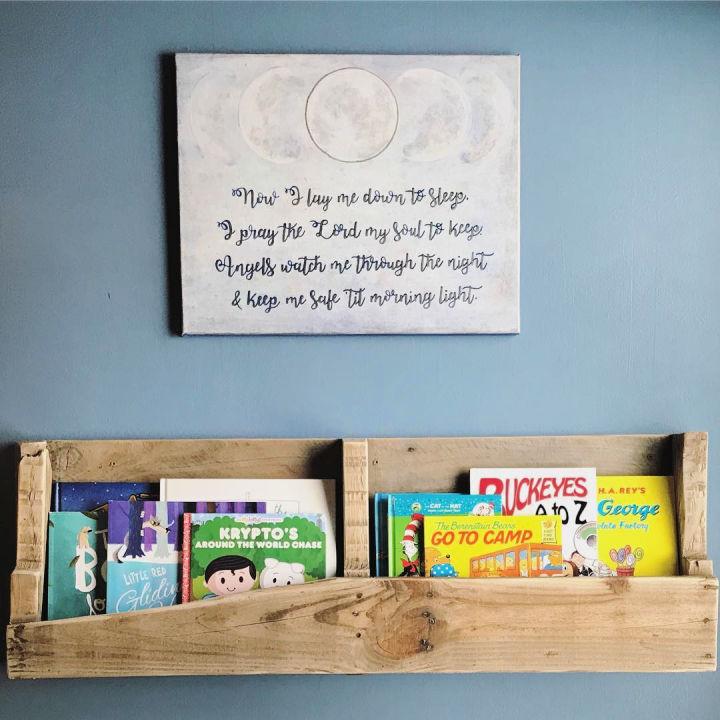 You will love this simple yet beautiful design of pallet-shelf that is insanely cute and will hang like a charm on a targeted wall area. The entire design of the shelf is cut directly from a pallet. However, you can use some extra wood to cover the whole bottom of the shelf solid. Polish or give a custom stain or paint finish for an extra graceful appeal. You can even build this shelf manually using a few separated pallet planks. You have here the freedom also to use your favorite hanging systems for this exceptional wooden pallet shelf.
22. Pallet Wood Bookcase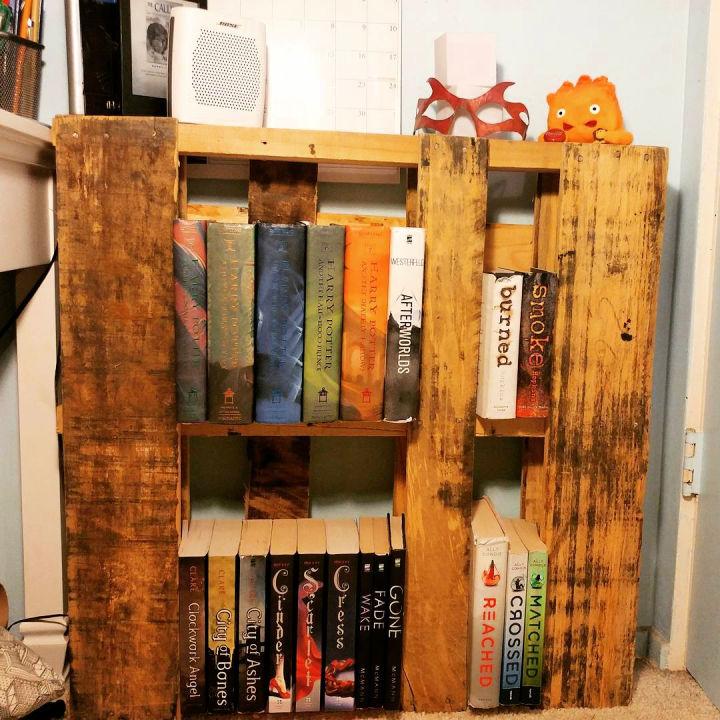 After modifying the pallets or little or removing some of the deck boards smartly, you will get this terrific design of pallet bookcase, which impresses with the refined rustic appeal. Make it stand alone on the floor or mount on a favorite wall, and it will be rocking in every way. Sand the completed design smoothly and also finish with your favorite stain. You will be amazed to see how quickly this bookcase will be in your hands—one of the best and graceful designs of the wooden bookcase to build at home in no time.
23. Cheap Pallet Bookshelves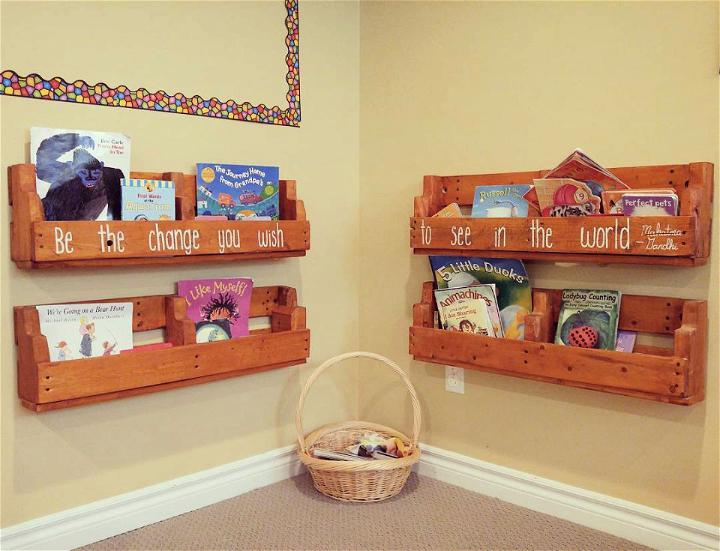 The feasible shapes of pallets can be thought of for lots of exciting projects. Building these small bookcases is one of those pallet projects that works up fast. The shelves come quoted and can be made simply in no time by some sharp and straight cuts to pallets. A pair of shelves on each corner wall rocks to hold a variety of books and magazines decently. Sand the pallets smooth and also finish with your favorite stain or paint coats. The whole project is easier to do, and all beginners can do it with quite an ease.
24. Long Pallet Bookcase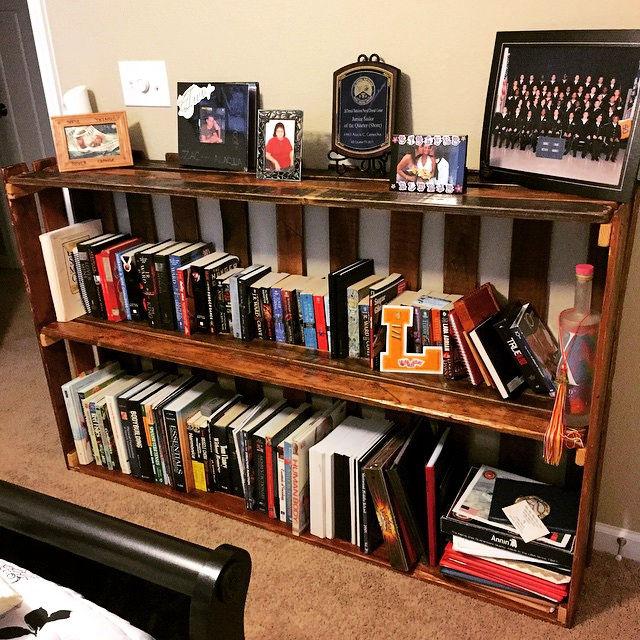 You will surely fall in love with this extra-large storage unit that is solid, beautiful, and stained for a dark choco look. The large bookshelf unit provides two built-in shelves where you can easily organize and store stacks of books. The idea is to build first the overall shelving unit frame with inside shelving supports. Next, place the separated apart pallet wood slats straight on the built-in supports to get the shelving levels. The top of the bookshelf can easily display your art and mural frames, and lots of centerpieces.
25. Recycling Pallet Bookshelf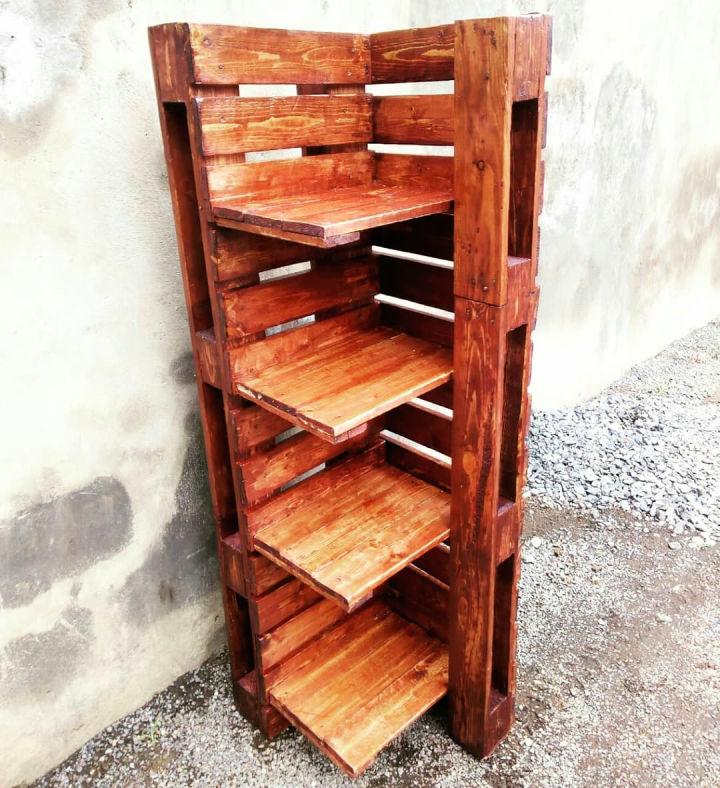 Create an absorbing beauty station right in the corner of your living room by installing this vertical corner shelf. It comes with four-tiered levels of shelves and can easily hold both your books and custom centerpieces. Build the corner frame of this vertical pallet shelf using two vertical pieces of pallets, and then install the tiered shelving levels. Build the shelving levels with the separated apart pallet wood slats, and it will not take that too long to build this sophisticated model of the vertical corner shelf.
26. Shipping Pallet Bookshelf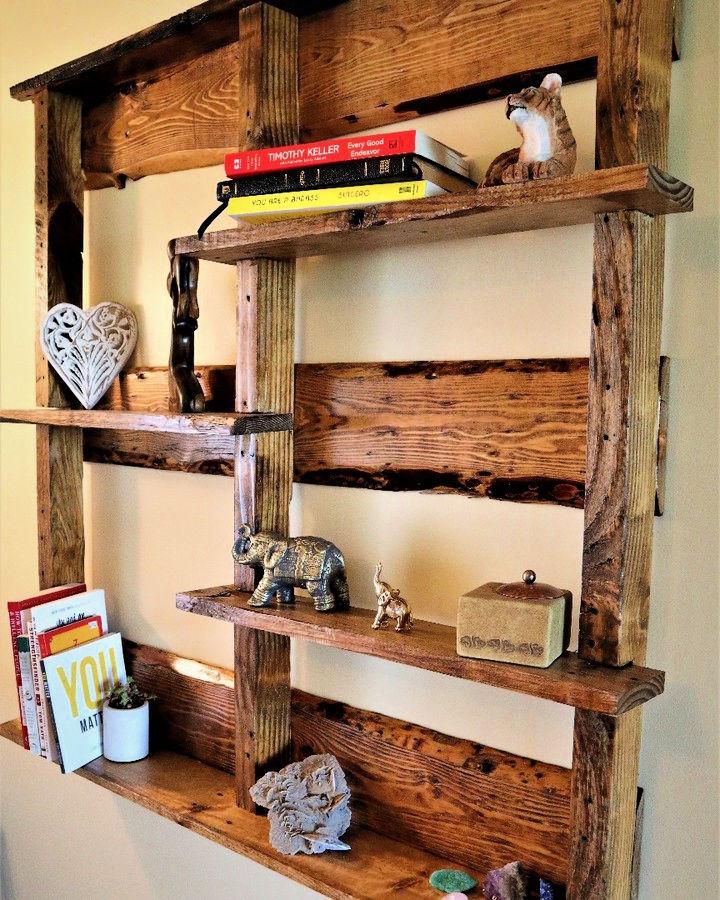 The designs for pallet bookshelves are never-ending. Peek into details of this another gorgeous design that provides custom levels of display shelves and is hilariously cute and beautiful to look at. Just remove the deck boards from pallets and then cut slits in the vertical pallet slats. Fit the separated planks in them as shelves and gain a custom model of display shelf to hang right on your wall. The whole design is charming and beautiful to look at and will never get out of trends. You have here the freedom to finish it with custom stain or paint coats.
27. Upcycled Pallet Bookshelf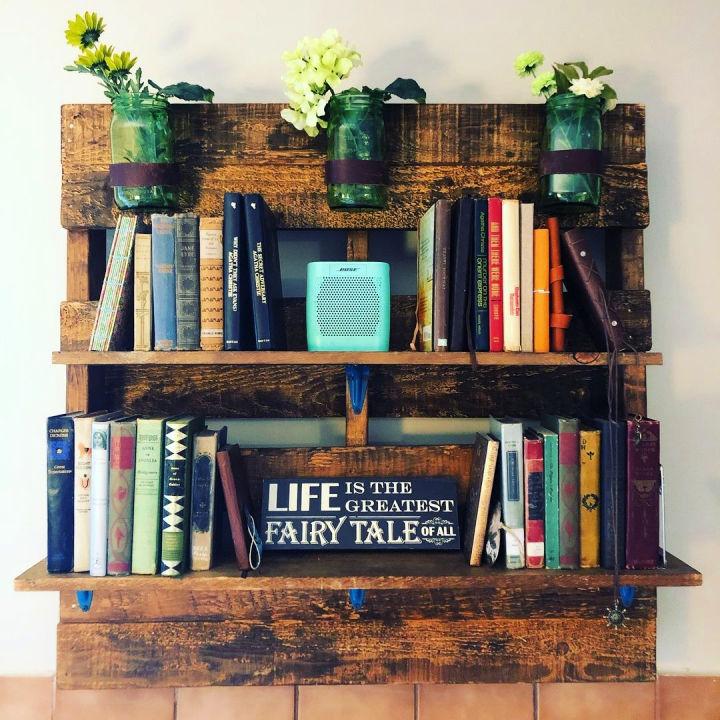 Taking good care of your books if you love enjoying your spare time reading books. So, manage the storage of your books easily by building this gorgeous design of wood pallet shelf. It is lovely and rustic to look at and provides two levels of shelves. The addition of knobs underside the lower shelf and Mason jar vases on the top of the design are the prominent features of this bookcase design model. You readjust the pallet deck boards a little to quickly build this handsome-looking design of a wooden pallet bookshelf. It will live for years to come.
28. Wood Pallet Bookshelf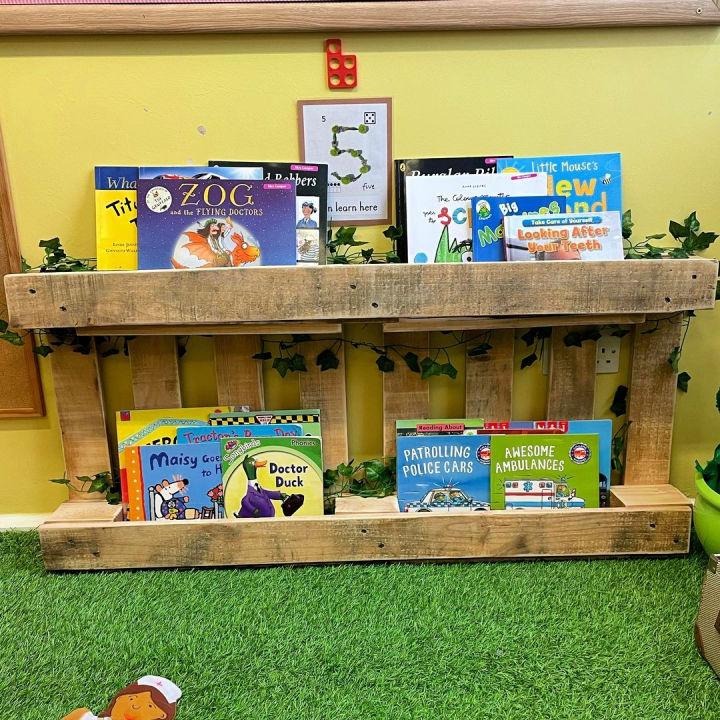 Duplicate this two-tiered wooden pallet bookshelf, beautifully holds those magazines and books. Get crafty with the dismantled pallets to easily duplicate this charming bookshelf design, sure to grab the attention of all the onlookers. Here pallet dice sections are targeted to build the shelving levels or holdings. However, this type of shelves can easily be cut from a pallet skid also. Add custom lights, greenery and your favorite decors on this shelving unit for added visual stimulation and grace.
29. Turning Pallets Bookshelf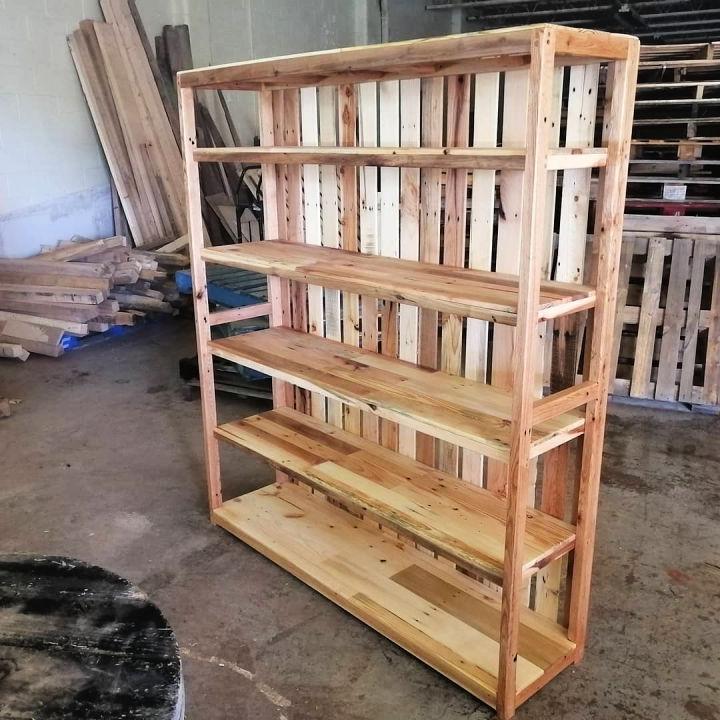 However, the pallets are easy to plan for building all types of bookshelf models. Peek into details of this XL size wooden bookcase that provides five built-in shelves and a top. It will rock to organize those piles of books smartly and efficiently. Build the frame, install the shelving levels, and install the slatted back to complete the whole design. Display your favorite decors by adding to the topside of this wooden bookcase, built to impress and inspire. Buying this type of bookcase model will always cost you big for sure.
30. Colored Pallets Bookshelf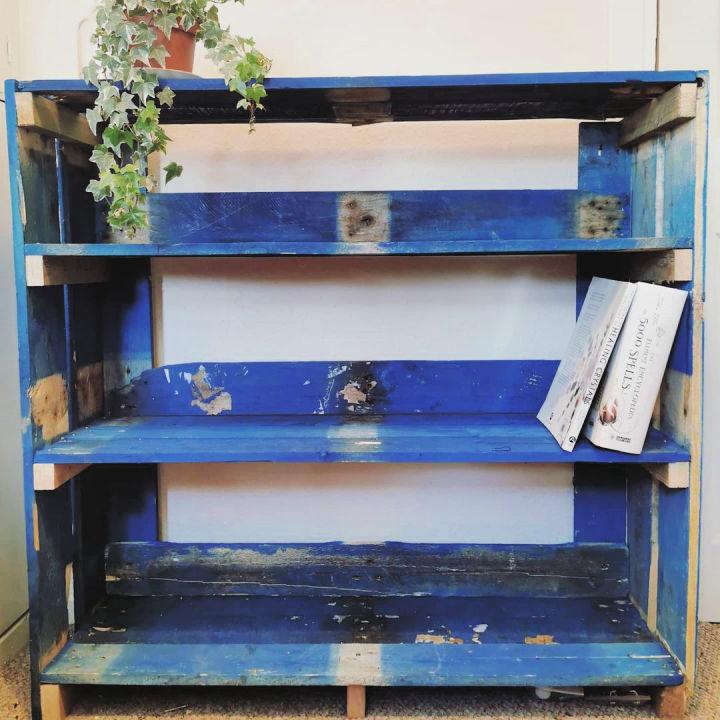 One of the most elegant and phenomenal-looking models of pallet bookshelf. The design is too beautiful to add to any modern interior, and you can vary the paint coats to vary its overall appeal. From shelving levels to overall frame, you can quickly build all with free pallets. This type of shelving unit will rock for a corridor or living room, and buying them will also cause a big load on your wallet. Here this handmade bookcase will cost you next to nothing and will be unbeatable in price tag—one of the best DIY pallet bookshelf design ideas.
Conclusion:
Bookshelves are a big must-have when you need to take extra care of your expensive books. So, this list of DIY projects will show you how to plan and rebuild the pallets into outstanding-looking bookshelf designs. They will take good care of your books and be the most beautiful décor stations to add to your spaces for an enhanced wooden character and rusticity. So, you will get guides about how to quickly build stylishly beautiful and solid-looking models of bookshelves out of recycled pallets. This list will share comprehensive written and visual guides along with complete material and tool lists to make you quickly build any of the given pallet bookshelf models. So, read through the pallet sprojects to become an expert in building bookshelves out of pallets.