The internet data shows that the pallets have been recycled for building pallet tables. Although these diy pallet projects help build all sorts of furniture, building tables out of pallets is most trending for repurposing, recycling, and upcycling the pallets for furniture building. You can search any table on the internet to make with pallets; there will be lots of free pallet table plans and ideas to build your own tables at home at no cost.
Explore this list of 40 amazing and simple DIY wood pallet table plans and ideas to build all types of tables out of wooden pallets. These pallet table ideas will share detailed instructions and free guides to rebuild pallets into unique kinds of desks and tables. Building a pallet table with pallets can be as simple as finishing a single pallet with custom caster wheels or legs. However, constructing a custom design in custom dimensions with lots of custom added features may be a little tricky. You will find here instructions for building all kinds of pallet tables.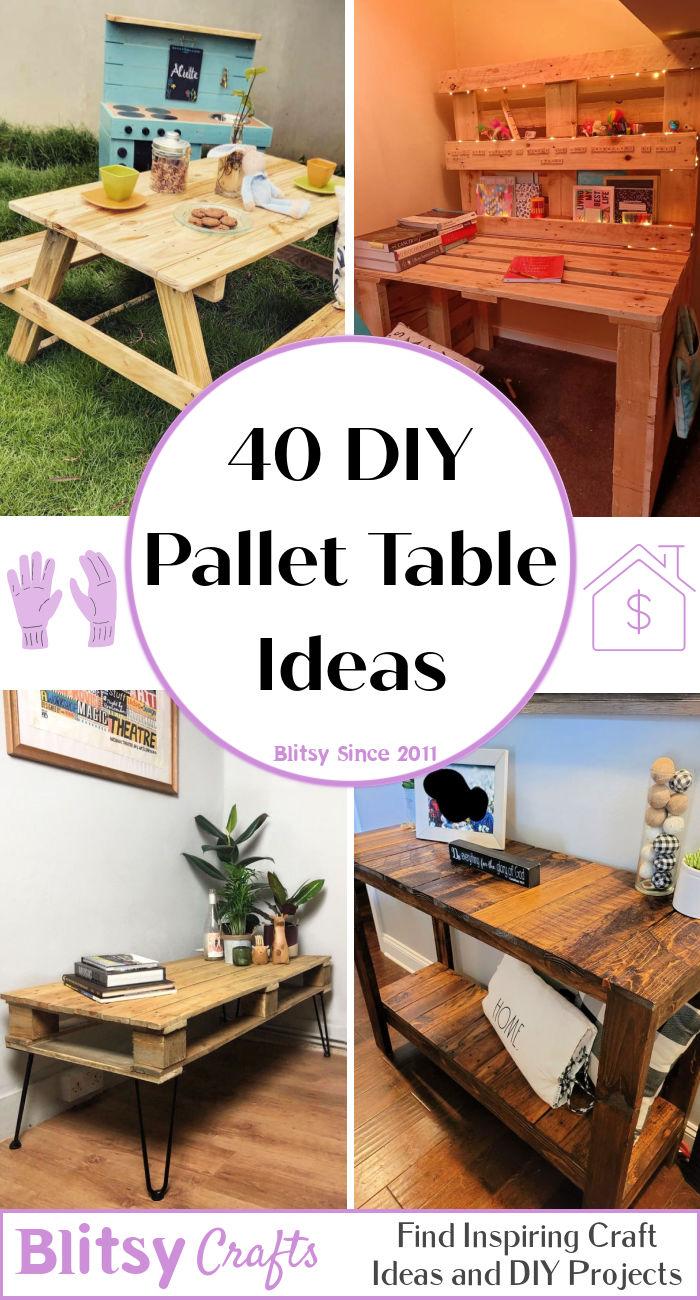 These pallet table plans and ideas will involve building all types of tables from dining tables to coffee tables to nightstands and side tables. In addition, you will get here instructions to build outdoor picnic tables, party tables and garden tables that often come with high price tags in the market. These simple pallet tables will also help you build special tables with a built-in planter box. See a lot more unique designs by taking a quick 2-minute tour of all these pallet wood tables.
1. Pallet Coffee Table You Can Build in One Hour

There is hardly a task in the home we perform without the tables. So, they are a big must-have and can quickly be made with free pallets. The idea is just to finish up a discarded wood pallet with 16" hairpin legs to build a beautiful pallet coffee table. Finish the wood pallet with linseed oil for weather protection and also for a lustrous appeal. The required tools for the project will be a screwdriver, 100 or 220 grit sandpaper, a butter knife and an old rag. You can do this project with any pallet having a size of a tabletop. instructables
2. Wooden Pallet Side Table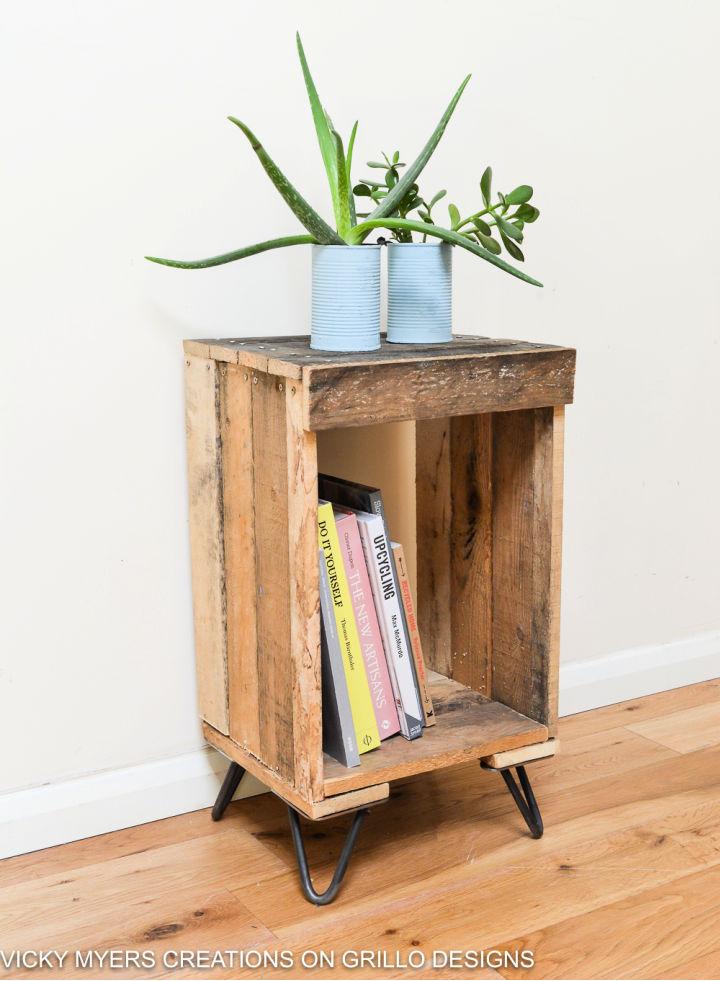 Pallets are always accessible easily to accommodate your instant furniture desires. Just build a pallet side table and present it on some short metal hairpin legs to gain an instant beautiful side table. It will make a great nightstand too and hold your books inside while holding your table lamp on its top. You need 2 pallets, hammer and crowbar, manual saw, nails, screws, wood glue, measure tape, pencil, sandpaper or sanding machine and 4″ steel pin legs to complete this side table. grillo designs
3. Build A Boho Pallet Picnic Table

Are you addicted to bohemian style and fashion? Do you want to bring those bohemian fashion vibes to your picnic routines? Then building this boho picnic table is recommended. The table is evenly flat and has an easy peasy pallet wood creation. All it takes to use a few recycled pallets to build this grand picnic table for free. Here you need 11 pieces of 89 x 19 x 1200mm timber pieces, 3 pieces of 90 x 12 x 1200mm timber pieces cut into 840mm length, wood glue, 25mm nails, hammer, long ruler or measuring tape and measuring square to complete this project. The whole table will be completed in just 30-45 minutes and will cost you $70-80. connieandluna
4. Pallet End Table Plan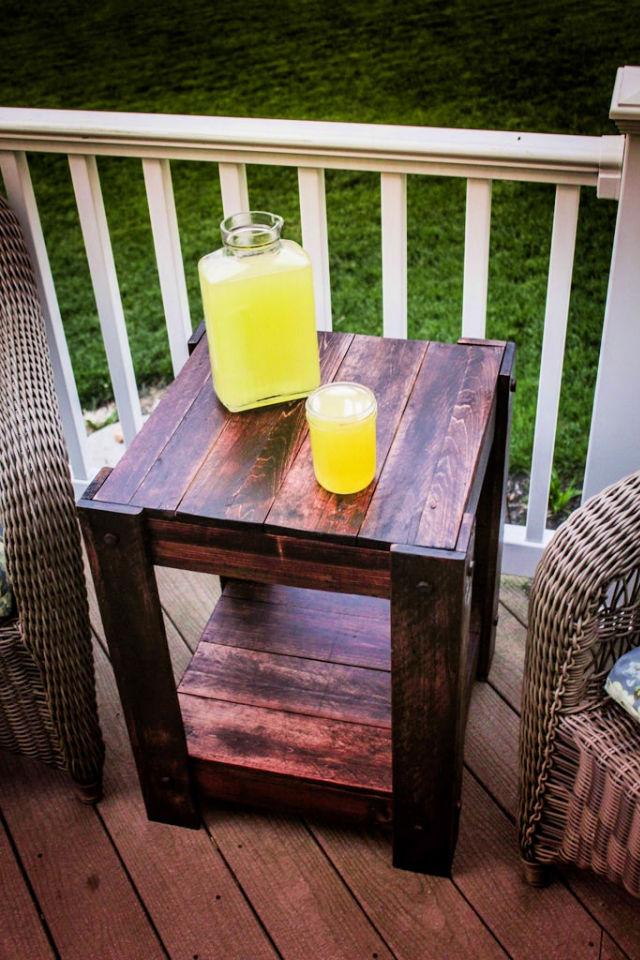 After the chairs or sofa, the most important item of furniture that brings tons of comfort to a seated person is always a side table. It can hold all that is in your hands, like a mobile phone, a cup of tea or a drink mug, so the targeted person will have his hands free throughout the conversations. So, you can build all sorts of end tables also with free pallets. You can easily build this end table by building first the top and bottom shelf. Both are equal in dimensions. Just hold them in the frames using the pallet slats' legs and wooden pegs. instructables
Pallet Deck: Are pallets good for decking? By all means! Pallet decking is a great way of enhancing your green space without requiring a high budget.
5. Free Pallet Porch Table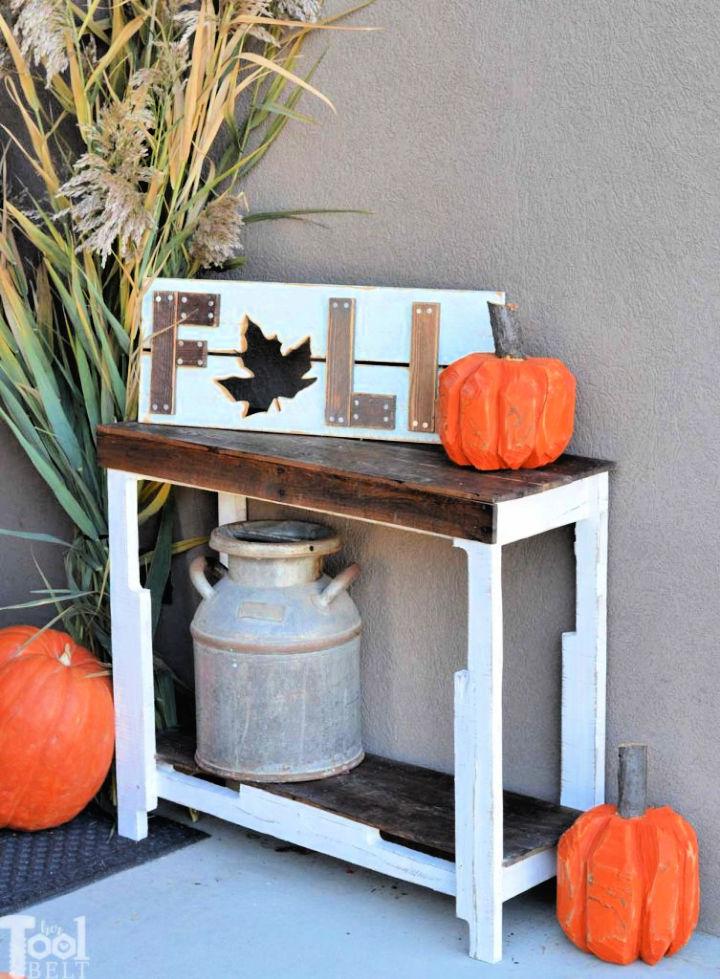 Intending to organize your porch? Then you will surely need this DIY wooden porch table to go for bigger porch decor statements. You can easily build this porch table using free recycled wood pallets. Dismantle the pallets and use the separated apart pallet wood slats to build the table surfaces. Go smart with the pallet stringer boards to build the vertical legs and other cross supports. This is here the best farmhouse-style porch table to build with free pallets. hertoolbelt
6. DIY Pallet Table For Under $10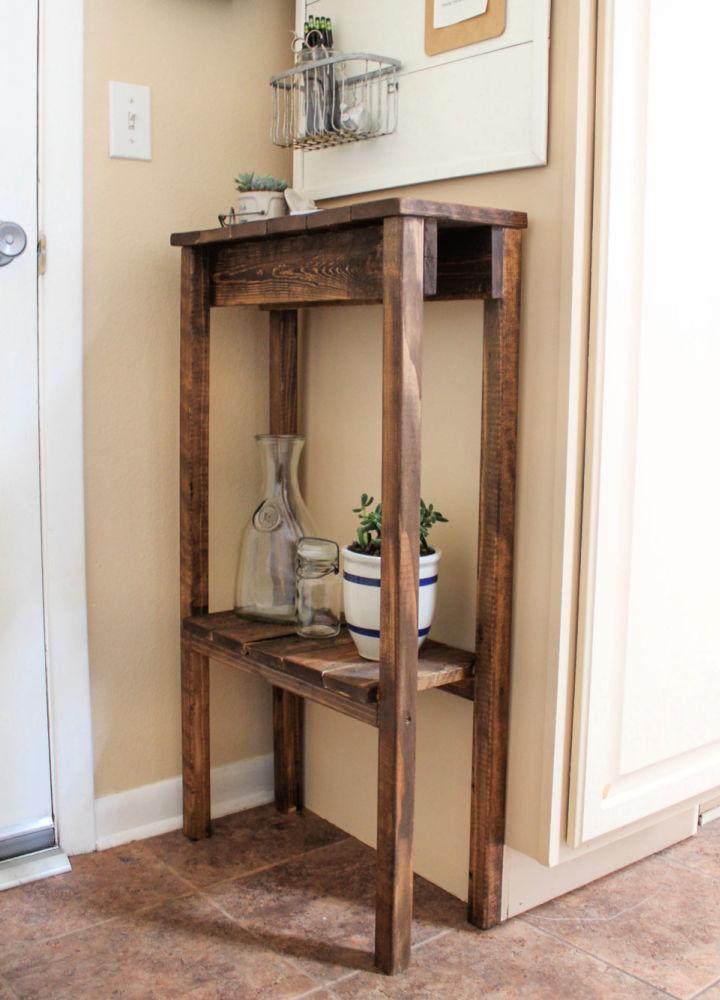 Get instructions to build a foyer or hallway accent table out of pallets at the minimal cost of $10. The design is elegant enough to impress all and provides a bottom shelf also for extra storage. The design is made to fit the targeted Hallway area and is a total breeze to build with free recycled pallets. Use the reclaimed square wooden boards to build the big vertical legs and go with the separated apart pallet wood slats to fill the table's surfaces solid and beautiful. remodelaholic
7. Pallet Hall Table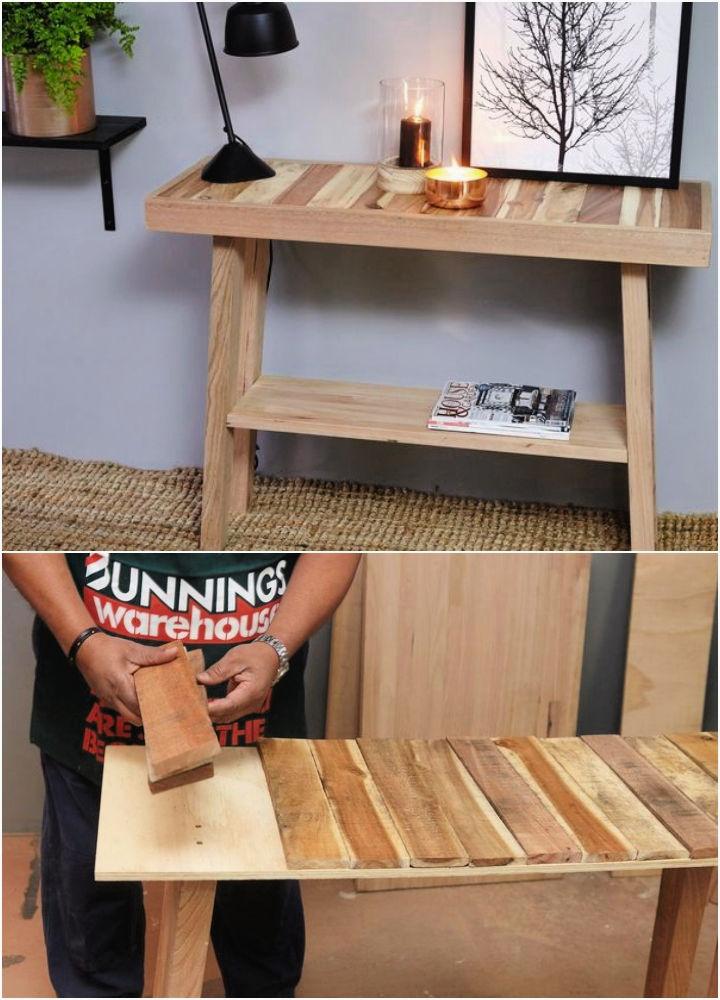 Take your hallway decors to the next level by building this gorgeous wood pallet hallway table. It provides a tray-like top and a solid bottom shelf and can hold what you need to store and display to the home audience. You need the 26mm x 180mm x 600 mm laminated hardwood panel, 1200mm x 596mm x 18mm plywood, 90mm x 45mm x 3.4m Tasmanian oak x 2, 65mm x 19mm x 2x4m Tasmanian oak x 2, liquid nails, old pallet, putty, rags, 240 grit sandpaper and wax to complete this pallet table with underside shelf. The design is much achievable even for a beginner. bunnings
8. DIY Pallet Entryway Table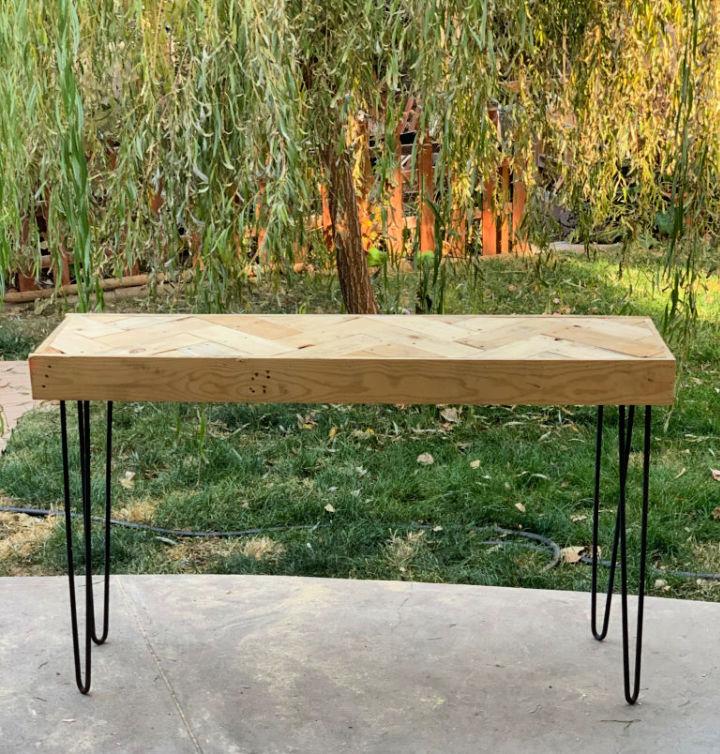 The entryway tables provide the much-needed surface space for keys, hats and other items of this kind. They also complete the look of a hallway or entryway that can hold all the centerpieces and accent items. So, create a distinguished appeal of every entryway with this solid industrial-style wooden pallet entryway table. It impresses with the solid wooden top and stands on heavy-duty metal hairpin legs. You need a pallet, hairpin legs, screws, liquid nails and plywood to complete this project. The very required woodworking tools will be a drill, Sawzall, miter saw, and table saw. abowieproject
9. Outdoor Dining Table From Pallets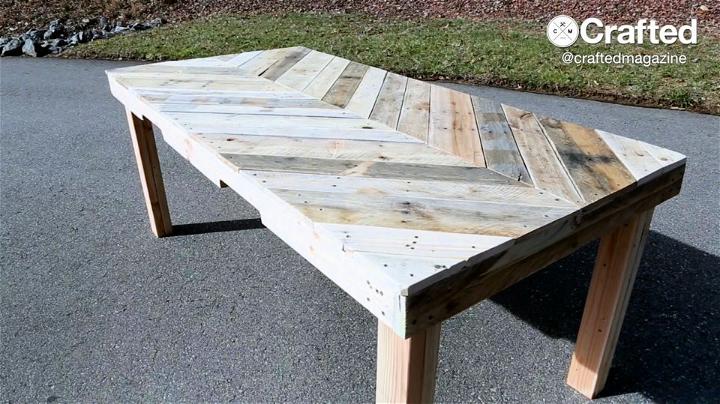 Are you addicted to outdoor dinners and parties? So you will love to fall in love with this chevron pallet dining table, which can be dragged to any particular outdoor location of your home. To complete this project, you need 2x4s, ½" thick pallet slats, glue, miter saw, circular saw, and other woodworking tools. First, build the table frame, and you can separately build the chevron top to add later. Most of the construction is all about building the chevron tabletop that is a precision-taking task. Give a custom durable finish to the entire table, and that's it. craftedworkshop
10. Pallet Dining Table With Solar Lights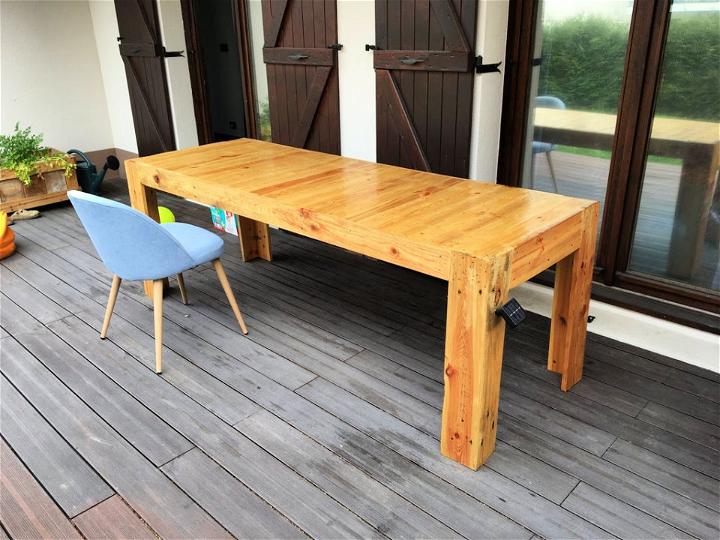 Build also the wooden pallet tables with custom solar lights installed to the topside, will make them visible at night enchantingly. Dismantle the pallets to have a big stock of individual planks. Plan them to build the tabletop and finish it with durable legs and gain a solid wooden pallet table. Poke holes into the tabletop and keep installing the solar lights that will be visible at night in a beautiful way. Here the legs of the table are also made of separated apart pallet wood slats. instructables
11. Pallet Wood Side Table With Rustic Style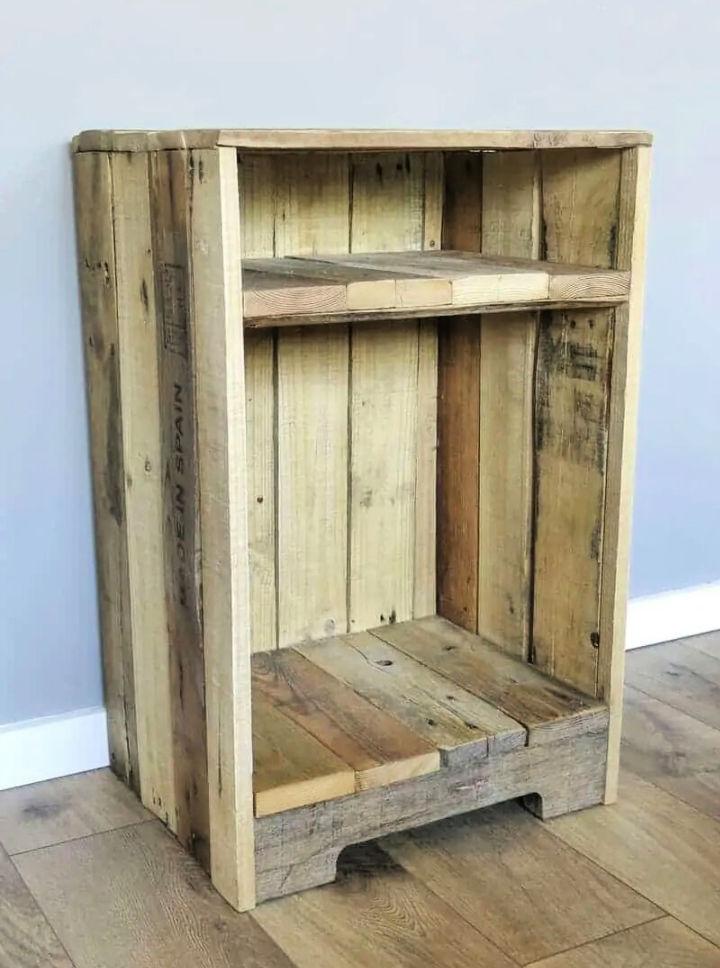 Most pallet creations appear rustic and, hence, really rock to bring that antique and rustic vibes to a targeted interior space. Follow here complete tutorial about how to build a wooden pallet side in rustic style. You need pallet wood, a brad nail gun and finishing wax to complete this rustic pallet side table, sure to make a great handmade gift to a favorite person. Take the pallets into pieces, and then start building the table by building the base. Next, attach the sidewalls and install the shelf and top. Seal the completed table surfaces with finishing wax. makingmanzanita
12. DIY Mobile Pallet Coffee Table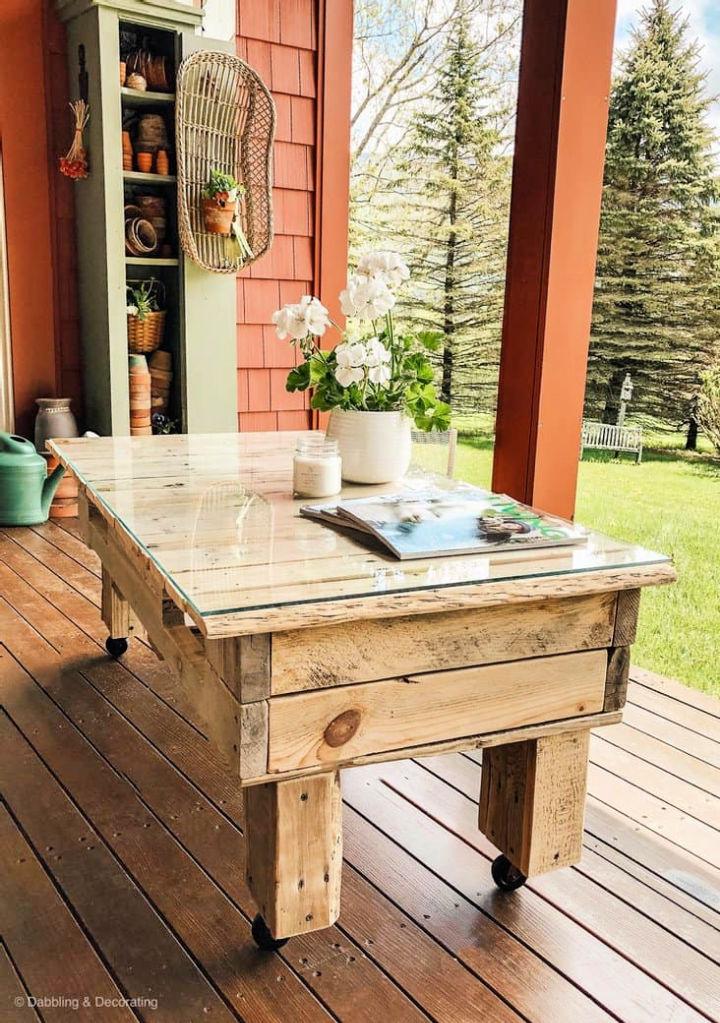 From modern to rustic to custom vintage-inspired, you can build all sorts of tables with free recycled pallets. Learn here to build a rolling wood pallet coffee table that you can add to the front side of any porch or deck sofa and is crazily easy to build also. The finally completed design comes with a glass top finish and provides solid wooden legs ending up with caster wheels. Pick the heavy-duty stringer boards to build the cross supports of the coffee table frame. Plan the separated apart slats to build the rest. dabblingand
13. DIY Succulent Pallet Table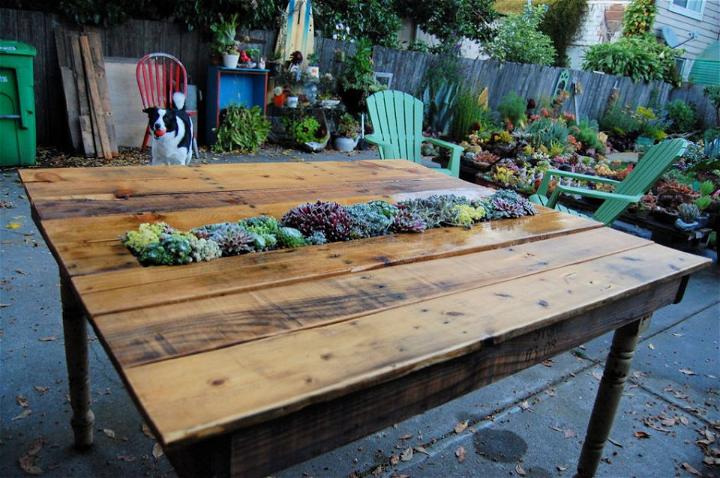 It will always make you feel fresh and relaxed to sit around this grand pallet succulent table. It comes with a succulent planter in the center and stands on heavy-duty reclaimed wooden legs. Use the pallet wood planks and boards to build the tabletop with a planter box in the center. The entire table is a superior pallets wood creation and can be taken to any particular outdoor location to enjoy the tea and dinner parties. The best DIY succulent tables to build with pallet and other reclaimed woods. faroutflora
14. Cheap Pallet Coffee Table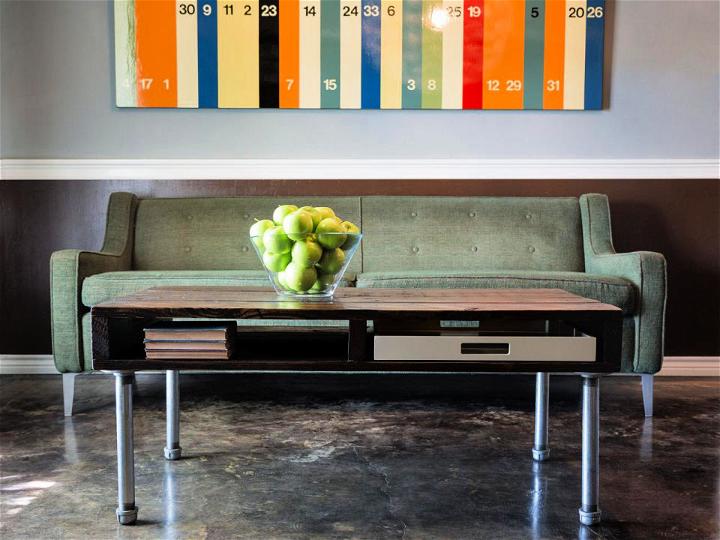 Pick the pallets to build modern furniture creations also. Get inspired by this fabulous modern DIY coffee table that is built using heavy-duty metal pipe legs and a single pallet only. Grab a healthy-looking pallet, clean and stain it for a nice wooden appeal and then finish with heavy-duty metal pipe legs. Finish the metal pipe legs with end caps to not make scratches on the modern interior floors. Use also the floor flanges to install those heavy-duty metal legs to the bottom side of the pallet. In features, the table provides built-in storage cubbies, ideally suitable for holding books, remotes, mobile phones and other items of this kind. hgtv
15. How To Make A Pallet Table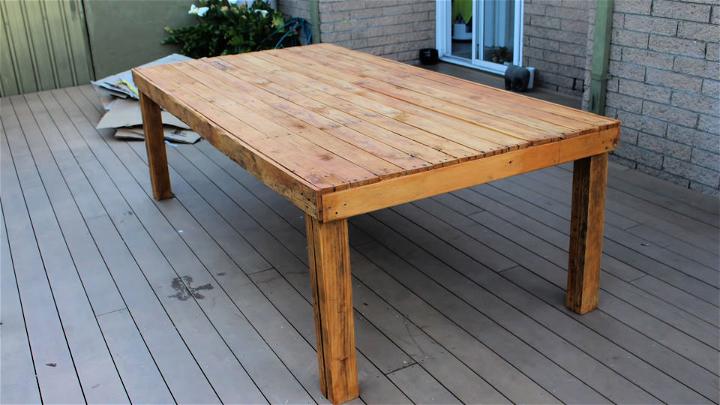 The tables are the most made DIY furniture item with pallets. Get here guides to build a lasting longer dining table out of pallets. The table is made of a grand pallet size modified to build that grand top of the table. The final step would be to install custom legs to the tabletop you have recently made with pallets. You can add or remove some extra wood also to transform pallets into solid wooden tabletops. It will only take few hours to build this solid wooden pallet table. youtube
16. Making A Pallet Table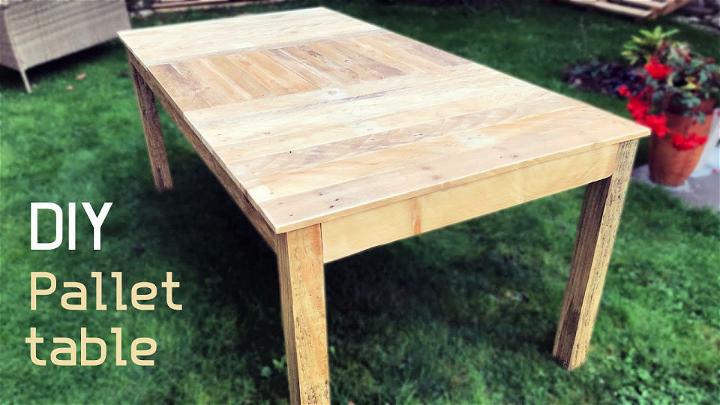 We all love to be around the table when intending to work on a computer or willing to eat. Tables are always crucial to operate your space as you want. Wooden tables are expensive, but pallets provide you the opportunity to build some high-end designs for free. This tutorial will share comprehensive guides about building a durable wooden table out of pallets like a pro. Build the base frame using heavy-duty framing lumber and pick the 4x4s for leg building. Fill the entire tabletop solid by going with evenly flat arrangements of pallet wood slats. youtube
17. Wooden Pallet Table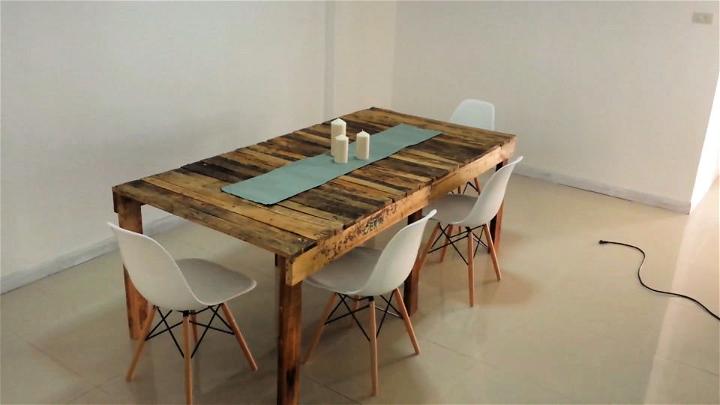 There are many different ways to build tables out of pallets while using both dismantled or uncut pallets. You will get here instructions to build a grand wooden table out of 3 recycled pallets. From dismantling the pallets to assembling the entire table design to finishing the table for weather protection, you will get instructions for all steps here. The required tools and materials will be 3 pallets, saw, glue, sandpaper, hammer with nails, screwdriver with screws and wood stains. Build the frame for the tabletop and then cover it up solid with flat cross arrangements of pallet wood slats. This grand table stands on 6 legs and comes with all surfaces well stained. youtube
18. Coffee Table Made Out Of Pallet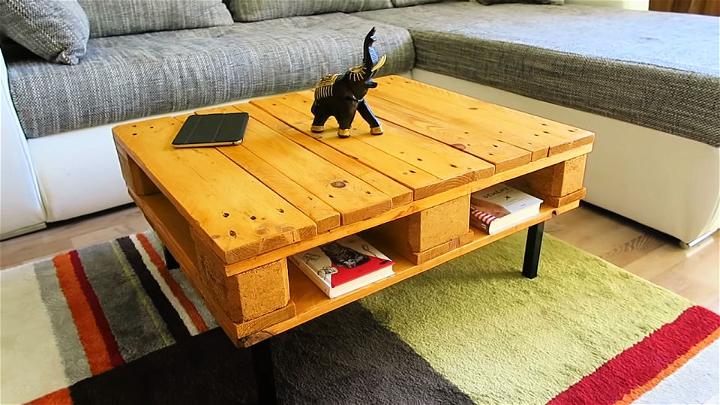 A coffee table in the living room is like a centerpiece, and it may leave some great impressions on the guests. So, you can quickly build a solid, stylish and storage-friendly coffee table out of free pallets. It will only take one pallet to clone this graceful design of coffee table that is storage-friendly also. Finish a solid pallet skid with short metal legs to easily build this impressive coffee table design. The table is rustic yet modern and provides cubbies for books and newspaper storage also. Stain or paint the completed table in the way you like. youtube
19. Pallet Garden Table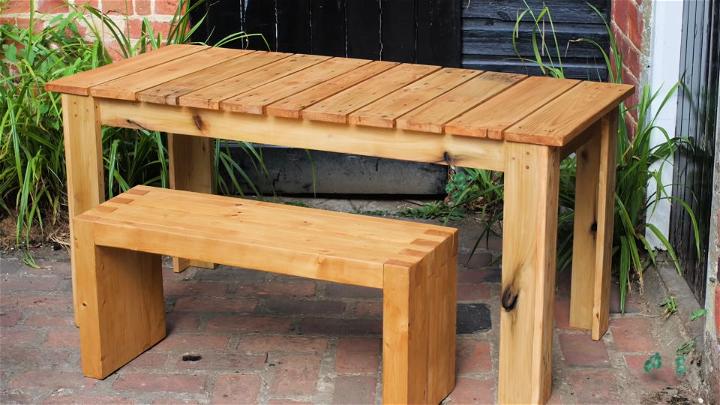 This pallet wood table is a great gift for all who love to spend most of their time outdoorsoutdoors. The table is handmade and is a pallet wood creation and will come in handy for eating and laptop operating outdoors. The table's design is much achievable even for a beginner and will be super easy and quick to build also. You can easily plan the pallet wood pieces to build the robust table frame to whipping up solid wooden legs to fill the entire tabletop solid. Don't forget to give a satin finish for weather protection. youtube
20. Making Pallet Table with Legs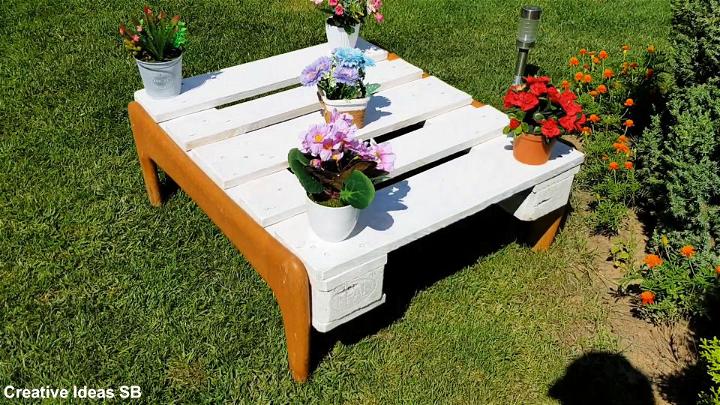 Building tables with pallets can be as quick as 5 minutes. Follow the instructions here to build a pallet table with legs in just 5 minutes or less. You need an old wood table and a custom pallet having a size equal to the tabletop to complete this project. The idea is to add the old table legs to the bottom side of the pallet to easily build an instant beautiful table out of pallets. Look at the final low-height pallet wood table, quite inexpensive and easy to build in a few steps. youtube
21. Pallet Table On Hairpin Legs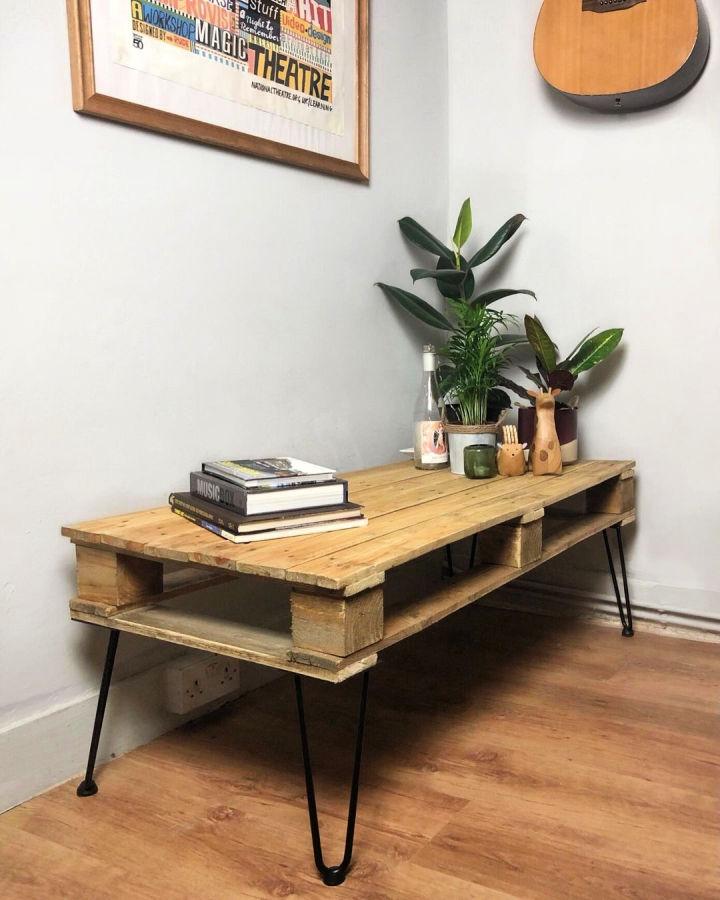 Pallets are the most loved building material for spectacular table constructions. They have taken the table-making game to the next level and have helped people save lots of furniture costs. Get here instructions to build a solid wood pallet table that stands on the heavy-duty metal hairpin legs. The construction is all about installing the metal hairpin legs to the bottom side of the modified pallet. So, pick the pallets that are equal to the tabletop and add it up with metal bottom legs to build this table.
22. Custom Pallet Table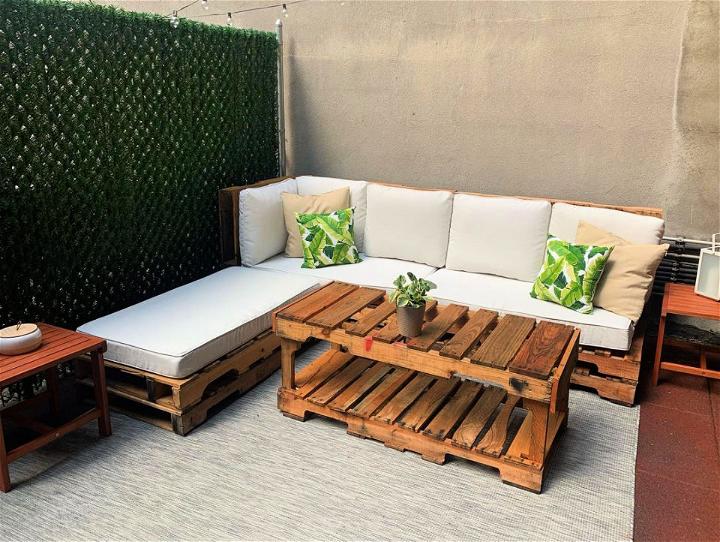 Bringing a touch of that modern rustic decors to indoor or outdoor is becoming a hot trend. However, pallets provide the ultimate ease to achieve this trendy interior decor style by building rustic yet modern furniture. Look at this custom built-in rustic yet modern pallet coffee table, added on the front side of a pallet outdoor couch. The coffee table design provides a bottom shelf and appears with that natural rustic blanket tone of wood. The construction involves using fewer tools and is easy and easy.
23. Outdoor Pallet Coffee Table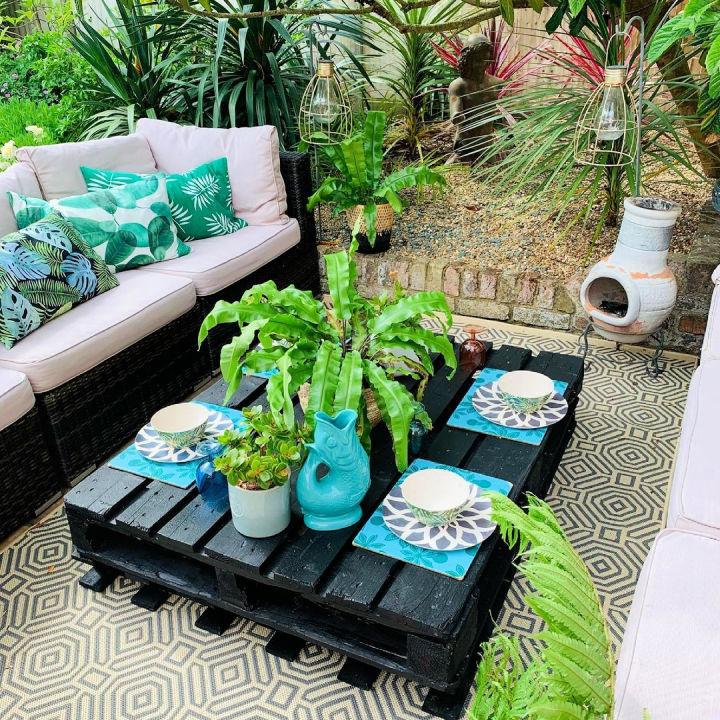 The pallets are an on-trend way of building durable and stylish wooden furniture fun and economical. However, a table can be the easiest thing to build with pallets. Look at this grand square coffee table, made of uncut pallets. So, the constructions require no cuttings or taking those boring measurements. It will all take one or 2 square wood pallets to build this grand wood pallet coffee table. Stain and paint the coffee table for weather protection and a custom appeal of an entire coffee table.
24. Pallet Garden Dining Table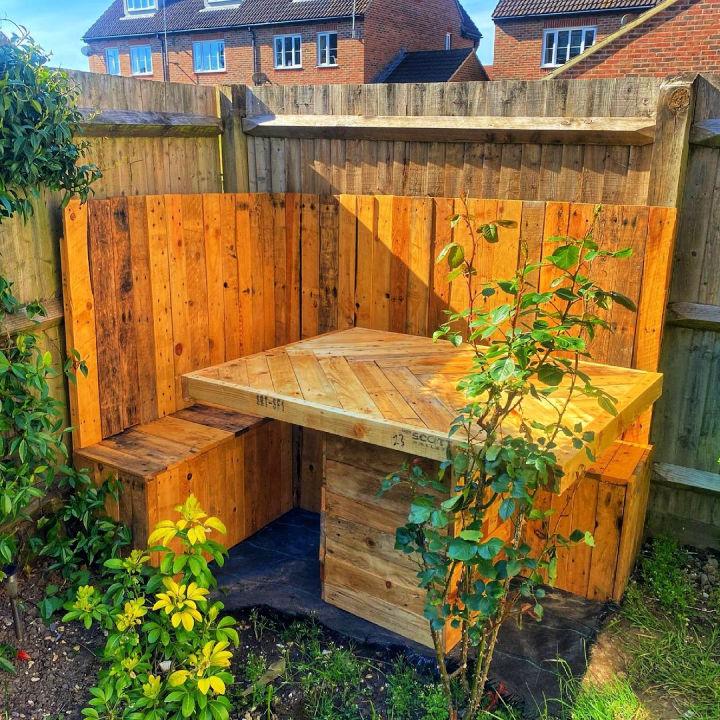 The pallets are magical skids that can be used to build all sorts of indoor or outdoor furniture. You will love the given chevron dining table that impresses with the single pedestal base and the edged chevron top. The grand table comes with a chevron top and also a solid wooden base. Most of the construction is all about the chevron top of the table. Here the seats around the chevron dining table are also made of pallets. One of the best pallet wood projects that will help organize all your outdoors for night dinners and parties for sure.
25. Pallet Toddler Table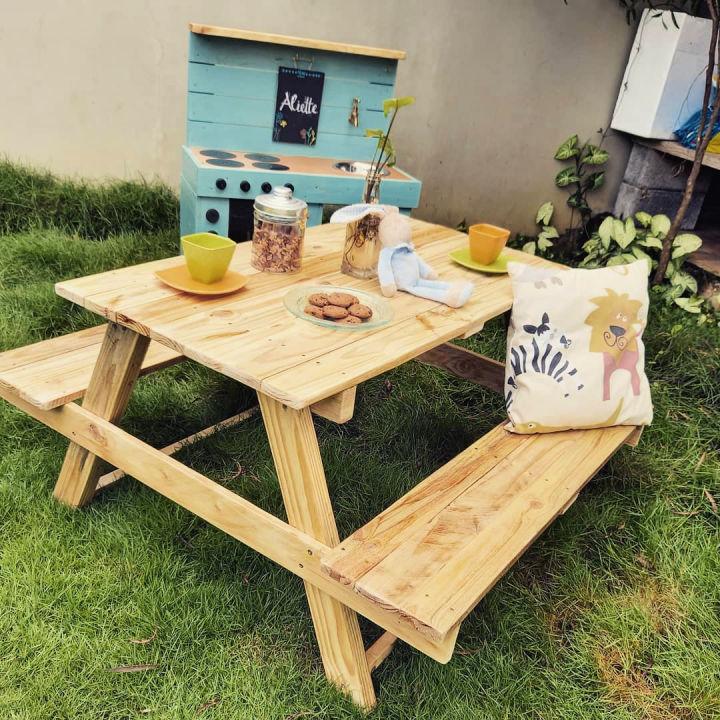 One can repurpose the pallets to build almost any type of table with pallets. So, look at the picnic table design, which is also a worthy pallets wood table creation and comes with attached seats. This picnic table will be a great addition to your garden, lawn, backyard or any park area. It will allow the kids to organize those snack parties and help boost the kids' outdoor activities. The design is achievable with the separated apart pallet wood planks, and it will never get out of style. Paint or stain it to avoid early weathering.
26. Rustic Pallet Study Table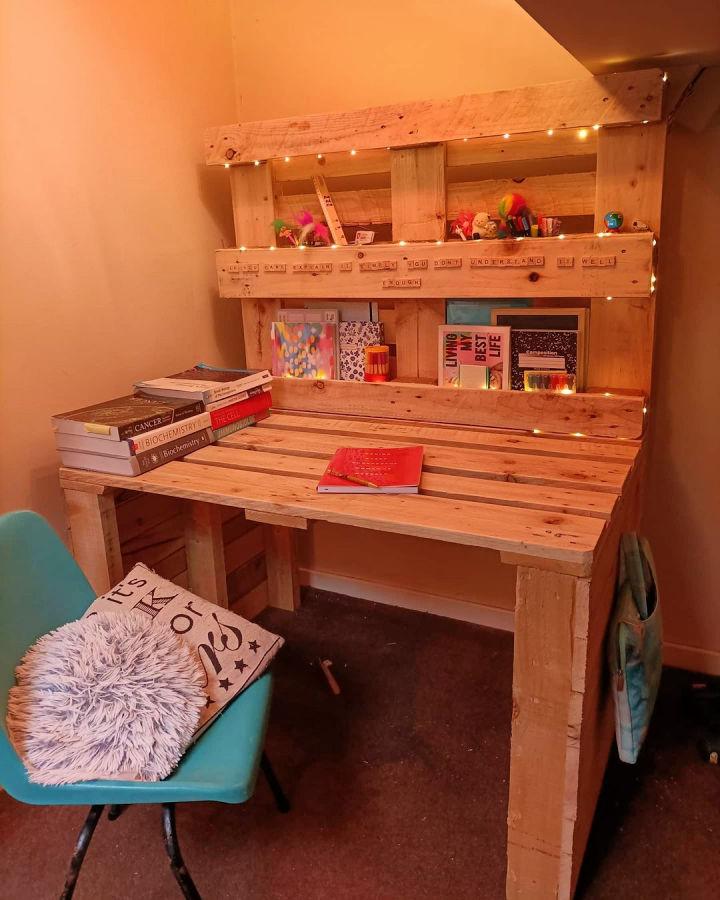 Pallets provide you the ease to build a solid, beautiful study table also. Stare at the given beautiful design of a lighted and storage-friendly study table and will surely make the litter users happier. Plan the uncut wood pallets to build this grand study desk or table with the storage-friendly back wall, the unique feature of the table. The legs, worksurface and back wall all are to build with uncut wood pallets. The addition of lights makes the table look a lot more special and lovely. Everyone will love to duplicate this solid model of study table.
27. Twin Set Bedside Pallet Tables

Reclaim the pallets to build all types of tables you use at home. Clone this fabulous pair of bedside tables will bring a great rustic and industrial character to a bedroom while holding your night lamp and pots charmingly. Pack the pallet wood slats to build the solid square tops of the table, and then install the metal hairpin legs to the bottom side of these tops to get the industrial-style nightstands or bedside tables. Paint or stain the tops of these tables for a custom look, and you can also use these tables as end tables or sofa side tables.
28. Mini Pallet Table Plan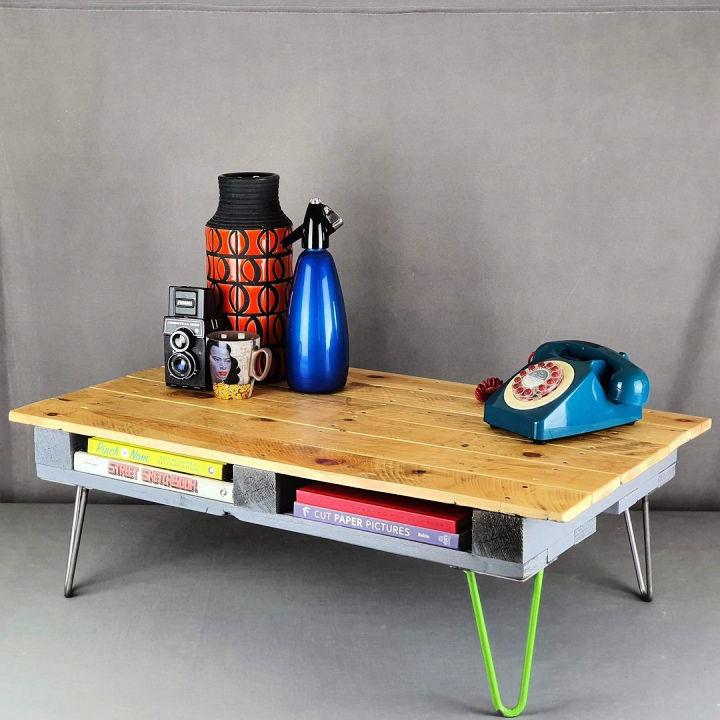 Create a big focal point in a living room by adding this low-height pallet coffee table in the center. With the industrial appeal and built-in storage options, it will surely be praised by all It is easy and quick to build also. The construction is all about finishing a pallet size, having a size equal to a table, with metal hairpin legs to gain this extra beautiful and solid wooden coffee table. So, you only need a pallet and some metal hairpin legs to complete this extraordinary low-height pallet coffee table.
29. Pallet Outdoor Bohostyle Table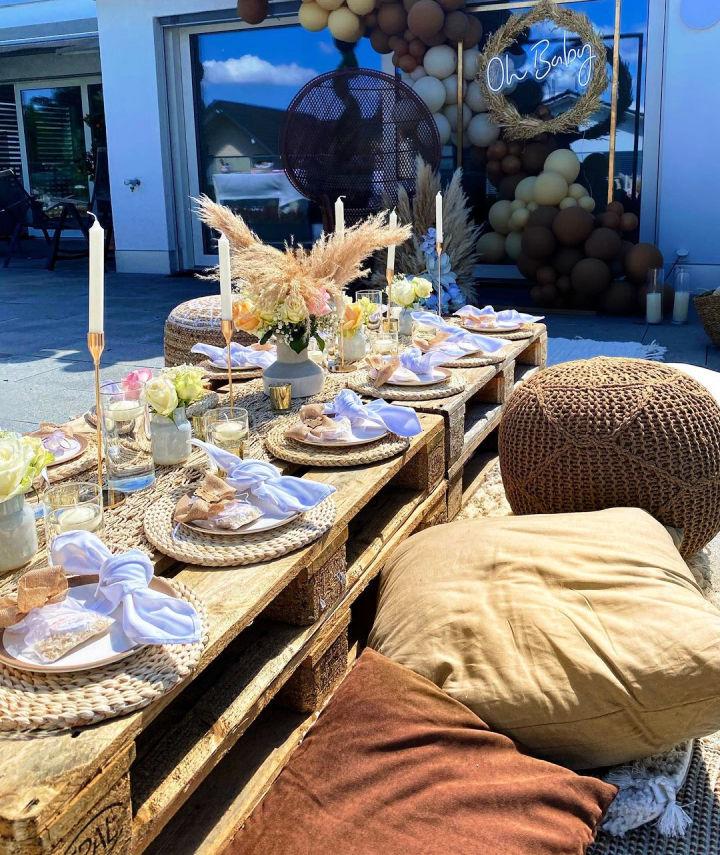 The pallets also serve great for outdoor fun and entertainment. Look at this bohemian party table that is solid and beautiful and will be a great addition to one's outdoor. You only need to stack a few pallets to build this wooden pallets boho picnic, or a party table provides built-in cubbies to store lots of your extras. You can easily build this lasting longer and extra-large party table by just stacking the pallets. There is nothing complicated in the entire construction of this table. The project is simple.
30. Pallet Picnic Party Table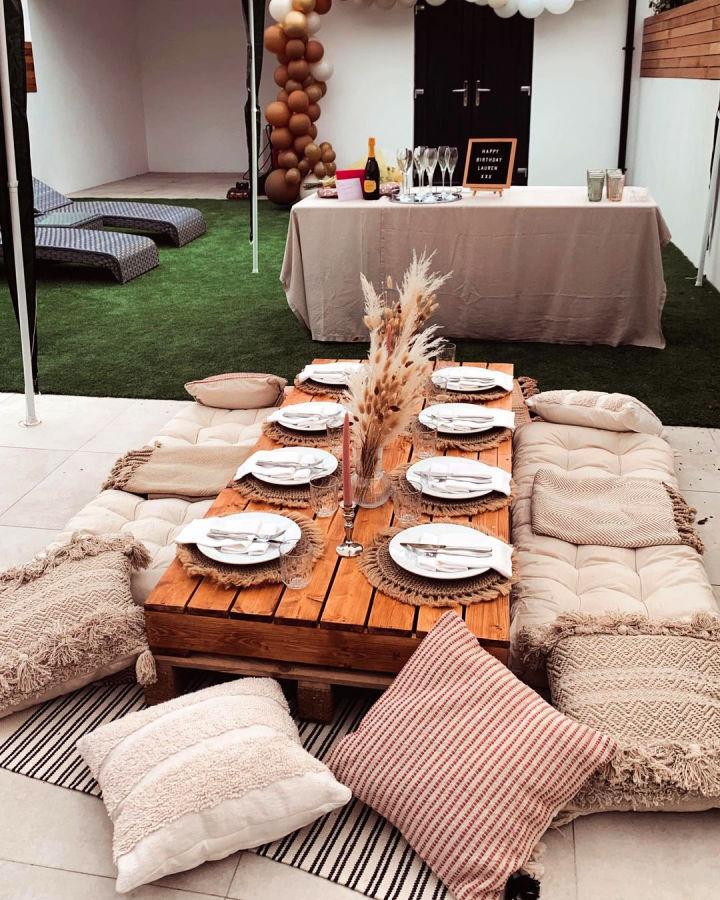 Pallets are offering all sorts of tables you need to live luxury at outdoor and indoor. Rock your backyard entertainments and garden parties with this low-height pallet table, specially made for outdoor picnic parties. The table will be built with uncut pallets that can be stacked or put together to build any particular size of this picnic table. Place this table over a picnic carpet and add the cushions all around to make the guests and family members seated comfortably. This picnic table will rock for 8-10 people for sure. However, you can build it with custom legs also.
31. Pallet Wood Table Design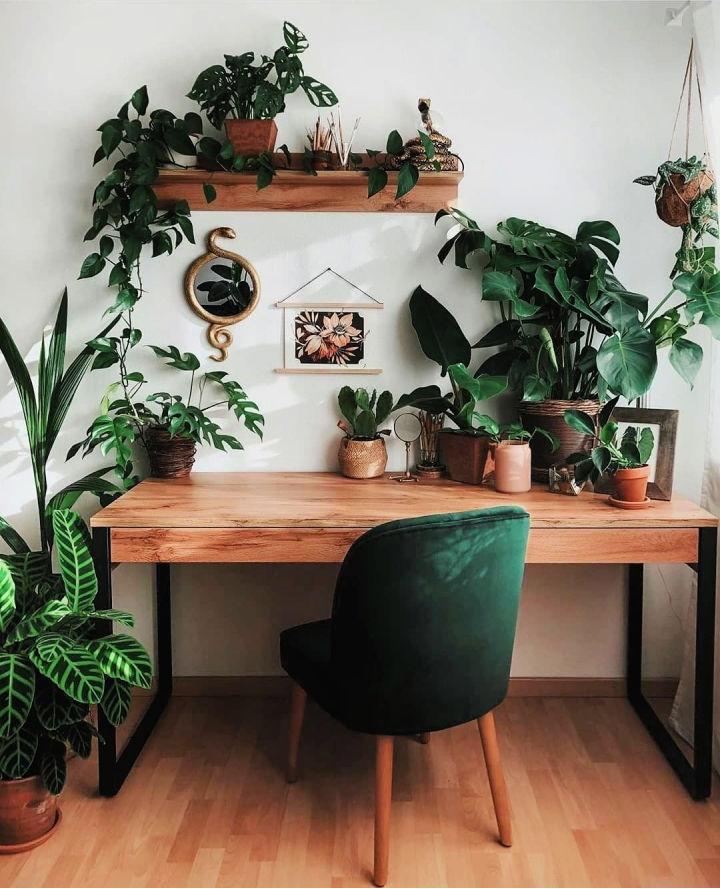 Pallet table designs are never-ending, and there is a design for every taste and style. You will love this modern pallets wood table that makes the best study desk or computer table, and it enchants with the black-painted box-like legs. The top of the table appears in the brilliant bright natural tone of the wood, and you can build this table to add to your home office or workspace. Use square metal or square wood dowels to build this most beautiful table or desk design. Buying such tables from the market will cost you an arm and a leg, but here it comes with a zero price tag.
32. Date Night Dinner Pallet Table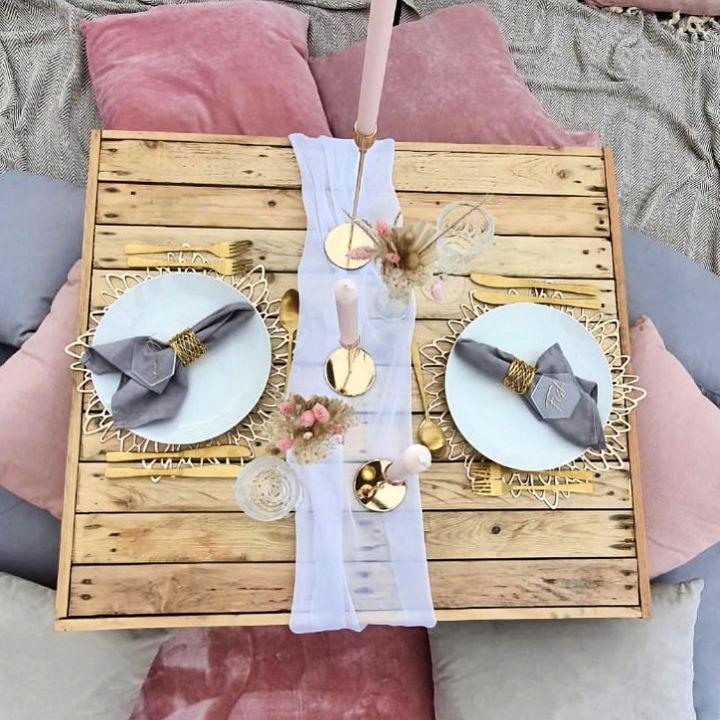 Duplicate this epic pallet dining table, perfect for 2. It will rock for the date night and is also the ideal choice for 2 person candlelight dinner setup. The design is a perfect square in shape and can be built with both uncut and dismantled pallets. At the same time, you can finish it up with custom legs or can be over the picnic carpet or cushions to be easily reachable to carpet-seated members. Paint or stain this square pallet date night table for a custom wooden tone and durable weather protection.
33. Pallet Entry Table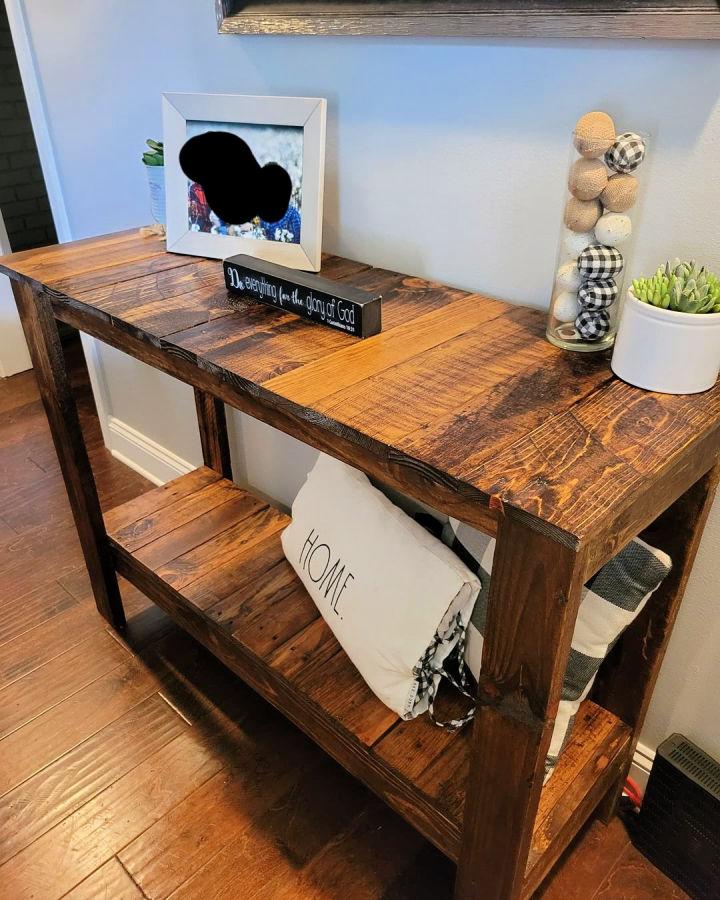 When being on a mission to organize your home for a sophisticated appeal, you can forget about adding the foyer, hallway and entryway tables. They create the very first impression of every home. So, upcycle the pallets to build some outstanding foyer and hallway accent tables also. Peek into details of the given table that provides an extra bottom shelf to organize all those extras. It will beautifully display all your mural frames, accents and centerpieces over its top. Finally, you can give it a custom finish to match your home decors.
34. Upcycled Pallet Garden Table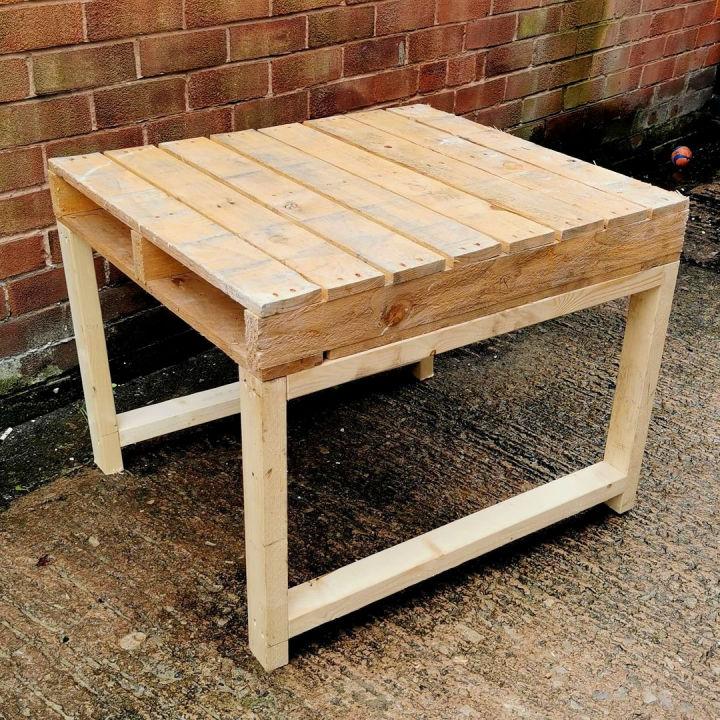 Most of the pallets always have that exact size of tabletops. So, it will only take to raise them on custom legs to build some beautiful instant tables. Look at this given upcycled garden table, a sweet and simple pallet wood creation. Use the 2x4s or other framing lumber board to build the table frame and then raise a pallet on it. The design is much achievable and durable and will be a great addition to one's outdoor. You can employ it as a potting table or coffee table, and it can be used outdoors to enjoy those snack parties also.
35. Turn Pallet Into Table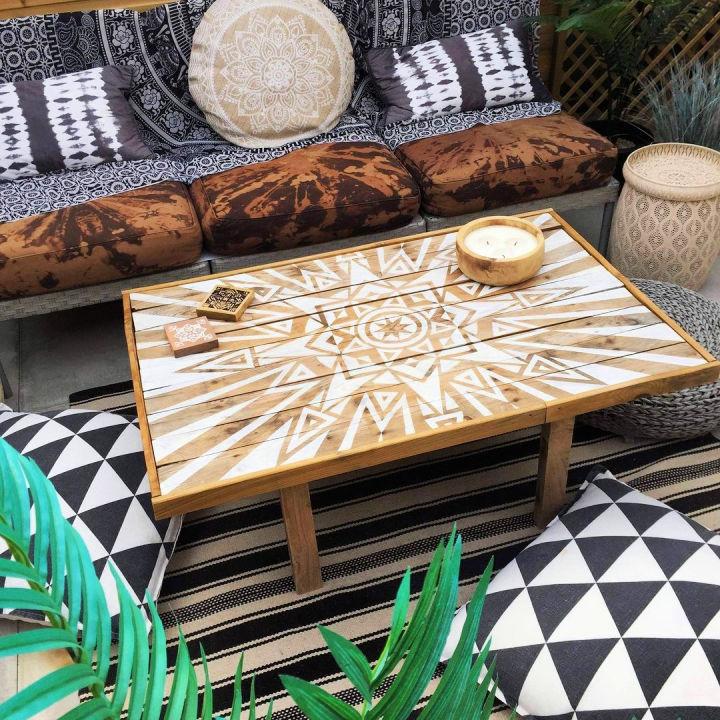 Building tables with pallets is becoming the hottest DIY furniture trend. They can simply be upcycled to build all sorts of home tables. Get inspired by this lasting longer wooden pallet coffee table that enchants with the stenciled edged top and stands on the durable wood legs. The table will be a great addition to your outdoor pallet sofa seats, and it can be made for the living room to be in the center of the sofa set. Just flat pack the pallets to build the tabletop and then install the side trimming for added visual grace. Stencil the top for custom art, pattern, words or logo and finish with your favorite legs.
36. Vintage Railway Pallet Table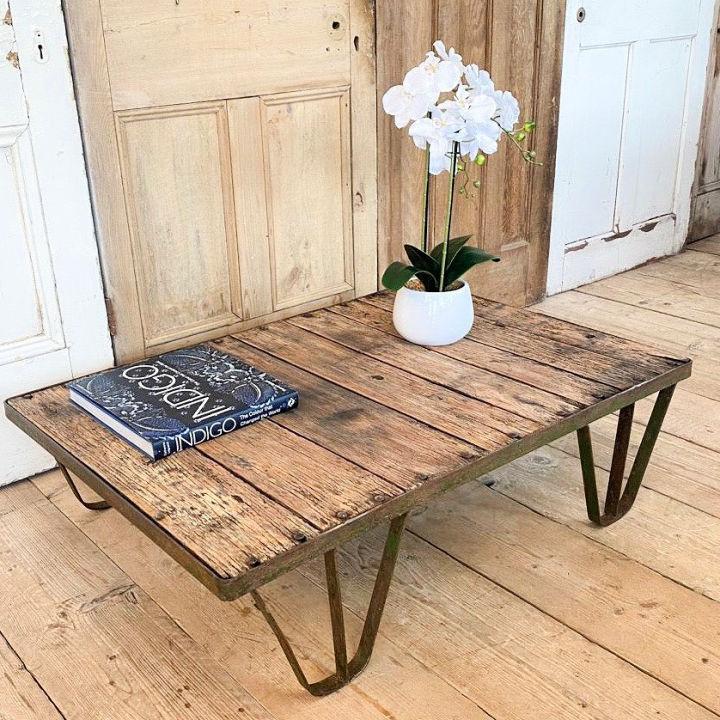 This vintage coffee table will surely be ten out of ten from you in terms of style and stability. It comes with a unique metal base and enchants with an enhanced rustic appeal. The design is much achievable with the recycled pallets and a vintage table base. However, you can also weld the metal strips to build this durable table base, and you can easily build the tabletop with pallet wood slats. You have here the freedom to paint, stain and stencil the tabletop for any custom appeal.
37. Pallet Patio Table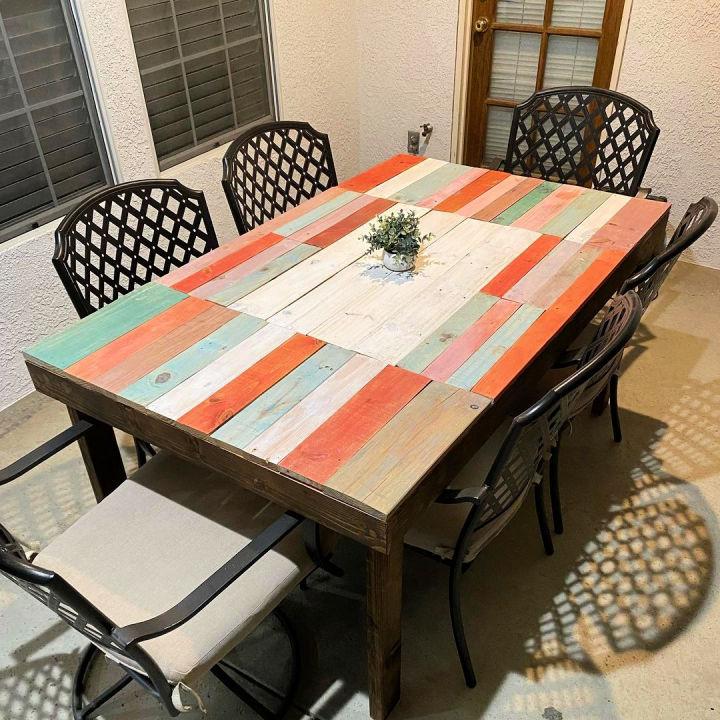 Celebrate the patio parties and night outdoor dinners with this hand-built wooden pallet patio table. It gains attention with the brightly colorful slatted wooden top and is extremely easy and cost-efficient to build. Repurpose the old pallets and take them into individual slats or pieces to easily duplicate this gorgeous wood pallet dining table design. From framing up the tabletop to filling the whole top solid with slatted arrangements of pallets, all will be easier to do for sure. Opt for the heavy-duty legs to support this heavy top of the table. The best pallet table for 6 persons.
38. Recycled Pallet Table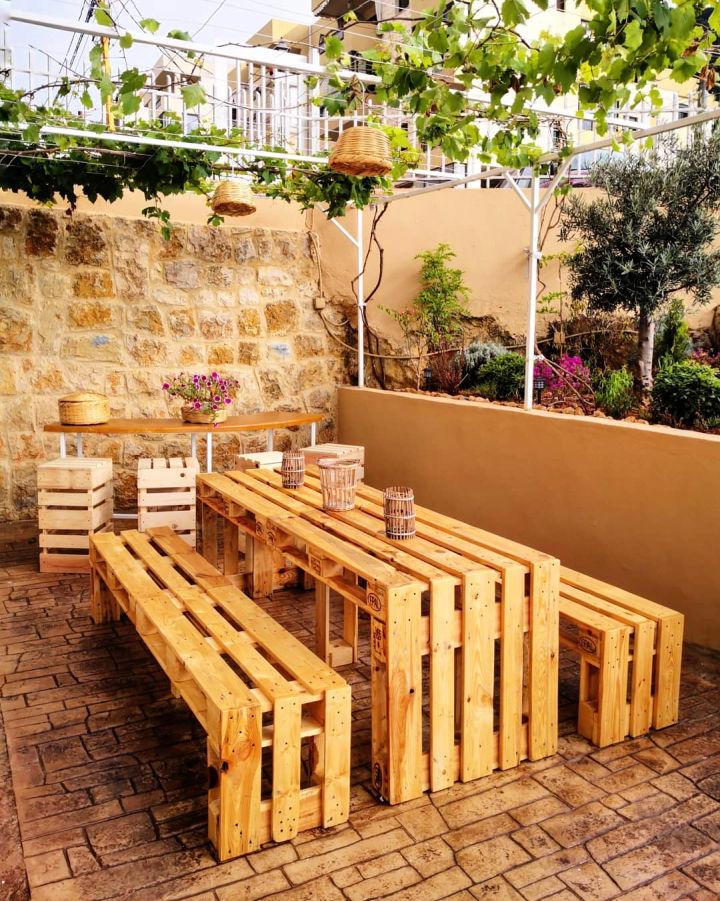 You will praise this entire outdoor sitting furniture set, built for outdoor snack parties and part-time sitting purposes. A grand table and two matching benches to sit around the table are the total assets of this pallet furniture sitting set. The project will involve using the pallets directly in building both benches and tables without going through any dismantling process. Just put together the resized pallet sizes to build bench or tabletops and use the trimmed pallet sizes to build the legs of the table and benches.
39. Ultimate Pallet Outdoor Table

Pallets have made it easier for everyone to live the outdoor luxury. Yes, everyone can build the most desired outdoor furniture with pallets that are always expensive to buy from the market. Look at this wood pallet outdoor bench and coffee table set, is not it perfect for sitting outdoors in a super comfortable way? Both the bench and table can quickly be built with the free recycled pallets. So, you can recycle the free pallets to build all types of outdoor furniture, saving a big amount of fortune. All it takes is some pallet wood slats and custom wood legs to build this ultimate wooden pallet coffee table.
40. One Pallet Table Design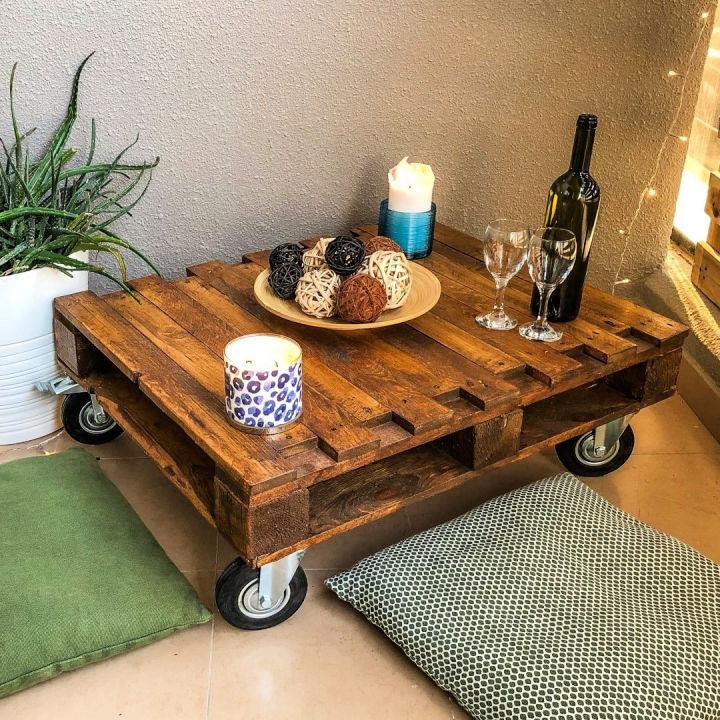 Even a single pallet will be enough to build a beautiful coffee table. Just finish a pallet with custom caster wheels and quickly gain a longer low height pallet coffee table. Here custom locking casters have been used for this single pallet coffee table that is simple and elegant and is also touch-to-move. The built-in cubbies will come in handy to organize those books and custom items of need and interest. The best pallet coffee table to get for outdoor picnics, and it will complete just at the drop of a hat.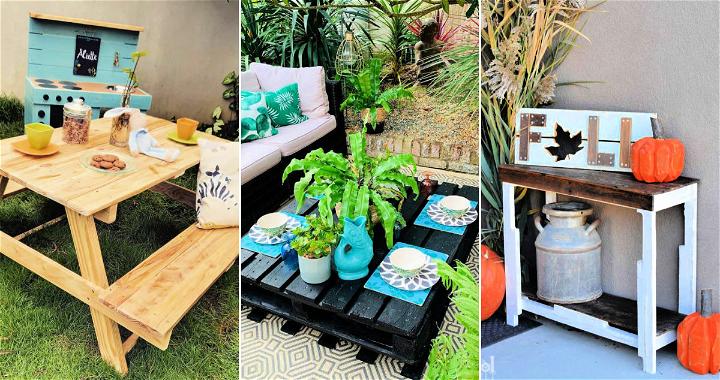 Conclusion:
The pallet tables are what we need very first to operate our living spaces. Whether you want to eat, work, or celebrate an event, there is a need for a table for every of your purpose. So, without getting a bit expensive, you can easily build some fabulous wooden tables out of free recycled pallets. So, these DIY pallet tables will share a big list of table designs to build at home. Moreover, these pallet table ideas will share complete material lists, cut lists, hardware lists, wood finishing supplies and step-by-step instructions to easily clone each of the given tables like a pro. So, check out all the projects to get an expert in building pallet tables.