Pallets help you build all types of your home furniture and projects. In this roundup, we've collected the 20 most useful pallet side table plans that come with detailed instructions to build the lovely wooden side tables for your spaces. A side table is always to perform insides of a couch, sofa or chair to make the sitting person a lot more comfortable. This pallet end table gives quick access to your books, magazines and newspapers and also holds your keys, mobile phones, remotes and drink mugs so you can get relaxed more on the couch.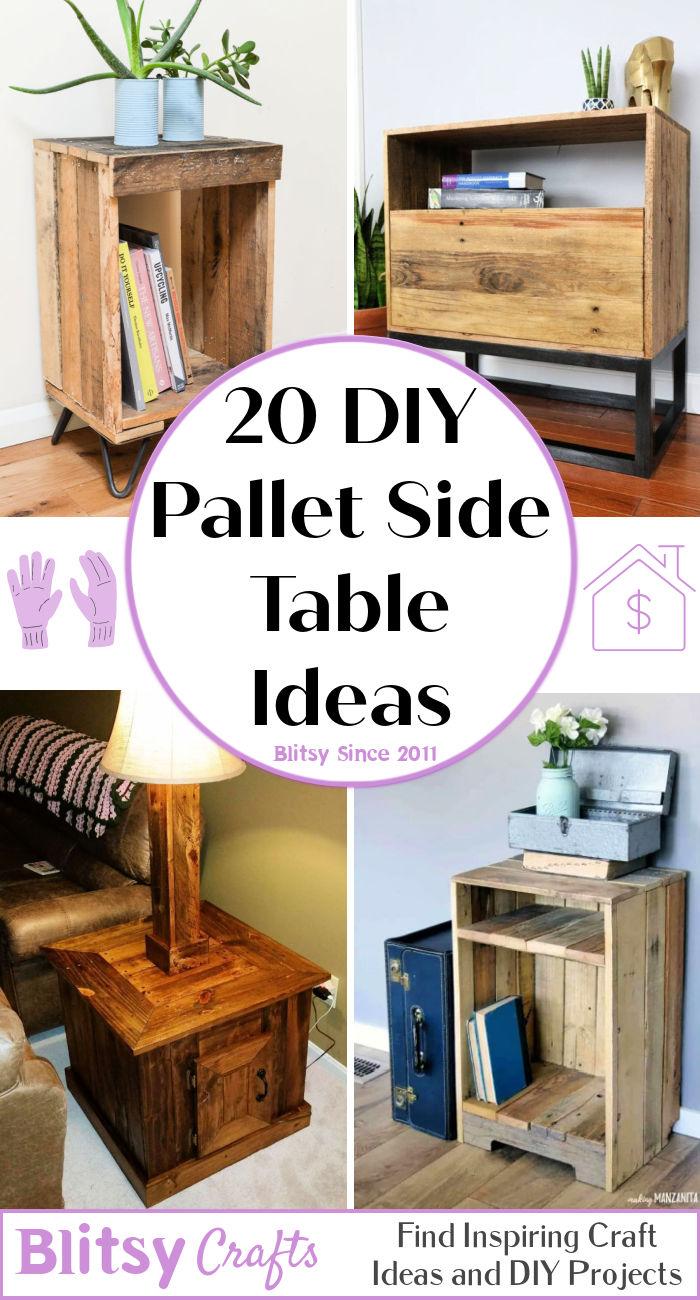 Explore this list of 20 DIY pallet side table plans to see all popular DIY pallet projects made at home. Most of the pallet end table or side table designs are beginner-friendly to build and will be completed just at the drop of the hat when having some carpentry experience. From simple, straightforward designs to the storage-friendly side table to modern minimalist pallet end table designs, you will learn here to build them all like a pro.
Whether in the living or bedroom, a side table is often a big need and can't be skipped in any way. It helps you keep your items in arm's reach and can mostly be seen holding a night lamp and an alarm clock. So, before you buy them expensive, try building these pallet end tables at home with the help of these DIY wooden pallet side table plans. These pallet end table ideas share the whole bag of tricks to build a side table with pallets with all the incredible variations.
1. Wooden Pallet Side Table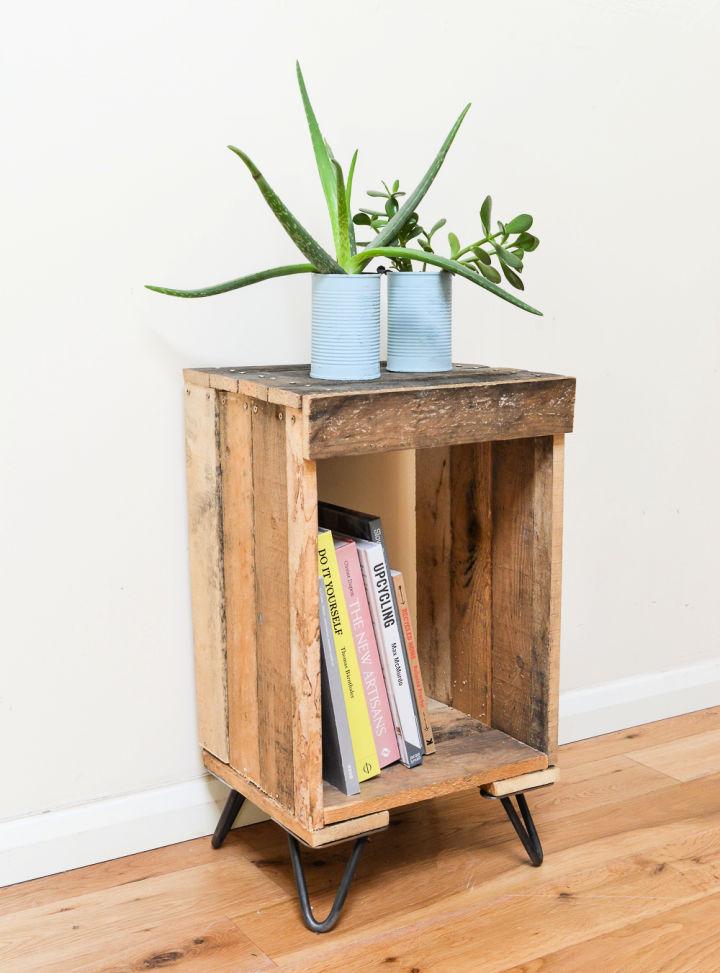 The tables are what the pallets have been repurposed, recycled and upcycled for most of the time. However, it is considerably easy to build tables out of pallets, and you can take the example of this pallet side table for better understanding. Shaping up a simple hollow box frame results in this super cute yet rustic wooden side table. Finally, the box-like table is finished with short metal hairpin legs for a quick, beautiful standing style and elevation. The best industrial side table to build with pallets. grillo designs
2. Modern Pallet Side Table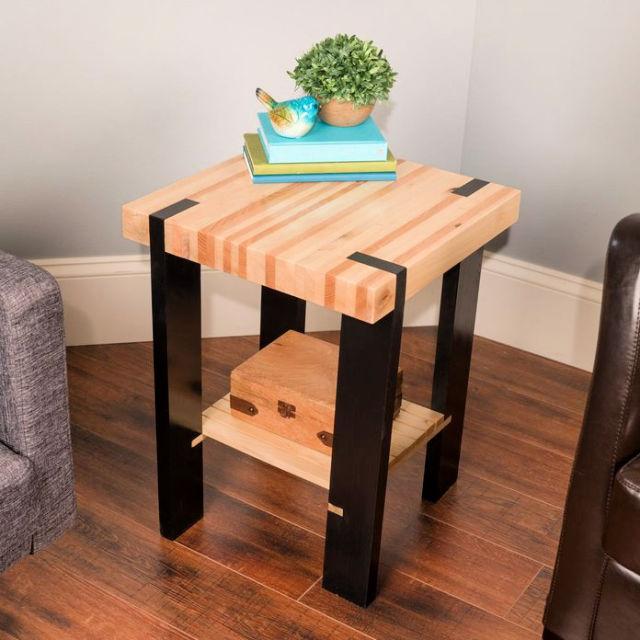 Building a side table with pallets can be fairly easier when you look through the given project instructions. The design of the side table is quite modern and aesthetically pleasing, and you need intermediate carpentry experience to whip up this side table with a butcher block style solid top. Cut the notches in the corners to fit pallet slat legs that hold the bottom shelf also. The whole project will be completed in a day and will cost you next to nothing. To complete this project, you need a pallet, glue, jointer, miter gauge, miter saw, orbital sander, planer and table saw. familyhandyman
3. Reclaimed Pallet Wood Nightstand (West Elm Knockoff)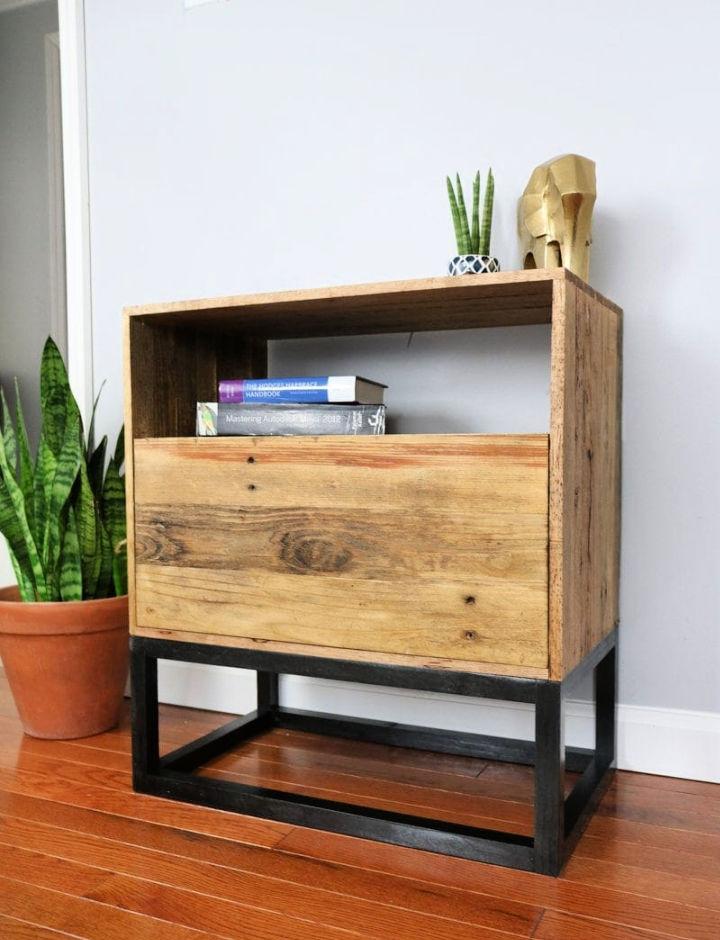 The West Elm furniture does not come in the budget range of every big fan of it. However, you can build some lasting longer West Elm furniture knockoffs at home with some free pallets. So, give your space a glam touch of West Elm furniture elegance by building this West Elm inspired side table. The design is storage-friendly and rustic looking and sits on the box-style base. In supplies, you need pallet wood, 2x4s, ¾" plywood, ¼" plywood, drawer slides, screws and danish oil and spray paint to complete this project with ease. diyhuntress
4. Simple DIY Pallet Bedside Table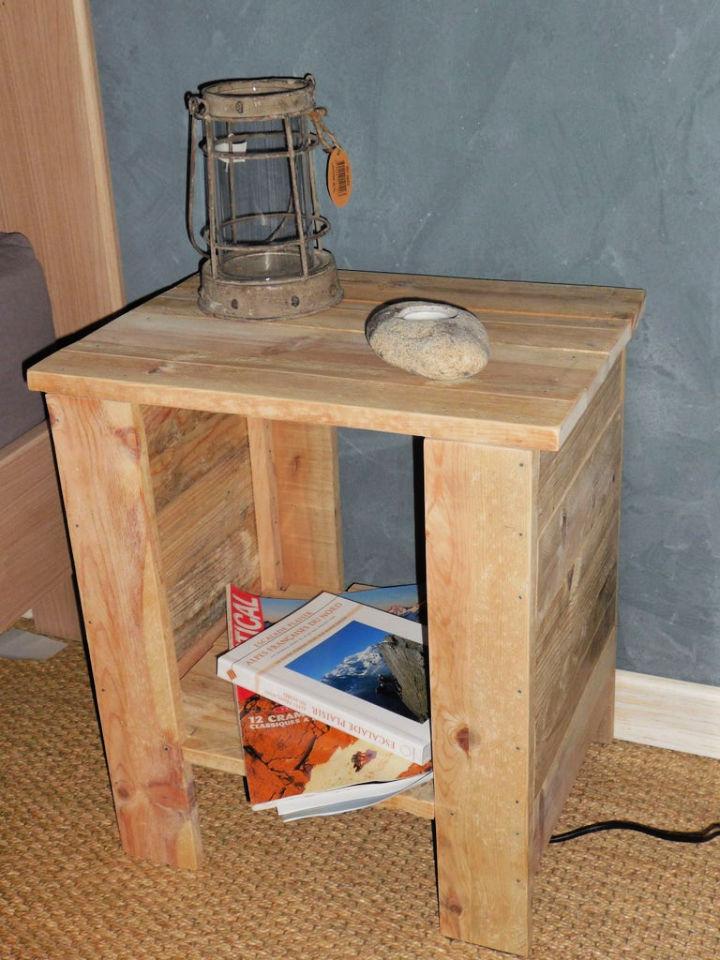 Manage to have the needed side tables for free by using free pallets, mostly to find easily around the home. The given pallet bedside table is solid and beautiful and comes with a bottom shelf to hold your books and magazines. Plan the separated apart pallet wood slats to build the sides of the side table, come with the built-in shelving supports. Finish the sides with a slatted cross top and gain a storage-friendly wooden pallet side table for free. It will be a great addition to one's living room and space. Stain or paint it in the way you like. One of the best DIY side tables to build with pallets. instructables
5. Rustic Style Pallet Side Table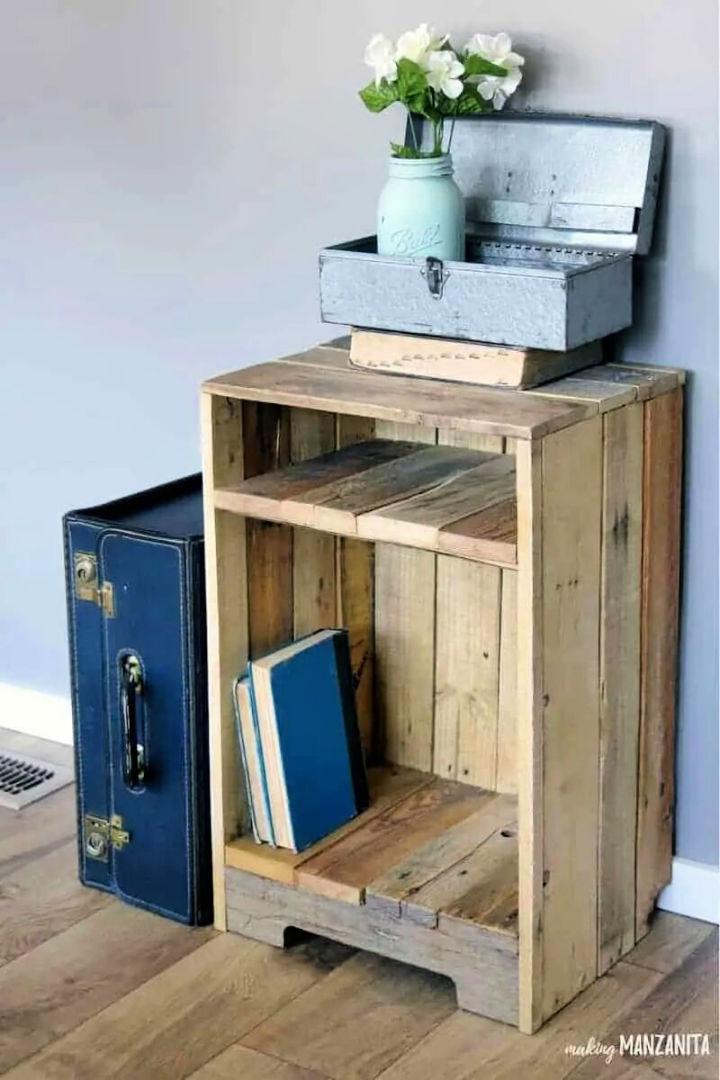 You will keep on staring at the design of this hand-built side table, looks like a miniature wood cabinet. In features, it comes with a box-like design and provides built-in storage space. The design is made of separated apart pallet wood slats and will cost you next to nothing. Just dismantle the pallets to quickly build this elegant side table design, sure to be an impressive addition to one's living room. It will hold many books inside easily, and you can place custom flower pots and a table lamp over its top for bigger décor statements. makingmanzanita
Find More Pallet Ideas:
Pallet Coffee Table: Find hundreds of pallet coffee table ideas & plans! Build your own coffee table with pallet wood and make it unique to fit your home and budget!
6. DIY Pallet End Table

Peek into details of this another gorgeous pallet side or end table, a creative built. This pallet wood end table is solid and rustic and provides a bottom shelf to hold extra items. It comes with a square top that can hold all that is in the hands of sitting members like keys, phones, beverage mugs and vice versa. Just build two solid square boards, one for the top and one for the bottom shelf, out of pallet wood planks. Next, fit them in the L-shape pallet slat legs to gain this beauteous model of a homemade side table. instructables
Find More Table Ideas:
DIY End Tables: This collection of DIY end table plans will help you get through every step of building an end table that you can use anywhere in your home.
7. Pallet Hexagon Side Table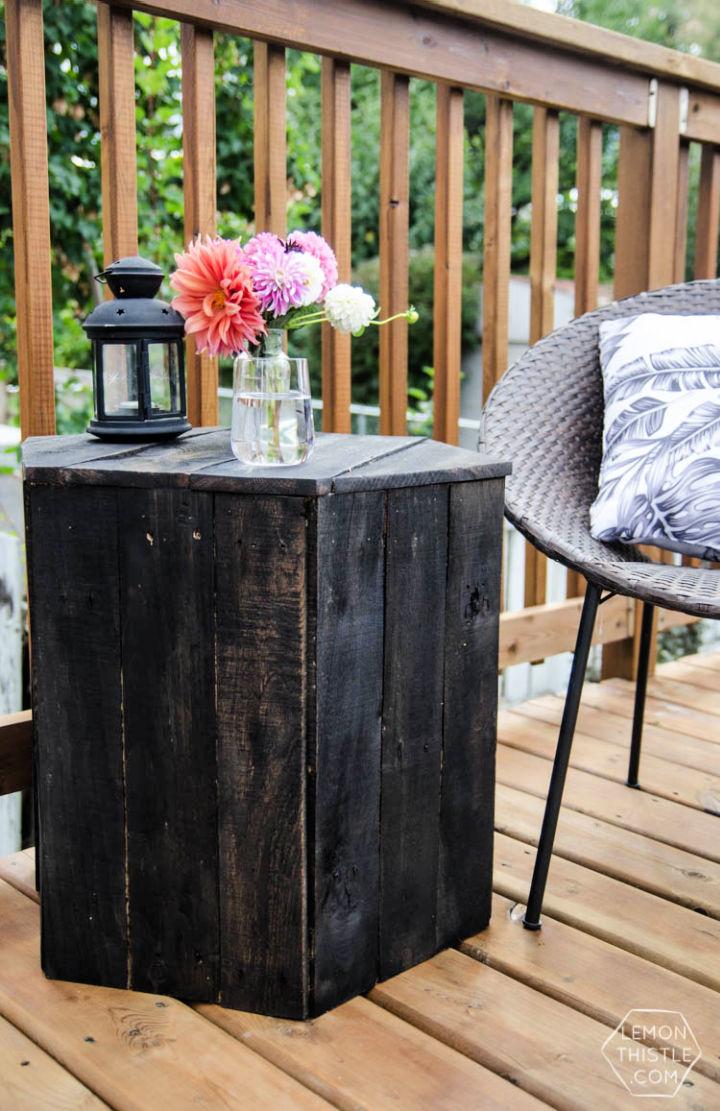 Satisfy your geometric furniture lover by building this hexagonal side table, quite an impressive pallet wood creation. Constructing this table is an easier task, and you have to build two hexagonal table frames using 2x4s. Next, you can easily put the pallet slats around the hexagonal frames vertically to build the table's base. Next, finish with the hexagonal top. Giving custom coats of paint or stain will help vary the overall appeal of the table. The whole table is quite easy to duplicate and will never get out of trends and style for sure. lemonthistle
8. Homemade Pallet Nightstand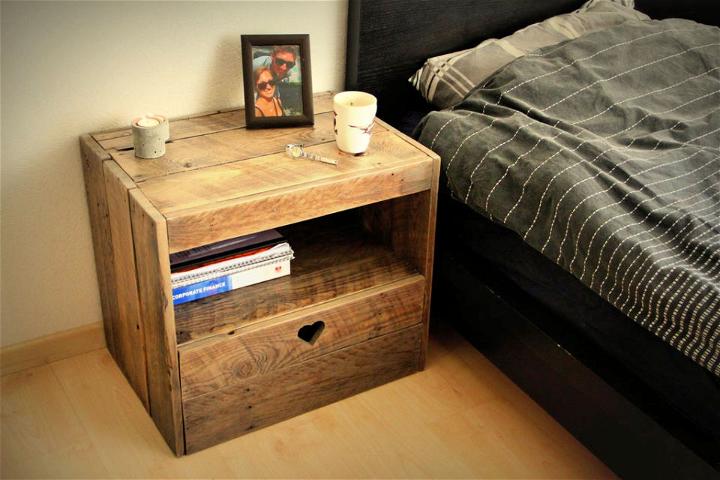 Check out here another sophisticated model of wooden pallet nightstand that comes with custom built-in storage space. The heart-shaped hole in the bottom drawer brings that romantic appeal to this entire wood pallet nightstand. Go handmade with the separated apart pallet wood slats to easily build this storage-friendly nightstand, sure to be a big love of all. The entire design model is rustic and graceful and will never quite the style trends for sure. The easiest yet beautiful design of handmade pallet nightstand, sure to bring a great wooden character to your bedroom. instructables
9. Adirondack Side Table Using Recycled Pallet Wood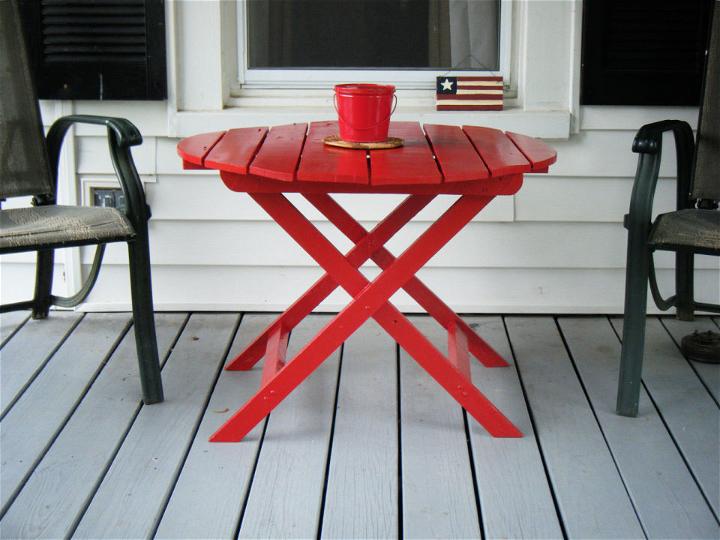 Have you built some Adirondack pallet wood chairs? Then complete the whole chair set by adding this Adirondack side table, features a glamorous round top and stands on criss-cross legs. The red-painted look goes much enchanting to the eyes, and everyone will love to keep on looking at this one-of-a-kind side table piece. Repurpose the old oak pallets to build this table, will cost you around $20 or less. Moreover, it will also take about 6-9 hours to complete this very beautiful Adirondack side table. Give it as a sweet handmade gift to a favorite person. ana white
10. Pallet Side Table Plan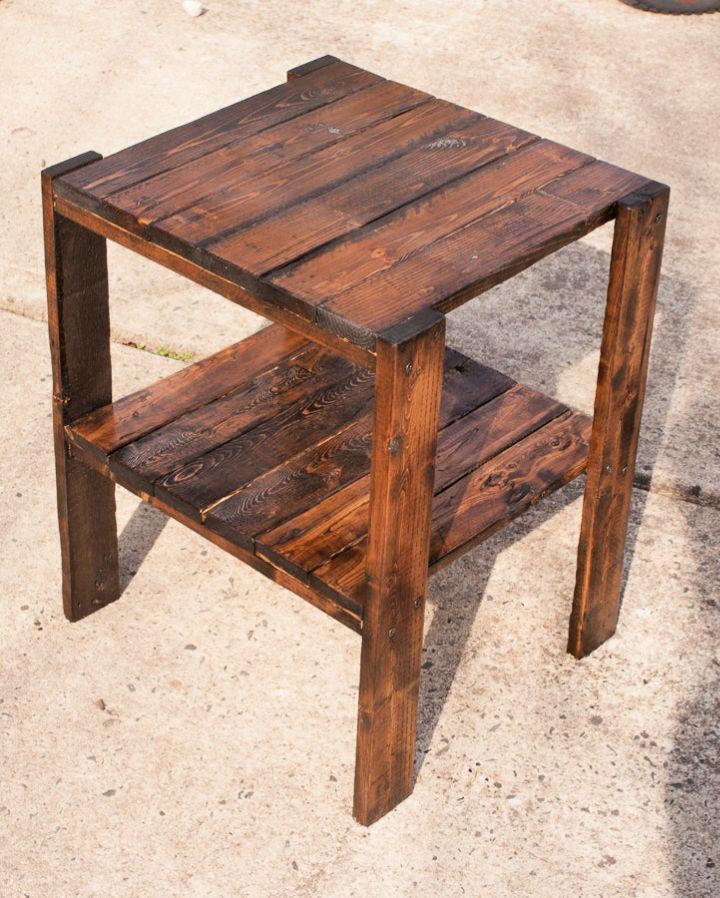 You can repurpose the pallets to build all sorts of tables. However, the side and end tables are the best mini tables to build with free recycled pallets. In features, it provides a built-in shelf and comes in a dark stained wooden appeal. The pallet wood end table is about building 2 square wood boards, one for the top and one for the bottom shelf. Just hold them together in the separated apart pallet planks on different heights to gain this solid yet beautiful side or end table design. Finish the completed design with stain and polyurethane for ultimate weather protection. instructables
11. Pallet Wood Side Stand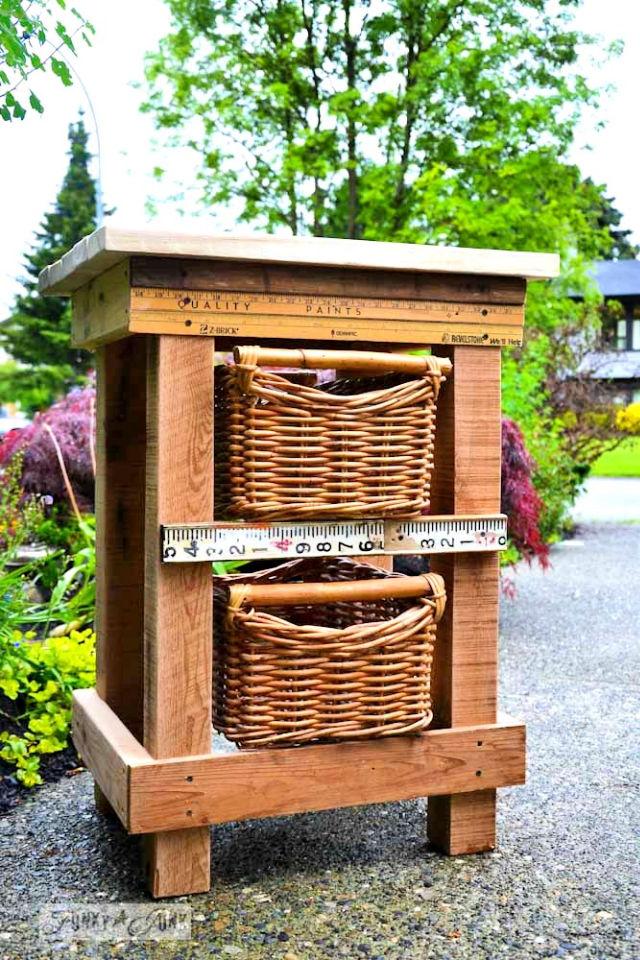 There are so many different designs of tables to build with recycled pallets. Look at this sophisticated design of wood pallet side table that features the yardsticks as stretcher boards. The edged top, wicker basket storage options and solid design dimensions are the main features of this hand-build side table design model. Use the square wooden posts to build the legs of this side table. The rest of the design can easily be made with pallet wood planks. All beginners can try building this elegantly beautiful side table design, sure to be a big love of all. funkyjunkinteriors
12. Pallet Console Table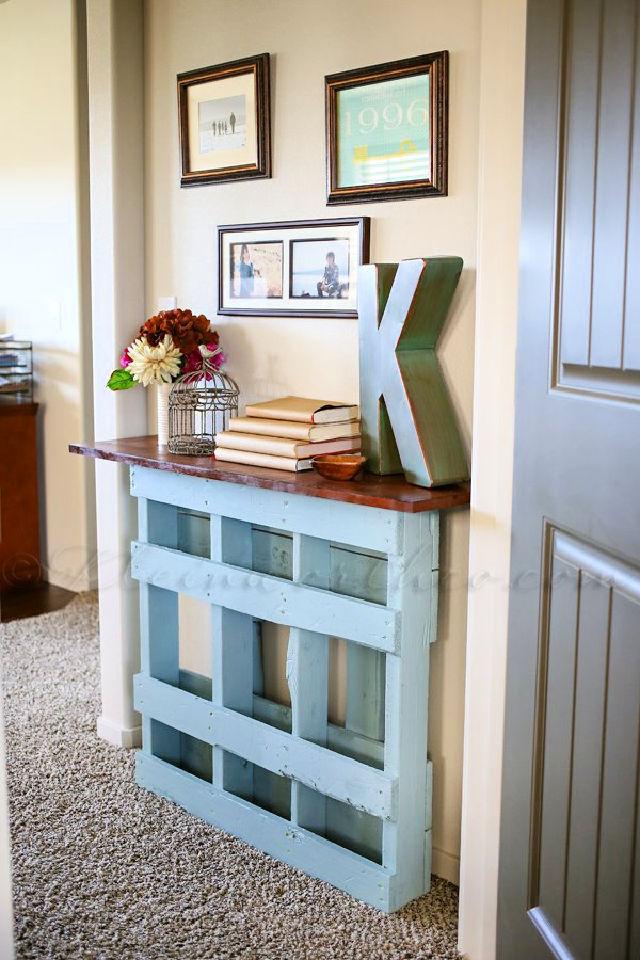 Feel free to duplicate this gorgeous pallet side table that will rock as an entryway and foyer table. Use a whole vertical pallet to build the whole vertical base of the table. Next, finish it with a walnut-stained wooden-edged top to gain a quick, beautiful pallet console table. The table's base is given a glam chalky paint finish that goes very great with the stained top of the table. The table is quick and easy to build and will be completed in just a few minutes. One of the best and quick-to-build DIY side table ideas. kleinworthco
13. Rustic Side Table From Free Pallets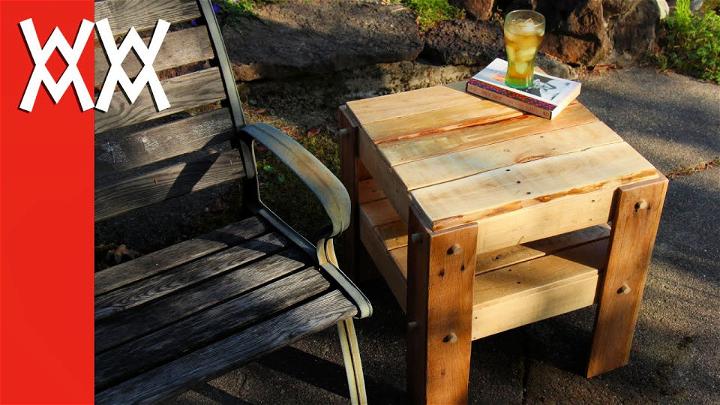 You will surely fall in love with the pallets gained after taking a quick look at this cute and gorgeous looking model of the side table. Just place it insides of an outdoor bench or sofa to hold your drinks, mugs, and mobile phones, and it can also be used in the living room for a great wooden touch. The design is assembled by making holes and then adding the wooden pegs. Go handmade with the separated apart pallet wood slats to build the top and bottom shelf of the table design. Finish the completed design with stain or paint for a custom look. youtube
14. Pallet Side Sofa Table

With a little creativity and skills, you can do wonderous DIY furniture crafts with pallets. Lacking a beautiful side table? Build a quick one out of recycled pallets in no time. Just grab a rustic pallet and give it a wood-burning treatment for a rustic finish. Next, install the metal hairpin legs to its bottom side to gain this precious wooden side table. The best part is that you can store many books inside the table and it will be beautiful to hold your TV remotes, mobile phones and keys also.
15. Pallet Floor Lamp Side Table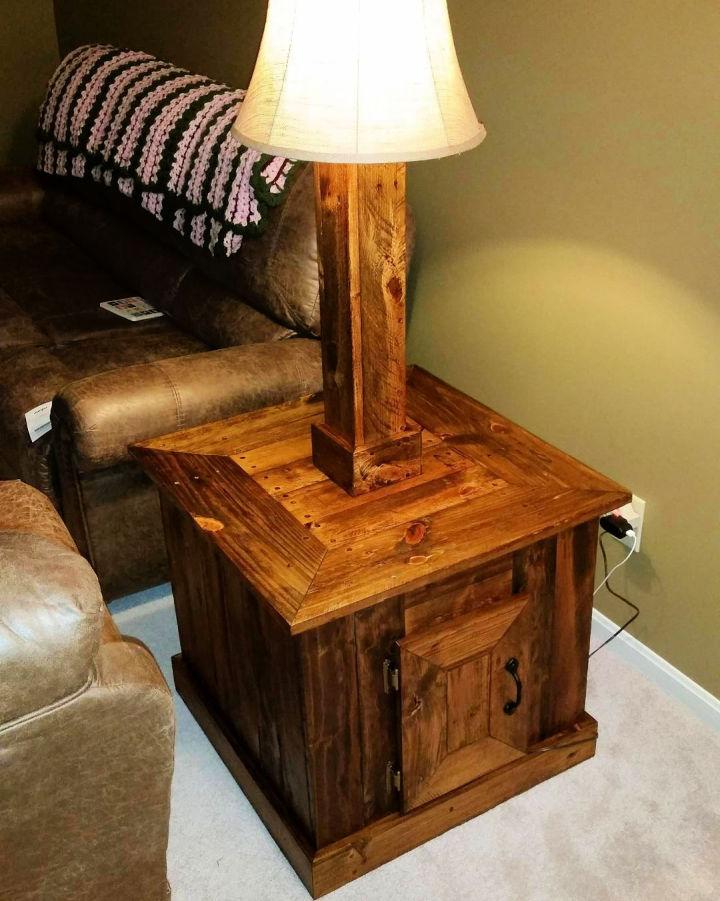 The most creative and adorable pallet side table creation comes with a floor lamp installed in the center. The design is easy to build and gains attention with the box style design. Put together the separated slats of pallets to build this gorgeous design model of floor lamp side table. The design features a little door built inside to access the inside of this pallet side table. Finish the finally completed design with your favorite coats of stain or paint. The whole side table will bring a great wooden character to the entire living room.
16. Little Modern Pallet Side Table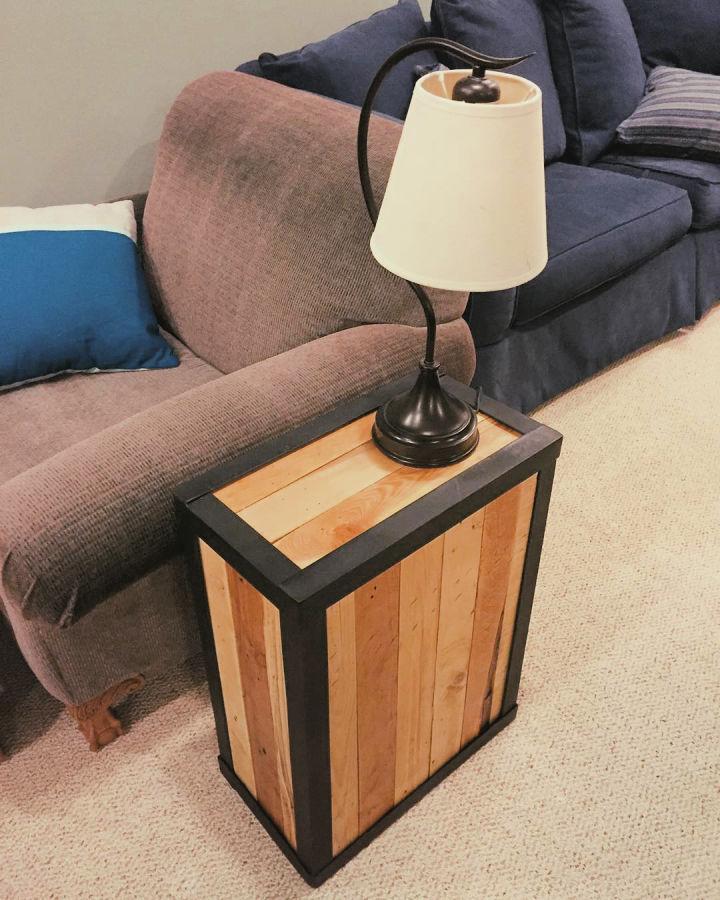 Every living room lover will fall in love with this another sophisticated model of a side table. The design comes with an angled iron frame and is filled solid with the slatted arrangements of pallet wood slats. The pallet planks feature different tones of wood. The design is solid and block style and will stand gracefully inside of a wood pallet couch. This is here one of the easiest things to build with recycled wood planks. This industrial design of the side table will be a big love of all. The design is solid and beautiful and will never get out of style for sure.
17. Pallet End Table With Hairpin Legs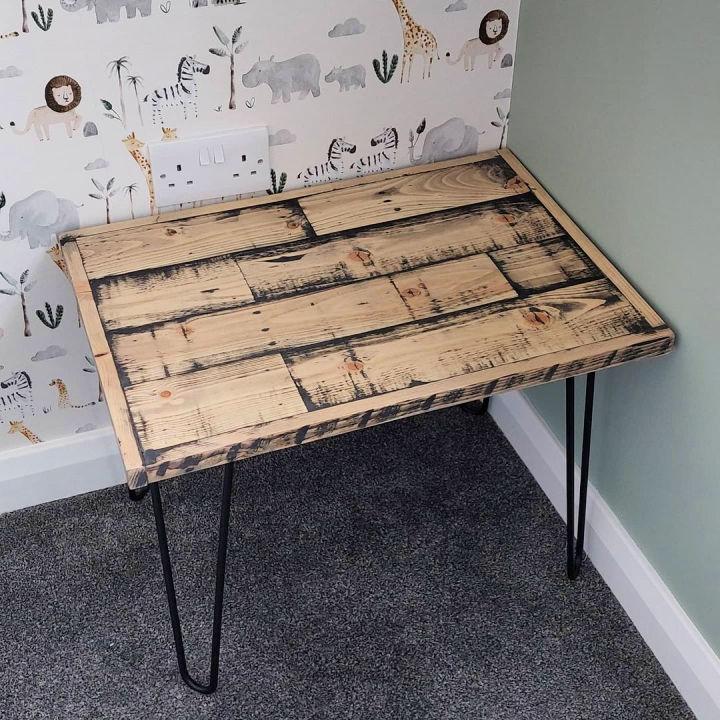 The pallet end table ideas are never-ending. Look at this another industrial model of side table that is a breeze to build. Put together the separated apart pallet slats to build the robust top of the table, and then install the metal hairpin legs. Pack flat the pallet wood slats to build the top and then install the side trimming for a precious compact appeal. Stain or paint the tabletop in the way you like and finish with your favorite wooden or metal legs. One of the best and quick-to-build DIY pallet side table ideas.
18. Reclaimed Pallet Side Table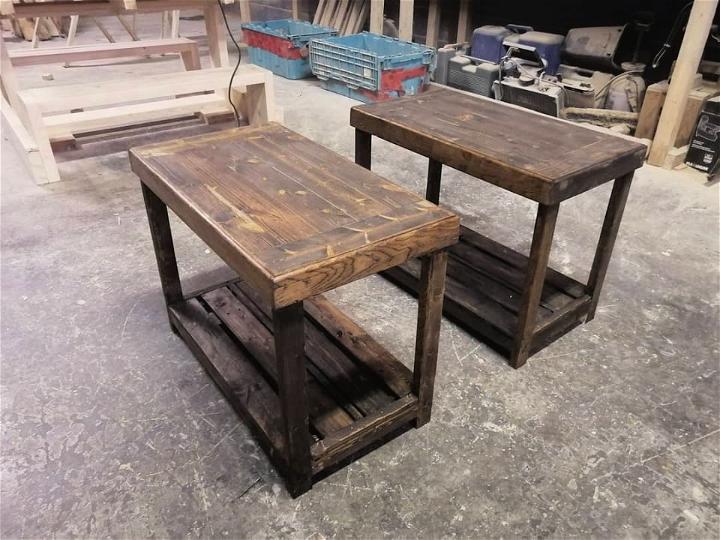 Duplicate also these farmhouse style side tables, another easy and quick pallet wood creation. The design comes with a solid wooden bottom shelf and an elegant wooden top, and it is a total breeze to whip up with minimal skills. Build the top and bottom shelf by packing the pallet slats flat. Next, held them in the side table design using 4 separated apart wood pallet slats. The design is rustic yet beautiful and will be a big love of all the rusticity lovers. This large side table will beautifully hold your books, night lamp and other items of this kind.
19. Simple Pallet Sofa Table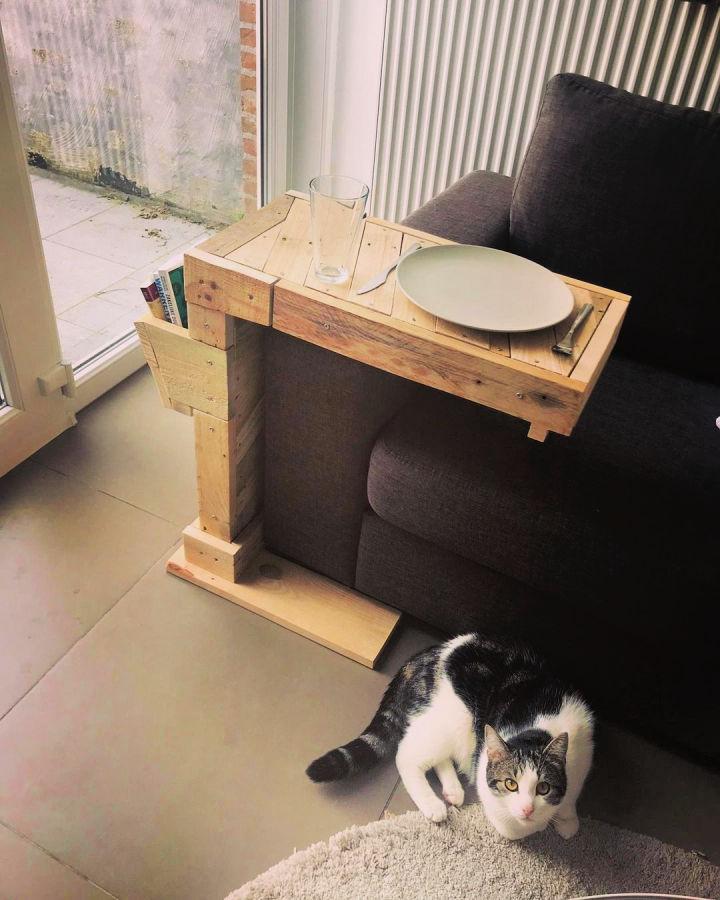 Follow here guides and instructions to build this gorgeous wood pallet side table design, which will never get out of style. The L-shape design goes much enchanting to eyes, and it also provides a side pocket to hold your books. The table will come in just front of a sitting person and allow easy laptop operating, eating and drinking. One of the best modern and minimalist DIY side table designs to build with pallets. The whole design is left unfinished and looks great in the bright blank natural tone of the wood.
20. Pallet Bed Table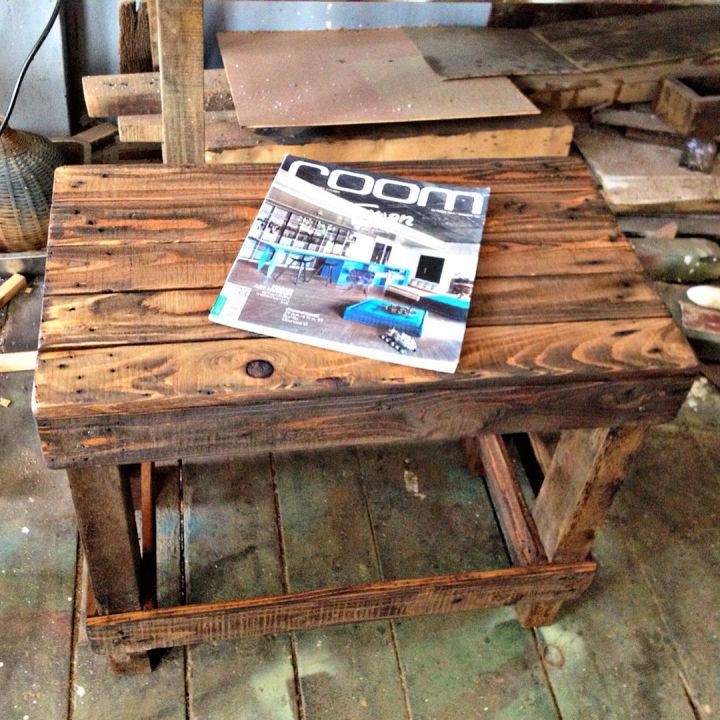 Complete the look of every sofa or chair by adding this pallet end table. It will provide the surface in arm's reach to rest upon anything you hold in your hands. So, the table will hold all your magazines, books, mobile phones, drink mugs and keys to make you relaxed more in the sitting position. The design is amazingly cute and rustic and can easily be constructed with leftover separated apart lengths of pallets. One of the best DIY Pallet Side Tables to build at home in no time.
21. Shipping Pallet Side Table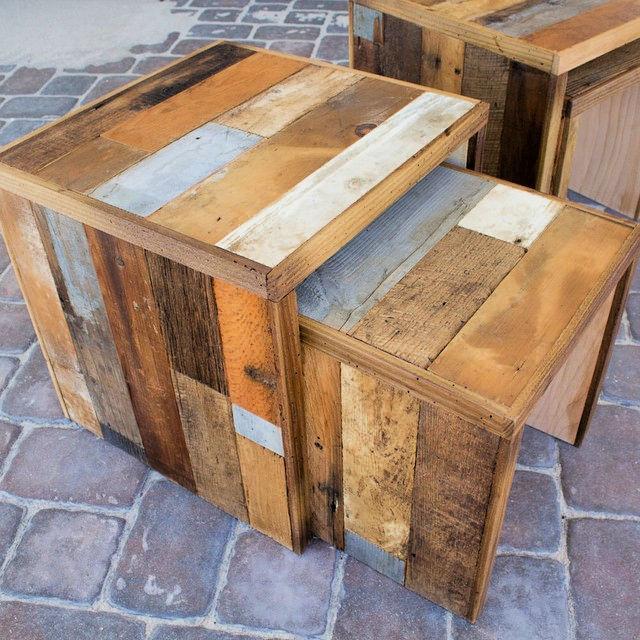 Are you a beginner and want to try out a simple pallet side table project? Then try building this side table that is elegant and easy to build. The design features lots of wood tones and is quite something quick and easy to build with minimal carpentry skills. Pack the pallet slats flat to build the top and sides of the table which can then be assembled together in a brilliant way. One of the best and quick-to-build DIY side table design that every beginner can build with ease.
Conclusion:
With pallets, you can build all types of pallet tables. So, presenting here ultimate hacks and tricks to build pallet side tables. Whether you are a beginner or have zero carpentry experience, these simple pallet side table ideas will surely make you an expert in building side tables and end tables like a pro. Most of the pallet end table projects are beginner-friendly and others will fit intermediate skill levels. However, you will get complete supply lists, tool lists, hardware lists and cut lists also to easily clone each pallet end table like a pro. There is no chance to get puzzled as these simple pallet end table plans also provide step-by-step written and visual instructions.