A playhouse can maximize your kid's activities for better physical and mental health growth while minimizing the use of electronic gadgets. So, a pallet playhouse can brilliantly do that. Learn how to build a cheap playhouse out of pallets with these 25 free diy pallet playhouse plans and ideas include easy instructions, sure to boost the outdoor activities of kids. They will add value to your property and can be added with slides, monkey bars and fun swings to give the never-ending fun of kids.
See a wide range of pallet ideas with custom added features with this collection of 25 easy DIY wood pallet playhouse plans that are sure to make the best gifts for all fun-loving kids. Some come with corrugated metal or glass roofs, and other feature elegant shingled wood and fabric roofs. However, you can choose any from the tilted to chevron roofs while building a pallet playhouse.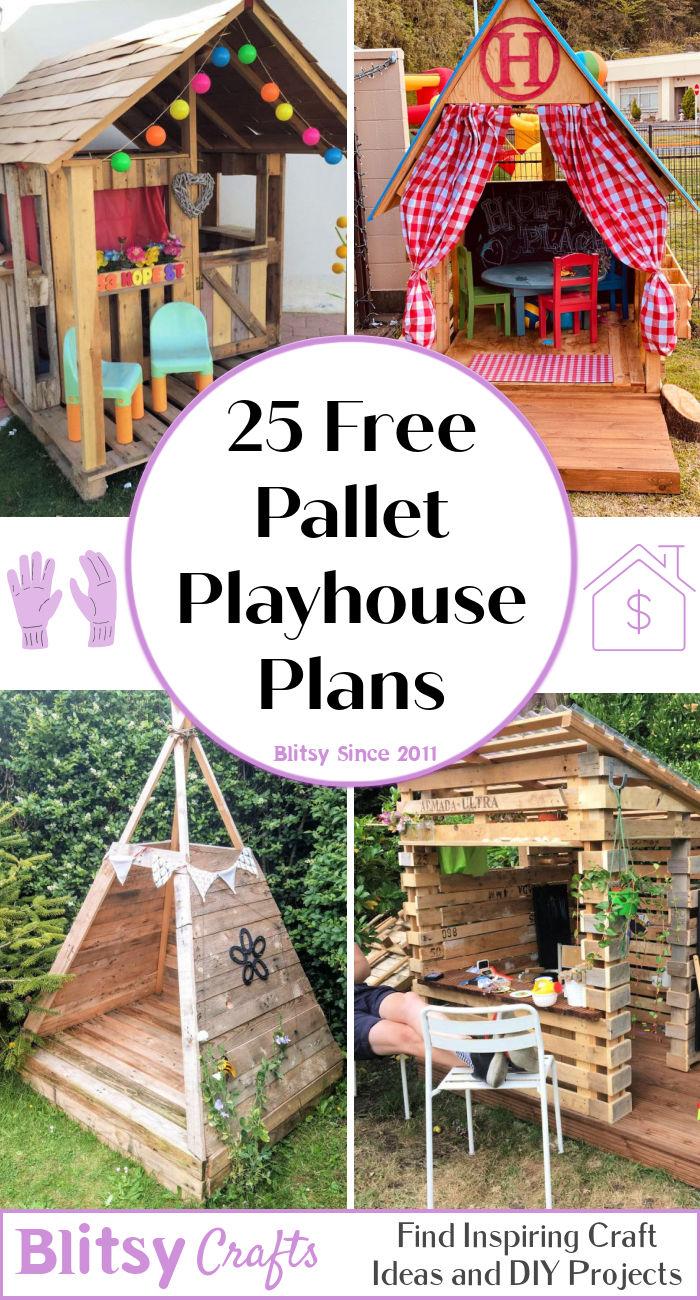 Building a pallet playhouse can be simple and tricky, depending on the design you choose. You have to first build a solid foundation using wood or concrete blocks, and you can build a whole beautiful wooden platform for it. Next, use the pallets to build the sidewalls and roof frames. All can be done with pallets, scrap woods and other leftover framing lumber boards. From simple to intermediate to advanced, there are pallet playhouses for all skill levels. You will learn to finish a wooden pallets playhouse design in a variety of different ways using wood stains, paint and other custom embellishments and decors. You will get a unique and simple playhouse made out of pallets that are easy to build.
1. Simple Pallet Playhouse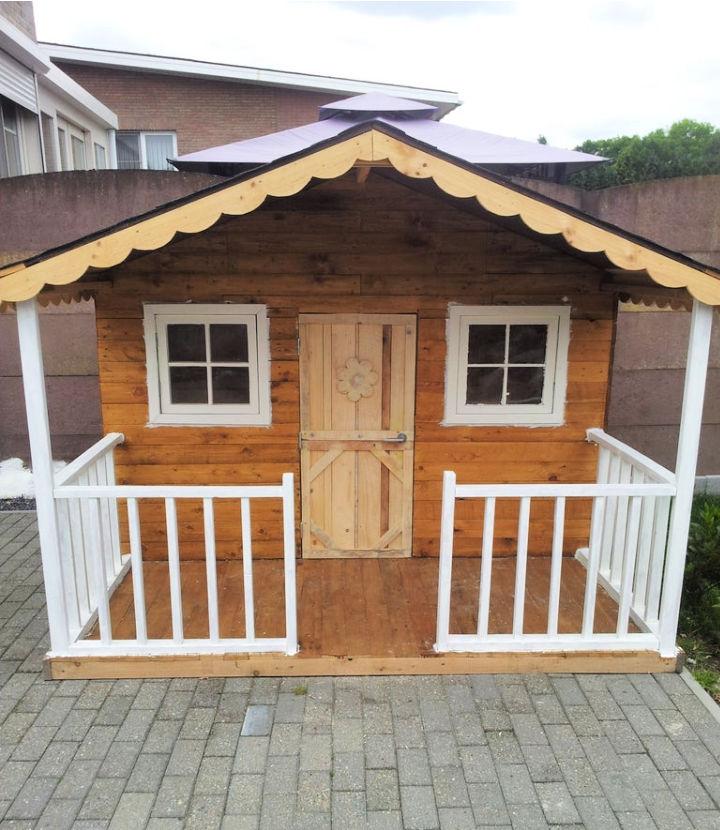 Outdoor constructions of sheds, cabins and playhouses have earned great fame for the magical wooden pallets. So, if you have not gone through building a playhouse out of pallets, then get here free plans, detailed diagrams and step-by-step instructions to build a one like a pro. The completed design comes with a fenced porch or veranda and provides a chevron roof that makes it look like a bungalow. The chevron roof, windows insides of the main entrance are all the great features of this wood pallet playhouse. instructables
2. Free Pallet Playhouse Plan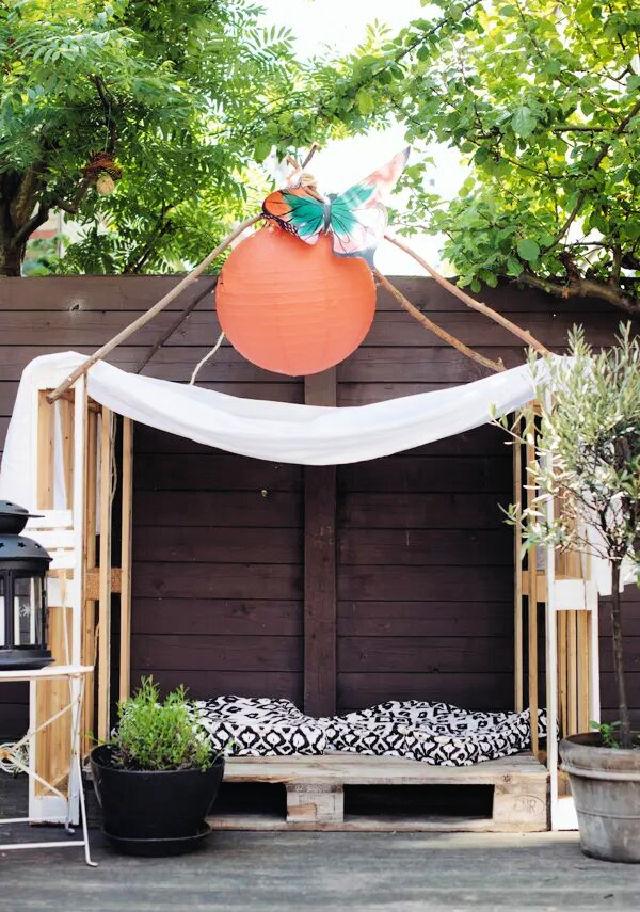 However, it can be fairly easy also to build a quick playhouse out of pallets for the favorite kids. Check out here the pallet playhouse design made of 3 pallets and some recycled tree branches building the chevron roof. Just put a pallet flat for flooring, make 2 stands vertically to build sides of the playhouse, and use the tree branches to install the chevron roof. Decorate it up more using custom paper lanterns, fabric curtains and cushions. Building this playhouse will simply cost you next to nothing. asubtlerevelry
3. Building A Pallet Playhouse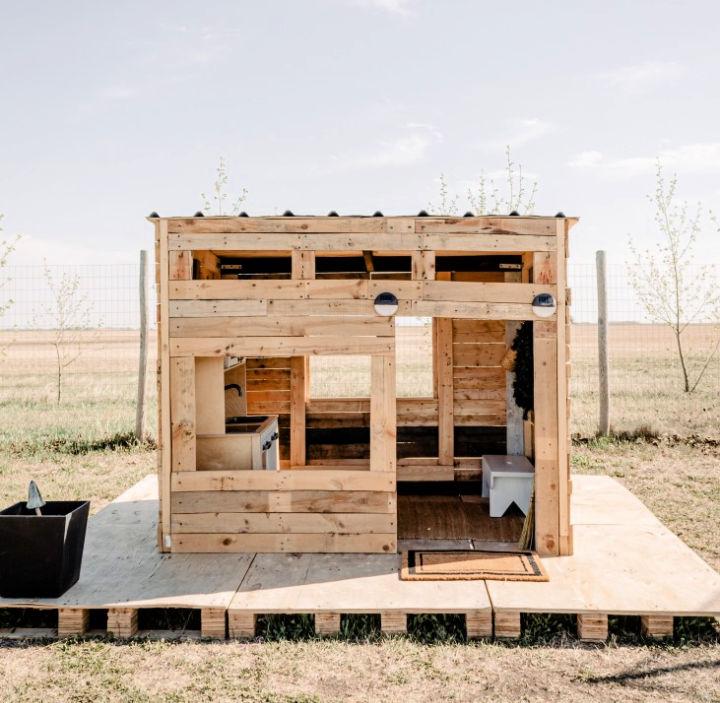 This pallet playhouse is a real heaven for all the fun-loving kids. The design is built on a raised wooden pallet deck or wooden platform, and it provides a play kitchen inside. However, the design is left open but can be finished with a front door and glass windows for a luxurious appeal. The corrugated metal roof is the most amazing design feature that provides the ultimate protection against snow and rainwater. Design is much achievable, and the addition of mats and carpets makes it look extra graceful. helloscarlett
4. DIY Kids Pallet Playhouse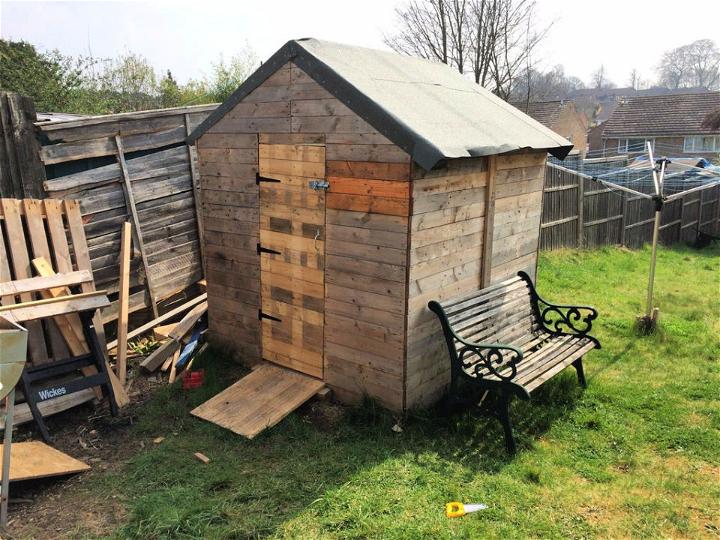 Intending to build some next-level wood pallet playhouses? Then you will love this mini pallet bungalow, can be employed as both a garden shed and kids playhouse. However, it can be added up with custom luxury also features to use as an outdoor cabin. This project will share instructions for all steps, from building the foundation to framing the design to giving a nice wood finish. Finally, you will get here guides from cladding the outdoor walls to boarding the roof also. The design is just like a mini wooden bungalow and will be the best birthday gift to give to your kids for sure. instructables
5. Outdoor Pallet Play House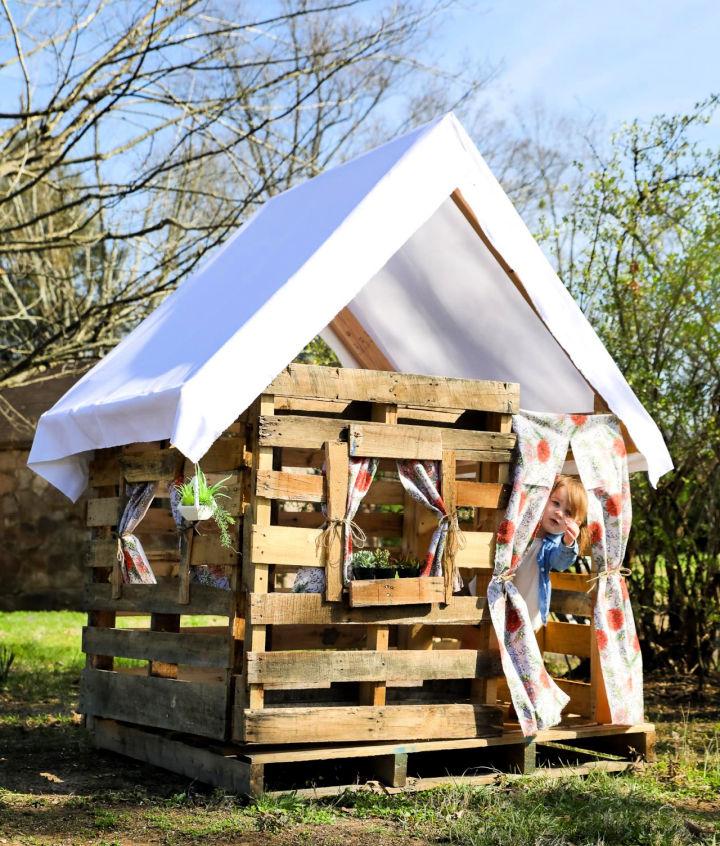 Kids will just love to be into this wood pallet playhouse all the time while being with siblings and friends. The design is a basic wooden box made out of rough pallets. A single large pallet builds the base, and the next single pallets are used to build the sides of this wood pallet playhouse. Use the custom framing boards and fabric to build the chevron roof of the playhouse. Install curtains to the main entrance and windows and some green planters for a brilliant enchanting visual. hgtv
6. Upcycled Scrap Pallet Wood Playhouse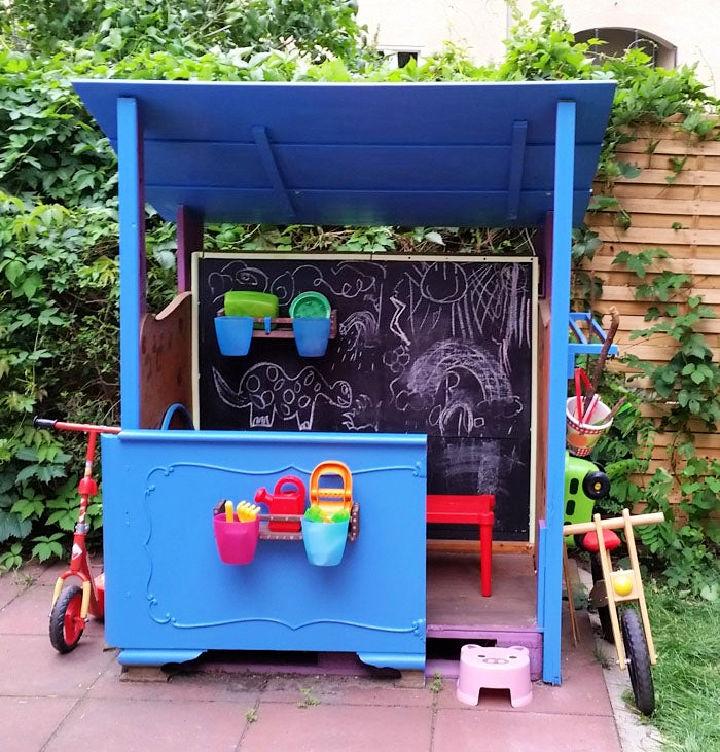 Building a playhouse can be pretty simple to build also while using wood scraps. Here pallets and wood scraps are used to build this precious painted wooden playhouse with a chalkboard installed inside. A whole pallet s used to build the solid foundation, and next, you can use the custom framing boards and pallet wood slats to construct the rest of the design, including an angled roof. The design is painted for an impressive appeal and will be a total pleasure to build also. instructables
7. How To Build A Playhouse Out Of Pallets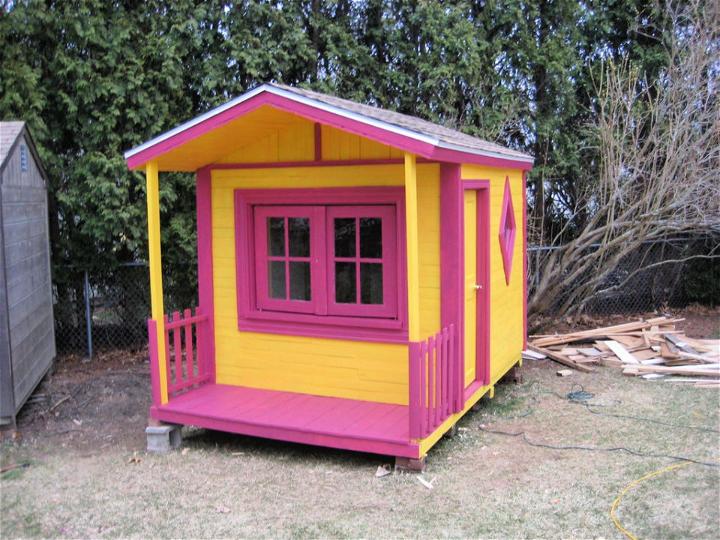 Check out here one of the cutest and elegant looking designs of a wooden pallet playhouse. It is just like a mini-painted kids bungalow that features a shingled chevron roof, a lovely front veranda or deck, painted appeal, glass windows, and a solid painted design structure. It will take some time and budget to build this solid wooden playhouse, sure to be a big love of all. Take the pallets into pieces to start building frames and different components of this solid wooden mini kids' house. Follow the completed instructions with detailed diagrams to easily make a copy of it. instructables
8. Easy To Build a Playhouse from Pallets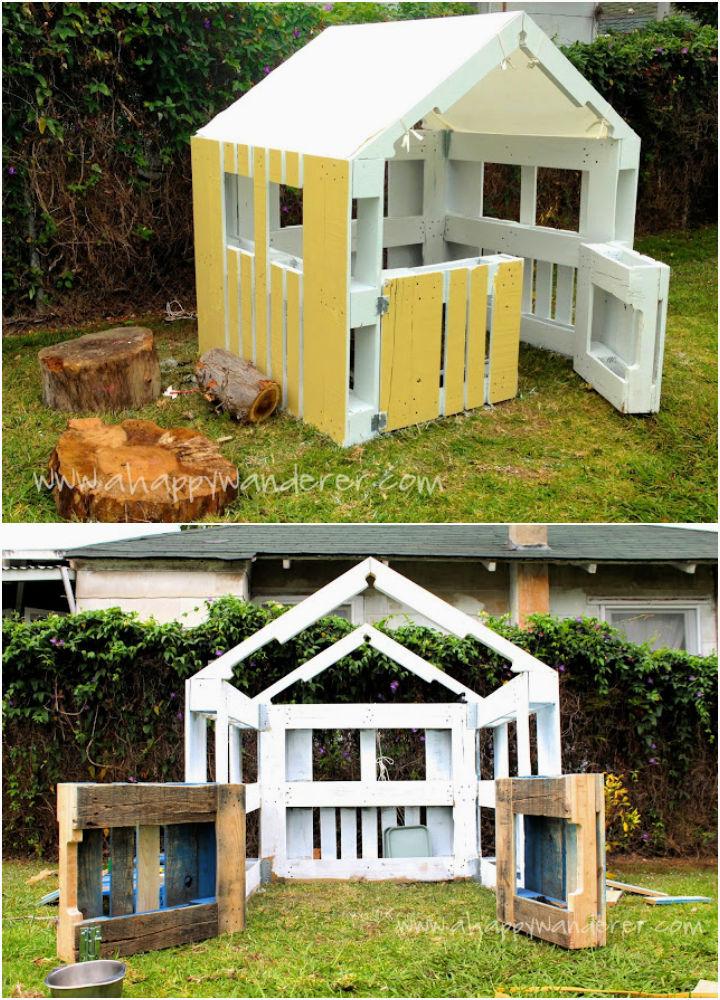 You will love this another playhouse achievement done with the pallets. The design is smartly structured with the feasible pallet shaped, trimmed down to build this wooden pallet playhouse's front double gate and sidewalls. Use the stringer boards to frame up the chevron roof, and you can cover the whole chevron roof frame with durable outdoor fabric. This is the pallet playhouse design that comes with the most made of uncut wood pallets. Paint the completed design in the way you like for an enhanced painted appeal. goodshomedesign
9. Build Your Playhouse out of Pallets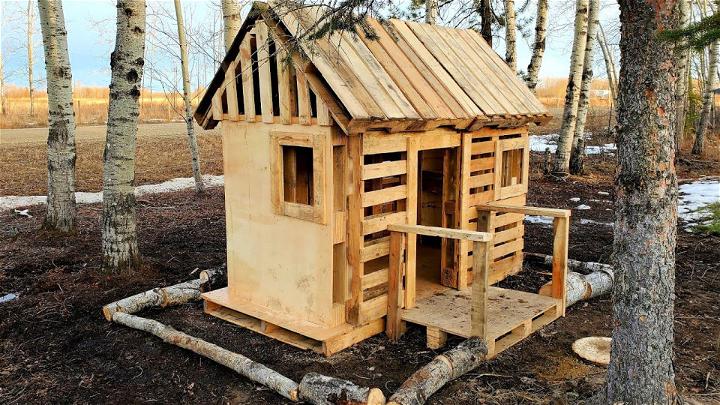 Building a playhouse made out of pallets was never so easier. Just follow here guides and complete video instructions to build a one like a pro. The design is too stable to live for years to come and looks like a brilliant bungalow built outdoors. All are made of uncut but modified pallets from foundation to side walls to the entire chevron roof. So, the project involves much fewer cuttings and uses the pallets as prefabricated units. One of the best and quick-to-build wooden pallet playhouse design ever. youtube
10. Backyard Pallet Playhouse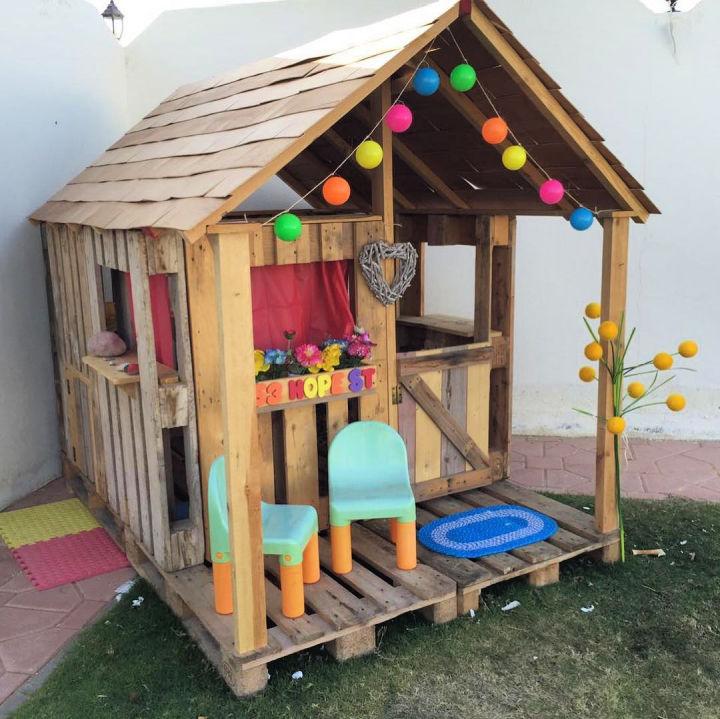 Peek into details of this another hand-built wood pallet playhouse that also comes with a front veranda. It is also built mostly with recycled pallets and is fairly easy and quick to build. Use the uncut pallets to build the entire foundation and side walls and go handmade with framing lumber and wood veneer to build the roof frame and shingled roof. One of the best wooden pallet playhouses to build with recycled pallets, sure to be a big love of all the kids in the home. Decorate it up with faux greenery, balloon garlands, wreaths and planter boxes.
11. Upcycled Pallet Playhouse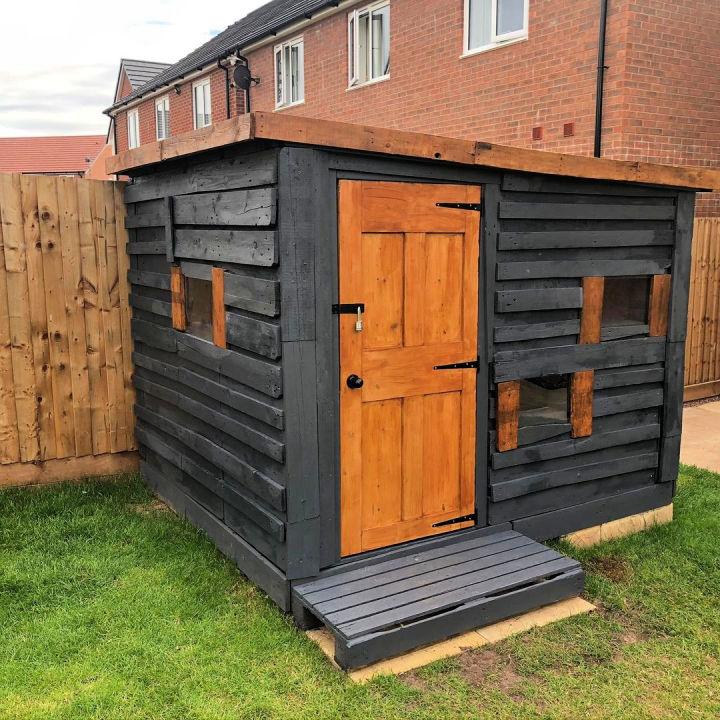 The playhouse design ideas are never-ending, and you can build them inspired by any house design. Check out this gorgeous wooden cabin that makes a perfect playhouse for the little kids at home. The slatted appeal and the half-painted design make it look extraordinary. The whole design is made of free recycled pallets, and it will last longer than usual. Put together uncut and modified pallets to build the solid walls of the house and foundation. Next, finish it up with a solid wooden foundation. One of the best DIY pallet playhouse design ever built.
12. Little Playhouse Project Made from Wooden Pallets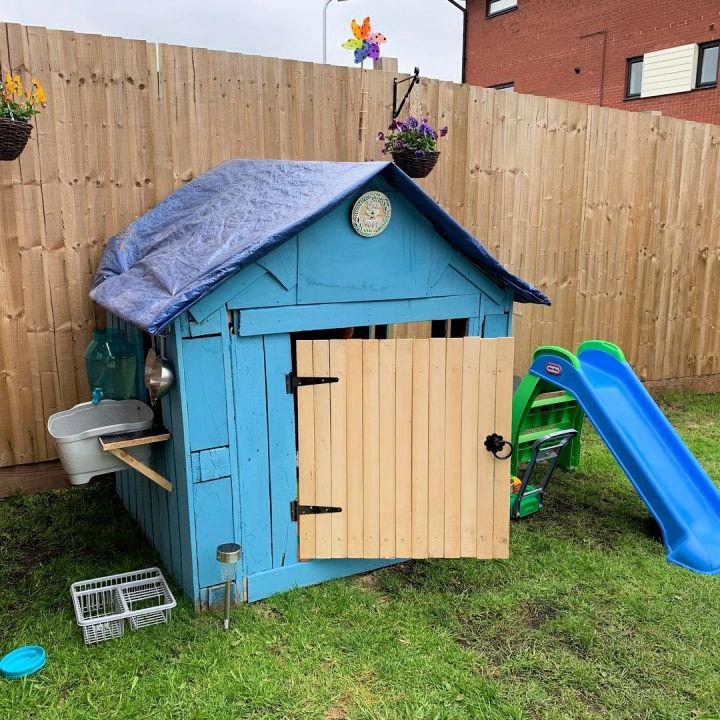 This design of the playhouse is cute as the kids. The cute little design, front-hinged gate, painted appeal and chevron roof are the main features of this miniature kids' residence. Moreover, a fun slide is also added to the sides of this playhouse for added fun. Build the sidewalls and foundation with uncut pallets and use extra wood and framing lumber to build the rest. The unfinished slatted wooden gate is another whole beautiful feature of this playhouse design.
Find more Crafts and Projects for Your Kids:
DIY water table: If you're looking for a kid's water table that you can DIY, these free plans for a DIY water table for toddlers are for you!
Puppet crafts: You can make puppet crafts for kids out of so many different things! For example paper bags, cardboard tubes and tissue paper are just some of the many materials available at home.
DIY school supplies: Do your kids like creative handmade stuff? These DIY school supplies will help you turn boring school supplies into bright and unique!
Nake a pinhole camera: Learn how to make your own DIY pinhole camera with the help of our easy guide to make your kids creative.
13. Pallet Planter Playhouse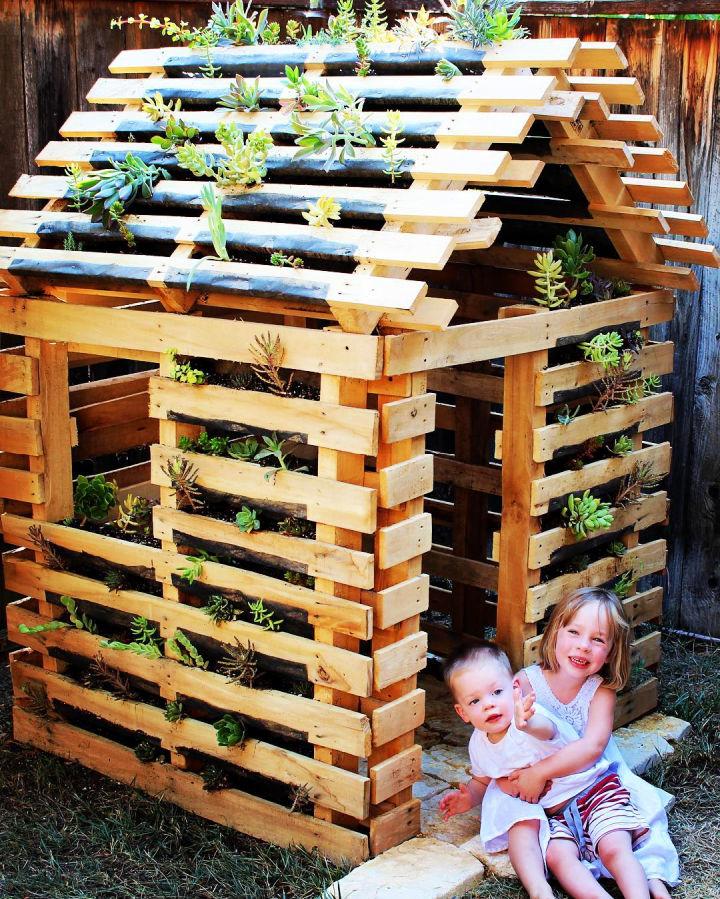 You will love the arrangements of pallet planters that result in a beautiful playhouse also. Put together the vertical planter pallet units to build sidewalls and chevron roof of this playhouse. Set a few pallets flat to gain that solid wooden foundation. Cut the planters smartly to gain the front entrance and window boxes, and you will love the way this pallet planter playhouse will serve in your garden space. The design is much achievable and will be loved dearly by all the toddlers and kids for sure.
14. Wooden Pallet Playhouse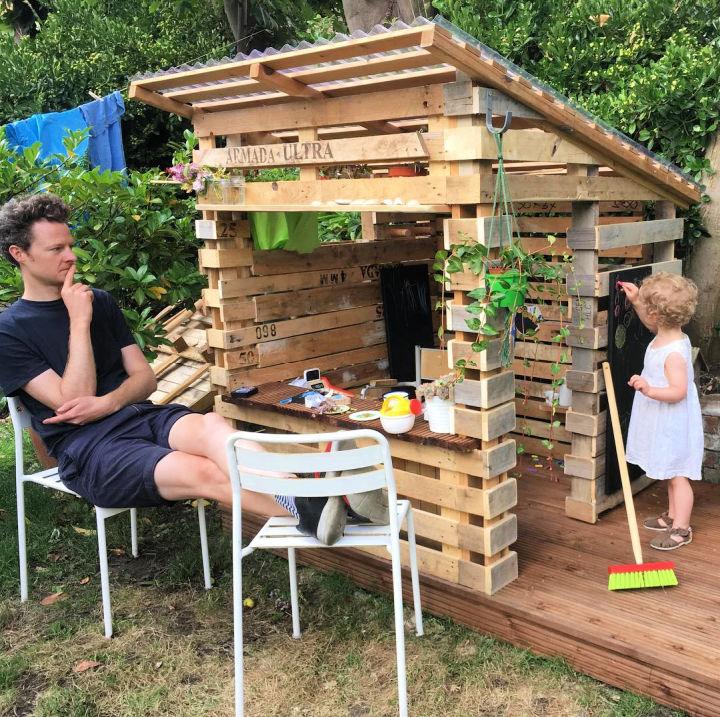 Want to increase the outdoor activities of your kids? Then build this fabulous wooden playhouse for the kids, comes with a built-in counter and can also be used as a great lemonade stand. The pallets have beautifully been structured to build different components of this playhouse, like sidewalls and the front counter. The roof is also made sloped using pallets and corrugated glass. However, you can use corrugated metal also for the roof. The whole design is much achievable for all beginners.
15. Pallet Playhouse For Kids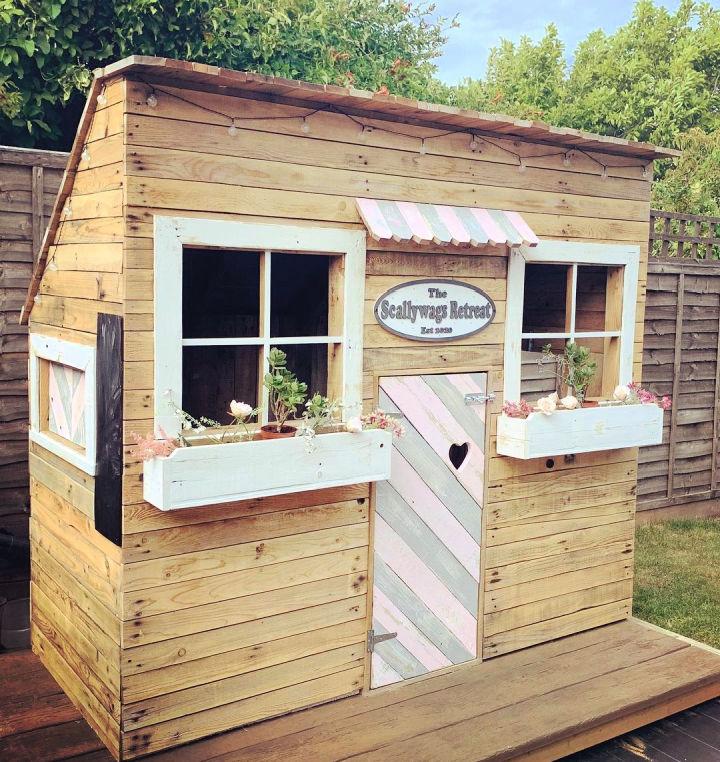 Building playhouses for kids out of pallets is an on-trend game. Follow here guides to build this another design of pallet playhouse that looks like half of a chevron pallet playhouse. The design is well finished for a cladded appeal and entice with the chevron striped front door. The oval-shaped house nameplate, windows, planter boxes and string lights create that one-of-a-kind look of this entire wooden pallet playhouse. Build the whole beautiful foundation of the house using the pallets also.
16. Pallet Teepee Playhouse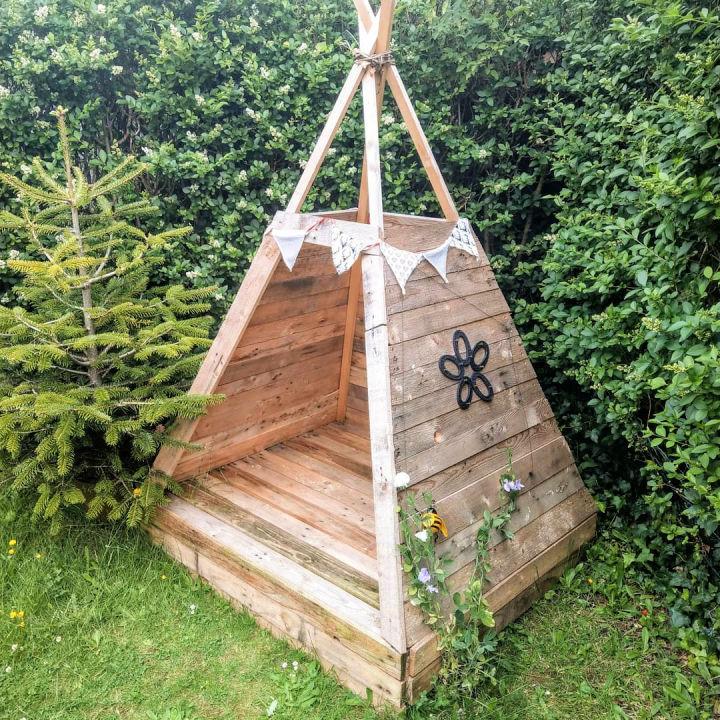 Boost the outdoor fun of your kids and toddlers with this elegant teepee-style wood pallet playhouse. This design of pallet playhouse is unique and lasts longer wone, and it also impresses with the slatted sidewalls. Being in this playhouse will give your kids that tent-like feeling, and the addition of buntings creates that festive appeal of this hand-built wooden playhouse design. The design is wholly beautiful and quite something easy to build also. You can easily achieve this little wood house design.
17. Pallet Garden Playhouse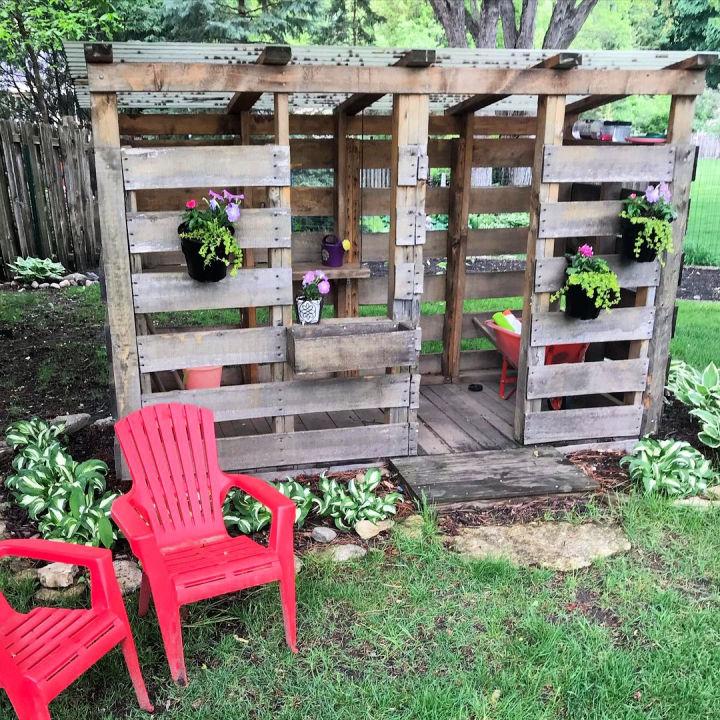 Let your kids spend some quality time outdoors with this open wooden house design. The design is much achievable even for a beginner, and you can easily modify the pallets to build sidewalls and the foundation of this wood pallet playhouse. The corrugated glass roof makes it appear extra beautiful, and you can start building it with a solid wooden foundation. You need solid wooden beams and some free pallets to build this gorgeous wood pallet playhouse. Don't forget to add the planter boxes.
18. Recycled DIY Pallet Playhouse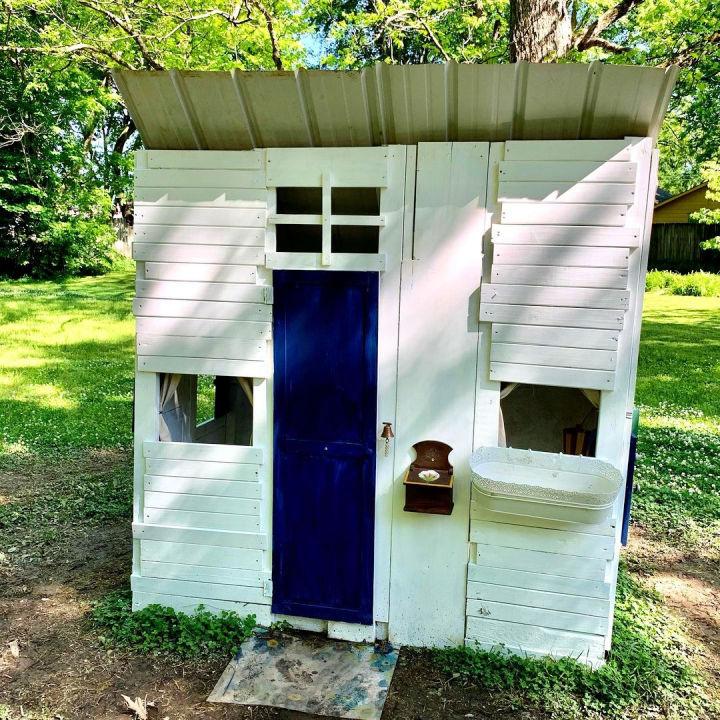 The pallets are easy to rebuild into the kids' playhouses and Check out never-ending designs to choose from. Checkout here another lovely wooden pallet playhouse made of pallets and comes again with a sloped roof and features the lovely white painted. You can use reclaimed windows and doors also to build this robust wooden housing for the kids' outdoor fun. The design is much achievable even for a beginner and will not get out of style.
19. Turn Pallets Into Playhouse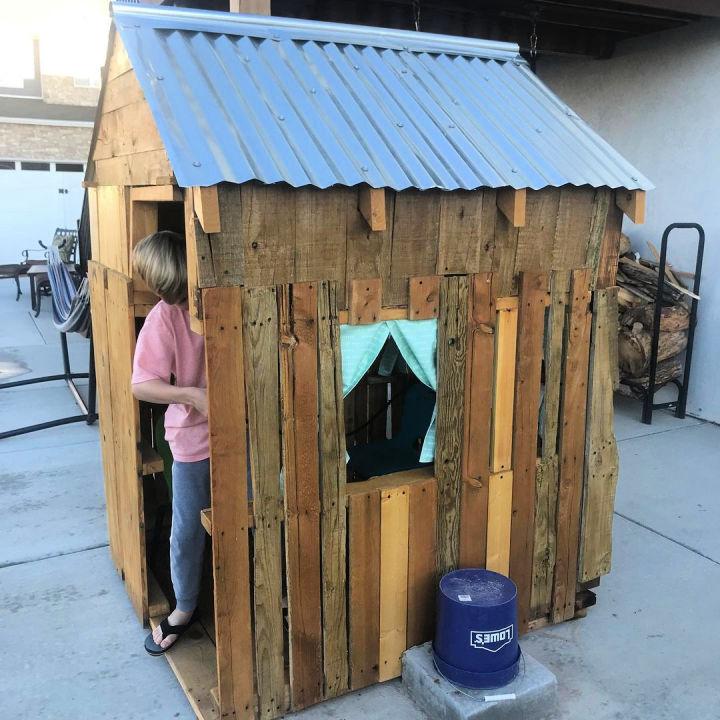 Use your engineering skills to structure longer and fabulous-looking playhouse designs for the kids. It will not take that too long to whip up this awesome wooden pallet playhouse design model featuring the corrugated chevron metal roof. The design is elegant and spacious from the inside and can be added with custom features and equipment. You can easily plan the uncut, modified and dismantled pallets to build the whole room-like design of this wood pallet playhouse.
20. Painted Playhouse out of Wood Pallets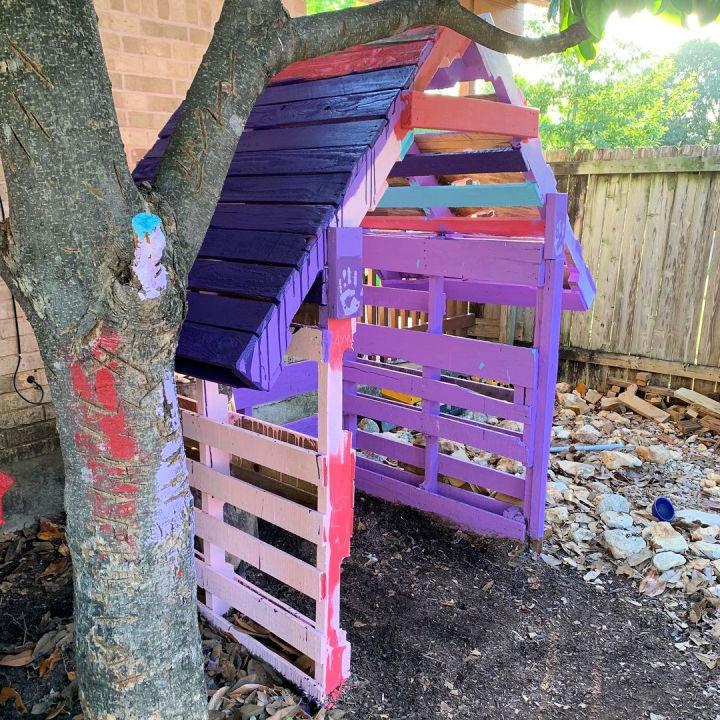 Intending to create that beautiful wooden pallet playhouse for the kids? Need some quick design inspiration? Then duplicate this painted pallet house that you can easily achieve even with a little stock of pallets. 3 pallets are used to build the sidewalls, and 2 come as the brilliant chevron roof of the hose. Finally, the completed layout is painted for an extremely beautiful appeal. One of the best wood pallet playhouses to build in no time. Make use of durable hardware for the overall assembly of design.
21. Cheap Pallet Playhouse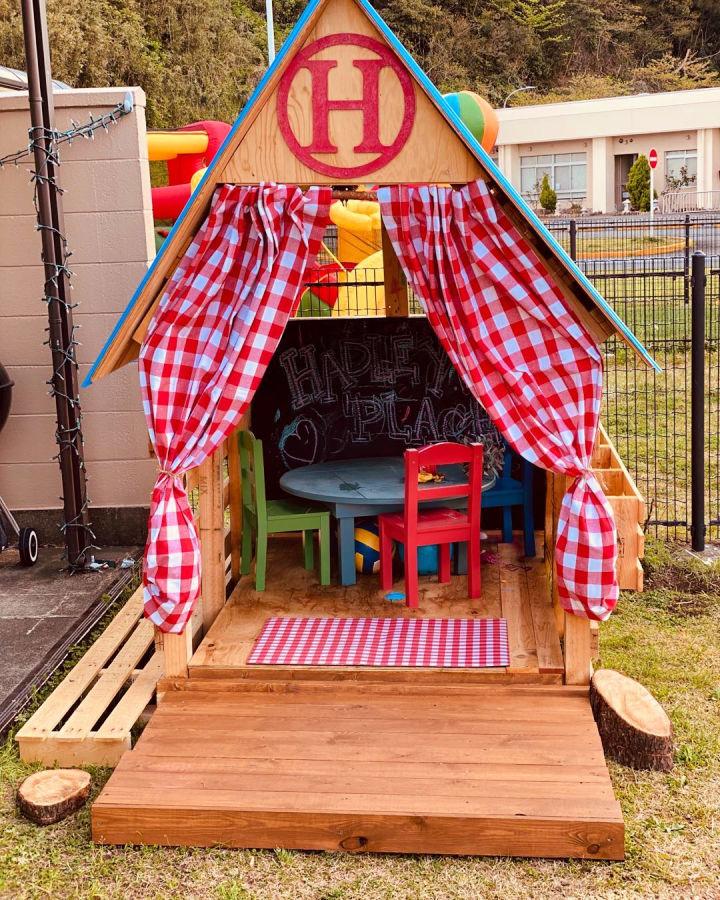 The prices are extremely higher for the readymade kids' playhouses. So, you can easily build lasting longer and beautiful kids' playhouses with pallets, and this will be a super inexpensive way to get them. The entire design stands on a solid wooden foundation that you can quickly build with free pallets and scrap woods. Plan also the pallets to build the sidewalls and finish with a lovely chevron roof. The entire design is made of pallets and plywood, and it also comes with a chalkboard and plaid fabric curtains.
22. Kids Pallet Playhouse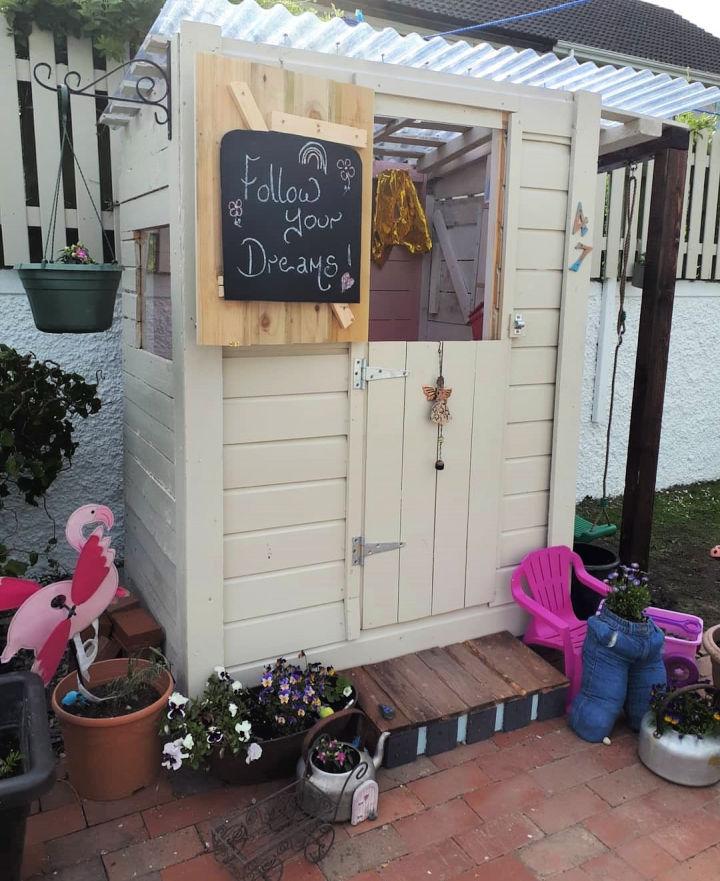 The main features of this solid wooden pallet playhouse are the corrugated glass roof, hanging basket planter, chalkboard nameplate, and creamy white painted appeal. The design is totally easy and quick to build with minimal woodworking skills and will surely be loved dearly by all the kids. The hinged front door and solid design dimensions are the main features of this elegantly beautiful wood pallet playhouse. Paint the completed design in any color you want.
23. Traditional Pallet Playhouse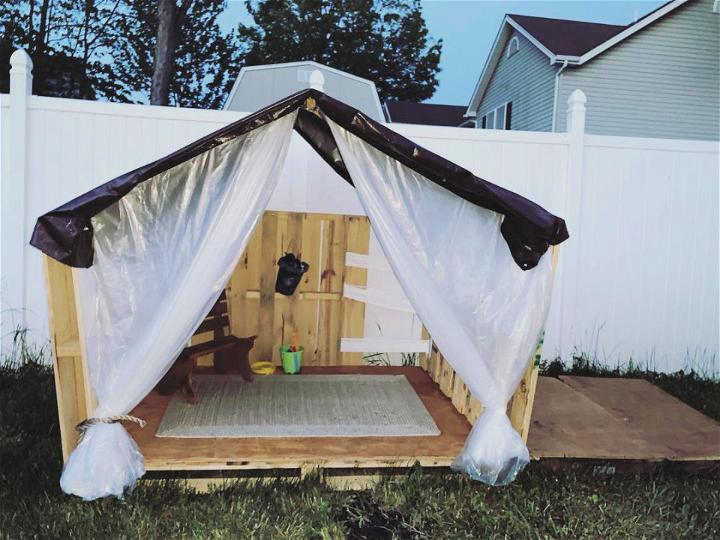 Get here guides and instructions to build a solid wooden traditional style playhouse. Put the pallets flat and vertically to build the sides and floor of the playhouse, and then install the chevron fabric roof. Also, install the fabric curtains to add some privacy, and it will be a total pleasure to build this entire wooden pallet playhouse. Being inside this playhouse will be total heaven for the kids. It will not take that too long to build it. One of the best and quick-to-build wooden pallet playhouse design to build in no time.
24. Pallet Playhouse For Outdoor Playing

Boost the outdoor fun and entertainment of your kids by building this another brilliant wood pallet playhouse. It comes raised on solid wooden legs and can easily be built with modified pallet boards. Raise a whole pallet on durable wood legs to build the elevated wooden base, and then plan the pallets to build sidewalls and roof of the playhouse. Use custom metal or wooden sheets to complete the angled roof. One of the best and quick-to-build wooden pallet playhouse design ideas. Give a paint finish for a custom appeal.
25. Free Pallets Playhouse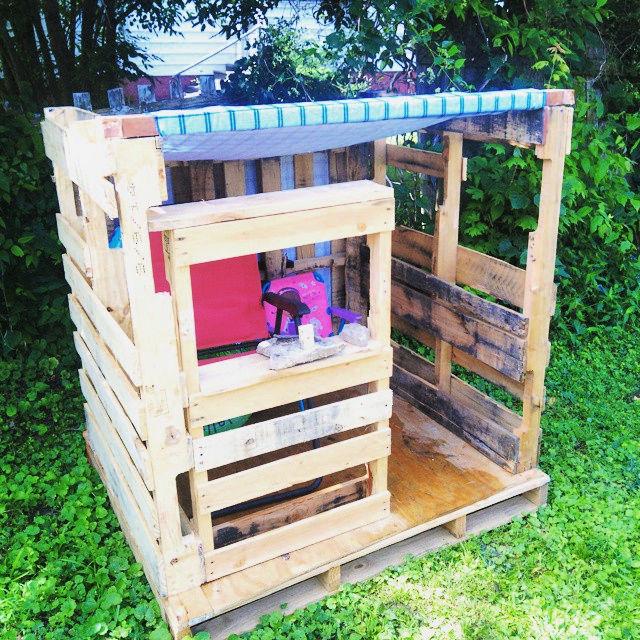 The designs for pallet playhouses are just never-ending. Build this another gorgeous design of wood pallet playhouse that is solid and lasting longer and is much achievable for all beginners. From solid foundation to sidewalls, all are made of recycled pallets, and the addition of a fabric roof makes this entire wooden playhouse look extra beautiful. Everyone will love building this solid wood pallet playhouse with free recycled pallets.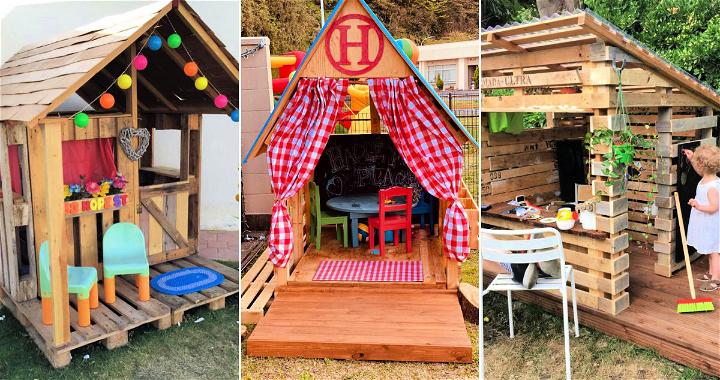 Conclusion:
A DIY playhouse is one of the best dream gifts for the kids and will surely create lifetime memories. They also provide many health benefits to kids and are considered often added outdoors for kids' fun. So, if you intend to add one, consider building a custom playhouse with free pallets. Don't know where to start? These homemade pallet playhouse plans will share many unique designs to choose from and fit everyone's budget and skill level. You will get complete DIY pallet playhouses tutorials and step-by-step instructions here and detailed diagrams, cut lists, tool lists, and hardware lists to easily duplicate a targeted design.