The whole world is rebuilding the FREE pallets into awesome rustic and stylish DIY pallet furniture ideas. This magical wood material can be recycled, upcycled and repurposed in thousands of ways for building furniture and low-cost outdoor landscaping and home improvement projects. However, in this episode of pallet wood projects, you will find 20 DIY pallet tv stand plans and ideas that will be different in designs, storage options and other design features. It will all take some creative imaginations and skills to turn pallets into the remarkable design of pallet entertainment center.

Some of these DIY pallet tv stand ideas are built with whole pallets and involve stacking the pallets up a little. Others to build with the dismantled pallets can be finished for any design dimensions and built-in storage options. From standard TV consoles to corner TV stands to extra large wooden media stands, you will learn here to build all wood pallet tv stands with free recycled pallets.
Finish a single pallet skid with custom legs to build an instant beautiful media console table, and you can make use of wheels also. Some of the designs are to be built with half dismantled and half uncut pallets. At the same time, you will learn to build tv stands out of pallets totally with individual pallet wood planks and other scrap woods like framing lumber, plywood, etc. Look through all these wooden pallet tv stands to see a variety of unique designs more.
1. Rustic Pallet TV Stand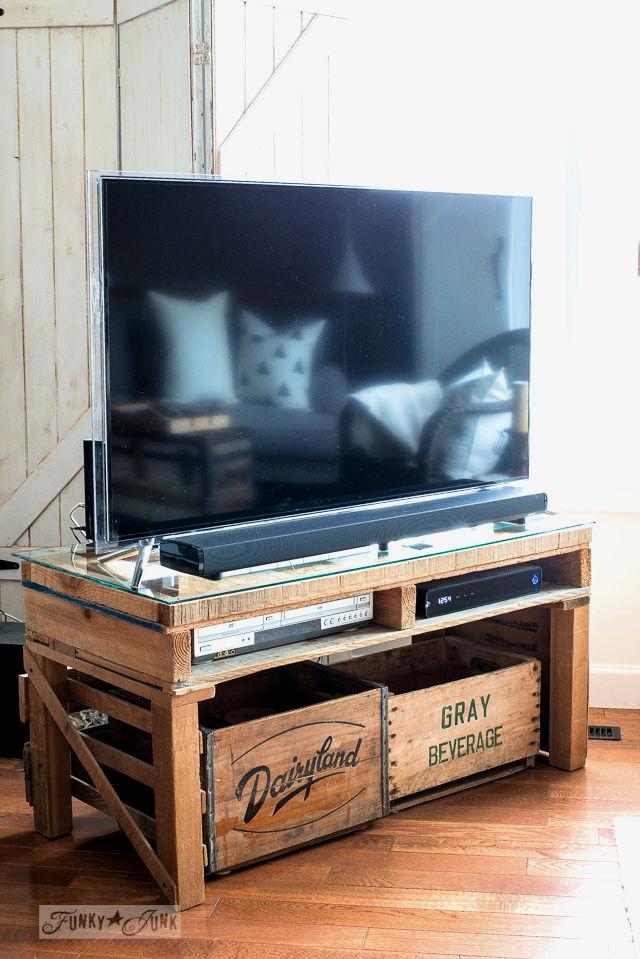 The pallets are the easy solution for constructing the very required home furniture. This project shares details about how to build a TV stand out of pallets. This will be a better and inexpensive way to overcome your media room furniture desires. The given stand comes with a glass top finish and is to build with uncut pallets. A whole pallet gives the stylish top of the TV stand, and it stands on two half pallet pieces that make solid wooden legs. Don't forget to give this TV stand a glass top finish for a modern appeal. funkyjunkinteriors
2. DIY Pallet TV Stand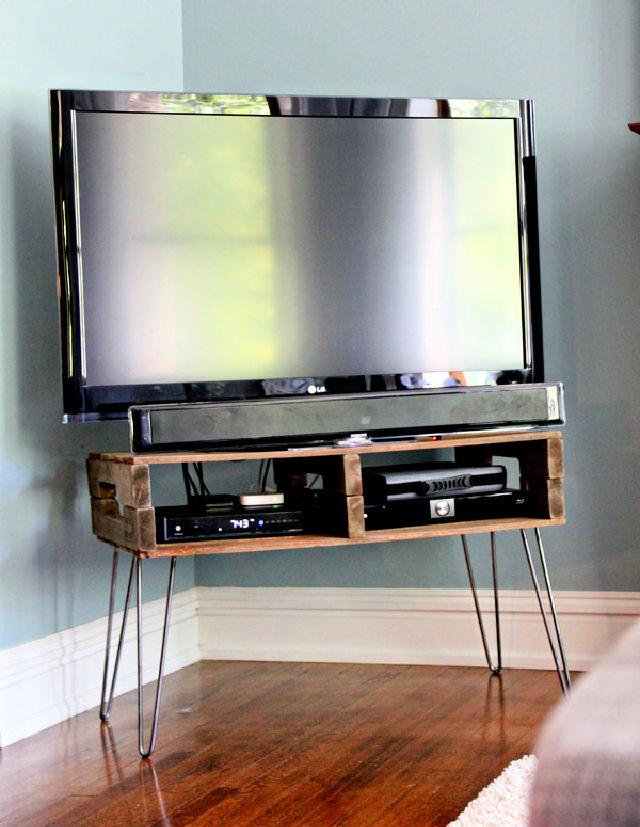 Building a TV stand was never so easier before. Just raise a pallet on some custom-durable wooden legs to build a longer media console table. Look at this industrial TV stand that makes the perfect handmade gift to a homey person. Here you can build this TV stand with both 1 or 2 pallets. Here the whole TV stand top is made with 2 pallets, put together in bottom-to-bottom arrangements. The completed design comes with two built-in storage cubbies to easily store other media gadgets. preparingforpea
3. Pallet TV Stand With Secret Compartment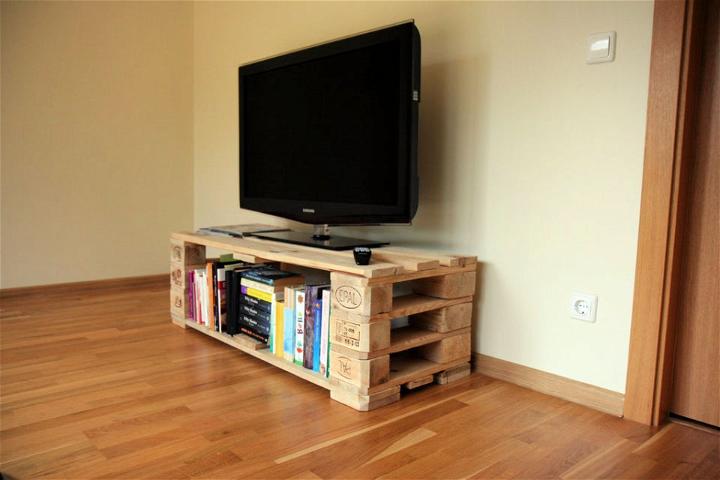 Check out here the easiest yet quickest method to build a TV stand that will be stylish and storage-friendly at the same time. The design is much achievable for beginners and as it involves stacking the whole EPAL pallets and some removed pallet dice sections for extra height and built-in storage space. You need 2 EPAL pallets, sandpaper, wood glue and wood screws to easily build this modern-looking pallet TV stand. The built-in storage space will come in handy to organize your books and other media gadgets. Here vertical cut pieces of EPAL pallets are used to build this TV unit. instructables
4. TV Stand Made From Pallets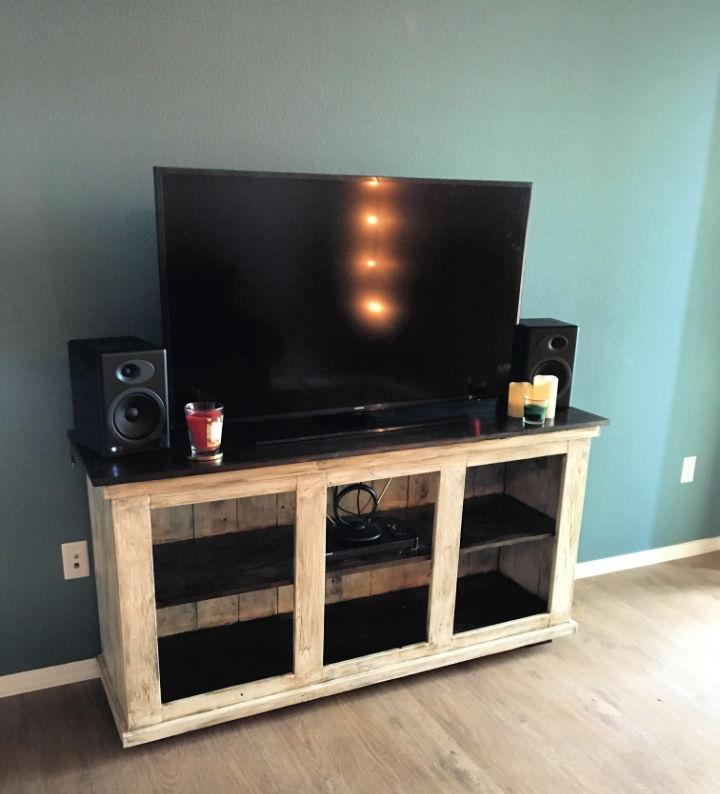 Look at this another phenomenal and beautiful-looking design of pallet TV stand that provides custom built-in storage options. It provides two built-in shelves and a grand-edged wooden top and is a functional piece. However, you can add it up with some glass-paneled doors or a glass top for a solid modern appeal. The entire design is to build with separated apart pallet wood slats, and it will bring a great style to your media or living room and is easy and quick to build. imgur
Find More Pallet Ideas:
Pallet Side Table: Find the 20 best DIY pallet side table plans to build one for home from free pallets. These are budget-friendly projects from recycled pallets.
5. TV Stand Made Out Of Pallets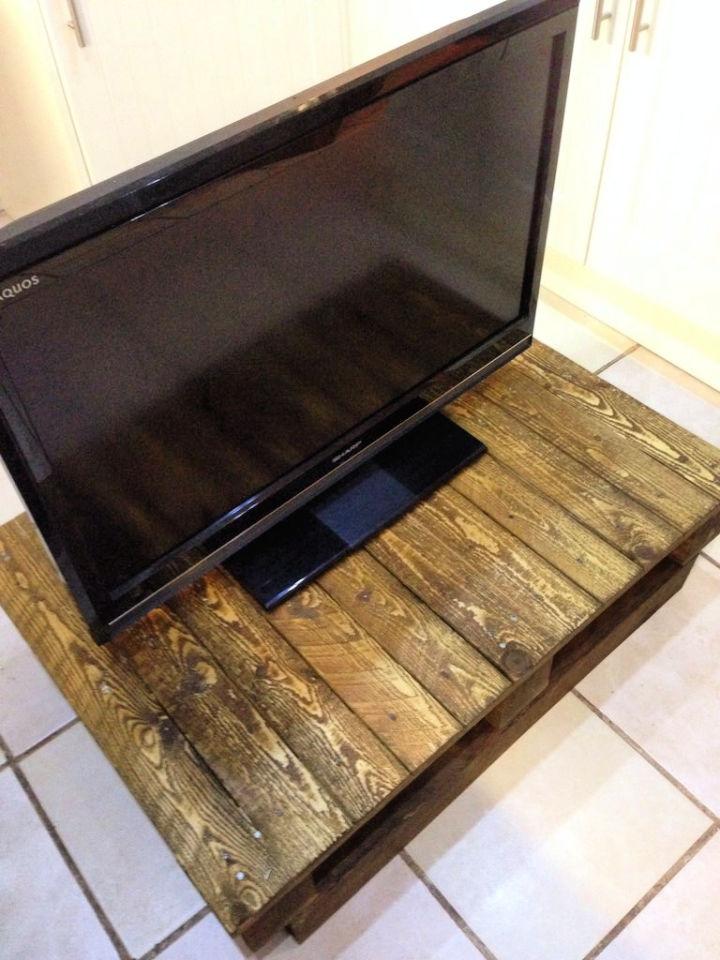 With pallets, you can build all the custom models of TV stands you are highly obsessed with. Look at this brilliant low-height wooden pallet TV stand unit that is built to last longer and appear with a glam rustic appeal. Here you have to raise a single pallet on some custom pallet or wooden supports just for a little elevation. So, here the heavy-duty wooden posts are used to raise the pallets to a decent height level. One of the DIY Pallet TV stands to build with a single pallet only. The whole project will cost you next to nothing. instructables
6. Pallet Wood TV Stand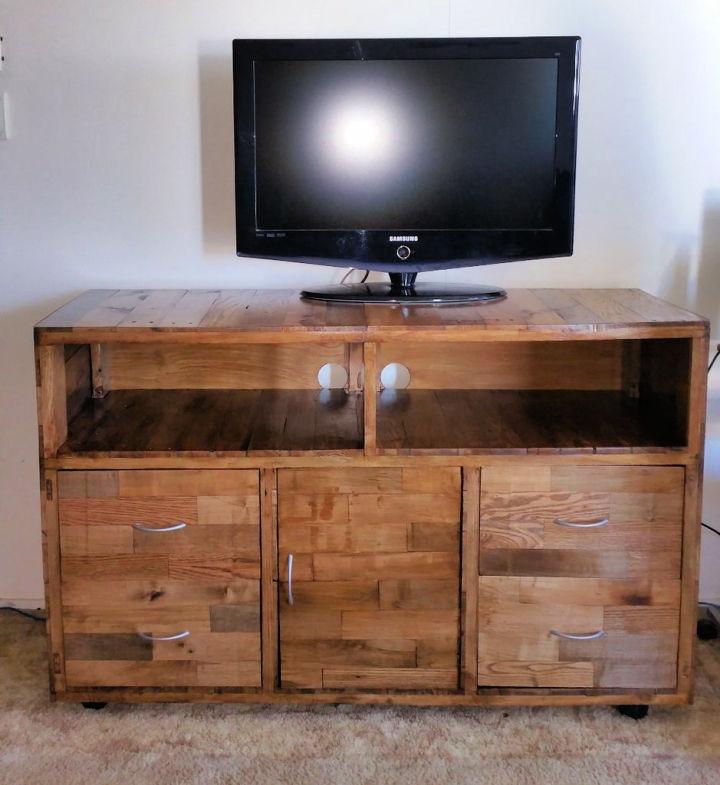 Get here free plans and instructions to build an instant beautiful TV cabinet that comes on a custom height level. The pallet cabinets come with custom built-in storage cubbies, drawers and custom storage compartments secured with hinged doors. You need pallet wood, drawers and door, 12mm plywood, backing board, 3mm plywood, custom wood finish, hardware, soft close hinges and drawer slide to complete this awesome wooden pallet TV cabinet. The design is super easy and quick to build and will be a superior addition to a media or living room.
7. How To Build A Pallet TV Stand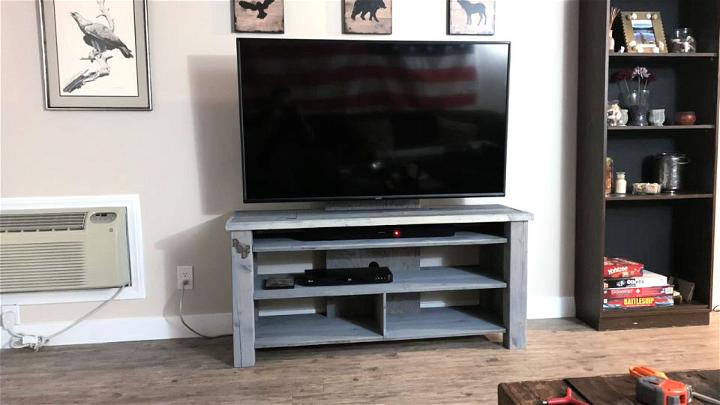 Learn here to build a TV stand like a pro with some free pallets. The entire TV cabinet comes with custom built-in shelves and storage compartments and can also be added with storage drawers. The design is solid and beautiful and is to be built with pallets and plywood. However, custom other recycled wood boards can also be used for this outstanding TV stand creation. Sand and stain the completed design and also paint for a stimulating modern appeal. The complete video guides here will provide comprehensive guides and instructions to easily build this highly stable design of pallet TV stand. youtube
8. Easy Pallet TV Stand Instructions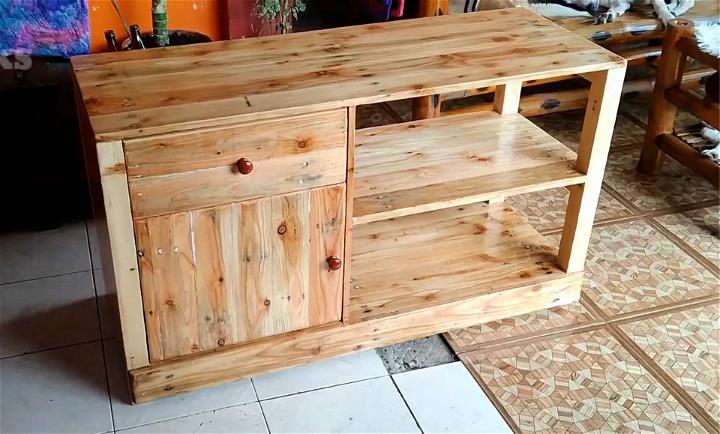 If you are a rusticity lover, then you will surely fall in love with this rustic TV stand, beautifully made with pallets. The design provides custom built-in shelves, drawers and storage compartments and appears in the rustic wood appeal. Use the custom framing lumber or pine boards to build the side frames and then fill up the surfaces using the individual pallet wood planks. The whole design features the slatted appeal of pallet wood planks and is crazily easy to put together. Sand the entire model and finish your favorite coats of stain and varnish. However, you can paint the completed design also to match your media room decors. youtube
9. Extra Large Pallet TV Stand With Cabinets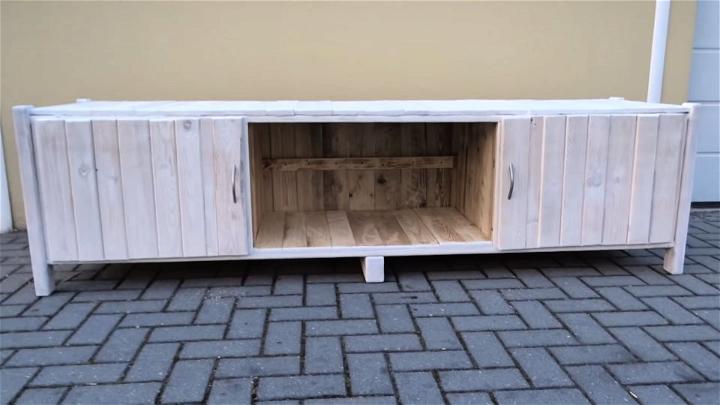 You can go for any custom dimensions of TV stands when building them with free recycled wood pallets. Here you will learn to build an extra-large wood pallet TV stand with pallets. The grand design comes with a little height, and it provides large storage cabinets and open space in the center. The sides come with two storage compartments secured with hinged doors. Plan the plucked apart pallet wood slats to easily build this robust TV stand design. However, you can use custom framing boards to construct the primary frame of the design. The design is built to fit a targeted media room space. youtube
10. Make a TV Stand From Pallets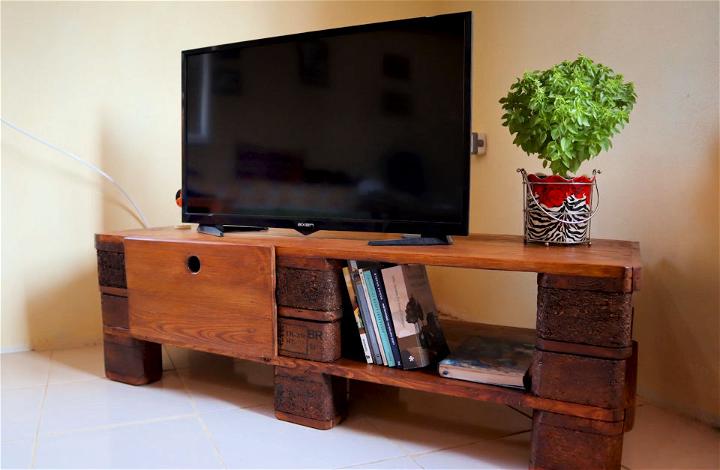 You will love the rustic look and sleek surfaces of this wood pallet TV stand. It provides both open and covered built-in storage options and can quickly be made by stacking a few modified or cut-to-size pallets. It is recommended to do this project with EPAL or EURO Pallets, and the entire construction will be easier to do even for a beginner. You also need some other scrap woods to complete this modern yet rustic wooden pallet TV stands design. youtube
11. Wooden Pallet TV Stand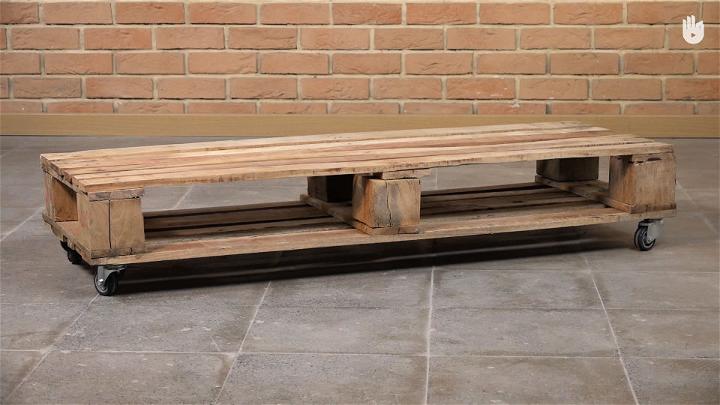 Check out here the simplest, easiest and quickest DIY pallet TV stand ever built. The project provides instructions to build a single pallet TV stand design, and it will also be more than easier to build. Just grab a single healthy-looking pallet and raise it on custom rolling casters or wheels to gain a low-height pallet TV stand. However, you can finish the same pallet with custom wooden or metal hairpin legs also to quickly build a TV stand out of pallets. Here this completed design comes with custom built-in storage cubbies also. Sand, stain or paint it for a nice look. youtube
12. DIY Pallet Entertainment Center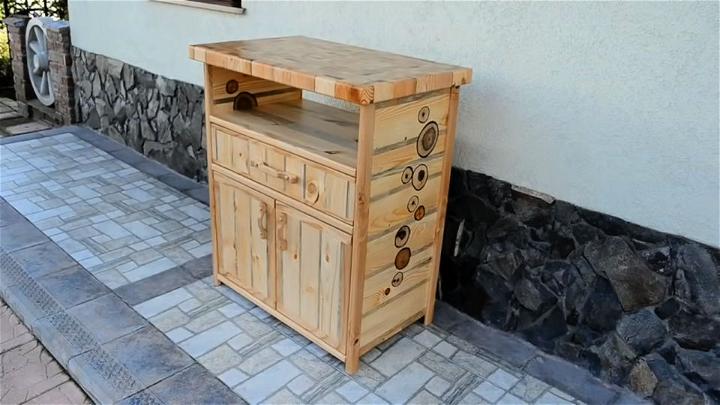 Look at the most beautiful design of the pallet TV stand that comes with decorative sides and a butcher block style top. You can separately build the top, sides and rest of the design and provided video instructions will surely guide you through all the construction steps. You need an advanced skill level to build this very interesting TV stand that is gorgeously cute and beautiful to look at. The completed design comes with lots of interesting details that will enchant all the onlookers. Along with a rich wooden appeal, the design is also loaded with an assortment of storage options. youtube
13. Plywood and Reclaimed Pallet Wood TV Stand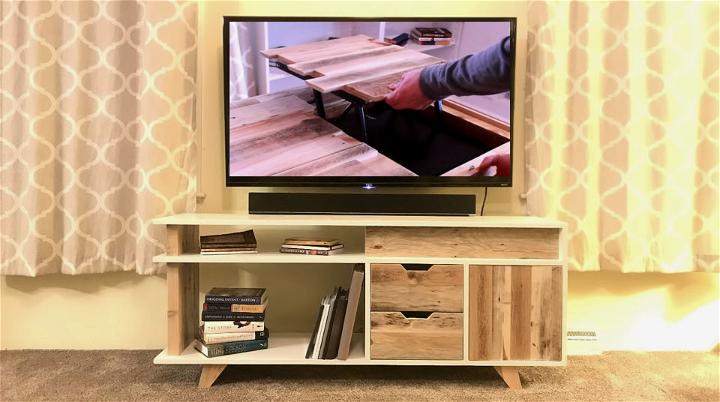 Duplicate this another rustic yet modern design of wood pallet TV stand or Media console that lasts longer and comes with short wooden legs. The entire design is a creative mixture of plywood and pallets, and it impresses with the built-in storage shelves and drawers that grace up the entire wood pallet TV stand design. It will cost you hundreds of dollars to buy such TV stands from the market. It will surely bring a big wow factor to a media room and is easy to build with video guides. Paint the entire design in the way you like. youtube
14. Pallet Corner Tv Stand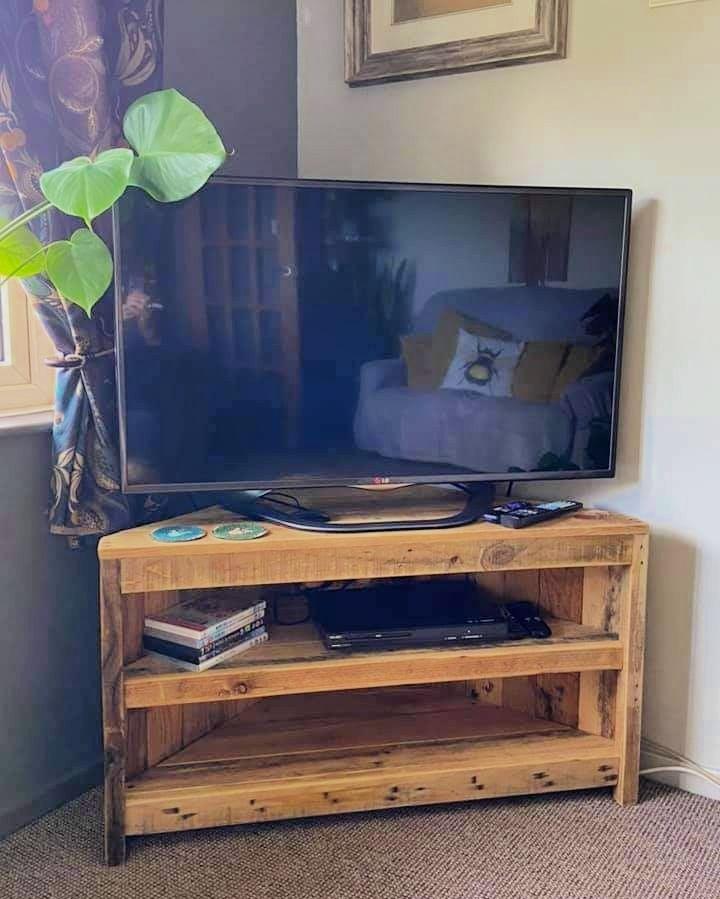 With pallets, you can build all sorts of media consoles and stands at home. This time duplicate this corner TV stand that provides 2 built-in shelves and is easy and quick to build. Put together the separated apart pallet wood slats to build different all from shelving levels to triangular side frame of this wooden pallet TV unit. The design lasts longer and will fit best to the targeted room corner of your media room. Sand and stain the completed design for a custom wooden appeal.
15.Recycled Pallet Tv Stand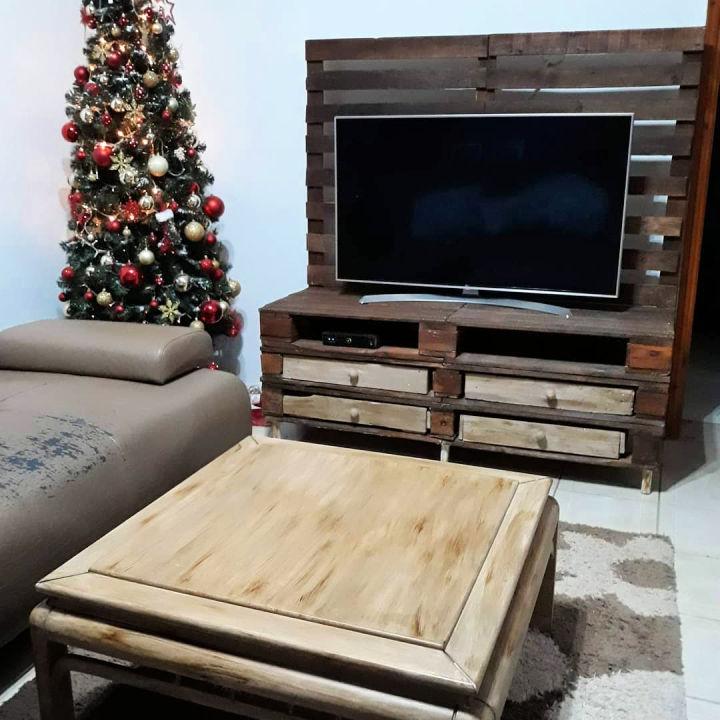 By simply stacking the pallets, you can easily build some fabulous TV stands or media consoles also. Look at this precious rustic wooden pallet TV stand model that features 6 built-in drawers and is to build with recycled wood pallets. Each drawer comes with custom knobs, and the most interesting part of the design is the back slatted wall. It brings tons of focal stimulation to the entire TV stand design and gives an interesting rustic background to the entire TV screen. Finis the completed design with short metal hairpin legs, and it will surely be a graceful addition to one's media room.
16. TV Stand Made from Pallets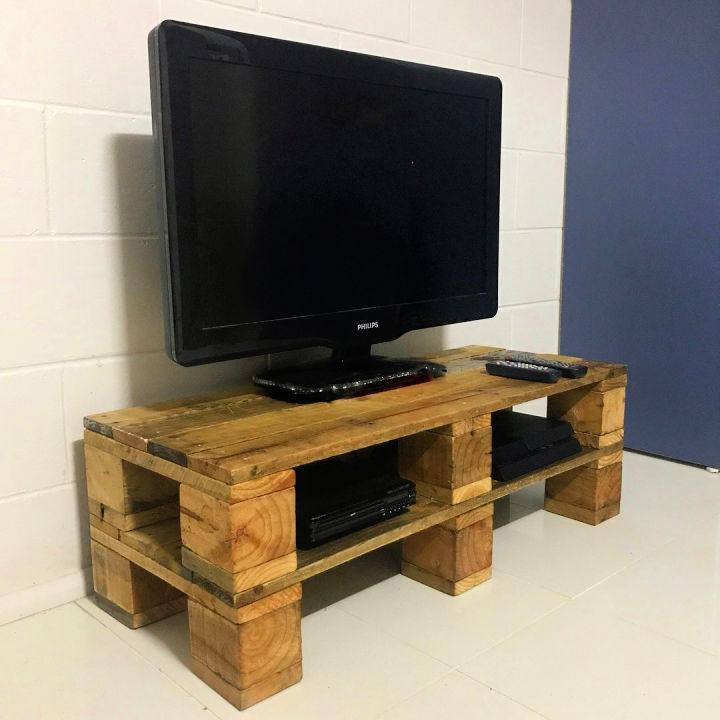 Building custom home furniture is an on-trend pallet recycling game. You can easily rebuild pallets into lasting longer and beautiful home furniture items, hence saving tons of your costs. This time build this arresting design of wood pallet TV stand that is to build with 2 pallets that have beautifully been stacked. This type of pallet arrangement results in amazing storage in the completed TV stand design. You will love the way this media table will go in a particular interior living room. Sand and stain the pallets smooth to easily gain this unique model of TV stand.
17. Turn Pallets Into Tv Stand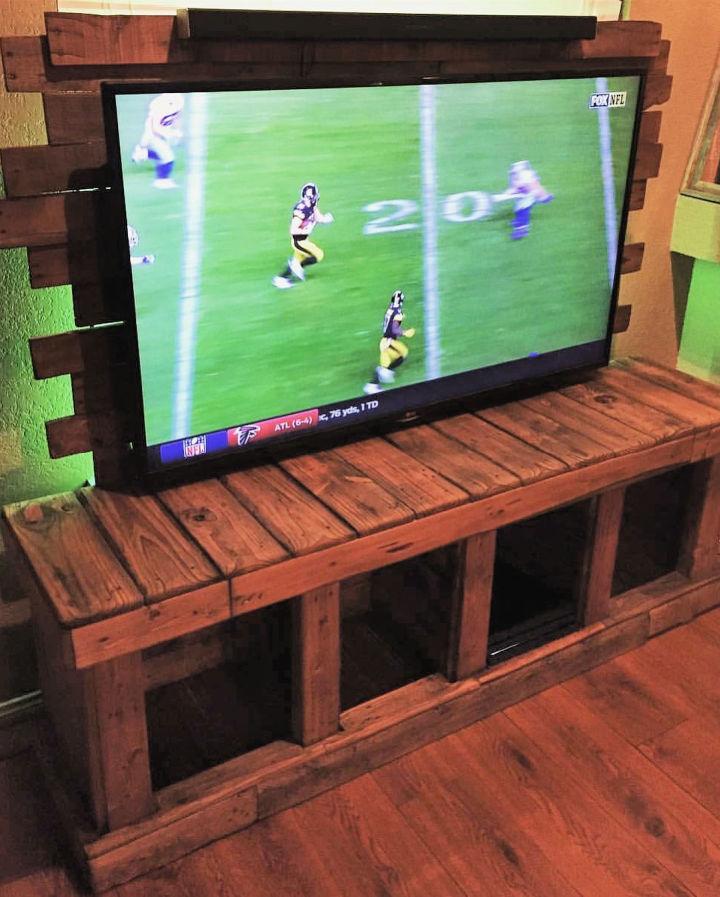 The pallets are the ideally suitable options to build stylish and lasting longer designs of wooden TV stands. Look at this phenomenal model of TV unit that is lasting longer and appears with the raised back wall, and will go outstanding to one's media room. This grand design of pallet TV stand comes with lots of storage compartments and is hilariously beautiful and cute to look at. The completed design is stained for a nice finished tone of the wood, and it will be a great addition to one's media room.
18. Pallet Entertainment Center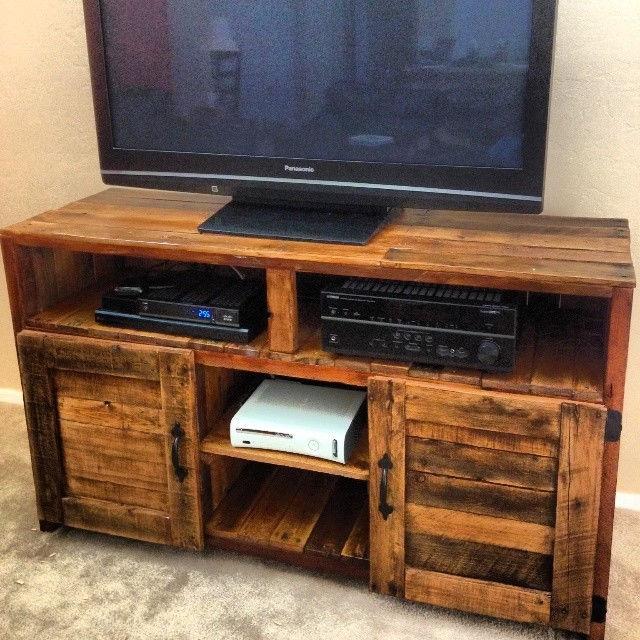 Rock your rustic furniture desires by building this elegant pallet entertainment center. The pallet entertainment center comes with custom added storage features and is also built-in custom dimensions. It provides open storage cubbies in the center and underside the top and also provides beautiful sub-storage cabinets to each bottom side. The design is beefy and elegant and can be stained for a brilliant wooden appeal for sure. Put together the leftover pallet wood slats also to easily whip up this solid model of TV console. It will be the best handmade gift to give to a rustic furniture lover.
19. Pallet Tv Console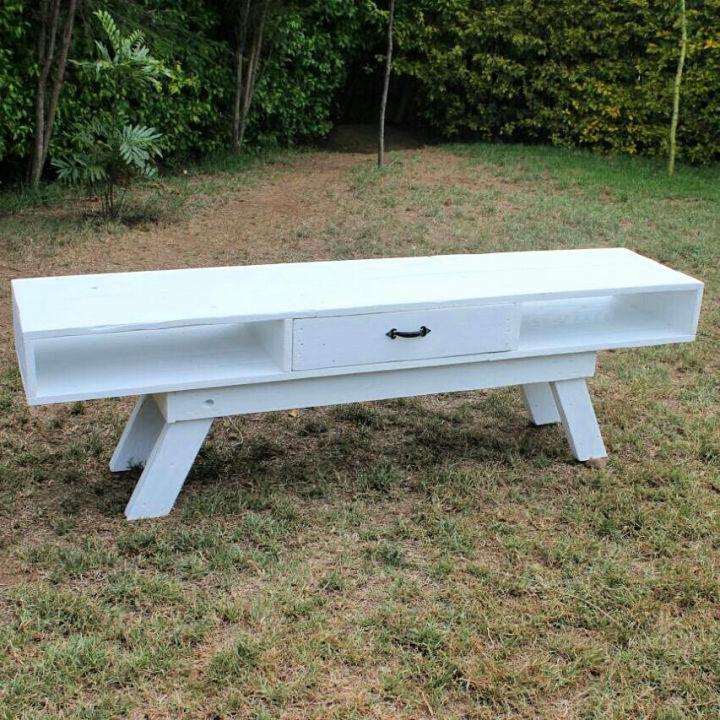 The most beautiful, chic white and modern minimalist design of wooden media table is made of pallets. The design is strongly recommended to add to modern interiors and will be a total pleasure to build with minimal crafting skills. Just modify a longer pallet to build the top of the media console table with a built-in drawer. Next, you can put together the separated apart pallet wood slats to build the whole base of the table. One of the best and quick-to-build DIY console tables ever built. Every beginner can easily build this elegant media console design.
20. Creative Pallet Tv Stand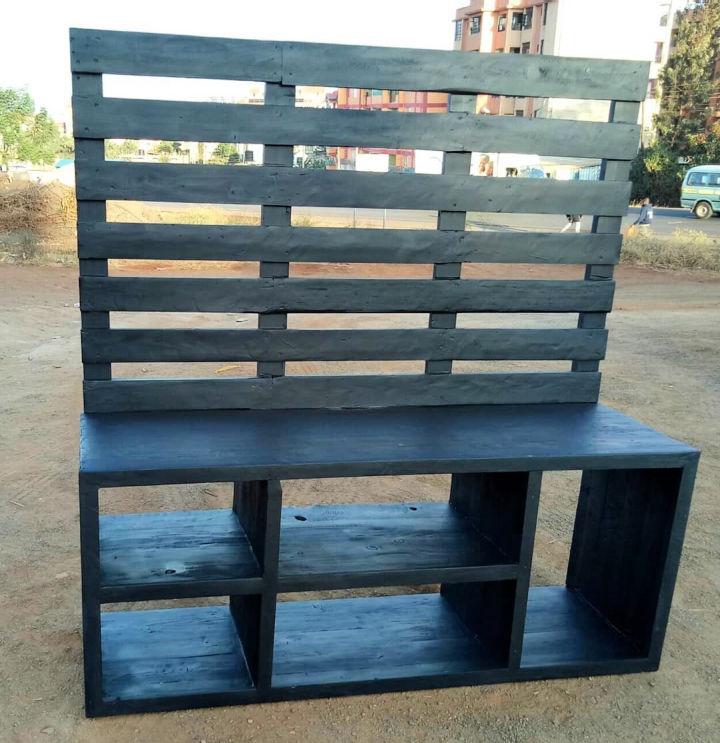 The media stand design ideas are never-ending that you can build with the upcycled pallets. Look at this another durable model of pallet TV stand that comes with lots of built-in storage options in the form of built-in storage shelves and compartments. The design also comes with a slatted back wall and is gorgeously beautiful to look at. Sand and stain the final design for a custom-painted look, and it will go outstanding in any media or living room. Decorate the whole media console design in the way you like.
21. TV Stand Using Pallet

Look at this another phenomenal pallet wood creation. This rustic pallet wood TV stand provides a variety of built-in storage options and gives ample storage space to organize your other media items and gadgets. The finally completed design is burnt for a rustic appeal, and you can build it in custom dimensions to fit a decided space. Put together the pallet wood slats to build different levels and vertical dividers of this wooden TV stand, which can also be added to your make and sell a business. One of the best TV stands to bring a rich wooden character to one's space.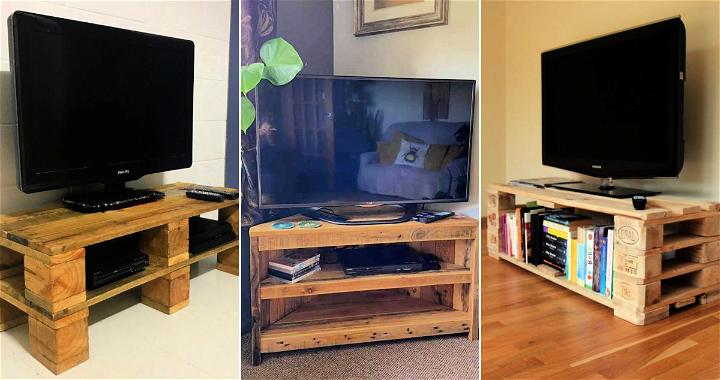 Conclusion:
Are you in dire need of a media console table or a TV stand? Are you not having enough budget to buy custom models of them from the market? Then head over to these pallet tv stand ideas and plans to build lasting longer creative TV stand, entertainment center and media console designs at home without getting a bit expensive. From easy to intermediate to advanced, there are pallet tv stands for all skill levels. Moreover, these pallet tv stand plans will share complete supply lists, tool lists, hardware lists and step-by-step written and visual guides to easily build any given designs.