No doubt, the pallets have become the favorite building material for DIYers, and there are tons of DIY Pallet Projects to do over the web. The way they serve for the home and garden improvements is pleasing. The long shipping duties and exposure to natural elements give that genuine rich patina to wood pallets. That's why the pallets are a big source for rustic wood lovers, but that does not mean they are not perfect for doing some modern wood projects.
Check out here the curated list of 40 cheap and easy pallet projects to feel the ultimate recycling potential of pallets. These pallet projects will be a great motivation to keep recycling those street-side pallets and every skid that comes in your reach or access. The best part is that you will love doing these pallet wood projects full of fun and will also give you the pride that you are contributing to planet-waste reduction.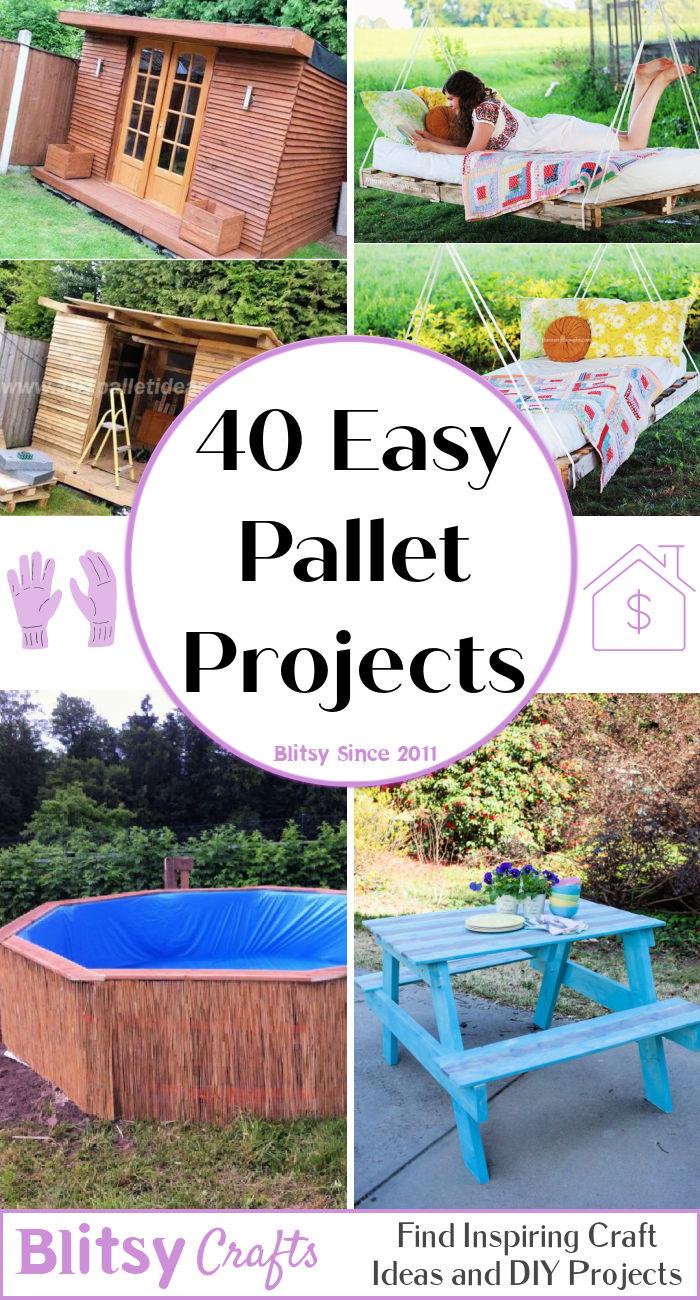 The list will share some big and creative achievements in the DIY pallet projects category. You will see some rare and unique pallet wood furniture creations here to get impressed. These unique pallet projects will guide you to build precious wall signs, planters, lots of organizers, and storage units from building sofas to tables to complete beds. If you talk about some next-level projects, you will also learn to build outstanding outdoor cabins, sheds, pet houses, and pools. So, do take a 2-minute tour of all these amazing wooden pallet projects to get inspired more.
1. How to Make Pallet Wall Art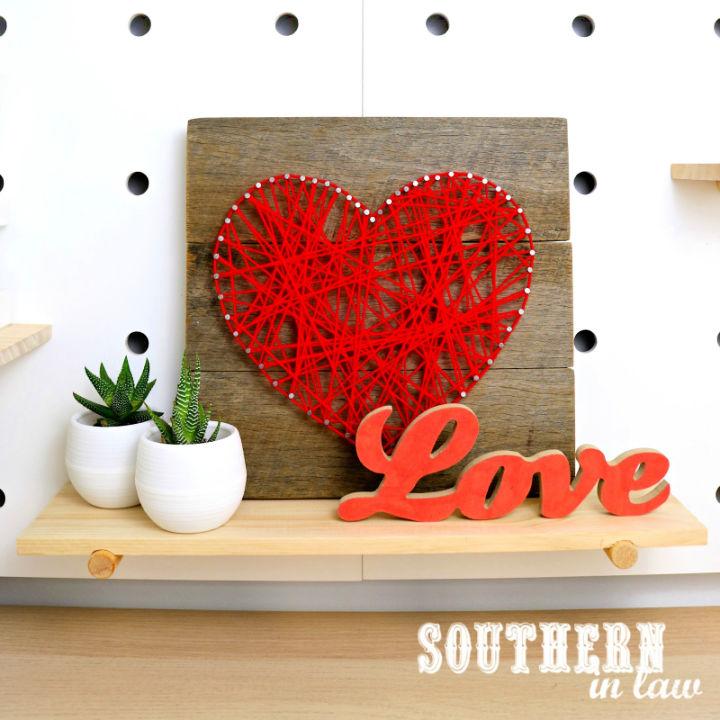 Sorting out the best Valentine's Day decor? Whip up this brilliant Valentine's Day heart sign in your room or home decor, sure to bring romantic vibes and themes to your home. To make this brilliant heart sign, you need wood, sandpaper, a saw, nails, a hammer, scissors, yarn or string and a design template to whip up this brilliant wooden pallet heart sign. Use even the rustic pallet wood planks to build the background board for the signs. Next, trace the heart shape with the help of a template and add nails. Weave the completed design with red yarn, and that's it. southerninlaw
2. Wooden Pallet Side Table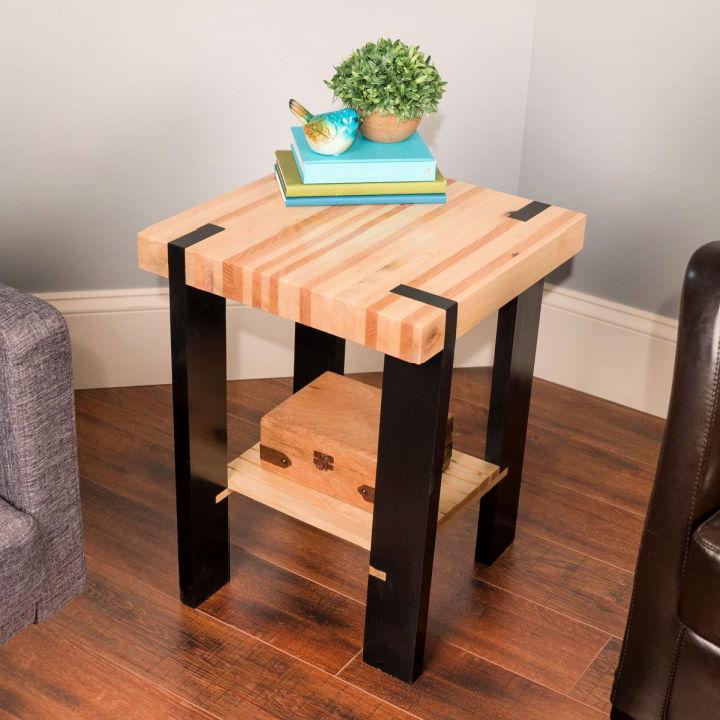 Learn to dismantle the pallets to gain a fresh supply of free wood out of them. So, you can build anything out of that wood, and this side table is a big inspiration for you here. Building this side table will require an intermediate skill level, which will cost you next to nothing. You need pallet wood, wood glue, and carpentry skills to build this fantastic wooden side table, and It will be a big love of all wooden furniture lovers. The project will guide you to build table legs, tabletop, and stretchers out of pallet wood slats. See this complete list of pallet side table plans.
3. Repurposed Wood Pallet Shelves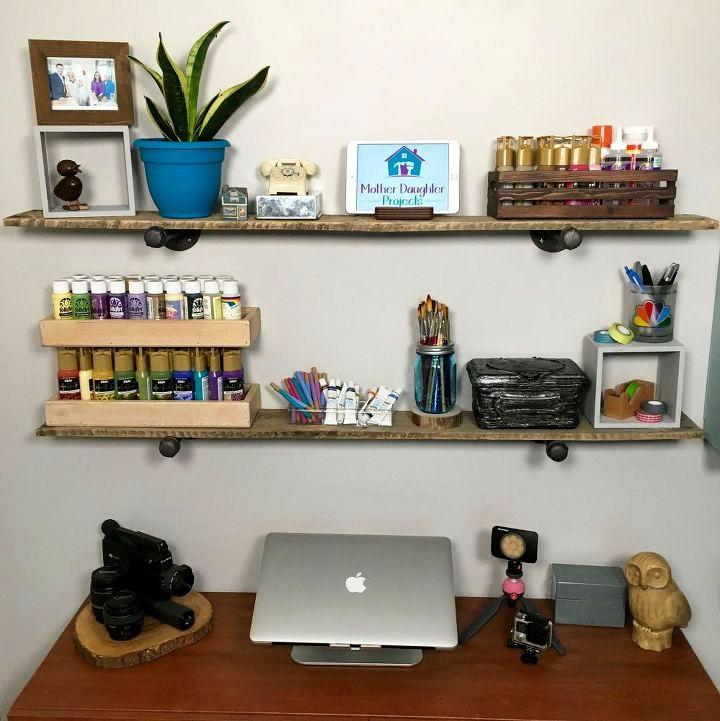 Is lack of shelving space teasing you a lot? Repurpose some pallets and pipes from home and build useful pallet shelves, which will rock to display and store your items of interest and need. Fit the pipe lengths in the floor flanges and finish the fronts with end caps. Next, screw the floor flanges in the walls to gain durable shelf supports. Next, place the long and wide pallet wood slats on the shelving supports to gain longer rustic wall shelves. The entire construction is simple and uncomplicated, and even a beginner can build these shelves quite expertly. hometalk
4. How To Make A Pallet Couch

For many of us, the pallets are life-changing. They allow you to accomplish all your stylish furniture desires at no-cost plans. So, follow the here guides to build an instant DIY pallet couch out of an easy stack of pallets. The construction is all about stacking some pallets to gain the desired size of the sofa. Next, finish the pallet stack with your favorite seat mattress, and that's it. What is special in this sofa design is the rustic appeal and the built-in storage cubbies. Use it as a daybed also. Grab 6 pallets, a saw and a rope to complete this brilliant super easy pallet couch. theboondocks
5. 1 Hour Pallet Coffee Table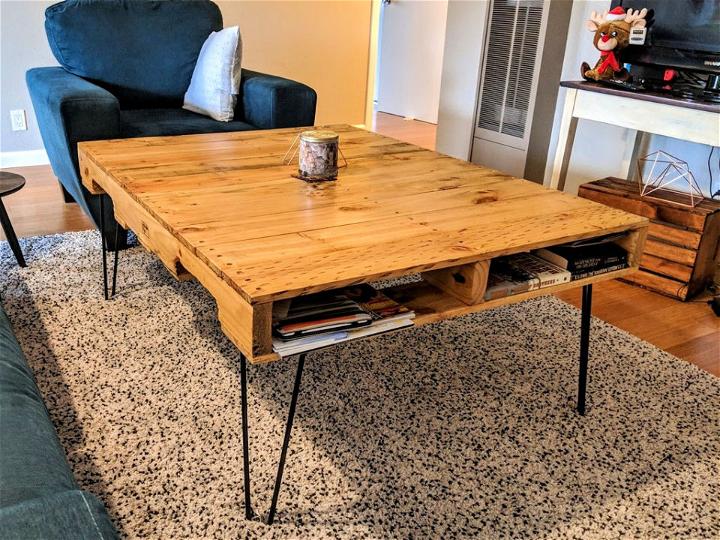 Pallets can be the smart picks for building all sorts of tables and desks too. Choose the pallets having less spacing among the deck boards or fill them solid to gain some beautiful tabletops. Finish them with custom wooden legs or durable metal hairpin legs to build lasting longer and beautiful tables. Peek into details of the given pallet coffee table design that is storage-friendly and impress with the stylish industrial appeal. As a big bonus, the table will provide the inside storage space. Don't forget to finish the wood surfaces for a lovely sleek appeal.
6. Pallet Bench With Hidden Storage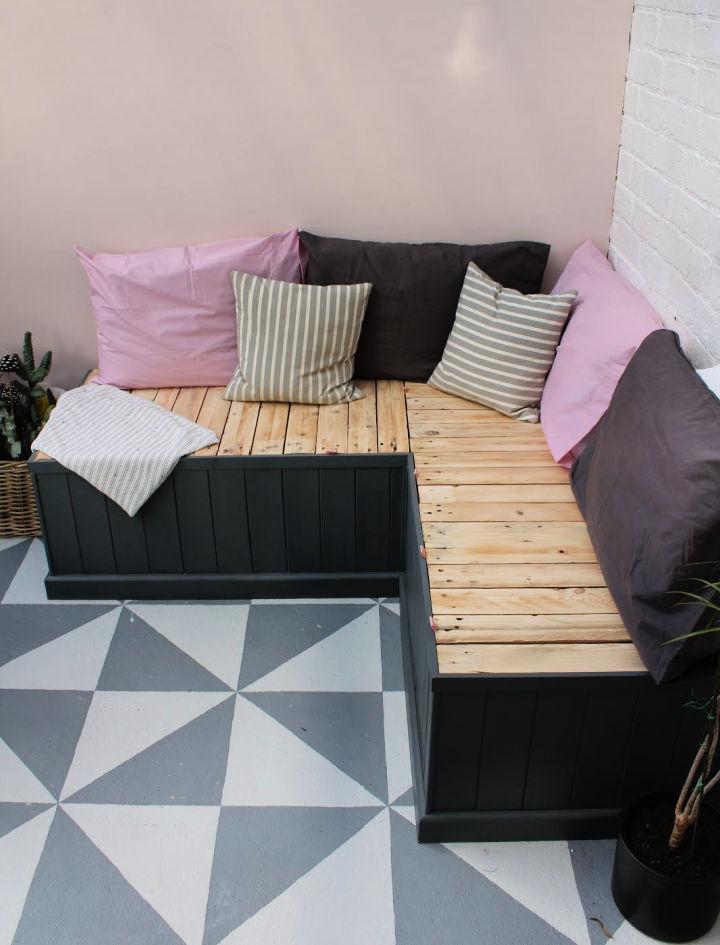 Everyone will fall in love with this brilliant L-shape sofa that impresses with its slatted appeal. You will be amazed to see that this amazing pallet bench is to build with free pallets, and it will not take that too to build it. Grab pallets, thin strip wood, skirting, paneling, quadrant and angle molding, paint, screws, nails, caulk, adhesive, wood filler, flush hinges and fabric to complete this wooden pallet bench with hidden storage. This is the way to accomplish your sitting and storage space desires with pallets.
7. American Flag Made From Pallets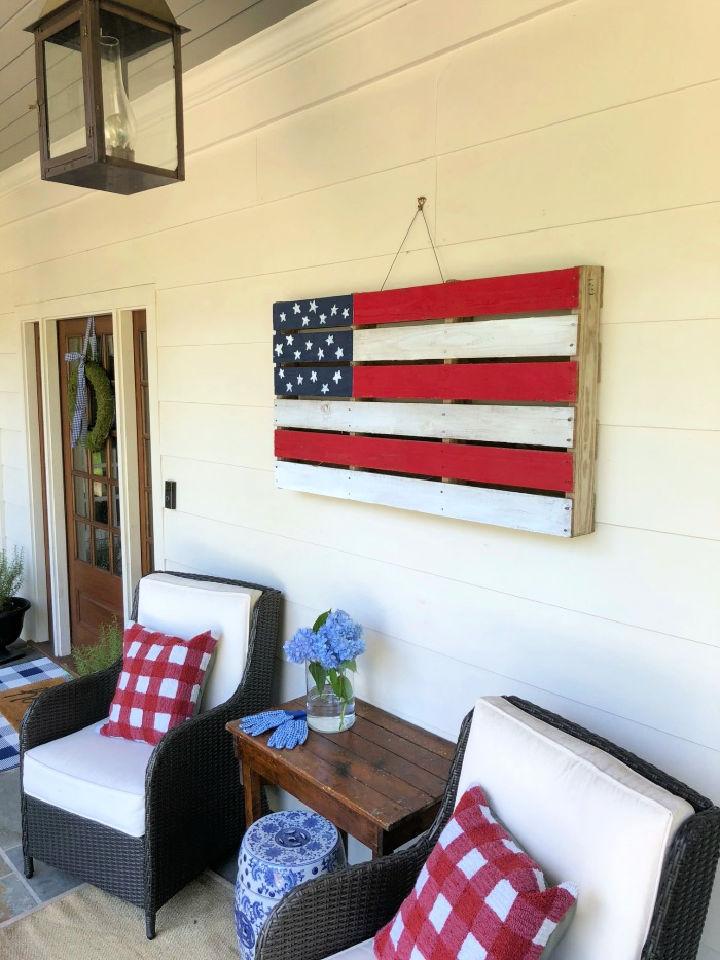 Reclaim the wooden pallets also to build beautiful Independence Day decor. Get inspired by this American pallet flag that is made beautifully with a single pallet. The idea is to paint the pallet wood slats for red and white stripes and next, paint the corner for the blue and stars. So, you can easily pick a pallet having a suitable rectangular appeal. Next, paint the whole country flag on it and use a custom hardware hanging system to hang it up on the wall beautifully. The best to get out of pallets for Independence Day decor.
8. Pallet Shoe Rack Plan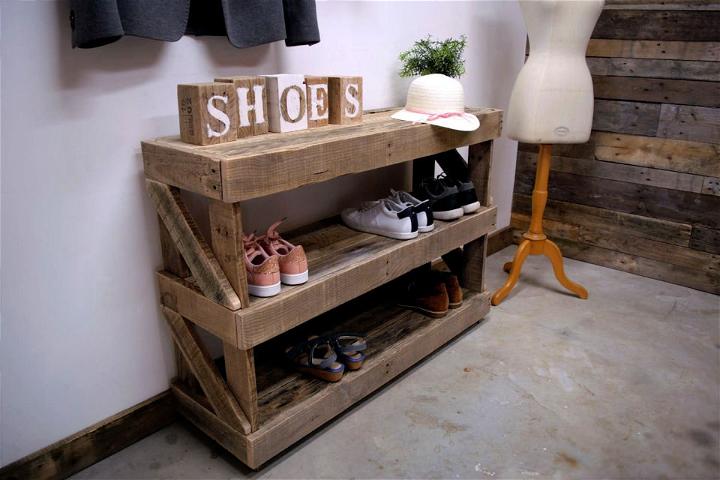 Overcome your shoe storage also needs by upcycling the pallets smartly. Yes, build this lasting longer and robust wooden shoes rack out of some free pallets. It provides ample storage space in the form of built-in shelves and impresses with the rustic appeal also. The best pallet creation to make you accomplish your home organization's mission beautifully. The whole project is more than easier to do and will cost you next to nothing also. You need pallet wood, sanding paper, old white chalk paint and wood glue to duplicate this wooden pallet shoe rack.
9. Rustic TV Stand From A Pallet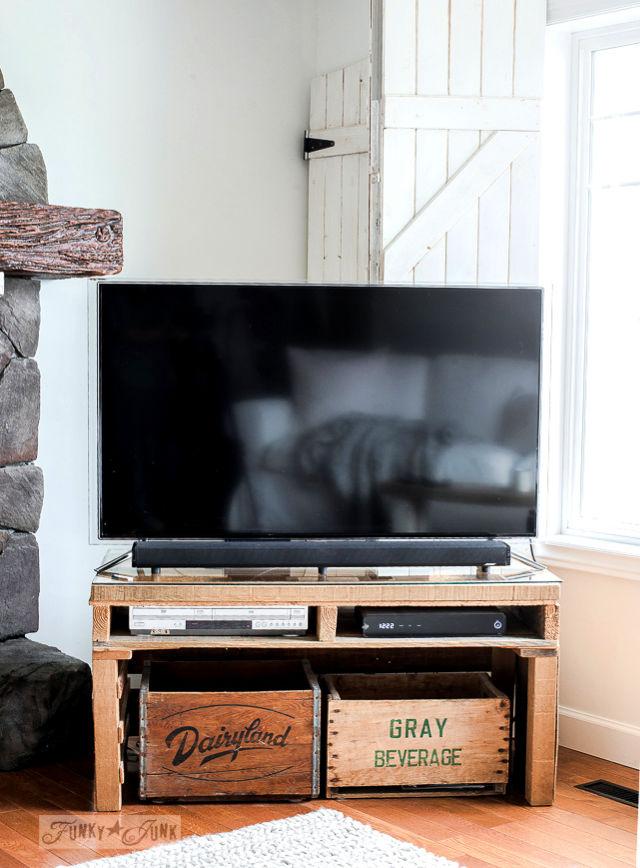 Do you need to build a quick media center or a TV stand? Pallets are going to be a great option to construct one instantly and without getting expensive. The idea is to get a pallet in size fitting to the TV stand top or a trimmed to size pallet that you can finish with custom legs to build a durable TV stand in no time. Bring the modern elegance by finishing it with a glass top and also add some rustic empty crates underside as extra storage options. One of the best and quick-to-build pallet TV stand plans.
10. Play Kitchen From Pallet Wood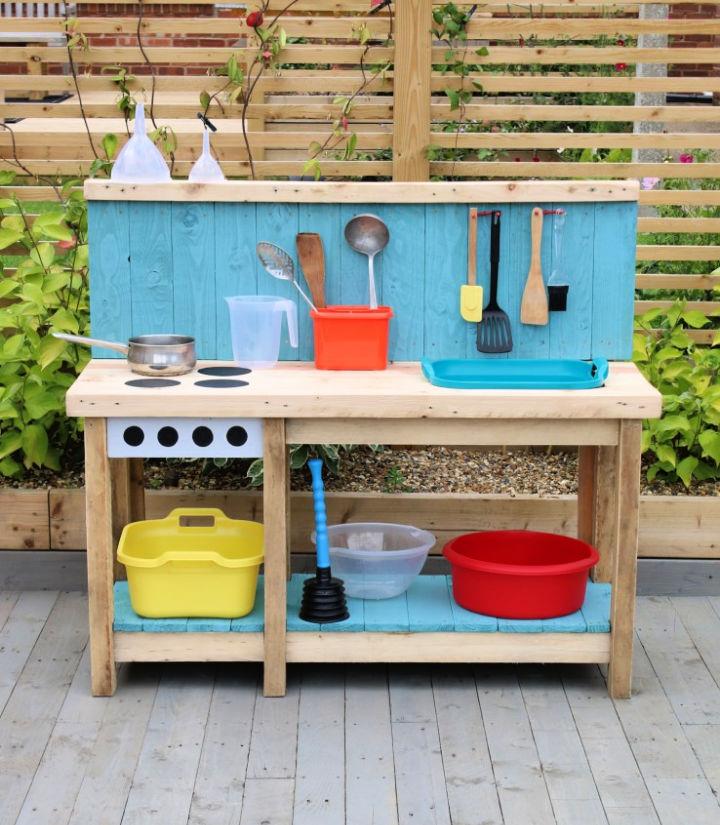 Get helped by pallets also when need to boost the outdoor activities of the kids. Build this outdoor play kitchen that will rock for the sensory play of the kids. It is quite something quick and easy to build with the free pallets. The design impresses with the painted back wall and offers a bottom shelf for ample storage space. Install the sink and stove right in your outdoor kitchen top, and that's it. One of the best things to make with pallets is when you need to increase the productive activities of your kids. The whole project is easier to do and will make a sweet handmade gift to all the kids at home. cassiefairy
11. Wooden Pallet Bookshelf

However, you can do some fairly but creative projects also with free pallets. Build these precious pallet bookshelves that are looking hilariously beautiful in the darker tone of the wood. They are to build quickly out of pallets, and even a few pallet wood slats will be enough to whip up these sweet and simple wooden wall shelves, will never get out of style. Just take apart a few deck boards out of pallets and leave a few on each end. Cut each end apart will be your bookshelf. Paint and decorate it in the way you like.
12. Upcycled Rainbow Pallet Flower Garden Planter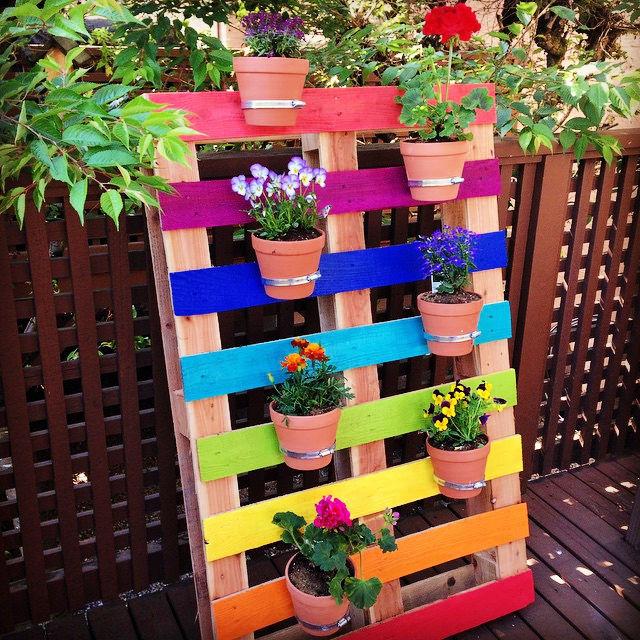 Anyone can build these pallet garden projects, a lot of decors, and ultimately a beautiful hanging or vertical garden with pallets. Peek into details of this upcycled rainbow pallet flower garden that will hang on the wall for bigger garden decor statements. This is amazingly cute to look at, and it will also create a big focal point on any indoor, outdoor, and even on the garden fence wall. You need a pallet, metal pot holders, and paint to duplicate this vertical pallet flower garden easily. Hang your favorite pots on it and paint each pallet deck board with unique paint color for a rainbow appeal.
13. DIY Toddler Pallet Bed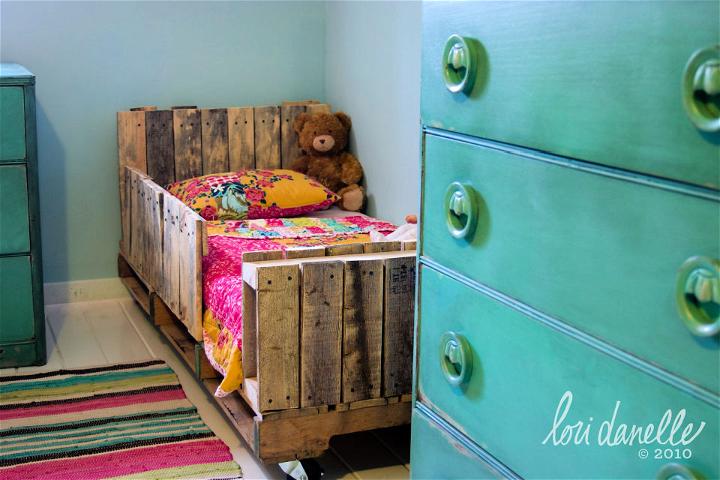 Depending on the creativity and carpentry skills, one can build almost every wooden furniture item and all types of wooden decor and stuff with pallets. Learn here to build a toddler bed out of pallets like a pro. Put the small 20″ x 40″ pallets together upside down to easily duplicate this bed. Finish it up with wheels for easy rolling on the interior floors, and this is going to be the quickest DIY creation ever. Use the nuts and bolts to assemble the pallets, and don't forget to use the leftover pallet pieces to build the headboard and footboard, as you can see. loridanelle
14. DIY Wood Pallet House or Pallet Shed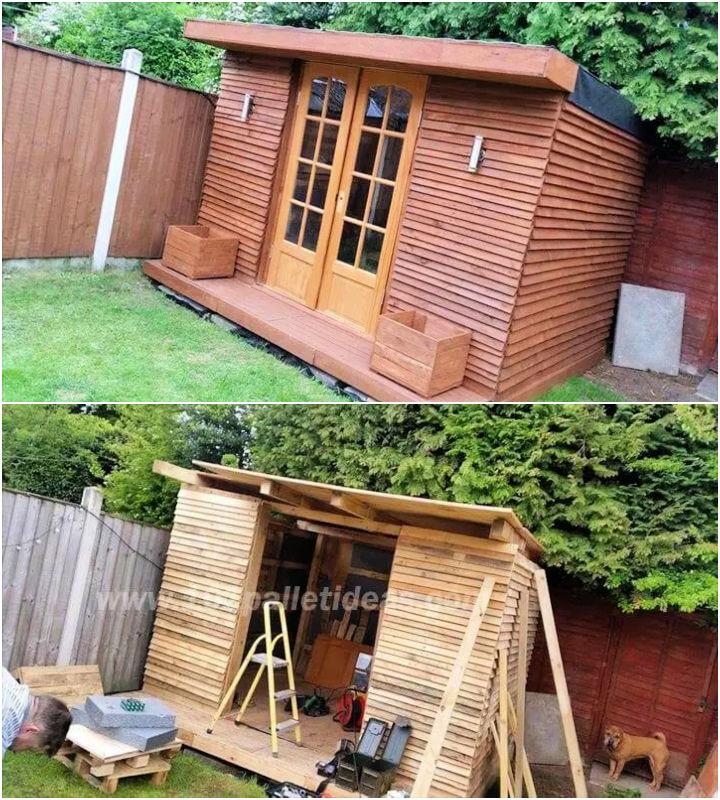 You can do some advanced pallet projects too, like building an outdoor pallet cabin or house. Want to build a one with all the necessary features? Follow here guides to build one that will be luxurious, stylish, durable and affordable at the same time. Start by leveling the ground and by installing the concrete block foundation. Next, put together the pallets flat to build the solid floor and raise the side walls by stacking the pallets vertically. Sheather the entire cabin with plywood and also get the exterior look fringed using leftover pallet wood planks. easypalletideas
15. Portable Folding Pallet Bar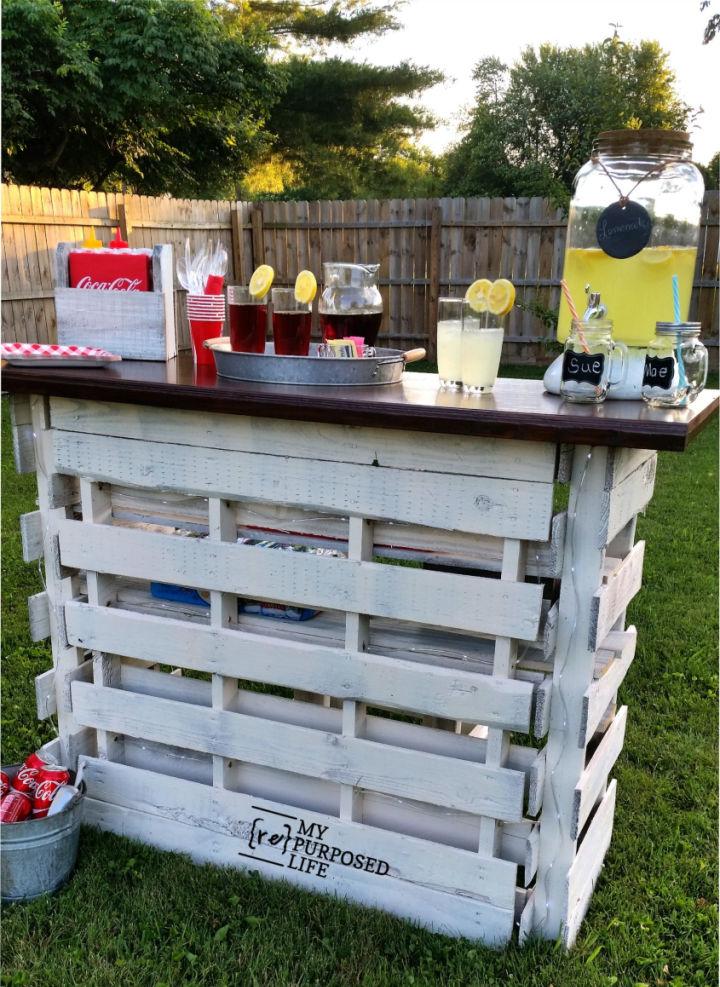 The pallets always come in ready-made shapes that save a lot of time on cuttings and even measurements. You can plan the pallets directly to gain some highly needed stylish furniture pieces, just like this portable wooden bar. It will rock for tailgating and a wedding and will impress with its amazing folding features. The design is durable and can easily be built by putting together 3 pallets vertically. Use a stained wooden tabletop for the countertop. This farmhouse-style wooden bar also provides some built-in storage shelves inside. myrepurposed
16. Rustic DIY Wood Pallet Ceiling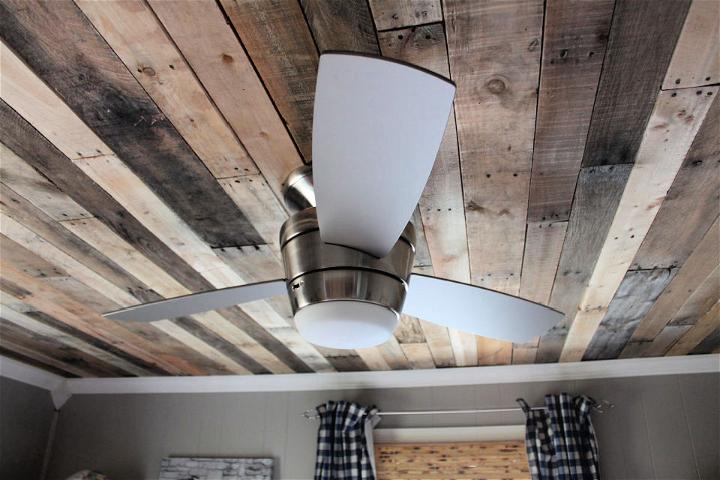 Just like the accent wood wall panels and flooring, you can build outstanding rustic ceilings out of pallets too. Look at this pallet ceiling that brings tons of rusticity and a great wooden character to the targeted bedroom interior. The project will provide you complete instructions for this rustic wood ceiling installation. The very first thing to do will be to dismantle the pallets thoroughly to have a big stock of rustic wood slats. The project using 40 old broken pallets for this rustic bedroom ceiling makeover. Before you install the ceiling, first cover the ceiling with the 4'x8′ sheets of scrap board. remodelaholic
17. End Table Made From Pallet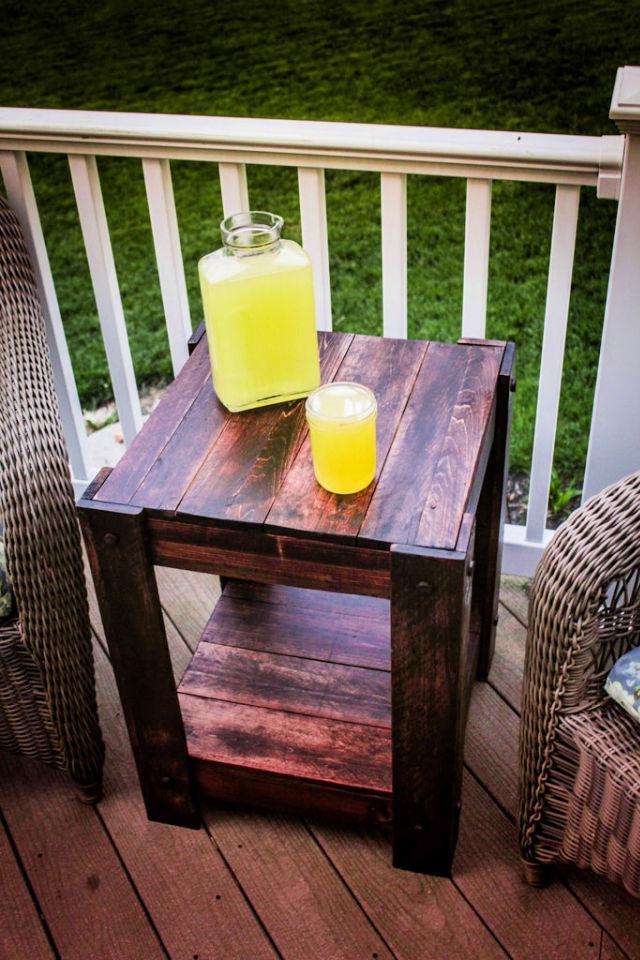 A side table is a big need for all the luxurious sitting demands, and it provides great services for a comfortable sitting and conversation experience. Along with books, mobile phones and a decorative centerpiece, it can hold all the things you have in your hands. So, get here free pallet wood projects to build a stable and lasting longer wood pallet table with a brilliant built-in shelf. Find rustic pallets, tear them apart, and put together the custom-picked lengths to easily build this stylish end table. It provides a bottom shelf to organize all your extras. Don't forget to give it a durable wood finish for weather protection and a darker wood tone.
18. Cool Wood Pallet Desk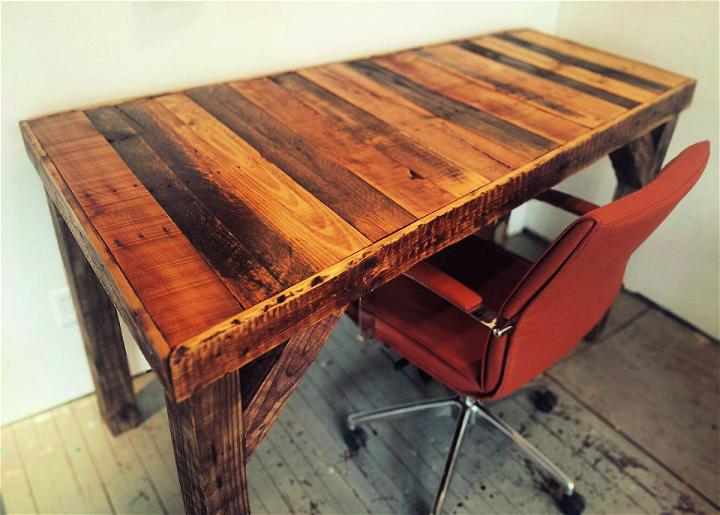 Building a pallet desk is one of the easiest DIY pallet furniture projects. So, follow the here guides to build a durable wooden deck with pallets, sure to be a great addition to one's home office. The entire desk appears in multiple wood tones. It impresses with the durable design dimensions—the best wooden desk to bring a great wooden character and rusticity to a targeted interior. First, put together the dismantled wood slats to build the top and then finish it with custom wooden legs. You also need 2x4s, 1x4s to build the top frame, braces and stretchers. Use the 4x4s for robust wooden legs.
19. DIY Pallet Fence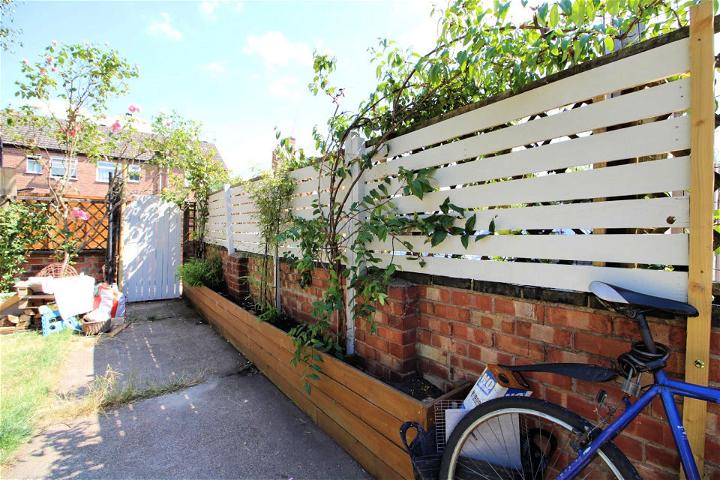 The pallet wood is magical and is damn good for home and garden improvement plans. Get here instructions about how to build a durable pallet fence. The finally completed fence wall comes painted in white and adds new decorative dimensions to the entire green garden space. To complete this garden wall project, you need pallet wood, fence posts, concrete bolts, galvanized nails, garden paint, tape measure, pencil, saw and ratchet. The project is simple and easy but will take some time to get completed. Build garden walkways and gates also with free pallets.
20. Pallet Wall

The interior decor trends often involve featuring natural wood in the interiors. So, build this pallet wood wall and bring a great wooden character to your interior home spaces. Here, installing this nursery news accent wood wall will simply cost you next to nothing. The idea is to use the free pallets to build this accent wood wall, sure to be a big love of all the home lovers. First, install custom particle boards or other boards of this kind to cover the whole wall. Next, arrange the pallet wood slats on it to build a quick, beautiful accent wood wall.
21. Easy Pallet Bed Frame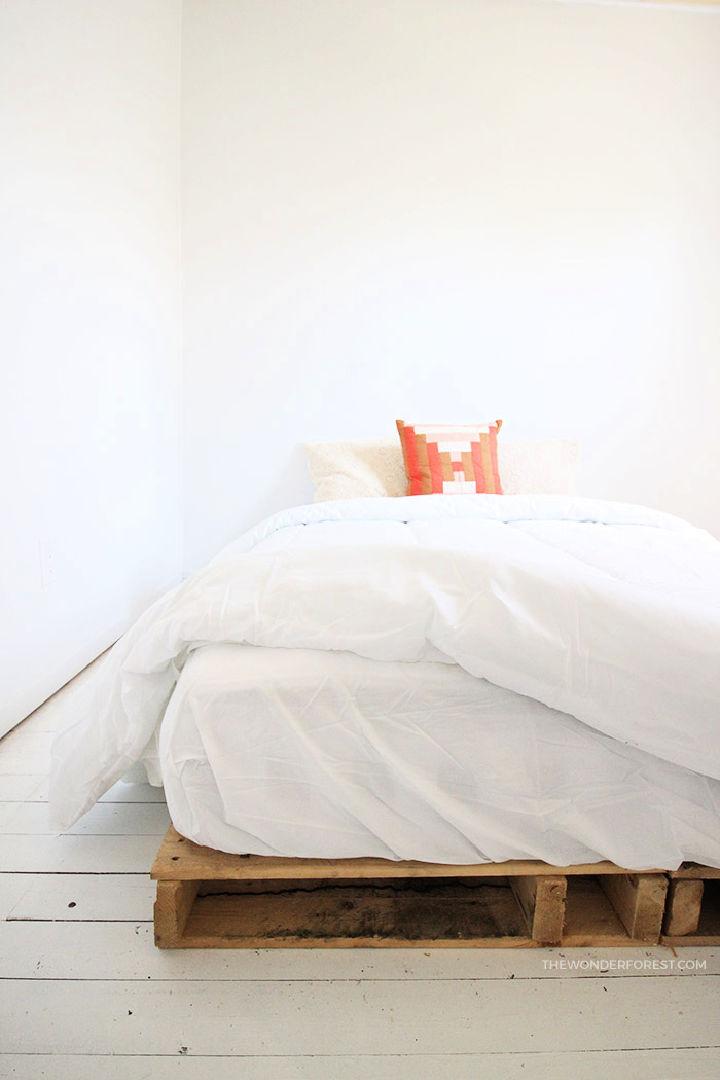 Pallets have served greatly in meeting your bed space needs. Yes, it is just a child's play to build a custom wood bed frame out of pallets. Just stack and put together the pallets until you get a wooden platform in bed size. Finish it up with a suitable bed mattress. Stacking a few pallets will be enough to build a quick bed. However, you can dismantle the pallets also completed to get a pile of wood slats that will come in handy for a custom-built wooden bed. Here two modified pallets are used for this superior wooden bed. thewonderforest
22. Creative Pallet Spice Rack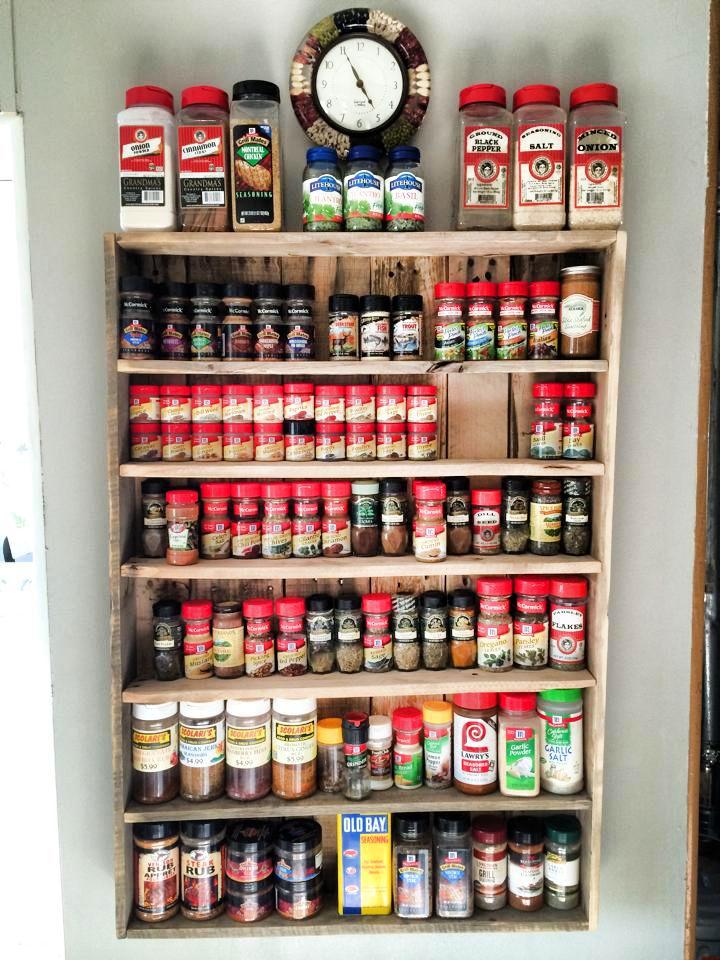 Improve your kitchen also by building custom storage units, organizers and wall shelves with pallets. Get inspired by this wooden pallet spice rack to easily construct this wooden pallet spice rack, sure to be a great addition to one's kitchen. Build the overall frame with durable wooden slats and put together the rustic wood slats for the amazing wooden background. The whole project is more than easier to do and will make bigger changes to one's kitchen. Stain and paint the finally completed spice rack for weather protection. instructables
23. Building Pallet Chicken Coop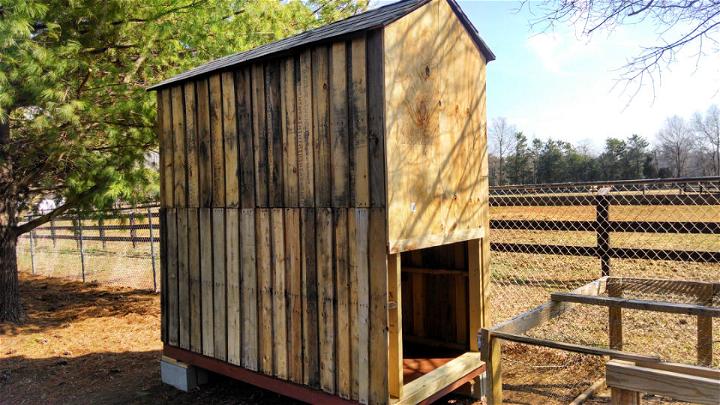 Pallet wood allows you to build all you can with any other wood, even a beautiful wooden pallet chicken coop. Peek into the given design layout that is safe and durable and will rock to raise your chickens. The base is made a little off the ground, and it stands on the solid concrete blocks. The design comes with the shingled chevron roof and also a slatted exterior. The attached chicken run makes this chicken coop a whole paradise for the chickens. You can easily plan the free pallets to quickly build this lasting longer chicken coop, making a sweet handmade gift to a favorite person. summersacres
24. Backyard Pallet Deck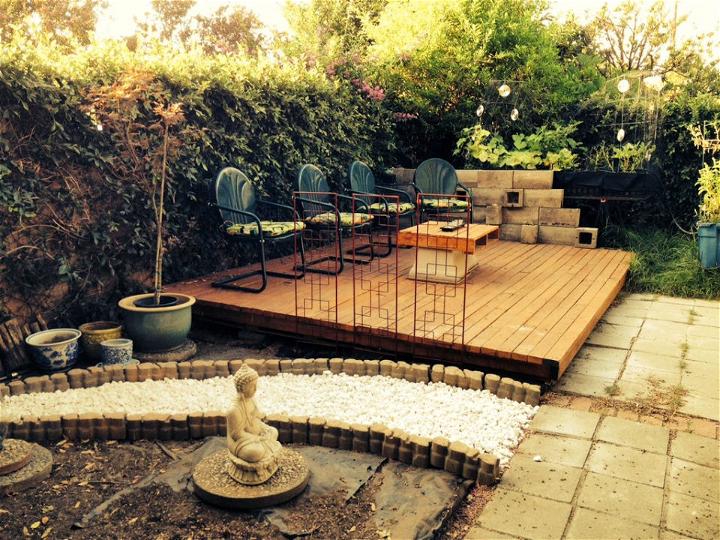 Transform the whole backyard into mini heaven by building this solid wooden backyard deck, which will rock for outdoor entertainment. The deck impresses with the brilliant slatted appeal, and you will love building it with the free pallets. The finally completed platform has 8.5′ x 12′ dimensions, and you can go for any size of it. First, put together the pallets roughly and but on a level. Next, fill the whole deck solid using extra pallet wood planks. This will create that fine look and appeal for your deck. An amazing DIY pallet deck project that everyone can do.
25. Pallet Headboard Plan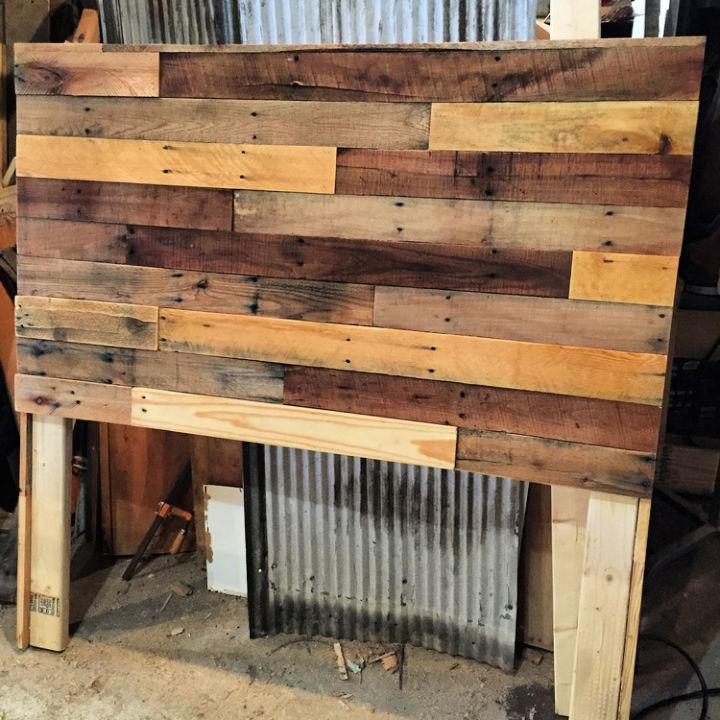 Finally, you can build the custom components of the bed also with the free pallets. Look at this wooden pallet headboard, a handsome rustic pallet wood creation, sure to be a great addition to one's bed. It will take about 3-4 hours to build this headboard, and you need the beginner skill level to do this project with ease. In supplies you need, 3-4 disassembled wood pallets, plywood, 2x4s, common boards and some carpentry skills to easily build a wooden pallet headboard. So, the whole project will cost you around $25-$50.
26. Pallet Shed Project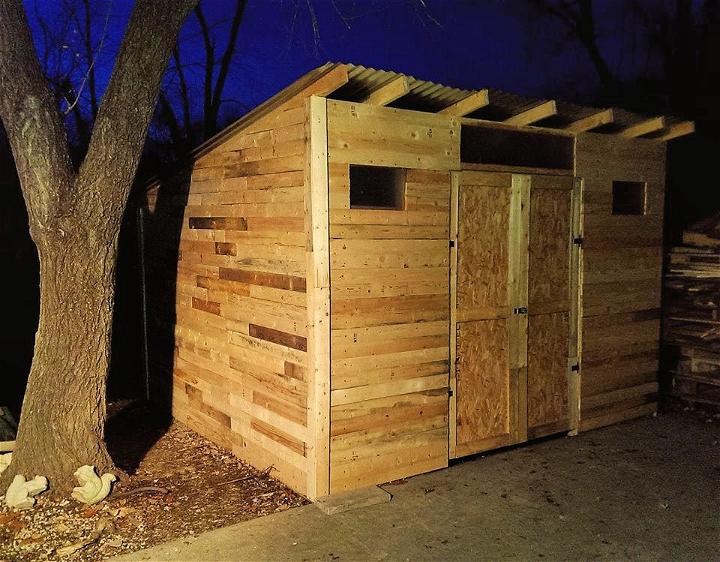 Need some extra storage and living space at your outdoor? Then do build this wooden pallet shed that comes with a sloped corrugated metal roof. The entire project will provide comprehensive details from building the roofs to side walls to the tilted roof. The shed will come in handy to store the crops and other garden tools. It will also rock as a separate cabin outdoor for outdoor living. So, you need dozens of pallets, 5′ lengths of ⅝″ all thread, nuts & washers, assorted door hardware, 12×2 ft roofing tin and a 4×8 sheet of chipboard. One of the best and quick-to-build pallet shed plans ever built.
27. Build Backyard Pool Out Of Pallets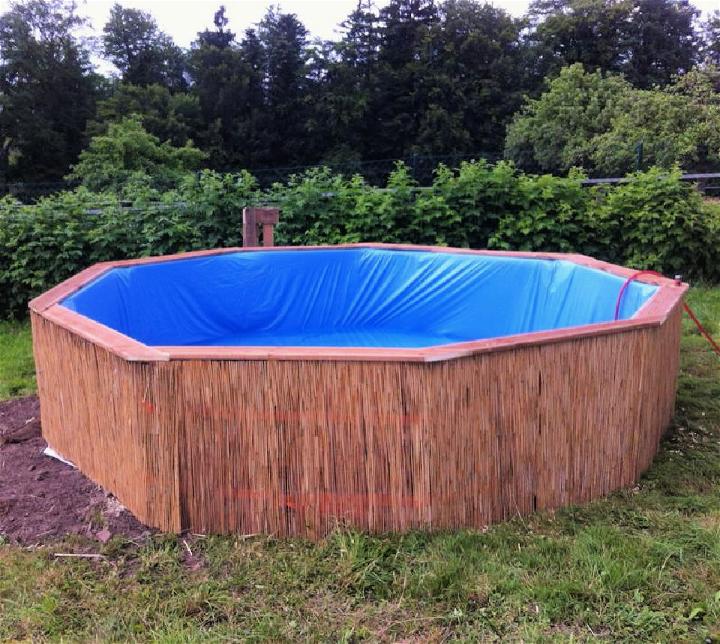 Boost the summer water fun also by building a free wooden pallet pool. This solid wooden pool also has wooden stairs and a wooden deck and is quite cheap to build. Again you can use the free pallets to build these lasting longer kids swimming pools easily. It will surely make you beat the summer heat and be quite cheap and inexpensive to build with minimal pallet wood supplies. You need a total of 40 pallets to build it. In other supplies, you need gaffa, plywood, steel cable, metal plates, Clarke Spe800 rated pump, plastic pipes, coach bolts, 75mm steel screws, sanding tools, metal brackets and 2″ nails to build this pool. easypalletideas
28. Pallet Compost Bin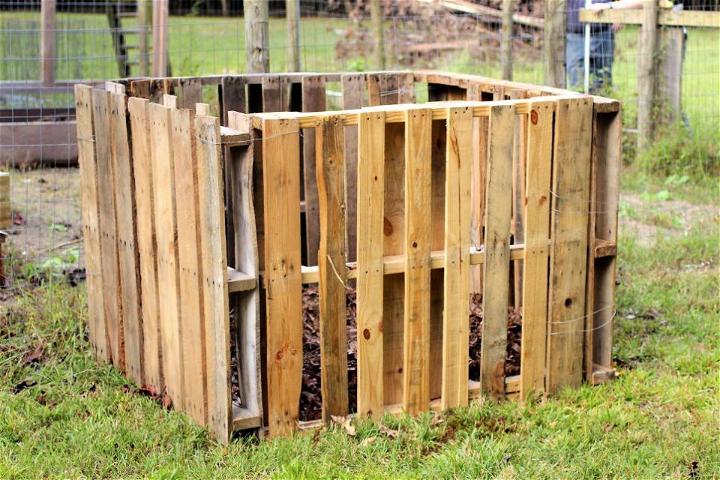 You can simply build everything with free wooden pallets without getting a bit expensive. Get here complete guides to build a wooden compost bin, will be the whole miniature factory to make a natural fertilizer for your garden. Put together some free rustic pallets to easily build this wooden compost bin. Add all the garden trashes in this bin, and it will help you make the best compost for the garden plants and other greenery. You can add a roof or lid also to this compost bin. hgtv
29. Pallet Planter Box For Cascading Flowers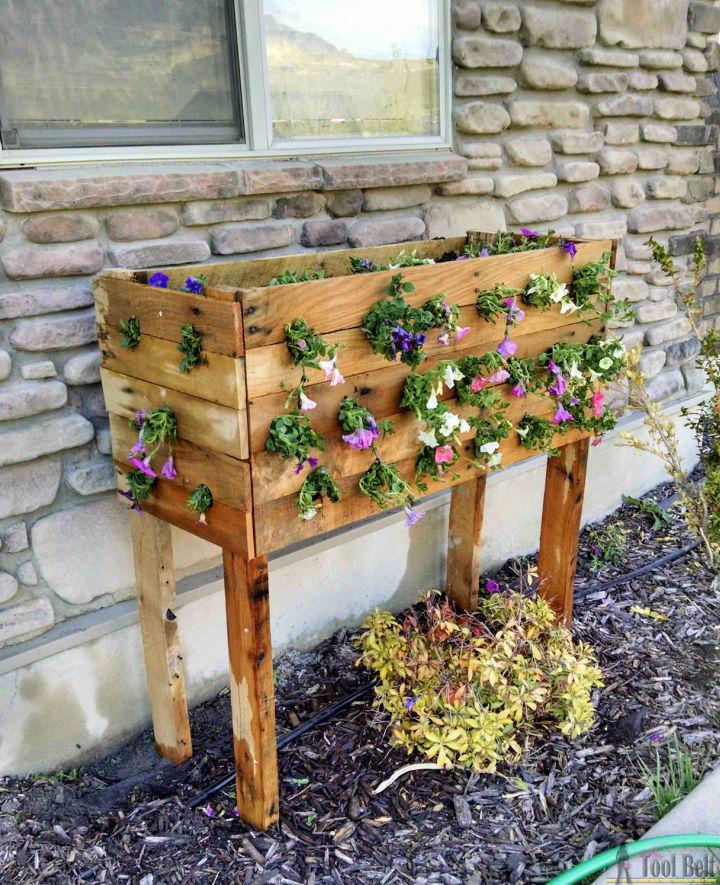 Pallet wood allows you to build many different kinds of DIY planters if you need a few to add to your garden. This pallet garden project will share the whole bag of tricks to easily build this wooden planter box, sure to be a great addition to one's garden. Just build a lovely wooden box out of free pallets, cut some holes out of the planter to let the flower stems come out, and finish the box with custom legs to build this wooden pallet planter box easily. This pallet planter box will rock for growing strawberries also.
30. Pallet Playhouse To Sell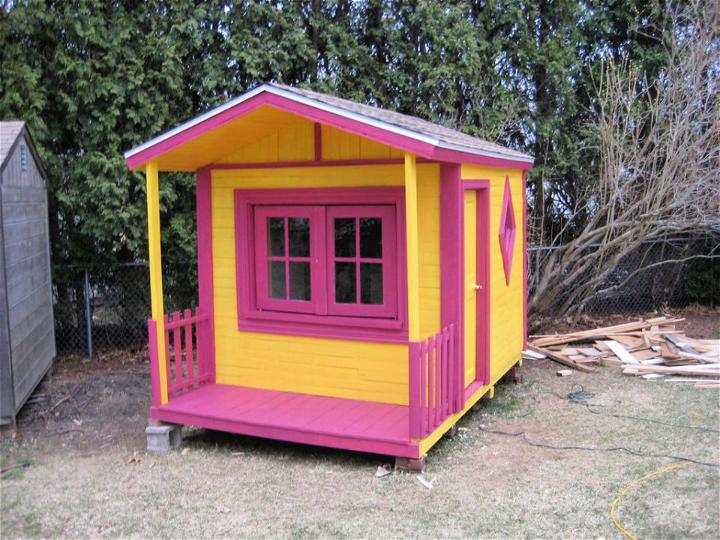 You can build a lot of things out of some free pallets that will boost the fun and entertainment of the kids. This wooden pallet playhouse is one of those items, and it will also make a better handmade gift to a favorite person. The dark pink and bright yellow painted appeal creates a stunning hue of this entire wooden pallet playhouse. What makes it look extra beautiful and special is the addition of a shingled chevron roof. Install the concrete foundation to make this wooden playhouse a little off the ground. It also comes with a veranda that brings tons of visual details to the entire design. Get the full pallet playhouse tutorial.
31. Pallet Dog House Step by Step Plan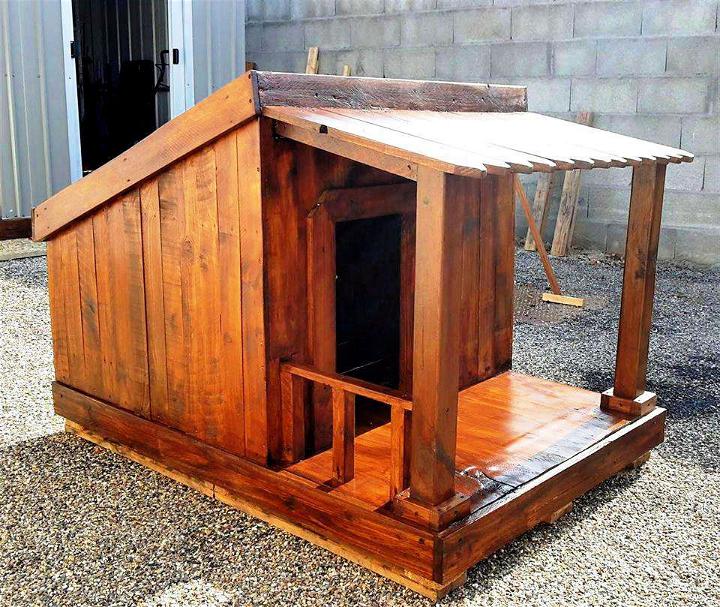 Find this one of the most popular pallet projects on the web. Get also crafty with pallets to build necessary items for your pets. This wooden pallet dog house is a great example, which will be the safest place for your furry friend to live in. You have to use plywood, pallet wood, and other wood boards to easily duplicate this dog kennel that impresses with the durable design structure and the shingled tilted roof. This dog house with veranda also makes a precious handmade gift to a dog owner and is wholly easy to build with minimal woodworking skills. Here the whole base of the dog house is made with a single pallet skid. diycraftsy
32. DIY Pallet Herb Garden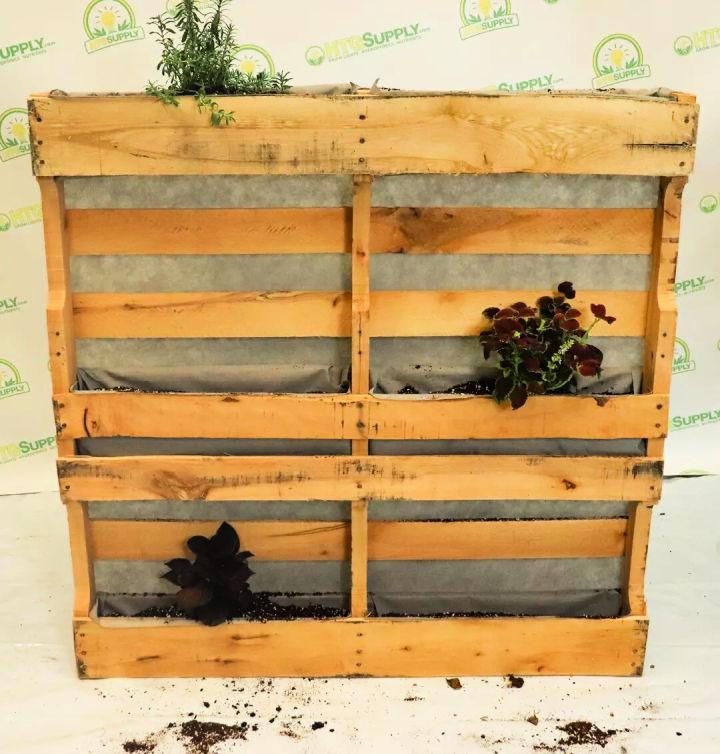 You can build a DIY herb garden also out of some free pallets. You can easily modify the pallets to start potting in them. The idea is to create custom pockets in the pallets and cover the whole back of the pallets with the landscaping fabric to build a lasting longer wooden pallet herb garden easily. Look at the given herb garden made with a pallet, landscaping fabric, staples and potting soil. It will be a great addition to one's garden. You can chalk paint or paint the whole planter to match the rest of the garden decor. htgsupply
33. Cool Pallet Wood Chair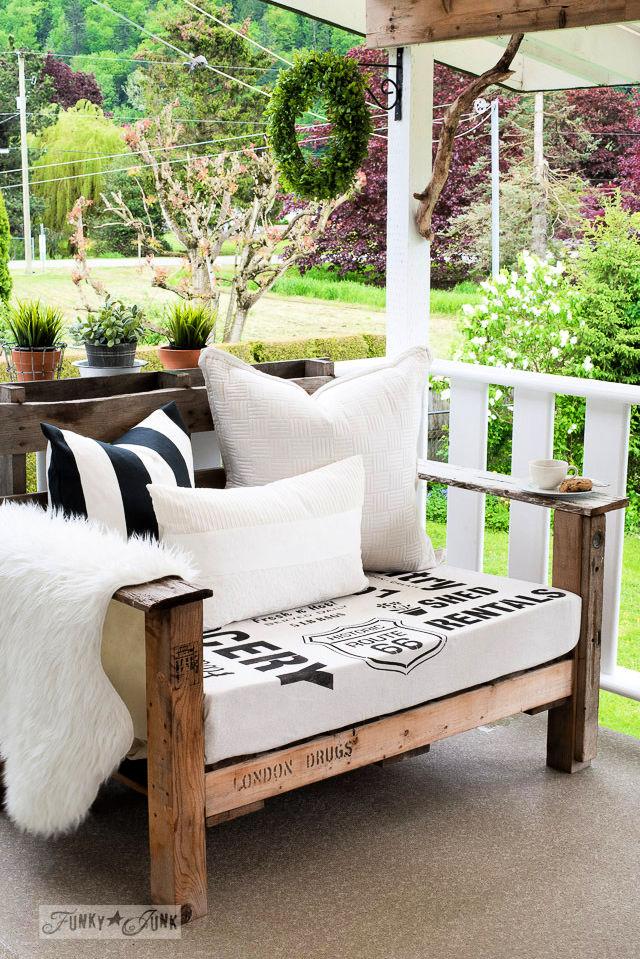 Are you in dire need of some chairs to accomplish your sitting space desires? Then again, head over to some free pallets to build a beautiful chair out of pallets. The chair comes with a wide seat, elevated armrests, and a solid backrest and will make a person sit like a boss. Finish a miniature wooden pallet with some durable square legs. Then, plan miniature rustic pallets to build the solid wooden backrest to whip up this lovely wooden pallet chair. Don't forget to finish the chair with your favorite seat mattress.
34. Outdoor Pallet Sofa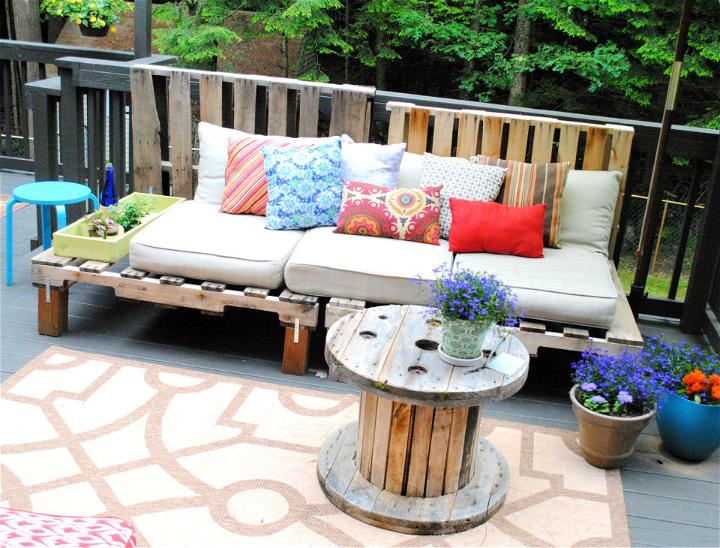 While talking about the most loved pallet projects, we can't forget about the wooden pallet sofas. It would not be wrong to say that building a sofa can be the easiest thing to make with some free pallets. Put together the solid wooden pallets in L-shape and add custom wooden legs to build this wooden outdoor couch easily. Finish with custom seat and backrest mattresses and accomplish your deck sitting needs with it. This rustic wooden sofa will surely boost your outdoor fun and entertainment. Add an empty wooden spool inside to serve as a lovely end table or side table. One of the best DIY pallet projects that everyone can do with ease. jennaburger
35. Wooden Pallet Swing Bed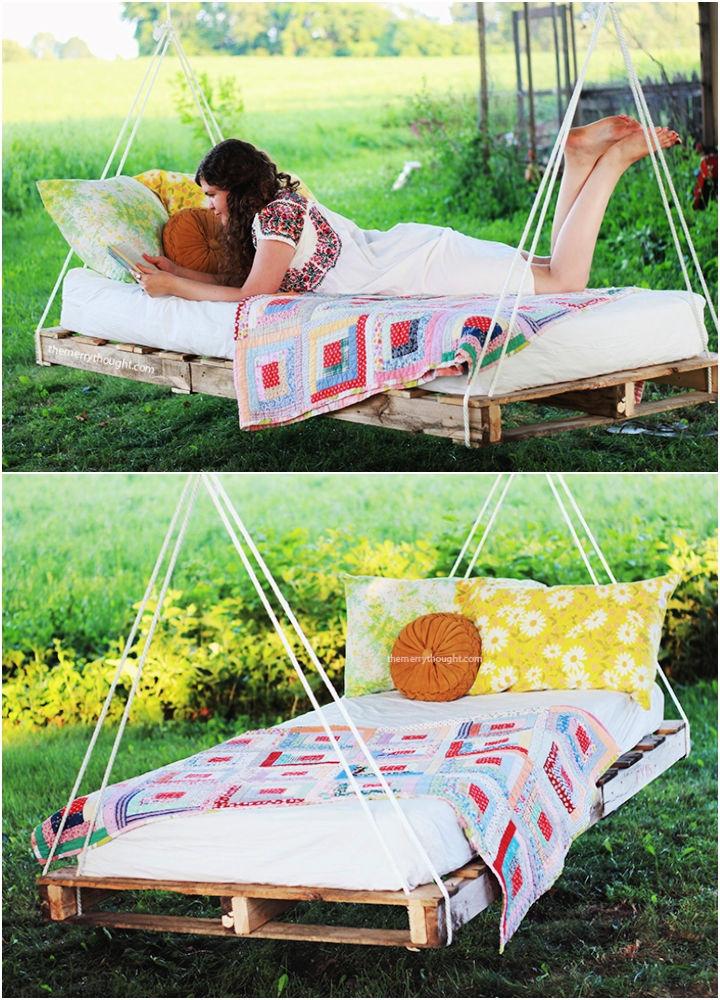 The pallets can be used as ready-made beds at the very time of need. Get inspired by this pallet swing that is an instant beautiful pallet creation. The whole construction is all about hanging a wooden pallet up in the air with the help of some durable wooden ropes. Next, you can finish it up with a custom seat mattress to gain a beautiful hanging bed. Adding custom pillows, cushions and bedspreads will surely take your comfort to the next level. To build this swing bed, you need pallets, 2x4s, drill, screws, saw, measuring tape, rope, mattress, and 2-3 vinyl zippered mattress covers.
36. Hand Lettered Pallet Sign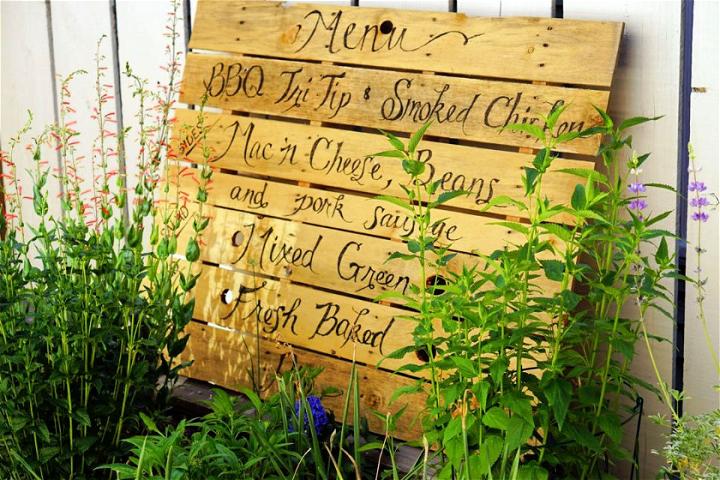 There are tons of different pallet projects to make with free pallets, and this hand-lettered wooden pallet sign is one of those lovely things. First, grab a free wooden pallet skid having some lovely and wider-looking deck boards. Next, write custom letters and words on each given deck board and make gorgeous-looking quotes wood signs out of pallets. You have the freedom to write your own beautiful words and letters on the chosen pallet. You can also use custom stencils to paint custom art shapes and logos. Explore a big list of Pallet Signs.
37. Pallet Wall Art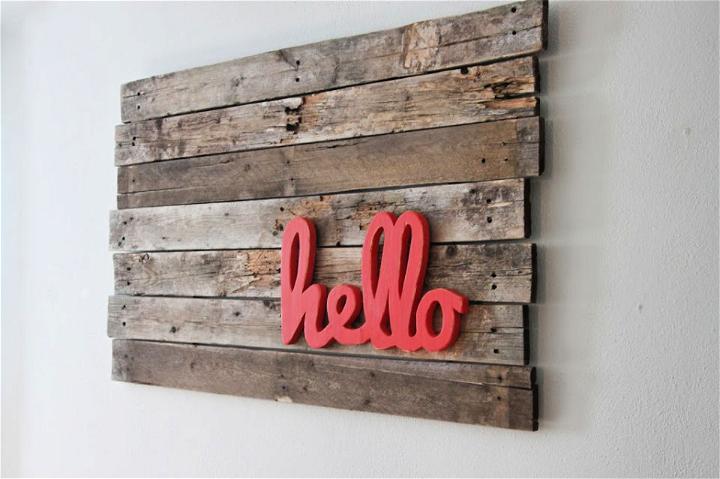 Spruce up your interior home walls with this wooden pallet wall art sign that is gorgeously beautiful. Build the whole wooden board by putting together some rustic separated pallet slats and adding the custom wooden letters to make a quick, beautiful wooden pallet wall art. The entire sign will cost you around $40 and will be a total pleasure to make also. The sign will rock for any blank wall, and you can use any set of rustic wood slats to duplicate this pallet wall art. colorsandcraft
38. DIY Goat Shelter From Pallets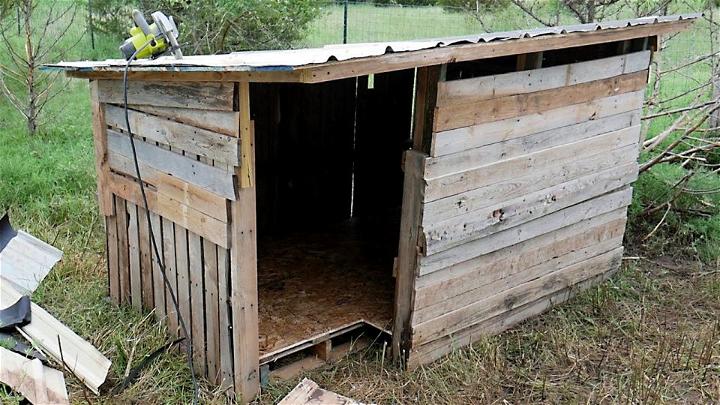 Construct dog, cat, goat and chicken shelters out of pallets also. This project will guide you on how to build a durable and lasting longer wooden goat shed. The design layout is pretty simple and comes with a tiled corrugated metal roof. This goat shed looks double cute with the solid wooden floor and provides the main entrance in the corner. You only need some pallets and extra wood to duplicate this solid, beautiful shelter for the goats easily. It is just like a small wooden house that even a beginner can build with ease.
39. Reversible Pallet Scarecrow Snowman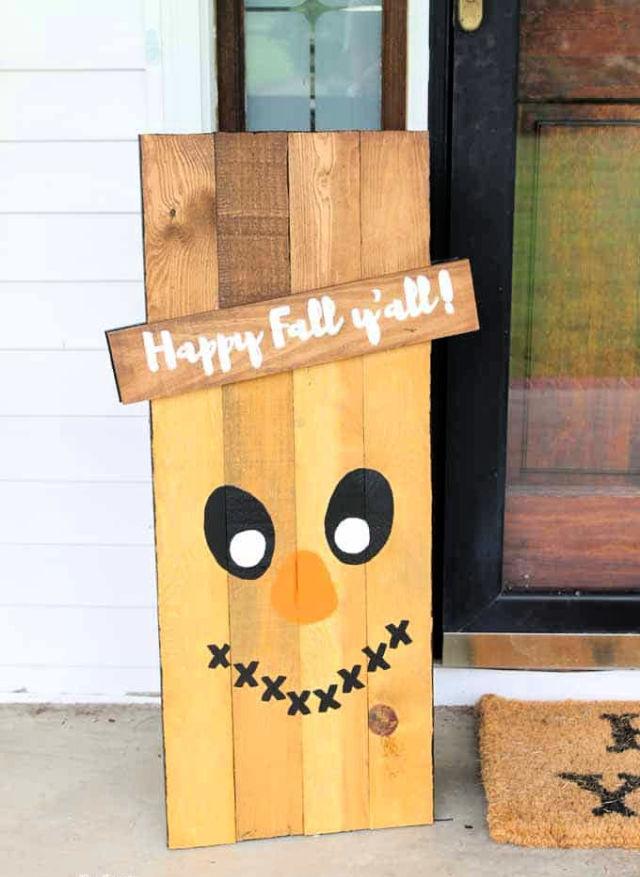 When being on a mission to make functional and useful items out of pallets, you can use even a single component of a pallet. Here the single wider slats of pallets that have been used to make the reversible scarecrow snowman signs will be a big love of all garden lovers. The project is all about painting the pallet wood boards smartly to get the scarecrow shop on them. In supplies, you need 1x4s, saw, screws, nails, wood glue, drill, hammer, brown and gold stain, outdoor paint, paintbrushes, printable template, scissors, tape, transfer paper, spray sealer and some creativity to do this project. craftsbyamanda
40. Build A Pallet Picnic Table

Repurpose pallets to build stylish and lasting longer park and garden furniture also. Take a quick start by building this wooden picnic table that is amazingly cute and cheap to build. The completed picnic table is built on an aqua theme, and it features aqua and blue stripes. The A-frame sides and attached benches are the whole beauty of this one of the most beautiful wooden pallet picnic tables. You need 1-2 pallets, 2x4s, 2x6s, stain or paint, custom hardware and custom woodworking tools to clone this picnic table for kids in the home. craftboxgirls
Conclusion about these pallet proejcts:
Pallets wood is 100% free to recycle, and there are countless different pallet projects related to home and garden improvements. You can easily do it with them. This ultimate list of pallet projects will share the complete details and tutorials to understand recycling better, repurposing and upcycling the pallets. From building extraordinary furniture to pet houses and cabins to outstanding decor, these projects will cover all. From beginner to intermediate to advanced, there are projects for all skill levels. There are also various pallet projects on the list that you can do with one pallet or even with one plank of pallets.