Pallet signs will feature rustic touch in the modern interiors. So much involvement of rustic wall art pieces and signs in the modern interior design decor has raised their prices. However, you can trim down your expenditures with these 40 easy DIY wooden pallet sign ideas that will help you to build rustic, antique and vintage-inspired pallet signs at cheap prices. The prices will be almost zero if you manage to have some pallets for free.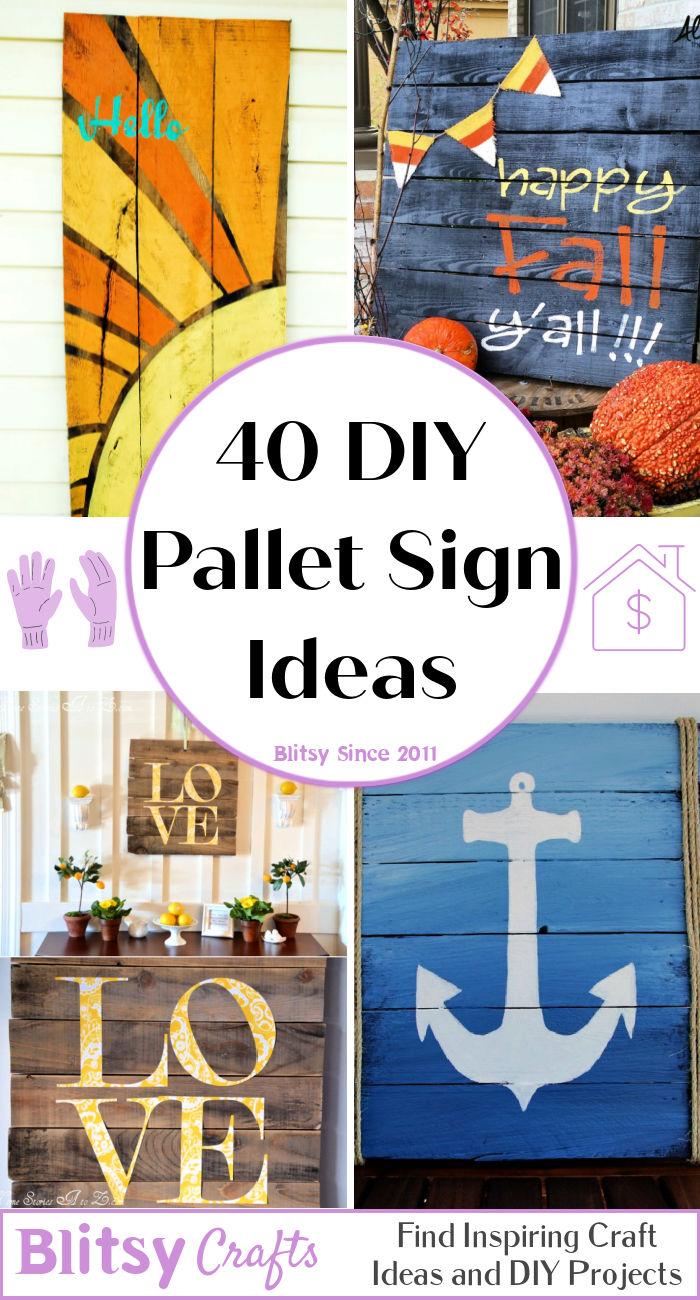 These rustic pallet signs will help to put your unique taste of decor to display, and they will also be a quick decorative treatment for your boring blank walls. Explore this list of 40 DIY pallet sign ideas and see some amazing signs made for custom spaces and rooms like kitchen, bedroom, and bathroom. At the same time, you will get ideas for outdoor pallet signs that will also be a breeze to make.
These pallet wood signs will be much easier to do if you have a beginner woodworking skill level. However, having some painting, drawing, and stenciling techniques in your hands will make you easily do most of these diy pallet signs. From using stencils to vinyl lettering, you can also use wooden letters to custom accents to make these DIY pallet wall art signs shared to impress and inspire.
1. Pallet Wedding Sign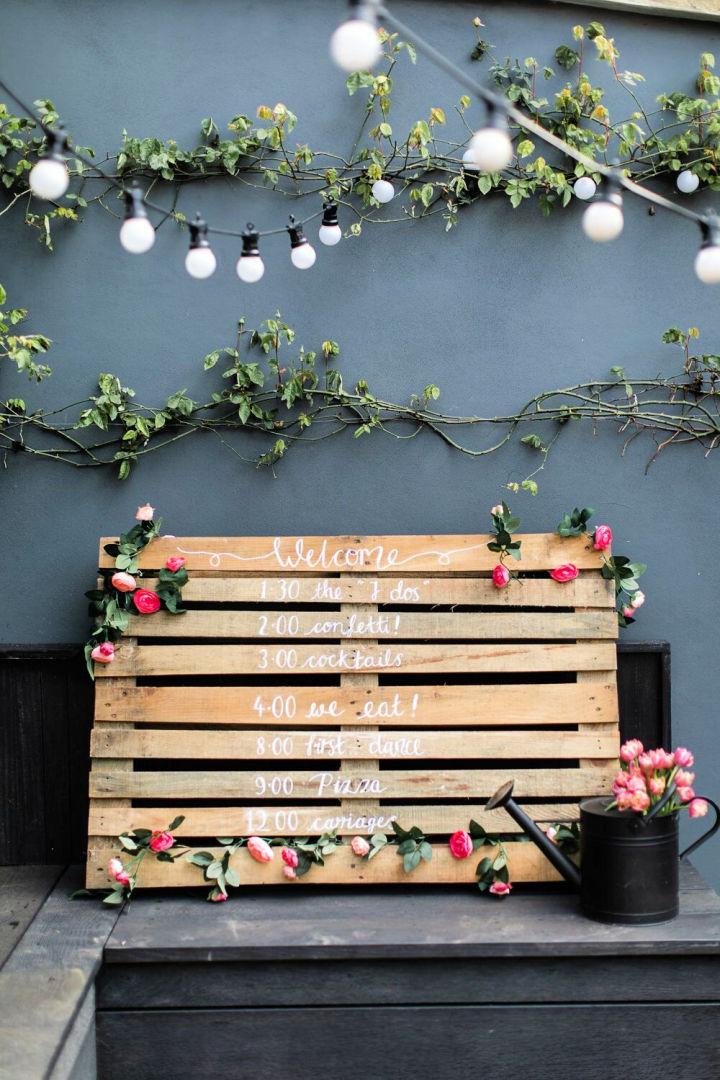 The wedding decor matter as you are going to impress a big gathering of people through them. So, opt for this pallet wedding sign, sure to be an impactful addition to your wedding decor. The pallet deck boards are white brush-lettering style calligraphy showing the wedding menu, and finally, the flowers are added for some romantic vibes. You need ink pens, a pencil, flowers, greenery and a wood pallet to complete this project. You will get this outstanding wedding sign decor at a very cheaper cost, and it will also be gifted to a friend busy in wedding decor. rockmywedding
More Pallet Ideas To Do:
Pallet Wall Ideas: Find a unique gallery of the best pallet wall ideas including ideas for the bathroom, bedroom, garage, garden and living room.
2. Kitchen Pallet Sign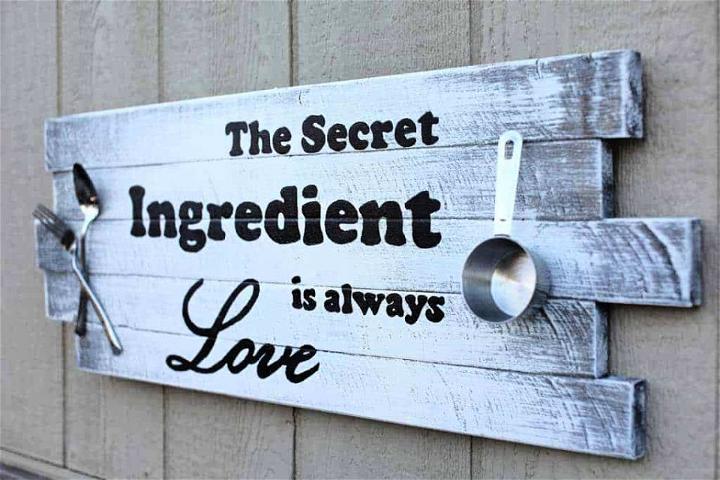 This handsome rustic sign will create a big talking point in your kitchen and will surely bring that glam touch of rustic elegance there. The completed design is stenciled for custom quotes, and it also comes with some hanging utensils for an enhanced view. It will sure bring tons of character and style to your kitchen and is a breeze to build. Use the 1×3 boards to easily compose this sign. You need white paint, Espresso stain, black sharpie, shop paper towels, graphite paper, 80 grid sandpaper, and 1x3s to whip up this outstanding kitchen artwork. thediyplan
3. DIY Halloween Pallet Sign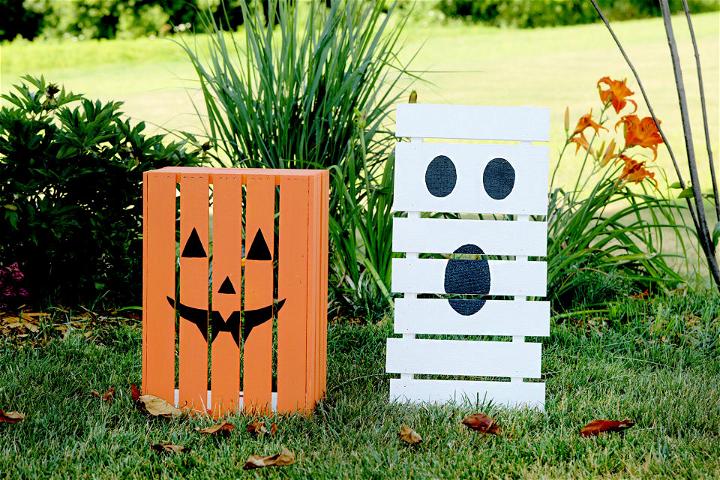 Get these spooky pallet Halloween decorations to make your home and outdoors look haunted. Here the idea is to paint the plain pallet wood crates for a ghost and jack-o-lantern look. The whole project will be fun, and even the kids can do it quite easily and efficiently. Pick the wooden crate, wood pallet, primer, outdoor acrylic paint, paintbrush and pencil to easily build these pallets and create Halloween decorations. You can paint many other characters too on the pallets like monsters, mummies, spiders and much more. bhg
4. Beach Pallet Sign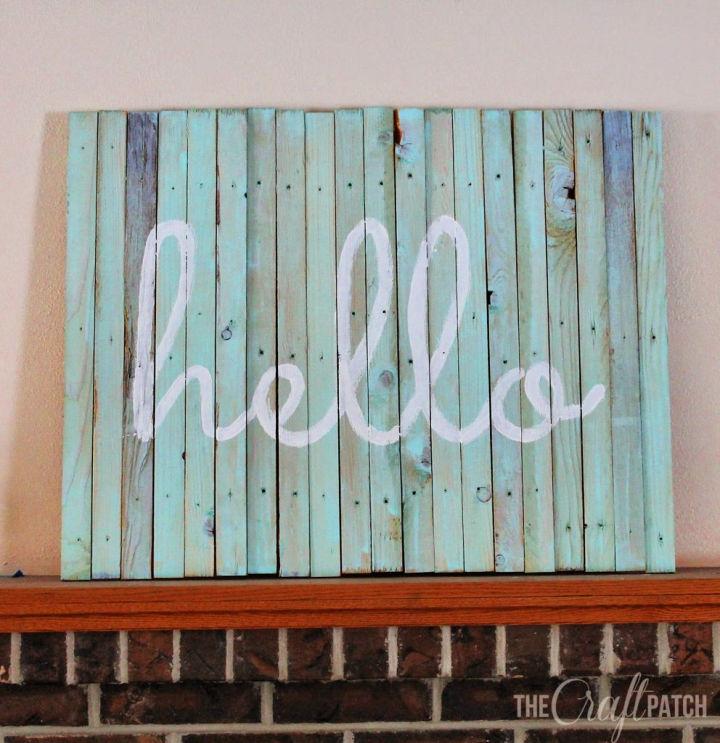 Greet and cheer up every new person with this wood pallet Hello sign. Make it with the flat-packed arrangement of pallet wood slats resulting in a thicker wood pallet board. Next, write custom letters on the board. The sign brings a great wooden character and must make it to bring those antique, vintage and beachy vibes to your space. Crafting out this sign is a breeze even for a beginner, and it will be ready only in a few minutes after you pluck apart the slats from pallets. You need strips of wood, chalk, a printout of the letter image, paint and paintbrush to complete this project. thecraftpatch
5. Easy Pallet Name Sign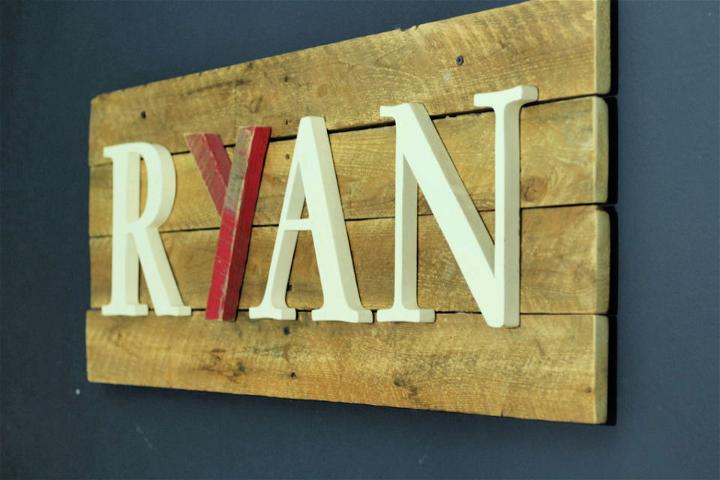 Create a personal statement in an entire bedroom ambiance by adding this wood pallet sign, crafted to impress and inspire. The whole sign is quite something easy and quick to make with the help of provided instructions. Cut the pallet boards to size and make a wooden board out of them in desired dimensions. Next, add your wooden letters on the board, and you can paint the letters in custom colors of choice. The best pallet sign comes with 3D wood letting and will surely bring tons of personality to a bedroom interior. lehmanlane
6. Rustic Sign Made From Pallet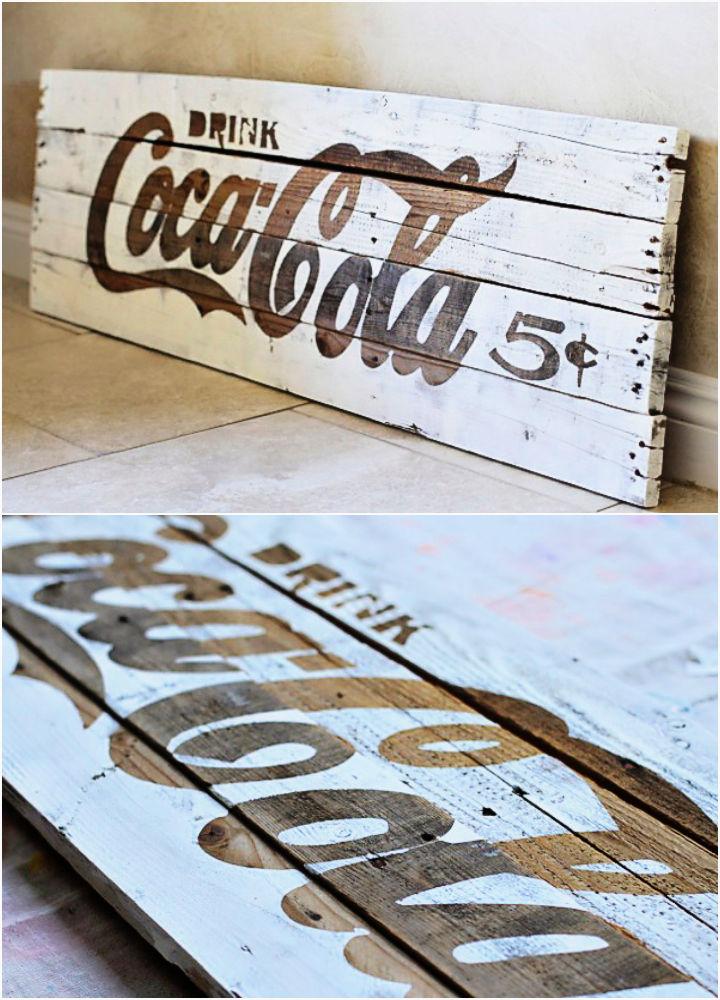 Have you recently visited an antique shop and fallen in love with some fabulous wall signs displayed in the shop? After looking at the high price tags, you will not be tempted to buy them for sure. So, get crafty with pallets to inexpensively build all those expensive antique signs at home but with the same rustic feel. Look at this Coca-Cola sign, sure to grace up any interior wall and is a total breeze to whip up. Just use the Cricut machine and cut the Coca-Cola letter vinyls. Paste them onto a wooden board, and then paint the entire board. After the paint is dried, peel off the vinyls to reveal the unpainted letters. lilblueboo
7. DIY Pallet Sign for Dad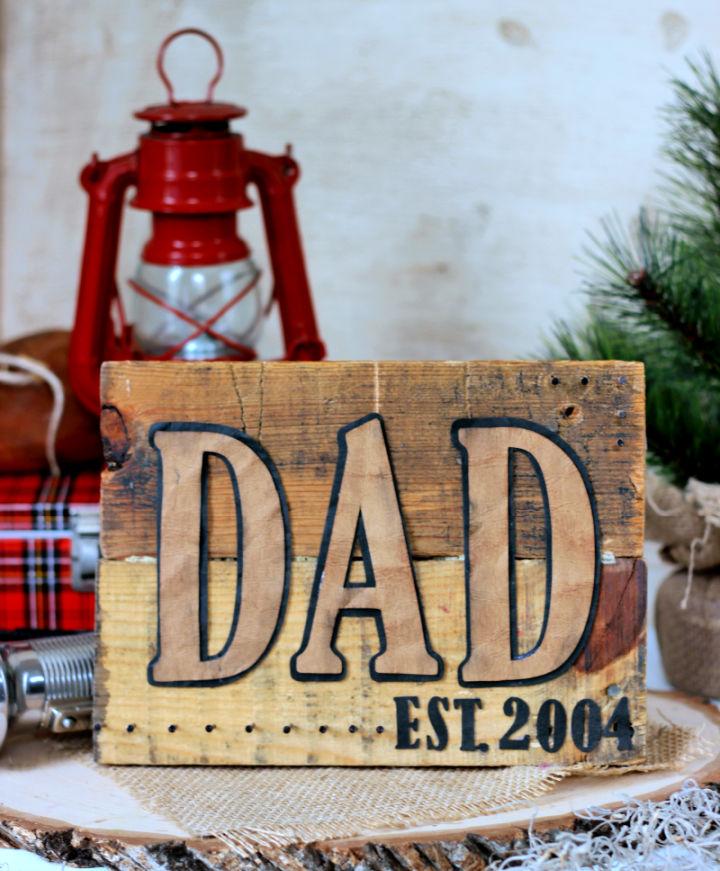 Sorting out the best gift for the dad on Father's Day? Consider making this rustic pallet sign for a Dad who loves rustic decor. To make this sign, you only need 2 pieces of pallets to shape up the board. Use glue and nails to hold together the signboard having 5″ x 9″ dimensions. Use the Silhouette Cameo and cut the DAD letters out of faux leather paper. Cut the mini letters and numbers out of black leather paper or sheet and paste them on the wood sign using hot glue. One of the best DIY pallet letter signs to make for Father's Day gifts. ribbonsandglue
8. Homemade Fall Pallet Sign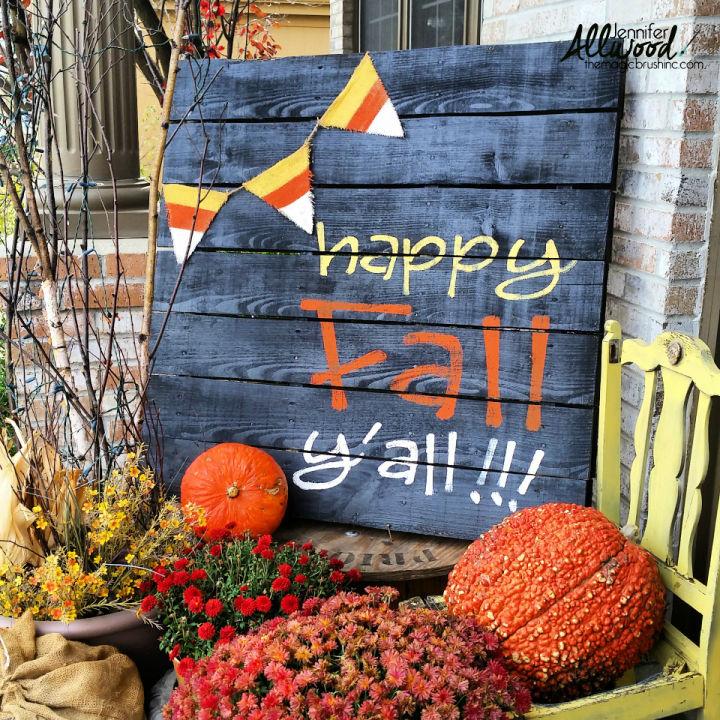 Making fall signs is the best on-trend pallet crafting game. The fall is about to come, and time to give it a warm welcome by adding some fall signs to your porch, along with a bunch of flowers and pumpkins. Follow here guides to craft this candy corn style wood pallet sign, cute and beautiful. First, put together the cut-to-size pallet boards to shape up a wooden board. Paint or stain for a dark black look and stencil for the welcome fall quotes or letters using letter stencil and paint in candy corn colors. Decorate the sign more using candy corn buntings. jenniferallwood
9. Anchor Pallet Sign For Your Deck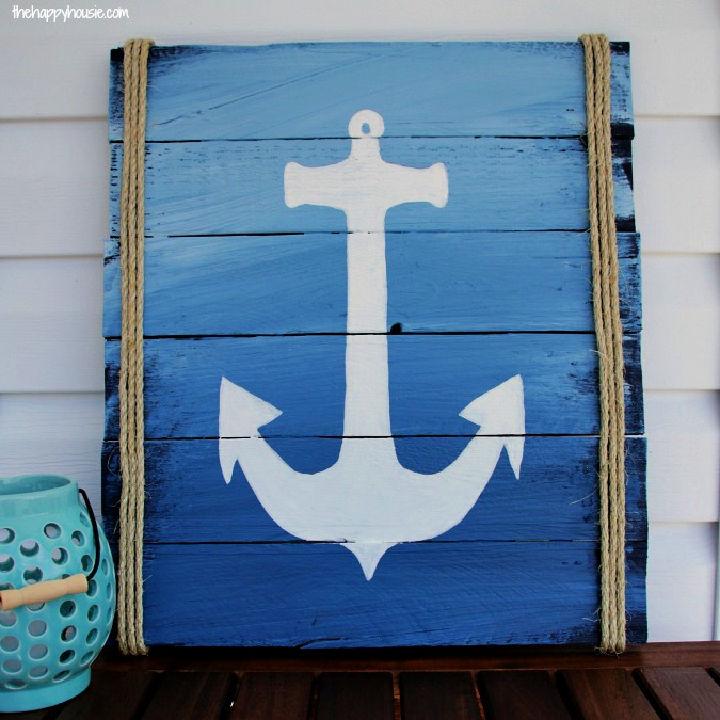 Bring the brilliant ocean vibes and beachy touch to your home by adding this pallet anchor sign to your interior walls. The rope-wrapped edges, blue painted background, and white anchor sign in the center make this nautical sign a one-of-a-kind piece. The sign is sure to be an impactful addition to a beach house and can easily be made using a few pallet wood boards, some paint, and nautical rope. You can use a stencil and various other techniques to trace the anchor sign on the board. thehappyhousie
10. Creating A Pallet Sign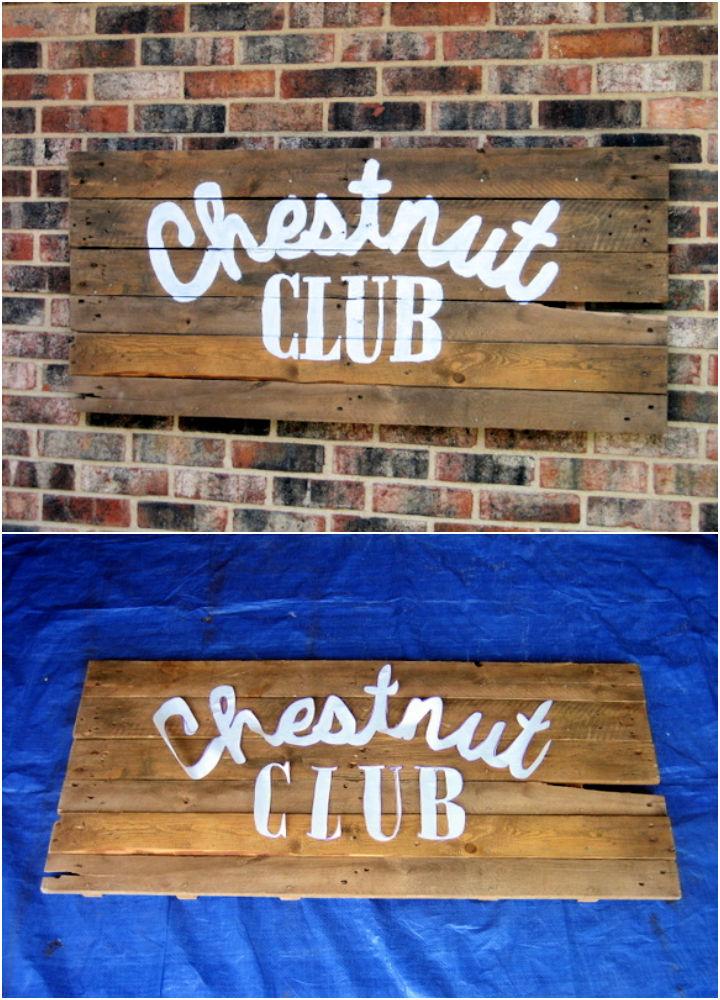 Have a peek at this gorgeous pallet sign that is an insanely cute pallet wood creation. The sign is made to gift to a Dad on father's day, and it is more than easier to make than you think. Pluck apart a few boards from a pallet and make a rectangular wood signboard out of them. Add the back supports to hold the pieces together. Sand and Stain the sign and then trace your letters using a letter template. Finally, fill the letters with white paint, and that's it. thediyplaybook
11. Heart Shape Made Out Of Pallet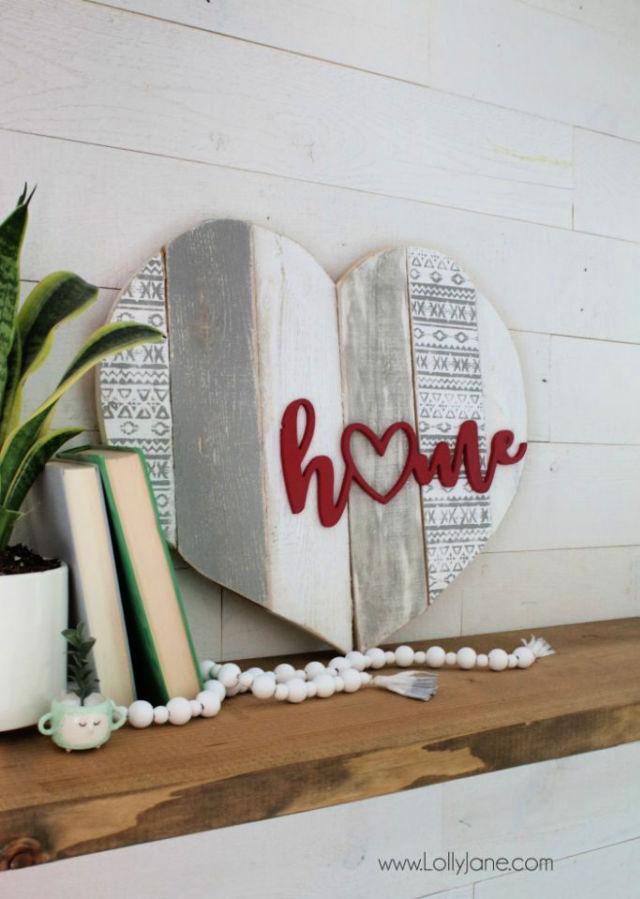 Infuse a great personality to your home decor by adding this heart-stenciled home sign. Put together the pallet wood boards and shape up a wooden sign board. Trace and cut the perfect heart shape out of it and then stencil the boards for graceful and decorative vibes. The final step will be to glue the painted home cutout on the sign, and that's it. Add it to your favorite home wall or place it on a foyer or entryway table for bigger home decor statements. lollyjane
12. DIY Pallet Wood Arrows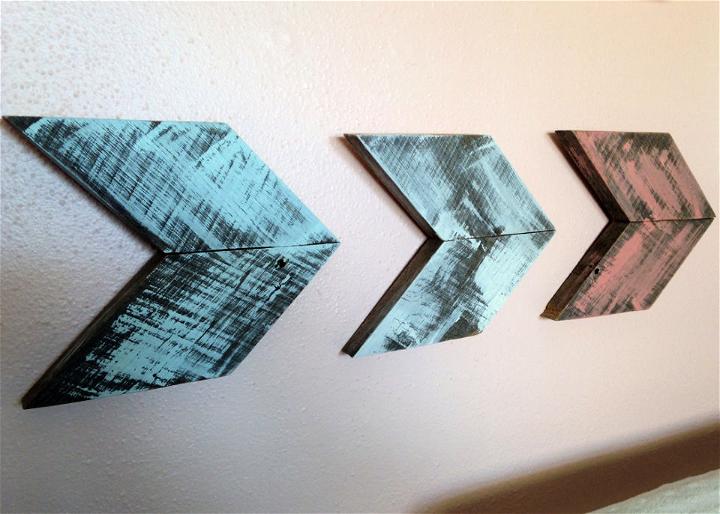 Home decor is a big concern when you are willing to spice up your interiors. Add up your interiors with these rustic wood pallet arrow signs that are quite easy and quick to make with minimal crafting skills. You need pallet wood or other scrap wood, miter saw, Sawzall & crowbar, safety goggles, wood glue, clamps, staple gun, paint, foam brush, sandpaper and picture hanging hardware to clone these outstanding pallet arrow signs, sure to be a big love of all. The signs are super achievable, even for a beginner. alittlekooky
13. Thankful Grateful Blessed Pallet Wood Sign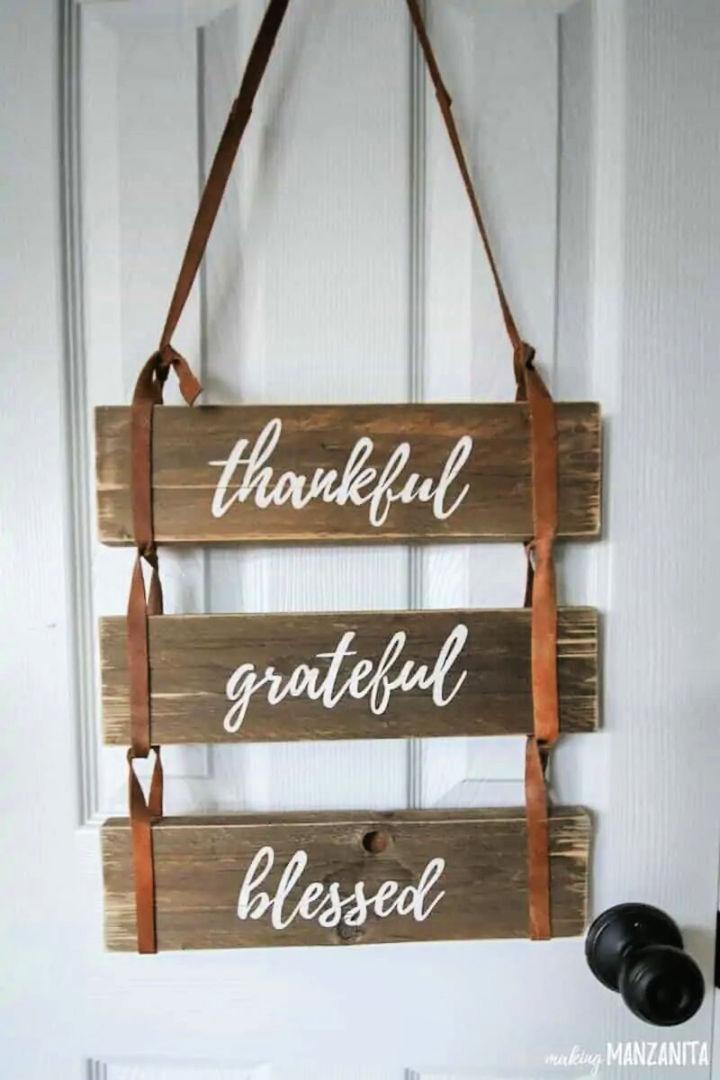 Fancy up your interiors with this thankful, grateful and blessed pallet sign. Make it with 3 pallet wood boards, and it is quite something beautiful to make cheaply at home. Use the Silhouette Cameo to make the custom letter stencils. Use them to paint custom letter stencils on the pallet boards. Next, add the boards into leather straps to gain brilliant decorative signs to add to your home decor. Tie knots in the leather straps to hold each board in place, and this will be super fun to do for sure. One of the best and quick-to-make DIY Pallet Sign ever. makingmanzanita
14. Making A Pallet Sign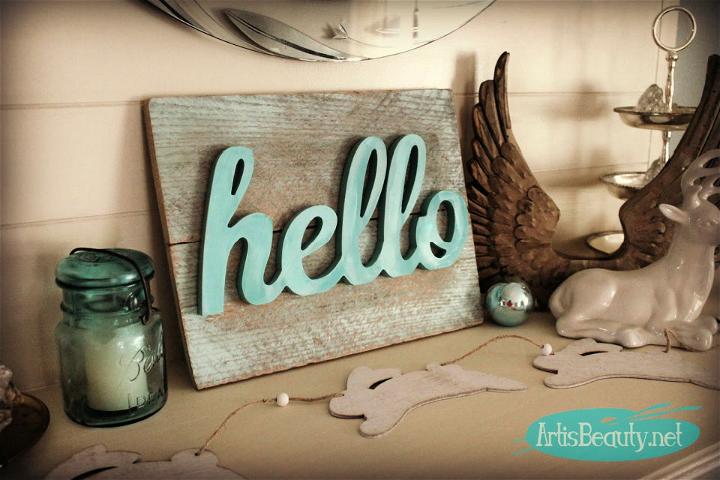 This homemade pallet sign will cheer up and greet all guests and new entering persons. The sign comes with 3D hello letters and will complete simply in no time. You only have a few pallet wood boards, some back supports, glue and hello letters to complete this fabulous wooden sign, sure to be a big love of all. The sign will rock to give a warm welcome to any season and festival and is a total pleasure to make even in the last 10 minutes. One of the best and quick-to-build wood pallet signs that everyone can build in no time. artisbeauty
15. Wooden Pallet Sign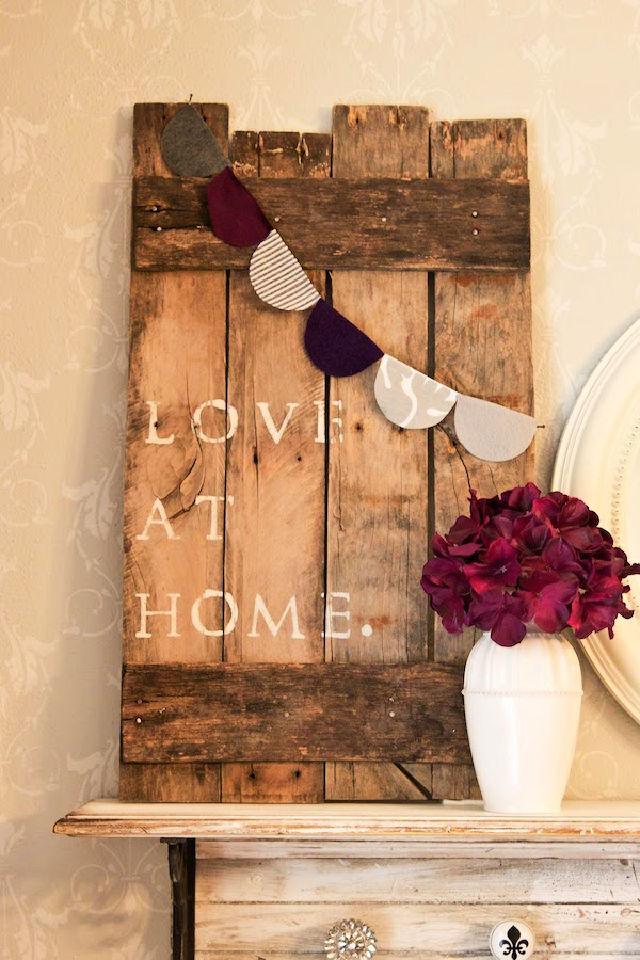 The rustic and antique signs are higher in price when you think to buy them from the market. So, it will be a great idea to whip up them at home with the recycled pallet boards. Take a look at the given pallet signs that come with a bunting garland for added beauty and are stenciled for custom letters and quotes. The project is all about building a solid and lasting longer board out of pallets. You can easily do so by putting together the cut-to-size pallet wood boards. Next, use letter stencils and paint to finish it up. colorsandcraft
16. Pallet Welcome Sign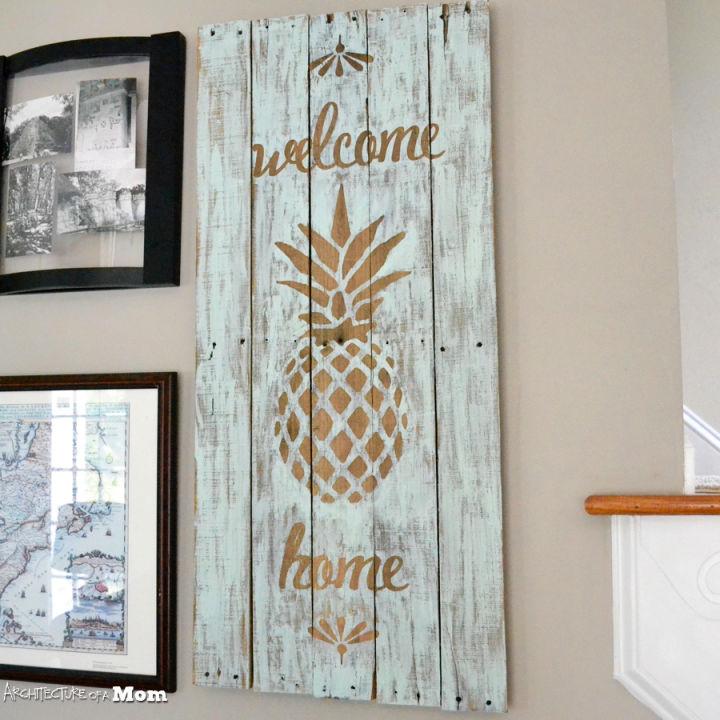 Paint, write, stencil or glue anything on the wood pallet boards to make gorgeous wall art signs in no time. Everyone will keep staring at this pineapple wood wall sign that is extremely easy and quick to craft. Design your welcome home pineapple art stencil in the Silhouette studio. Next, place the stencils on the pallet wood boards to get the artwork painted or unpainted, as you can see in both types of pallet wood signs. Here longer vertical pallet wood boards are used to whip up the blank wood signboard. architecture
17. Homemade Pallet Sign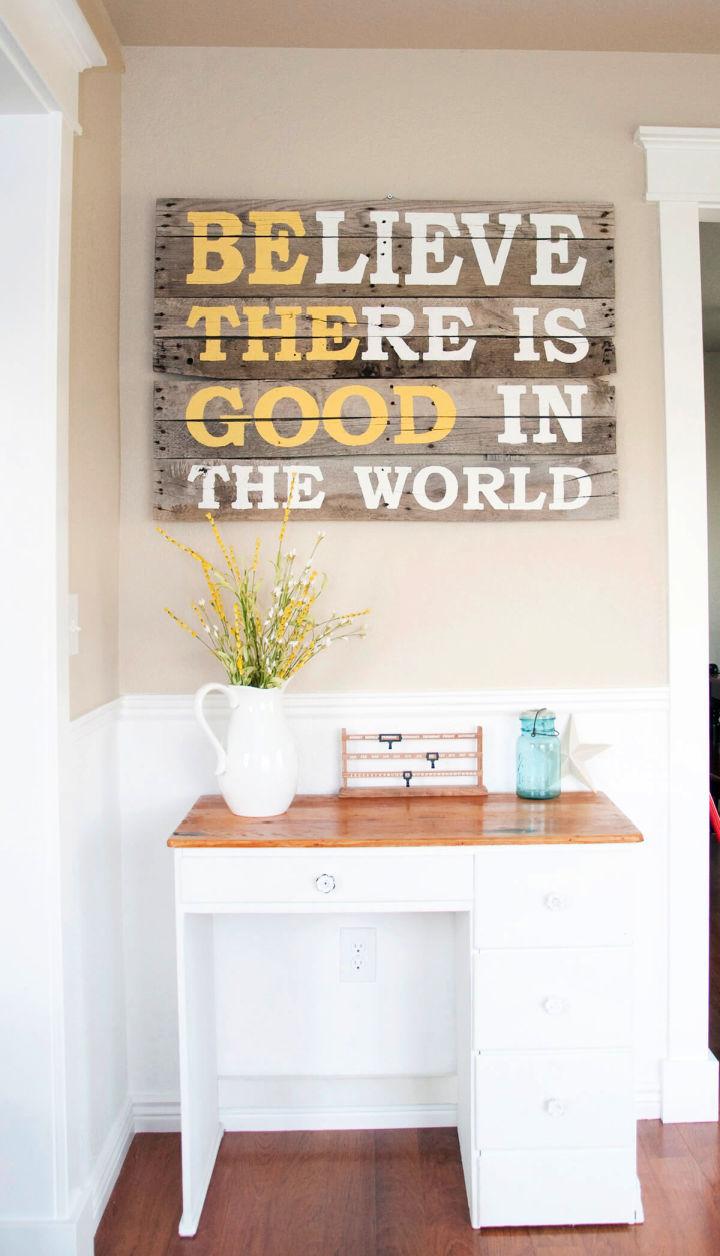 The sayings pallet sign ideas work great when you need to display custom sayings, words, and even family rules. However, the rustic look of pallets makes them ideally suitable for making rustic wall signs. Look at this another gorgeous quoted pallet sign that is to be made with 7 individual pallet wood planks. Pack the boards to make the sign and secure them in place using back supports. Next, stencil custom quotes or letters on the sign, and you can easily make vinyl letter stencils using the silhouette Cameo. Here the letters are painted in white and yellow paint. bloominghomes
18. DIY Spooning Pallet Sign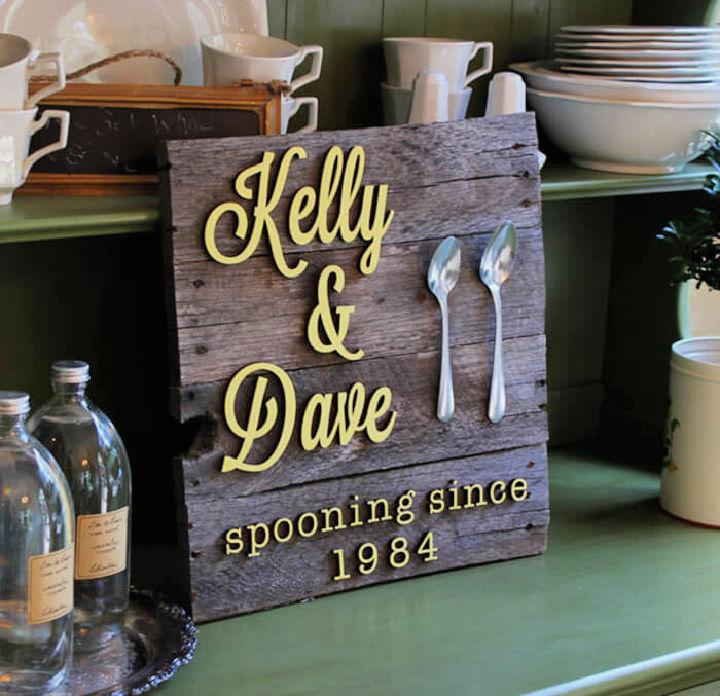 Bring a great character and style to your kitchen by adding this spoony pallet sign. What makes it look outstanding is the addition of 3D letters and spoons. Pallet boards are put together to make an instant beautiful rustic background board. Next, you can add the custom-painted wood letters on the pallet signboard selected in the American typewriter font style. Use glue to adhere letters in place and also the dinner and teaspoons. One of the best pallet kitchen signs that will also make a sweet handmade gift to a favorite person. craftcuts
19. Pallet Hello Sunshine Sign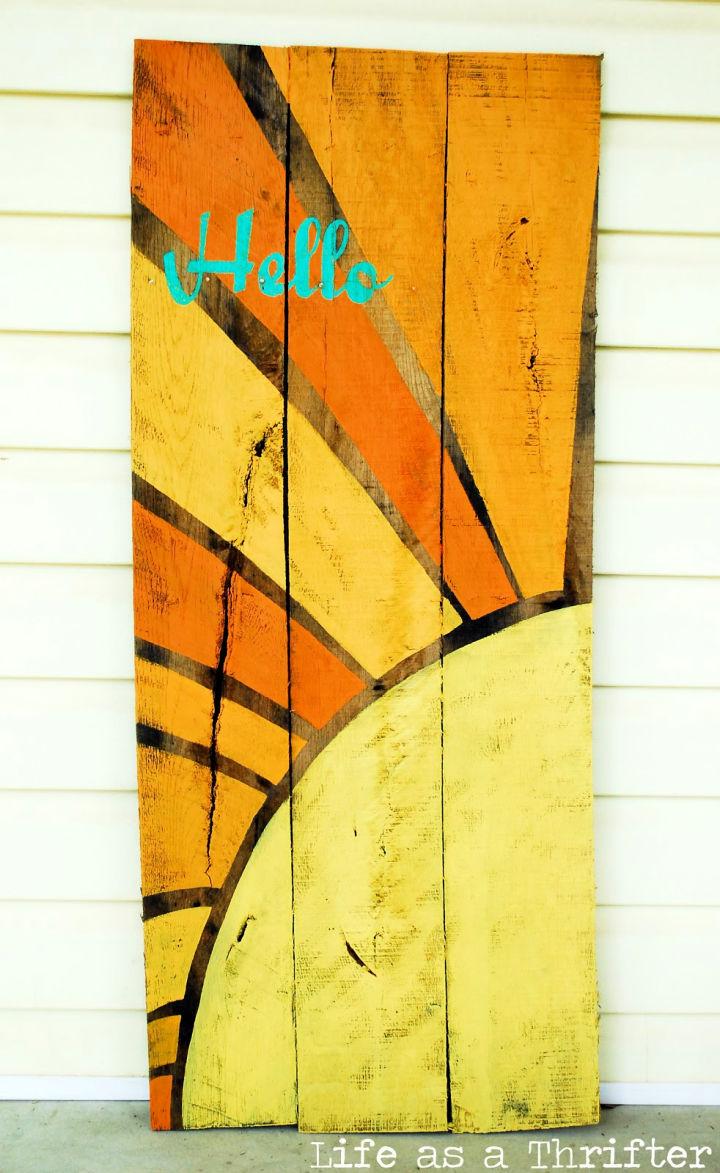 Say a cute good morning to all family to the entire family with this cute handmade pallet sign that comes painted for sunshine. Put together the pallet wood slats to whip up the solid wooden sign and then paint the sun and rays on it in the way you like. However, you can use the custom stencils or your painting skills to paint the yellow letters. However, you can use a letter template also to trace out the letters on the wood. This welcome pallet sign is quick and easy to make and will not take that too long to be in your home for sure. lifeasathrifter
20. Rustic Pallet Wood Sign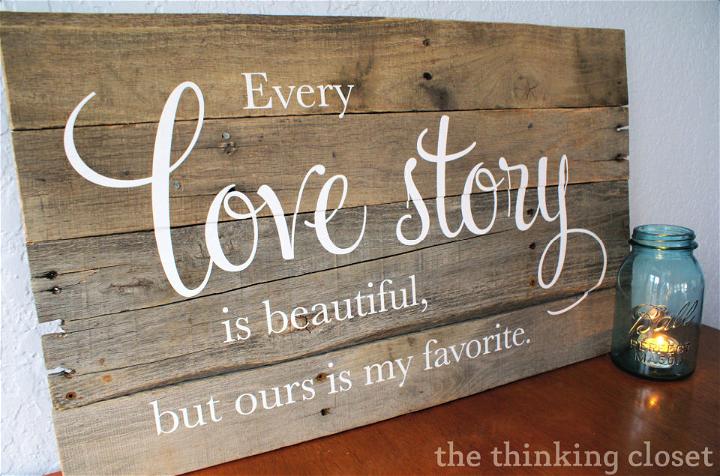 You can simply add any letter, shape, visual art or design pattern on the pallet wood boards to gain fabulous pieces of wall art signs. So, follow the here guides to whip up another gorgeous wood pallet sign that comes with stencil love quotes. The wooden board comprises 4 pallet wood slats that you can bind in place by adding custom wooden back supports. The letters are cut in the vinyl using a silhouette machine and have beautifully been transferred on the wood pallets. One of the best DIY pallet signs ever made at home. thinkingcloset
21. Hand Painted Welcome Pallet Sign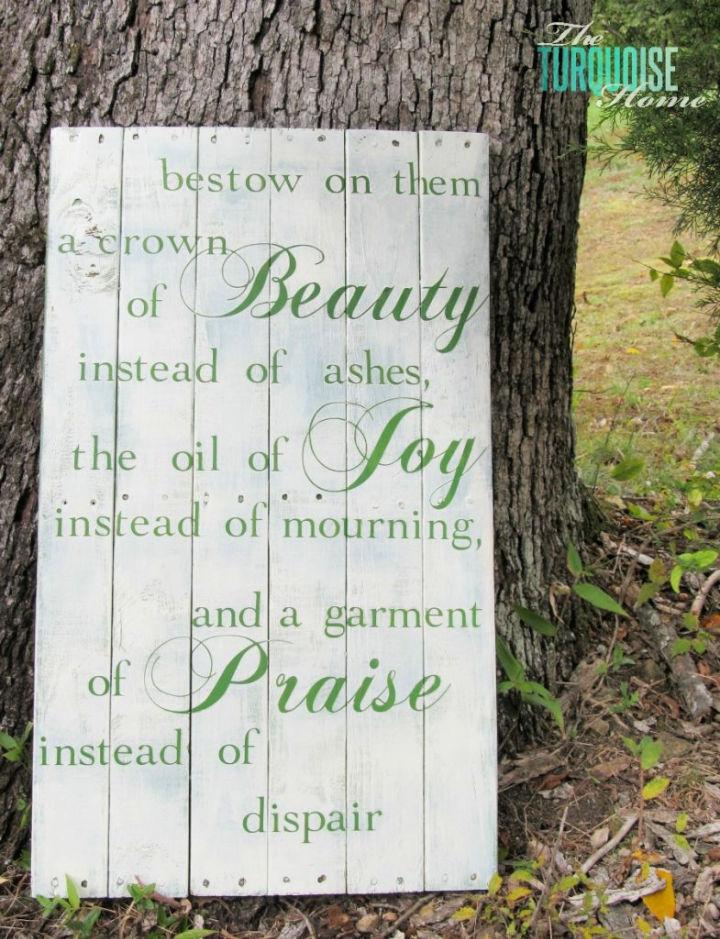 The welcome sign matters when you need to put your interests to display. However, pallet signs are the most loved ones to bring that rustic and vintage feel to your spaces. Follow here guides to make a brilliant quoted sign out of pallets for your outdoor and garden spaces. Here, the completed pallet boards are quoted using vinyl letter stencils, and they can easily be transferred on the pallets. Just put together the pallet wood slats to shape the custom boards, next transfer the custom vinyl letters on them. theturquoisehome
22. Vintage Style Pallet Telephone Sign

Bring that glam touch of vintage elegance to your home by adding this vintage-style telephone sign on interior walls. It is quite something rustic and graceful to make at home with minimal crafting skills. Just put together the pallet wood boards together to make the rustic wood sign. Next, transfer your favorite art or visual on the board and fill it u with paint. The design is super achievable and will be complete in just no time. You can experiment with this sign with your favorite vintage art. scavengerchic
23. How To Make A Wood Pallet Sign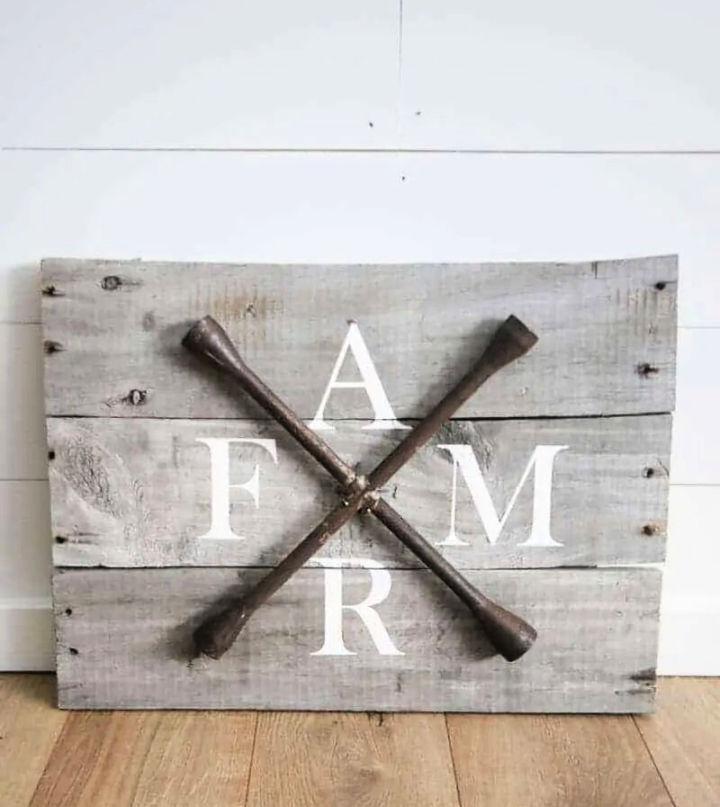 Grace up your modern interiors with this farmhouse-style wood pallet sign that is crazily easy to whip up. All it takes is the 3 rustic wood pallet boards to shape the wooden board, and next, you can transfer your favorite letters and signs on the board. Use the Silhouette Cameo to design and cut your vinyl letters. The sign comes with an old lug wrench mounted in the center, the whole rustic beauty comes from it. You need pallet wood, old lug wrench, nail gun, pencil, scissors, Silhouette Cameo Cutter, adhesive shelf liner, matte mod podge, white acrylic craft paint, nails, hammer and spray sealant to duplicate this sign. makingmanzanita
24. String Art Neon Heart Pallet Sign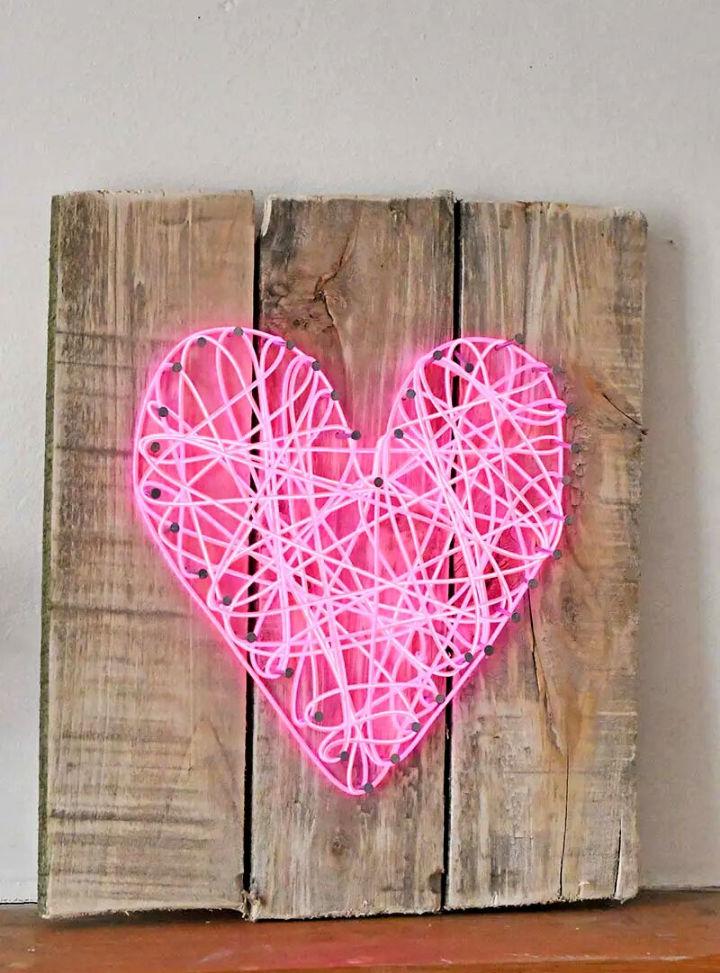 Bring those romantic vibes in your bedroom or home by installing this string art neon sign on your favorite interior wall. This will be the best 3D art to make for your interior home walls and is quite easy, cheap and quick to make also. You need pallet wood for building backboard, galvanized round head nails, pink neon EL wire and a piece of A4 paper to clone this wall art sign. Cut a beautiful heart shape out of the paper and add nails on the wooden board in a heart shape. pillarboxblue
25. Love Pallet Sign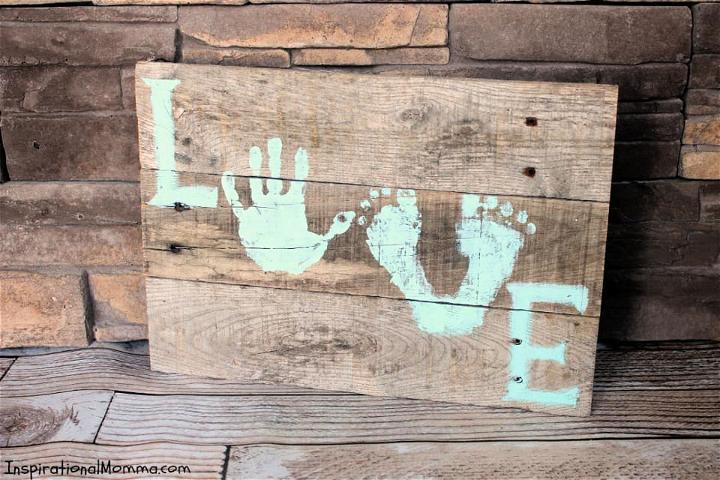 Add custom handprints and footprints also on the pallet wood boards to make rustic beautiful wall art signs. These signs will create memories and will be ready in just a couple of minutes. Construct the desired sized rustic pallet wood boards and then add them up with foot and handprints. Here the beautiful "LOVE" letters are painted on the signs using hand and footprints. Use your paint in custom colors for hand and feet dipping, and you can add a lot more to add to the beauty and rusticity of this wood pallet sign. inspirationalmom
26. Custom Pallet Sign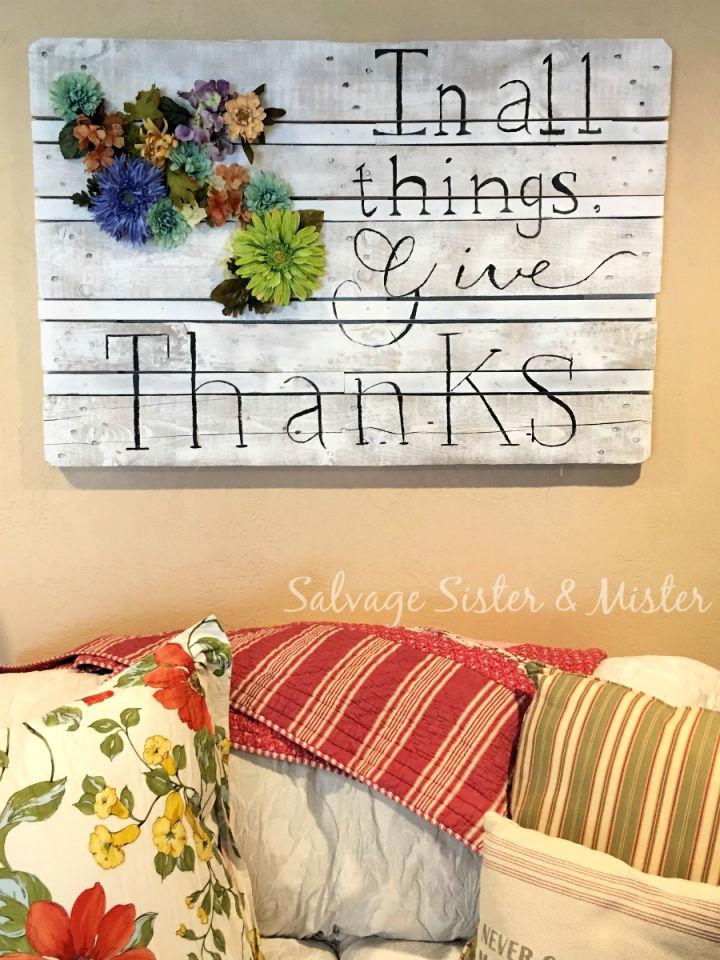 Make this another cute wall sign that comes with both faux flowers and custom quotes. Dismantle the pallets and construct a custom background board out of separated apart pallet wood slats. After you build the solid wooden board, add it with the custom artificial flowers and the custom letters and quotes. However, you can paint the entire board also for a custom background color. The whole sign will bring that antique and rustic vibes to your favorite interior walls and is a breeze to make also. salvagesister
27. Small Pallet Sign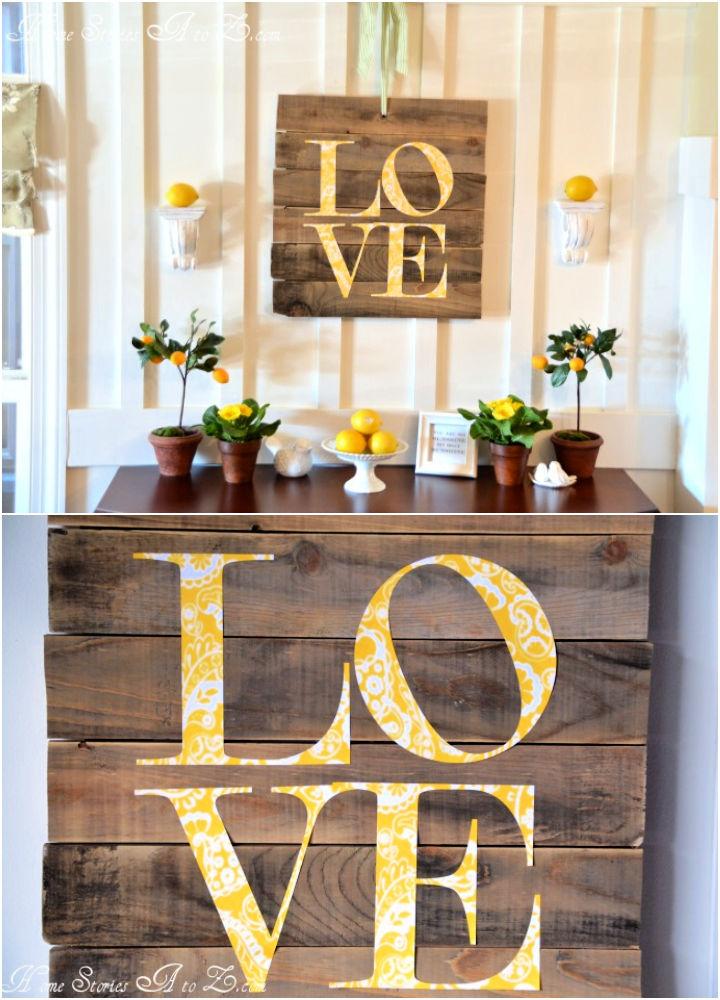 To bring that glam touch of rustic elegance, the antique signs are often infused into home decor. You don't need to buy them expensive always. They can be made at home also using recycled and upcycled materials like pallets. Learn here to build one like a pro using the scrap pallet wood boards. Just build a durable wooden board out of pallet wood slats and then add it up with custom decorative paper letters. However, you can use the vinyl letters, 3D calligraphy art letters also for this project. Write some Father's Day also quotes to turn it into a lovely Father's Day gift. homestoriesatoz
28. Fourth of July Pallet Sign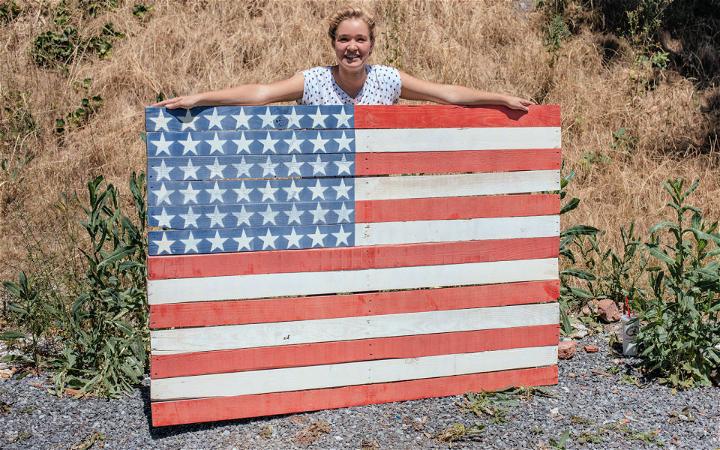 Celebrate Independence Day to the fullest by whipping up this unique pallet 4th of July sign. The design is achievable for all beginners and will not take that too long to be in your home or outdoors for bigger Independence Day decor statements. Here the pallet-made board is painted for the American flag, and this makes it look super beautiful. You need pallet, white spray-on primer, star stencil, painter's tape, tarp, clear acrylic spray, and paint in ivory, red and blue to complete this 4th of July sign. One of the best DIY pallet sign projects for the 4th of July decor. diy dunnlumber
29. Pallet Wood Sign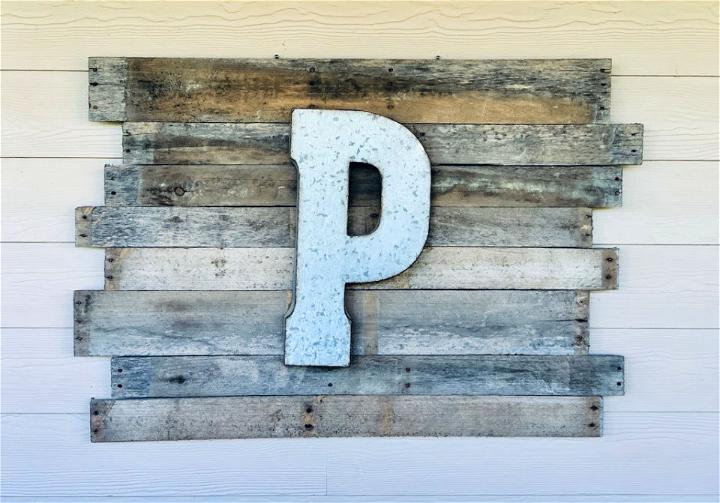 Paint custom letters or add custom art shapes, letter cutouts and symbols on the pallet wood boards to make lovey wall art signs in no time. Create a personal statement in the targeted room or bedroom by adding this name letter initial pallet wood sign, impresses the beautiful rustic visual. Put together about 8 pallet wood slats to shape the background wooden board and then add it with an antique oversized letter "P" to complete this wood pallet wall art. However, you can use custom wooden letters also for this project. boxwoodbliss
30. Painting Pallet Porch Sign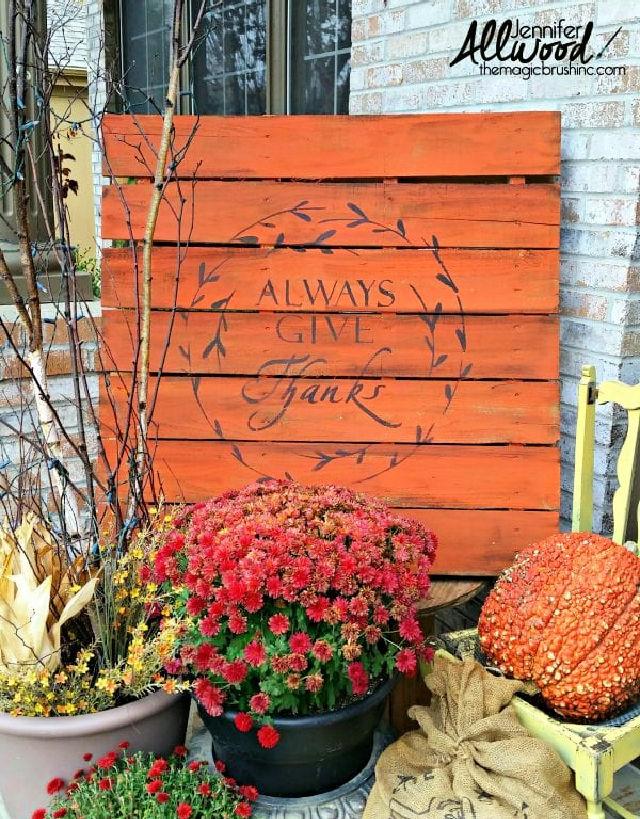 Give that warm welcome to the fall season by whipping up this interesting fall porch sign that is quoted and stenciled for a brilliant quoted monogram. Here the pallet board is painted in the pumpkin color for a brilliant fall special visual. Here a whole uncut pallet is used as the readymade wooden background board for this project, and you will love the way it will grace up the entire porch area. Use a custom stencil to paint the entire quoted monogram on the pallet board. remodelaholic
31. DIY Pallet Sign For Home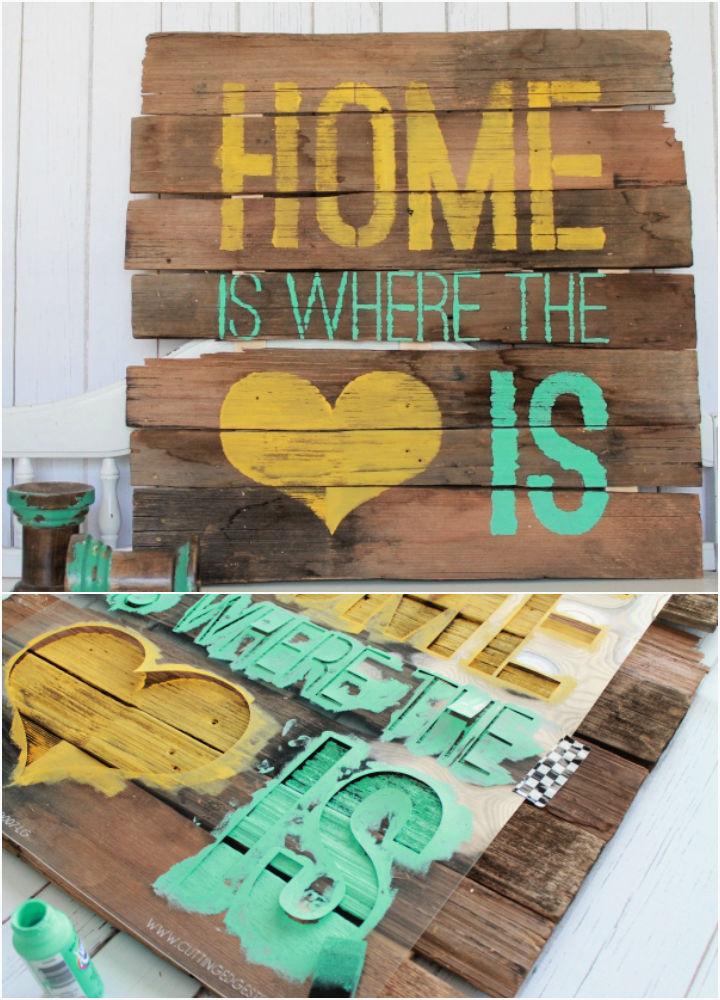 As you can paint anything special on the pallet wood boards, so the possibilities for the pallet sign ideas are just endless. Learn here to make this "Home is Where the Heart is" pallet wall art sign, sure to be a big love of all the home lovers for sure. Put together the separated apart pallet wood boards to build the basic background board. You can add as many pallet wood slats as you need to gain the desired size of pallet board. Next, stencil the board for the custom home lover quotes. Here green and yellow paint colors are used for the stenciled letters. lollyjane
32. Large Wood Pallet Sign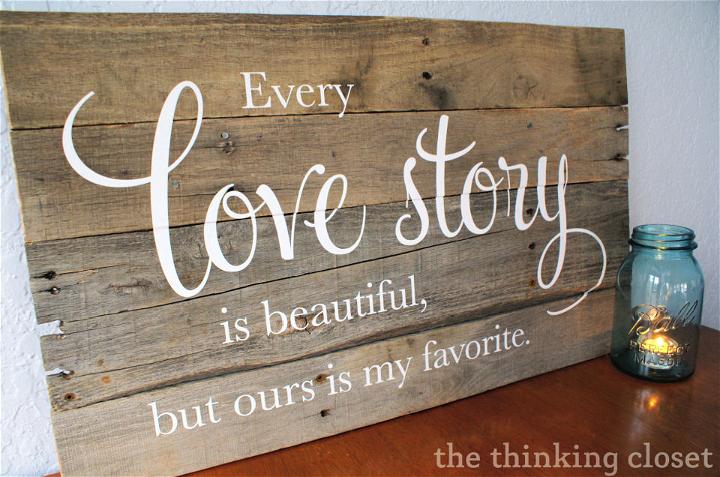 The oversized rustic sayings pallet signs will cost you nohting. So, you can make the super beautiful ones at home with some recycled wood pallets. Look at this gorgeous oversized quoted pallet sign, made of pallets. Here the Silhouette Came cut white vinyl letters are used for the love quotes, making the entire sign look extra beautiful and enchanting. To construct the basic slatted wooden board, you need 6-8 pieces of pallet wood slats, 16-gauge wire, and wood screws. Next, add the white vinyl letters on the boards that you can easily make using the Silhouette Cameo machine. thinkingcloset
33. Outdoor Pallet Sign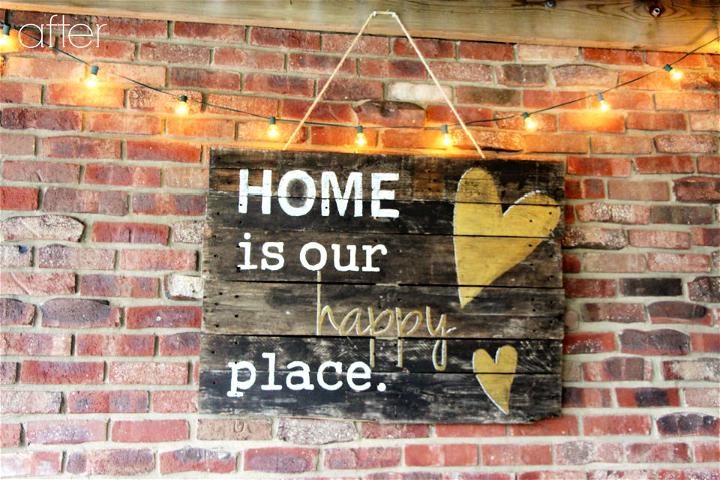 You will love this gorgeous rustic pallet sign that hangs on the home brick walls for bigger rustic decor statements. The finally completed rustic sign is stenciled for custom home love quotes, and you can easily paint the mini or large heart shapes just for some romantic vibes. Here you can pick a readymade size of pallets to craft this handsome wood sign. This project involves no cutting or putting together the wood slats to whip up the custom wooden boards. So, mainly it is all about painting or stenciling your art on the rustic stained wooden board. One of the best and quick-to-build DIY pallet sign ideas. thisisourbliss
34. Thanksgiving Pallet Sign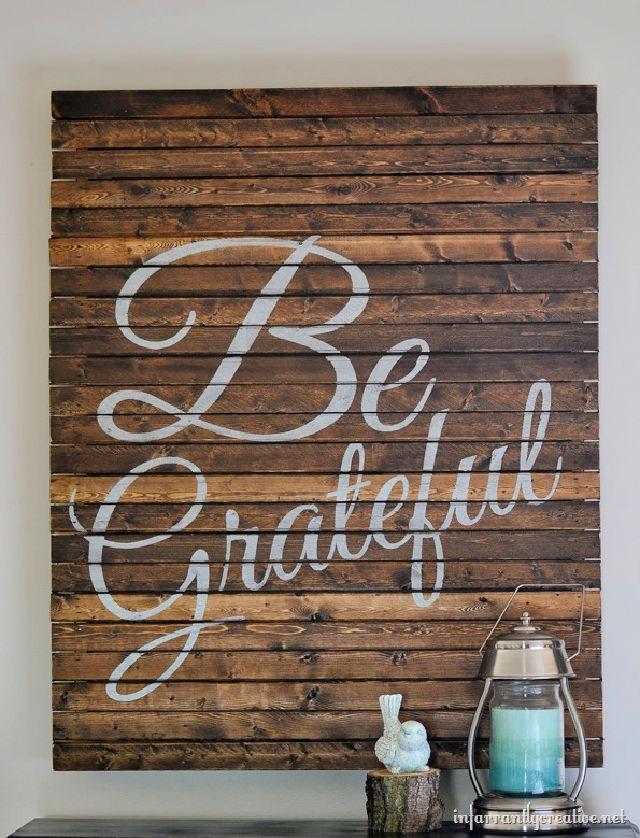 Save tons of your costs on buying the oversized rustic wall signs by making some lovely ones at home. Look at this large-scale pallet "Be Careful" sign that impresses with the super beautiful slatted appeal. Put together a lot of pallet wood slats to shape up a big wooden board. Secure the boards in place using the back supports, and it will not take that too long to build this outstanding pallet wall sign. Use the custom letter stencils or templates to easily trace or paint the letters on the finally completed board. Here stencils are used for this pallet sign project. infarrantlycreative
35. Family Pallet Sign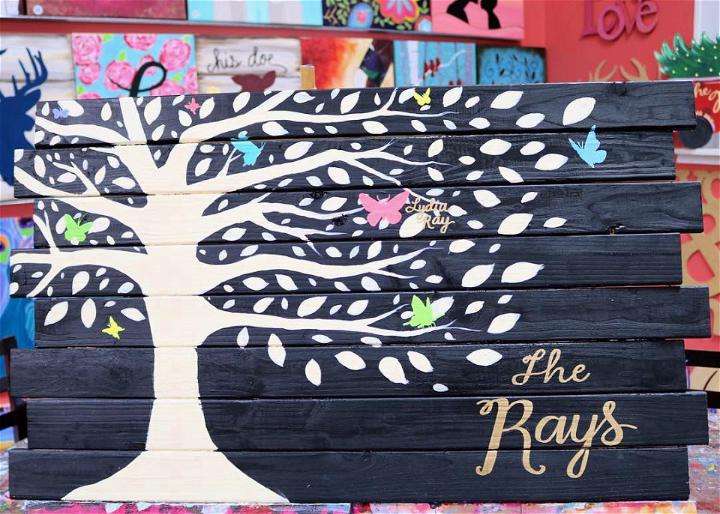 Paint the wood pallet boards for custom letters, signs or the whole beautiful artwork. So they will get transformed into beautiful paintings. Here the entire pallet board is painted for tree art and comes with colorful butterflies and letters for an enhanced visual. Put together the removed pallet boards to build the desired size of the wood sign. Paint it for a black background and then paint a white tree on it. Finally, add the colorful butterflies and letters. One of the most beautiful DIY Pallet wall art signs ever.
36. Personalized Pallet Sign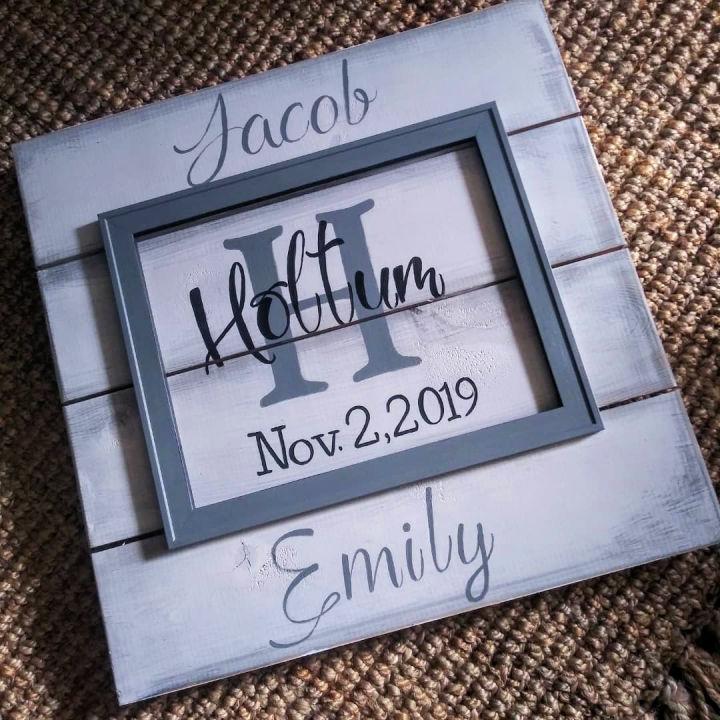 One-of-a-kind and precisely built pallet wall art sign. It will surely bring any boring wall into prominence and will cost you next to nothing. This type of wall art sign often costs you big. With the equally thick and long wood pallet boards, you also need a picture frame to complete this wall sign. Use the stencils to easily paint the custom letters and quotes. The project is easier and will also cost you next to nothing. The best to get for your interior wall decor out of recycled wood pallet boards and picture frames.
37. Spring Pallet Sign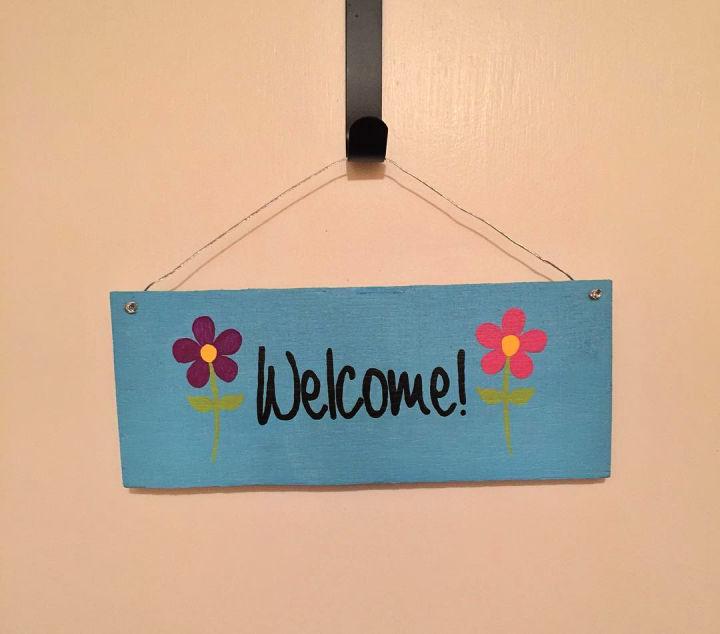 Give a warm welcome to the spring season by hanging this welcome spring sign on your favorite interior wall. This gorgeous wall art sign is made with a single pallet board that you can stencil for custom flowers and letters. However, it will be a great idea also to paint the entire board for an exciting background color. Use the custom screws and wire to hang the completed sign on the wall in a beautiful manner. The entire project will be completed in just no time and will also cost you next to nothing.
38. Pallet Art Sign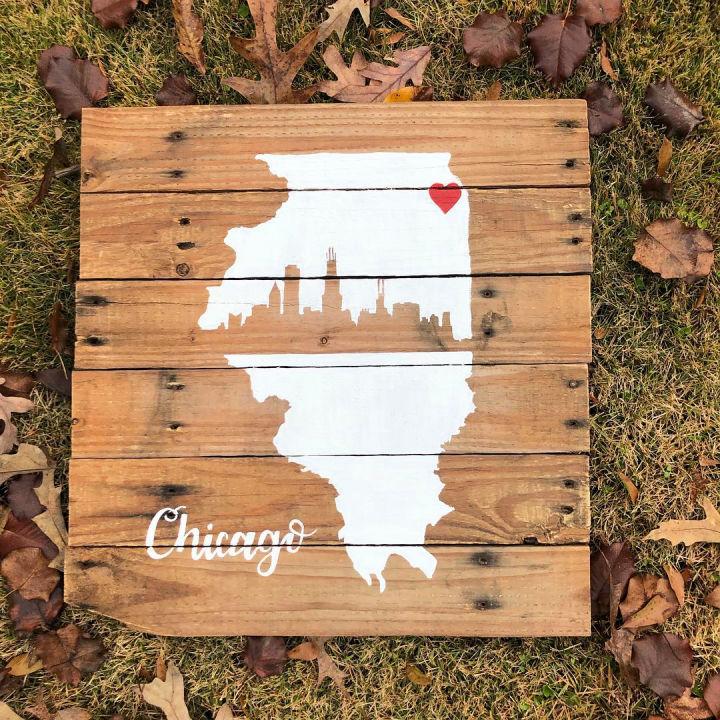 The on-trend pallet wall sign game is to paint the state or country maps on the wood pallet boards. This sign will rock for Independence Day decor and can be painted using custom state map stencils or templates. Look at the beautiful Chicago state art pallet wall sign, sure to show your love for your country or state and can also be painted for beautiful background color. You can use an uncut pallet, a trimmed down pallet size and custom separated apart pallet boards to build this state map wall art sign.
39. Funny Pallet Sign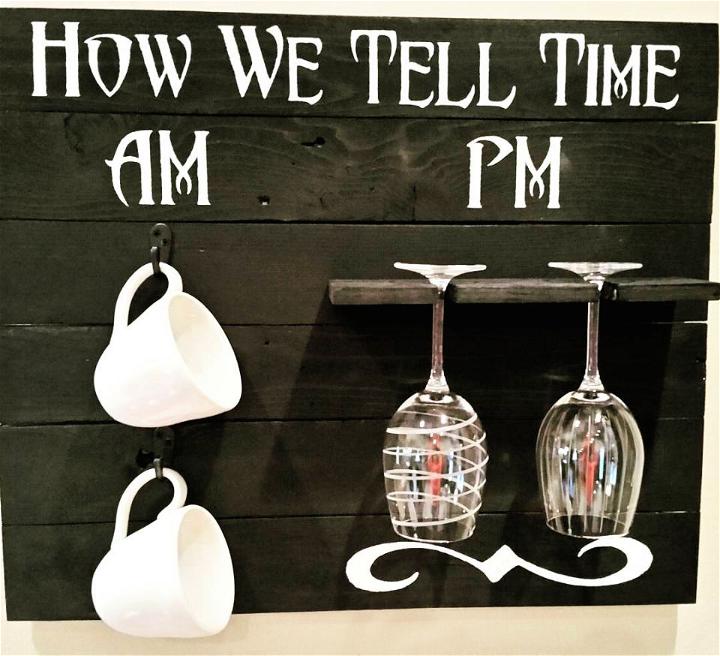 Check out the most ingenious funny pallet sign that also makes a brilliant wall clock and a utensil holder. Add this sign to your kitchen for added rustic grace and also for a great wooden character. However, it will be whole easier to compose this sign using the separated apart pallet wood boards. Put together the wood pallet boards to build the whole board and add one with cuts to get the glass holding shelf. Use the durable metal hooks for cup hanging. For letters and quotes, you can use stencils and even vinyl letters. Paint also the board for rustic background color.
40. Dog Pallet Sign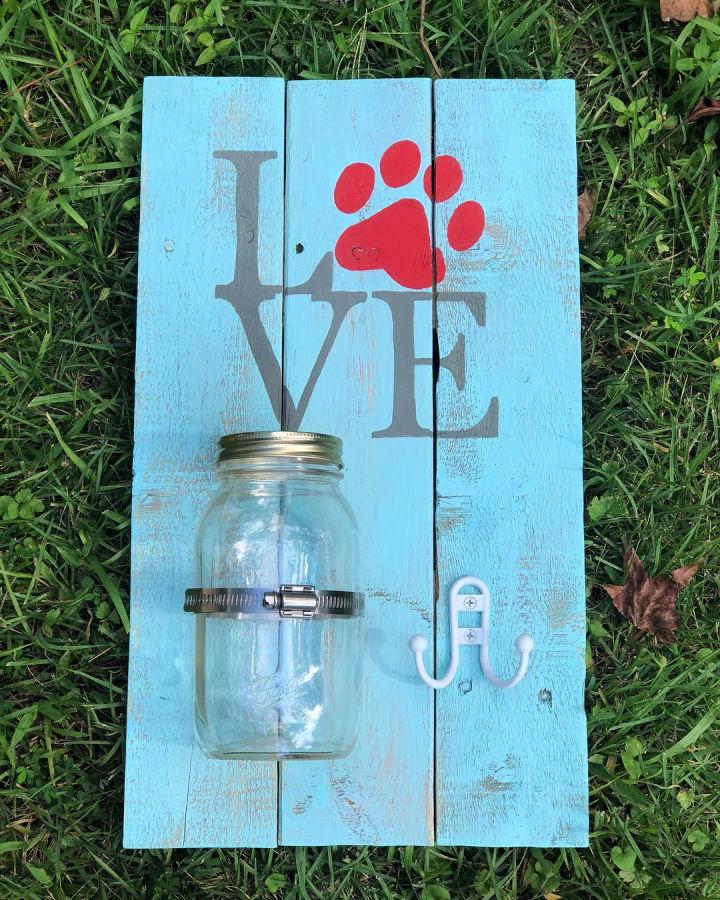 This pallet sign will surely show your love for your dog pet and comes with a Mason jar holder. It will be much more than just being a visually captivating wall art piece. You need 3 pallet wood boards, custom dog paws and LOVE letter stencils, a Mason jar, a metal potholder, and a double hook to complete this wood pallet wall art sign easily. The board is painted for turquoise background color, and it will not take that too long to complete this visually captivating wall art sign.
Conclusion:
After you install the pallet furniture in your newly built home or rooms, you always head over to some wall decor. They will tell the audience about your unique taste of decor and give the walls some amazing rustic decor treatments. So, this episode of DIY pallet projects will share all the hacks about making outstanding pallet wood signs in all possible ways. However, you will also learn to make custom pallet signs that will make lovely Memorial Day gifts and outstanding seasonal porch decor. Along with step-by-step instructions and detailed visual tutorials, all these pallet sign ideas will also share the complete list of materials, tools, and hardware.