Have you got some good seeds, have you got the potting soil or even some beautiful planters? But what are these things for if you do not have a proper place to keep them? Luckily, you are in the place and can now start your own garden with our 40 cheap, durable and easy to build DIY vertical garden ideas that come with detailed free instructions and a material list. If you have a small backyard or garden at home, thank these vertical garden ideas because a tiny apartment or backyard can have a rustic-looking vertical garden either inside or outside. So, bring in the gardening space to your home and plant your favorite herbs, healing plants, and unlimited flowers of your choice. Most of these DIY vertical garden ideas are affordable and easy to build. So, now save money and plant your favorite healing herbs in a vertical garden!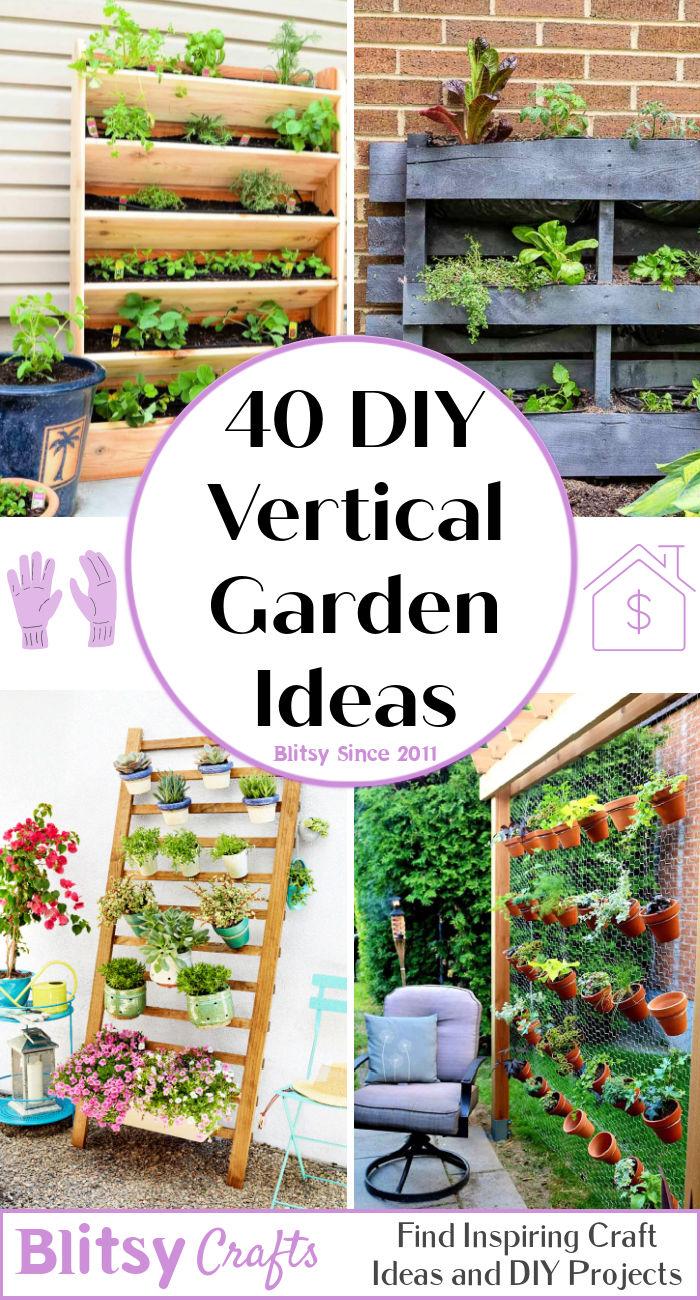 Bringing a DIY garden to your home could be easy, but the most suitable one according to your needs is the actual point. Therefore, we have listed all the possible ways to make your own DIY vertical garden ideas. From hanging potted wall of succulents to rustic outdoor vertical garden plan, from living wall with moveable planter to vertical garden wall planter, from DIY pallet garden to scrap the wood garden plan, from leather trellis plant wall to simple modern vertical herb garden, from vegetable planter shoe organizer to vertical planter box, and much more. We have also mentioned all the instructions, supplies, and materials with each plan. All you have to do is pick up the plan that suits your space, needs, and budget the best. So, let's be creative and grow your favorite plants and herbs in your garden to taste the real!
1. DIY Outdoor Vertical Garden Plan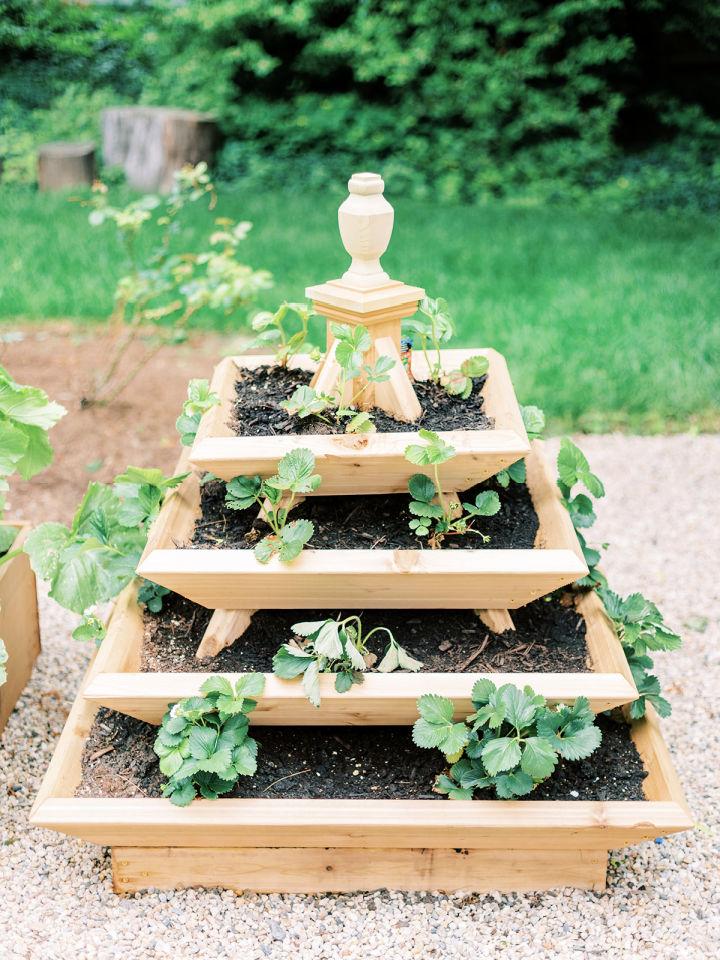 Add a natural wood element to your garden with these adorable DIY trellis to plant your favorite herbs and everything you ever desired. Follow this DIY strawberry planter ideas and build some rustic cedar garden bed, wooden tomato trellises, glorious strawberry trellises, and much more! All you need is a wood octagon finial, wood garden stake, furring strip board lumber, flat finial base, drill, tape measure, level, etc. findinglovely
DIY planter box: Get all the advantages of having a garden with these free DIY planter box plans. Enjoy veggies, herbs, or flowers with less work.
DIY plant stand: These cheap diy plant stand plans are very easy projects you can make yourself.
2. Hanging Potted Wall Of Succulents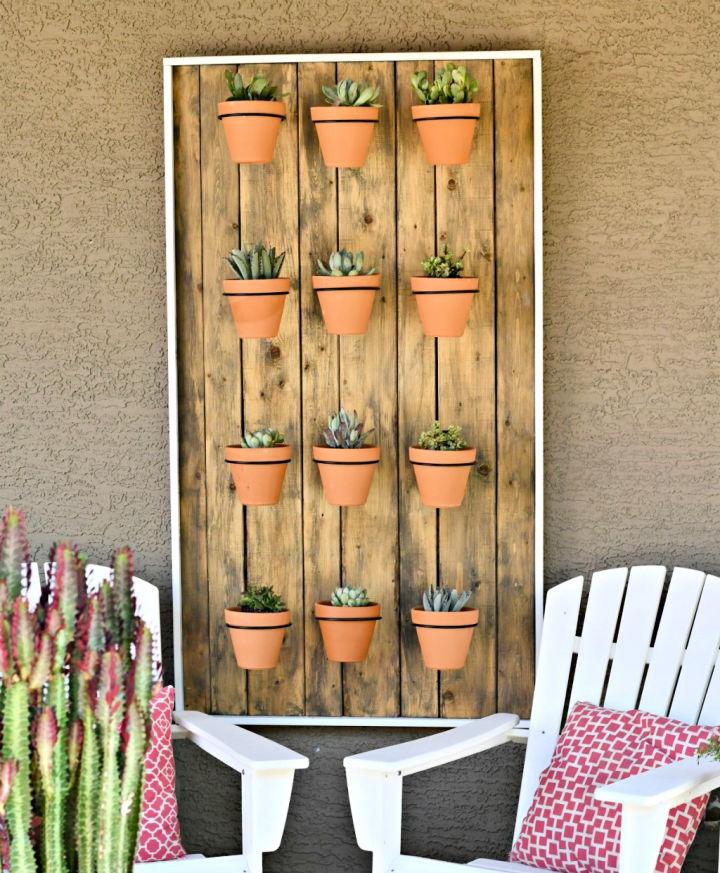 Let's bring in the perfect way to grow flowers, succulents, and herbs in your home and transform your backyard into a perfect decor space. Follow this plan to build a perfect hanging potted wall that is not only limited to succulents but allows you to grow anything you want. All you need is flowerpot mounting rings, 6-inches terracotta pos, special cactus soil mix, a lot of succulents, etc. hip2save
3. Living Wall With Moveable Planter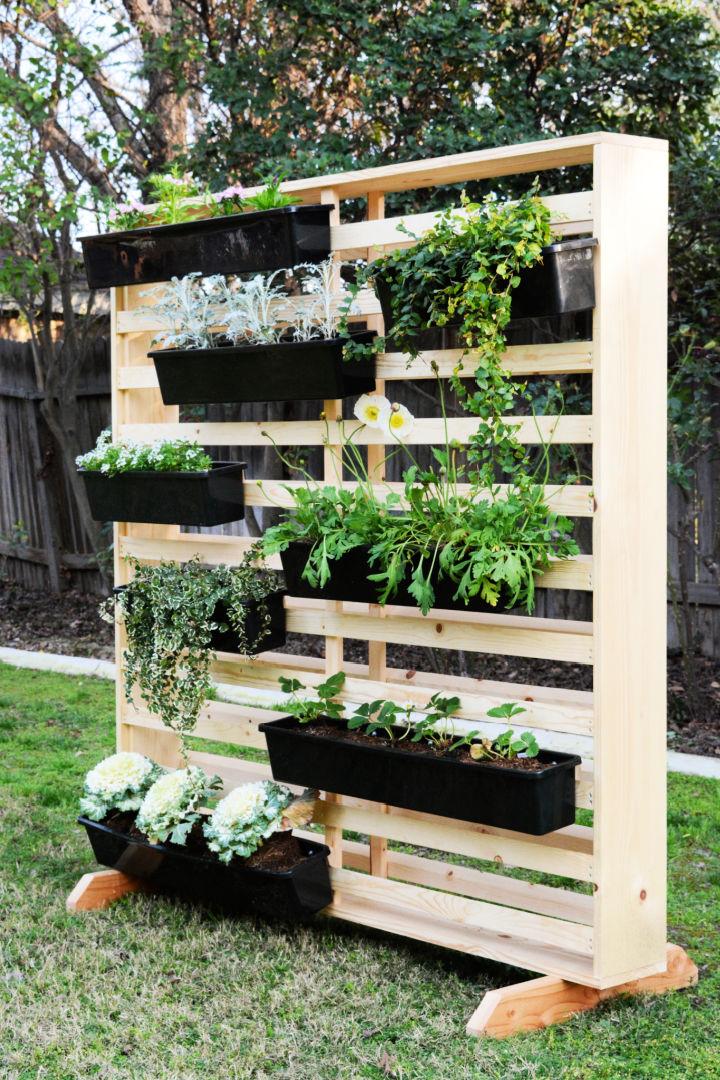 Add loads of planting space to your limited backyard, patio, or outdoor space with this amazing vertical garden consist of a living wall with moveable planters. The best part about this plan is that you can move planters inside your home whenever you need. All you need is few easily available supplies like wood boards, wood screws, flat washers, countersink drill bit, table saw, glue, etc. oleanderandpalm
4. Vertical Garden Wall Planter with Plans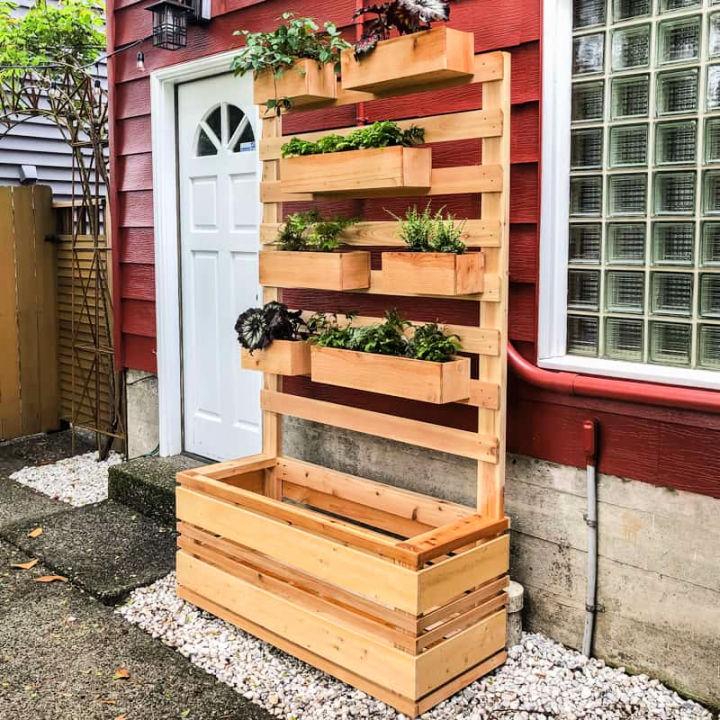 Are you looking to add a farmhouse decor and look to your garden with some modern vertical garden planter? Don't go anywhere because here is the plan you have been searching for so long! Build this rustic vertical planter with loads of plants and resembles old wooden crates that give a luxury farmhouse look. Assemble wood boards, plywood sheets, screws, potted plants, etc. thehandymansdaughter
Greenhouse Plans: If you're a gardening lover, you would love to get your hands on a DIY greenhouse. So check out these FREE greenhouse plans to build your own under a low budget!
5. DIY Pallet Garden Gardening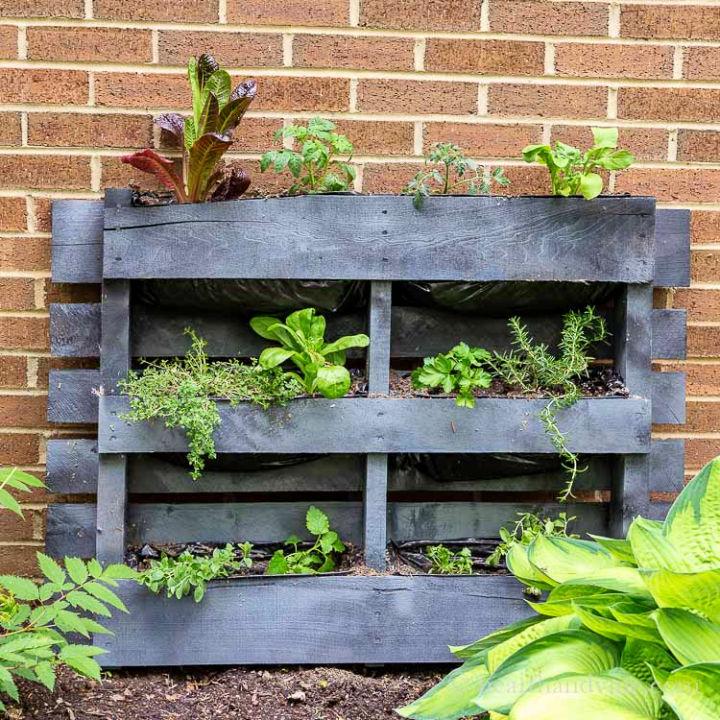 In search of setting up a vertical garden in your backyard to plant herbs, small flowers of your choice, and succulents? Let's follow this plan and build a perfect pallet moveable garden that you can stand it up to anywhere in your space, and it gives a very good growing area. All you need is landscaping fabric, pallet wood, spray paint, potting soil, staple gun, paintbrush, miter saw, screws. hearthandvine
6. DIY Vertical Garden From Scrap Wood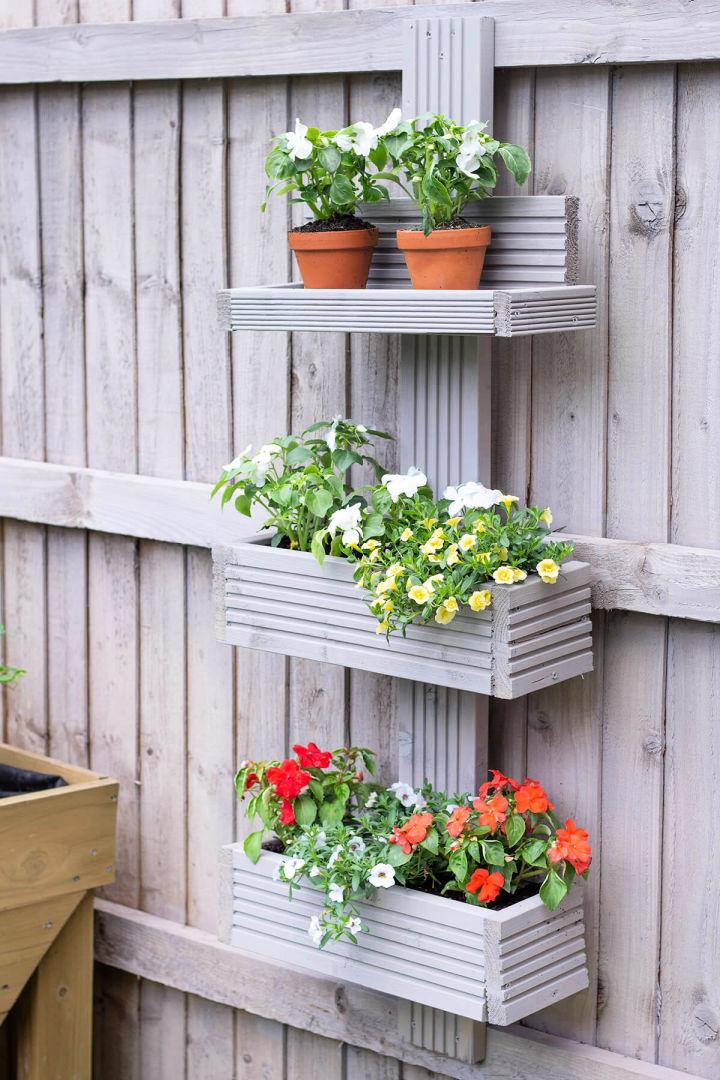 Do you love crafting and have loads of scrap wood? Are you looking for a new woodworking plan for your small garden to put some DIY planters in it? You are at the right place! Build this DIY vertical garden to grow your favorite plants and put it anywhere like a porch, garden, or in the middle of your yard. Assemble decking boards, cordless jigsaw, ruler, screws, drill bit, cordless sander, etc. thecraftygentle
7. Wood and Leather Trellis Plant Wall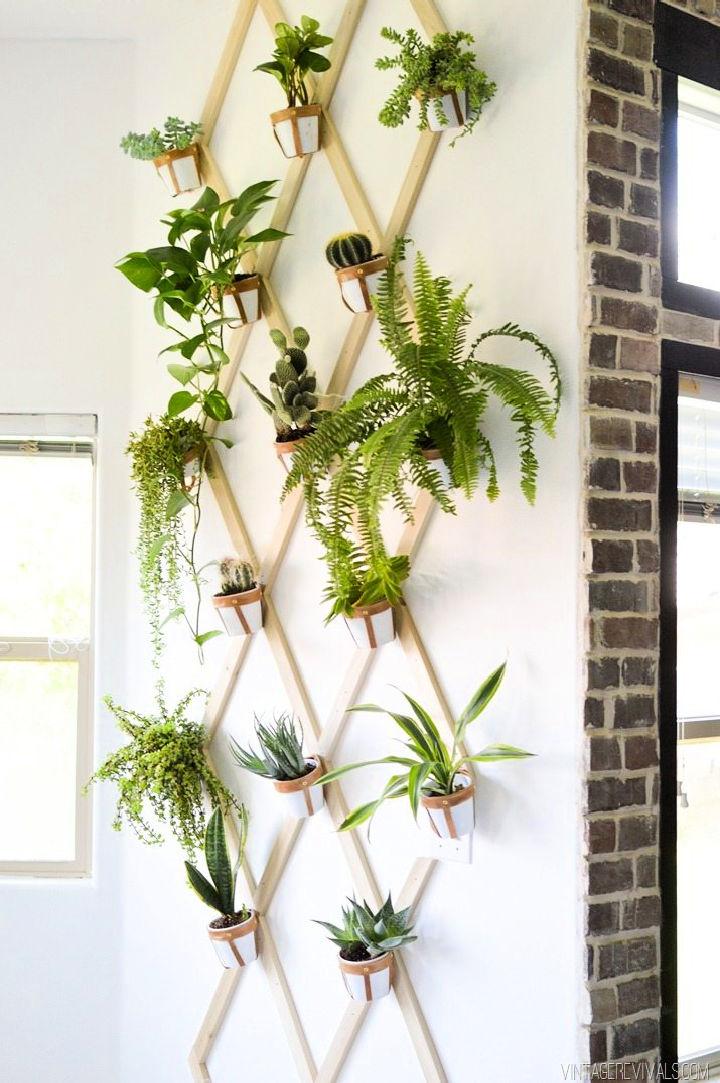 Grow more plants and more growing space with this perfect wood and leather trellis plant wall that fits perfectly for your home decor! Choose the favorite wall and grow your favorite healing herbs inside your home without worrying about having no outdoor space. It also adds an adorable look to your space. Assemble wood sticks, leather, scissors, power drill, brad nail, wood glue, planters, etc. vintagerevivals
8. Simple Modern DIY Vertical Herb Garden

This vertical garden plan is going to amaze you with its unbelievable materials and growing benefits! Can you believe of making your own planter buckets using your old denim legs? Does it sound all new and unbelievable? Let's take out your old denim and follow this plan step by step. All you need is organic potting soil, dense felt, rubber mat material, finishing nails, denim or other fabric, etc. freshexchange
9. Vegetable Garden from Shoe Organizer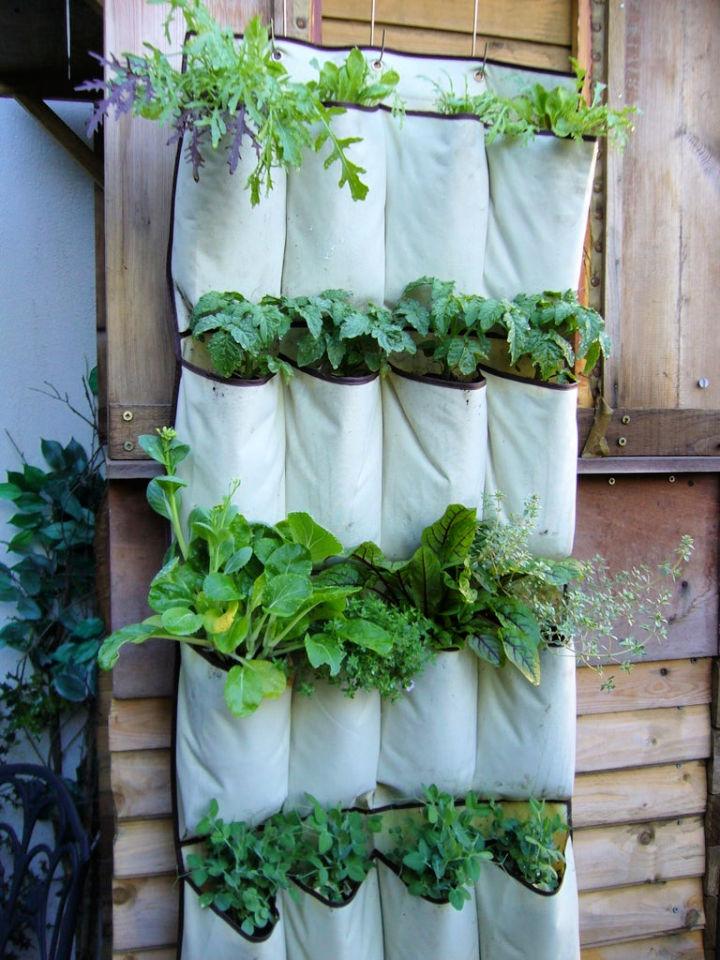 Do you have a small vegetable garden and are tired of cats being dug and toileting in your vegetable patch? Are you looking for some solutions to keep the cats away from your patch or either some other gardening ways? Well, the only solution for this problem is building this DIY vertical vegetable garden. Assemble hanging pocket shoe organizer, strong metal saucepan, moisture-holding, etc. instructables
10. DIY Vertical Planter Box

Now, growing your favorite herbs with a perfect home decor garden is possible! Have you ever wondered that you can build a cute garden inside your home on your favorite table and place it anywhere you want? It's super easy and doable by everyone and wouldn't take you a lot of budgets too. All you need is an IKEA hack table, one sonotube, paint or decoupage, chains, seeds, etc. craftberrybush
11. Garden with Fence Slats and Terra Cotta Pots

Turn the fence or side of your garden into an adorable space for planting with these fence slats and terra cotta pots to plants whatever you want. This plan is super easy to work on and absolutely perfect for growing flowers, planting succulents, or you may also use it as a perfect herb garden. All you need is cedar fence pickets, wood lathe, metal hose clamps, scrap piece of MDF, pain, etc. thecraftpatch
12. DIY Herb Garden For Your Kitchen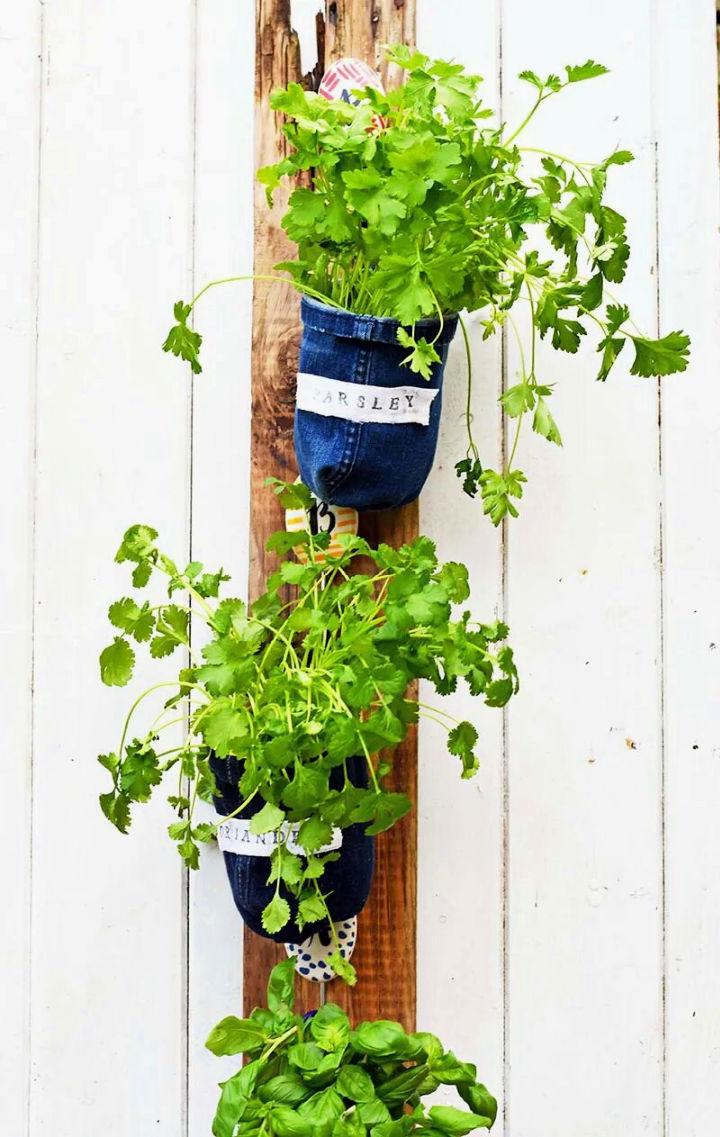 Say no to market-bought herb pots! Do you have some repurposed jeans at home and love growing different herbs at home but do not have enough expertise? Do you know growing herbs in a home is super easy with this indoor herb garden planter out of denim for the herb pots? Assemble denim legs, three large plastic soda bottles, here denim belt loops, scissors, etc. pillarboxblue
13. Small Space Vertical Herb Garden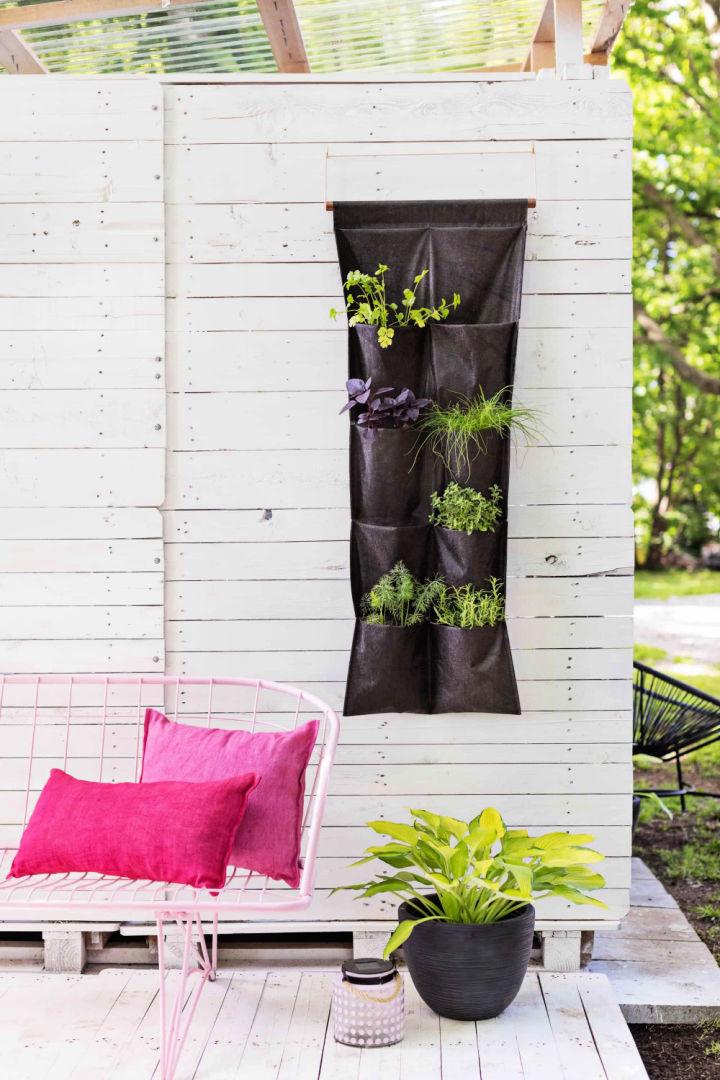 Do you already have a container herb garden and using it for the last two years? Are you now looking to have more gardening space by building a new vertical garden for your backyard that contains planters and adds an adorable look to your backyard? Let's start and assemble a roll of weed barrier, copper pipe, sewing machine, straight pins, cotton rope, herbs, etc. abeautifulmess
14. How to Build a Balcony Garden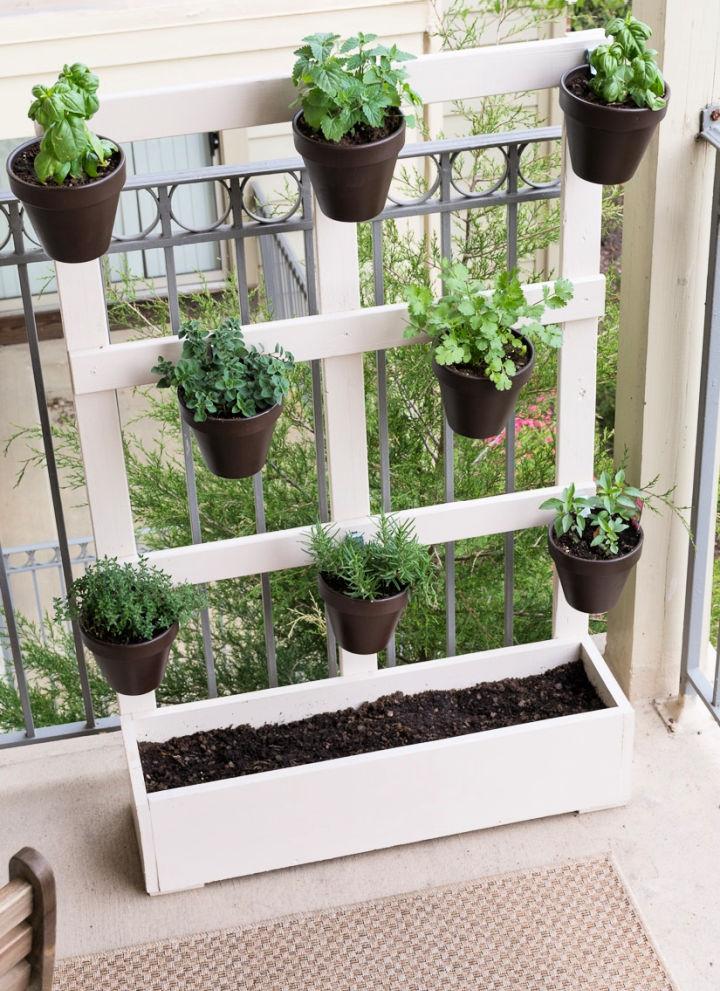 Are you the one with a small balcony at home and still craving to grow a lot of plants in your limited space? If yes, then don't go anywhere because here is the perfect solution for you to brighten up your balcony with this vertical pallet garden. It's doable in less than a day! All you need is wood with a mixture of dumpster wood, Zinsser bull's eye primer, flower pot clips, nail gun, drill, etc. bybrittanygold
15. Vertical Garden Planter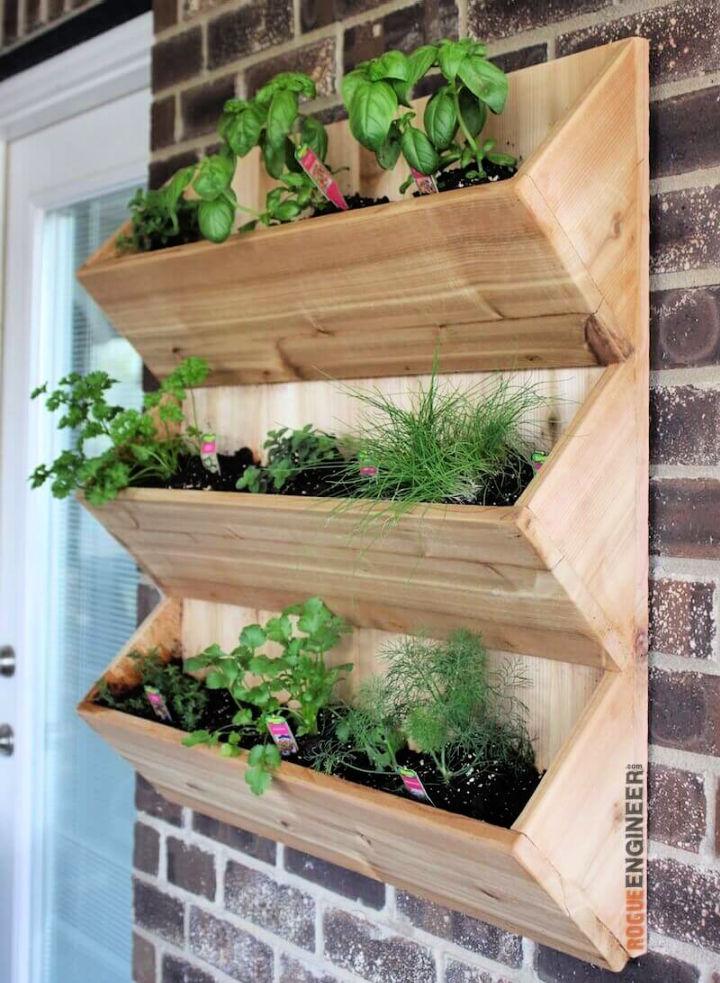 Let's bring in a beautiful vertical planter garden that looks more like a staircase with a unique look. You can customize as much as you want, like adding wheels on the legs or adding more vertical rows to grow more plants upon your choice. You may place it inside or outside too! All you need is an airstrike brad nailer, hammer or drill, miter saw, impact driver kit, cedar boards. ryobitools
16. DIY Hanging Gutter Planter and Stand

Do you have a few boards and guttering on hand, and wondering if you can make a perfect gardening area out of it? Why not? Use these boards and some other materials to build an adorable DIY hanging planter and a stand in a couple of hours with no cost. All you need is wood boards, rigid tie connectors, screws, spray paint, paintbrush, traditional vinyl gutter, large S0-hooks, etc. hertoolbelt
17. DIY Rainbow Vertical Garden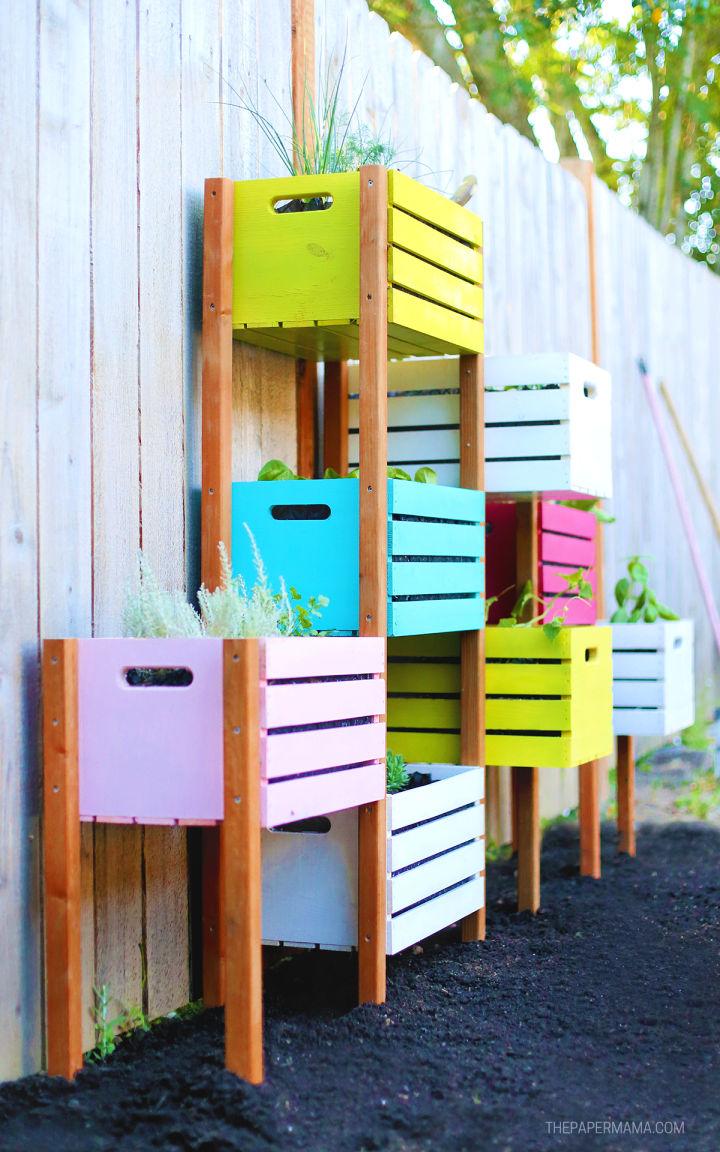 Do you have some great woodworking skills and like making new outdoor stuff for your garden and your backyard to make them look updated? If yes, then this is the plan you wouldn't want to miss one at any cost. Build a perfect rainbow vertical garden for your space and add as many colors as your choice. Assemble wooden crates, outdoor spray paints, clear acrylic spray sealer, etc. thepapermama
18. DIY Vertical Garden with Drip Watering System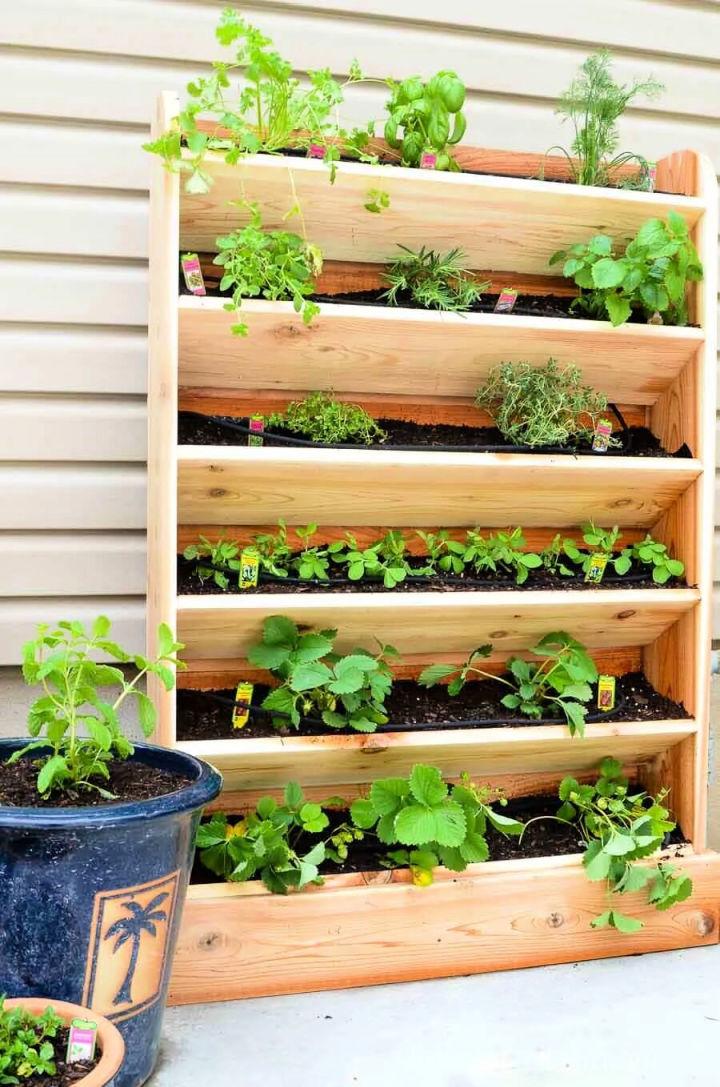 Want to grow your favorite vegetables at home like spinach, lettuce, cherry tomatoes, carrots, and a lot more? You also have a very limited outdoor space, and wondering if it's possible? Yes, build this perfect cedar vertical vegetable garden with the complete drip watering system. Assemble plywood sheets, wood boards, tiny potted plants, soil, power drill, wood clamps and screws, etc. housefulofhand
19. Building A Strawberry Tower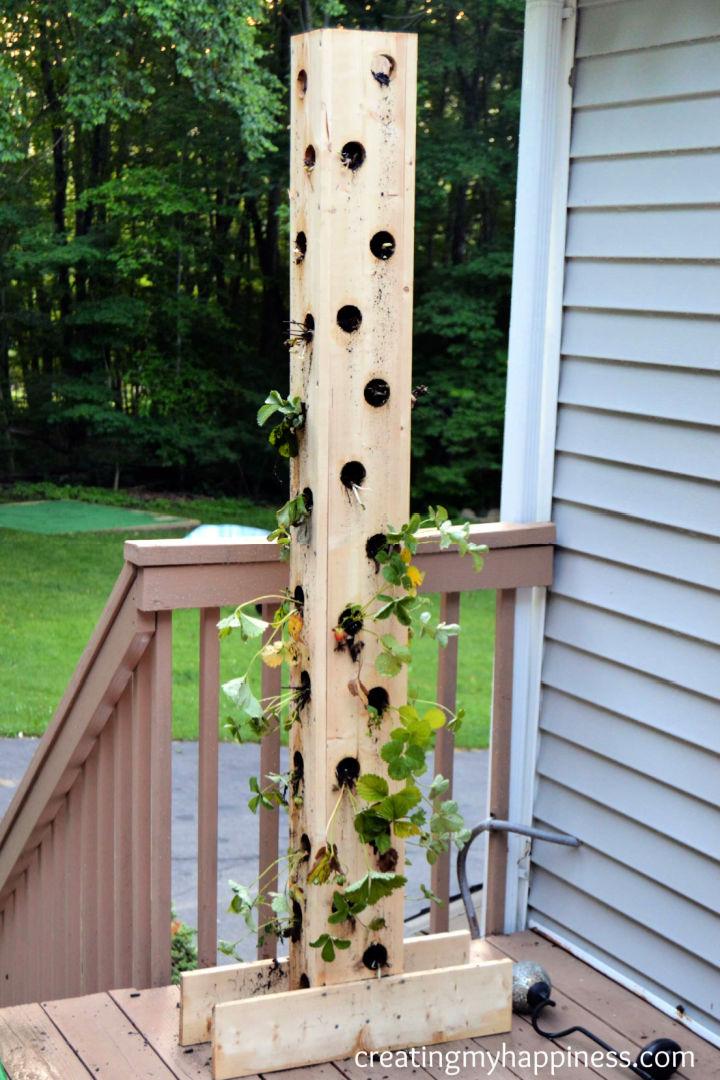 Do you have kids who love having strawberry shake every day in the morning? You must be looking for some ways to plant strawberries in your garden or backyard? Why not! Build this fun and innovative strawberry tower to grow a lot of strawberries in your limited yard space. All you need is wood boards, deck screws, a power drill; a hole saw drill, a cubic foot of soil, strawberry plants. creatingmyhappiness
20. Indoor Vertical Succulent Garden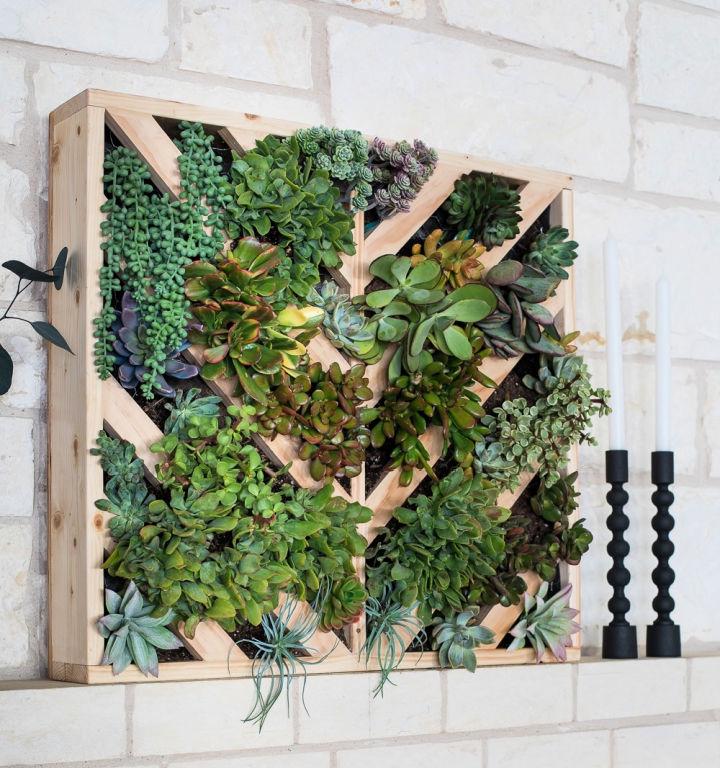 Nothing can beat the charm of natural beauty! Are you the one with some exceptional artistic skills and likes making new home decor items every day? Do you want to display succulents for some home decor and looking for possible vertical garden ideas? Let's build this indoor succulent garden frame with materials like a lot of succulents, painters' tape, wood boards, power drill, tape measure, etc. jenwoodhouse
21. Hanging Herb Garden Using 24 Lumber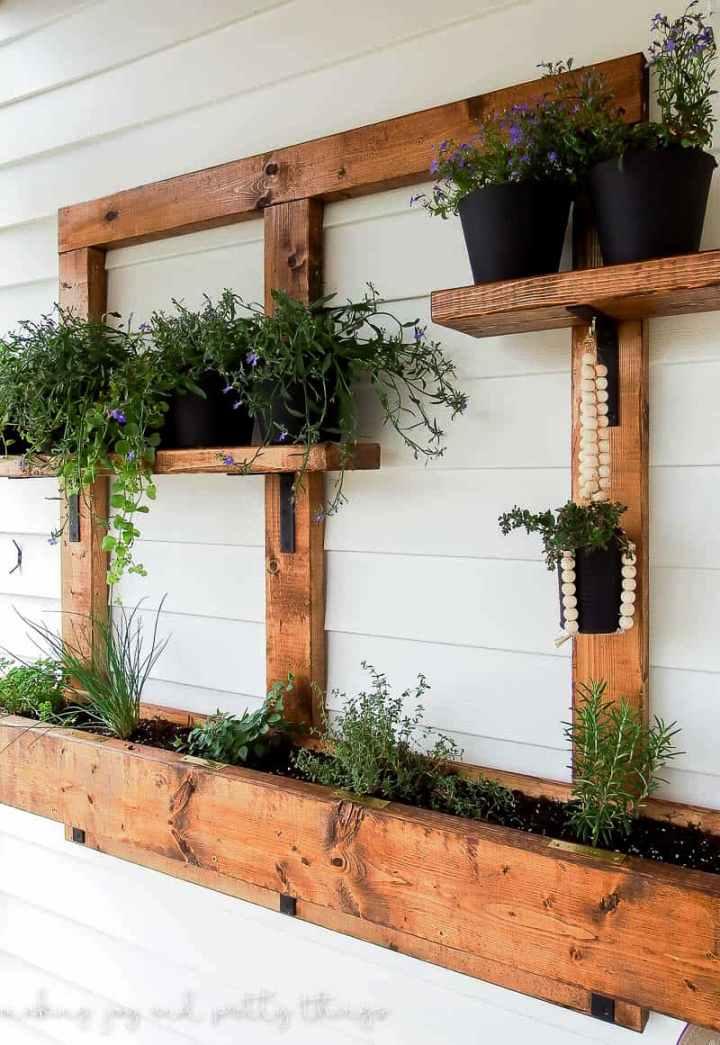 Some old lumber is all you need to create this adorable hanging herb garden to plant the essential healing herbs at home! This plan gives your small space a more planting and growing area and adds a beautiful aesthetic design to your garden or backyard. All you need is wood, frames, planter box, drill, screws, corner brackets, spade bit, water sealer, stain, miter saw, etc. makingjoyandpretty
22. Vertical Garden Living Wall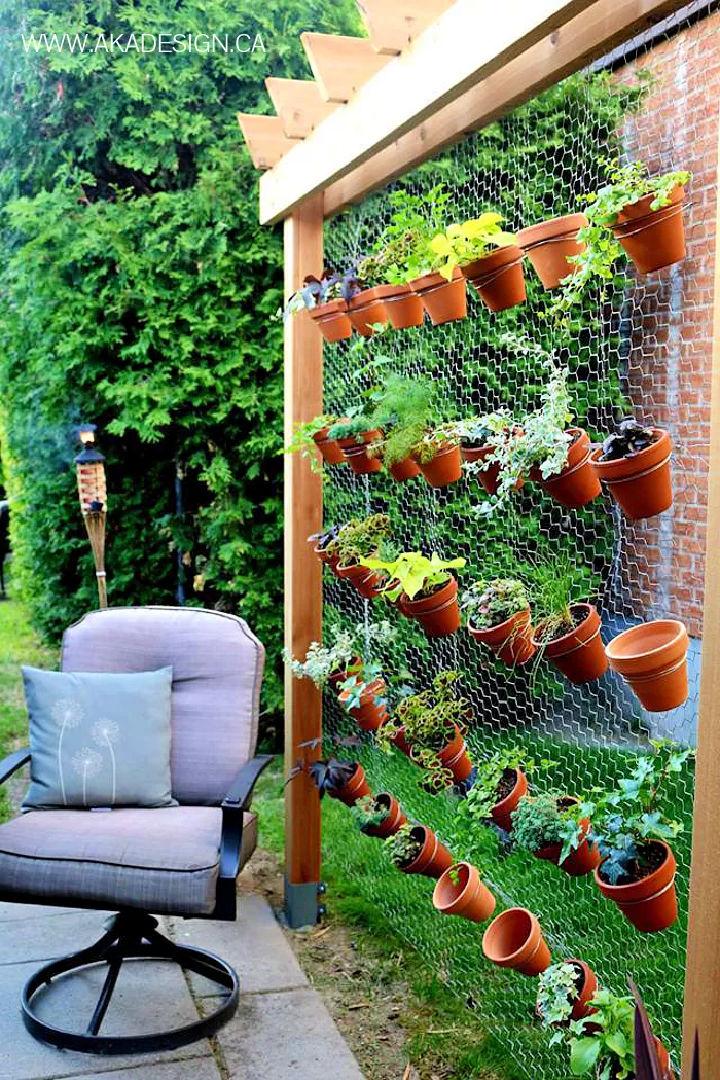 Do you have a few scrap old pallets and some chicken wires too and looking for vertical garden ideas to build something for your outdoor space like a backyard and garden? How about building a vertical chicken wire planter that takes no space and not many dollars! The wire will hold the soil when its hands vertically on the old pallet. All you need is a ground spike in khaki, cedar posts and planks, scrap, etc. homemadelovely
23. Backyard Tin Can Fence Garden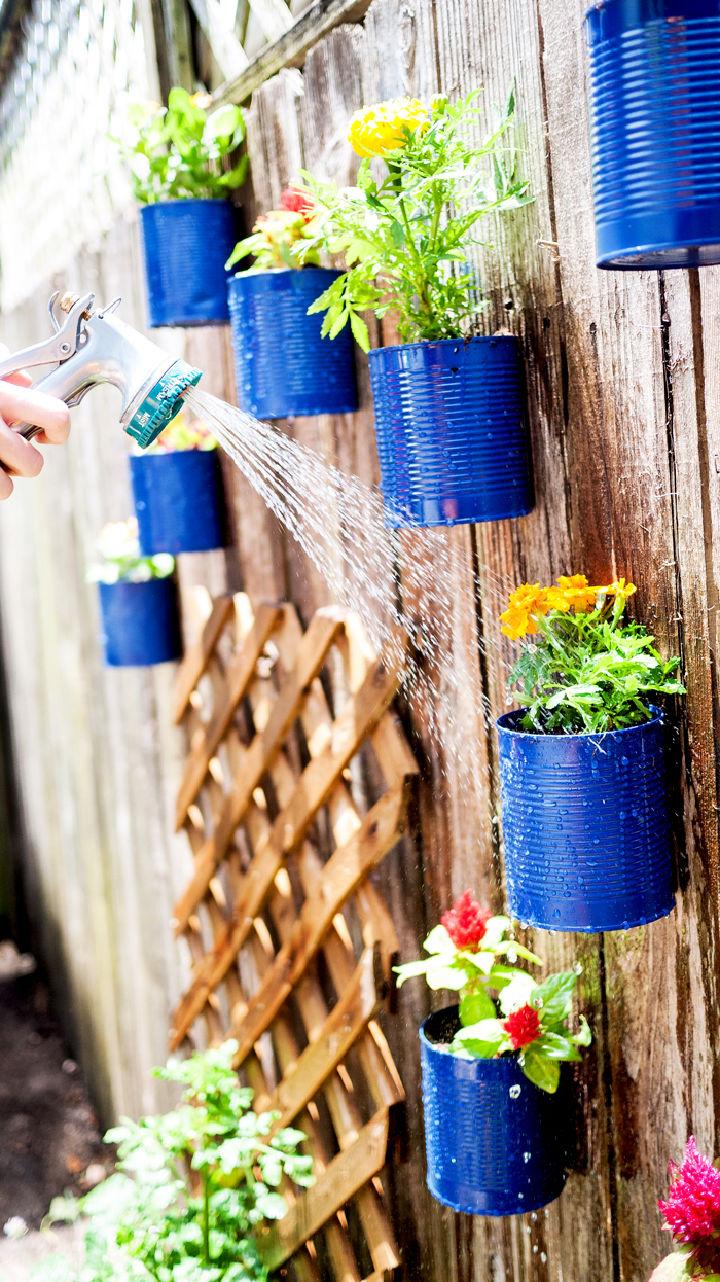 Here are different vertical garden ideas for the small gardens and backyard spaces by using the repurposed tin cans & wood pallets! Must be having a lot of spare tin cans lying around you, right' Let's grow plants and color all these tin cans of your choice, and transform them into a DIY garden fence. All you need is soil, water, spray paint, tin cans, plant seeds, paintbrush, rope, etc. cieradesign
24. DIY Plywood Hanging Planter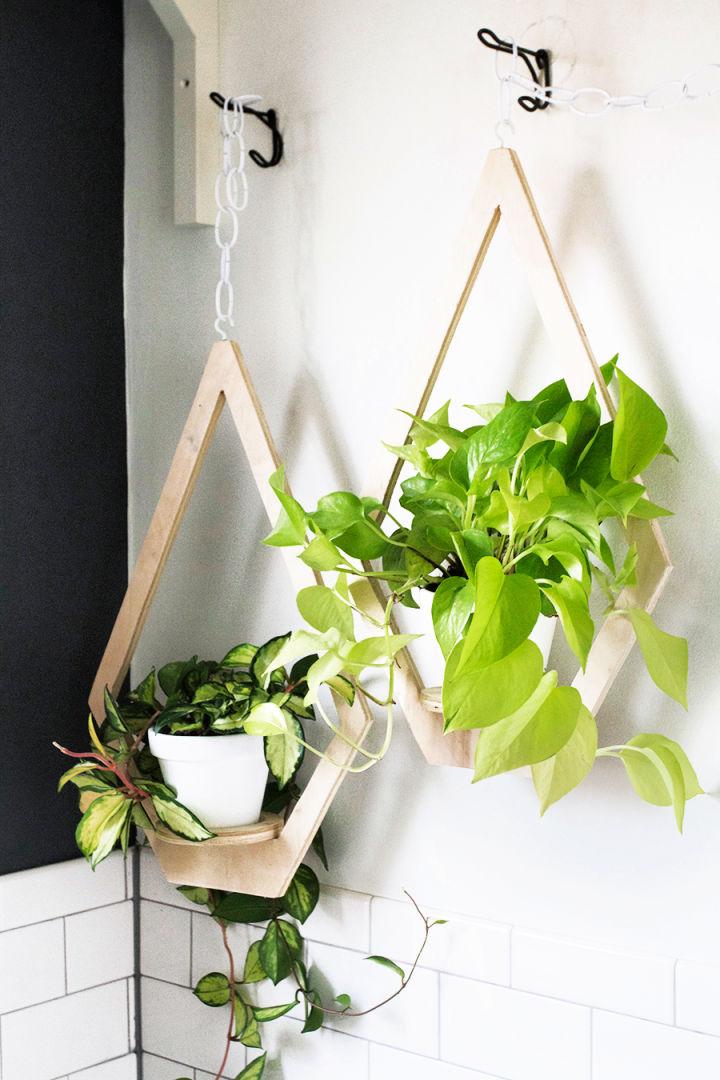 Have you been working on numerous building projects in the past and have spare plywood lying around? Let's save it from being wasted and use for another amazing project ' an indoor DIY plywood hanging planter on the wall! This looks super adorable with absolutely no space. Assemble birch plywood, white chalk, Terra-Cotta pot, power drill, jigsaw, screws, white chain, etc. deucecitieshen
25. Indoor Hanging Herb Garden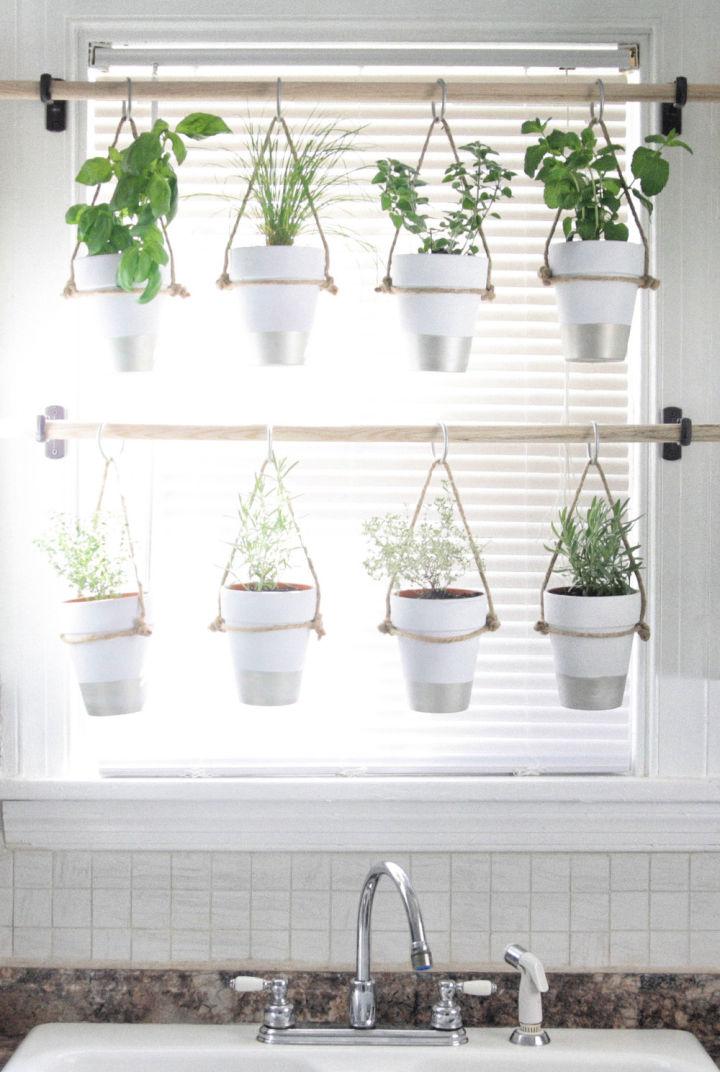 Have severe facial acne problems for the last two months? Do you want to grow some essential herbs at home to apply on your face against acne but do not have enough backyard or outdoor space? We have a perfect solution here with this indoor hanging herb garden plan! Just buy the plants and hang them with rope or wood sticks. Assemble clay pots, rubber bands, spray paint, rope, etc. thebirdandher
26. Vertical Strawberry Tube Planter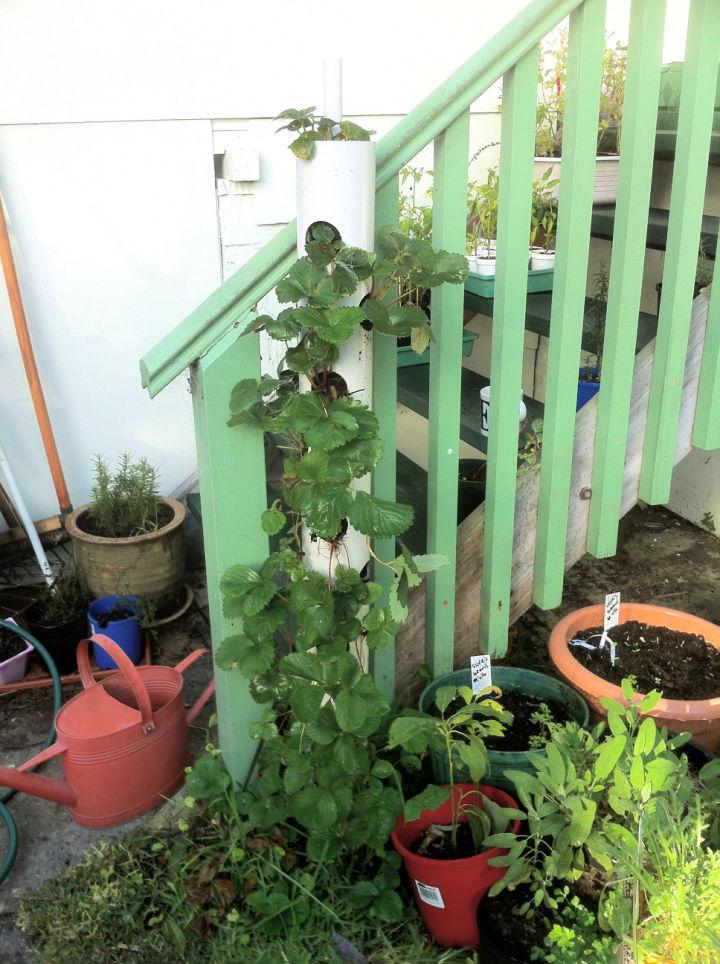 Let's grow your favorite fruit in your limited backyard space. Guess what ' none other than STRAWBERRIES! Follow this plan and build this simple and inexpensive DIY strawberry tower that takes up very little garden square footage and gives you many strawberries. All you need is an electric drill, drill bit for watering pipe, PVC downpipe, a cork and knife, duct tape, screws, etc. urbangreenspace
27. Turn Soda Bottles into Vertical Garden

Soda bottles are very common and must be lying a few around you as well, right? Do you know you can create an amazing vertical garden that involves hanging hundreds of recycled and scrap soda bottles on the wall? Add bottles upon your choice and grow more plants. All you need is these few easily available materials like soda bottles, knife, soil, planting seeds, paint, paintbrush, etc. sarahclawrence
28. Pallet Wall Garden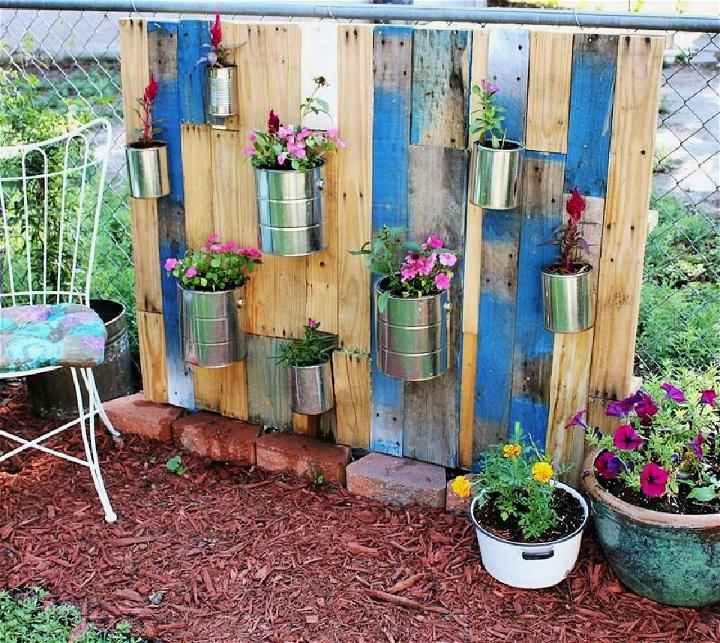 Get yourself some cheap galvanized buckets and pallet wood boards to build this amazing vertical garden for your outdoor space. This is super easy ' all you have to do is plant the seeds or herb inside the buckets and hang them with the custom pallet wall. This project will add a modern look to your garden. Assemble wood boards for backing, galvanized buckets, soil, seeds, water, etc. abeautifulmess
29. Modern Grid Trellis from Garden Stakes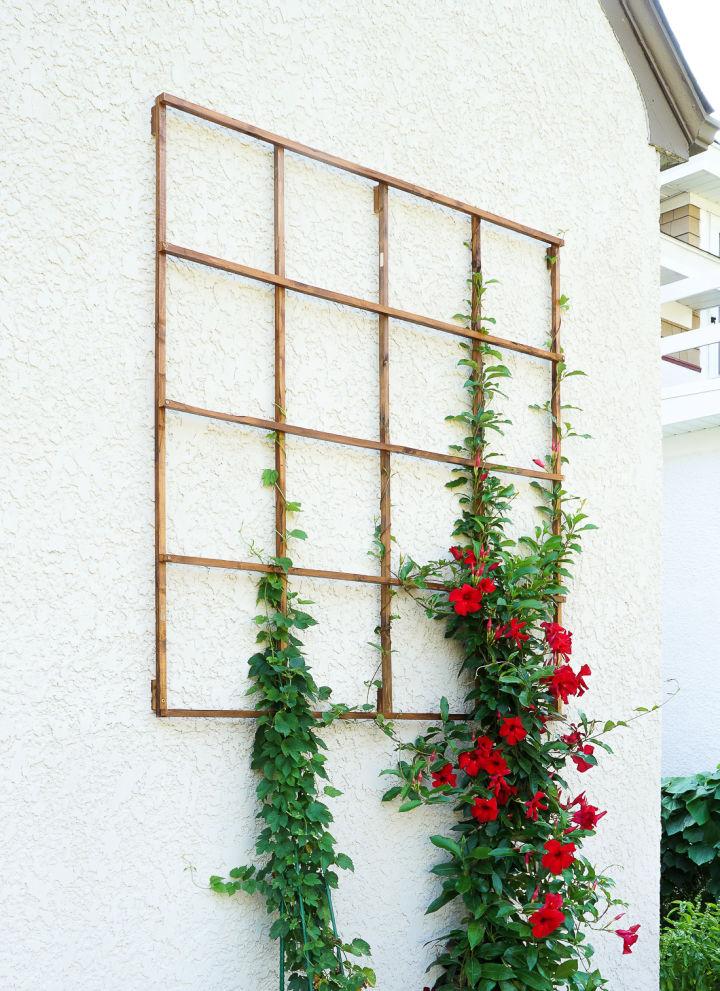 Are you looking for some wall patio garden plan for your home something inspired by trellis? Wondering if you should buy a trellis from the market or hire a professional to do the needful? Wait! Save your money, build a perfect modern grid trellis using garden stakes, and customize it the way you want! Assemble cedar garden stakes, exterior garden stain, marking too; miter saw, etc. francoisetmoi
30. Mason Jar Wall Garden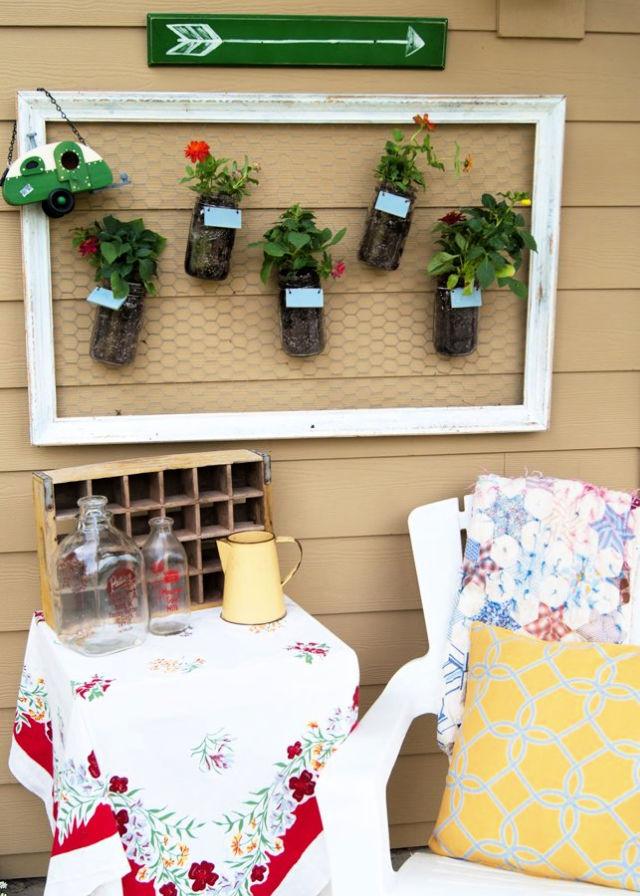 Do you love recycling mason jars? If yes, then here is another ideal project for you! This time, use these repurposed mason jars to plant your favorite flowers, herbs, and succulents and then simply hang them on a DIY vertical wall that you may create from a wooden frame or with the chicken wire. Assemble soil, mason jars upon your choice, soil, flowers, tape measure, drill. kleinworthco
31. Painted Wood Pallet Planter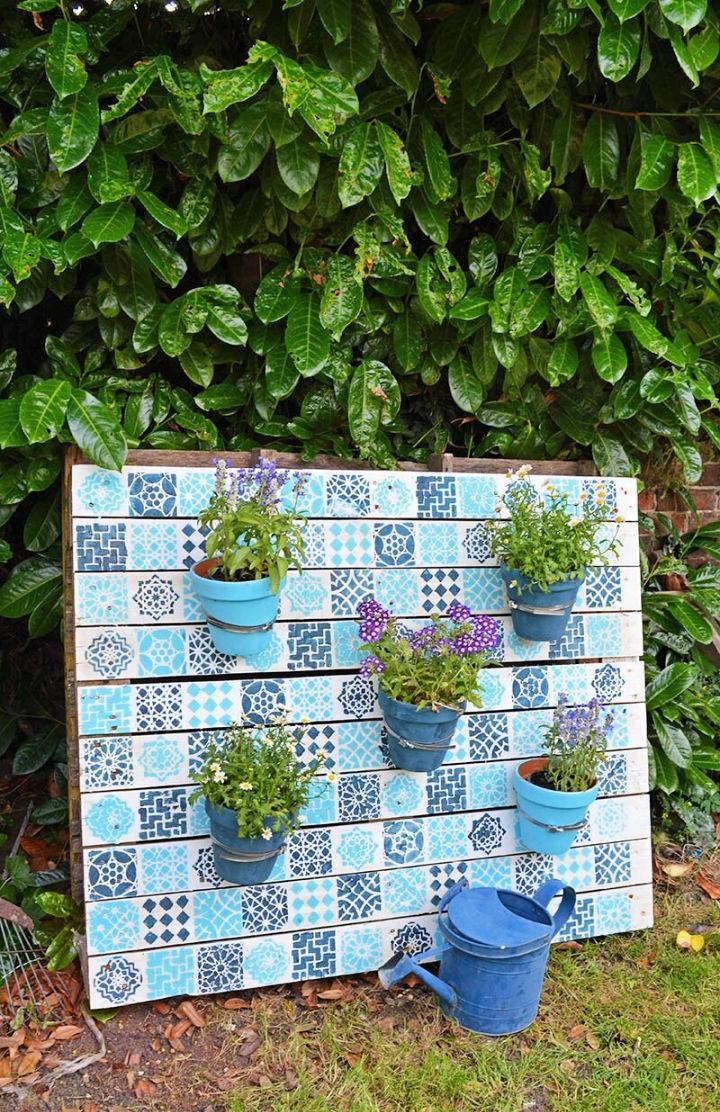 Here is an amazing Moroccan-styled vertical planter that adds a lot of color design, and gardening space in your limited yard. This painted DIY vertical garden is not difficult to grow plants, but it's more about how you paint and decor the frame to hang planters on it.?? All you need are these easily available supplies like Moroccan tile stencil, pallet, painters' tape, jubilee clips, wood screws, etc. pillarboxblue
32. Indoor Wall Flower Pot Garden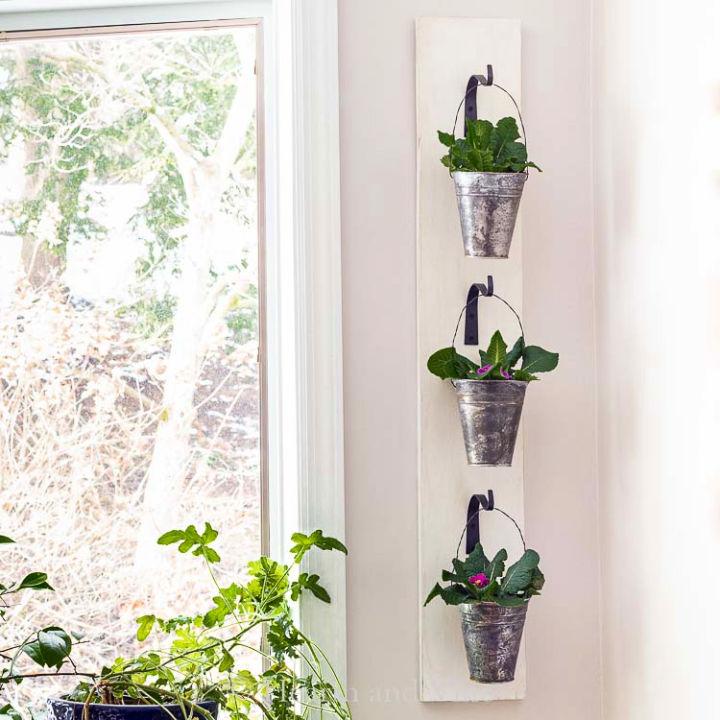 Do you love growing flowers and want to place them inside your home? Do you also have a lot of tiny potted flower planters and looking for ways to showcase them as home decor? Why not! Follow our unique list of vertical garden ideas to build an indoor flower pot garden in few simple steps. All you need is a saw-toothed picture hanger, galvanized buckets, rustic iron wall hooks, flowers, soil, water, rope, etc.?? hearthandvine
33. DIY Wall Mounted Planters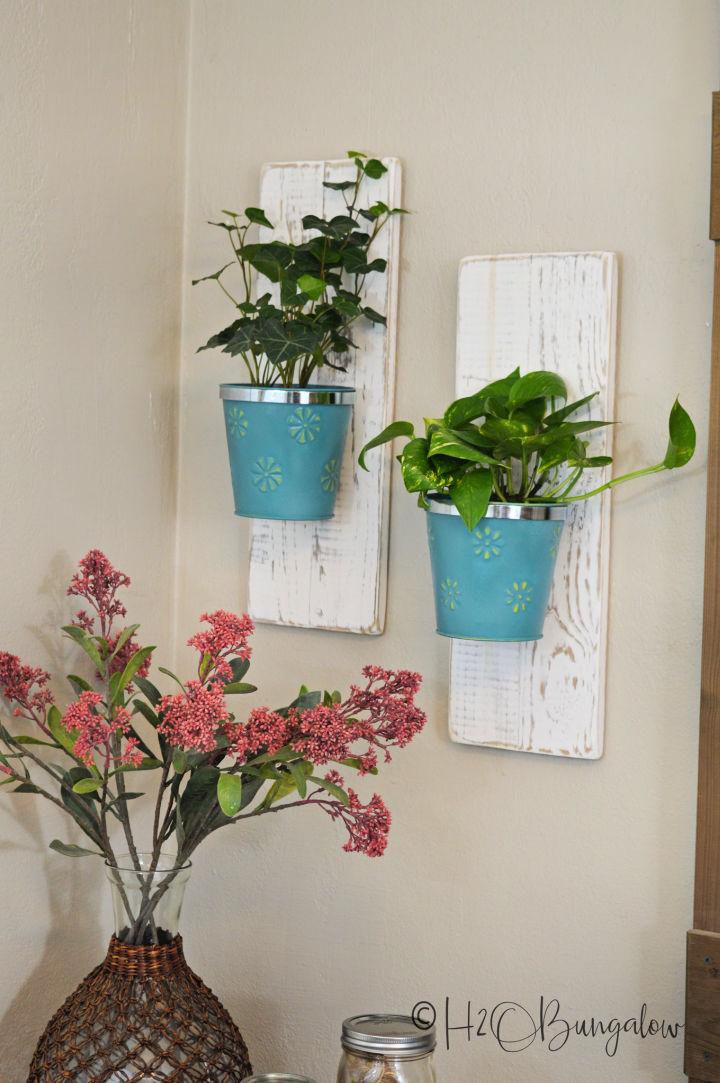 Plants look good when they are at their place means garden or backyard, right? But do you know they look more adorable when they are placed inside your home? Want to try out? Let's work on these amazing DIY wall-mounted planters and display them on the favorite wall of your house. All you need is 6′ metal bucket, hose clamps, spray paint, screws, wood board for backing, 2-d rings. h3obungalow
34. Freestanding Vertical Garden

Do you love gardening and growing your favorite healing herbs like Aloe vera to fight against face acne? Do not have enough space in your backyard and front yard and looking for some alternative? Let's not lose hope and go with this DIY freestanding vertical garden that you may also use to grow strawberries and other plants. All you need is 5-gallon plastic nursery pots, drain holes, buckets, etc. apieceofrainbow
35. Vertical Garden With PVC Pipe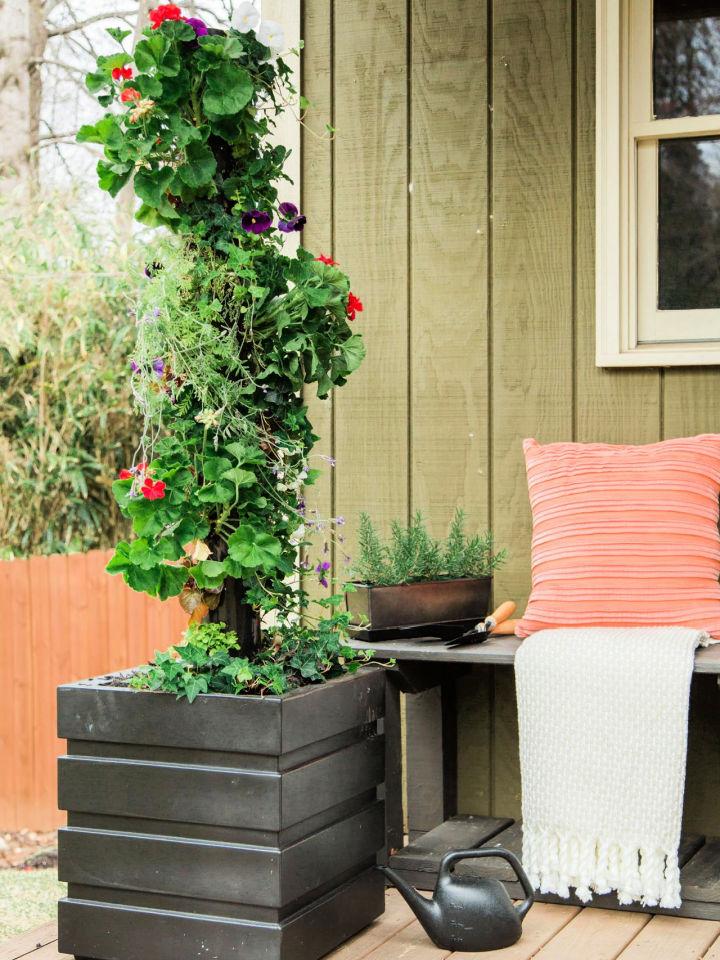 Have you ever thought of making growing plants on a PVC pipe? No, right? Let's do something different with your small yard and garden and bring this beautiful and creative vertical PVC pipe planter to grow your favorite succulents and flowers on it. This wouldn't take you a lot of time. Assemble plants with shallow roots, cube planter, PVC pipe, weed cloth, black zip ties, mulch, etc. hgtv
36. Copper Herb Verticle Garden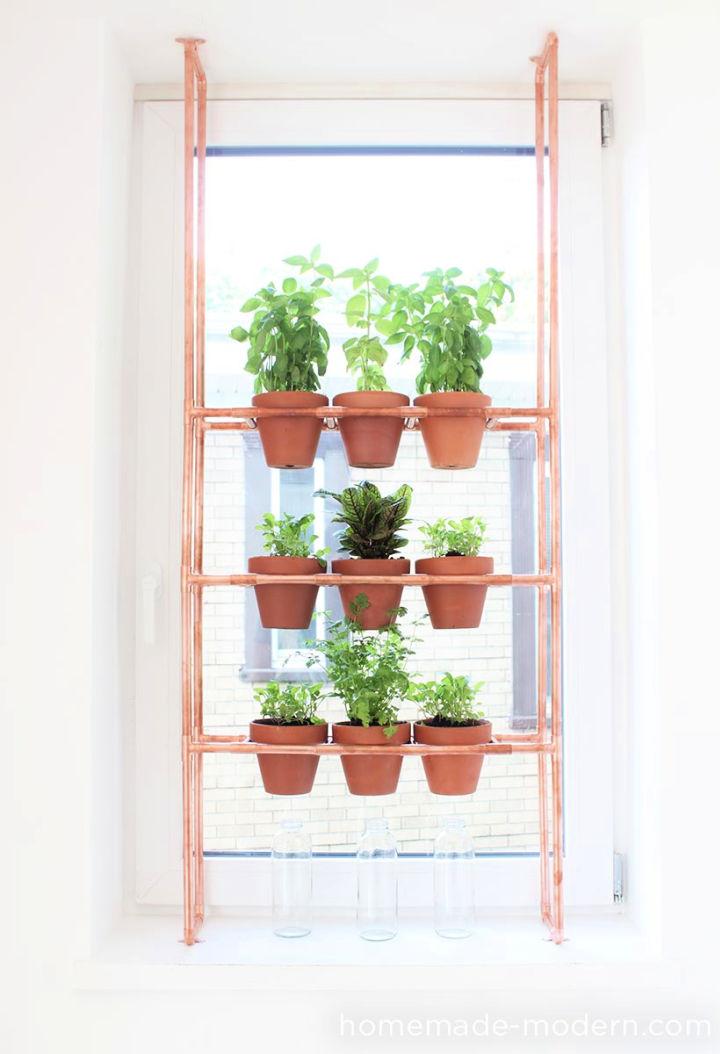 Just when you think you have seen it all and find another amazing plan that hits you. This time it's a cobber herb vertical garden that creates a stunning vertical appearance inside and outside. Grow your favorite herb in this rustic and super easy vertical garden that doesn't break your bank. Assemble copper pipe, flowerpots, steel wool, copper pipe straps, T-fitting elbows, etc. homemade modern
37. Space-saving Vertical Garden

Love planting but live in a small house with no garden and small backyard space? No worries, and let's create this amazing, pretty vertical garden that fits up against a wall ' it would hardly take any space! This vertical garden is not only space-saving but gives you a perfect space to grow veggies and herbs of your choice. Assemble garden rack or iron frame, plastic sheet, jute cloth, drill, etc. instructables
38. Arrow Vertical Succulent Planter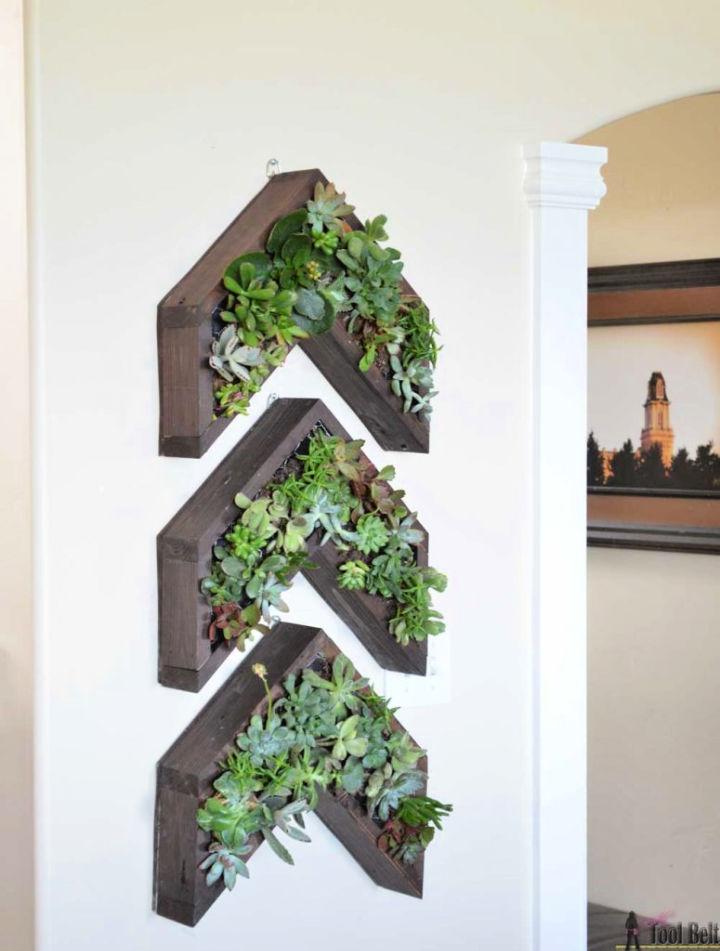 Are you the one who loves succulent for displaying as home decor? If yes, then this project is something you wouldn't want to miss out on! Revamp your front door wall with the rustic arrow-shaped vertical succulent planter and add a perfect decor item that looks adorable. All you need is a plywood sheet, pine board, wood screws, brad nails, wood glue, wood stain, picture hangers. hertoolbelt
39. DIY Mason Jar Vertical Herb Garden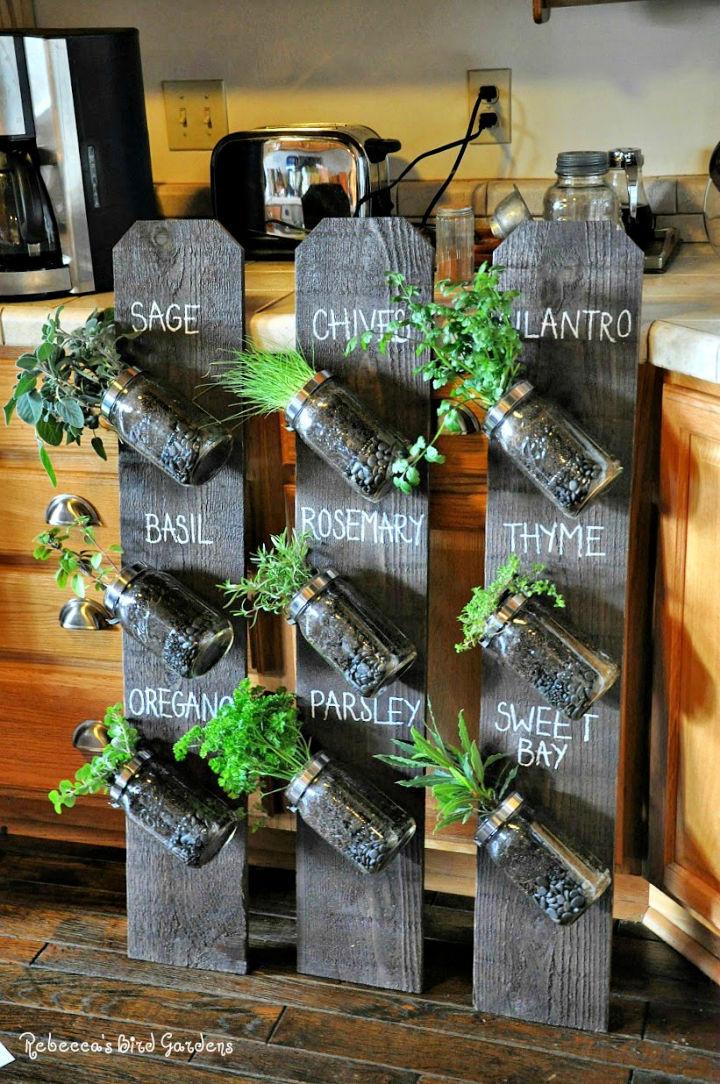 Mason jars are so versatile and durable that you can use so many creative ways to recycle them, right? But this time, let's use them for gardening purposes! Does it sound cool to you? If yes, then let's build this vertical mason jar garden that saves space and money. All you need is cedar fence board, wide mouth mason jars, cups gravel, stainless steel hose clamps, etc. rebeccasbirdgarden
40. Vertical Garden in 3 Easy Steps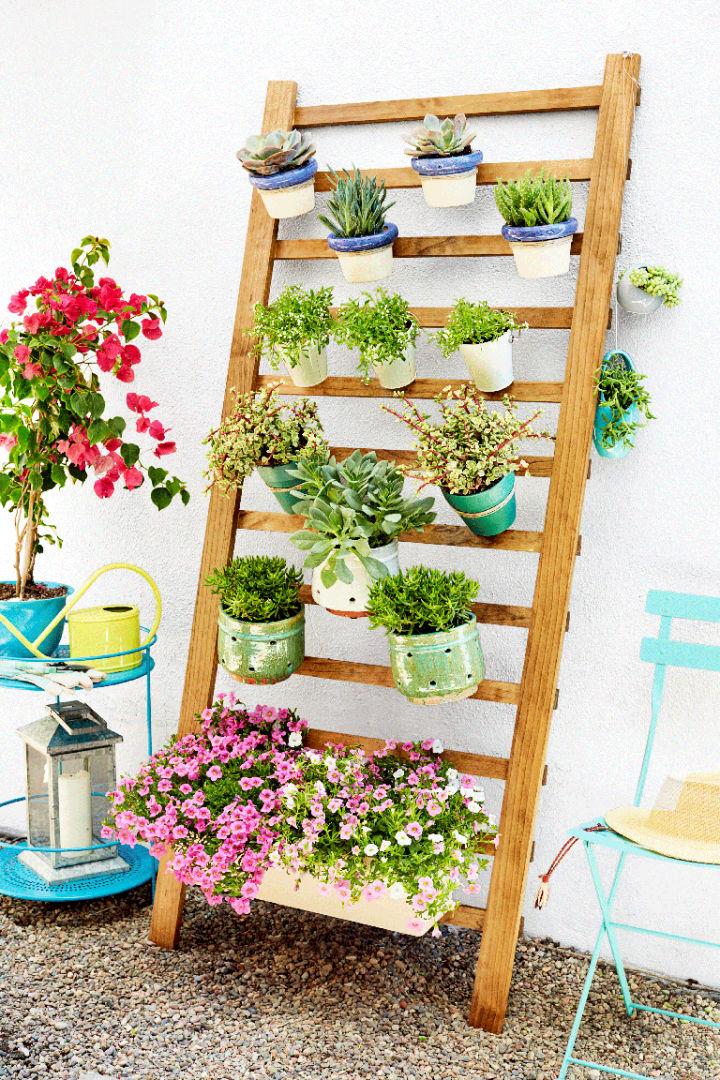 Are you trying to grow plants on the patio, backyard, or tiny balcony space? Then the best option is to stop looking at your limited ground and start building this vertical garden in three simple steps and hang as many planters as you want. All you need are these easily available supplies from the market, including planter pots, wood boards, plywood sheets, drill, sols, brad nails, screws, etc. redbookmag
Conclusion:
Let's conclude here with the hope that you find all of our DIY vertical garden ideas really inspiring and good enough to brighten up your backyard or garden. All of our mentioned vertical garden ideas have their own features and qualities that make them unique from another. If your mind is still boggling while choosing the right plan for your gardening, then site and analyze your requirements and needs.
We have also mentioned all the supplies, tools, and instructions with all the plans. All you have to do is ' choose the most suitable plan that suits your budget, space, and needs the best. Then, grow your favorite plants or herbs in the way you want because none of our plans would take you a lot of budget and time. So, why wait for more? Let's shop for the supplies you don't have and bring your desired garden home within no time!