Are you looking for a pallet bench to beautify your space? You have come to the right place! We bring you incredibly amazing 20 DIY wood pallet bench plans and ideas that come with easy instructions to build to your own garden bench. You will love every diy pallet benches design listed below as each of them is just as easy to build. Just by following the guidelines attached, you can master it like a pro!
If you are someone who especially enjoys using reclaimed materials, these simple DIY pallet bench ideas can be your utmost outdoor decor ride! Moreover, rustic furniture added to any place can bring quite an exquisite character and vibe and pallet benches are the epitome of rustic decor. So, are you all set to explore some exciting pallet ideas to turn pallets into your new unique furniture?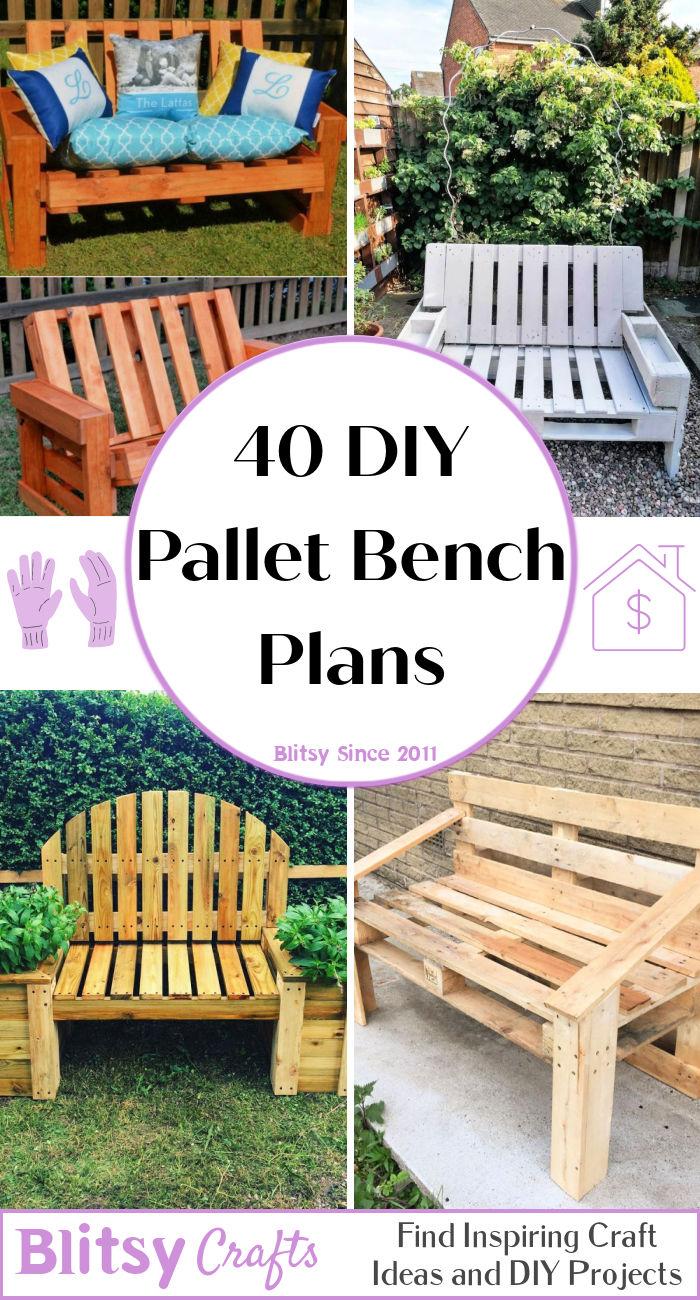 From a pallet garden bench to the backyard and a pallet bench seating with hidden storage to wood benches we have it all for you. Revamp your patio by adding super-cool and stylish DIY pallet benches to it. Surely the best alternate, rather than spending loads on an in-store bench. Make one yourself using all the scrap wood out of pallets you have laying around in the backyard. Such a cost-effective idea and one with a long-term benefit, isn't it?
Furthermore, you can use reclaimed wood for the purpose as it will cost you not more than 10 dollars. A pallet bench can be maneuverable in more than one way – more than you could imagine! So, what are you waiting for? Let's hop right into the diy pallet benches listed below.
1. Pallet Garden Bench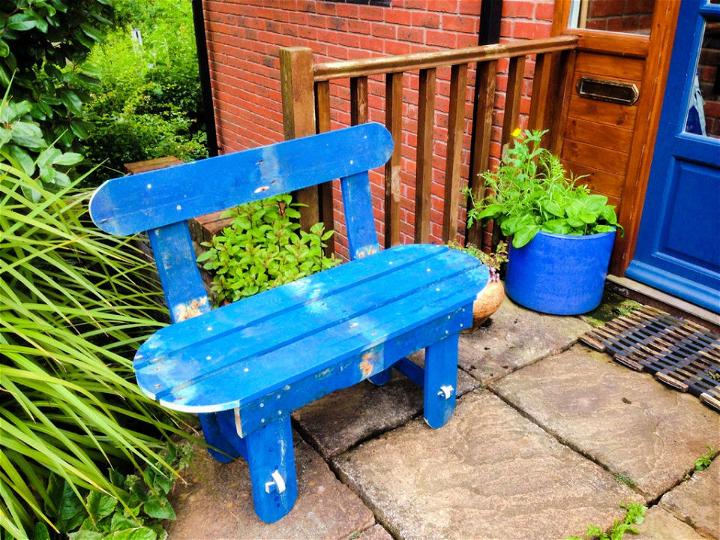 Want to upgrade your front garden a bit? This pallet garden bench will be the best addition. Start by sketching a guide with the right measurements to go about. The materials needed are a wood pallet, clamps, wood glue, a drill, handsaw, jigsaw, mallet & hammer, 4 short screws for the back support 10 x 1" and 24 long screws for the seat frame – 10 x 3" & 10 x 4" combo recommended. instructables
2. Homemade Pallet Bench Seat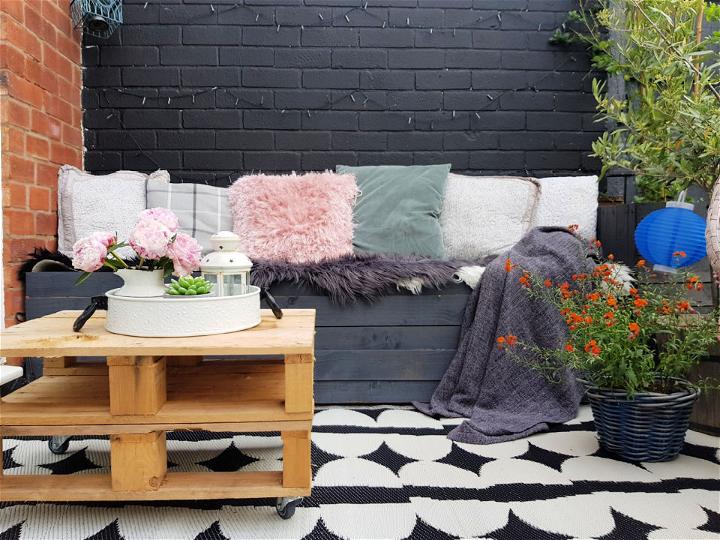 Thinking to give your patio a rustic touch? Look no more! This DIY Homemade pallet bench set would do the job. It is not only an easy task but also will take not more than a couple of hours to be finished. All you will need are a bunch of wooden pallets, a jigsaw, hammer & nails, bendy wire, and a wire cutter. Paint with your best-loved colors and enjoy! verymeinteriors
3. Backyard Pallet Bench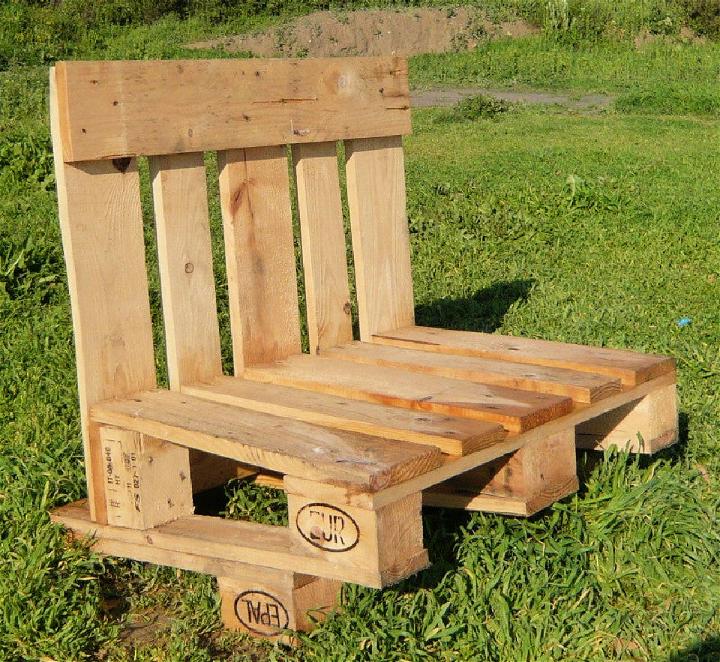 This simple conversion of a wood pallet into your backyard pallet bench will blow you away. Start with cutting the pallet according to accurate measurements as stated in the instructions. Connect the backrest element as well as the elevations. Make sure to fasten together securely. Paint like you want or leave it as it is! A crowbar, impact driver, handsaw, wood pallet, and 14 large-headed screws – 5 mm x 100 mm. instructables
4. Pallet Corner Seating With Hidden Storage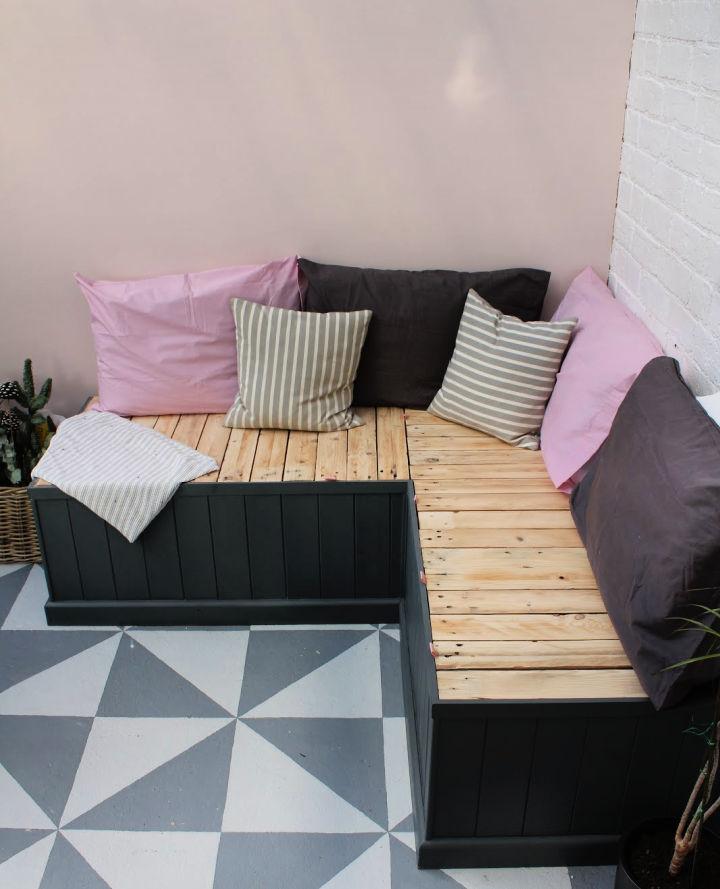 Build this stunning pallet seating with hidden storage space on your own. To DIY this pallet bench you will need wood pallets with slats removed stacked on one another. Once they are in position tightly screw them together. Attach the wood strips and start paneling. Paint in your favorite shade and you're done! You will need a jigsaw, drill, hammer, filling knife, measuring tape, nails & screws, wood filler, and adhesive in addition. kezzabeth
5. Cable Spool Pallet Bench

Who would not want this stunning cable spool pallet bench in their backyard? Which is more than perfect for summer outdoor sittings. All you need to do is follow the instruction guide carefully and stay dedicated throughout the process. An Industrial cable spool, pallets – 3 x 4″, screws, circular saw, jigsaw, miter saw sander, clamps, power drill, mallet, and a measuring tape are the required tools to start with. instructables
6. Build A Pallet Bench With Back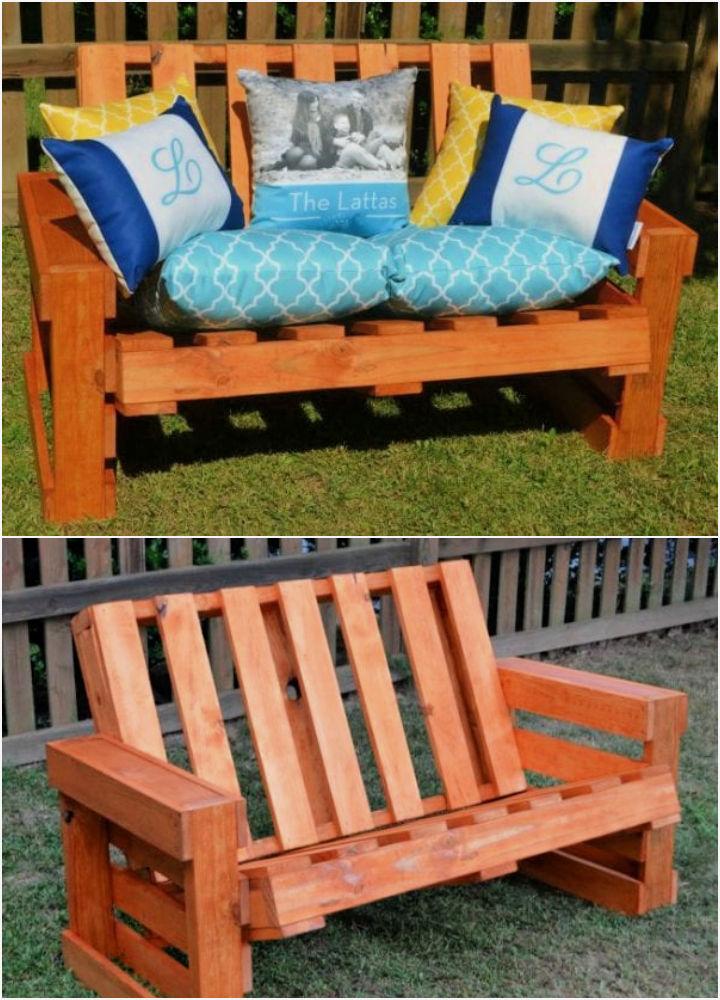 Here's how you can simply build a pallet bench with a back quickly and affordably. It requires a few supplies as a hammer & nails, 3″ screws, 2 half and 2 quarter wood pallets. Follow the attached guidelines carefully to obtain the best results. Also, sand your project towards the end to avoid any rough patches. Stain in your favorite light or dark shade and enjoy your summer drinks in peace! remodelaholic
More Pallet Wood Ideas:
Pallet Sofa: How to make a couch out of pallets? Get some pallet couch inspiration! Save money and have fun! Make one of our unique, customized pallet sofas for your living area!
Deck out of Pallets: Here are 40 simple plans and ideas to show you how to make a pallet deck for FREE.
Pallet Coffee Table: See these pallet coffee table ideas to build your own coffee table with pallets wood and make it unique to suit your home!
7. Making A Bench Out Of A Pallet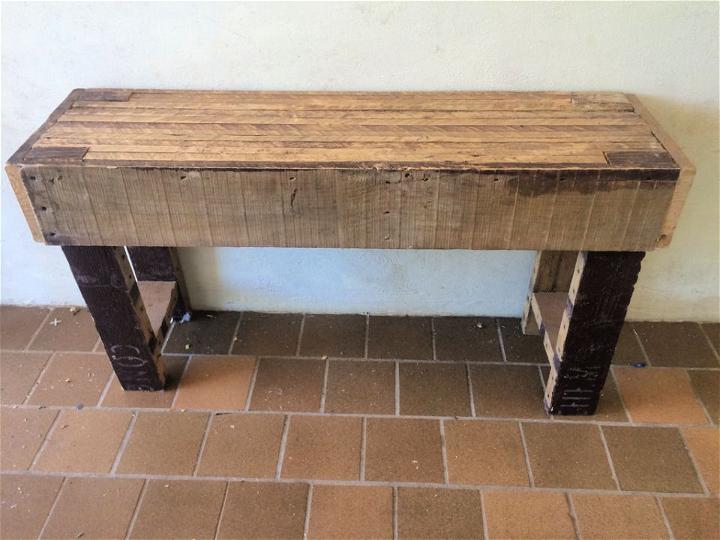 Have you ever wondered about making a bench out of pallets? It's easily doable and not so time-consuming as well. Also, it can be made out of recycled or scrap wood too. All you will need to build this furniture piece are – 2 wooden pallets, a circular saw, clamps, a handsaw, hammer & 75mm nails, wood glue, and 50mm pine screws. For a longer lifespan give the final product a clear coat and leave it to dry. instructables
8. Pallet Outdoor Bench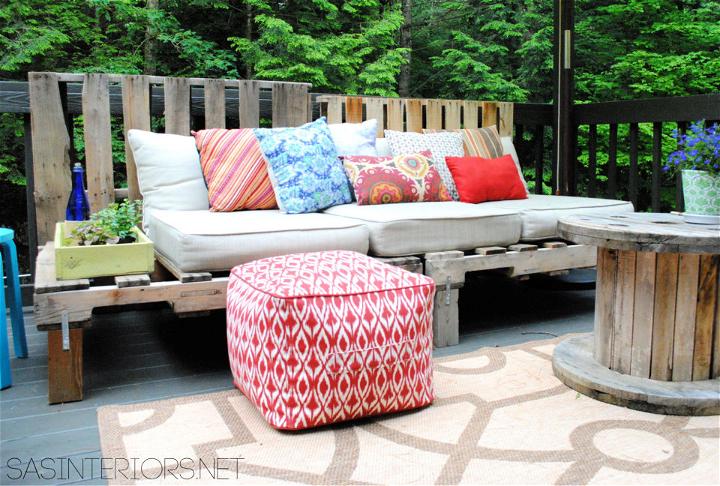 How about a dreamy pallet outdoor bench to fill in your backyard space? It may sound like lots of money right now but, not when you build one yourself! To your surprise, this very plan is super-fun and easy to do plus it will cost you not more than a few dollars. Cannot believe your eyes? Well, it's true! 4 wooden pallets, a drill, flat brackets, woodcutter, and nails are the materials required. jennaburger
9. DIY Pallet Corner Bench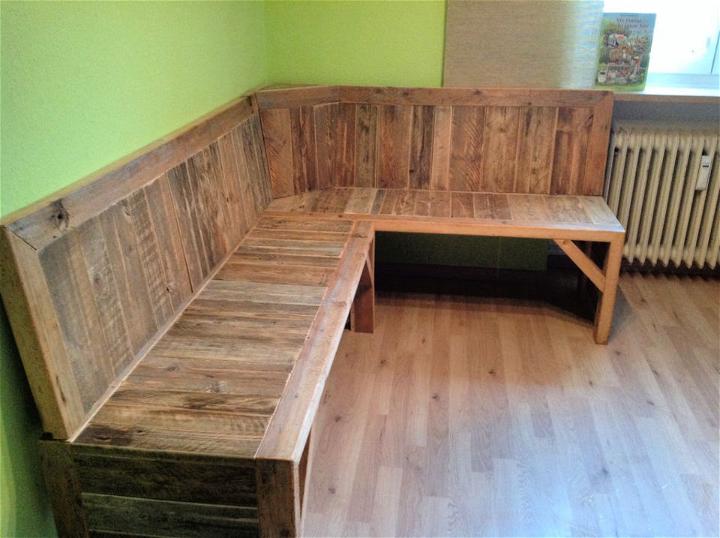 Got your hands on a few wooden pallets? Perfect! As they can easily transform into this super easy DIY corner pallet bench. Start the job by preparing and cutting out materials as mentioned in the detailed instructions. Don't forget to sand the wood to bring it to life! Assemble the planks and build a bench. Stain if you desire and adorn it with your favorite accessories to lift the final look. instructables
10. Cheap Pallet Patio Bench Seat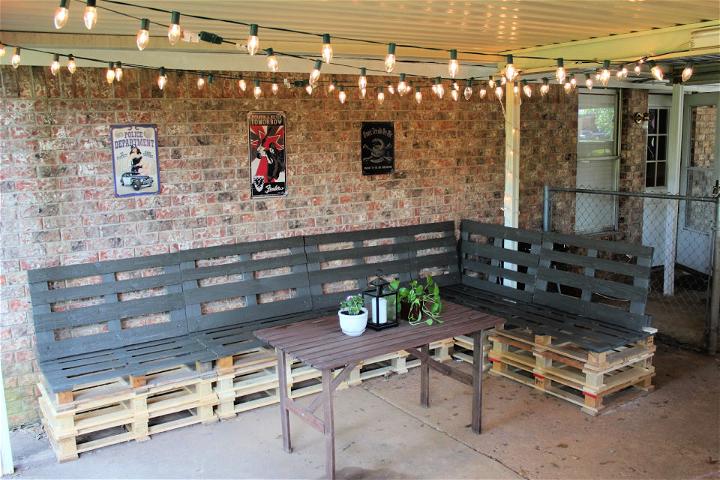 Looking for outdoor furniture ideas? This cheap super-easy outdoor pallet patio bench is perfect to go with. All you will need are any wooden pallets, a measuring tape, sandpaper, and your desired colored paint. Follow the instructions step-by-step for best results. It is highly cost-effective and the best addition there can be to your outdoor space. Now, it's time to host all those daylight summer lunches you eagerly wanted to. thesassysparrow
11. How To Make A Pallet Bench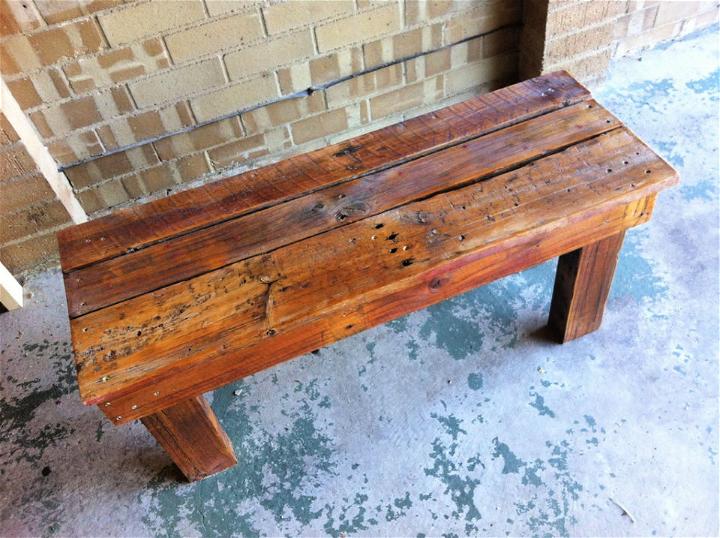 Here's how you can easily make an elegant-looking DIY Pallet bench! If you are thinking to add a vintage plus rustic vibe to your courtyard then this is exactly what will fit in perfectly. The best way to up-cycle a reclaimed wood pallet at near to no cost. The tools you will require are clamps, a saw, a drill, screws, a pry bar & mallet, set squares, and a measuring tape. instructables
12. Wood Pallet Bench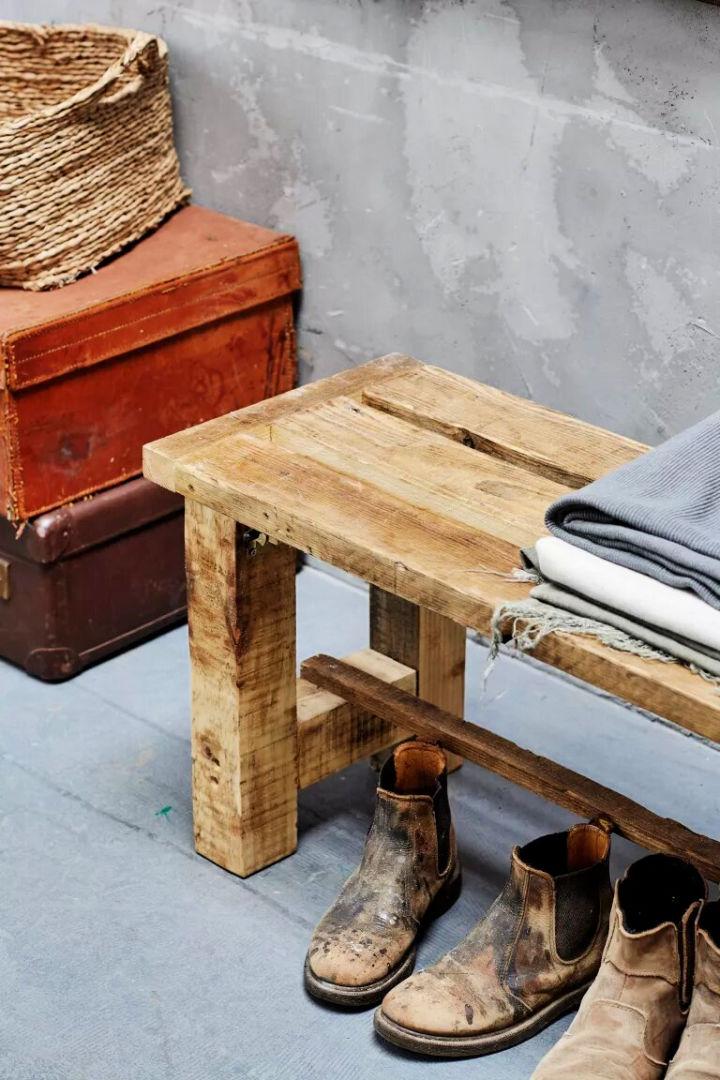 Want to make an attractive and classy bench? Here is what to do! Simply follow the detailed step-by-step guidelines and stay focused throughout the process. An electric drill, screwdriver, sandpaper, circular saw, combination square, and measuring tape are the required tools. Make sure to measure everything accurately and position it securely at the end. Fishing up, paint, or stain in the color of your choice, and you are done! gardeningetc
13. Easy Bench Out of Pallets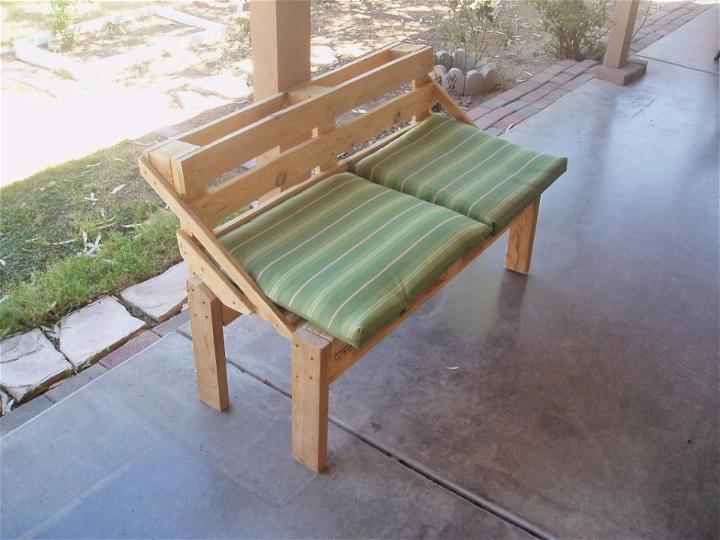 Are you in search of an easy do-it-yourself activity? We have got you! This simple yet easy pallet bench which you can make in no time. A perfect furniture piece addition to filling in your backyard space. What you will need for this project is a handsaw, drill, tape measure, pencil, 2- ½ and 3-inch screws, square set, and a sander. Time to get the best use of your scrap wood, isn't it? instructables
14. Pallet Potting Bench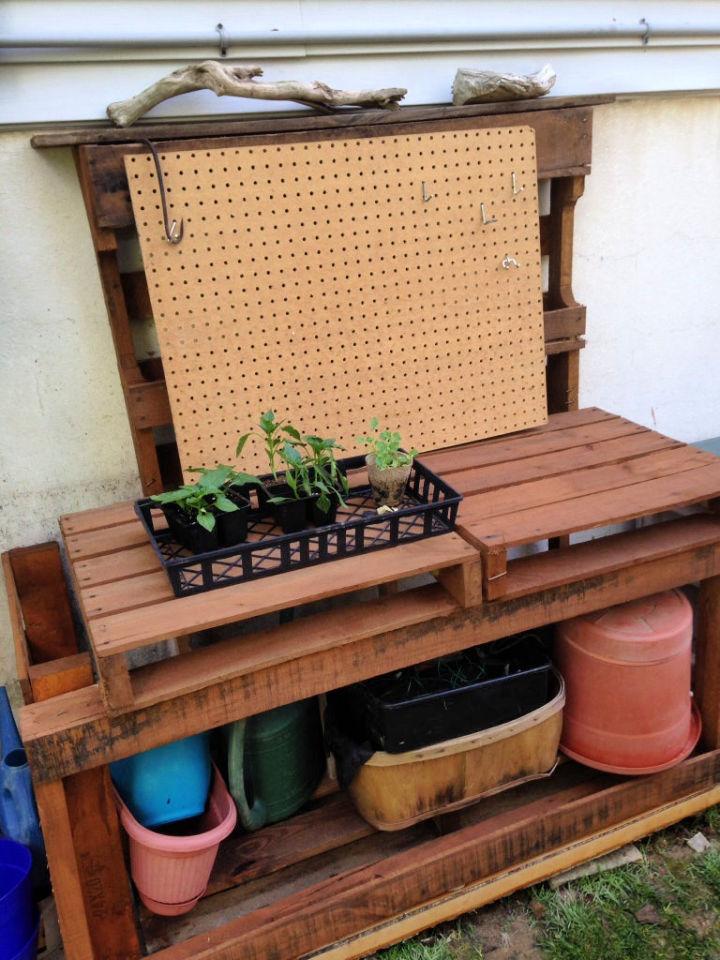 Come up with your very own Potting pallet bench with this easy-to-go guide! Upgrade your front garden look by simply up-cycling any wood pallet be it reclaimed. Take your gardening game to the next level – make sure to line up each piece one by one followed by adding a pegboard for holding all your essential tools. You will need different sized wood pallets just as mentioned in the instructions, nails, and T & L braces. instructables
15. Simple Pallet Bench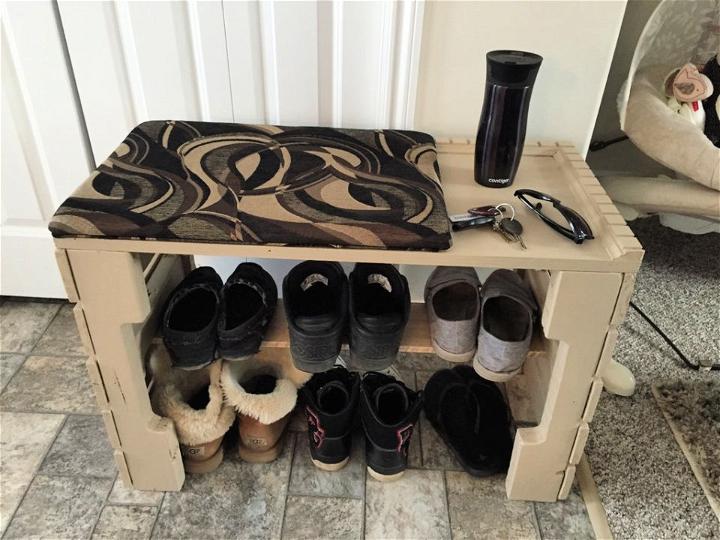 Make a pretty simple bench containing a shoe shelf. Sounds fun, no? Old wood pallets are the best fit to do the job. Start by cutting pallets into pieces as instructed and sand them all. Assemble and fit everything together accordingly. Paint the final product in any shade you like! Top your pallet bench with a comfy cushion carpet and you're all done. instructables
16. Pallet Bench With Shoe Rack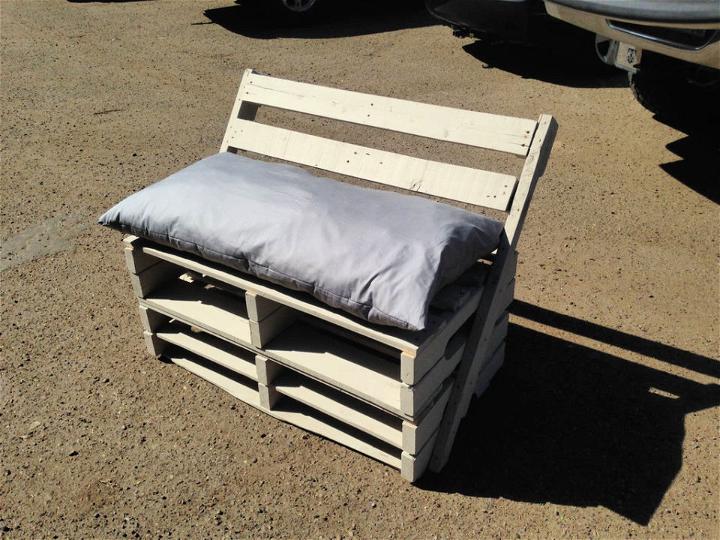 This laid-back DIY Pallet bench with shoe rack compartments can simply beautify your hallway. All you will need to get your hands on are some wood pallets, silk saw, a hammer & nails, and a sander. First, come up with the base and then attach the backrest onto it. Color your pallet bench in contrast with its positional surroundings. Place a matching pair of cushions and enjoy! instructables
17. Herring Bone Patterned Pallet Bench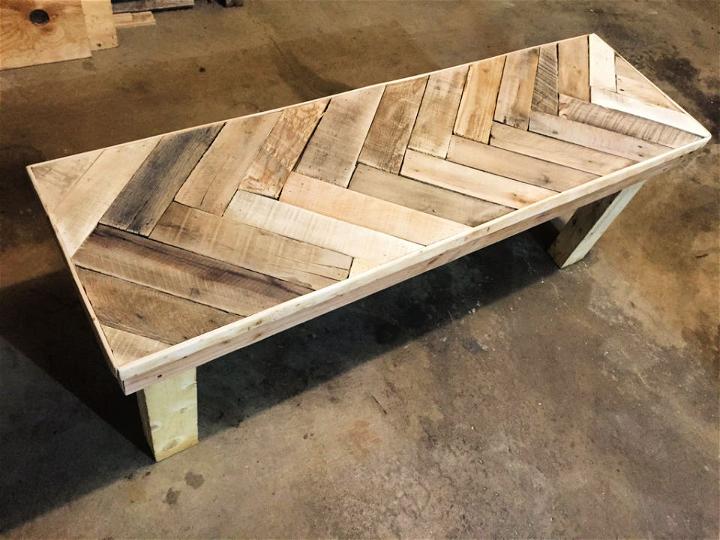 Everyone loves a chic furniture piece in their outdoor space. We bring for you this incredible Herringbone patterned DIY Pallet bench to just fulfill your need. This is a super-easy fun-to-do project which requires minimum tools. A circular saw chalk line, drill, and nail gun is all you will need. This very chevron pattern makes it unique and stands out from all other benches you will find in the market. Follow the guide and start now! instructables
18. Pallet Bench Under 10 Minutes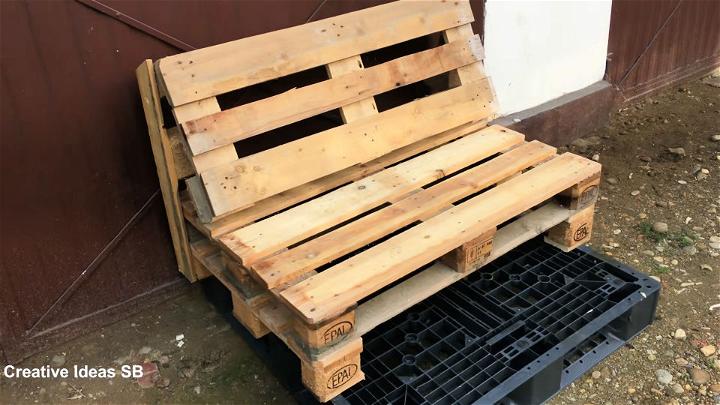 Ever wondered about making a pallet bench out of scrap wood? Here is a perfect idea. You can make this simplistic Pallet bench in under 10 minutes! Crazy, right? Just follow the reference linked video attached here and begin. Find 3-4 wood pallets and up-cycle them the best way. A sander, power drill, nails, and a pencil are the required essentials. Stain the bench in your favorite color and top with contrasting cushions. Enjoy your morning coffee while soaking in the sun! youtube
19. Wooden Pallet Bench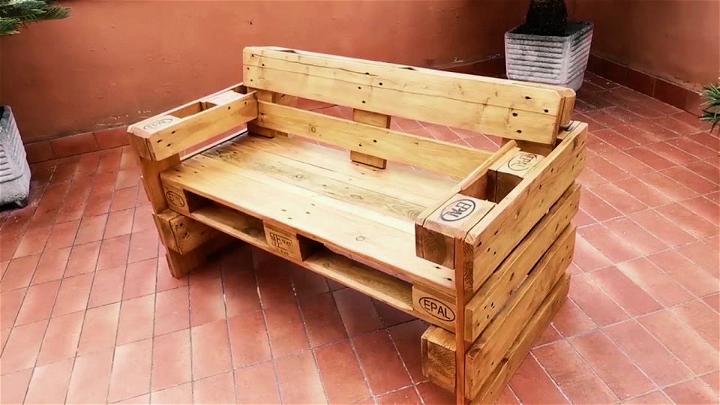 This easy wooden pallet bench idea will make you want to have one for your garden as well. All you need to do is reclaim some wood pallets and begin your magic. Follow the detailed instructions thoroughly in the linked video and it will be a piece of cake for you. A woodcutter, drill machine, sander, nails, and brackets are the tools needed. youtube
20. Free Pallet Bench Plan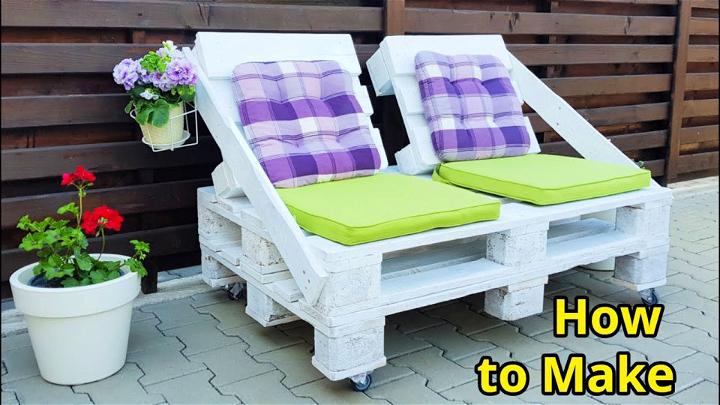 In search of a creative idea to revamp your main entrance? Look no further – this easy & free pallet bench plan is what you need. A set square, pencil, woodcutter, power drill, measuring tape, and nails are the few basic tools required. Follow the video instructions as you go by and you will be done in no time. Paint & embellish your creation just as you desire! youtube
21. Pallet Bench With Planters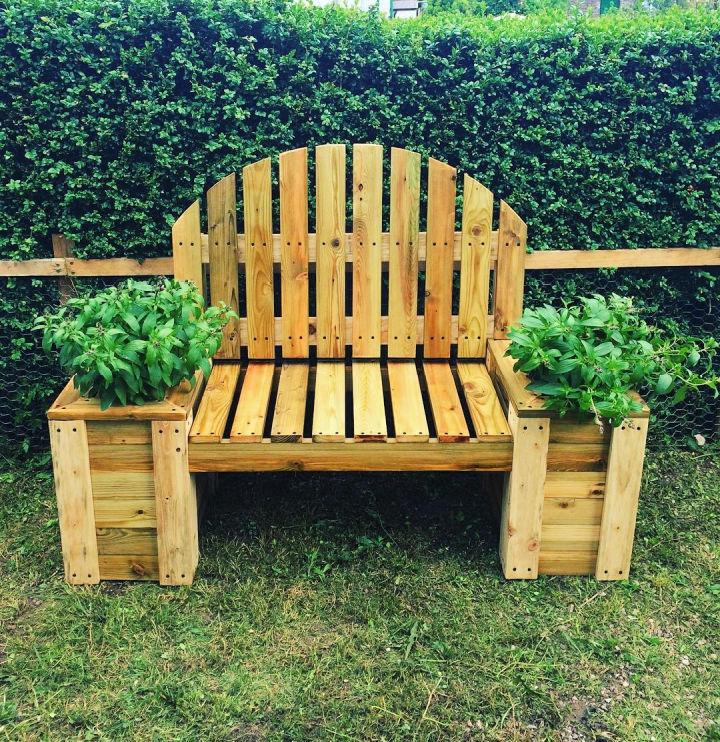 Building pallet benches gives tons of fantastic customization options. With an arched back and planter box legs, this pallet bench is going to beat all the ordinary mass-produced. You can drag this bench to any outdoor location, and sitting on this bench will be like being in the arms of nature while intending to get relaxed. The bright wooden slatted appeal will entice all wood furniture lovers. Giving a nice wood finish will boost the lifespan of this bench by protecting against early weathering. The bench is a beautiful gift for all who love to be in the garden and gardening.
22. Park Bench Plan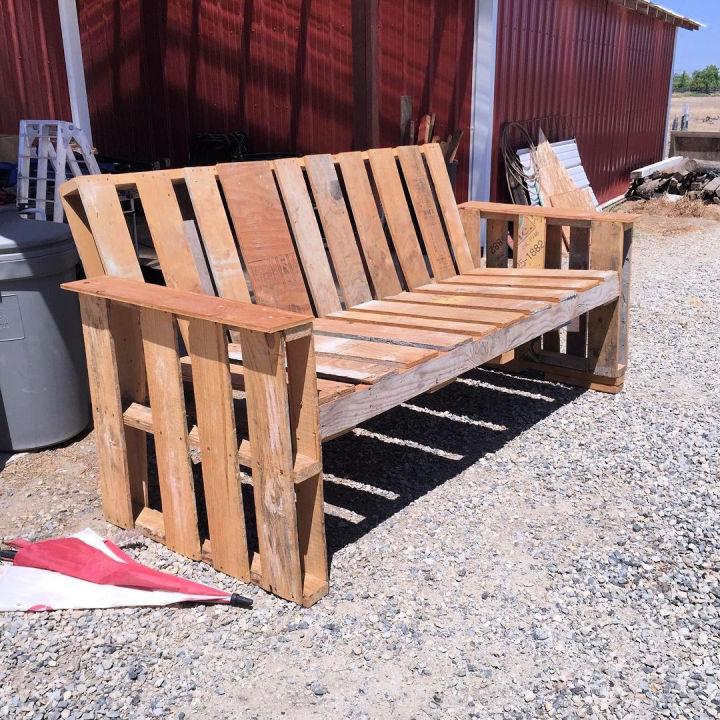 You will get teased by the feasibility of pallets after taking a look at this wooden pallet bench. The design comes inspired by those park benches, and it will take whole trimmed down pallets sizes to build each from legs to the backrest to the berth of the bench. The project is for all who love quick furniture construction that does not involve those boring cuttings and measurements. One of the best DIY pallet benches to build for outdoor daydreaming and book reading purposes.
23. Pallet Storage Bench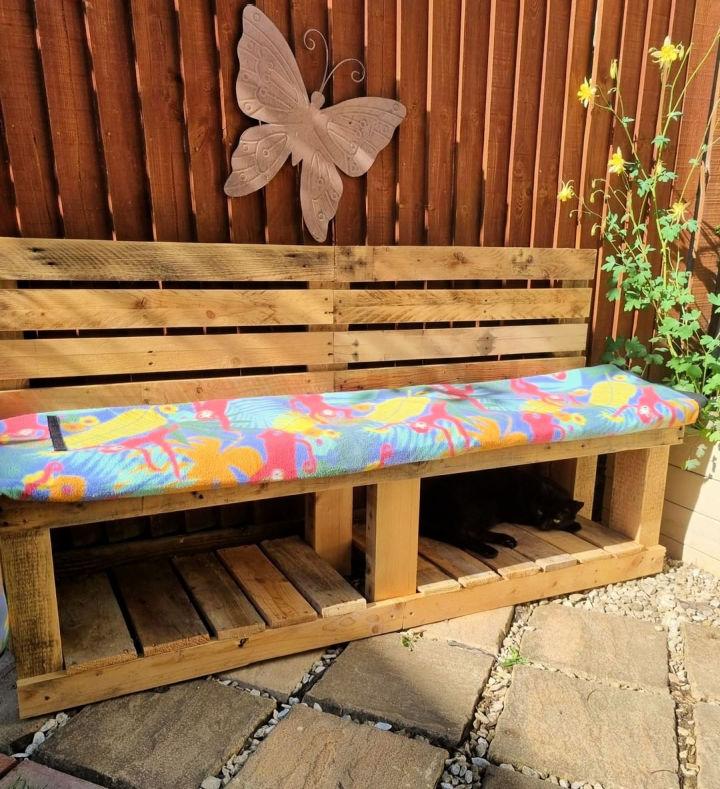 It is always great to accomplish your outdoor storage space need by using storage-friendly furniture. So, this storage bench is built exactly to meet your outdoor storage space needs. It provides two large built-in compartments that can be used to store an assortment of items and extras. However, they are large enough to use as pet beds. So, sitting on this bench will also allow you to keep your pets with you in a comfortable way. Repurpose wood pallets to build this another gorgeous design of the bench. Cushion it up for a maximized value of sitting comfort.
24. Front Porch Bench With Planter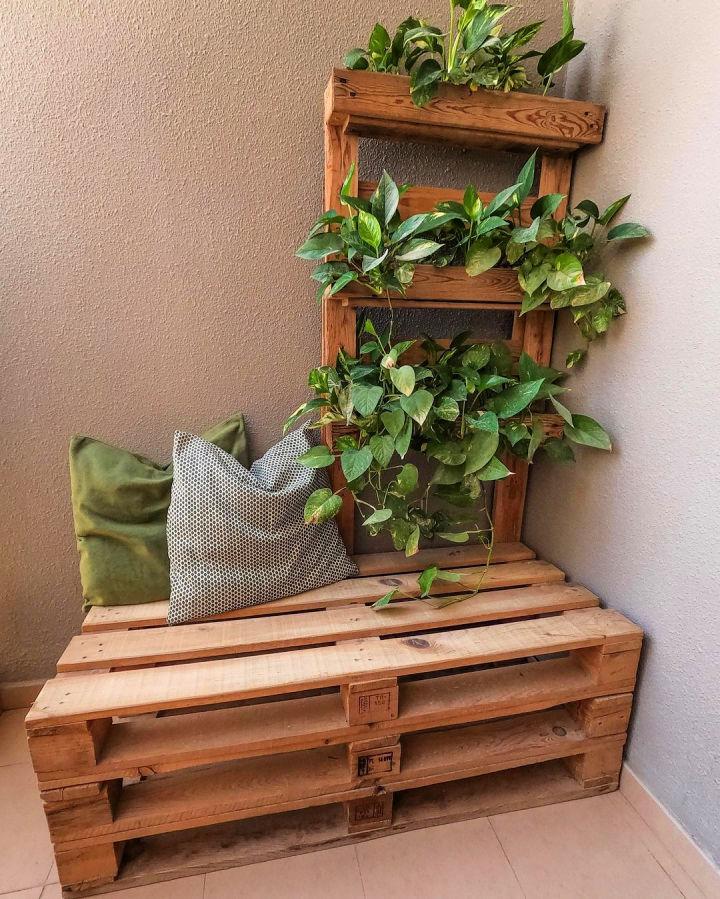 The front porch is always a home location that allows you to enjoy the outdoors while staying indoors. So, it should always be added with some comfortable and stylish sitting furniture items. Presenting here this easy-to-build pallet porch bench design that comes with a vertical planter also. The whole seat is made by stacking 3 pallets, and you can easily put together the separated apart pallet boards to build the vertical planter. It will help bring a glam touch of garden elegance to your porch area. A simple and straightforward porch bench idea.
25. Cool Pallet Bench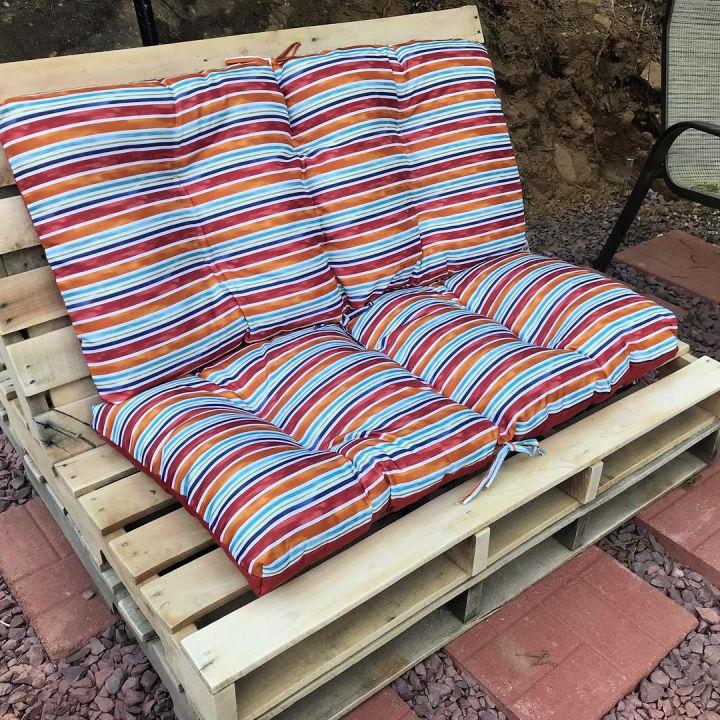 You will love this coolest outdoor bench design that allows you to state outdoor in a better and comfortable way. Just stack 2 pallets and let the 1 stuck vertically in the 2 pallet stack provide a comfortably angled backrest. Use your favorite seat cushion to comfy up the whole pallet seat. Sew also the pillows together to build an instant beautiful seat cushion. Sand, stain, or paint the completed bench design for added visual grace and weather protection. You will get this bench seat in a few minutes while working with pallets. This bench seat also provides built-in storage.
26. Pallet Bench For Romantic Setting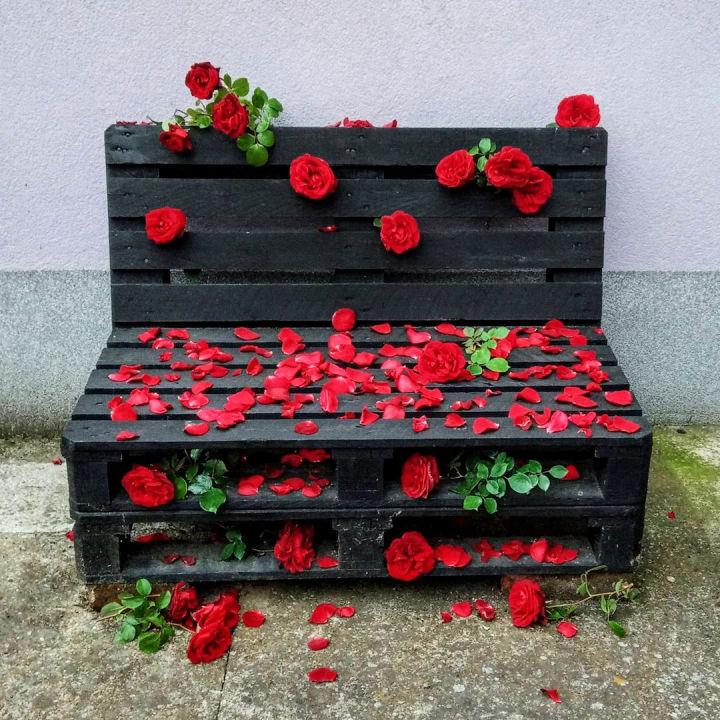 Look at this romantic woo pallet love seat. It is not a beautiful handmade gift for a newly married couple. This bench seat is another easiest thing to build with pallets. The construction involves no cuttings and is all about simple stacking of pallets. 2 Pallets give that storage-friendly seat, and a single pallet is used to build the stable backrest of the bench. Paint the completed bench design black and then load with rose flowers. However, you can use some metal plates to hold the pallets together in place.
27. Pallet Backyard Bench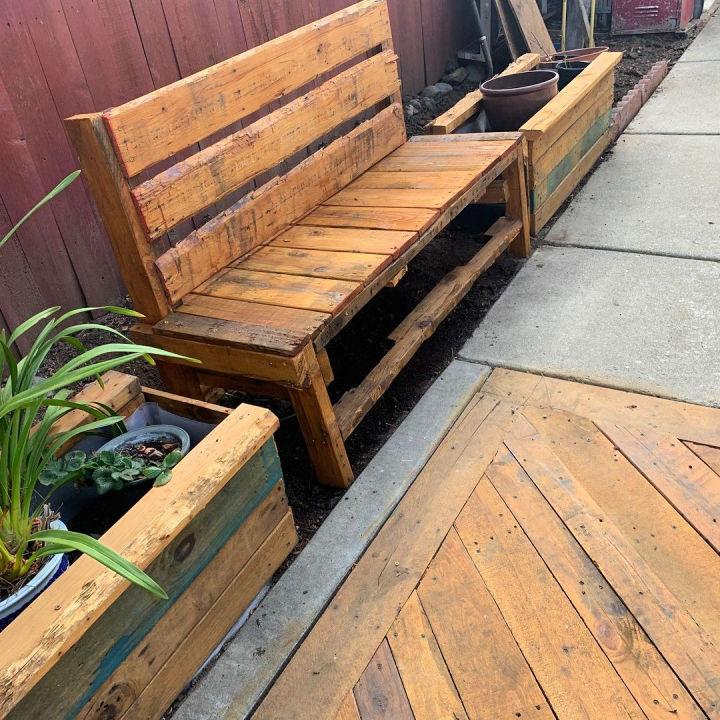 The arrival of summers makes you busy to set up your backyards and garden for outdoor sitting pleasures. Learn here how to build a backyard bench like a pro with free recycled pallets. The design comes with beautiful features like a large berth and backrest and stands on durable legs. Use the separated apart pallet stringer boards as cross beam supports. One of the best and quick-to-build DIY wood pallet bench that you can add to any garden or backyard. Cushion up this bench, and you can also decorate it in the way you like.
28. Pallet Porch Bench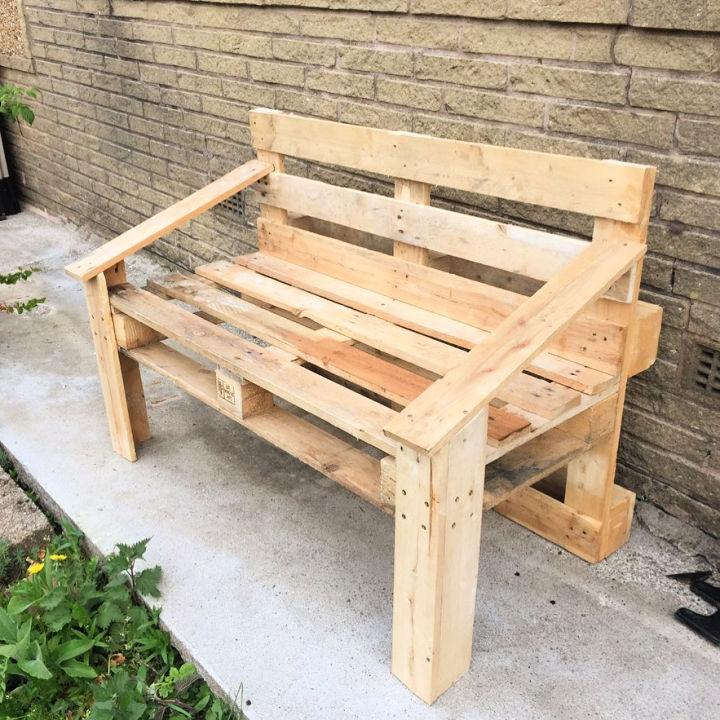 Having 2 pallets lying useless in the backyard? Want to know what you can build fantastic with the 2 pallets only? Then check out this arresting design of outdoor pallet bench, made of 2 pallets. The pallets are not dismantled but modified a little to build the backrest and berth position of the bench. The separated apart slats are used smartly to build the armrest and legs of the bench. One of the easiest yet beautiful DIY wooden bench designs to build in no time. Stain or paint it to match your outdoor decors, and don't forget to cushion up the seat.
29. Pallet Balcony Bench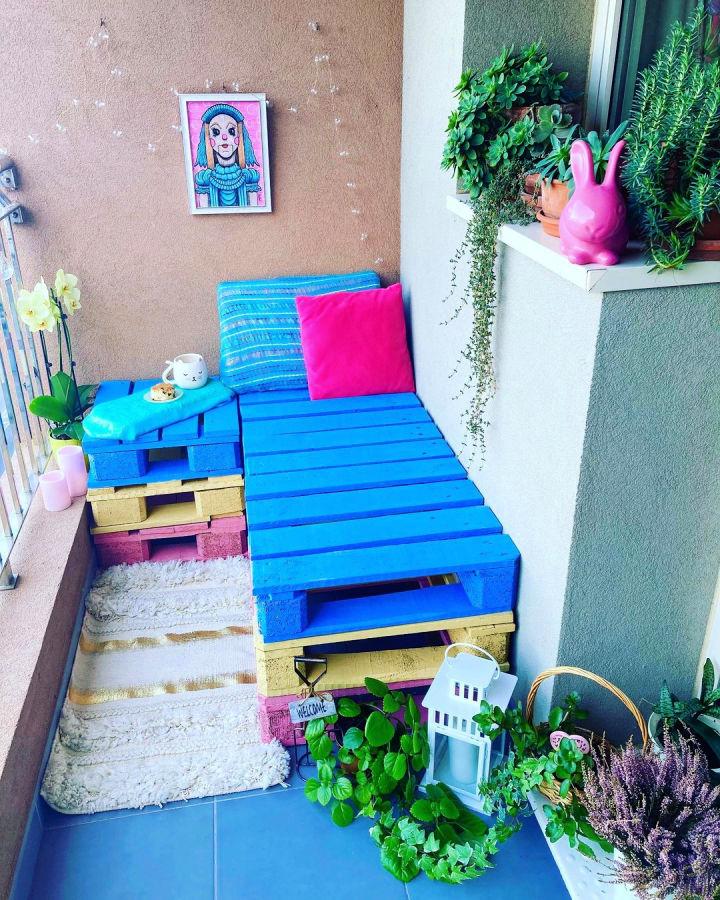 You will love the brilliant arrangements of pallets here that result into an awesome balcony bench. The completed design makes a lovely daybed also. The best part is that the bench fits very well into the targeted balcony space. 3 miniature pallets are stacked to build the durable side table also. The whole bench is also a lovely stack of 3 longer pallets. However, you can use the vertical pallets halves also to build this stable design of wooden bench. One of the best and quick-to-build DIY pallet bench designs ever.
30. Pretty Pallet Garden Bench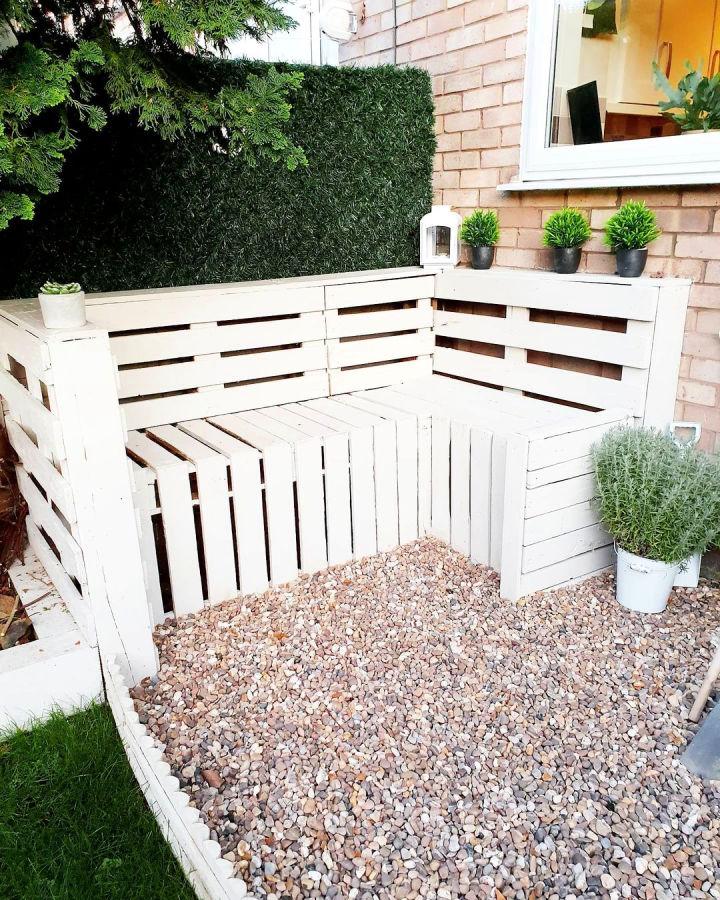 One can plan the pallets to build custom wooden benches that best fit a decided space. You will love this large pallet bench that beautifully covers the targeted space and comes painted in white. The seats and backrest all amaze with the slatted look, and the backrests are thick enough to hold a variety of your pots. The best L-shape pallet bench design to build for a porch or balcony space and is crazily easy to duplicate. It will be more than easier to clone build this solid yet stylish white painted pallet benches.
31. Inexpensive Pallet Bench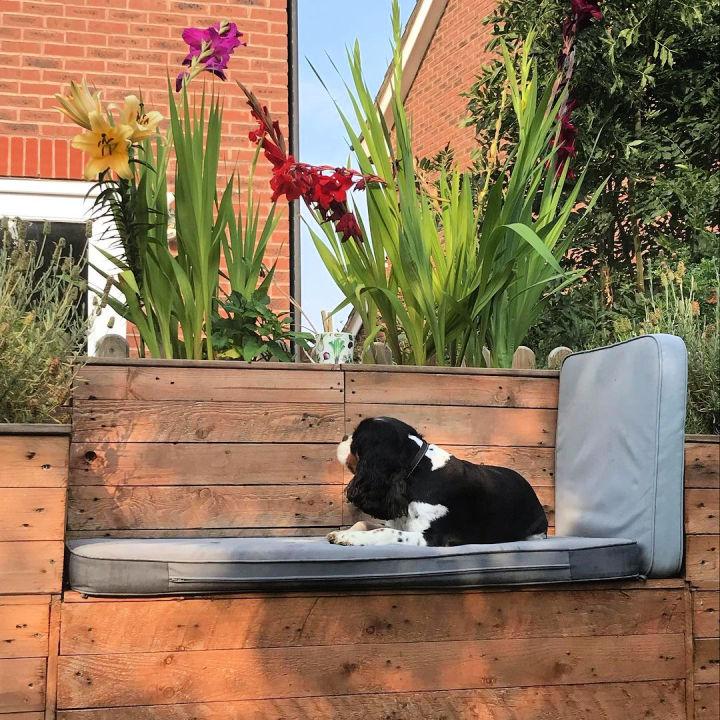 Pallets are magical and are the most recycled type of wood for building low-cost yet durable furniture. Pallets can be used as they are or in altered form to build outstanding design of bench and this wooden pallet bench is one of them. It impresses with the block style dimensions and has the basic frame made with pallets. After you build the bench frame with pallets, you can use the extra wood to fill the whole design of the wooden pallet benches. Bring tons of comfort to the bench seat using your favorite seat cushions or mattresses.
32. Recycle Pallets Into Bench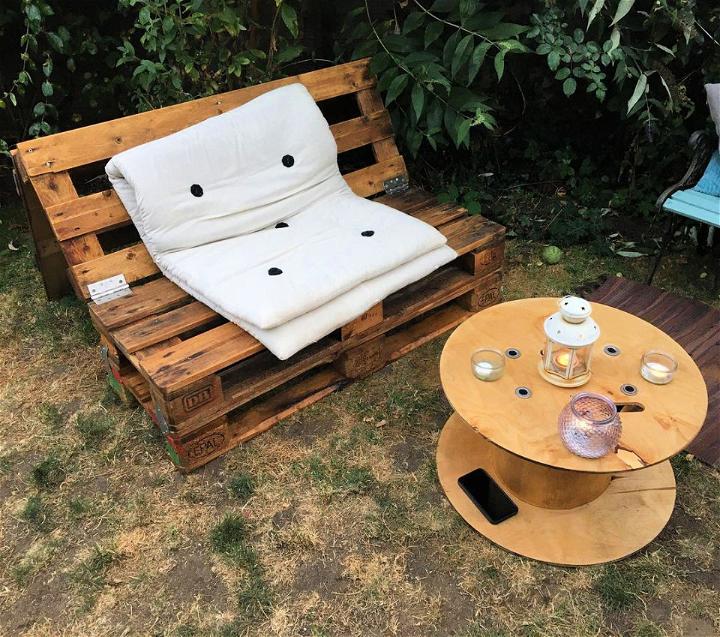 The pallets are the high-rated recycled material for building outstanding outdoor seats. From loungers to patio benches to custom outdoor seats, you can build all with free pallets. Look at this hand-built relaxing pallet seat, which comes with a hinged backrest and is wholly made of solid wood pallets. You can use the EPAL or EURO pallets to easily duplicate this solid wooden bench seat. The design is much achievable for all beginners and involves no cutting or taking those boring measurements. However, you can paint or stain the pallets for an enhanced look of the entire seat.
33. Stylish Pallet Bench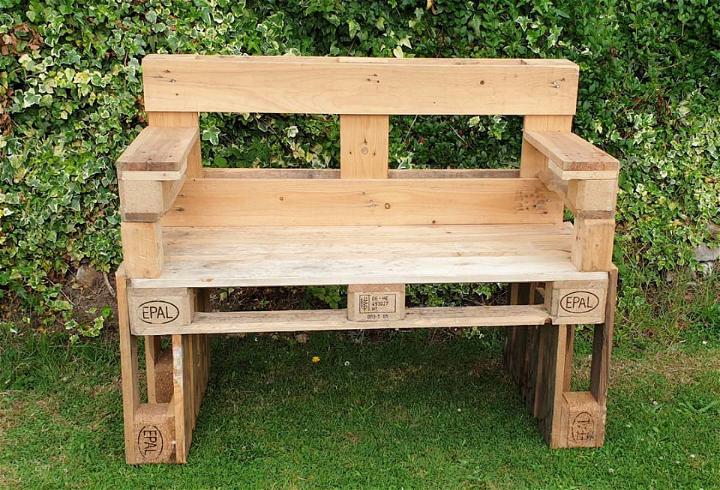 You will sit on this hot pallet seat, made to enjoy the gardens, backyards and any green outdoor. The design is too stylish to win one's heart and create a big focal point right in your garden or backyard. Use a whole EPAL pallet to build the whole beautiful seat and plan 1-2 more EPAL pallets to build legs, backrest and armrest positions. It will not take that too long to build a dozen of such benches, and they will come in handy to overcome all your outdoor sitting space needs in an inexpensive way. One of the best and quick-to-build DIY pallet outdoor benches that will fit everyone's budget.
34. Pallet Wood Bench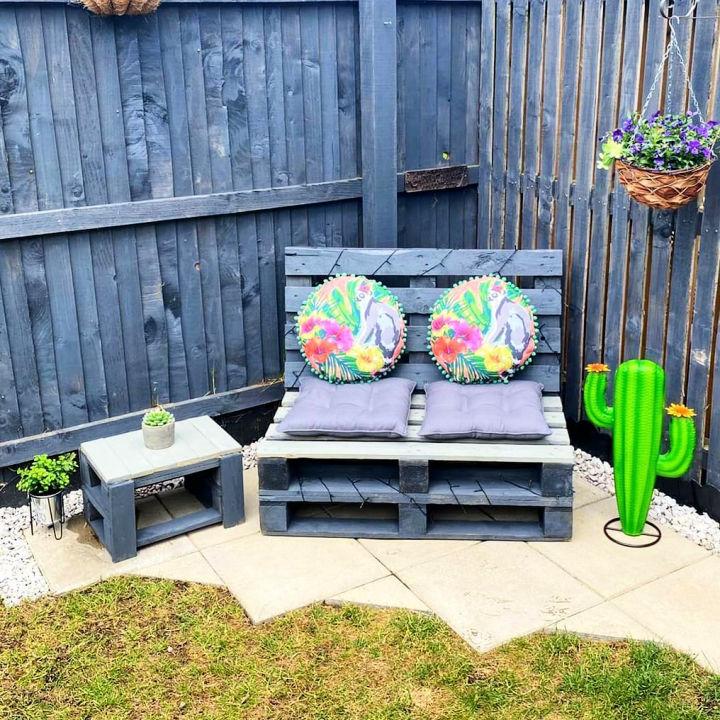 The easiest thing you can build with pallets is a bench. You can simply stack a few pallets to get an instant beautiful wooden bench. However, if you like the benches with those backrest positions, let a pallet come vertically to the backside of the pallet stacks. Look at this 2-seater pallet bench, which can be added to any outdoor sitting location to enjoy the weather and greenery all around. It will be a great addition to your balcony and porch space also. Here some pallet leftovers are used to build the matching side table. 35
35. Painted Pallet Bench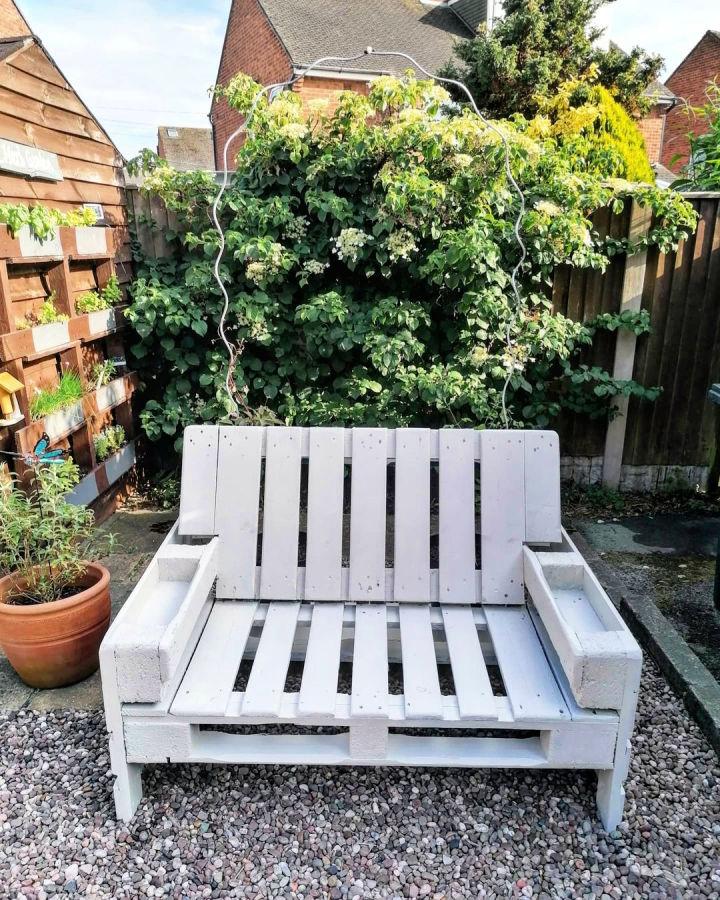 Look at this another gorgeous wooden pallet seat that provides holdings built in the armrest where you can easily place a drink glass or mug. The design is super achievable even for a beginner and is to build with mostly uncut pallets. Use a whole pallet to build the lasting longer seat of the bench. Next, use modified pallet pieces to build the backrest and armrest position of the bench seat. The design will be a great addition to one' patio, and outdoor and will never get out of style. You can paint it for any custom appeal, and it will be a big love of all the outdoor lovers.
36. Pallet Bench For Outdoor Space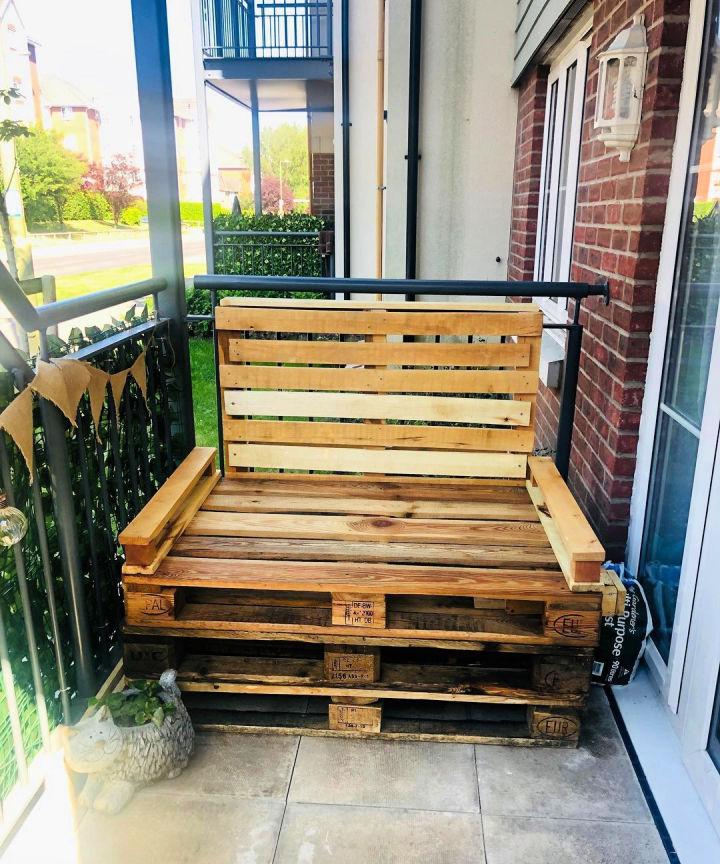 Stacking pallets is the easiest way to build lasting, longer seats and benches and seats. Stack the pallets, add custom backrest and armrest positions, and build this fabulous balcony and front porch seat to make you sit like a boss. Stack the EPAL pallets to build the seat and then add a pallet to its backside to build an instant beautiful backrest. Use pallet dice sections to install the armrest positions of the bench. Paint and stain the design in the way you like, and it will not take that too long to build this gorgeous wood pallet seat.
37. Pallet Bench For Your Patio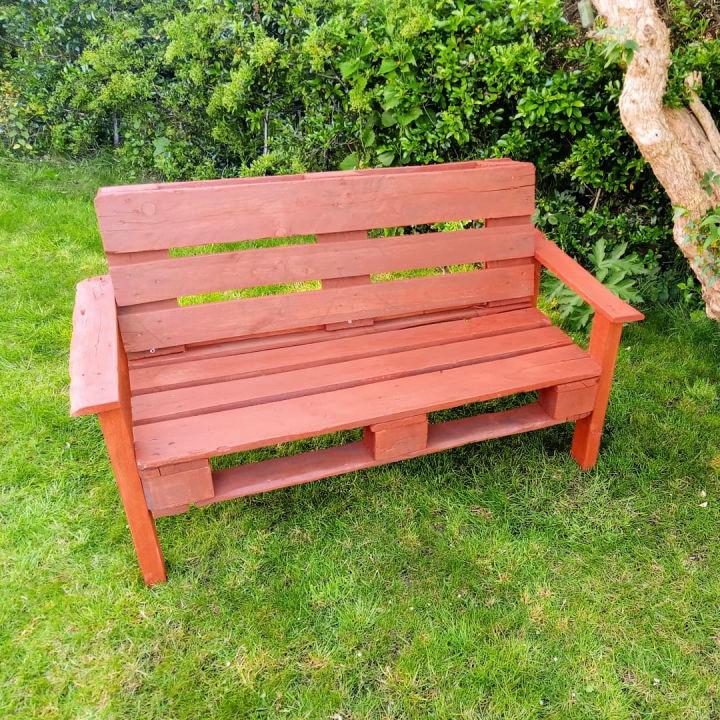 Take your patio style to the next level with this stylishly beautiful and gorgeous wood pallet bench. Use the EPAL pallets to build the L-shape seat of the bench, and then use the separated apart pallet wood slats to construct the legs and armrest positions of this wooden pallet patio seat. Stain and paint the bench design for a glamorous appeal, and the whole bench will be completed simply in no time. Most of the bench design is to build with uncut and unmodified pallets. The best outdoor bench design to build out of pallets.
38. Upcycled Wood Pallet Bench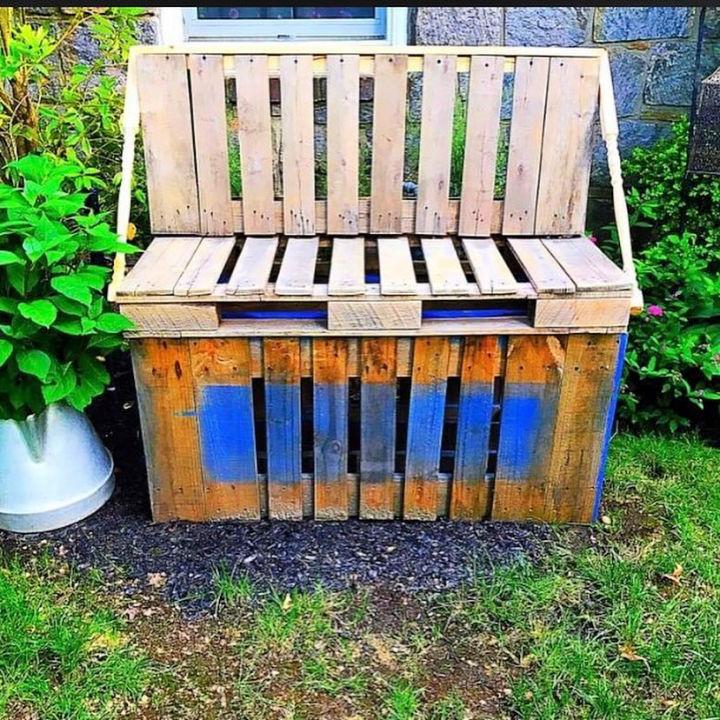 Do you need some beautiful wood pallet benches to add to your outdoor and patio space. Then duplicate this gorgeous wood pallet bench that is extremely beautiful and uniquely made. All it takes to set up 2-3 pallets to build this fabulous wood pallet bench will accomplish your outdoor sitting space desires. Paint and stain this bench design in the way you like. It will be amazing in every look. At the same time, all beginners can easily go handmade with free recycled pallets to build this elegant bench design.
39. Pink Pallet Bench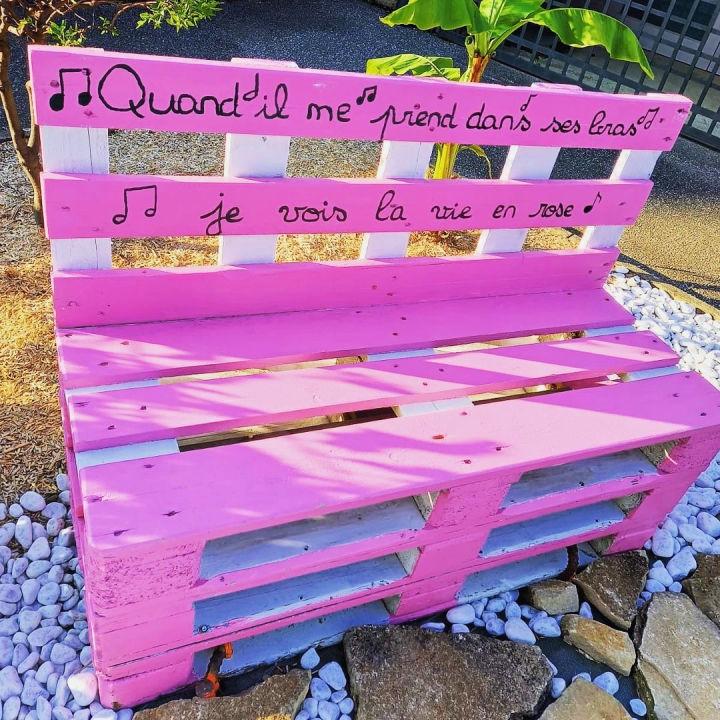 Quoted and painted, this pallet bench design is both at the same time. It is built for a specially designed outdoor space like a firepit space or pebbled patio. The design is super easy to achieve by stacking the EPAL pallets and providing built-in cubbies to store your books and other extra items of need. Put together the EPAL pallets to whip up this solid wooden pallet bench and use a pallet with removed dice sections to build the backrest position of the bench. The bench is painted for a bright pink and white appeal and is quoted for custom words and sayings.
40. Pallet Bench Seat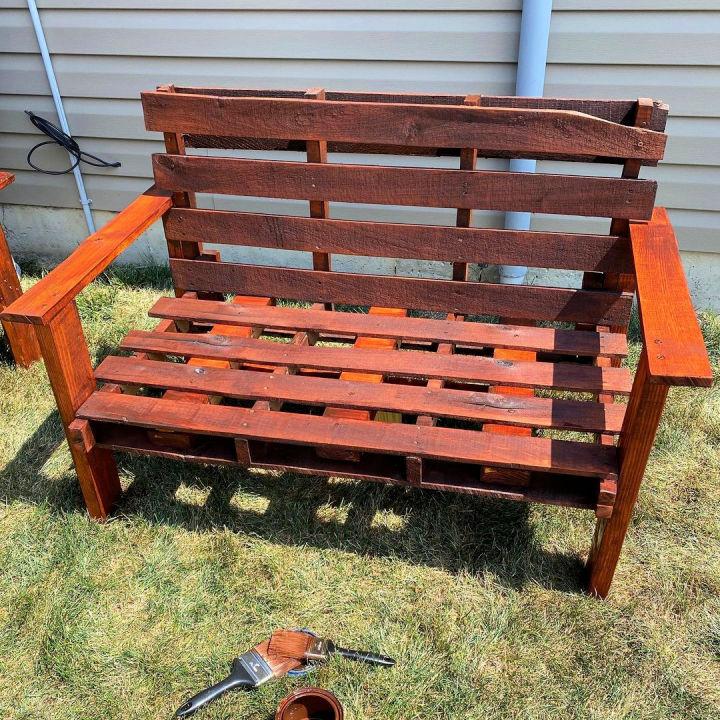 Don't waste pallets. They can be your next durable outdoor benches. Peek into details of this gorgeous wood pallet bench, provides a quite spacious berth section and comes with a solid backrest position. You need some scrap woods and some free recycled pallets to build this solid wooden bench, sure to be a big love of all the outdoor lovers. The completed design also appears in two different tons of wood, choco brown and walnut, which also adds to the overall beauty of this bench. The best bench design is having the most made of uncut wood pallets.
Conclusion:
That's all we have for you folks! Did you already choose your favorites? These simple pallet bench plans express your creativity as there is no seize to it ever. Go about your pallet bench just as you want it to turn out. Make your most-loved cushions sit on it and keep changing them for a different look from time to time. It is time to bring your dream to reality with your skillful techniques. Paint and decorate your piece exactly how you want! Also, a dreamy pallet bench made with pure love can be just perfect to gift a dear friend. Well, isn't that a good idea? Collect all the required supplies and start right away. We hope you enjoy the activity and end up loving the pallet projects!