Having swings installed in your house backyard, garden, and other outdoor area is the real summer and spring outdoor luxury. It can add to your outdoor fun and entertainment and create a big focal point for your outdoor. It is causing a big load on your wallet to build an outdoor swing? Trim down your expenditures with these 30 cheap and easy DIY pallet swing ideas and plans that come with detailed free instructions and plan to build with free pallets. You have to pay only for the hanging swing hardware and for ropes or metal chains.
Along with sharing a wide range of swing designs made of pallets, the list will share with you lots of swing stand designs to choose from. From building bed swings to chair swings to couch swings, you will get here instructions for all designs for sure. Each of the given swings will make a great gift for a little kid, and they will love to be around these swings all the time.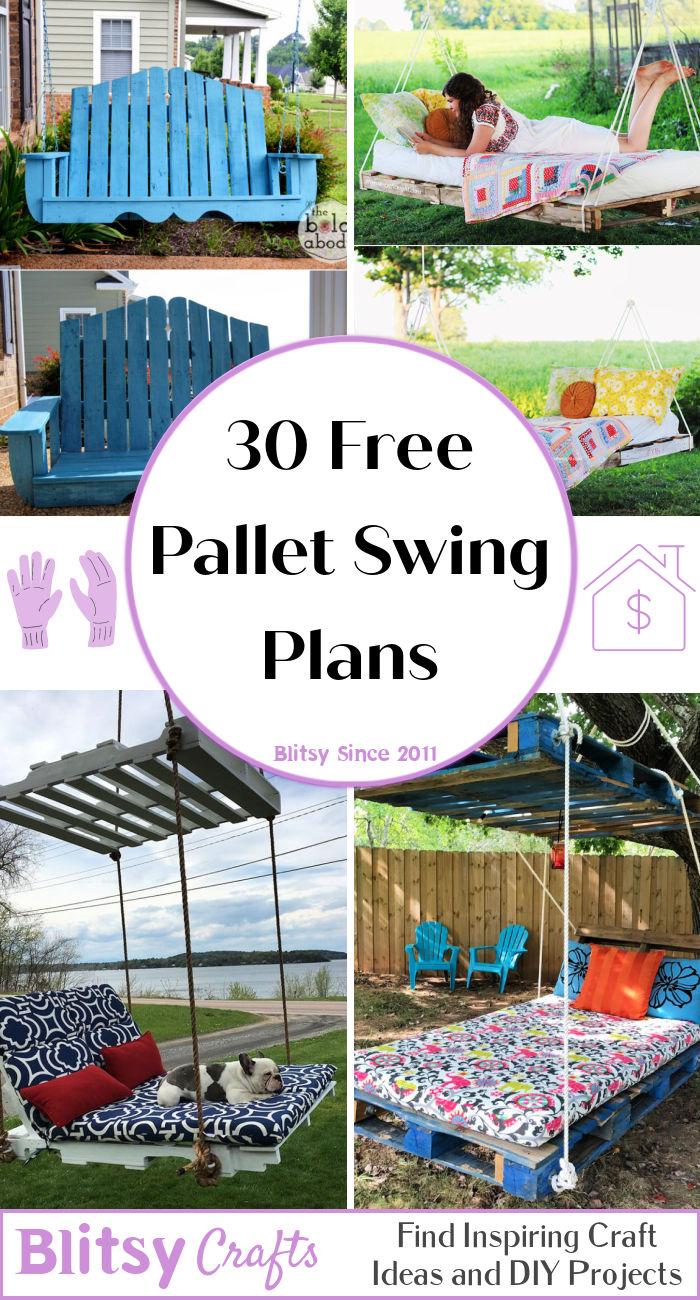 Swinging assists with depressions and anxiety, and it doubles up the fun of your sitting, sleeping, and book reading experience, especially outdoor. You can install these swings in any particular outdoor location like the garden, patio, and porch. Just take the pallets simply into L-shapes to build instant beautiful swing seats and eye-hooks, L-shape brackets and heavy-duty nuts and bolts will be the best hardware to use in these DIY pallet porch swing Projects, shared to impress and inspire. Moreover, you will get here diy pallet swing guides to build both portable and fixed swing frames, also like a pro.
1. DIY Pallet Bed Swing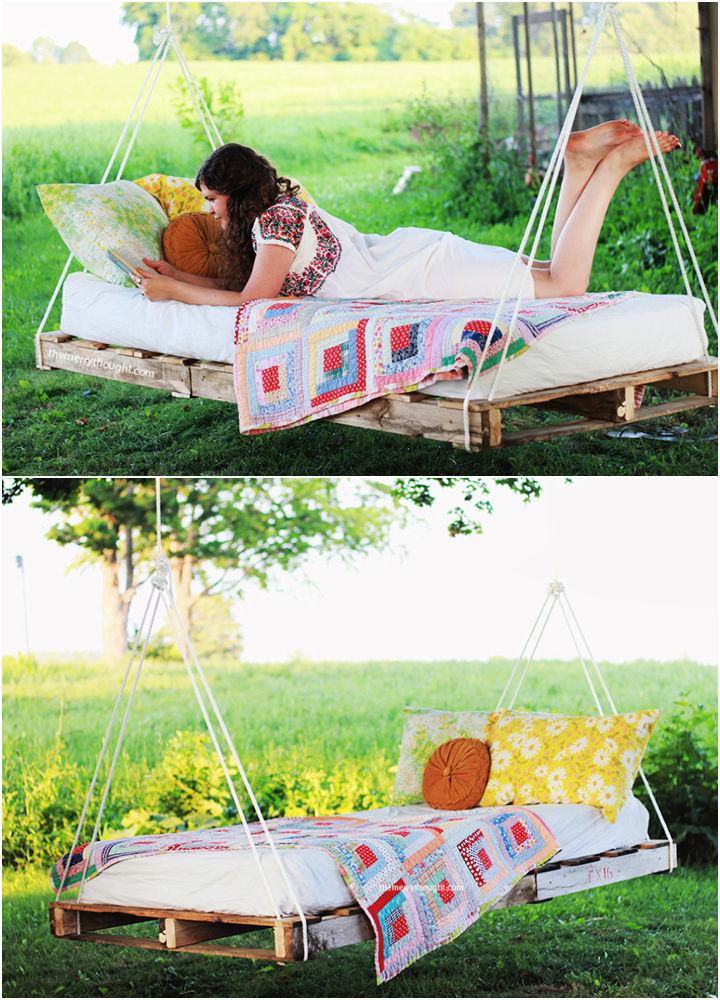 A swing can take your outdoor and garden comforts to the next level. From relaxing outdoor to reading books to enjoy the greenery all around, all will be big fun with this pallet swing. The design is super quick and easy to build with pallets and 2x4s. The required tools for the project will be a rope, mattress or cushion, and 2-3 vinyl zippered mattress covers to easily duplicate this wooden pallet swing. It will hang like a charm right in your garden and is also crazily easy and quick to build. Cushion it up with your favorite cushion and mattress. themerrythought
2. Swing Made Out Of Pallets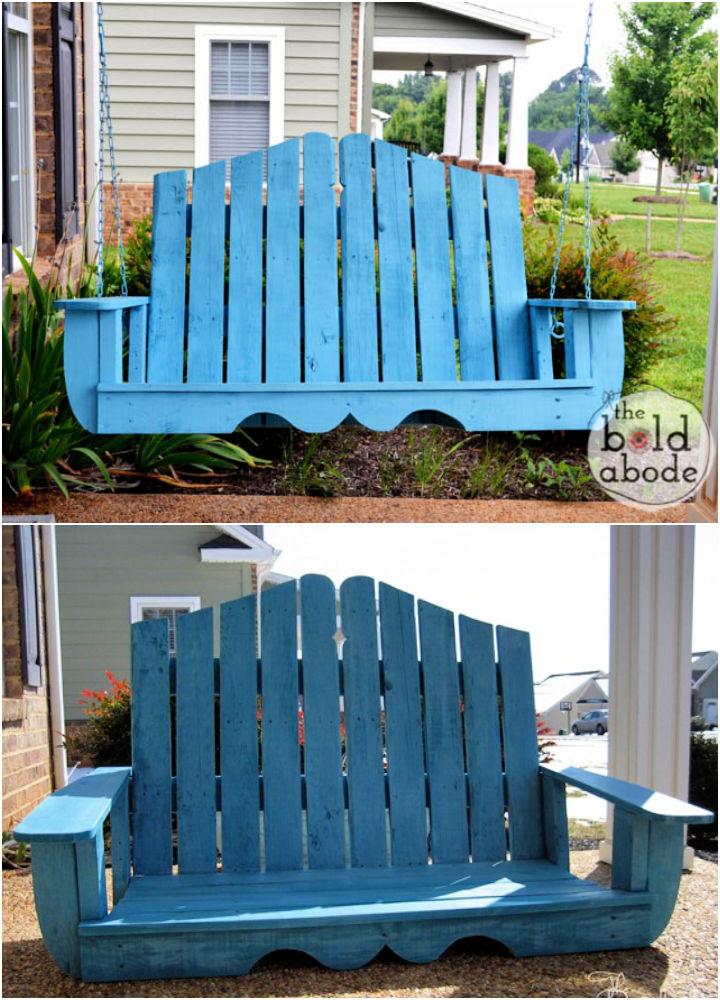 When added with the luxury furniture and all the facilities, the porch becomes a big relaxing and entertaining station. So, add up your porch with this adorable wooden couch swing, sure to make you sit like a boss and will be a breeze to build with the provided guides and instructions. Here this fantastic and robust-looking swing is made of free recycled pallets and will hang like a charm on the porch. Everyone will love sitting on this handsome porch swing. The design curves make it a lot more interesting. Paint it in the way you like. theboldabode
3. Pallet Board Bed Swing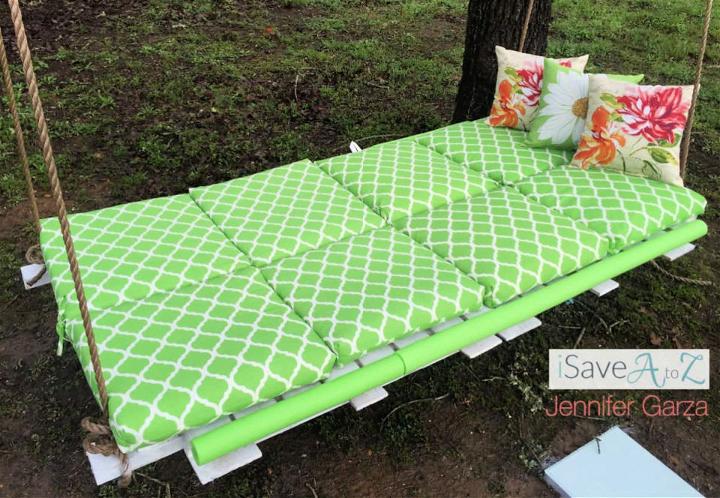 Every time you need to have a swing right in your garden, consider using pallets to build a one. This will trim down your expenditures along with giving you that robust design of swing you were looking for. You need 2x4s, wood decking screws, primer spray paint, white flat spray paint, spade bit, fishing line, pool noodles, outdoor patio pillows, step stones and ⅝″ thick rope to build this solid and beautiful wood pallet swing. One of the best and quick-to-build wooden swings for outdoor lovers. isavea2z
4. How To Make A Pallet Swing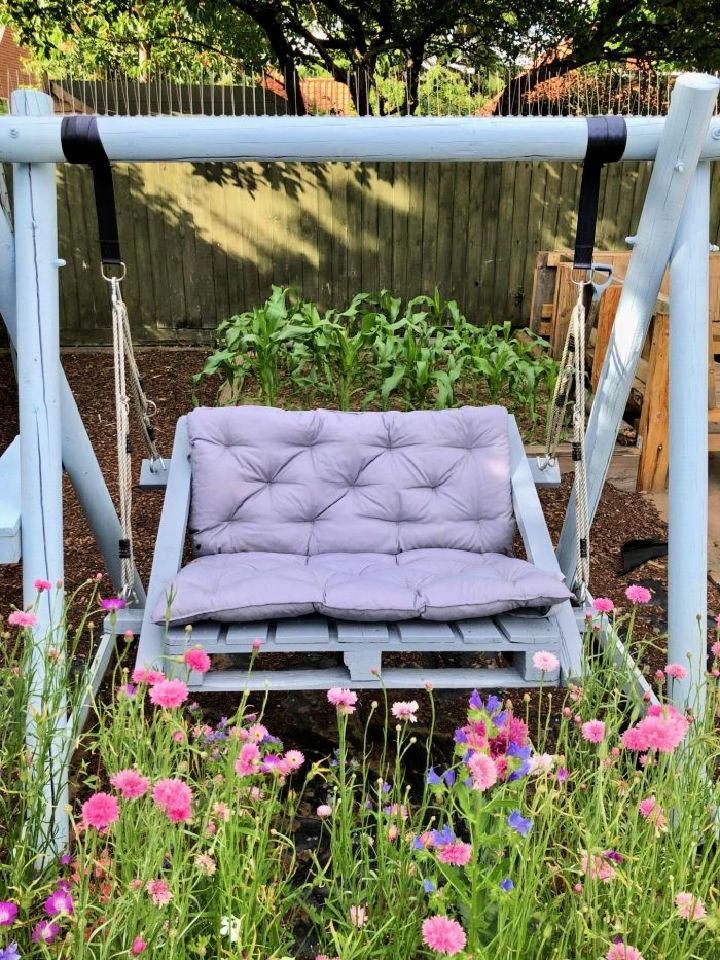 Are you willing to build a lovely swing in your garden or anywhere in the outdoor kids' play area? Then this project will surely help you out in this mission. The swing frame is built with heavy-duty round wooden poles that go deep in the ground. The frame stretchers are made of scrap wood planks. Drill through the poles and add heavy-duty nuts to assemble it tight. Next, build your swing seat with pallet wood and add it to the swing frame using durable swing hardware like carabiners, gym hooks, swing fixes and other hardware. vickymyers
5. Hanging Pallet Swing Bed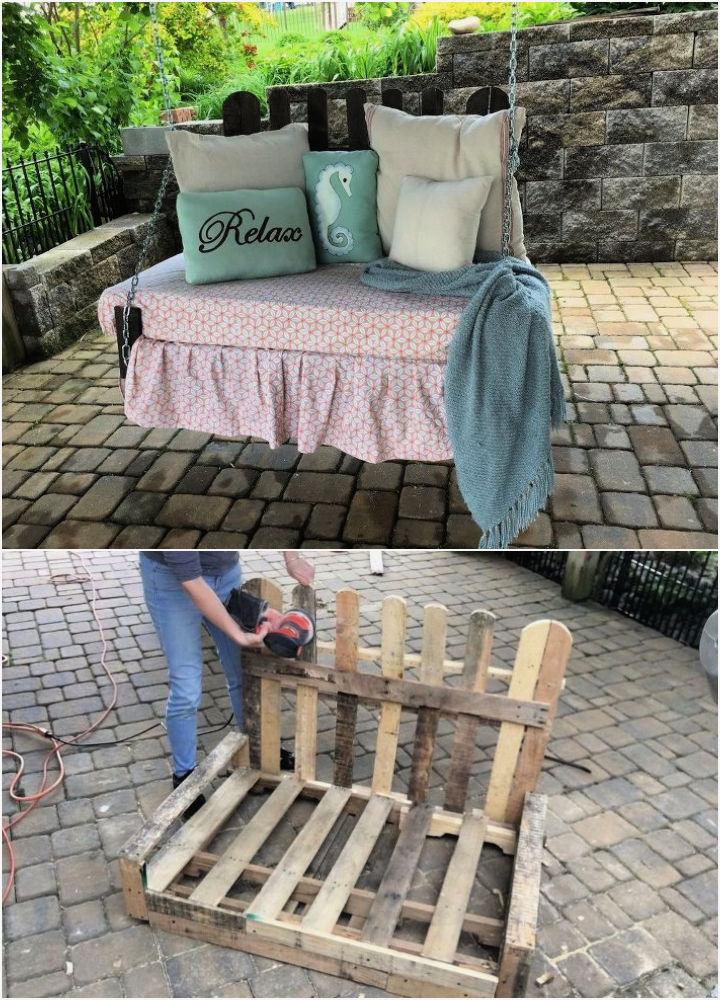 You will surely fall in love with this another arresting design of pallet porch swingg, made of pallets. The design is just like building an L-shaped seat out of pallets that you can hang up in the swing frame to gain a lovely swing. Here the finally completed swing model has hanged aloft in the porch area and is also cushioned very well. Suspend the whole seat in the air using the heavy-duty metal chair and eye-hooks. Here you can use both the ceiling rafter and a swing frame for swing hanging. hometalk
6. Pallet Swing With Back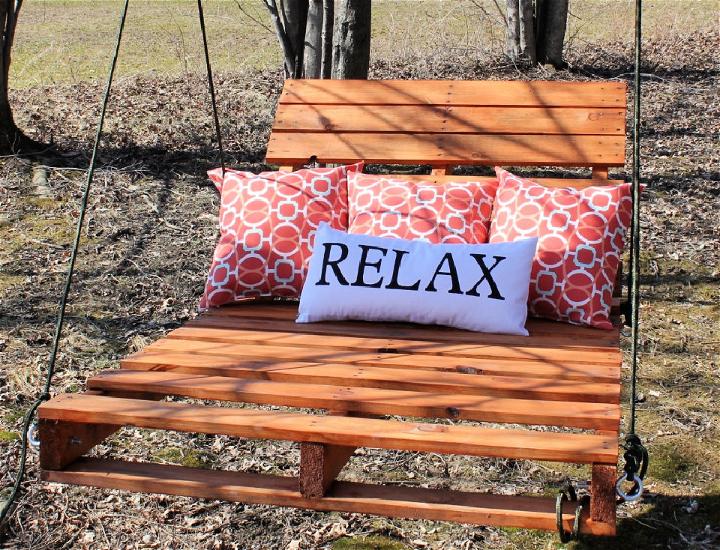 Willing to get relaxed outdoor and want to enjoy the spring season? Then time to build this wooden pallet swing that can be hanged anywhere at your outdoor. It will be the best relaxing station for you to enjoy daydreaming. First, just build the swing seat out of pallets, and it will only take to add a backrest to a pallet. Next, install the eye-hooks to the corners of the swing and tie the swing rope to complete the project. You can build a swing frame to install the rest of the swing, and it can be hanged aloft anywhere on the porch to get instantly relaxed. needlesandnails
7. Lounge Tree Swing Using Pallets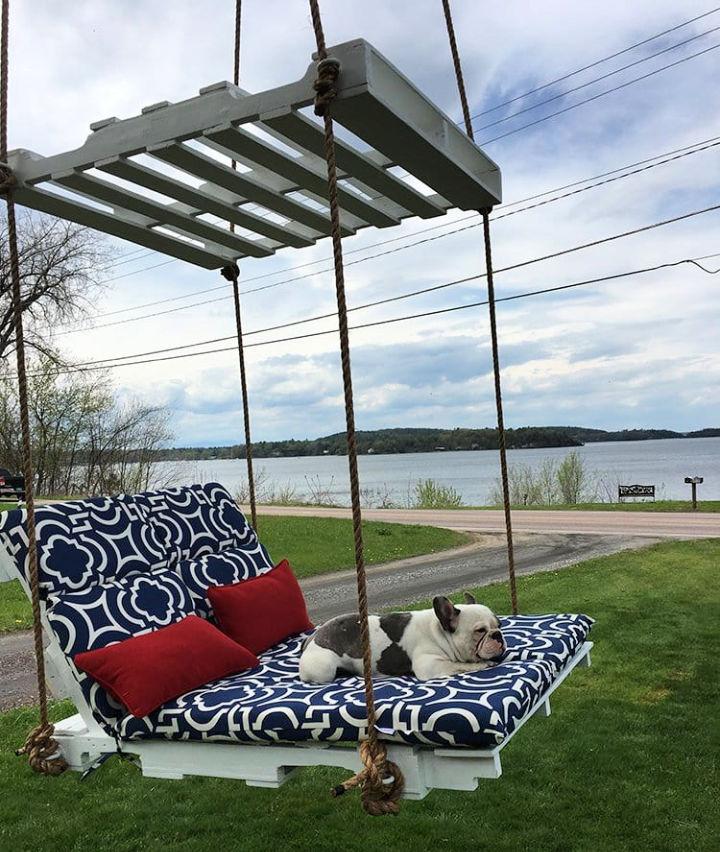 Enjoy the afternoon naps and daydreaming on this epic wooden outdoor swing providing the large couch-like seats. Opt for a large wooden pallet skid to build the whole seat of the couch, and next, install the backrest to complete the swing seat module. Here is another pallet added on the top of the swing for sun protection and a fancy roof where you can hang chandeliers and other decors also. Eye hooks and heavy-duty wooden rope will be the best type of hardware to use for this swing. It will rock for two people willing to get relaxed outdoor. awesomeinventions
8. Outdoor Pallet Swing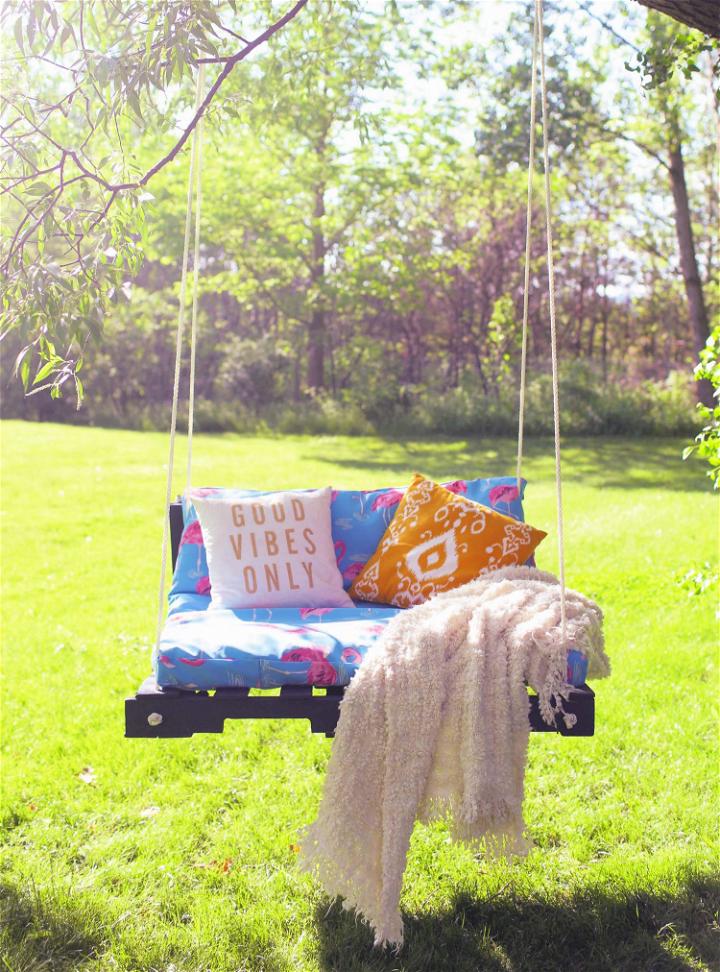 Get here complete plans to build another lasting longer and beautiful design of wood pallet swing. One can easily build this swing with 2 pallets only, and you need an intermediate skill level to complete this project. You also need outdoor paint, durable nylon rope, outdoor fabric, patio cushions and custom hardware and woodworking tools to complete this project. The entire project will cost you around $30, and it will be the cheapest budget ever to get a durable outdoor swing. Everyone will love to relax at this outstanding swing for sure. thesorrygirls
9. Pallet Porch Swing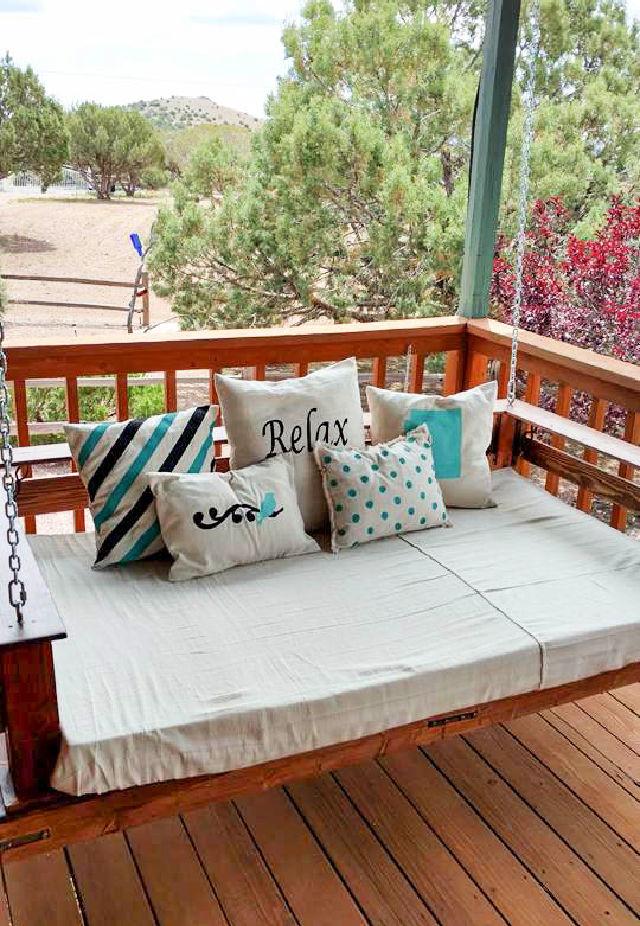 Clone this pallet porch swing design made of 100% durable pallets. You also need 2x4s and 4x4s to complete this sewing project, and it will be an amazing addition to your front porch area. The swing is durable and lasting longer and provides eye-hooks to each corner for easy metal chain suspension. Stain or paint the finally completed swing design for durable weather protection. The very required hardware for the swing will be 5″ lag bolts, mending plates, decorative brackets, and L brackets 4″. The entire swing seat is cushioned well to provide a high value of comfort. grillo designs
10. Pallet Swing Bed Instructions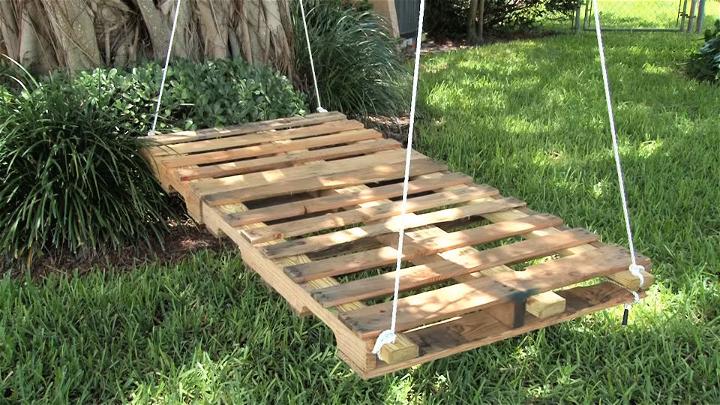 Follow here complete video guides to build a durable and lasting longer pallet swing bed. The entire swing is to build with 2 or more pallets that can be joined together with durable hardware to gain a large swing seat. Add the swing hanging hardware to each corner of the swing and tie the heavy-duty rope for durable hanging. The entire swing is super beautiful to look at and will be a great addition to one's outdoor. Installing this swing to your outdoor will increase the kids' outdoor activities. youtube
11. Pallet Swing For Your Garden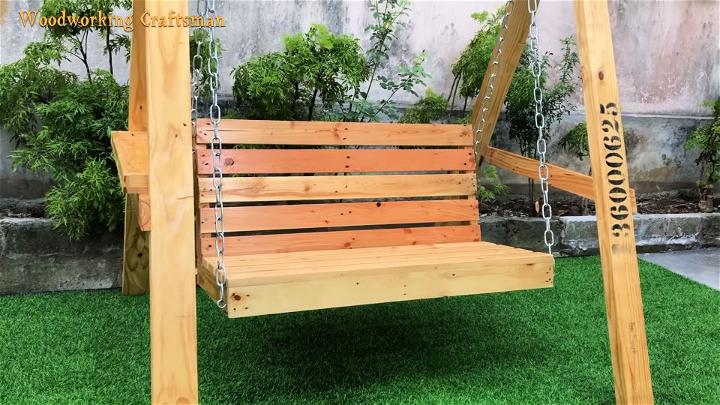 There are dozens of pallet swing designs to choose from. Peek into details of this another gorgeous-looking wood swing that Impresses with precise dimensions. Just build the L-shape swing frame and then fill it up with the slatted arrangements of pallet wood slats. The project is almost done when you will complete the seat. Install the eye-hooks and then hang the pallet swing up in the air using the heavy-duty metal chains or rope. Here is the ideally beautiful-looking wooden porch swing that comes with a custom swing frame and can be dragged to any outdoor location. youtube
12. Pallet Daybed Swing Plan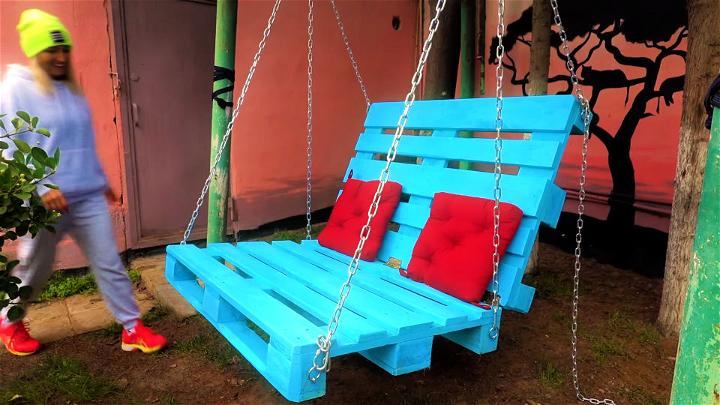 This swing is one of the pallet wood achievements when talking about living luxury with pallets. Building a swing is also an easier project, and it will boost your outdoor enjoyment. Follow the instructions below to build a beautiful outdoor swing with blue painted EPAL pallets, which will surely add to your woodworking skills. The design is magical and is unfolded into a large bed swing also. You have here the freedom to paint the swing in any of your favorite colors. Everyone will just love this swing for its durability and low-cost price. youtube
13. How To Make A Pallet Swing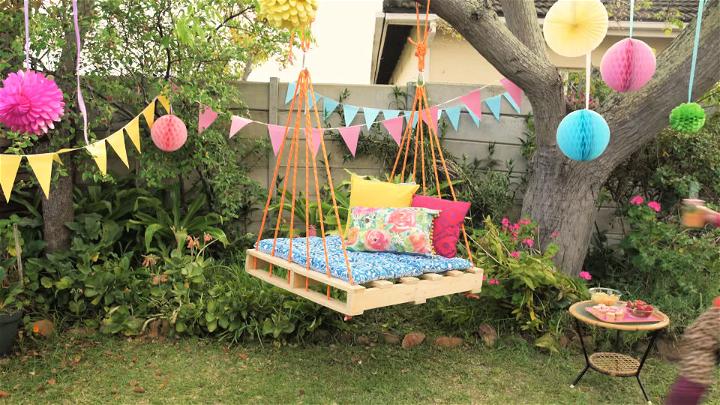 You can even use a single pallet skid to build an instant beautiful swing for your garden or porch area. Just drill equally spaced holes in all sides of pallets and then weave in the heavy-duty rope to gain the hanging loops strap for the swing. After you have two such straps on both sides of a pallet skid, just hang it up using a custom swing hanging system. Here the heavy-duty ropes are used again to gain the over the tree swing hanging straps also. The swing is exceptionally cute and comfortable and can be added to any porch or patio area. youtube
14. Easy Pallet Swing Bench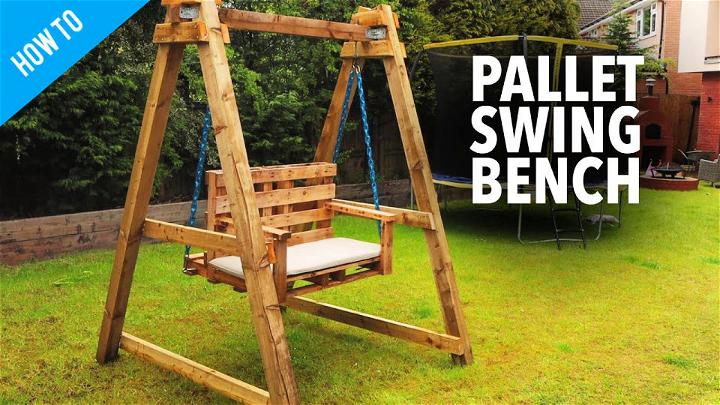 Follow here complete video guides about quickly building a lasting longer and stylish wooden pallet swing at home. This will help save lots of your outdoor swing costs and also time. Yes, the project is easier and quicker due to the feasible shapes and free availability of pallets. You can take a pallet into halves or can use 2 trimmed downsizes of pallets also to build this L-shaped wooden swing. It will be a great addition to one's outdoor, and you can also build it with or without the armrests. One of the best DIY pallet swings to build at home. youtube
15. Porch Swing From Old Pallet Wood

Are you willing to build a gorgeous wooden porch swing? Then follow here the quick instructions for it. You will get here directions to build a durable wooden swing with the rustic wood pallets. You can dismantle them and rebuild them into anything like the berth and backrest of the couch swing. Install the eye-hooks to each swing side and hang it up aloft in the air using a custom durable hanging system. You have here the freedom to build any particular size of this wooden swing. youtube
16. Mini Kids Pallet Swing

Get here complete guides about how to construct and build a stable and portable wooden swing design. The swing frame is highly stable due to added vertical supports and stretchers. Here the finally completed swing design is burned for an antique wood finish. This will be the best birthday gift for kids to make with your own beautiful hands. Here the heavy-duty wooden metal chain is used again for the durable swing seat suspension. It will not take that long to build the swing seat and swing frame with wood pallets. youtube
17. Double Lawn Swing From Pallets

Get here guides about how to build a portable double bench portable swing. The design offers seats on both opposite sides and impresses with the epic round design shape. Here, you will get complete video guides about how to build this highly stable and lasting longer double lawn swing and glider design. It is the best birthday gift to build for the kids, and you can also paint it for a graceful and colorful appeal, and it will make tons of fun to your outdoor also. The construction may look intimidating, but you can easily duplicate the whole model with free video instructions. youtube
18. Wooden Pallet Swing Plan

No matter which custom style of pallet furniture you want to build. You can build all sorts of wooden swings with pallets. You will love this farmhouse-style wood swing that will impress an antique lover. It will surely impress all the onlookers and is crazily easy and quick to construct also. The criss-cross backrest with armrests and slatted wooden berth are the main accent features of this entire wooden bench. Make sure you are installing it with durable hardware and a rope system. It will not take that too long to build this interesting wooden porch swing. youtube
19. Pallet Daybed Swing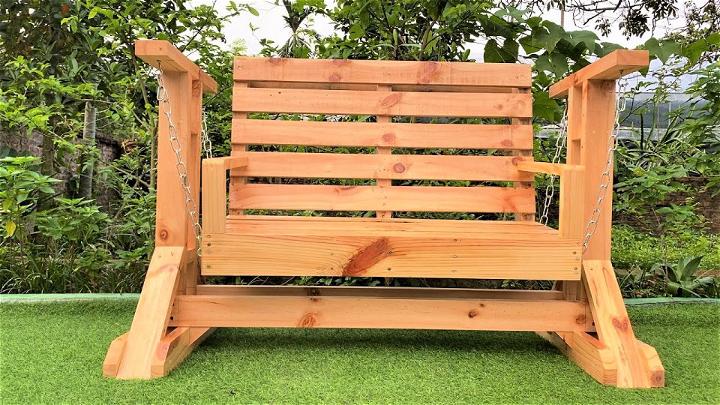 Just like the couches, you can build stylish chairs also with pallets. Hang them higher with the help of swing rope and hooks and gain a beautiful outdoor chair swing. The whole design is much doable for all intermediate skill levels. Both the berth and backrest positions of the swing seat are built slatted. The backrest comes on an angle to be more comfortable. It will only take one or two wooden pallet slats to build the stable armrest positions. Finish the whole swing seat with favorite stain or paint coats and hang up in the air with durable swing hardware. Here this swing is made portable and comes with a swing stand. youtube
20. Building A Pallet Swing

Get here complete plans to build a very interesting and beautiful-looking portable wood swing. After peeking into details of the finaly finished design model, you will surely saw a big wow. Again a big thanks to pallets for this extraordinary portable wood swing that makes a cute handmade gift. It will not take that too long to build this phenomenal wooden pallet swing set that comes with a decorative stand also. Use heavy-duty metal chains and hooks to easily hang the swing in the stand. Everyone will love this portable wooden swing. youtube
21. Cool Outdoor Pallet Swing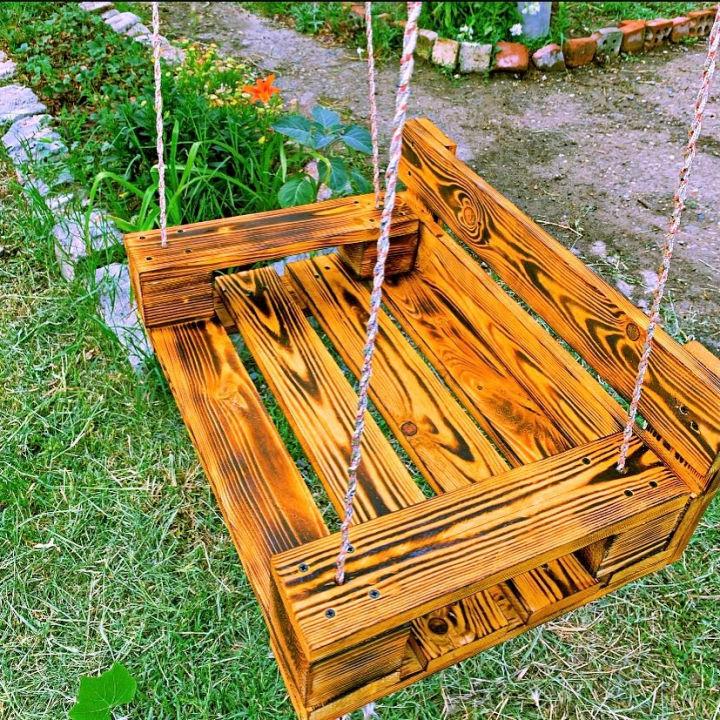 You can build all sorts of wooden hanging swings with pallets, a great example here is this burned wooden swing seat. Use different components and pallets to easily build this lasting longer wooden seat, crazily cute and beautiful to look at, sure to make a superior handmade gift to an outdoor lover. Use the heavy-duty metal chain and the heavy-duty rope to whip up this exceptional wood pallet coffee table design. It will be a great addition to one's backyard and garden space.
22. Rustic Pallet Wood Swing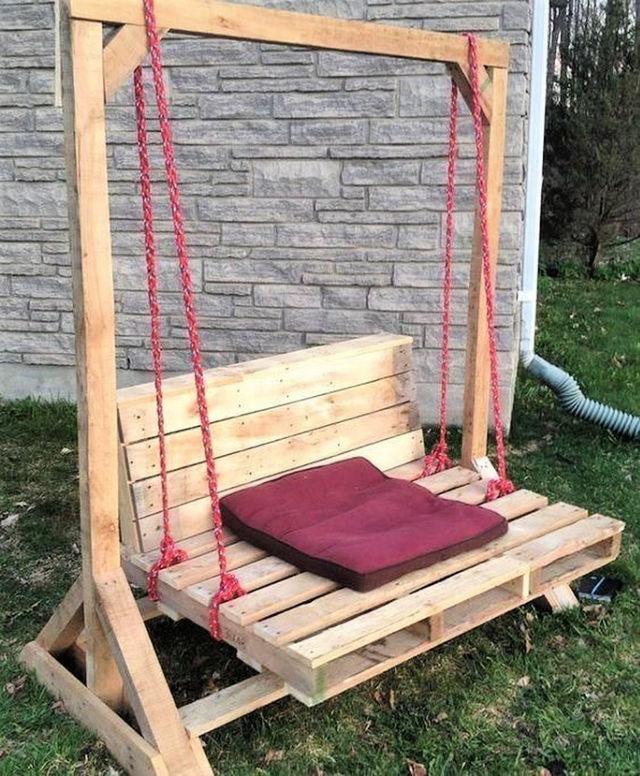 By reading through all these projects, you will be able to clone this fantastic wooden swing. The best to get for outdoor fun of your kids, and it will be more than easier to plan the pallets for building this swing seat. Build the simple L-shapes out of pallets and then hang it in the wooden swing frame, which can also be made with pallets. However, you can use other scrap wood pieces, too, for building the overall swing frame. You can simply drag this wooden swing to any particular indoor. Use also custom cushions to fancy it up more.
23. Recycled Pallet Swing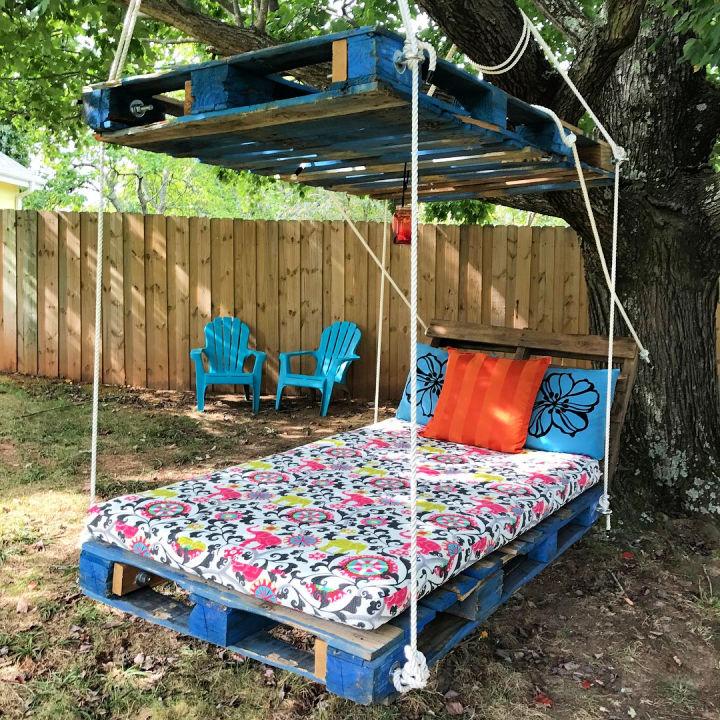 Live the outdoor luxury by installing this brilliant wooden pallet swing bed that comes with a sunshade or roof also. Just install the heavy-duty eye-hooks and heavy-duty rope to bring both the bed and top in the air. Choose your favorite cushions and mattresses to put over this beautiful wooden pallet hanging bed, sure to make you enjoy the spring and summer season more. You will love the way this handsome pallet swing will create too much fun for the kids. Also, paint the finally completed swing in your favorite color. The easiest DIY pallet swing to construct at home.
24. Comfy Pallet Swing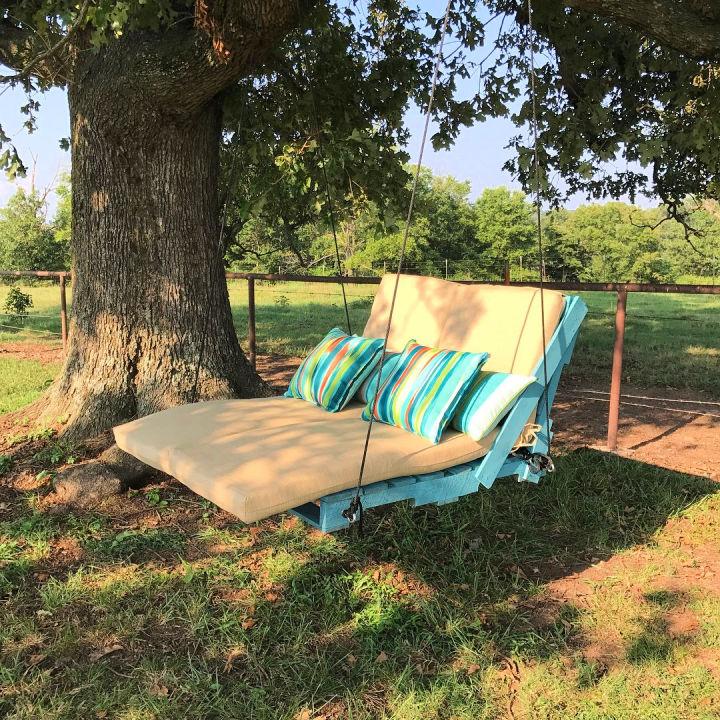 For the sake of your outdoor love, you will love to duplicate this arresting design of pallet chair swing. The design is painted in blue and is beautifully cushioned also. Take the pallets into a beautiful L-shape. This can easily be done by adding a pallet up with a backrest. Next, use the eye-hooks and rope to easily hang this handsome-looking chair swing. The whole chair swing will rock for daydreaming and book reading and make a great relaxing spot. One of the best DIY wooden chair swings ever built. You can also gift this chair swing to a better person.
25. Free Pallet Porch Swing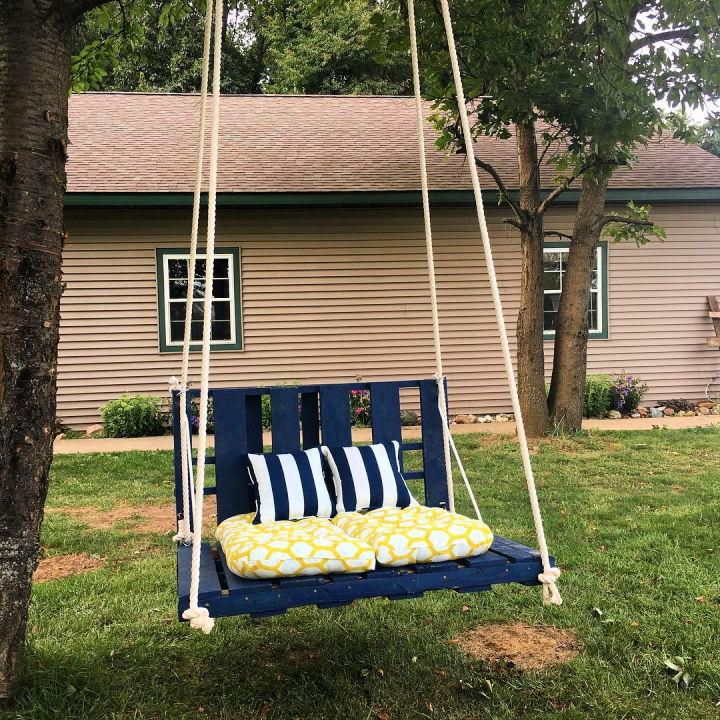 Everyone will love the dark blue appeal of this handsome-looking wooden chair swing that hangs beautifully with the help of heavy-duty rope. You only need 2 pallets to build this lasting longer and durable design of an L-shaped wooden swing. You have here the freedom to paint the pallets in any custom color you desire. However, you can install durable hardware to keep the pallets durably in shape. It will not take that too long to build this exceptional design of wood pallet couch swing. You can also use the old cushions from home to place over this swing.
26. Swing Out Of Pallets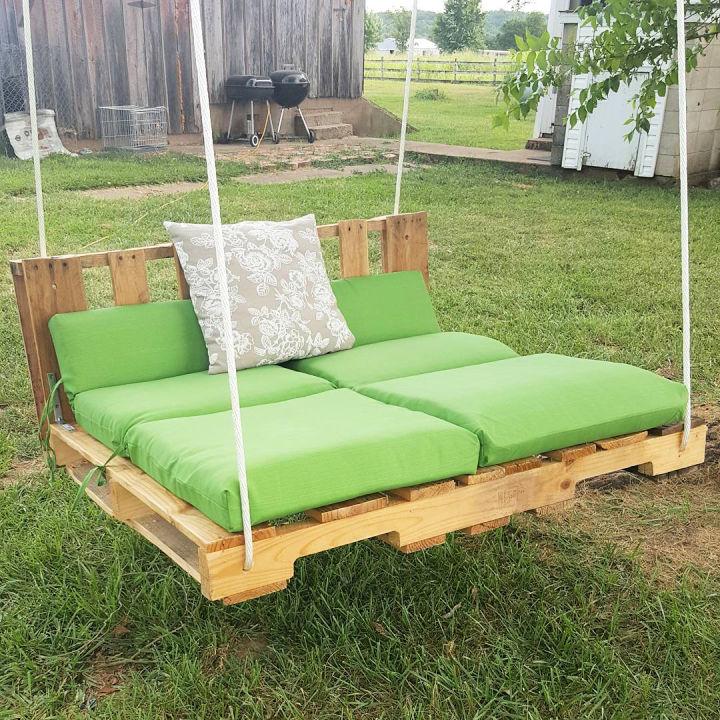 All swing lovers will become a big fan of this durable wood pallet swing that lasts longer and appears in the natural wood tone. Bring 2 pallets into L-shape and then drill holes in their corners to thread the rope into. Cushion up the whole couch swing and start enjoying your outdoors in every beautiful manner. You will love this luxurious swinging while willing to take a nap or reading some books outdoor. Use the 2 metal angle brackets to keep the pallets beautifully in L-shape. One of the best DIY pallet sofas swings ever built.
27. Pallet Swing For Backyard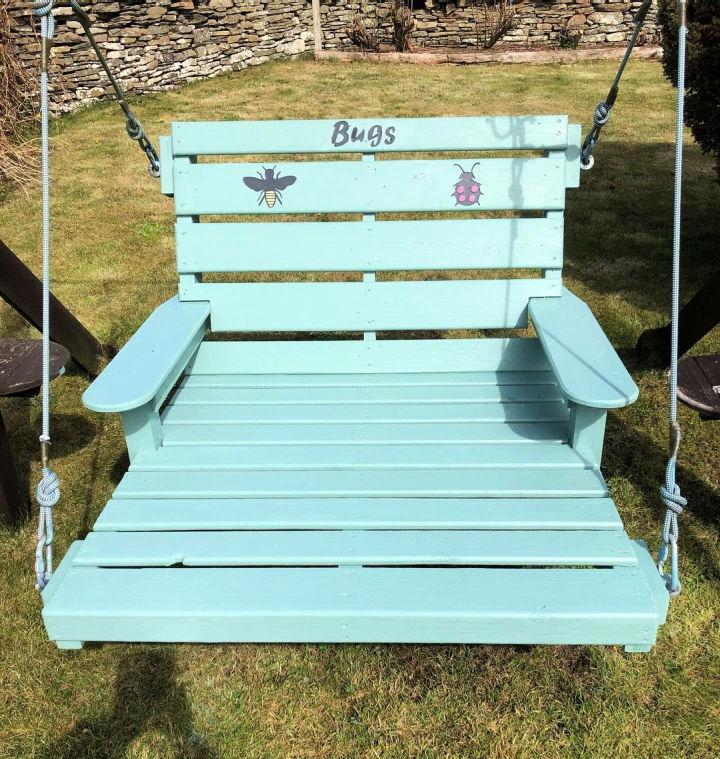 Make your outdoor sit like a boss at outdoor by installing this beautiful wooden chair swing, quite something beautiful to look at. The design is painted for a light aqua appeal and provides a backrest and a footrest to gain a luxurious sitting position. The backrest is stenciled for cute bugs, and you can also write the name of a targeted person on the backrest of this couch swing. It is built to last long and is to build with the free pallets wholly. Everyone will love looking at this beautiful chair swing, made to impress and inspire.
28. Swing Made From Pallet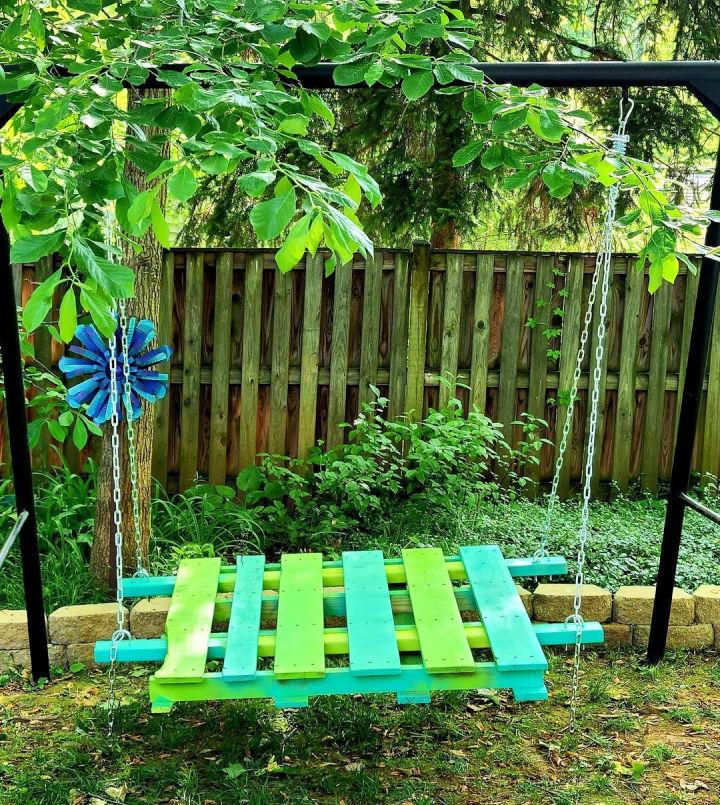 Check out here the simple yet beautiful swing made of pallets. It will be the best place for all the fun-loving kids, and it will not take that too long to clone this fantastic swing design. Grab a pallet and modify it to have two stretched corner arms on each side. Install the eye-hooks on the arms and then hang this swing up using the metal chain. Here the whole swing hangs in the beautiful metal swing frame, and it will be a great addition to one's outdoor.
29. Summer Pallet Swing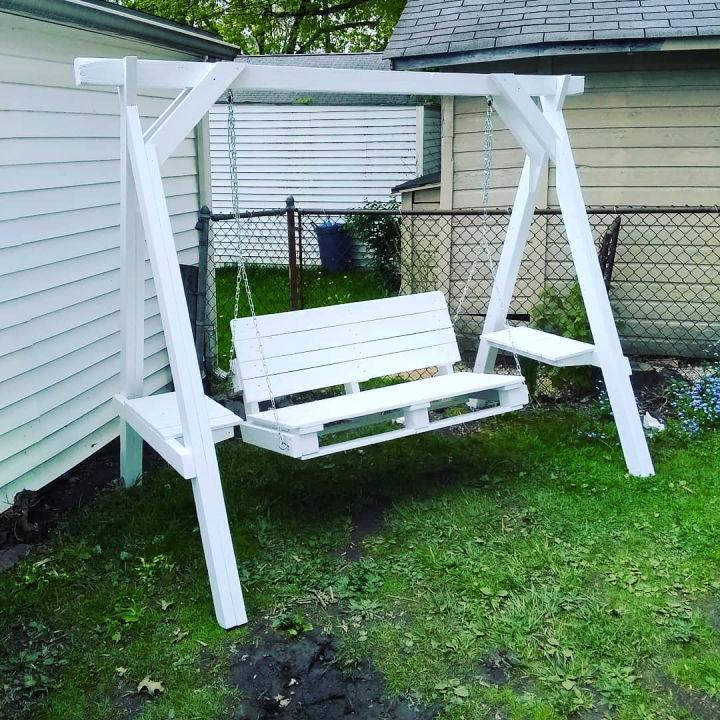 The best outdoor entertainment station to build for the summer and spring season. The design is hilariously cute and comes painted in white. The A-frame swing stand also comes with extra braces and also comes with the side tables. Everyone will love this handsome-looking design of swing that impresses with the brilliant chic white appearance. You can easily build this swing setup using some free pallets and scrap wood. It will create a big focal point at your outdoor also. The whole design will entertain all the onlookers. Everyone will love this beautiful design of a DIY pallet wood swing.
30. Pallet Turned Into Fancy Swing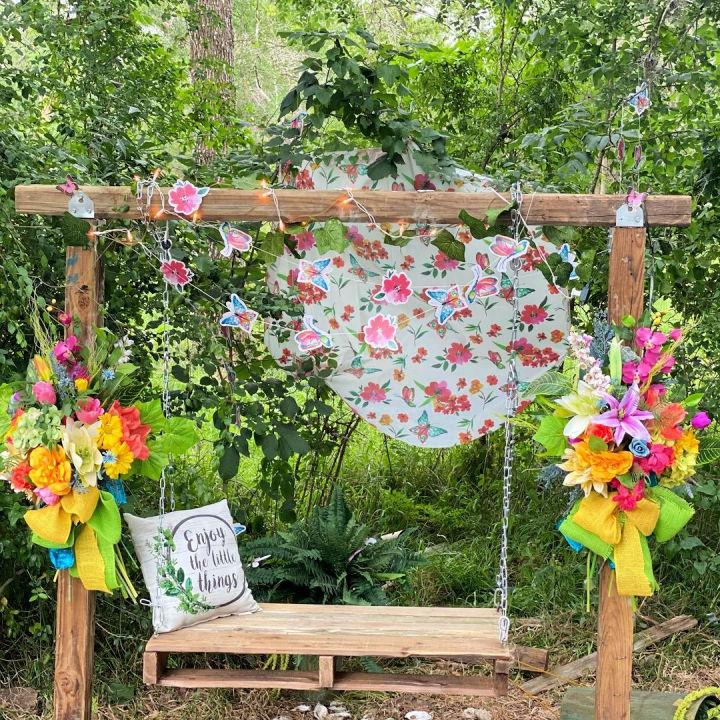 It will not take that too long to duplicate this exceptionally beautiful and cute-looking design of wood swing. Use the heavy-duty wooden beams and poles to build the simple swing frame. Next, hang a pallet skid inside the swing frame with the help of metal chains and hooks. Here a whole mini pallet makes the perfect seat for the swing, and you will sit on it. The finally completed design is adorned with some lovely flower bouquets mounted to each swing frame pole. You will love the way this arresting design of hanging swing.
Conclusion:
It can be intimidating to build and install a swing. However, it can be fairly easy with these DIY Pallet Swing Projects that are incredibly quick to do and will also be much easy on your wallet. These projects will help you to build all sorts of wood swings. While reading through these projects, you will get complete material lists, tool lists, hardware lists and detailed diagrams with step-by-step instructions to easily clone a targeted pallet swing design. Most of the projects are beginner-friendly, but there are projects for intermediate and advanced skill levels also. So, check them out all.