A headboard is a decorative extension of a bed frame. It also provides further opportunities to extend your bed to have decorative lights, storage, charging stations, pallet shelves, and more. Being the most expensive bed component, they are not affordable to all. Build them inexpensively at home with free pallets. Browse these 40 cheap DIY pallet headboard ideas that come with detailed free instructions and plans. A pallet wood headboard can be a decorative head of the bed, a whole stunning background, and everything in between. From simple rectangular pallet wood headboard designs to home-shaped headboards to curved headboards, you can build all designs with pallets. Most of the projects are to do with the dismantled pallets, but some also involve uncut or whole pallets for building stylishly beautiful headboards.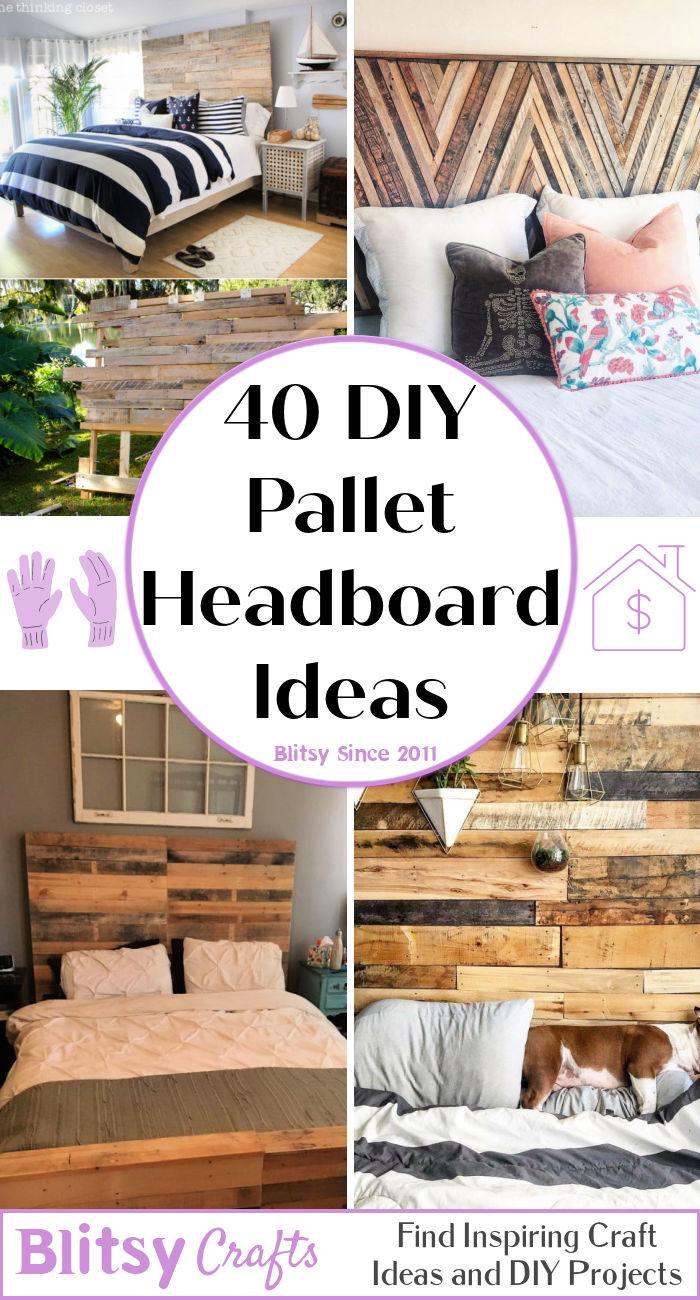 Building a headboard with pallets often starts by dismantling the pallets. Next, you can build a frame for the headboard using custom wooden boards, even pallet stringer boards. Finally, the step will be to fill the frame with custom alignments of pallets. You can also use the plywood or OSB boards as baseboards to easily arrange the pallet wood planks in custom favorite patterns. This idea will rock for chevron and herringbone headboards. Give a custom wood finish to the completed headboard design for a custom wood tone and weather protection. From easy to intermediate to advanced, there are DIY pallet headboard ideas for all skill levels. So, do take a quick tour of all amazing pallet projects to check them out.
1. Pallet Board Headboard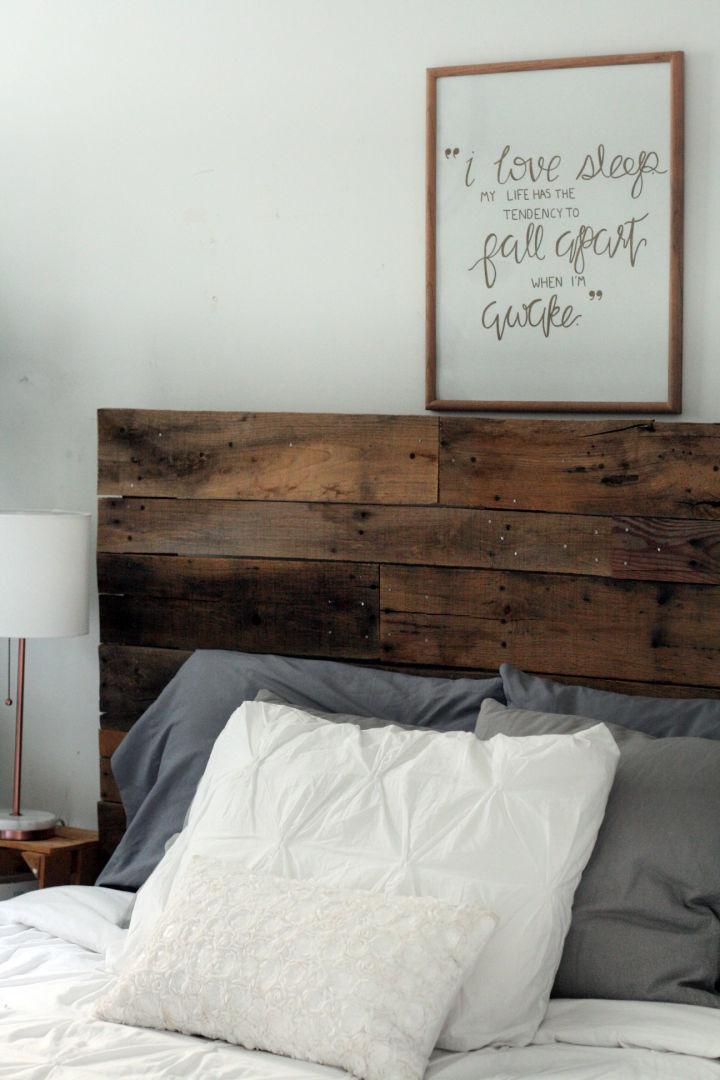 Building headboards with pallets is a widespread affair. With both dismantled and uncut pallets, one can build a variety of wooden headboards at home. Look at this slatted wooden pallet headboard, a crazy pallet creation done with the dismantled and separated pallets. The headboard is 5ft long and 4.5ft tall and is easy and quick to build. First, put together the 2x4s to build the overall headboard frame and fill the solid frame with rustic pallet planks. Paint, stain or decorate this completed headboard in the way you like. randiwithani
2. Pallet Love Headboard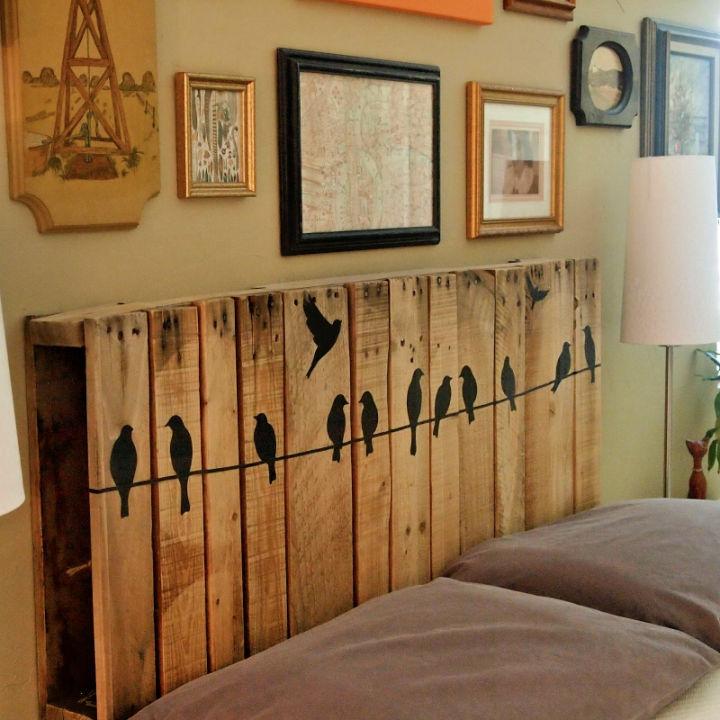 Everyone will just love this wooden pallet headboard that is a rustic yet modern addition to one's space. Use a large pallet directly to build this headboard, and what is new and amazing, si the painted bird art. At the same time, this rustic headboard is surrounded by a variety of wall art decors, giving an interesting background to the entire bed. Use the custom stencils or your painting skills to easily paint this bird art on the wooden pallet headboard. The whole project will cost you next to nothing and will be free if you get a pallet for free. catheywithane
3. Headboard Out Of Pallets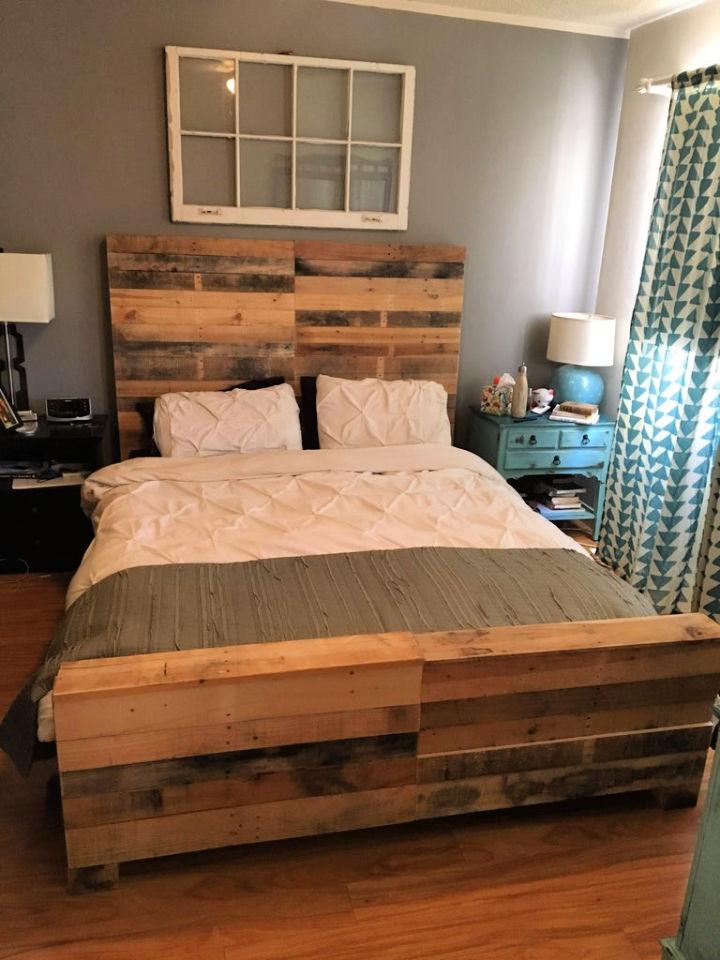 A headboard is always the final piece to add to your bed. Complete your bed with this phenomenal design of hand-built wooden headboard that is a crazy pallet wood creation. The simple straight slatted appeal makes this headboard a highly impressive and engaging piece of pallet furniture. You need here 5 pallets, 4x4s, 2x8s, 2x4s, 2x2s, and 1x6s to build this lasting longer and super beautiful design of wood pallet headboard. Finish it up with custom stain or paint coats and add to your bed for bigger décor statements. instructables
4. Pallet Herringbone Headboard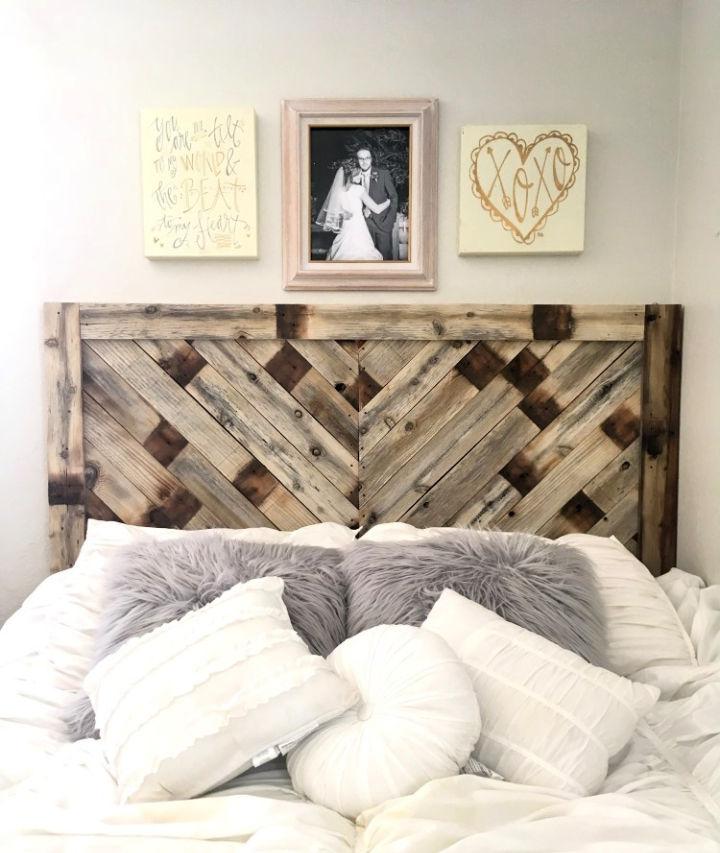 Satisfy your love for herringbone and chevron effect by building this rustic yet modern type of wooden headboard. A big thanks to pallets for this adorable yet beautiful creation. The pallets have nicely been aligned on the pre-built headboard frame for a marvelous chevron effect. The signs of aging and wear & tear create that magnified rustic appeal of the entire pallet headboard. Go handmade with the 1x1s to build the overall frame of the headboard. The completed headboard is 6ft long and 3ft tall and will be a great addition to one's bed. Everyone will love building this headboard with the provided free guides. sixcleversisters
5. Wooden Pallet Headboard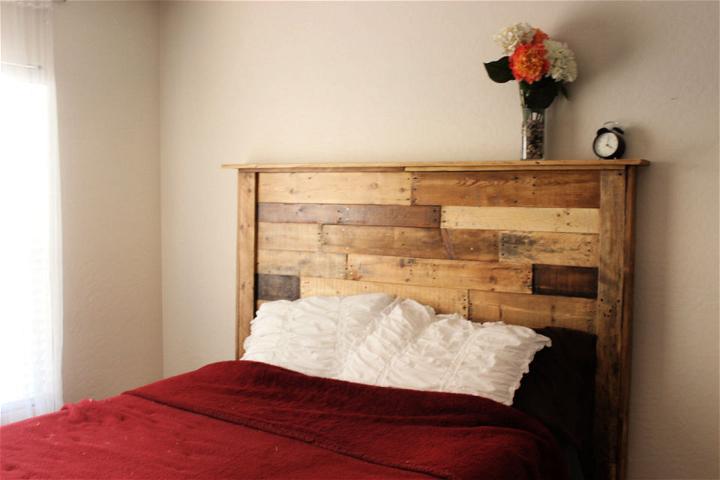 It can be one of the easiest things to build a headboard out of pallets. If you have not gone through headboard constructions yet, build this easiest yet beautiful wooden headboard. It comes with a decorative mantel where users can display custom decors and art pieces, representing your custom taste of decors. Build the headboard frame with 2x4s, fill it up solid with the individual rustic pallet wood planks. Add a slim but wide wooden board on the top to get a top headboard shelf. taushpointo
6. Build A Pallet Headboard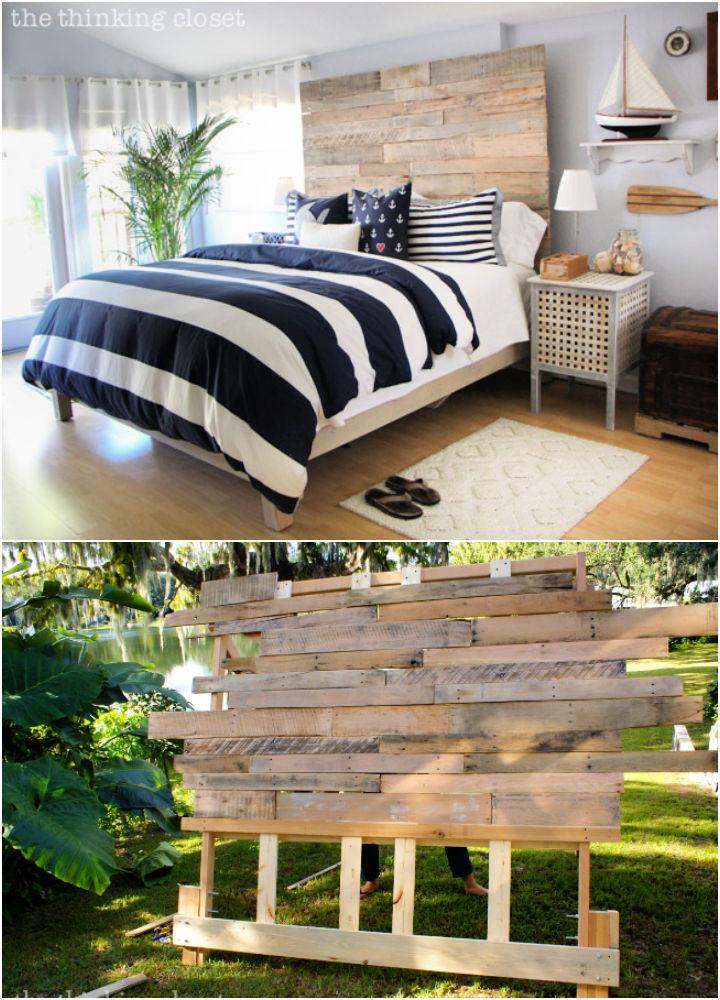 This project will share tips and tricks to work with pallets. You will also get instructions about how to build a lasting, longer and beautiful wooden headboard out of free and recycled wood pallets. First, decide the size of the headboard by taking some great measurements. Next, build the frame using 2x4s and other boards. Finally, you can fill the whole headboard frame solid with rustic pallet wood slats. After you build the whole headboard, give it a durable wood finish and decorate it the way you like. One of the best and quick-to-build DIY headboard ideas. thinkingcloset
7. Rustic Pallet Headboard Plan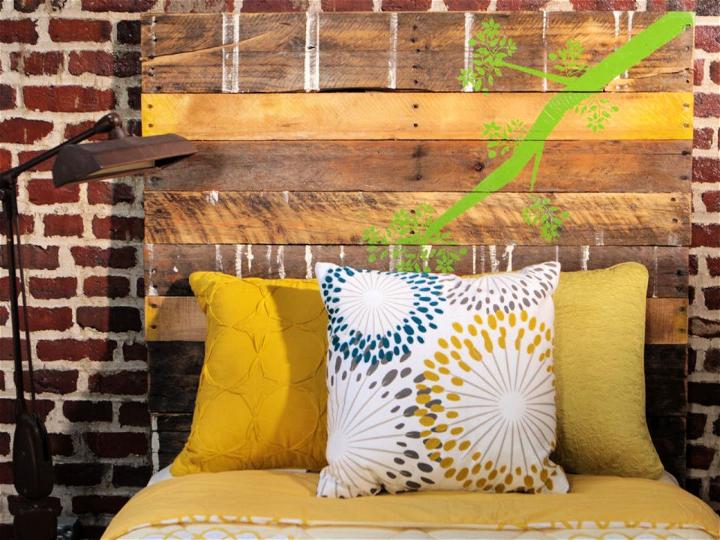 All rustic lovers will fall for this super cue headboard that is rustic and made with upcycled pallets. You require 2-3 salvaged pallets, salvaged boards for legs, construction adhesive, paint, shellac or polyurethane to build this headboard. The headboard design comes with a green painted tree branch, and hence it creates a gorgeous natural décor statement in the entire bedroom. Before building this headboard, dismantle the pallets, and you can easily do so using a Sawzall blade. Sand the completed design smoothly and also finish with your favorite stain or paint coats. hgtv
8. DIY Pallet Headboard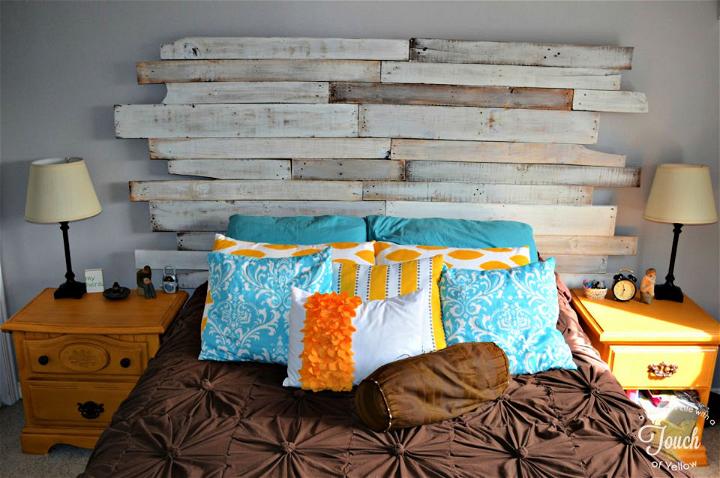 The rustic charm of this rustic wooden headboard will surely impress the audience at a very first look. The design does not have the perfect edges and dimensions but still looks graceful in the distressed white appeal. You need about 2 pallets, 2x4s, crowbar, hammer, nail gun, stain, white paint, hangman system, sander and rag etc to build this gorgeous wooden pallet headboard. Put the separated pallet wood slats flat on the floor and then assemble them as one unit using custom wood back supports. This will be the best and quick DIY headboard project that everyone can build in no time. amommyslife
9. Pallet Wood Headboard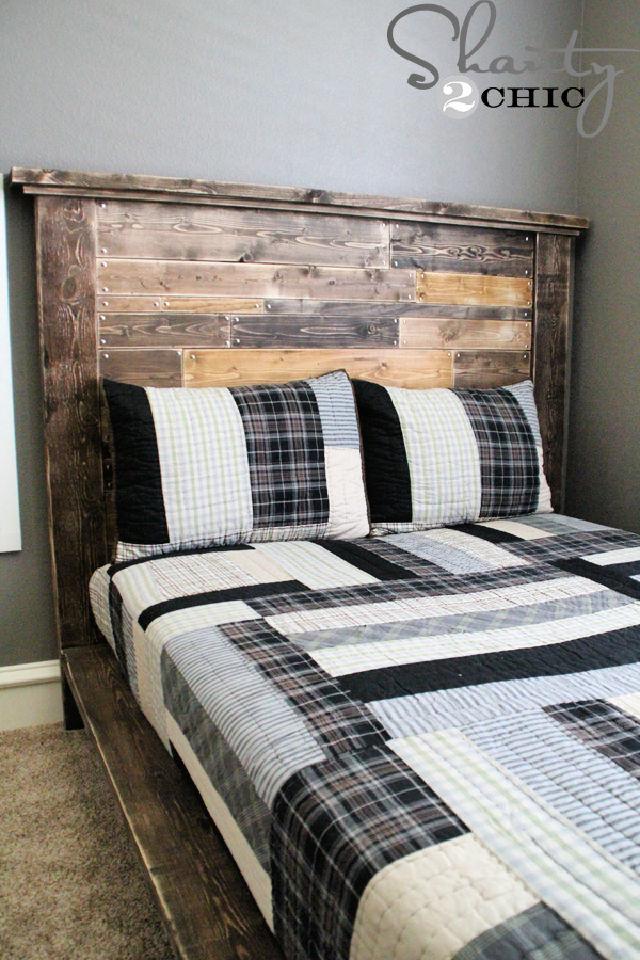 Make your entire bedroom look super impressive by adding this planked headboard. The project will share complete guides with you to easily build this headboard that is rustic yet modern. The whole headboard is made of pallets, and it provides a top decorative mantel to display your decors. In other wood supplies, you need ¼" plywood, 2x6s, 1x3s, 1x6s, wood glue, a custom finish. The completed headboard is solid and beautiful and will be a gorgeous addition to one's bed frame. It will not take that too long to complete this project. shanty 2 chic
10. Headboard From Wooden Pallets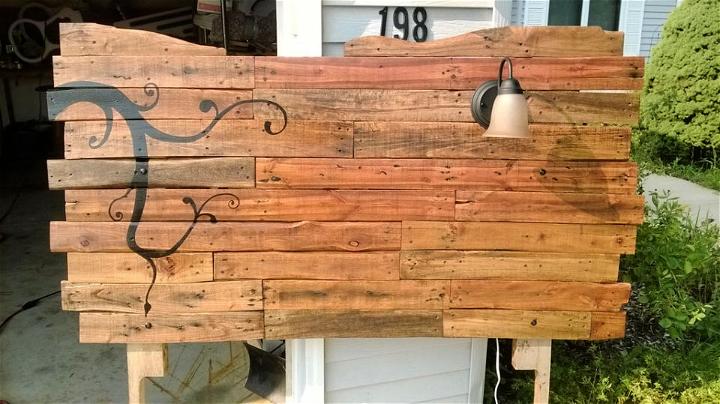 Are you deeply in love with the wood pallets? They are a durable type of wood that everyone can recycle with ease. The addition of tree branch art and light fixtures makes the entire headboard look super beautiful and stimulating. Grab the 2 pallets, wood stain, polyurethane, screws, 4″ bolt, black latex paint, light fixture, black spray paint, and some creativity to build this epic headboard frame. It impresses with the back stringer board supports and will be a brilliant addition to any bed frame. Opt for this headboard design if you need to add a rustic background or a decorative head to a bed. instructables
11. Distressed Pallet Headboard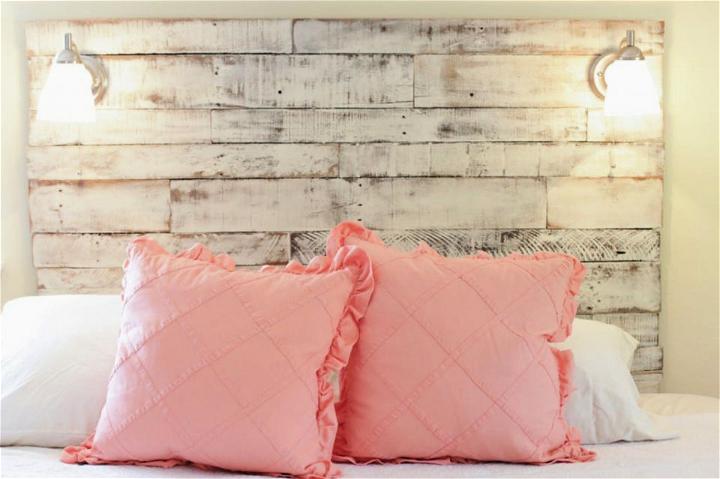 Bring a big wow factor to your bedroom by featuring rustic wood elegance. It will come from this distressed wooden headboard that is extremely easy to build with minimal skills and supplies. In supplies, you need 5 wood pallets, plywood sheet or OSD or Chipboard, pry bar, paint, wall anchors, 2 wall sconces, 2 lightbulbs, a staple gun and custom hardware to complete this headboard. The entire headboard is rustic yet modern and will not take that too long to be right over the bed frame as a decorative head. One of the quickest DIY headboard project ever. livesimply
12. Simple Pallet Headboard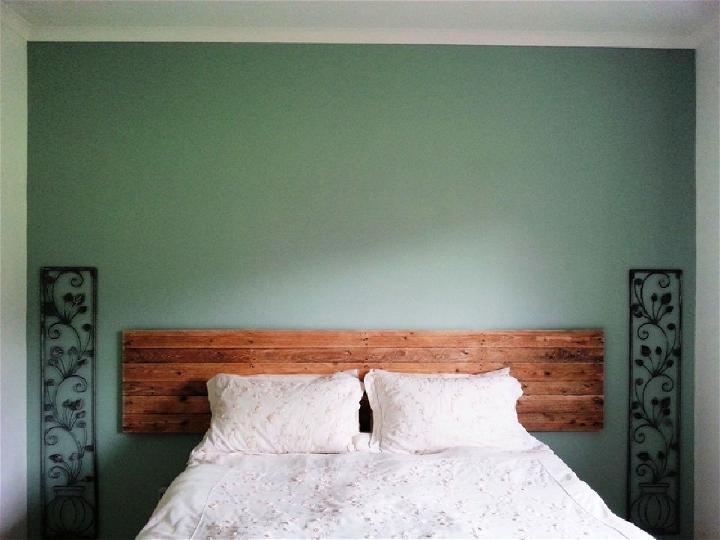 You will get here directions and instructions to build a wall-mounted wooden pallet headboard. It will help create that decent and stimulating view of your entire bed frame. Choose a longer but less white pallet for this headboard project. You need some wooden pallets, wood glue, hand drill, hammer, crowbar, orbital sander, wall plugs and screws, and level to easily clone this impressive wall-mounted headboard design. Sanding the headboard smooth and staining will help create that visually stimulating appeal of this entire headboard. A one-of-a-kind wooden pallet headboard that every beginner can build. buggaluggs
13. Joanna Gaines Inspired Pallet Headboard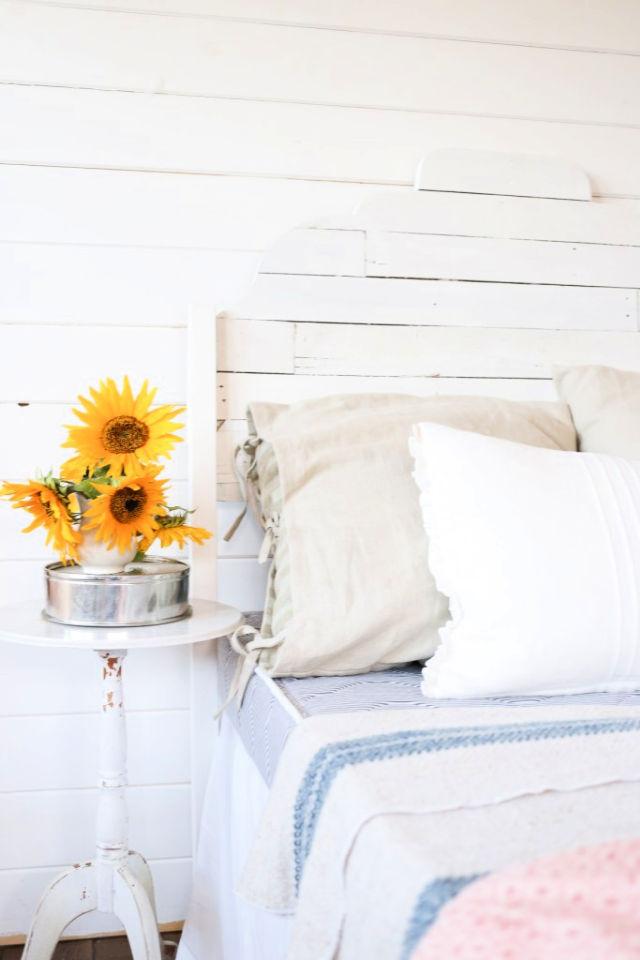 The pallet wood allows you to build all custom designs of headboards you are in love with. Grab here the complete visual guides about building a Joanna Gaines inspired headboard out of free recycled pallets. The design impresses with the decent curves and camelback style and is painted white for a stimulating visual. First, build a normal wooden pallet headboard and then cut out the design with the help of a design template. Trace the design and then cut it out. There are various other designs out there also to go with. The finished headboard is 43 ½" wide and 53″ tall. mamasdance
14. Headboard Made Out Of Pallet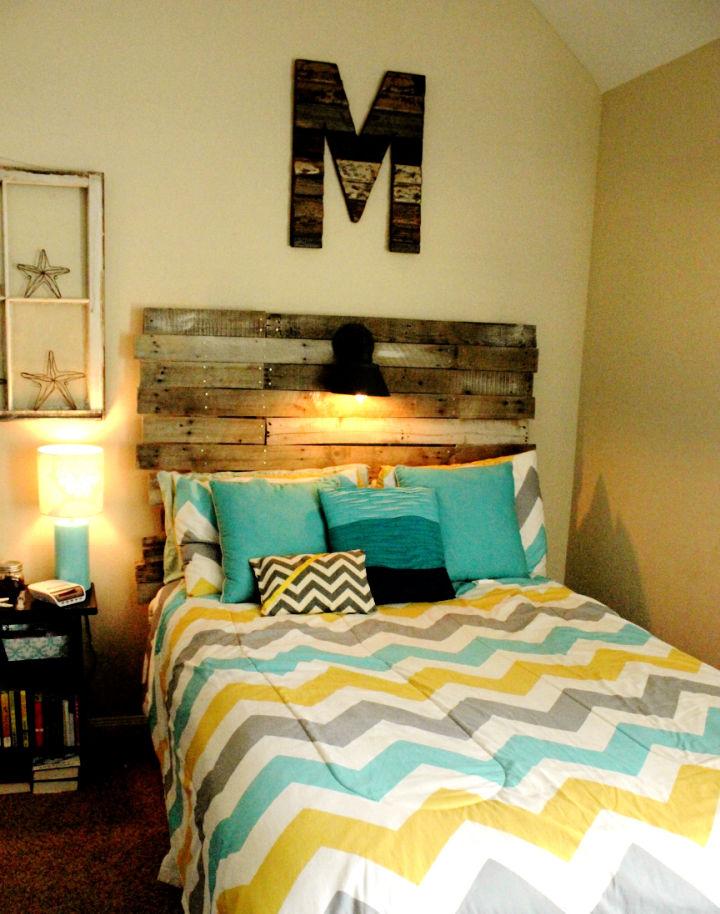 Light up your dreams and also create a dreamy bedroom by installing this lighted headboard. It creates the whole stunning background of the entire bed, and it also hangs right below the monogram letter for bigger décor statements. Build this super handsome rustic headboard that will cost you around $50. You need 2-3 weathered pallets, 2x4s and a light kit to easily duplicate this stunning and graceful design of wooden pallet headboard. Separate apart the pallet stringer boards also use some other leftover wooden boards to easily build the headboard back frame. Next, fill the frame solid to get a rustic headboard for free. wearethatfamily
15. Build Your Own Pallet Headboard

It is a big art to build wooden headboards at home. But pallets have made it a lot easier to build one at home. To whip up this headboard, you need pallets, 2x4s, a crowbar, sandpaper, stain,n and polyurethand. Use durable hardware like bolts, nuts and washers to assemble this headboard. Give a custom wood finish to your completed headboard design to get a rustic wood tone, or just paint it modern using custom paint. The ups and downs will create a magnificent look of the headboard, and it will rock to cast a rustic theme in the bedroom. ricedesigns
16. DIY Headboard From Pallets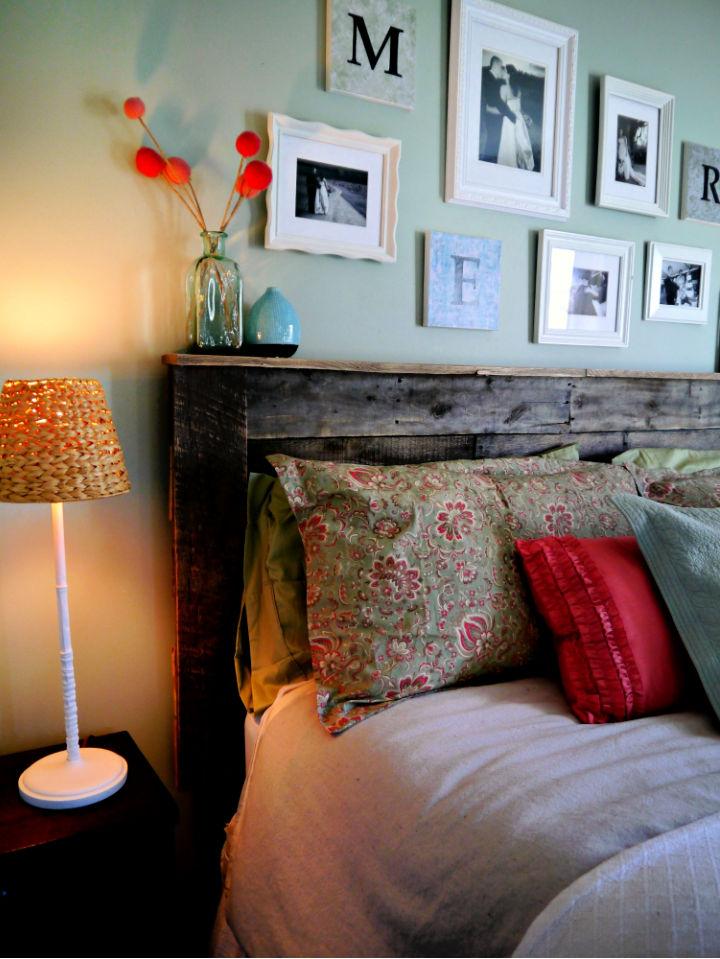 A bed is often to look incomplete with a headboard. If you are missing one, do build it with free recycled pallets. Peek into details of this rustic wooden headboard that is glamorously beautiful and lasting longer. Pack the rustic separated apart wood planks to easily duplicate this fetching design of a wooden headboard. Put together some rustic pallet wood slats and add them with the back supports to gain a beautiful wooden headboard. The headboard also has a decorative mantel and impresses with many photo frames hanging right above the headboard. lovelycrafty
17. Twin Size Pallet Headboard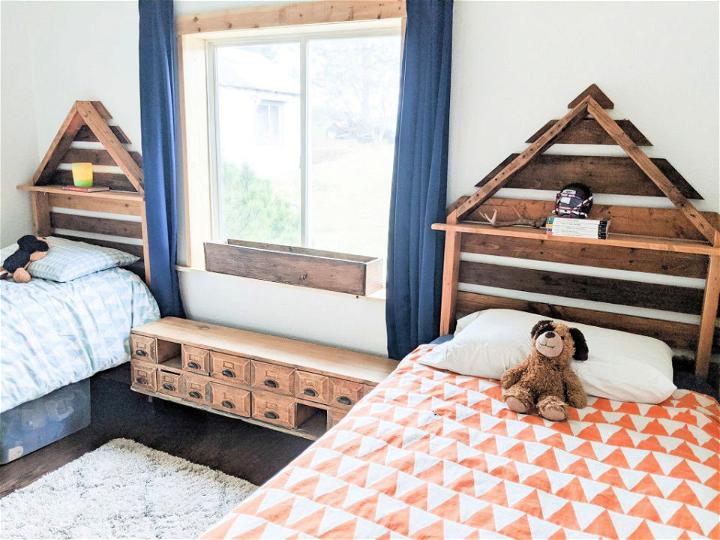 Transform all those twin beds into cute-looking homes by adding these house headboards. The fun headboards to add to fun bed frames of the little boys. The headboard appears with a chevron top and also offer a shelf to place your essential and other items of decors and interest. However, you can fancy it up more by adding custom lights and decors. Use the 2x4s to build the overall frame and next fill it up solid with the pallet wood slats. One of the best and unique DIY pallet headboard ideas. myhappysimple
18. DIY Wood Pallet Headboard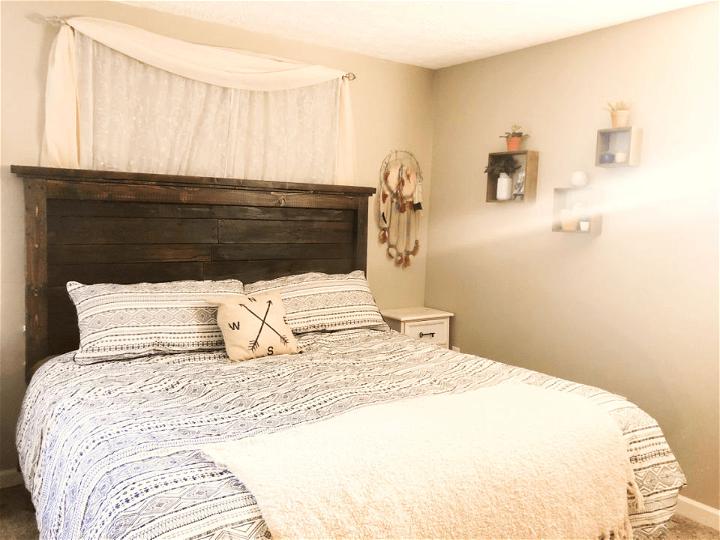 Spruce up your bed also by adding this rustic yet modern wooden headboard. The design is one of the handsome pallet wood creations, and it enchants with the dark stained wood tone and solid boundary all around. The top mantel will allow the user to display anything you want to feature in the bedroom décor theme. You need 1x4s, 2x4s, and pallet wood slats to easily duplicate this stunning headboard design, which will rock for a farmhouse-style bed frame. Personalize it by painting or stenciling custom art shapes or letters and also add custom reading lights to brighten it up more. southernfarm
19. Pallet Headboard For Nursery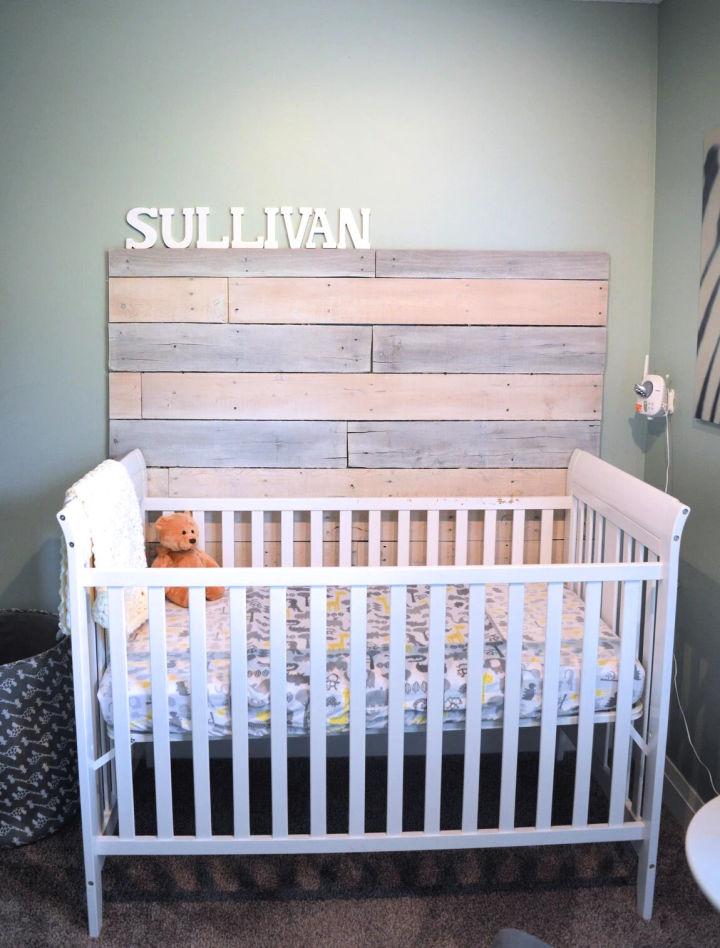 Spruce up the kids' nurseries and cribs also by adding some decorative headboards. You will keep on looking at the given decorative and precisely built wooden headboard that is insanely cute and more than easier to build. Start the project by taking some measurements and then build the headboard frame to measurements. Now, start arranging the individual pallet planks on the frame until you get a fully covered solid wooden nursery headboard. The finally completed headboard also comes with the complete name of the baby on the top made of white painted wooden letters. inlovewithahouse
20. Pallet Headboard With Lights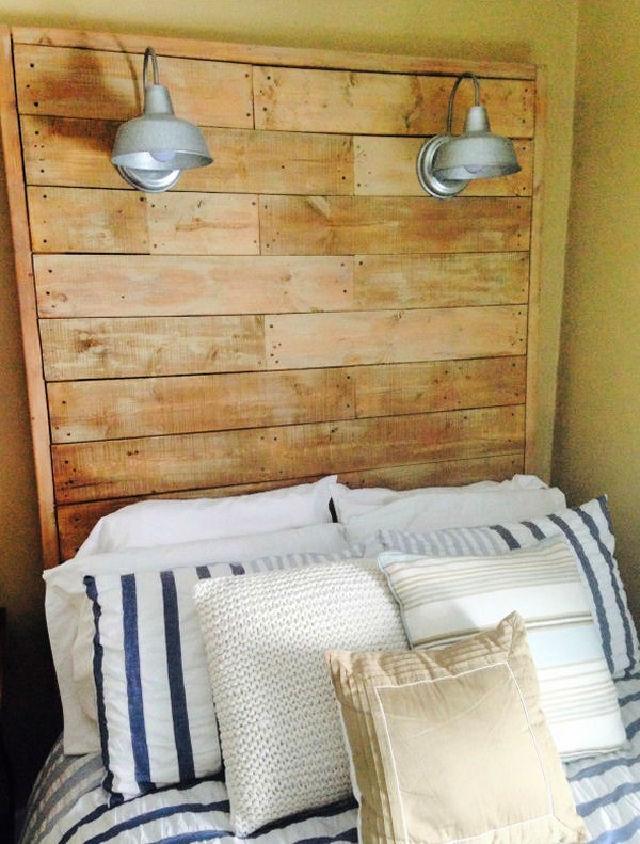 Feel free to duplicate this handsome lighted piece of the headboard, built for a twine bedside. The blank bright wooden appeal and the wall sconce lights are the beautiful features of this hand-built solid pallet headboard. Use your favorite scrap wood boards to build the overall headboard frame. You can even use the pallet stringers to add the vertical back supports. Next, just start adding plucked apart pallet wood planks on the frame. Fill the whole frame like a fun puzzle game and get a lovely headboard. Add custom slats to trim down the entire headboard, and add a top mantel to hold up your things and decors. Don't forget to add lights livefromjulies
21. Wood Pallet Headboard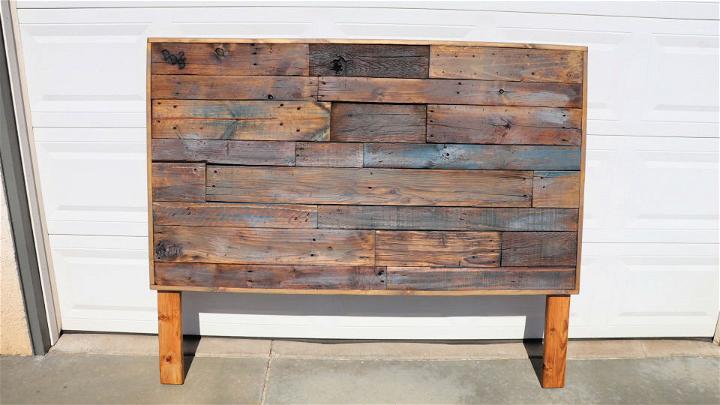 Follow the video guides here to learn how to refurbish pallets into a beautiful headboard. The project involves arranging the separated apart pallet wood planks on a piece of plywood cut to the size of the headboard. After you will the whole plywood piece, just install the final trim and legs to gain a solid wooden headboard. Give also a few dark coats to plywood so it will not be visible. Finish with your favorite stain coats, and this will add lots of weather protection to wood grains. youtube
22. DIY Pallet Headboard With Lights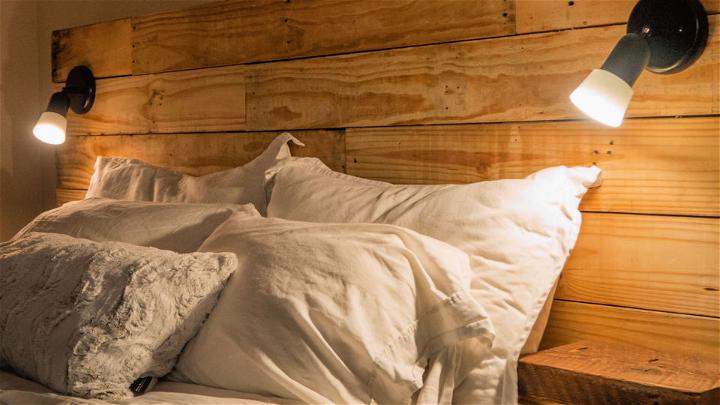 The headboards with lights are highly in trend, and they allow you to easily read books and do some other tasks while being in bed. So, grab here complete guides and instructions about building a wooden pallet headboard with dimmable lighting and floating shelves. The design features the reading lights and a miniature shelf on each side that serve as a nightstand. First, dismantle the pallets and then build the headboard frame and mount it to the wall. Make the electrical connections inside the frame and add the vertical supports on which the pallet wood slats will sit. Next, fill the whole frame solid to get the headboard. youtube
23. The Perfect Pallet Headboard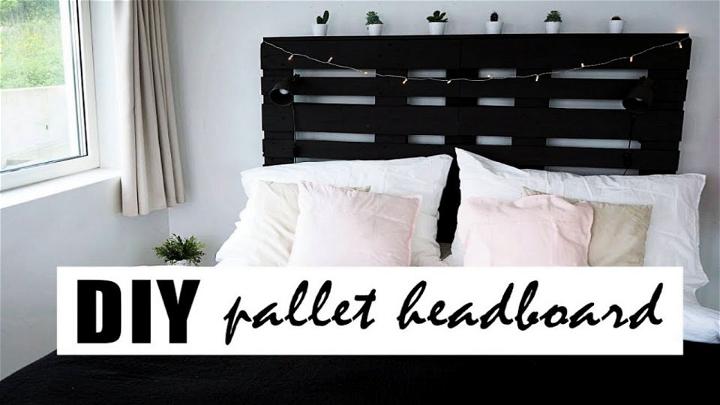 This project involves building a big wooden headboard using 4 pallets. You can use the EURO pallets for this project for ideal results. Just cut sides of pallets and tie them with the durable hardware as a single unit. And next, stain or paint it for a custom appeal. Add LED lights and custom reading lights to fancy it up more and display your favorite pots on the top of it. Pick your favorite reading lights for this project, and it will be a great pleasure to build them. youtube
24. Pallet Headboard Instructions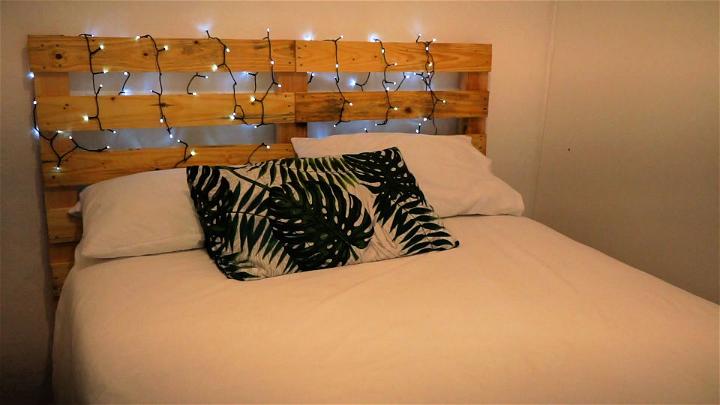 The pallet headboards are a big obsession for many of us, who are big wood and rusticity lovers. So, follow here complete guides and instructions to build a durable wooden pallet headboard with LED lights. Dismantle the pallets and recondition the separated apart slats by doing some sanding work. Use an orbital sander to get those smooth surfaces and edges of the planks with no fragments at all. Build a slatted board with the sanded smooth slats fitting to your headboard size and give it a nice wood finish. Next, wrap the LED lights around it to get the fetching headboard design. youtube
25. Chevron Pallet Headboard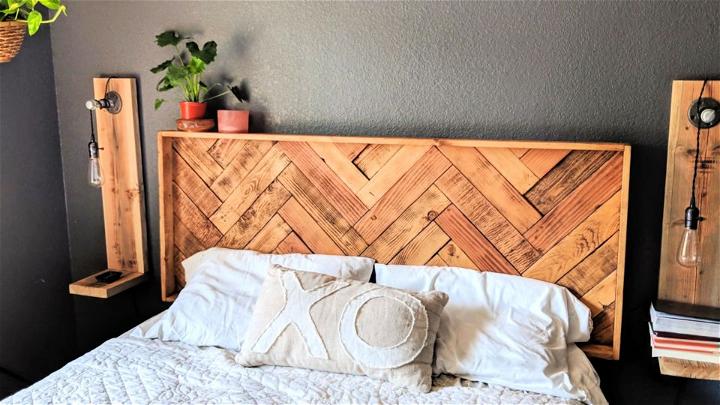 Get here complete instructions to build a chevron headboard. You will get directions for both Chevron and herringbone design patterns, and the first step will be to dismantle the pallets. Cut a plywood sheet to size. You can use any other board like OSB also. Next, start arranging the pallet wood planks on it in the chevron or herringbone style. First, do the dry arrangements and next, glue the planks in place. Trim the excess edges and finish by installing the wood trim. One of the best and quick-to-build DIY chevron pallet headboards. youtube
26. Bedroom Headboard From Pallets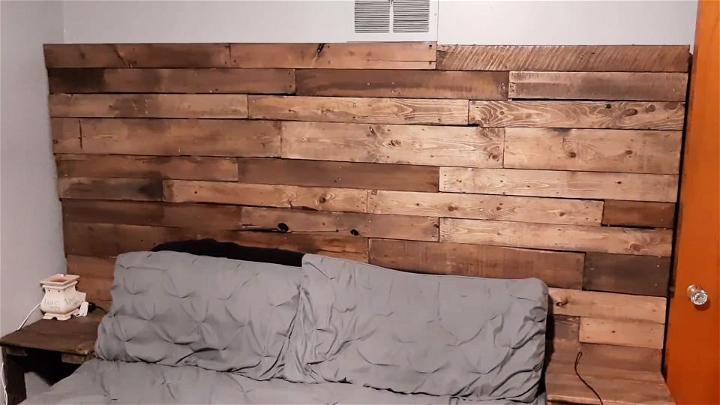 You can build the simple frames for the headboards and fill the pallet wood slats in them in different custom manners. This will help create a unique headboard design every time, for sure. Keep on staring at this planked headboard that fits the targeted space and makes an impressive antique background. To construct this headboard, you can arrange the pallet planks on a board like OSB or plywood or an empty wood frame. Add custom lights and hanging decors to fancy it up more. youtube
27. Headboard Using Pallets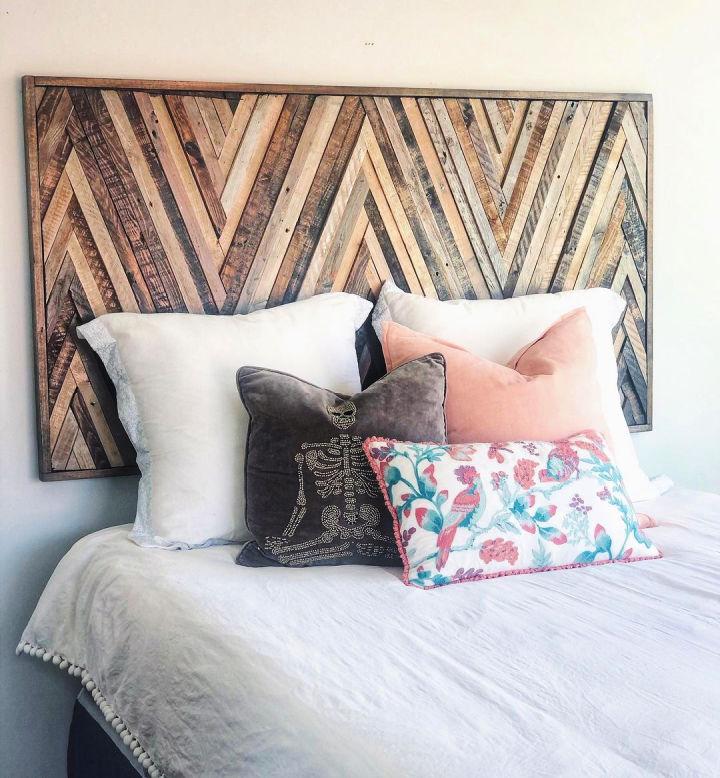 You will surely fall in love with the multi-chevron appeal of this headboard that also features various wood tones. Grab a piece of plywood or thin OSB board and start aligning the pallet wood planks on it in the chevron manner. Trim the excess edges and frame it up using 1×1 and other wooden boards. You can keep on adding the pallet wood boards on the equally spaced frame also supports to gain this awesome chevron packing of pallet wood slats. The design is impressive and much visually captivating. Use custom hardware hanging systems to mount this headboard on the wall.
28. Rustic Style Pallet Wood Headboard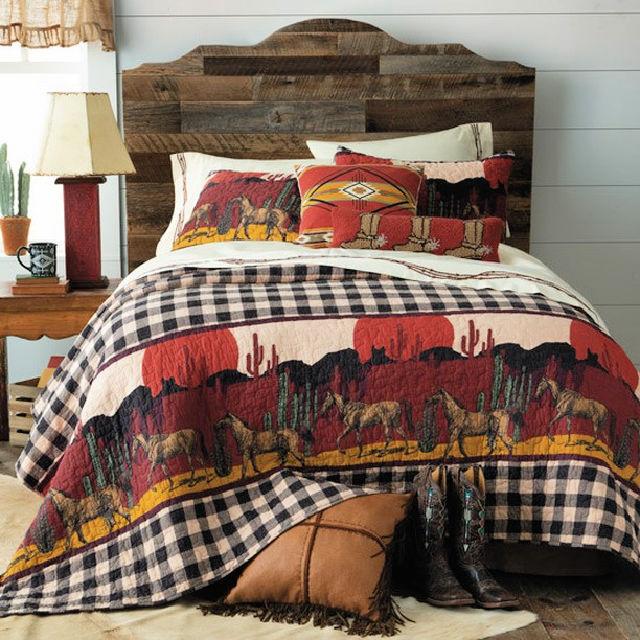 No matter what décor style you are following in your bedroom, this rustic camelback style headboard will be a smart addition to any bedroom. Just like the other pallet wood headboards, you can build them in the same way also. Use a template to trace and cut out the top design that features impressive curves. Add the pallet wood planks on the backboards getting the planked headboard design. Next, cut the curved design out. Here you have the freedom to go with any particular style of the headboard—one of the best and quick-to-build rustic pallet headboard ideas.
29. Single Pallet Headboard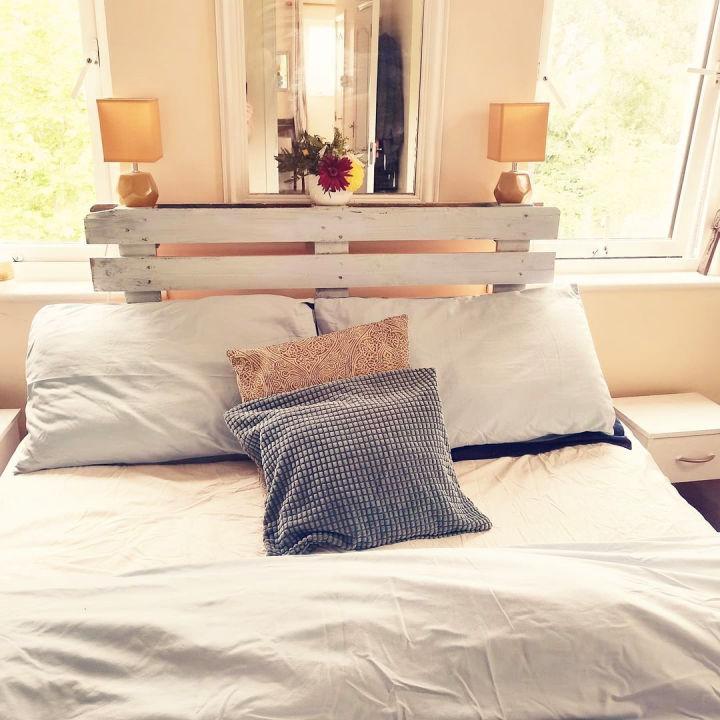 Pallet dismantling is a time-taking and boring task. Many of us do not like it. So, you can use the pallets directly also to build stylish and lasting longer headboards. Look at the given one pallet headboard. Is not it graceful and good-looking? The distressed white appeal goes enchanting to the eyes. You can also add custom lights in the pallet to fancy it up more, and this headboard will be ready in a couple of minutes. This headboard will allow you to place the night lamps and other centerpieces over it easily.
30. Pallet Headboard For Larger Bed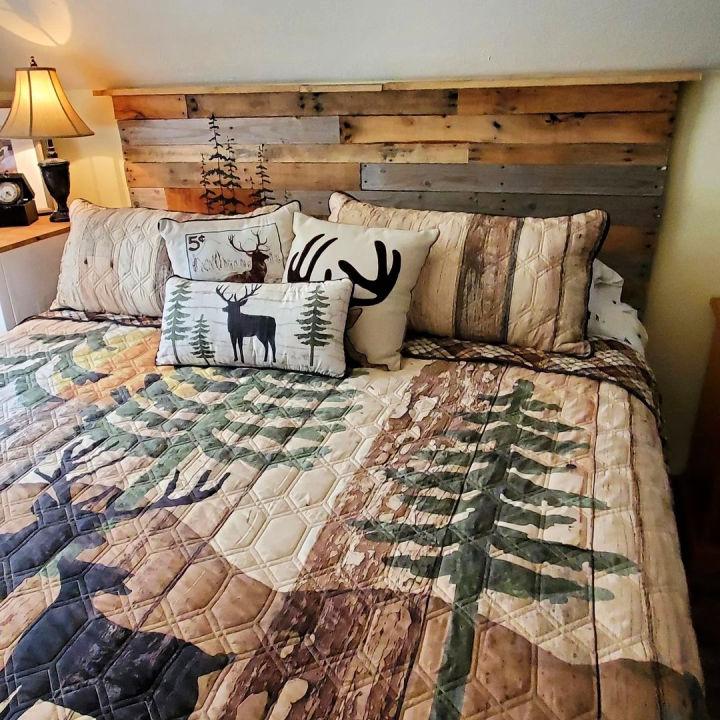 No matter which size of bed you are having, you can simply build a headboard of any bed size using free pallets. Peek into details of this solid and stylish rustic wooden headboard, built for an extra-large bed. Put together the custom wooden boards like 2x4s to build the headboard frame and fill it up solid with planked arrangements of pallet wood slats. The design is rustic yet modern and can be added with antique lights for added rustic grace. Use also the custom stencils to fancy up this headboard more. One of the best DIY pallet headboard projects.
31. Fantastic Pallet Wood Headboard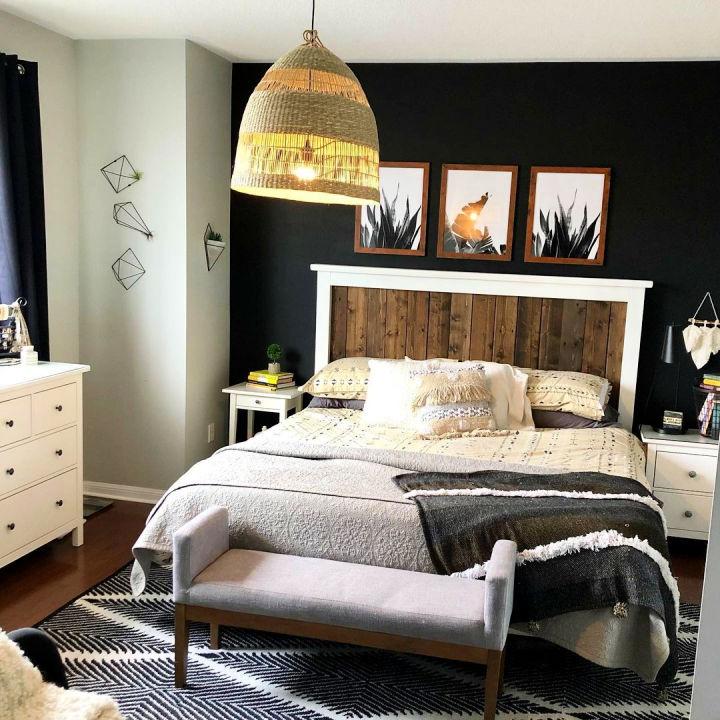 A bedroom does not merely make a lovely accent head of the bed. It can help create a stunning background in the bedroom also. Check out here the white framed headboard, a handsome pallet wood creation. There is also a trio of hanging art frames right above the headboard that create a great scene. This not ends here, and the background wall is also painted in black, making the entire headboard look fantastic. Again follow the process of building and filling the frame to duplicate this lovely wooden headboard. The painted white frame makes it look gorgeous on the black-painted wall.
32. Budget Friendly Pallet Headboard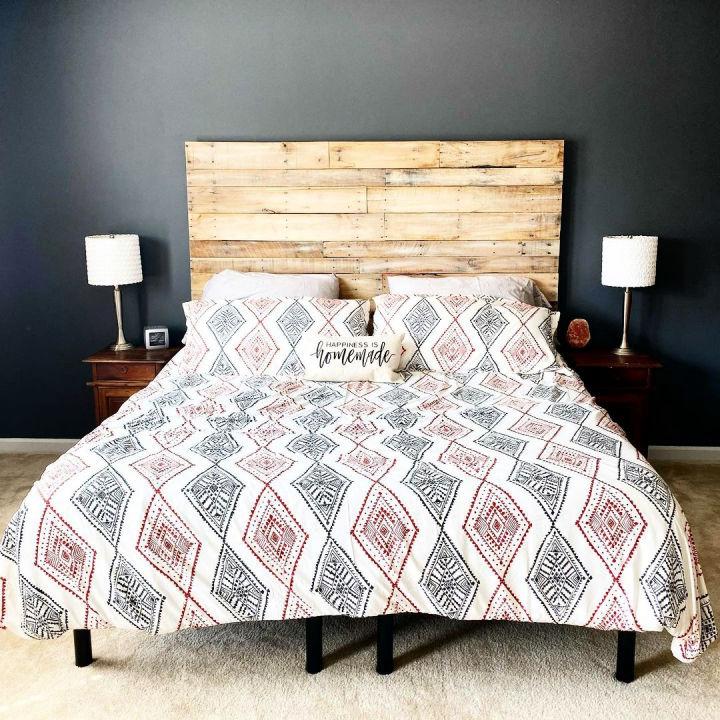 Bring a great wooden character to your bedroom by installing this sophisticated wooden headboard that is elegantly beautiful. The design comes in perfect rectangular design dimensions and is a breezy pallet wood creation. You have here the freedom to build this pallet wood headboard with or without legs. It can easily be mounted on the wall also. Paint or stain this headboard to match it to the rest of the bedroom decors. Measure the headboard size you need, build a frame to size, and fill it up solid using extra pallet wood planks.
33. Homemade Pallet Headboard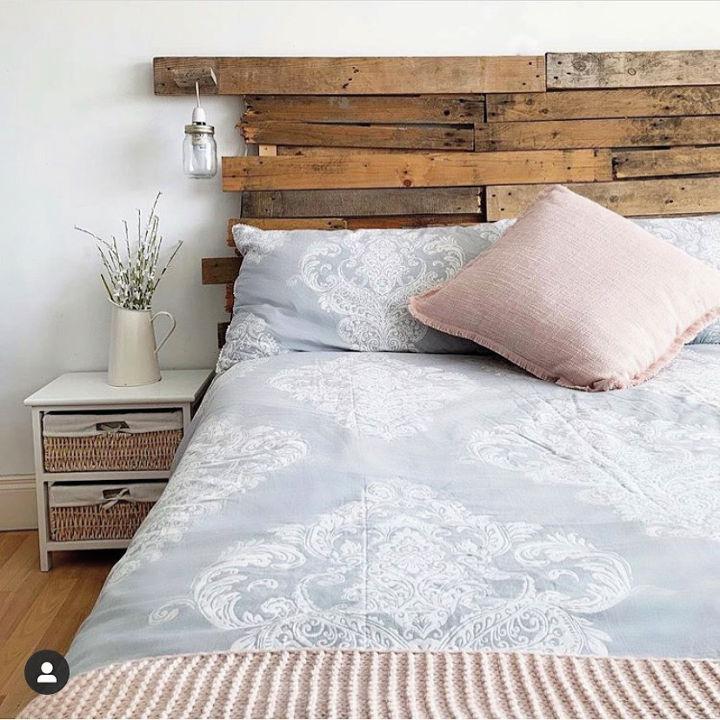 Feature the amazing rustic behavior in your bedroom by adding this rustic headboard. The hanging mason jar lights are the whole beautiful feature of this gorgeous pallet wood headboard. The whole project is easier to do and involves arranging the separated apart pallet wood slats on a simple rectangular headboard frame. Use your favorite scrap wood slats to build the headboard frame easily—one of the best and quick-to-build DIY headboard ideas that everyone can duplicate with ease. The design is rustic yet beautiful and gains extra focus due to the white-painted wall background.
34. Boho Style Simple Pallet Headboard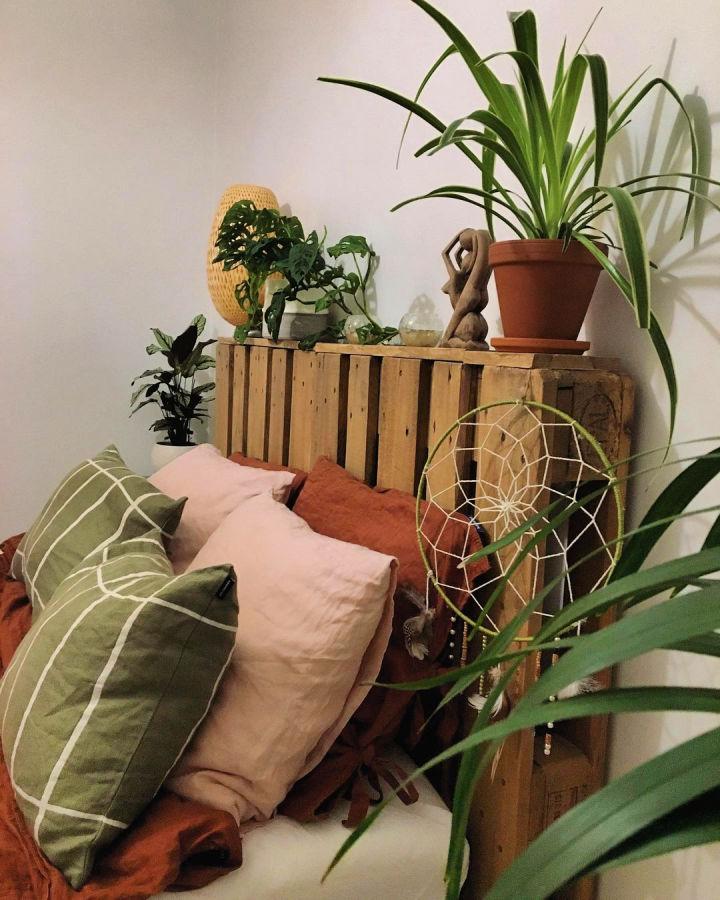 One can use the rough pallets as they are to build lasting longer and instant rustic pallet headboards. Get inspired by this rustic beautiful pallet headboard, loaded with tons of accents and decors and is highly awesome and beautiful to look at. Just put a whole pallet to the backside of the bed frame and get an instant beautiful headboard. Fancy it up by adding extra greenery, centerpieces and also some lights and a dreamcatcher. However, you can build the whole bed also with the rustic pallets you have got. The best way to bring a big wow factor to your bedroom.
35. 2 Pallets Headboard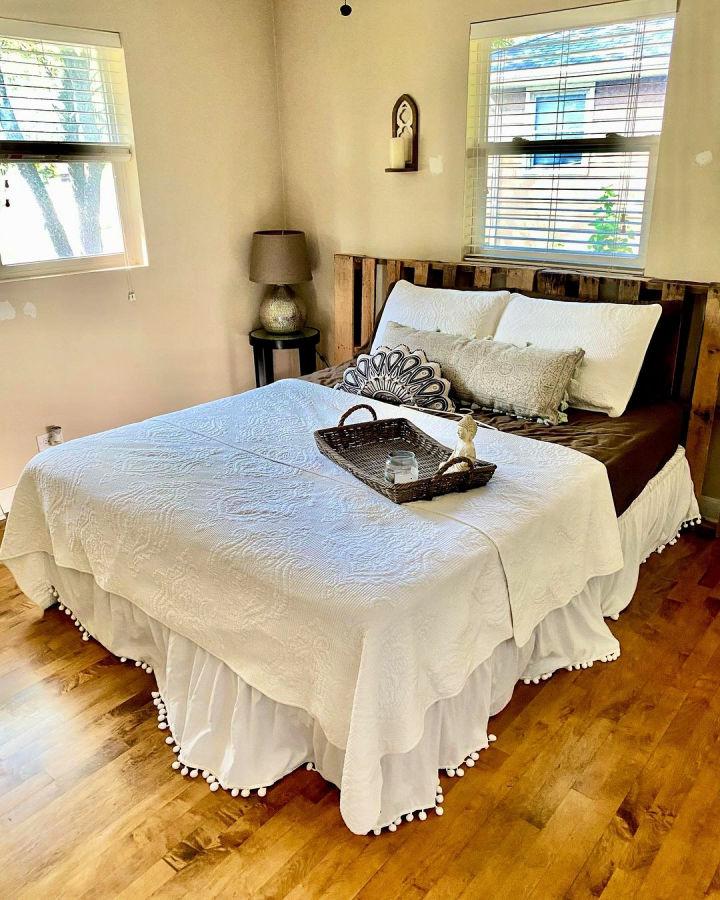 There are many pallet sizes out there. You can pick any of them to fulfill your needs. Here suitable pallet sizes are used to build an instant beautiful headboard, and the whole project will complete simply in no time. Just grab 2 rustic pallet boards, place them behind your bed frame, and gain a lovely headboard in no time. Pick the durable hardware to assemble both pallets in place and also choose a custom wood finish to add weather protection to wood grains. This headboard will provide space to easily hold your pots, picture frames, and other centerpieces on its top.
36. Upcycled Pallet Bed Headboard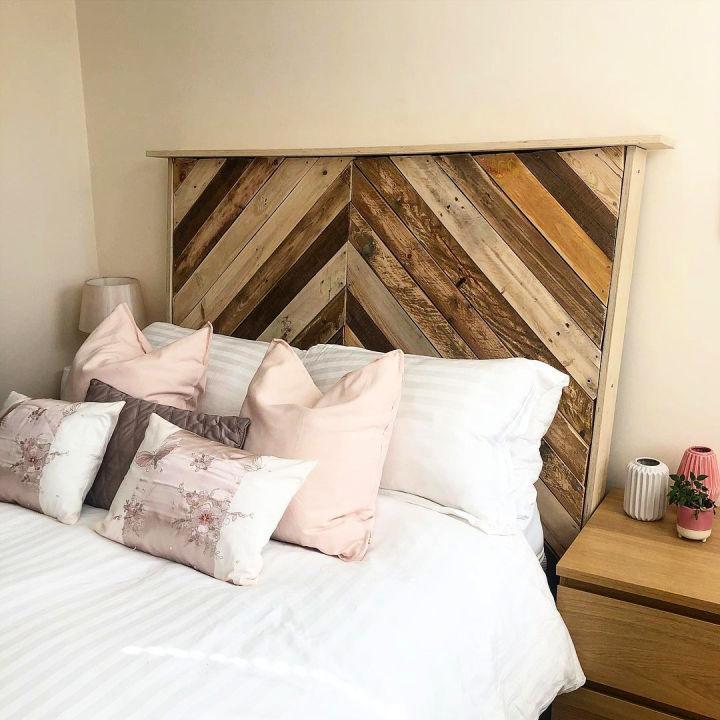 Intending to feature a chevron pattern in your bedroom? Then this chevron headboard will make you elegantly do that. The signs of wear and tear on the wood planks, multiple wood tones and precisely packed pallet wood slats are the whole beautiful rustic features of this chevron pallet headboard. Put together the custom pinewood boards or slats to build first the headboard frame. Then fill it up with the chevron alignments of the separated pallet wood slats to easily build this precious rustic chevron headboard. Don't forget to display the custom decors or centerpieces on the top headboard mantel.
37. Pallet Headboard For Queen Bed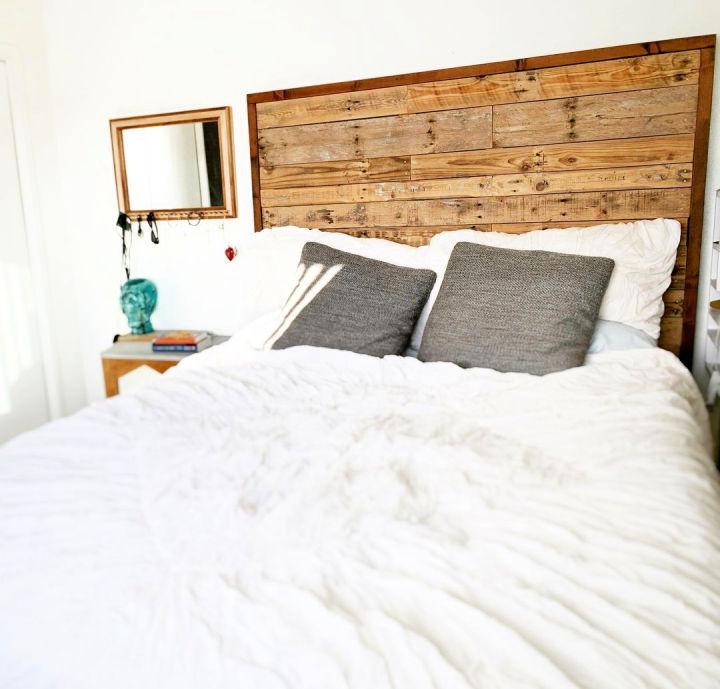 Sorting out the best wooden headboard for a queen bed? Duplicate this given headboard that comes with accent side trimming and features the rustic flat-pack pallet wood boards. Fill the pallet wood slats on the pre-built wooden frame or on a piece of plywood or particleboard to get a beautiful instant design of the wooden headboard. This pallet headboard design is different from others and is also built solid to be much visually captivating. The natural blank tone of wood looks gorgeous in the entire chic white-painted bedroom interior.
38. King Size Pallet Headboard Design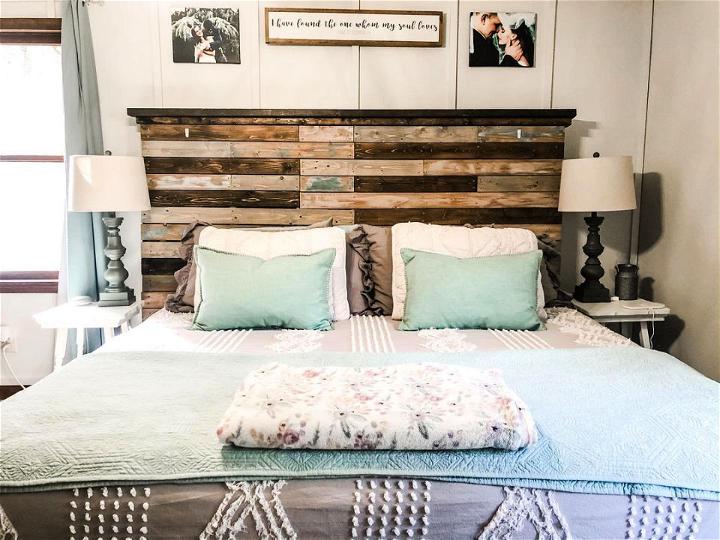 It always depends on you for which purpose you need a headboard. Building this rustic headboard with a top mantel will be a great idea if you want to bring some rusticity to the bedroom and want a prominent space to display your decors. The headboard features multiple wood tones and can hold a bunch of decors and centerpieces on its top. Again you can easily plan the rustic pallets to build this large size headboard with multi-tone wooden appeal. However, you have the freedom to paint or stain this headboard for a custom wooden or painted appeal.
39. Easy and Simple Pallet Headboard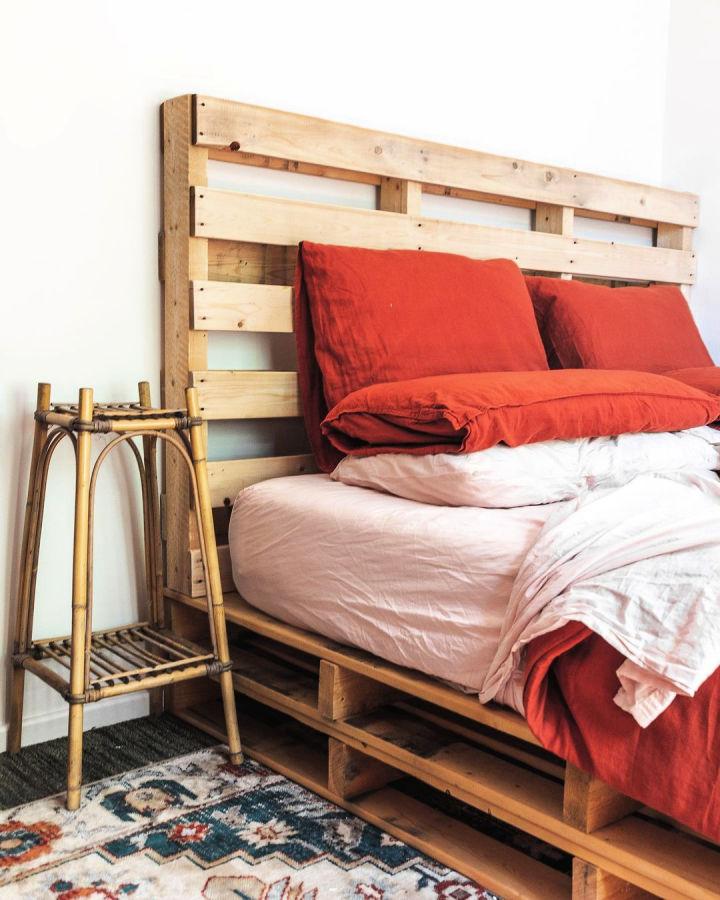 Without going through the boring stems of cuttings and taking measurements, you can build beds and headboards also with uncut pallets. Just stack the pallets up to 2 layers to build the platform bed frame, and then add a pallet wood skid to the backside of the frame for a beautiful headboard. The whole design is solid and is a creative repurposing of all the pallets also. Everyone will just fall in love with this crazy wooden pallet bed that comes with a single pallet headboard. The whole bed with headboard will cost you next to nothing.
40. Turn Pallets Into Headboard

The most impressive yet beautiful-looking wooden pallet headboard design is loaded with tons of decors, lights, and even planters for bigger décor statements. Again, manage to have a stock of pallet wood slats by taking the pallets into pieces. Next, start building a headboard frame and arranging the pallet wood slats in a custom style and pattern. The headboard is rustic and will impress all new visitors. Building this headboard will be much like a puzzle game, and you will love building it. The whole project is budget-friendly and beginner-friendly also.
Conclusion:
The headboards costs are skyrocketing, and they cost you an arm and a leg when selected with custom added features. So, if you are on a budget and can't afford an expensive headboard, then you are only left with DIY options. The pallets are the perfect source if you love to bring the rustic wooden headboards to your bed. So, ready through these DIY pallet headboard plans and learn to build all sorts of headboards with pallets. The project will easily share complete material lists, tool lists, and step-by-step written and visual guides to build a targeted headboard design. Next, personalize your completed design using custom stencils, embellishments, and also by adding favorite light sconces or LED lights.