Discover the joy of creating adorable crochet bunnies with 25 free crochet penguin patterns, perfect for amigurumi enthusiasts. These crochet bunny patterns include a variety of bunny designs, from long-eared to realistic amigurumi bunny, suitable for both beginner and advanced crocheters. Each crochet bunny pattern has detailed step-by-step instructions and a printable PDF guide, ensuring a seamless crocheting experience.
This collection of free crochet bunny patterns offers an assortment of bunny styles, such as Rose the Rabbit Amigurumi, Valentine Bunny, and Squishy Bunny Amigurumi. You can create unique and lovable crochet bunnies for gifts or home décor. Additionally, many patterns provide visual illustrations and helpful tips, making the process even more enjoyable.
Dive into the crochet bunny amigurumi patterns world and craft your own stuffed crocheted rabbit. Choose from various styles, from cute and cuddly to realistic and lifelike, to create your crocheted bunnies. You'll find a crochet bunny pattern to suit your style and skill, from long-eared bunnies to mini bunnies and even a floppy-eared classic design. So grab your crochet hook, choose your favorite crochet rabbit pattern, and start creating your delightful crochet bunny today!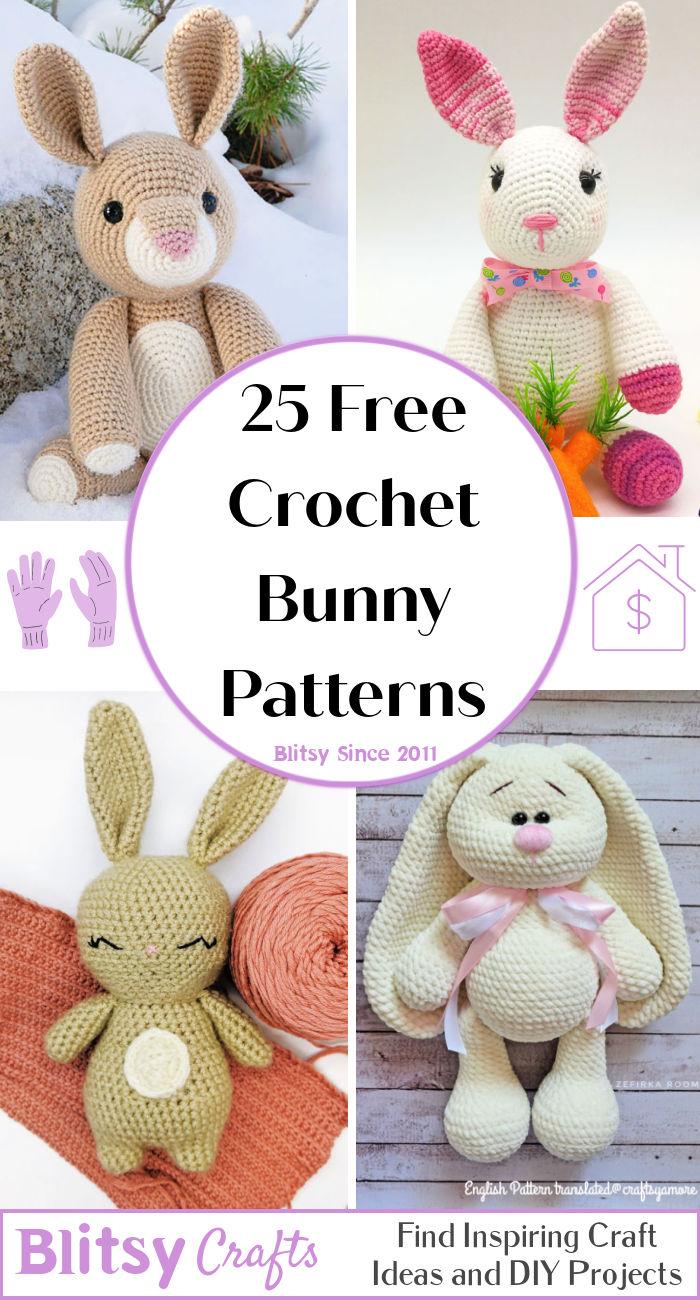 Uses and Benefits of Crochet Bunny Amigurumi
Crochet bunny amigurumi is a fun and easy project for beginners and expert crocheters. Here are some crochet bunny amigurumi uses and benefits:
Great for Gift: Crochet bunny amigurumi is a perfect gift for kids and adults alike. You can make them in different colors and sizes to suit your needs.
Easy to make: Crochet bunny is a great project for beginners, requiring only basic crochet skills. You can find many free patterns and tutorials online to get started.
Customizable: Crochet bunny amigurumi can be customized to suit your needs. You can change the bunny's color, size, and shape to make it unique.
Versatile: Crochet rabbit amigurumi can be used for many purposes. You can use them as toys, decorations, or even as keychains.
Great for kids: Crochet bunny amigurumi is a great toy for kids as it is soft and cuddly. It can also help develop their motor skills and creativity.
Stress-relieving: Crochet rabbit pattern is a great way to relieve stress and anxiety. It can help you relax and unwind after a long day.
Eco-friendly: Crochet bunnies an eco-friendly alternative to plastic toys. You can use organic yarn to make them and reduce your carbon footprint.
How to Choose the Right Crochet Bunny Pattern?
Choosing the right crochet bunny pattern can be a daunting task, especially if you are new to crocheting. Here are some simple and special tips to help you choose the right crochet bunny pattern:
Skill level: Make sure the pattern you choose matches your skill level. If you are a beginner, choose a pattern that is easy to follow and requires only basic crochet skills.
Size: Consider the size of the bunny you want to make. Some patterns are designed for small bunnies, while others are designed for larger bunnies. Make sure the pattern you choose matches the size you want.
Style: There are many different styles of crochet bunny patterns to choose from. Some patterns are realistic, while others are more whimsical. Choose a style that matches your taste.
Materials: Consider the materials you will need to make the bunny. Some patterns require specific types of yarn or hooks. Make sure you have the right materials before you start.
Reviews: Read reviews of the pattern before you start. This will show you how easy the pattern is to follow and how well it turns out.
Variety: Look for patterns that offer variety. Some patterns include different sizes or styles of bunnies, while others include accessories like hats or scarves.
Free vs. Paid: Decide whether you want to use a free or paid pattern. Free patterns are great for beginners, while paid patterns often offer more detailed instructions and support.
I hope these tips help you choose the right crochet bunny pattern.
Materials and Stitches Required for Crochet Bunny Patterns:
The materials and stitches required for a crochet bunny pattern can vary depending on your chosen pattern. However, most patterns require basic crochet skills and materials. Here are some common materials and stitches used in crochet bunny patterns:
Materials:
Yarn
Crochet hook
Scissors
Stitch markers
Fiberfill stuffing
Yarn needle
Stitches:
Chain stitch
Single crochet
Double crochet
Slip stitch
Magic circle
Increases and decreases
Ensure you have the right materials and are familiar with the stitches required before starting. You can find many free patterns and tutorials online to get started.
What kind of yarn should I use for Crochet Bunny Patterns?
The kind of yarn you should use for crochet bunny patterns can vary depending on your chosen pattern. However, most patterns recommend using a soft and lightweight yarn that is easy to work with. Here are some common types of yarn used in crochet bunny patterns:
Acrylic yarn: Acrylic yarn is a popular choice for crochet bunny patterns. It is widely available, comes in various colors, and is usually one of the more affordable choices for yarn.
Cotton yarn: Cotton yarn is another popular choice for crochet bunny patterns. It is soft, lightweight, and easy to work with. It is also hypoallergenic, making cotton yarn a great choice for people with sensitive skin.
Wool yarn: Wool yarn is a great choice for crochet bunny patterns as it is soft, warm, and durable. It is also a resilient fiber and forgives of mistakes.
Bamboo yarn: Bamboo yarn is a great choice for crochet bunny patterns as it is soft, lightweight, and eco-friendly. It is also hypoallergenic, a great choice for individuals with sensitive skin.
Make sure you choose a yarn that is soft and lightweight and that you are comfortable working with. You can find free crochet bunny patterns and tutorials below to get started.
What size hook should I use for Crochet Bunny Patterns?
The size of the crochet hook you should use for crochet bunny patterns can vary depending on your chosen pattern. However, most patterns recommend using a hook size that is appropriate for the yarn you are using. Here are some common hook sizes used in crochet bunny patterns:
3.5 mm hook: This hook size is commonly used with lightweight yarns such as sport or baby weight yarn.
4.0 mm hook: This hook size is commonly used with medium-weight yarns such as worsted-weight yarn.
5.0 mm hook: This hook size is commonly used with bulky weight yarns such as chunky or bulky weight yarn.
Make sure you choose a hook size that is appropriate for the yarn you are using. To make your own rabbit amigurumi, you can find 25 easy crochet rabbit patterns and tutorials below.
Free Crochet Bunny Patterns
We have gathered 25 free crochet bunny patterns below that you can use to create cute and cuddly bunnies. These free bunny patterns are perfect for beginners and advanced crocheters. You can customize them to suit your own style and preferences.
Some popular free crochet bunny patterns include are:
1. Free Crochet Rose the Rabbit Amigurumi Pattern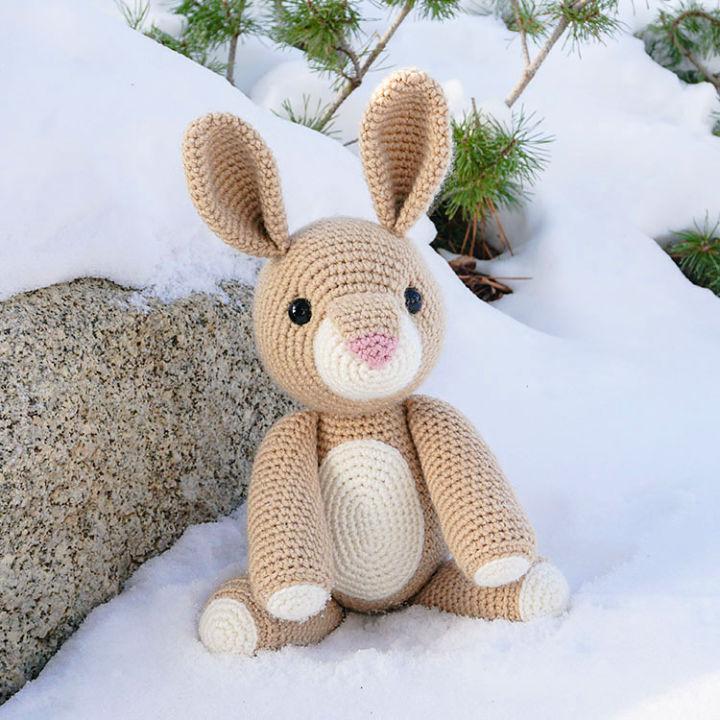 Welcome to spring with this adorable rose rabbit amigurumi pattern! It's perfect for intermediate-level crocheters and stands at 18 inches when completed. Just grab your 3.5mm (E) hook, 15mm safety eyes, yarn needle, fiberfill, and disappearing ink marker – plus red heart super saver in baby pink, aran & buff – and start crafting your rose rabbit. It's a free pattern made from soft & durable acrylic yarn that any woodland animal lover will enjoy. Download now and get started on making this cuddly rabbit today! jesshuff
2. Cute Crochet Bunny Toy Pattern

Crochet the cutest toy bunny with this delightful pattern. Download it now for free and get instructions, images and a 7-page PDF file to bring these 3-dimensional bunnies to life! They measure 17cm tall when crocheted with medium cotton yarn (yarnart jeans) and a 1.75mm hook, using only 7-8 yards of yarn. Perfect for any animal lover that loves crocheting, make your cuddly toy bunny today – gauge is 25 stitches & 36 rows per 10 cm; download the pattern now & start creating! ravelry
3. How Do You Crochet Rabbit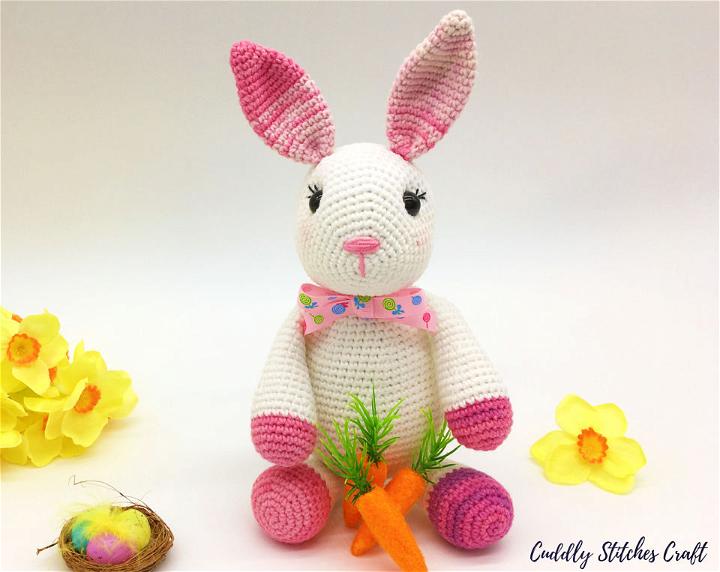 Bring a cute and cuddly addition to your handmade toy collection with this free crochet bunny rabbit pattern! With easy-to-follow instructions, plenty of photos and a basic/intermediate skill level required, you can make betty the bunny in no time. The finished product measures 23cm (9 inches) when seated or 30cm (12 inches) from ears to toes when made with fine sport #2 = 4, ply yarn & 3mm; C/2 hook. Surprise your loved ones or add betty the bunny to your Amigurumi family now – download the free pattern today and get started! cuddlystitchescraft
4. Beautiful Crochet Stuffed Bunny Amigurumi Pattern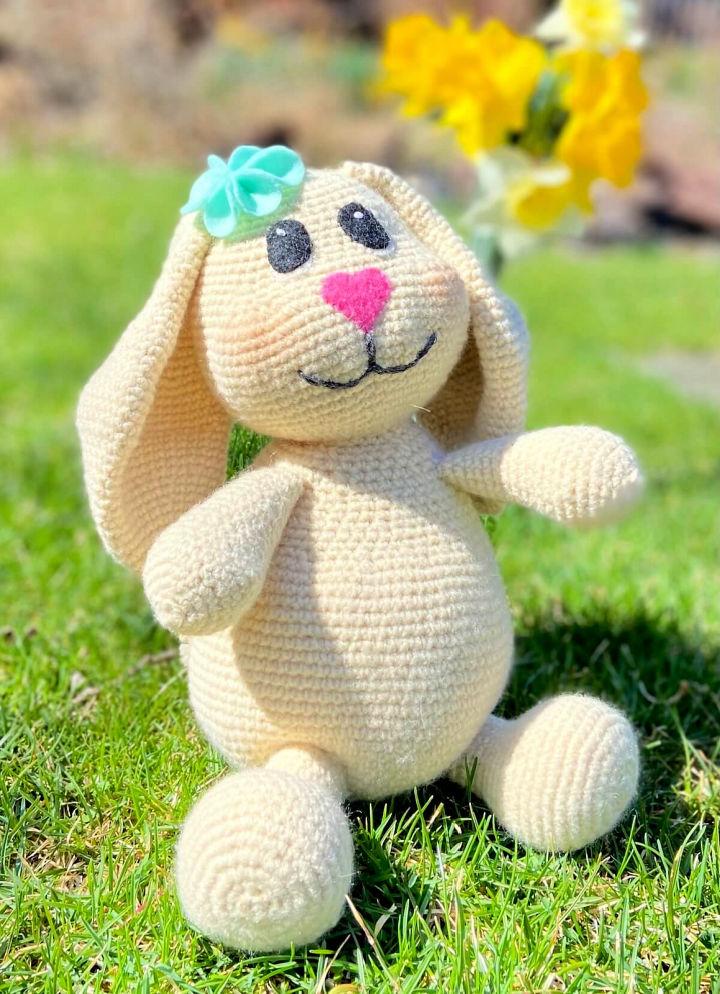 Looking for a new friend for your child? Meet peter cottontail, the perfect Easter bunny amigurumi! This 11″ soft stuffed animal is safe for young children with no small parts. Follow this free crochet pattern and a tutorial video to create this cute bunny made from approximately 200 yards of #4 worsted weight yarn, felt in white, black, pink & light blue, a D-3 / 3.25 mm crochet hook, fiberfill stuffing & embroidery floss. Give your kid an adorable companion this Easter – make peter cottontail today! maplewoodroad
5. Crocheted Mini Bunny Amigurumi Pattern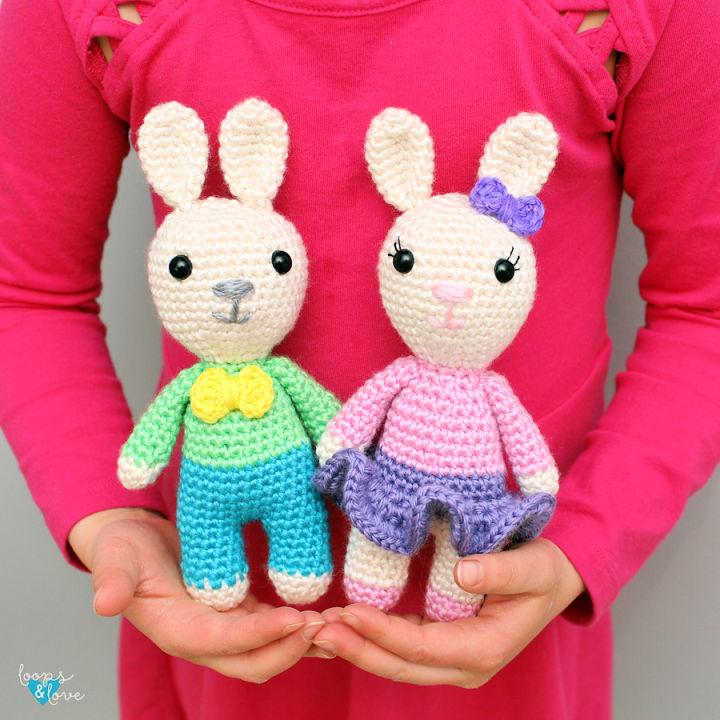 Create the cutest mini bunny amigurumi with this free crochet pattern! These cuddly friends come together quickly, perfect for personalizing your bunnies, making a boy or girl (or both!). You can customize the colors and size with worsted weight yarn and 9mm safety eyes. All you need is a 3.5 mm crochet hook, black embroidery thread for eyelashes, and fiber stuffing – then you're all set to bring your little creation to life! loopsandlovecrochet
6. Best Big Flappy Ear Bunny Amigurumi Crochet Pattern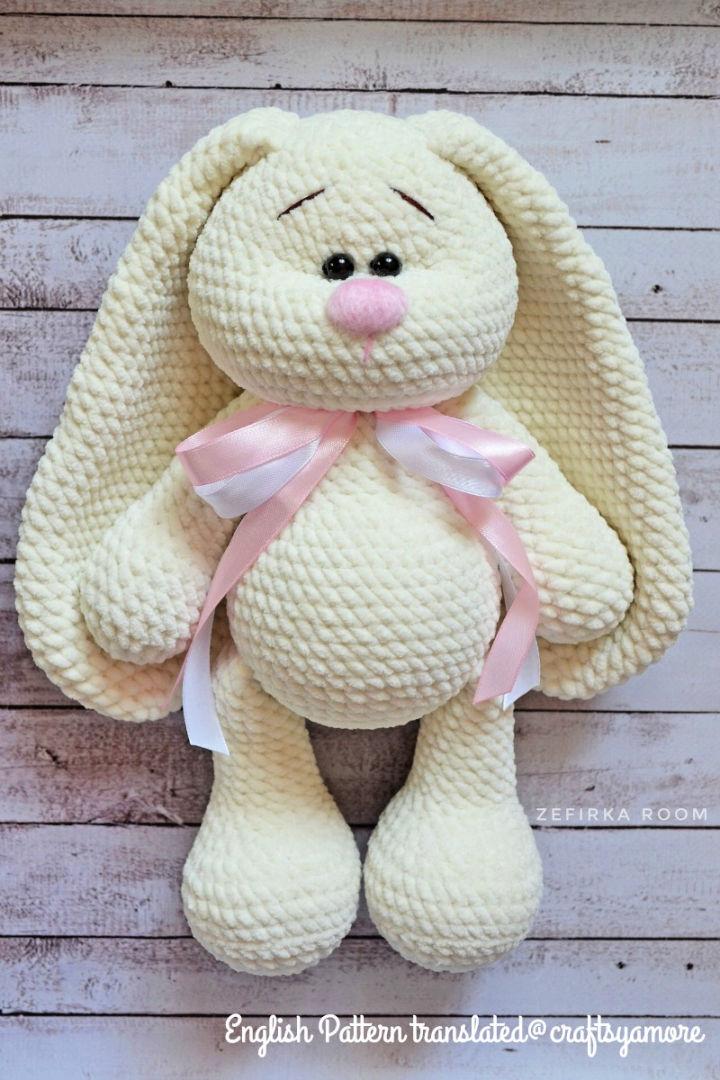 Are you looking for the perfect cuddly toy for your child? Look no further than crocheted big flappy ear bunny amigurumi! This free pattern will surely be a hit with newborns and children or as a photo prop.
The step-by-step instructions allow you to customize either floppy-eared or straight-eared bunnies using himalaya dolphin baby yarn and hook number 4. Your bunny will look extra cute with bead eyes and a spout made from rarnart baby yarn! Surprisingly soft and huggable, this amigurumi makes an ideal gift that both parents and children will love!3 craftsyamore
7. Crochet Berry Patch Bunny Boy Amigurumi Pattern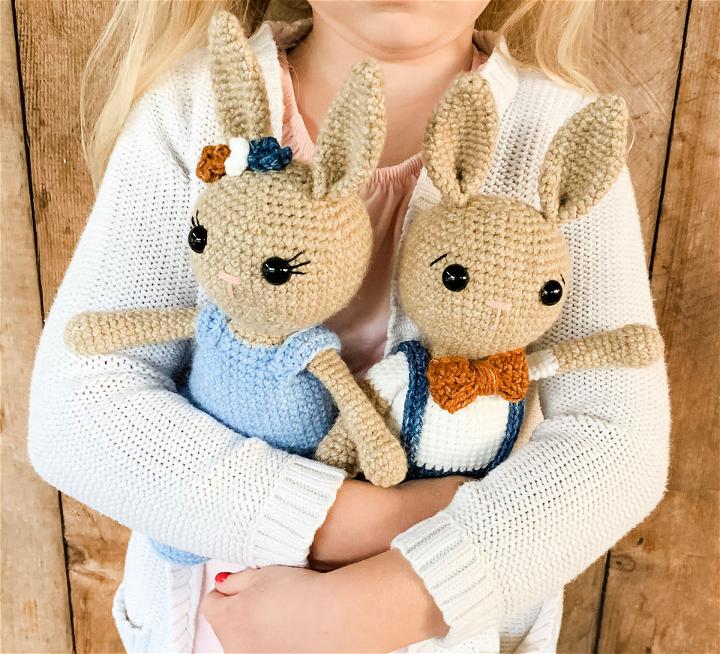 Give your Easter something extra special with the updated berry patch bunny pattern! This adorable amigurumi bunny is perfect for any time of the year. The boy version features cute details like a shirt and bows tie, made with lion brand jeans yarn in khaki and stonewash.
It's been updated to make it even easier to crochet – now you can create your berry patch bunny with 75 yards of beige and 30 yards of dark blue worsted-weight yarn! The pattern includes safety eyes, a crochet hook, scissors, stuffing, and stitch markers, so you have everything you need to get started. Make this Easter memorable by creating your very own berry patch bunny! graceandyarn
8. Easy Crochet Valentine Bunny Pattern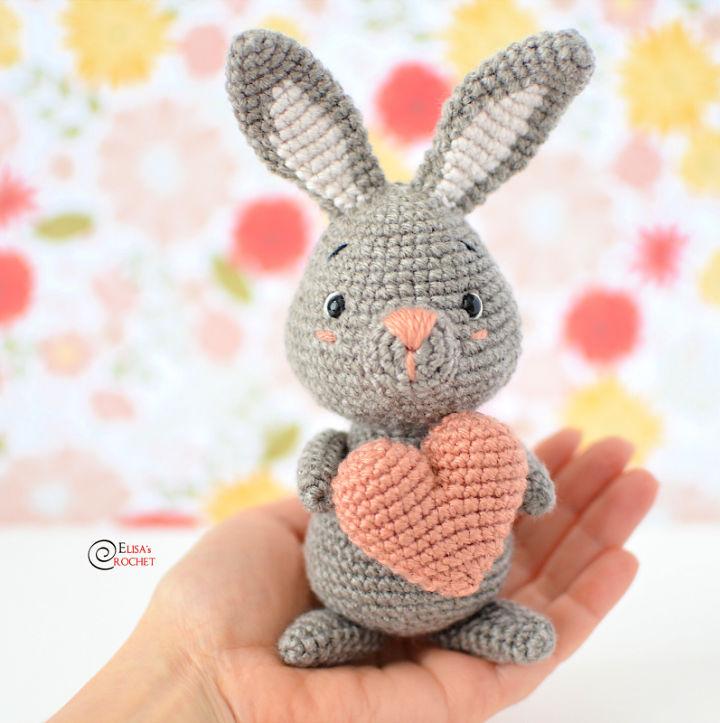 This Valentine's Day, show your love with an adorable handmade gift – this valentine's bunny crochet pattern! Perfect for all skill levels, from beginner to the experienced crafter.
You'll need light (3) weight yarn in dove, salmon and linen; classic cotton thread in linen and black; a C2 – 2.75 mm hook; poly filling and two 6 mm black safety plastic eyes. The finished bunny measures H 6.5″ x W 3″, so it's the perfect size to fit into any loving embrace! Get ready to craft some cuddly cuteness this Valentine's Day with this delightful valentine's bunny crochet pattern – the perfect way to show your love! elisascrochet
9. Crochet Bunny Amigurumi Pattern for Beginners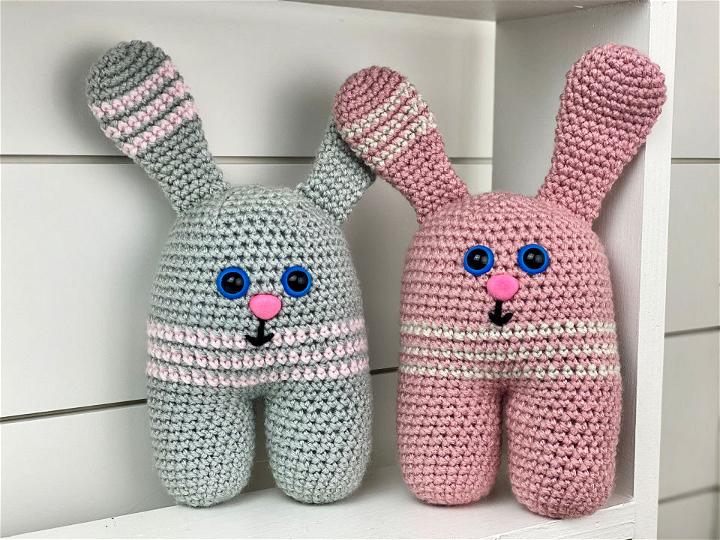 Welcome the Easter season with this easy and adorable amigurumi bunny crochet pattern! It is perfect for beginners and includes detailed instructions and a full video tutorial to guide you through each step.
This free pattern was designed for the Easter basket – a cute and cuddly project that will bring joy to anyone who receives it. With its simple design, this is also an ideal starting point for those new to amigurumi. Grab your crochet hook today, and get ready to create something special just in time for the holiday! acraftyconcept
10. Free Crochet Bella the Bunny Pattern

Crochet an adorable 10.5″ sitting or 15.5″ standing bunny with this free crochet pattern for Bella the bunny! Beginners will love how easy it is to make, as the head and body are one piece, and minimal sewing is required. With i love this yarn in orchid, small amounts of white and soft pink, a 3.5mm crochet hook, safety eyes, poly-fil stuffing and tutorial instructions on how to embellish nose & mouth – it's time to get hopping & discover the art of amigurumi by bringing your bella the bunny creation to life! okiegirlblingnthings
11. Crochet Bunbun the Small Rabbit Pattern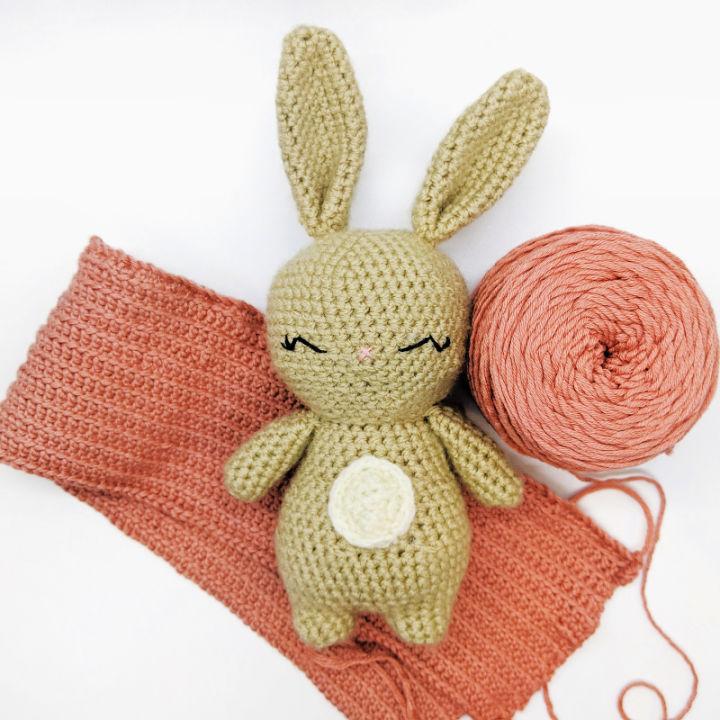 Find the perfect beginner amigurumi project with bunbun the rabbit! This free crochet bunny pattern is easy to make and can be completed in one day. Use single crochet stitches and customize them with your favorite colors. The short legs and embroidered eyes create a cute, squishy look that will delight adults and children alike. Get some sport-weight yarn, a hook, safety eyes or thread, and polyester fiberfill – then get started on this adorable rabbit! littleworldofwhimsy
12. Crochet Squishy Bunny Amigurumi Pattern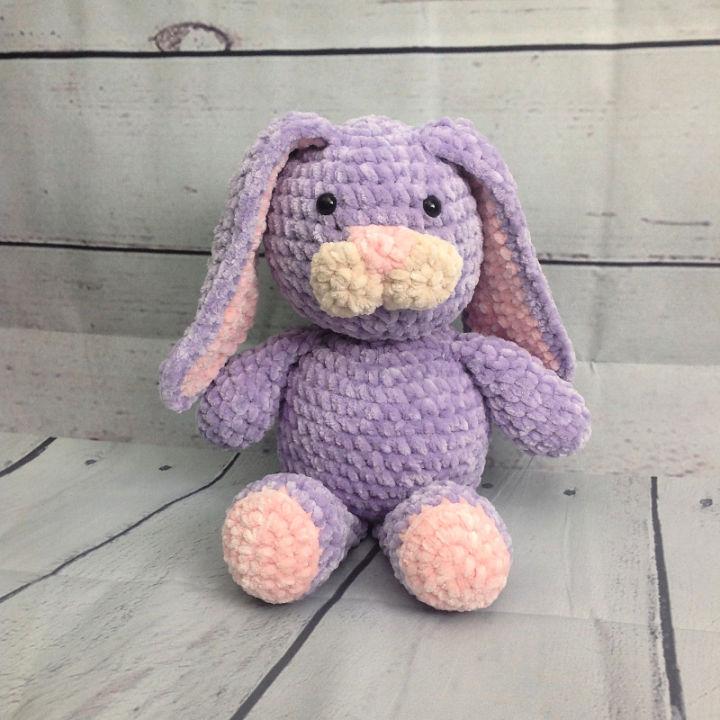 Get ready to make the perfect Easter gift with this free crochet pattern for a soft and squishy bunny amigurumi! Using baby bee adore-a-ball yarn in sugar plum, pink-a-boo, and bee soft, smooth yarn in ivory for the cheeks, you'll need a 5.00 mm/h hook, poly-fil and 12mm safety eyes to complete. This adorable keepsake will be cherished for many years – make it today! okiegirlbling
13. Cute Crochet Rag Doll Bunny Pattern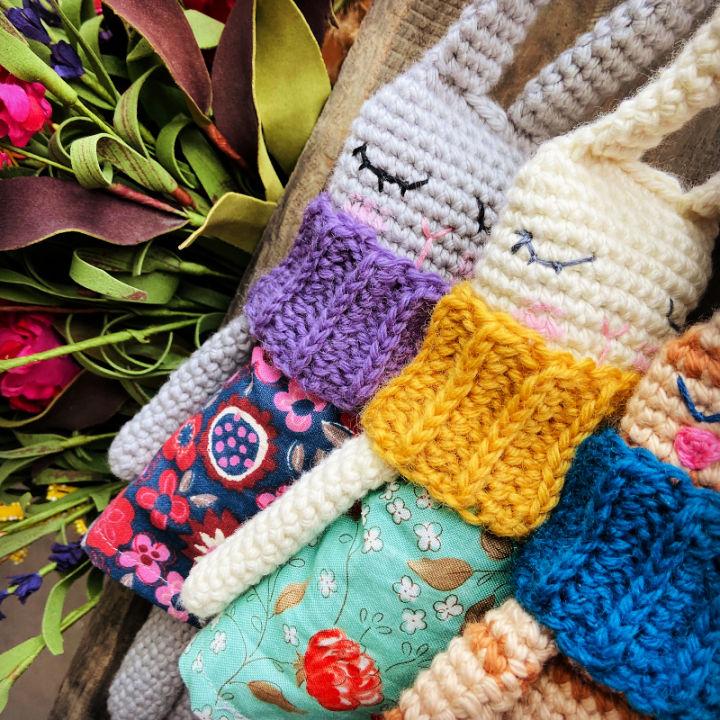 Stitch a one-of-a-kind rag doll bunny with this crochet pattern! You can easily create an adorable and unique toy using the worsted-weight yarn in muted colors and a contrasting yarn for the scarf. This classic rag doll design is 11.5 inches tall and features a simple, stitched face and flat, squishy body – perfect for cuddling! Get your 3.5mm crochet hook and stuffing to get started. With patience and little help from stitch markers, you'll soon be able to say that your handmade creation was brought to life proudly! astitchwhimsy
14. Free Crochet Betty Bunny Pattern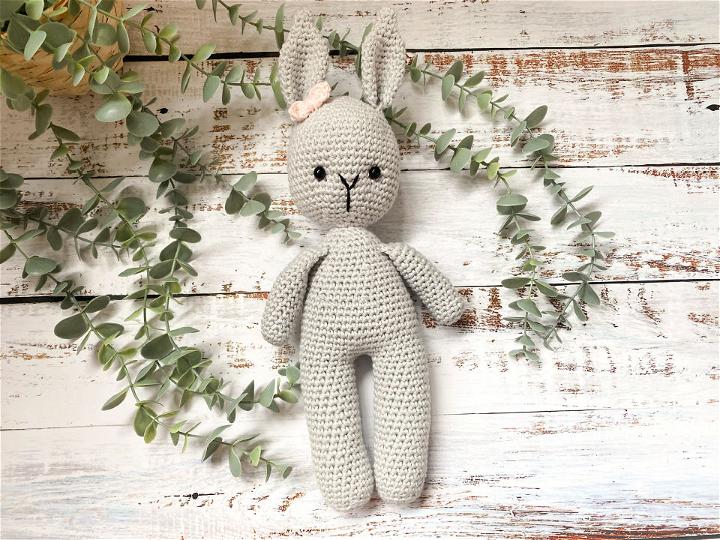 Are you looking for a new crochet project? Check out this free pattern for betty bunny! Crafted with Aran 100% cotton yarn in a soft grey hue for its body and black detailing on the face, Betty is sure to become your beloved collection. With a 3.5mm and 4mm hook, stuffing and plastic eyes, creating this bunny will be fun and satisfying – plus, it won't take long. Perfect as a gift or something special just for yourself, get started today to bring betty bunny to life! abigurumii
15. Crochet Spring Sherbet Bunny Amigurumi Pattern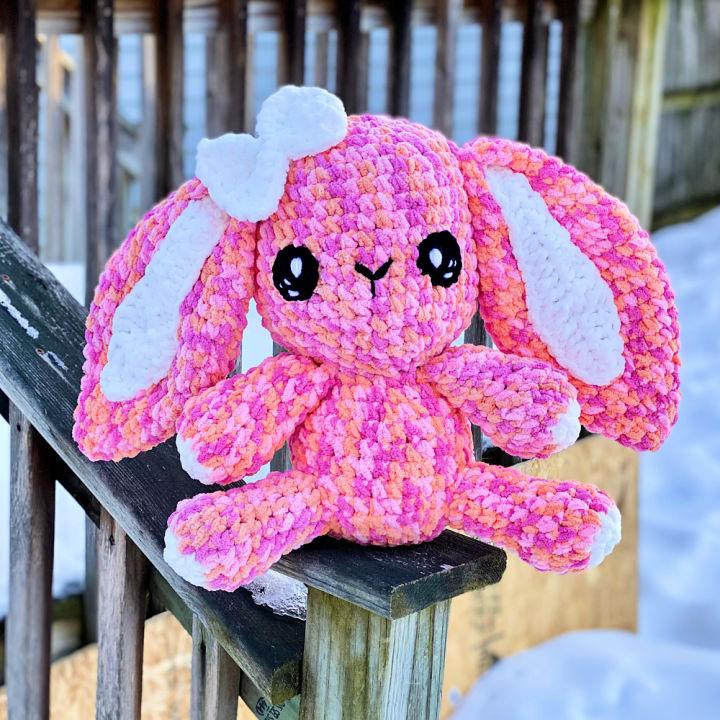 Be ready for the upcoming spring season with this delightful amigurumi crochet pattern of a spring sherbet bunny! This large, plush bunny is perfect for kids or anyone who loves cute and kawaii animals. The easy-to-follow pattern uses bernat baby blanket yarn in peachy, making it possible to complete this project in just one weekend.
You can add the finishing touches using red heart super saver yarn in black and white and bernat blanket yarn in white. Gather your L-11/8mm and G-6/4.25mm hooks plus fiberfill stuffing and start crocheting! Get creative with colors for a personalized touch – make this adorable bunny today! craftykittycrochet
16. Crochet Realistic Rabbit Amigurumi – Free Pattern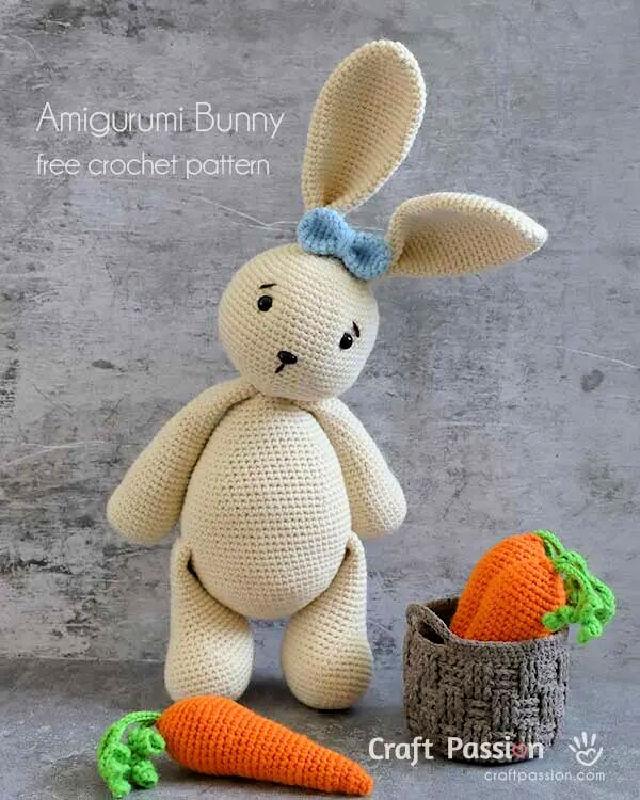 Make your own sweet and cuddly bunny with this free amigurumi pattern! Meet bobo the bunny, or try making her friend bebe, both with adorable pointed ears. Perfect for intermediate crocheters looking for a challenge, you'll need acrylic yarn in your favorite color plus 10mm dome eyes, a safety nose, and polyester stuffing to complete these bunnies.
Detailed step-by-step instructions with pictures make it easy to crochet their bodies, heads, ears, arms, legs and tails – plus bows or flowers on one ear! Get creative and make the perfect cuddle buddy for bunny lovers of all ages. craftpassion
17. Easy Crochet Bunnies Pattern for Beginners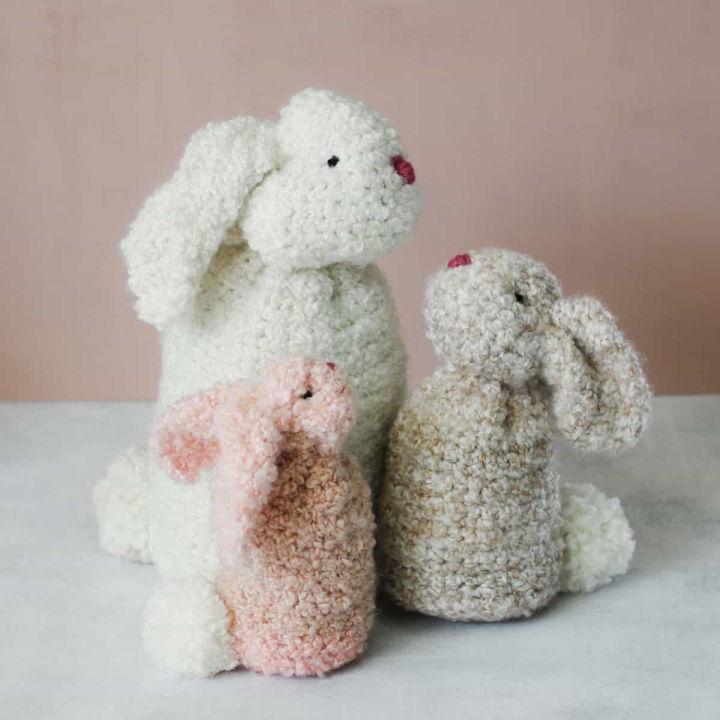 Create the cutest crochet bunny with this free pattern and tutorial! Perfect for beginners, this project is ideal for Easter baskets or baby showers. All you need is worsted weight yarn, dark and pink yarn for eyes & nose, fiberfill, a crochet hook & tapestry needle. Choose from small (10.5″), medium (17″) or large (21″) sizes – don't forget stitch markers & pom pom maker to add extra flair! Get crafting today with this easy & fun project that'll have you done in just a few hours! makeanddocrew
18. Free Printable Crochet Bunny Pattern

Welcome Bernadette, the sweet and lovable crochet bunny friend!! She is just 6.5″ tall and perfect for little hands to hold and cuddle. With her unique mix-and-match removable clothing, this amigurumi project can be personalized to make a sweet Easter basket surprise, a lovely gift for a baby shower, or even a cheerful decoration in your workspace.
To bring Bernadette joy into your day, you'll need a US G (4mm) crochet hook, worsted weight yarn, safety eyes and embroidery floss for her nose! Download the free crochet pattern today to get full details on how to create her! crochet365knit
19. Classic Crochet Floppy Eared Bunny Pattern

Get busy with your hook and crochet your stuffed bunny with this easy pattern! Use the lion brand homespun thick and quick yarn for the larger bunny, while lion brand Vanna's colors work best for the smaller one.
To get started, it's recommended to use worsted weight yarn first so that you can practice crocheting stuffed animals. Tips are provided on how to work with hard-to-see yarns as well as how to use stitch markers. Keep stuffing light, and a regular polyfill is suggested to prevent fluff from coming out between stitches. Once completed, the pieces should be soft and bouncy – perfect for cuddling! 1dogwoof
20. Crochet Pocket Pal Bunny Amigurumi Pattern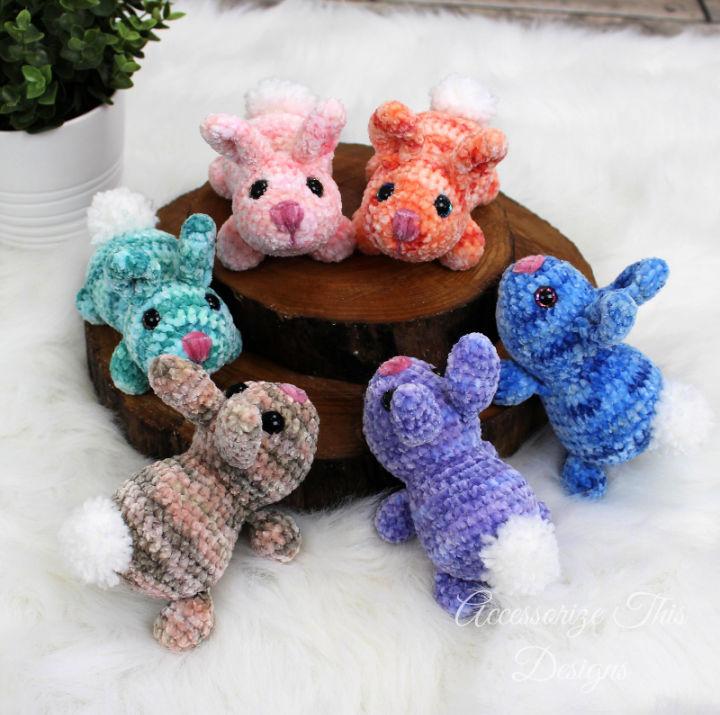 This Easter, create a sweet surprise for your little ones with this free bunny crochet pocket pal pattern! This 5-inch-long project works up quickly using worsted weight yarn and new spring colors of baby crushed velvet yarn for a soft chenille texture. Ease of construction is ensured as only the ears and tail need to be sewn in after embroidering the nose.
Accent colors of white and pink add a special touch; small amounts of polyester filling and 2 – 12mm black safety eyes (or embroidery thread for a sleepy eye alternative) complete the look. Get started today to create your child's cuddly friend this Easter season! accessorizethis
21. Crochet Long-Eared Layla Bunny Pattern

Ready to bring your cuddly crochet bunny to life? Follow this free pattern for "Layla" and create a 15″ tall standing bunny – perfect for intermediate crocheters! Get an introduction to amigurumi with this project as you practice shaping and basic amigurumi shapes. Review the recommended supplies and abbreviations before starting. Check out the accompanying video tutorials and written instructions for comprehensive guidance. Start making your very own "Layla" today! bhookedcrochet
22. Free Crochet Plush Bunny Large Toy Pattern

Craft a huggable companion with this free crochet pattern for an adorable amigurumi plush bunny toy! Using easy-to-learn crochet stitches and the recommended Himalaya dolphin baby or yarnart dolce yarn, alize softy yarn in white for the muzzle, plus a 4.0 mm and 1.75 mm hook, you'll have your own unique 18 cm (7″) tall floppy-eared friend ready to easily sew together using durable thread, add eyes and nose with black and pink embroidery floss and stuff with fiberfill – then finish off with satin ribbon at each ear tip. So grab some supplies, curl up on the couch and get ready to cuddle your handmade creation! amigurum
23. How to Crochet Mini Bunny – Free Pattern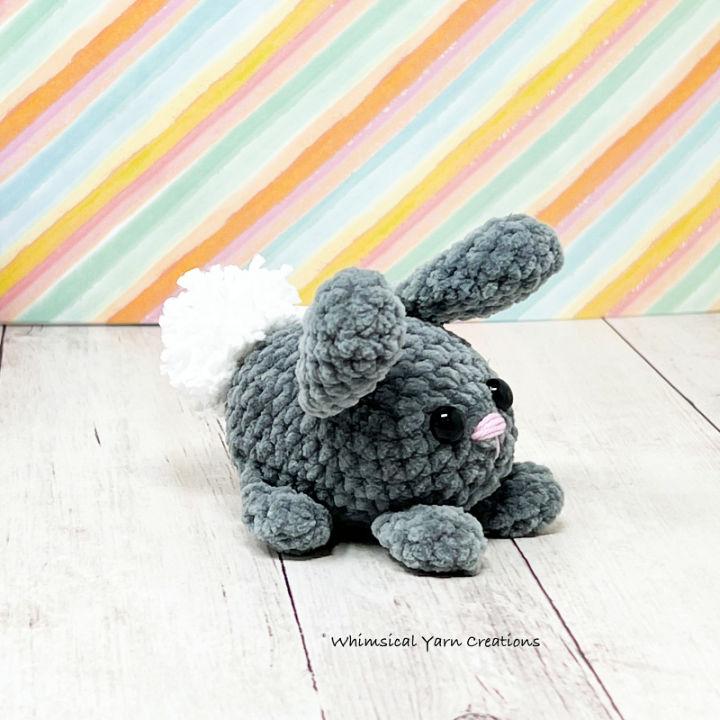 Bring home some cuteness with this free crochet pattern. Make a pocket-sized mini bunny that measures 3 inches using bulky weight chenille yarn and a 5mm crochet hook – no sewing required! Scraps of pink and white yarn can be used for the fluffy pom pom tail, while 9 mm safety eyes give this adorable little creature its character. A few minutes of your time is all it takes to stuff the bunny's shape and bring it to life – perfect for travel or small hands! Get crafting today with this fun and quick project! whimsicalyarn
24. Crochet Mini Stuffed Bunny With Long Ears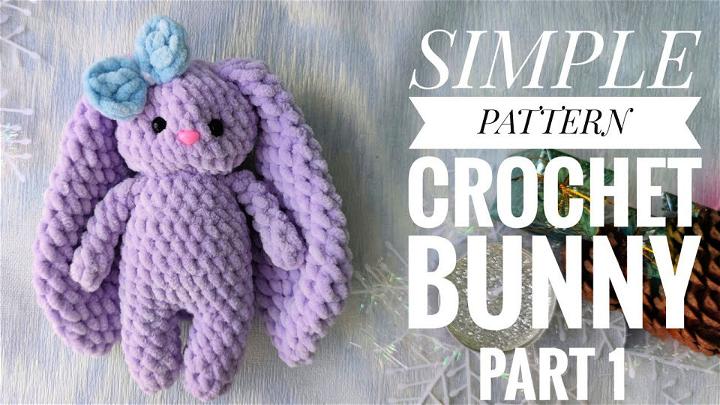 Crochet your own cozy mini plush bunny with this easy crochet pattern! The finished size of the bunny is approximately 5.9 inches (16 cm), and you'll need plush yarn, a durable thread for sewing, plastic eyes, a plastic nose, stuffing, and two crochet hooks: 4.00 mm for the body and 5.00 mm for the ears. If desired, use black cotton yarn to create eyeliner and eyebrows! With just a few supplies needed to complete this simple amigurumi tutorial, make your adorable creation today!
25. Free Crochet Dutch Rabbit Pattern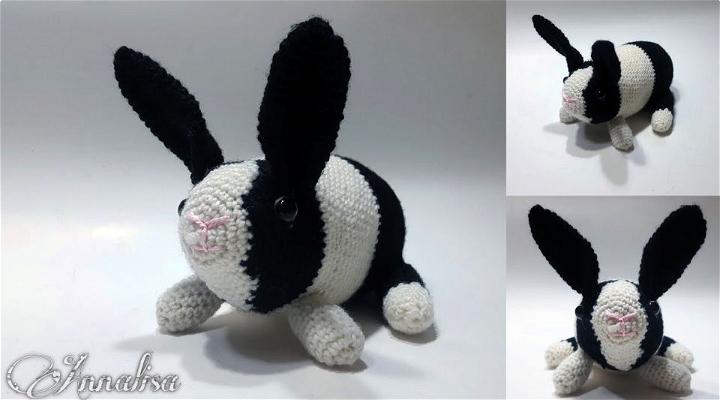 Craft a cute and cuddly coelho amigurumi rabbit with this easy-to-follow crochet pattern! All you need is some cotton or wool yarn, a 3.5 mm crochet hook, black and white yarn for the body, pink for the nose, soft toy eyes or beads to make it even cuter, a score marker and synthetic wadding. This adorable bunny is perfect as a snuggly friend to keep close and a decorative item in your home. Follow the simple instructions in this pattern and have your coelho amigurumi rabbit ready in no time!
Related Free Crochet Patterns:
Unleash your creativity with our free crochet patterns! We've got patterns for every skill level and style. Download our free patterns and let your imagination soar with each stitch!
Conclusion: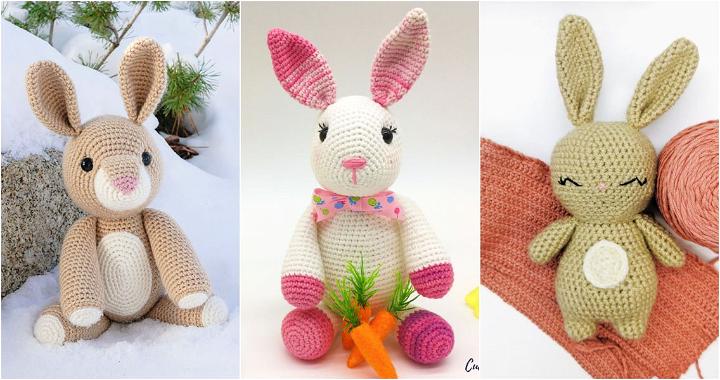 In conclusion, these 25 free crochet bunny patterns offer a range of options for those who want to make their own crocheted amigurumi bunny. With options for beginners and experienced crocheters alike, you don't have to look any further than these free crochet bunny patterns. You can choose from a free rabbit crochet pattern, a printable crochet bunny pattern or a long-eared bunny crochet pattern for free. You can also make a realistic crochet bunny or a crochet stuffed bunny. Whatever your skill level, these crochet bunny patterns offer something for everyone, so start creating your own cute crocheted bunny today!