Crocheting cats can be a fun and creative way to make your own feline friends! You can easily create cute and cuddly amigurumi with a free crochet cat pattern? Find 25 free crochet cat patterns for beginners, complete with easy-to-follow instructions and a step-by-step pattern. With these free crochet cat amigurumi patterns, you can easily make your own crocheted cats, whether you're a beginner just learning how to crochet or an advanced crocheter looking for a fun new project. A crochet cat amigurumi pattern is popular among crocheters who love to make adorable and cuddly stuffed animals.
Each free crochet cat pattern comes with a list of supplies needed, including yarn and hooks, as well as clear and detailed instructions on how to assemble each piece. With our free crochet cat patterns, you can choose from different breeds, colors, sizes, and styles to create your own unique cat. From tabbies to Siamese and from kittens to adult cats, you can crochet a range of cute and lifelike cats that will make great gifts or decorations. Some patterns even include visual illustrations to make the process even easier. From simple and basic designs to more detailed and advanced patterns, you're sure to find a free crochet cat pattern that's just right for you.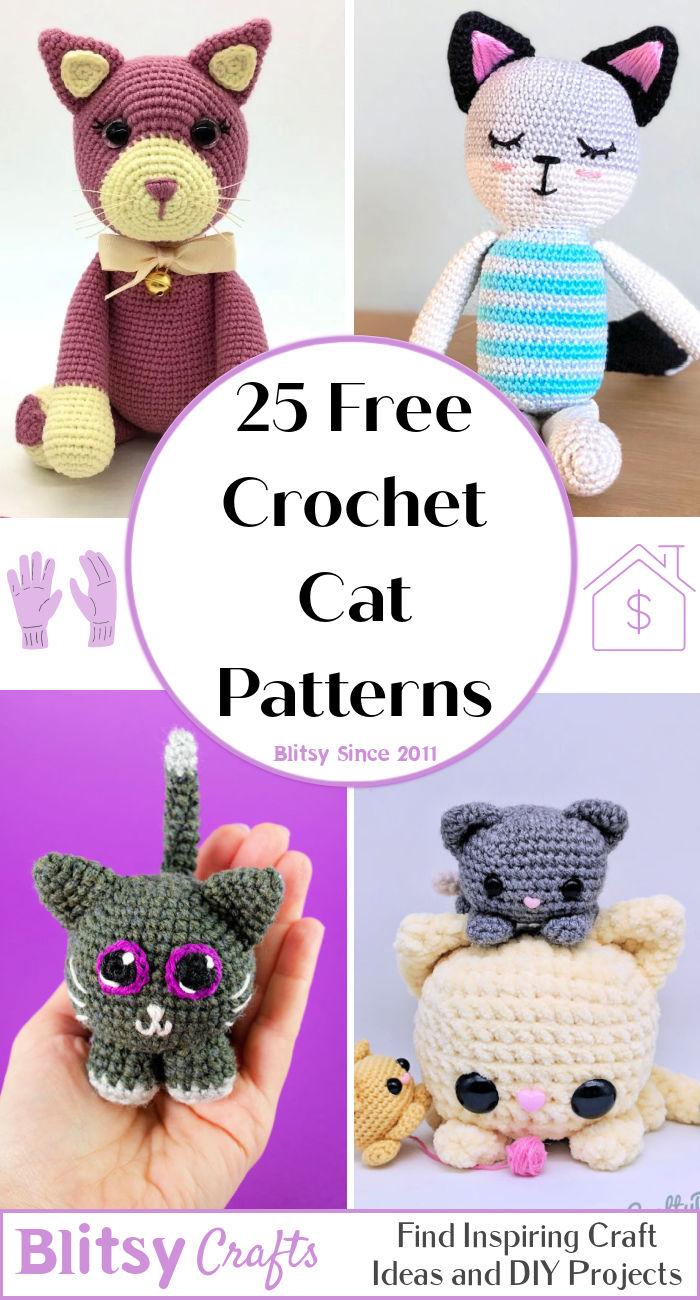 Uses for Crochet Cat and Crochet Amigurumi Cat
Crocheted cat amigurumi is a popular craft project; you can use them in many ways. Here are some ideas:
Crochet Amigurumi Cat Uses:
Decorative item: A crocheted cat amigurumi doll can be a charming decorative item for your home, office, or car. You can place it on a shelf, desk, or plant pot to add some personality to your space.
Toy: Kids will love playing with a crocheted cat amigurumi doll. They can cuddle it, take it on adventures, and even tell their own stories. Plus, it's a soft and safe toy that won't break or cause any harm.
Gift: A crocheted cat amigurumi doll can make a great gift for a friend or loved one who loves cats or handmade items. You can customize it by using their favorite colors or adding a special accessory like a bow or collar. Crochet amigurumi cats are particularly popular as gifts for children and adults.
Stress relief: Holding and playing with a soft and cute crocheted cat amigurumi doll can be a great stress relief activity. It can help to calm your nerves and bring a smile to your face.
Photo prop: If you're a pet owner or a photographer, a crocheted cat amigurumi doll can make a great prop for photos. You can pose it with your real cat or use it as a stand-in for a photo shoot.
Mini Crochet Cat Uses:
Mini crochet cats are small and cute, making them ideal for various uses. Here are some ideas:
Keychain: You can attach a mini crochet cat to a keychain to make it easier to find your keys in your bag or pocket. Plus, it will add a touch of personality to your keys.
Gift topper: A mini crochet cat can be used as a gift topper to add a personal touch to a present. You can customize the cat to the recipient's favorite color or add a small accessory like a bow.
Dollhouse accessory: If you have a dollhouse, a mini crochet cat can make for a fun and unique accessory. You can place it in a tiny bed or on a small couch for added decoration.
Mini Toys: Crochet cats can also be transformed into unique toys, complete with accessories like yarn balls and ribbons.
25 Free Crochet Cat Patterns (Amigurumi Cat Pattern)
So, get your crochet hooks and materials ready, and start making your own crocheted cats today! These free crochet cat patterns are sure to provide hours of fun and relaxation as you create your own unique and adorable crocheted cats that you can keep for yourself or give as a special gift to someone you love. To make a crochet cat amigurumi pattern, you will need basic crocheting skills and materials, such as yarn, a crochet hook, and stuffing. Let's make one of the beautiful crochet amigurumi cats today!
1. Free Crochet Foxy the Cat Pattern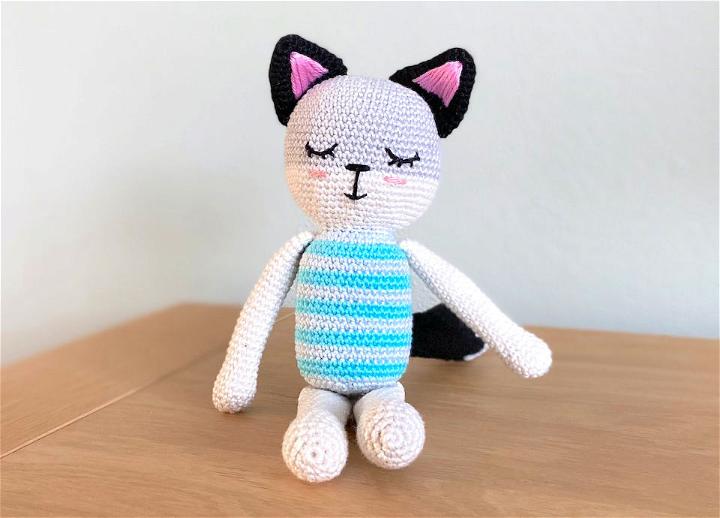 Let your imagination soar with the foxy the cat crochet pattern! Enjoy working in continuous rounds with a 2.5mm crochet hook and schachenmayr catania yarn in colors grey, white, black, bright blue, pale blue and pink. Once you finish stuffing fiber fill into your plush creation, you'll have a huggable companion that friends and family will love! Follow the step-by-step instructions for an easy crafting experience – take advantage of the chance to make your own foxy the cat today! dutchcrochet
2. How Do You Crochet a Cat Stuffed Animal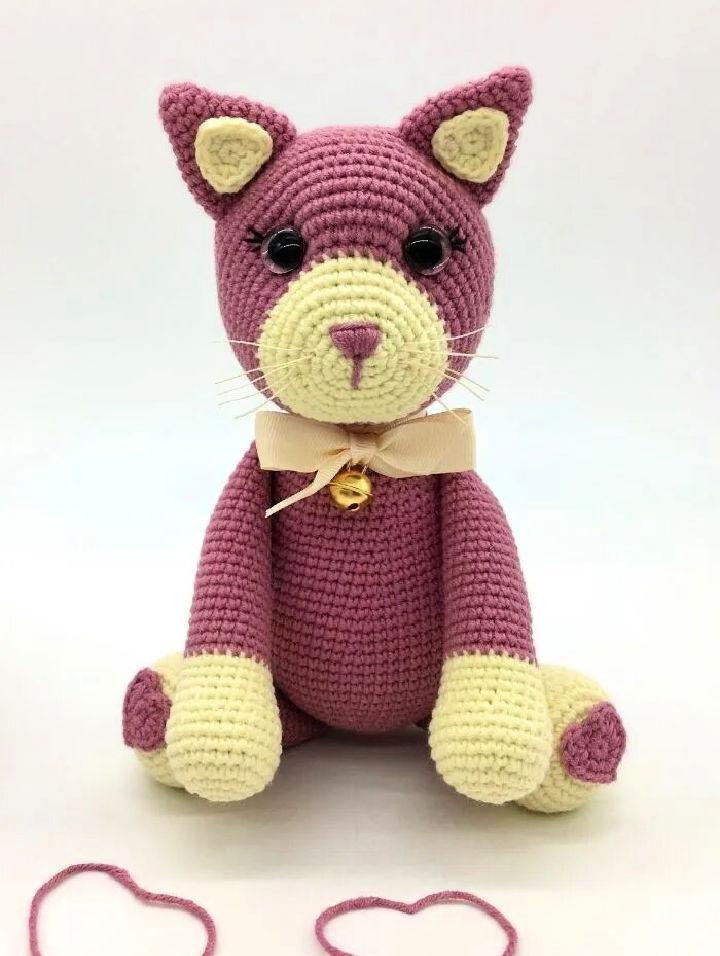 Make your own adorable and cuddly cat with this free crochet pattern! Perfect for intermediate crocheters, the finished size is 8 inches when seated and from ears to toes is 11 inches. Craft your kitty using yarnart jeans in pink and cream for a charming look or use any 100% cotton or acrylic yarn.
You'll also need a 2.5mm crochet hook, polyester fill, ribbon for the bow, black and cream thread for eyelash & whiskers embroidery, and safety eyes or embroidery for the eyes. Get creative with adding jingle bells to your ribbon choice, then snuggle up with your new friend once complete! cuddlystitches
3. Cute Crochet Spring Kitty Pattern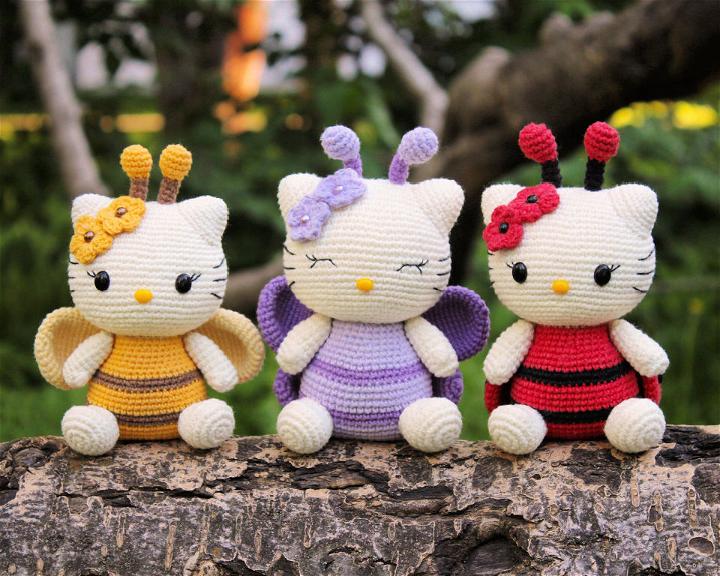 Welcome to crochet, an adorable spring kitty amigurumi! This free pattern will give you all the instructions for creating a soft and cuddly 12cm high kitty. All you'll need is sport weight yarn, a 2.0mm crochet hook, felt or sewing thread in your chosen colors to embroider the eyes and nose. Perfect for beginners and experienced crocheters alike, this project adds a touch of playful fun to any collection! So gather your materials, pick out some bright colors and get stitching – it's time to make your very own spring kitty today! ravelry
4. Crochet Cube Kitty Cat Amigurumi Pattern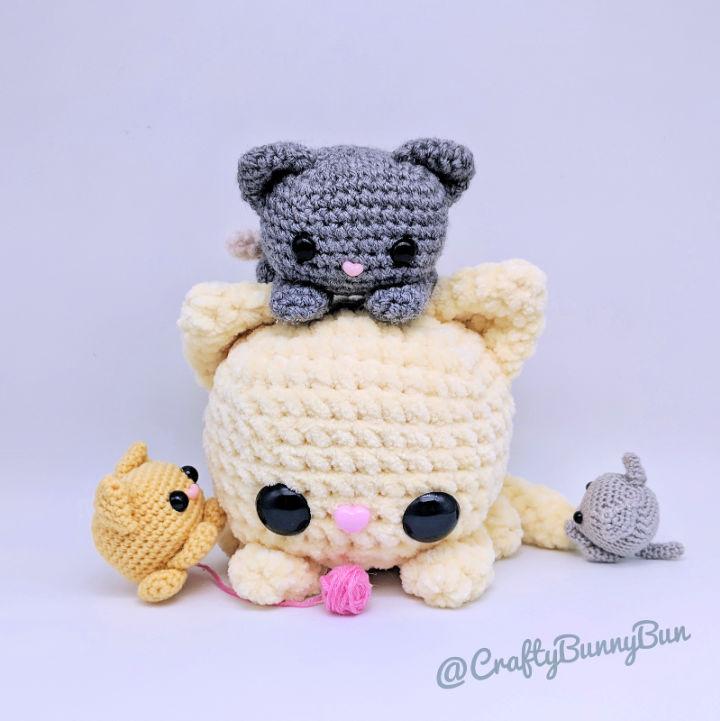 Are you ready to create an adorable cube kitty cat amigurumi? Whether a beginner or an experienced crocheter, this easy-to-follow pattern makes it fun and simple. With options for different sizes, select your preferred yarn weight, size and materials – like chunky chenille yarn and 20mm button eyes for the largest kitty; thread cotton yarn with 6mm safety eyes for the smallest one. So grab your crochet hook, and let's start crafting! Get creative with this unique project today – make one of these cuties for yourself or as a gift to someone special. craftybunnybun
5. Gorgeous Crochet Chubby Cat Amigurumi Pattern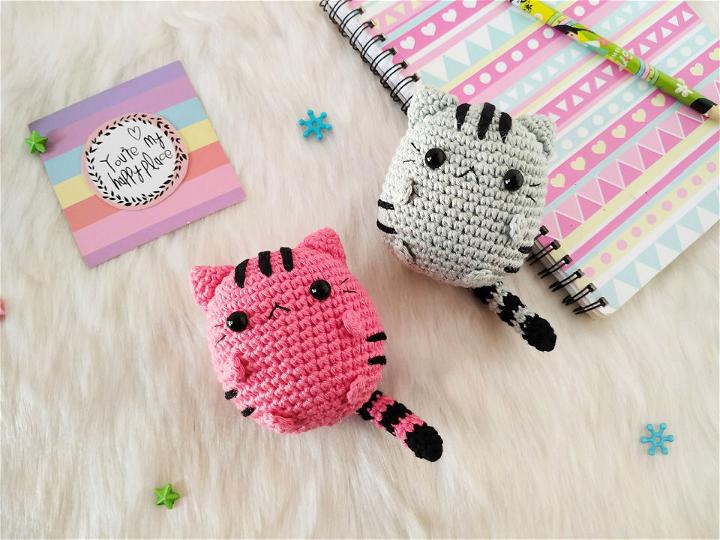 Time to crochet your own adorable cat amigurumi with this easy-to-follow pattern! All you need is sport-weight cotton yarn, a 2mm crochet hook, 8mm eyes, fiberfill, a tapestry needle and black embroidery thread.
The step-by-step instructions and detailed pictures will help you create the head and body using pink yarn. Then use black embroidery thread to add the final touches, like stripes, for an extra cute touch. With just a few materials and time, you can have your very own chubby kitty amigurumi in no time! littleloveeveryday
6. Free Crochet Kitty Family Pattern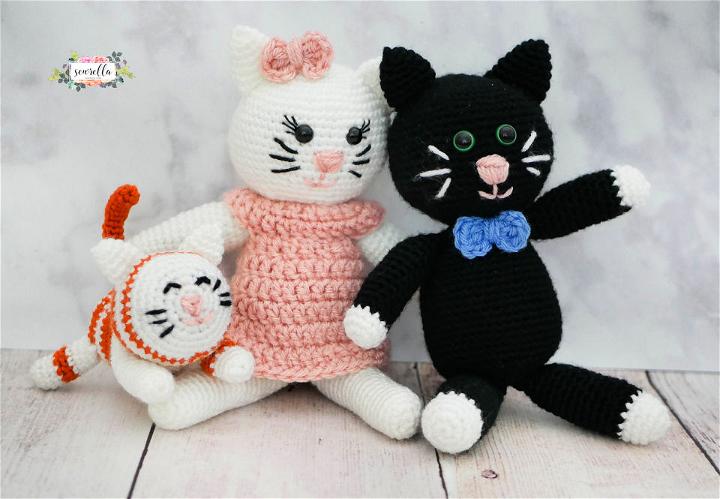 Hey kitty lovers! Are you looking for a unique gift or toy? Look no further than this adorable crochet kitty family. It includes a mama cat, daddy cat and baby kitten in orange and white, but you can easily change the colors to make different-looking cats – grey and black for that tabby look or all black for Halloween! Made with lion brand vanna's choice yarn, these cute felines are perfect for kids' toys or gifts for your favorite crazy cat person. Meow! sewrella
7. Crochet Calico, Tabby and Siamese Cats Pattern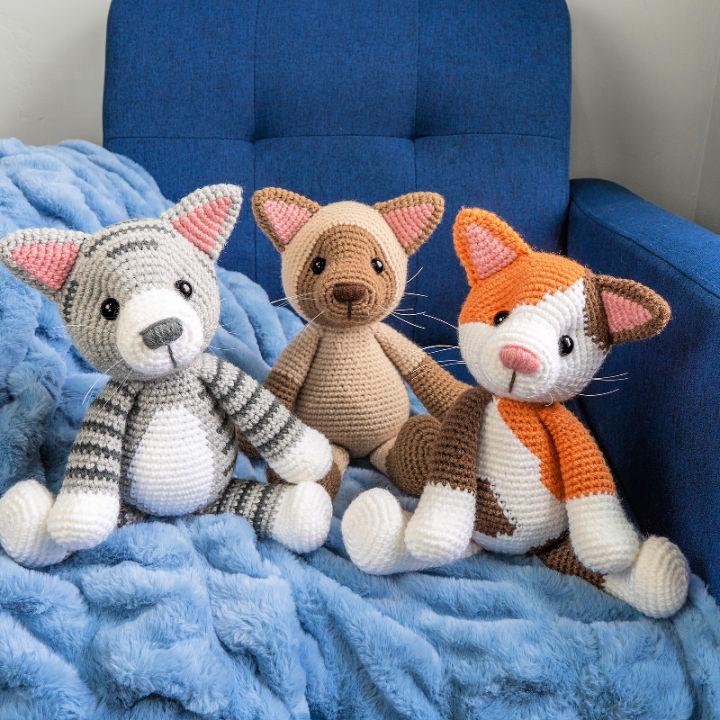 Are you a fan of cats? Then this crochet cat free pattern featuring Toby the Tabby Cat is perfect for you! Standing 14″ tall, intermediate-level stitchers will enjoy making this perfect feline friend. Gather your supplies like a 3.5mm (E) hook and 15mm safety eyes, yarn (acrylic, weight 4), stitch markers, fiberfill, and more to start crocheting up Toby today! Get him just in time for cuddle season with this special pattern that includes detailed instructions and helpful photos. jesshuff
8. Crocheted Stuffed Cat – Free Pattern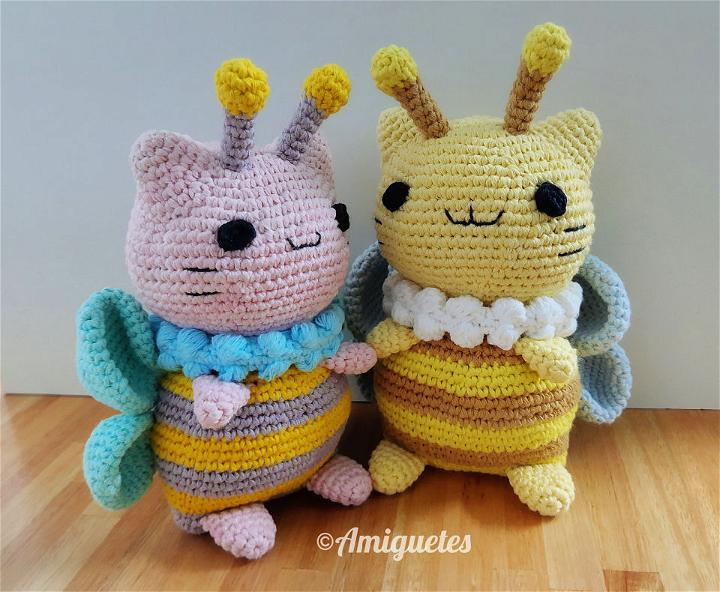 This is a pattern to make an adorable amigurumi doll of Honey Cat! Whether you're a beginner or an experienced crafter, you'll love this project. It features sole cotton yarn weight with a gauge of 5-6 stitches per inch – perfect for creating your cute character. To complete the design, you'll also need a 2.5 mm crochet hook (US C/2 UK 12) and fiberfill stuffing. Follow step-by-step instructions to make your own Honey Cat and showcase it proudly when finished! ravelry
9. Easy Crochet Cat Amigurumi Tutorial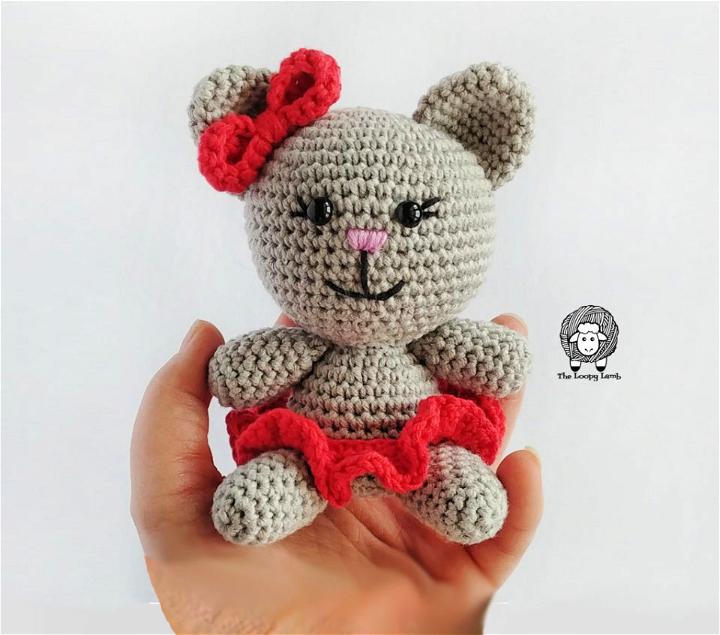 Crochet your own cuddly and cute Clawdia Cat with this free crochet cat pattern! Perfect for beginners, this pattern uses basic crochet stitches to fashion an adorable stuffed animal. Choose your favorite yarn weight and color, but use a hook that creates a closed fabric. This is the perfect gift for any cat lover; enjoy experimenting with different colors to mimic real cats. You need mary maxim amigurumi yarn, crochet hook, embroidery thread, safety eyes/nose, stuffing & tapestry needle – get started now and create something special! theloopylamb
10. Free Crochet Mini Cat Amigurumi Pattern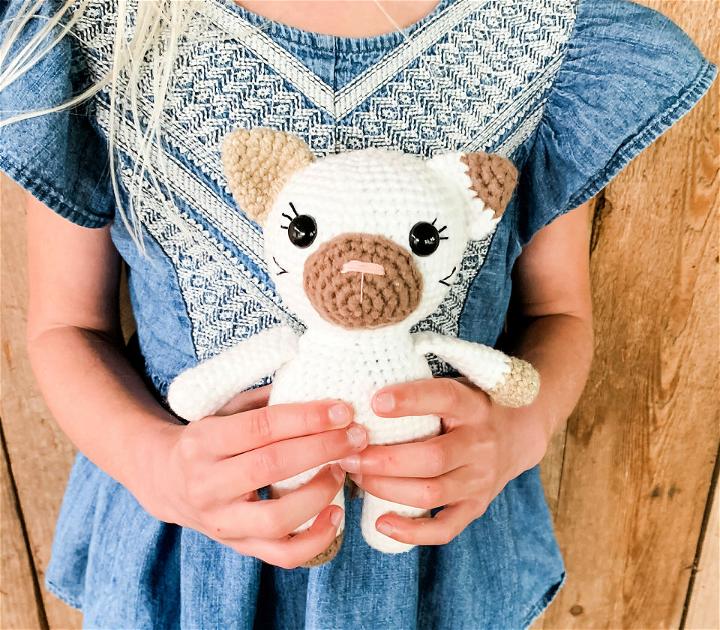 Create something special with Callie the Calico! This free crochet mini cat pattern is perfect for feline-loving crafters who want to bring a little fun into their collection. All you need are a few materials and some basic crochet knowledge to get started, and this easy-to-follow instruction will have you cuddling your 8-inch tall creation in no time. Gather your size 4 worsted weight yarn, 3.5 mm crochet hook & other materials listed – then unleash your creativity and watch as the perfect mini cat comes alive before your eyes! graceandyarn
11. Modern Crochet Black Plush Cat Pattern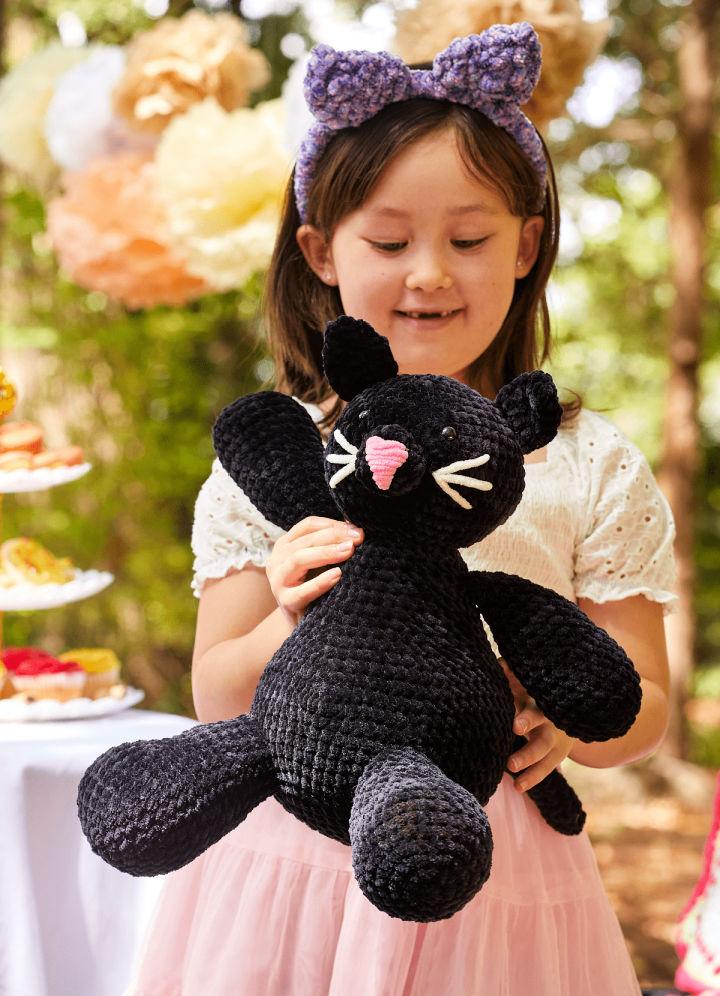 Let your imagination run wild and explore the possibilities with this exciting black cat project! This cute and cuddly feline is 14 inches tall and made using 100% polyester yarn. Knit using a US size J-10 (6 mm) hook and two colors of yarn – black & white – you'll be able to finish this project in no time. Use 2-10 mm safety eyes to make it even more realistic. Keep track of rounds easily with a removable stitch marker while working in a spiral motion. Get started today and make an incredibly furry companion that will bring warmth to any home! premieryarns
12. Pretty Crochet Chubby Black Kitten Pattern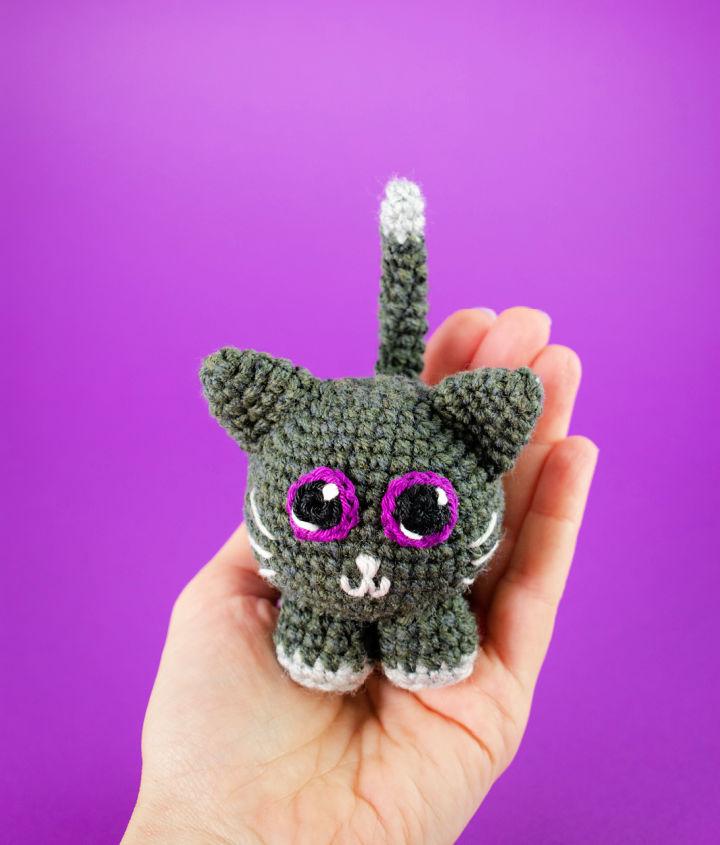 Start crafting for Halloween with this sweet black cat, amigurumi! Get ready for the festivities with a fun and free crochet pattern. This amigurumi requires a 2mm crochet hook, dark gray, purple, and light gray yarn of 100% cotton (light worsted & 6ply), black yarn for the eyes, stuffing material and scissors or safety eyes. After completion, it will measure about 7 cm tall – perfect for adding a unique piece to any festive decor! littlecrochetfarm
13. Easy Crochet Cat Amigurumi Pattern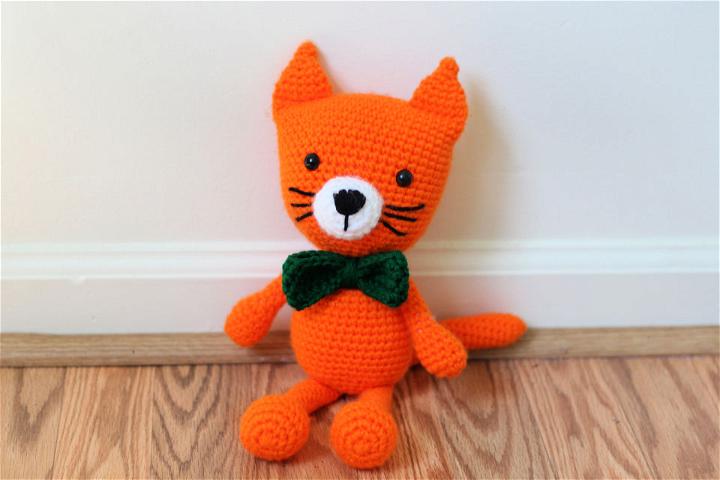 Bring Simon the Cat to life with this free crochet pattern! With a size 4 hook, yarn in varsity orange, white, black and green, plus fiberfill stuffing and safety eyes – you can create your adorable 14-inch cat. The pattern is easy to follow, so anyone from beginners to experienced crocheters can make their own unique version of Simon. Perfect for snuggling and adding a pop of color to your home or as a thoughtful handmade gift. Get ready for some fun as you bring this cheerful cat to life! loveydoveyyarns
14. Simple Crochet Tiny Cat Amigurumi Pattern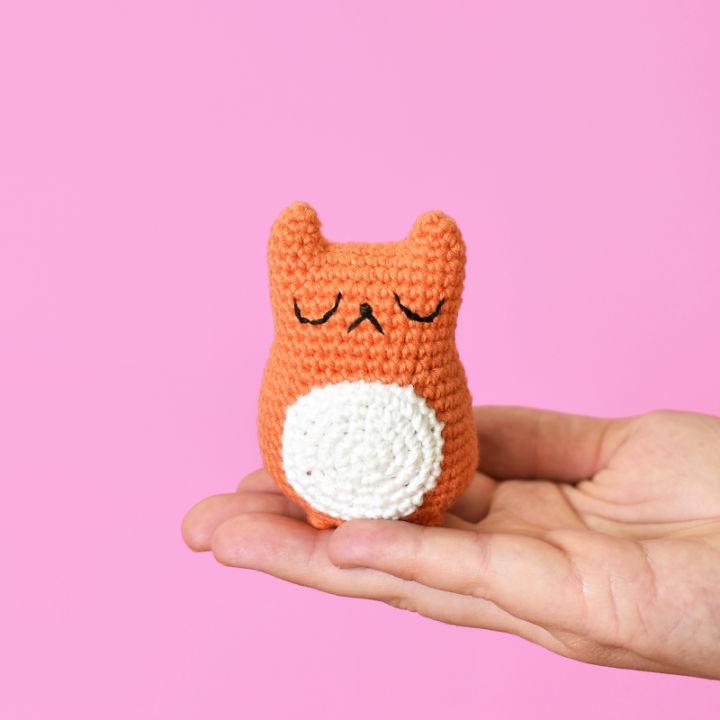 This little cat amigurumi pattern is the perfect way to craft a unique toy kitty you can take anywhere! With this free crochet pattern, choose from 2 colors of light-weight yarn in orange and white, plus embroidery floss for a one-of-a-kind face. Make it your own with fun color combinations, or add custom details. You need a 2.75mm (C) hook, and you're ready to go! Create an adorable little companion that will stay by your side – get crocheting today! tinycurl
15. Crocheting a Large Rebel Cat – Free Pattern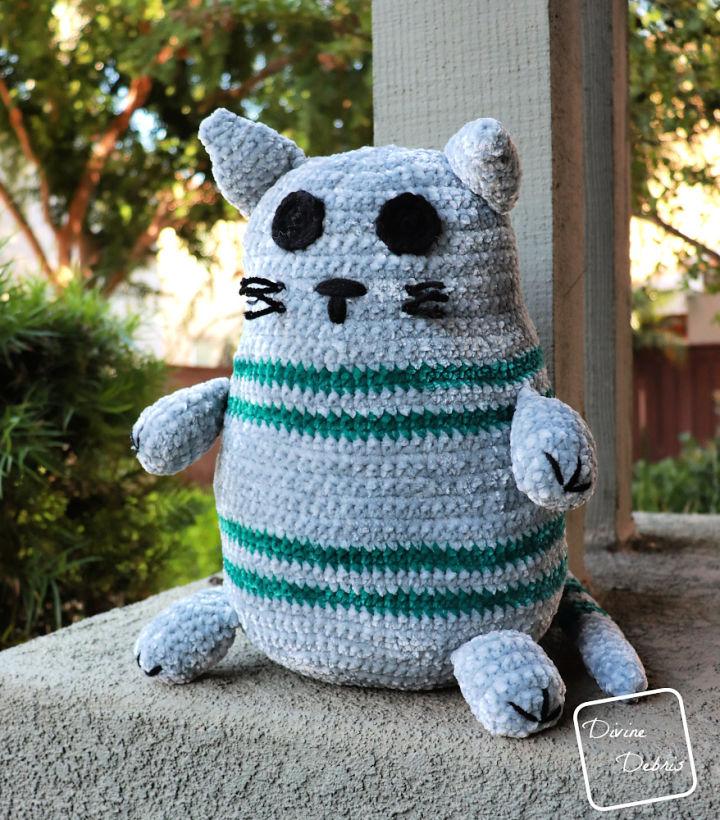 Start your Monday off right with this adorable Rebel Cat amigurumi! It's the perfect craft project to put a smile on your face, and best of all. It can be completed in no time. All you need is a US H (5.00 mm) hook, a few basic supplies, and maybe two different colors for a unique look. So if you're looking for an easy-intermediate pattern that will turn out soft and squishy – this one is for you! Craft away and make yourself a new friend today! divinedebris
16. Crochet Wizard Cat Amigurumi Pattern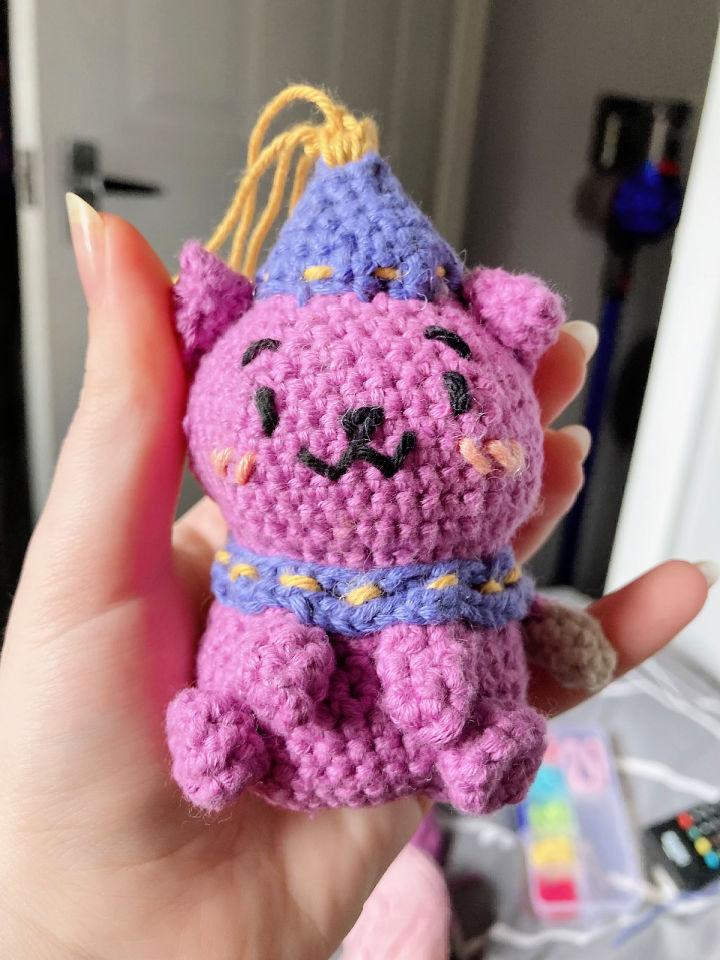 Go crochet and make a whimsical Wizard Cat amigurumi with the softest DK yarn and a 3.5 mm (E) crochet hook! This adorable cat is perfect for any room in your home, measuring the size of your palm when finished. This free pattern contains all you need: blue, purple, pink, black, white and yellow DK yarn to craft this lilac-colored wizard donned in its signature hat and ruffle trim. Let your imagination soar as you bring this wonderful design to life with this free crochet pattern! ravelry
17. Crochet Realistic Cat Amigurumi Pattern
Looking for a fun project to take on? Look no further than this free crochet amigurumi cat pattern! Perfect for intermediate and experienced crocheters alike, you can follow the instructions to create one in your favorite colors or stick with just one.
You will need DK/light worsted weight cotton yarn, 2.5mm/C-2 or B-1 crochet hook, 5mm/0.2″ safety eyes, fiberfill stuffing, pink embroidery floss and either thick sewing thread or other embroidery flosses for the whiskers plus glue to assemble them all! So get ready to start creating an adorable addition to any home – download this free pattern today! stellasyarnuniverse
18. Quick and Easy Crochet Handy Cat Pattern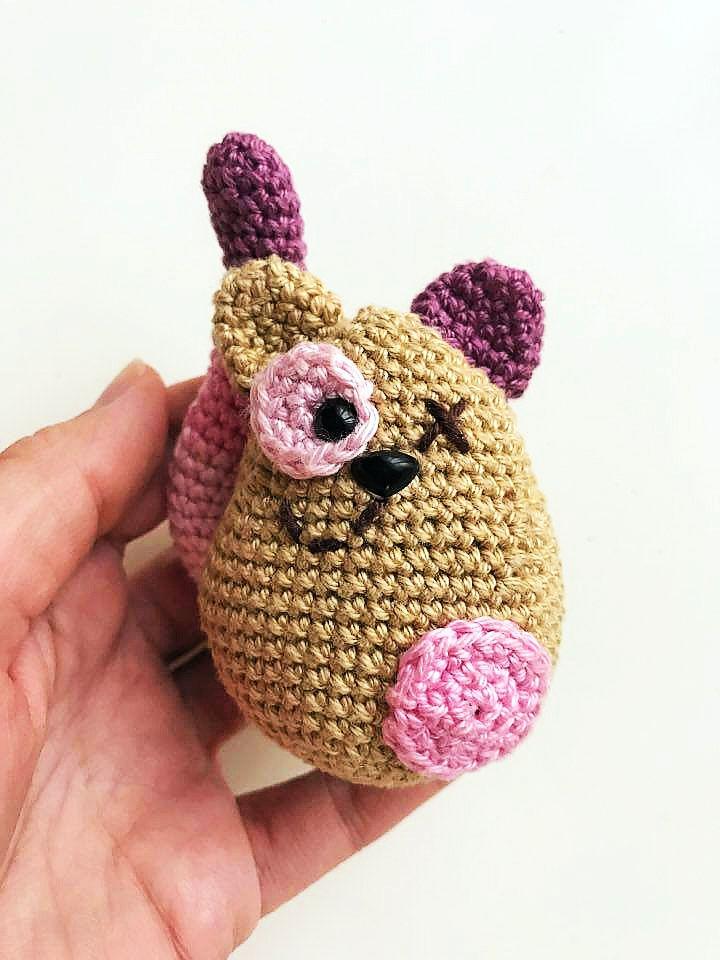 Time to crochet an adorable Handy Cat amigurumi crochet pattern with sport weight yarn and a 2.5 mm crochet hook! This fun pattern is 8 cm without tail sizes, perfect for creating a keychain or decorating your bag. Make yours today, and have fun! You'll love the cute look of this Handy Cat Amigurumi – it's sure to be a hit with everyone you know! Get creative and add your style as you build this amigurumi masterpiece. With basic supplies, no experience is necessary – start crafting yours now! ravelry
19. Cool Crochet Itty Bitty Kitty Pattern
Bring your cuddly companion to life with the Itty Bitty Crochet Kitty pattern! Perfect for beginners, you can customize your cat by adding stripes or spots, changing colors, and using novelty yarn. All you need is DK cotton yarn, a 2.75mm or 3.25mm crochet hook, a yarn needle and stuffing – the pattern uses US crochet terms and continuous rounds to make it easy to follow! Make sure to share pictures of your finished project – your friends won't be able to resist this cute little kitty! thoresbycottage
20. New Crochet Mermaid Cat Doll Pattern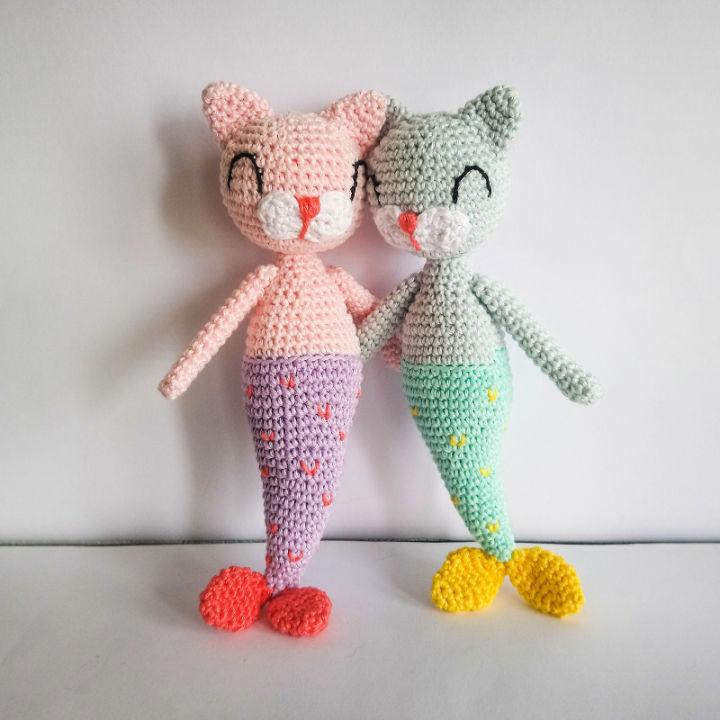 Get busy with your crochet amigurumi skills and make a unique and imaginative play toy for your cat-loving friends with this fun mermaid cat doll crochet pattern! This project requires worsted weight yarn in 4-5 colors, with white and pink for the snout and thin black thread for the eyes. Adding optional wire to the arms will give it an extra bit of playfulness. Get creative and show off your special touch by making this whimsical mermaid cat doll – perfect for inspiring hours of imaginative play! ravelry
21. Free Crochet Small Cat Amigurumi Pattern
Are you interested in learning how to crochet an amigurumi cat? This beginner-friendly tutorial will walk you step-by-step through how to make your own Cecil the Cat plushie! All you need is some worsted-weight yarn, a 4 (3.50mm) crochet hook, two 9mm plastic safety eyes, black embroidery floss, stuffing and a pipe cleaner for the tail. Whether a novice or an experienced crocheter, this easy project will have you creating adorable amigurumi cats in no time!
22. Easy Crochet Cat Pattern for Beginners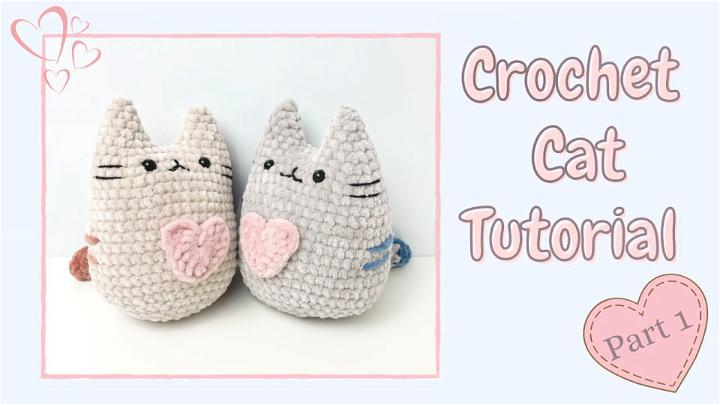 This free amigurumi animal pattern makes it easy for beginners to crochet a super cute cat! Follow this full tutorial to get started and create your own adorable kitty. With simple materials, step-by-step instructions, and helpful tips, you'll be able to master the craft of crocheting cats quickly. Make one as a gift or keep it for yourself – in any case, you will have lots of fun with this project!
23. Beautiful Crochet Pattern for Cat Lovers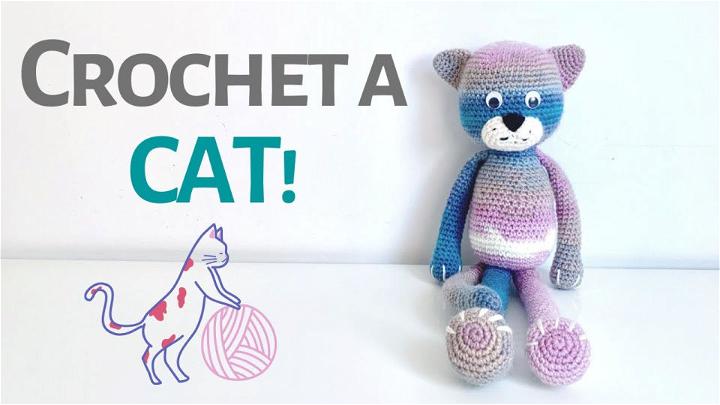 Opt for this free crochet pattern to help you make an adorable amigurumi cat. All you need is a 3 mm hook and 100% acrylic yarn to start! You'll learn how to create the perfect shape for your pet's head, body, ears, paws, and tail with detailed instructions. Along the way, you'll also find helpful tips that will guide you in adding personality to your finished project. So grab your supplies and let's get crocheting – in no time, you will have an endearing companion that everyone will love!
24. Free Crochet Cat Cuddler Scarf Pattern
Learn to crochet a cozy cat scarf with this easy-to-follow DIY video tutorial. Perfect for beginner crocheters, this fun pattern includes all the essential elements already completed, so you can quickly get started crafting your own one-of-a-kind masterpiece! With detailed step-by-step instructions and helpful advice from experts, you'll have no trouble mastering the basics of this craft. Create a unique wardrobe staple that keeps heads turning wherever you go! Get creative and add some personal touches to make it special – your little girl will love it!
25. Crochet Cat Face Keychains Pattern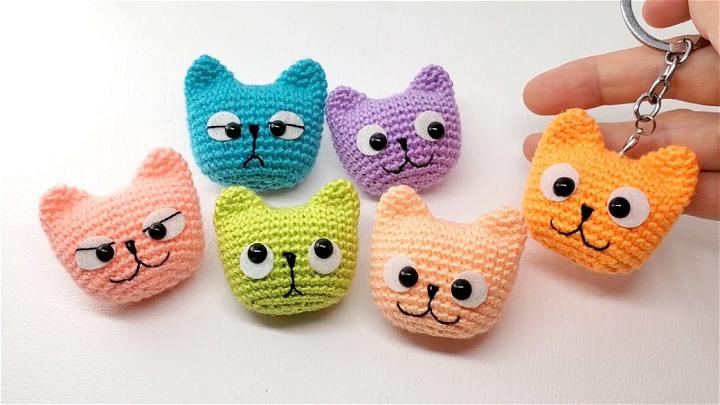 Follow this simple, easy tutorial to help create a cute crochet amigurumi kitten head. Perfect for beginners, this free pattern is quick to make and requires only basic skills. Materials used include small-size yarn and a 2mm hook. Follow the instructions step-by-step to create your own adorable cat friend! You can even customize it by adding your colors or decorations. Learn how to craft this beautiful little kitty in no time with this beginner-friendly pattern. Start crocheting now and enjoy the wonderful results!
Related Free Crochet Patterns:
Discover the perfect project for your next creative endeavor with our stunning selection of free crochet patterns. Explore color palettes, intricate details and new textures to transform your work of art into reality.
Related Easy Crochet Patterns for Beginners:
Crochet Cat Beanie Patterns: Add a fun, creative touch to your wardrobe with lovely crochet cat hat patterns! With detailed step-by-step instructions, you can create an adorable accessory that will draw admiring glances.
Crochet Hats for Cats: Create a purr-fectly unique style for your furry friend with these amazing crochet hat patterns for cats! Find the perfect handmade accessory to show off your cat's personality and have them looking their best.
Conclusion:
In conclusion, these 25 free crochet cat patterns are great for any beginner or experienced crafter looking to make some cute and cuddly cats. Each free crochet cat pattern comes with detailed instructions and step by step photos to ensure that even a novice crocheter can create an amigurumi cat of their own. These amigurumi cat patterns are easy enough for those new to the crochet yet provide challenges for more experienced crocheters as well. With these free crochet cat patterns, you'll be able to create your very own adorable collection of crocheted cats in no time!