Create adorable crochet pandas with 25 free amigurumi panda patterns, perfect for crafting your own lovable panda amigurumi. These delightful crochet panda patterns cater to various sizes and styles, from small panda keychains to giant panda plush toys. Whether you're a beginner or a skilled crocheter, you'll find a free crochet panda pattern with step-by-step instructions to help you craft your unique crocheted panda creations.
These free crochet panda patterns offer an array of cute designs, including chubby pandas, panda blankets, and panda bears. You can customize your crochet panda by choosing different yarn colors, textures, and stitches to create a truly one-of-a-kind treasure. With detailed instructions and illustrations, the crochet panda pattern PDFs provide everything you need to succeed in your crafting journey.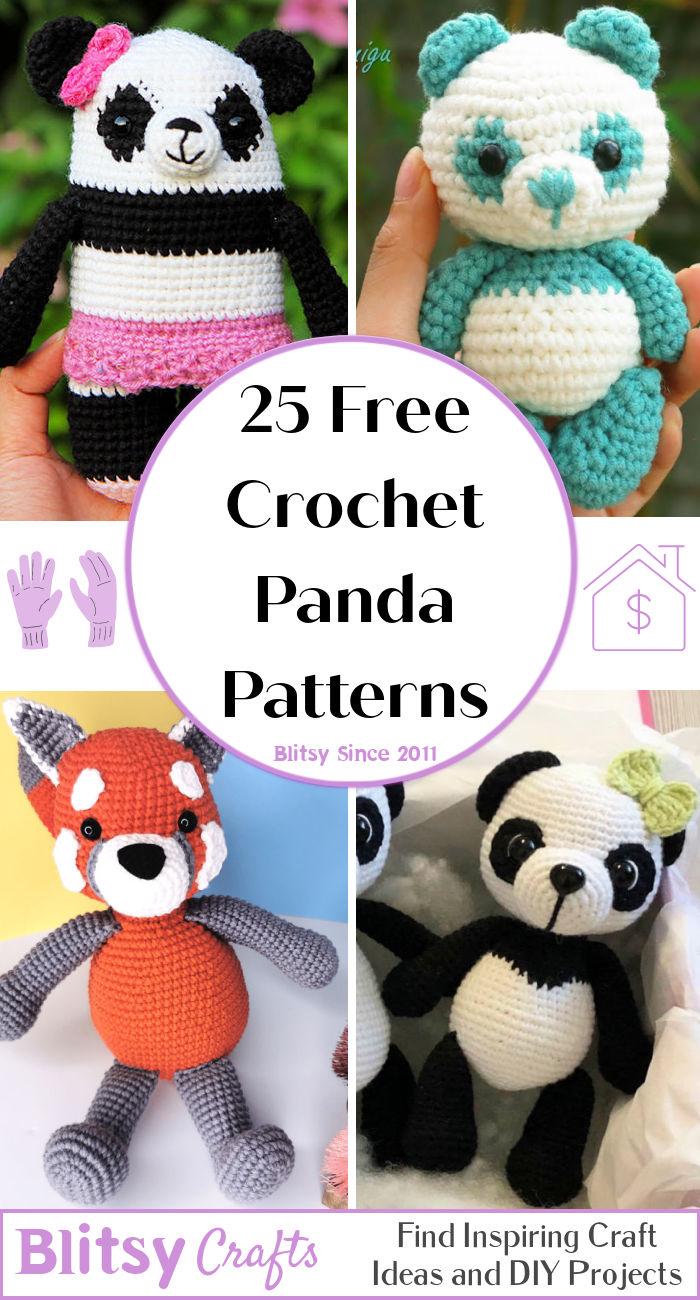 Explore the world of amigurumi pandas by trying at big or large amigurumi patterns to create a huggable friend. Crochet panda bears and plush toys are not only fun to make, but they also make lovely gifts and charming home decorations. So, gather your crochet hooks, yarn, and select a free crochet panda pattern to start crafting your own adorable amigurumi panda today!
1. Free Crochet Piper Panda Pattern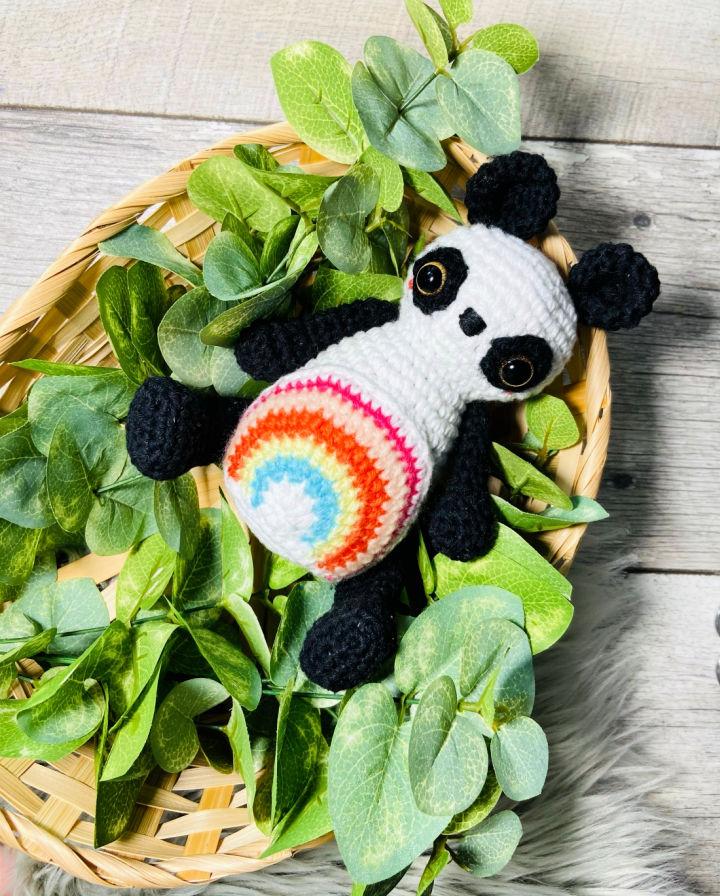 Make your own one-of-a-kind crochet panda pattern! Get ready for some crafting fun with this free pattern. With just a few stitches and materials like medium-weight yarn, tapestry thread, safety eyes and poly-fil stuffing – you can make your own special little buddy. Follow the simple instructions in this link, explained with illustrations, to bring Piper to life! Plus, she's got an adorable rainbow design that'll add something extra special. So grab your supplies – it's time to get creative with this exclusive Piper the panda crochet pattern! thewalnutgrove
2. Best Baby Panda Amigurumi Crochet Pattern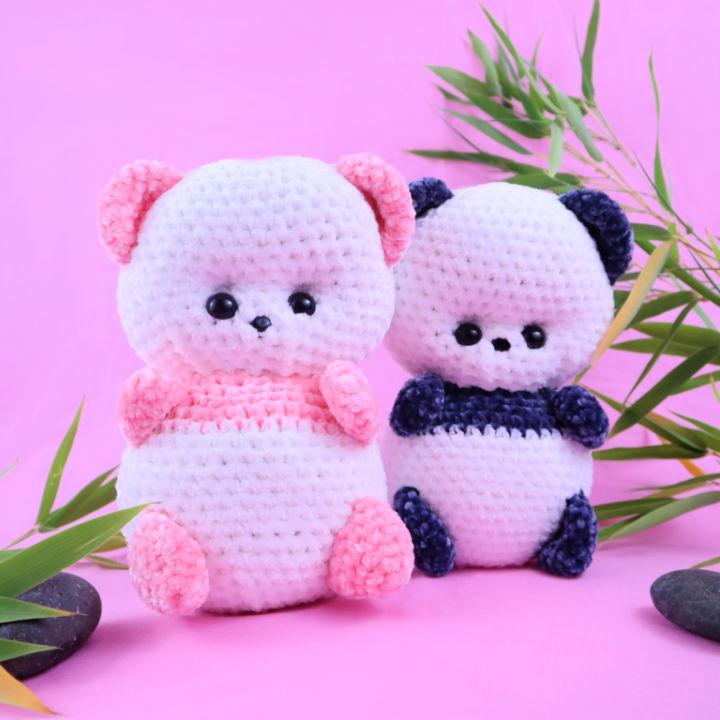 Surprise your little one with this handmade baby panda amigurumi made from this free crochet pattern! With an easy difficulty level, you can easily create this cute little panda. Start off by making the head and body in one continuous piece, then work on the ears, arms and legs. Finally, add the tail, and he's all done! Recommended yarns include Bernat Baby Velvet Yarn to give him a soft feel perfect for babies. He'll be sure to become your favorite go-to gift for any special occasion or just because he is so cute! stringydingding
3. Beautiful Crochet Polly the Panda Pattern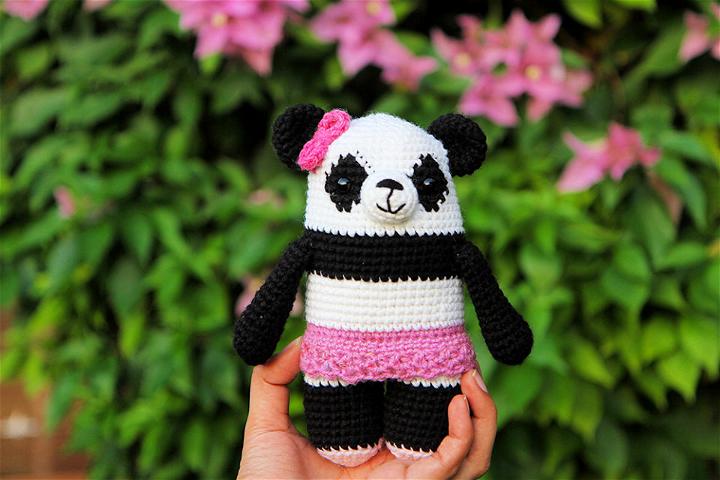 Create an adorable, fluffy toy for your little one with this free crochet pattern for a baby panda amigurumi! This project is easy to follow and perfect for beginners! Start by making the panda's head and body all in one piece, then form the ears, arms, and legs. Finish it off with a tail and Bernat baby velvet yarn for extra softness. Get creative by adding a purple yarn skirt or any other embellishments you desire! Perfect as a gift or just something special to cuddle with. chaicoffeecrochet
4. New Crochet Panda Bear Plushie Pattern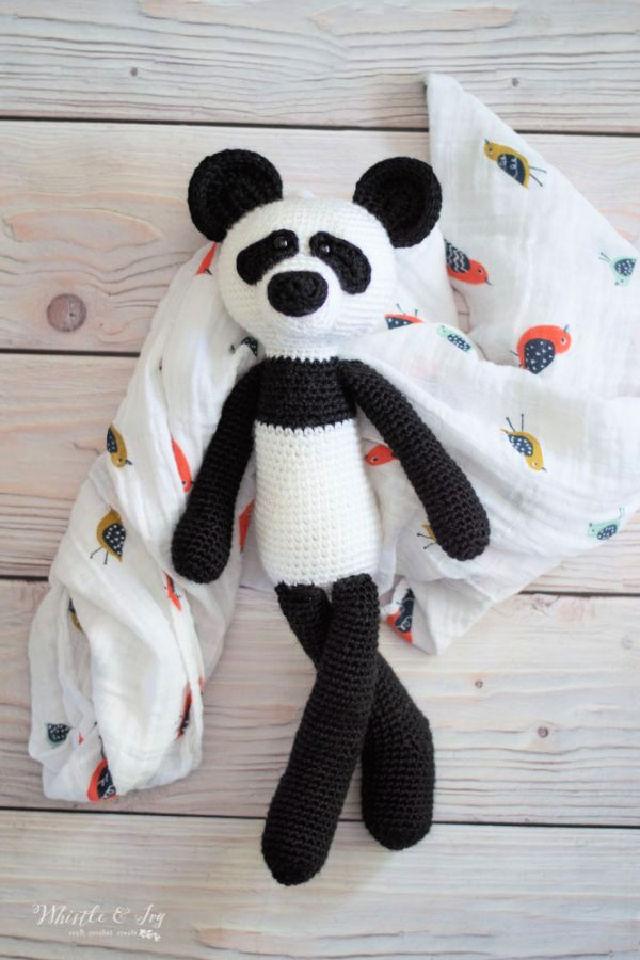 Transform your Poca bear into a cute panda bear with this crochet pattern! All you need is the Poca bear pattern, a 3.75mm hook, red heart soft yarn in black and white colors, a darning needle and a few extras to create an adorable highland friend for all ages. Complete the look using dark pink for the perfect finish of Polly, the crochet panda. Enjoy this easy-to-follow free pattern to make something special that everyone will love! whistleandivy
5. Free Crochet Panda Amigurumi Pattern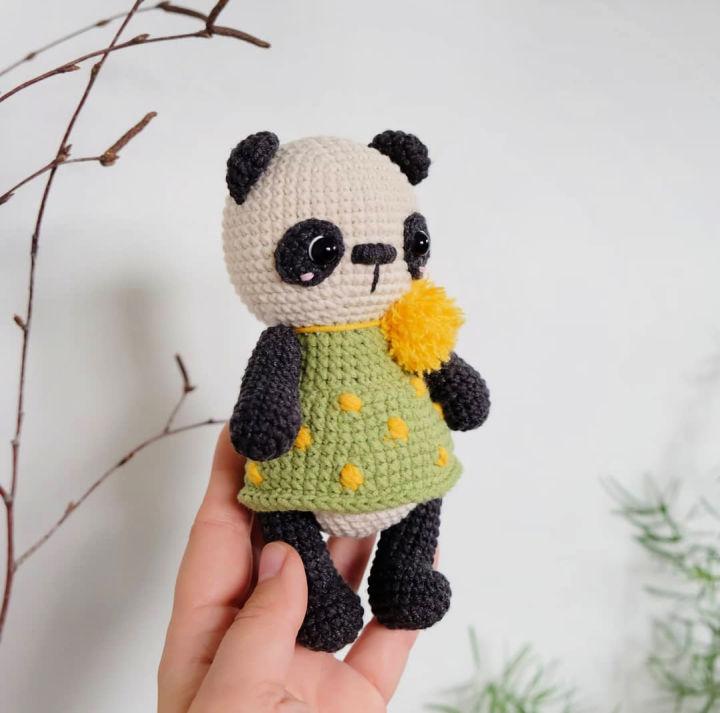 Bring cuteness to your crochet projects with this free crochet panda pattern! Create a 16 cm panda doll using YarnArt Jeans, Alize cotton gold and a 2.00 mm hook size. Get 8 mm safety eyes or black half-beads, strong cotton thread (jute twine), a needle with a big eye, glue and white and pink thin threads for the body and head in light beige and white color. Make skirt, ears, tails, and eyes for added fun. Amaze yourself with a lovely crochet panda when you're done! amigurum
6. Crochet Large Panda Amigurumi Pattern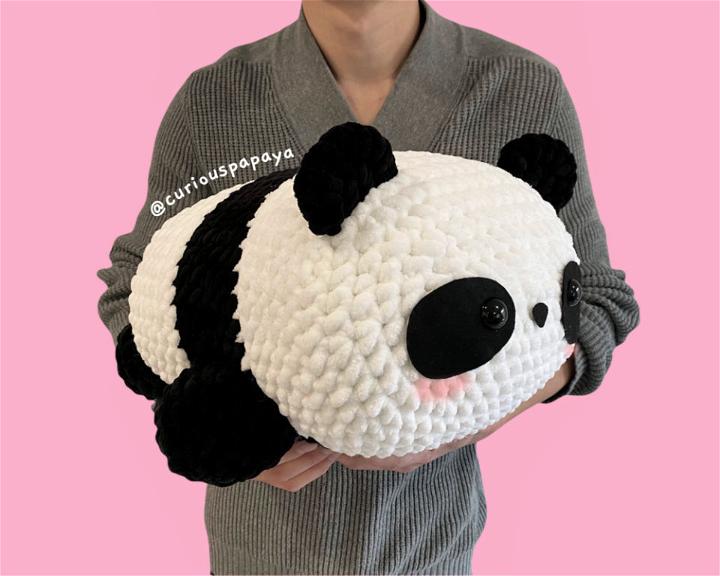 Give your panda the perfect finishing touch with this large crochet panda amigurumi pattern! Follow along step by step as you crochet ginger- the giant panda. This fun and unique pattern is made using chenille yarn, complete with assembly instructions for the ears, arms and legs to make sure your project turns out just right. Get ready to create a new friend with this adorable crochet panda pattern today! clover usa
7. Free Crochet Red Panda Pattern to Print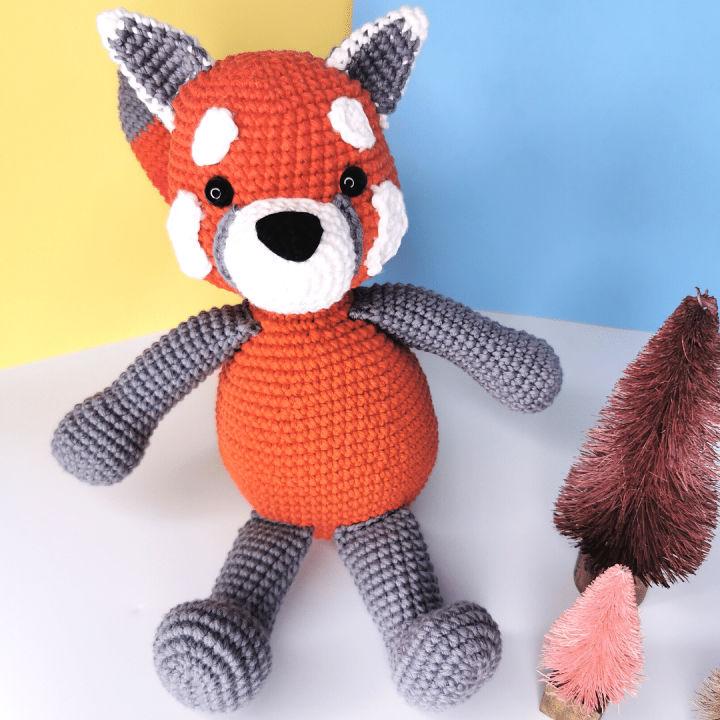 Discover how to make your own adorable ruben the red panda with this free crochet pattern. With easy-to-follow instructions, crocheters will love creating their own cuddly companion. Gather supplies like a 3.5 mm (E) crochet hook, stuffing, needle, scissors, pins, stitch marker and safety eyes to get started. Choose any color yarn you'd like for the panda's coat! Plus, top tips for selecting the right size hook and eyes, as well as working in continuous rounds, are included in this must-have pattern! cillacrochets
8. How to Crochet Mini Panda – Free Pattern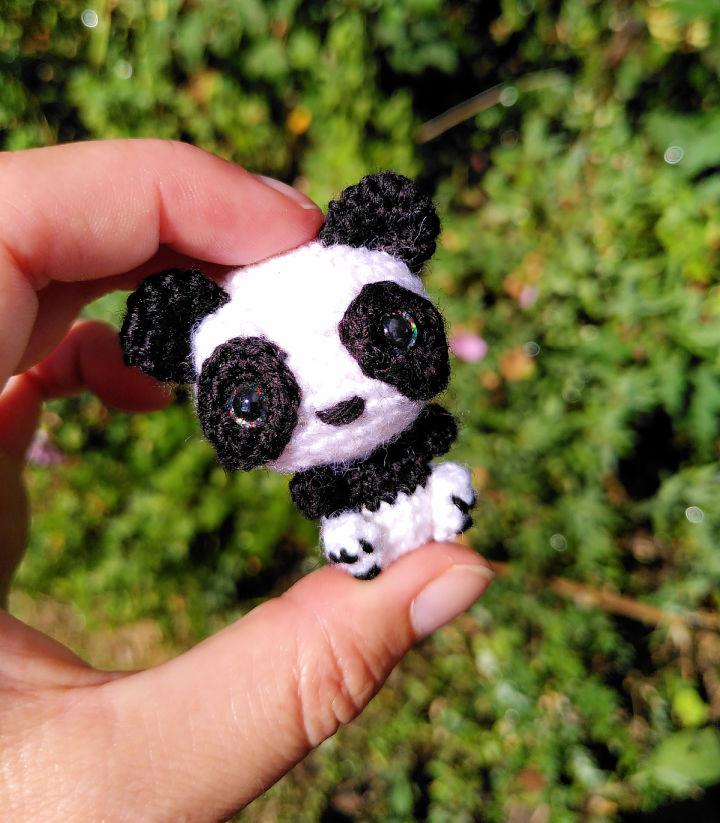 Are you looking for an adorable little project to spend quality time doing something productive? Learn how to crochet a mini panda with this easy step-by-step tutorial! From crafting the initial pieces to assembling the finished product, you'll discover the therapeutic activity of working with yarn and a trusty hook. With patience, practice mindfulness, and soon enough your room will be full of these cuddly critters just waiting for cozy hugs! ravelry
9. Free Crochet Amigurumi Panda Bear Pattern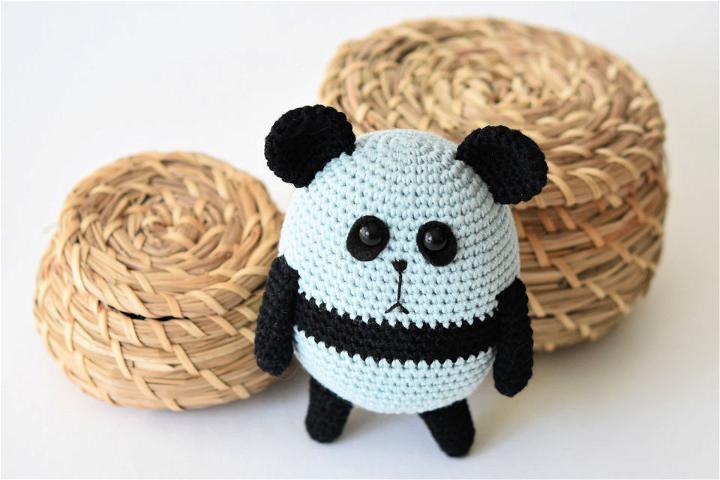 Make your own panda bear amigurumi with this free crochet panda pattern. All you need is 2 colors of sport-weight cotton, a crochet hook 2.5 mm, black felt and embroidery thread for the nose, and darning and embroidery needles. The pattern includes detailed instructions to make the body, ear, leg and arm pieces so you can easily create a beautiful panda your kids would love to play with! lilleliis
10. How to Make Panda Amigurumi – Free Crochet Pattern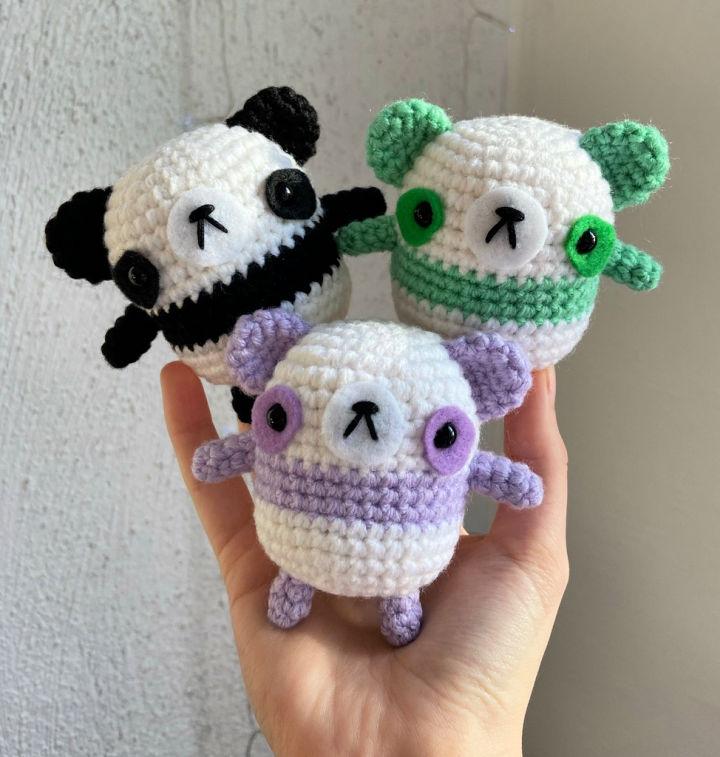 Love pandas? Create your own cute, small panda with this free amigurumi panda pattern! All you need is a crochet hook (2.75mm), scissors, yarn needle, felt for the eyes in the matching color of the panda's ears/arms, 6mm safety eyes, fiberfill/stuffing and black embroidery yarn. Finally, use a hot glue gun & glue to assemble it together — it's that simple! Follow the instructions included in our free amigurumi panda pattern and customize your very own unique stuffed animal today! toristorycreations
11. Cute Crochet Panda Amigurumi Pattern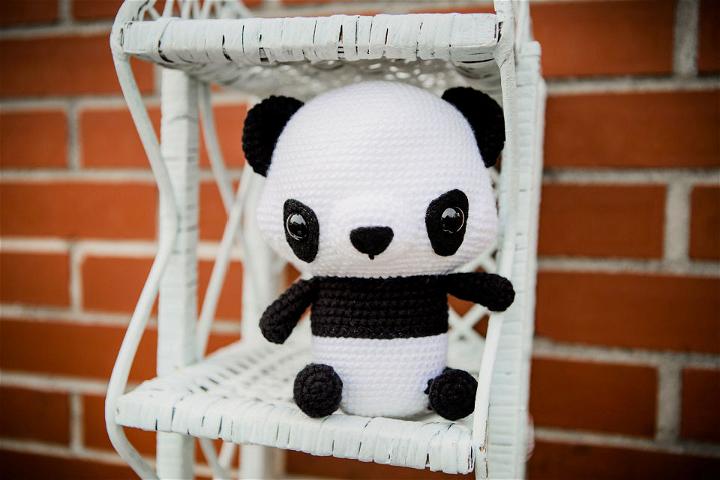 This adorable Chen, the Panda Bear, will make a great addition to any family, and with his name meaning "break of day," he loves watching the sunrise. All you need are some basic supplies like fiberfill (or stuffing of choice), yarn needle, scissors, stitch marker, black felt, sewing needle & thread. And in no time at all, you can be snuggling up with your very own crocheted panda bear! furlscrochet
12. Crochet Laya the Red Panda Pattern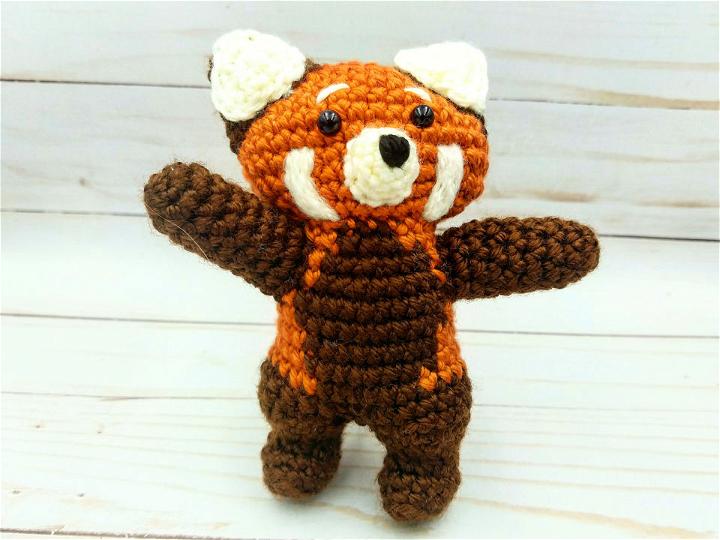 Bring the cuteness of a red panda to life with this adorable crochet Laya the Red Panda Pattern! With just a 3.00mm crochet hook, some scissors, yarn needle, fiberfill and 6mm safety eyes, you'll have your own huggable stuffed animal in no time. The pattern includes instructions for making front paws, ears, nose and tail for a complete look. Give your crafty hands something special and make Laya today! cafedelcraft
13. Easy Crochet Panda Amigurumi Pattern for Beginners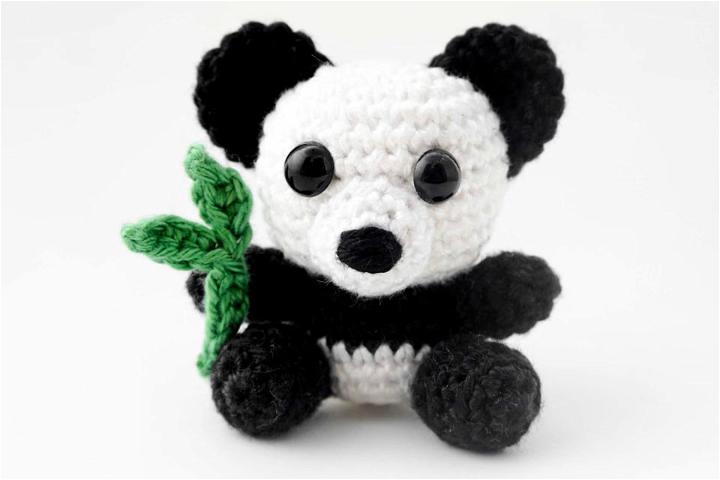 Are you a beginner crocheter looking for an easy and fun project? Try this adorable panda amigurumi crochet pattern! This design uses chain stitches, slip stitches, single crochet stitches and half double crochet stitches in spiral rounds and rows. All the needed techniques are provided with simple instructions so you can easily follow along. With detailed step-by-step pictures, this is an ideal project for any skill level to make a cute panda that will bring smiles for years to come! supergurumi
14. Free Crochet Amigurumi Panda Pattern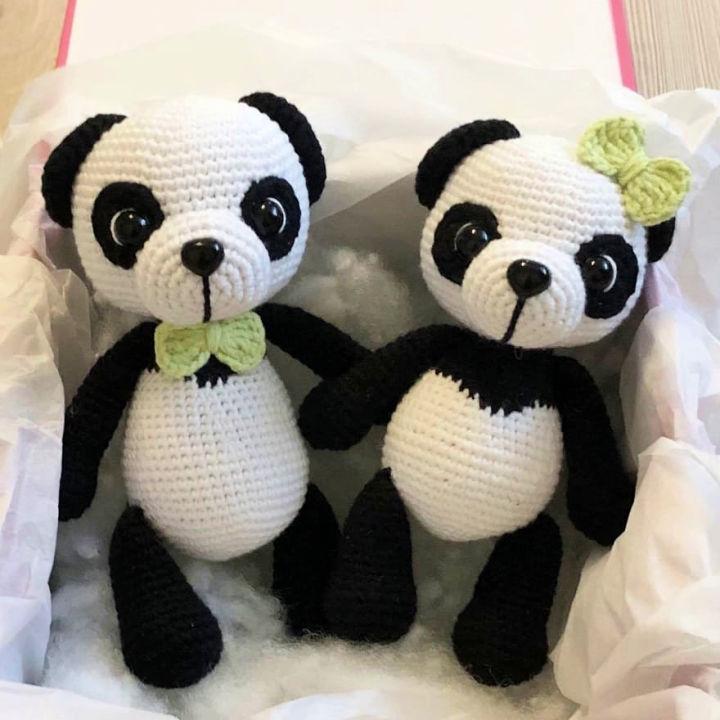 Create a super cute crochet amigurumi panda with this free, easy-to-follow pattern! This 15 cm (6″) tall toy is sure to make a great addition to the collection of any panda lover. Make your own using Alize cotton cold yarn for the body and YarnArt Jeans for its features. Don't forget the 10 mm black half beads glue, 12mm plastic nose glue, fabric glue and fiberfill as you bring it all together with your 2.25 mm hook! So grab your supplies and start crocheting today—the adorable ensemble awaits! amigurum
15. Simple Crochet Panda Pattern
Create your very own cuddly panda with this free crochet panda project! Featuring a soft and velvet-like worsted weight yarn, you'll need only supplies such as a 3.5 mm crochet hook, 12mm safety eyes, 12mm safety nose, scissors, tapestry needle, stuffing and stitch markers to complete it with approximately 60 yards for the dress and small amounts of white, black and color for the pants of your panda design. Make use of yarn Bee's forever plush line to give it that extra touch of sweetness! Get creative by personalizing its colors – start crafting your own adorable little panda today! graceandyarn
16. Easy Crochet Pocket Panda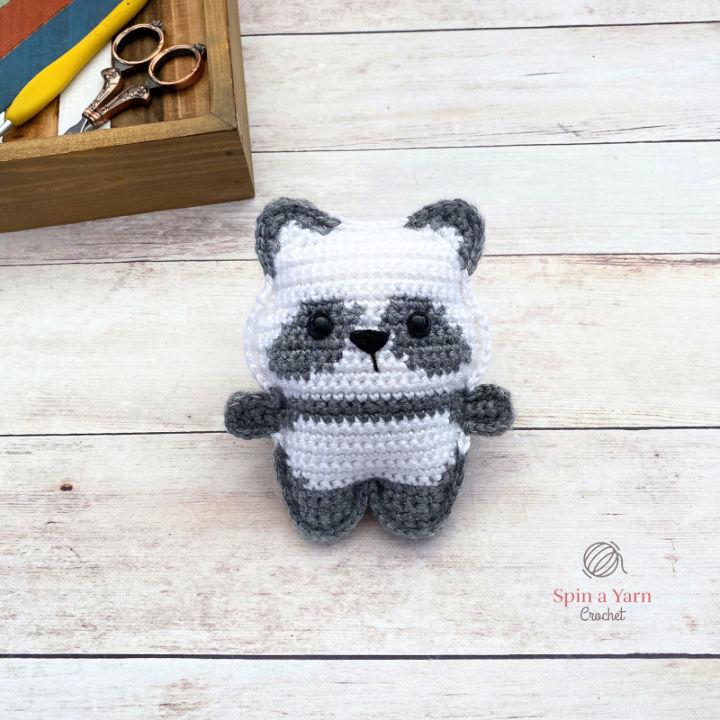 Make a cute pocket panda with this free crochet pattern! This 2-D bear was designed in the same ragdoll style, perfect for snuggling and huggable friends. It uses two legs joined together in the body section using a 2.75mm hook. Position the first leg so that the stitch marker is facing left, and start stitching your very own pocket panda today! Get creative with colors to bring it to life – you'll be sure to love cuddling up with your new friend! spinayarncrochet
17. Crochet Little Panda Amigurumi Pattern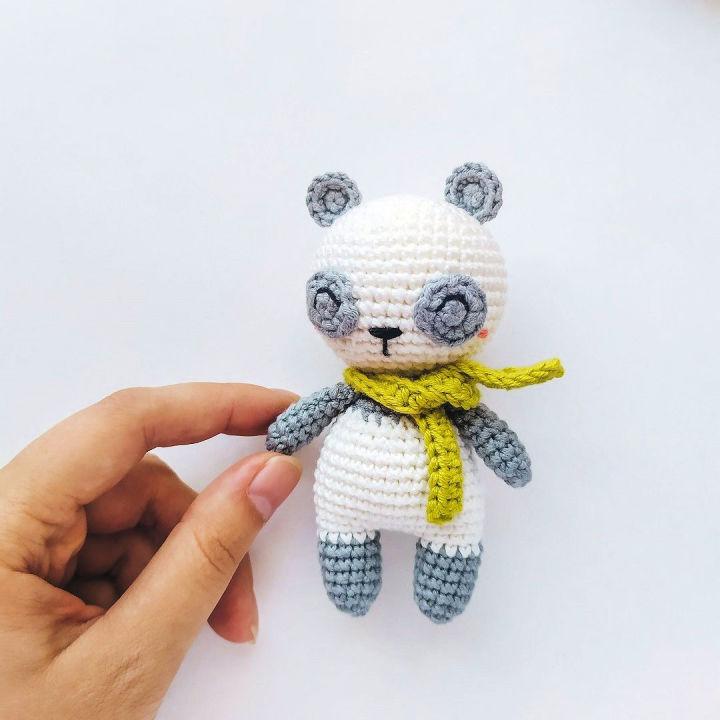 This adorable crochet little panda amigurumi pattern is the perfect addition to your collection! It requires only a 2.0 mm crochet hook and Gazzal Baby Cotton yarn, making it an easy project for newbies and experienced crocheters alike. Get ready to transform this cute panda into a fluffy toy with all the essential supplies – get the free patterns from the link below! Don't miss out on the chance to make your own one-of-a-kind panda today – get started now with our crocheted little panda amigurumi pattern! amigurum
18. Beautiful Panda Bear C2C Crochet Blanket Pattern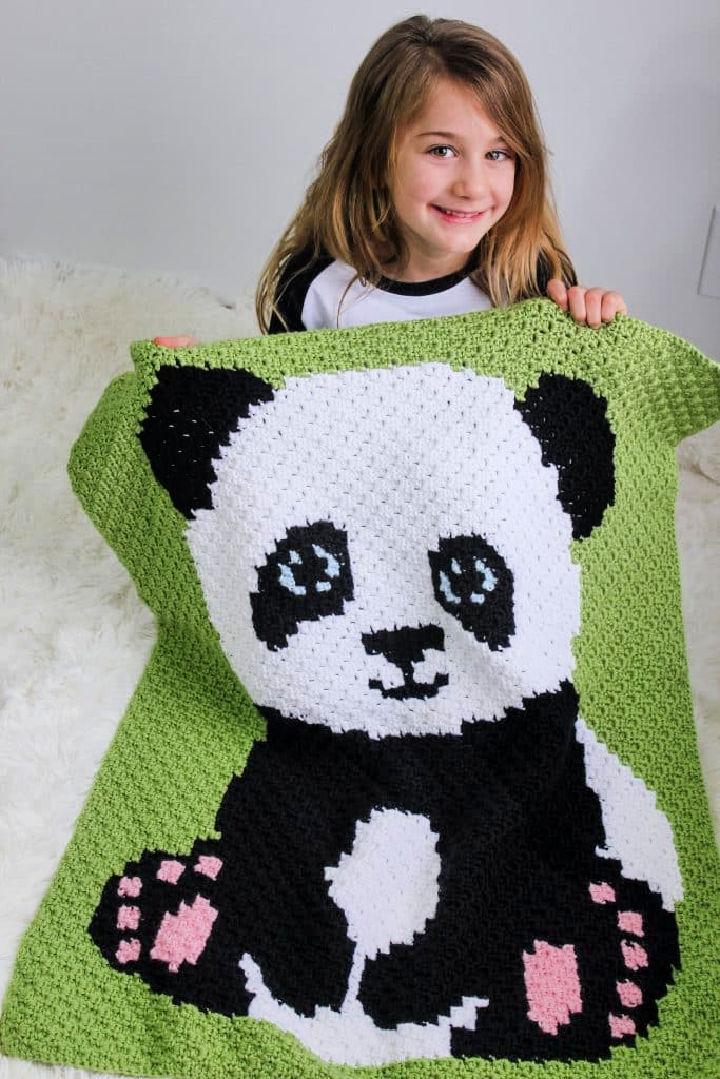 Are you looking for the perfect crochet project to give as a gift or make for yourself? Look no further than this beautiful panda bear C2C crochet blanket pattern! This unique pattern is sure to please any panda lover and can be used as a unisex baby blanket. Even if you are new to the corner-to-corner (c2c) crochet technique, don't worry – we've got all the details in this tutorial you need right here so that even beginners can create this adorable project. Get started with your own panda bear design today! nanascraftyhome
19. Crochet Small Animal Panda Pattern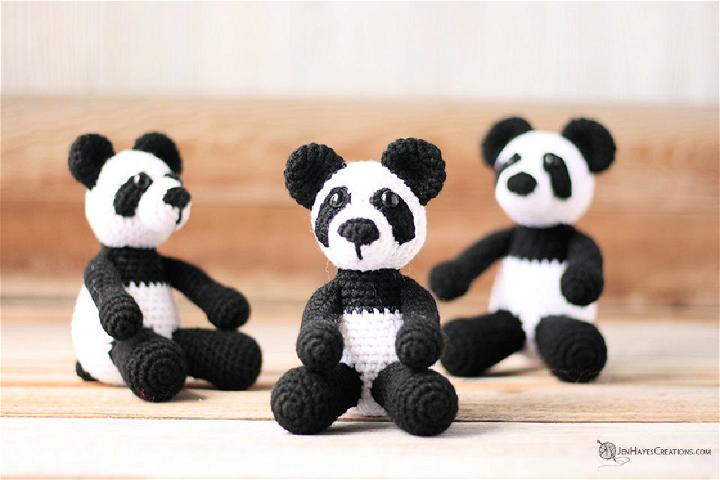 Create the cutest little friend you could ever have with this crochet small animal panda pattern. Perfect for adults and children alike, this pattern uses red heart super saver yarn to create a black and white panda that's sure to bring a smile to anyone's face. The required materials are easy enough: just grab some crochet hooks, stitch markers, scissors, stuffing, tapestry needles and safety eyes – then follow the instructions in the link! With your own homemade small animal panda joining you on your day-to-day adventures! jenhayescreations
20. Crocheted Little Paperweight Panda Pattern
Check out this free crocheted little paperweight panda pattern! Using fine category 2 yarn and a 2.5mm hook, you can make this cute little panda that sits at 4 in/10cm tall and fits in the palm of your hand. Start with white yarn for the head, then make two eye circles in gray yarn and two ears in black yarn. Let your imagination take charge as you create a fun paperweight that is sure to be treasured by all who see it! littlemuggles
21. Crochet Petunia the Panda Lovey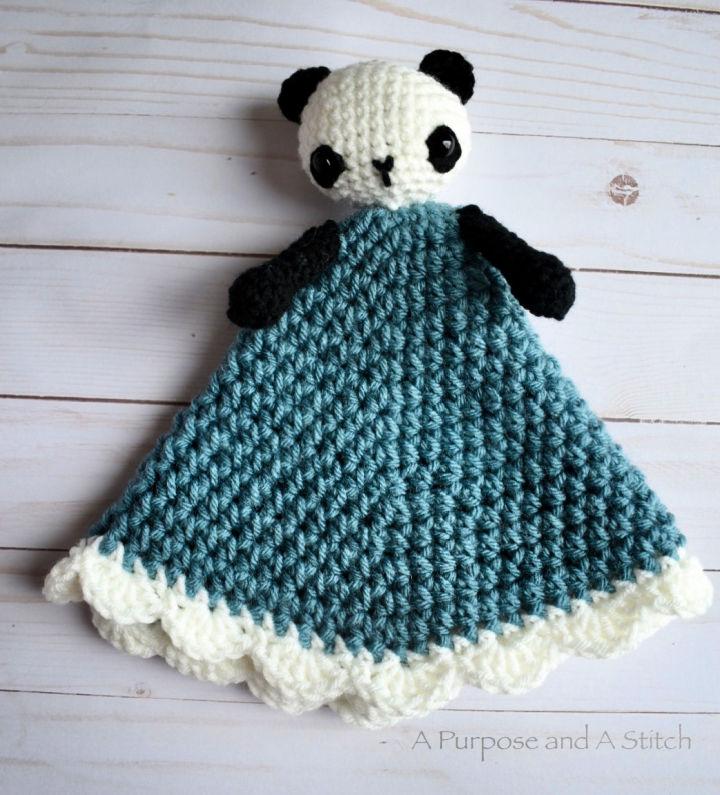 Make your own cute petunia the panda lovey with this free crochet panda pattern! This easy-to-make panda lovey only has a few parts and minimal assembly. You'll be able to make it in no time and create something special that you can keep forever – or give away as a gift. Follow the simple instructions to assemble your panda's ears and weave in any loose ends. With our free crochet guide for petunia the panda lovey, you'll be able to craft an adorable toy for yourself or someone else! apurposeandastitch
22. Free Crochet Panda Backpack Pattern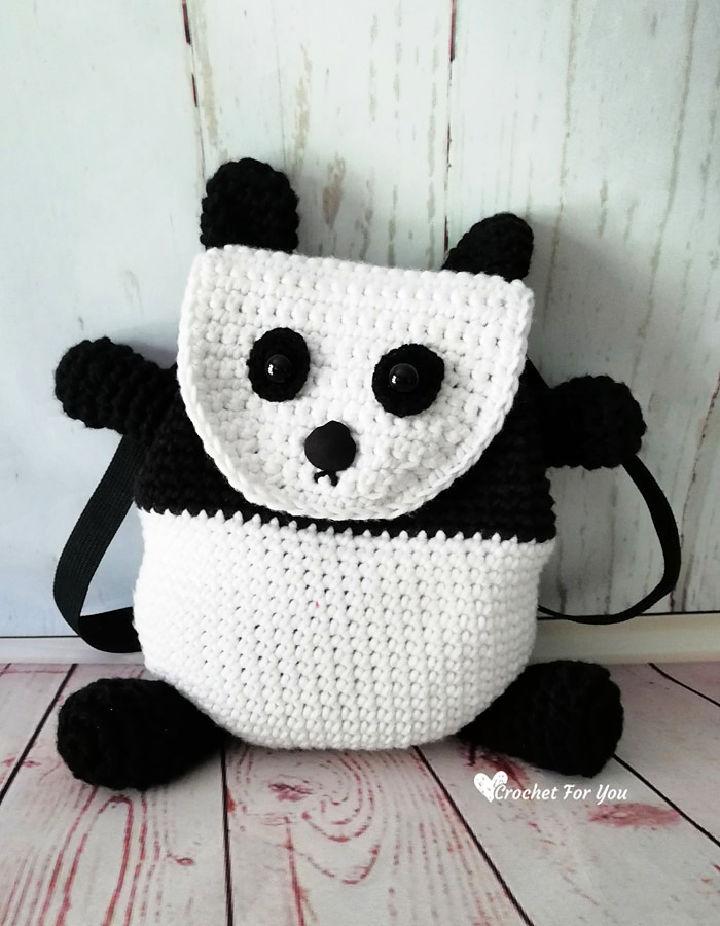 This free crochet panda backpack pattern is perfect for kids who want to keep their special treasures safe. With little hands, legs, eyes and ears, as well as a button nose on the flap, this cute backpack will be sure to bring a smile! However, make yourself familiar with the crochet terms, including ch (chain), sc (single crochet), st (stitch), sk (skip), sl st (slip stitch) and ch-sp (chain space) in order to make this project quickly. Your little ones will love bringing this adorable panda companion with them wherever they go! crochetforyou
23. Easy Crochet Panda Hat Pattern for Baby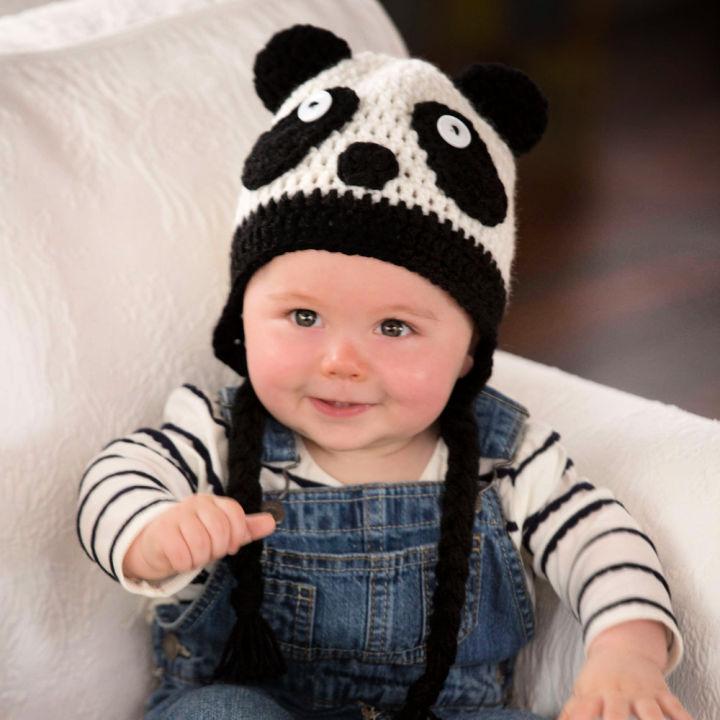 Make the sweetest panda hat for your baby with this easy crochet pattern. These free directions are for a size small, but you can easily adjust it to make sizes medium and large as well! We'll show you how to use the adjustable-ring method when wrapping the yarn in a ring so that the tail falls behind the working yarn. Then learn how to create each part of the hat—the right earflap, left earflap, and more—and finish off with our adorable panda patterns. With this step-by-step guide, making a cozy panda hat has never been simpler! yarnspirations
24. How to Crochet Panda Bear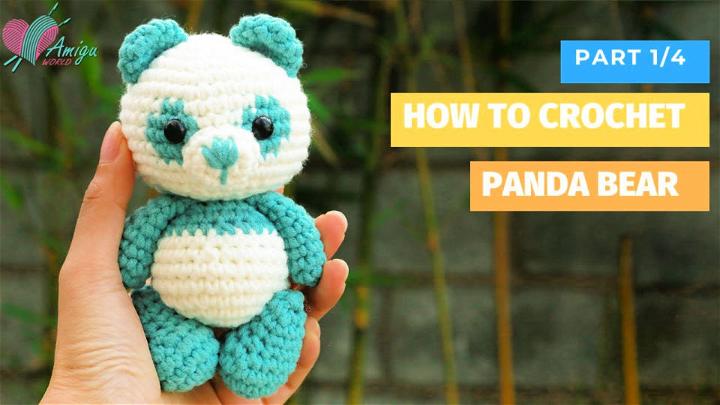 Create your own cute and cuddly panda bear with this free crochet panda design! This panda bear amigurumi will make an adorable gift or a great addition to nursery decor. With the use of just 4-ply black and white yarn, a 4-5 mm crochet hook, and some fiberfill stuffing, you can easily create your own lovable panda bear. Learn how to crochet and more for this project by following the step-by-step instructions in this free guide.
25. Free Crochet Big Panda Amigurumi Pattern
Surprise your kids with a cuddly, huggable crochet big panda amigurumi. This free pattern is easy to follow and will have you crafting in no time! With this fun project, your children can have so much fun learning fun facts about pandas and their habitats etc.; keeping them on their toes has never been easier – get started now and see the results for yourself!
Related Free Crochet Patterns:
Bring your imagination to life with our amazing selection of free crochet amigurumi patterns! Get inspired and crochet unique creations that will delight everyone.
Conclusion: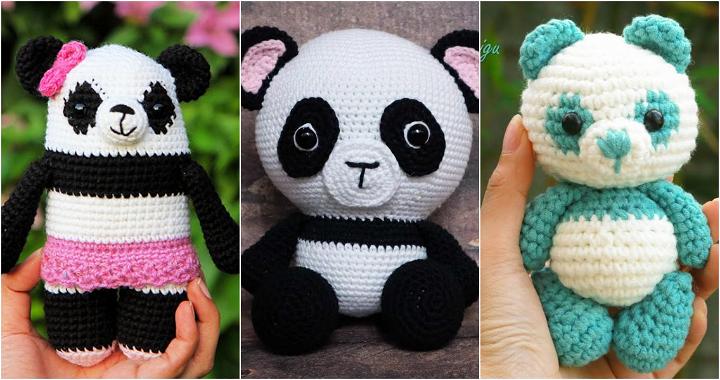 In conclusion, these 25 free crochet panda patterns offer a fantastic selection of amigurumi projects for panda lovers. With easy-to-follow crochet panda patterns for cute crochet pandas, panda blankets, and even giant amigurumi, there's something for everyone. Whether you want to crochet a small, chubby, or large panda, these free crochet panda patterns have you covered. Don't hesitate to dive into this charming collection of panda crochet projects and create delightful handmade gifts for yourself or your loved ones.