Delight in crocheting your own adorable sloth amigurumi with these 25 free crochet sloth patterns, perfect for amigurumi enthusiasts of all skill levels. From cuddly toys to hanging planters, this curated collection offers a variety of sloth patterns to suit your preferences. Each free sloth crochet pattern features detailed step-by-step instructions and helpful illustrations, ensuring a seamless crocheting experience for newbies and advanced crocheters.
Explore the diverse assortment of free crochet sloth patterns, such as the heartwarming Neal Sloth, the friendly Charlotte Sloth, or the cozy Ragdoll Sloth. For those seeking a unique touch, the hanging sloth planter crochet pattern makes for an eye-catching home accessory. Many of these sloth patterns also include a downloadable PDF guide to assist in assembling your amigurumi masterpiece.
Unleash your creative spirit as you crochet sloth stuffed animals, appliques, and even sloth hats. With a wide selection of crochet sloth patterns and styles, you'll be inspired to create charming crochet sloths for yourself or as heartfelt gifts for loved ones. So grab your crochet hook, gather your supplies, and embark on an exciting journey to create your very own crochet sloth amigurumi.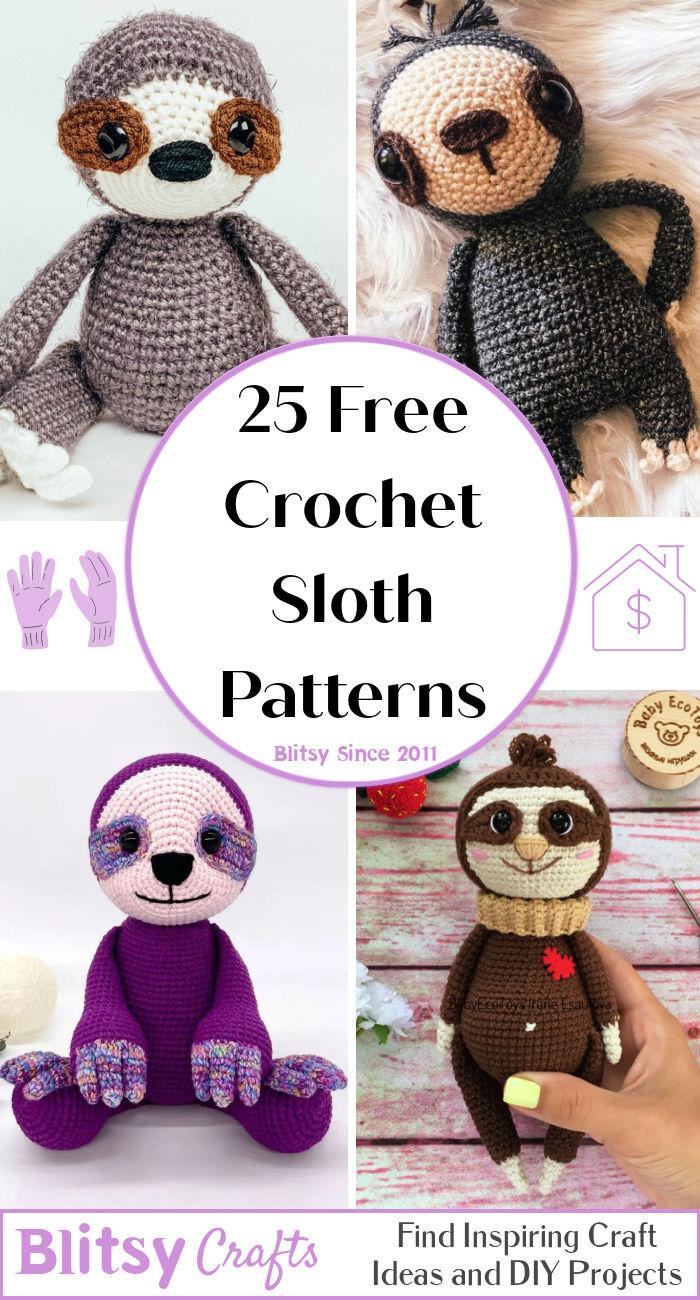 Uses and Benefits of Crochet Sloth
Crochet sloths, those adorable and charming creatures skillfully crafted with intricate stitches and vibrant yarn, have been winning hearts and gracing spaces around the globe. These lovable handmade animals come with many uses and benefits that showcase creativity and inspire a sense of warmth and coziness. Let's explore some of the remarkable ways in which crochet sloths can enrich our lives.
Stylish Home Decor: A crochet sloth, with its whimsical design and playful demeanor, can instantly elevate any living space. Position one on a bookshelf, nestle it on a windowsill, or simply hang it from a curtain rod to add a touch of character and a conversation starter to your home.
Unique Gifts: Ditch the mundane, store-bought gifts and surprise your loved ones with a crochet sloth. These one-of-a-kind, handmade presents exude thoughtfulness and will be cherished for years to come.
Stress Relief: The soft, cuddly texture of a crochet sloth can provide a soothing touch during moments of anxiety or stress. Hold one in your hands and take comfort in the gentle caress of the yarn and the handiwork that went into its creation.
Educational Tool: Introduce children to the fascinating world of sloths and the importance of conservation through these cute crochet companions. As they learn about sloth habitats and the challenges they face in the wild, a crochet sloth becomes a tangible reminder of the wonders of nature.
Support for Small Businesses and Artisans: Purchasing a crochet sloth often means directly supporting independent artists and small businesses. Embrace the craftsmanship and creativity that goes into each piece, and feel good about contributing to the success of these talented individuals.
Promote Mindfulness and Patience: Whether you're crafting crochet sloths yourself or simply appreciating the intricate work of others, these creations serve as a reminder to slow down and savor life's little moments—just as sloths do.
Eco-Friendly Toy: Unlike many mass-produced toys, crochet sloths are typically made from natural, renewable materials like cotton or wool, making them an environmentally responsible choice for both children and adults.
Crochet sloths offer a myriad of uses and benefits that extend far beyond their delightful appearances. From chic home decor to stress relief and promoting mindfulness, these charming creations hold a special place in our hearts and homes, reminding us to take life one stitch at a time.
What materials do you need to crochet a sloth?
To crochet a sloth, gather essential materials and tools, including high-quality yarn in natural or whimsical colors, a crochet hook sized 4.0 mm (G) to 5.5 mm (I) for medium-weight yarn, Stitch markers for tracking progress, fiberfill for a soft feel, safety eyes or black yarn for lifelike expressions, a yarn needle for weaving and sewing, sharp scissors for cutting, and a suitable crochet pattern. With these supplies and a creative approach, enjoy crafting a charming crochet sloth, taking pride in each Stitch.
What techniques to know to crochet an amigurumi sloth?
Amigurumi, the Japanese art of crocheting small stuffed animals, requires mastery of certain crochet techniques to create adorable and intricate creatures like a sloth. To successfully crochet an amigurumi sloth, you'll need to familiarize yourself with the following techniques:
Magic Circle (Magic Ring): This technique is used to start many amigurumi projects. The magic circle creates a tightly closed center that prevents the stuffing from escaping and is perfect for beginning round shapes like the head and body.
Single Crochet (sc): The single crochet is the most basic and commonly used Stitch in amigurumi. It creates a tight fabric that holds its shape and retains stuffing well.
Increases and Decreases: To shape your amigurumi sloth, you'll need to know how to increase (single crochet two stitches into one) and decrease (single crochet two stitches together). These techniques help create curves and contours for the head, body, and limbs.
Crocheting in the Round: Amigurumi is typically crocheted in the round, meaning you work in a spiral without joining or turning your work. This creates a seamless, smooth fabric ideal for stuffed animals.
Slip Stitch (sl st): The slip stitch is used to join rounds, finish off edges, or connect parts of your amigurumi sloth. It creates a neat, flat seam.
Invisible Decrease: This technique helps you create a less noticeable decrease in amigurumi projects. Instead of inserting your hook under both loops of the Stitch, insert it only under the front loop, then complete the single crochet decrease as usual.
Color Changes: To create a multi-colored amigurumi sloth or add details like facial markings, you'll need to know how to change yarn colors seamlessly within your work.
Embroidery: Basic embroidery skills will come in handy for adding facial features like eyes, noses, or mouths to your amigurumi sloth, especially if you choose not to use safety eyes.
Sewing and Assembly: Finally, you'll need to know how to sew together the different parts of your amigurumi sloth—head, body, limbs, and any additional details. Whip stitch or mattress stitch are common techniques used for assembly.
You'll be well-equipped to crochet a charming and lovable sloth by learning and practicing these essential amigurumi techniques. Remember that patience and perseverance are key as you work through each technique and bring your amigurumi creation to life.
1. Free Crochet Sloth Amigurumi Pattern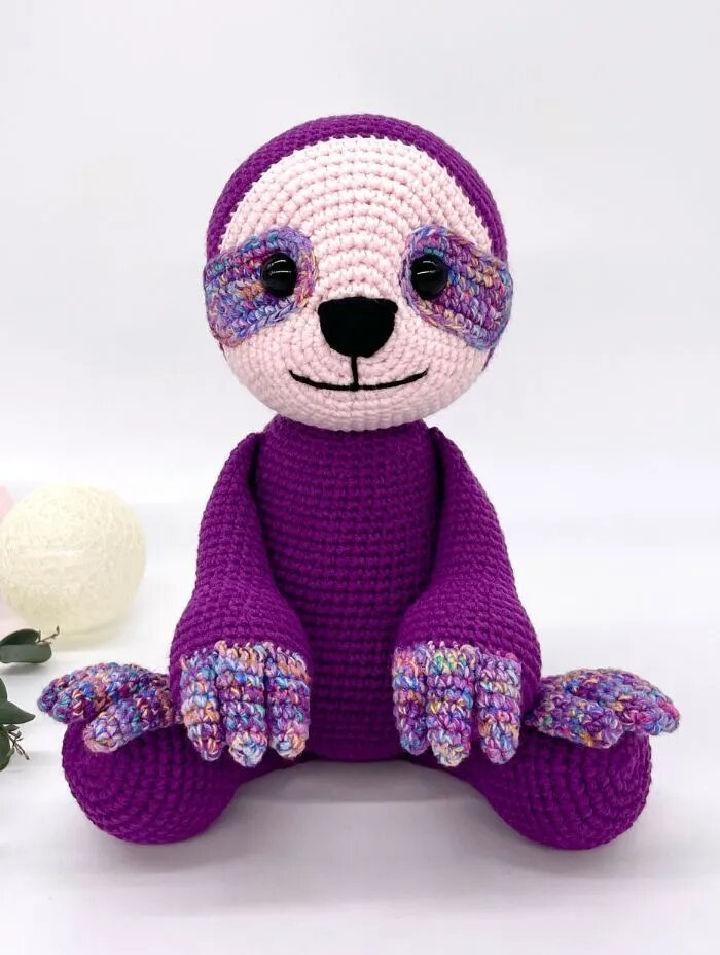 Create a special and unique amigurumi sloth lady with this free crochet pattern! Perfect for experienced crocheters, this pattern will help you make an adorable sloth that stands 20 cm/8 inches tall when seated and 30cm/12 inches from head to claws. Show off your skills by crafting a colorful foxy sloth that will be noticed – download the free crochet sloth amigurumi pattern now and get creative! cuddlystitchescraft
2. Crocheting a Sloth Amigurumi – Free Pattern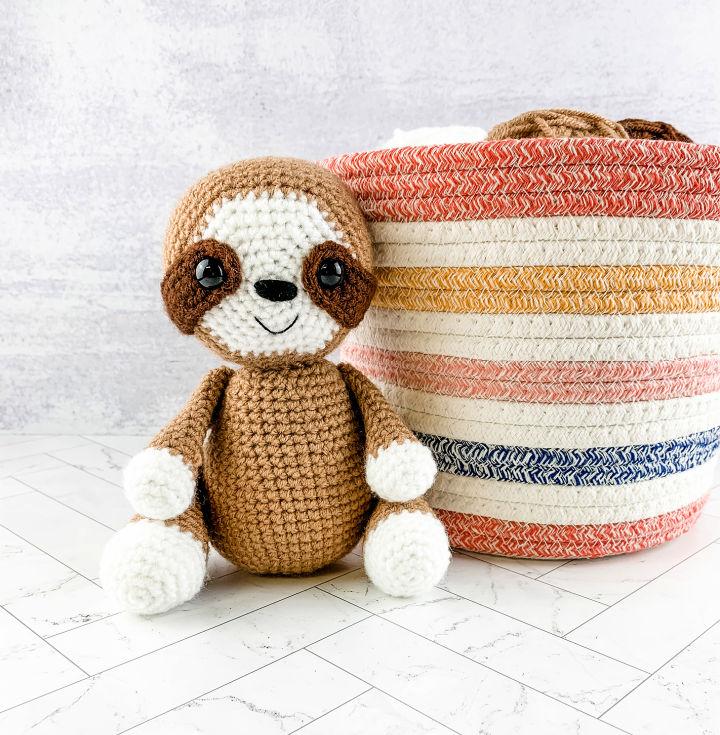 This crochet sloth pattern is perfect for making a charming and cuddly friend to keep you company! All you need is size 4 worsted weight yarn, a 3.5mm crochet hook, 12mm safety eyes, black crochet/embroidery thread for a smile, and stuffing to make this cutie come alive in your home or as a gift. This simple pattern will have you crocheting up the sweetest sloth that will bring smiles wherever it goes – start crafting today! graceandyarn
3. How Do You Crochet Neal Sloth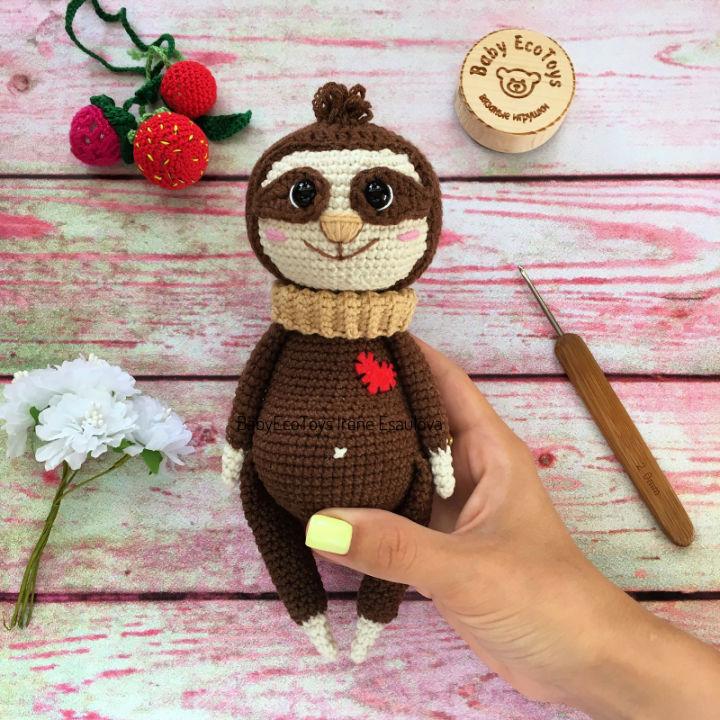 Craft a cute and cuddly crochet sloth neal with this easy-level pattern! Designed with soft sport yarn and a 2.0mm hook, you can make a 20cm sloth that loves to be hugged and held for the perfect snuggles. This fun project is great for beginners – bring some extra charm to your home or give it to someone special! Ravelry
4. Crochet the Friendly Sloth Pattern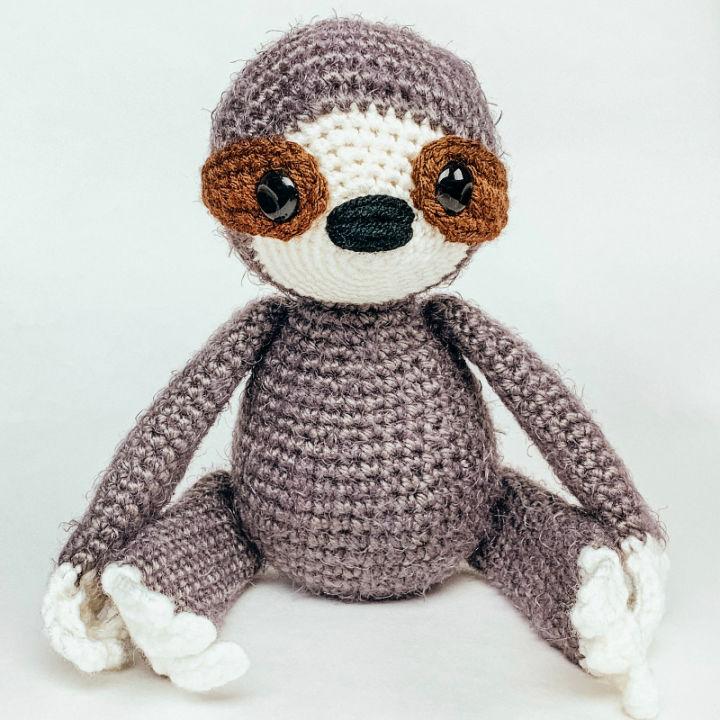 Learn how to make an amigurumi sloth with this detailed crochet pattern! Standing 10 inches tall, the pattern offers color and yarn weight variations. With a 3.75mm hook, the amigurumi sloth requires 120g of size 4 yarn in the main color, as well as a small amount of ivory worsted weight and brown worsted weight yarn. Other materials include 15mm safety eyes, a 20mm safety nose or a small amount of black yarn, a tapestry needle, and polyfil. Designed for personal use or as a gift, the amigurumi sloth is a cute and cuddly way to add charm to your home. thefriendlyredfox
5. Crochet Charlotte the Sloth – Step-By-Step Instructions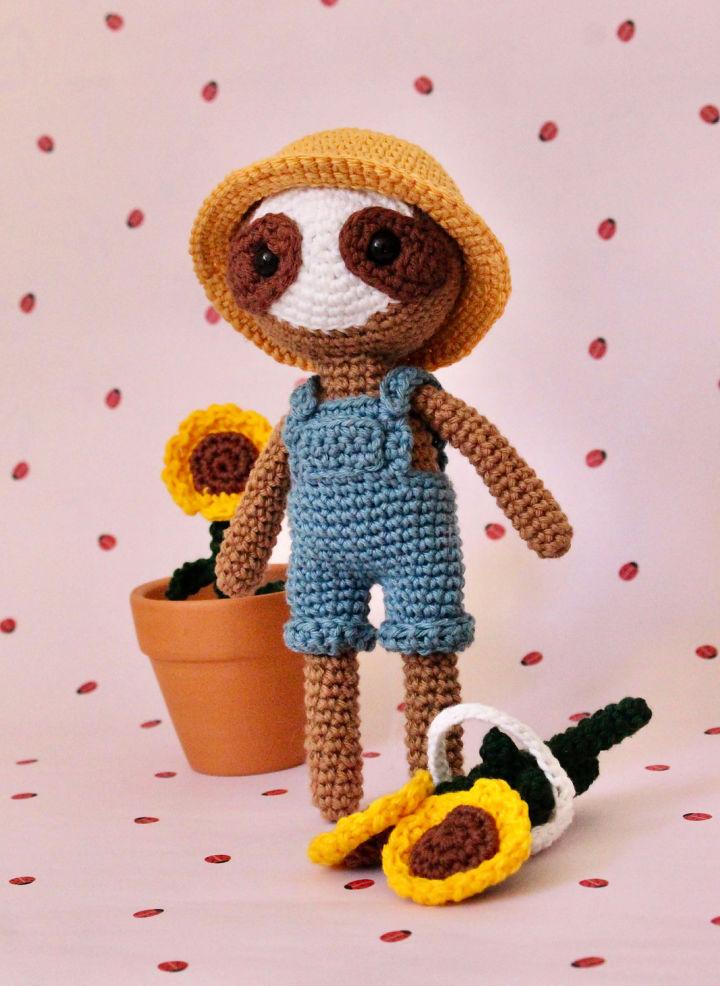 Bring charlotte the sloth to life with this free crochet pattern! She's an avid gardener who loves sunflowers, and you can make a little plush of her for your own collection. All you need is a 3.00 mm crochet hook, 2 x 10mm safety eyes, polyester fiberfill or other stuffing material. Follow the easy instructions today and create a special memory that will last forever! With this adorable sloth in your home, you'll feel like every day is gardening season. Download the free pattern now and start creating your very own charlotte the sloth plush! 53stitches
6. Crochet Molasses the Sloth Pattern

Molasses the sloth is an easy-level crochet pattern that can create a realistic 8-inch tall sloth! Gauge and yarn weight isn't important – use a hook 1.0 mm smaller than what your yarn label recommends for perfect results. With molasses, you can customize the size of your sloth to fit any home or project by using different weights of yarn – making it ideal for everyone from beginners to experts alike! So grab your hooks and get ready to make this adorable little critter come alive with one simple pattern. happypyrcrafting
7. Crochet Scott the Sloths Amigurumi – Free PDF Pattern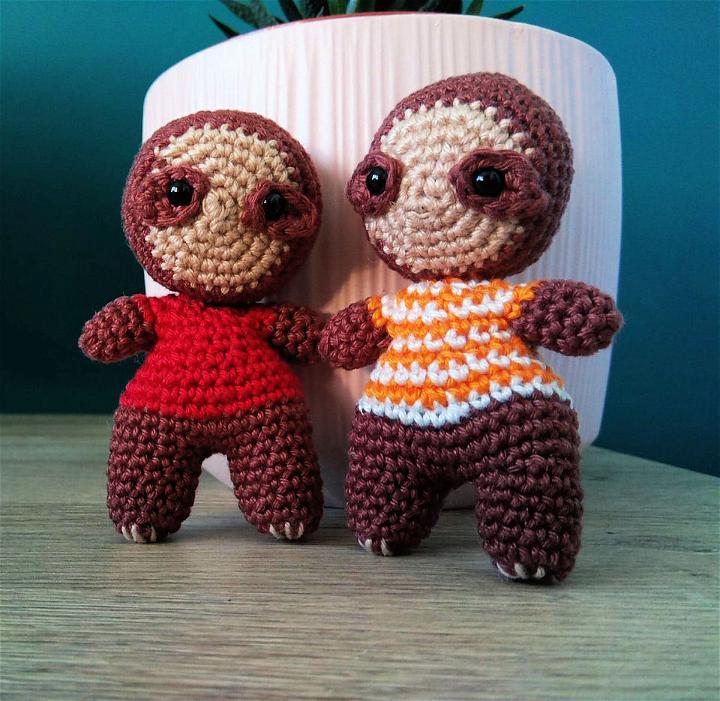 Discover adorable crochet sloth patterns that are perfect for beginners. Create a unique, cuddly gift that any child will love with the scott the sloth crochet amigurumi pattern! This easy-to-follow pattern includes step-by-step instructions to make an adorable stuffed animal toy. Crafted from soft and cozy yarn, this sloth will surely be a hit for kids of all ages. Perfect for snuggling during nap time or bedtime, this amigurumi stuffed toy makes the perfect companion for your little one.
Add beautiful details like embroidered eyes, colorful buttons and accessories like hats or scarves – let your imagination run wild! Make memories that last a lifetime with this cute crochet amigurumi animal stuffed toy today! blumecrochet
8. Free Crochet Ragdoll Sloth Pattern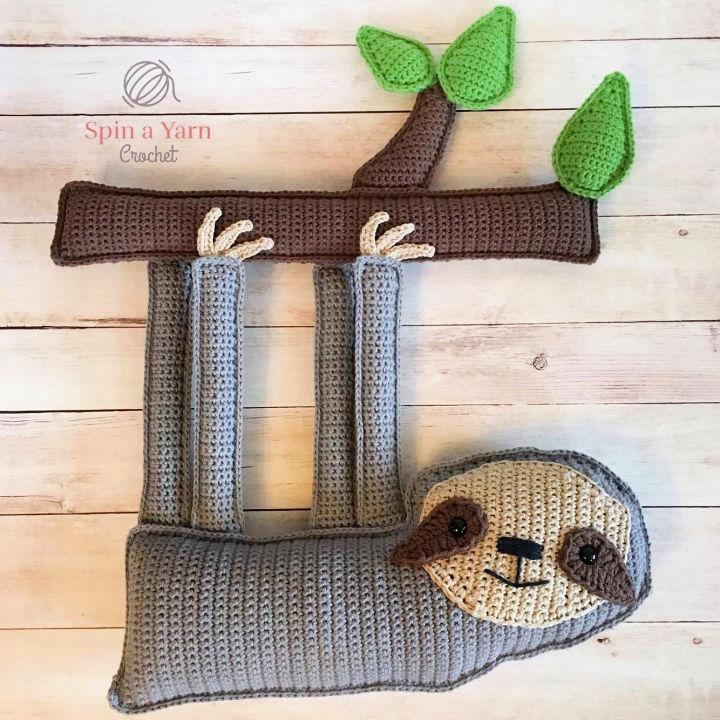 Add an adorable touch to any nursery or child's bedroom with this free crochet pattern for a ragdoll sloth. With two hooks sized 3.5mm and 4.5mm, 12mm safety eyes, twine, and a bit of time, you can craft this wall-hanging that measures 35cm/13.5 inches wide and 40cm/16 inches tall from the sloth's back to the tip of its small branch! Create something unique your little one will love; try this cute sloth crochet pattern today! spinayarncrochet
9. Crochet Stuffed Sloth Amigurumi Pattern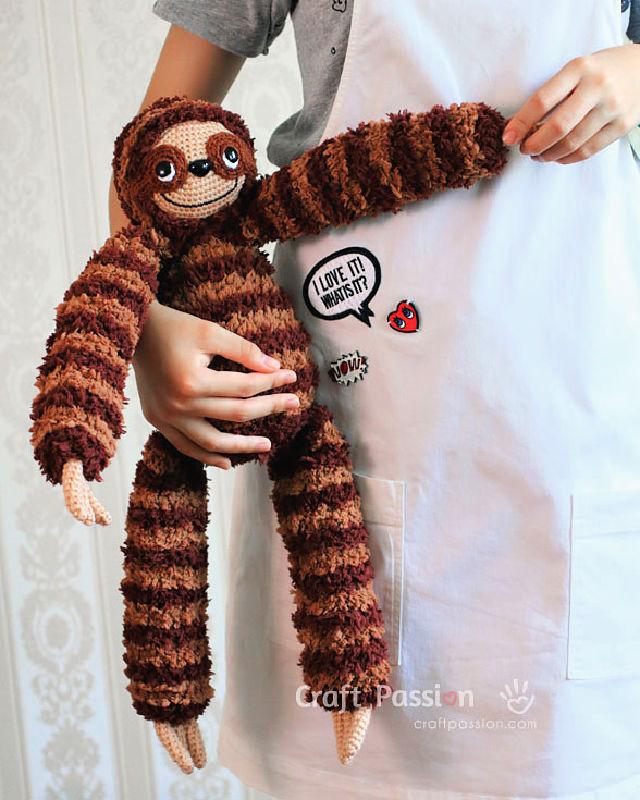 Crochet your own cuddly and fuzzy sill the baby sloth amigurumi with this free crochet pattern. You'll love crocheting using acrylic and fuzzy yarns, featuring 21 inches of sweet slothy goodness. Follow along with the 23-minute video tutorial to guide you through all the pattern's main points. Create a unique amigurumi for yourself or as a gift for someone special – it's sure to bring joy to any home! craftpassion
10. Fastest Crochet PJ the Sloth Pattern

Create an adorable 5.5" long and 4" tall sloth with this free pj the sleepy sloth crochet pattern! Using just half an ounce each of worsted weight tan and pj color yarn, a small amount of cream and black yarn is also needed for face patches, claws, and embroidery. An f (3.75 mm) hook is required to create your new friend; perfect as a gift or decoration in any home! Follow the easy-to-understand instructions today and start crocheting this sleepy little sloth! freecellpenguin
11. Cool Crochet Puffy Stuffy Sloth Pattern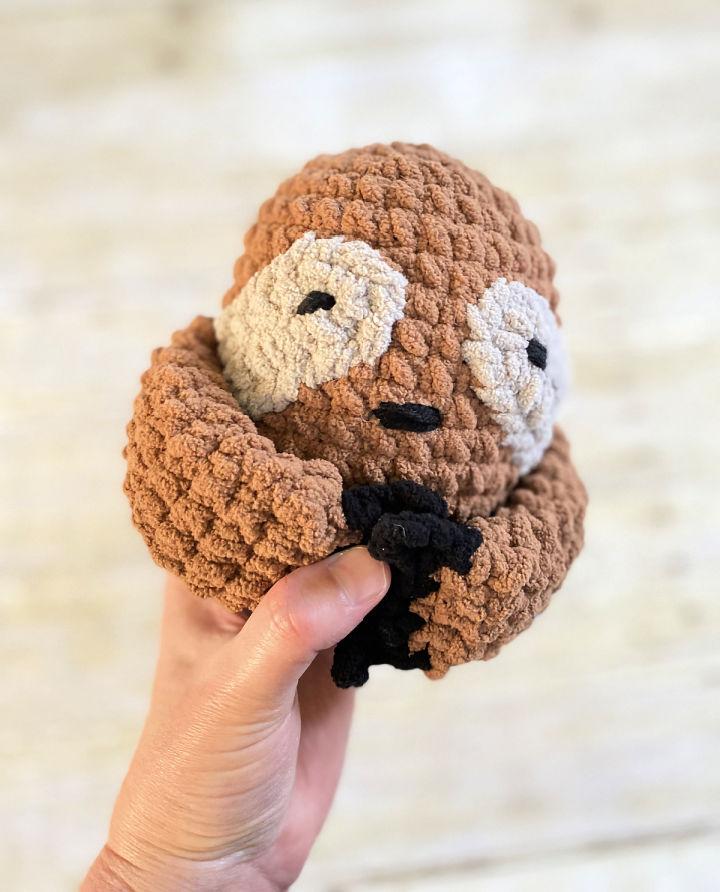 Test your crochet amigurumi skills and crochet a cozy and cuddly sloth with Bernat blanket yarn and worsted weight yarn using this "puffy stuffy sloth" amigurumi pattern. The best part? No joining is required so that you can choose the perfect colors for your new furry friend. Stuff it with polyester fiberfill to make it even more huggable! Make one for yourself or as a special gift for someone else – this easy crochet project will bring joy to all who receive it. Get started on crafting your puffy stuffy sloth today! ekayg
12. Crocheting a Heart Sloth Applique – Free Pattern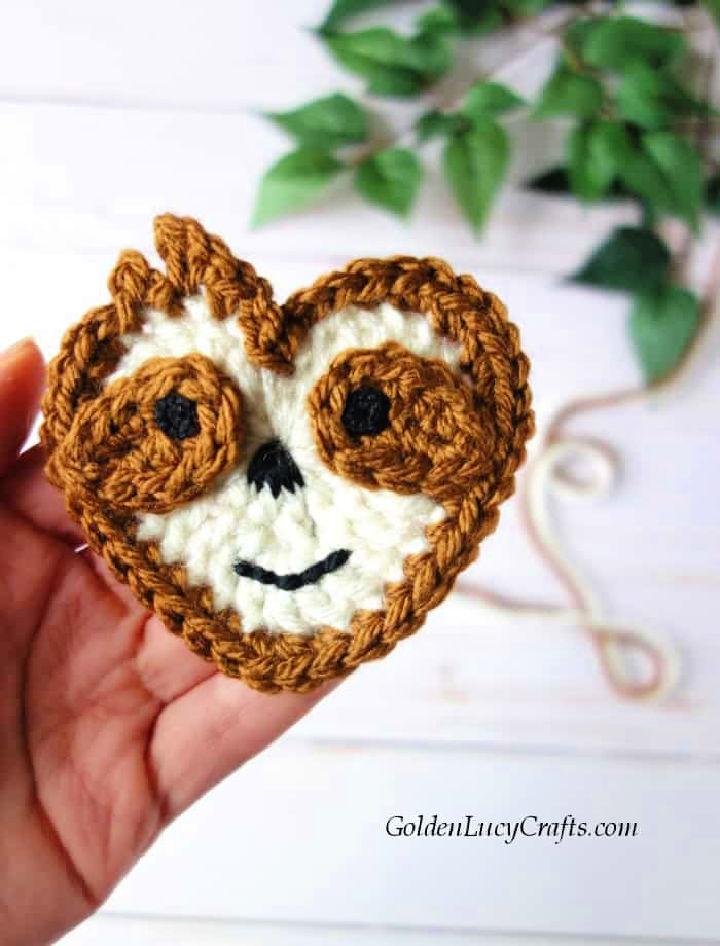 This cute crochet heart sloth applique pattern is perfect for adding fun to children's clothing, blankets, or homemade cards. Available in two sizes – 3″ and 1-¾″ – you can make the larger version for everyday items or the smaller one just in time for valentine's day. With easy-to-follow instructions, this crochet heart sloth applique adds a unique touch of charm to any project! Whether you're making something special for a little one or creating a handmade card, this pattern makes it simple and enjoyable. goldenlucycrafts
13. Free Crochet Bonds the Scarfie Sloth Pattern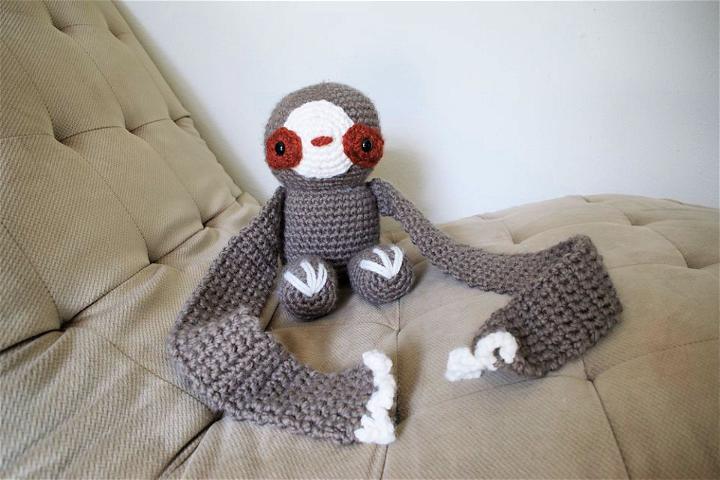 Keep warm and cozy with bonds the scarfie sloth! This wearable amigurumi has a scarf pattern that uses lion brand wool-ease thick and quick yarn, polyester fiberfill, and safety eyes to create an adorable sloth. With just a 9mm hook you can make this soft and snuggly buddy to keep you feeling snug. Make your winter warmer by bringing home bonds the scarfie sloth – perfect for all ages to cuddle up with in style! knotbadami
14. Crochet Sleepy Sloth Toy Pattern

Get ready to embrace your inner sloth with this adorable sleepy sloth crochet pattern! Inspired by the slow-moving, algae-covered creatures of the rainforest, this pattern is perfect for any busy parent needing a little relaxation. With a toddler in tow, life's journey can be slow, but it's important to embrace every moment and appreciate the world around us. This little guy looks adorable holding up a curtain alongside a cheeky monkey or zebra, so be sure to check out those patterns too. Start your crochet journey today and discover the joys of slowing down with the sleepy sloth! thoresbycottage
15. Crocheted Baby Sloth Amigurumi Pattern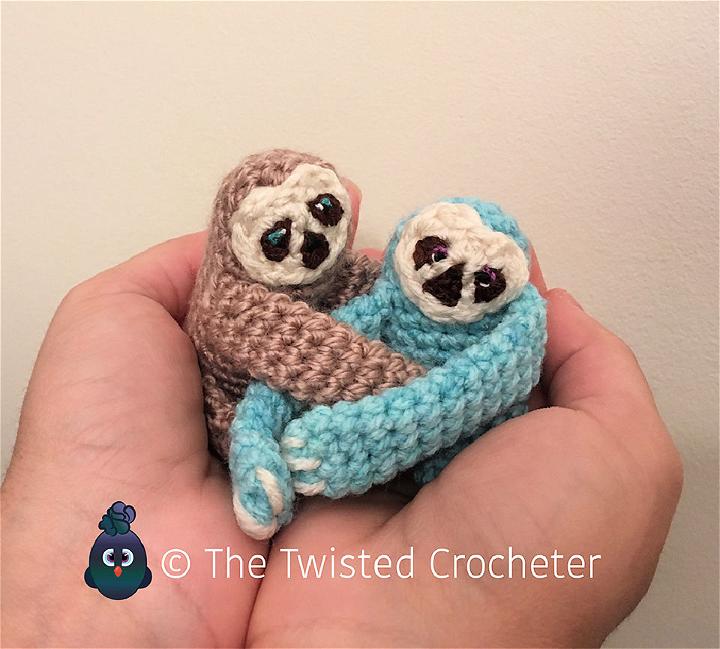 Find unique and adorable crochet sloth patterns for your next crafting project. Get ready to make the cutest crocheted baby sloth with this step-by-step amigurumi pattern! Download the free PDF now and start creating your adorable baby sloth with just a few materials like yarn, a crochet hook, stuffing, and safety eyes. This unique and creative project is perfect for anyone who loves crocheting and creating cute animal plushies. Browse the other available patterns to make more adorable animal plushies today. thetwistedcrochet
16. Cute Crochet Finger Sloth Amigurumi Pattern

Get creative with your hook and create a unique holiday decoration for your christmas tree this year with this amigurumi sloth crochet pattern! Using five colors of lightweight yarn, a 2.25 mm hook, and embroidery floss in black, you can make an adorable 4-inch sloth ornament to hang on your tree through the arm and leg loops. Enjoy a peaceful holiday season with a handmade sloth that moves at its own slow pace! Get creative and craft something special – start crocheting your cute sloth ornament today! tinycurl
17. Simple Crochet Sarita Sloth Pattern

Crochet your sarita sloth with this easy pattern! Perfect for beginners, it uses super bulky yarn and simple stitches to create an adorable creature. The finished size measures 12.5" long and 9" wide before adding the limbs and stuffing. Adding 15mm black safety eyes and poly-fil will complete the project – get creative by using different color yarns or embellishments! Learn how to crochet a sloth today with step-by-step instructions that make it achievable even for novice crafters. undergroundcraft
18. Crochet Sasha the Three-Toed Sloth Pattern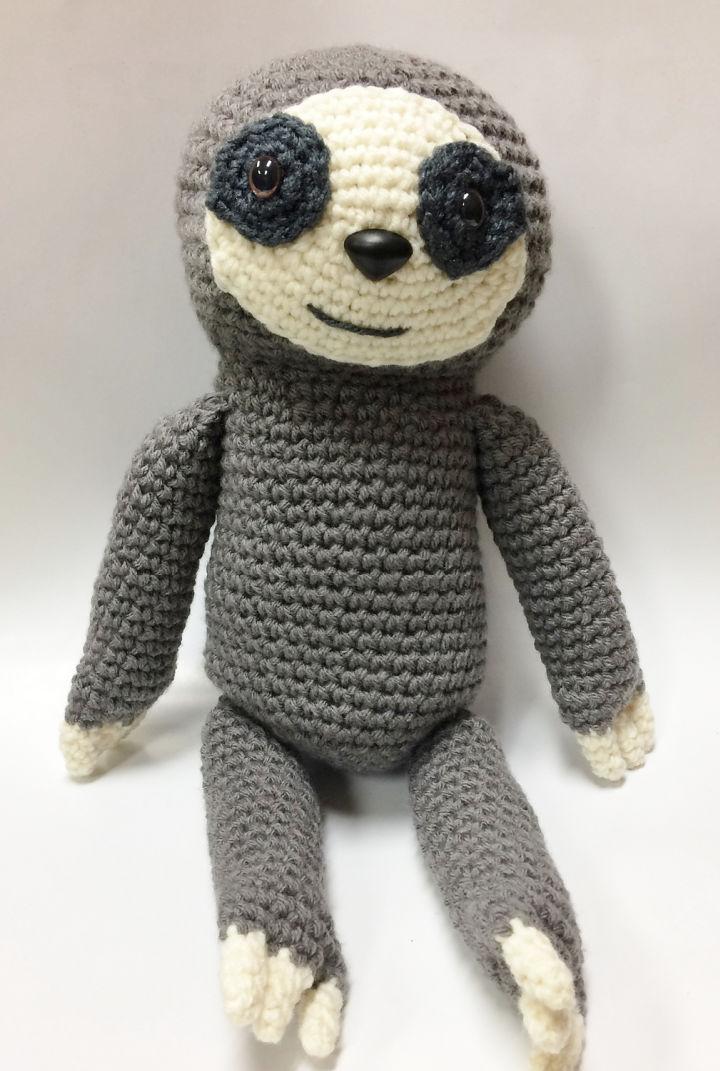 Using crochet sloth patterns, you can easily create your very own snuggly version of these slow-moving animals. Snuggle up with your very own three-toed sloth – sasha! This easy-to-follow crochet softie pattern allows you to create the huggable animal friend of your dreams. Don't worry about gauge – use whatever yarn and hook size you like. Plus, the pattern suggests using similar-weight yarn throughout for convenience! Get creative with colors and make sasha as unique as you are! ravelry
19. Best Amelia the Sloth Crochet Pattern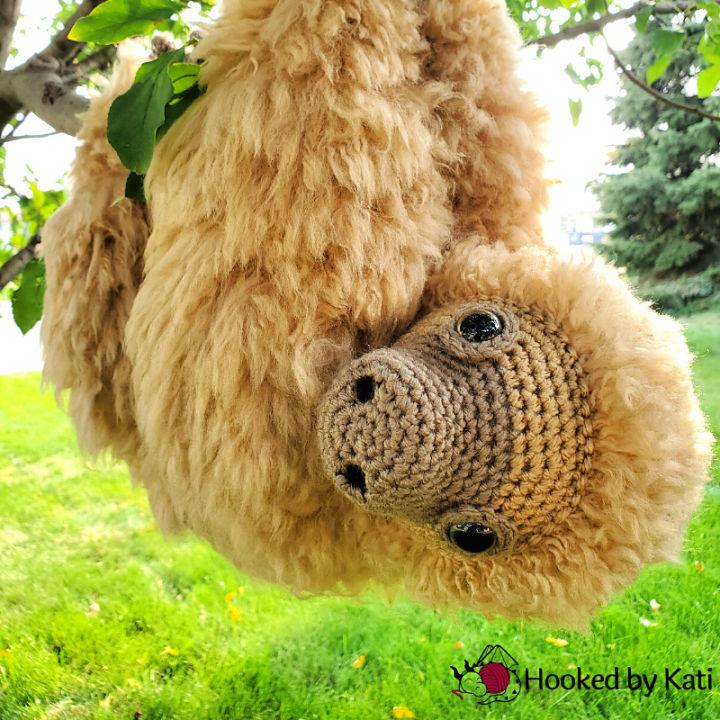 Are you looking for the perfect cuddly companion? Get ready to crochet amelia the sloth with this free pattern. All you need is yarn, a g (4.00 mm) hook, 18mm round pupil colored safety eyes, 16-19 gauge coated wire and poly-fil stuffing to create a huggable sloth that measures 13″ long and 10″ tall. Take advantage of this unique opportunity to craft your amigurumi sloth – get started today! hookedbykati
20. Free Crochet Sloth Applique Pattern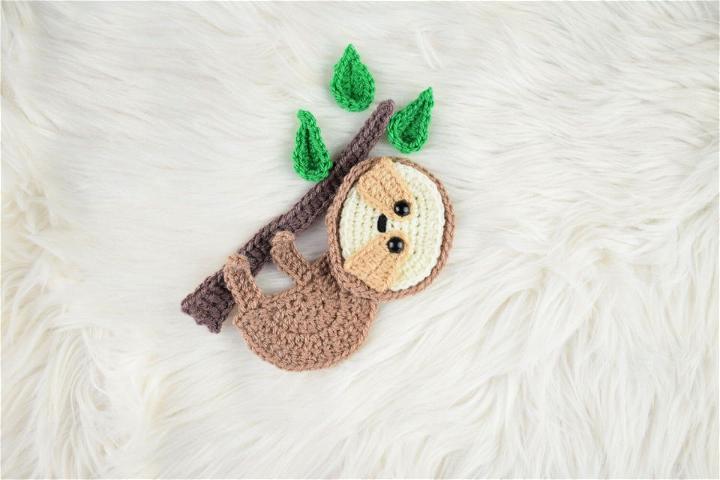 This cute sloth applique pattern brings fun and charm to your crochet projects! Using light brown, dark brown, cream, green and caramel or medium brown dk weight yarn, you can create a 6.5-inch by 6.5-inch masterpiece with the help of a 3.5mm US hook size e. This adorable design is perfect for adding an extra special touch to any project – whether it be a blanket, clothes accessory or home decor item – that will make everyone smile when they see it! Get creative with color combinations and show off your unique sloth creations today! passionatecraft
21. Crochet Spike the Sloth Amigurumi Pattern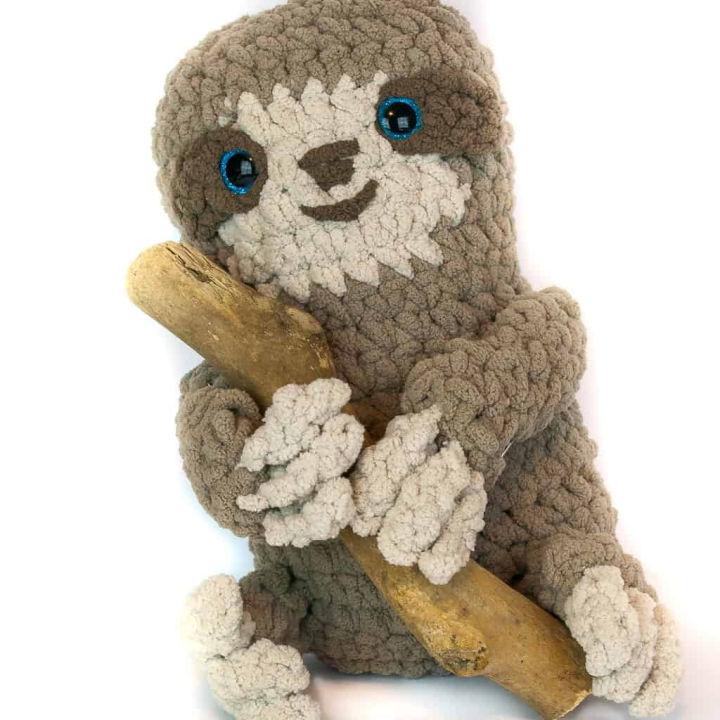 Get adorable crochet sloth patterns with our expert instructions, and start crafting today. Welcome to spike the crochet sloth! This free pattern is perfect for creating a soft, plush sloth that your young child will love. With Bernat blanket stripes yarn, size l – 8 mm and j – 6 mm crochet hooks, 16 mm safety eyes and poly-fil stuffing, you can make this hug-friendly pal quickly. The finished sloth measures 8 inches tall when sitting – so it's just the right size for snuggling up to whenever needed. So grab your supplies & materials now and make a spike today! windingroadcrochet
22. How to Crochet Sloth Hat – Free Pattern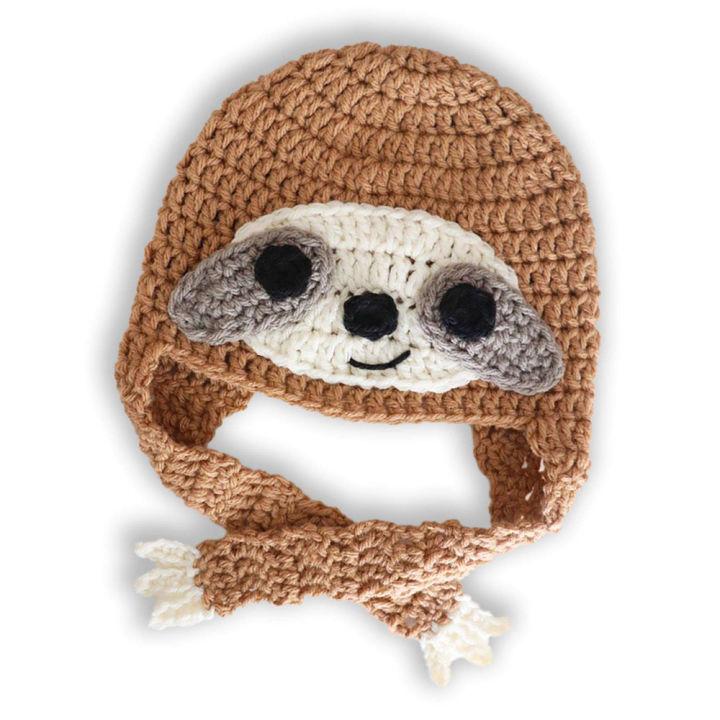 Stay warm and cozy with this cute and easy-to-make crochet sloth hat! This pattern includes sizes to fit 3 mos, 6 mos, 12 mos, 4/6 yrs, 8/10 yrs and teens. You'll need Bernat super value yarn in contrasting colors plus a size u.s. H/8 (5 mm) crochet hook for this project; the gauge is 13 sc and 14 rows = 4″ (10 cm). With basic crocheting skills, you can make an adorable sloth hat for your little one to keep them warm all winter! Get started on this crochet sloth hat pattern today! yarnspirations
23. New Crochet Luna Squish Sloth Amigurumi Pattern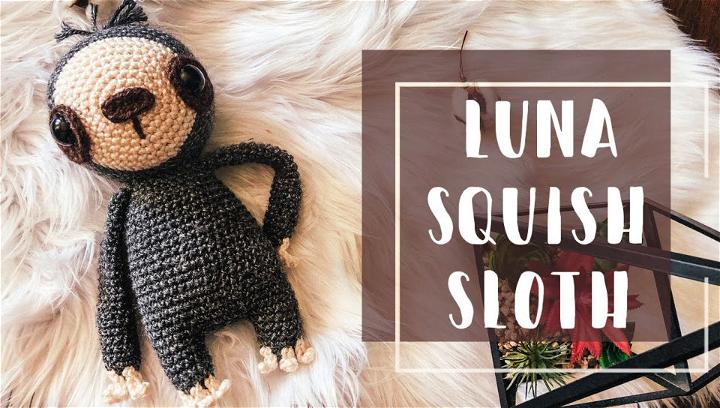 Make adorable crochet sloth patterns with our easy-to-follow instructions. Learn how to create an adorable luna squish sloth amigurumi with this easy-to-follow video tutorial! You only need worsted weight yarn, a crochet hook (size 3.25mm/d3), poly-fil for stuffing, and safety eyes for the perfect finishing touch. Follow a step-by-step video guide to learn all the basics of amigurumi from start to finish. Create your unique squishy sloth in no time, and enjoy your handcrafted creation! Perfect for beginners or experienced crocheters alike.
24. Crocheted Amigurumi Sloth Pattern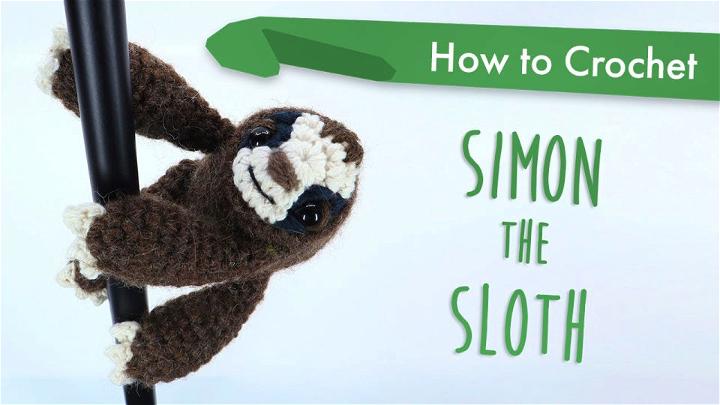 This amigurumi crocheted sloth tutorial will guide you through creating your sloth plushie! All the materials needed for this project are easy to find – worsted weight yarn, size g6/4.00mm hook, safety eyes (8mm) and mini magnets.
Start crocheting with simple rounds to make an adorable sloth that's sure to bring a smile to anyone's face! With detailed video instructions throughout the process, this tutorial is perfect for beginners looking to improve their skills. Get ready for hours of crafting fun with this unique project – create your crochet sloth today!
25. Free Crochet Sloth Pattern for Beginners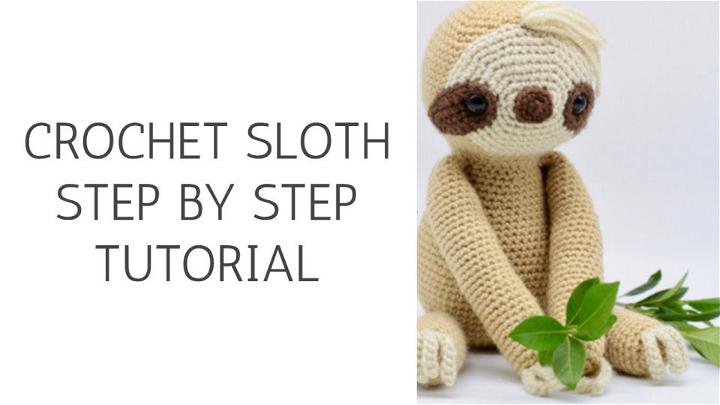 Go with this diy video tutorial that is perfect for beginners who want to learn how to crochet an adorable sloth amigurumi! With step-by-step instructions, you can easily make your amigurumi crochet animal. Have fun and express your creativity by bringing the cutest sloth to life! Start crocheting today and create a memorable masterpiece that will last generations. Get creative with this easy yet amazing project – make your sloth now!
Related Free Crochet Patterns:
Explore a world of creative possibilities with our selection of free crochet patterns! Perfect for beginners and pros alike, these easy-to-follow designs will help you craft beautiful projects in no time.
Conclusion: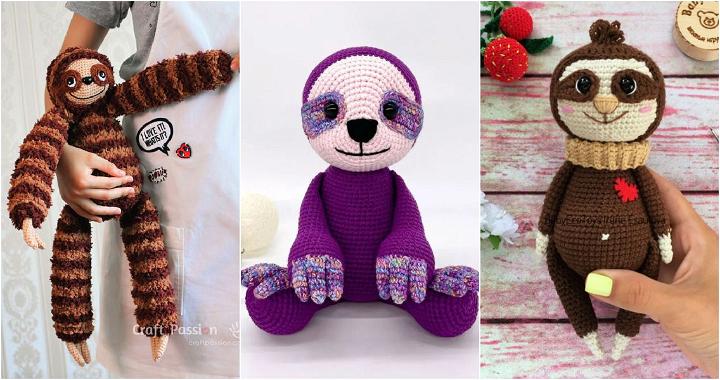 In this collection of 25 free crochet sloth patterns, you'll find an array of adorable and unique sloth designs to make. From amigurumi sloths to hanging planters, crocheted hats, and more, there's something for every sloth lover to enjoy. These free and easy crochet sloth amigurumi patterns are perfect for both beginner and skilled crocheters alike, and they're all completely free to access. So why not make a cute crocheted sloth amigurumi today? Check out the various crochet sloth patterns available above and get started on your next sloth-inspired project.