Crochet penguins make a delightful addition to any room, bringing cute and quirky vibes. Why not try making your very own crocheted penguin? With our list of 25 free crochet penguin patterns, you can find the perfect penguin amigurumi pattern to suit your style and skill level. These free penguin patterns range from easy and beginner-friendly to more advanced and detailed designs, so there's a penguin amigurumi pattern for everyone.
Each crochet penguin pattern comes with detailed step-by-step instructions, so even if you're new to crochet, you can easily create a cuddly penguin friend. You'll find free crochet penguin patterns for toys, appliques, blankets, hats, and more, all with adorable and unique home decor designs. Some popular crochet penguin patterns include Chilly the Penguin, Pew the Baby Penguin, and Frosty the Penguin.
Whether you're looking to create a special gift for a loved one or add cuteness to your home, crocheting a penguin is a great way to get creative. So, pick up your hook and yarn and start crocheting your very own penguin amigurumi today!
Uses and Benefits of Crochet Penguin
Crochet penguins are a great way to relax and unwind. Crocheting is calming and useful in treating insomnia, anxiety, and depression. According to a study done by researchers at the University of Wollongong, Australia, crocheting can yield major mental health benefits, including improved focus and memory and relief from depression and anxiety.
Crocheting penguins can also reduce stress and blood pressure, decrease symptoms of depression, and reduce chronic pain. The meditative and repetitive action of knitting and crocheting help focus the mind on the activity, slowing the nervous system and reducing anxiety and stress hormones (cortisol) in the body.
Penguins are the perfect place to start if you want to learn how to crochet amigurumi because their bodies are such simple shapes. Changing colors is the only thing you find tricky if you are a beginner crocheter. Wonky color changes can lead to uneven lines and muddy looking designs.
Here are some creative crochet penguins uses, benefits and useful tips:
1. Stress Reduction: Crocheting a penguin can help lower stress levels by providing a creative outlet for relaxation and mindfulness. Focusing on the intricate stitches allows the mind to be present, offering a therapeutic escape.
2. Enhance Fine Motor Skills: Crafting a crochet penguin involves precise hand movements, strengthening fine motor skills and talent.
3. Boost Self-Esteem: Completing a crochet penguin project fosters a sense of accomplishment, enhancing self-esteem and confidence in one's abilities.
4. Eco-Friendly Gift: A handmade crochet penguin makes a thoughtful, environmentally-friendly gift that can be cherished for years.
5. Unique Home Decor: Crochet penguins can add a touch of whimsy and character to your living space, serving as an eye-catching conversation starter.
6. Educational Tool: These penguins can be used to teach children about wildlife conservation, fostering empathy and understanding towards endangered species.
7. Creative Outlet: Crocheting penguins allow individuals to express themselves artistically, experiment with color combinations, and develop personal design preferences.
8. Social Connection: Joining a crochet group or sharing your penguin creations on social media can foster connections with like-minded individuals, promoting a sense of belonging and camaraderie.
9. Income Opportunity: Skilled crocheters can sell their handmade penguins on online marketplaces or at local craft fairs, generating additional income.
10. Customizable Keepsakes: By incorporating unique elements such as initials or special colors, a crochet penguin can become a personalized keepsake for yourself or a loved one.
We've shared 25 free crochet penguin patterns available below that are cute and easy to make. You can use them as a decoration or as a cuddle buddy.
1. Free Crochet Penguin Amigurumi Pattern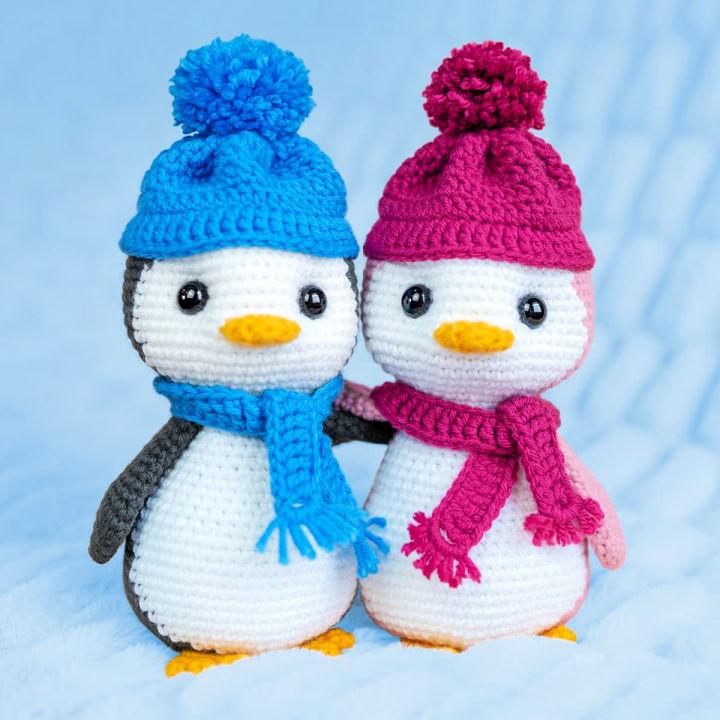 Create your own cuddly companion with these free crochet penguin patterns! Let's make your own delightful amigurumi toy with this advanced-level crochet peter the penguin amigurumi pattern! This 14″ cutie will surely bring a smile when you craft him up with 15mm safety eyes, yarn (acrylic, weight 4), a 3.5mm hook and fiber fill. Make this adorable penguin stuffed animal today to add love and fun to your collection! He's perfect as a gift for any special occasion or just because – invite peter the penguin into your home today! jesshuff
2. Crochet Stuffed Penguin Tutorial
Introducing poppy, the adorable 8.5″ penguin crochet pattern! Perfect for intermediate crocheters, this free pattern uses fine sport #2 = 4-ply yarn to make a lovable toy your little ones will love to cuddle up with. Make poppy your own by using different colors and personalizing her details – she's sure to steal everyone's hearts! So add this cutie to your craft corner and show off the snowy friend you made yourself. cuddlystitches
3. How to Crochet Penguin – Free Pattern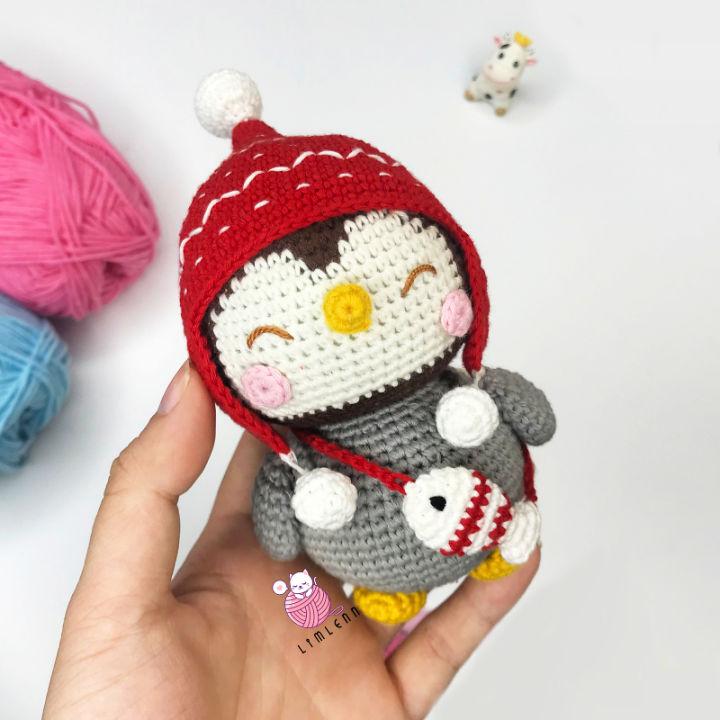 This adorable crochet penguin is perfect for any softie lover! Not only does the pattern size adjust with different yarn weights, but you can make an 18″ plushie or something even smaller. The pattern calls for a 2.5mm hook and yarn 2mm thick, though these materials are easily adjustable to fit your needs. Make your unique crochet penguin today – it's sure to become a fun addition to any home! ravelry
4. Crochet Chilly the Penguin Pattern
Make your holiday gift-giving special with the chilly penguin crochet amigurumi pattern! This intermediate pattern uses worsted weight yarn in 5 colors and a size us e/3.5mm crochet hook to create an adorable, huggable friend. Add two 9mm safety eyes and stuffing for a complete look that will delight any recipient of all ages! With chilly the penguin's unique combination of colors, stitches, and textures, you'll surely find a place on everyone's wishlist! thehooknooklife
5. Beautiful Crochet Large Penguin Pattern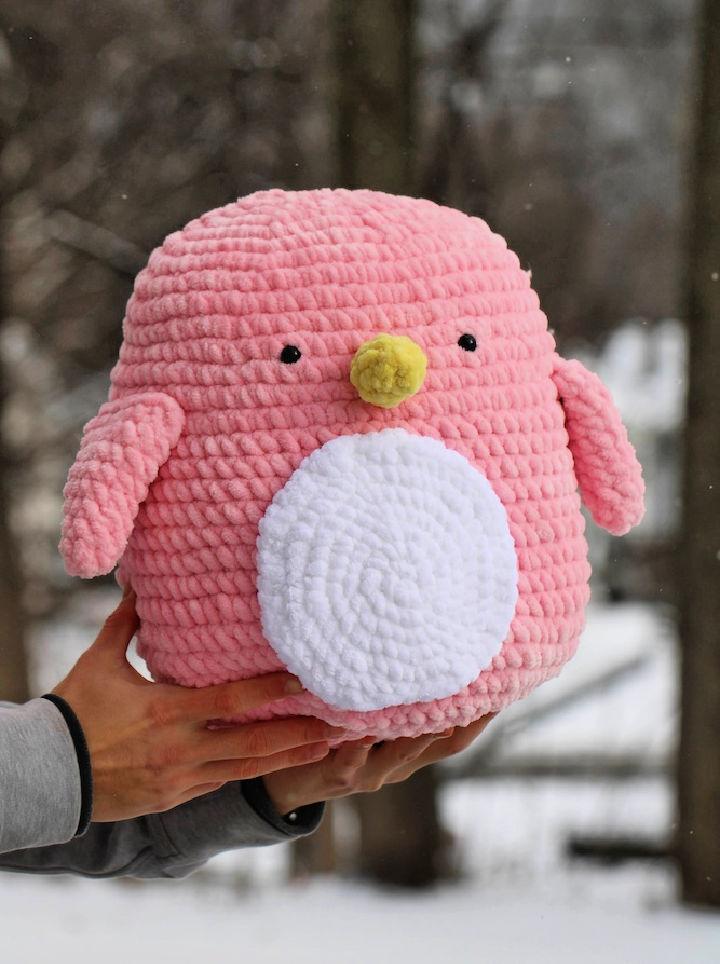 Add a fun and unique accent to any child's room or couch with this crochet jumbo penguin pillow amigurumi pattern! Made from sweet snuggles jumbo yarn, size i 5.5mm hook and 10.0mm safety eyes, the cuddly pillow will surely be a hit for both kids and adults alike. Perfect for those looking to add some personality to their decor, the lovable penguin can make any space more lively. Get creative and make this special handmade item today – it's sure to be an unforgettable gift or addition! littleworldofwhim
6. Crochet Pippo the Little Penguin Pattern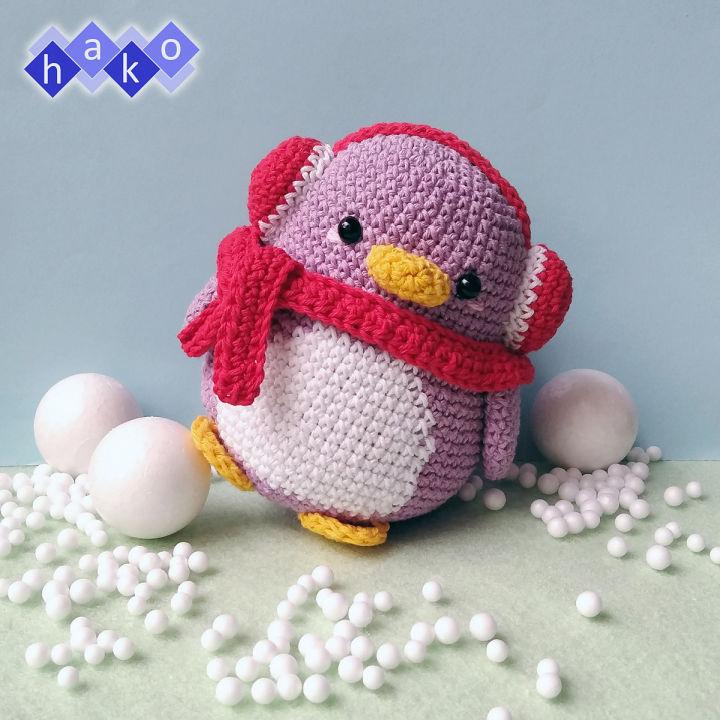 Let pippo, the adorable little crochet penguin, join your collection! Standing at 10cm tall and made with a 2.5mm hook, cotton yarn in purple, white, yellow, red and pink, along with 6mm safety eyes and fiber fill – this softie is guaranteed to bring joy to any home! With plenty of character but still small enough for you to carry around wherever you go, add crochet pippo amigurumi pattern to your loved ones' collections today! ravelry
7. Pretty Crochet Mini Penguin Pattern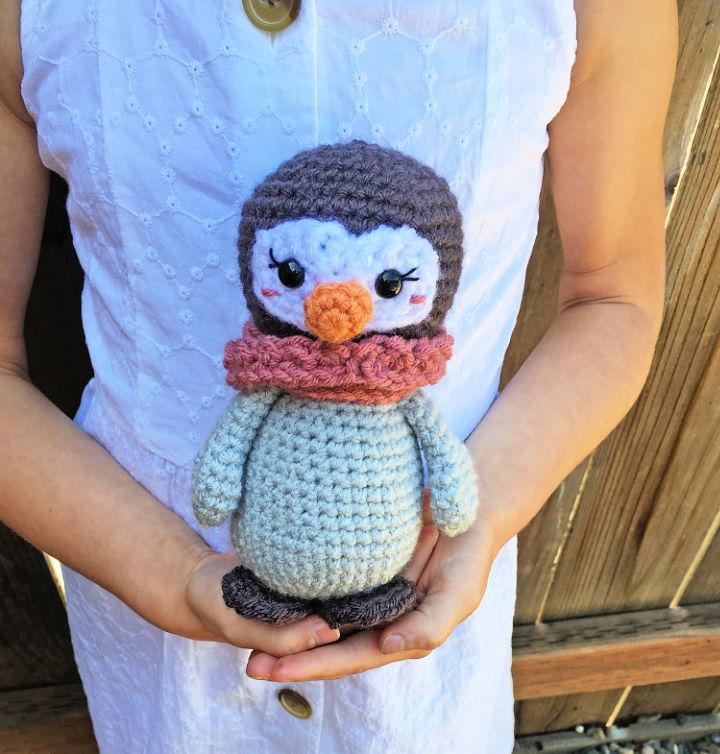 This free crochet amigurumi pattern is perfect for all the mini penguin lovers out there! With size 4 worsted weight yarn in light gray, gray, white, and orange and an accent color of your choice for the scarf and cheeks, you'll have everything needed to create this adorable crocheted companion. Plus, don't forget a 3.5mm crochet hook, 5mm crochet hook for the scarf, 9mm safety eyes, black embroidery thread or crochet thread for eyelashes and stuffing. This beginner-friendly pattern will ensure every craft enthusiast can create their fun penguin pal! graceandyarn
8. Crocheted Amigurumi Penguin – Free Pattern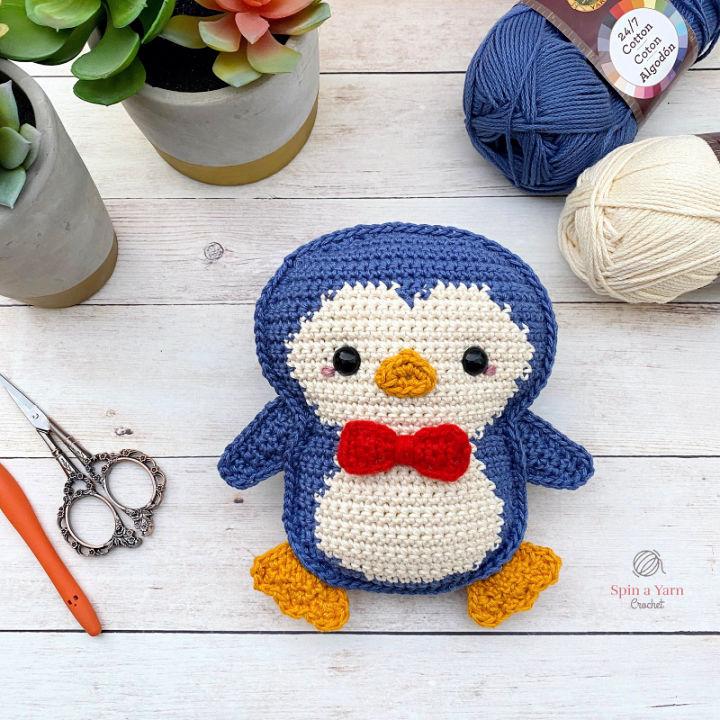 Create a one-of-a-kind 2D penguin look with this tapestry crochet penguin pattern! Perfect for an intermediate crocheter, the pattern is easy to follow and yields an approximately 18cm/7″ penguin. You'll need 3.25mm & 2.75mm hooks, lightweight yarn, 12mm safety eyes & stuffing to bring your creation come alive. Then you can proudly display it in your amigurumi collection – a unique addition that will stand out! Don't wait any longer – get crafting now and show off your finished masterpiece! spinayarncrochet
9. Quick and Easy Crochet Penguin Pattern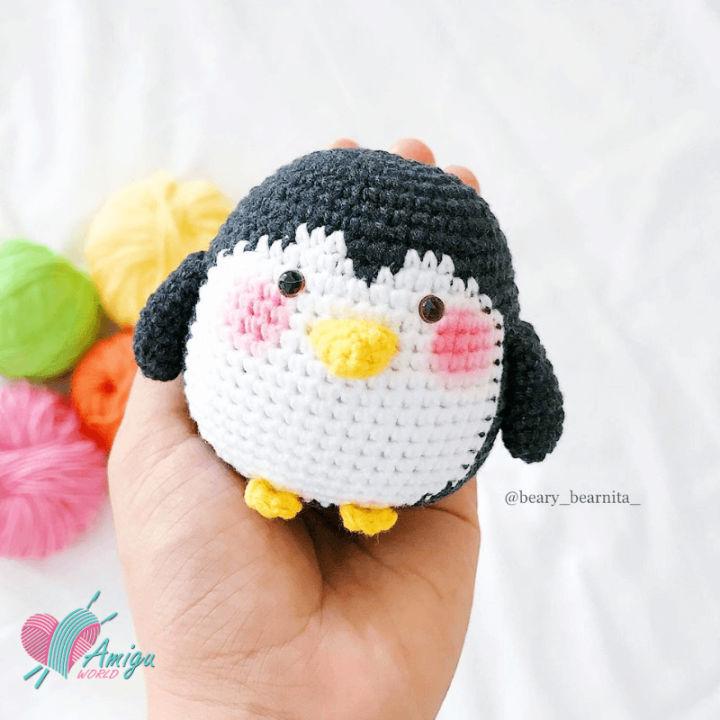 Are you looking for an adorable and unique way to add personality to your home? Then go with this free and easy-to-follow amigurumi crochet pattern! Perfect for beginners, you can make your cuddly penguin friend with just dk lightweight yarn, a 2-2.5 mm crochet hook, fiberfill stuffing, and safety eyes. So put on some relaxing music, grab your supplies, and get ready to relax as you create an animal companion that will be the envy of all! amiguworld
10. Free Crochet Snowflake Penguin Pattern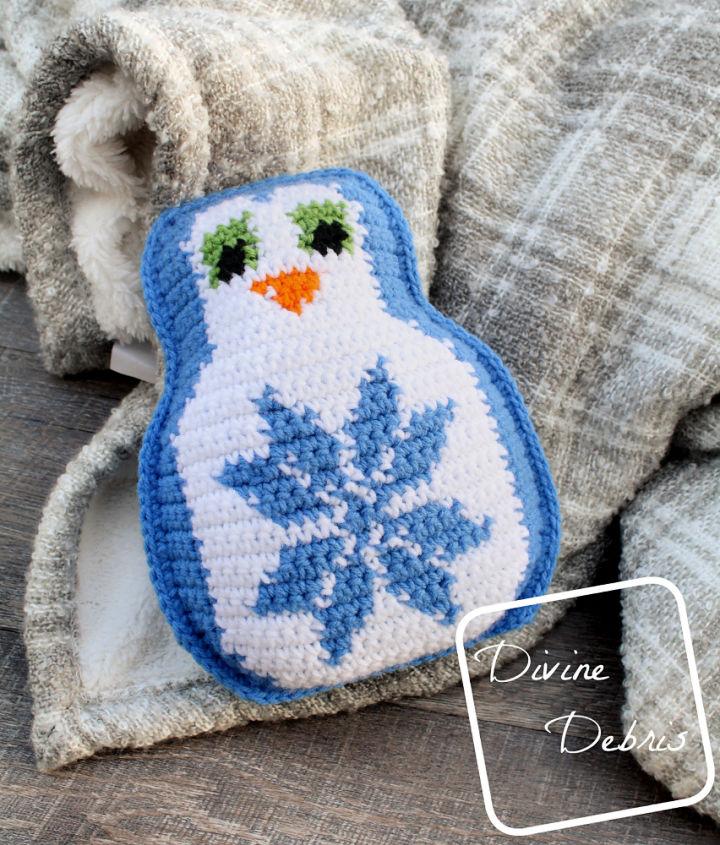 This winter, get cozy and stay warm with this snowflake penguin amigurumi pattern! This 10-inch tall and 6-9 inch wide pattern requires a US g (4.00 mm) crochet hook, Aran/medium/size #4 weight yarn in at least 5 colors, ami stuffing, and some time for crafting – you'll be enjoying your new friend before you know it! Perfect for gifting or snuggling up to yourself on cold nights, create your snowflake penguin today to bring some extra seasonal cheer into your home. divinedebris
11. Best Pew the Baby Penguin Crochet Pattern
Crochet your own cute and cuddly mini penguin with one of the these free crochet penguin patterns. Meet pew, the sweet baby penguin! Create your adorable little friend with this crochet penguin amigurumi pattern, requiring dk weight yarn in black, grey, cream and small amounts of red, white, green and yellow. All you need is a 2.5 mm crochet hook, two 5mm safety eyes and a small button to make this huggable character perfect for snuggling during those cold winter months or singing Christmas carols! Perfect for anyone looking for an easy-to-make project that will bring joy all year round. khuccay
12. Crochet Zippy the Penguin Pattern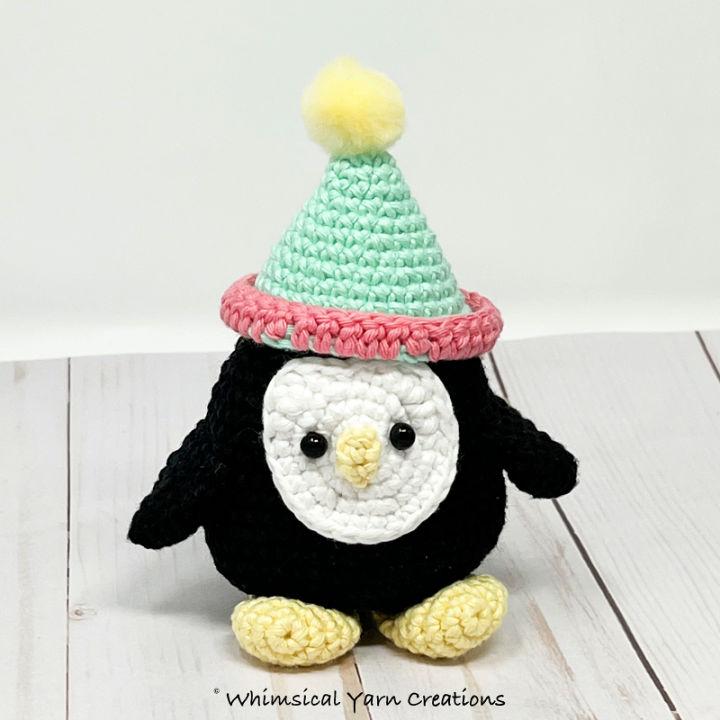 Introducing zippy the penguin – a creative and adorable crochet penguin amigurumi pattern! Perfectly crafted with hobbii rainbow cotton 8/8 yarn and a 3 mm hook, this 5-inch tall penguin requires 6 mm safety eyes, a pom pom, and polyfill stuffing. Whether you're an experienced crocheter or just starting, zippy will surely be a fun and creative crochet project! Create something special for yourself or give it as a gift; it's sure to bring smiles! Get started on your version of crochet zippy the penguin amigurumi today. whimsicalyarn
13. Crochet Theo the Penguin – Free PDF Pattern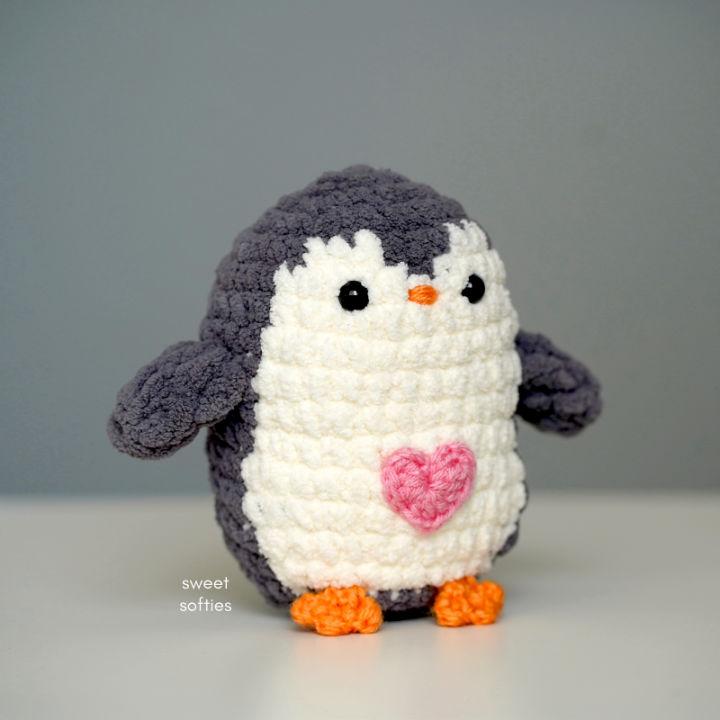 Make your own pocket-sized companion with free crochet theo the penguin amigurumi pattern! This 16 cm tall cutie is perfect as a keychain or pocket pal for any penguin lover. With dk weight yarn and easy-to-follow instructions, anyone can crochet their little theo quickly. Get creative by personalizing him with colorful buttons and fabric scraps to make a unique addition to your collection of amigurumi toys! sweetsofties
14. Crochet Baby Penguin Amigurumi Toy Pattern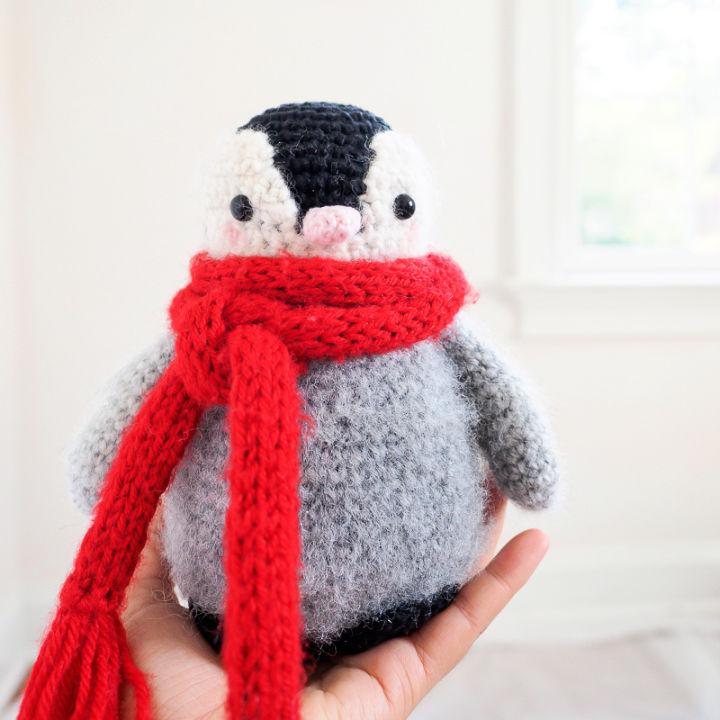 This handmade crochet baby penguin amigurumi pattern is the perfect way to add winter snuggles to your home. Create a cozy little friend with two different patterns available for different heights using baby soft boucle or scarfie yarn. This cute and cuddly amigurumi will make an adorable addition that kids and adults alike can enjoy all winter! Get ready for warm hugs and love – your cute little penguin awaits you! 1dogwoof
15. Crochet Playful the Baby Penguin Idea
Bring the magic of winter to your home with this playful crochet baby penguin amigurumi pattern! This intermediate-level pattern requires worsted weight yarn, a size h/5mm crochet hook, and polyester fiber filling to make an emperor penguin chick who loves cold weather and playing in the snow. Create a cuddly companion for yourself or someone special today – it's sure to be cherished for years to come! Perfect for kids or adults alike – take advantage of this unique opportunity to make your special snowy pal. stitchesnscraps
16. Unique Free Crochet Frosty the Penguin Pattern
Bring a wintery sparkle to your home with this crochet frosty the penguin amigurumi pattern! This delightful amigurumi will bring you joy and make your holiday season extra special. Crafted using leftover worsted weight yarn, this pattern will help you use up your yarn stash while creating an adorable penguin wearing a hat and scarf. It's made from the bottom up, so it's perfect for those looking for an easy-to-follow project that still yields beautiful results. Get ready to meet the cuddliest member of your family: frosty the penguin! yarnhild
17. Simple Crochet Amigurumi Penguin Pattern
Crochet your own unique penguin with one of the many available crochet penguin patterns! Upgrade your crochet skills with this advanced beginner amigurumi penguin pattern! Create a 9-inch tall cuddly penguin buddy using your crochet hook, stuffing, safety eyes, and worsted 4-medium acrylic yarn. This easy-to-follow pattern will guide you through the steps so anyone can quickly make a cute penguin plushie. Perfect for snuggling or displaying – make one today and let your creativity soar! jenhayescreations
18. How to Crochet a Snuggles the Penguin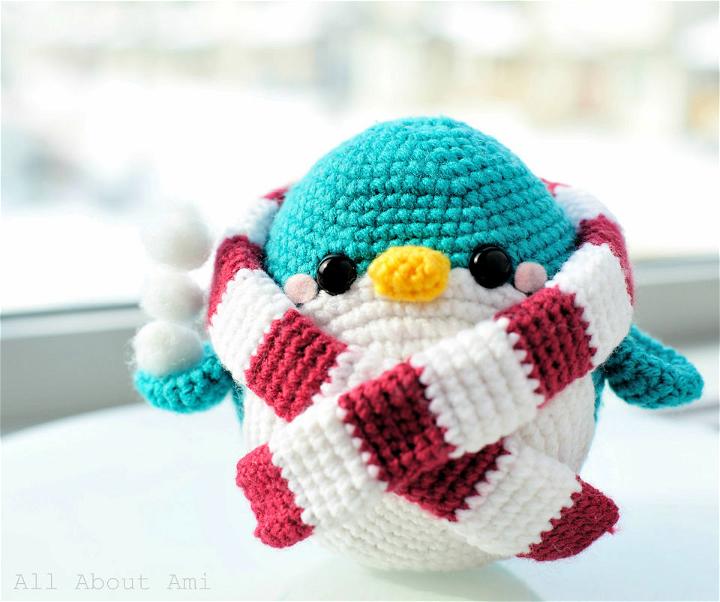 Welcome, snuggles the penguin, your perfect crocheted friend for all seasons! Create this lovable penguin with a 2.00 mm crochet hook and easy-to-find materials like turquoise, white, yellow, and red yarn; fiberfill; pink felt for cheeks; and 12 mm safety eyes. Add a removable scarf to complete the look!
With detailed instructions provided, you won't have any problems making snuggles the penguin plushie in no time, and he will surely bring joy to your home throughout all four seasons. So get ready to make a new best friend: it's time for snuggles the penguin! allaboutami
19. Free Crochet Penguin Applique Pattern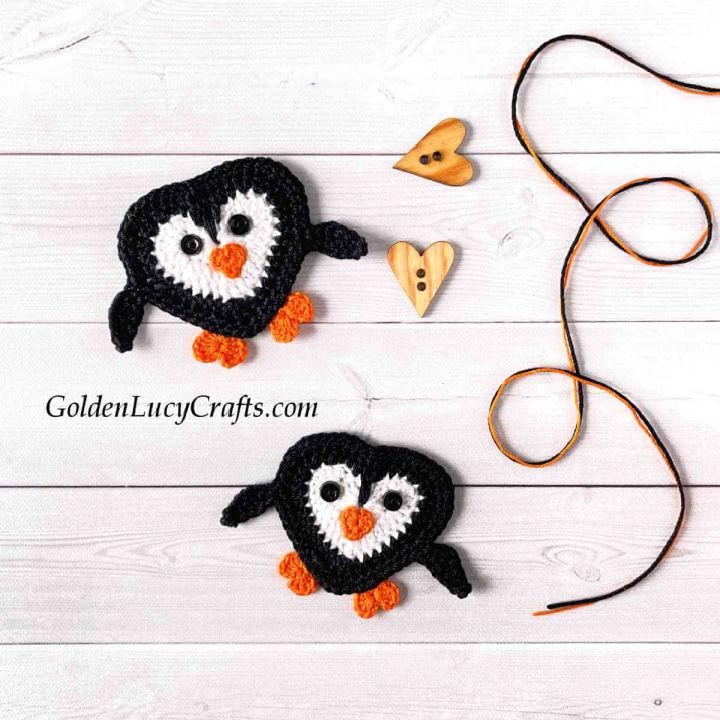 This lovely heart-shaped crochet penguin applique pattern adds a unique and special touch to any outfit or accessory! This easy-to-follow pattern is perfect for the beginner crocheter consisting of different-sized hearts. When completed, this gorgeous appliqué is approximately 2-⅜″ (6 cm) tall and can be customized by choosing your favorite colors. Create a personalized look that will surely make you stand out from the crowd! This delightful heart penguin applique pattern will add love to your clothes, blankets, hats, or bags today. goldenlucycrafts
20. Cool Crochet Cuddly Penguin Pattern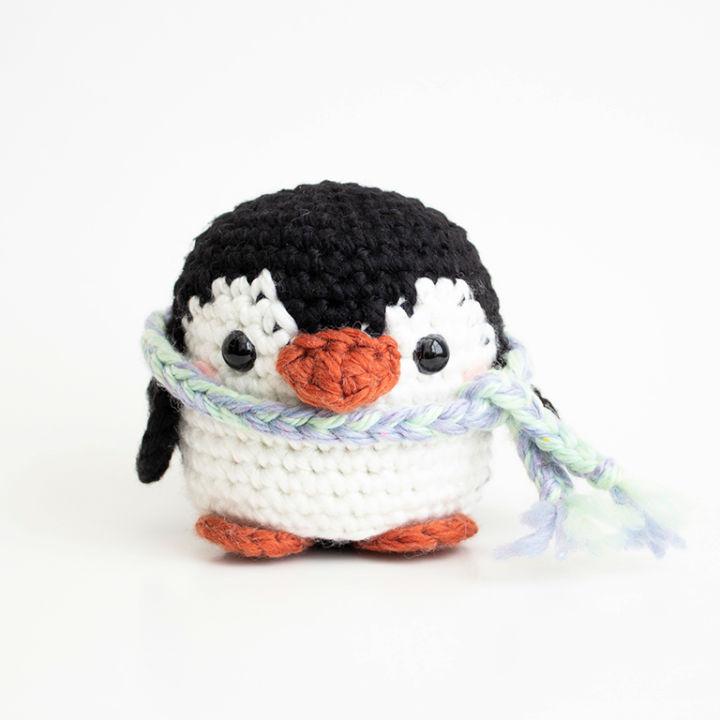 Create a special holiday surprise with this free cuddly crochet penguin pattern! All you need is level 6 super bulky yarn, a size 7mm crochet hook, black safety eyes, pink felt for cheeks and a hot glue gun. This 5-inch tall and 5.5-inch wide penguin will make the perfect gift or addition to any home décor. Easy instructions in the pattern will be fun for beginner crocheters and experienced alike – get ready to enjoy some festive crafting! amenagerieofstitch
21. Cute Crochet Pocket Pal Penguin Pattern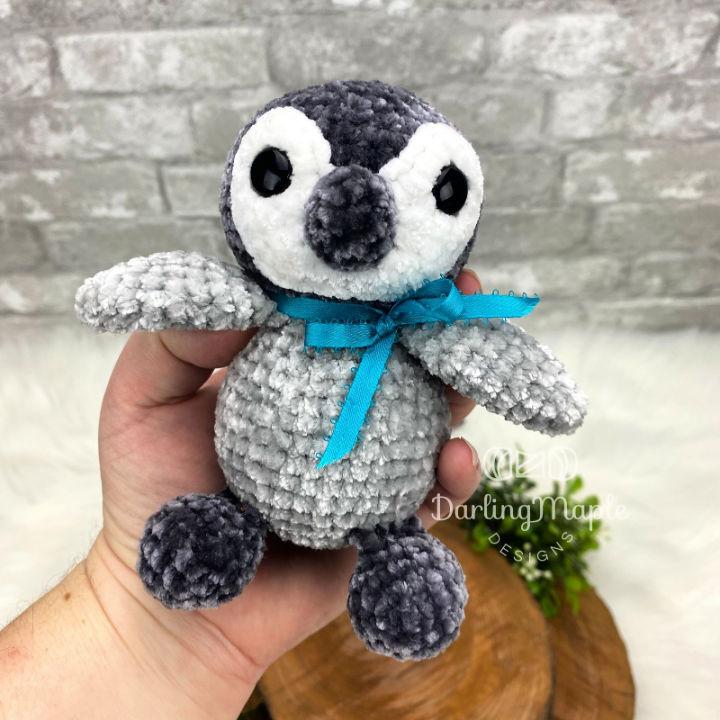 Crochet your unique pocket pal penguin with minimal sewing effort using this free crochet penguin amigurumi pattern! With this easy crochet pattern, a 4.0 mm (g) hook and bernat baby velvet yarn in pale gray and vapor gray, you can make the perfect gift for last-minute occasions or craft markets. Add black safety eyes and polyester filling to create an adorable plush friend that will quickly become a favorite companion! Try out this fun project today to add some cuteness to your home. darlingmapledesign
22. Crochet One Piece Penguin Amigurumi Pattern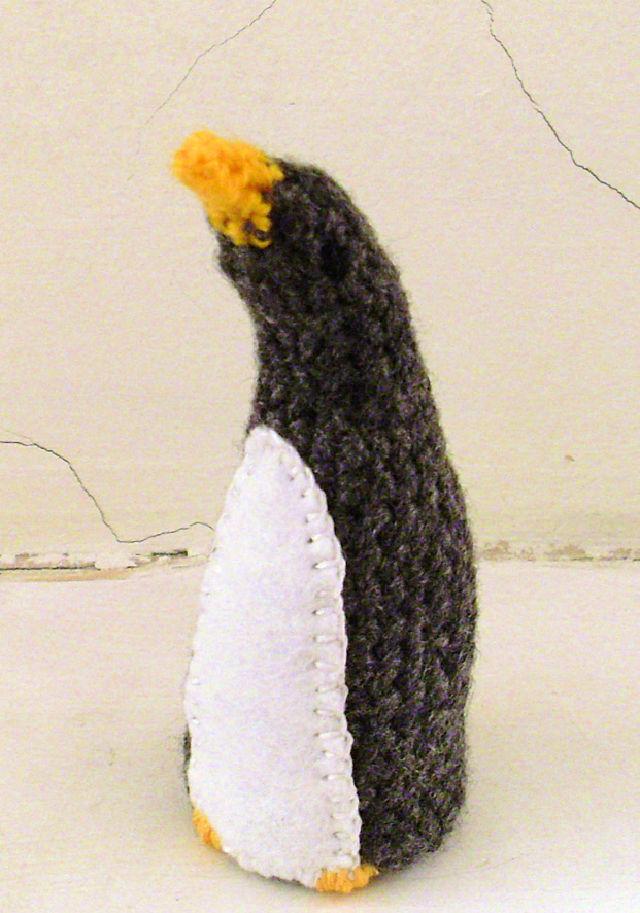 This amigurumi penguin pattern is perfect for a quick and cute project! You can create this adorable spiral-worked penguin with a 4mm crochet hook and worsted weight yarn. Keep track of rounds with a stitch marker to get the most out of your work – it's sure to bring smiles to everyone who sees it! Get started on your cuddly buddy today with this easy-to-follow penguin pattern. neschof
23. Free Crochet Cuddle Penguin Blanket Pattern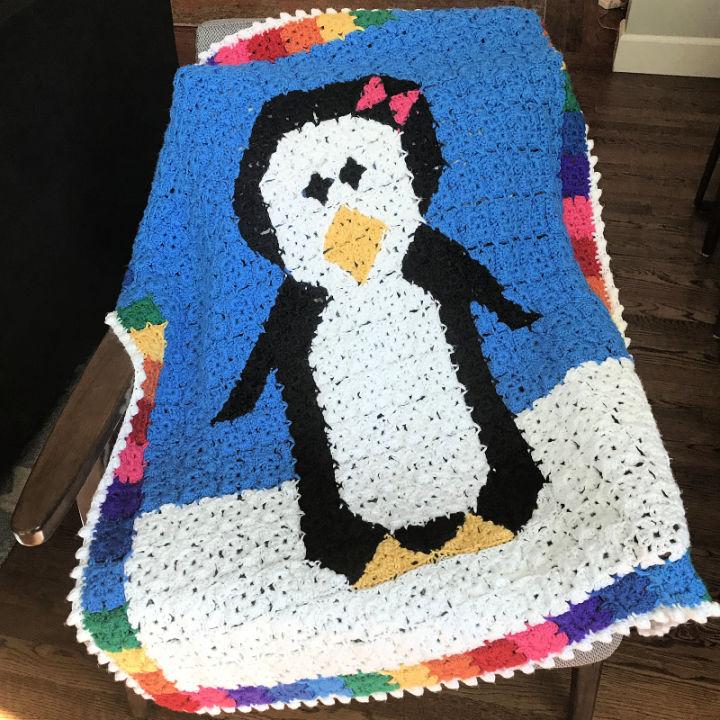 Welcome to the world of crochet! Are you looking for a fun and easy way to keep your baby warm and snug? Go with this adorable penguin cuddle quilt pattern! You can craft an incredibly cozy blanket featuring a sweet little penguin design using a 4.0 mm (g) hook and any yarn. The perfect gift for that special baby in your life, this delightful cuddle quilt will quickly become their favorite snuggle buddy! So get creative today with this one-of-a-kind crochet pattern and give your little one something they'll love forever. ravelry
24. How to Crochet Penguin Hat – Free Pattern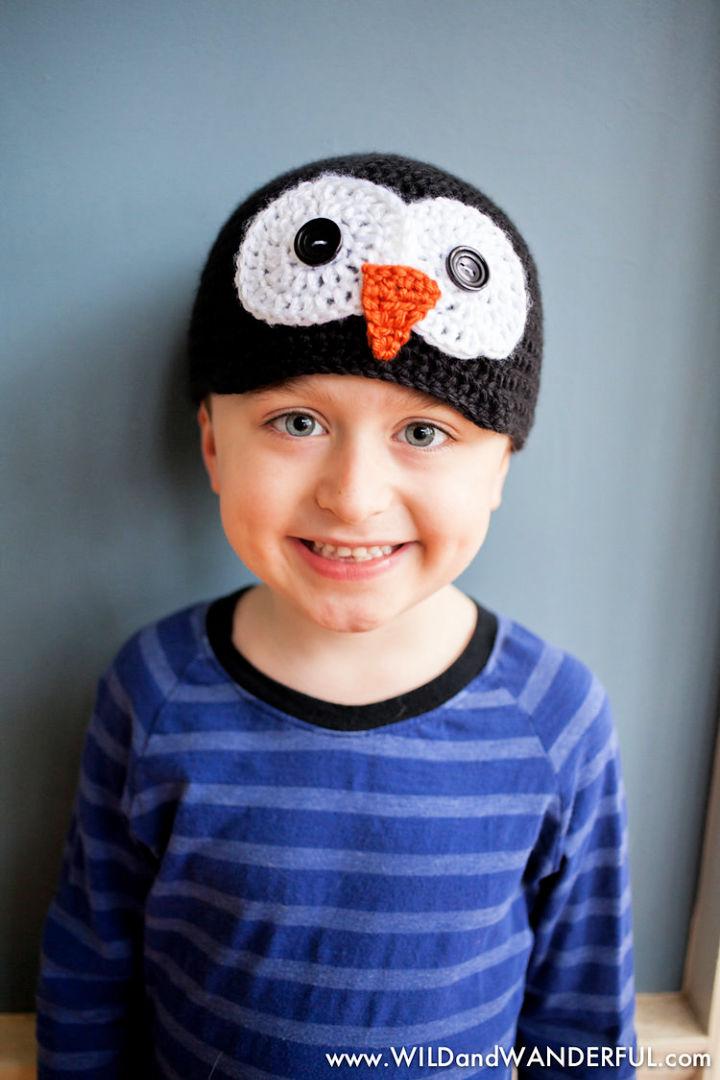 Stay cozy and stylish with this free crochet penguin hat pattern! You can create a unique winter look using black, white, and orange worsted weight yarn, a crochet hook size h-8 (5.0 mm) and two buttons for eyes (or fabric glue if desired). This fun project will make an adorable addition to your wardrobe or a great gift for someone special.
Whether it's cold outside or just adding flair to an outfit, the possibilities are endless with this versatile and creative penguin hat design. Get started today on crafting a beautiful handmade accessory that is sure to turn heads! wildandwanderful
25. Easy Crochet Penguin Pattern for Beginners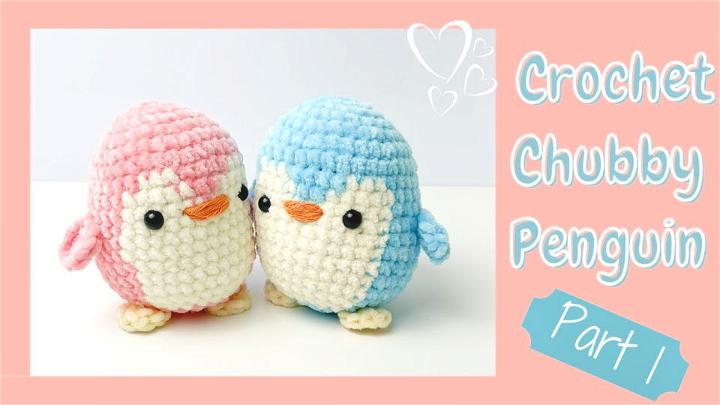 Are you new to amigurumi? Crochet your own adorable little penguin with one of these unique and fun penguin patterns! This easy crochet penguin amigurumi pattern for beginners with a video tutorial is perfect! Create an adorable and cuddly friend using james c brett flutterby chunky yarn in no time. The pattern includes everything you need to get started, from the materials to simple instructions for even those who have never crocheted before. Get your hands on this fun project and make your penguin today!
Related Free Crochet Patterns:
Discover the joy of creating something beautiful with our amazing selection of free crochet patterns! Find a pattern for every skill level and make something special today.
Conclusion: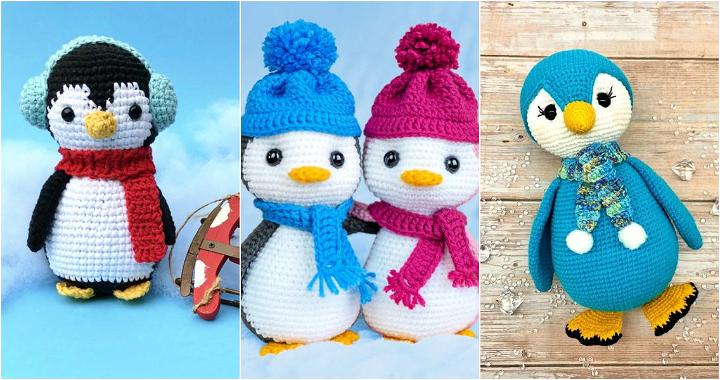 In conclusion, looking for a cute and cozy winter project? Look no further than these 25 free crochet penguin patterns! From stuffed toys to amigurumi to blankets and appliques, there's a crochet penguin pattern here for every skill level and project type. Try your hand at a large crochet penguin or stuffed animals, or make some mini penguins for a quick and easy project. Follow the tutorials for step-by-step instructions, and enjoy the satisfaction of creating your own handmade crocheted penguins. Don't miss the free crochet penguin pattern options for endless winter crafting possibilities!