Are you looking for a fun and creative crochet pumpkin pattern to update your decor for the fall season? Crochet pumpkins are a great way to make unique and beautiful decorations for your home. Learn how to crochet a pumpkin with a free crochet pumpkin pattern that has step by step instructions for all skill levels! Our crochet amigurumi pumpkin is easy enough to create with lots of step-by-step visuals and detailed instructions. Get inspired with this collection of 40 easy and free crochet pumpkin patterns for beginners – all crochet pumpkins designed with different shapes, sizes, colors, and textures in mind. So pick up your hook and some yarn today and craft these gorgeous crochet pumpkin patterns!
Types of Crocheted Pumpkins:
Here are 4 types of crochet pumpkins:
Small Crochet Pumpkins: These are small pumpkin-shaped crocheted items that are perfect for decorating a fall-themed wreath, centerpiece, or mantel.
Large Crochet Pumpkins: These are larger pumpkin-shaped crocheted items that can be used as standalone decorations or used in a grouping. They can also be used as floor pillows or seat cushions.
Amigurumi Crochet Pumpkins: These are crocheted pumpkins made using the Japanese art of amigurumi, which involves crocheting small stuffed toys for kids. These pumpkins can be used as decorations or toys.
Textured Crochet Pumpkins: These are crocheted pumpkins that feature a textured surface, such as ridges or bumps, to give them a more realistic pumpkin look. They can be made in various sizes and colors and are perfect for autumn decorations.
Crochet Pumpkins Uses:
You can use crochet pumpkins in a variety of ways to add a touch of autumnal charm to your home, including:
Decorating your home: Arrange crochet pumpkins as a centerpiece on your coffee table, place them on shelves, or hang them on your walls.
Creating fall wreaths: Add a few crochet pumpkins to a fall wreath to make it look more festive.
Decorating for Halloween: Crochet pumpkins in black, green, or other eerie colors to give your home a creepy vibe.
Giving seasonal gifts: Give a handmade crochet pumpkin as a thoughtful and unique gift to a friend or family member during the autumn season.
Decorating a baby's room: Use a small, cute crochet pumpkin to add a touch of warmth and playfulness to a baby's room.
Adding autumn to your office: Brighten up your desk or cubicle with crochet pumpkins.
Completing school projects: Use crochet pumpkins in school projects, such as a study of the fall season or an art project on the theme of autumn.
Propping up photography: Use crochet pumpkins as props in photography, especially for fall-themed photo shoots.
Playing with children: Children can play with crochet pumpkins, using them as stuffed toys or amigurumi pumpkins.
Overall, you can use crochet pumpkins in many ways to add autumnal charm to your home or other spaces.
What You Can Make Inspired by Crochet Pumpkins
Here are some crochet pumpkin-inspired items you can create:
Crochet Pumpkin Coasters: Create a set of coasters in the shape of pumpkins to use during the autumn season.
Crochet Pumpkin Potholders: Use your crochet skills to make pumpkin-shaped potholders that can be used in the kitchen.
Crochet Pumpkin Scarf: Create a warm and cozy scarf in the shape of a pumpkin to wear during the cooler months.
Crochet Pumpkin Hat: Make a pumpkin-shaped hat to keep your head warm during the autumn and winter months.
Crochet Pumpkin Basket: Crochet a pumpkin-shaped basket to decorate or hold small items.
Crochet Pumpkin Blanket: Create a cozy blanket in the shape of a pumpkin that can be used on the couch, in bed, or while watching a movie.
Crochet Pumpkin Bags: Make a tote bag or a clutch in the shape of a pumpkin to use during autumn.
Crochet Pumpkin Ornaments: Decorate your home with crochet pumpkin ornaments that can be hung on the walls, doors, or trees.
Crochet Pumpkin Wreath: Create a wreath made of crochet pumpkins to hang on your front door.
Crochet Pumpkin Pillows: Make pumpkin-shaped pillows to use in your home or office.
These are just a few examples of crochet pumpkin-inspired items you can create. Use your imagination and creativity to come up with your own unique designs.
How to choose the right crochet pumpkin pattern?
Finding the right crochet pumpkin pattern for beginners can be difficult, but with a few tips, you'll be on your way to creating your first pumpkin in no time! Here are some simple steps you can follow to choose the right crochet pumpkin pattern:
Determine your skill level: Make sure the pattern you choose is appropriate for your skill level. If you're a beginner, look for patterns labeled "easy" or "beginner-friendly."
Choose a simple design: Start with a simple design with few elements, such as a basic pumpkin shape without any stems or leaves. As you gain more experience, you can try more complex patterns.
Consider the size of the pumpkin: Decide how big or small you want your pumpkin to be and choose a pattern that matches your desired size.
Think about the yarn you want to use: Choose a pattern that uses a yarn weight that you're comfortable working with and that you have readily available.
Read the pattern carefully: Before you start, read the pattern all the way through to ensure you understand the instructions and have all the necessary materials.
Ask for help if needed: Don't be afraid to ask for help if you get stuck or have questions about the pattern. You can contact the designer, join a crochet group, or ask a friend for assistance.
By following these steps, you'll be able to choose the right crochet pumpkin pattern for your skill level and preferences. Happy crocheting!
1. Free Crochet Pumpkin Pattern
This easy-to-follow pattern will teach you how to crochet an adorable pumpkin for autumn, fall, Halloween and Thanksgiving. With just 100% acrylic worsted weight (medium weight) yarn and single crochet stitches, you can create a 7×19-inch pumpkin that is perfect for your holiday decorations. Follow the instructions to make this cozy decoration in no time! naztazia
2. Slick and Quick Crochet Pumpkin Trio – Free Pattern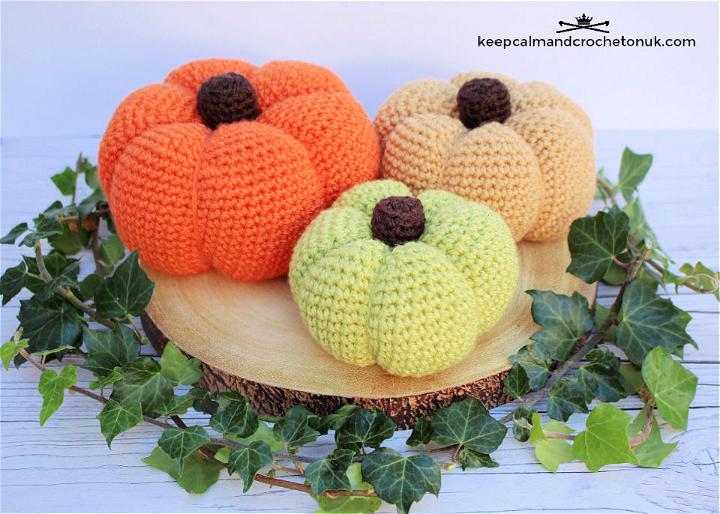 Welcome to autumn with our easy and free crochet pattern for three delightful pumpkins – large, medium, and small. Perfect for beginners or experienced crocheters alike, these quick-to-make pumpkins only require basic stitches along with aran/worsted weight yarn and a 5mm hook.
Choose natural colors like spice, camel, and pistachio to create an autumnal display of pumpkins perfect for table settings, the mantlepiece or the doorway! Experiment with different color schemes to match your home decor and enjoy the addictive satisfaction of creating your very own pumpkin patch! keepcalmand
3. How to Crochet Pumpkin Candy Dish – Free Pattern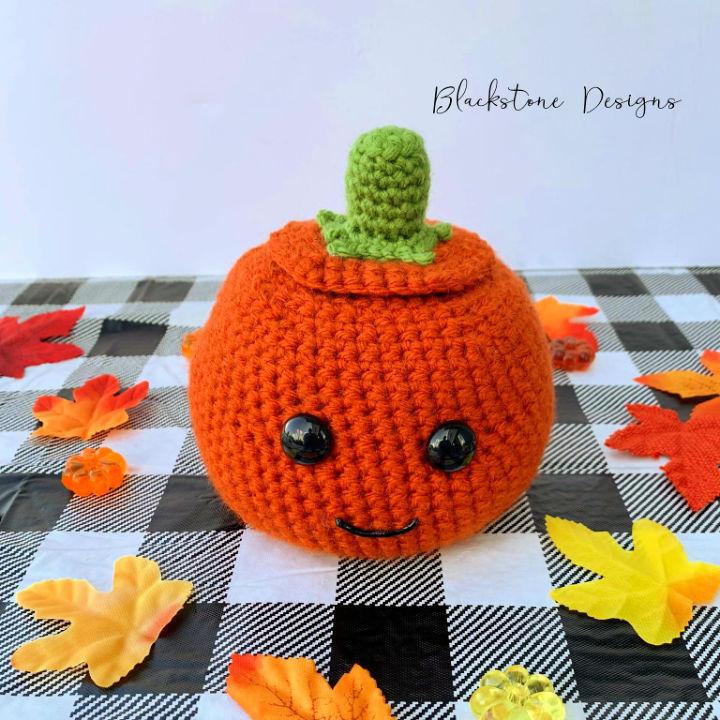 If you're looking for a spooky Halloween activity, why not try crafting your pumpkin candy dish? It's sure to add some ghoulish charm wherever it goes! A unique, free crochet pattern that's perfect for autumn decor. With worsted weight yarn in orange & green chosen colors and a G/6 4.00mm crochet hook, you can craft this yarn product with ease. For decoration, use 18mm black animal eyes and 3D fabric paint to give it a unique look! To fill it up, add 2″ diameter glass craft rock or poly-fil ultra-plush stuffing for an extra soft touch. Finished measurements are 6″ from the bottom of the base to the top of the stem & 17.5″ circumference for the base! blackstone designs
4. Cute 3D Crochet Pumpkin Dishcloth Pattern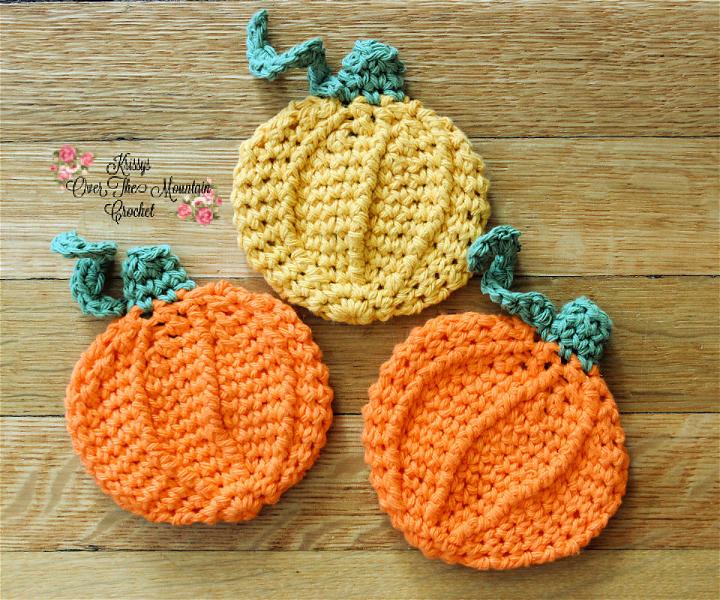 Welcome fall with a cute and fun crochet pattern – the 3d pumpkin dishcloth! Perfect for the Thanksgiving season, this two-sided dishcloth comfortably fits in your hand for easy cleaning. Made using dishcloth cotton yarn, it is shaped like a pumpkin with a green stem and a small curling vine. The finished measurements are 5 inches high and 4.5 inches wide, crocheted with an H 8/5mm hook. Give someone special this pumpkin-themed gift paired with other seasonal items like pot scrubbers and autumn towels – perfect for making bathtime fun for kids! krissysovermount
5. Assorted Crochet Pumpkins With Curly Vines
Crochet your own pumpkin family with this easy-to-follow pattern! Each handmade pumpkin takes only 3 hours and requires $4 in materials. Choose a warm shade of orange yarn for the body, light brown for the stem, and green for the vines, plus polyfill and two different-sized hooks (J/10-6.00mm and L/11-8.00mm). Make some unique pumpkins that can be used as festive decorations, or give them away as a crowd-pleasing hostess gift! Get creative and have fun with this versatile crochet pattern – you'll love how they turn out! seeloveshare
6. Easiest Large Pumpkin Crochet Pattern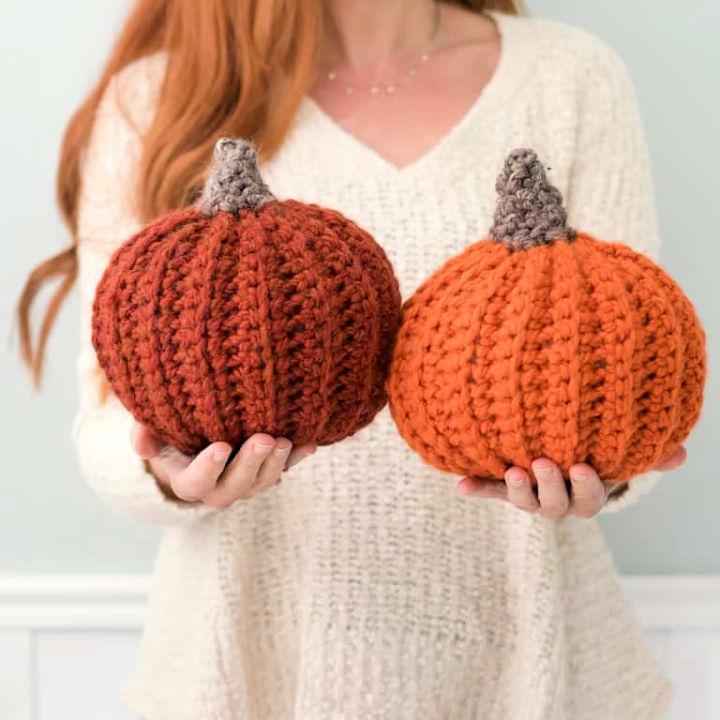 Whip up a cozy autumn decor with this easy large pumpkin crochet pattern! Perfect for beginners, the pattern requires lion brand wool-ease thick & quick yarn in pumpkin, spice, coney island and barley for the stem. Use a J crochet hook and fiberfill to craft your pumpkin – 9″ including the stem – making flat rows that you'll sew together at the sides before adding gathering stitches around the bottom and top.
Finish off by crafting a stem from picked-up stitches and single crochets! Fun and fast project that's perfect for using up small amounts of leftover yarn. Add some warmth to your home with this unique autumn handmade piece! gina michele
7. Crocheted Tartan Plaid Pumpkin – Free Pattern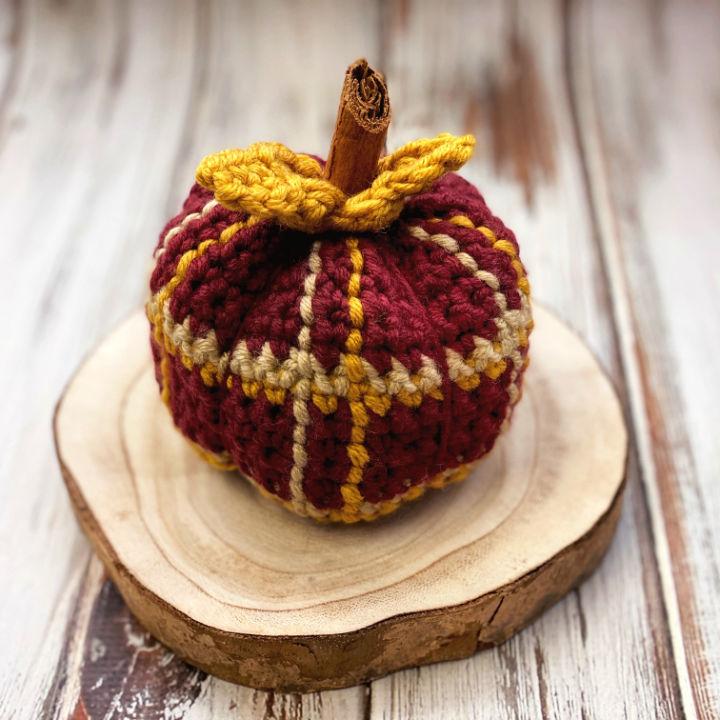 This crochet pattern is perfect for making your own trendy tartan plaid pumpkin. It's sure to be a showstopper in your holiday decorations. This one-of-a-kind decoration is perfect for your fall decor! Use lion brand color-made easy yarn in pomegranate (mc), mineral yellow (cc1), and wheat (cc2) with a US size J (6.00mm) hook. For added weight, fill the pumpkin with rice or beans, then finish it with a cinnamon stick or branch stem and polyester fiberfill.
The finished pumpkin measures approximately 6 inches tall and has 14 stitches and 18 rows per 4 inches in single crochet. Create something special this autumn season with this beautiful tartan plaid pumpkin! lovelifeyarn
8. Best Country Bumpkin Pumpkin Crochet Pattern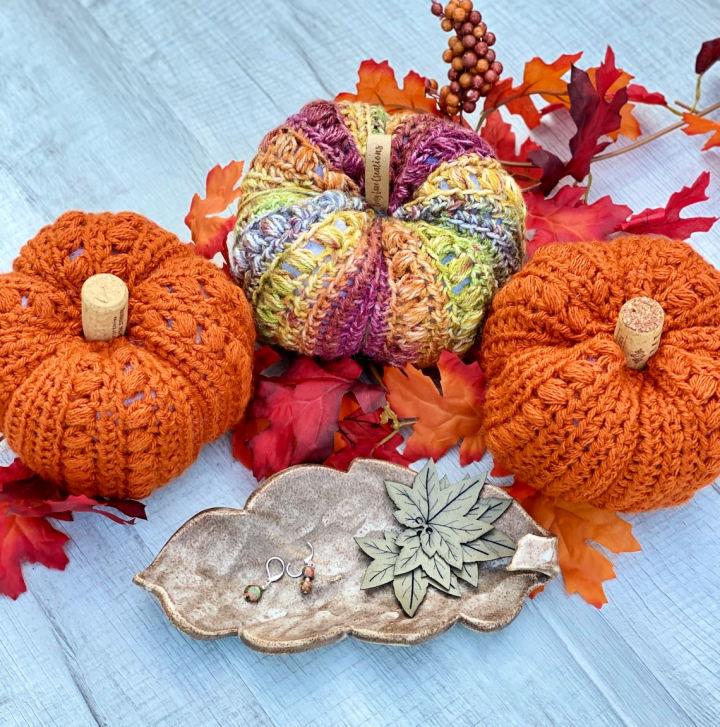 Celebrate this autumn by cropping a charming and rustic pumpkin with this pattern! Get comfy and create something special. It's perfect for decorating your home with a textured and beautiful pumpkin.
All you need are 91 yards of worsted weight yarn, a 5.5mm crochet hook, poly-fil and an imaginative stem – try wine corks, twigs or cinnamon sticks! This quick & easy pattern makes creating unique pumpkins fast and fun. So grab your materials today and fall in love with the country bumpkin pumpkin Crochet Pattern! averylanecreations
9. Crochet Flat Pumpkin Applique Pattern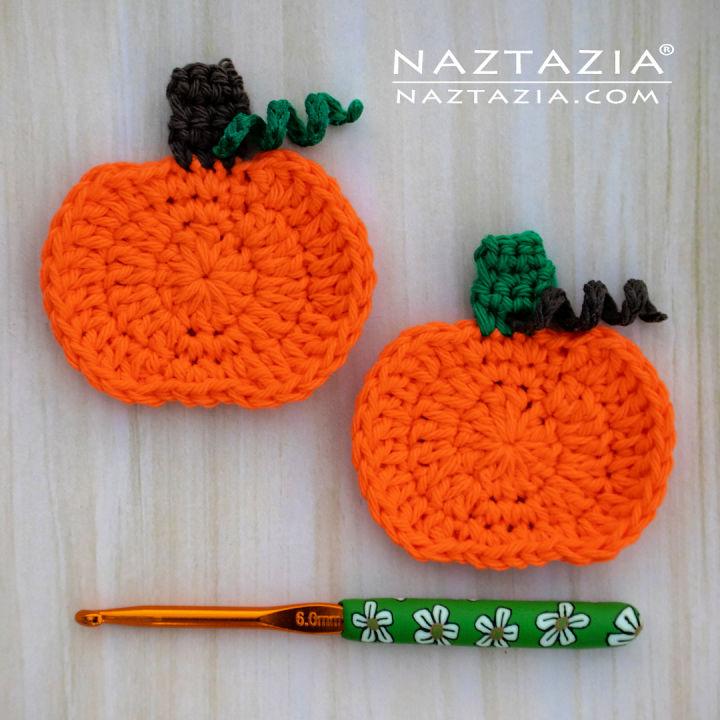 It's time to enjoy the autumn season with this gorgeous crocheted pumpkin applique! This charming decoration will add a touch of seasonal cheer to your home. It's perfect for sprucing up your home décor – just 15 yards of worsted weight cotton or acrylic yarn and a 4mm crochet hook are all you need.
Follow along with the video tutorial to learn how to use double and single crochets to create a vibrant pumpkin and complete its stem and curly-cue decoration. Play around with different colors so it can fit in any space or surface – from hats and shawls to blankets and magnets. Get creative today as you bring a touch of autumn into your home! naztazia
10. Crochet Country Spice Pumpkins Pattern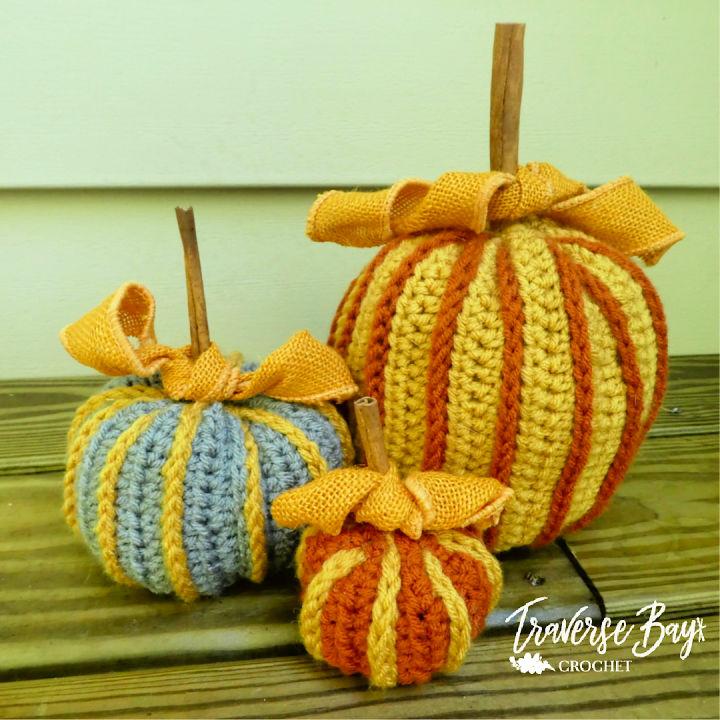 Bring the season's warmth into your home with these easy-to-make country spice crochet pumpkins! Using just medium worsted weight yarn and a 5.00mm crochet hook, you can make textured pumpkins that bring an extra special touch to your fall decorations. Add a cinnamon stick and bendable ribbon for a rustic look, then get creative with color choices as you stuff each pumpkin for an even cozier feel. Gather your supplies – including stuffing and cinnamon sticks – and start crafting this fun DIY decoration today! traversebaycrochet
11. How to Make a Fox Pumpkin – Free Crochet Pattern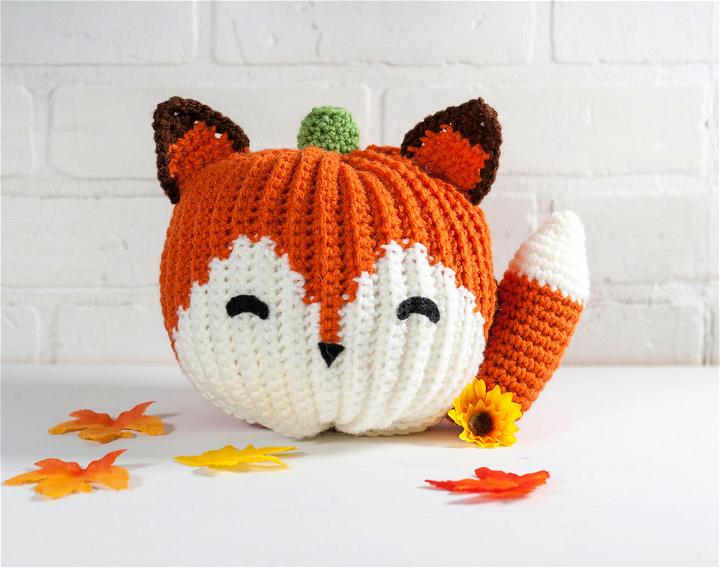 Want to add some extra flair to your autumn decorations? This article provides a tutorial for crocheting a fox pumpkin that is easy enough for beginner crocheters. Learn how to work in the back loops only, the magic circle, and working in continuous rounds with this pattern designed just for you! You can make two different sizes of your fox pumpkin by adjusting the hook size and the number of yarn strands used. Get creative and show off your fall decorating skills with this fun project today! windingroadcrochet
12. Crochet Pumpkin Pie Amigurumi Pattern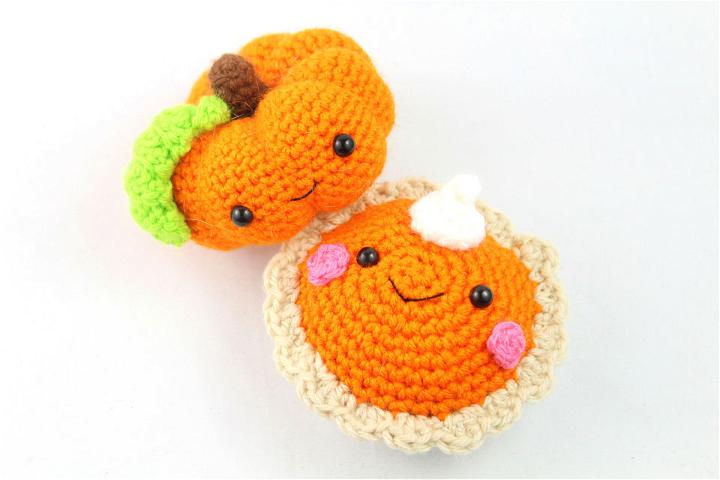 Complete your autumn decorations with this easy-to-follow pumpkin pie amigurumi crochet pattern. All you need is a 4mm crochet hook, some 4/medium weight yarn in white, tan, orange, pink and red, safety eyes, a tapestry needle, black embroidery thread and stuffing to craft the perfect pièce de résistance for cozy evenings by the fire. Whip up both parts of the pie plus cheeks and top with whipped cream and a cherry! Don't forget to add a smile before sewing it all together for an adorable autumn treat that will make everyone feel warmly welcomed. stringydingding
13. Crochet in the Round Pumpkin Pattern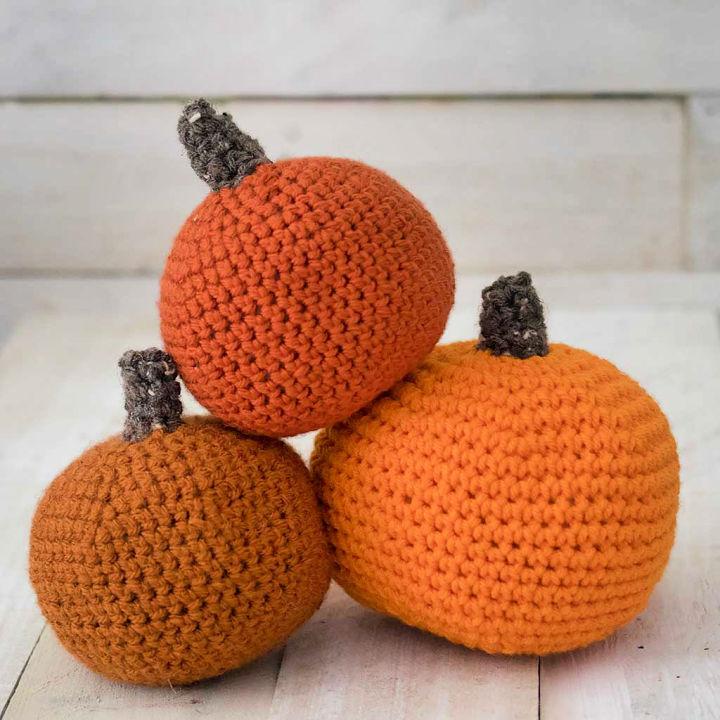 Crochet in the round pumpkin amigurumi pattern – a fast and fun project for quintessential autumn decor! Make adorable crocheted pumpkins with this easy-to-follow tutorial. Perfect for placing on mantels, bookcases or together in a decorative bowl. Everything is crocheted in the round, so no seaming is necessary!
All you need is the #4 worsted-weight yarn and an H crochet hook. No gauge is needed! Put these special handmade pumpkins around your home this fall season and enjoy the amazing craftsmanship that goes into making these classic decorations. adorecrochet
14. Free Crochet Farmhouse Pumpkins Pattern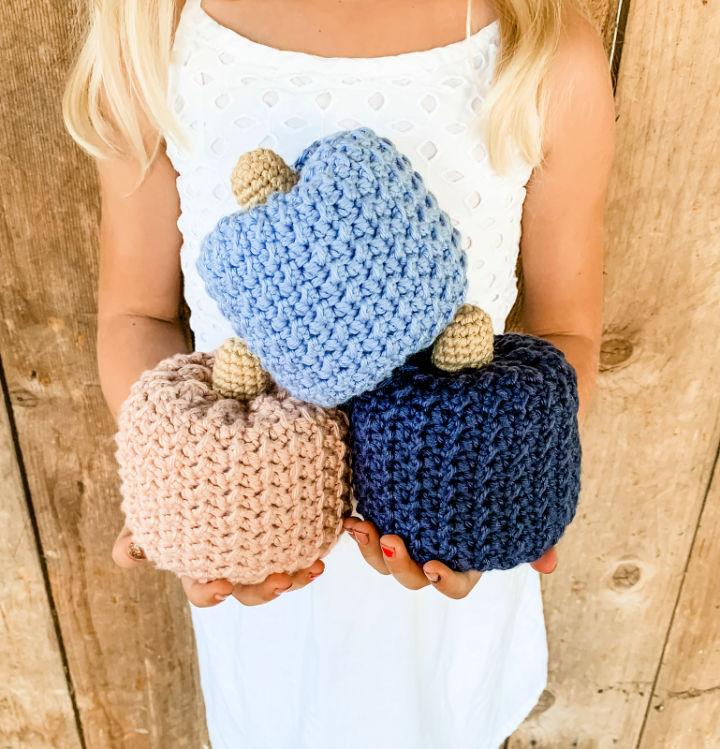 You can create a lovely farmhouse vibe with this free crochet pumpkin pattern! It's a great addition to any home décor. Using 95 yards of size 4 worsted weight cotton yarn in pumpkin color and a small amount of beige for the stem, this project is easy and fun to make with a 4mm crochet hook. Don't have cotton yarn? Any worsted weight will do! Stuff it for the full, plump look you desire. This cozy decoration will spruce up any room and use up that stash of extra yarn you have lying around. Get creative and start crocheting today! graceandyarn
15. Simple Crochet Striped Pumpkin Pattern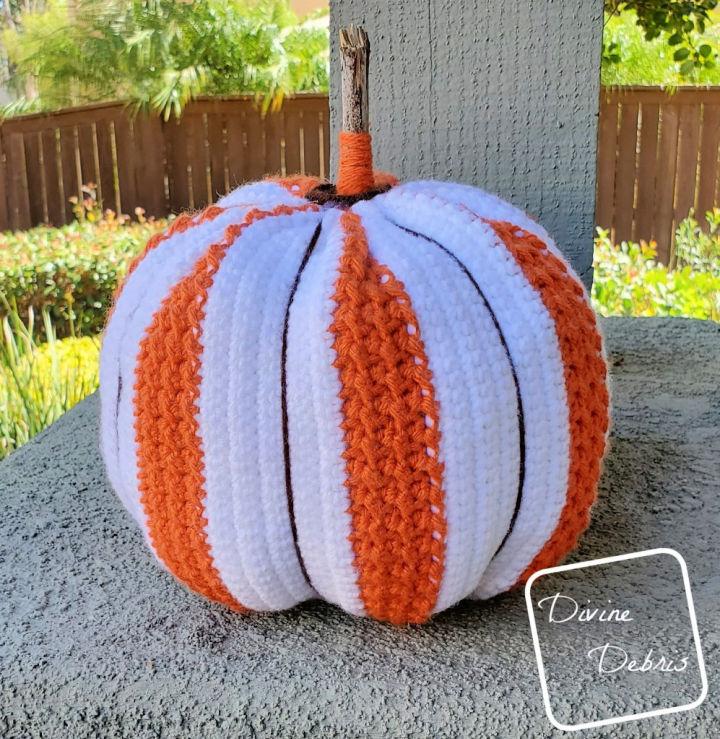 Greet the new season with this lovely and straightforward pumpkin amigurumi pattern. Crochet one now to embrace the spirit of autumn! It's easy to make and can be customized using 2-3 colors of size 4/medium worsted weight yarn and US G (4.00 mm) crochet hook. With only 300 yds of yarn, you can make your pumpkin larger or smaller, with long rows for a bigger decorating statement! The pattern is straightforward, so even beginners will find it easy to follow. Get ready for autumnal décor with this cute, handmade pumpkin that will add a comfy touch to any home. divinedebris
16. Beautiful Crochet Sally Pumpkin Pattern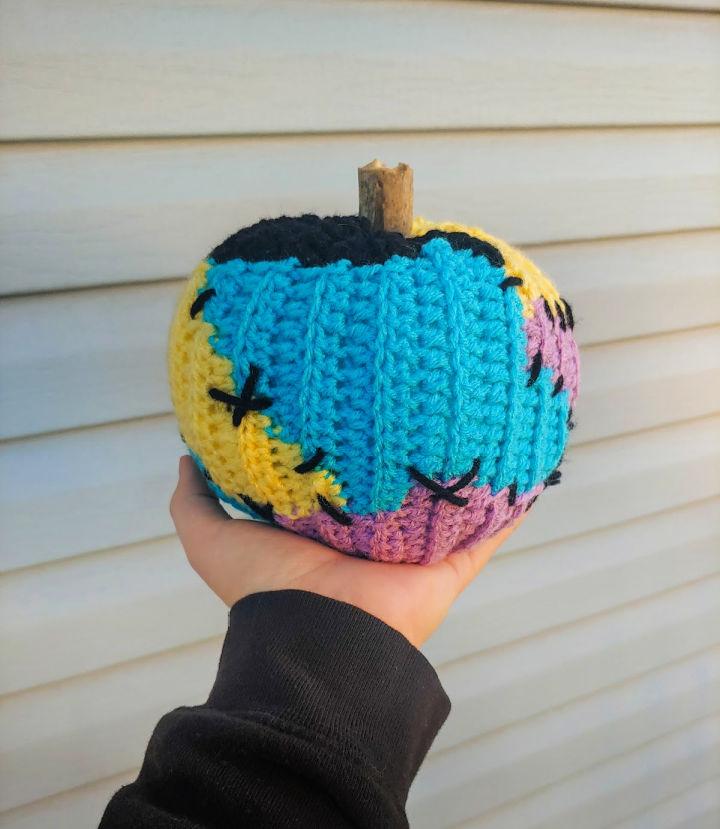 Go with this free crochet pattern that is perfect for Halloween. Make a cute sally pumpkin with worsted weight yarn in yellow, light purple, blue and black! All you need is a 5.00 mm hook and some poly-fil stuffing, and the finished pumpkin will measure 6 inches tall and 21 inches in diameter. Brava worsted has great colors, so get creative and bring your sally pumpkin to life this Halloween season! hooksandcocoa
17. Cool Crochet Pumpkin Pattern
Cozy up and create two unique pumpkin designs this fall season with this "crochet a pumpkin 2 ways" tutorial! You'll need a red heart super saver brand in pumpkin and cafe latte, a 3.5mm crochet hook, stuffing, and stitch marker to craft one pumpkin using the amigurumi style of continuous rounds, plus a stem made in continuous rounds. Create something special for your seasonal décor or give it as an unforgettable gift – try it today! crittercrochet
18. Modern Crochet Jack Be Little Pumpkins Pattern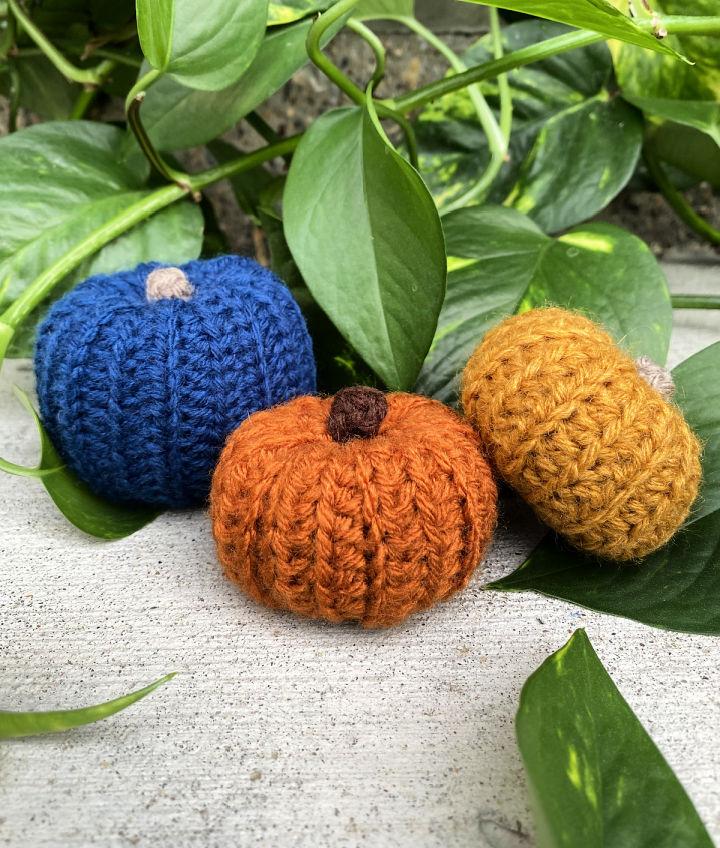 Celebrate your arrival into autumn with a fun and festive jack be little pumpkin pattern! This adorable 30-minute project can be customized to your liking with different faces. Crochet this cute little pumpkin using a 4mm crochet hook and worsted weight yarn such as lion brand wool for that perfect market item. Step it up by trying out hand-dyed yarn for an even more beautiful drape you'll love in your finished product. Enjoy the softness and lovely colors in this great decoration display piece; get ready for fall now! aknottyhabitdesign
19. Small Crochet Pumpkin Pattern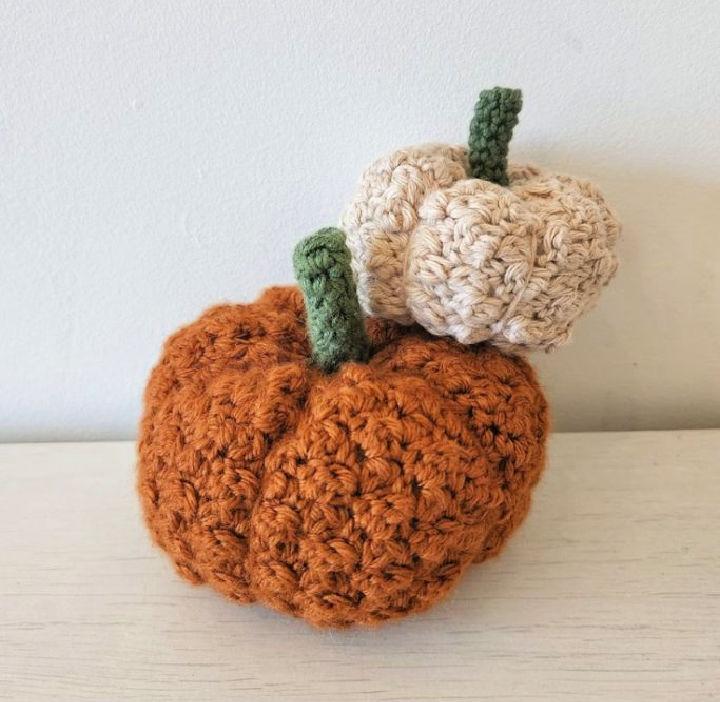 Be ready to greet the autumn as we approach with this mini crochet pumpkin design! The design is created using a cluster stitch technique, making it beautiful and textured. Suitable for any yarn, the pattern is designed to be beginner-friendly and easy to follow – simply use a 3.5mm/E crochet hook and any DK weight yarn of your choice!
Make sure your stitches stay tight as you go along so that fiberfill won't end up showing through. The final size will vary depending on how wide and tall your rectangle is and how much stuffing you use. This pattern is perfect for those looking to get creative while busting some stashes – free to download today! Get ready for fall with this charming crochet pumpkin pattern! madebygootie
20. Easy Crochet Cable Pumpkin Pattern for Beginners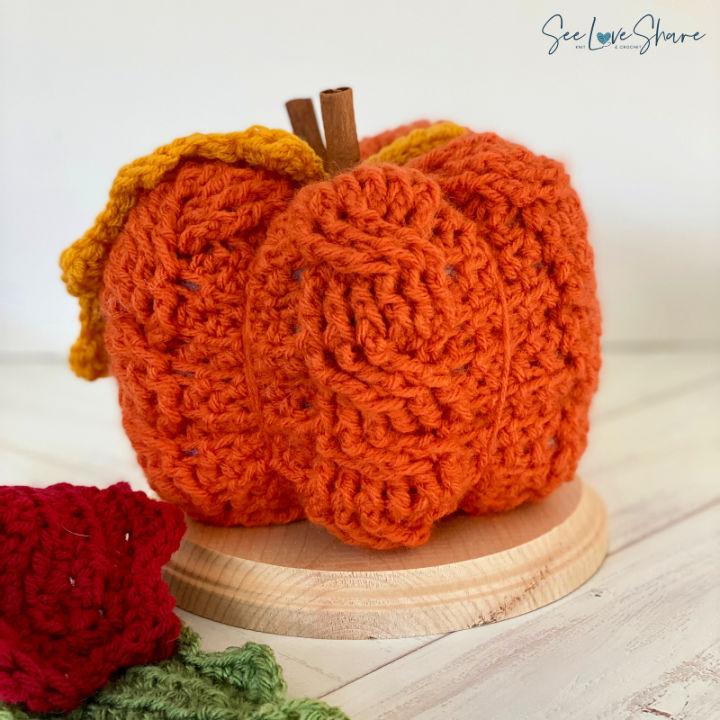 Making a crocheted cable pumpkin is easy and fun! This guide provides all the steps for beginning crafters to craft this festive decoration for the autumn season. With just a 5.5mm crochet hook, red heart super saver yarn in pumpkin and other colors, polyfill stuffing and cinnamon sticks for the pumpkin stump, you can work up this easy pattern. Get your gauge of 12sc and 14 rows equal to 4in, and stuff your pumpkin with polyfill stuffing. Make sure to add the optional fall leaves pattern for extra flair! Show off your finished creation at Thanksgiving dinner or any autumn gathering – it will be sure to impress! seeloveshare
21. Easy Rustic Crochet Pumpkin Pattern
Create the perfect farmhouse-style decoration with this rustic crochet pumpkin pattern! This easy ribbed stitch, made with #4/worsted weight yarn and a 4.5mm hook, creates an almost knit look that you'll love. The finished rectangle measures 6 in x 10.5 in, and when put together, the pumpkin is about 3 inches tall (not including the stem) and 5 inches in diameter. For a special touch, add a small stick or cinnamon stick for the stem, stuff it with polyfill stuffing and enjoy your homemade décor piece! theunraveledmitten
22. Crochet Haunting Lace Pumpkins – Free PDF Pattern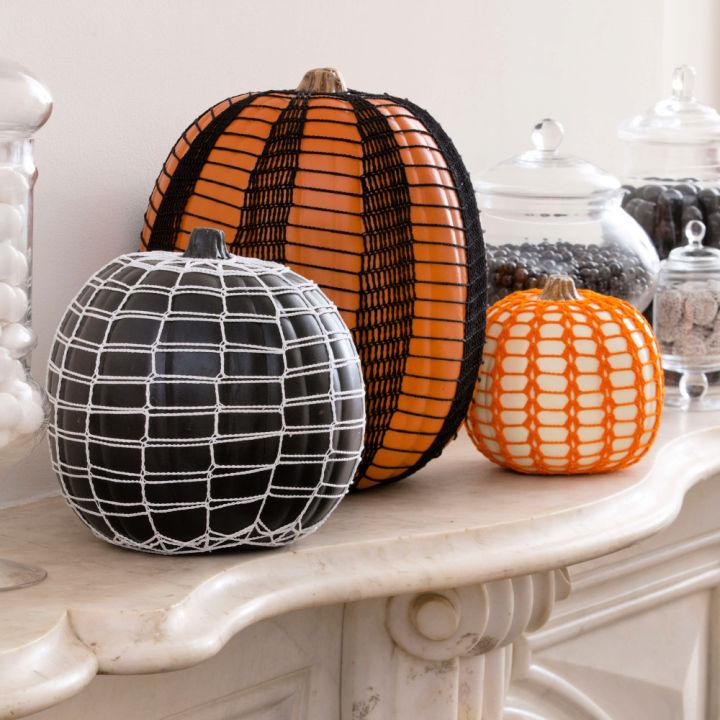 Use aunt lydia's classic crochet thread to crochet extraordinary and bewitching pumpkin decorations. This intermediate-level pattern fits decorative pumpkins of sizes 6.5″ (16.5 cm), 9″ (23 cm) & 13″ (33 cm) tall. With a 1.5mm crochet hook, you can enjoy the covers easily for many Halloweens to come! Choose from 3 color options – whatever suits your vision best! Let your Halloween decorations stand out with this haunted lace pumpkin pattern! yarnspirations
23. Crochet Amigurumi Pumpkins – Step-By-Step Instructions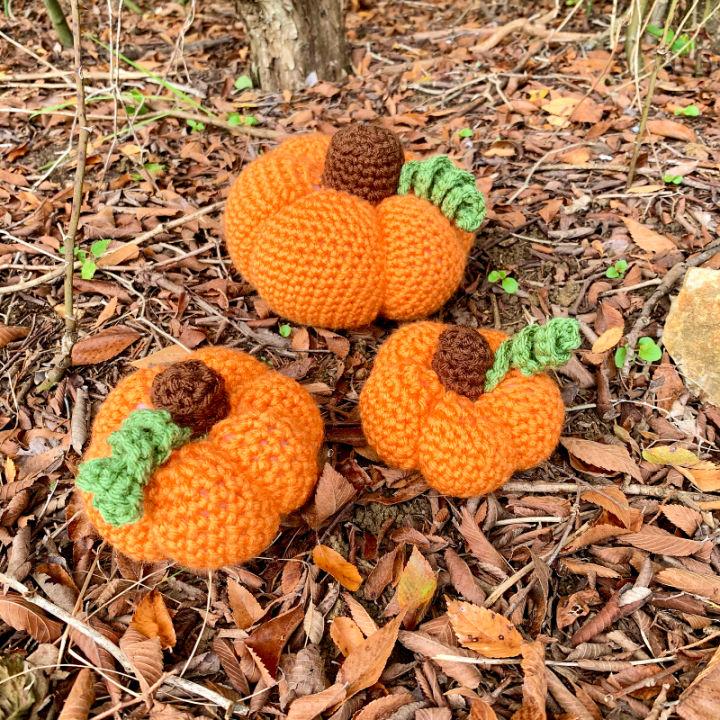 This autumn, create your pumpkin patch by crocheting with this free amigurumi pattern! This pattern includes two pumpkin sizes that are perfect for adding autumnal charm to your home. You'll need I love this yarn in desert glaze, light sage & brown, a 4.00mm / G crochet hook and poly-fil stuffing to get you started. The finished pumpkins measure 6″ across and 4.5″ tall (for the big pumpkins) or 3.5″ across and 2.5″ tall (for the small pumpkins). Check out the awesome pattern today for a fun way to add seasonal flair! okiegirlblingnthings
24. How Do You Crochet a Moody Pumpkin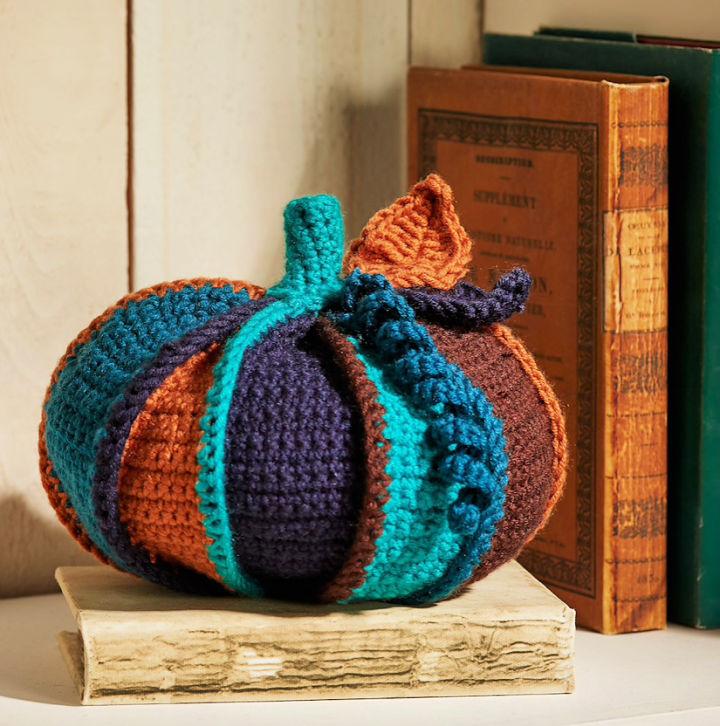 Let the warmth of autumn embrace you with this crochet moody pumpkin pattern! The warm and cool tones make this one skein project a real eye-catcher. Crochet this unique piece with your favorite colors and bring some personality into any room in your home. Whether you prefer classic decor or modern vibes, the crochet moody pumpkin will become a staple in any space. Add some extra style to your fall season by creating something special for yourself or giving it as a gift! michaels
25. Free Beryl Pumpkin Crochet Pattern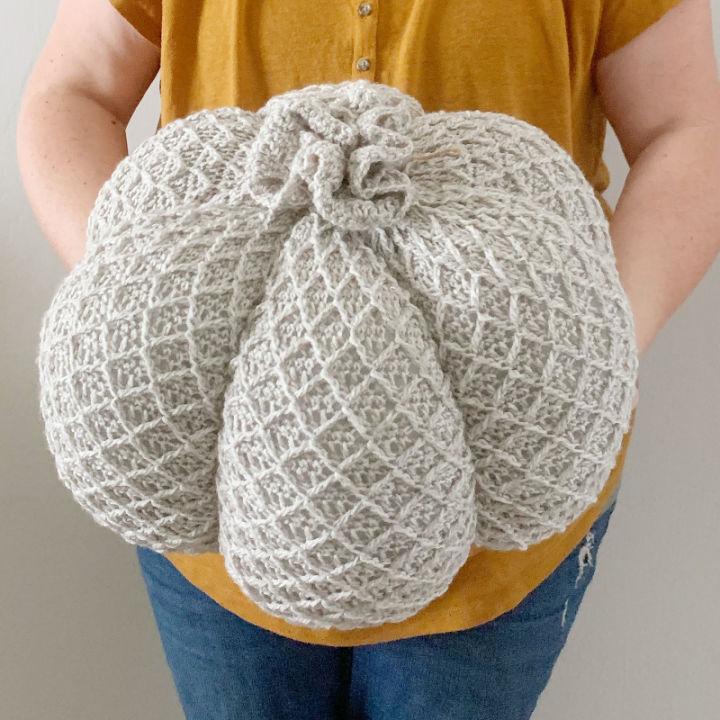 Give a touch of rustic charm to your home decor with the beryl pumpkin – a free crochet pattern featuring an exquisite diamond lattice stitch. Easily create this stunning texture with yarn bee soft and sleek DK in linen, a 3.5mm crochet hook, fiberfill & 20 yards of twine! Get detailed instructions, including video tutorials & tips for successful execution. This giant pumpkin pattern is sure to add warmth & coziness to your atmosphere, making it perfect for any room or occasion. Add the beryl pumpkin today for a unique addition to your home décor! meghanmakesdo
26. Basic Crochet Pumpkin Pattern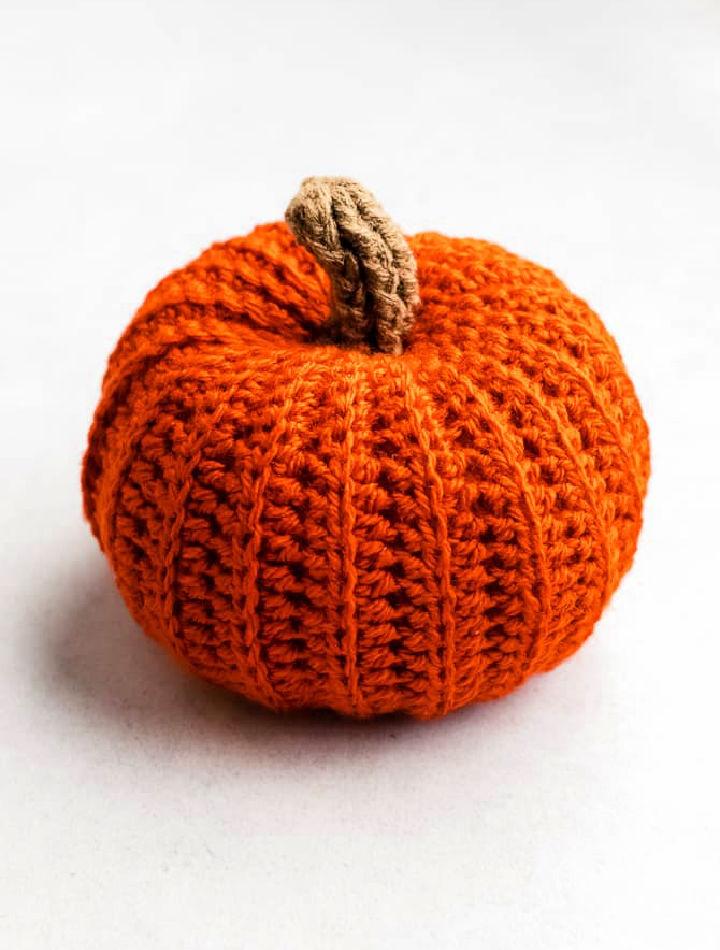 This beginner-friendly and versatile crochet pumpkin pattern are perfect for those just starting crocheting! Made with worsted weight (cyc 4) yarn and a size G – 4.0mm crochet hook, you can create two sizes – medium and small – of these cute pumpkins. Use other types of yarn to make different-sized pumpkins. Follow the easy instructions to stuff your rectangle piece with fiber stuffing, then add a stem or twig for extra detail! Get ready for autumn with this free crochet pumpkin pattern that'll make cozy Fall decor for your home. sarahmaker
27. Free Crochet Baby Pumpkin Hat Pattern
Willing to add a pop of orange and a touch of autumn to any ensemble? This pumpkin beanie is the perfect accessory for your fall wardrobe! Made with worsted weight 100% acrylic yarn, this free crochet hat pattern is easy to make and comes in 4 sizes with customization options. Add texture using front post stitches, and stay warm and stylish all season long. Whether you are a beginner or an expert crocheter, this beanie will keep you cozy this fall. Get creative and make one for yourself or as a gift for someone special – it's perfect for any age! hanjancrochet
28. Large Crochet Wavel Pumpkin Pattern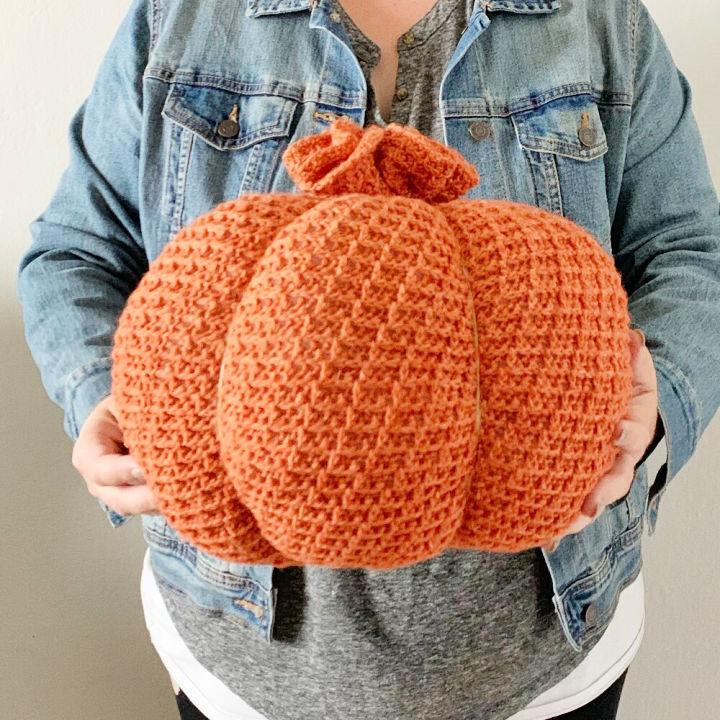 Embrace the autumn with a delightful crocheted pumpkin! This wavel pumpkin pattern is easy to follow and perfect for relaxing. With soft, sleek DK yarn in your choice of color and a hook, you can make this unique rustic piece that adds texture and coziness to your home decor. Experiment with the mini waffle stitch to create the perfect texture for your pumpkin – get lost in the process and find joy in crafting something special! meghanmakesdo
29. Chunky Crochet Pumpkin Pattern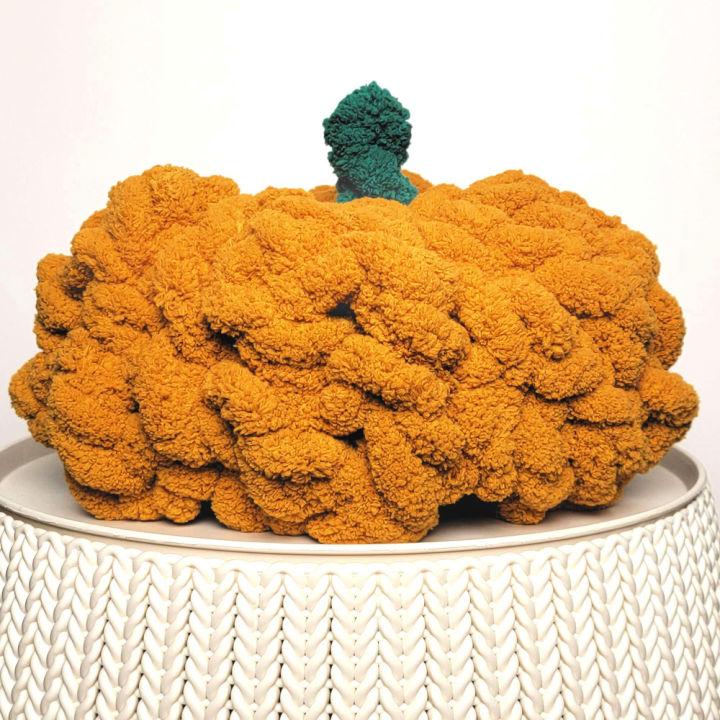 Make a statement this autumn with a beautiful handmade chunky crochet pumpkin. This project is easy for beginners, requiring only a bernat blanket of big yarn in gold and malachite. Use the size US 50 (25 mm) crochet hook provided to create your crocheted masterpiece that measures approx 12″ in diameter when complete! This unique decoration will add a special touch of homemade charm to any space this fall season! yarnspirations
30. Crochet Pumpkin Coasters – Free Printable Pattern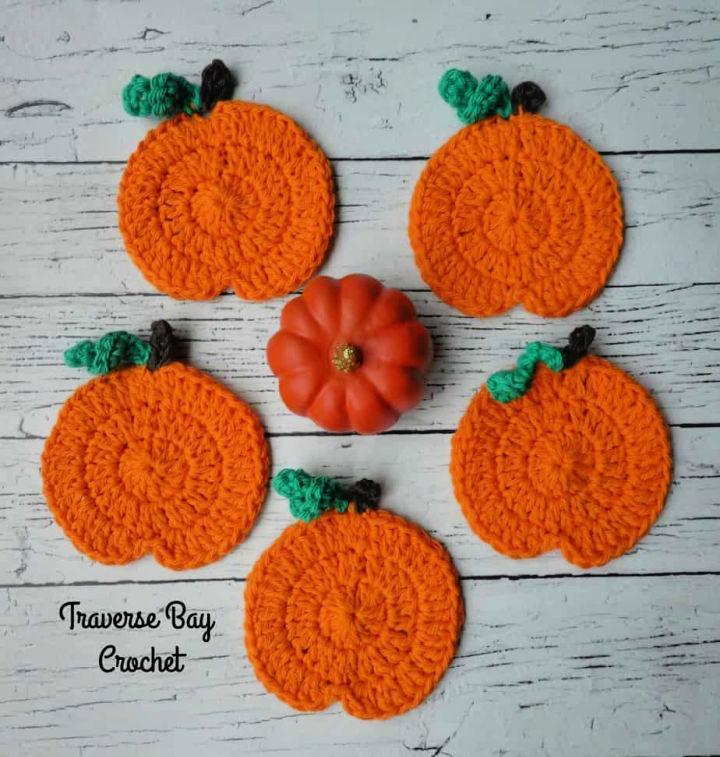 Why not welcome autumn with these delightful handmade crochet pumpkin coasters? They'll add a cozy touch to your home while protecting surfaces from liquid damage. Perfect for decorating any table, this craft project is easy and fast to work up – only 1, 2 oz ball of 100% cotton yarn in orange, a small amount in green and brown is needed, and a size H crochet hook. Each coaster measures 4 x 4″ when finished. So quick and easy that you'll be able to have five cute pumpkin coasters ready just in time for autumn! traversebaycrochet
31. Crocheting a Fall Pumpkin Leaf – Free Pattern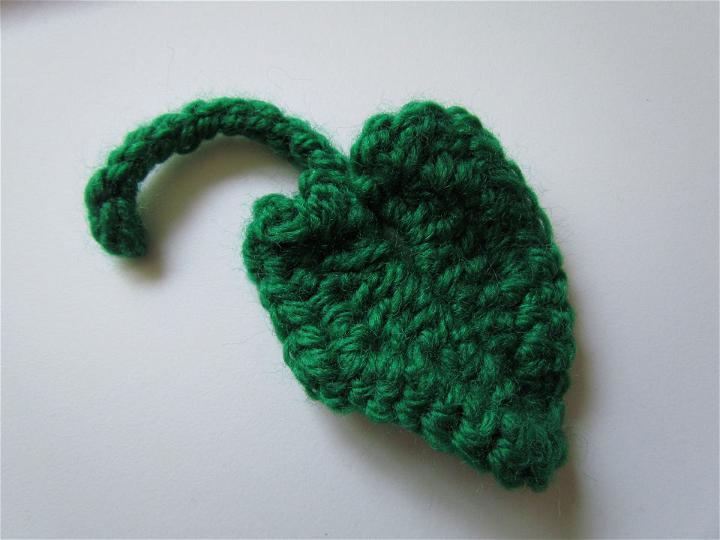 Put together an adorable fall accessory with this free crochet pattern for a pumpkin leaf! Perfect for infants and babies or to use in photo shoots. This cute leaf is easy to make with #4 weight yarn and a 5mm hook. You'll love the realism of your finished product! Make sure to combine it with the matching pumpkin hat pattern for the ultimate autumn look. Get creative and add your unique flair – download this free crochet pattern today! ambassadorcrochet
32. Pretty Crochet Pumpkin Jar Cozy Pattern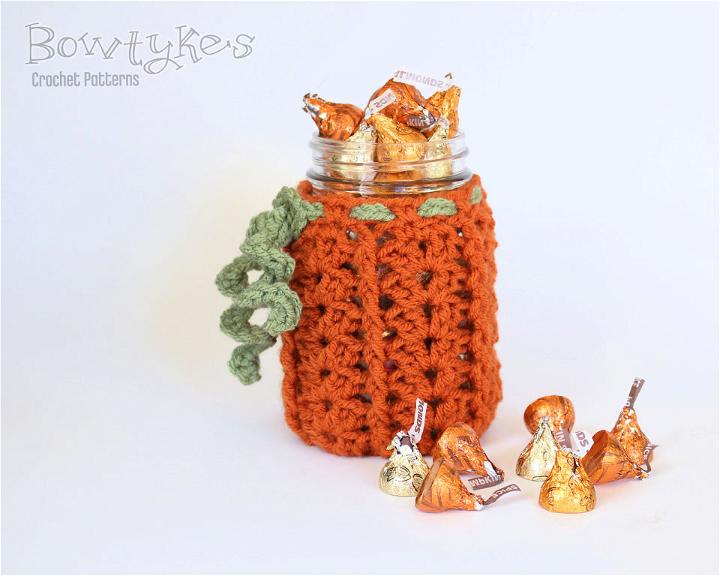 Looking for some awesome fall decor to add to your home? This pumpkin jar cozy is a perfect way to turn a pint-size canning jar into an adorable fall table decoration. It also makes a great gift – fill it with candies or mixes for something special! This cozy works up quickly and offers endless possibilities for fun projects. Show off your seasonal style with this easy-to-make, festive cozy that will bring warmth to any home. Give the gift of cheer by creating your own personalized pumpkin jar cozies today! ravelry
33. Easy Crochet Kieran Pumpkin Tutorial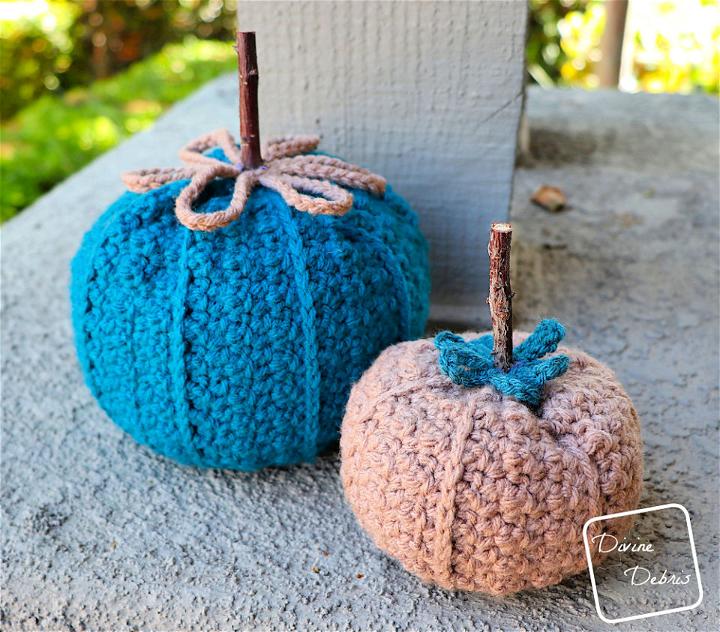 Get ready for pumpkin season with this easy and customizable crochet pattern! Make a fun autumn decoration for your home in any size – make sure to add stitches in multiples of two and finish with an odd stitch count. Follow the step-by-step instructions, repeat rows 6-11 to achieve the desired size, then have fun creating something special you can enjoy all season long. divinedebris
34. Quick and Easy Crochet Pumpkin Plushies Pattern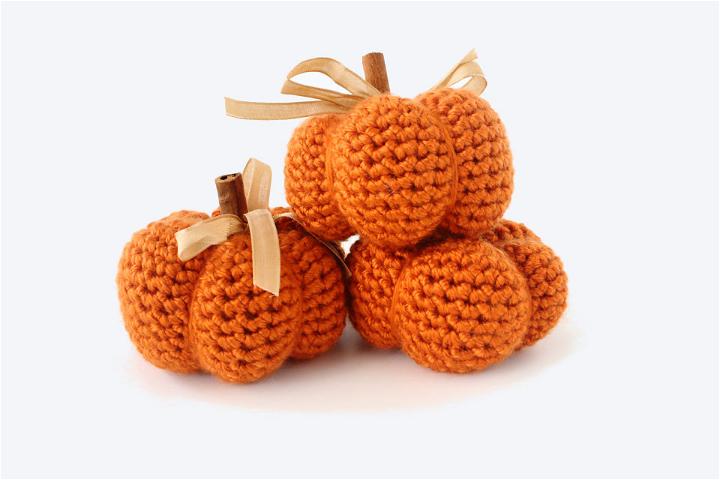 Experience the comfort of autumn in your abode with this gratis crochet pumpkin pattern! This easy-to-follow pattern is perfect for all levels, including a video tutorial and written instructions. With minimal materials needed – 4.25mm crochet hook, #4 medium weight yarn in pumpkin spice, polyfill stuffing, hot glue – you can make as many pumpkins as you like. Make it extra special by adding a cinnamon stick stem to give off that sweet aroma of autumn spices! Plus, finish with burlap ribbon for an extra touch of rustic charm. Download now and bring home the warm embrace of fall! theblueelephants
35. How to Crochet Stuffed Pumpkin – Free Pattern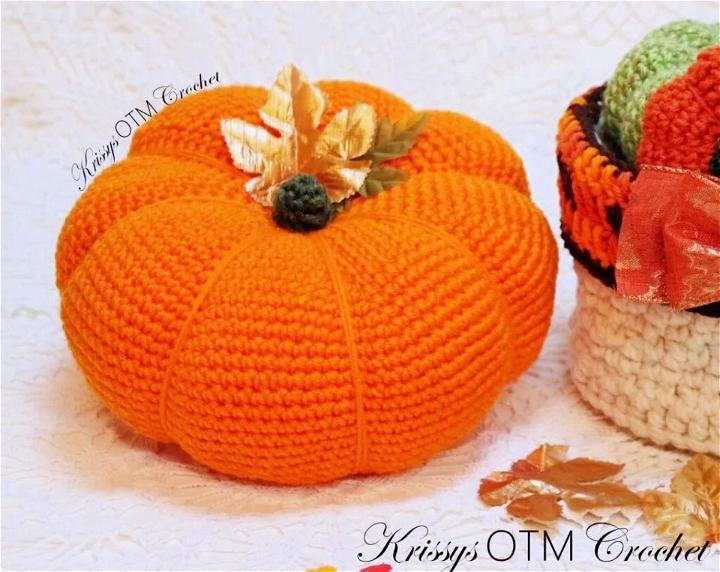 Get creative with your crochet hook and make this delightful pumpkin with a free crochet pattern. This lovely big pumpkin is an easy and fast project, perfect for decorating your home during the fall or Thanksgiving season. Using worsted weight yarn in the colors desired and polyester fiber fill or stuffing, you can craft these cute pumpkins plain or embellished with bows, beads, fabric, and raffia to make them truly unique. You'll need hook sizes H (8/5 mm) for the body of the pumpkin and I (9/5.5) for the stem – start crafting now! krissysoverthe
36. Crochet Pumpkin Patch Cup Cozy Pattern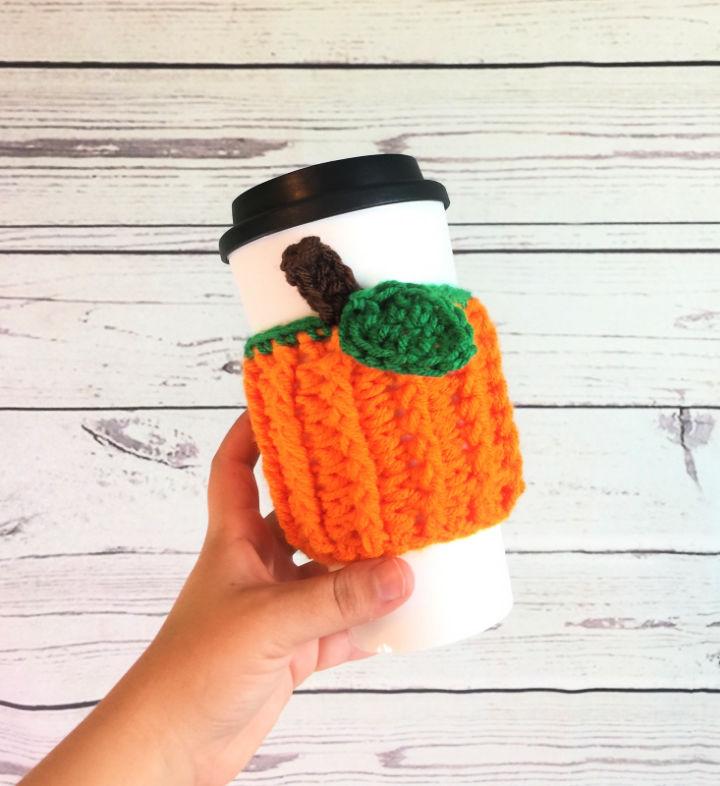 Be prepared for the autumn days ahead with this complimentary crochet pumpkin cup sleeve design! – a bright and adorable orange project to show off your love of this special time of year! I love this yarn in desert glaze, light sage and brown colors, plus a size I / 5.50 mm hook. This easy and quick-to-work-up pattern will keep your drinks warm all season long! Take advantage of this fun and festive project – grab your materials now and start crocheting right away! okiegirlblingnthings
37. Disney Halloween Mickey Crochet Pumpkin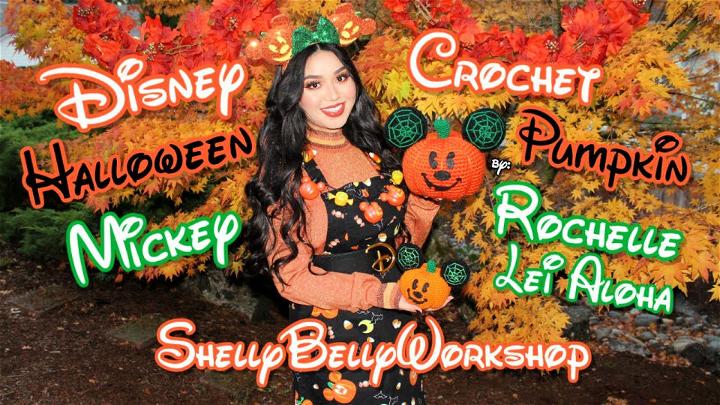 Crochet the perfect Disney Halloween decoration with this Mickey Mouse crochet pumpkin! Learn how to make your pumpkin using super bulky lion brand orange yarn and green acrylic. Then use a bulky black acrylic yarn to create the iconic ears of everyone's favorite mouse, Mickey. Start with a magic circle and work half double crochets all around, gradually increasing until you complete four rounds. Join them together by slip stitching into every stitch before tightening off to create one ear. Now you're ready for some spooky fun!
38. Simple Crochet Pumpkin Tutorial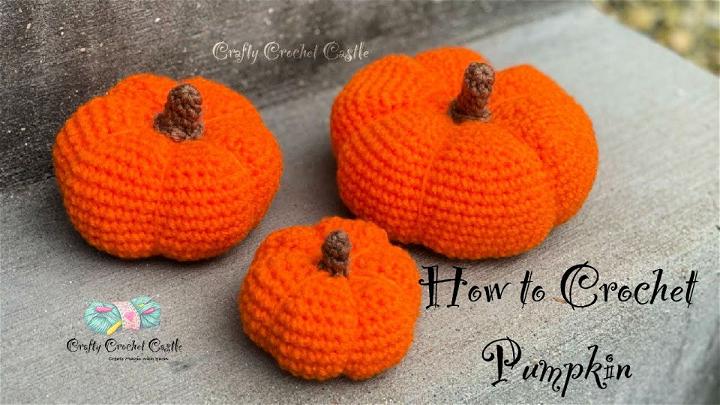 Learn how to crochet a pumpkin with this beginner-friendly amigurumi tutorial! This simple project is perfect for creating gorgeous fall decorations. With the right materials, you can make small (3 inches tall and 3.5 inches wide), medium (4 inches tall and 5 inches wide) or large pumpkins (5 inches tall and 6.5 inches wide). You'll need worsted-weight yarn in orange and brown, a 5 mm hook, and polyfill stuffing. Follow the step-by-step instructions for crafting your own DIY crocheted pumpkin today – it's sure to be a hit this Halloween season! youtube
39. Crochet Pumpkin Pattern for Beginners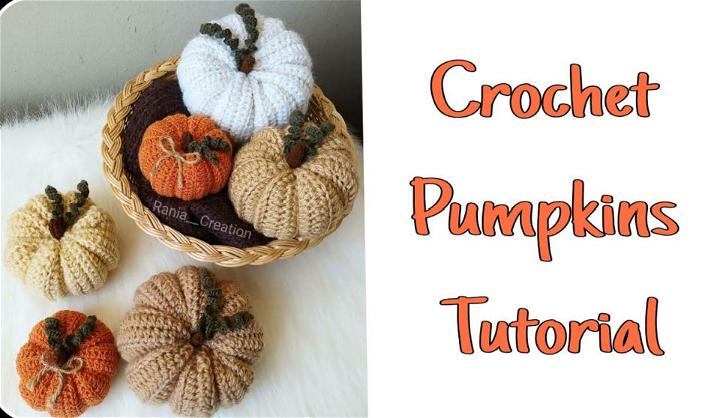 Are you looking for an easy way to learn how to crochet a pumpkin amigurumi? This beginner-friendly video tutorial will teach you everything you need to know about crocheting your very own pumpkin. From selecting the right yarn and hooks to adding finishing touches, the step-by-step instructions will have your handmade autumnal creation completed in no time. So grab your supplies and get busy with this fun and easy how-to on making a unique crochet amigurumi pumpkin.
40. Free Crochet Pumpkins Pattern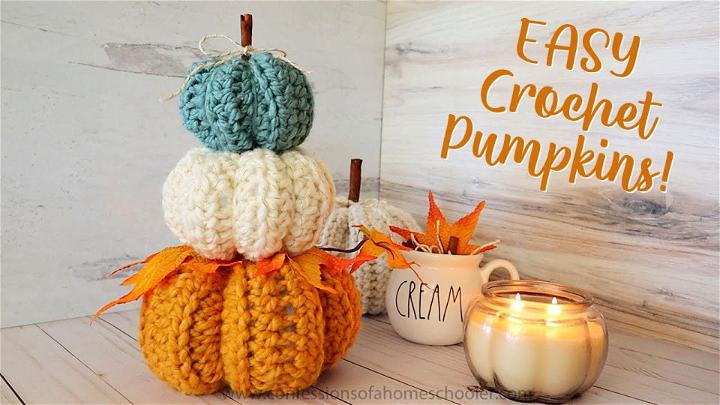 With this beginner-friendly DIY video tutorial, go crochet and make your unique crochet pumpkins! With three sizes to choose from, you'll be crocheting the perfect fall decorations in no time. Supplies needed include a US N crochet hook, super bulky wool-ease yarn, cinnamon sticks, and pillow stuffing for that extra touch of authenticity. Learn how to make a small pumpkin (approx 3″ x 5″) with easy step-by-step instructions that anyone can follow – it's the perfect way to get into crocheting this season!
Related Free Crochet Patterns:
Discover your creative side with our amazing selection of free crochet patterns. Whether you're a beginner or an expert, we have the perfect pattern for you!
Conclusion: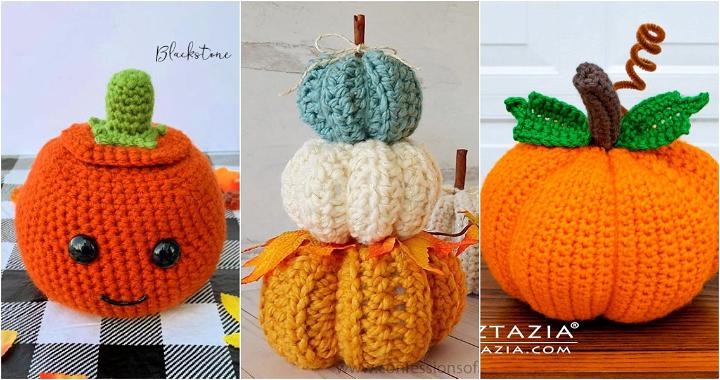 Crochet pumpkins are a great way to add seasonal decorations to your home. With this collection of 40 easy crochet pumpkin patterns, you can find the perfect pattern for any skill level. From free beginner-friendly patterns with step by step instructions to more detailed designs that will challenge even advanced crocheters, there's something for everyone on this list! Whether you want an amigurumi pumpkin or a simple 3D shape, these crochet pumpkin patterns will help bring autumn vibes into your space! With all these amazing options available, it's never been easier or more fun to make your own unique crocheted pumpkins than now.