Crochet dinosaurs are a fun and creative way to bring prehistoric creatures to life! Why not try making your own cute crochet dinosaur? With 40 free crochet dinosaur patterns available, you're sure to find the perfect amigurumi pattern that will suit your skill level and style. From the adorable baby dinosaur to the ferocious T-Rex, each crochet dinosaur pattern comes with detailed instructions, stitch abbreviations, and a gauge to help you achieve the perfect look.
These free crochet dinosaur patterns are perfect for both beginner and advanced crocheters alike, and you can customize them using different yarn colors and textures. Whether you're making a stuffed dinosaur for a child's toy or unique home decoration, the crochet dinosaur patterns are endless. You can even find patterns for dinosaur hats, blankets, and pillows!
So, grab your crochet hook and start crocheting your own cute and cuddly dinosaur today. With 40 easy and free crochet dinosaur patterns, you can create adorable and cuddly dinos for all ages. Each crochet dinosaur amigurumi pattern has step-by-step instructions and detailed images to make the process easy and fun. From brachiosauruses to stegosauruses and from tiny to large, there's a free crochet dinosaur pattern for everyone to enjoy. Get ready to roar with these amazing free crochet dinosaur patterns!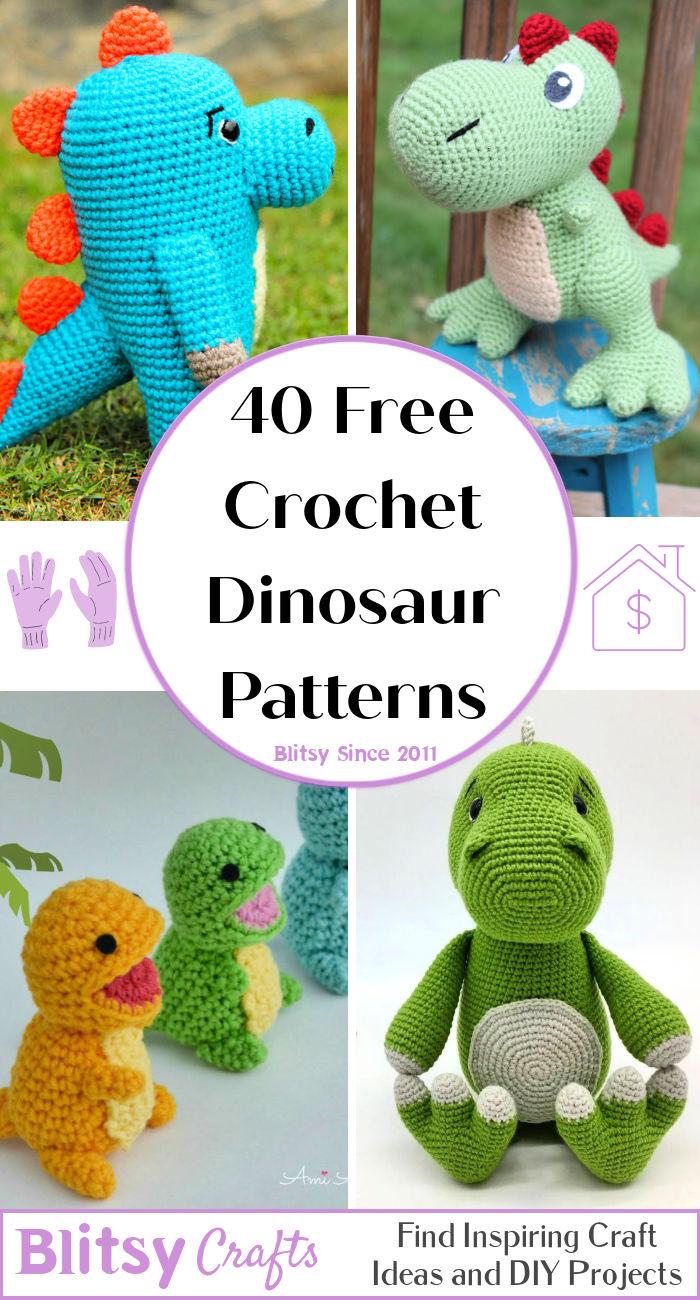 Uses and Benefits of Crochet Dinosaurs
Crochet dinosaurs are adorable and fun projects that can bring joy to kids and adults alike. They are also beneficial for your health, creativity, and budget. Here are some of the uses and benefits of crochet dinosaurs:
They can be used as toys or decorations. Crochet dinosaurs are soft and cuddly, making them perfect for playing with or displaying on your shelf or mantelpiece. You can make them in any size, shape, or color you want and customize them with different features like eyes, spikes, tails, etc. You can also make them as gifts for your family members and friends who love dinosaurs.
They can help you relax and reduce stress. Crochet is a relaxing hobby that can calm your mind and body. It can also help you cope with anxiety, depression, insomnia, chronic pain, and other health issues. Crocheting dinosaurs can be especially soothing because they remind you of your childhood or favorite movies. You can also enjoy the satisfaction of creating something unique and beautiful with your own hands.
They can improve your skills and creativity. Crochet is a skill that requires concentration, patience, coordination, and problem-solving. It can also stimulate your brain and improve your memory. Crocheting dinosaurs can challenge you to learn new stitches and techniques, as well as experiment with different colors and patterns. You can also express your personality and imagination through your crochet creations.
They can save you money and resources. Crochet is a low-cost hobby that only requires yarn, hooks, scissors, stuffing material (such as poly-fil), safety eyes (optional), stitch markers (optional), tapestry needle (optional) etc. You can use leftover yarn from other projects or recycle old clothes or blankets into yarn. You can also make crochet dinosaurs instead of buying expensive toys or decorations that may not last long or end up in landfills.
Crochet dinosaurs are more than just cute projects; they are also useful and beneficial for you and the environment. So grab your hook and yarn today! 🦖🧶
1. Free Crochet Brachioaurus Pattern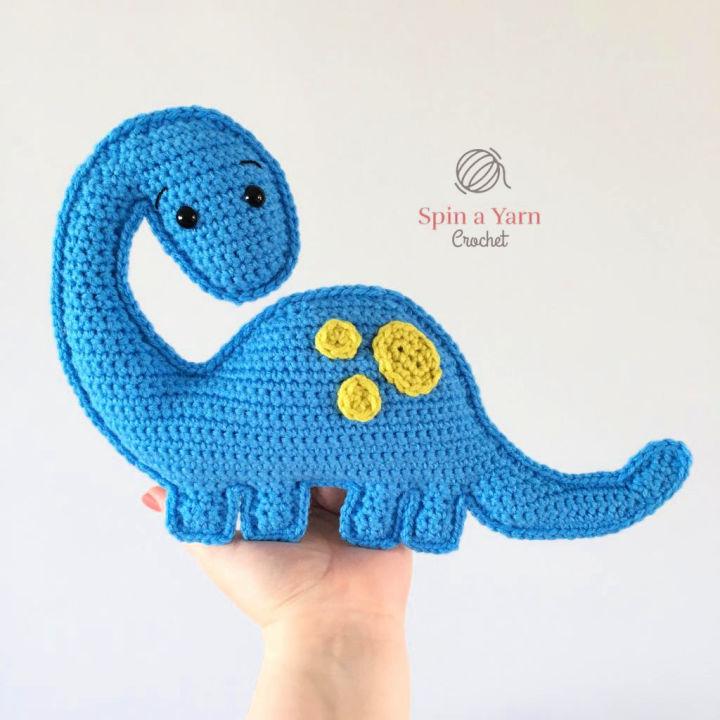 The brachiosaurus. Brian is perfect for you if you're looking for a fun and easy project to crochet. He's a cuddly creature that will bring smiles wherever he goes! Make him quickly and easily using only 5 pieces; 2 panels and 3 spots. The finished size is 30cm/12″ across and 20cm/8″ tall. All you need is a 3.25mm hook and bernat super value in hot blue for your materials. Try it out now! spinayarncrochet
2. Best Dewey the Dinosaur Crochet Pattern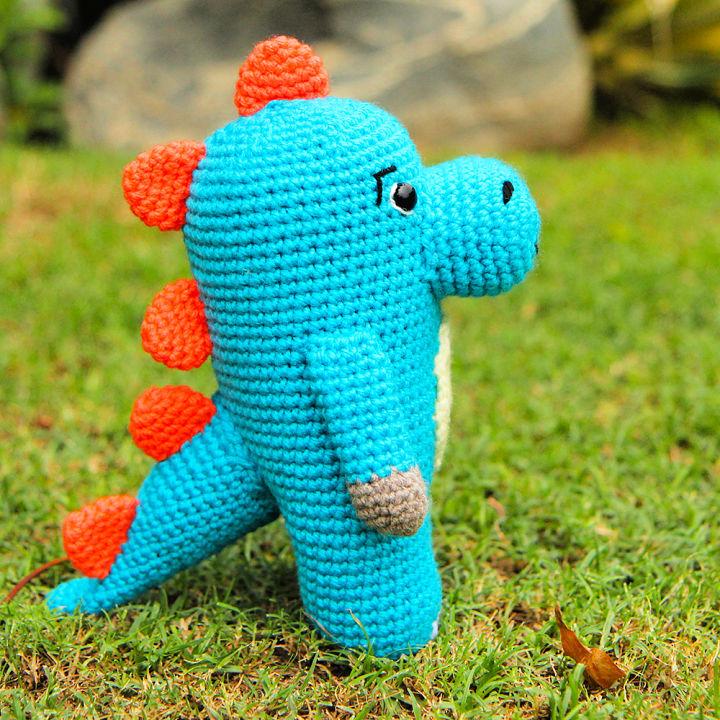 Bring your creativity alive with the cutest dinosaur of them all, dewey! Get ready to crochet an 8-inch cuddly friend using dk yarn in the main body color and a few colors for spikes, hands and feet. All you need is a 3mm hook, two 10 mm safety eyes and scrap white and black yarn for embroidery. Make something unique today with this free pattern! chaicoffeecrochet
3. Free Crochet Danny the Dinosaur Pattern
Weave your magic yarn and watch danny the dinosaur come to life! If you have intermediate or advanced crocheting skills, you can create an adorable t-rex quickly. You only need some fine sport yarn #2 and a 3mm crochet hook. When seated, danny will measure 23cm/9in tall and, from spikes to toes, will be 30.5cm/12in long – perfect for your next cuddly creation! cuddlystitchescraft
4. How to Crochet Candy Corn Dinosaurs – Free Pattern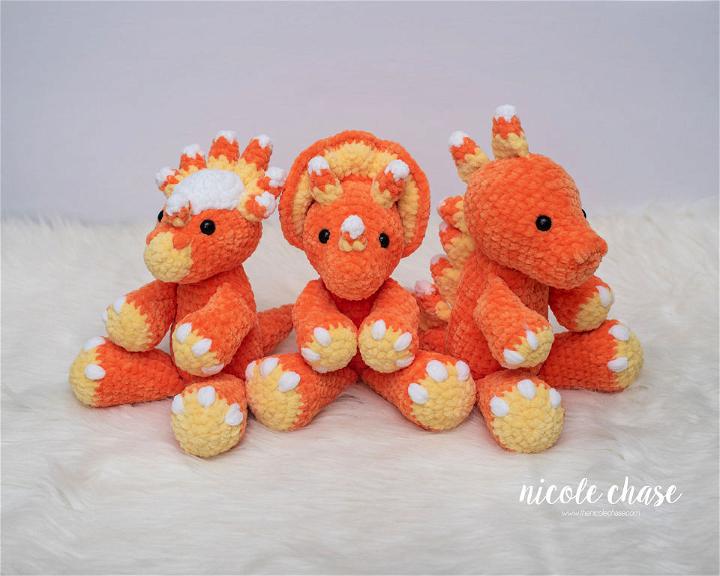 Grow your crochet skills with these fun and free candy corn dinosaurs! This pattern modification features mini tanner the triceratops and is perfect for those at an intermediate skill level. With a hook size of 5.0mm and super bulky yarn weight (6), you can craft an 8″ tall dinosaur or 11″ tall while standing. Get creative with color combinations as you create this fantastic creature – it's sure to be a hit! thenicolechase
5. Crochet Cornzilla the Candy Corn Dinosaur Pattern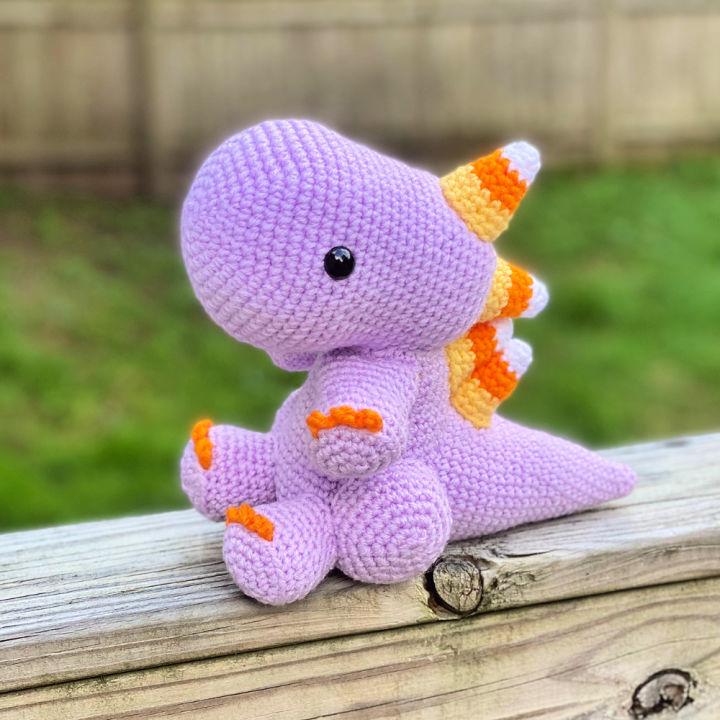 Bring out your inner crocheter this Halloween with crochet cornzilla, the candy corn dinosaur crochet pattern! Create two sizes of this kawaii plushie, using either super bulky yarn and a size 7/4.5 mm hook for the large version or medium weight yarn and a size d/3.25 mm hook for the small one. Complete it with felt eyes, fiberfill stuffing, and a yarn needle to give your creation that spooky-cute look! craftykittycrochet
6. Lovable Crochet Baby Dinosaur Toy Pattern
This delightful crochet dinosaur toy is the perfect way to stimulate your baby's imagination. Bring their fantasies to life with this crochet creation! Crafted with a 3.75mm crochet hook and red heart baby hugs light yarn in blue and shell colors, this project requires some simple materials. Ensure you have the right gauge (17 sc = 4″/10 cm, 18 sc rows = 4″/10 cm) for an accurate result; don't forget stuffing and a yarn needle! Now get crocheting – your little one will love their new cuddly friend! yarnspirations
7. Free Crochet the Friendly Dinosaur Pattern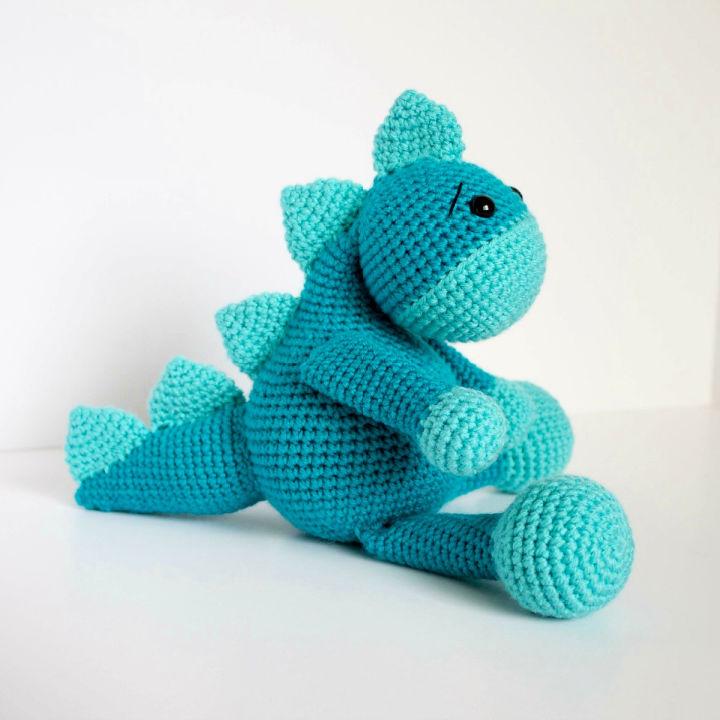 Let your imagination soar with the friendly dino! This children's toy will help bring creativity to life. Crochet, a unique and cuddly dino friend, using this free crochet pattern. With customizable stripes, circles and colors – the possibilities are endless! All you need is 120g of size 4 yarn in the main color, 50g in the accent color, a size 3.75 crochet hook, a tapestry needle and 10mm safety eyes for the finishing touches. Follow the easy-to-follow instructions for an enjoyable crafting experience! Download now to get started on your very own friendly dino. thefriendlyredfox
8. Toby the Tarbosaurus Dinosaur Crochet Pattern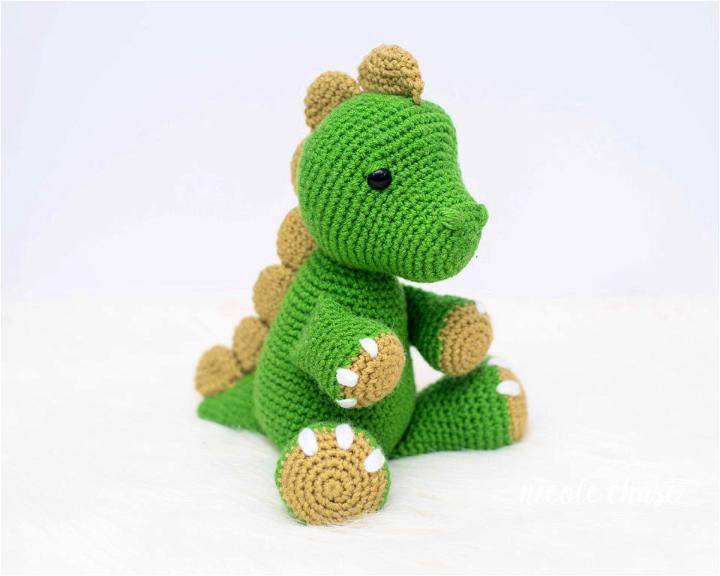 Let toby the tarbosaurus take your creative ideas and help you bring them to life! He's the perfect companion for any artist. This free dinosaur crochet pattern is perfect for little ones and beginners alike. Just grab your brava worsted weight yarn, a 4.0mm (g) hook, and other supplies – stitch markers, stuffing, scissors & safety eyes – to create an adorable 10″ tall carnivore in no time. Stand him up for a bit of extra height or keep him seated; either way, he'll make playtime roar-some fun! thenicolechase
9. Crochet Stuffed Dinosaur – Free PDF Pattern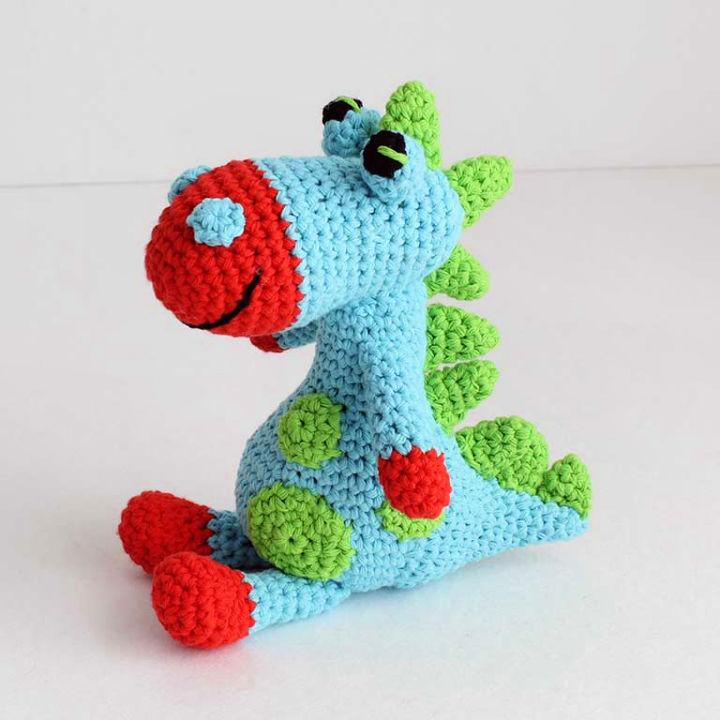 Transform yourself into a crochet expert with this free dinosaur pattern! This 20cm (8in) tall dino is perfect for fans of prehistoric creatures. Crafted using aldi so crafty knit & purl amigurumi yarn in light blue, red, lime green and black, your creation will hold its shape due to the yarn's firm structure and good stitch definition. Just grab a 3mm hook and enjoy creating this charming dinosaur – easy peasy! mycrochetchums
10. Easy Crochet Dexter the Dinosaur Pattern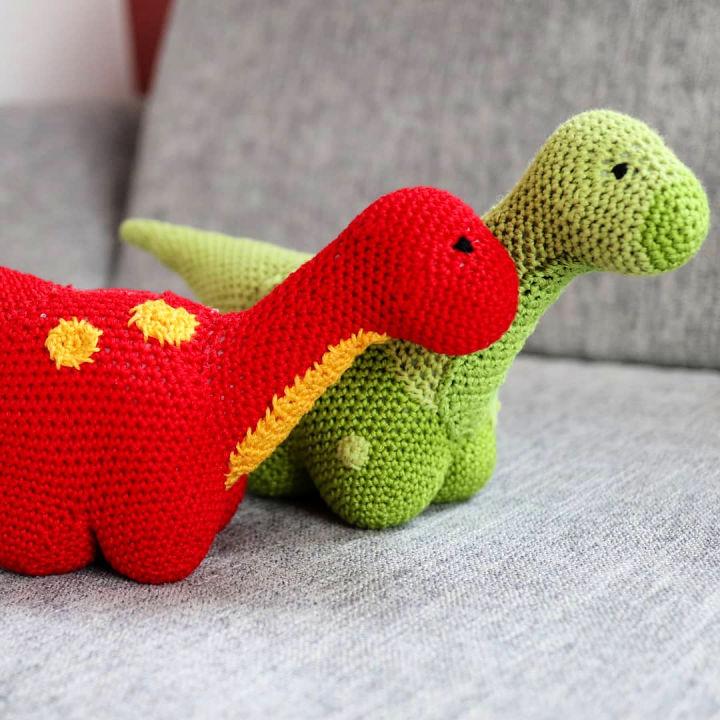 Give yourself, or a loved one your handmade creation – dexter the dinosaur! This free crochet dino pattern is perfect for beginners, featuring easy-to-follow steps and two contrasting aran yarns. Get creative with just 4mm/us g hooks and two colors of your choice to create an adorable 6.7 inches tall, 13 inches long dexter perfect for playtime or decor. What are you waiting for? Get hooked on this fun project today! themagicloop
11. Crochet Trevor Triceratops – Free Pattern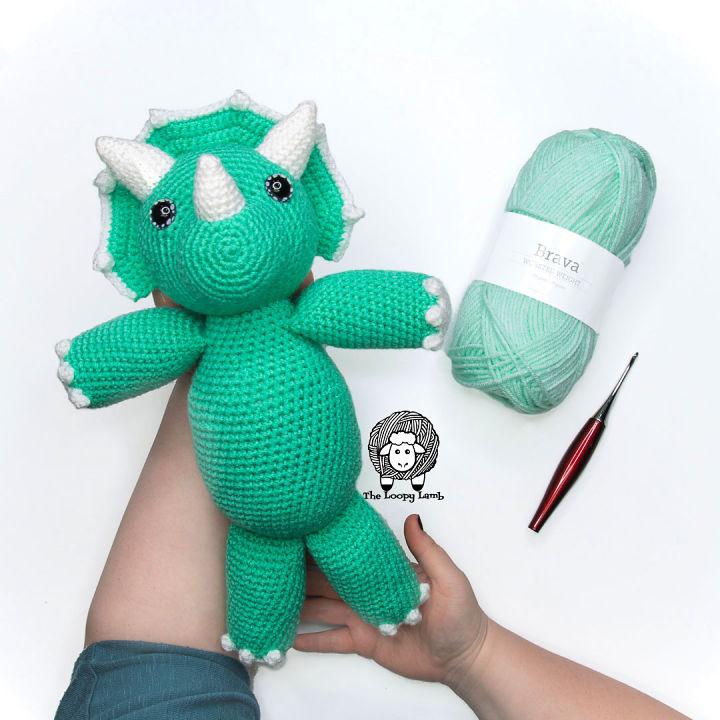 Unravel the possibilities of your imagination with this delightful trevor triceratops pattern! Perfect for beginner crocheters, make this plush toy using basic stitches and worsted-weight yarn. The included video tutorial will help you master the modified popcorn stitch used to create cute little toes. Customize your triceratops by experimenting with different yarns and hook sizes – just be sure to keep a consistent tension. All that's needed is a 3.5mm crochet hook and brava yarn – let's get started! theloopylamb
12. Free Crochet Dinosaur Amigurumi Pattern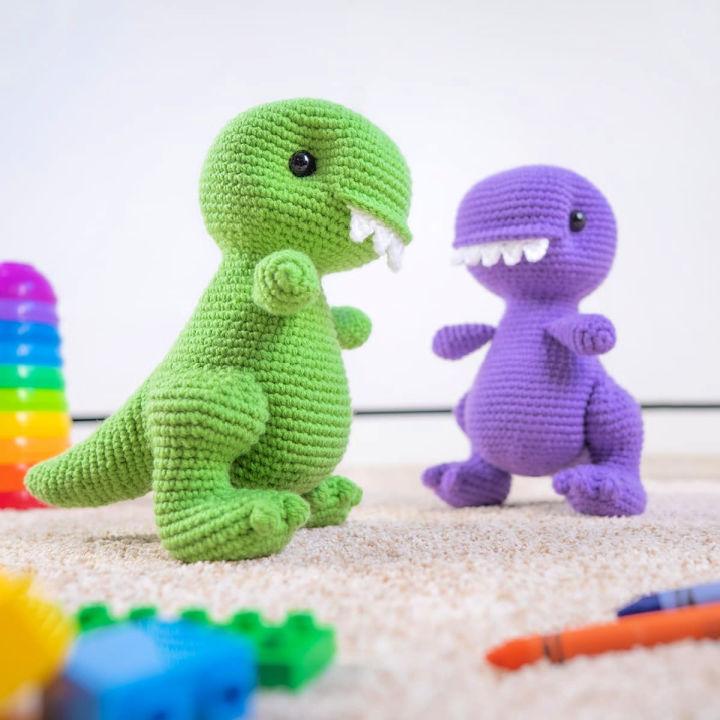 This fun and the easy pattern will help bring your dinosaur dreams to life! With an easy-to-follow design and helpful instructions, dan the dinosaur is perfect for beginning crocheters. Perfect for all skill levels, minimal sewing and no color changes are necessary. You only need a 3.5mm hook, 15mm safety eyes, stitch markers, yarn needle and fiber fill to create a cuddly 10.5-inch plush toy. Start crocheting today and show off your unique version of dan the dino! jesshuff
13. Crochet Baby Dinosaur Amigurumi Pattern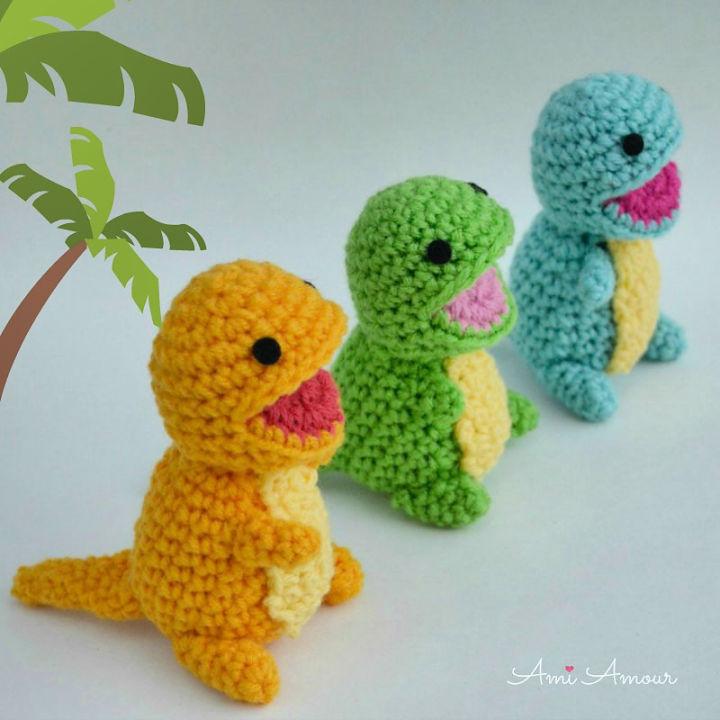 Journey back in time with this amazing baby dinosaur amigurumi! This free crochet pattern will surely bring a smile to dino lovers of all ages. Customize your prehistoric pal with or without a belly patch, and choose from different colors. Easy-to-follow instructions, plus a 5.0mm crochet hook, make it rated as easy intermediate – perfect for beginners. Ready for the adventure? Get your yarn and start making yours today! amiamour
14. How to Crochet T Rex Amigurumi – Free Pattern
Crochet your cuddly t-rex friend with this easy crochet amigurumi pattern! Perfect for playtime or snuggling, you'll need three colors of worsted-weight yarn, a 4.0mm crochet hook and some fiberfill to bring this amigurumi dinosaur to life. This intermediate-level project measures 8″ tall and 7″ across when completed – adding some black and white fabric paint plus a small amount of black yarn will make your finished t-rex pop! Recommended for those familiar with single crochet techniques, let's get crafting! ravelry
15. Crochet Mini Stevie the Stygimoloch Dinosaur Pattern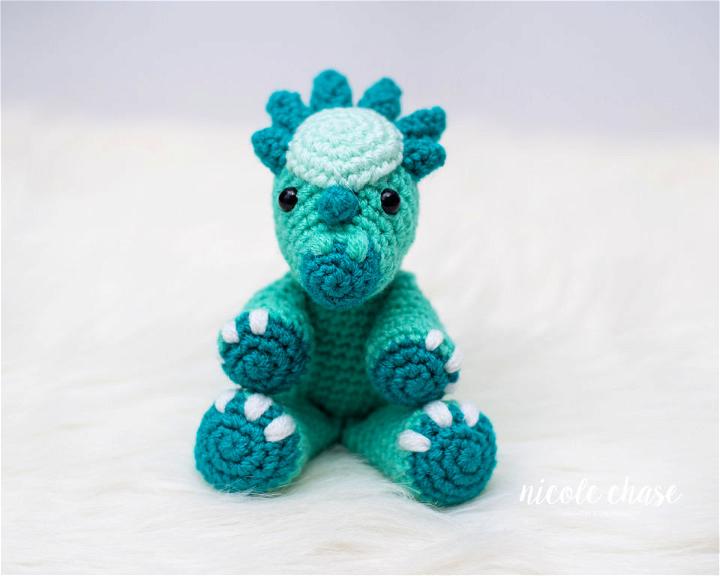 Are you looking for a crochet project to challenge and delight you? Look no further than mini stevie the stygimoloch! This advanced beginner crochet dino pattern is perfect for those with some experience in amigurumi. All you need is a 4.0mm (g) hook, worsted weight yarn, tapestry needle and stitch markers – have fun creating this 5.25″ tall (7.25″ standing) display-worthy toy! Use wecrochet / knit picks brava worsted in 4 colors to make stevie come alive. thenicolechase
16. Crocheted Longneck Stuffed Dinosaur Pattern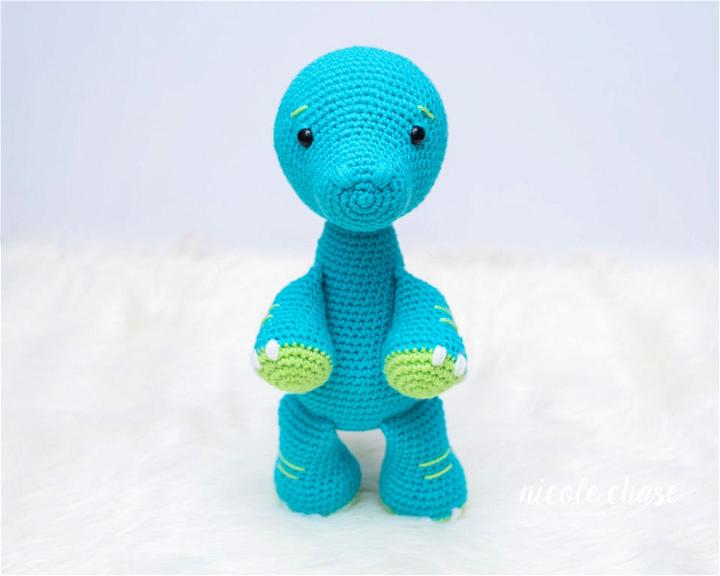 Add a prehistoric friend to your life with andy the apatosaurus! Make this friendly dinosaur come to life with this crochet dino amigurumi pattern. This soft and cuddly creature will measure 10″ when sitting and 13″ when standing and requires 212 yds of blue yarn, 32 yds of green yarn, 4 yds white yarn, 4.0mm hook, stuffing and 12mm safety eyes. Let's make some magic together – get ready to create your snuggly dino today! thenicolechase
17. Crochet Strawberry Tanner the Triceratops Pattern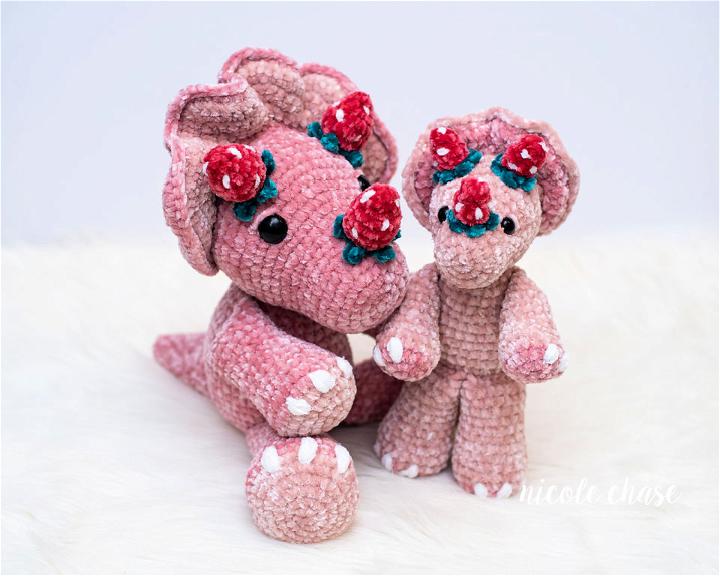 Get ready to bring your dino dreams to life with this amazing crochet dino amigurumi pattern! You can craft these cuddly creatures in two sizes – 11.5″ or 15.5″ for tanner and 7.5″ or 10.5″ for mini tanner – using bernat velvet yarn, a 4mm hook, poly-fil stuffing and safety eyes. Perfect for any amigurumi enthusiast, take your pick of either sitting or standing poses to complete the look! thenicolechase
18. Colorful Crochet Big Brontosaurus Dinosaur Pattern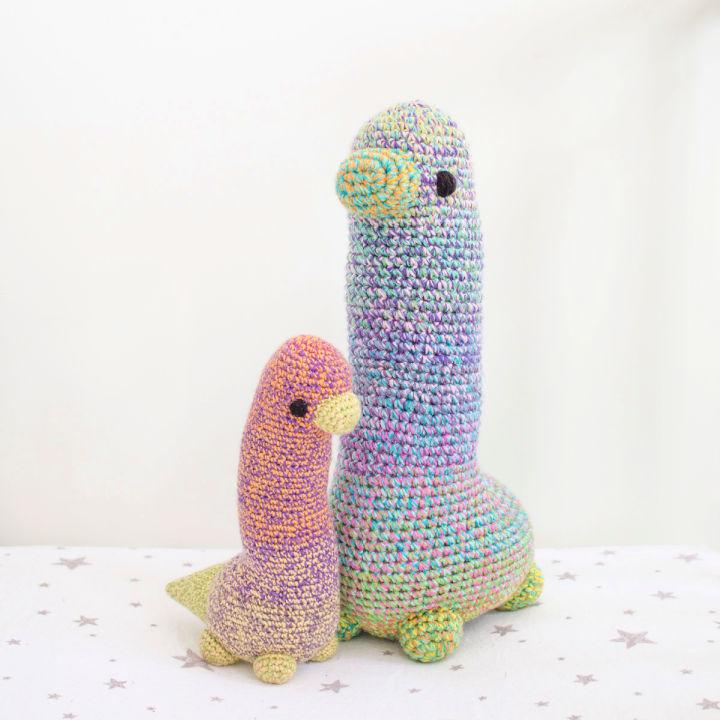 Let your imagination run wild by creating this free crochet dinosaur amigurumi pattern! This beautiful and easy-to-make design features a head, neck and body crocheted in one piece from top to bottom. Embellishments such as the snout, legs, tail, and eyes (which can be done with yarn, buttons or beads) will bring it to life. With medium-weight yarn and a 3.75 mm hook, you'll get a dinosaur that's 24 cm tall, but the exact size is adjustable. What are you waiting for? Unleash your creativity today! mohumohu
19. How to Make Dinosaur Applique – Free Crochet Pattern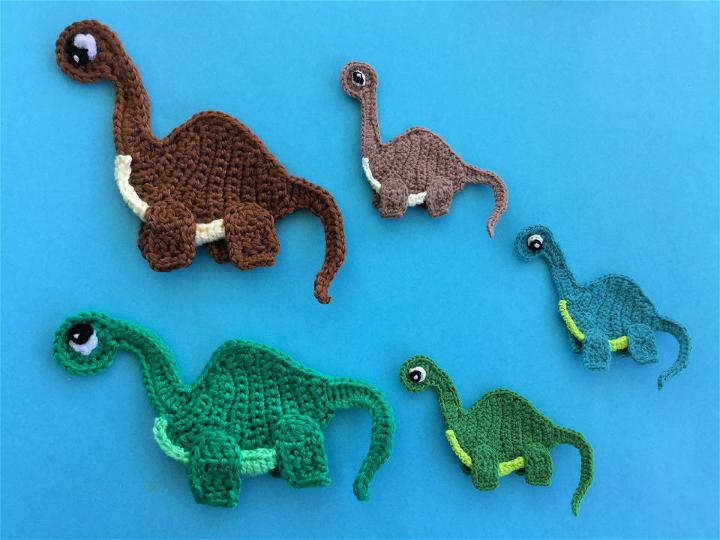 This excellent pattern will let your creativity soar! Unleash your inner artist by creating a one-of-a-kind accessory that is as unique as you are. Let your imagination run wild with this awesome dinosaur crochet applique pattern! With materials such as green, light green, black and white 4-ply crochet cotton, along with a 1.25mm hook, you can make two sizes of the dinosaur pattern: large 5.5″ x 6.5″ using 8-ply wool; and medium 4″ x 4″ which uses 4 ply crochet cotton. This fun project is perfect for sprucing up any clothing item! kerriscrochet
20. Crochet Pocket Dinosaur Amigurumi Pattern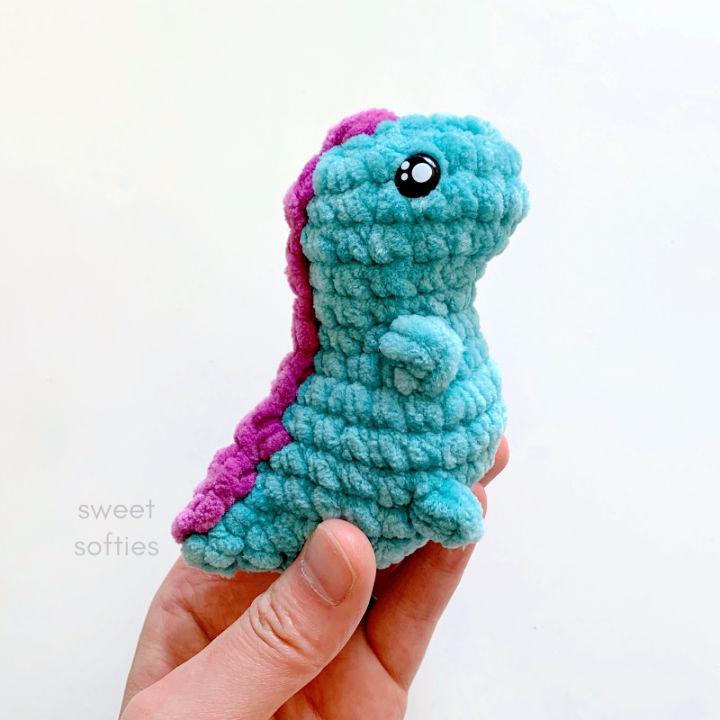 Craft the most adorably tiny dino with this no-sew crochet pattern! Get your finished project in just 30 minutes. Super bulky velvet yarn and a 5mm hook are all you need to make the 3.5″ tall t-rex amigurumi – perfect for gifting or selling at craft shows. This crochet project has you covered, even if you're a beginner; watch the included full video tutorial and get ready to create something special. Take advantage of this fun and easy amigurumi pattern! sweetsofties
21. Unique Free Crochet Chonky Dinosaur Pattern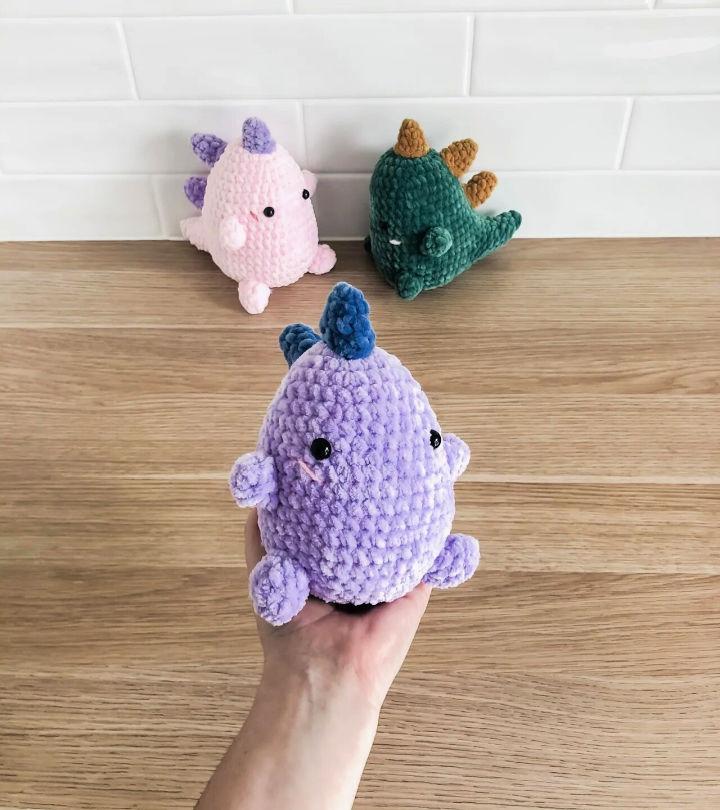 Ready to make your very own cuddly chunky dinosaur? This free crochet pattern will help you create one in no time! You can customize it with however many spikes you desire, so it's perfect for kids and adults alike. You only need chunky yarn, a US g/4.25mm crochet hook, a yarn needle, 9mm safety eyes, and polyfill for stuffing. So start crocheting today and give your dino the love he deserves! roseandlilyamigurumi
22. Stellan and Stanley Crochet Dinosaur Pattern
Get creative with your crochet hook and make unique stellan & stanley dinosaurs with this free crochet amigurumi pattern! Just grab a skein of 9682 dinosaurus yarn, a 2.25 mm crochet hook, stuffing, 6mm safety eyes and other materials like pins, knee-high stockings or plastic pellets for weighted stuffing. This fun project will yield a 4¼" tall and 4″ wide finished piece – perfect for playtime or decoration! yarnspirations
23. Free Crochet Plush Dinosaur Pattern
This free crochet dinosaur pattern will bring joy and delight to the children in your life. With the simple step-by-step instructions, you can create a cuddly plush toy that will put a big smile on their faces! With just some dark green, white and beige yarn, a 4.0mm hook and 12 mm safety eyes, you can craft an adorable toy that stands 27 cm (10.6″) tall in no time. Perfect for gifting or keeping as your own, get creative and start stitching today! amigurum
24. Squish a Sauras Crochet Large Dinosaur Pattern
Let your crochet creativity run free – the squish-a-saurus amigurumi crochet pattern brings an imaginary world to life! Crafted for all crochet levels, from easy to advanced, this fun project will surely be a hit. Perfectly measure at 12 ½ inches tall and gauge at 13 sc and 15 rows = 4″ [10 cm], this kit comes complete with red heart super saver yarn in two colors, a US h/8 (5 mm) crochet hook and two 5mm safety eyes for stuffing. yarnspirations
25. Colorful Crochet Mini Dino Pattern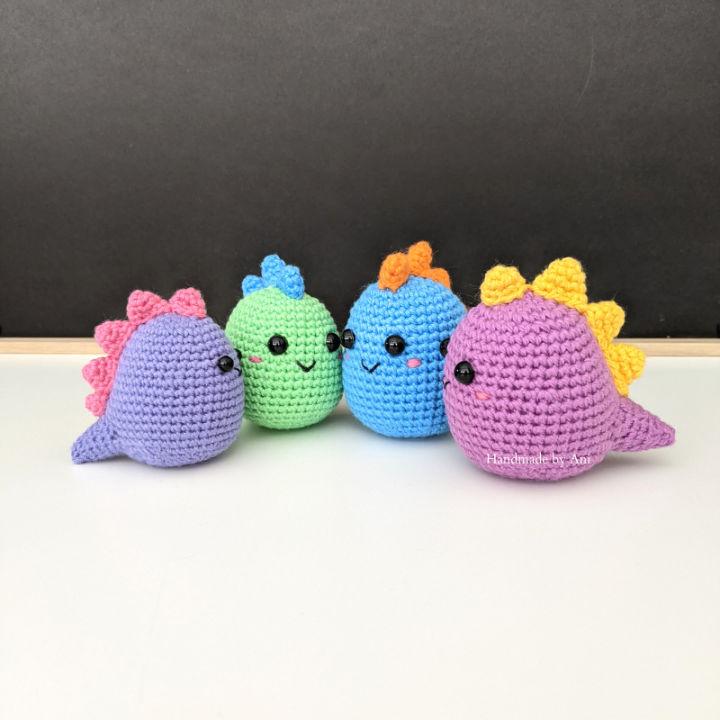 Crochet a unique, colorful mini dino with this free crochet dino amigurumi pattern – complete with 8-ply (dk) cotton in green and blue, a 3mm crochet hook, polyester fiberfill stuffing and 8mm safety eyes. Make a mini dino that measures approximately 7.5cm when using similar yarn and hook size – perfect for displaying or as a fun gift! handmadebyani
26. Crochet Dru the Dino Doctor Pattern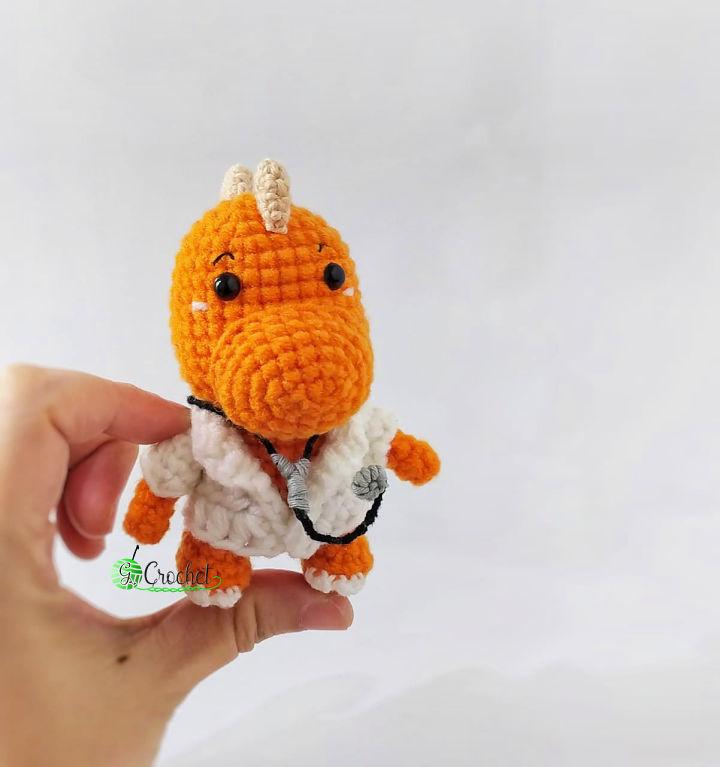 Introduce your kid to the world of cuddly dinosaurs with dru, the dino doctor! This crochet softie is easy-to-make and comes in a variety of sizes. This cute dino amigurumi can be crocheted using hook sizes 2.25 mm (b), 3.0 mm or 1.5 mm – perfect for creating new creations daily! Let their imagination run wild as you explore this sweet and lovely crochet dino amigurumi pattern today! ravelry
27. Free Crochet Stegosaurus Pattern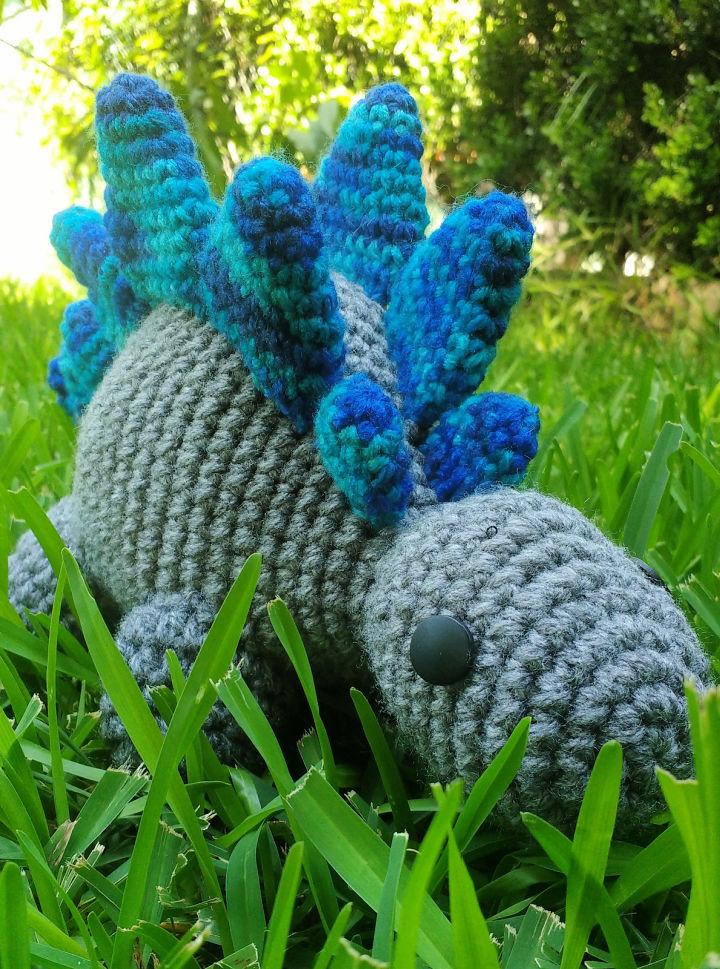 Free your creativity and make use of this fun crochet stegosaurus amigurumi pattern! Let your imagination run wild while bringing this dino to life. With two colors of yarn, a size g hook and just two button eyes, you can create a one-of-a-kind piece to relive childhood memories. Show your masterpiece to friends and proudly display it as a reminder of your creativity. Make something special today for lasting enjoyment! lupitas423 wixsite
28. How Do You Crochet Dino Puppet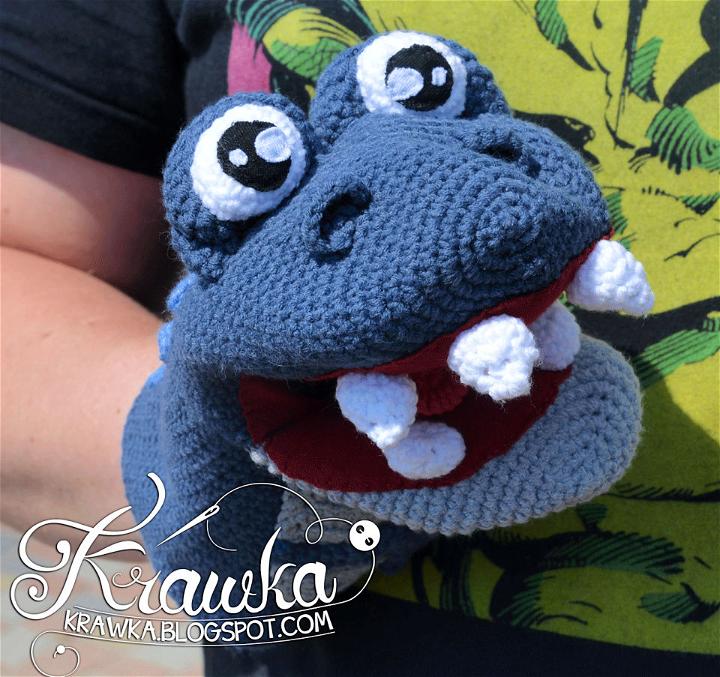 This dino-puppet crochet pattern creates a unique and enjoyable experience for your family! Crocheted for kids, the pattern is simple, even if you're a beginner. Gather up navy blue/dark gray-blue, white, light grey, blue and red yarn, black and dark red material and a 3mm hook to make your puppet. Delight in seeing kids show their tongues when they open the jaws of these adorable creations – all at an affordable price! krawka
29. Crochet Pickles the Pterodactyl Dinosaur Pattern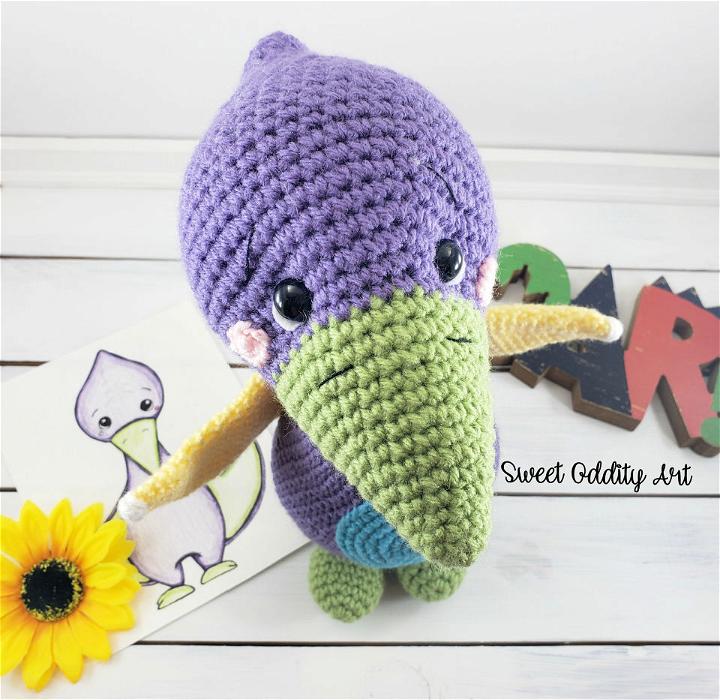 Fly high with pickles, the pterodactyl crochet amigurumi pattern! This intermediate-level amigurumi is 11″ tall when completed and requires a 3.25 mm (d) hook size, 150g of red heart yarn/worsted weight #4, safety eyes and stuffing to make. The instructions are detailed, so you'll have no trouble if you already know the basic stitches and techniques used for crocheting amigurumis – follow them and achieve 22 stitches per row over a 10 cm gauge. Have your pickles take off today! ravelry
30. Free Crochet Dinosaur Amigurumi PDF Pattern
Add prehistoric fun to your little one's backpack with this free crochet amigurumi brontosaurus pattern! This easy-level project requires a 3.5mm crochet hook, 9mm safety eyes, 38mm carabiner clip and polyester stuffing – all you need to make backpack bronto come alive! At approximately 5″ tall (not including the carabiner clip), this adorable creature will surely bring big smiles to tiny faces. theloopylamb
31. Free Printable Crochet Dinosaur Pattern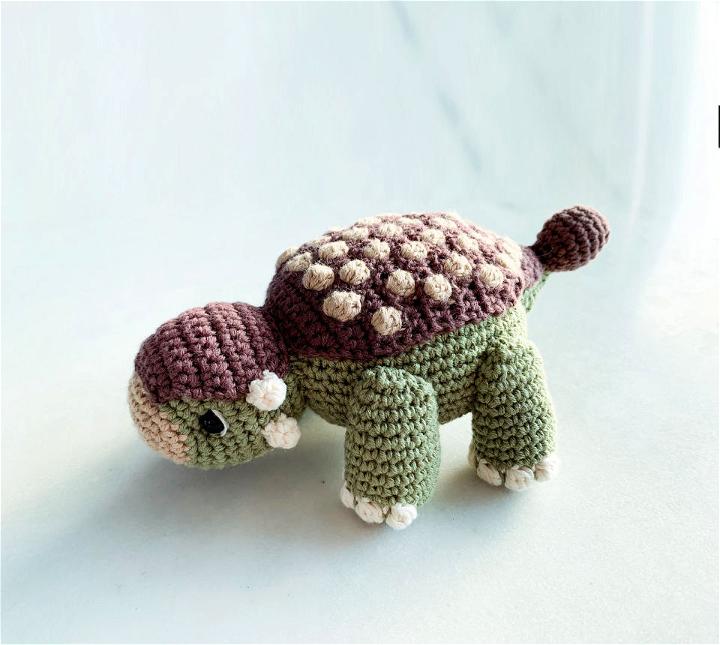 Get ready with your hook and bring your childhood dreams to life with this crochet dinosaur amigurumi pattern! You are ready to go if you know the basics of amigurumi, such as single crochet, bobble stitch, increases and decreases. You only need sport weight 5 ply cotton yarn, a 2.5 mm crochet hook, fiberfill/stuffing, stitch markers, and 7mm security eyes. The finished size of your creation will be 16 cm in length and 6 cm in height. ravelry
32. Easiest Tiny Dinosaur Amigurumi to Crochet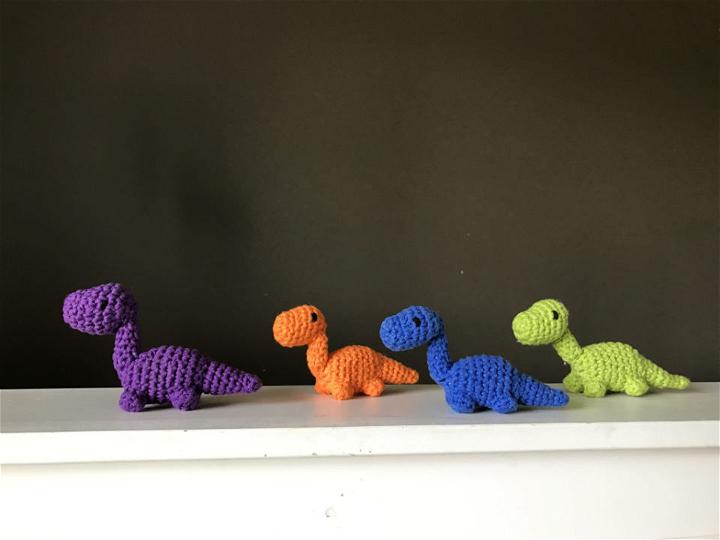 Be the talk of the town with this free tiny dinosaur amigurumi pattern! Adorable, fun and perfect for dinosaur lovers, he'll quickly become your go-to companion. Crafted in worsted weight yarn and a g 4.0 mm hook, make him a keychain or hang him from your backpack – either way, it's sure to be an eye-catcher. So don't wait – grab some green and scrap black yarn now to create your unique tiny dinosaur today! greenfoxfarms
33. Lovely Crochet Dinosaur Pillow Pattern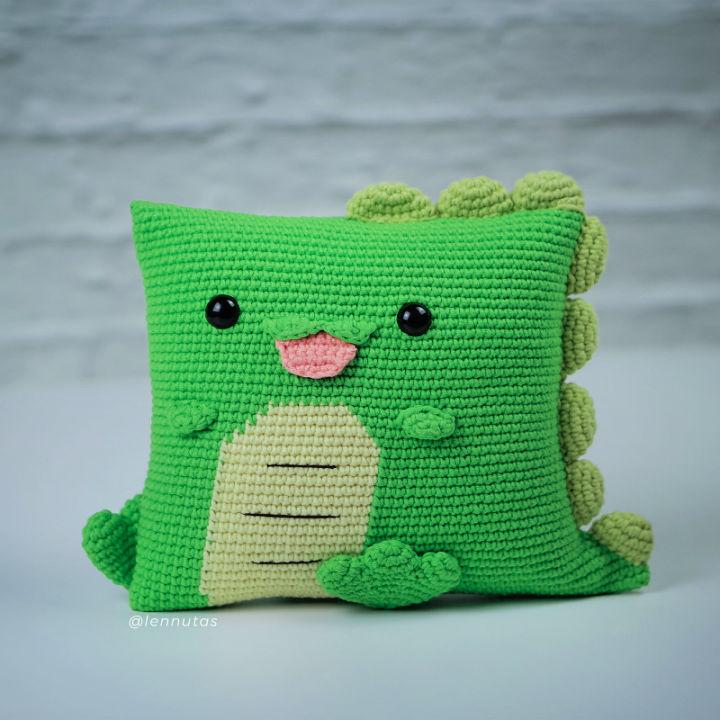 This delightful crochet dinosaur free pattern brings a unique character to your home. Learn how to make a pillow version of a crocheted dinosaur that will be an amazing and creative decor for your home. All you need is medium weight yarn, hook size 3.5 mm, fiberfill stuffing, safety eyes and some craftsmanship! Work in a continuous spiral with single crochet cross stitch and invisible decrease stitches for best result – finished size approx 24×22 cm. Be ready to impress everyone with this creative project! lennutas
34. Best Small Dinosaur Amigurumi Crochet Pattern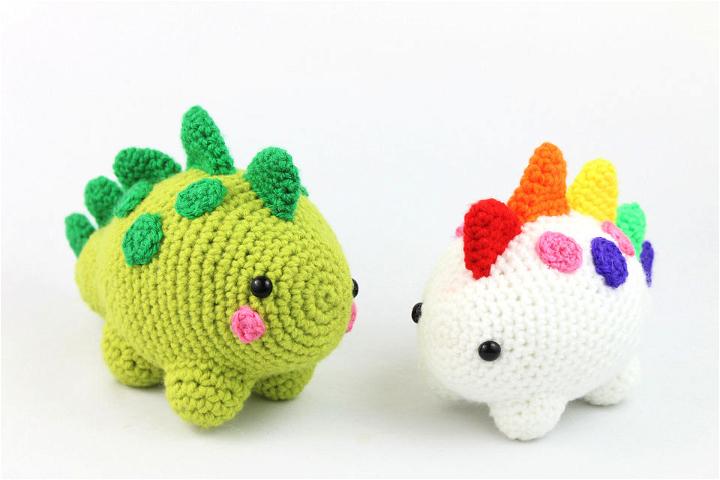 Use your creative powers to crochet a cute, one-of-a-kind dino with this free crochet pattern! Let your imagination soar and make something unique! All it takes is a 4mm crochet hook, 4/medium weight yarn in any color you desire (plus pink for the cheeks), 9mm safety eyes, and stuffing. The detailed instructions will guide you through making the body, spikes of varying sizes, legs and spots – you can even choose the 'main color' to customize your creation. Finish off with some cute little cheeks for a super huggable finished product! stringydingding
35. Simple Crochet Dinosaur Hat Pattern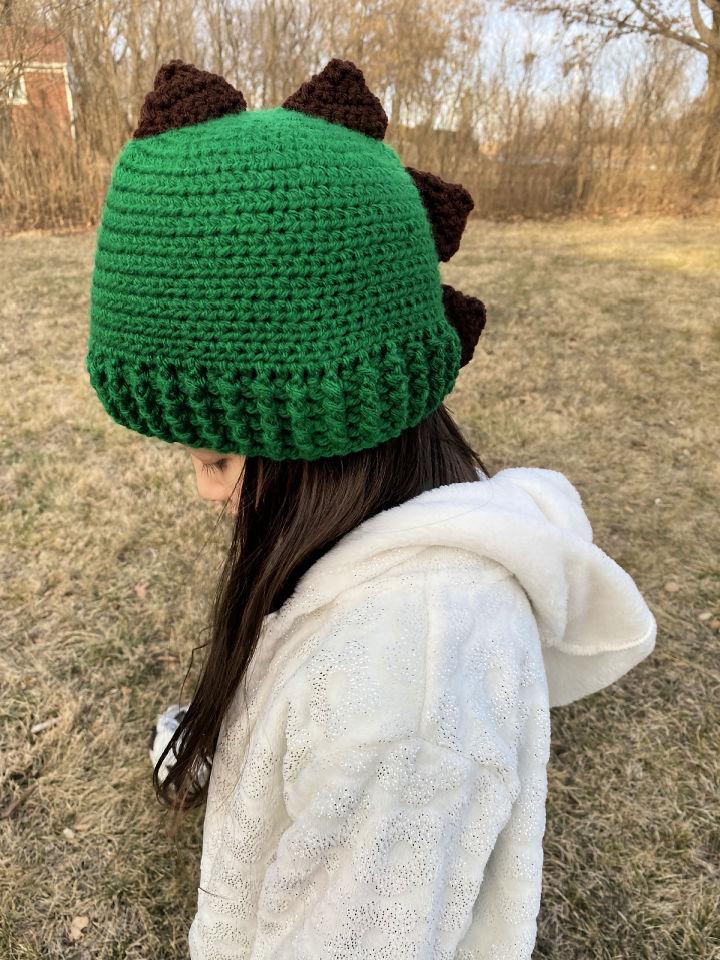 Add some fun to your wardrobe with an easy-to-make dinosaur hat! Perfect for those chilly days, this crochet project is great for kids and uses just a 5mm hook and green & brown yarns. With the same spikes as its popular dinosaur hooded scarf counterpart, you can use leftover yarn from that project, too – so everything matches perfectly. Get ready to see your little ones enjoying their creation in no time! shootingstarcrafts
36. Crochet Dinosaur Hooded Blanket Pattern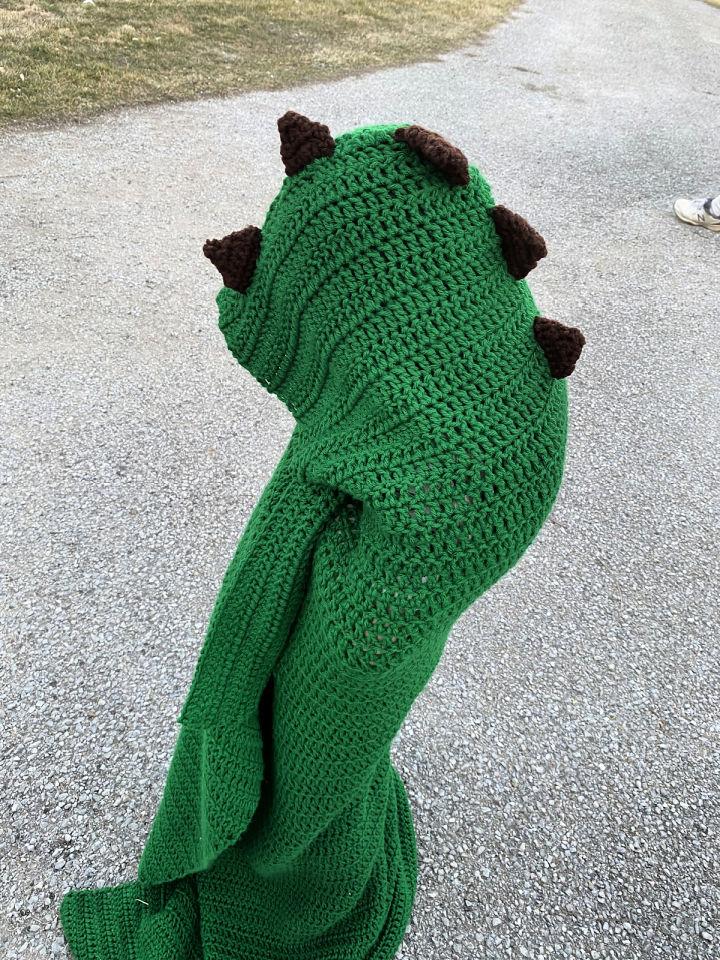 Create a cozy and fun dinosaur hooded blanket with this easy-to-follow pattern! All you need is some green and brown yarn and a 6mm crochet hook. This hooded blanket will become your favorite handmade item in no time, perfect for those chilly days or snuggling up to watch a movie. So grab your supplies and follow the instructions to make your dinosaur hooded blanket today! shootingstarcrafts
37. Easy Crochet Mini Dinosaur Pattern
Are you looking for a fun DIY project? Learn how to create an easy mini dinosaur with this video tutorial! This guide will walk you through each step of crocheting, from picking out your materials to finishing up your cute little creation. With the helpful tips and tricks, you'll have your custom-made mini dinosaur. You will want to take advantage of this opportunity!
38. Crochet Dinosaur T Rex Amigurumi Pattern for Beginners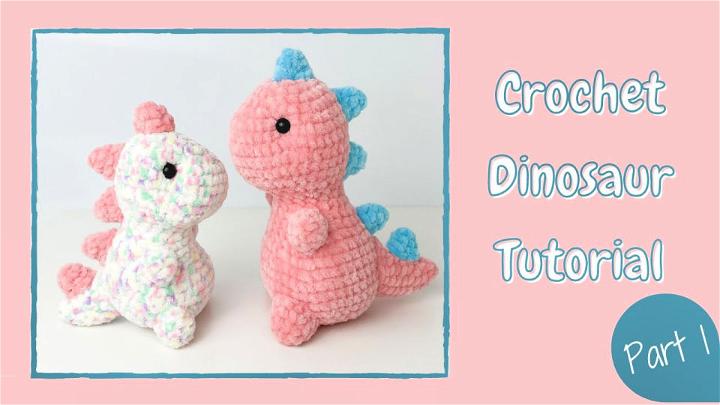 Start your crochet journey with this amazing t-rex pattern and video tutorial! You can make this wonderful amigurumi animal by following the free tutorial, which is perfect for beginners and intermediate crocheters. You only need about half a 100g of himalaya dolphin baby variegated yarn to start. Remember to share your final masterpiece when you're done!
39. Simple Crochet Dinosaur Plush Tutorial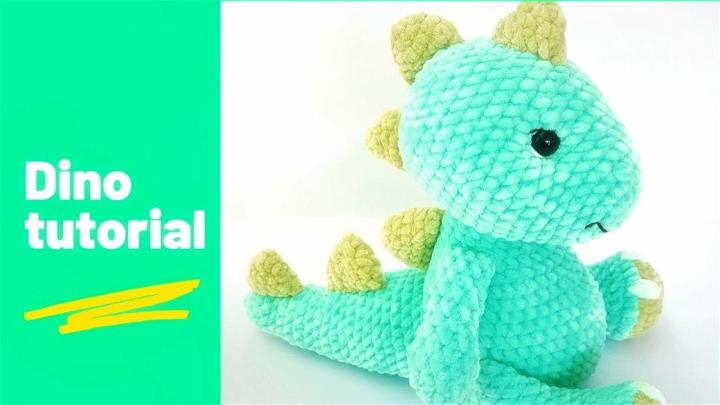 It's time to unleash your inner dinosaur-lover and learn how to crochet a prehistoric pal! In this tutorial, you'll learn how to make an adorable dino amigurumi. All you need is chenille yarn in the main color and one ball of a second color for horns and paws, if desired. Plus, don't forget the 5 mm hook, stuffing cotton yarn (black and white), and safety eye buttons (1.5 cm) – then you're good to go!
40. Chunky Crochet Baby Dinosaur Pattern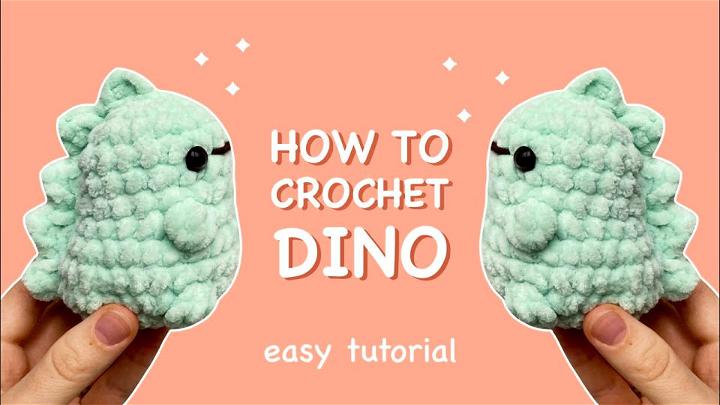 Take your crochet skills to the next level and learn how to make a cute baby dinosaur with this beginner-friendly tutorial. You only need plush yarn, a 5mm hook, 9 mm safety eyes and toy filling for an adorable amigurumi creation. Follow the easy step-by-step instructions and watch as you transform your supplies into a lovable baby dinosaur in no time! Challenge yourself today and start crafting away!
Related Free Crochet Patterns:
Create something unique and special with our amazing selection of free crochet patterns! From beginner-friendly projects to intricate designs, there's something for everyone.
Conclusion: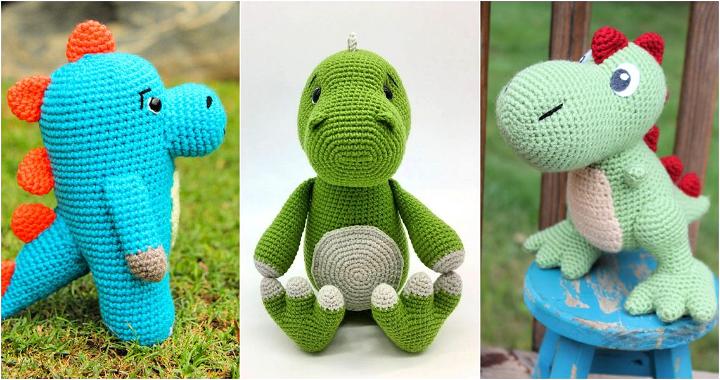 In conclusion, if you are a fan of dinosaurs or looking to make a unique gift for someone, these 40 free crochet dinosaur patterns are definitely worth checking out. From cute stuffed dinosaurs to colorful appliques and amigurumi, there is something for everyone, whether you are a beginner or more experienced in crocheting. Some of the most popular patterns include Dewey the Dinosaur, Danny the Dinosaur, and Candy Corn Dinosaurs. So, grab your crochet hook and yarn and start working on your very own adorable crocheted dinosaur!