Looking for the perfect crochet monkey pattern? We have compiled 25 free crochet monkey patterns that are perfect for beginners. With detailed step-by-step instructions and easy-to-follow tutorials, you can easily make your own monkey amigurumi. Each crochet monkey pattern offers visual and written instructions, so you're sure to succeed with your project. Why wait any further? Get started today and take the first step to make crocheted monkey pattern! – get those needles out, browse through our collection of free crochet monkey patterns and start creating the cutest little monkey of your own!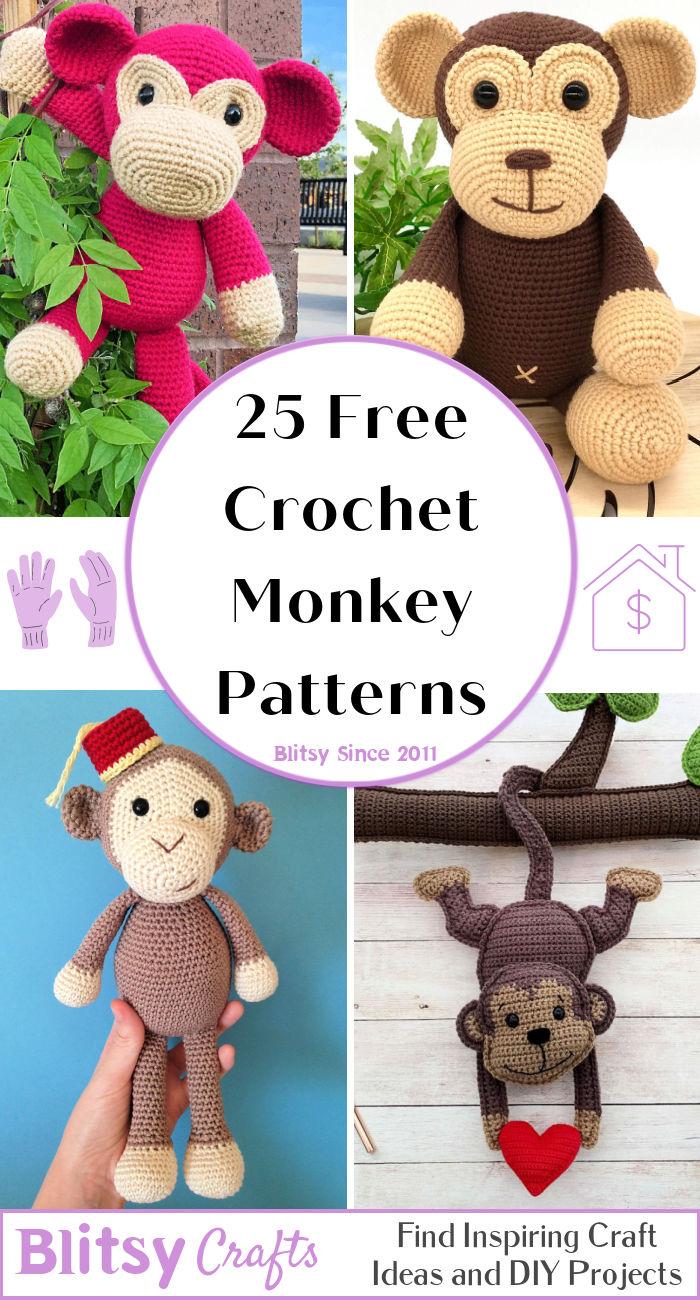 Free Crochet Monkey Patterns
Crochet monkeys are a great way to show off your creative skills and make something unique for yourself or someone you love. From decorations that add charm to any home, to toys children can enjoy playing with – crocheting a monkey is the perfect opportunity to use your crochet knowledge in an exciting project full of potential!
Using a crocheted monkey pattern, you can create an adorable stuffed animal that your child will cherish for years to come! Let's discover our 25 free crochet monkey patterns with step-by-step instructions, video tutorials and easy-to-follow PDFs for beginners to make their own crocheted monkeys. Get creative with amigurumi designs for your next project.
If you want a classic or unique pattern, these free crochet monkey amigurumi patterns will inspire you. Choose from traditional plushies and stuffed animals or explore new possibilities, such as using yarn to create an adorable monkey bag charm or kitchen decor item. With plenty of inspiration, start creating fun and furry friends today!
1. Free Crochet Monkey Amigurumi Pattern

This free crochet monkey pattern will bring lots of fun to your home! You can easily make this Amigurumi monkey with intermediate crochet skills. The head and body are crocheted in one piece, so less sewing is involved. With fine sport yarn, the finished size when seated is 8 inches and 10.5 inches from head to toe. Make sure to make this adorable free crochet monkey pattern that your kids are sure going to love! cuddlystitchescraft
2. Crochet Little Monkey Amigurumi – Free PDF Pattern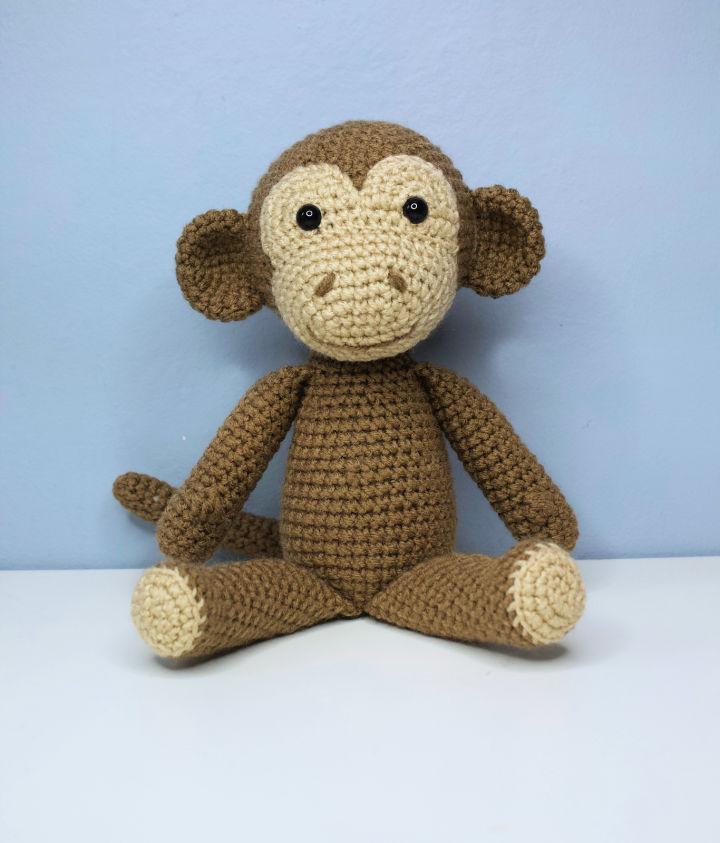 Ready to bring some fun into your crochet collection? This free Little Monkey pattern is perfect for beginner and intermediate sewers! Create a unique, colorful amigurumi monkey plush toy with the recommended materials: 3.75mm crochet hook, worsted weight yarn, 12mm safety eyes, fiberfill, stitch markers & yarn needle. Unleash your creativity & add a touch of fun to any room with this cute little monkey pattern – perfect for any level of crafter. cutiepiecrochet
3. Easy Crochet Monkey Amigurumi Pattern

Brighten up your home decor with this free monkey amigurumi crochet pattern! This fun and the cheerful pattern is perfect for creating a wall hanging in a nursery or child's bedroom. The crochet technique is a tapestry, which gives it an interesting 2-D look that you can customize with various accessories.
This amigurumi will add playful charm wherever it hangs by measuring 28 cm/15 inches from top to bottom. The project provides the list of the materials you need – 3.25mm hook, Bernat Premium yarns, black crochet thread, 12mm safety eyes, stitch markers, stuffing and tapestry needle – so grab them today and start crocheting! spinayarncrochet
4. How to Crochet a Happy Monkey – Free Pattern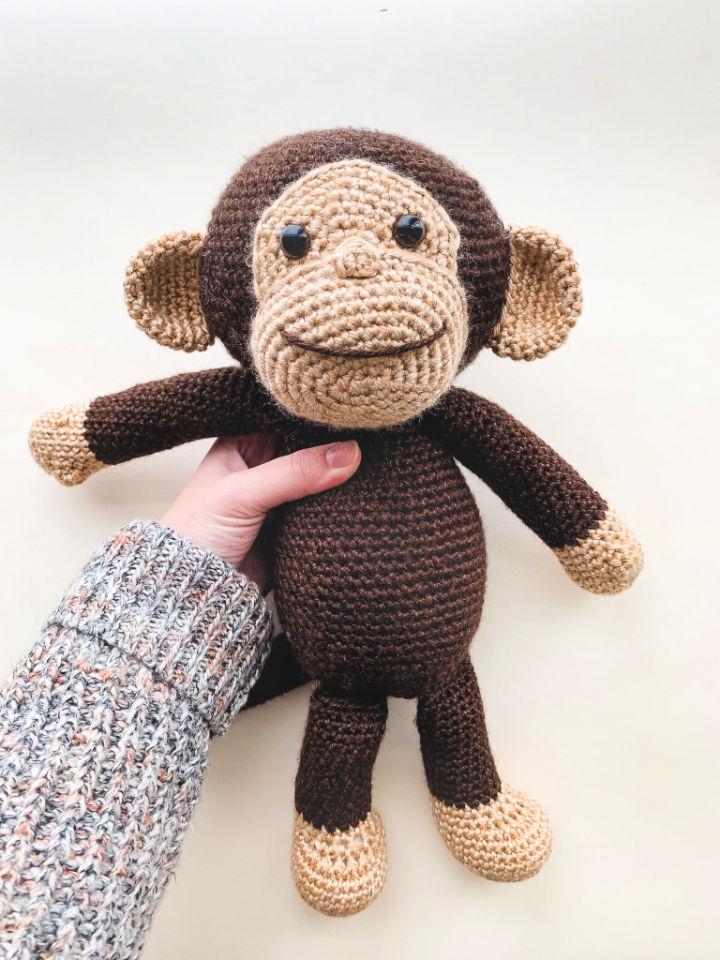 Win the heart of everyone with this free crochet happy monkey pattern! Using Lion Brand Heartland yarn in two heathered colors, this amigurumi monkey is cute and easy to make – perfect for a DIY Halloween costume for kids. With only one skein of each color, you'll get great value for your money. Get your F 3.75mm crochet hook, yarn needle, polyfill stuffing, 9mm safety eyes and hot glue (optional) and start crocheting today! The finished size of the monkey is 17×10 inches – bring some joy into your life now! sewrella
5. Crochet Cheeky Little Monkey Pattern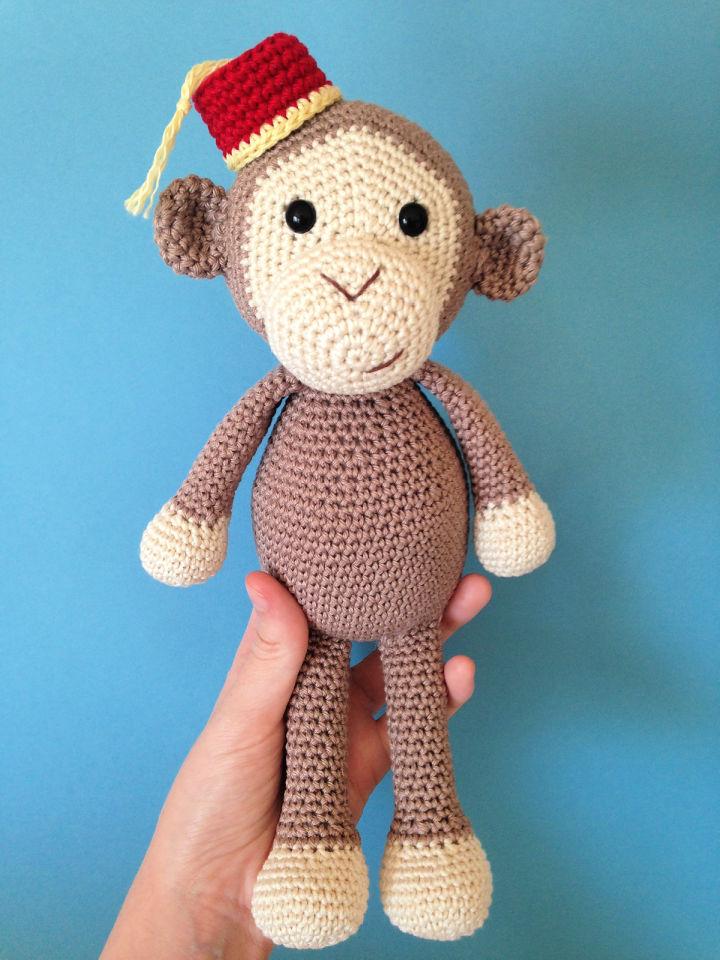 This cheeky little monkey will steal your heart! He comes with a cute red fez and yellow tassel, plus a pose-able wire tail to set his mood. Crocheted with the highest quality materials, including DK cotton yarn, a 3mm crochet hook, 9mm black safety eyes, brown embroidery floss, and a sharp embroidery needle. All you'll need is stuffing, stitch marker and scissors to bring him to life. Get ready for endless mischief as this adorable monkey wins your affection! heartandsew
6. How Crochet Mimi the Monkey – Free Pattern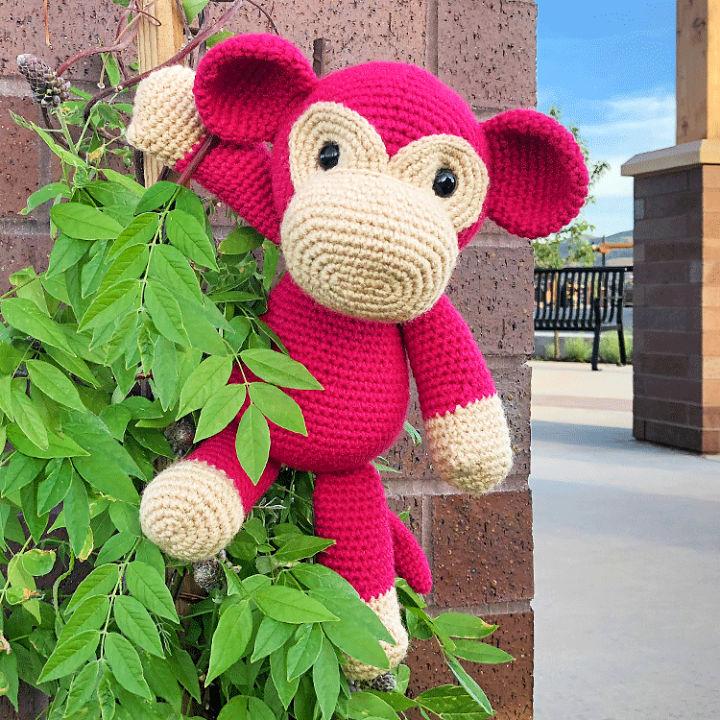 Adopt an adventurous companion with the 'Mimi the Monkey' amigurumi pattern! The finished plushie is standing at 13.5 inches tall. If you're looking for a delightful woodland animal, this intermediate-level crochet pattern is perfect! Have a blast bringing Mimi to life in your unique style – she's sure to bring smiles and laughter along the way. Make memories today with this free moneky amigurumi pattern! jesshuff
7. Crocheted Monkey Baby Teether Pattern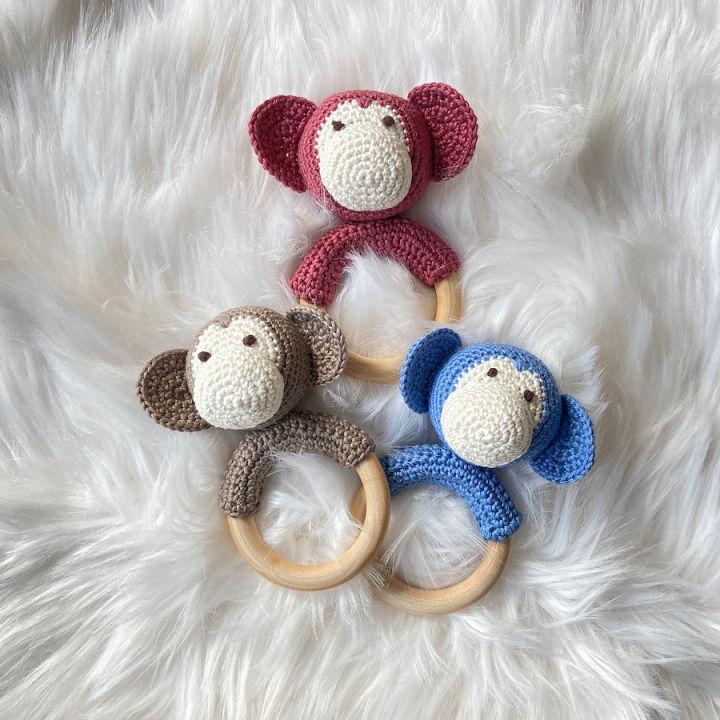 Make your baby's teether fun and cute with this crochet pattern! Crafted in just 1 skein of Scheepjes Catona White, 1 skein of Scheepjes Catona Brown, leftover dark brown cotton yarn and other materials such as a 70 mm bite ring, 2.5mm crochet hook, fiberfill and rattle beads – you can make the perfect teether toy for your little one! The detailed step-by-step illustrated guide in the pattern makes creating this charming item simple and easy. Get started now to craft something special for your precious angel! dutchcrochet
8. Crochet Big Monkey Amigurumi Pattern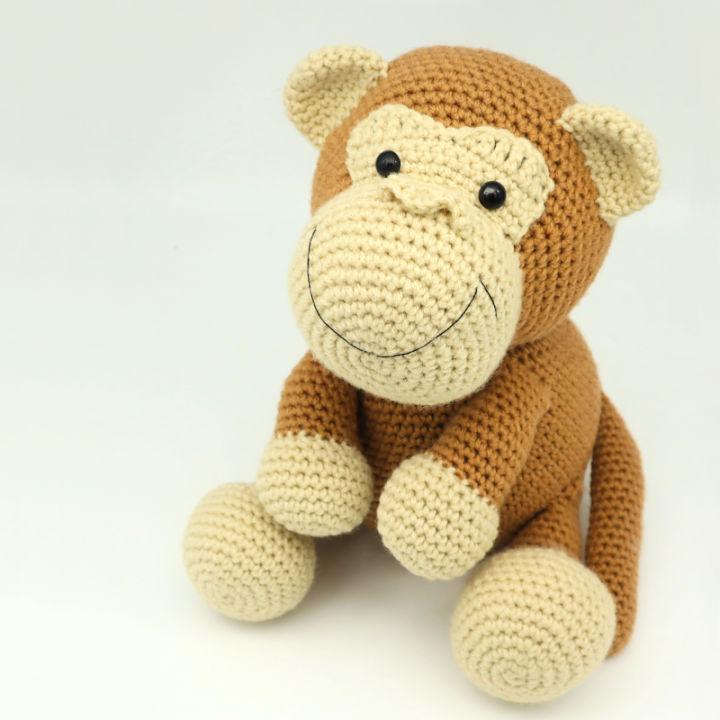 Crochet your own big monkey amigurumi easily with this free crochet pattern! This project is perfect for beginner-level crocheters. This project is a great way to practice basic stitches and create something adorable. With just light cream and brown yarn, a 4mm crochet hook, tapestry needle, scissors, stuffing, 12mm safety eyes and black embroidery thread you'll be able to make your own cuddly plush toy in no time. This fun project will surely bring out your inner crafter – get started now! stringydingding
9. Free Crochet Monkey Lunch Box Pattern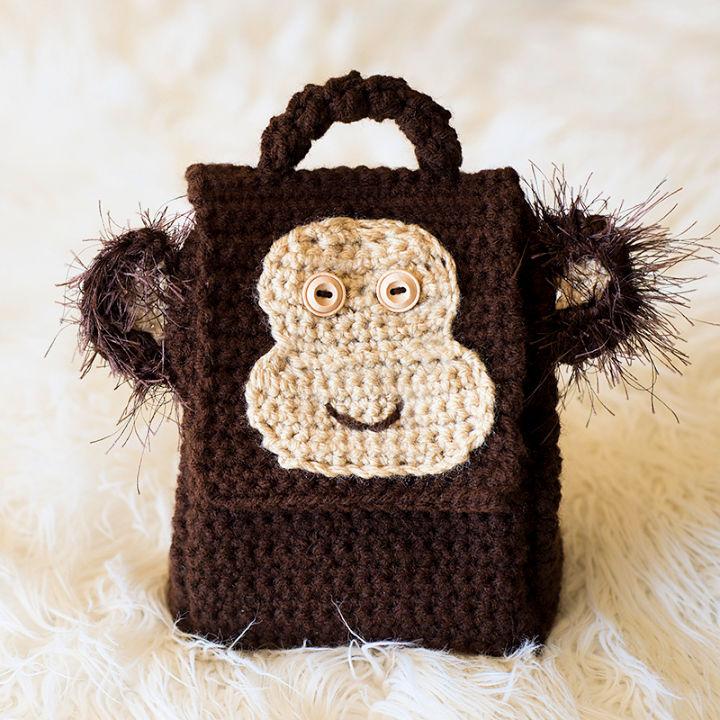 This monkey lunchbox crochet pattern is perfect for creating an adorable lunchbox for your kids! It's made with worsted (4) weight yarn and a size 5.5 mm crochet hook, with two ⅝″ buttons for eyes. You'll need approximately 220-235 yards of yarn, accent color, plus some optional fun fur in matching colors. With this easy-to-follow pattern, you can make a cute little lunchbox that will make your child proud to show off at school or daycare! melodys makings
10. Crochet Monkey Around Baby Blanket Pattern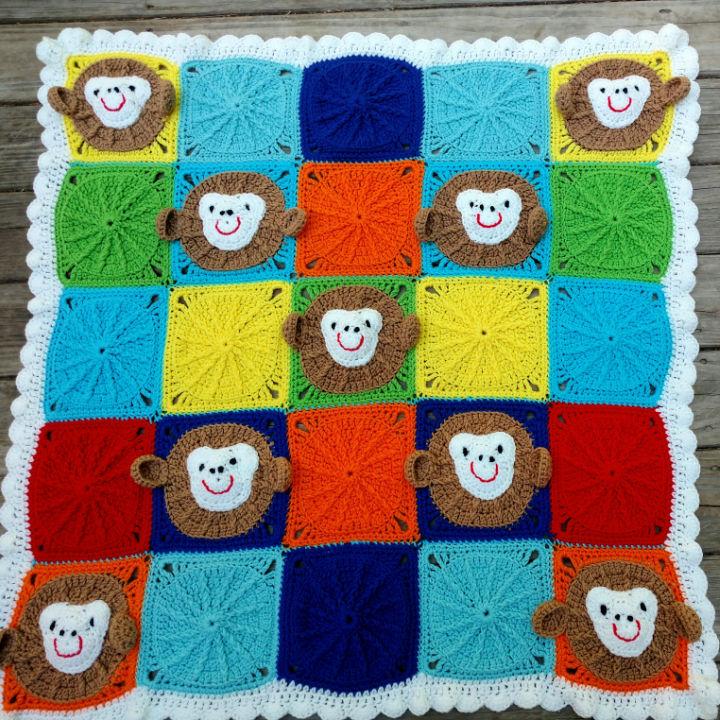 Introducing this monkey around baby blanket! With bright colors and cheerful monkey faces, this blanket is the perfect spot for babies to play or cuddle. Moms will love that it's easy to care for; just machine wash and dry. This 38″ x 38″ blanket is an intermediate pattern made with Red Heart Super Saver yarn and a hook size of 5.5 mm. Perfect for any new mom looking to give her baby a fun, cozy place to rest! Get your monkey around baby blanket today! yarnspirations
11. Free Crochet Monkey Hat Pattern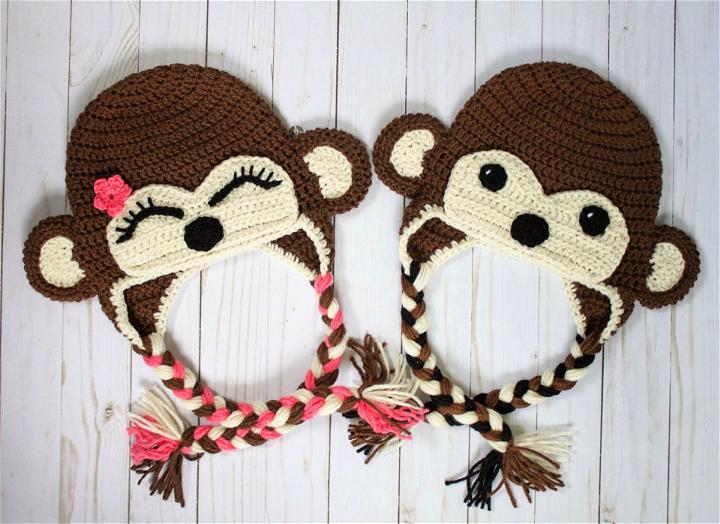 You'll love this fun and free crochet monkey hat pattern for the little monkey in your life. This adorable hat is made from brown worsted-weight yarn, with sweet little ears, a cute expression, and featuring tassels that will make any outfit pop. You'll need a 5.0 or 5.5 hook (depending on the size of the hat), tan yarn, a small amount of black yarn, and a yarn needle to complete it – so let's get started! Make something special today with this one-of-a-kind crochet monkey hat pattern, sure to bring smiles all around! thefriendlyredfox
12. Gorgeous Crochet Sock Monkey Blanket Pattern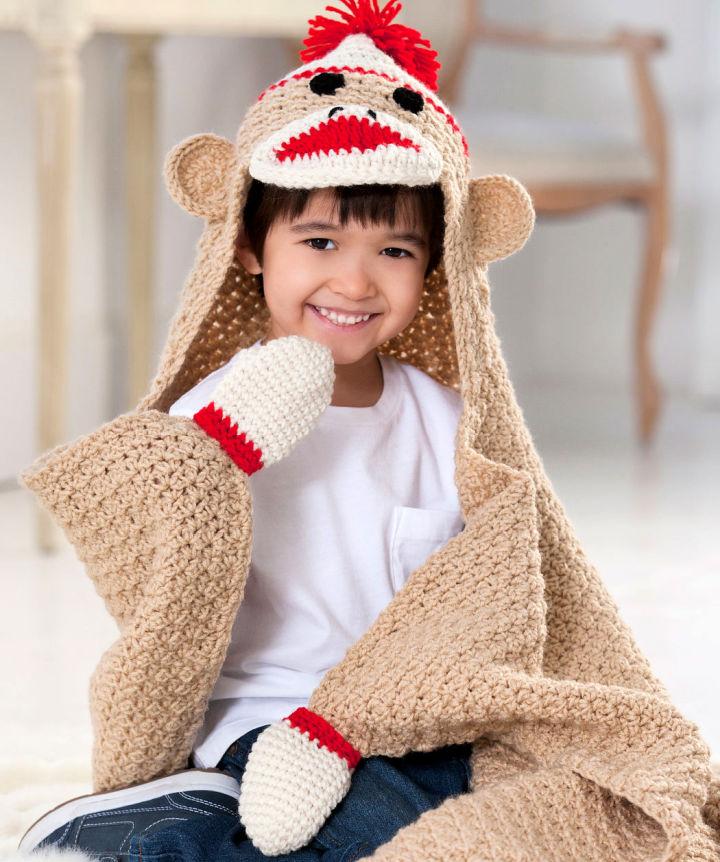 Stay on trend with this delightful crochet monkey blanket. Perfect for children of all ages, this blanket measures 44″ wide and 44″ long. It's an intermediate-level pattern with Red Heart Super Saver yarn and a 6mm crochet hook. This creative take on the classic sock monkey will surely be a hit in any home! Get your supplies now and craft this unique project today. yarnspirations
13. Pretty Crochet Sock Monkey Baby Hat Pattern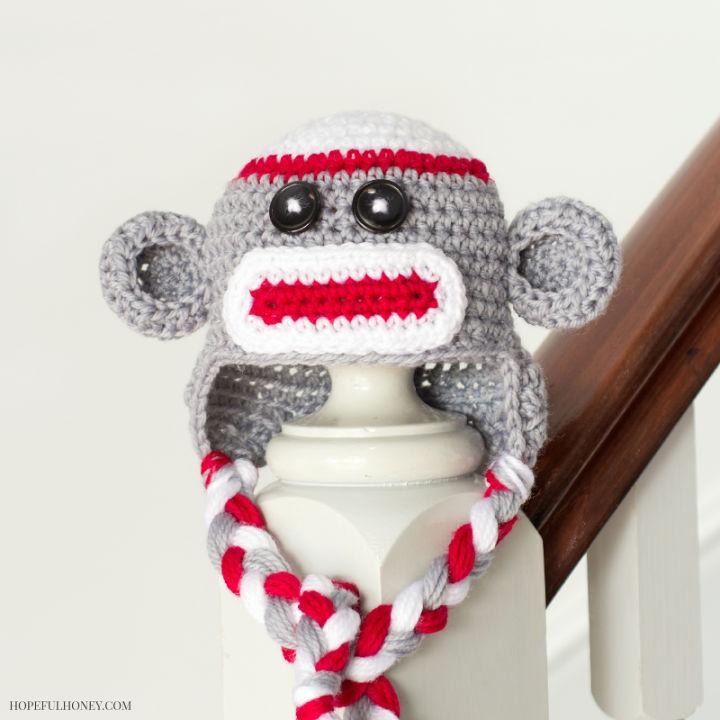 This free sock monkey baby hat crochet pattern will bring a festive twist to your baby's wardrobe! Perfect for 3-6-month-old babies, this fun and unique pattern is made from 8ply yarn in three colors and two black buttons.
All you need is a 6.00mm and 4.50mm crochet hook, scissors, and tapestry/wool needle, and you can start crocheting today! The finished hat has a head circumference of 16 inches and a height of 6.5 inches – it'll surely bring joy wherever you go! Get creative with the design – grab your materials for an enjoyable crocheting experience for all ages. hopefulhoney
14. Crochet Stuffed Sock Monkey Pattern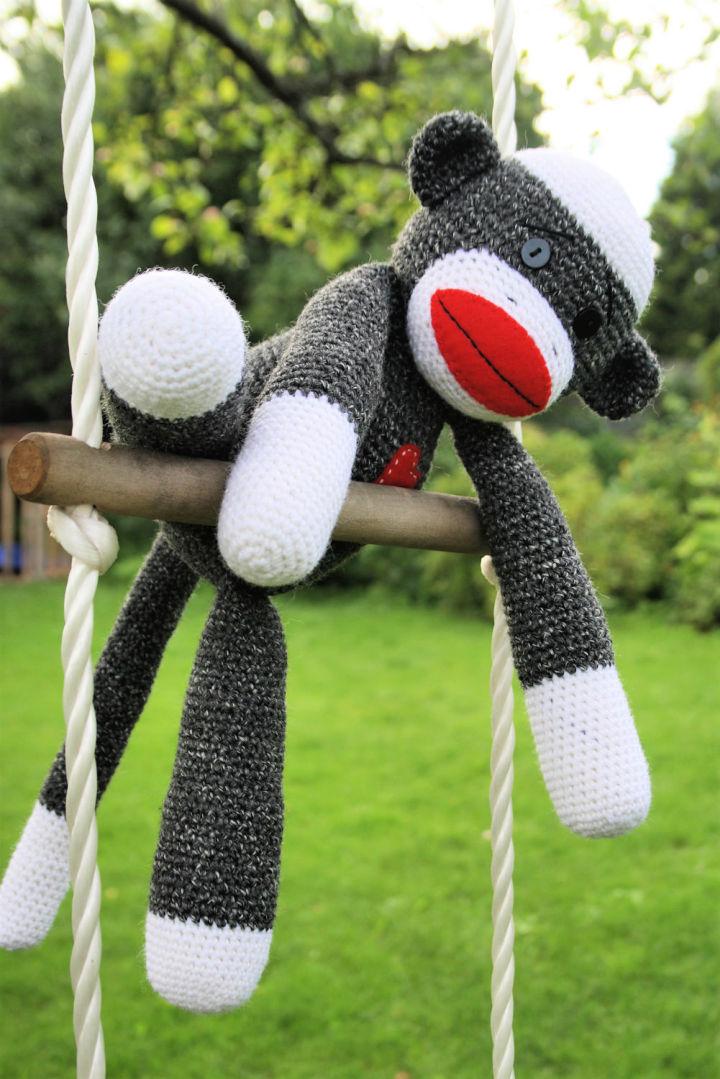 Welcome to the world of amigurumi sock monkeys! Inspired by the beloved movie Mr. Magorium's Wonder Emporium, This adorable crochet sock monkey is perfect for kids and grandparents alike. It is easy enough for any skill level, and with the right supplies, you can create a monkey that will measure up to 40cm/16in tall! Gather yarn in gray and white, plus buttons, felt, thread & polyester fiberfill – then start crocheting your monkey masterpiece today! lilleliis
15. Colorful Crochet Stripes the Monkey Pattern

Time to have great fun in your life with Stripes the Monkey crochet pattern! This long-limbed and light-on-his-feet friend is perfect for a hug or an adventure. Crafted using yellow, orange, red, green, blue and brown/light brown yarn – plus a little bit of white and black yarn – this monkey plushie will stand 40 cm tall, so he's big enough to join you on your adventures. With 50g of each color being all you need to craft him, Stripes is sure to bring lots of joy! So get ready to meet your new best buddy: it's time for some fun with Stripes the Monkey! crochetfromaland
16. New Crochet Monkey Amigurumi Pattern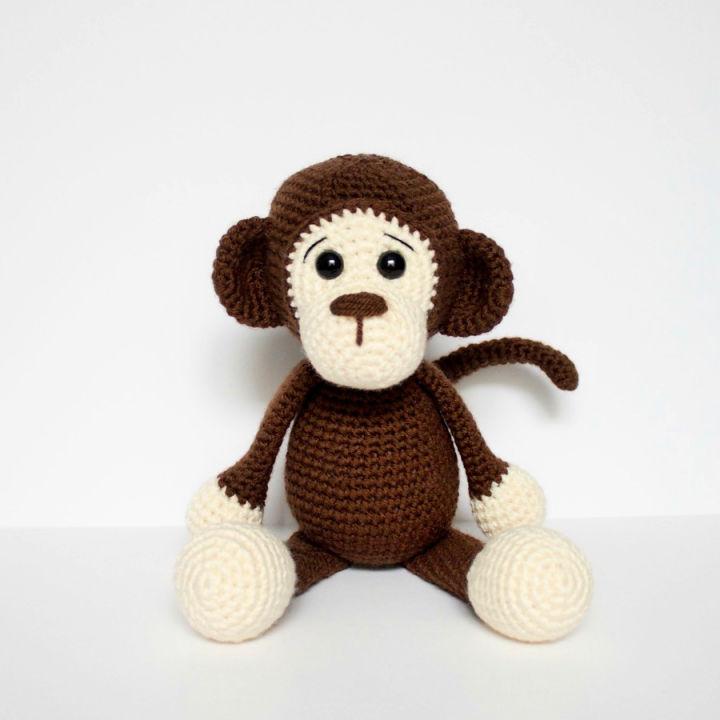 Crochet an adorable, huggable amigurumi monkey with this free crochet pattern! With his cheery little face and cute 12-inch size, he is sure to be a hit for kids of any age. This pattern is great for advanced beginners who already know crochet basics.
You'll need a few pieces of supplies like 120g size 4 yarn in your main color, ivory worsted weight yarn, embroidery thread for eyebrows, a 3.75mm Crochet Hook & 12mm safety eyes, along with some basic tools like a tapestry needle and stitch marker – now you're ready to go! Make this happy-go-lucky critter today and bring joy into someone's life! thefriendlyredfox
17. Crochet Amigurumi Monkey With Baby – Free Pattern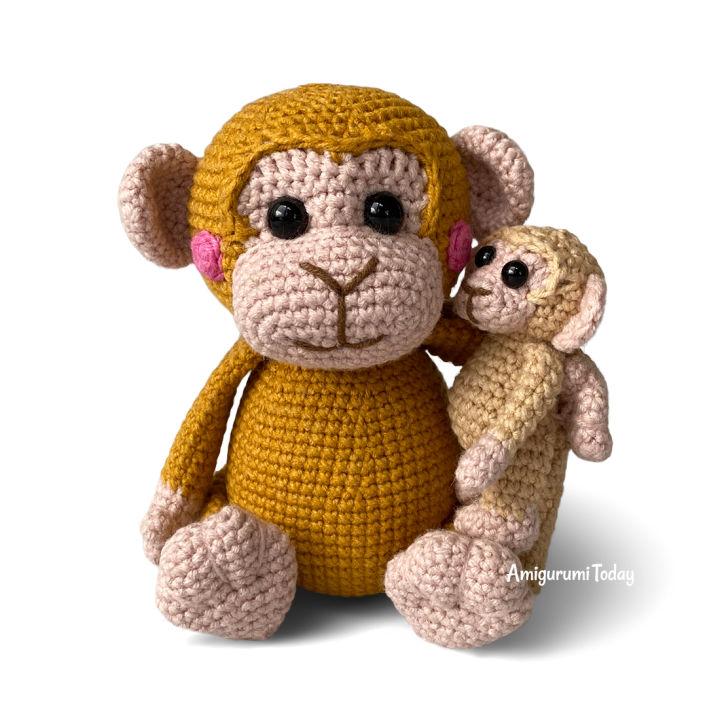 Looking for an amazing gift to give the expecting parents or a little one? Look no further! This free pattern of this beautiful amigurumi monkey family is sure to delight any recipient. With attention to detail and intricate design, these handmade monkeys will be cherished by their owner for years.
Plus you can crochet them yourself with fine yarn yarnart jeans, 2.0-2.5 mm crochet hook by tulip, 8 mm safety eyes for mother monkey, 5 mm safety eyes for baby monkey, brown thread for noses and polyester fiberfill. The size of the finished mother monkey is approximately 15cm when sitting – what a perfect present! amigurumi
18. Adorable Crochet Large Sock Monkey Pattern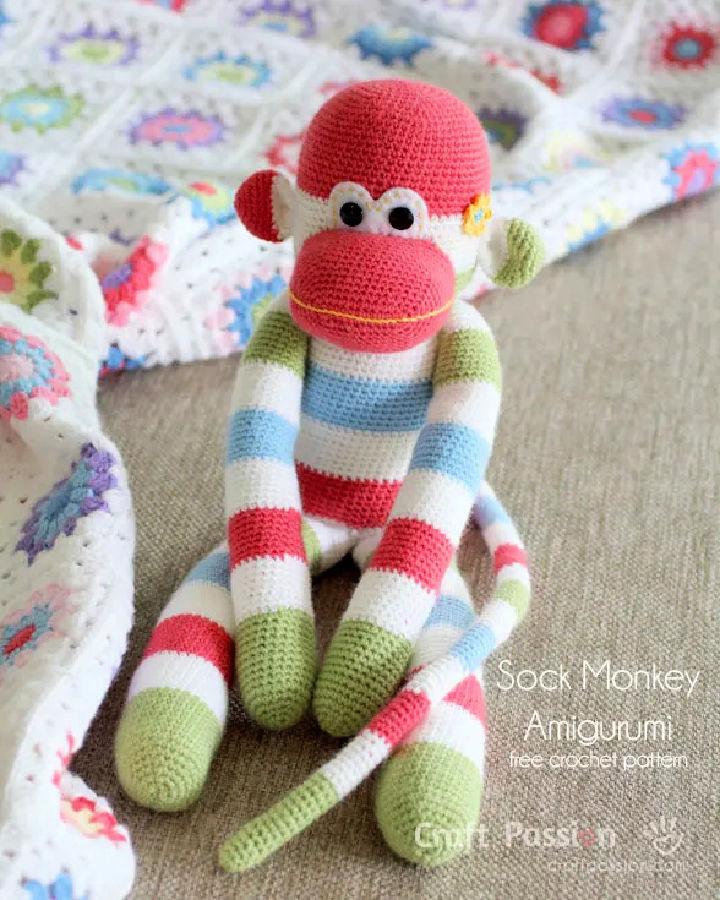 Are you sorting out the cutest amigurumi version of a sock monkey? Look no further! Kimira, the crocheted sock monkey amigurumi is here. With light worsted acrylic yarn in white, melon red, pistachio green and pastel blue from Lion Brand and 2 x 11.5mm black buttons or safety eyes plus yellow embroidery floss, white felt and polyester fiberfill, you have all you need to create this amazingly soft 18″ tall design based on Marcho, the popular sock monkey. All that's needed are a 2.5 mm hook, some sewing thread & needle, and a tapestry needle to get started – Let your creativity flow! craftpassion
19. Simple Crochet Tiny Monkey Amigurumi Pattern

Grab here the free tiny the monkey amigurumi crochet pattern! This adorable and easy-to-follow pattern is perfect for creating a cute toy with wooden beads for legs in no time. The detailed PDF pattern includes illustrated and photo instructions, a tutorial on small details sewing, information on tightening beads to create eyes, and steps to make a face. Download this free pattern and start crafting your own Tiny the Monkey today! mashutkalu
20. Modern Crochet Buddy Monkey Pattern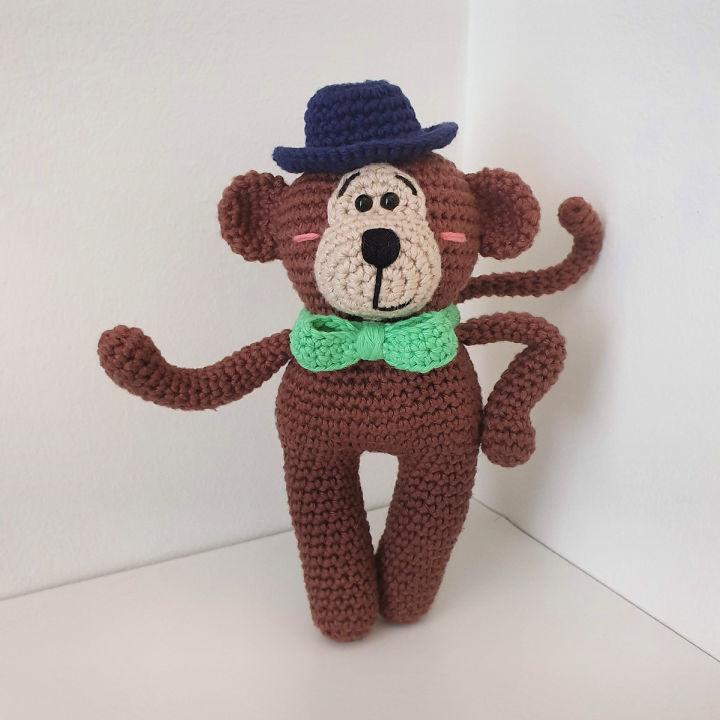 Add cuteness to your home with this buddy monkey softie animal made from hobbii rainbow cotton 8/6 yarn! This adorable amigurumi animal comes in two main colors: brown for the body and a lighter shade for the muzzle and eye patch.
You'll also need small amounts of yarn for the hat and bow tie, a crochet hook size of 2.5mm, embroidery floss for facial details, a needle to attach separate pieces, and 5mm safety eyes. Remember to let your creativity flow when selecting what materials & tools you use! Get ready to cuddle up with this handmade buddy monkey softie animal today! ravelry
21. Crochet Monkey Bread Throw Idea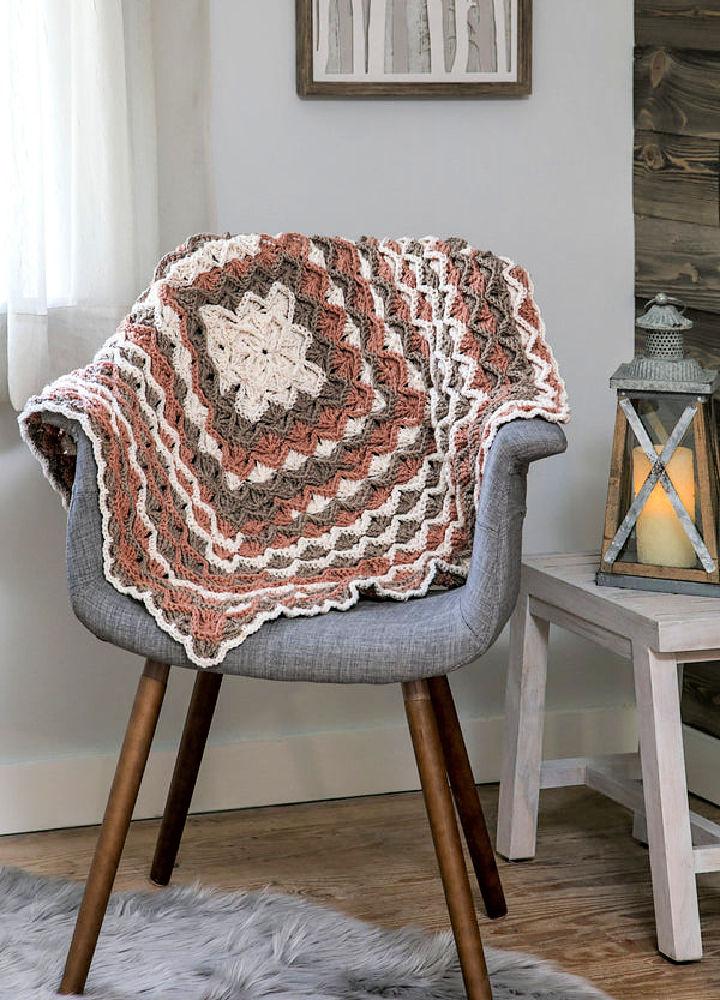 This crochet monkey bread throw pattern, is the perfect intermediate project for chilly nights and is sure to add warmth and coziness to your home. This pattern comes in three sizes (S, M, L) with finished measurements of 32″ (41″, 50″) square when you use 100% acrylic yarn. Remember to grab a U hook while you're at it! So what are you waiting for? Start today on the perfect throw blanket that looks amazing and keeps away the cold air! cdn
22. Cute Crochet Flip Flop Sock Monkey Pattern

Go crochet and create an adorable, homemade sock monkey with this easy-to-follow guide and free crochet amigurumi pattern! With materials like Bernat Velvet Yarn in respective colors, a crochet hook size 5.5 mm (I), polyester filling and safety eyes or embroidery for the eyes, you'll make a unique toy loved by all ages. Check gauge before you start – 4 rounds of gauge pattern should measure 2 inches in diameter. Follow along with step-by-step instructions to build your stuffed monkey that makes the perfect addition to any nursery or playroom. darlingmapledesign
23. Fastest Crochet Monkey Pattern With Hair Portrait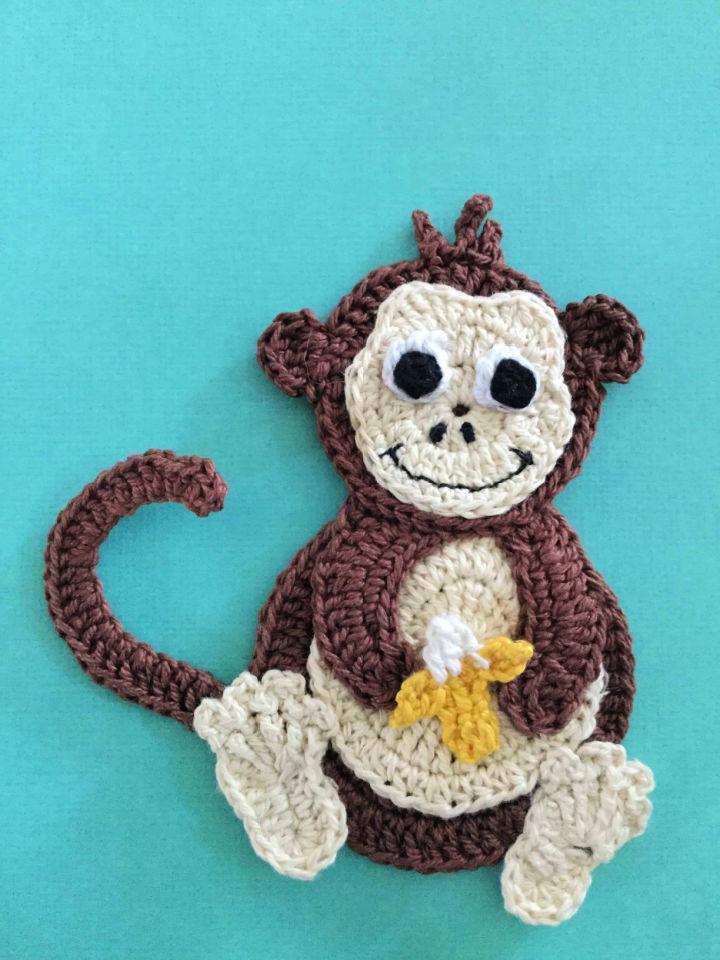 Give a whimsical touch to any outfit or item with this adorable monkey appliqué crochet pattern! Crafted from small amounts of brown, tan or cream, white, yellow and black cotton or wool yarns, you can make a unique addition to your wardrobe. In addition to a crochet hook and thread to sew together and embroider the monkey face, you'll need scissors, a sewing needle, and a darning needle for weaving in ends. Follow this simple crochet pattern for an adorable monkey appliqué that will add charm to any outfit! kerriscrochet
24. Free Crochet Monkey Lovey Pattern

Take the chance to crochet a unique, special baby shower gift with this free crochet monkey lovey pattern. Combining classic granny square elements with the amigurumi technique will create an adorable and cuddly toy for little ones to enjoy. You'll need DK or light worsted yarns in grey, white, and blue colors, scrap black yarn/embroidery thread, crochet hook size F/3.75mm, stuffing and optional safety eyes to complete the project. Making this lovely lovey is sure to become a memorable keepsake! thoresbycottage
25. New Crochet Neridas Sock Monkey Pattern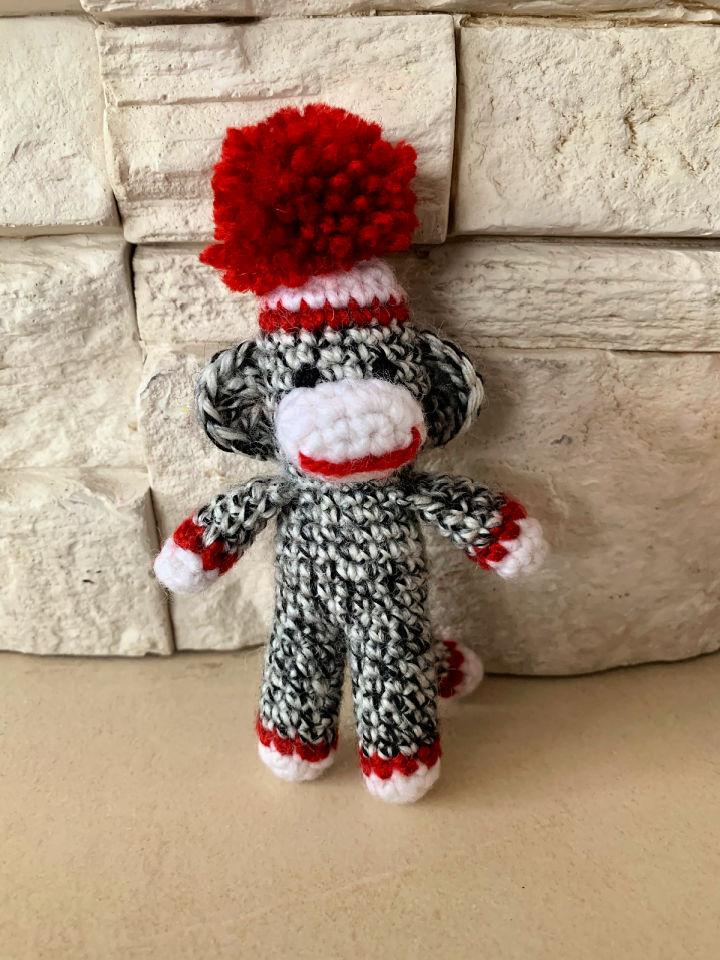 Need a new crochet pattern for an adorable amigurumi sock monkey? Look no further! This exclusive crochet sock monkey amigurumi pattern uses a unique twisted yarn of black, grey and white as the main color. Use a 3 mm crochet hook to complete your 12 cm high final product – perfect for adding extra cuteness to your home decor! With this easy-to-follow pattern, you'll be able to make the most lovable little monkeys in no time. Start now – those cute faces won't wait forever! neridacraft
Related Free Crochet Patterns:
Find free crochet patterns to help you create unique projects! From beginner to expert, find simple and intricate designs for adults and kids.
Conclusion: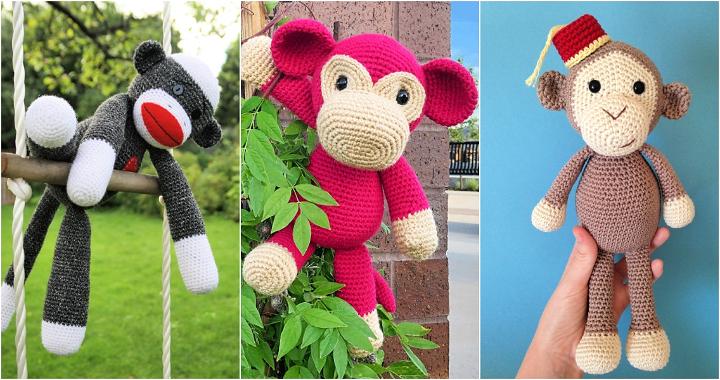 Crocheting a monkey can be easy and fun for beginners and experts. With 25 free crochet monkey patterns available above, there is something to suit everyone's skill level and style. Patterns are often step-by-step instructions that come in PDF files, making them easy to follow. Even if you are new to crocheting, each crochet monkey pattern will provide detailed information to create your own unique amigurumi monkey. Crochet monkeys make wonderful gifts for friends or family members or can even be used as decorations around the home. Whether making a cute toy for a child or creating a fun decoration for yourself, with these 25 free crochet monkey patterns, you will surely find perfect crocheted monkey!