Crochet amigurumi tigers are an adorable and unique way to bring a touch of wildlife to your home or create a cherished handmade gift. Our selection of 25 free crochet tiger patterns ensures that crafters of all skill levels can find the perfect amigurumi tiger pattern to embark on. Each crochet tiger pattern is designed with detailed step-by-step instructions, making it easy for beginners and advanced crocheters alike to follow along and create their very own crochet tiger.
The free crochet tiger patterns we've curated come in various styles and sizes, from small tiger plushies to large amigurumi patterns. Each pattern includes a comprehensive guide, complete with a detailed PDF tutorial and helpful videos, ensuring a smooth crafting experience. As you work through the crochet tiger pattern, you'll learn new techniques and gain confidence in your crochet abilities, resulting in a stunning crocheted amigurumi tiger to show off.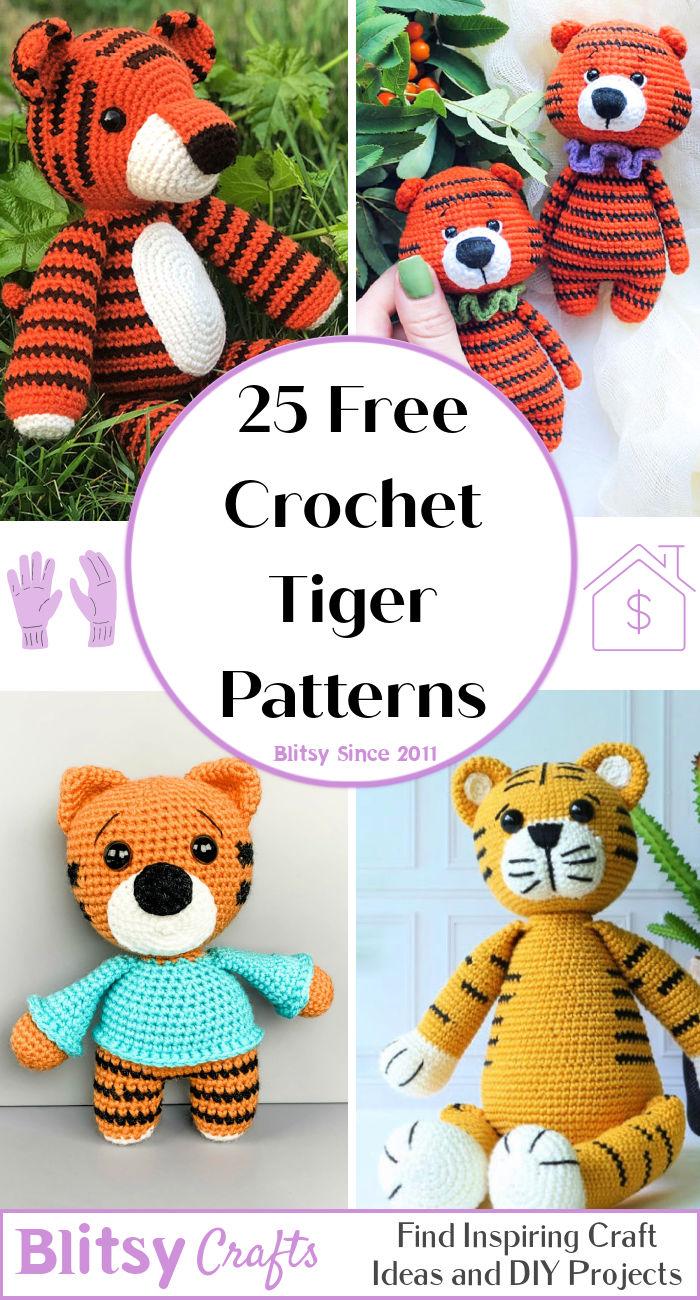 Whether you're interested in creating a tiger crochet plush, a tiger crochet patterned accessory, or a full-sized amigurumi tiger, this collection of free crochet tiger patterns has something for everyone. With various tiger patterns, you can let your creativity soar as you crochet your way through the wild world of amigurumi tigers. Grab your crochet hook, yarn, and select your favorite free crochet tiger pattern to begin your crafting adventure today!
1. Crocheted Friendly Tiger in a Sweater – Free Pattern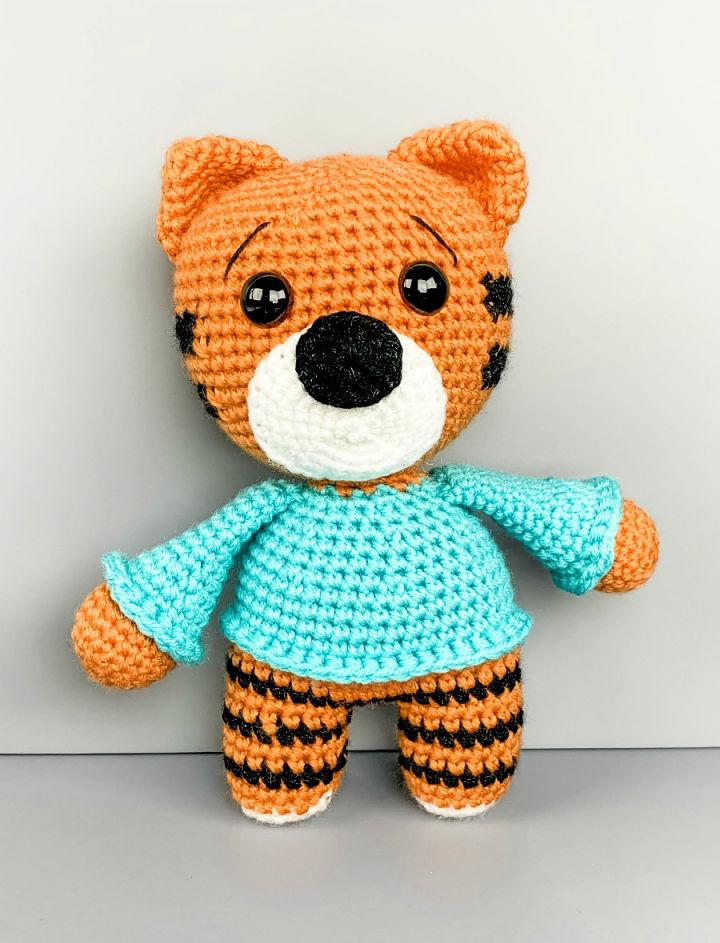 Create a cuddly companion with this free crochet friendly tiger pattern that is 8 inches tall! Learn how to make the legs separately and attach them to the body, increase and decrease stitches to form the head, and finish it off with a stylish sweater of your favorite color. This easy-to-follow pattern is perfect for beginners looking for new crafts or experienced crocheters wanting to add fun wildlife friends to their homes. Get creative and start making your friendly tiger today! thefriendlyredfox
2. Free Crochet Tiger Amigurumi Pattern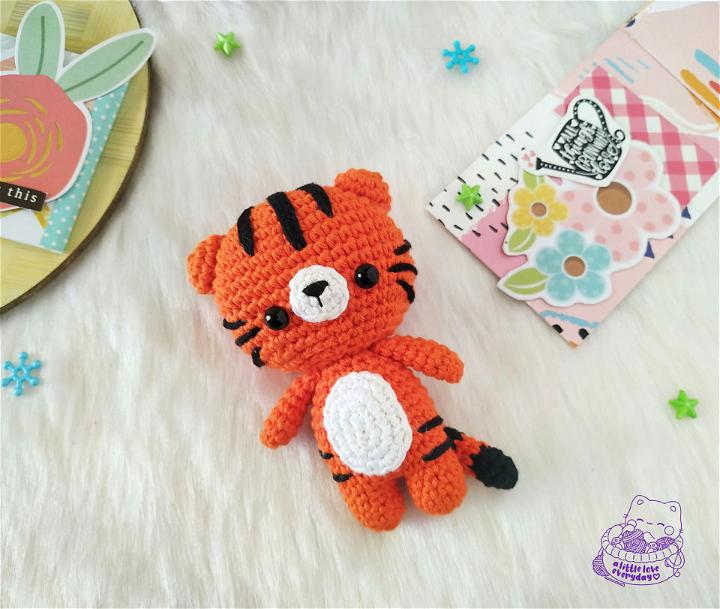 Unleash your inner tiger and start crocheting an adorable amigurumi! This free crochet pattern uses sport weight cotton yarn and a 2mm crochet hook, resulting in a fun little toy that stands approximately 3.75 inches tall. Get creative with this project by adding fiber fill for stuffing and 8mm safety eyes to give your tiger an extra touch of personality. Whether for yourself or as a gift, this cute little amigurumi tiger will bring joy to everyone who sees it! Try this easy-to-follow pattern today and show off your newly created miniature companion! littleloveeveryday
3. Crochet Thomas the Tiger Amigurumi Pattern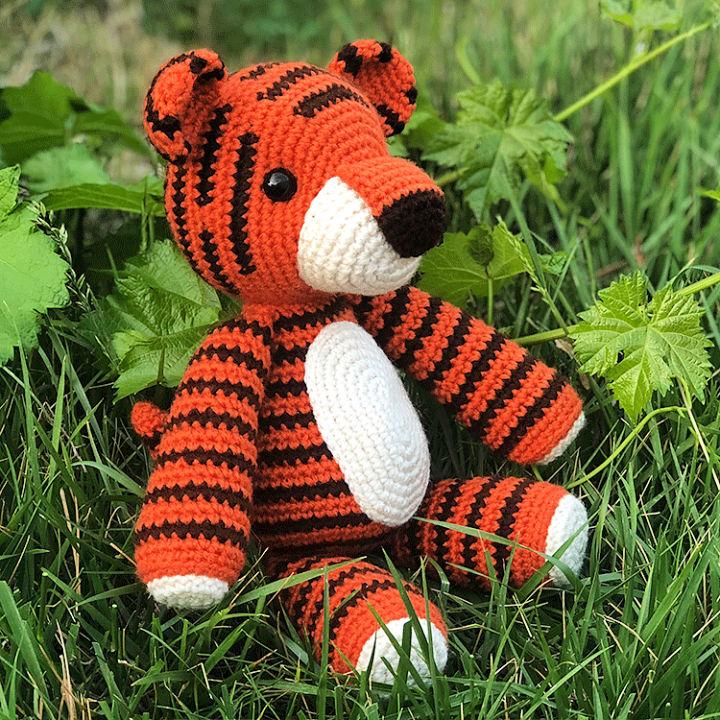 Meet thomas the tiger – a fun, 13.5 inch amigurumi pattern perfect for intermediate level crocheters looking to take on a bigger project! This unique colorwork design will provide hours of fun as you create your adorable tiger companion. Impress your friends and family with this intricate craftsmanship, sure to become an heirloom in no time! Get started on your next masterpiece today with thomas the tiger! jesshuff
4. Easy Crochet Tiger Keychain Pattern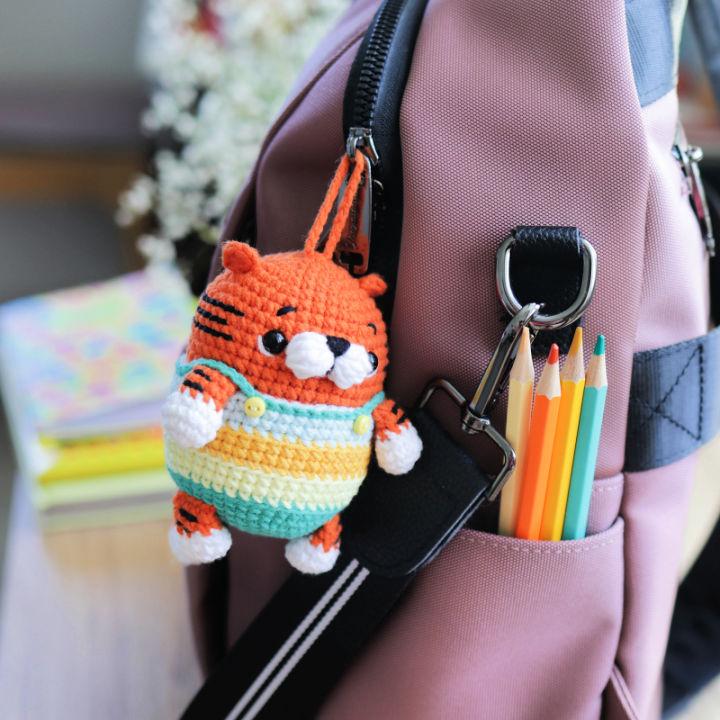 Let your imagination run wild with a crochet hook in your hand! Try this adorable tiger keychain pattern! This beginner-friendly design requires minimal sewing and only uses alize cotton gold solids yarn and a 2.0mm hook. Worked in continuous spiral rounds, it's perfect for crafters just starting or looking to jazz up their accessories collection quickly and easily. So grab your supplies, get creative, and make something special today! ravelry
5. How to Crochet Tiger Amigurumi – Free Pattern

Discover how to make a realistic crochet tiger with our free, easy-to-follow patterns! Crochet your yarn, friend, with this easy-to-follow crochet pattern! Crochet an 8-inch tall tiger using light dk weight yarn for an adorable amigurumi-style toy. With no slip stitching or turning chains needed, you can quickly finish a unique and charming friend in no time. Perfect for any skill level, from beginner to expert, put some love into crafting with this fun and creative crochet amigurumi project today! mycrochetchums
6. Beautiful Crochet Tiger Security Blanket Pattern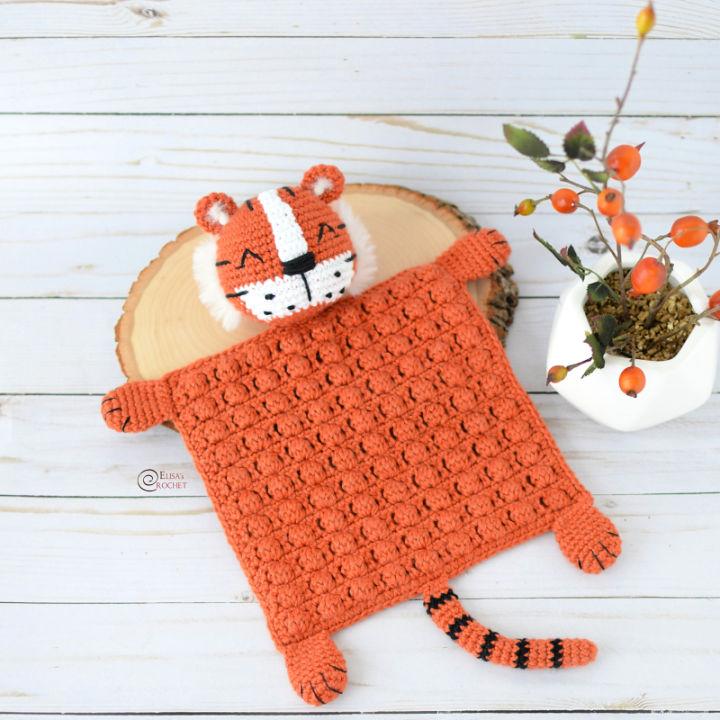 Wrapped in the warm embrace of love, let your little one be forever secure with this mini tiger baby blanket. This mini 9.5″ x 13″ tiger-design blanket with a textured bobble stitch pattern makes a brilliant baby shower gift! It's an intermediate-level project, great for stimulating sensory development and providing comfort. Make this unique security blanket today and offer your child the comfort they need while helping them reach new milestones! elisascrochet
7. Cute Crochet Tiger Amigurumi Pattern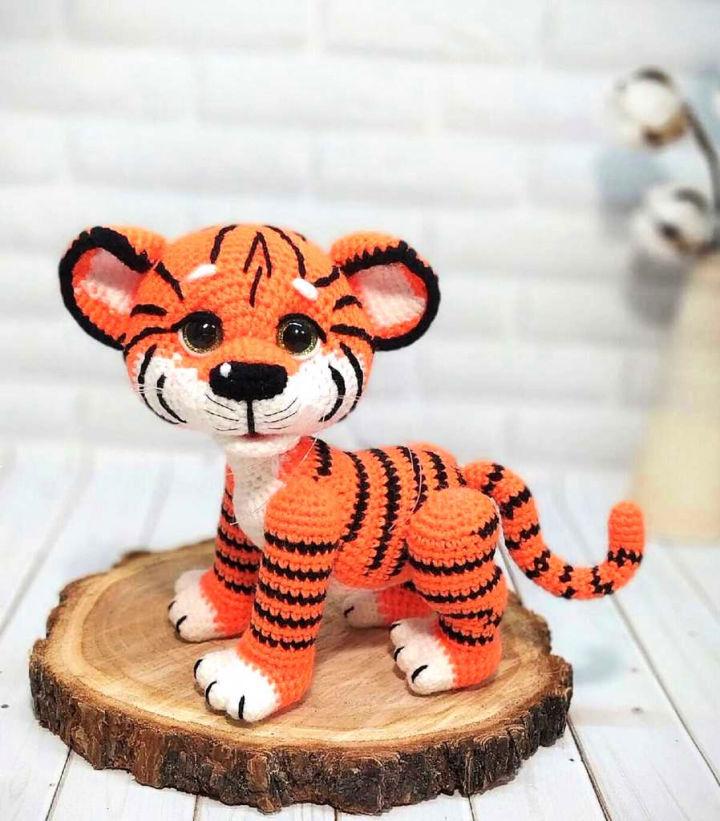 Let the special little one in your life light up with joy with an unforgettable gift of this crochet animal plushie pattern! This cute and cuddly tiger stuffed toy will surely become their favorite in no time. It's easy to make using step-by-step instructions and only requires basic crochet skills. The finished product will be an adorable addition to any nursery or child's room, making it an ideal present for anyone who enjoys crafting. With so many colors and fabrics available, there are endless possibilities for customizing the design – so go ahead and surprise that special someone with something unique and thoughtful! alwaysfreeamigurumi
8. Crocheted Tiger Applique – Free Pattern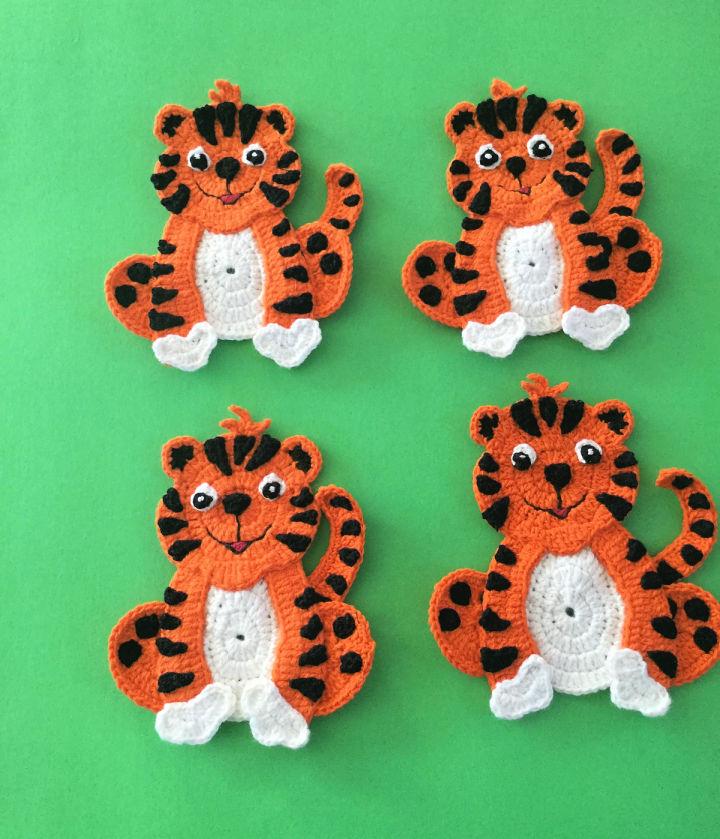 This crochet pattern is perfect for creating a cute, simple 2d tiger applique! Whether you want to add flair to a hat, bag, or any other project, this pattern can help you! Follow the instructions in the pattern, and you'll have your adorable tiger applique before you know it. No matter your preferences, this 2d tiger will be sure to make any creation look even better than before. Get creative and start stitching today with this crochet tiger pattern! kerriscrochet
9. Gorgeous Crochet Amigurumi Tiger Cubs Pattern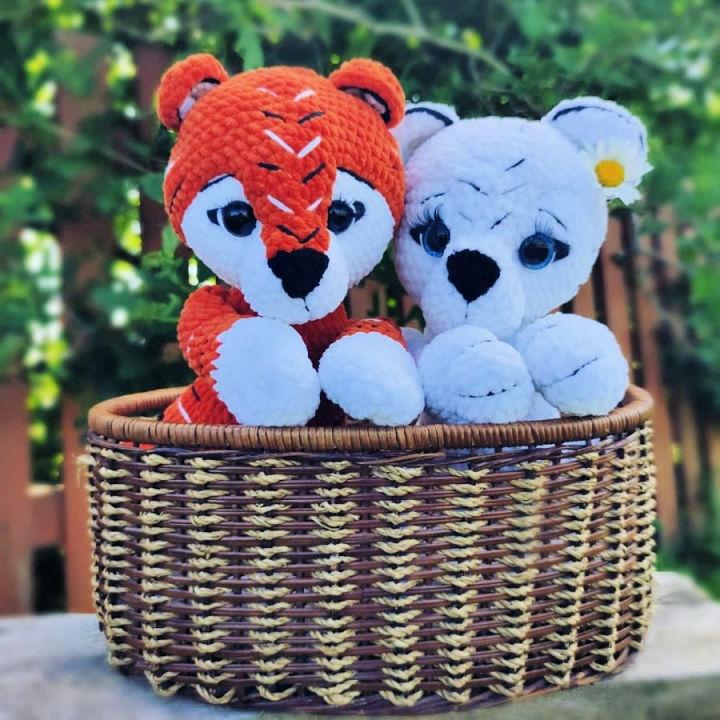 Are you looking for the perfect project to add a bit of fun and color to your home? This free pdf pattern download lets you make adorable amigurumi tiger cubs! Using himalaya dolphin baby yarn, these cute little plush toys measure approximately 33cm when complete – making them the perfect cuddly companion. With easy-to-follow instructions and all materials included, why not bring some smiles into your home with these handmade tigers? Download now and get crafting! amigurum
10. Free Crochet Lilly the Tiger Pattern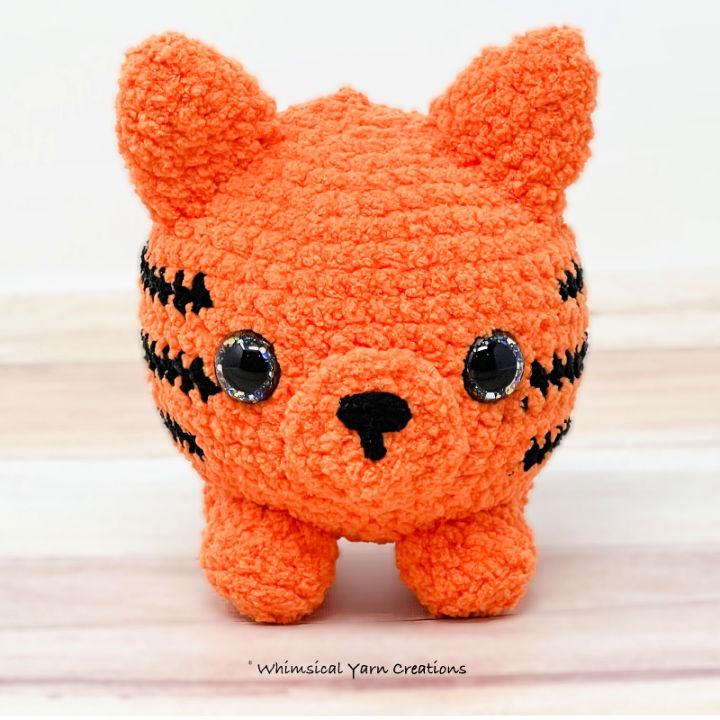 Meet lilly the tiger, an adorable and cuddly amigurumi pattern perfect for any crochet lover! This design uses a chunky "fine" yarn, a 4.5mm hook with polyfill stuffing and 15mm safety eyes to bring her to life. She measures 4.5 inches making the perfect gift or addition to any collection! Start your adventure today by crafting this cute tiger-inspired piece that everyone will adore. whimsicalyarn
11. Best Tatum the Tiger Crochet Pattern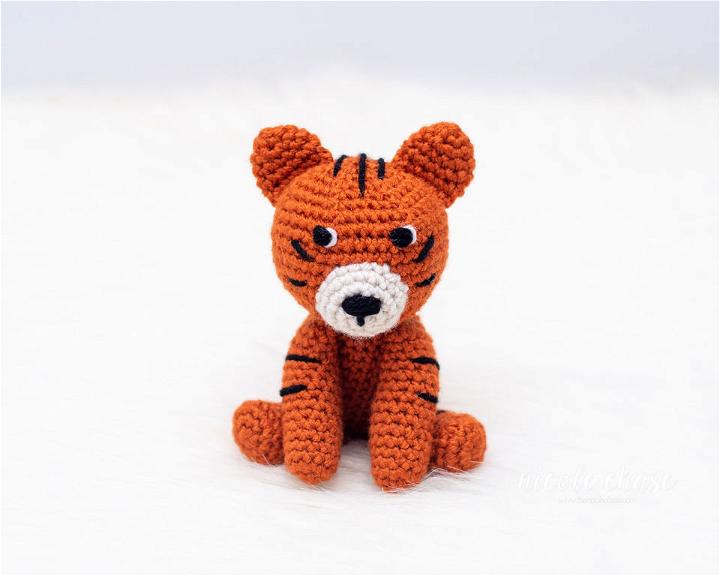 Upgrade your crochet collection with this free tatum the tiger crochet amigurumi pattern! This 5.5″ tall amigurumi tiger will be a great addition to any home and requires only an intermediate skill level and basic supplies like orange worsted weight yarn, a 4.0mm crochet hook and stuffing of your choice. No gauge is necessary, so you can start stitching right away! Make it as a gift or keep it all to yourself – either way, you'll have fun putting together this adorable little tiger. thenicolechase
12. How Do You Crochet Mini Tiger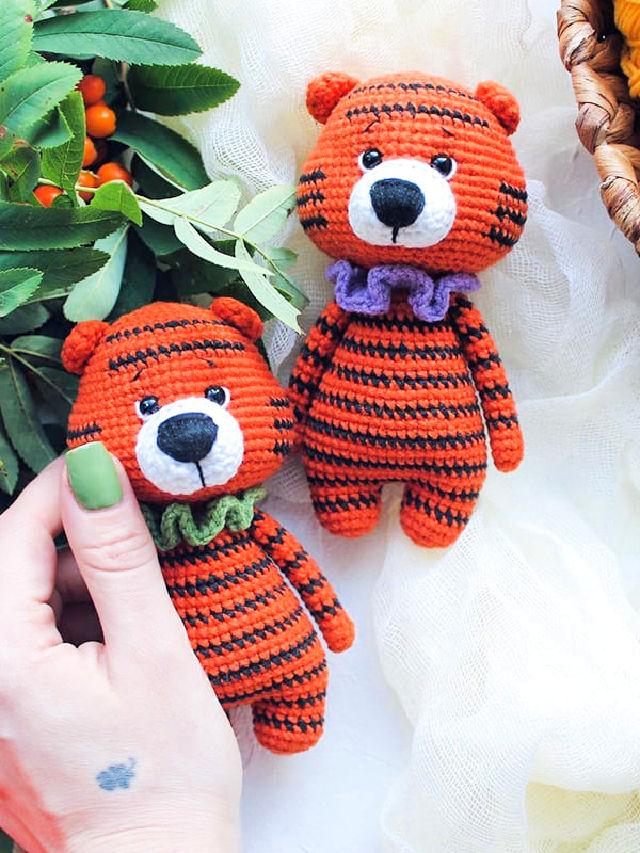 Exploring the crochet world is an adventure – let's find your perfect project! This mini tiger amigurumi pattern is a great crochet amigurumi project! It's approximately 13cm, making it the perfect item to attach to your keys or keep in your pocket. This pattern is suitable for beginners and above – all you need is yarnart jeans yarn and a 1.75mm crochet hook. Download the free pdf pattern today and create something special! Have fun crafting with this quick but cute little tiger amigurumi! lovelycraft
13. Crochet Big Tiger Amigurumi Pattern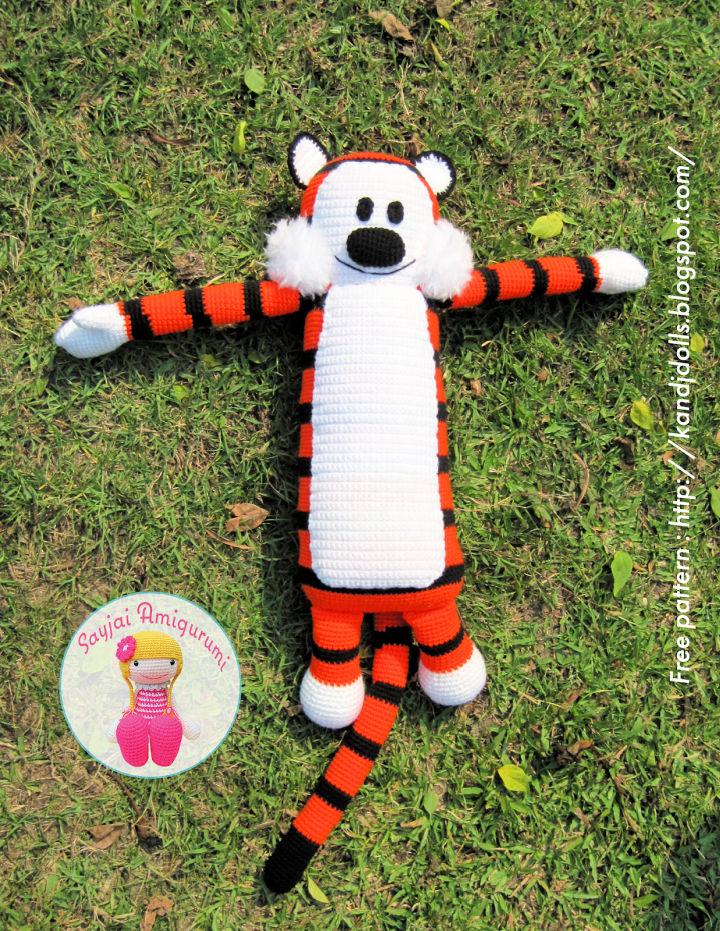 Want to give a special someone the gift of cuddles? This free crochet pattern for a big tiger amigurumi is perfect! Ideal for animal lovers, kids or anyone who enjoys snuggling up with something soft and huggable. Make this large tiger using your favorite yarn and a crochet hook suitable for the weight of your chosen yarn, then follow easy instructions to create your masterpiece – ideal for intermediate crocheters and above. So why not surprise someone today with an unforgettable gift they can cherish forever? amigurumi
14. Free Crochet Tora the Tiger Pattern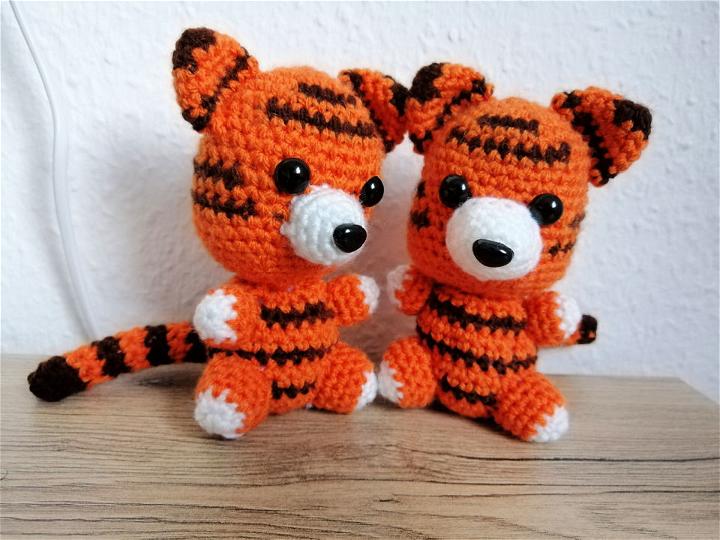 Explore a wide range of crochet tiger patterns to find the perfect one for your craft project! Say hello to tora the tiger! Create your furry friend with this adorable amigurumi crochet pattern. Perfect for intermediate crocheters, this pattern uses orange, brown and white dk yarns in combination with a 2.5mm crochet hook and safety eyes & nose to bring tora, the tiger, to life. Get ready for hours of fun crafting – you'll love adding this unique character to your home or collection! rinamogrynaart
15. Crochet Tiger Amigurumi – Step By Step Instructions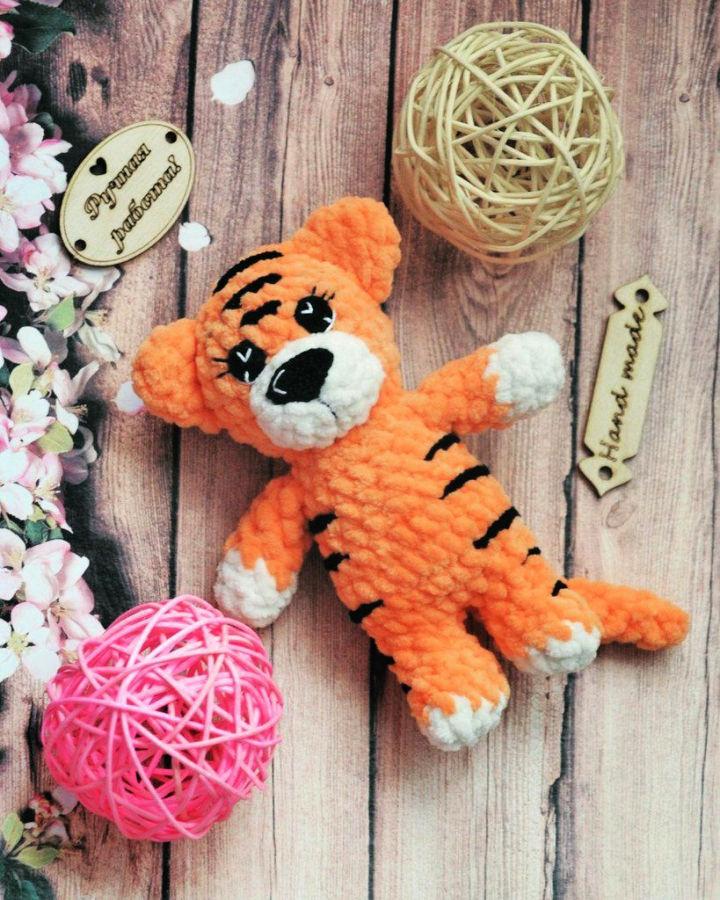 A heart of warmth, a smile of joy – make your yarn buddy with this free crochet tiger amigurumi pattern! You can make an adorable little tiger perfect for hugging using himalaya dolphin baby yarn and a 4.00mm hook. This beginner-friendly project uses vita cotton coco 100% cotton for the eyes, nose, and mouth so your friend will look extra lifelike. Prepare to smile as you create this wonderful plushie – it's sure to become a treasured pal! Give someone special the gift of friendship by making them a unique tiger with this free crochet pattern today. amigurum
16. Free Crochet Tiger Hat Pattern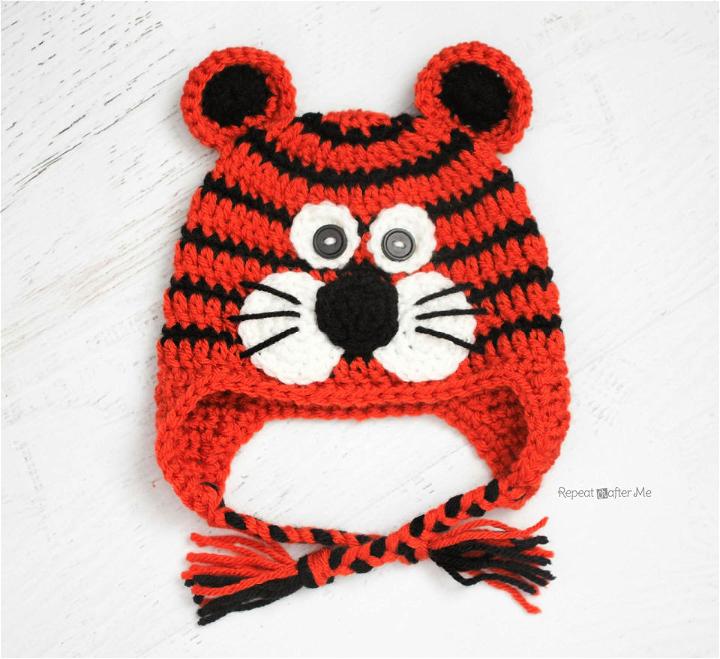 Get ready to show off your wild side with this fun tiger hat crochet pattern! Perfect for halloween, costume parties, or just for fun. This easy-to-follow pattern uses black worsted weight yarn and white and orange accents; two .5″ black buttons are used for eyes. All you need is an h-8 (5.0mm) crochet hook – in no time, you'll have a roaringly good hat that will make an impression! repeatcrafterme
17. Crochet Plush Tiger – Free PDF Pattern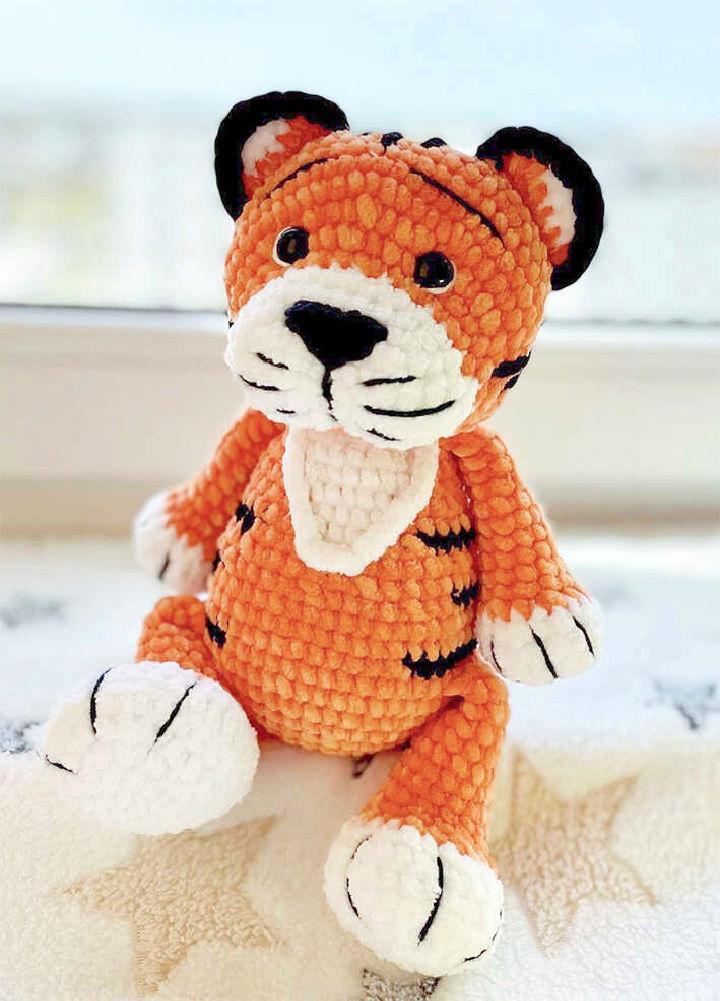 Collect a sweet and cuddly tiger stuffed toy with this free pdf crochet pattern. This intermediate-level amigurumi pattern creates an adorable plushie, perfect for nurseries, baby showers or birthday gifts. You only need your favorite yarn and the right crochet hook to start this unique project! Let your creativity run wild and ensure that someone in your life will have a special memento to remember you by! Get crocheting now with this fun and easy-to-follow pdf tutorial. alwaysfreeamigurumi
18. Free Crochet New Year Tiger Pattern to Print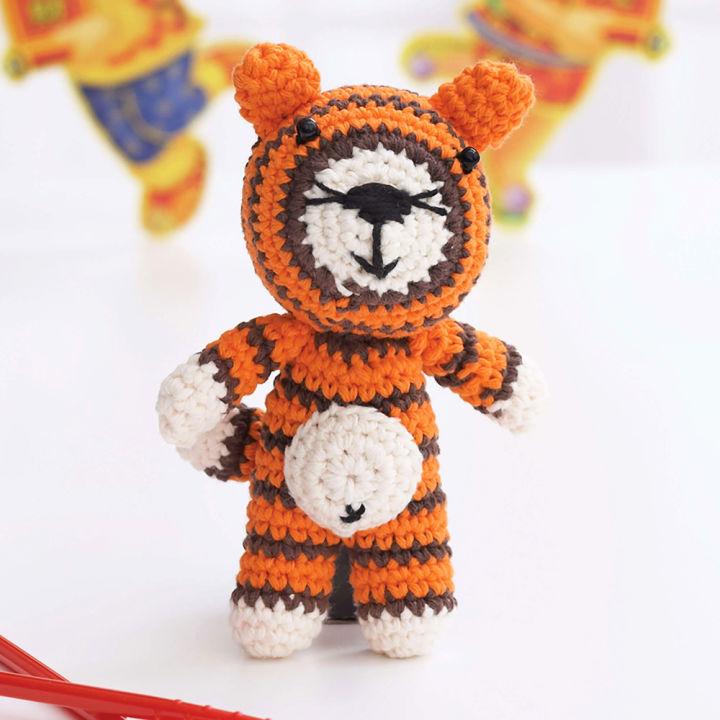 Welcome to the new year with a new crochet yarn, friend! This free crochet tiger amigurumi measures approximately 7″ tall and uses lily sugar'n cream yarn and a 3.5mm crochet hook. Two small black beads are used for the eyes, and only a small amount of black embroidery floss is needed for the nose, mouth and belly buttons. Have fun creating this unique project – celebrate the start of the new year with this cute little animal companion! yarnspirations
19. Simple Crochet Tiger Hooded Blanket Pattern

Stay warm and toasty with this intermediate-level crochet tiger hooded blanket pattern. Measuring 42″ wide by 40″ tall, plus an 8″ hood, this cozy blanket is ideal for any tiger enthusiast. Craft a soft and comfortable cover using cascade yarn anthem yarn, perfect for cool evenings in the den. Show your stripes with this memorable handmade gift – it's sure to be purr-fectly appreciated! Get creative today and make a unique creation that'll keep you warm all winter! cascadeyarns
20. Free Crochet Pattern for Tigey Amigurumi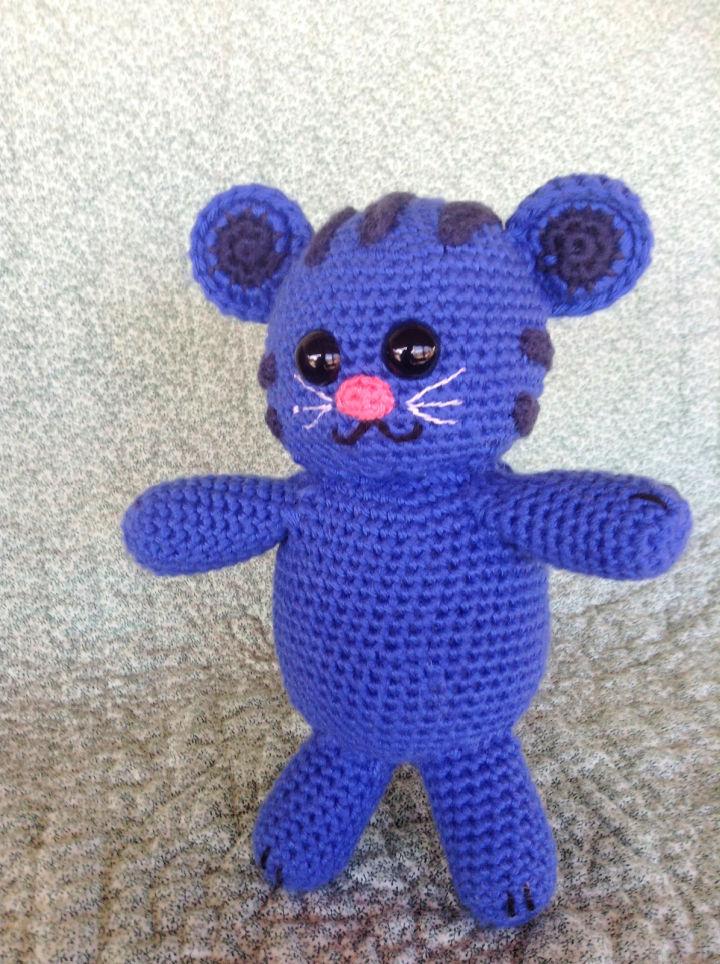 Make your little fan smile with this crochet daniel tiger's neighborhood amigurumi pattern! This pattern will bring tigey, the lovable tiger, to life and measure about 8″ tall. Perfect for any skill level, you only need aran weight yarn and 3 different size crochet hooks (3.75mm, 3.5mm and 3.25mm). Bring a little bit of fun into your home by creating a special version of tigey that will surely put a smile on everyone's face! ravelry
21. Crochet Tiger Amigurumi Pattern for Beginners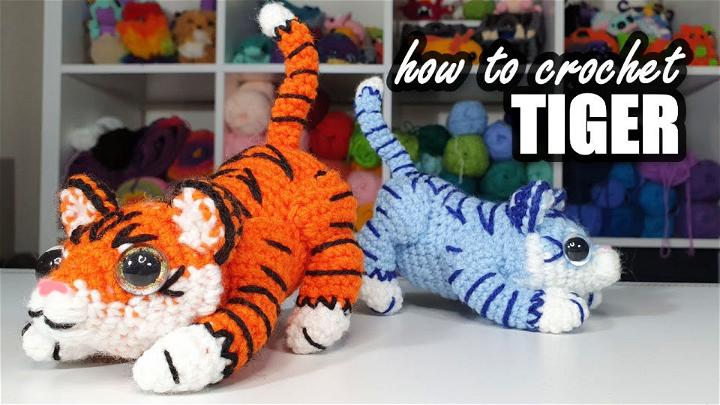 Create a festive atmosphere with an adorable, handmade water tiger amigurumi! This detailed crochet pattern will guide you to make your own tiny tiger step-by-step. Each piece of this little creature is worked in a continuous spiral to ensure perfect shape and accuracy. Celebrate the upcoming chinese new year by making something special – surprise your friends with a charming tiger that's sure to be the highlight of any celebration! Follow easy instructions and let yourself get creative with this delightful crochet pattern – create lasting memories for years to come!
22. How to Crochet Plush Tiger – Free Pattern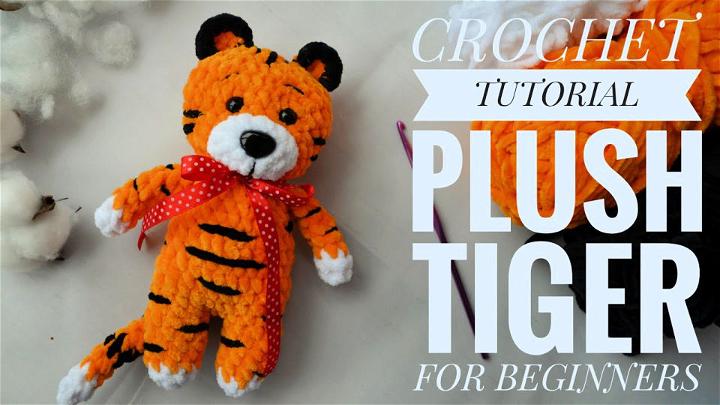 Stitch your cute and cuddly tiger with this easy crochet tiger amigurumi pattern! This amigurumi tutorial will teach you how to crochet a plush toy like a tiger. The finished size of the adorable tiger is 7.5 inches (18-20 cm), making it perfect for snuggling or as an eye-catching room decoration.
With detailed instructions and helpful photographs, this pattern provides all the information needed to make your soft and furry friend. All supplies are easy to find, and no special skills are required – grab some yarn, stuffing, a crochet hook, and safety eyes, and you're all set! So why wait? Make something special today with this easy-to-follow amigurumi crocheting pattern!
23. Cool Crochet Stuffed Tiger Pattern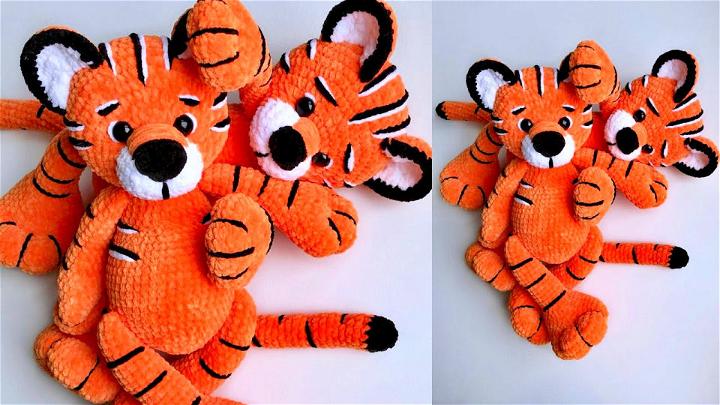 Make this season extra special by creating a stunning tiger amigurumi with our selection of easy-to-follow crochet tiger patterns! Whip up a realistic-looking plush tiger with this detailed crochet tiger amigurumi pattern and diy tutorial! With step-by-step instructions, you can make the perfect 40 centimeter (15.8 inches) tall tiger plush toy for your home or as a gift. Everything is laid out, even if you're new to crochet or amigurumi. You can make your unique tiger. Enjoy crafting and have fun with this one-of-a-kind project – it's time to start crocheting!
24. Fastest Crochet Tiger Pattern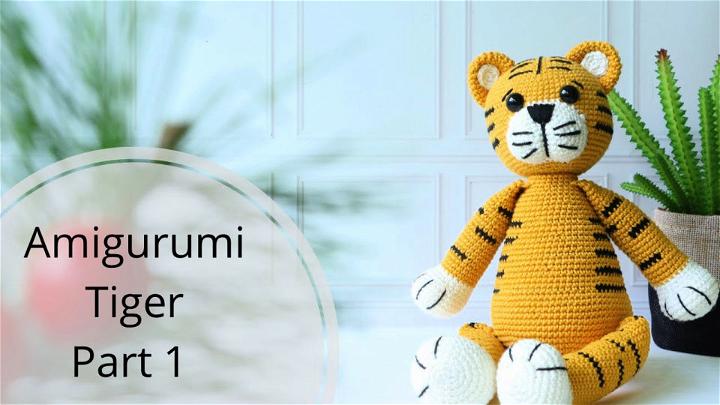 This cute amigurumi tiger is the perfect way to add adorable charm to any room! Handcrafted from soft cotton and featuring an intricate head, ears and nose, this unique crochet tiger will surely put a smile on everyone's face. With 10mm safety eyes for extra security, it won't be hard to find just the right spot in your home for this little guy! All you'll need is some filling stuff and a size 2.5mm hook to make this tiger come alive – so grab one today and start crocheting your artwork!
25. Easy Crochet Tiger Applique Tutorial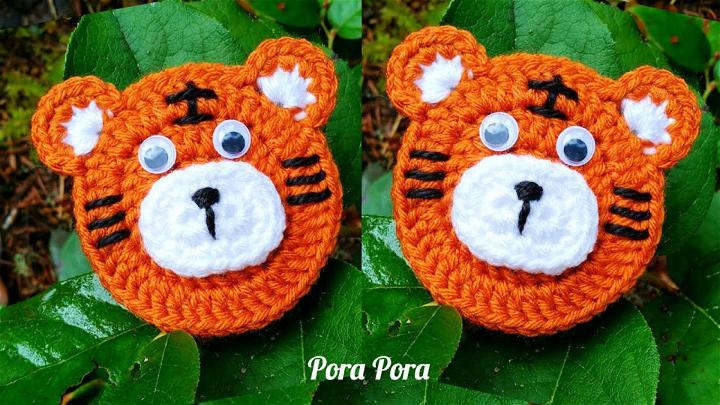 Do you love crocheting? Make this adorable crochet tiger applique a unique addition to any project! This easy tutorial is perfect for beginners. Using worsted weight 4 scrap yarn and a 3.75 mm crochet hook, create your beautiful tiger in no time! Use it to embellish and decorate items like baby and country blankets to bags. The possibilities are endless with this one-of-a-kind animal applique design. Get creative and customize it however you like with scrap yarn crochet projects—the sky's the limit when it comes to scrap yarn ideas! Try out this fun pattern today!
Related Free Crochet Patterns:
Discover the perfect project for any skill level with our collection of free crochet patterns! Whether you're looking for something quick and easy or intricate and detailed, we have a pattern to suit your needs.
Conclusion: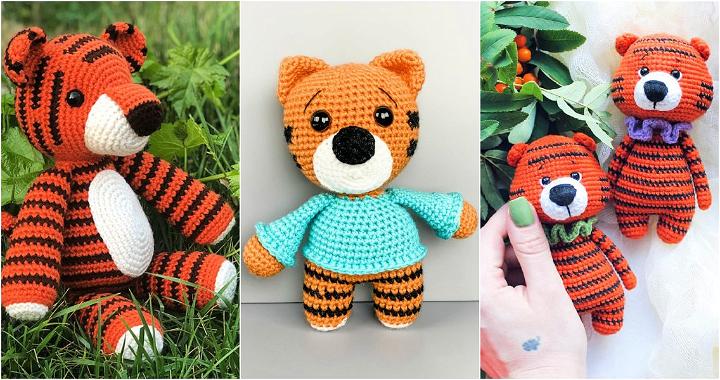 In conclusion, our collection of 25 free crochet amigurumi tiger patterns caters to various skill levels ranging from simple designs for beginners to more advanced patterns. Each crochet tiger pattern features detailed instructions, videos, and tutorials to guide you through the process, ensuring a successful outcome. Discover various tiger crochet patterns, including free large amigurumi designs and plush tiger patterns. With comprehensive PDF guides and step-by-step directions, unleash your creativity and bring these charming crochet tigers to life today.