Creating a colorful and whimsical crocheted unicorn pattern is a great way to add a charming stuffed toy to your home. Discover 25 amazing free crochet unicorn patterns that are perfect for beginners! From easy step-by-step instructions with detailed diagrams to PDFs, find everything you need to create your own adorable amigurumi unicorn pattern. With these free crochet unicorn patterns, you'll be able to craft one-of-a-kind pieces that will wow everyone in no time. Learn how to make the cutest and most unique unicorns using only basic crochet skills so you can have something special for any occasion. Unleash your creativity with these incredible free crochet unicorn patterns today!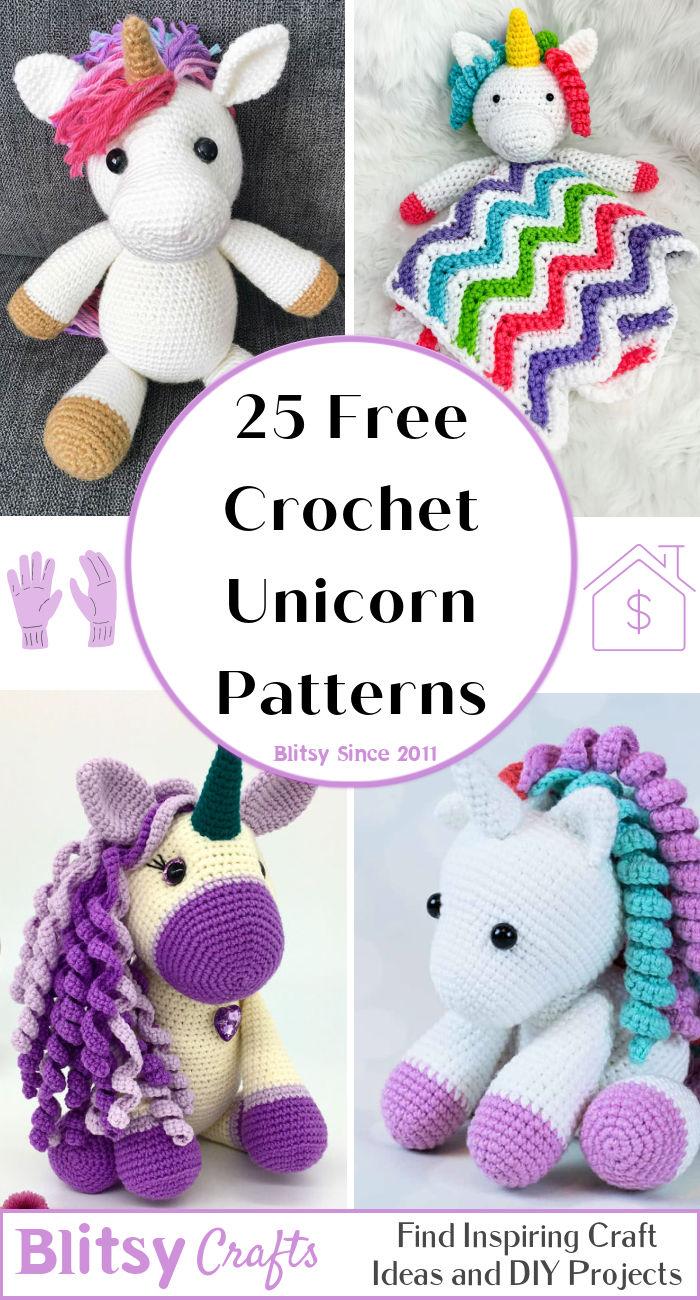 Free Crochet Unicorn Patterns
For a bit of imagination and enchantment, consider making a crochet unicorn. This can be a great way to bring some fun to your home. Perhaps you're making gifts for friends or want an original make-it-yourself project in the craft room – whatever your project, with free crochet unicorn patterns and plenty of practice, you'll soon be on your way to creating unique crotched unicorn amigurumi.
From amigurumi unicorns to detailed crocheted unicorns, these free PDFs come with easy-to-follow step-by-step instructions that are perfect for the beginner crocheter. While having some basic knowledge of stitching and patterns is recommended, all skill levels are welcome – so get started on your new project today! With free crochet unicorn patterns, there's something for everyone to make a unique and special crocheted unicorn that will become a treasured addition to all projects.
1. Crochet Jazzy the Unicorn Amigurumi Pattern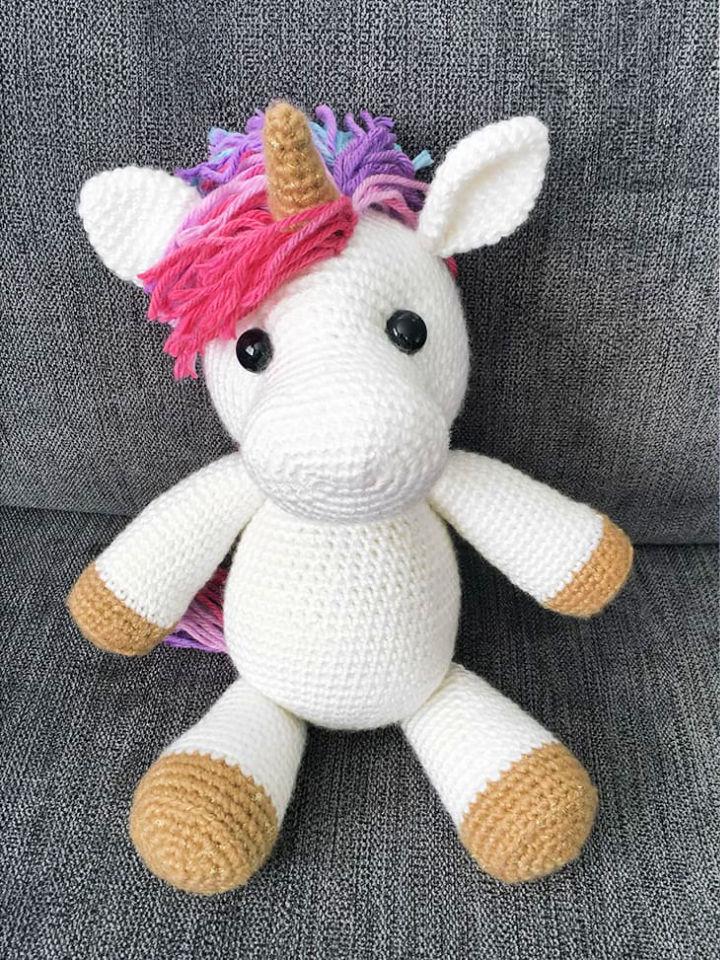 Are you sorting out the perfect gift for a little one at home? Crochet a magical gift for the special baby in your life with this free amigurumi Jazzy the Unicorn pattern! This adorable, 14″ tall crochet figure is sure to bring happiness and joy. Perfect for a baby shower gift, it requires an intermediate skill level and 3.5mm (E) hook, 15mm safety eyes, yarn needle, fiberfill, white acrylic yarn weight 4 and multicolor gold yarn to complete. Download the pattern now and get ready for plenty of sparkles from Jazzy! jesshuff
2. Free Crochet Unicorn Baby Lovey Pattern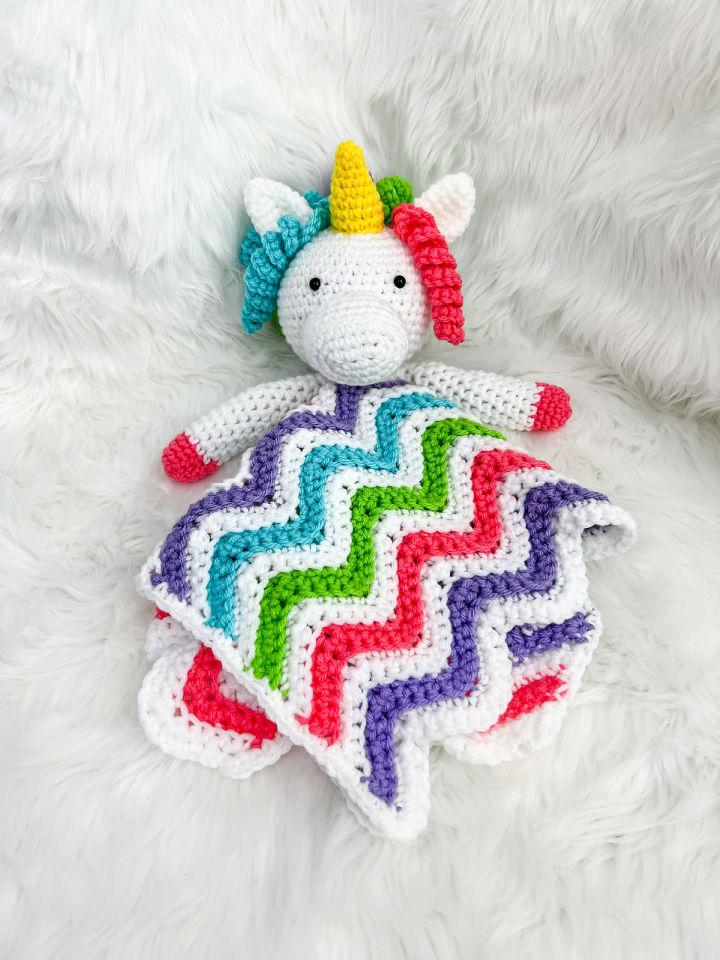 This unicorn baby lovey crochet pattern is a fun and easy way to create an adorable baby item! Perfect for beginners, it will only require two colors of yarn of your choosing. You'll need a 5.5mm crochet hook, a 3.5mm crochet hook, 1 pair of 8mm black safety eyes, poly-fil stuffing, a yarn needle, scissors, stitch markers (optional) and straight pins. Make this crochet pattern extra special with the I Love This Yarn collection—you won't regret it! okiegirlblingnthings
3. Cute Crochet Teddy Unicorn Pattern
Everyone will love this unicorn teddy. The cozy chipmunk is a handmade crochet amigurumi that measures 5 inches. Crocheted from the finest quality hook in size E (3.5mm) and with worsted weight yarn in white, fur color, pink, silver and various other colors for mane & tail – or variegated yarn, depending on your preference.
To finish off this adorable plushie you'll need 10 mm safety eyes or embroidered eyes which can be found in most craft stores along with brown embroidery thread and polyfill stuffing. Finally, use a needle & scissors to bring your magical creation to life! thecozychipmunk
4. Beautiful Crochet Baby Unicorn Amigurumi Pattern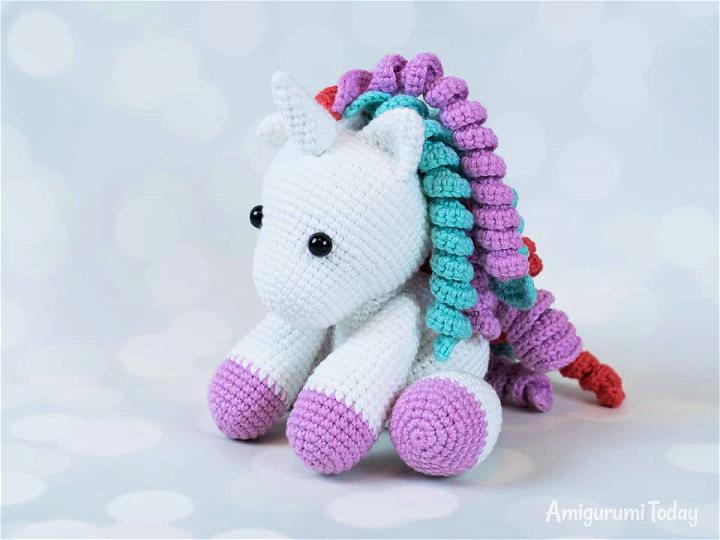 Every girl dreams of having her unicorn pony, and this free amigurumi pattern is the perfect way to make that dream come true. Using gazzal baby cotton yarn, a 2.0mm crochet hook, 8mm safety eyes, fiberfill for stuffing, scissors and a sewing needle, you can craft an adorable 15cm (5.9″) sitting baby unicorn to bring joy into your child's life! This crochet project is easy enough for beginners so that anyone can give their little one the gift of fantasy with this magical baby unicorn amigurumi pattern. amigurumi
5. How to Crochet a Unicorn – Free Pattern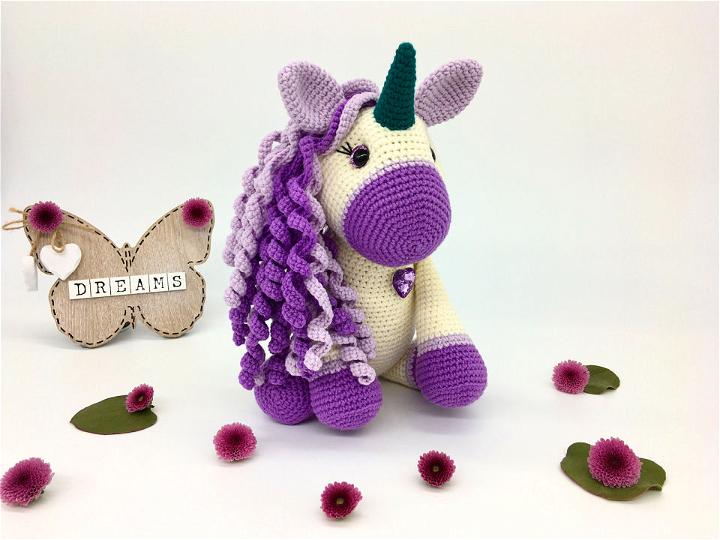 Create a magical, one-of-a-kind stuffed animal with this free crochet unicorn pattern! This intermediate-level project is the perfect way to show off your crochet skills. It measures 24.5cm x 32cm when finished and uses fine sport #2 (4ply) yarn and 3mm; c/2 hook. Get creative with the colors of yarns and add custom details to make this amigurumi unicorn truly unique! Download the free pattern today and start designing your own majestic creation! cuddlystitchescraft
6. Free Crochet Unicorn Pumpkin Pattern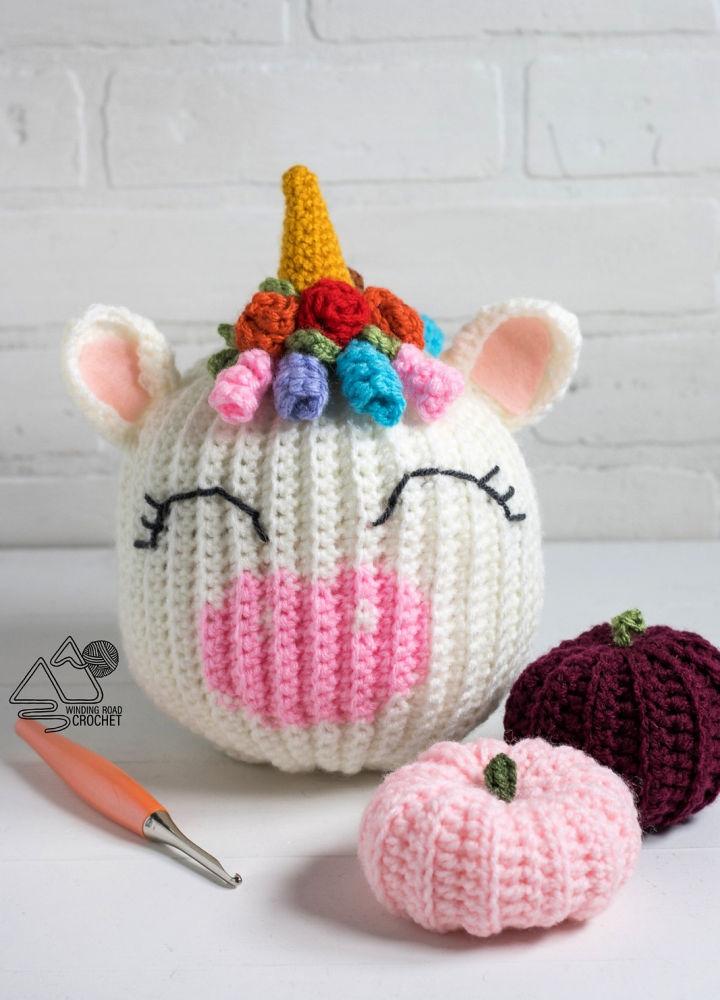 Want to decorate your home for fall? Crochet your unique autumn decoration with this free crochet unicorn pumpkin pattern! You'll need size 4 yarn, a 5mm crochet hook, scissors, stuffing/polyfill, stitch marker, white embroidery floss, and pink felt. Gauge is unimportant for this pattern – the finished product will measure 7″ wide by 8.5″ tall. Get ready to bring a touch of magic to your home decor with this whimsical DIY project! windingroadcrochet
7. Unique Free Crochet Summer Style Unicorn Pattern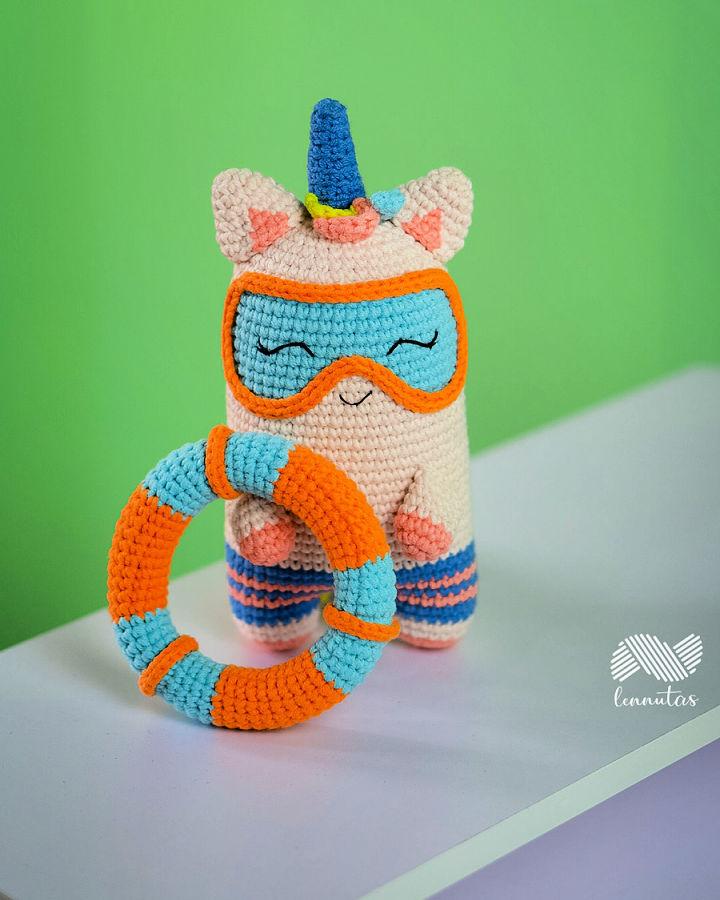 Create a summer-style masterpiece with this crochet unicorn free pattern! This pattern is perfect for making an adorable crochet unicorn that your children will love. It calls for sport yarn in colors of cream, blue, pink, light blue, orange and yellow, as well as a 2.3mm hook, needles, pins and scissors – plus black thread for embroidering the eyes and stuffing to make it plump and fluffy. Get creative when you design the mane or horn – let your imagination run free! Let's stitch something special this summer with this crochet unicorn free pattern! lennutas
8. Cool Crochet Unicorn Rainbow Blanket Pattern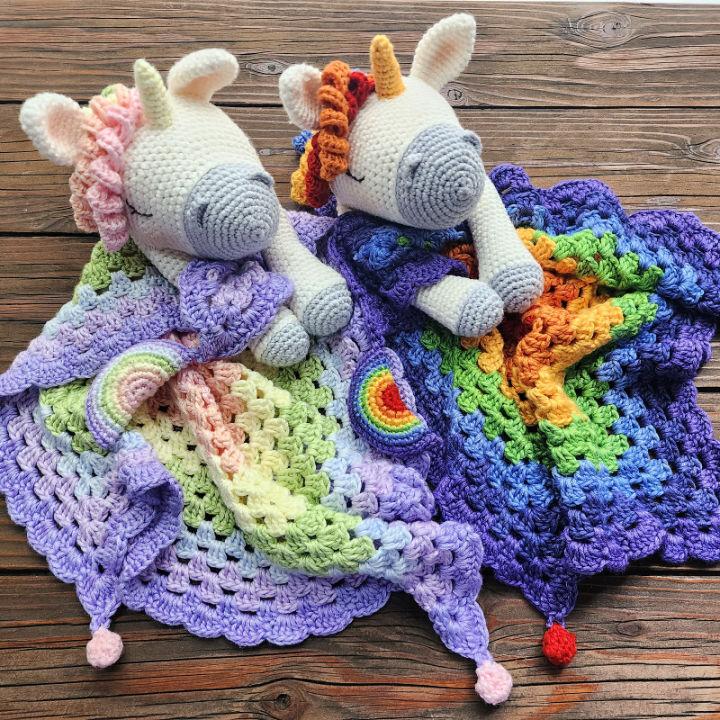 This delightful rainbow unicorn lovey blanket pattern is a great way to give your child a chance to love something special. Crochet this mini blanket, referred to as a lovey, and attach it to a soft amigurumi toy for the perfect combination of comfort and entertainment.
The finished size of each lovey measures (12 inches x 12 inches), making it ideal for toddlers. This pattern is suitable for easy-to-adventurous beginner crocheters, with tools such as a 2.5 mm hook, stuffing, sewing needle, stitch markers, scissors, and pins! mandmcrochet
9. Crochet Unicorn Hooded Blanket Pattern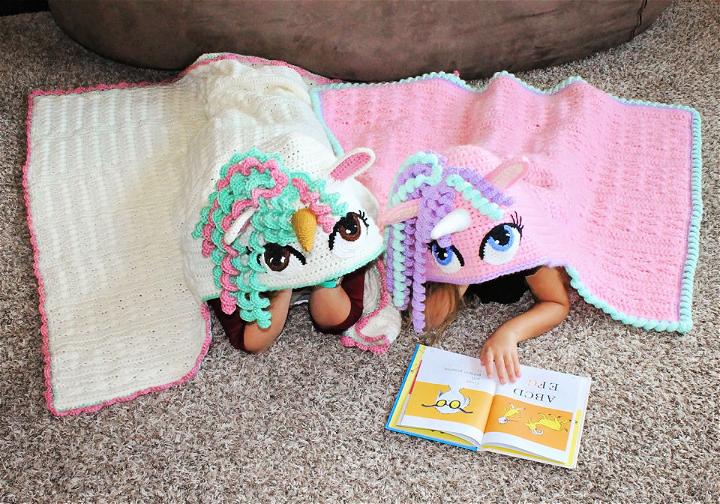 Whip up this crochet hooded unicorn blanket for ultimate comfort and coziness. This worsted weight yarn blanket pattern comes in 3 sizes; small child (42″x36″), large child (54″x48″) & teen/adult (66″x60″). The skill level is easy, and you will need a 4mm, 5.5mm and 6mm hook and polyester stuffing, depending on the blanket size you choose to make. It makes an ideal gift for girls of all ages! Get creative by adding unique colors or embellishments to make it extra special! briabby
10. Awesome Crochet Ragdoll Unicorn Pattern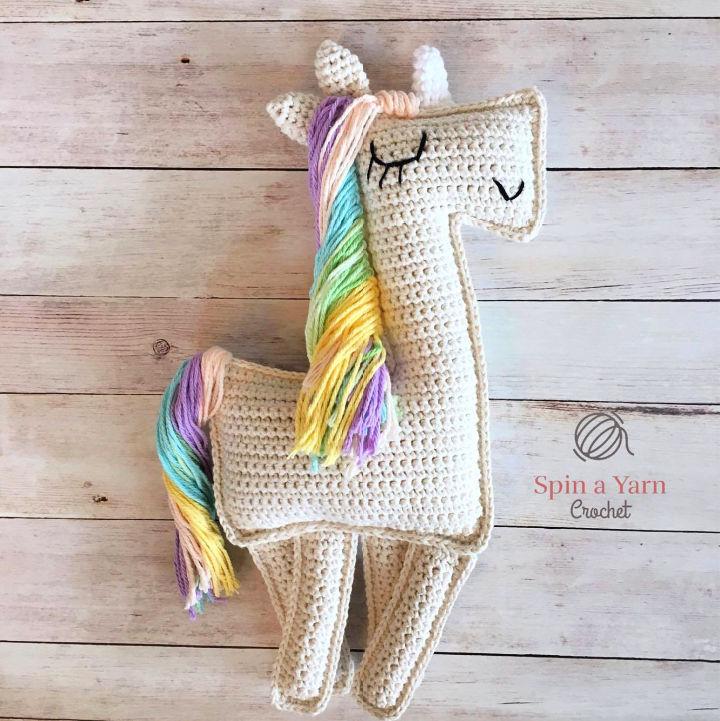 Let imagination be your guide and craft a one-of-a-kind ragdoll Unicorn with our free crochet pattern! This fun project is suitable for beginners, as it only requires basic techniques. You'll need a 3.5mm hook and either worsted weight yarn or embroidery/crochet thread, plus stuffing, a tapestry needle and black yarn/thread for the mouth and eye to complete this magical creature. Get started on your mystical ragdoll unicorn today! spinayarncrochet
11. Pretty Crochet Elanna the Unicorn Pattern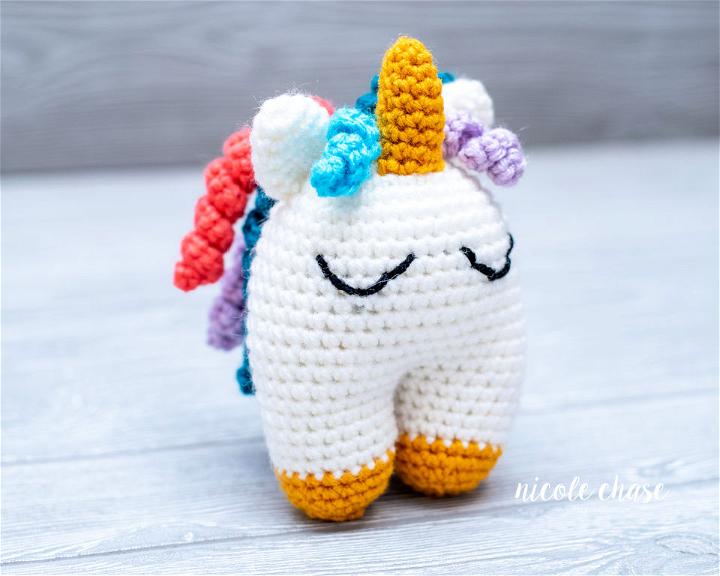 Elanna the Unicorn – free crochet pattern. Create an enchanting creature with this free crochet pattern! The red heart super saver and basic amigurumi techniques are perfect for beginners to create Elanna the Unicorn. The main body is white, with a gold horn and feet; you can use various colors for her hair. Follow this easy-to-follow tutorial to make your own Elanna the Unicorn – perfect as a gift or decoration! With a little practice, even advanced beginners will have no problem making their own magical Unicorn. thenicolechase
12. Crochet Fluffy Unicorn Amigurumi Pattern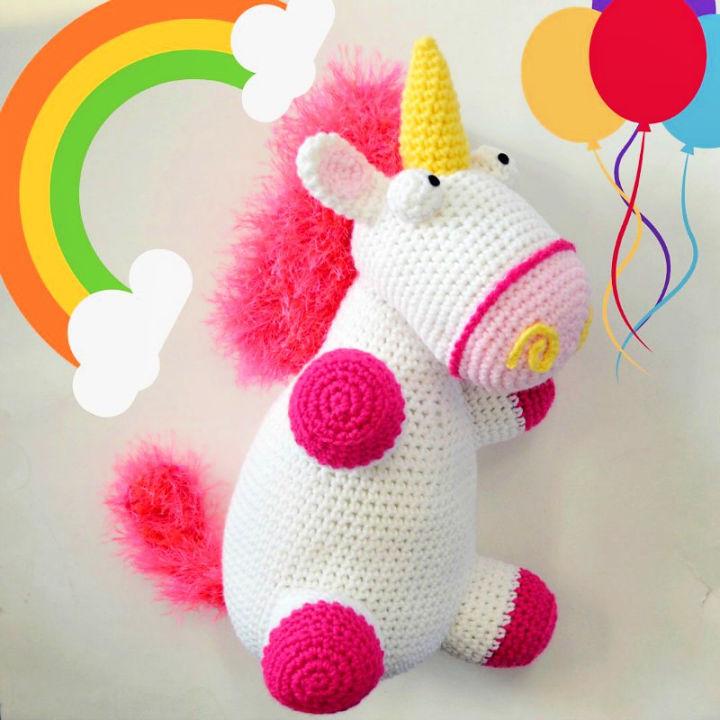 Get busy with your hook and crochet your magical creature with this free crochet pattern for a fluffy unicorn amigurumi! Cute and squishable, it's the perfect huggable companion. All you need for this project is some red heart super saver worsted weight acrylic yarn, plus 5.0mm and 5.5mm hooks – in colors like white, shocking pink, petal pink and lemon! You'll be sure to create something extra special using this delightful pattern – try making one today! amiamour
13. Crochet Yet Another Unicorn – Free PDF Pattern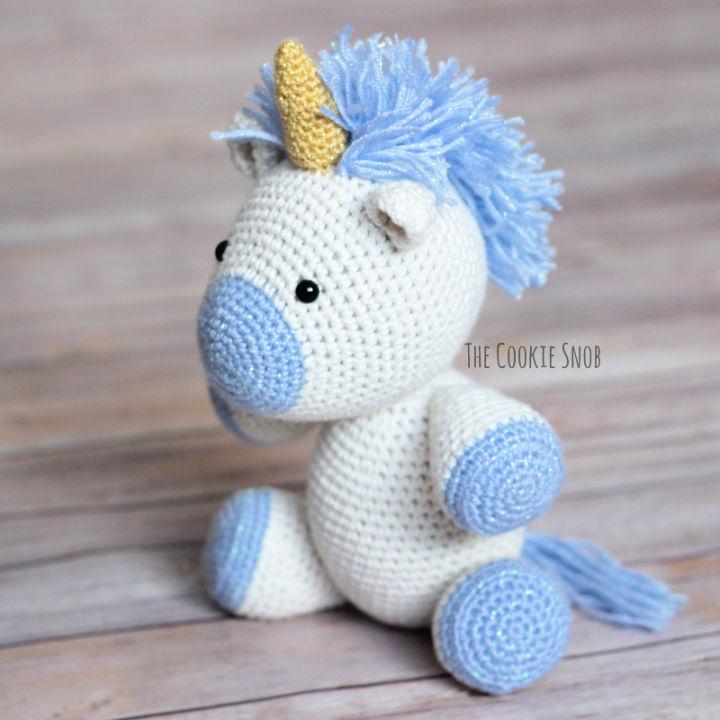 Discover a world of enchantment with this one-of-a-kind crochet unicorn plushie! This easy-to-follow pattern is perfect for personalizing and includes detailed instructions on what materials you need, like a skein of worsted weight yarn in the main body color, less than a skein of an accent color, size F (3.75mm) hook, 9mm safety eyes, tapestry needle, fiberfill stuffing and a stitch marker. Add some sparkle to complete your little creation using gold yarn. Enjoy seeing the smile on your child's face when they receive their one-of-a-kind companion! cookiesnobcrochet
14. Free Crochet Sweet Unicorn Pattern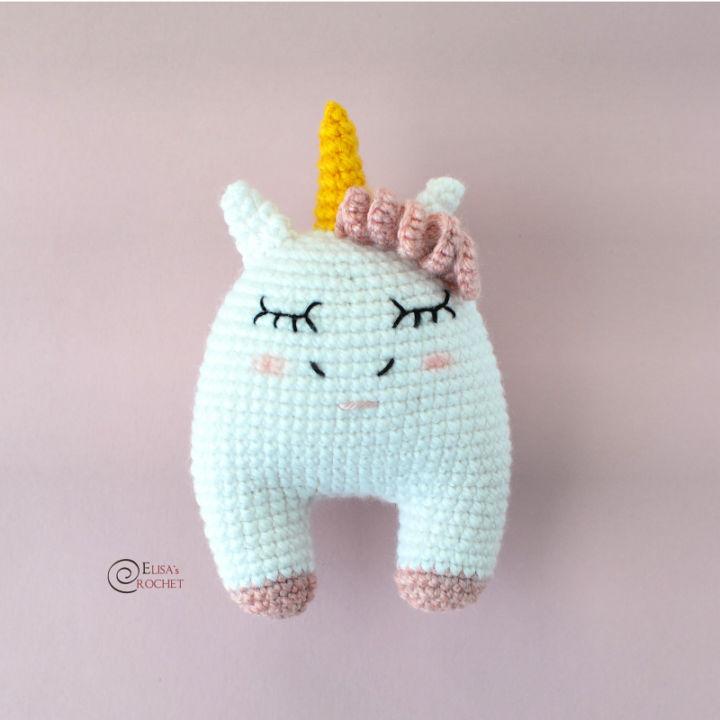 Have you been searching for a sweet crochet project? Look no further than this adorable, sweet unicorn free crochet pattern! Made with white, yellow, pink and black medium worsted yarn and a 2.5mm crochet hook, it's super easy to make – perfect even for beginners. With its small size of 5″ x 3″ x 2.5″, the sweet unicorn is a great rattler toy or nursery mobile attachment for your little one! Gather up all your materials and get started on crafting this charming project today! elisascrochet
15. Crochet Unicorn Hat With Flowers – Free Pattern
Complete your daughter's dream of becoming a unicorn this Halloween with this fun and vibrant crocheted hat! Handmade with quality materials, it comes in child size and requires white worsted weight yarn and light worsted or DK weight yarn in yellow, pink, purple, green, and blue. Tools like an H crochet hook and yarn needle help create the perfect look for your little one. Finally, top off the hat with black embroidery floss or yarn for eyes and small pieces of fiberfill to make it extra soft. Get ready for all kinds of magical adventures! 5littlemonsters
16. Crocheted Unicorn Bricks Baby Blanket Pattern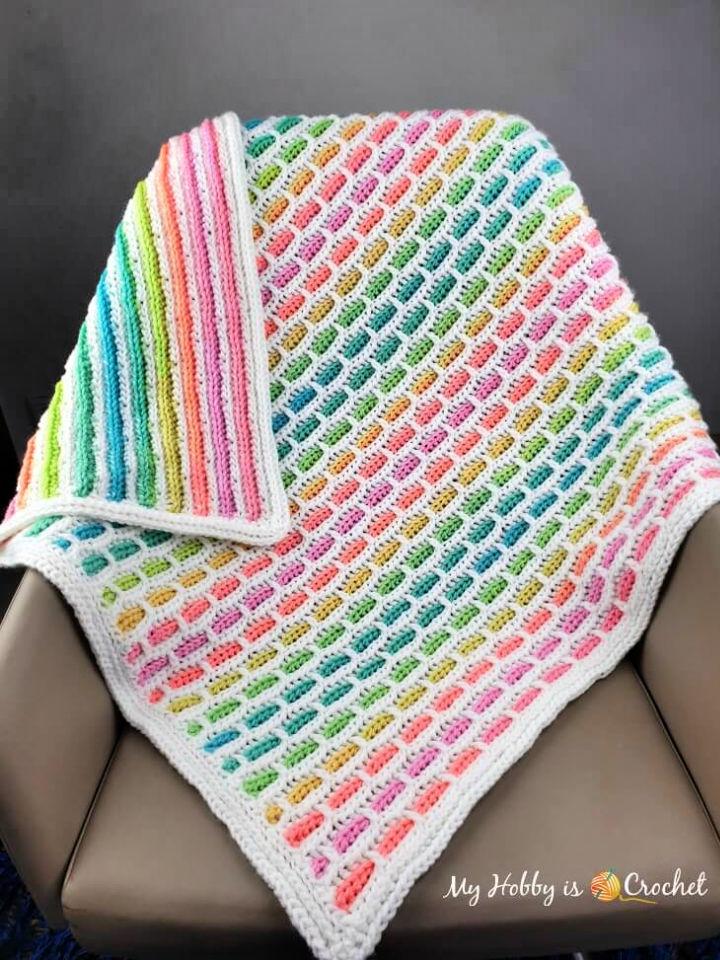 Crochet the perfect gift for a special little one with this free unicorn bricks baby blanket pattern! This blanket comprises 14 sts and 14 rows to create 4-inch x 4-inch squares, making it 32 inches by 32 inches. You'll need 2 skeins of red heart super saver white and retro stripe yarns, a 5.5mm crochet hook, a tapestry needle, and scissors. This vibrant unicorn-themed baby blanket gives a unique newborn or toddler something special! myhobbyiscrochet
17. Simple Crochet Unicorn Lovey Puppet Pattern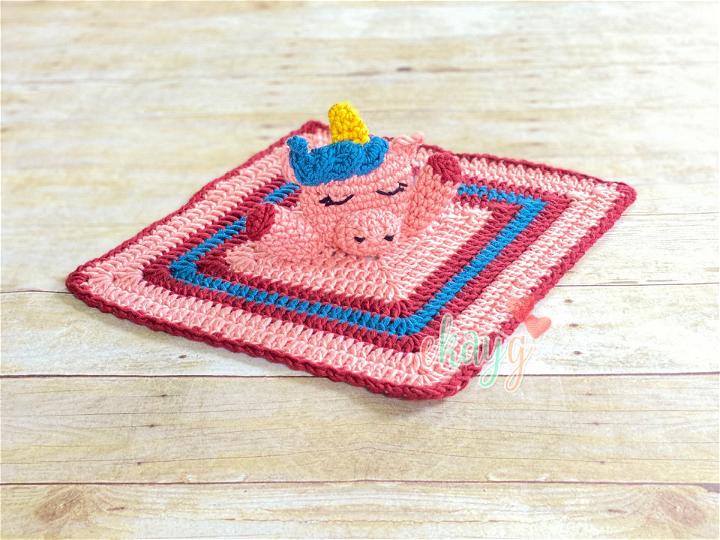 Spread love and joy with this gorgeous unicorn lovey puppet pattern. Perfect for your little one's imaginary playtime, this pattern is worked from the head down through the blanket in one piece, complete with arms, snout, hair, and horn sewed on separately. Knit up using The crochet hook size I-5.5mm for a gauge of 7 sts and 7 rnds = 2 inches for head measurements of 11 inches tall x 18 inches corner to corner or 6 sts and 4 rnds = 2 inches for blanket measurements. Get creative and make something special! ekayg
18. Crochet Unicorn Coin Purse Design – Free Pattern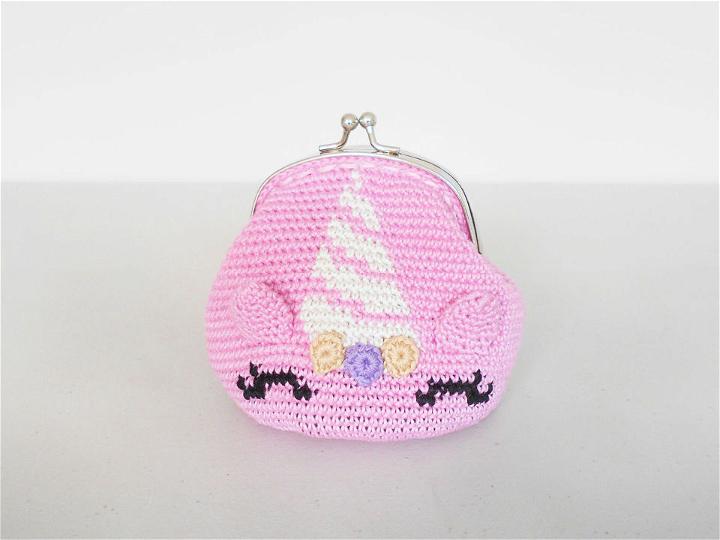 This crochet pattern is just what you need to bring magic into your life! Perfect for both adults and kids alike, this unicorn coin purse will make the perfect accessory for any outfit. The finished size of the purse is 4.7″ x 3.9″, making it ideal for carrying cards and coins. To complete the project, you'll need a 2 mm or 2.25 mm (b1) crochet hook, fingering weight cotton yarn, tapestry needle, sewing needle & 8cm bag fastening along with seam ripper pins measuring tape and scissors – all easy-to-find items! With an intermediate-level skill requirement and clear instructions in this pattern, you'll have your magical coin purse in no time! chabepatterns
19. Crochet Macaron Unicorn Amigurumi Pattern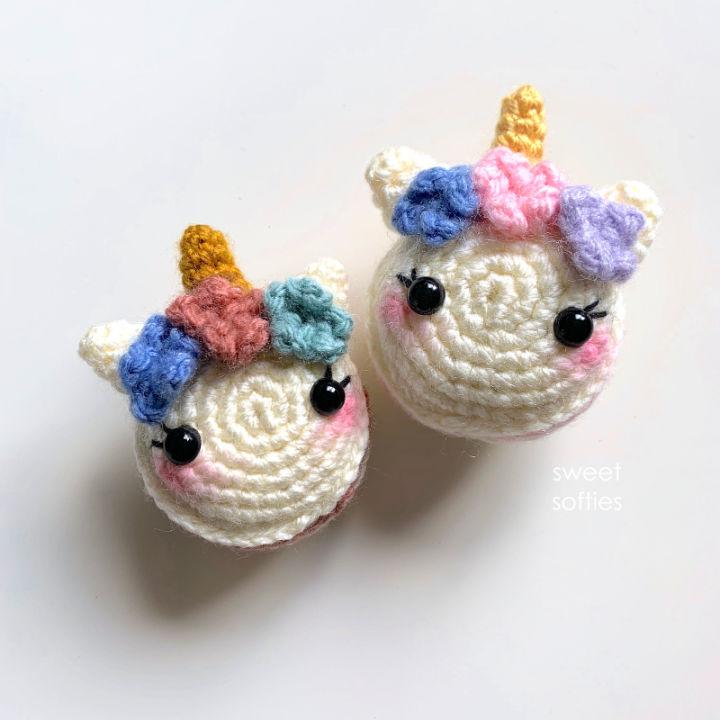 Give a magical touch to any space with this free crochet pattern for an adorable amigurumi unicorn macaron! This 3-inch sweet treat is quick and easy to make, even if you're starting in crochet. All you need are basic materials like yarn, stuffing, embroidery floss and safety eyes. With step-by-step instructions and a video tutorial included, you'll be sure to master this fun project in no time! Make your own for a lovely gift or as a cheery desk buddy. sweetsofties
20. Free Crochet Mini Poppy the Unicorn Pattern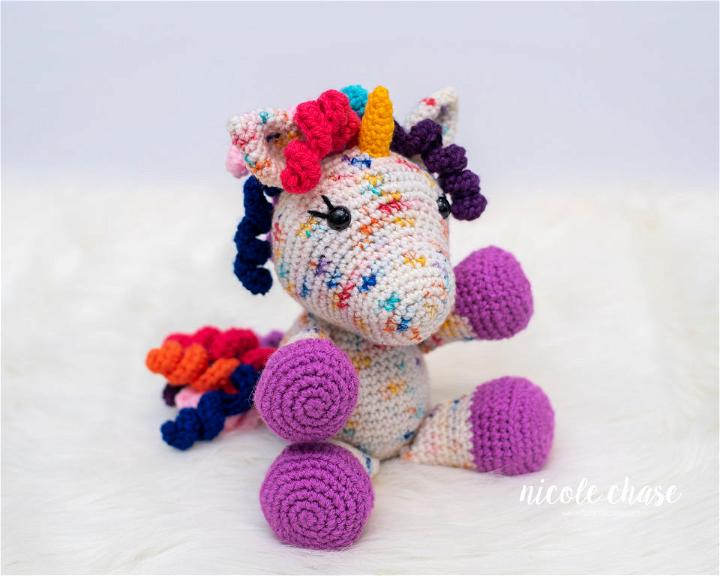 Everyone will love this free crochet pattern, perfect for both beginners and advanced beginner crocheters. Create your Poppy the Unicorn with this easy-to-follow pattern. This project will produce a cuddly toy that stands 13″ tall or sits at 10″ when completed, using 4.0mm hook size, medium (4) worsted weight yarn and poly-fil stuffing, and 12mm safety eyes to bring it to life! So grab your supplies, and let's start making Poppy the Unicorn! thenicolechase
21. Crochet Baby Blanket Pattern – Peach Unicorn Designs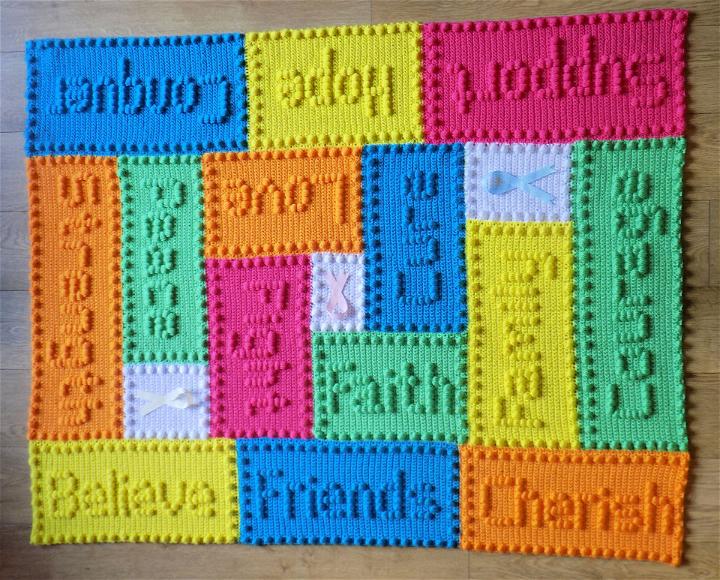 Discover a free cancer blanket crochet pattern to wrap yourself in comfort and love. This blanket is perfect for wheelchair use, keeping you warm during hospital visits. This lap blanket features inspiring words such as 'believe', 'cherish', 'conquer', and more to give hope and courage. This can be created using a 5.00mm US (H/8) hook with aran or worsted weight yarns and 15mm ribbon details at 35 inches long for a total of 42 x 54 inches. Show your support for those affected by cancer – get crocheting today! peachunicorndesigns
22. Crocheting an Unicorn Hooded Scarf With Pockets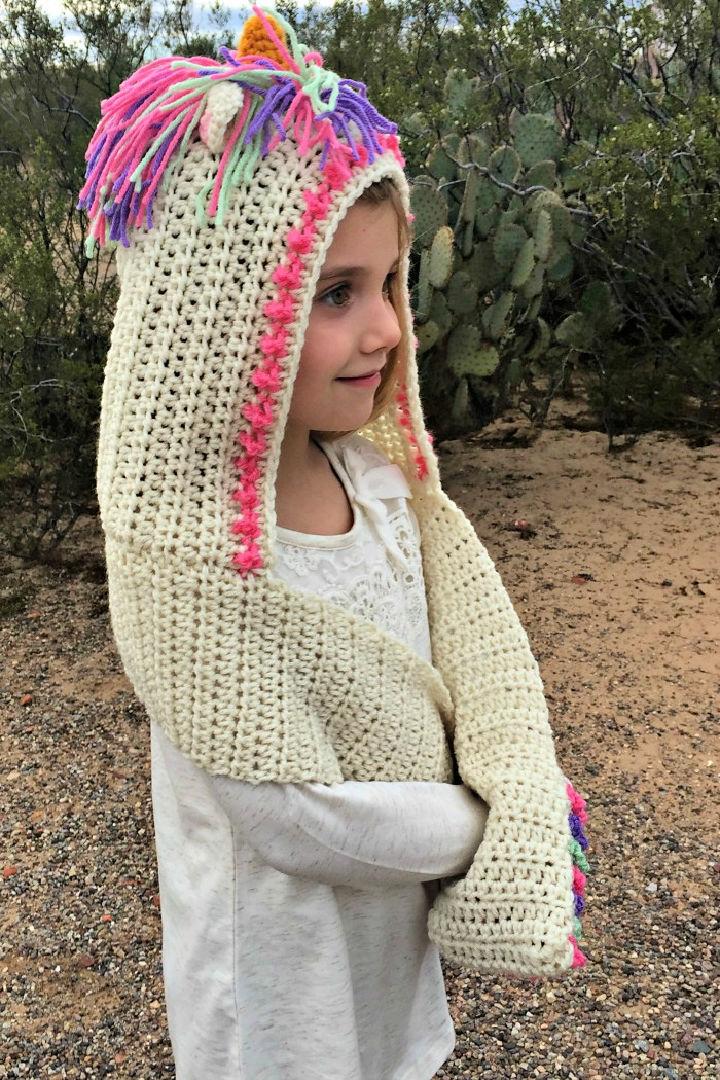 Be magical and practical with this cute unicorn hooded scarf with pockets crochet pattern. This fun scarf is adorned with little ears, a horn, and a colorful mane – perfect for keeping warm while showing off creativity! You'll need 6mm (J) and 5mm (H) hooks and worsted-weight yarn in the colors of your choice to complete this easy-to-moderate pattern. Follow the steps to make yours today – you won't be disappointed! ladybehindthecurtain
23. Cute Crochet Floral Cupcake Unicorn Pattern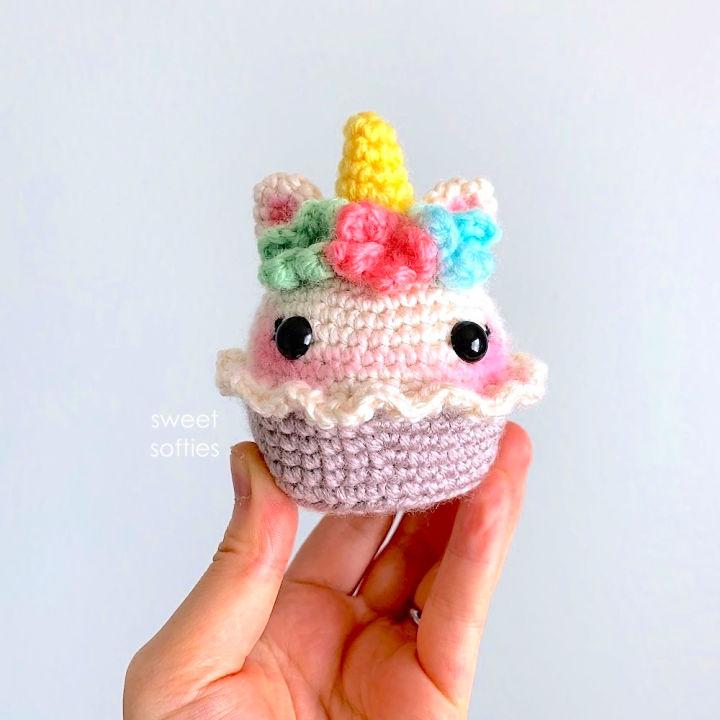 This free crochet pattern for an amigurumi unicorn cupcake adds a sweet and cheerful touch to special occasions. It's the perfect zero-calorie treat, complete with a customizable horn, frosting and colorful flowers that can be changed according to the occasion. Add sprinkles, beads or other embellishments to make it extra special as a gift for birthdays, anniversaries, Valentine's Day or any day! It comes in a 4″ tall size, and it's easy to learn and crochet with this free crochet unicorn amigurumi pattern; why not use your yarn skills today? sweetsofties
24. Fastest Crochet Pudgy Unicorn Amigurumi Pattern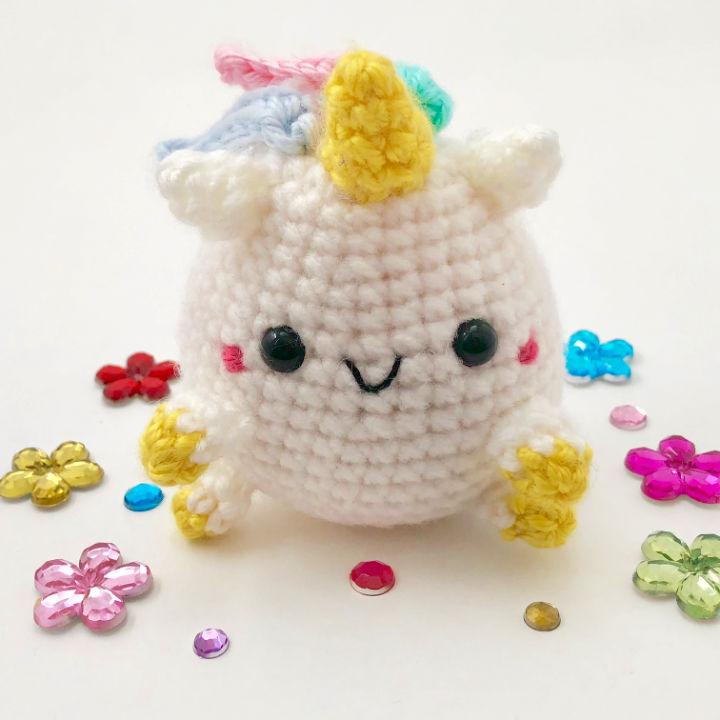 Make a magical addition to your home with this adorable and pudgy unicorn amigurumi doll! Crafted from soft worsted yarn, the 3.5 mm (E) hook size makes it easy to create this beloved creature in no time. Spread some unicorn joy and magic with your handmade creation – it's perfect for kids of all ages who love these mythical creatures! Crochet this pudgy unicorn amigurumi today and start making moments that will last forever. ravelry
25. Easy Crochet Unicorn Pixie Doll Pattern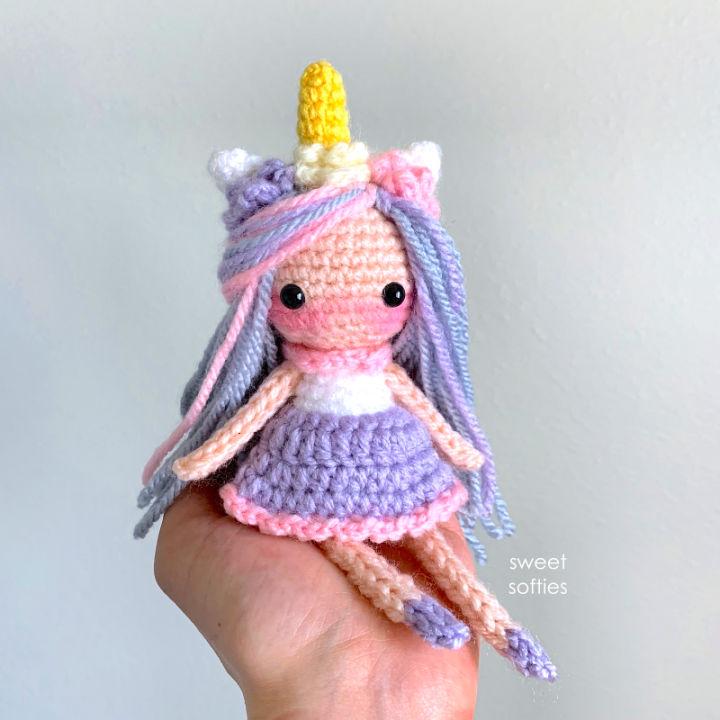 Discover the cutest amigurumi and crochet unicorn pixie doll with this free pattern! This magical little pocket-sized doll is easy to make and perfect for beginners. It features a unicorn horn and ears, a flower crown, highlights in its hair, and a lacy frill skirt. With medium weight 4 yarn in desired colors and a 2.75mm crochet hook, you'll have your creation ready in no time! Materials include 7mm plastic safety eyes, fiberfill stuffing, yarn needle & scissors. Make your own unique unicorn pixie doll today! sweetsofties
Related Free Crochet Patterns:
Discover free crochet amigurumi patterns to make adorable toys & gifts. Customize with your favorite colors and create something special for everyone!
Conclusion: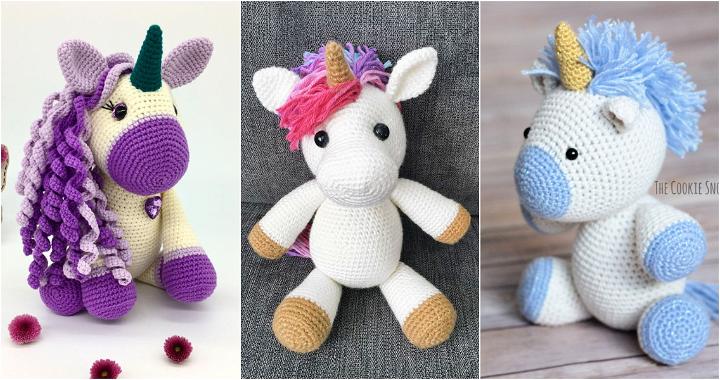 Crocheting a unicorn is an enjoyable experience for all skill levels. With these 25 free crochet unicorn patterns available above, you've many options to choose from. Each unicorn pattern included easy step-by-step instructions and detailed tutorials that make it easy for even beginners to complete their own projects. Best of all, they're totally free! Whether you're looking for amigurumi unicorns or traditional crochet unicorn patterns, these guidelines provide everything you need to create a stunning creature in no time. So grab your crochet hooks and yarn and start stitching up your very own crocheted unicorn today!