Express your creativity with 25 free crochet lion patterns that transform your yarn into adorable lion amigurumi! These crochet lion patterns are perfect for crafters of all skill levels, offering a variety of designs from cuddly, plush stuffed lions to whimsical Tyrion the lion patterns. Each free crochet lion pattern comes with easy-to-follow, step-by-step instructions and a detailed PDF guide to help you master the art of crocheting lions.
These crochet lion amigurumi patterns are beginner-friendly and provide exciting challenges for more advanced crocheters. With a diverse range of styles, sizes, and colors, you can customize your crocheted lion to make it truly unique. Many of these lion patterns also include helpful video tutorials, making it even simpler to follow along and learn new stitches.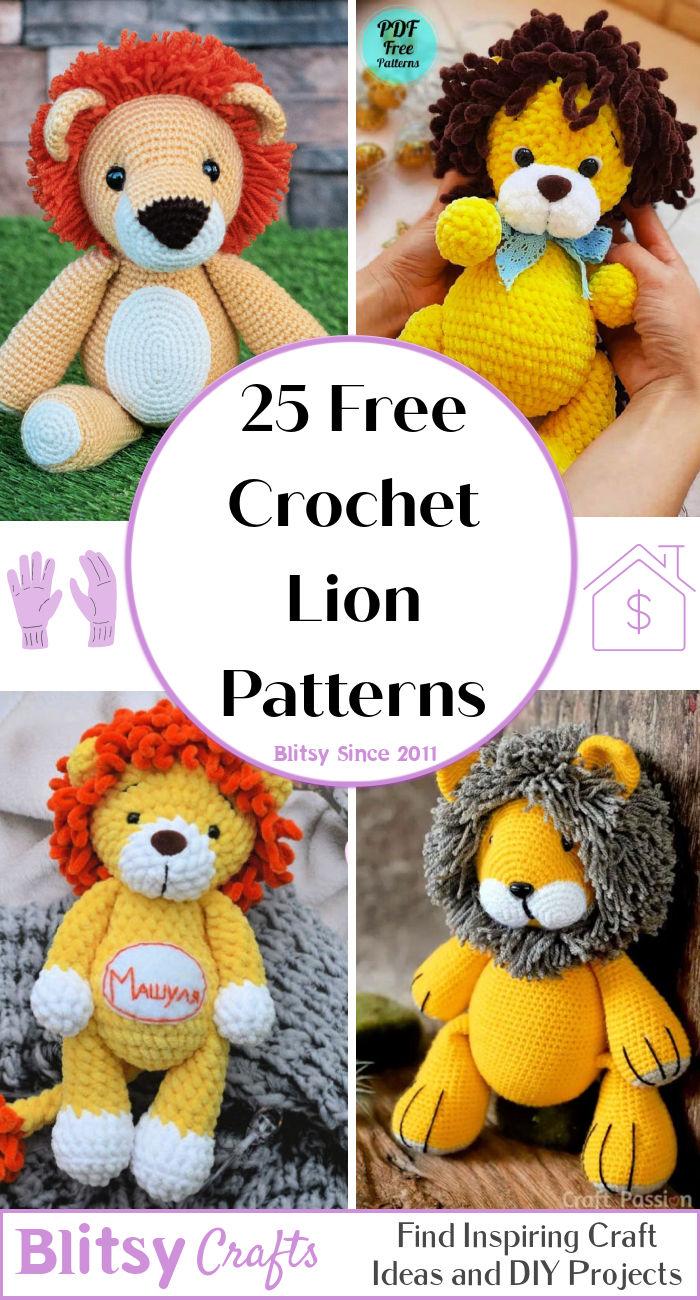 Creating your own crochet lion amigurumi is a rewarding and fun experience resulting in a delightful handmade gift or a charming addition to your collection. Dive into the world of free crochet lion patterns and start crafting an endearing lion companion with these free, easy-to-follow resources!
1. Free Crochet Laurence the Lion Amigurumi Pattern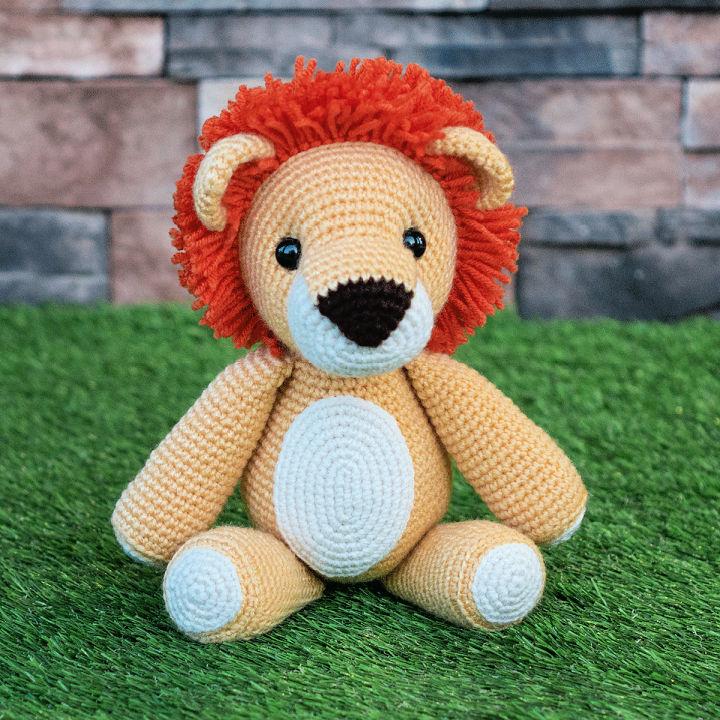 Introduce your handmade collection with this free amigurumi pattern for Laurence, the lion! Create a matching set of safari animals with a 3.5mm (e) hook, 15mm safety eyes, stitch markers, yarn needle and fiber fill. Learn to crochet your own lion amigurumi that will turn out great – download this free pattern today and make something special! You will be repeating several rounds of this technique for a mesmerizing effect. Mastering this method is fun and easy, so give it a go today! With the help of our expert advice, you'll be crocheting beautiful patterns like a pro in no time. jesshuff
2. Crocheted Mini Lion – Free Pattern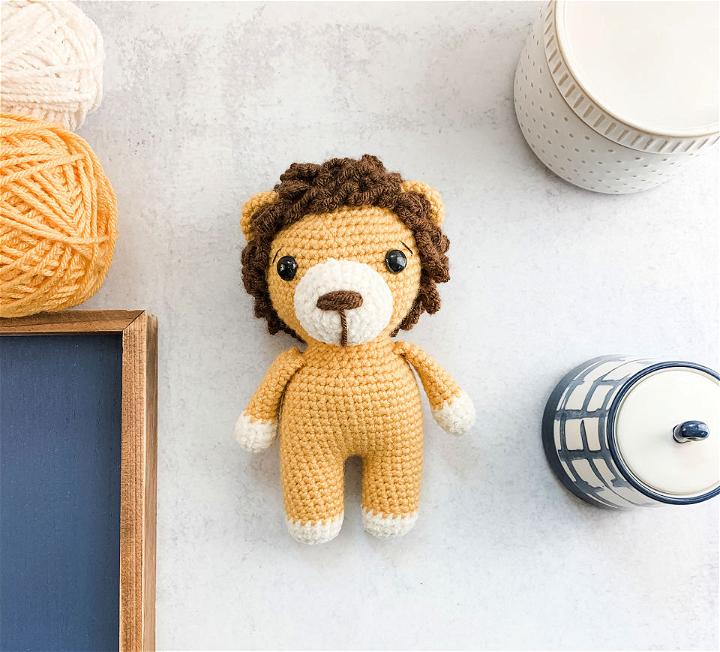 Create your own mini crochet lion using up yarn from your stash! This free pattern uses yarn bee forever plush in ivory, and you love this yarn in brown for the paws, red heart soft in honey for the body, and any worsted weight yarn of your choice. Plus, you'll need a 3.5mm hook, 12mm safety eyes, black crochet thread, scissors, a tapestry needle, stuffing & stitch markers to make this adorable creature come alive! Download the pattern now and get started crafting! graceandyarn
3. Crochet Lionel the Lion Amigurumi Idea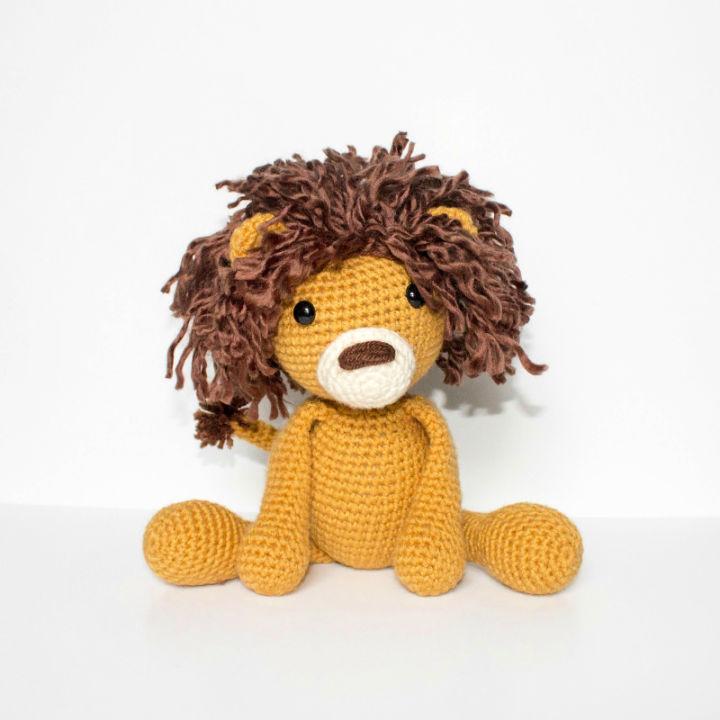 Crochet your own Lionel the lion with this free crochet lion pattern! For the mane, you'll need 120 g size 4 yarn in a main color and bulky brown yarn. Use a 3.75mm hook, tapestry needle, polyfill, 12mm safety eyes, and stitch marker to construct his legs. This Lionel lion can sit out or in, or "stand up!" make him your best little play buddy – perfect for any age! thefriendlyredfox
4. Best Tyrion The Lion Crochet Pattern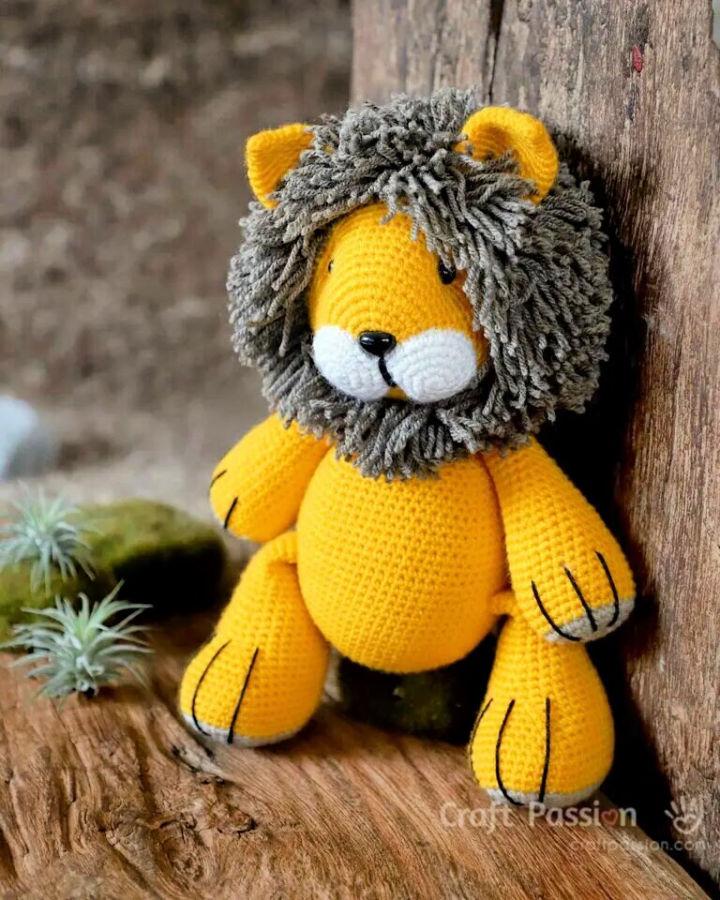 Make a cuddly addition to your home with the amigurumi lion crochet pattern! This pattern is perfect for beginner crocheters and gives detailed instructions on making an adorable, huggable lion. The stuffed animal is made using dk lightweight acrylic yarn and a 2.5mm hook and has a bushy mane that will delight children of all ages. With this crochet pattern, you can create your unique amigurumi lion – or give it as a gift to someone special. Get started now with the amigurumi lion crochet pattern. craftpassion
5. Crochet Lion With Loopy Mane – Free Pattern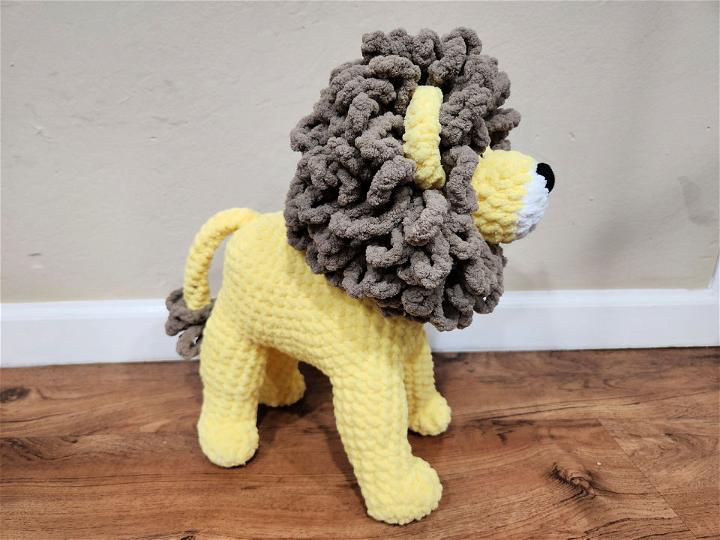 Make your lion amigurumi at home with this easy-to-follow crochet pattern. With an elephant's realistic size and shape, you can create a cute little lion perfect for kids and adults alike. This pattern includes detailed instructions and necessary supplies like yellow and brown yarn, a 7mm crochet hook, and embroidery floss. Make one today to bring some warmth & love into your home! derongan github
6. Fastest Crochet Lion Applique Pattern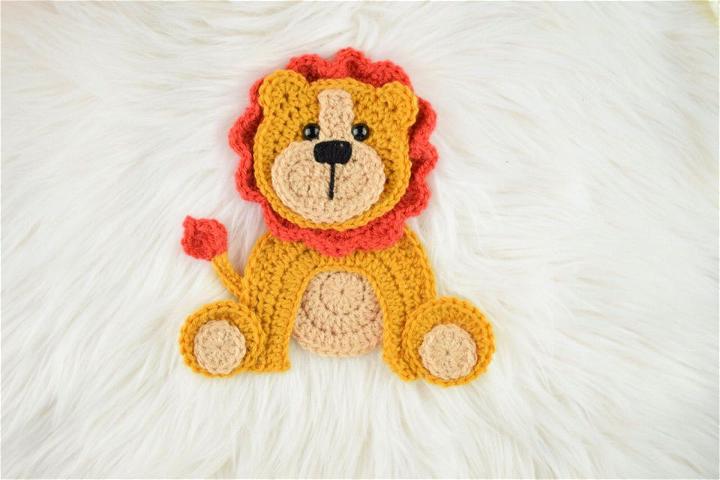 Create a cute and cuddly lion applique with this free crochet pattern. With detailed instructions, you can craft your lion applique in no time! Use the recommended acrylic dk weight yarn for best results. You'll need a 3.5mm (us hook size e) crochet hook, scissors, and a darning needle to complete the project. Always prefer thinner yarn for better stitching and finishing. The pattern is designed for category 3 weight yarn, but it will also work great with different weights. Let's get started on making this adorable lion applique now! passionatecrafter
7. Pretty Crochet Lion Amigurumi Pattern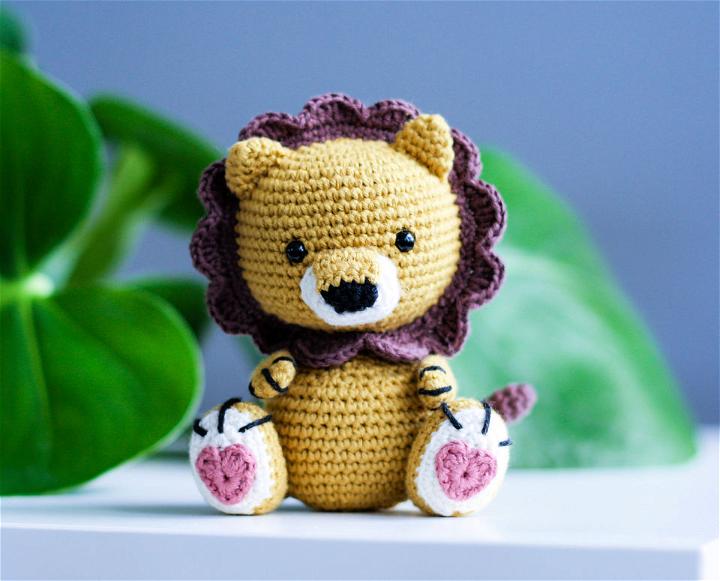 Create your own adorable amigurumi lion with this free crochet pattern! Using US crochet terms, the pattern is easy to follow and includes many pictures. With step-by-step images to guide you through the special parts, basic crochet skills such as single crochet, increases and decreases are all needed. Download now for hours of fun crafting an awesomely cute lion! ravelry
8. Cute Crochet Lion Finger Puppet Pattern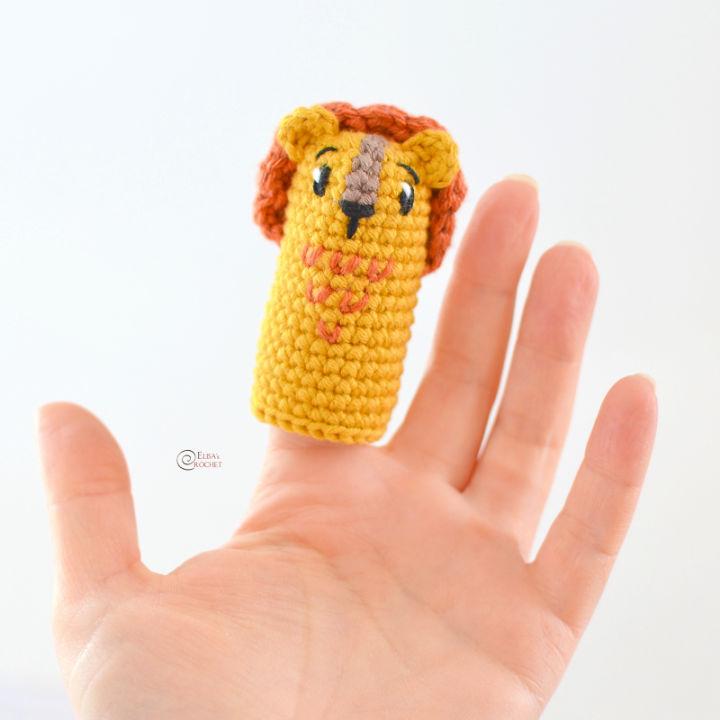 Introduce your little one to the magical world of finger puppets with this free crochet lion finger puppet! This super easy yet adorable project is a great way to help kids develop empathy, hand-eye coordination, and language skills and learn how to handle conflicts. The lion finger puppet is the first character designed as part of these safari finger puppets collection. Make sure you add it to your list of must-haves for tons of fun! elisascrochet
9. Crochet Lion Amigurumi – Free PDF Pattern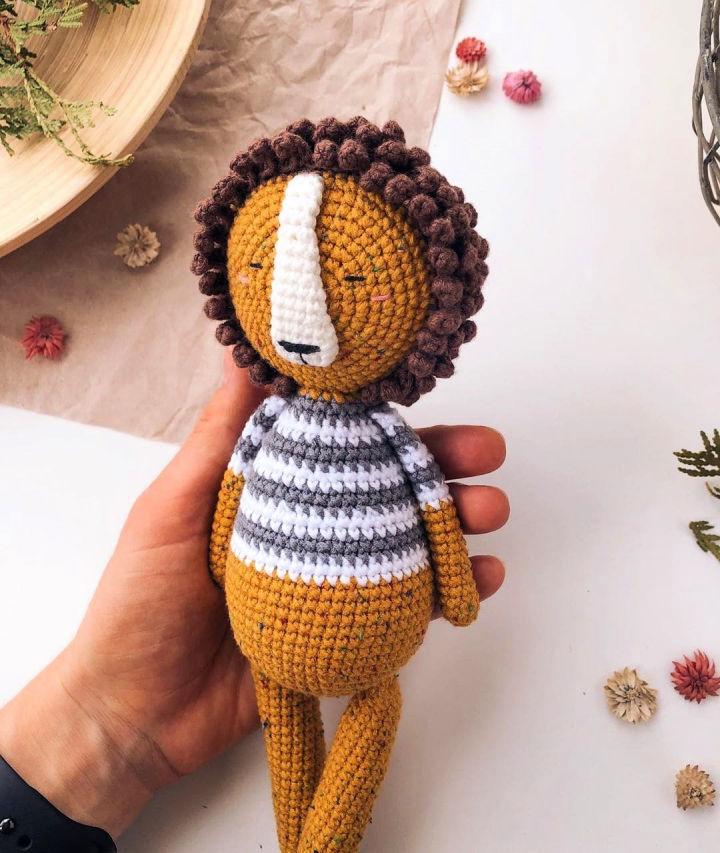 Bring home your cute lion with this free amigurumi pattern. Download the pdf to get started – written in US crochet terms and easy-to-follow instructions, you'll be able to create a 24cm tall lion using Alize cotton gold tweed main color and additional materials such as black embroidery floss for eyes and nose, pink embroidery floss for cheeks, sewing needle & scissors and fiberfill! Unleash your creative inner crocheter today! amigurum
10. Create a Lion Amigurumi – Free Crochet Pattern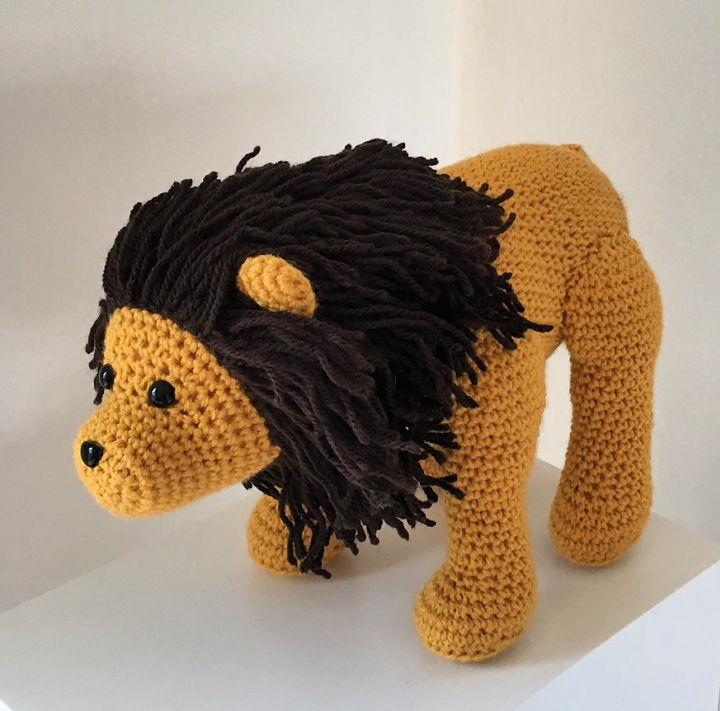 Create a fun and cute lion amigurumi with this free pattern! The pdf version of this pattern requires eight-ply/dk/light worsted weight yarn, crochet hook (3 mm) or appropriate, safety eyes and nose (optional), and stuffing. With the mane removed, you'll have a beautiful little lioness to add to your collection! Download the pattern today for an easy project that will bring everyone in the family joy. daisyandstorm
11. Free Crochet Ragdoll Lion Pattern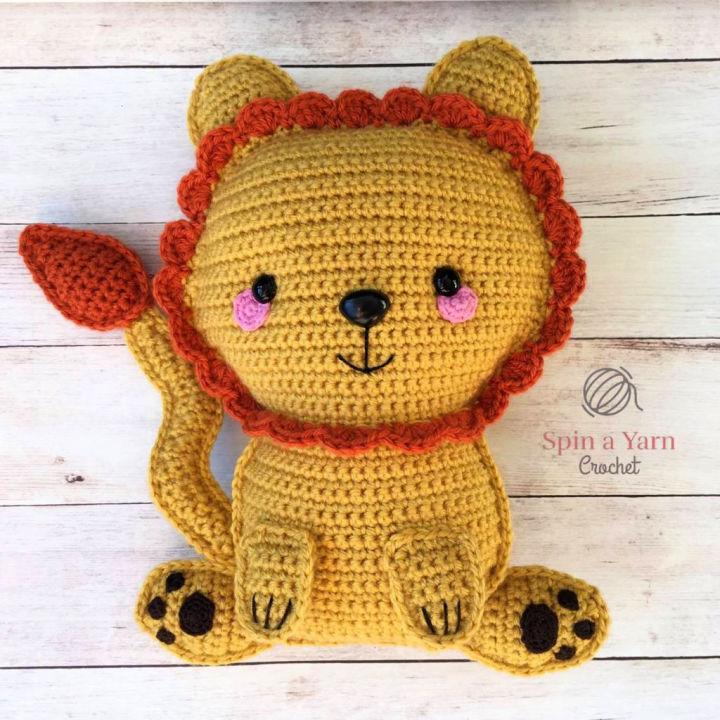 Are you looking for a unique and exciting crochet project? Look no further than this ragdoll lion-free crochet pattern! This pattern is made in the same style as other ragdoll patterns, with separate pieces worked in flat rows and then joined together to give them that unique 2-d look. It has 28 pieces, with finished measurements of approximately 27 cm/10.5 inches from top to bottom.
The pattern can also be easily adapted if desired. Supplies needed include a 3.5mm hook, lion brand Vanna's Choice yarn, lightweight cotton yarn, dark brown embroidery thread & black crochet thread, safety nose stuffing & tapestry needle to complete your furry friend! spinayarncrochet
12. Pretty Crochet Plush Lion Amigurumi Pattern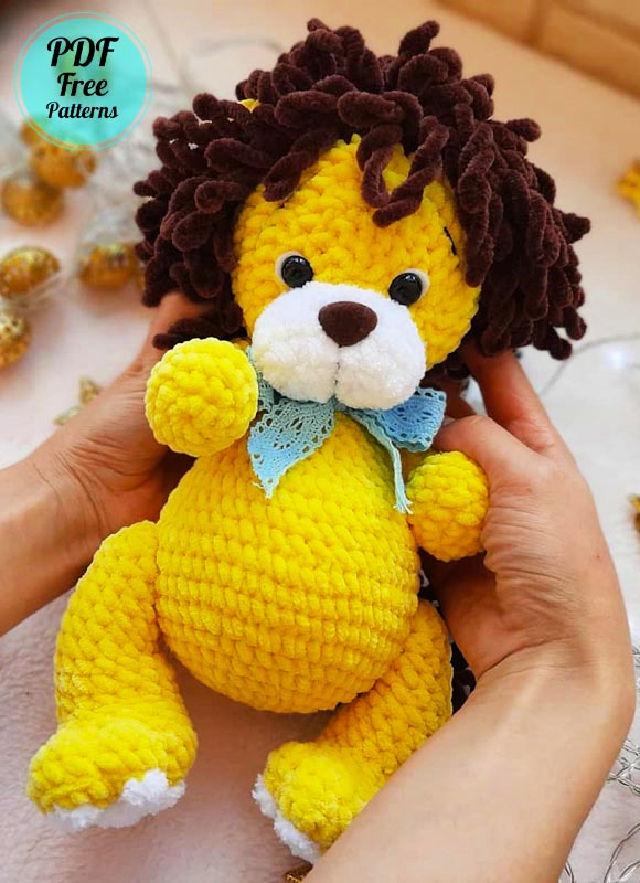 Our crochet lion patterns are perfect for adding a playful, majestic touch to any handmade project. Make your child's day with this adorable plush crochet lion amigurumi free pdf pattern! This cute lion toy uses velvet rope, making it a very large structure that will bring hours of joy to kids up to the age of 5. All you need are plush yarn, amigurumi eyes and nose, fiberfill, a crochet hook size 3.5, a plastic needle for plush yarn and a long needle for sculpting as well as scissors and strong thread for sculpting. Download this free PDF pattern now and make something unique that will last forever! amigurumiday
13. Crochet Larger Sized Lion Amigurumi Pattern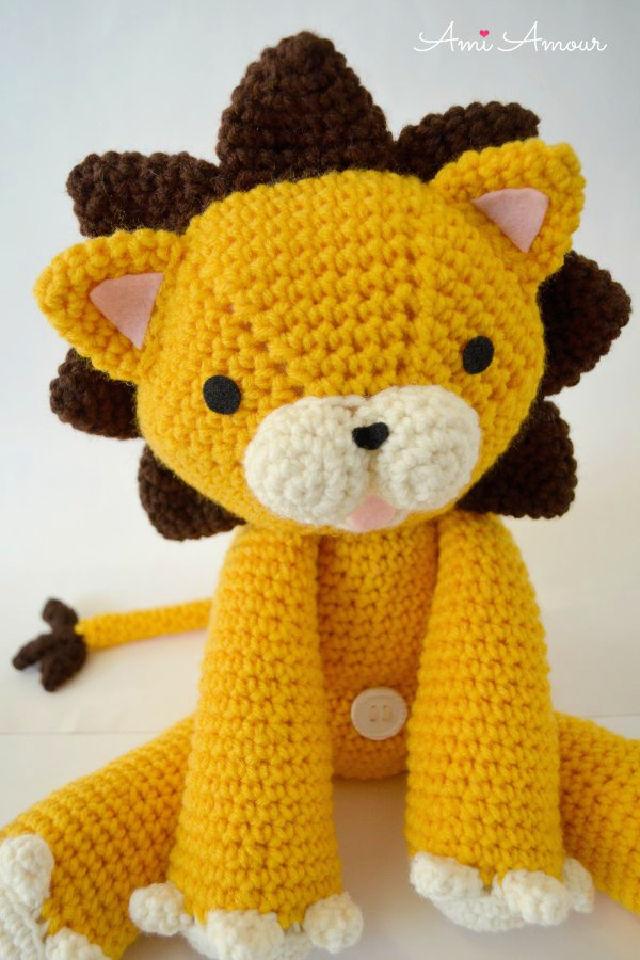 This free crochet lion amigurumi pattern is the perfect size to fit in your hand and make for a great hug, buddy! It's bigger than most traditional amigurumi, making it more difficult but fun. This medium size version features a spiky mane, a cute snout, long limbs with claws and even a belly button! The golden color evokes a lion's tawny color so you can create your furry friend. Enjoy making this free pattern of one of the larger-sized amigurumis that all will surely love! amiamour
14. Simple Crochet Little Lion Amigurumi Pattern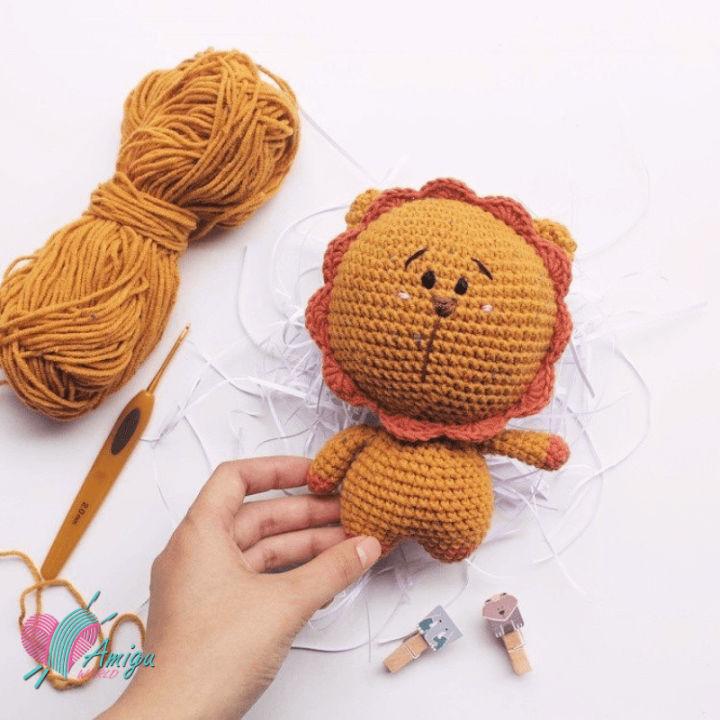 Adorable and cuddly, this free crochet pattern brings the little lion amigurumi to life! This cheerful fellow is easy to make and perfect for beginner crocheters. Make your little lion using any yarn colors of your choice. With simple stitches and detailed instructions, you'll have a finished product that will be cherished for years. Download the free pattern today so you can start creating your handmade amigurumi! amiguworld
15. Crochet Little Yarn Friends Lion Pattern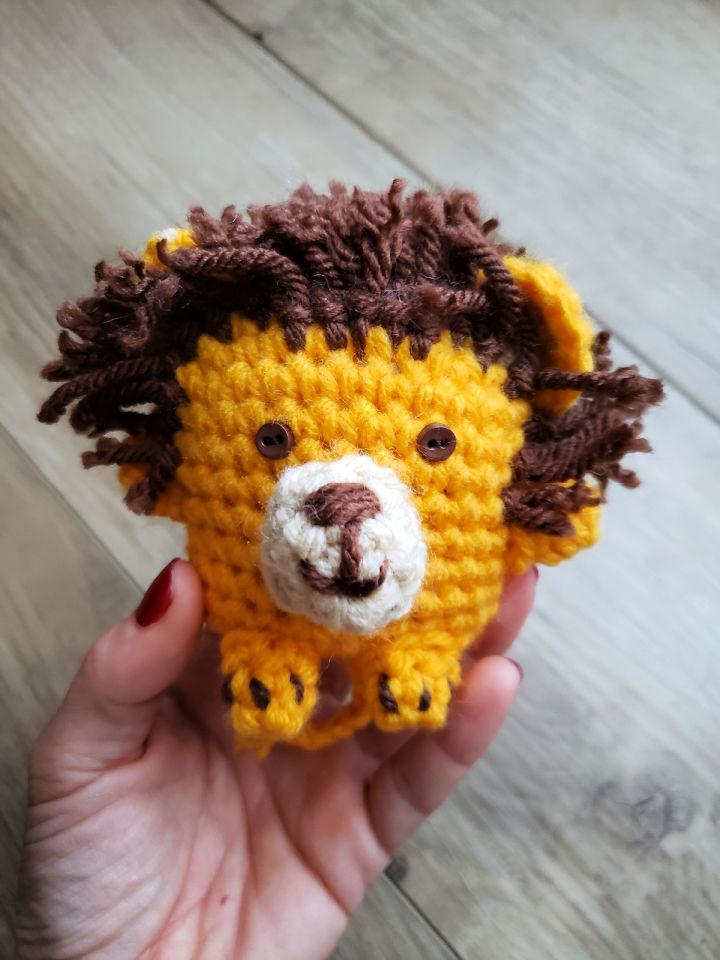 Create an adorable lion with the free yarn friends' crochet pattern. Perfect for craft projects, this pattern is made using big twist value solids yarn and a 3.75 mm (f) crochet hook. US terminology is used throughout for easy understanding. This free pattern will make a wonderful addition to any crocheting collection! Even beginner crochet crafters can complete this activity without much time and effort. ravelry
16. Crochet Friendly Lion Face Scrubby – Free Pattern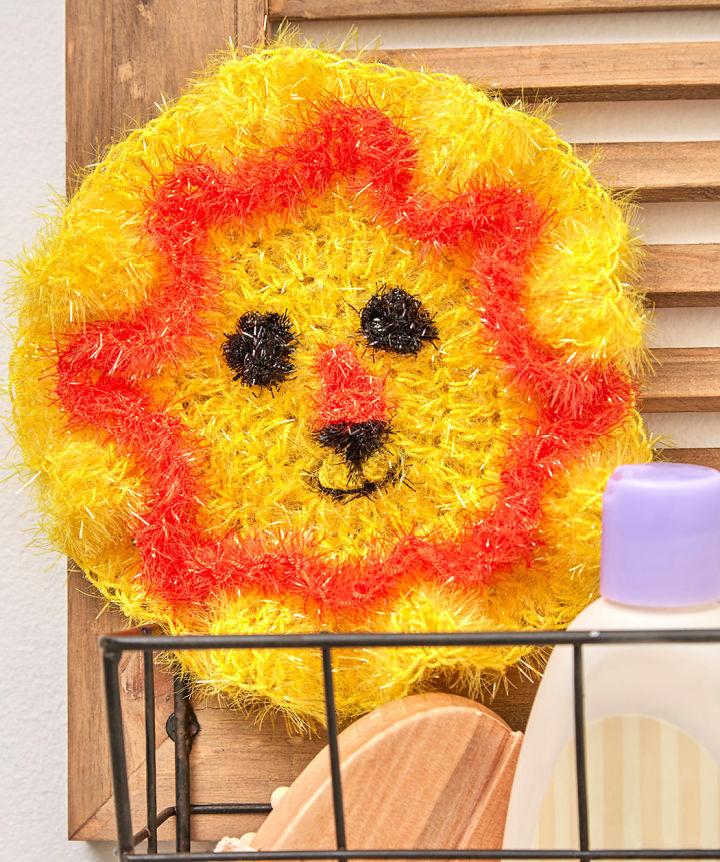 This adorable, friendly lion face scrubby makes bath time fun for the kids! Crochet it in red heart's scrubby sparkle yarn—a machine-washable and quick-drying material. This craft is easily doable, even for beginners, as all you need are a 4mm crochet hook, a yarn needle, a sewing needle, and ecru thread. Let your little ones smile while washing the dishes or enjoying clean fun in the tub with this friendly lion scrubby! yarnspirations
17. Crochet Lion Amigurumi Pattern for Beginners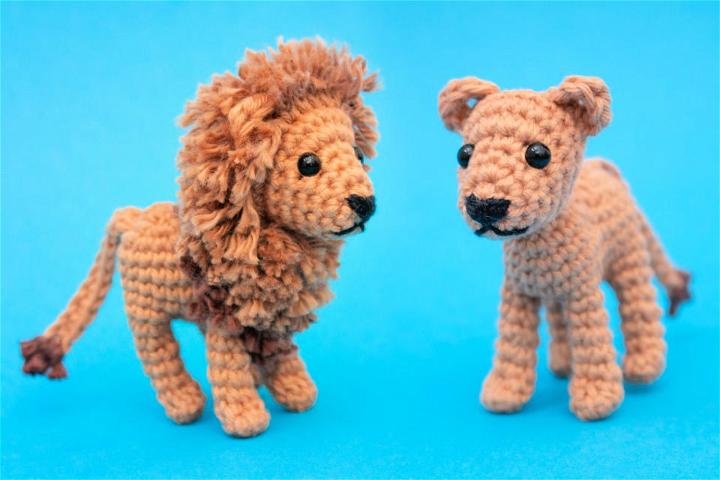 Crochet lion patterns make for the perfect gift for any avid crafter. Create your own cuddly lion with this free amigurumi lion crochet pattern! It comes with a video tutorial for visual guidance, perfect for those of intermediate crochet skill level. The pattern is in US terms and includes the materials and tools you need to make your unique amigurumi lion. You will need dk / light worsted weight cotton yarn, 2.5mm / c-2 or b-1 crochet hook, fiberfill, darning needle, black embroidery floss, large-eyed sewing needle, stitch marker, pins and scissors to make this crochet lion. Start crafting it now! stellasyarnuniverse
18. Easiest Boris the Tiny Lion to Crochet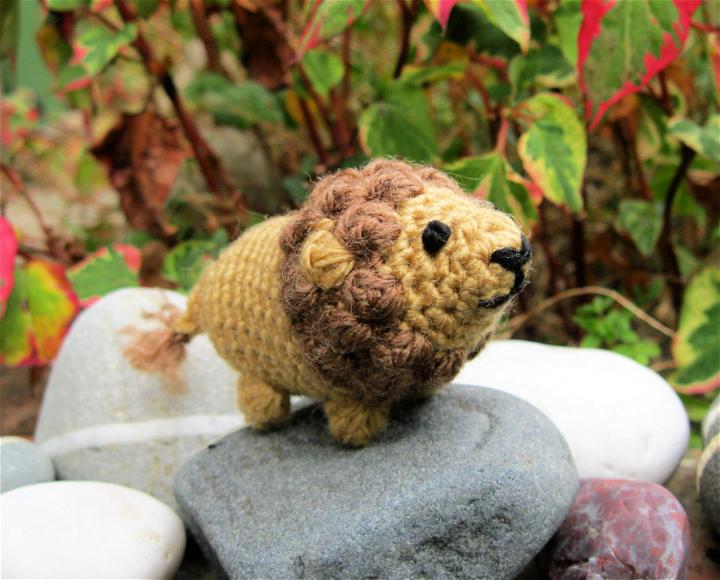 Create your adorable "Boris the tiny lion" with this free amigurumi pattern! Work in rounds; use stitch markers and a small piece of yarn to mark the start of each round. You can also use the magic ring method to begin. Stuff as much as possible and embroider Boris's face with black yarn. To complete him, make French knots for eyes! Have fun crafting your very own tiny lion with this easy-to-follow pattern! lucyravenscar
19. Gorgeous Crochet Stuffed Lion Pattern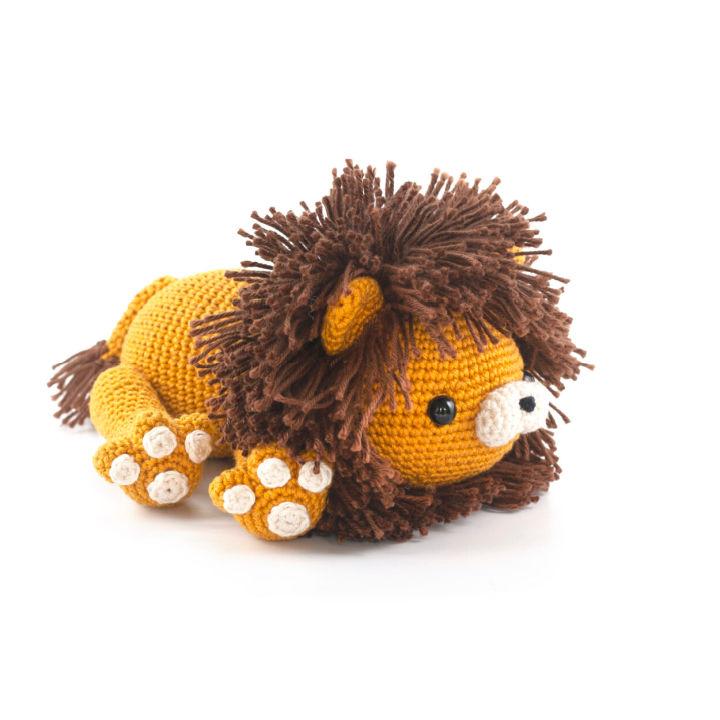 Make your own proud lion amigurumi with this free crochet pattern! This detailed tutorial makes creating your cuddly lion in no time easy. Create the perfect gift for a friend, loved one, or even yourself today and make the cutest little lion you can! Try our free crocheted lion amigurumi pattern now. You needn't be a professional crocheter to touch this crochet lion. Even beginner crocheters can only learn advanced crocheting skills and techniques. mariskavos
20. Crochet Lion Plush Toy Pattern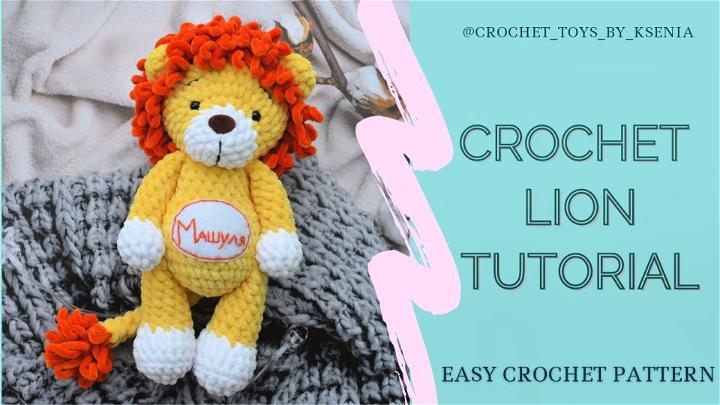 This free amigurumi pattern teaches how to crochet a cute and cuddly lion. This crochet lion tutorial is suitable for advanced beginners, intermediate crocheters, and those who want to make their plush toy! Follow the step-by-step instructions in the video tutorial to create an adorable 9″ stuffed animal that both kids and adults will love. Get creative with colors, embellishments, and texture – you won't be able to resist making your very own crochet lion friend!
21. Free Crochet Pattern for Lion Toy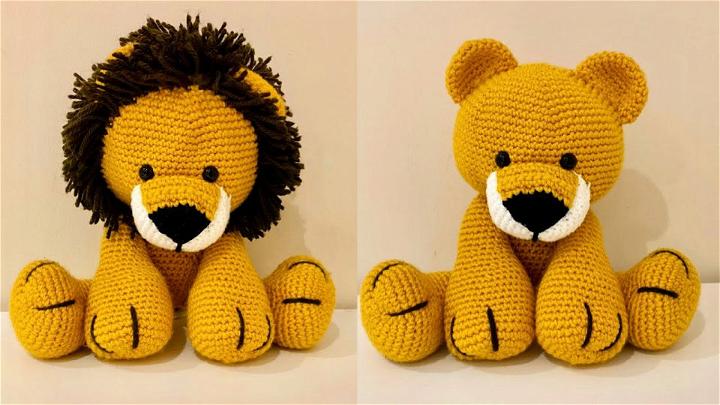 These crochet lion patterns can add a regal touch to any project, making your creation truly one-of-a-kind! Make your fun and fuzzy lion with this easy-to-follow tutorial. Get the free written pattern now and learn how to crochet a lion, lioness or amigurumi! All you need is standard cotton double-knit yarn, a 3.5 mm crochet hook, security eyes, fiberfill stuffing and a darning needle & scissors to complete this crochet lion. It's all explained in detail, so with just a little skill & patience; anyone can make their adorable lion toy – perfect for snuggling up to!
22. Lovely Crochet Lion King Pattern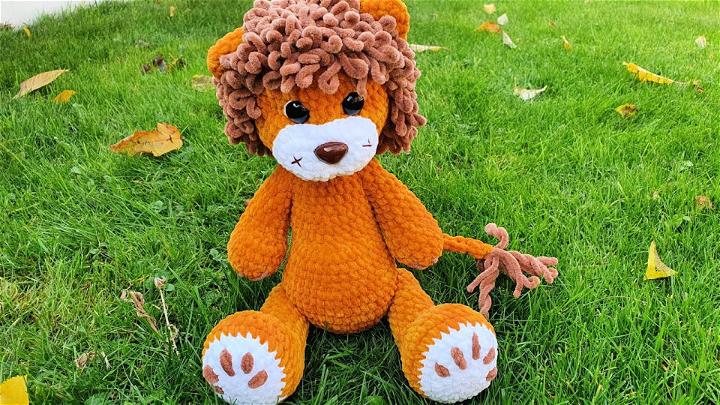 Discover the perfect amigurumi lion with this step-by-step video tutorial. Follow along and learn how to crochet an adorable lion with legs, hands, and more! This unique crocheted lion will greatly add to any kid's bedroom or nursery. With this simple guide, you'll have no trouble creating this cute amigurumi lion in no time! From start to finish, you can bring this animal friend to life just like magic!
23. How Do You Crochet Lion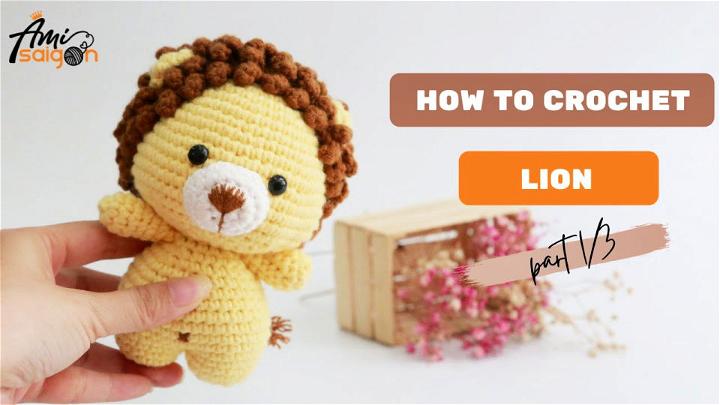 Learn how to crochet an adorable amigurumi lion with this free pattern! This pattern offers easy-to-follow step-by-step instructions to create your cuddly animal companion. This ⅓ parts of the tutorial will guide you through the basics. From choosing materials to stitching techniques – and help you make a unique, handmade piece that will be treasured for years. With Ami Saigon's expert advice, start crafting your lion amigurumi today!
24. How to Crochet Lion Animal – Free Pattern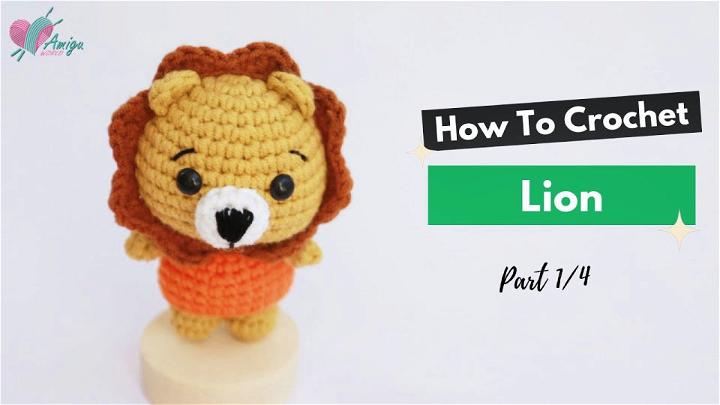 Crochet your own adorable amigurumi lion with this free pattern and instructions from AmiguWorld! Perfect for animal lovers, this pattern is easy to follow and beginner-friendly. Create the perfect one-of-a-kind gift or decoration – make something special today! Start crafting your very own amigurumi lion now with this free step-by-step guide. Get creative and teach your inner artist how to crochet amigurumi animal patterns from AmiguWorld. The ultimate resource for all crochet needs!
25. Crochet Amigurumi Lion Pattern for Beginners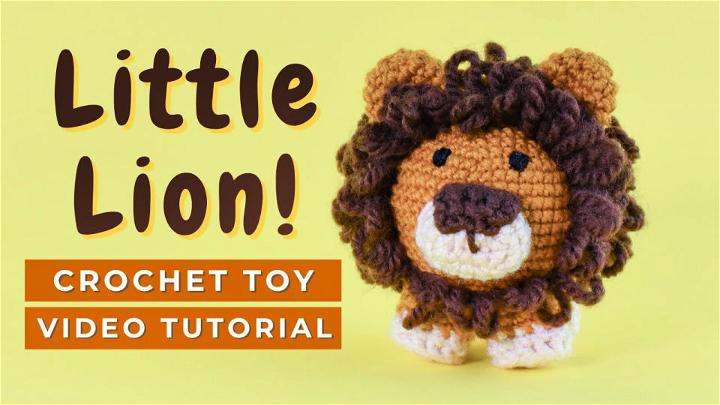 Are you a beginner at crochet and looking to make something cute? Learn how to crochet this mini amigurumi lion! Complete with detailed video instructions, this tutorial is perfect for those getting started in creating beautiful hand-crafted items. Create your adorable little lion today – an item you can treasure forever! You can crochet this cute lion in whatever color you want using desired color yarn.
Related Free Crochet Patterns:
Discover the limitless possibilities with our inspiring collection of free crochet patterns! With hundreds of designs and styles, you can find a project perfect for any skill level and creativity.
Conclusion: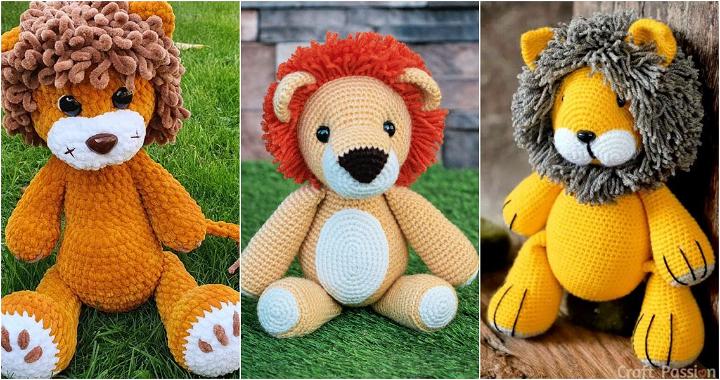 In conclusion, these 25 free crochet lion patterns offer a diverse collection for those eager to create their own lion amigurumi, ranging from simple designs for novices to more intricate patterns for seasoned crochet enthusiasts. Explore this curated list and find the perfect crochet lion pattern to embark on, complete with step-by-step instructions, detailed guides, and video tutorials. So, dive into the world of crochet lions and create a cuddly, handmade friend that will impress anyone who touches your remarkable craftsmanship.