With just a few basic crochet stitches, you can create an adorable crocheted giraffe amigurumi pattern that kids will surely love. Discover 25 free crochet giraffe patterns to bring your kid's toy section to life! With step-by-step instructions and detailed images, these easy crochet giraffe patterns are perfect for beginners. Enjoy crocheting a selection of cute giraffe amigurumi with all kinds of personalities, from friendly and cuddly to playful! Choose from a range of sizes and difficulty levels, including PDF downloads, so that you can take the free crochet giraffe patterns on the go. Whether you're looking for an adorable handmade gift or a new project to add some variety to your crafting routine – we have a free crochet giraffe pattern here for everyone!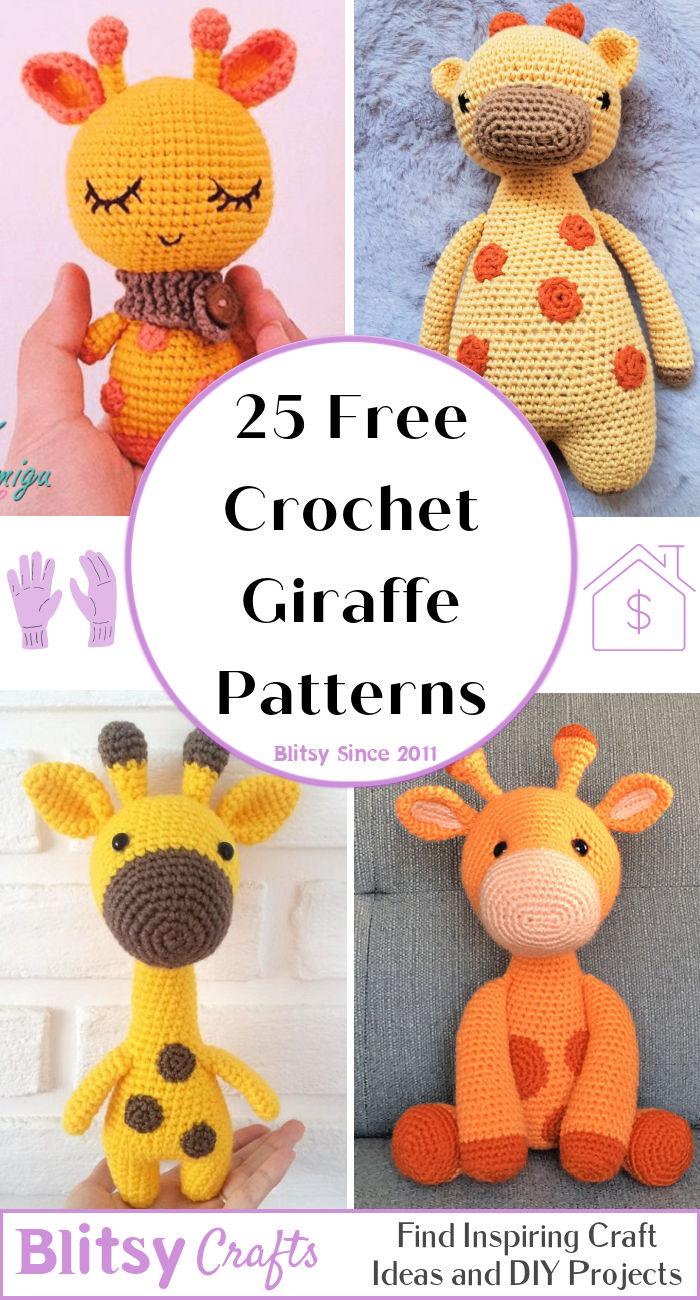 Free Crochet Giraffe Patterns
Get creative and learn how to crochet a giraffe amigurumi with one of the 25 free crochet giraffe patterns available below. With detailed instructions and easy-to-follow step-by-step instructions, there is an option suitable for beginners and experienced crochet enthusiasts alike. And with so many options to choose from – including flexible PDF formats – these crochet giraffe patterns can add a beautiful touch of love, uniqueness, and even fun to your crochet projects. So, no matter if you are a beginner or a crochet pro, get crochet crafting today and start bringing life to your creations with a free crochet giraffe pattern!
1. Free Crochet The Friendly Giraffe Pattern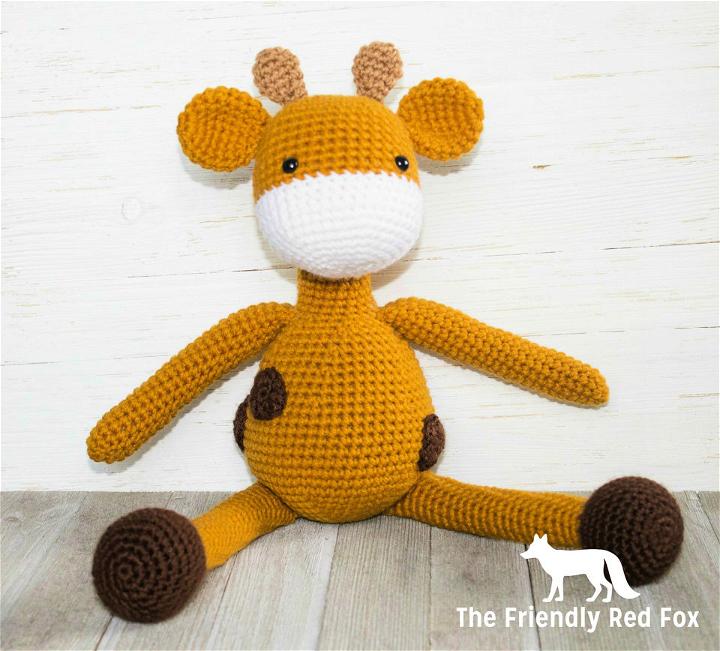 This fun and versatile crochet pattern is perfect for beginners and experienced crocheters! It includes instructions to make 10-inch and 15-inch giraffes using basic stitches like single crochet and half double crochet. Plus, you can use leftover yarn from other projects in any weight or color to give them a unique look. Add safety eyes and stuffing for the finishing touches – it's an easy project for any age that will make a perfect gift! thefriendlyredfox
2. Gorgeous Crochet Giraffe Amigurumi Pattern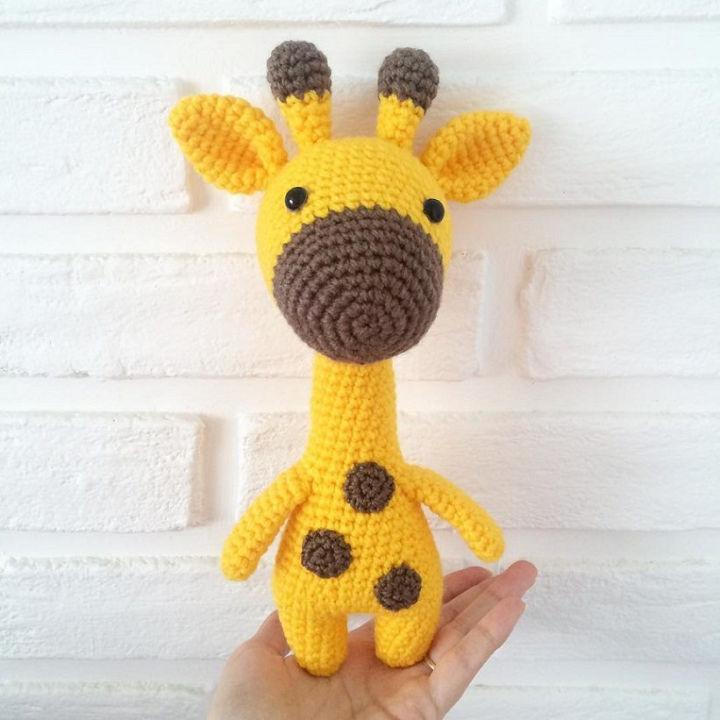 Create a unique and cuddly toy with this Amigurumi crochet giraffe pattern! Perfect for any animal lover, it's easy to follow with clear instructions and detailed photos. The finished giraffe is approximately 8 inches tall, making it the perfect size for small hands to hold and play with. The soft and cuddly yarn gives this little guy the ideal texture for snuggling up. Make one today and bring a smile to anyone's face – they'll treasure their special handmade toy for years to come! Get started on your Amigurumi crochet project today – you won't regret it! amigurum
3. Crochet Giraffe Family Amigurumi – Free Pattern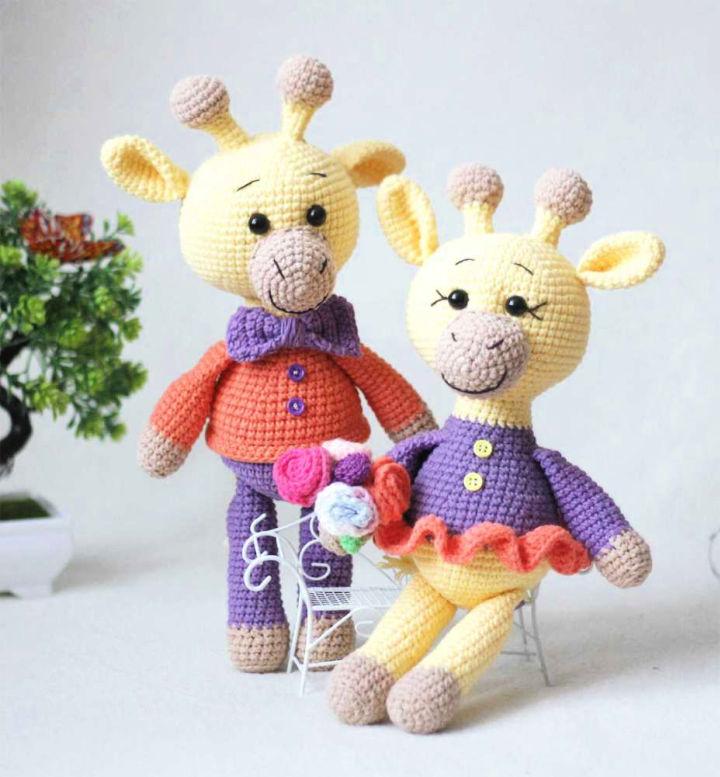 Time to crochet something special for your little one with this free amigurumi giraffe family Pattern! This easy crochet pattern includes instructions for making a mother, father, and baby giraffe in different sizes. You can create adorable additions to any nursery or playroom using basic stitches and some soft and cuddly yarn. You need worsted-weight yarn in various colors, safety eyes, stuffing, and a tapestry needle. Give your child the gift of cute animal friends with this fun family pattern! amigurumiallfree
4. Crocheted Baby Giraffe – Free Pattern
Do the cutest crochet project with this free pattern for a baby giraffe amigurumi. Expertly crafted with cotton yarn in yellow, brown, dark orange and black thread for eyes, it's perfect for giving as a gift or keeping as your project. All you need is a 3mm hook and needle for sewing – the assembly is easy with the given step-by-step guide! Start your amigurumi journey today and bring a unique style to your collection. Have fun creating an adorable addition that adds cuteness to life! byoana
5. Crochet Ginnie the Giraffe Amigurumi Pattern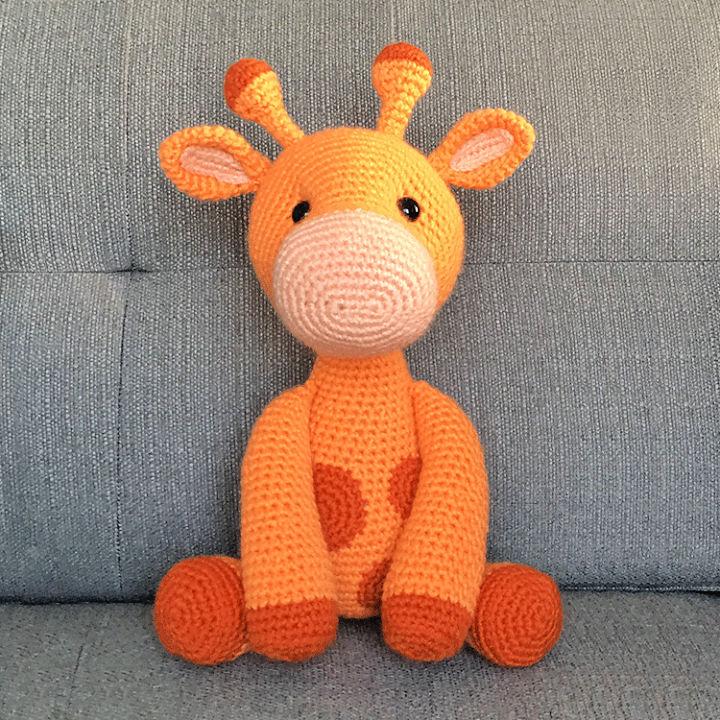 Welcome, Ginnie, the 17-inch standing giraffe amigurumi! This free crochet pattern is designed for intermediate skill levels and brings the savanna to life with an ultra-cuddly personality. With a 3.5mm hook and 15mm safety eyes, Ginnie is easy to assemble and perfect for all ages.
Grab your fiber fill and yarn needle to start crocheting this unique friend today! This step-by-step guide makes it easy for you to create the ultimate amigurumi companion in no time. Start to make Ginnie the Giraffe now – get ready for endless cuddles! jesshuff
6. Cute Crochet Sleeping Giraffe Amigurumi Pattern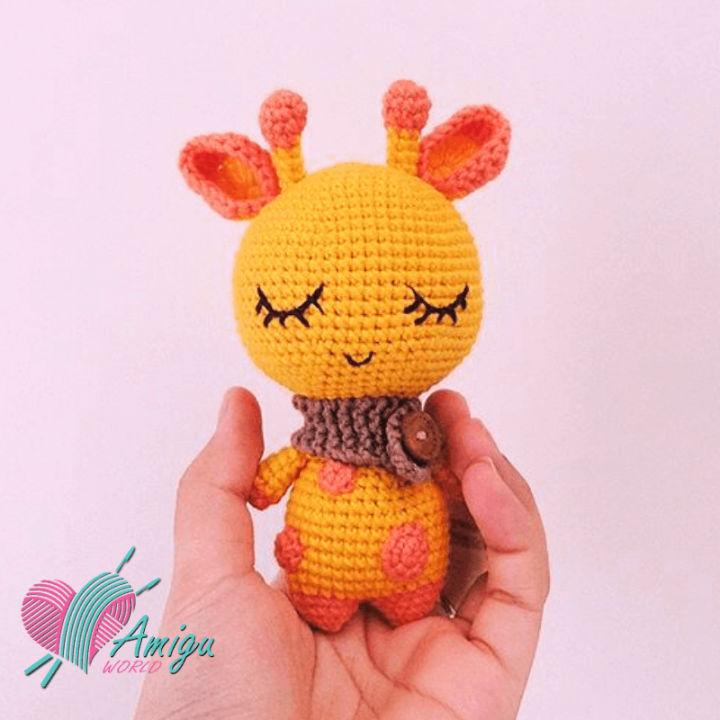 Bring a smile to your little one's face with our free crochet pattern for a sleeping Giraffe amigurumi! This cute and cuddly toy is sure to become their favorite companion. With just some orange, yellow, brown, and black yarn, a crochet hook, fiberfill stuffing, pink and brown yarn for embroidering details, and a sewing needle & scissors, you'll have everything you need to create this delightful bedtime buddy. Follow this easy tutorial step-by-step and enjoy the fun of crafting something special for your child today!amiguworld
7. How to Crochet Julies Giraffe – Free Pattern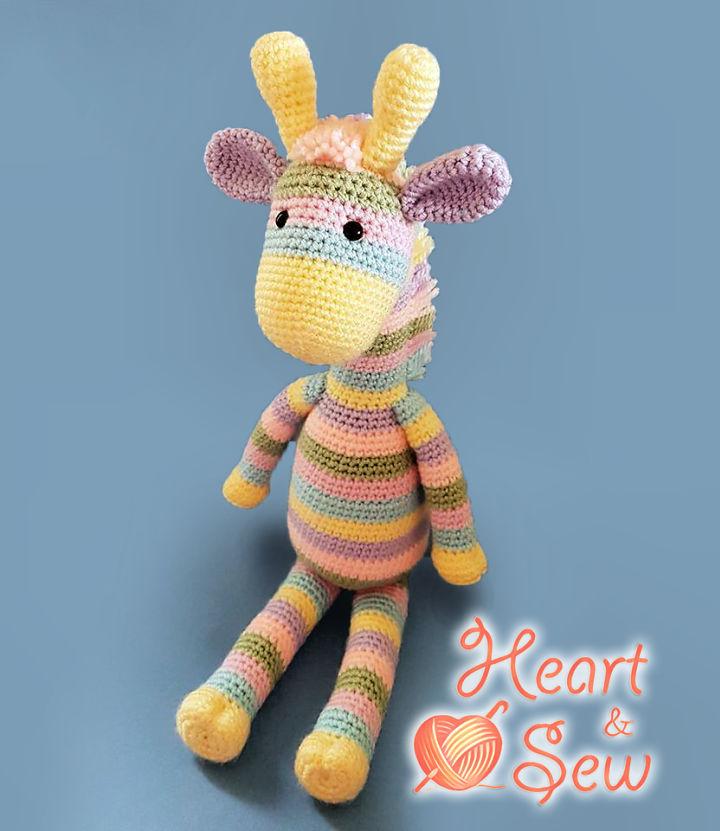 No jungle is complete without a cuddly giraffe! This 16-inch tall, colorful critter is made from Paintbox Simply Aran yarn, giving it an irresistibly soft feel. With its rainbow mane and natural hooves, this one-of-a-kind stuffed animal will be the perfect addition to any nursery or child's room. Plus, even beginners can master the moderate difficulty of this project if you take your time and follow this tutorial! Get 1 ball of peach (Ballet Pink) yarn and 10mm black safety eyes – for crocheting this sweet giraffe plushie! heartandsew
8. Free Crochet Gerry Giraffe Animal Pattern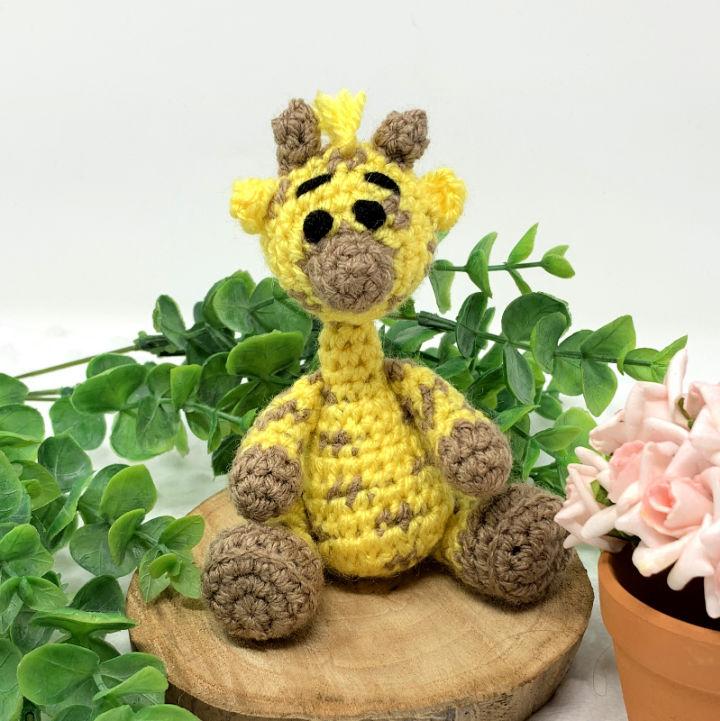 Show your love and add fun to your home with this free Gerry giraffe amigurumi crochet pattern! Easy to follow, even for those who have just learned crochet basics, the pocket-sized best friend can be created in a few hours. The finished size is approximately 5-6 inches high, and you will need Stylecraft Special DK in Lemon & Stone, Patons Smoothie DK in black, polyester stuffing and a 2.5mm crochet hook. Unleash your creativity today with this original pattern! mycrochetwish
9. Unique Crochet Mini Giraffe Amigurumi Pattern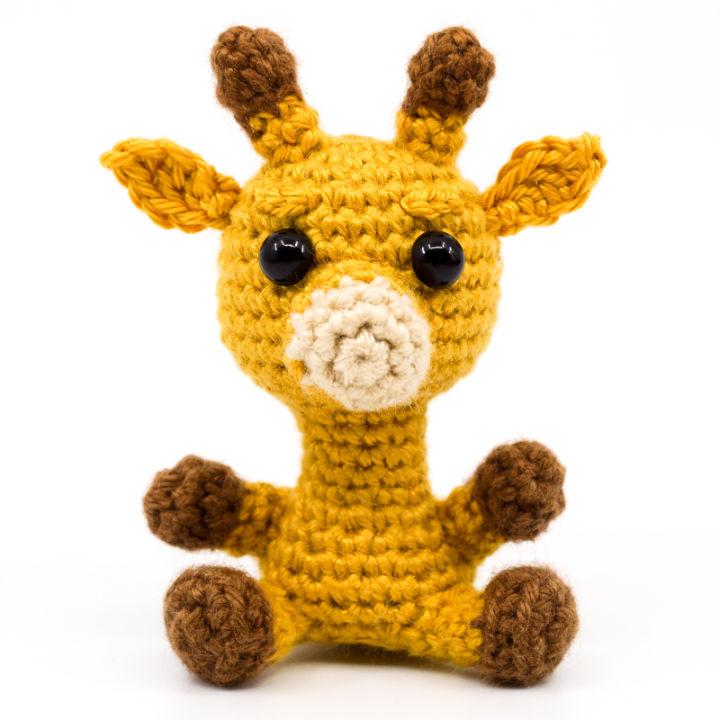 Crochet a pocket-sized best friend in a few hours with this unique mini giraffe amigurumi pattern! Perfect for those who have already mastered the basics of crochet and are looking for a new project, this easy-to-follow pattern will surely bring some fun and cuteness into your home. Made with sport weight 12 wpi yarn, 2.5 mm crochet hook, tapestry needle, polyfill stuffing, scissors and 6mm safety eyes, the finished giraffe will stand at 6.5 cm tall. So why try something new today? Follow the pattern and enjoy the companionship and love you create with your new mini giraffe amigurumi! ravelry
10. Quick and Easy Crochet Little Giraffe Pattern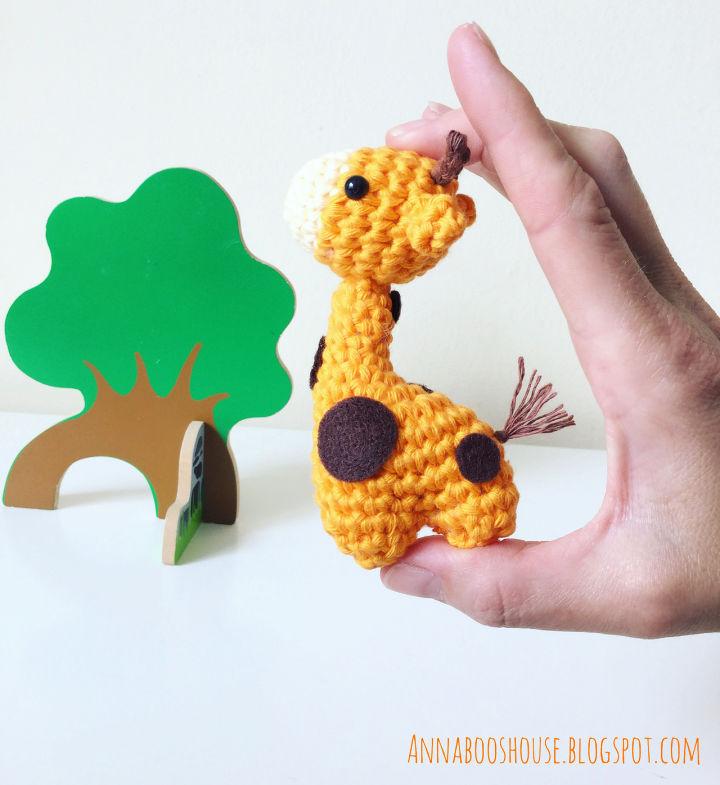 Get ready with your crochet hook, and add some cuteness to your home with this little giraffe amigurumi pattern! Perfect for last-minute gifts or just a sweet pal, the finished size is 12cm. Use any weight yarn and hook of your choice. You will also need toy stuffing, 2 x 6mm eyes, a tapestry needle and a stitch marker. Follow the easy instructions & enjoy companionship & love from your handmade creation! annabooshouse
11. Beautiful Crochet Love My Giraffe Toy Pattern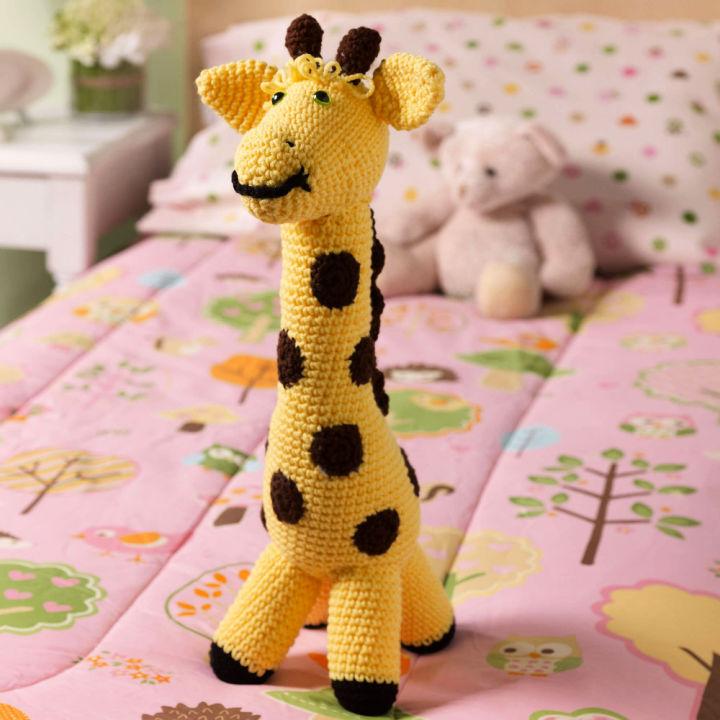 Introduce your little one to the wonders of imaginative play with this 21-inch tall crochet giraffe toy. Crafted using red heart with Love yarn, this polka-dot cutie will provide cuddles and love for any baby's nursery. Perfect for beginners, create your stuffed animal companion with a 5.5mm crochet hook, fiberfill stuffing, safety eyes, stitch markers and yarn needle! Do this fun DIY project today and get ready to enjoy some special moments filled with joy. yarnspirations
12. Crochet Gifa the Giraffe – Free PDF Pattern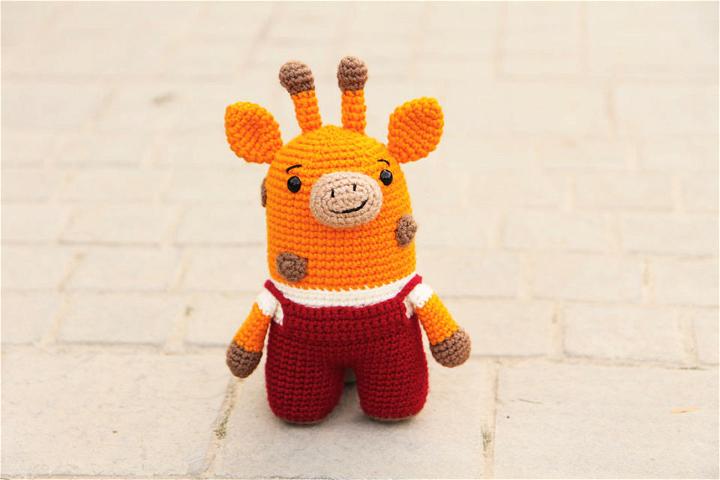 Experience the joy of crochet with this adorable giraffe amigurumi crochet-free pattern! This step-by-step tutorial teaches how to crochet a giraffe wearing overalls for an extra dose of cuteness. When complete, the amigurumi will be 8 inches high, excluding its ossicones – making it irresistible!
All you need is less than 50g DK yarn in yellow & two other colors; a 2.75mm hook; tapestry needle; stitch marker; polyfill stuffing; two 10mm safety eyes, and embroidery thread/floss. Bring some fun into your life & create a unique design by crocheting this adorable giraffe today! chaicoffeecrochet
13. Best Flip Flop Stuffed Giraffe Crochet Pattern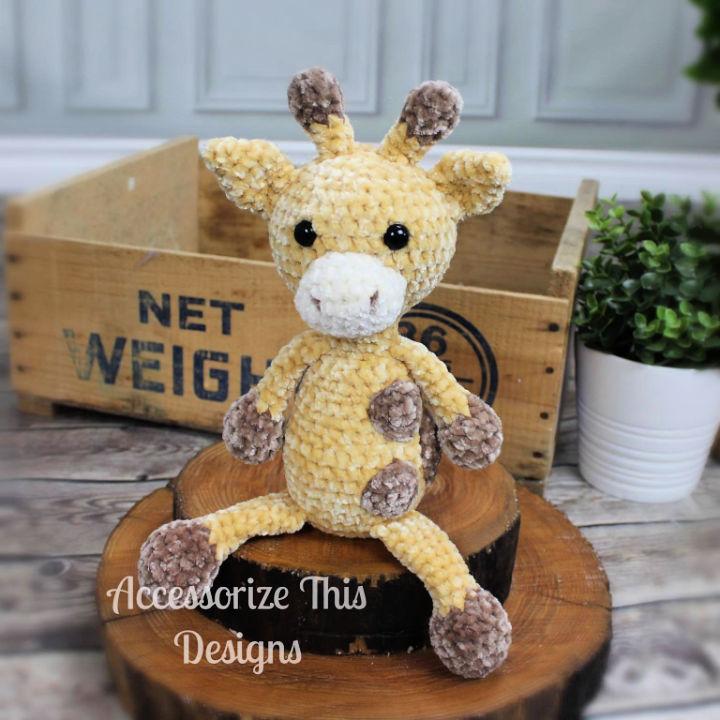 Sway your stitches and let the vibrant colors of yarn bring out your inner artist with this flip-flop giraffe crochet pattern. Perfect for both beginner and experienced crocheters, this chenille-style pattern can be made using Bernat Velvet and Crushed Velvet bulky weight yarns. The included video tutorial makes it easy to create a soft and squishy giraffe everyone will love! Get your hook, yarn and safety eyes now – start crocheting the perfect flip flop Giraffe today! accessorize
14. How to Crochet Gill the Giraffe – Free Pattern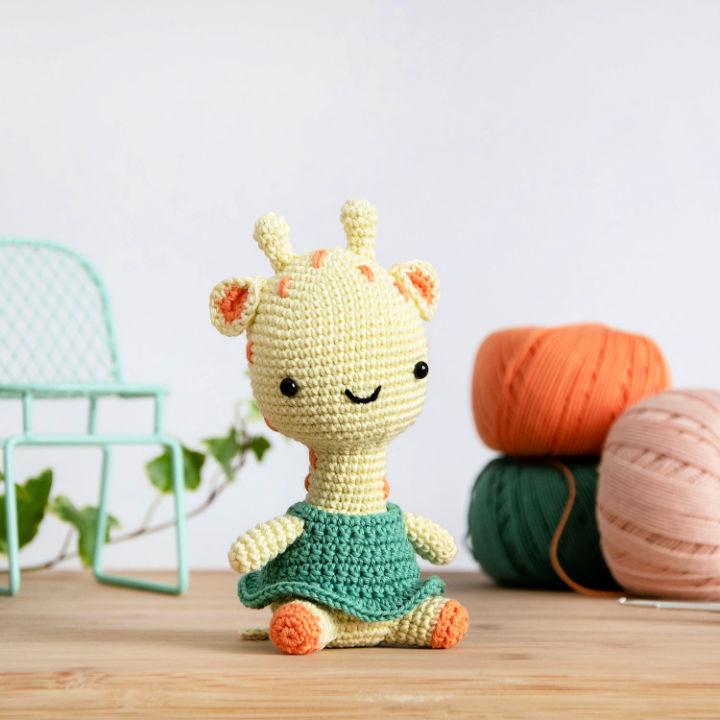 Gill, the giraffe, is an adorable and easy-to-make amigurumi crochet pattern. This plush toy comes with all the materials you need, including 6 mm safety eyes, black embroidery thread, two small buttons (approx 1 cm diameter), a tapestry needle, pins, stitch markers and fiberfill for stuffing. Follow this step-by-step guide to create a darling giraffe that will bring joy and smiles to children and adults alike! With gill the giraffe by your side, have fun crafting memories together! anchorcrafts
15. Free Crochet Plush Giraffe Amigurumi Pattern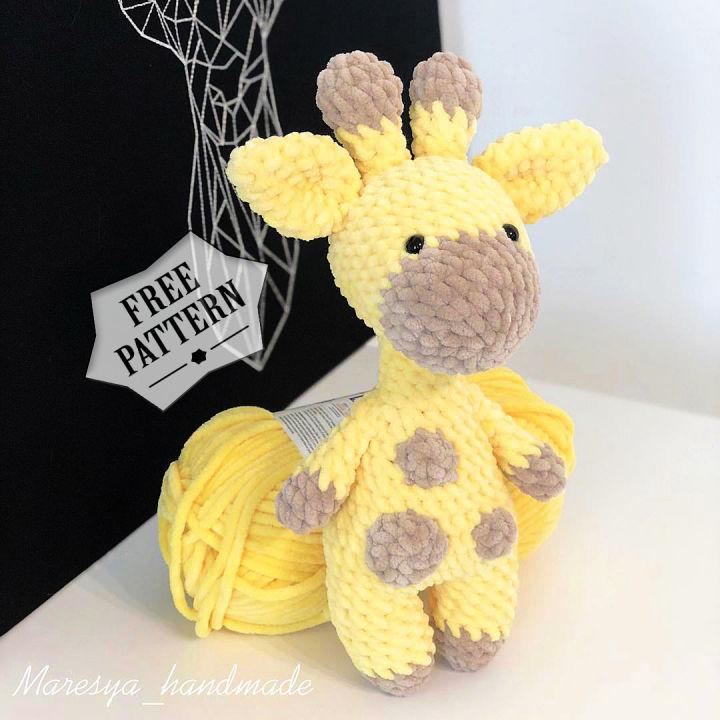 Crochet your unique and adorable amigurumi plush giraffe with this free pattern! This DIY project is perfect for crochet enthusiasts of all skill levels. Bring a little bit of the African savanna into your home with this cuddly, handmade plush giraffe toy! Completely customizable in size and color, you can make your giraffe match any room's decor. Spend an afternoon crocheting something special that will bring joy to children and adults alike – download the free pattern now! alwaysfreeamigurumi
16. How Do You Crochet a Small Giraffe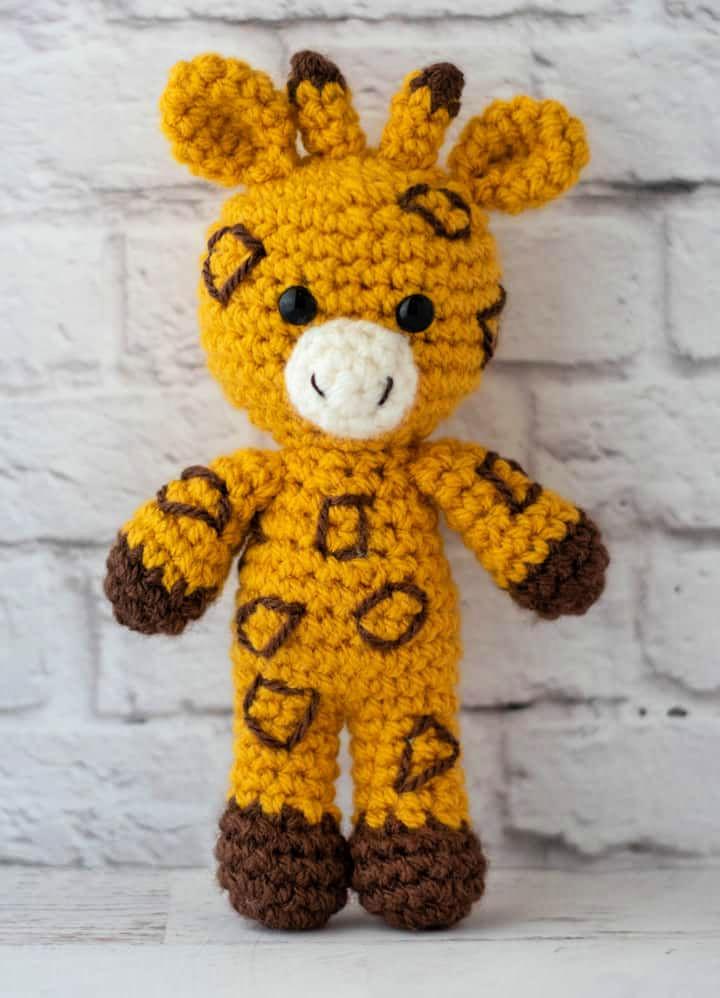 Introduce Gigi, the crochet giraffe, to your amigurumi collection! This 6.5-inch cutie is perfect for little ones to hold and adds sweetness to any office décor. With simple crochet stitches like single crochet and slip stitch, plus gold or yellow yarn from your scrap stash, 9mm black safety eyes (or embroidered eyes) & straight stitch spots – Gigi comes alive! Get the Gigi the crochet giraffe pattern today! Quality craftsmanship that's soothingly easy & cute – what more could you ask for? crochet365knittoo
17. New Crochet Large Giraffe Amigurumi Pattern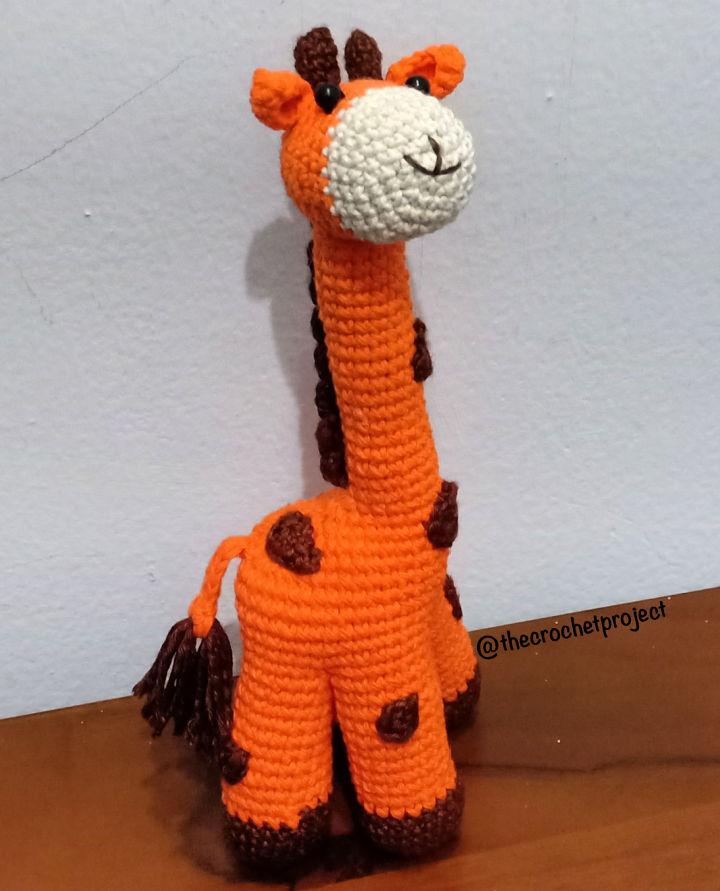 This cute giraffe amigurumi is perfect for brightening up your day! Crafted with soft cotton yarn in orange, and dark brown, skin tones, this adorable toy makes a great gift. Whether you're an experienced crocheter or just starting, you need a 2.5mm/3mm crochet hook (depending on the type of yarn used), beads/small safety eyes, fiberfill and a yarn needle to complete your own unique creation. Get ready to cuddle up with your very own giraffe, amigurumi! mylittlecrochetproject
18. Free Crochet Giraffe Amigurumi Pattern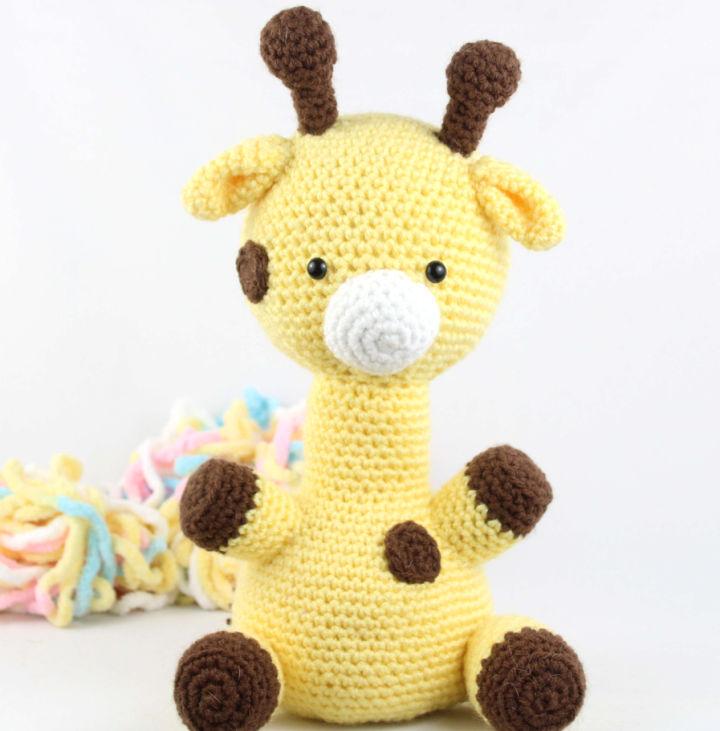 Create your safari at home with this free crochet pattern for a giraffe amigurumi. This adorable and unique toy is perfect for imaginative play or as decoration in any nursery.
You can easily make this cute creation with a 4mm crochet hook, 4/medium weight yarn in yellow, brown and white, and 8mm safety eyes and other supplies. Even if you have little experience in crocheting, the easy-to-follow pattern guides you through making the head to the body as one piece, then adding ears, horns, muzzle, arms, legs, tail and spots!
Get your materials, including soft cotton yarns in orange, dark brown & skin tone, together with 2.5mm/3mm crochet hooks(depending on your yarn), beads/small safety eyes, fiberfill & yarn needle now to craft it up! stringydingding
19. How to Make Giraffe Hat – Free Crochet Pattern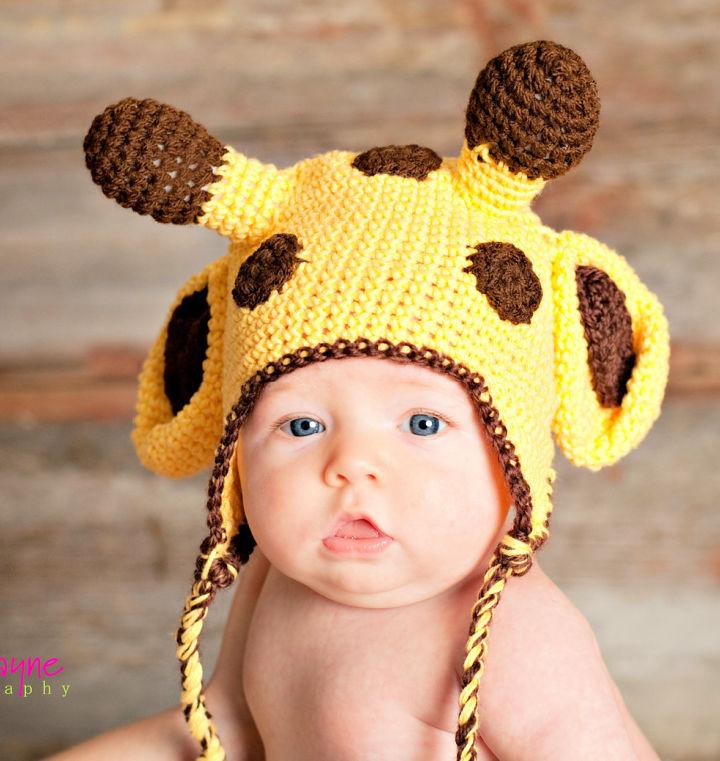 Welcome to the world of DIY crochet with this free and adorable giraffe crochet hat pattern. It's perfect for a baby shower gift for your little one and can be made using basic stitches like single crochet! With 8ply panda cotton blend yarn in yellow and dark brown for contrast, as well as a 3.5mm hook and polyester fiber fill, you can create a cute 0-3-month-old hat that fits up to 12-14 inches.
Plus additional materials including soft cotton yarn in orange, dark brown & skin tone; 2.5/3mm hook; beads/small safety eyes; fiberfill & yarn needle – get creative today with this amazing giraffe hat project for an unforgettable handmade gift! jennyandteddy
20. Crocheted a Giraffe – Free Printable Pattern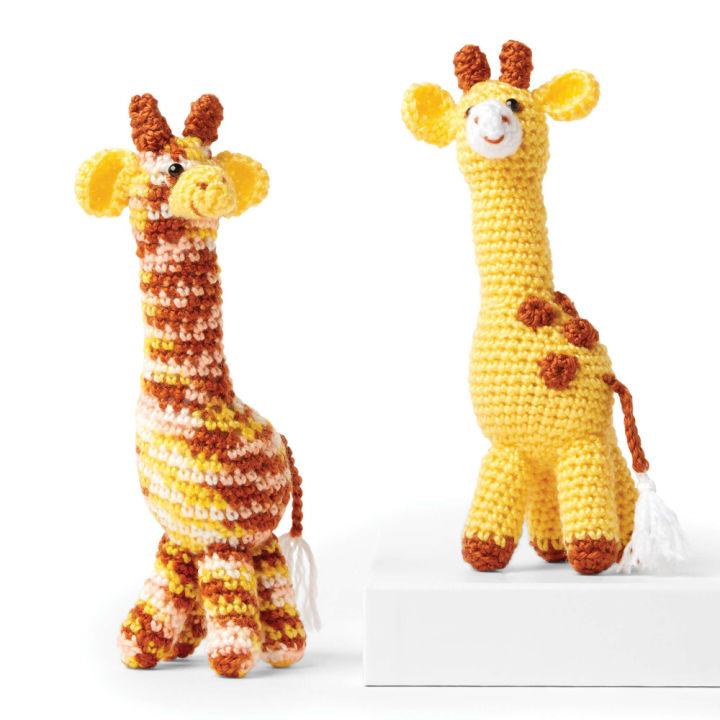 Crochet two happy giraffes with intermediate crochet skills with this free crochet amigurumi pattern! Measurement is approx 9″ or 23 cm from the top of the ear to the bottom of the foot. Get started with the red heart amigurumi prints, size b/1 (2.25 mm) crochet hook and 4 black safety eyes ¼" [6 mm]. Don't forget fiberfill stuffing and yarn needle for the finishing touches – your creativity will make these cuddly friends come alive! Perfect for any occasion and fun for everyone! yarnspirations
21. Cool Crochet Giraffe Baby Blanket Pattern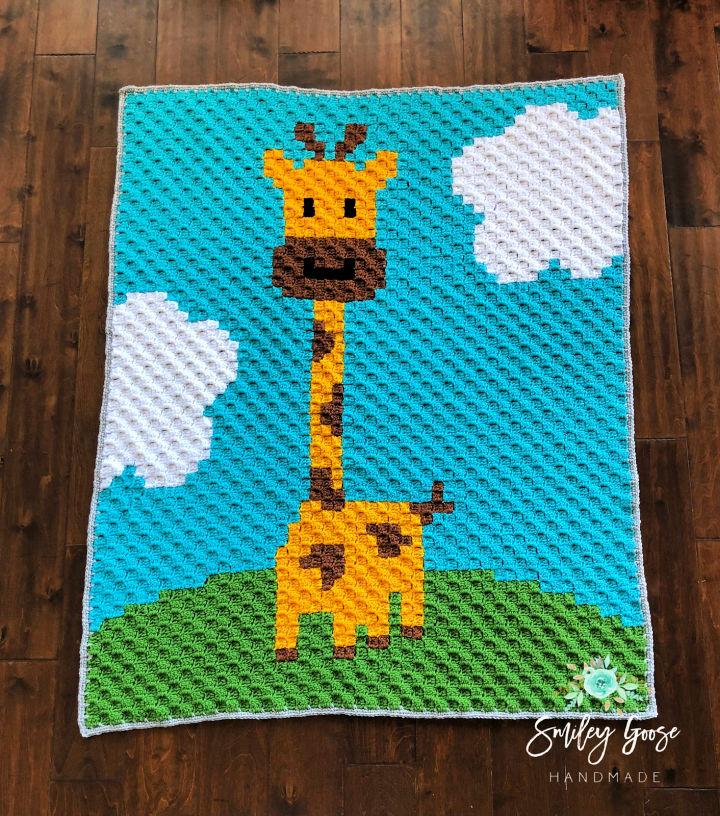 Stay up to date with the latest crochet trend with this giraffe baby blanket crochet pattern! This C2C pattern will work quickly; you only need medium worsted-weight yarn, a US size I/9 (5.5 mm) hook, and a tapestry needle. The finished blanket measures 39 inches wide by 48.5 inches long for your little one to burrow in cozily – get this unique pattern now! smileygoose
22. Modern Crochet Gerri the Giraffe – Free Pattern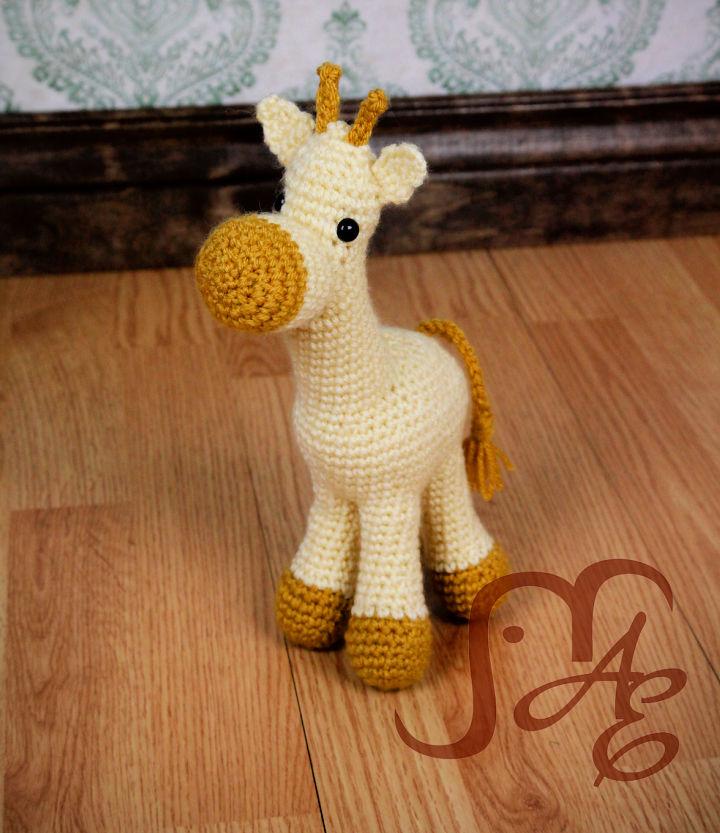 Gerri, the Giraffe Amigurumi, is a fun and creative crochet project for kids or adults! Perfect for those new to crocheting, you'll need worsted weight (4) yarn in 2 colors, G/6 4.25mm hook, tapestry needle, 10mm safety eyes and polyfill stuffing. With this giraffe plushie by your side, you can create an adorable stuffed animal that will last a lifetime! Whether as a gift or just something special for yourself, this amigurumi pattern has everything you'll need to bring Gerri the Giraffe to life! auburnelephant
23. Easy Crochet Giraffe Pattern for Beginners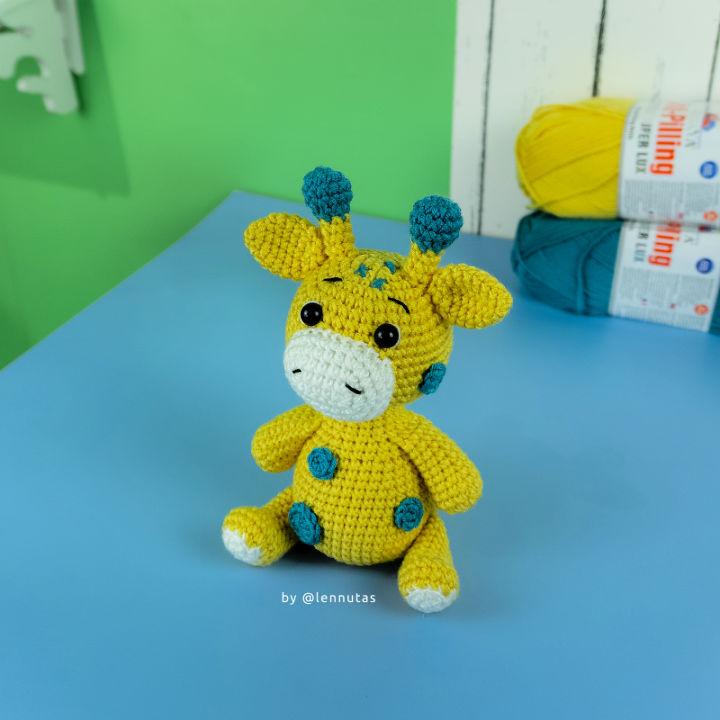 Comprehend how to crochet an adorable giraffe with this easy-to-follow free pattern! It's a great project for beginners who want to practice their skills and techniques. All you need is some medium-weight yarns, a hook size 3.5 mm, scissors, pins and needles or a crochet tool kit for beginners, one pair of safety eyes size 10mm or black thread for sewing the eyes and nose and stuffing such as polyfill or cotton wool. Get started on your new crochet project today! lennutas
24. Crochet Giraffe Lovey Puppet Idea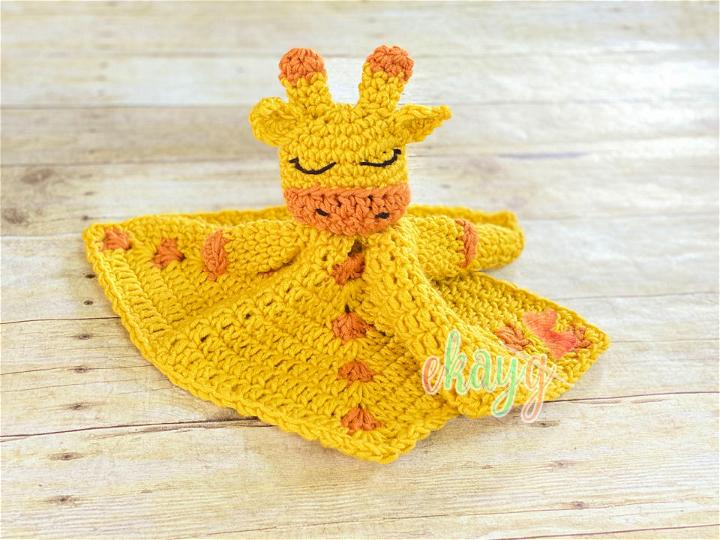 Create the perfect unique baby gift with this giraffe lovey puppet pattern! Working up perfectly in just two colors, with spots already mapped out for convenience, it only takes one piece to make the puppet and additional pieces to sew on the arms, ears, and snout. At 11 inches tall (corner to corner 18 inches), it's sure to bring comfort and playtime fun. Let your little ones grab and grow as they enjoy their new love! Get started crafting a special baby gift – grab your giraffe lovey puppet pattern today! ekayg
25. Beautiful Crochet Giraffe Amigurumi Pattern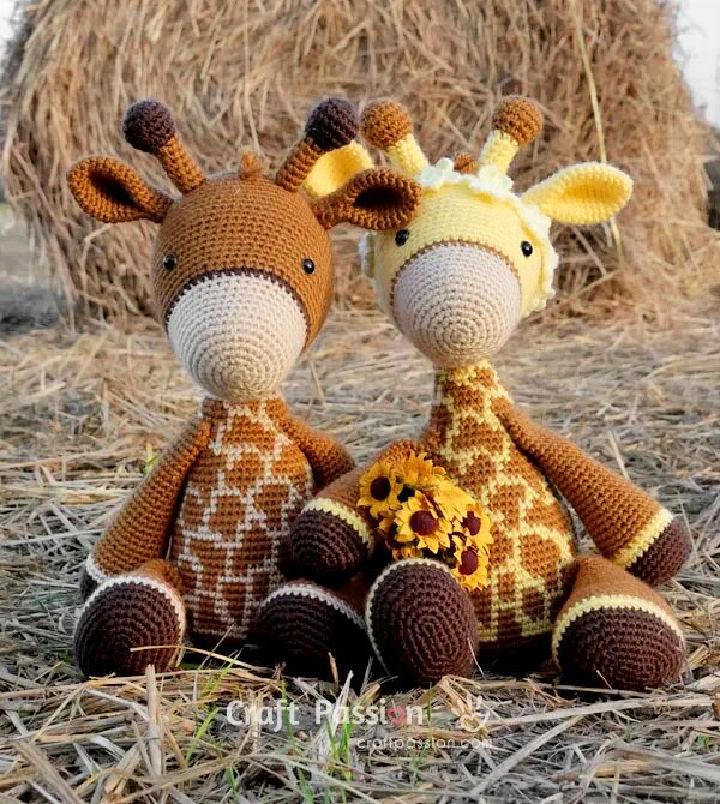 Whip up a huggable softie with this cutest giraffe amigurumi crochet pattern! It stands 17″ tall in its standing pose and 14″ when sitting down. The pattern is made from DK lightweight acrylic yarn using 2.5mm hooks, perfect for cuddling! This adorable amigurumi makes an ideal gift for those who love stuffed animals. Make the most of your creative time by crafting this beautiful giraffe – get the crochet pattern now! craftpassion
Related Free Crochet Patterns:
Find creative and unique free crochet amigurumi patterns. Whether you're a beginner or an experienced crocheter, our selection of designs has something for all skill levels.
Conclusion: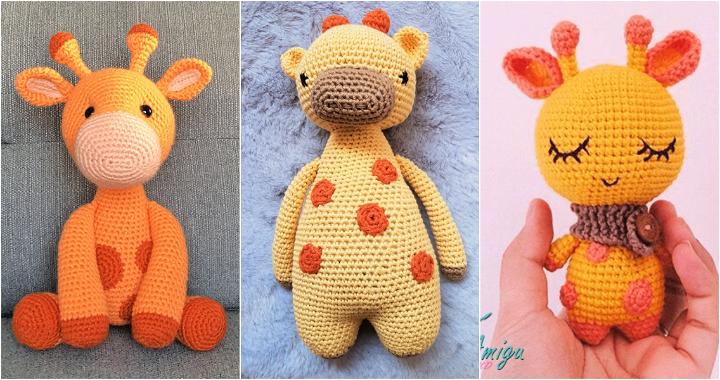 In conclusion, these 25 free crocheted giraffe patterns are a great way to start. Creating a crocheted giraffe pattern can be an enjoyable and rewarding project to bring out your inner crafter. Each crochet giraffe amigurumi pattern comes with detailed step by step instructions, easy-to-follow PDFs and even detailed instructions for beginners. These crocheted giraffe amigurumi will make the perfect addition to any home decor or craft project. These giraffe amigurumi are fun to make and are also super cute! So why not take your pick from some of the amazing free crochet giraffe patterns available today and create your unique amigurumi masterpiece?