Chevron patterns are a classic and trendy way to add texture and style to your crocheting projects. With these 30 free chevron crochet patterns, you can create beautiful and unique chevron blankets, Afghans, baby blankets, pillows, dresses, home decor and more. Our free chevron crochet pattern collection is designed for beginners and includes step-by-step instructions and helpful tips. Whether you're looking to create a double crochet chevron pattern, a single crochet ripple afghan pattern, or a zigzag crochet blanket, we have the perfect chevron crochet pattern for you.
Each crochet chevron pattern has clear instructions on how to create the chevron stitch and change colors. You can even customize your chevron blanket by choosing your favorite colors and textures of yarn.
Whether you're a seasoned crocheter or just starting out, our collection of free crochet chevron patterns has something for everyone. So why not try making a chevron crochet blanket or baby blanket today or the desired pattern from the list below? With our helpful guides and easy-to-follow instructions, you can create a beautiful and functional piece you'll treasure for years.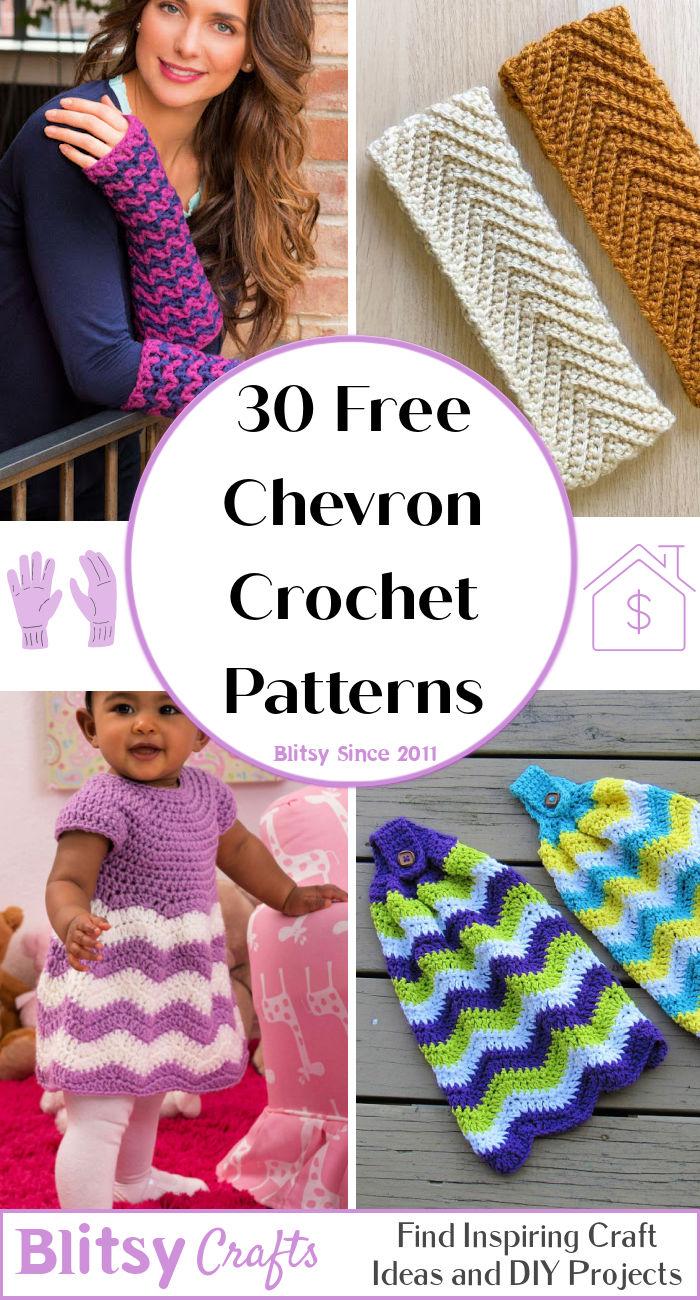 What can you make with Chevron Crochet Pattern?
A chevron crochet pattern is a great way to add some color and movement to your projects. You can make various items with this versatile pattern, from blankets and pillows to dresses and wraps. Here are some ideas on what you can make with a chevron crochet pattern:
Crochet Chevron Blanket: A blanket is one of the most popular items to make with a chevron pattern. You can use any weight of yarn and any stitch height to create a cozy and warm blanket for yourself or as a gift. You can also change colors every row or every few rows for a striped effect. A chevron blanket is easily customized with different sizes, colors, and edgings.
Crochet Chevron Pillow: A pillow is another simple and fun item to make with a chevron pattern. You can use any yarn and hook size that matches your pillow form or stuffing. You can also choose how many stitches per repeat you want for your chevron design. A pillow is a great way to add some texture and interest to your sofa or bed.
Crochet Chevron Dress: A dress is an adorable item to make with a chevron pattern for babies and toddlers. You can use any soft yarn that is suitable for garments, such as cotton or acrylic. You can also choose how many colors you want for your dress, whether you want it solid or striped. A dress is a cute and playful way to show off your crochet skills.
Crochet Chevron Wrap: A wrap is an elegant item to make with a chevron pattern for yourself or as a gift. You can use any lightweight yarn that drapes well, such as lace or fingering weight. You can also choose how wide and long you want your wrap, depending on how much yarn you have and how you want to wear it. A wrap is a stylish and versatile accessory that can be worn differently.
A chevron crochet pattern is a fun and easy way to create beautiful items with ripples or waves. With this pattern, you can experiment with different yarns, hooks, stitches, colors, and sizes to do your own unique projects.
Free Chevron Crochet Pattern (Our Guide)
A chevron crochet pattern is a beautiful way to create a zigzag design with ripples or waves. It can be used to make blankets, scarves, pillows, and more. Here are some steps on how to crochet a chevron pattern:
Choose your yarn and hook size according to your project and preference. You can use any weight of yarn and any stitch height, but make sure you have enough yarn for your desired size.
Start with a foundation chain that is a multiple of your chosen number of stitches per repeat plus two extra chains. For example, if you want to have 14 stitches per repeat, you would chain 14 times the number of repeats plus two.
Work your first row of stitches into the chain, following this formula: skip two chains (counts as first stitch), work one stitch into each of the next halves of the repeat (for example, seven stitches if you have 14 per repeat), work three stitches into the next chain (this creates the peak), work one stitch into each of the next half of the repeat, skip two chains (this creates the valley), and repeat across until you reach the end of the row. Turn your work and chain two (counts as the first stitch).
Work your second row of stitches into the stitches from the previous row, following this formula: skip one stitch (because you already have the chain two), work one stitch into each of the next half of the repeat until you reach the peak stitch (the middle one of three), work three stitches into that peak stitch, work one stitch into each of the next half of the repeat until you reach the valley (the space between two skipped stitches), skip that space, and repeat across until you reach the end of the row. Turn your work and chain two.
Repeat step four until you reach your desired length for your project. Finish off by cutting your yarn and pulling it through the last loop on your hook. Weave in any ends with a tapestry needle.
A chevron crochet pattern is a fun and easy way to add some color and texture to your projects. You can change colors every row or every few rows for a striped effect. You can also vary the number of stitches per repeat, the height of the stitches, and the spacing between peaks and valleys for different looks. Enjoy experimenting with this versatile pattern!
Materials and Stitches for Chevron Crochet Pattern
You will need some basic materials and stitches to crochet a chevron pattern. Here are some tips on what you will need and how to do them:
Materials: You can use any yarn and hook size that suits your project and preference. You can also use any number of colors for your chevron design, whether you want it solid or striped. You will need a tapestry needle to weave in any ends and scissors to cut your yarn. You may also need a stitch marker to mark the beginning of each row if you are working in rounds.
Stitches: You can use any stitch height for your chevron pattern, such as single crochet (sc), half double crochet (hdc), or double crochet (dc). However, the most common stitches used are sc, hdc, and dc. You will also need to know how to increase and decrease stitches to create the peaks and valleys of the chevron pattern. To increase stitches, you will work more than one stitch into the same stitch or space. To decrease stitches, you will work two or more stitches together into one stitch. For example, if you are using sc stitches, you will work three sc into one stitch for an increase and sc two together for a decrease.
A chevron crochet pattern is a simple and fun way to create a zigzag design with ripples or waves. You can use any materials and stitches that you like to make your own chevron projects.
1. Free Crochet Wavy Chevron Long Wristers Pattern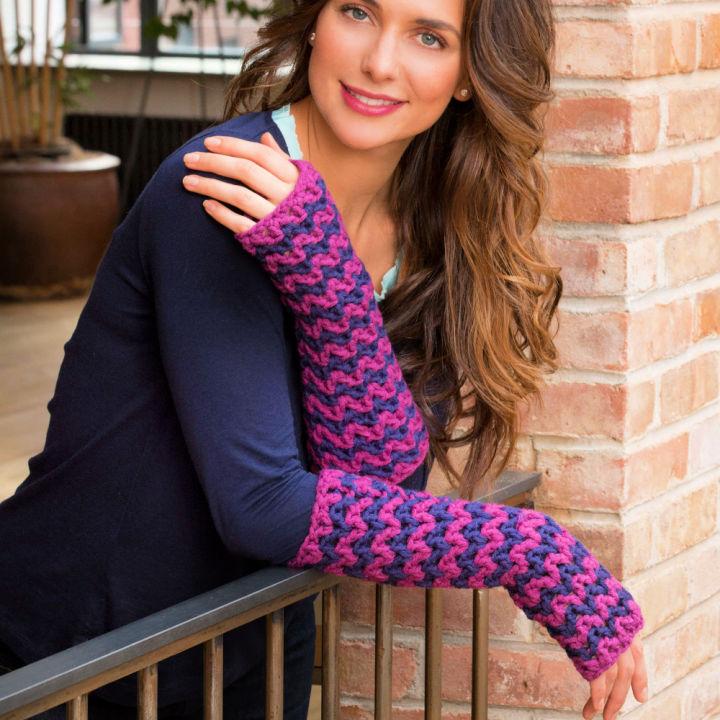 Are you looking for a fast, easy crochet project that combines style and warmth? Look no further than these trendy wavy long wristers! Crafted with two shades of bulky red heart heads-up yarn (magenta and navy b), these wristers are ideal for chilly days or as a thoughtful gift to your closest friends.
With the help of a 5.5mm "US I-9" crochet hook, even beginners can easily make these stylish accessories. Measuring 12 inches (30.5 cm) in length and 8 inches (20.5 cm) around in circumference, these wristers will keep you warm while adding fashionable flair to any outfit! Accessorize your wrists with some love they deserve by creating these fabulous wavy long wristers! yarnspirations
2. Quick and Easy Crochet Chevron Kitchen Towel Pattern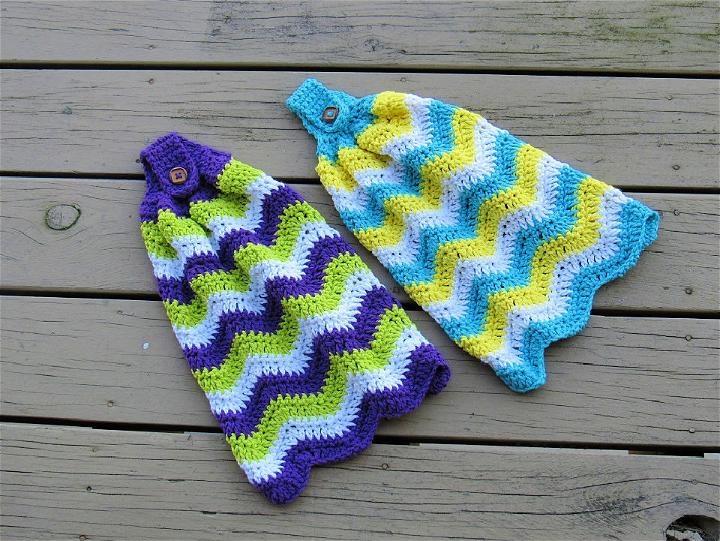 Welcome summer cheer into your home with the free chevron kitchen towel crochet pattern! This pattern is great for beginner-level crochet enthusiasts. It features a combination of alternate double and single crochet rows yielding a quicker stitch than a standard single crochet chevron.
The kitchen towel is made with 100% cotton yarn in three vibrant colors and measures 15 inches wide at the base and 17 inches tall when buttoned up. Get ready to make a splash this summer – all you need is a hook size I (5.5mm) & worsted weight cotton yarn! crochetdreamz
3. Crocheted Herringbone Chevron Cowl Pattern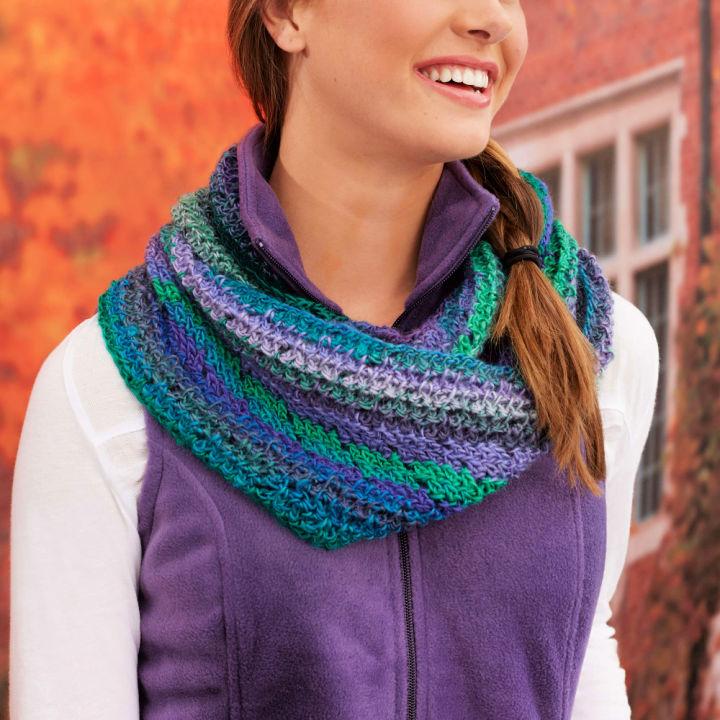 Make a bold statement with this crochet chevron cowl! This intermediate crochet project showcases the stunning multi-color hues of red heart unforgettable dragonfly yarn. Featuring the unique herringbone stitch and chain spaces, this cowl creates an elegant zigzag lace pattern that adds flair to any outfit.
With a crochet hook size of 6mm (US J-10), it measures 8 inches long by 60 inches in circumference (20.5 x 152.5 cm) for versatile wearing options. Whether you make one for yourself or as a thoughtful gift, this eye-catching cowl will turn heads and bring out your style! yarnspirations
4. Unique Free Crochet Double Brim Chevron Beanie Pattern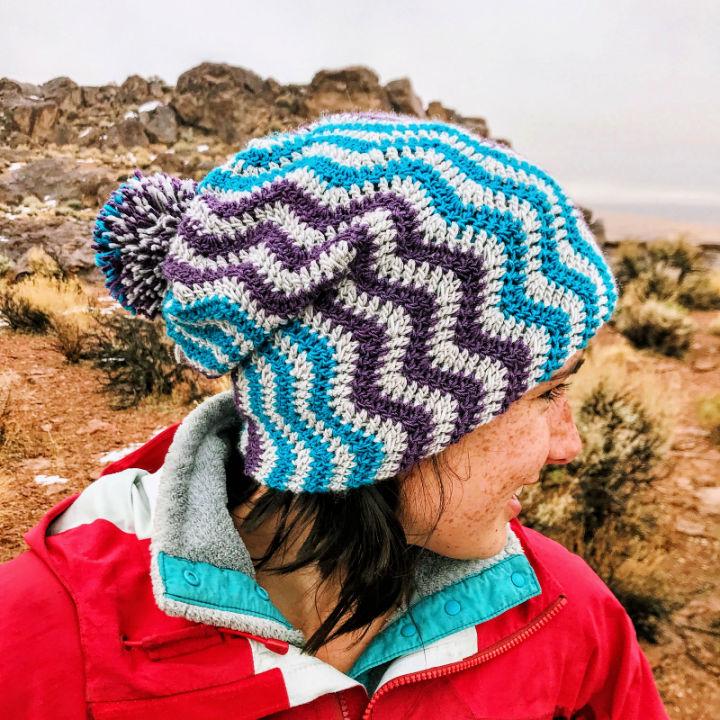 Stay cozy and stylish all winter long with this double brim chevron beanie crochet pattern! Designed with furls whims merino wool, this lightweight beanie features a lovely chevron pattern and double brim for extra warmth.
Perfect for beginners and advanced crocheters, it's quick & easy to make with just 1 skein of whims merino wool, each in light grey, purple & blue, plus a size G (4.0mm) crochet hook. Optional pompom on top helps you stay fashionable even when the temperatures drop. Get your winter wardrobe ready today with this one-of-a-kind beanie! hookyarncarabin
5. How to Crochet Chevron Cushion Cover – Free Pattern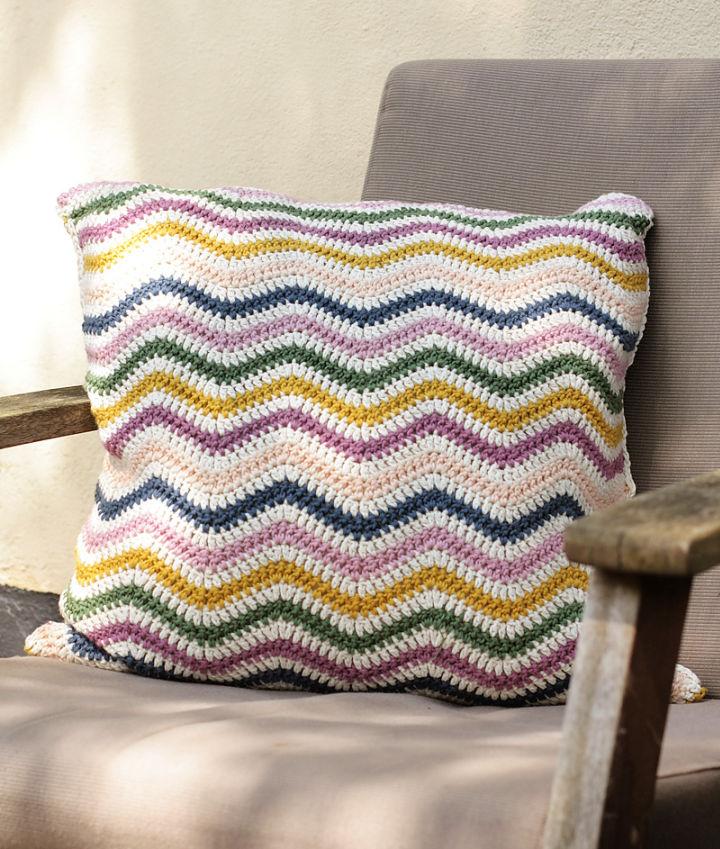 Add an eye-catching splash of color to your home décor with this handmade chevron cushion cover. Crafted using 100% cotton drops paris yarn and a 4.5mm hook, the ripple stitch design adds texture and interest while still being quick and easy to make. This beautiful cover features light pink, dark pink, peach, green, yellow, cream and dark blue stripes for a versatile look that will suit any room in your house! Get creative with this project today – you won't be disappointed by the stunning results! ravelry
6. Free Printable Crochet Chevron Chic Baby Dress Pattern

Crochet an eye-catching and modern look for your sweet little one with this chevron chic baby dress! Featuring a unique chevron design, this dress is perfect for any occasion. Crafted using red heart super saver yarn in orchid a, soft white b, and a 6mm crochet hook, this intermediate level pattern comes with instructions for sizes 3 months up to 24 months. The stylish chevrons circling the skirt make it truly special. Make your baby the best dressed around town by creating this fun and stylish project today! yarnspirations
7. Crochet Chevron Fold Over Clutch Pattern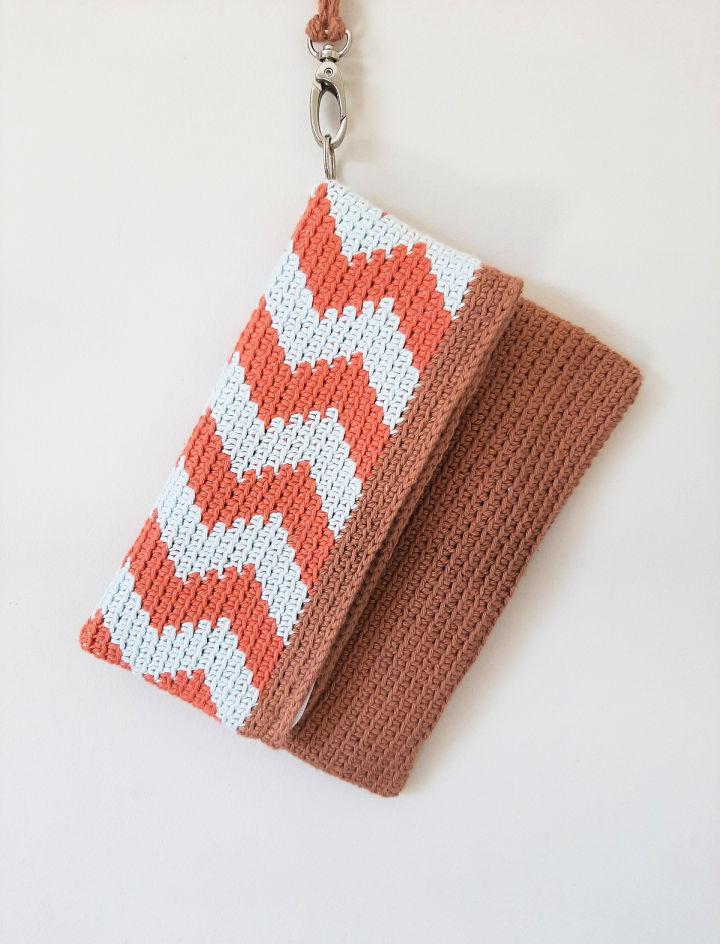 Are you looking for a stylish and practical accessory to carry your essentials? Look no further than this chevron tapestry crochet clutch! This free pattern is perfect for beginners to try out tapestry crochet with its simple colorwork repeat. Crafted with durable 100% cotton yarn and instructions for lining and adding a zipper (basic sewing skills required), the clutch measures approximately 8.5″ in width by 9.25″ unfolded in height – size can be easily adjusted according to preference. Make your unique version today and step out in style! nedandmimi
8. Chunky Chevron Crochet Basket Pattern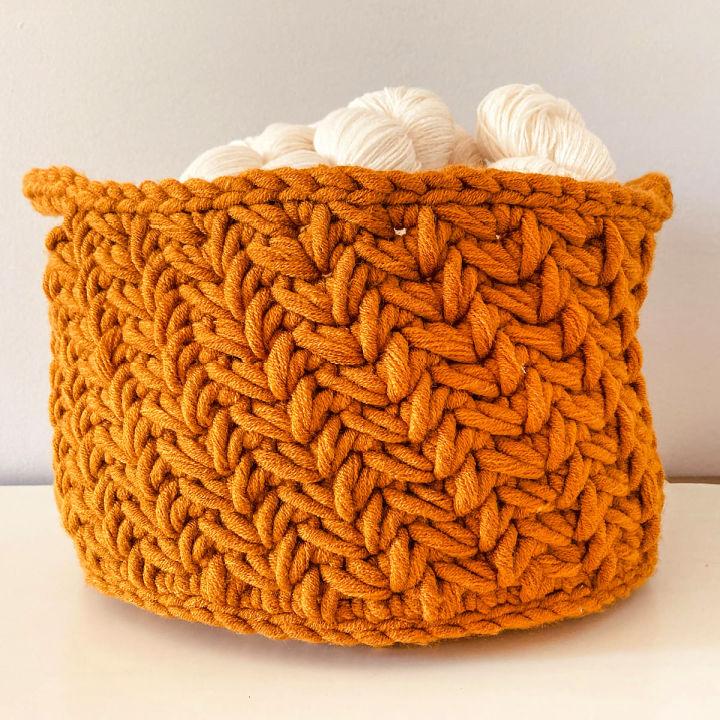 Are you looking for a quick and easy crochet project that's stylish as well as functional? Check out this amazing chunky chevron crochet basket! Featuring a unique diagonal stitch pattern, this basket is created using super bulky (#6) yarn to give it an impressive textured finish. The instructions include how to work the base and sides of the basket, with the sides worked into the back loop only for a simpler continuation.
This great pattern measures around 34″ in circumference and 7″ in height – making it ideal for keeping all sorts of household items safe. So grab your 7mm crochet hook and some #6/super bulky weight yarn now and get started on your own beautiful chunky chevron basket today! nedandmimi
9. New Crochet Crochet Soft Chevron Scarf Pattern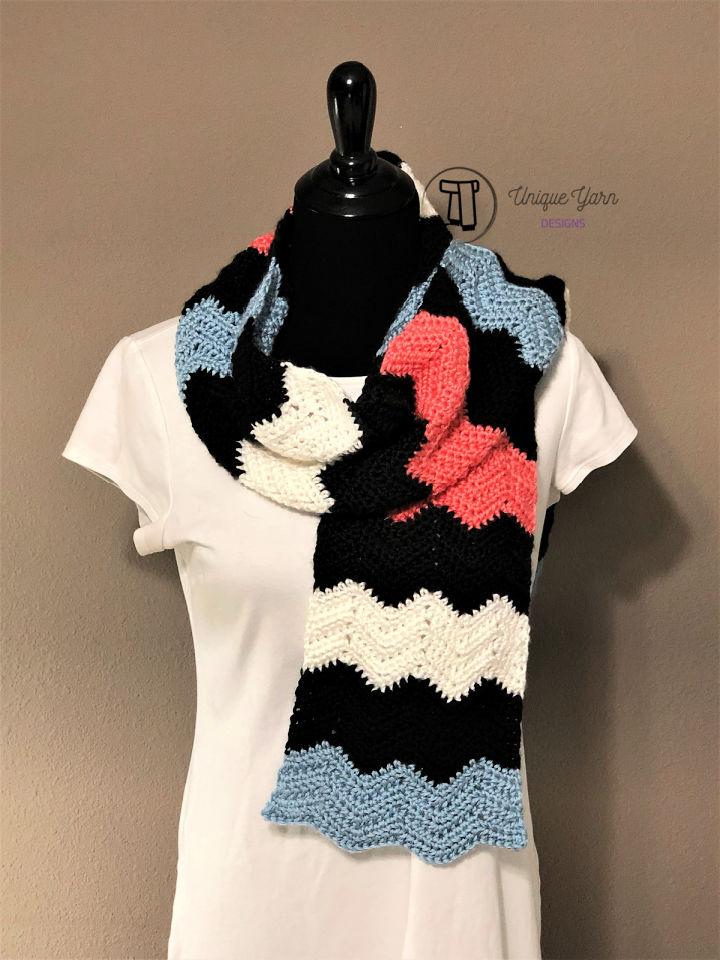 Create a beautiful chevron pattern with this easy-to-follow crochet for your soft ripple chevron scarf! With the use of half double crochets, you can save time and put more effort into other steps. All you need is a 5.0 mm crochet hook and caron simply soft yarn in black and white, strawberry, and lt country blue (2 oz).
This project requires only chains and half double crochets that will make sure to impress while using color-changing techniques to achieve the perfect look. Let's get started on creating an amazing accessory to complete your outfit! uniqueyarndesigns
10. Crochet Chevron Cuff Pullover PDF Pattern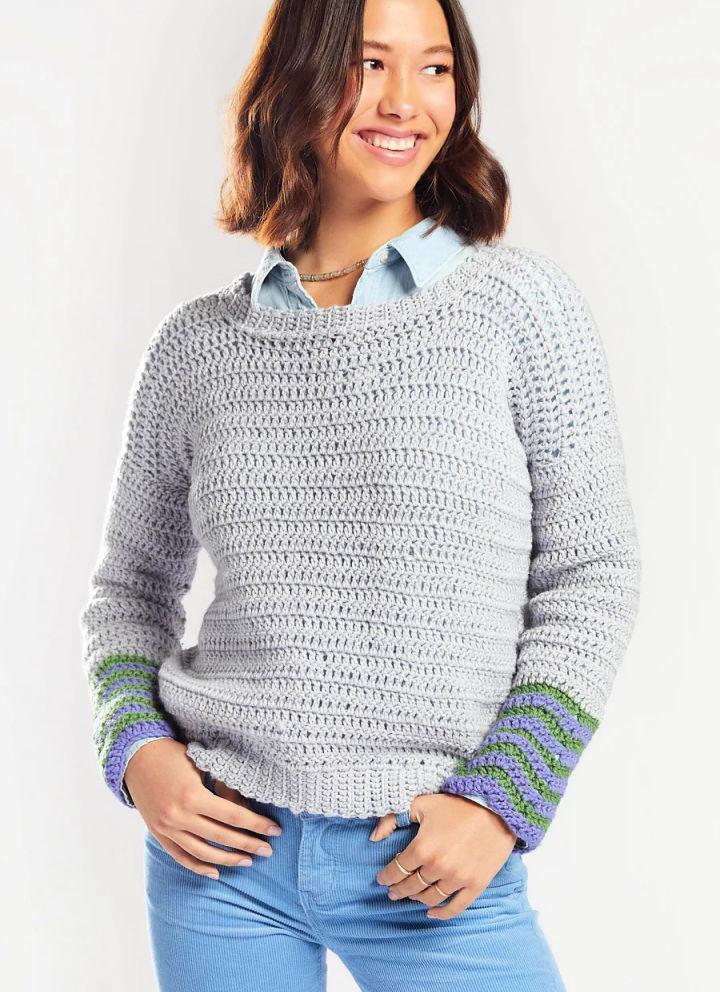 Get ready to crochet a stylish and cozy chevron cuff pullover with this pattern! Using the worsted 100% wool yarn in a gray area, you'll achieve grapeness, and the cactus is perfect. This fashionable pullover will make the perfect addition to your wardrobe.
To create it, all you need is a US size H-8 (5 mm) crochet hook and a US 7 (4.5 mm) crochet hook – no matter what size you are, there's an option for everyone from XS to 5X! The pattern notes that once made, this pullover can be worked from the bottom up in pieces and then seamed together. Take advantage of this beautiful chevron cuffs pullover as part of your fall and winter wardrobe! cdn shopify
11. Crochet Giant Chevron Blanket Design – Free Pattern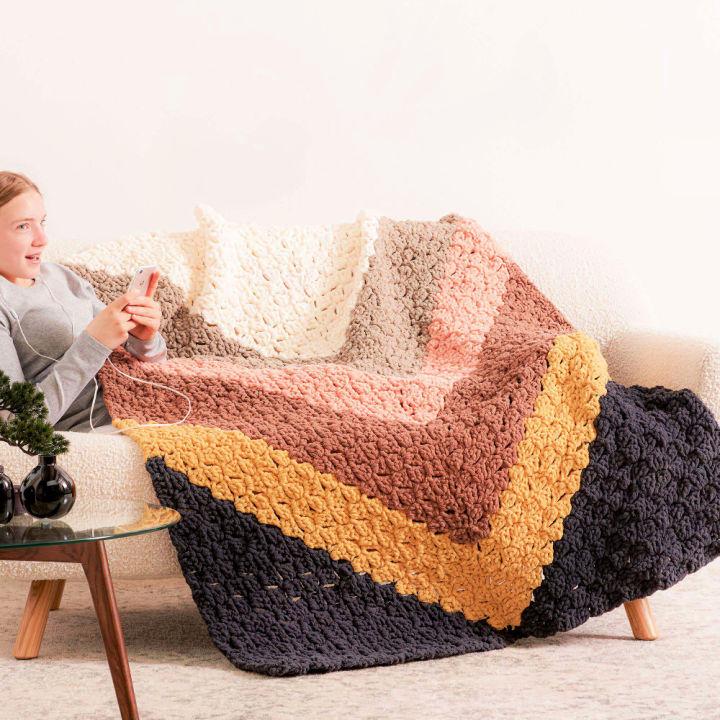 Make your home more stylish and cozy with this stunning chevron crochet blanket! Measuring 44 x 61″, it's the perfect size to curl up in on chilly nights. Made with soft and durable bernat blanket o'go yarn, the intricate chevron pattern adds a touch of elegance to any home decor. It's an intermediate level project, so take advantage of the opportunity to create a beautiful and functional crochet masterpiece that will surely draw everyone's attention. yarnspirations
12. Modern Crochet Chevron 70s Retro Blanket Pattern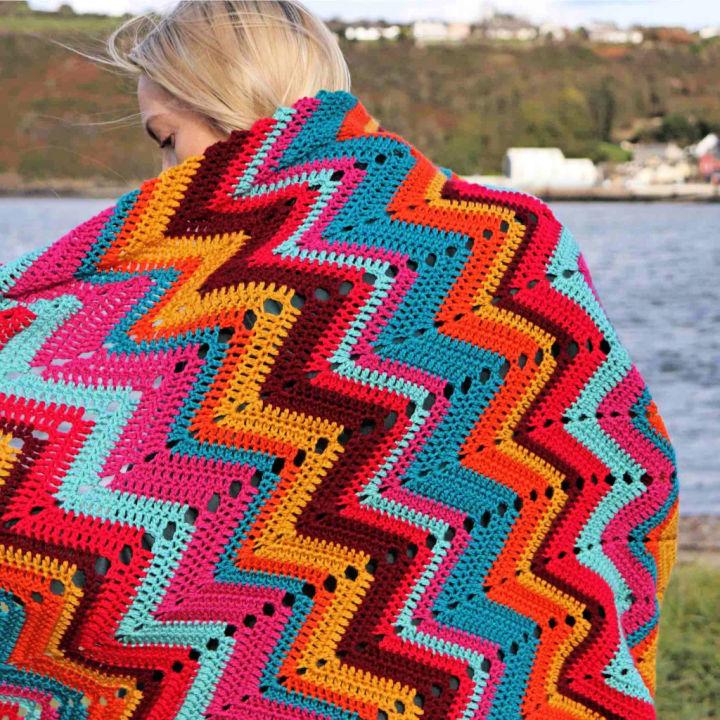 Channel your inner retro vibes with this crochet chevron retro blanket pattern! Perfect for creating a cozy atmosphere in your home, this vibrant and colorful blanket is sure to make a statement. Made with DK yarn and a US H/8 (5mm) crochet hook, you can easily customize it with any DK/light worsted or aran/worsted weight yarn. The blanket measures approximately 38in [96cm] wide and 48in [123cm] long (excluding tassels), making it ideal for snuggling up on the couch. Download the free pattern today & get started crocheting your 70s-inspired masterpiece! anniedesigncrochet
13. Simple Crochet Chevron Headband Pattern

Time to stay warm and stylish in any weather with this handmade gray skies crochet chevron headband! Make a statement with bold or neutral colors, perfect for beginners. With a US-size I/9 crochet hook & category 4 worsted weight yarn, you can create the perfect accessory that fits sizes 3″ wide by 20″. Sewing the ends together will make for easy wear and complete the look of your beautiful handcrafted headband. Perfect for anyone looking to add some style and coziness to their wardrobe! stitching together
14. Making a Granny Chevron Throw Blanket – Free Crochet Pattern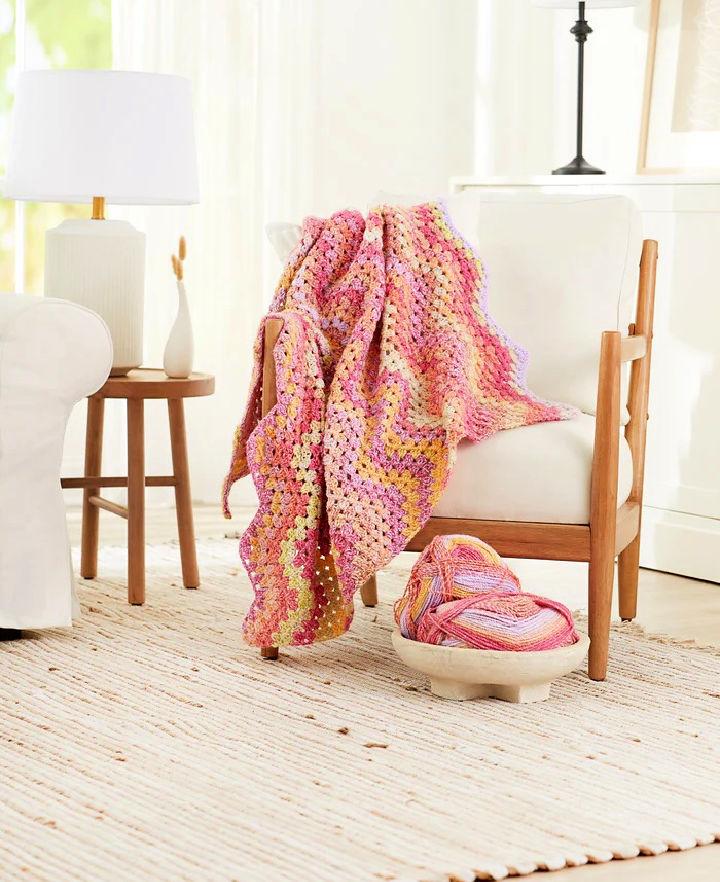 Snuggle up in comfort and style with this beautiful granny chevron throw! Crafted from a premier yarn puzzle using a US size J-10 (6mm) hook, this throw measures 44″ in length (from point to point) and 37.5″ in width. By utilizing basic crochet techniques such as chain stitches, double crochet, and working between the stitches, you can create an intricate chevron pattern that looks stunning. This cozy throw is perfect for adding a touch of warmth to any room – get ready to crochet your way to a functional masterpiece! premieryarns
15. Free Crochet Ripple Stitch Blanket Pattern to Print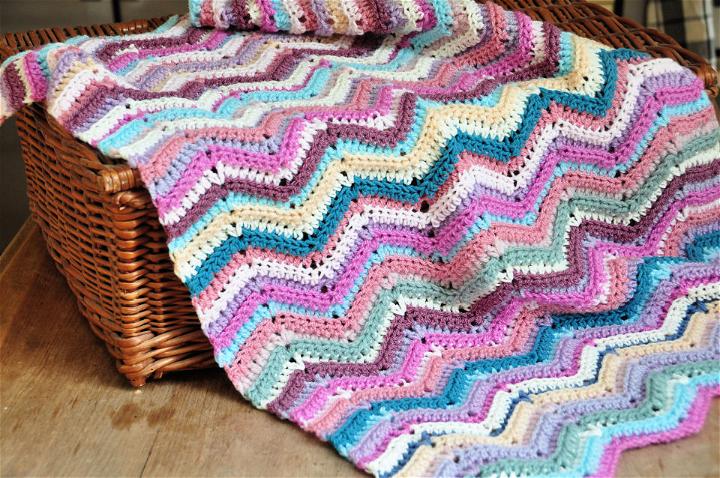 Are you looking for a classic crochet project to use up your yarn stash? This ripple stitch blanket is the perfect beginner pattern! Made with DK weight yarn and a 5.0 mm (H) hook, this blanket measures 52cm by 75cm – ideal for snuggling on the couch! Create a unique masterpiece with as many or as few of your favorite colored yarns. Perfect practice for tension and technique. Don't let that yarn stash go to waste – start crocheting this cozy blanket today! ravelry
16. Easy Crochet Large Chevron Afghan Pattern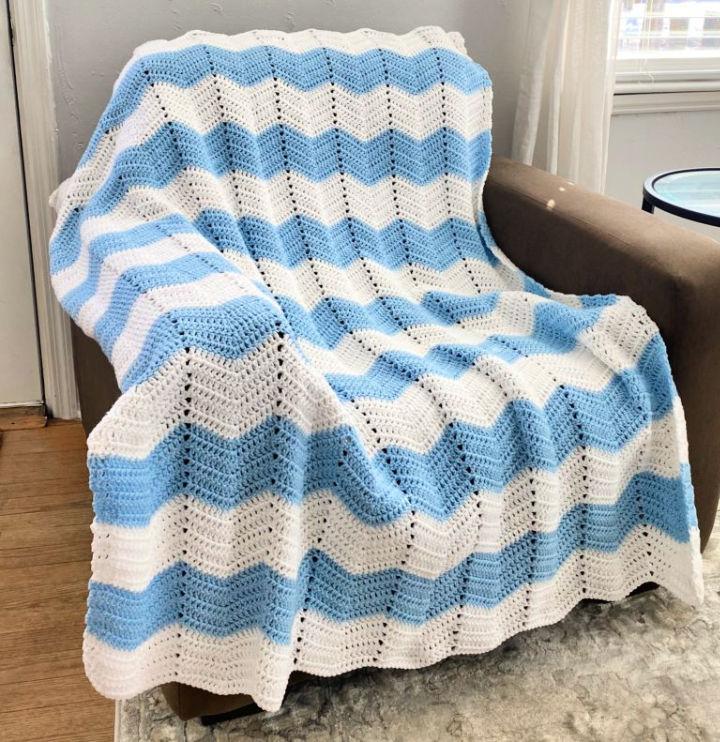 This easy chevron afghan crochet pattern brings a classic and cozy touch to your home! This zig-zag afghan is perfect for adding a nostalgic feel to any room. With a size H-8/5 mm crochet hook, 3 skeins of red heart super saver in white, and 2 skeins in light blue, the finished product will measure approximately 43 inches wide and 53 inches long. Both beginners and experienced crocheters alike can easily create this unique chevron design – giving you an enjoyable project that creates timeless results. Get snuggling today with your handmade chevron afghan! craftykittycrochet
17. How Do You Crochet a Zig Zag Baby Blanket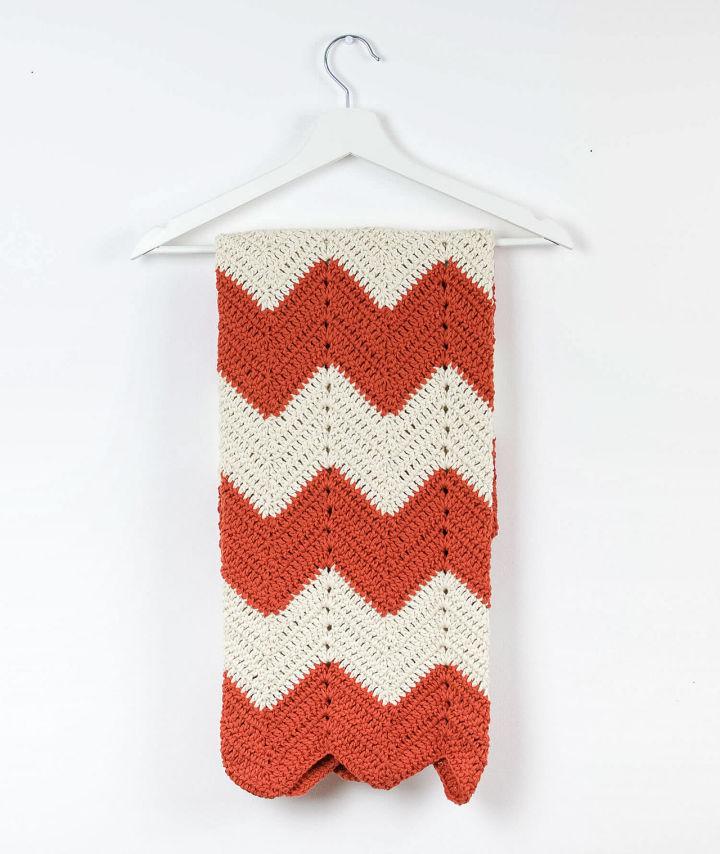 Crochet the perfect gift for a new baby with this free zig-zag crochet baby blanket pattern! This easy/medium skill level project features 9 color segments, each made from 5 rows of double crochet stitches. The technique used on the foundation chain ensures perfectly shaped corners for an impressive finished look. At 72 cm x 86 cm, it's the ideal size for a newborn and makes a beautiful keepsake to cherish forever. With its creative design and professional finish, don't give up – practice your skills and make something special today! crobypatterns
18. Free Crochet Chevron Dishcloth Pattern for Beginners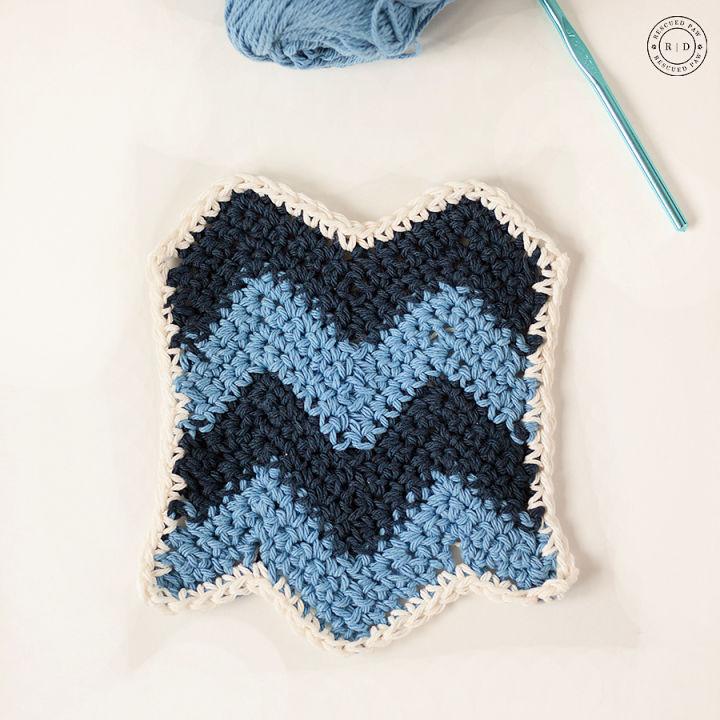 Sorting out an easy and fun crochet project? Look no further than this chevron dishcloth pattern! Perfect for beginners, this single crochet stitch design is made with lily sugar n cream cotton yarn and a 6mm crochet hook. The finished project measures approximately 6.25″ wide and 7″ tall at the highest peak, including the border. Brighten up your kitchen in style with this functional yet stylish chevron design – it also makes a great gift idea for wedding showers or housewarmings! easycrochet
19. Easy Crochet Josie Chevron Scarf Tutorial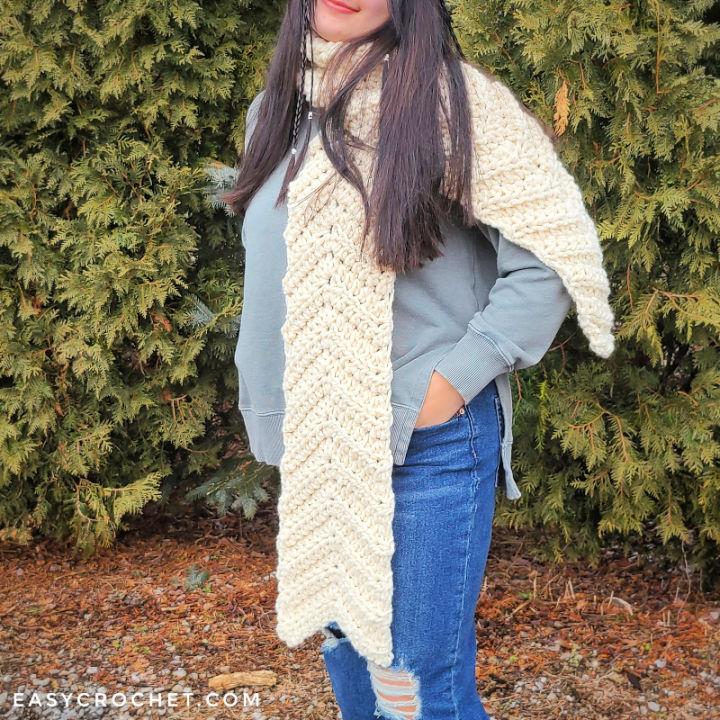 Stay cozy and stylish this season with the josie chunky crochet scarf! This easy-to-make intermediate project features a trendy chevron design with super bulky six weight yarn and a 10mm crochet hook. Measuring 64″ x 8″, this scarf can be styled in many different ways and is perfect for chilly weather. Show off your crochet skills and make a statement with this beautiful, functional accessory. Get ready to stay cozy & stylish this winter – start crocheting the josie chunky crochet scarf now! easycrochet
20. Crochet Chevron Queen Size Blanket Pattern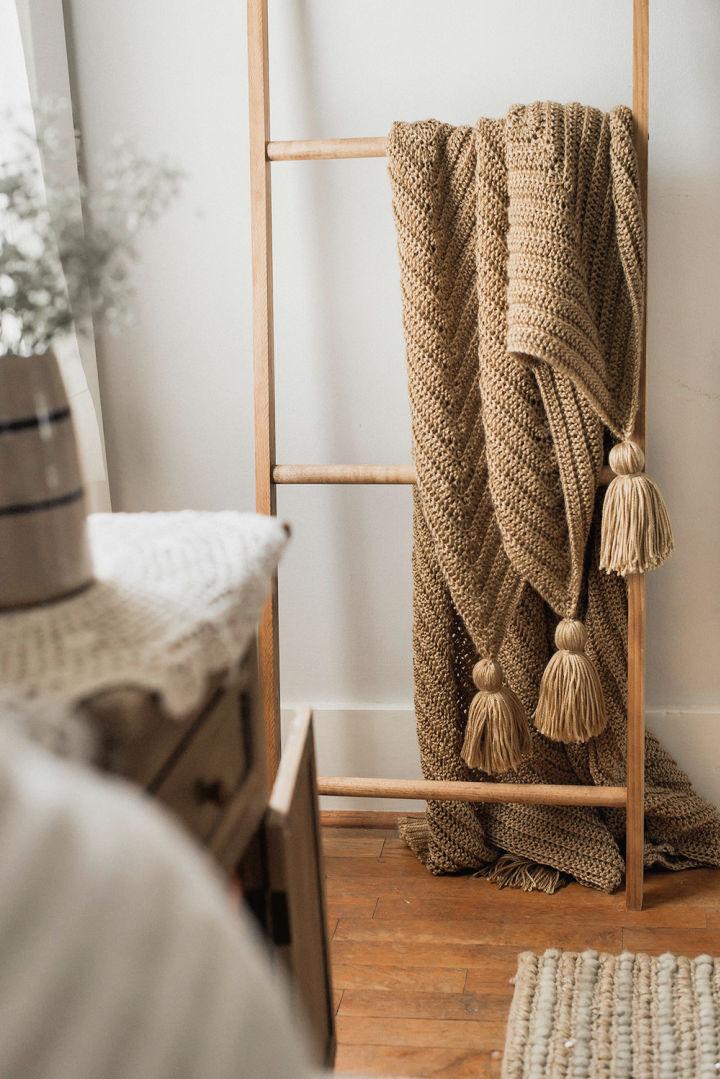 Love to crochet? Check out this free pattern for a cozy and stylish grande chevron blanket! Create this magnificent piece with category 4 (Worsted) weight yarn and a size K (6.5 mm) hook. Its finished dimensions, 48" x 65", make it perfect for snuggling up on the couch or adding texture and warmth to your home decor. The blanket also features monstrous tassels that give it an extra special touch. Get started on this easy project today and enjoy its softness soon! megmadewithlove
21. Chunky C2C Chevron Blanket Using Bernat Blanket Yarn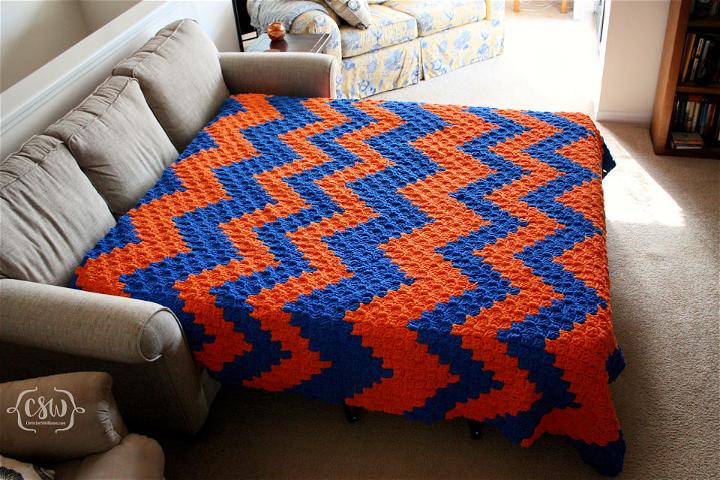 Create a cozy and colorful chunky c2c chevron blanket with bernat blanket yarn in gator orange and blue! This fun and easy crochet project require 16 balls of 10.5oz/300g-sized yarn in carrot orange and royal blue for the perfect chevron pattern to snuggle up on cold days. With a 9mm crochet hook, each C2C square will measure 1.5″x1.5″ – bringing vibrant gator pride into your home! Get ready to wrap up warm this winter season with this gorgeous blanket! christineswilliams
22. Chevron Infinity Scarf Crochet Pattern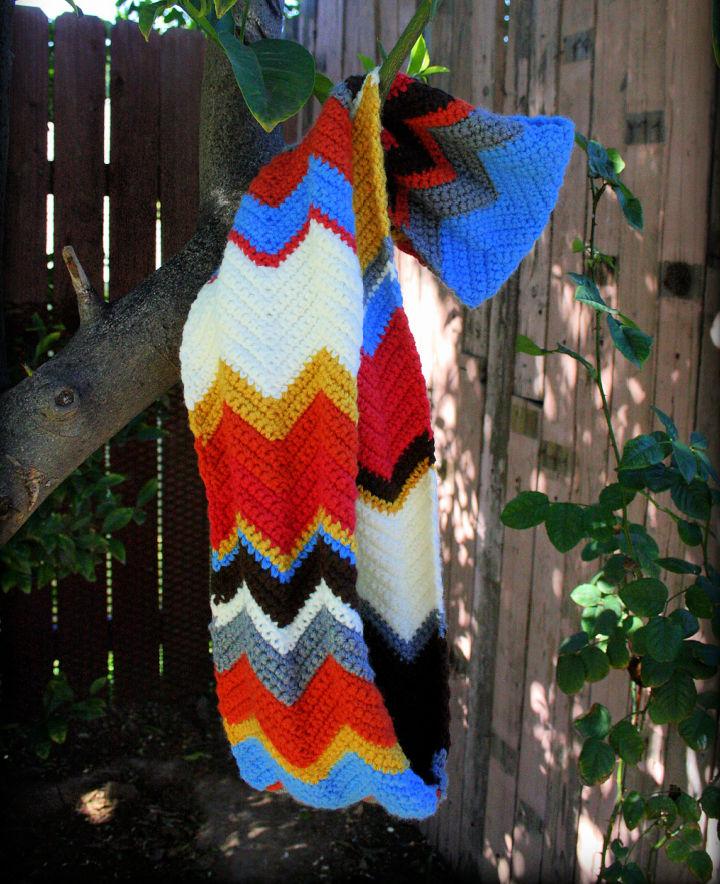 Whip a bold and beautiful chevron infinity scarf with this free crochet pattern! This project is perfect for beginners. This project uses chain and single crochet stitches with a G (4.25mm) hook and worsted weight yarns in your choice of colors. Follow the instructions to create an Aztec-inspired design, or mix & match your color scheme for something unique. Cozy enough to layer on chilly days, this stylish scarf will surely be a staple in any winter wardrobe! Download the free pattern today and enjoy crocheting your one-of-a-kind masterpiece! dandeliondaze
23. Free Crochet Chevron Laptop Cover Pattern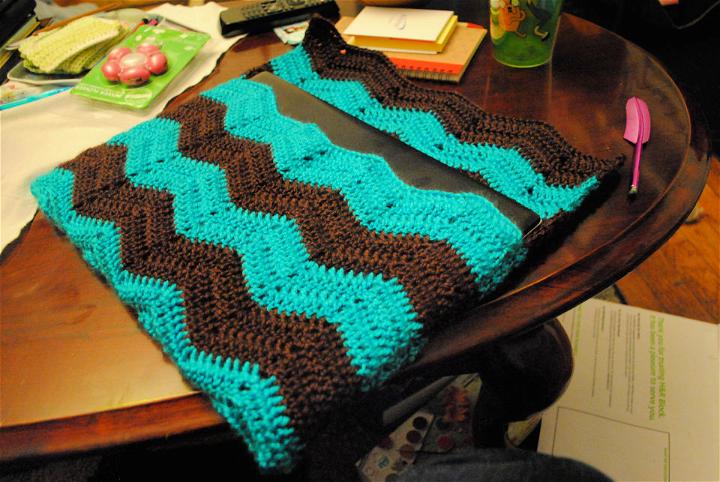 Protect your laptop in style! Crochet the perfect chevron laptop cover with light worsted weight yarn and an H hook. This easy-to-make design is designed for 14″ Ultrabooks and 15″ laptops, with a little extra wiggle room. For added durability, consider lining it with fabric. Perfect for students, freelancers or anyone who wants to add a unique touch of personality to their tech accessories—this chevron laptop cover is sure to become a must-have project! dyemadyarns
24. Easy Crochet Graphic Chevron Clutch Pattern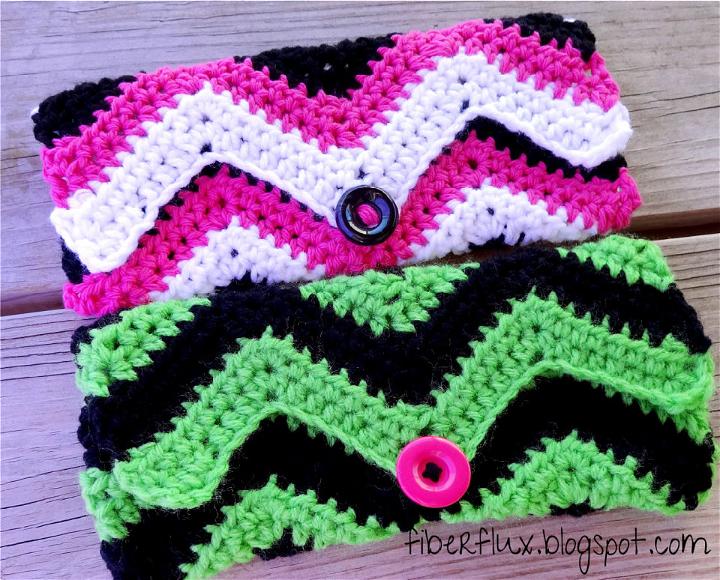 Add a pop of color and pattern to your accessories with this free crochet graphic chevron clutch! The clutch features bright and bold chevron stripes that are perfect for using up your yarn stash. It can be left unlined or lined with fabric for added durability. All you need is worsted weight yarn, an h (5.0 mm) crochet hook and one single button for closure. The finished piece measures 4 inches tall and 9 inches wide when buttoned, so download the pattern today and create your own stylish accessory that works as a purse, pencil case, or hook holder! fiberfluxblog
25. Crochet Ice Queen Dress Blanket Diagram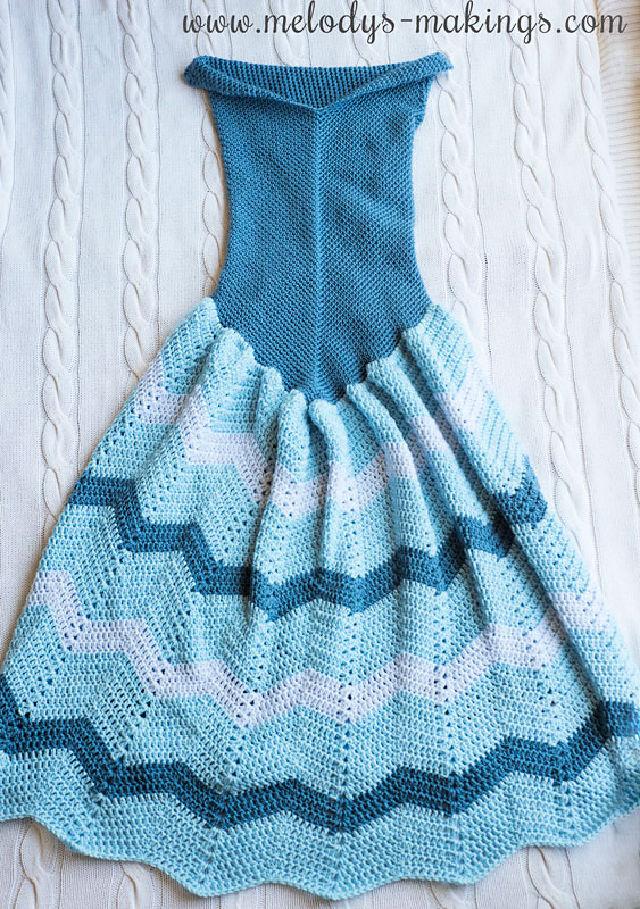 Snuggle up and get cozy with the north star ice queen dress blanket this winter. Perfect for toddlers aged 1-3 years, this beautiful blanket has a circumference of 26 inches and a length of 34 inches. Use worsted weight yarn and a size 6.0mm crochet hook to make this warm and stylish dress/blanket combo – your little one will love it! Join by downloading the free pattern today – so don't wait another minute. Get cozy with the ice queen dress blanket now! melodys makings
26. Front Loop Single Crochet Ripple Afghan Pattern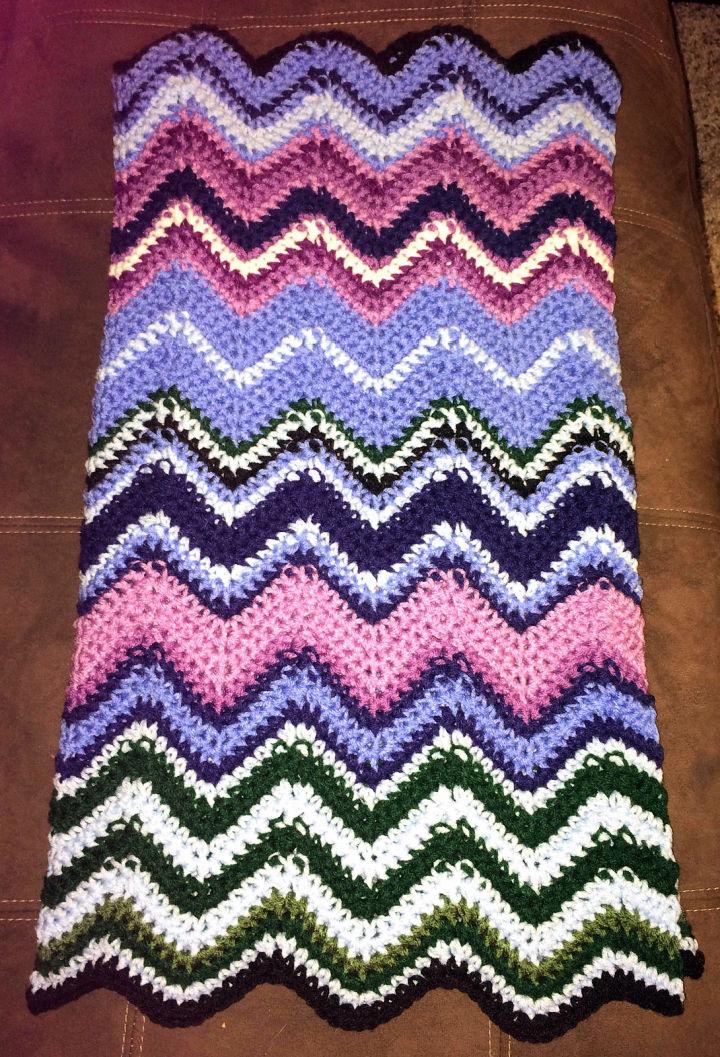 Create a cozy and colorful addition to your home with this easy crochet pattern for a front loop single crochet ripple afghan! This soft and warm throw blanket is perfect for snuggling up on the couch, as the playful ripple design will add flair and brightness to any room. The 5.5mm crochet hook, worsted weight yarn, and front loop single crochet stitch create texture and depth that both beginners and experienced crocheters alike can enjoy making! So grab your supplies today and start crafting a beautiful, comfortable piece of decor you'll love having around the house. ravelry
27. How to Crochet Chevron Stitch Purse – Free Pattern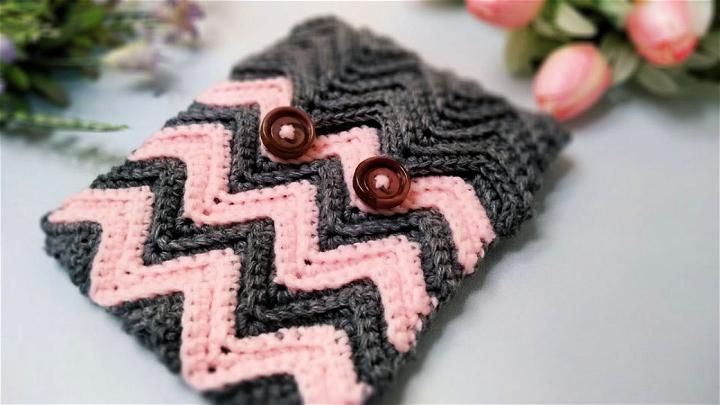 Stitch a stylish chevron stitch purse with this easy-to-follow crochet tutorial. You can make a pouch, a sling bag or an elegant purse in no time – pick your favorite yarn and follow the step-by-step instructions for working the chevron stitch and creating a beautiful, textured pattern. With just a few basic supplies, you'll be able to craft your one-of-a-kind fashion accessory that will carry all your essentials. Learn how to make your very own chevron stitch purse today!
28. Crocheting Baby Chevron Cardigan Pattern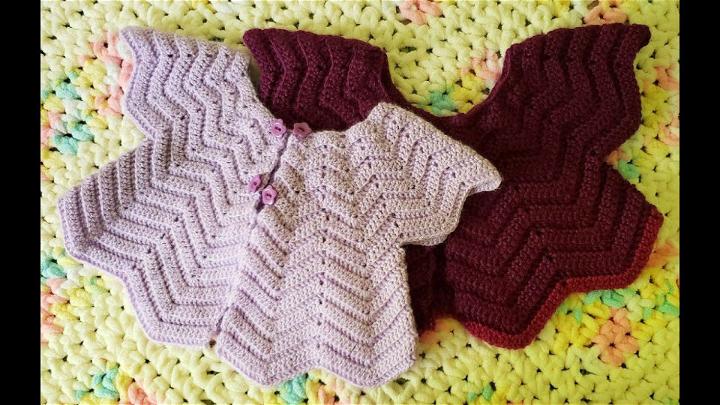 Get creative with your hook and crochet a cozy and stylish cardigan for your little one with this free baby crochet chevron cardigan pattern! This step-by-step tutorial will guide you through each stitch and technique needed to create this unique garment. The chevron pattern adds a fun, modern touch to the classic cardigan design, adjustable to fit infants and toddlers alike.
All it takes is some soft worsted-weight yarn and basic crochet tools to start this sweet, cozy project. Now you have a perfect way of keeping your little one warm while staying fashionable simultaneously!
29. Free Crochet Sharp Chevron Scarf Pattern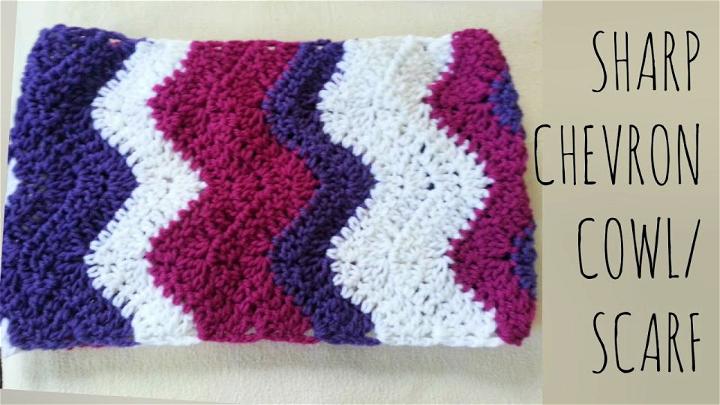 Get ready to create a trendy and stylish sharp chevron pattern easily with this step-by-step crochet tutorial. Perfect for beginners or experienced crocheters, this guide includes all the instructions and tips to craft your unique masterpiece. Scarves, blankets, accessories – whatever you can dream up! All you need is a crochet hook and some yarn to start your journey of creating something truly special. So what are you waiting for? Grab your supplies, and let's go!
30. Easy Crochet Chevron Shawl Pattern

Let's take a journey of making something magical; crochet yourself a beautiful tulip chevron shawl that you can wear and show off with pride. Perfect for any skill level, this easy-to-follow guide uses only worsted weight yarn and a 6.0 mm (J) crochet hook to create your very own cozy and stylish shawl – measuring 52 inches wide by 25 inches long when finished. With simple instructions and a lovely chevron design, you'll be proud of the result! Follow along with the step-by-step tutorial for an effortless way to make a cute piece of handiwork you'll want to wear season after season.
Related Free Crochet Patterns
Discover amazing free crochet patterns that will take your projects to the next level! Browse our library of stunning designs and step-by-step guides for all skill levels.
Conclusion: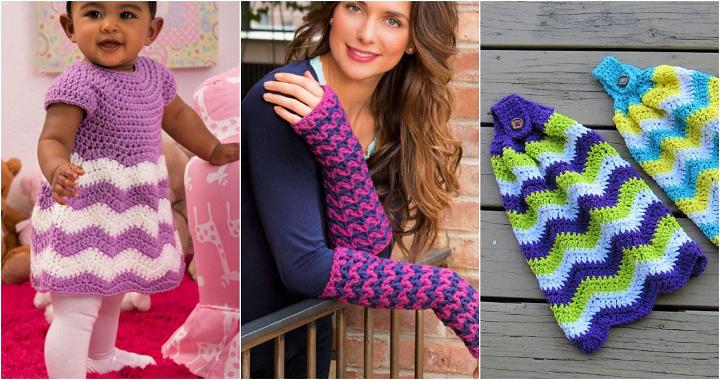 With Chevron Crochet Pattern, you can make a wide range of items, from simple scarves to modern blankets. Our free chevron crochet pattern guide contains detailed instructions, videos and photos that will help beginners learn how to crochet in no time. It is easy to follow along with step by step instructions and the completed project looks amazing! Plus, our guide comes with a pdf download, making it even easier for those just starting out.
With this comprehensive guide, you can create beautiful chevron patterns for all your crocheted projects quickly and easily – even if you're a beginner! There's no need to be intimidated by complex stitches because the free chevron pattern we provide is both simple and complete in its details so that anyone can understand it. So why not start learning something new today? Get your hands on our free chevron crochet pattern now!