Crochet wraps are a versatile and stylish accessory to add to your wardrobe! With these 25 free crochet wrap patterns, you can create your own unique and beautiful wraps to suit any occasion. Crochet wraps are perfect for any season, and you can customize them with your preferred yarn and stitch type to create a unique and personalized look. From beginner-friendly designs to more advanced patterns, each crochet wrap pattern comes with clear and detailed instructions, including written and video tutorials, to help you easily complete your project.
You can create a wrap for yourself or as a gift for someone special; these free crochet wrap patterns are a great way to add a handmade touch to any outfit. You can choose from various styles, stitches, and yarn types to create your own personalized crochet wrap. Whether you're looking for a cozy and warm wrap for cold winter days or a lightweight, airy and lacy shawl for a summer evening, you'll find the perfect crochet wrap pattern in our collection. So, why wait? Start your next crochet shawl project today and add a handmade appeal to your wardrobe with our beautiful collection of free crochet wrap patterns!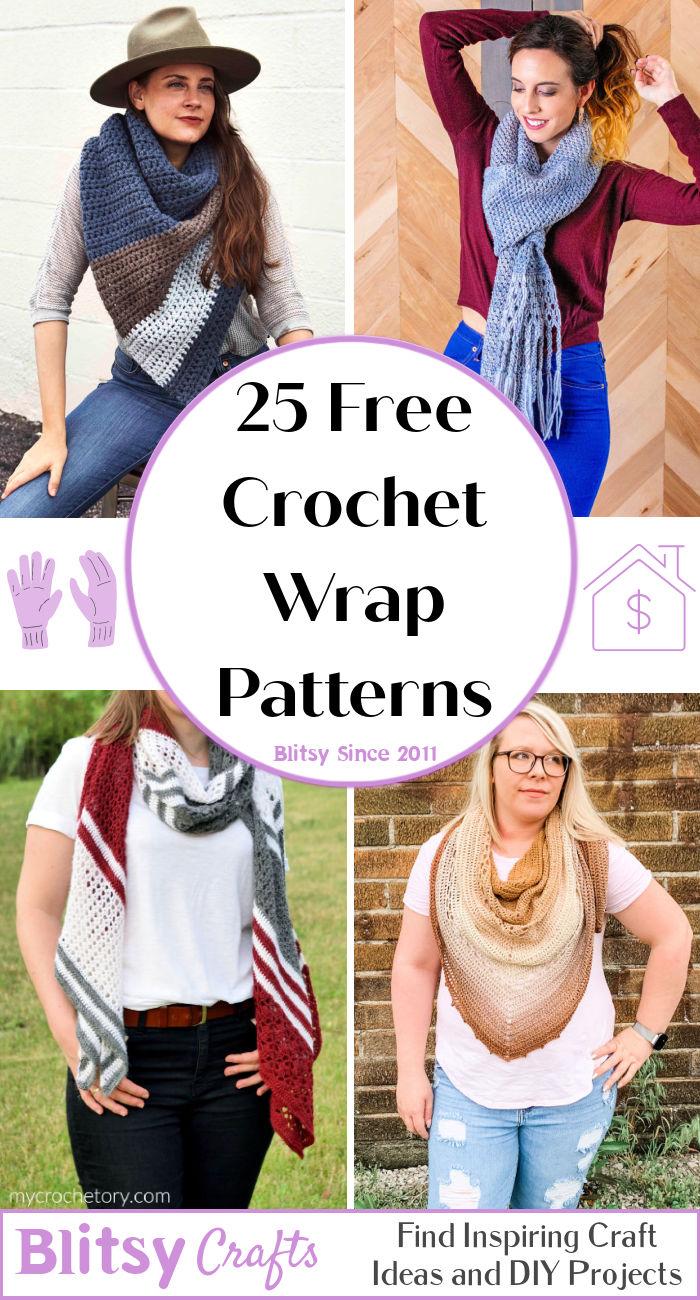 Find Crochet Wrap Uses and Benefits:
Crochet wraps are an ideal way to stay warm and cozy in any season! They are also great for adding a splash of color or texture to any outfit. Here are some of the uses and benefits of a crochet wrap:
Style and Fashion: A crochet wrap can add a stylish touch to any outfit, whether it's a casual daytime look or a formal evening dress. A crochet wrap can be used as a scarf, shawl, or even a light blanket.
Warmth: A crochet wrap can provide warmth on a chilly day or evening, making it a great accessory for cooler weather.
Versatility: A crochet wrap can be worn in many different ways, including as a shawl, scarf, or even as a sarong or beach cover-up.
Protection: A crochet wrap can provide protection from the sun or wind, making it a great accessory for outdoor activities such as picnics, festivals, or beach days.
Perfect for travel: It's easy to pack a crochet wrap, and you can craft on-the-go if needed. They are lightweight and perfect for those cooler nights when you're away from home.
Customization: A crochet wrap can be customized to fit individual preferences and styles, with endless possibilities for color, texture, and design.
Eco-Friendly: Crochet wraps can be made from sustainable and eco-friendly materials, making them a great choice for those who are environmentally conscious.
Gift-Giving: A crochet wrap can make a thoughtful and personalized gift for a loved one, with the added sentiment of being handmade.
Great for all skill levels: Crochet wraps can be made with a variety of skill levels, making them ideal projects for beginners and experts .
Overall, a crochet wrap is an amazing accessory that offers many benefits, from style and comfort to protection and eco-friendliness.
Easy and Free Crochet Wrap Patterns
Level up your wardrobe with beautiful and unique crochet wraps. Get our list of 25 free crochet wrap patterns below with detailed instructions and videos that are perfect for crochet beginners. Whether a cozy chunky crochet wrap or a light and airy crochet shawl, we got a crochet wrap pattern for everyone.
You can go for a more modern style to make your unique crocheted wrap stand out from the crowd. Try experimenting with different yarns or colors for a truly eye-catching look. You can also combine different stitches and patterns in one project to create a totally original piece, even adding decorative elements like flower applique, beads or buttons for an extra layer of appeal.
Regardless of your design type, remember that it's important to use quality materials and take the time to finish your project properly. With the help of free crochet wrap patterns and these extra touches, you'll be sure to create a wrap to be proud of. So don't wait any longer – start your own crochet wrap journey today!
1. How to Crochet a Racer Wrap – Free Pattern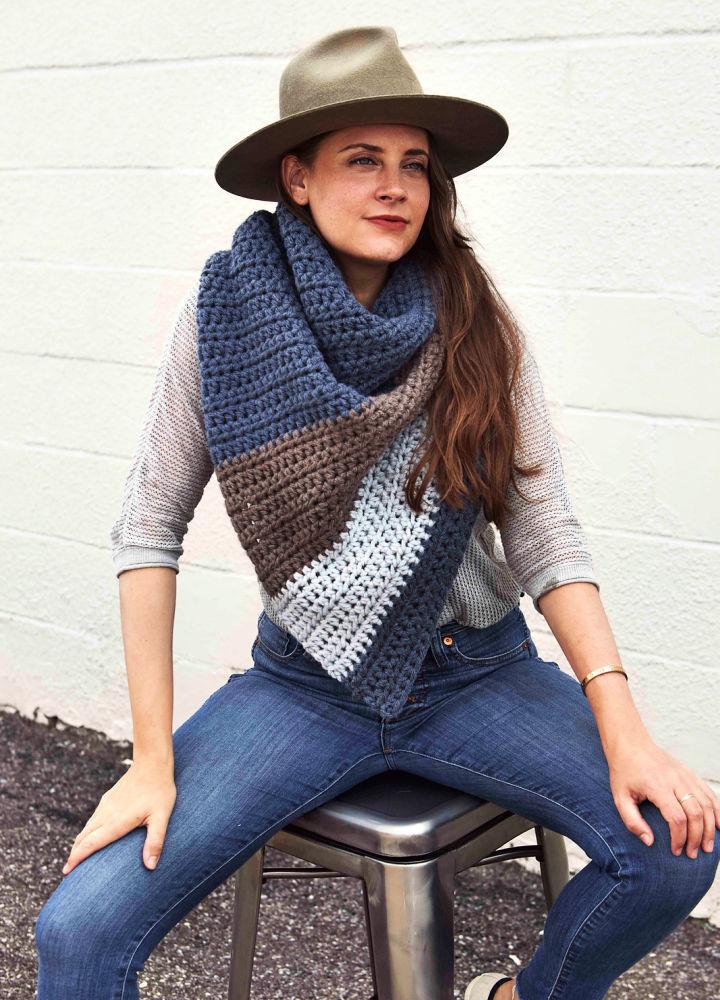 This modern triangle wrap crochet pattern is perfect for adding an extra layer and toting. Featuring simple stitches and bold stripes, the racer wrap from lion brand yarn is beginner-friendly with half double crochet, single crochet, and color-changing techniques. Create your custom color combo! The finished dimensions are 62″ in width and 30″ in length at the point – showcase your favorite shades with this graphic, functional and easy-to-make design. Get creative today with lion brand's exclusive hue + me yarn! twoofwands
2. Wishing Well Crochet Wrap Pattern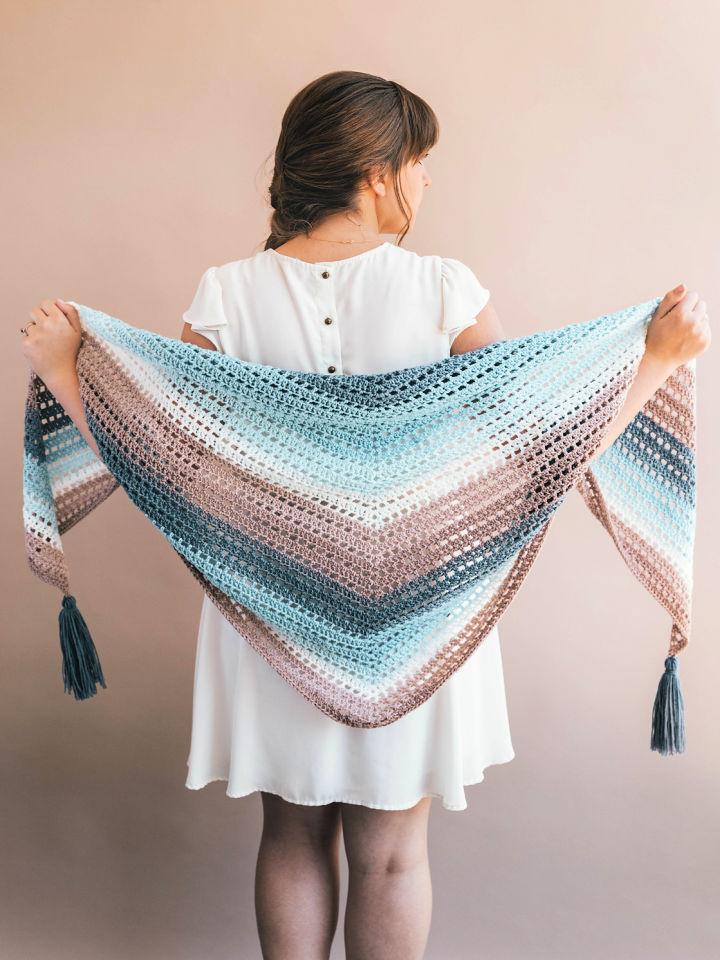 Looking for your next crochet project? Look no further than the wishing well wrap! This beginner-friendly pattern uses mandala baby Yarn to create an effortless, eye-catching wrap. You can choose your favorite colorway and customize it with tassels or fringe – making this accessory perfect for cozy nights. With easy double crochets and chain stitches, you'll be able to make a soft, drapey, and versatile wrap, giving you the perfect netflix-able accessory for those chilly evenings. Let wishing well wrap inspire your creativity! sewrella
3. Crochet Earl Grey Wrap Pattern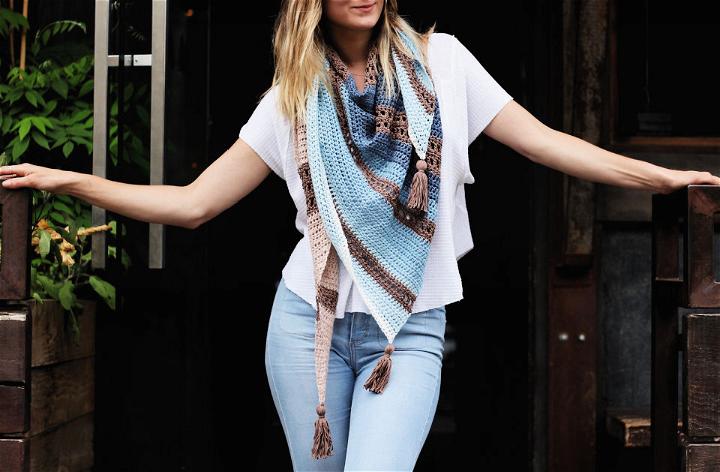 Sorting out a lovely crochet wrap pattern? This easy-level crochet pattern for an earl grey wrap is perfect for any crocheter, from beginner to experienced. It includes half-double crochet and techniques like skipping stitches, working into chain spaces and changing colors. The finished size measures 76″ in width and 32″ in length to the point. Use lightweight 3 acrylic mandala yarn to achieve a gauge of 13 sts + 8 rows = 4″/10cm after blocking. Get ready to wrap yourself up in your cozy earl grey wrap! twoofwands
4. Quick and Easy Crochet Arrow Wrap Pattern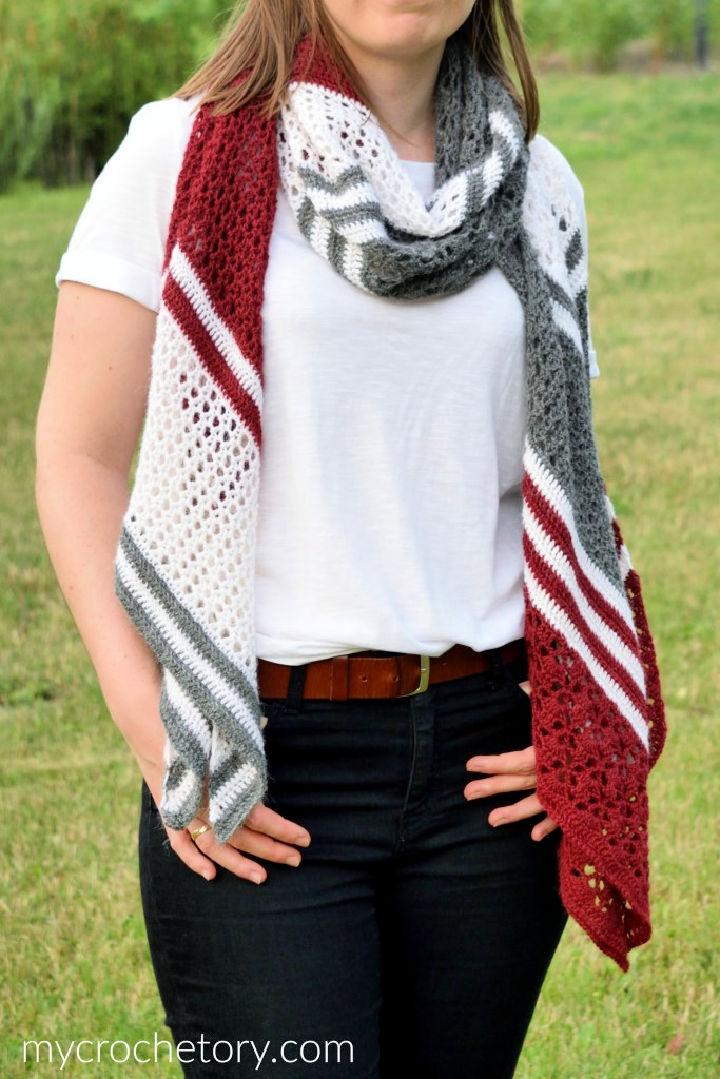 Fly high with your new-found creative talents and stitch the perfect arrow crochet wrap! Made from soft, sport-weight alpaca yarn, this wrap is easy to make and has varying stripes and two different lace patterns for texture. Create a one-of-a-kind wrap by adjusting the number of section repeats – no matter what size you choose, it will be reversible. The pattern also calls for using a neutral color plus two contrasting colors so you can experiment with color combinations. Once complete, block the wrap for the best luxurious results in any setting! mycrochetory
5. Free Crochet Resonance Wrap Pattern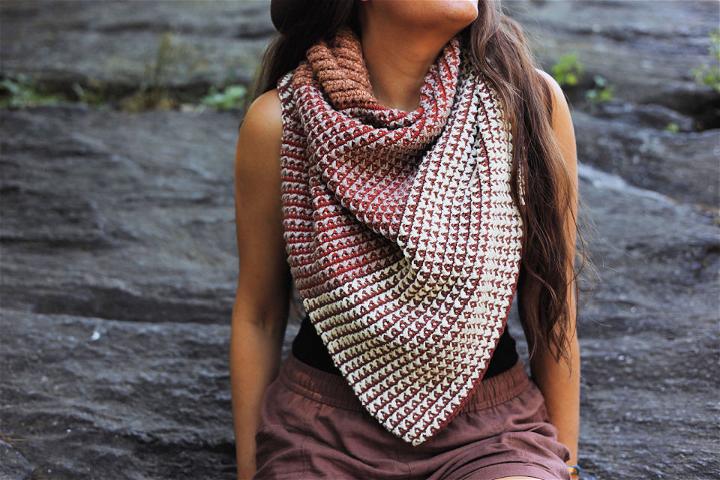 Willing to stitch a unique crochet pattern to make your friends jealous? Check out the resonance wrap-free crochet pattern! This two-way fade triangle scarf features vibrant colors and a pebbled texture that will surely draw everyone's attention. With a finished size of 28″ length-to-point and 62″ width, you'll be able to create this eye-catching piece with worsted weight 4 yarn and a US J/10 (6mm) crochet hook. Get creative with colors – the possibilities are endless! twoofwands
6. Crochet Boho Macrame Wrap Pattern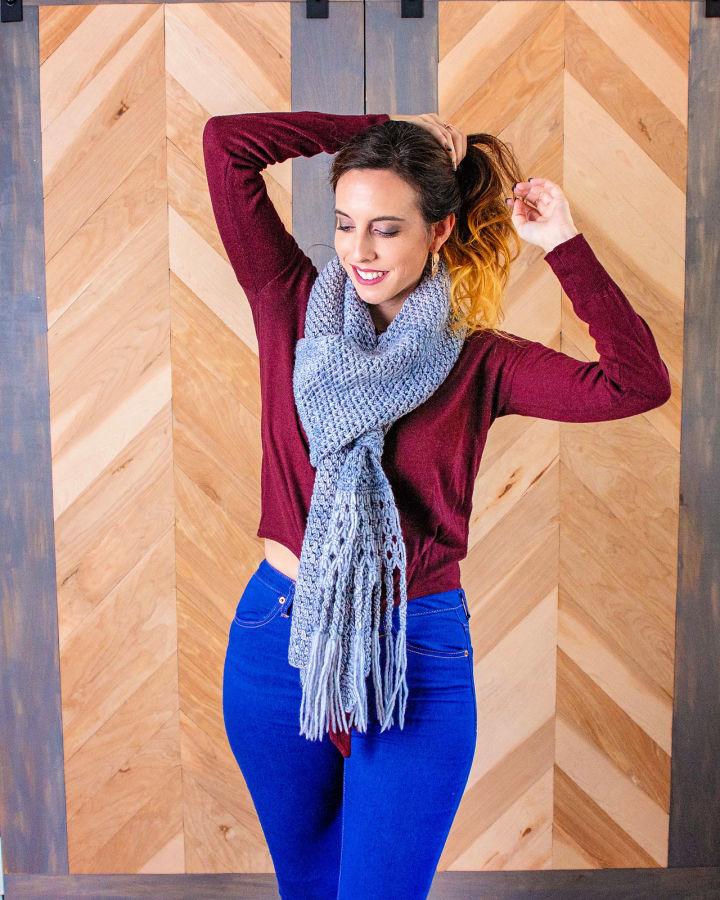 Macrame meets crochet in this unique boho macramé crochet wrap – a perfect project for any crafter, even if you have never attempted macramé before. This pattern has a simplistic repeat, increasing every six rows on the left edge and finishing on any row of your choosing. The organic edges ensure you won't run out of yarn; two skeins will be enough to make shorter wraps. Get started with the right supplies: size 6mm hook, 220 yards bulky weight yarn, and scissors! Create a spectacular piece uniting two forms of crafts into one with this rewarding project. brianakdesigns
7. Crochet Rose Parade Wrap Pattern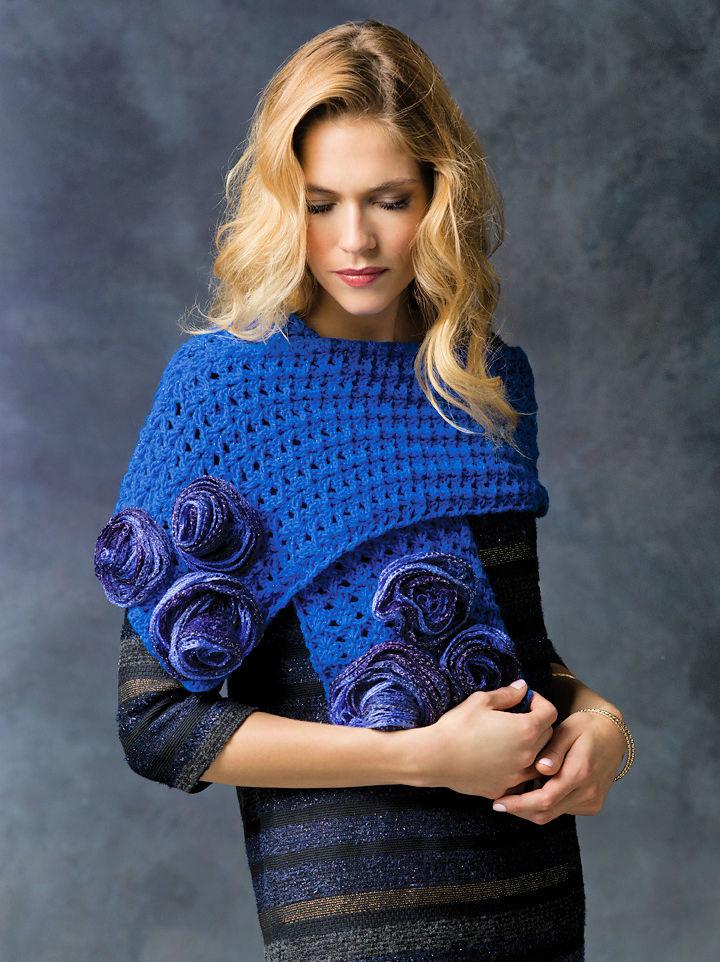 This rose parade wrap is a must-have scarf accessory for any wardrobe. This crochet scarf measures 8½" wide and 56″ long, with a special stitch shell that creates an extra soft feeling against your skin. We love to accessorize it with a spray of roses, perfect for adding an extra touch of sophistication or bringing color into your ensemble. With its generous width, you can double this wrap as a shawl when you need extra coverage on cooler days. yarnspirations
8. Classic Crochet Button Wrap Scarf Pattern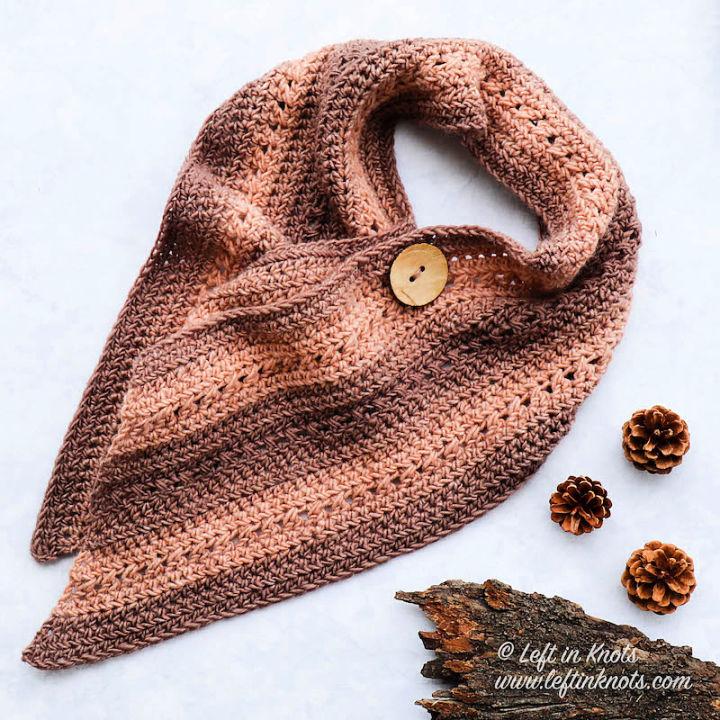 This classic crochet wrap scarf pattern creates a stylish and timeless gift for family or friends. It features an easy pattern that produces a beautiful drape, perfect for casual occasions or dressed-up events. The button accent makes it extra special, while the simple construction ensures anyone can craft it easily. Gather your supplies: category ⅘ yarn, I/5.5mm crochet hook (optional) shawl pin, and 2″ button to get started. Follow the free pattern to learn how to make this cozy accessory! leftinknots
9. Crochet Wrap With Slits – Free Pattern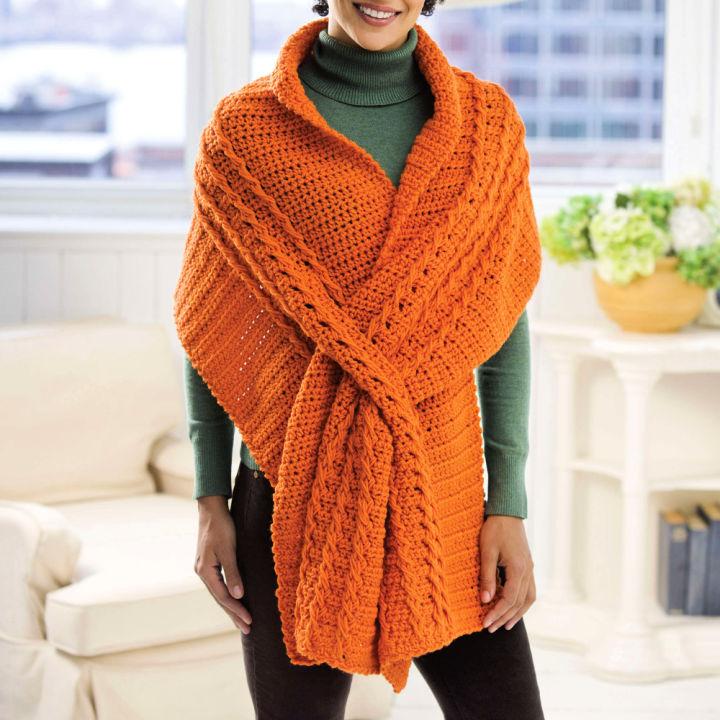 Are you a beginner and willing to try out a crochet shawl pattern? This easy-level wrap shawl pattern is perfect for any crocheter! Make this crochet wrap with slits using a red heart super saver in a carrot for a stylish and unique design. The finished product measures 14″ wide x 80″ long, making it great for a fashion statement or as a cozy coverup. All you need is your 6.5mm "US K-10.5" crochet hook to start your beautiful handmade project! yarnspirations
10. How to Crochet Triangle Shawl Wrap – Free Pattern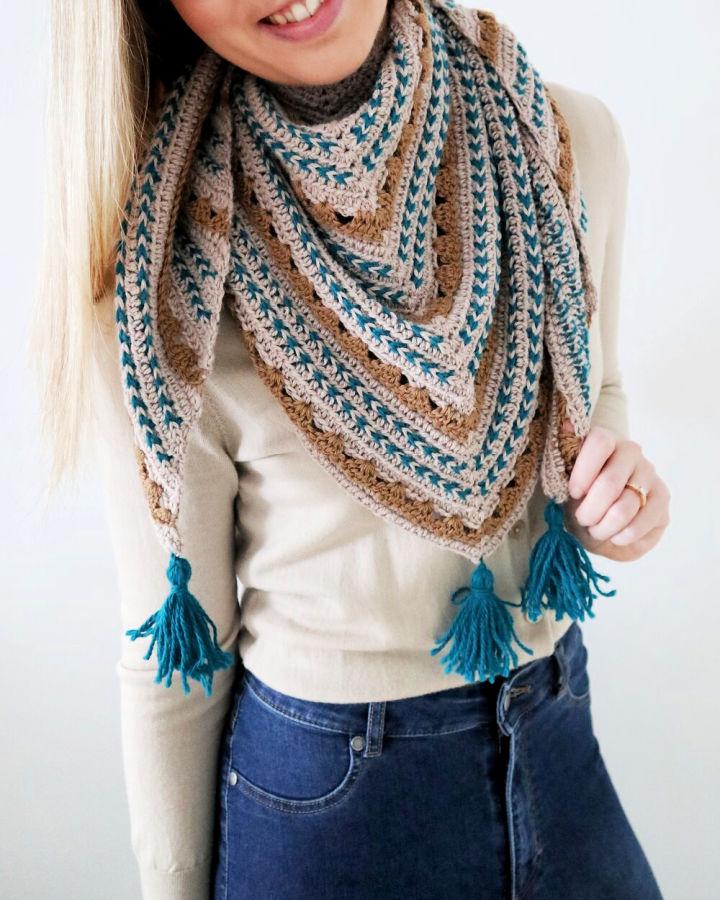 Crochet a beautiful triangle shawl, or wrap it with this free crochet pattern! You'll need DK/ 8 ply / 11 wpi / 3-weight yarn and a 4.0 mm/ G-6 crochet hook. Start by working from the center out, beginning with a magic circle and use any fiber to match your current season best–try alpaca, wool, or cotton for an awesome look! This easy pattern is great for beginners who want to make something unique; finish your creation with delicate fringes for extra style points. coffeeandcrochet
11. Free Crochet Havra Wrap Pattern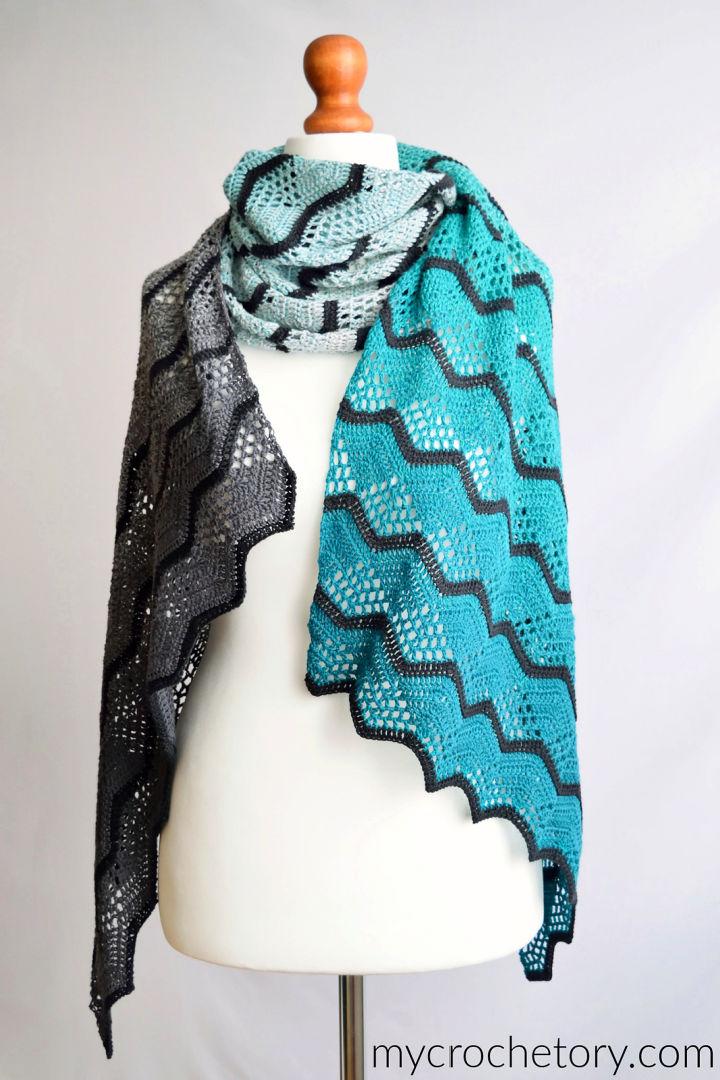 Take your crochet hook out and create a unique and stylish accessory with this free crochet wrap pattern! Combining a simple stitch, bias crocheting, and ombre yarn, you can make yourself an eye-catching shawl perfect for year-round wearing. An adventurous beginner-level project, the size of this wrap can be adjusted to fit your style after blocking. Grab 2 colors of fingering weight yarn and hook size 3.5mm and hop on over to mycrochetory.com for all the details – create one today! mycrochetory
12. Crochet Adirondack Wrap – Free Pattern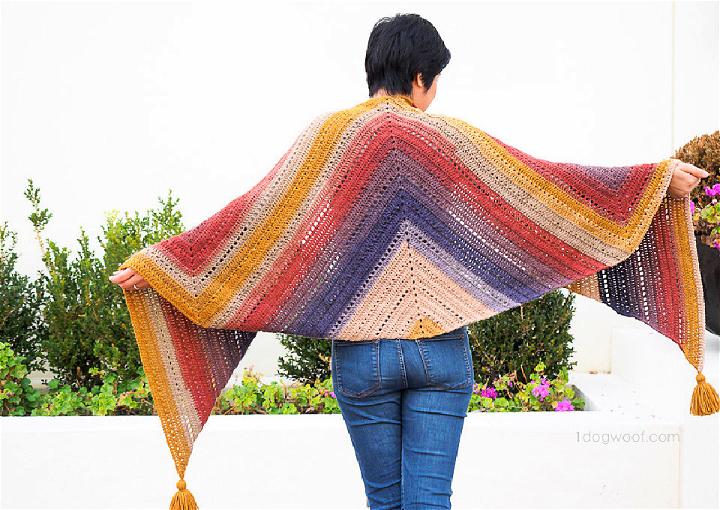 You will love this crochet pattern that is easy and perfect for any skill level! Create a light, flowing wrap or scarf with the Adirondack wrap pattern. The deceptively simple design makes crocheting on the go, watching TV, or even sipping your favorite drink easy. Its 3 identical triangles seamed together to make this beautiful wearable art. Get creative with shapes and colors to create something special – try the Adirondack wrap today! 1dogwoof
13. Crochet Aztec Mosaic Blanket Wrap Pattern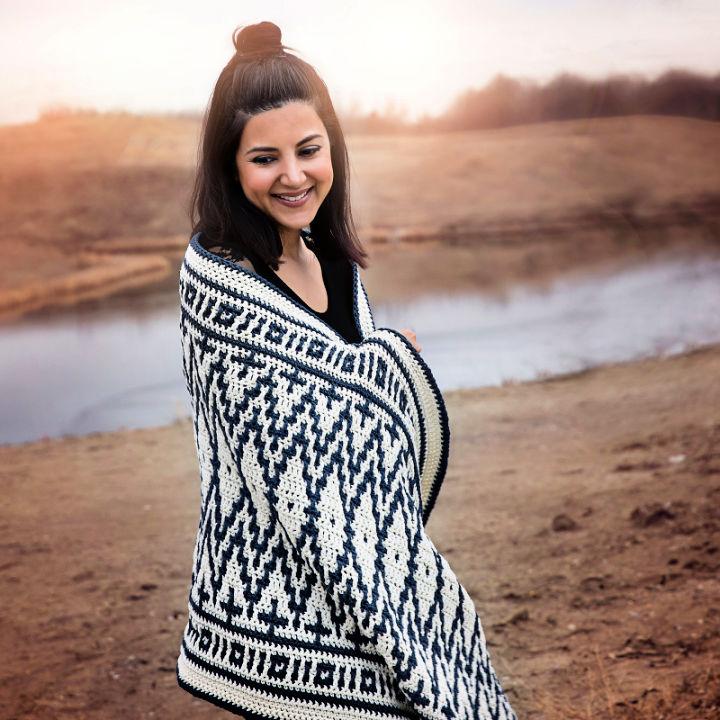 This gorgeous mosaic crochet blanket wrap pattern is perfect for the modern crocheter. Its unique design will create a truly eye-catching wrap you can wear with any outfit. All you need to get started is some worsted-weight yarn in cottonwood (color A) and stargazing (color B), as well as a size I-9 (5.5 mm) crochet hook. The finished wrap measures 27″ x 66″ and has a gauge of 14 stitches x 16 rows = 4″ in single crochet. You won't be able to resist adding this stunning pattern to your wardrobe! leeleeknits
14. Crochet Lichen Lace Wrap Pattern
This summer, go for a big style statement with the lichen lace wrap – a free crochet pattern! This light and airy wrap is perfect for those warm days when you need a hint of coverage. The open, lacy design is delicate and breezy and won't add additional weight or warmth. Style it as a scarf around your neck or drape it over your arms for an added dramatic flair. With its simple two-row repeat, crocheting this wrap will feel like easy work too! All you need to get started is US F/3.75mm hook and fingering (1) weight yarn – so grab your supplies today and make something beautiful with the Lichen Lace Wrap pattern! capitalcrochet
15. Crochet Billow Cotton Wrap Pattern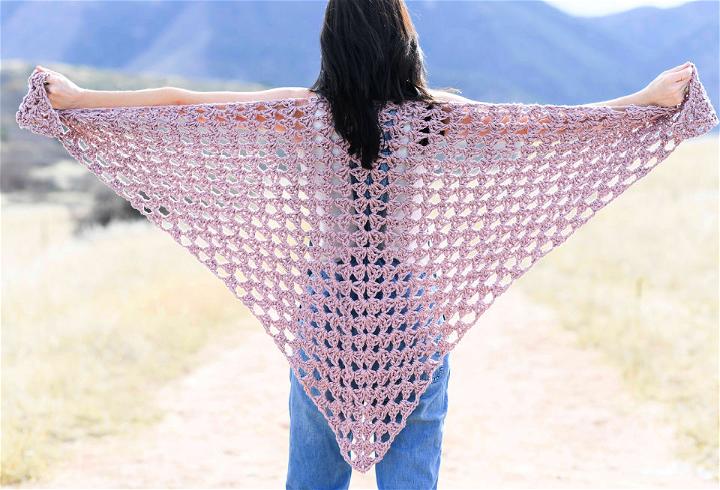 The agape wrap is an easy shawl crochet pattern that looks luxurious yet works quickly! With a chunky pima cotton yarn, it's perfect for the summer. Named after 'love', this wrap is like wearing a gentle hug every day. Suitable for beginners – all you need to know are basic stitches. The finished item measures 66″ wide x 30″ at its longest point and requires a US size N 9mm crochet hook & bulky weight 100% cotton yarn in ice lily color. Get your hands on this cozy wrap today! mamainastitch
16. Crochet Sugar Plum Pocket Wrap – Free Pattern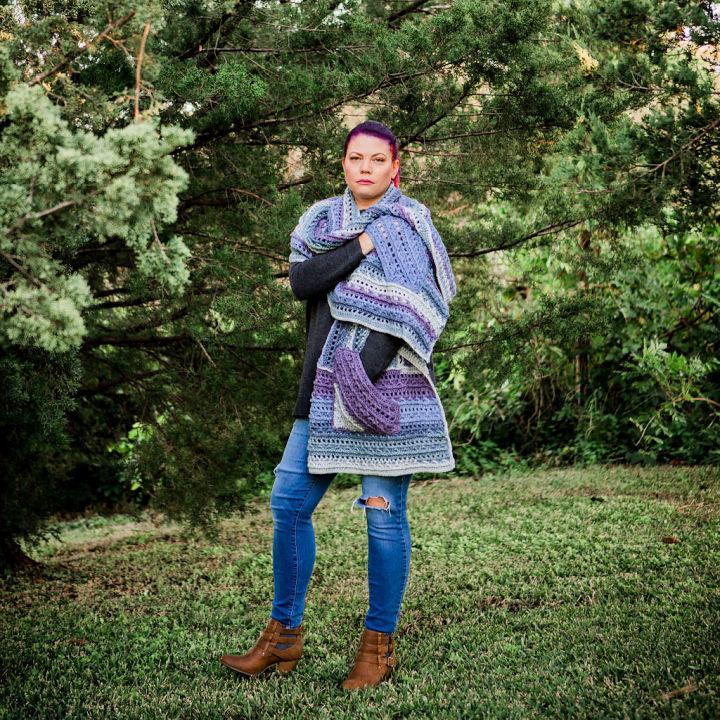 Make a cozy statement with the sugar plum pocket Wrap! This unique, oversized shawl features an easy-to-memorize stitch pattern with lots of texture. You'll be crocheting in all directions to create this wearable piece of art – it even has angled pockets for added flair! Perfect for chilly days, you'll love having this wrap on hand. All you need is your 6mm hook and worsted-weight yarn – no special skills needed! Make one today and stay warm in style. The final measurements are 79″ x 21″! furlscrochet
17. Crochet Heathered Eyelets Wrap Pattern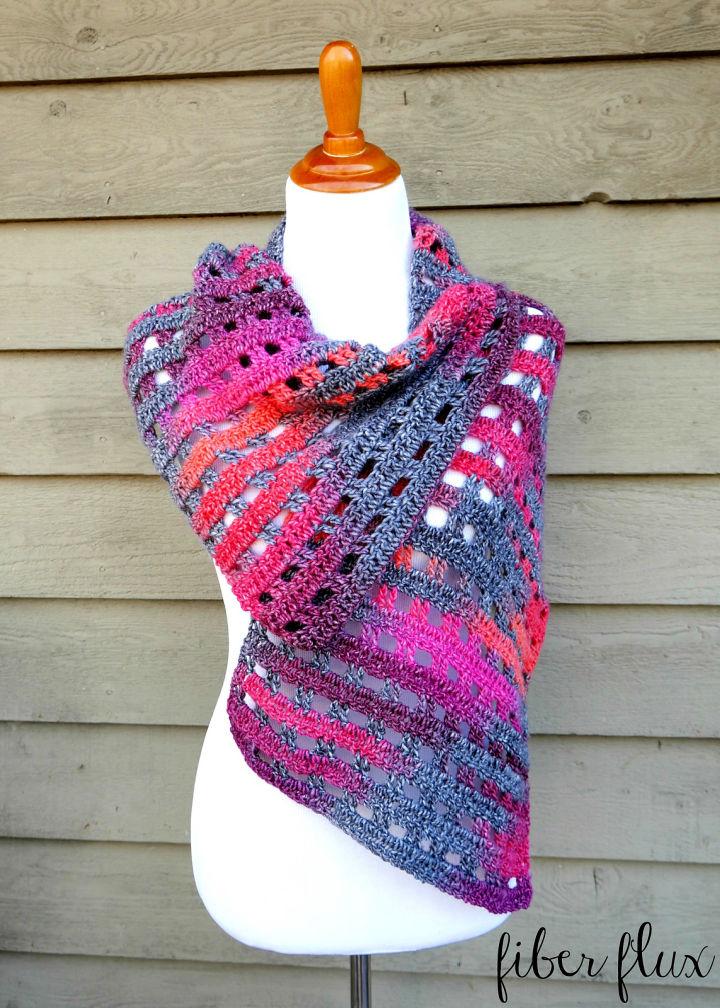 Start your crochet journey with this timeless pattern that can be used anytime, anywhere, and the heathered eyelets wrap! This modern, beautiful design comprises basic stitches that create stunning eyelets. For a unique look, use self-striping or a solid color yarn instead. When finished, you'll need 3 balls of yarn and a 6.5 mm crochet hook to make this wrap, which measures 14″ wide and 48″ long. Try it today! fiberflux
18. Crochet Hayden Wrap Pattern for Beginners
All style lovers will love this free crochet pattern that makes the perfect spring accessory! The hayden wrap shawl is an easy-to-make design that's great for beginners. All you need to know are chains, single crochets and double crochets. With a 4.0 (US G) crochet hook and fingering weight yarn, this project works quickly with a gauge of 10 rows x 20 dc = 4″ square. Make a stylish shawl for yourself or as the perfect gift – download the hayden wrap shawl crochet pattern today! hookedhazel
19. Easy Crochet Orange Dream Wrap Pattern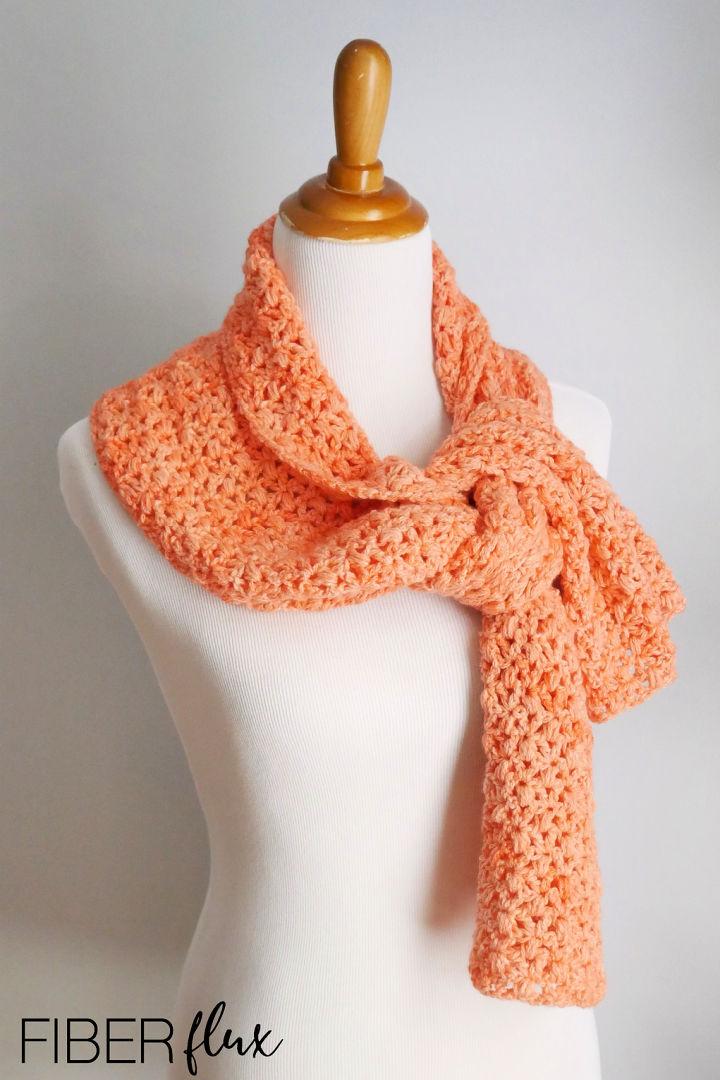 Go crochet and make something cozy and stylish with the orange dream wrap! This free crochet pattern is perfect for any DK weight yarn and uses alternating puff and v stitches to create a luxuriously textured wrap. The accompanying video makes it easy to make this elegant piece for the changing season. Get creative with colors or stick to classic orange – either way, your finished product will be a stunning addition to your wardrobe! fiberflux
20. Free Crochet Tropical Wrap Pattern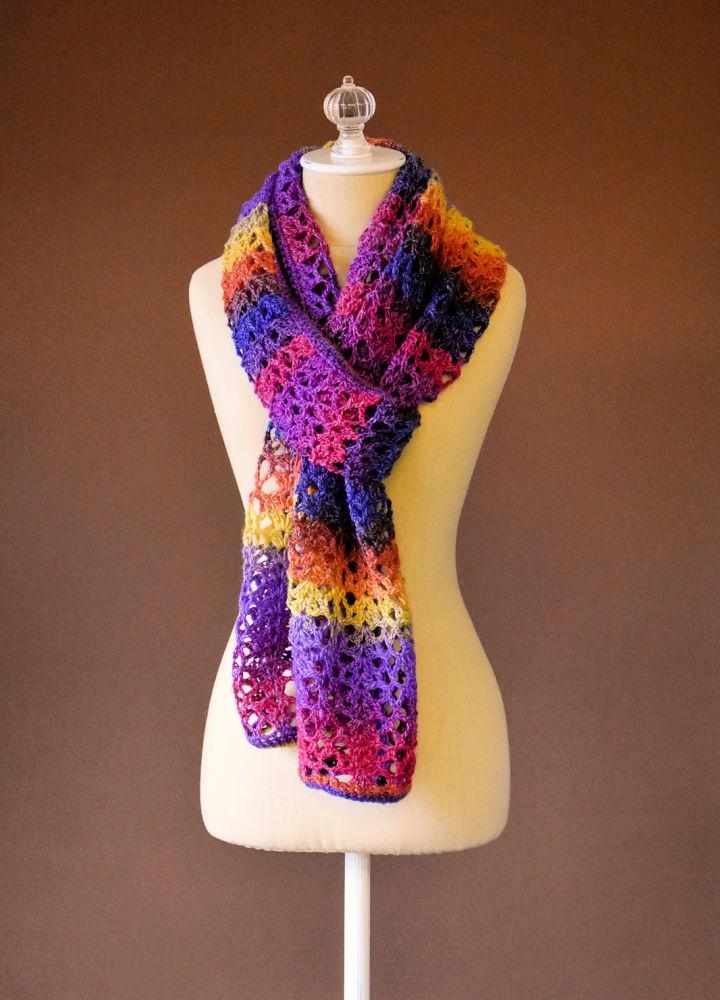 Welcome the sunny days with this delightful tropical crochet wrap! The self-shading color burst yarn makes it easy to crochet, while the lace pattern is calming and beautiful. With a length of 67″ and width of 7 ½", you can customize it to your needs. You'll need a universal yarn color burst, a size G-6 (4mm) hook, a tapestry needle and some patience; don't forget to check your gauge before starting! Get creative with color combinations or stick to one shade – however you decide, you won't be disappointed by the finished product. universalyarn
21. Crochet Rectangular Shawl Pattern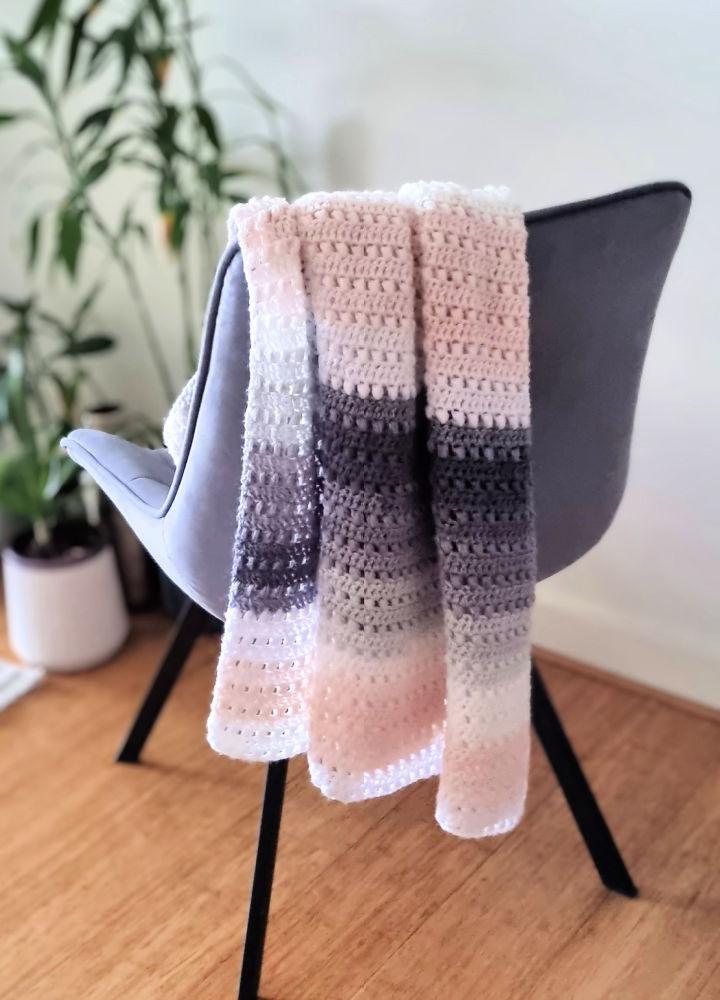 A new take on an old classic, the primavera rectangular crochet shawl pattern is sure to please even the novice crafter. Its rectangular shape makes it super easy since you won't have to work with increasing or decreasing stitches. With just two types of stitches – double crochets and puff stitches – this pattern will help create a beautiful texture.
To keep your shawl light and airy, try using one size larger hook than the recommended size (5mm/H-8). Since the shawl is worked widthways, you'll be able to show off your stitchwork in no time! Enjoy creating this luxurious crochet shawl for yourself or as a gift for someone special. mycrochetspace
22. Crochet Lacy Wrap Pattern With Sleeves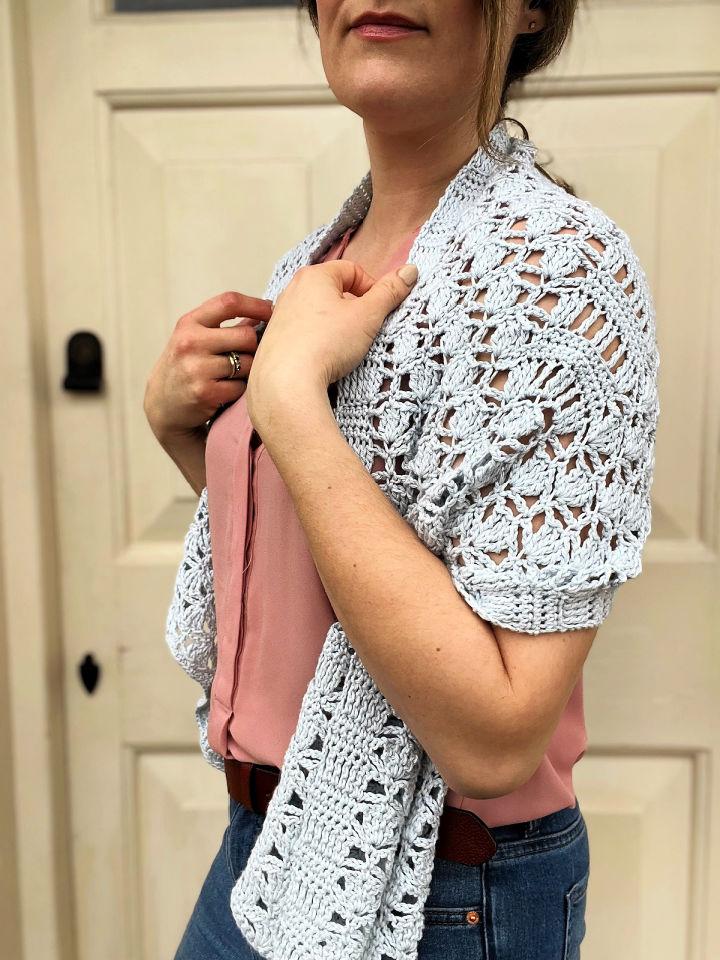 Add effortless style to your wardrobe with the Evelyn wrap, a stunning lacy crochet wrap pattern! Combining crochet shell stitches, chain spaces and simple section repeats, you can easily extend it or use it as a cowl. Make sleeves by seaming the sides for a unique shrug shape – perfect for any occasion! The finished size of the wrap is 36cm by 152cm and uses DK weight yarn – making it an ideal bridal shawl pattern too. Get creative with this versatile piece this season – make yours today! hanjancrochet
23. Free Crochet Shoulder Wrap Pattern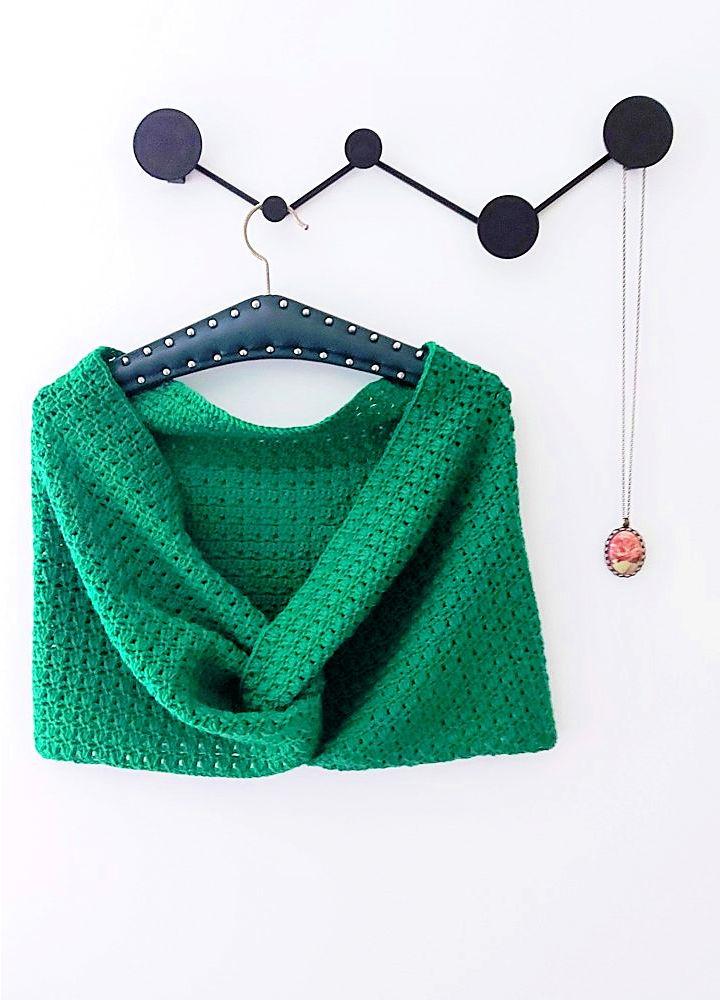 Stay warm and cozy with the holly hugs shoulder wrap! This beautiful wrap is a free crochet pattern crafted using schemes of soft merino yarn, a 100% extra fine merino wool. It requires 5-6 balls for size S/M and 7-8 balls for size L/XL, plus a 4.5 mm crochet hook. The blocked wrap will be 112cm long – perfect to wear alone as an accessory piece or layered over other garments for added warmth on chilly days. With its luxuriously soft fabric and elegant drape, the holly hugs shoulder wrap adds style and comfort to any wardrobe! happyinred
24. Crochet Roses Summer Wrap Pattern
This free crochet pattern and video tutorial are perfect for making beautiful summer roses wrap! You'll love how easily lace stitches come together to create this luxurious wrap that is great for any warmer-weather outfit. Finished with luscious tassels, you'll have a gorgeous accessory. All you need is a J (6.0 mm) crochet hook and some DK weight yarn of your choice, and your wrap will measure 22″ x 45″ with 10″ height plus 3″ tassel length- make it today! fiberflux
25. Crochet Wrap Around Shawl – PDF Pattern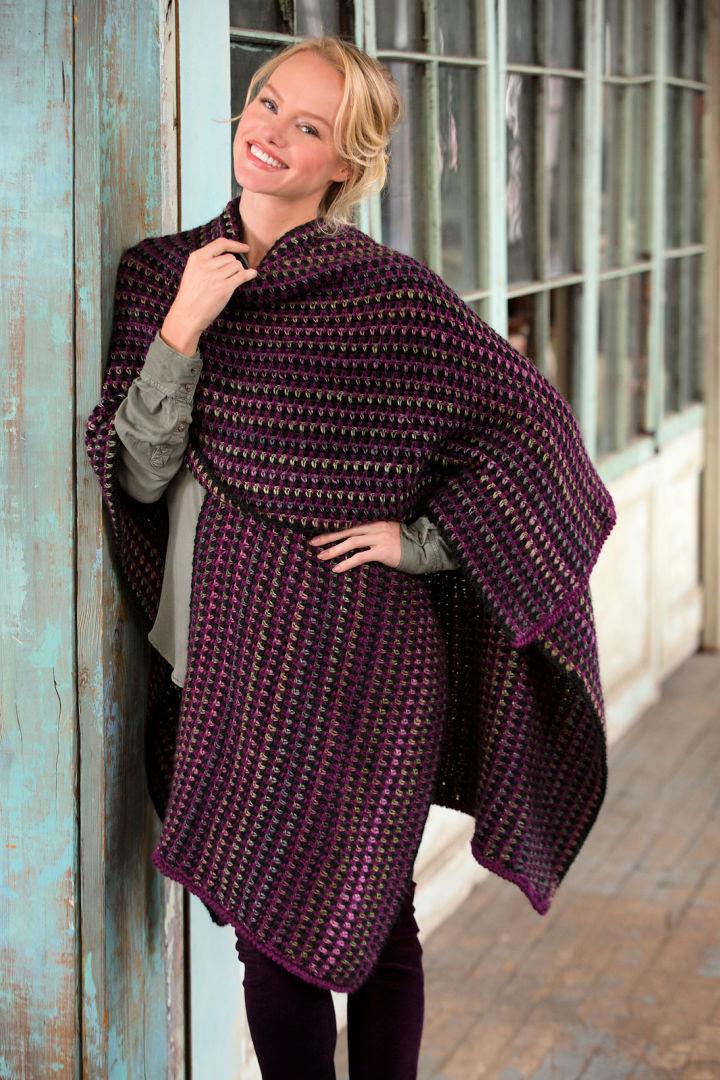 This around-town ruana is a wonderful go-to piece in every woman's wardrobe. It features an amazing stitch pattern that drapes perfectly while being easy to crochet – no matter your skill level! Measuring 36″ wide x 60″ long (91.5 cm X 152.5 cm), this ruana will fit almost everyone and make a great gift with its timeless style and comfort. All you need is a crochet hook 3.25mm "US D-3" and yarn like the worsted weight 4 in 3 different colors! Wrap up in it wherever you may be – from around town to at home! yarnspirations
Related Free Crochet Patterns:
Discover a wide selection of free crochet patterns to make beautiful and creative projects, from home décor to wearables.
Conclusion: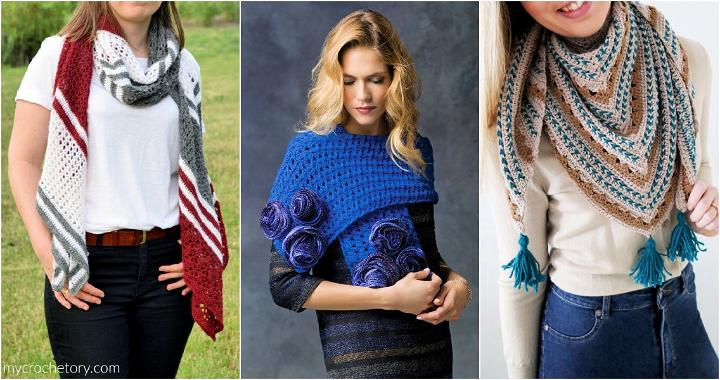 This article provides 25 easy and free crochet wrap patterns. Each crochet wrap pattern includes detailed instructions, step by step guidance and helpful illustrations making them perfect for those new to crocheting. You can choose from a variety of sizes and styles such as shawls, shoulder wrap, tropical wrap, cotton wrap and cotton wrap that suit your needs best. With these easy-to-follow crochet wrap patterns you will be able to make beautiful crocheted wraps in no time! So why not get creative with your own unique style – you'll be sure to stand out from the crowd!