Learn how to crochet a bow with a free pattern! Discover 35 free crochet bow patterns with detailed step-by-step instructions that are perfect for beginners! These easy and beginner-friendly crochet bow patterns include crocheted hair bows, ribbon bows, bow ties and more. Find the perfect crochet bow pattern to create a unique handmade accessory with this collection of free crochet bow patterns that have all been designed with beginners in mind. Find your favorite free pattern to make a beautiful crocheted bow sure to impress!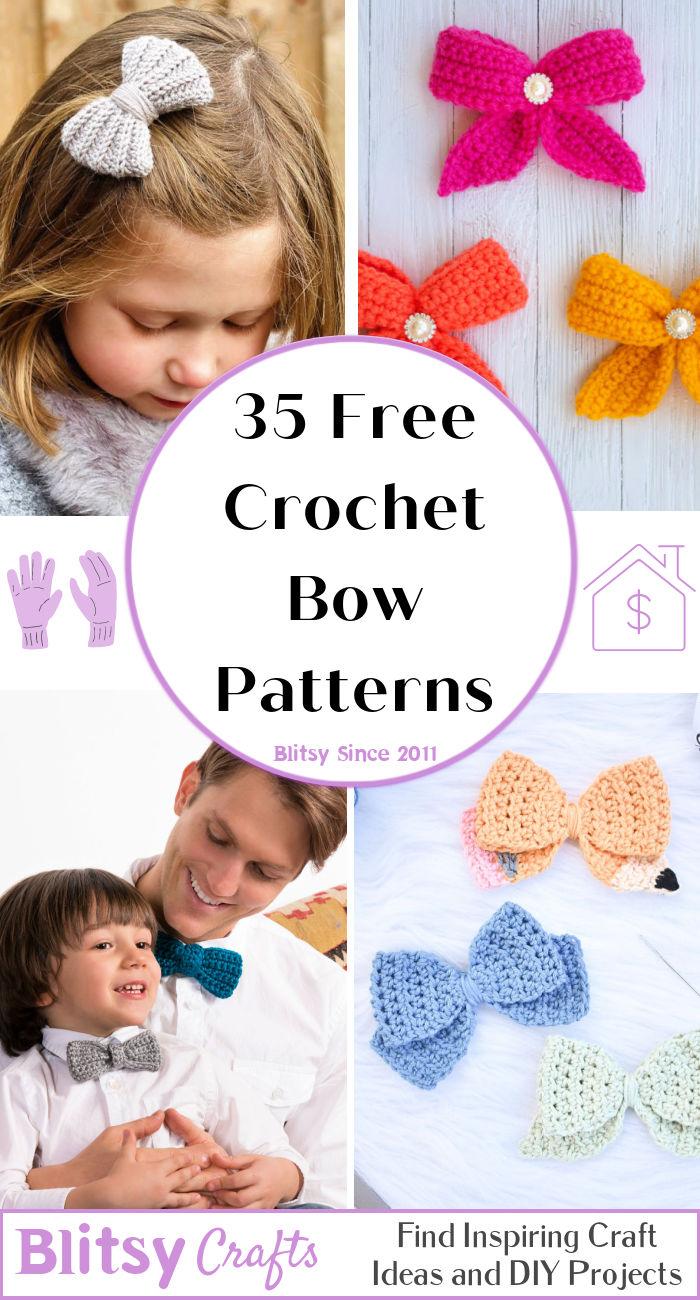 Free Crochet Bow Patterns
Crochet bows are a fun and versatile accessory that can add a touch of creativity to any item. Whether you're looking to crochet a bow tie, hair bow, or ribbon bow, there are many patterns and tutorials available to help you get started. You'll need a few basic supplies to crochet a bow, such as yarn, a crochet hook, and a needle and thread. Once you have your materials, you can follow a simple pattern or use a step-by-step guide to create a beautiful bow.
No matter your skill level in crocheting, making crochet bows is a great way to add a personal touch to your wardrobe and accessories. You can also use different colors and textures of yarn to create unique and eye-catching bows. Explore your creativity today and discover the easy crochet bow patterns you can create.
Crochet Bow Pattern: How to Create Beautiful Bows for Your Next Project
If you're looking for a way to add a touch of charm to your next crochet project, learning how to crochet a bow is an easy and fun way to do it. This article will provide 35 free crochet bow patterns, step-by-step instructions on creating beautiful crochet bows, and helpful tips and tricks. With a free crochet bow pattern, you'll be able to add a unique and personalized touch to any project. Whether you want to add a cute embellishment to your baby's headband to your dress or decorate your home for the holidays, there's a crochet bow pattern out there for you.
Tips and Tricks for Perfecting Your Crochet Bow Pattern
Crochet bows are a versatile and adorable addition to any crochet project, but creating them can be tricky. Our helpful tips in the given patterns will help you perfect your crochet bow pattern, from selecting the right yarn and hook size to mastering the art of tying your bows. With our expert advice, you'll be able to create beautiful, professional-looking bows in no time.
How Long Does it Take to Crochet a Bow?
If you're new to crocheting or simply curious about the time it takes to make a crochet bow, you're not alone. The time it takes to crochet a bow can vary depending on various factors, including the size of the bow, the crocheter's skill level, and the type of yarn and hook used. However, on average, it may take anywhere from 30 minutes to an hour to crochet a small to medium-sized bow. Larger bows may take longer to make.
What's the Best Yarn for Crocheting Bows?
Choosing the right yarn is important in crocheting a beautiful and durable bow. This article will discuss the types of yarn best suited for bows, including their characteristics and how to use them. Whether you're looking for a soft and fuzzy texture, a vibrant and bold color, or a durable and long-lasting material, we'll help you find the perfect yarn for your next crochet bow project.
Crochet Bows: A Fun and Easy Way to Add Some Style to Your Life
Crochet bows are a fun and easy way to add some style and flair to your life. This list of crochet bow patterns includes the types of yarn, techniques, and ways you can use to create beautiful and versatile crochet bows. Whether you're making a bow for a hair accessory, a clothing embellishment, or a home decor item, there's a pattern and style out there that will suit your needs. So what are you waiting for? Start your next crochet bow project today!
1. Crochet Brooch Bows Pattern for Beginners
With this easy-to-follow crochet bow pattern, you'll be able to create beautiful bows for every occasion. Whether it's for a purse, necklace, pin or paper clip, adding a handmade crochet bow will instantly add personality and style. Learning to make these small accessories can kickstart your journey into the wonderful crocheting world. To help make creating bows easier, this tutorial includes step-by-step instructions and plenty of pictures so you can easily follow along. Make some now to give as gifts, or keep them all for yourself! fabcroc
2. Crochet Bow Pattern With Tails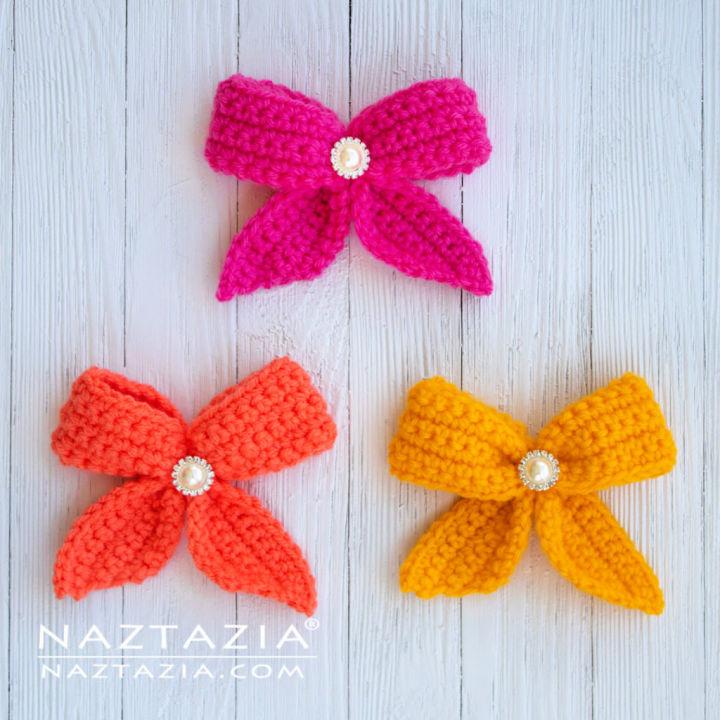 This is the perfect crochet easy bow pattern for beginners! This tutorial and pattern produce a bow that's 5 inches wide using worsted-weight yarn. You can use lighter DK weight yarn with a smaller hook to make a smaller 4-inch wide bow. Great as an embellishment, this simple project works quickly and easily with just 100% acrylic yarn. Follow the detailed instructions to craft your beautiful bows at home today! naztazia
3. Free Crochet Hair Bow PDF Pattern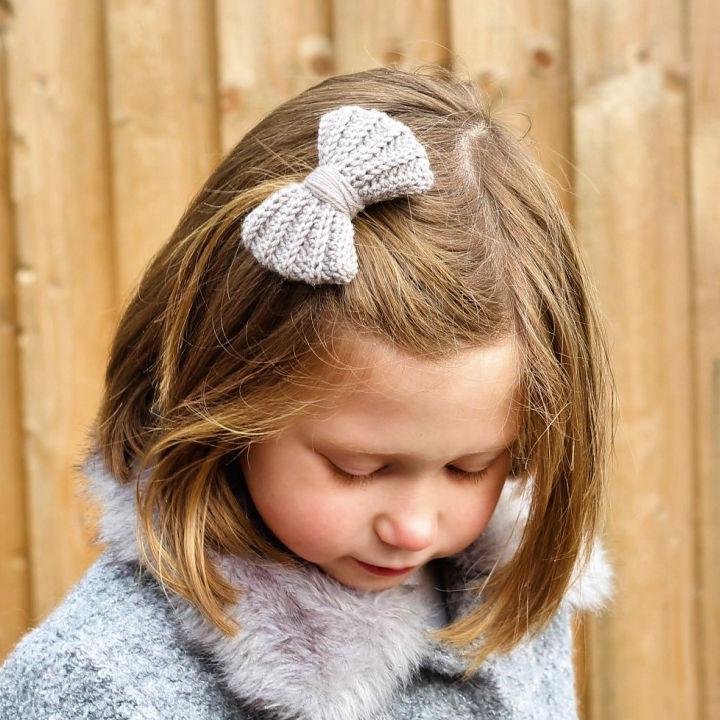 Make a stylish crochet hair bow for any age with this free pattern! Using the back post half double crochet stitch and scrap yarn, you can create an accessory that is perfect for adults or children. This bow measures 3 inches wide by 2 inches high, making multiple bows in different colors easy. With the rib effect from the blohdc stitch and knitted look when done with thin yarn, you are sure to love this cute project! trulycrochet
4. Crochet Sweet Treat Bow Pattern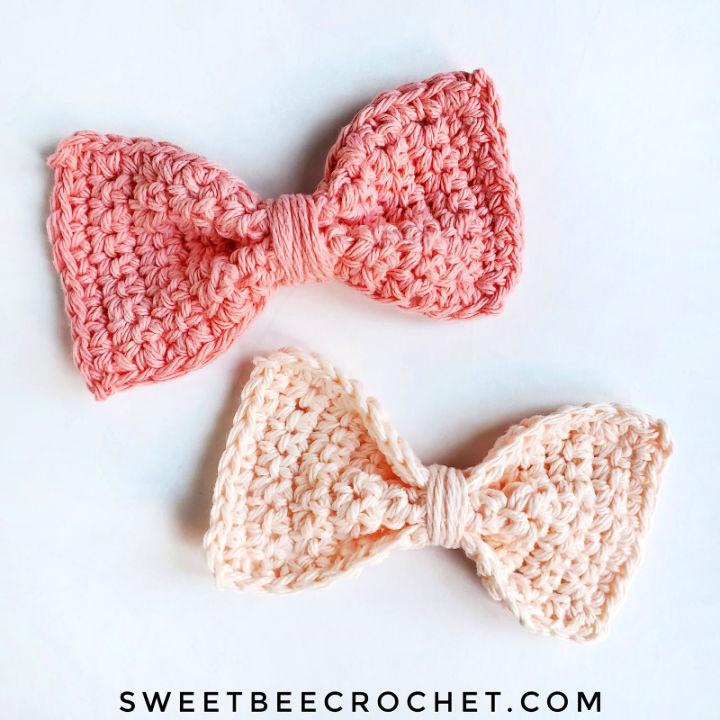 Create a fun, unique sweet treat bow in no time at all! This free crochet pattern is perfect for beginners as it requires no special stitches, and the gauge is unimportant. With only 30 minutes of your time, some worsted weight yarn, and a 4mm hook, you can make this bow which measures approximately 5 inches x 3 inches – plus, it's also great at busting that leftover stash! Get creative with color combinations to create something truly special. sweetbeecrochet
5. Pretty Crochet Knit Look Bow Pattern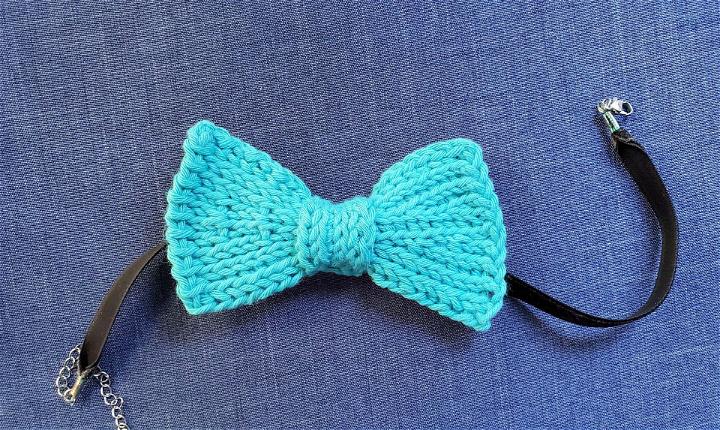 Knit look bow with a Tunisian crochet pattern – the perfect project for any level! This free pattern is an easy-to-follow tutorial to create a 4 ½ x 3 inch bow. With worsted weight yarn and a 6 mm hook, you can achieve that classic knit fabric look without needing special Tunisian hooks. Try this fun variation on Simple Tunisian Stitch to add texture and flair to your projects today! nineinspired
6. Easy Crochet Small Bow Pattern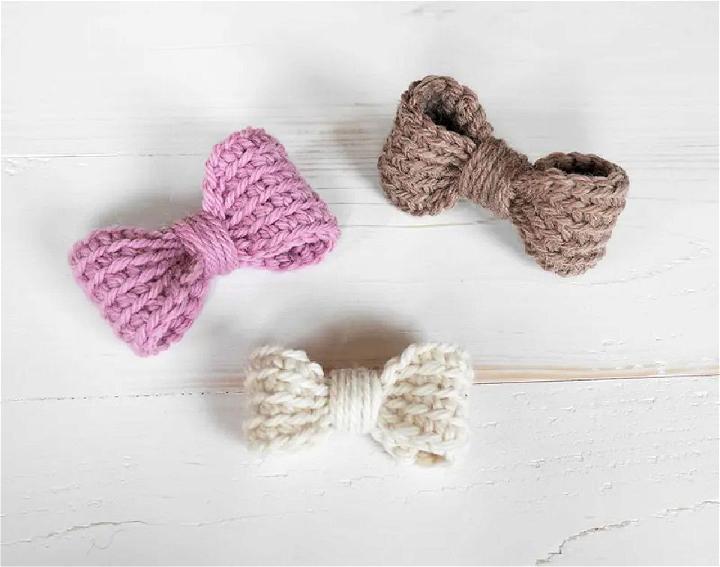 If you want to create a beautiful crocheted bow, it's an easy task that adds a graceful touch to any outfit. This simple pattern will show you how to create a small or large bow with aran weight yarn and a US 7/4.50 mm hook – no gauge is required! With this crochet pattern, you can make cute bows for your little girl's outfits, hair ties or headbands. Have fun creating the perfect accessory- your creative possibilities are endless! mallooknits
7. Crochet Back to School Bows Pattern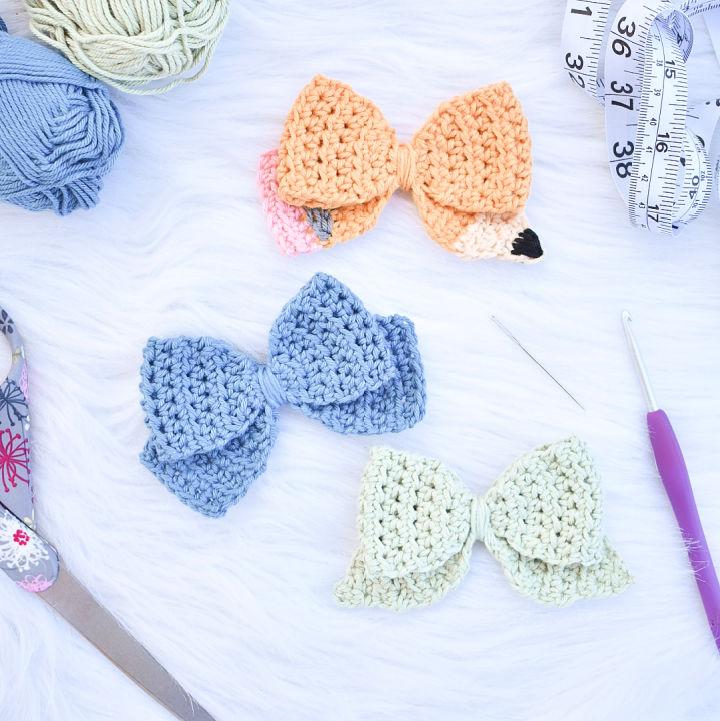 This free crochet pattern is perfect for back to school! It's quick and simple, making it beginner friendly. With DK/lightweight yarn and a 4mm hook, you can make 4″ wide and 3″ tall bows. And with 16 sts & 18 rows = 4" in hdc, this project goes together quickly! Make one for every day of the week or use these cute bows as hair accessories, backpack decorations or even gift tags – get creative! Why not learn something new while adding some flair to your wardrobe? woodlandstitch
8. Crochet Teddy Bear Bow Tie Pattern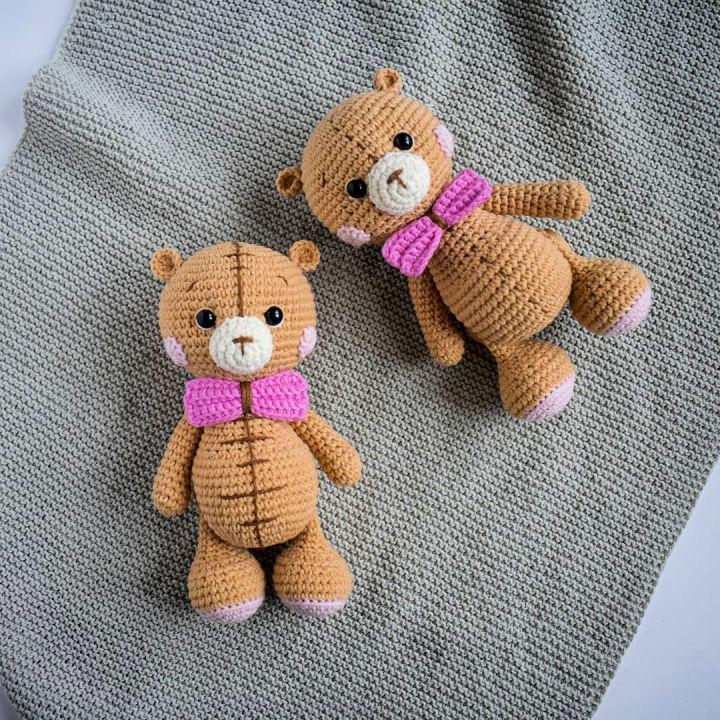 Using this simple pattern, you can craft a cozy crochet teddy bear with a bow tie! This plush amigurumi toy stands 15 cm tall and only requires some yarn art jeans yarn in beige, pink, bright pink, white and brown colors; 2.00 mm crochet hook; 8 mm half beads; buttons for joining arms and legs as well as fabric glue and fiberfill to complete the project. Follow the step-by-step instructions on how to make the perfect cozy companion that's sure to bring a smile to any child's face! Make this adorable teddy bear with a bow tie for hours of fun playtime today! amigurum
9. Crochet One Round Little Bows Pattern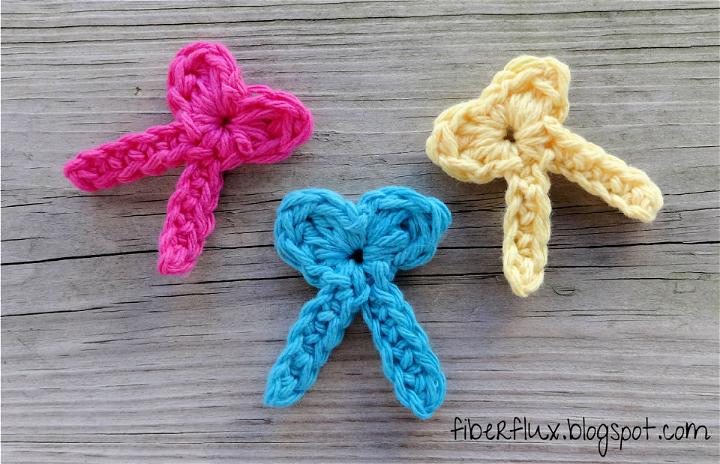 Crochet beautiful bows for every project with this free crochet pattern! It's perfect for adding a touch of elegance to gifts, hair accessories, clothing and more. This one-round pattern makes it quick and easy – grab your hook (5.0 mm) and worsted-weight yarn to get started. Results vary from 1.5 inches wide by 2.25 inches tall from top to tail – customize yours today! fiberflux
10. Free Crochet Large Red Bow Pattern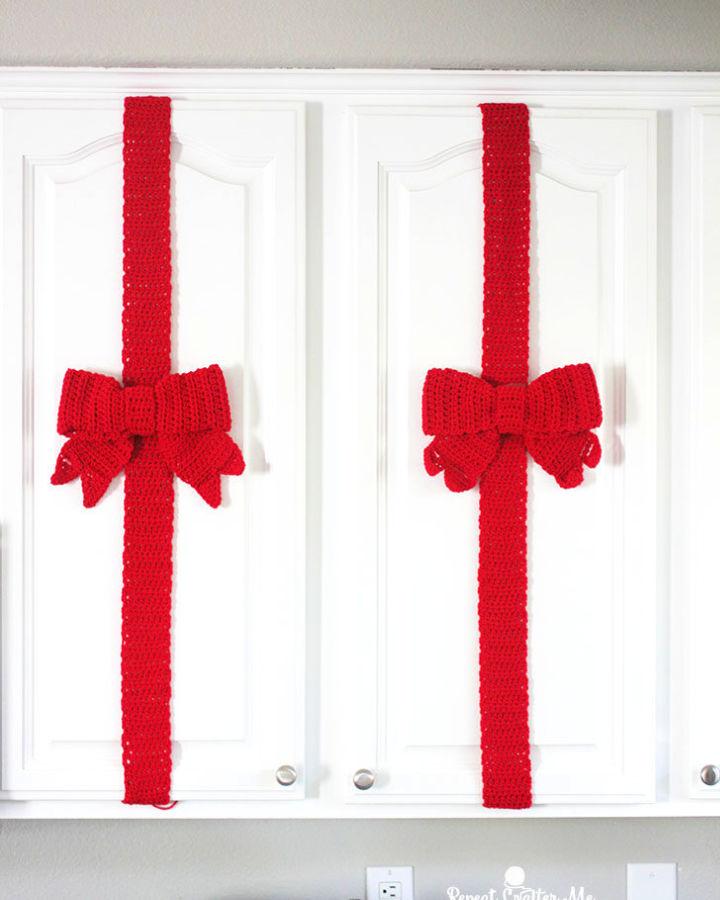 This easy crochet big red bow adds a festive touch to your holiday decor! This bow is made from Bernat super value yarn in berry red, perfect for hanging on doors, wreaths, trees, and even packages. With an H-size crochet hook, the finished size of bow measures approximately 9 inches long by 7 inches tall. Get creative with colors and sizes to make custom bows for any occasion – perfect for sprucing up your home or giving as gifts! repeatcrafterme
11. Crochet Guys Bow Ties Pattern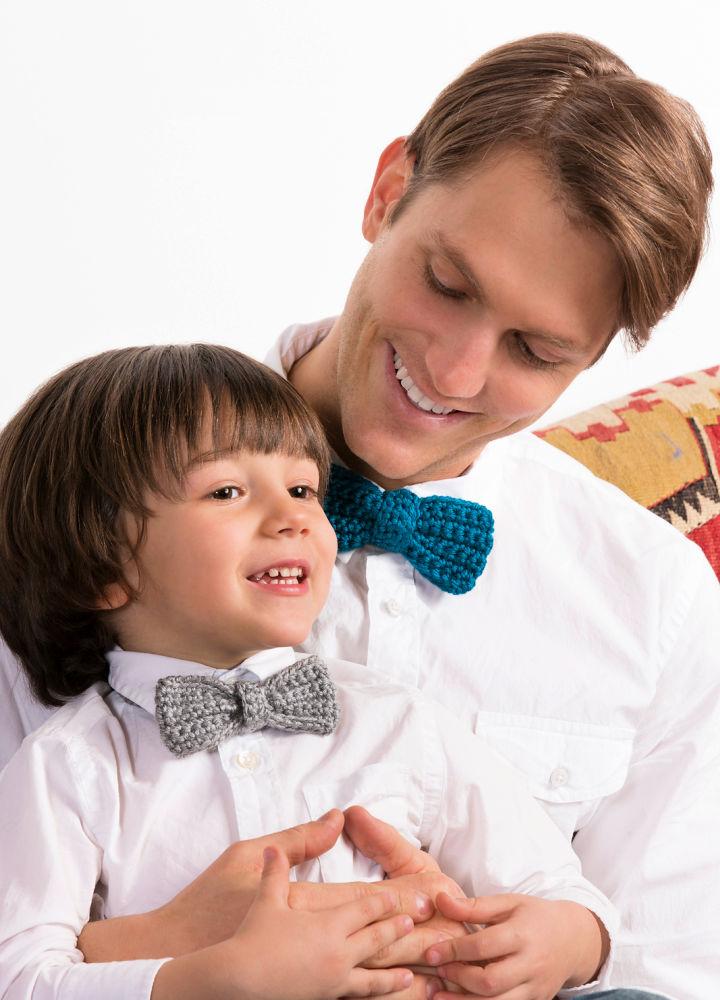 The bow tie crochet pattern can achieve a refined appearance for men and boys alike. The pattern is given in two sizes, one for men and one for boys – boy measures 4¼" "11 cm" wide x 1¾" [4.5 cm] high; adult size measures 4½" [11.5 cm] x 2¼" [5.5 cm]. Make your fashion statement by crocheting this stylish accessory using red heart soft yarn (3.75mm [US F-5] for boys & 5mm[US H-8] for an adult) and small buttons – suitable even for beginners! yarnspirations
12. How to Crochet a Decorative Bow – Free Pattern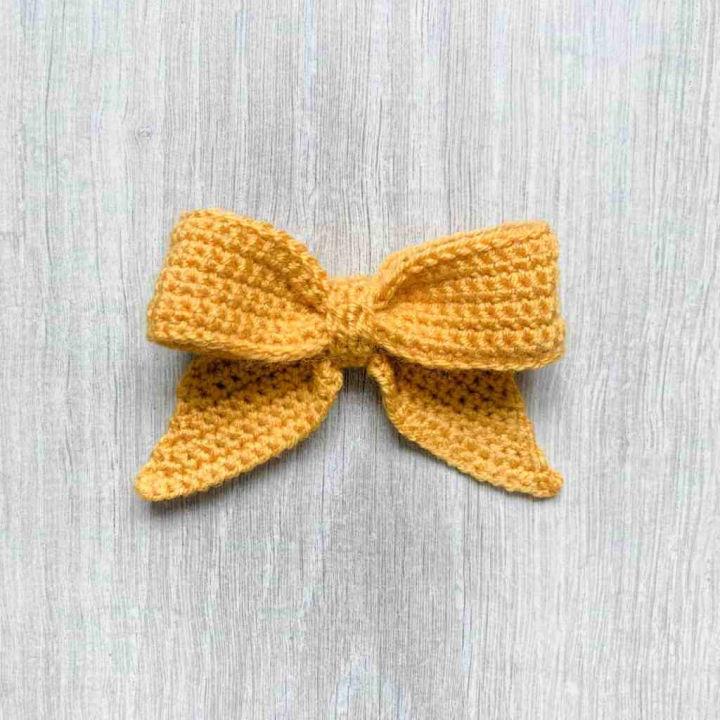 Get creative and learn how to crochet a decorative bow with this free pattern and picture tutorial. Handmade touches add something special to gifts, so why not try this crochet bow pattern? It's the perfect adornment for any birthday present, seasonal/festive wreath, or stocking – an eye-catching addition you can be proud of! With this step-by-step guide, even beginners can get crafty in no time. So grab your supplies and learn how to make a beautiful handmade bow today! doradoes
13. Classic Crochet Sailor Hair Bow Pattern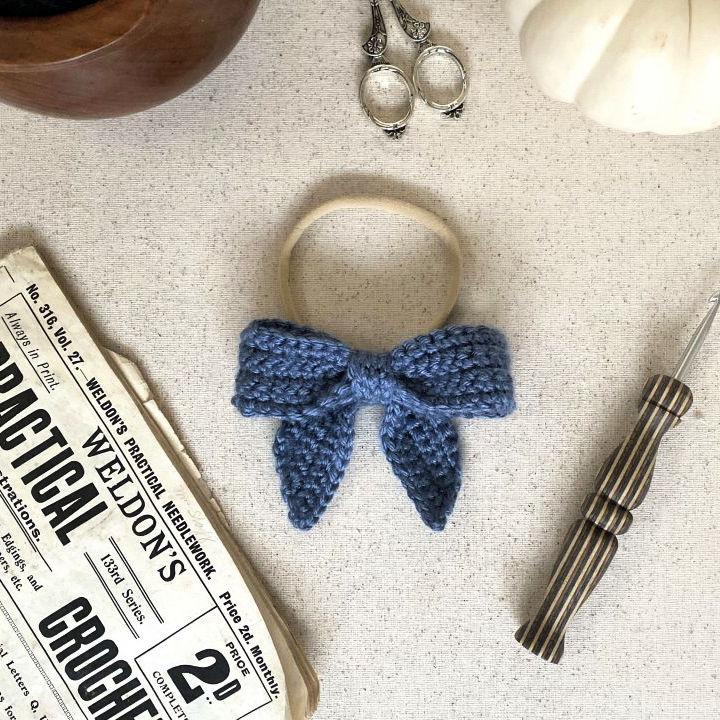 Go crochet and make the perfect nautical-themed accessory for any outfit with this free sailor hair bow crochet pattern! This classic design can be made in five sizes ranging from mini (3″ x 2.5″) to jumbo (6″ x 4.25″), and the easy-to-follow tutorial includes instructions for medium size (4.5″x3.5″). You only need worsted weight yarn, a size H/5 mm crochet hook, and a few simple chain stitches and single crochets. Get your hooks ready – it's time to make something beautiful! thewannabegrand
14. Adorable Crochet Bow Pattern – Free PDF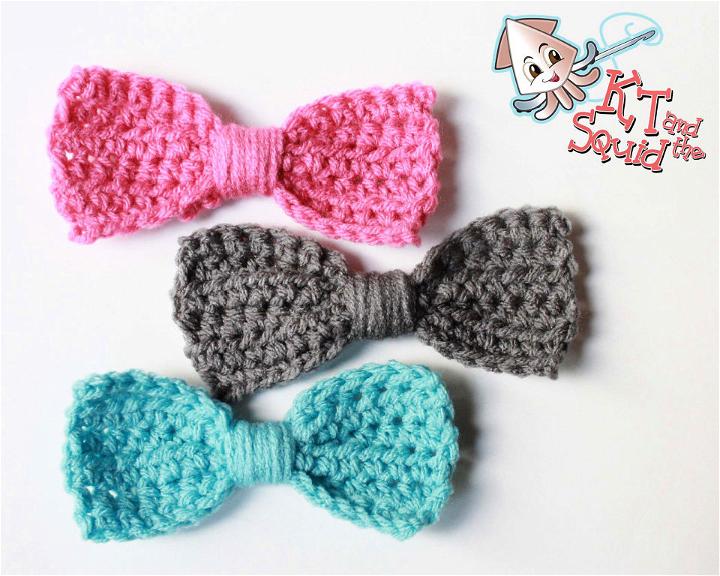 Everyone will love this free crochet bow pattern that is perfect for adding a unique accent to hats, bags, hair clips or shirts. Get creative with different yarn weights and hook sizes to make bows of all sizes. All you need is some worsted-weight yarn, an H/5mm hook, and this easy-to-follow pattern! Create beautiful bows in no time that are sure to turn heads wherever you go. Try it out today! ktandthesquid
15. Crochet Chunky Bows Pattern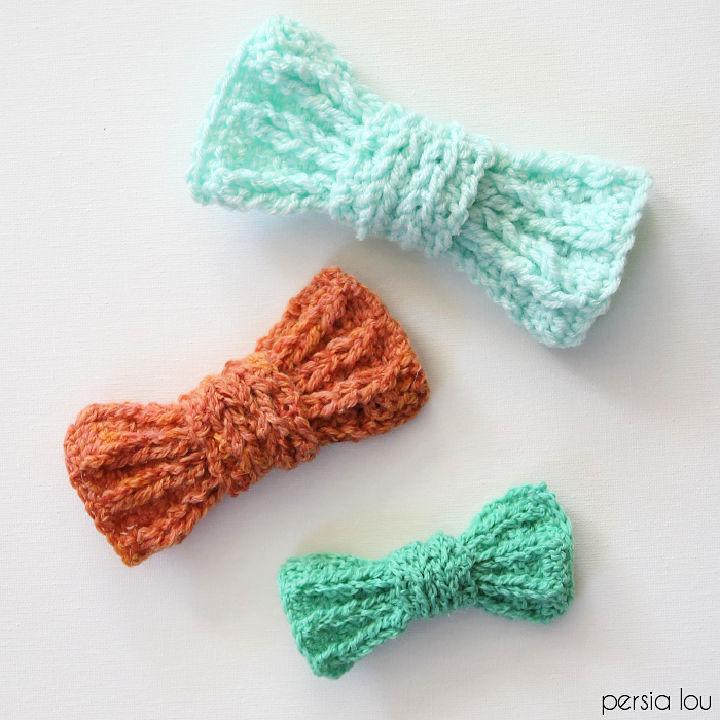 Adorning your outfit with a chunky crochet bow pattern adds an extra layer of charm and style. You can easily create an eye-catching gift topper with a chunky weight yarn and a J hook. Whether for a special occasion or fun, this pattern will help you make giant crochet bows in no time! Add extra flair to any present with the beautiful bow you'll learn how to make. Get started today on your handmade masterpiece with this easy yet impressive chunky crochet bow pattern. persialou
16. Cute Crochet Bow Pattern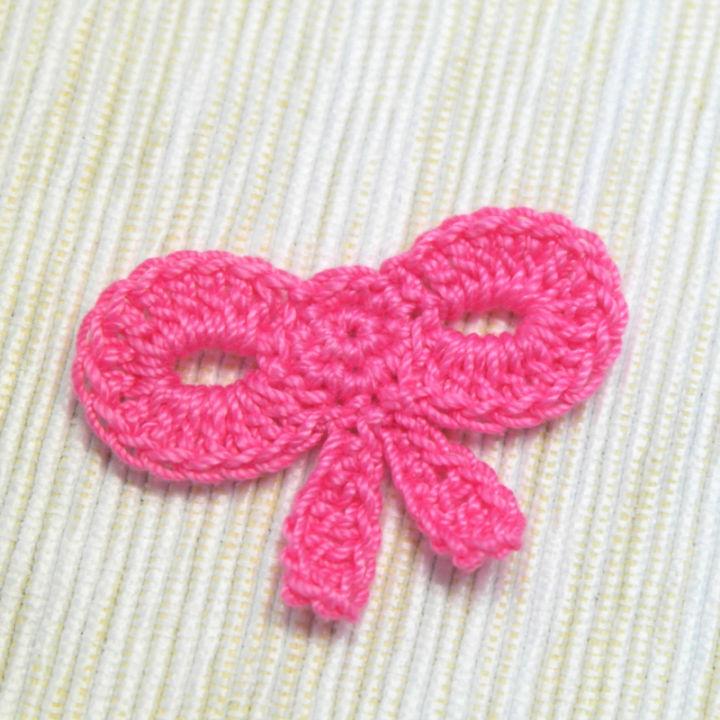 Learn how to crochet a cute bow with this easy tutorial! Perfect for using up all your leftover yarn, you'll need thin-weight yarn (like pink) and a size 1.25 mm crochet hook. Follow the free patterns provided to create an adorable accessory that looks great on clothing, bags and more. With basic crocheting skills, you can quickly make a colorful bow in no time – perfect for adding homemade charm to any item! Start now and get creative with your DIY projects! diycrochetlily
17. Crochet Striped Bow Pattern for the 4th of July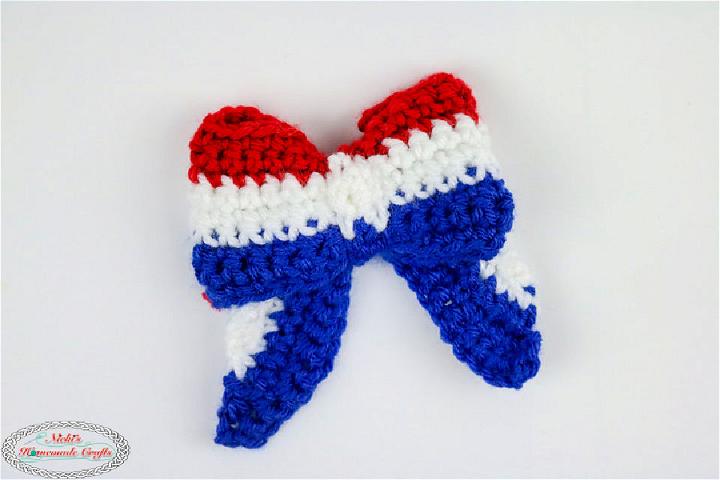 Get busy with your hook and crochet the perfect 4th of July decoration with this free crochet pattern for a striped colored bow. With photos and video tutorials included, you'll be able to make your festive accessory quickly and easily. Bows are incredibly versatile – use them as presents, decorations around the house, in hair or on clothing – whatever works for your style! Get creative with it, and have fun!
Make a gorgeous statement, whether it's an oversized bow that covers little heads or subtle touches throughout the home. Celebrate Independence Day in style with this amazing DIY craft project. nickishomemade
18. How to Make a Crochet Round Bow – Free Pattern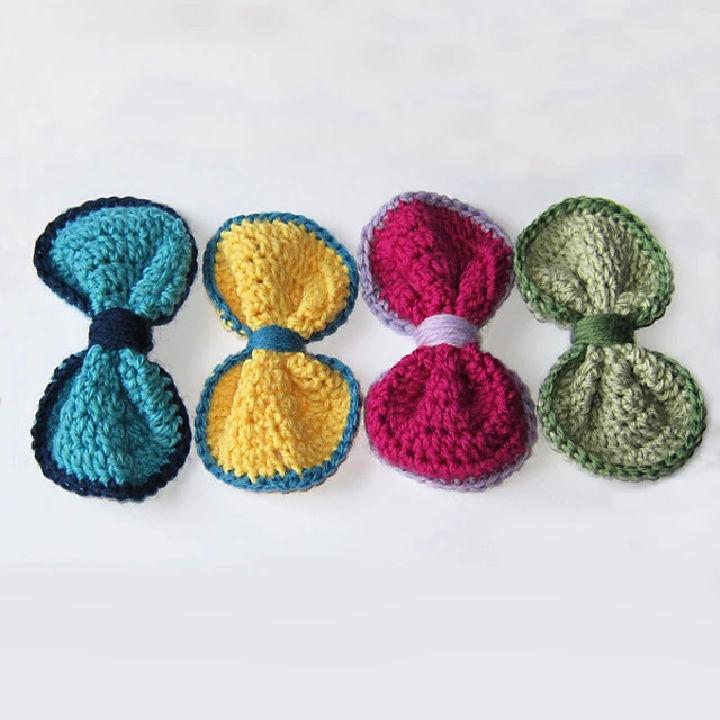 Stitch a stylish crochet bow in five to ten minutes with this simple pattern for working in the round! This easy-to-follow guide is perfect for beginners who are looking to learn the basics of crocheting. You will need 8-ply yarn and a 5mm hook, as well as 4-ply yarn and a 4mm hook to make your bow. Get creative with colors and styles – you'll be able to show off your new handmade accessory in no time! roamingpixies
19. Crochet Your Own Curly Bow Pattern
Get busy with your hook and crochet your stylish crochet bows with lion brand yarn! Using a size 4mm hook and worsted weight (size 4) yarn, you can easily make large, medium, and small bows. With simple instructions and the ability to choose any color imaginable for your project, it's easy to personalize clothing and accessories uniquely.
Perfect for men or women – follow this step-by-step tutorial today to create a fashionable bow that adds character to any outfit! Get your materials ready now and be on your way to creating an ever-lasting piece of art with just one hook and some yarn – start making beautiful bows right away! knotbadami
20. Crochet Bows in 3 Different Sizes – Free Pattern
Sorting out a stylish yet easy-to-make accessory to add to your wardrobe? Look no further! This free crochet pattern gives instructions on how to create the perfect crochet bow in three different sizes: small (3 x 2 cm), medium (4.5 x 3 cm) and large (5 x 3.5 cm). All you need is some sport or DK weight yarn, a 2.5 mm crochet hook, and some basic crocheting skills – this project is even suitable for beginners! Make them all in one color or multiple shades of your favorite colors – either way, your look will be accessorized with beautiful handmade bows that are sure to turn heads! lilleliis
21. Perfect Crochet Mini Bow Pattern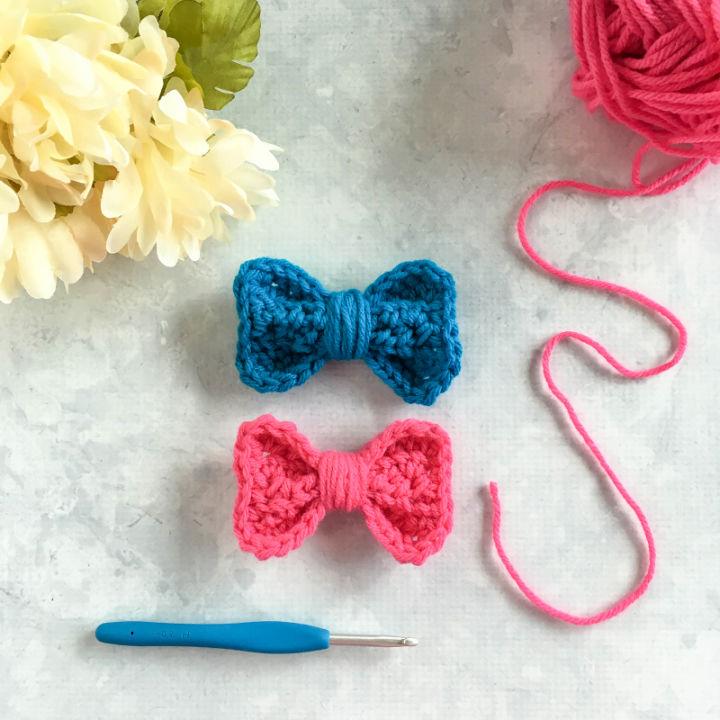 Time to make your projects pop with this free crochet bow pattern! Perfect for appliques and embellishments, it's quick to make with any weight yarn — try worsted weight acrylic. Use them as hat decorations or make a bunch of hair clips to sell at craft fairs – either way, you'll make something special in no time. Try this easy project today and give your projects the perfect finishing touch! leftinknots
22. Crochet Awareness Ribbon Bows Pattern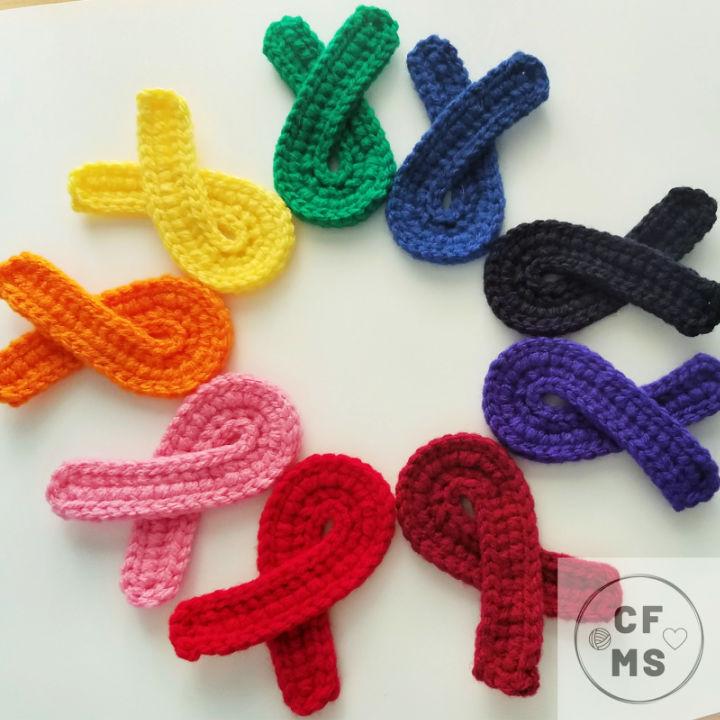 Show your love and support to a loved one or someone in need with a handmade awareness ribbon. This simple and easy crochet pattern uses just a 3.75mm hook and worsted-weight yarn of your preferred color to make key chains, pins, magnets or any other item you desire. Follow the step-by-step instructions provided for making this versatile pattern in any size. Make a difference by expressing your emotion through this meaningful craft – use it to show you care! Let's get started today and spread positivity with these handmade ribbons! craftingformysanity
23. Gorgeous Crochet Plaid Bow Tie Pattern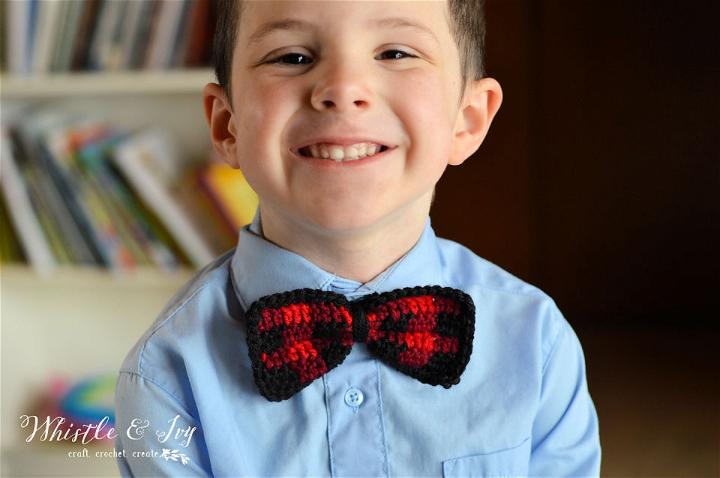 You'll stand out this fall with this stylish plaid bow tie pattern. Perfect for any style, it's easy to crochet and sure to make an adorable statement! Perfect for the holidays or to add a bit of flair, you can make a perfect bow tie in no time. You only need medium-weight yarn, a 3.5mm hook, and 2 medium-sized buttons. Create the perfect accessory to have your little man wearing in family photos, or make an adorable headband version for your baby! Check out this easy-to-follow tutorial to start crafting your plaid bow tie today! whistleandivy
24. Free Crochet Bow Tie Pattern for Toddler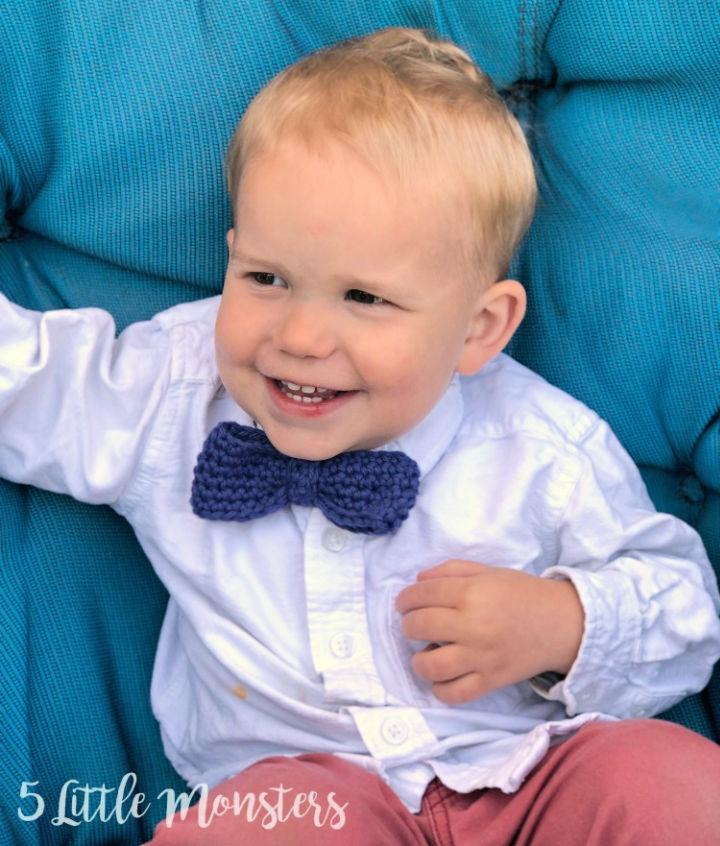 Everyone will love this adorable little crochet bow tie is the perfect quick and easy project for any toddler's wardrobe. With just a few materials, such as worsted weight yarn, a crochet hook, and some small amounts of fabric, you can make this wonderful addition to your child's outfit in no time! It's great for scrap yarn, too – so if you don't need a lot of yarn or have much time to commit to making it, this crocheted bow tie will still be an adorable piece that looks stylish on any young one. Make sure to grab your supplies and get started today! 5littlemonsters
25. Crochet Bow Tie Pattern for Little Man
This stylish, crocheted bowtie gives your little man the perfect hipster look. Made from comfortable yarn in any color, it measures 1½" wide x 3″ long (4 x 7.5 cm) and is perfect for accessorizing any shirt. And since it's washable, he can even wear it to dinner! Whether you are a beginner or an expert at crochet work, this easy-level project allows anyone to create the perfect bowtie for their little one. yarnspirations
26. How to Crochet a Bow Tie – Free Pattern
Whip up a unique and stylish accessory with this easy crochet bowtie pattern. Perfect for a special Easter outfit or dress-up day, the alternating rows of texture and single crochet stitches make it quick to work up in two sizes. Great as a stash buster, the perfect gift for any baby boy! Materials needed: #4 medium worsted weight yarn, 5mm hook (H). Get creating today to make them look their best! christacodesign
27. Crochet St.Patricks Day Bow Tie Pattern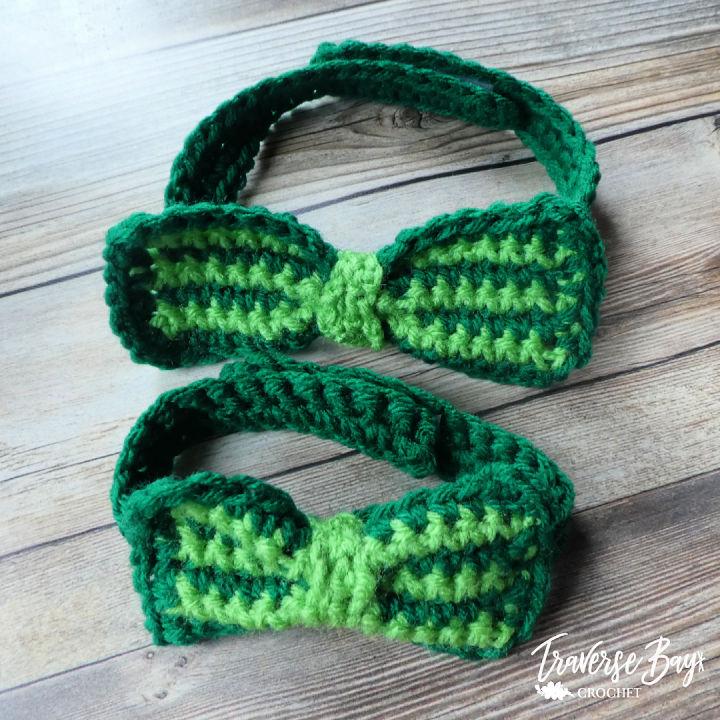 Make this festive and cute St. Patrick's Day crochet bow tie! The adjustable velcro back makes it suitable for both children and adults. It measures approx. 4″ wide and 2.5″ tall for the child size with a 14″ neckband, while the adult size is 5.5″ wide by 2." tall, with a 17″ neckband – perfect for adding an Irish touch to any outfit! Get yours today, so you're all ready to celebrate on March 17th! traversebaycrochet
28. Crochet Leather Bow Tie Tutorial
Go for a big statement with your outfit by crafting your crochet and leather bow tie! With this easy-to-follow tutorial, you can create an eye-catching accessory perfect for any special occasion. The mix of crocheting and sewing, plus the use of quality leather, make it ideal for beginners looking to learn new skills. Get all the instructions and materials needed to craft your bow tie today – no need to call on a tailor when you can do it yourself! deliacreates
29. Free Crochet Childs Bow Tie Pattern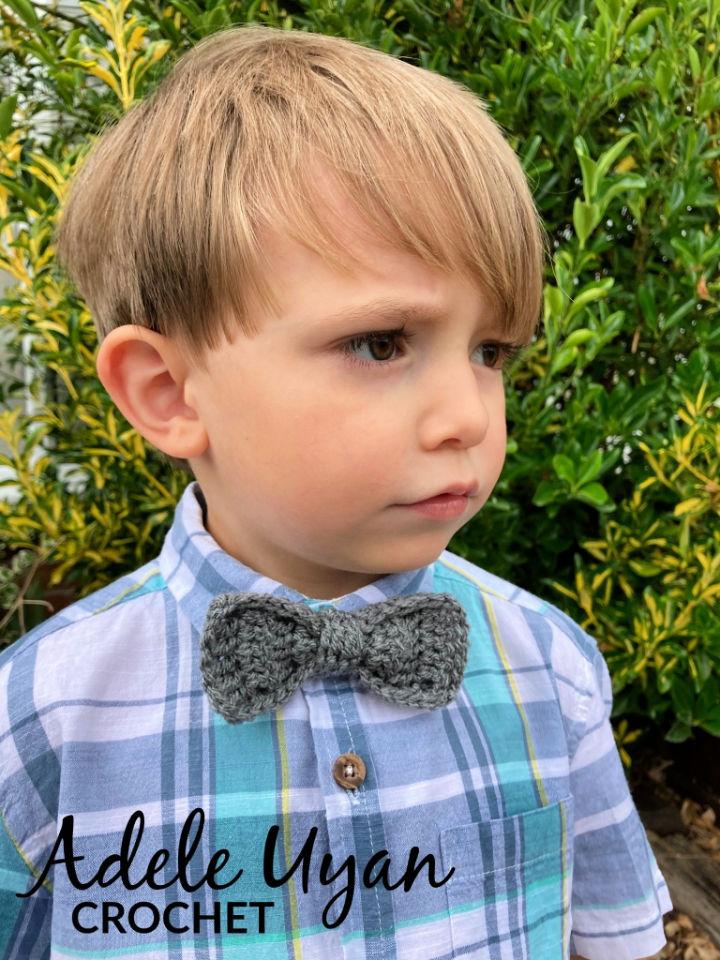 Help your child make a statement with an exquisitely crafted crochet bow tie. These unique and fashionable accessories will ensure your beloved offspring stands apart from the crowd. With this free pattern, you can make the perfect accessory for any special occasion.
You only need a 4mm hook, double knit or light worsted yarn, and a small button to start. This pattern fits the 4-year-old boy excellently, but it's easy to adjust by adding or removing rows from the neck strap. Create a unique bow-tie that will make your little one smile! adeleuyancrochet
30. Crochet Baby Bow Tie Pacifier Clip Pattern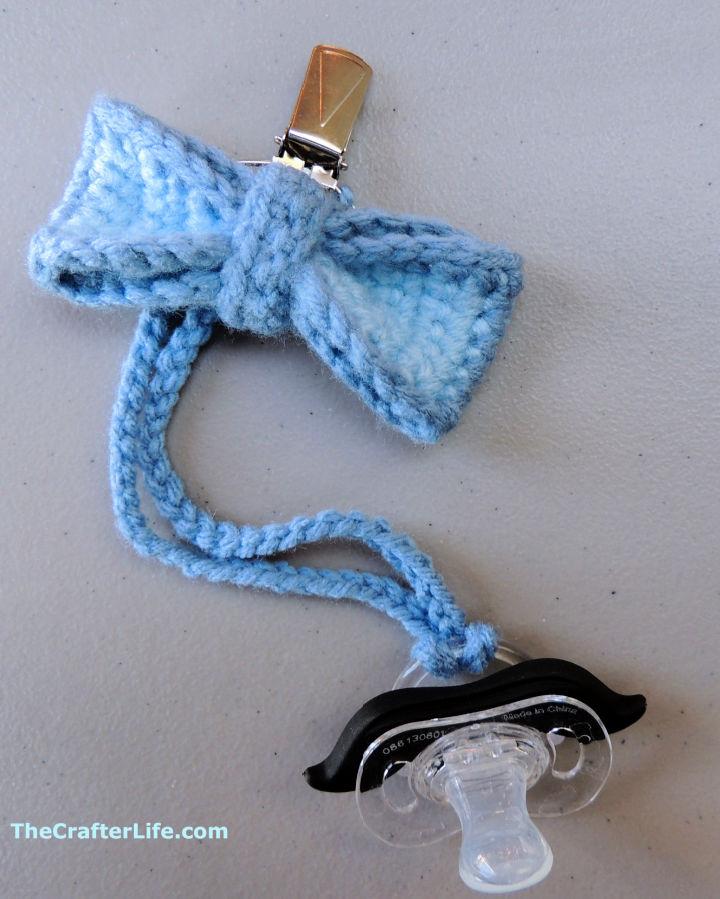 Keep your baby's pacifier safe and secure with this stylish bowtie pacifier clip! Made from lightweight, durable materials in light blue and bluebell colors, the finished measurements are 3.75″ wide and 1.5″ high. Easily attach it to a blanket, clothing or diaper bag with the 3.75 mm (F) crochet hook included. And when you no longer need a pacifier, remove the attachment to use it as an adorable clip-on bowtie! Get your bowtie pacifier clip today for a practical yet fashionable way to keep up with your little one's needs! thecrafterlife
31. Crochet Hugo Bow Tie Pattern for Dogs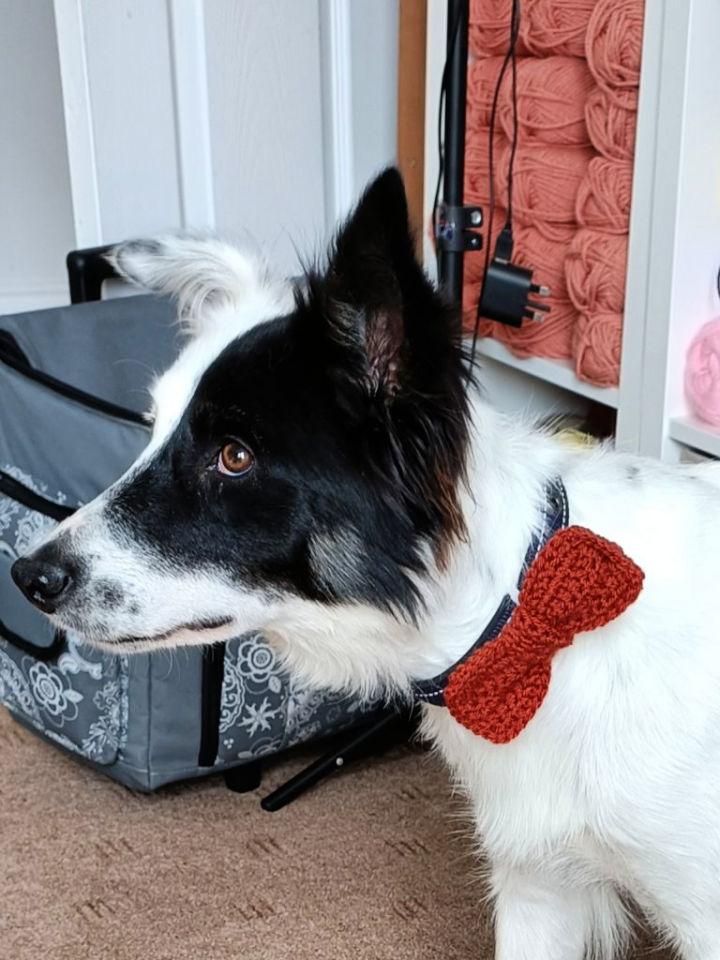 Treat your pup with this free crochet pattern for a Hugo bow tie! Perfect for any special occasion, the easy-to-follow instructions will have you crafting quickly. All you need is 20 yards of DK (#3 weight) yarn and a 4mm gauge (though it's not important for this project). With this unique accessory, your pup will be the talk of the town! Get started on your Hugo bow tie now – perfect for small and large breeds. sunflowercottagecrochet
32. Crochet Minnie Mouse-Inspired Baby Hat Pattern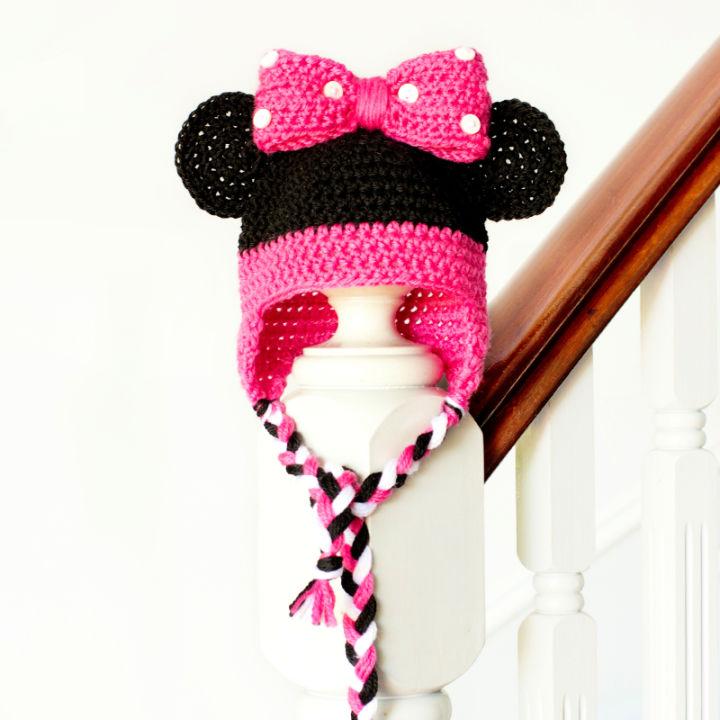 Let the magic begin! Create a cute and stylish Minnie Mouse-inspired baby hat crochet pattern! The finished size fits 3 to 6 months old with a head circumference of 16 inches, 40cm, and hat height of 6.5 inches, 16.5cm. You'll need 6x white buttons, 1 cm x 1 cm, for the perfect look! This pattern is also suitable for newborns from 0 – 3 months old. Pick up this super easy crochet project today and show your little one some Disney magic! hopefulhoney
33. Awesome Crochet Bow Pattern for Hat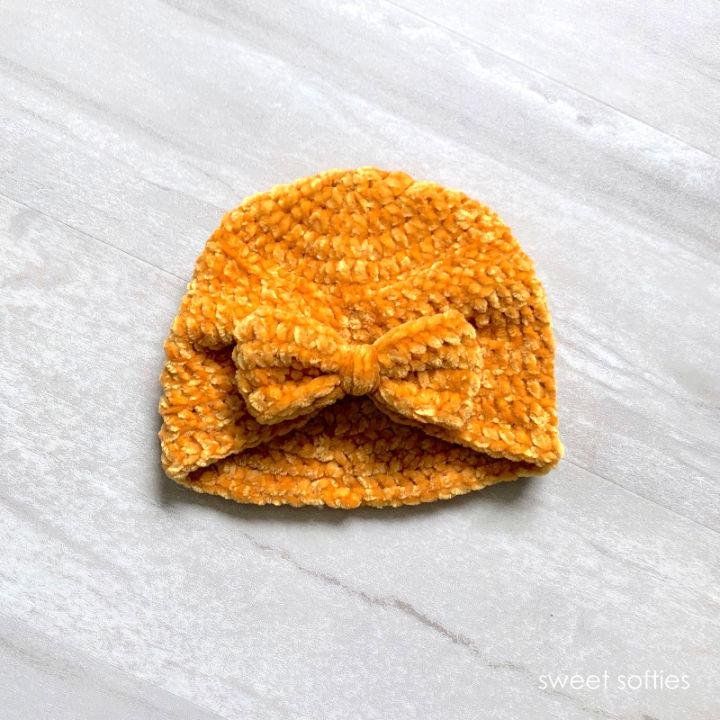 Sorting out a fashion-forward yet practical accessory for your little girl? Check out this velvet baby turban free crochet pattern! It's easy to put on and wear, and it comes with an adorable bow inspired by the top knot head wraps trending right now. Plus, it keeps newborns cozy and comfortable – perfect for any stylish diva! And best of all, it's quick and simple to crochet – you can finish in one sitting. Finished measurements are 0-3 months with a circumference of 12″ without stretching. The level is suitable for everyone from beginner crocheters up. Try this free pattern today! sweetsofties
34. Free Crochet Baby Bow Pattern
Get ready to crochet bows in no time with this easy and perfect pattern! This free crochet pattern includes flat bows plus a 2-layer version for added detail. These quick-to-work-up bows are versatile enough to embellish clothing items, hair accessories, and home décor pieces like garlands. You only need a size G (4.25mm) hook and medium-weight yarn to create these adorable little crafts! Download the PDF today to start crafting your perfect crochet bows. whistleandivy
35. Free Crochet Tiny Bow Pattern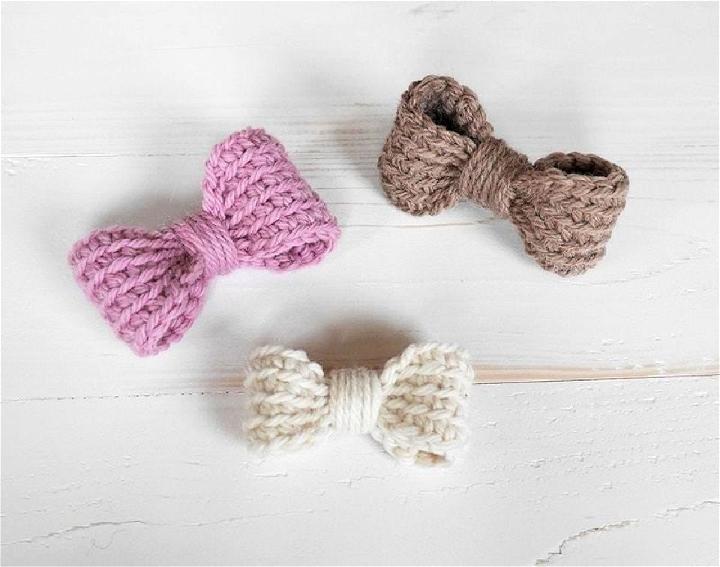 This easy crochet bow pattern is perfect for adding cute and feminine embellishments to your projects! This project will show you how to make a beautiful crocheted bow in no time. Whether for clothing, hair accessories or home décor, this bow adds an extra special touch that can bring any project alive. Learn how to make your crochet bows with this simple step-by-step tutorial today – great for beginners! cutoutandkeep
Related Free Crochet Patterns:
Discover the joy of creating something unique with our free crochet patterns! From stylish garments to cozy home decor, learn how to make handmade items that express your creativity.
Conclusion: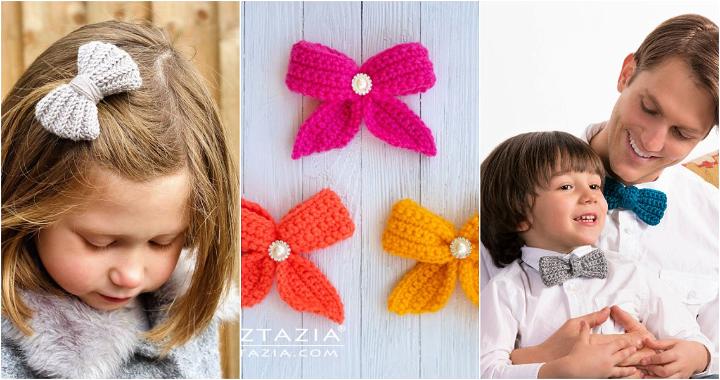 These 35 free crochet bow patterns are available above, from basic bows to detailed crocheted ribbon bows are perfect for beginners. With an easy step-by-step tutorial you'll get the crochet bow pattern that fits your style and skill level.
With clear instructions and plenty of pictures, these 35 free crochet bow patterns provide everything needed to make perfect bows. From hair clips and headbands to fun shapes like stars and hearts—and even a crochet bow tie pattern!
This selection of crochet bow patterns will bring out the creative side in everyone. Perfect for adding the finishing touches to any outfit or gift, this collection of free crochet bows can help make special moments even better.