Creating a baby blanket crochet pattern is a perfect way to give your little one an extra special and unique gift. Find 40 free crochet baby blanket patterns with easy step-by-step instructions and free pdf pattern downloads to detailed and printable diagrams. Whether you're a beginner learning how to crochet or an advanced crocheter looking to create something unique and special, we have plenty of baby afghan patterns designed with everyone in mind.
Crochet baby blankets are some of the sweetest and most thoughtful gifts you can give. These Free crochet baby blanket patterns make it easy to create unique and special baby blankets for a new bundle of joy. You'll find free crochet baby blanket patterns for boys and girls, newborns and toddlers. Easy-to-follow designs range from afghans to textured stitches, patterns with beginner-friendly details or more detailed designs for experienced crocheters. Whether you choose single crochet, half double crochet or Tunisian, there is a free printable crochet baby blanket pattern ready for you to start creating beautiful pieces that will last forever. So let's get creative – find the perfect free crochet baby blanket pattern today!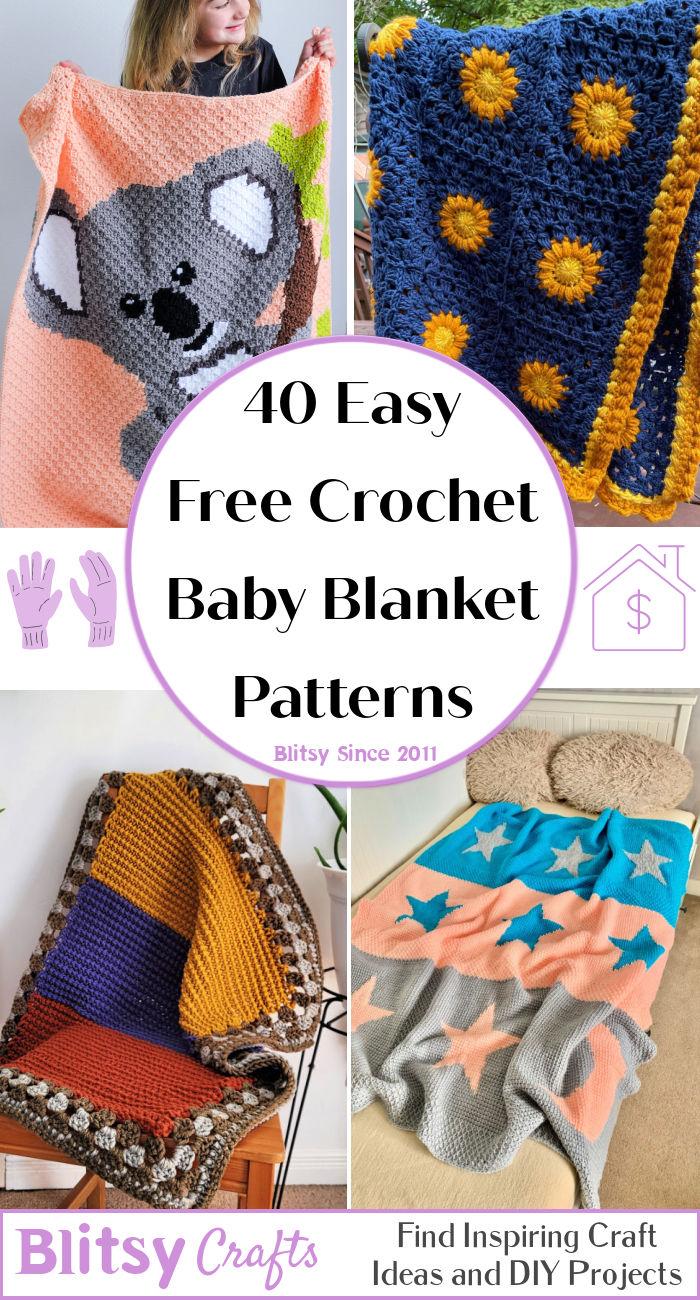 Free Crochet Baby Blanket Patterns
Find the perfect crochet baby blanket pattern with this collection of 40 free crochet baby blanket patterns! From easy instructions to detailed patterns for beginners, these free printable PDFs are full of inspiration. Whether you're searching for a classic granny square style or something unique like stripes or chevrons, there is sure to be a project that will make any new mom (or soon-to-be mom) blanket with joy.
Get started crocheting today by downloading one of our many free crochet baby blanket patterns – from children's blankets to newborn wraps and afghans for girls and boys – each one is sure to add warmth and comfort no matter what size! Let's find the baby blanket crochet pattern that will make a beautiful, unique gift for any new mother.
A Guide to Free Crochet Baby Blanket Patterns
Making a baby blanket is a wonderful way to show your love and care for a new arrival. We will explore here the 45 best free crochet baby blanket patterns you can find online. From simple and classic crochet baby blanket patterns to more unique patterns, we have something for everyone. So, let's get started!
Simple and Classic Crochet Baby Blanket Patterns
For those just starting out with crochet, simple and classic designs are a great place to start. Here are some of the best free crochet baby blanket patterns that you can try:
Granny Square Baby Blanket: This classic pattern is made up of granny squares that combine to create a cozy and colorful blanket.
Shell Stitch Baby Blanket: This simple pattern uses a shell stitch to create a soft and cuddly blanket.
Baby Afghan: This timeless design is perfect for those just starting with crochet. It's simple to make and can be customized to match the nursery's decor.
Unique Crochet Baby Blanket Patterns
If you're an experienced crocheter looking for a more challenging project, try one of the intricate and unique patterns available online. Here are some of the best free crochet baby blanket patterns that you can try:
Baby Cable Blanket: This beautiful pattern uses a cable stitch to create a cozy and warm blanket that is perfect for a new arrival.
Ripple Baby Blanket: This stunning pattern creates a ripple effect that is both beautiful and cozy.
Lacy Baby Blanket: This delicate pattern uses a lacy stitch to create a lightweight and airy blanket that is perfect for spring and summer.
Frequently Asked Questions
What materials do I need to make a crochet baby blanket?
To make a crochet baby blanket, you will need yarn, a crochet hook, and a tapestry needle. You can choose any yarn you like, but choosing a soft and gentle yarn for a baby blanket is important.
What is the best size for a crochet baby blanket?
The best size for a crochet baby blanket depends on your chosen pattern. Some patterns may call for a specific size, while others may be more flexible. It's best to follow the pattern for the specific blanket you are making to ensure that it is the right size for your needs.
Can I make a crochet baby blanket for a beginner?
Yes, there are many simple and classic designs available that are perfect for beginners. Patterns like the Granny Square Baby Blanket or the Baby Afghan are a great place to start. As you gain experience, you can move on to more intricate patterns.
Can I customize the pattern to suit my style?
Yes, you can customize the pattern to suit your style. You can choose different yarn colors, add extra details, or change the blanket size to suit your needs.
1. C2C Crochet Blast Off Baby Blanket Pattern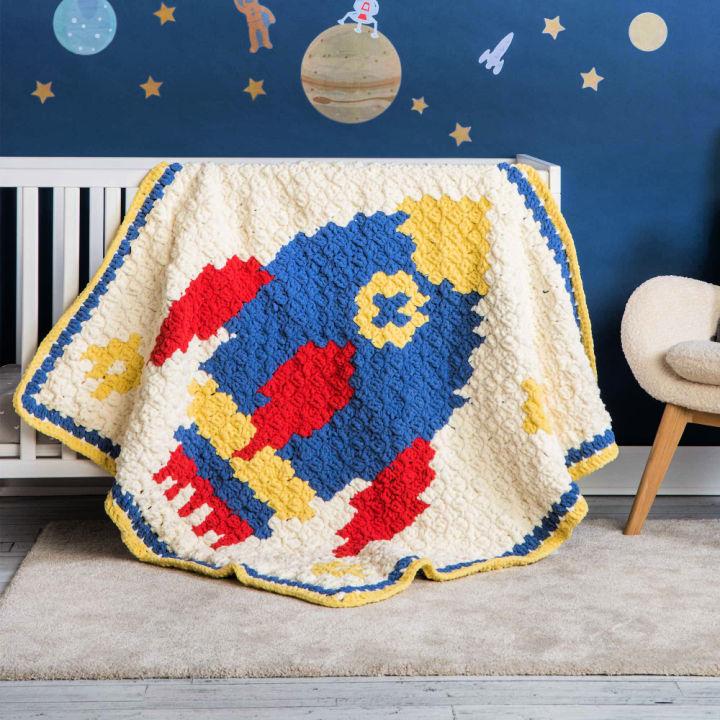 Stitch a memorable moment with this Bernat c2c blast-off crochet baby blanket! Inspire imagination and creative exploration with this intricate corner-to-corner blanket. This blanket includes a plush Bernat baby blanket or sparkle. Create beautiful designs from colorful shades of your choice while sharpening your double crochet skills. Start stitching today! Perfect for a child's bedroom or as an extra special gift! yarnspirations
2. Free Crochet Arrow Baby Blanket Pattern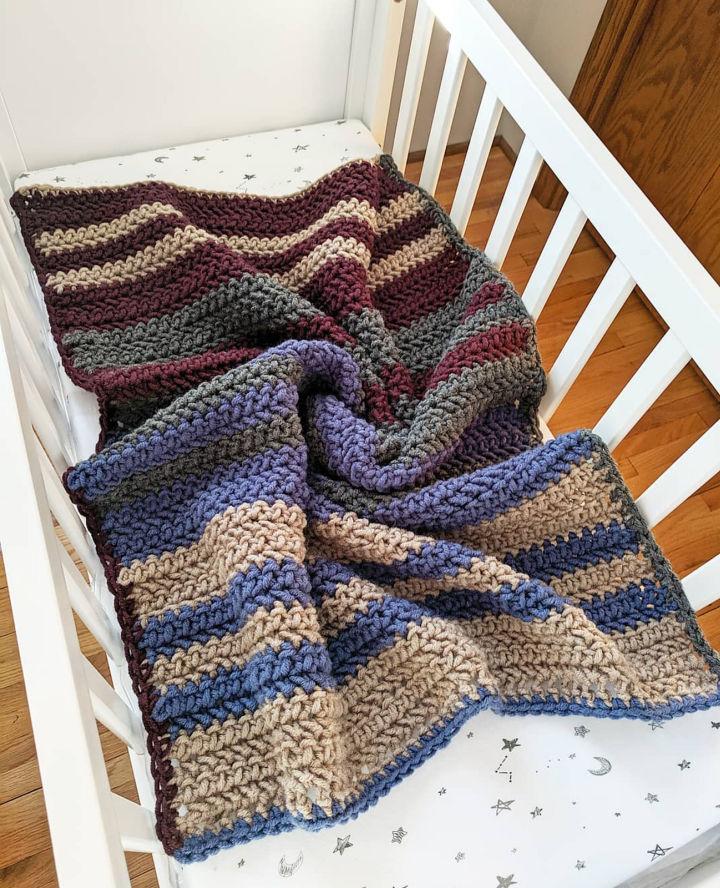 Welcome to arrow baby blanket – the perfect gift for any new baby! The timeless texture and stripes make this neutral-colored blanket an ideal addition to any nursery. Enjoy effortless last-minute gifting with just 1-2 dedicated sittings required for assembly. You can show your love and wrap up a bundle of warmth in no time. Don't wait – get your own arrow baby blanket today and envelop your little one in warm hugs! ravelry
3. Adorable Crochet Huckleberry Baby Blanket Pattern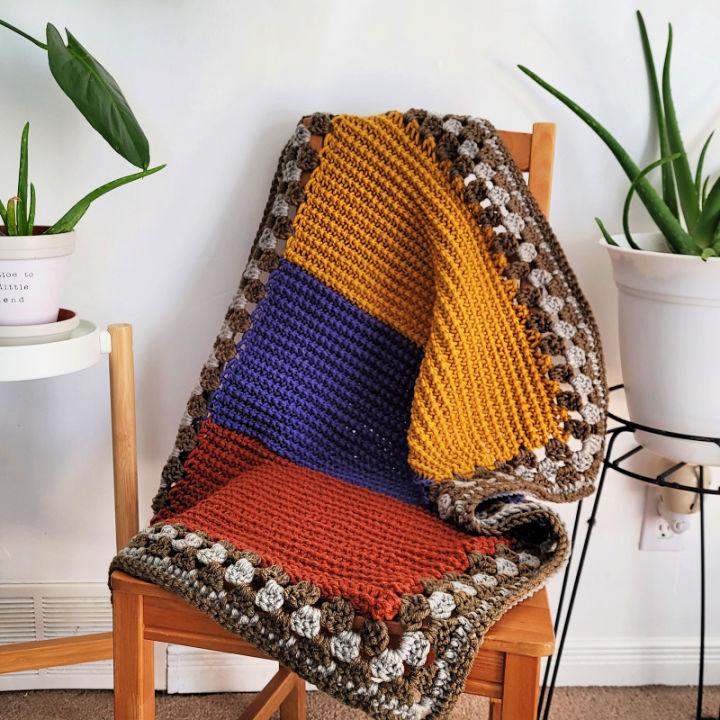 Create something special for your baby with the free huckleberry blanket crochet pattern! Lion brand wool spun is a wonderfully bulky yarn, yet lightweight and bouncy. Get all your materials in place, including a corded Tunisian crochet hook, yarn needle & scissors and start crocheting these beautifully defined stitches with lots of spring. Make an adorable gift that will bring joy to your loved one. Get started on this great pattern today! cococrochetlee
4. Moon and Stars Tunisian Crochet Baby Blanket Pattern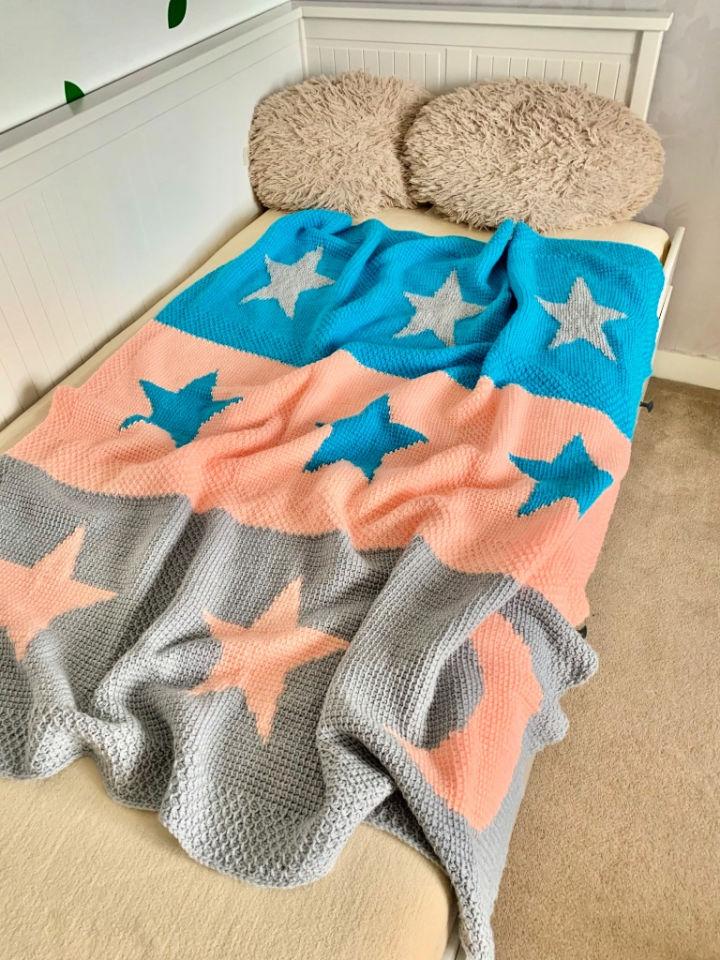 Welcome to the beautiful and intricate world of Tunisian crochet! Get inspired by the amazing work of other crocheters with this beginner-friendly moon and stars Tunisian crochet blanket project. Learn several techniques used in Tunisian crochet while designing individual elements and creating a one-of-a-kind night sky blanket. It will change the look each time you look at it. Embrace ever-changing scenery as your inspiration and make something special. exquisitecrochet
5. Cute Crochet Bobble Stripe Baby Blanket Pattern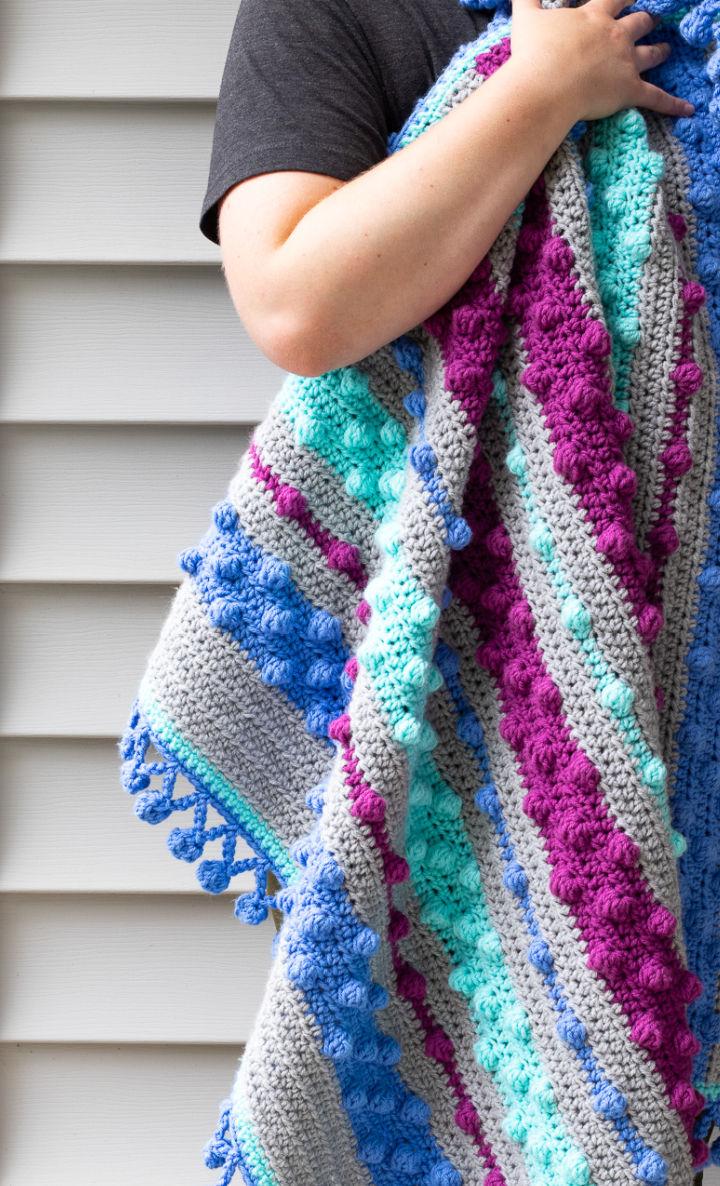 Bring a splash of color to baby showers and birthdays with this bobble stripe baby blanket. Crochet using caron one-pound yarn, this modern, bright blanket is perfect for any upcoming celebration. You can now make your own with our free crochet pattern. It includes comprehensive instructions to create the most beautiful blanket for your little one. Create something unique and lasting today – start stitching! youshouldcraft
6. Crochet Summer Garden Flower Baby Blanket Pattern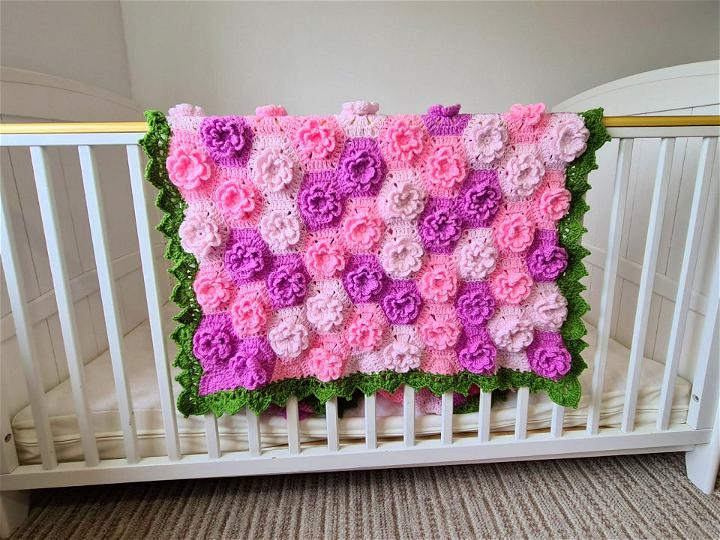 Are you looking for a beautiful crochet summer baby blanket pattern? Look no further! This summer garden flower baby blanket-free pattern will make the perfect addition to your nursery. This delightful blanket feature 3 shades of pink, arranged in an intricate field of flowers and bordered with green leaves. Each flower is made out of simple hexagons stitched together using the invisible seam technique. The blanket edging is completed with a unique leaf stitch border that adds charm and character to this beautiful piece. Download a free pattern today and create something special for your little one! craftinghappiness
7. Colorful Crochet Watercolor Granny Baby Blanket Pattern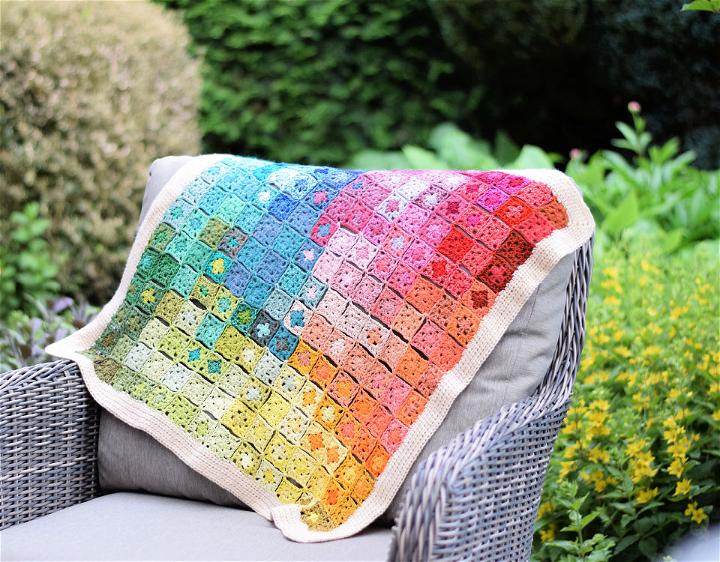 Create a beautiful watercolor granny blanket with this free pattern! Use your little leftovers and scraps from other projects as you go. The instructions are designed so that you can keep going until every last scrap is used, making it the perfect 'stash buster' project. Plus, get tips on selecting colors for a stunning watercolor-like gradient within your blanket – perfect for any home decor setting or gifting! Download the free pattern today and start crafting! aspoonfulofyarn
8. Simple Crochet Blank Canvas Baby Blanket Pattern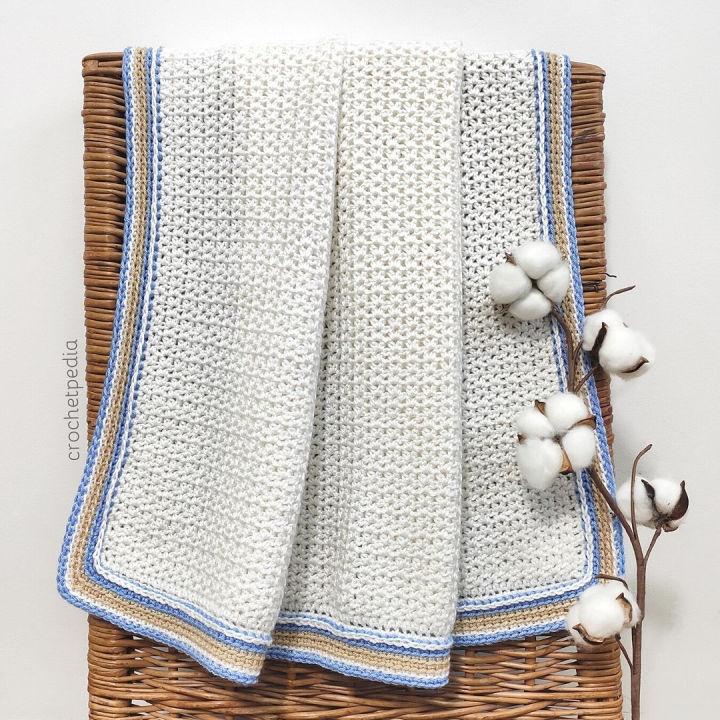 Make a one-of-a-kind baby blanket with this free crochet pattern. Its small size makes it easy to spice up and customize with your favorite colors! The border introduces a frame of contrasting color for the blank canvas effect. Techniques used include magic ring, chain (Ch), single crochet (Sc), half double crochet (hdc), increase (inc), back post stitch, back loop only and modified v-stitch. Get creative and make something special today! crochetpedia
9. Rainbow Ridge Crochet Baby Blanket – Free Pattern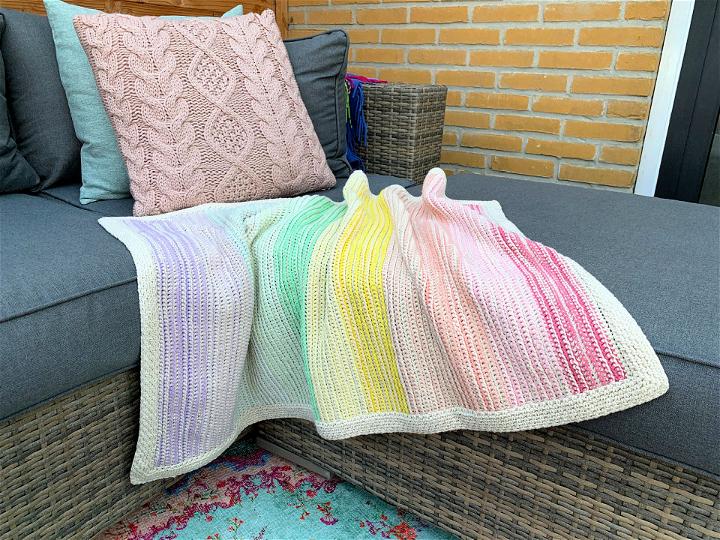 Love the feeling of instant gratification? This rainbow ridge blanket-free crochet pattern is perfect for you! Create a beautiful blanket in no time – it's sized for a baby, and the rhythm of the stitches makes it so easy to keep going. Few things can compare to making something huge, but this pattern makes it faster and easier than ever! Don't struggle with big projects anymore; smash out an adorable crochet blanket fast. missneriss
10. Crochet Alpine Candy Striped Baby Blanket Pattern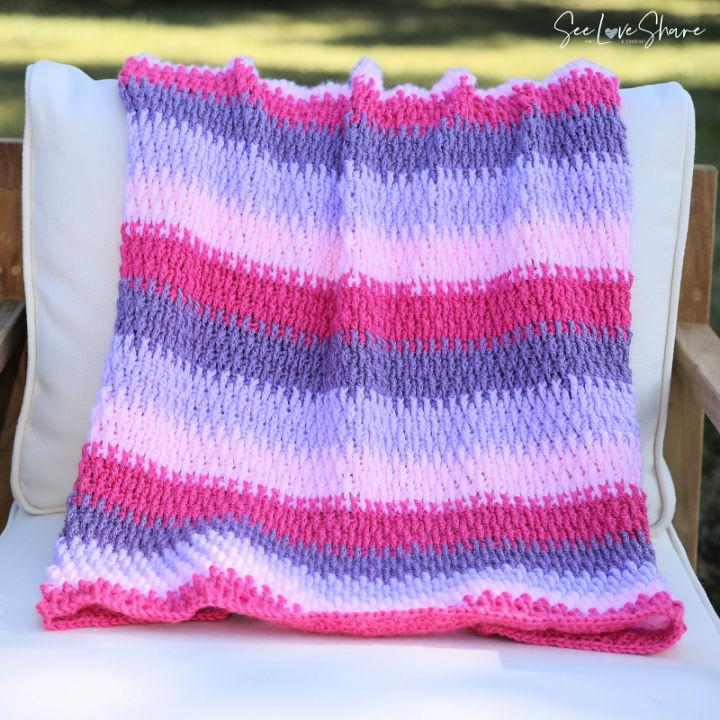 Introducing the alpine candy-striped baby blanket – a free crochet pattern! This mid-weight baby blanket is loaded with texture & features the alpine stitch as its spotlight. Get the hang of this pattern, and you can easily repeat it to create various designs. Looking for new ways to introduce this stitch? Check out the free crochet pattern and get inspired by other patterns using the same stitch! Try your hand at creating something special for that special little one today! seeloveshare
11. Koala C2C Crochet Baby Blanket Pattern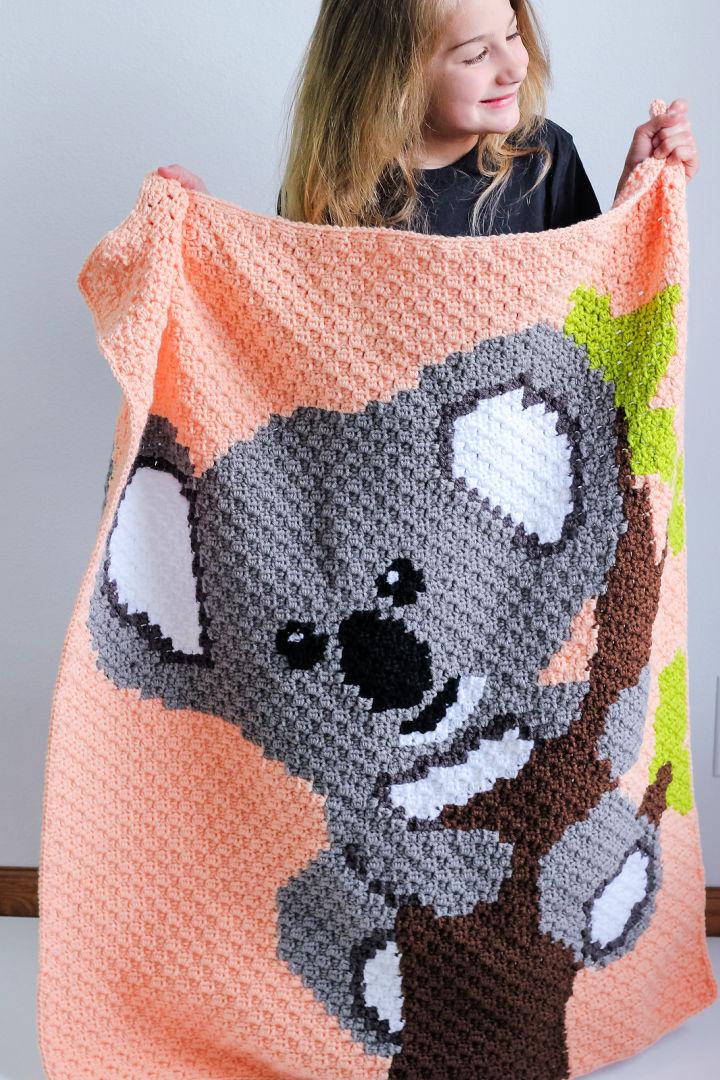 Search no more! This free crochet pattern for a crochet koala c2c blanket is perfect for the bear-lover in your life. Unisex and adorable, this graphics blanket will make an ideal baby gift or nursery addition to any wildlife-themed space. With this easy-to-follow pattern, you can bring graphs to life in one of our favorite ways. Make sure to add this beautiful koala bear throw into your home! nanascraftyhome
12. Colorful Crochet Teardrop Baby Blanket Pattern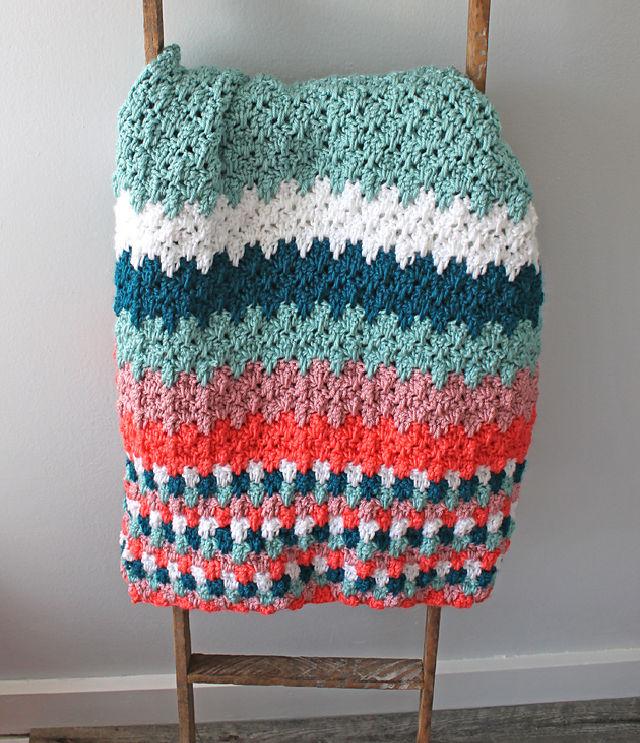 Add a splash of color to your baby's nursery with this free crochet baby blanket pattern! This pattern features the easy-to-learn teardrop stitch in an eye-catching combination. With only 5 colors of red heart soft yarn, you'll be able to create a complex look with simple stitches that you already know. Whether this is your first or 51st time crocheting, create a unique and colorful blanket for your little one today! amorecraftylife
13. Free Crochet Bobble Chevron Baby Blanket Pattern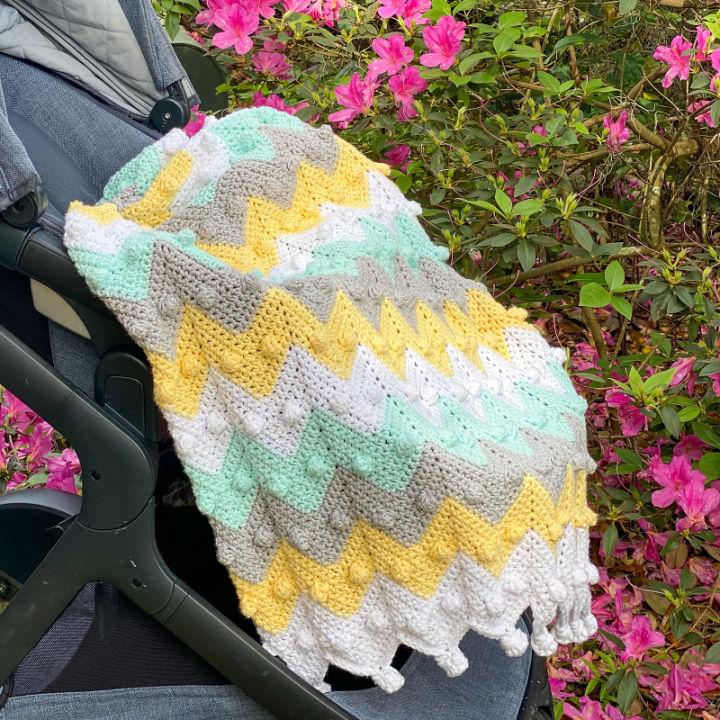 Create a beautiful, gender-neutral baby blanket with this free crochet pattern! The bobble chevron baby blanket is an easy-to-memorize project that will have you complete a blanket in no time. This plan has also included a video tutorial and step-by-step instructions to quickly learn how to make it and even resize the blanket if necessary. Get started now and surprise everyone with your new creation! kelseyjanedesigns
14. Beautiful Crochet Little Suns Baby Blanket Pattern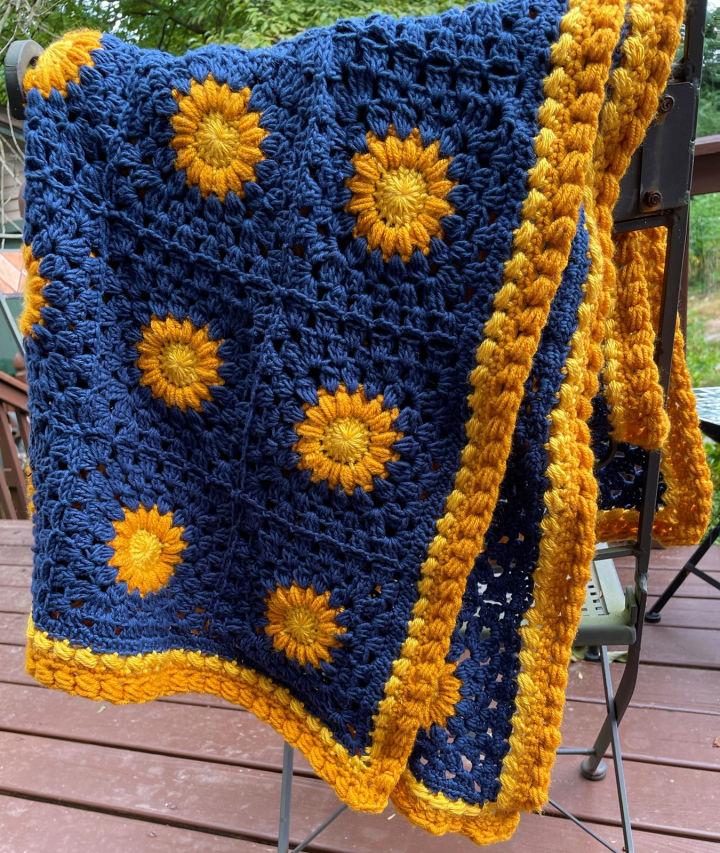 This classic sunburst granny square baby blanket is perfect for a new arrival! This pattern provides an easy-to-follow guide on creating a 36in x 42in a blanket in Aran weight yarn, using both 4.0 mm and 5.0 mm hooks. All instructions are written in US terminology, making it suitable for all crocheters regardless of skill level or experience. Choose from a variety of colors to make your very own unique little suns baby blanket! ravelry
15. Crochet Winter Village Baby Afghan Pattern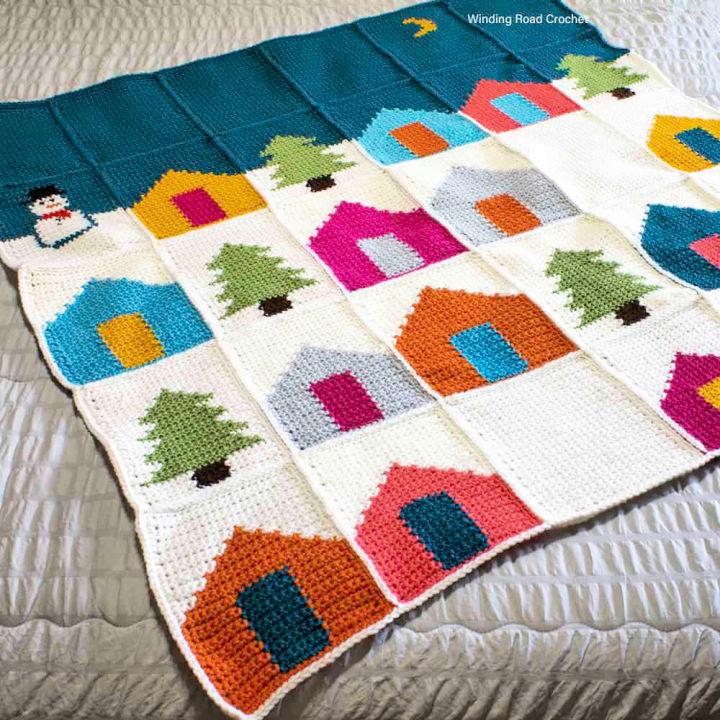 This free crochet pattern creates a warm and cozy winter village in your home! The winter village crochet Afghan is perfect for using scrap yarn and can be assembled to make any size blanket, from a baby blanket to a king-size one. All you need is red heart super saver yarn, a 5.5mm size I crochet hook, yarn needle, and scissors to begin crafting this wonderful Afghan blanket. Each of the eight blocks will bring warmth and brightness into your house during those chilly days! Get started now with the free crochet pattern! windingroadcrochet
16. Crochet Car Seat Blanket – Free PDF Pattern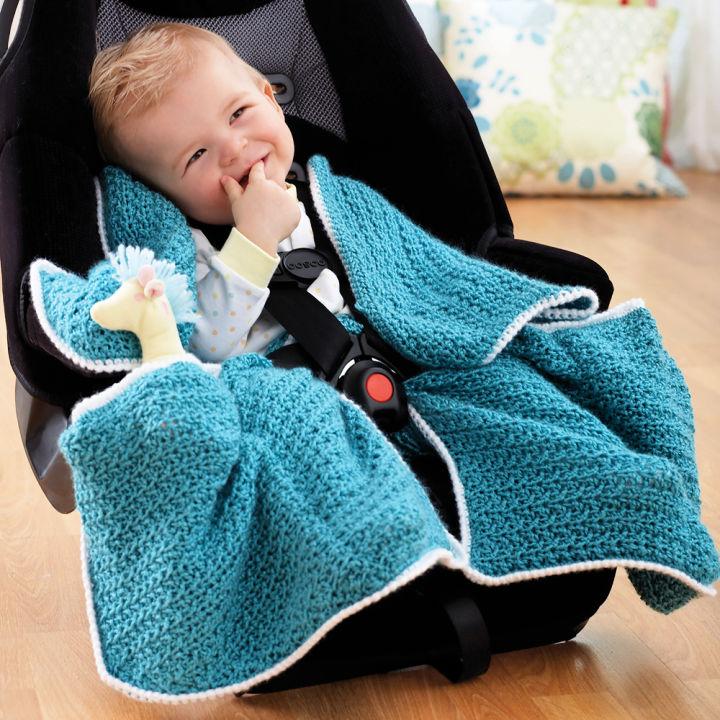 Stay warm and cozy with the Bernat car seat blanket. This beautiful, functional blanket is perfectly sized to fit baby car seats and made with Bernat softie baby yarn – a soft, easy-care material perfect for delicate skin that's certified oeko-tex standard 100 safe. You'll love wrapping your little one up in this cold weather essential before taking them out for a ride! Get the perfect piece of gear for any parent on the go today! yarnspirations
17. Crochet Dancing Mushroom Toddler Blanket Pattern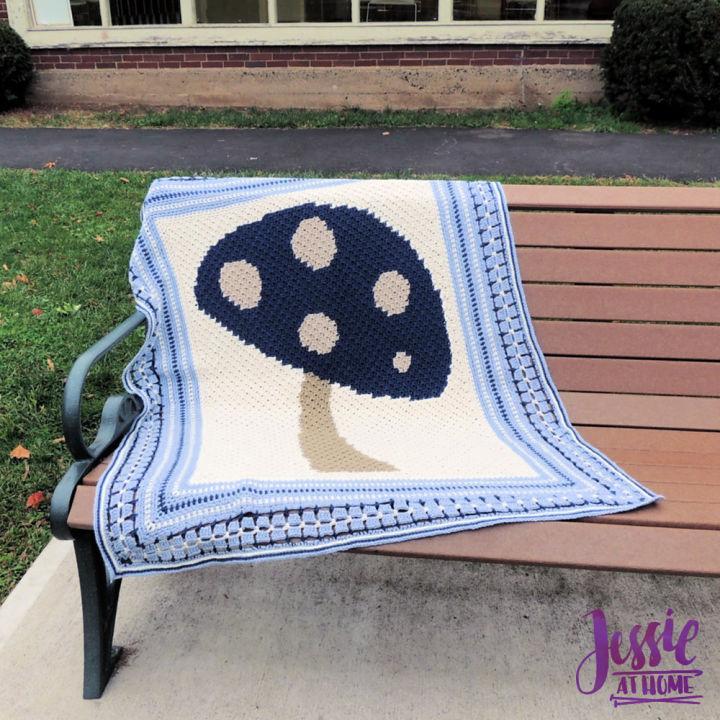 Bring a vintage touch to your home with this dancing mushroom blanket. This vintage-style Afghan is the perfect choice if you're looking for a classic crochet pattern! The center image panel features an intricate mushroom design surrounded by a thick border and various stitch patterns that add to its heirloom style. You can find the best yarn for this project and turn it into a family treasure! jessieathome
18. Modern Crochet Heirloom Baby Blanket Pattern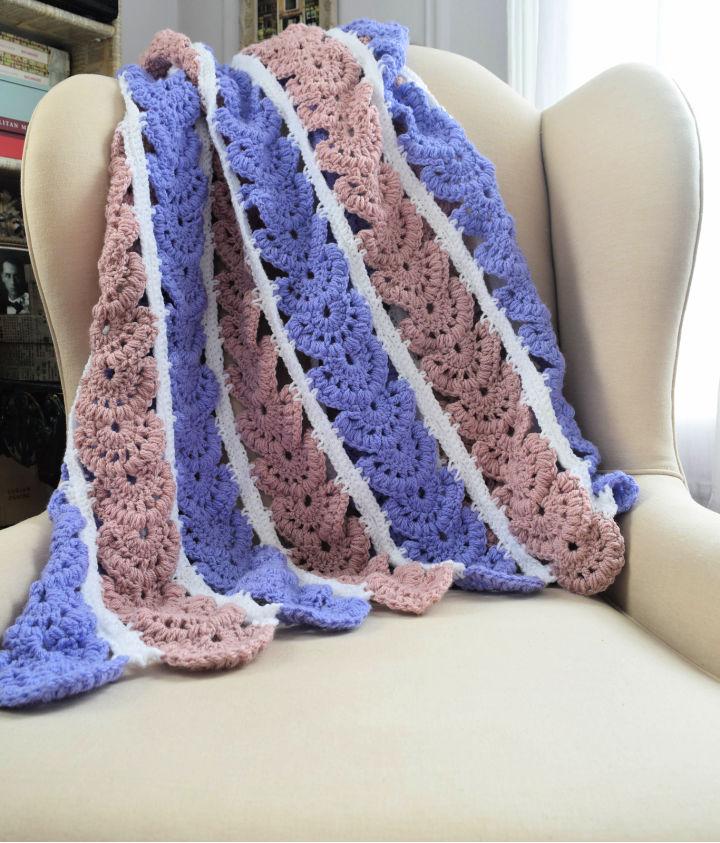 Welcome to the modern heirloom blanket! The perfect crochet heirloom baby blanket for new parents. This unique pattern is made up of mile-a-minute strips and beautifully textured puff stitch shells that create a stunning design. Create an elegant heirloom with this luxurious blanket pattern that will be treasured for generations. Get crafting this gorgeous piece today and watch as your loved ones love the beautiful result! undergroundcraft
19. Free Crochet 6-Day Baby Girl Blanket Pattern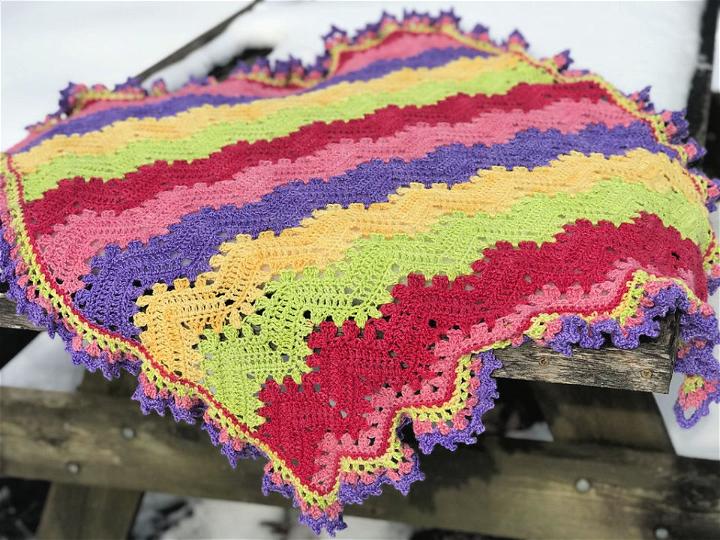 This 6-day baby girl blanket is worked in bright spring girly colors, striped in the lacy "snowflake effect," and finished with a pink and purple ruffled edge. With a finished size of 29″ by 37.5″, it's perfect for newborns! This project requires an intermediate skill level to achieve. Start stitching up this beautiful soft blanket today and make your baby girl feel extra special! bettymcknit
20. Beautiful Crochet Zig Zag Baby Blanket Pattern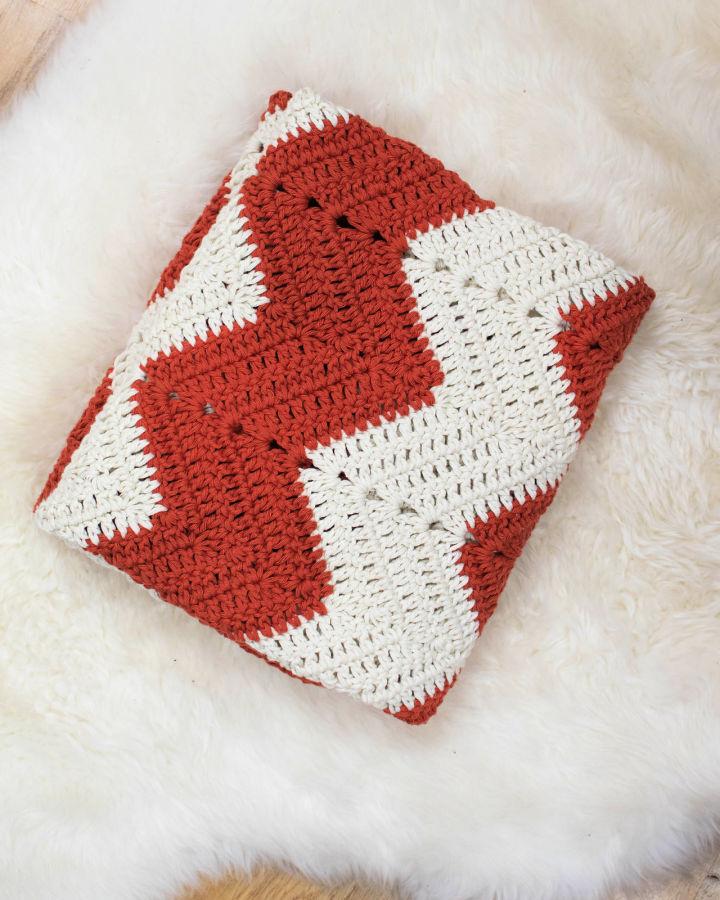 Bring a pop of fun to your nursery with this beautiful crochet zig zag baby blanket pattern! This easy-to-DIY pattern uses dyed yarn and a crochet hook for an eye-catching zigzag pattern. Perfect as a gift for any new baby, this free pattern is sure to become a treasured family heirloom. Download the free crochet baby blanket pattern today – it's the perfect way to add color and style to your nursery decor! crobypatterns
21. C2C Crochet Owl Baby Blanket Design- Free Pattern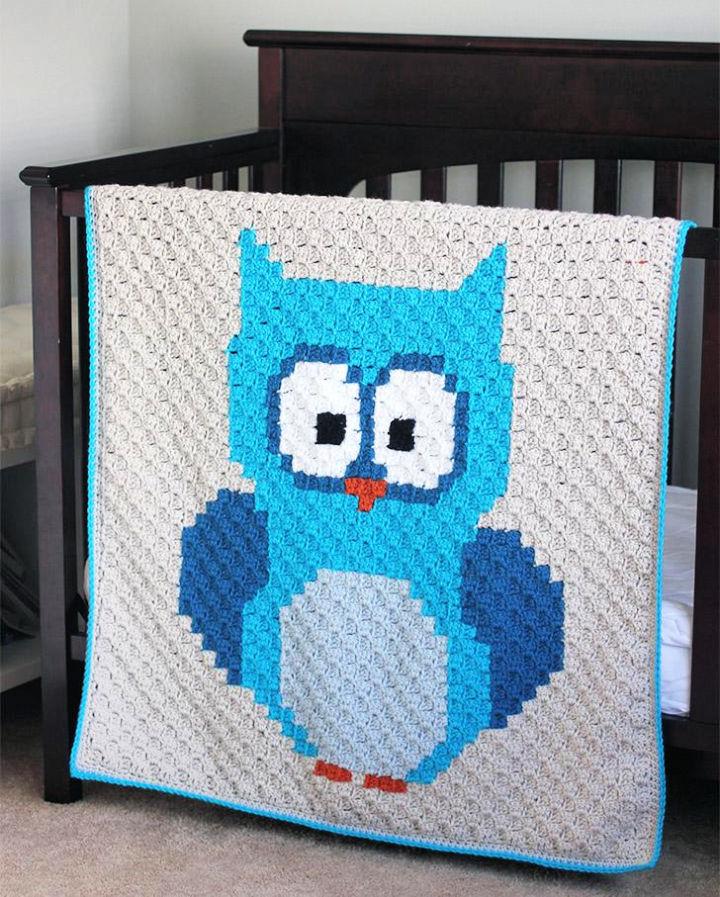 Looking to crochet an adorable owl baby blanket? Look no further! This free pattern will guide you through the entire process. Crafted with colorful yarn and c2c stitches, this design is perfect for beginners. All you need is your trusty crochet hook and some soft, squishy yarn to start making this cozy piece of art that's sure to be a treasured keepsake for years. So, grab your supplies, follow the steps provided in the free pattern, and create something special today! lionbrand
22. Lacy Crochet Baby Blanket Pattern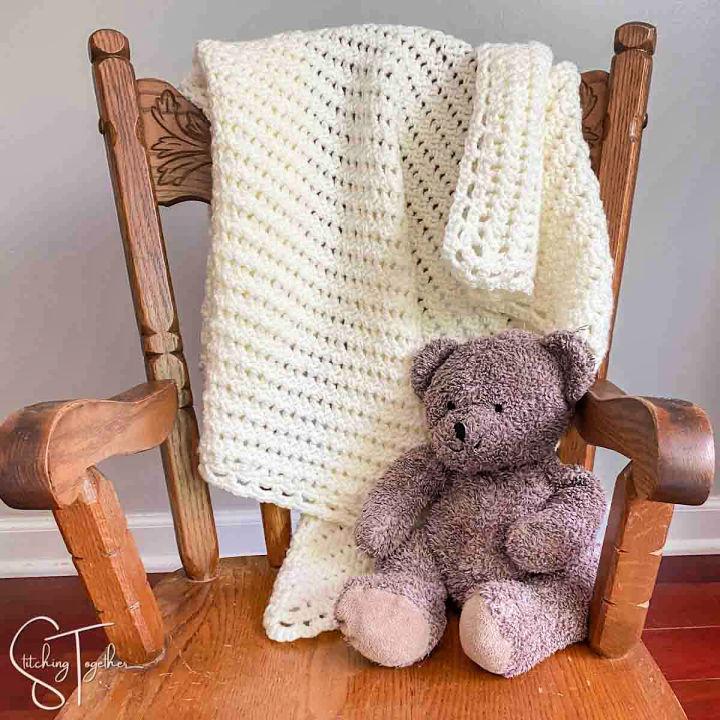 Make a perfect baby blanket with the lightly lacy baby blanket crochet pattern. This practical pattern is suitable for any baby, striking a great balance between being neither fancy nor plain. Create an exquisite piece that will be cherished for years to come! Get this unique crochet pattern today and make something special for your little one. stitching together
23. Crochet Bobble Ripple Baby Blanket Pattern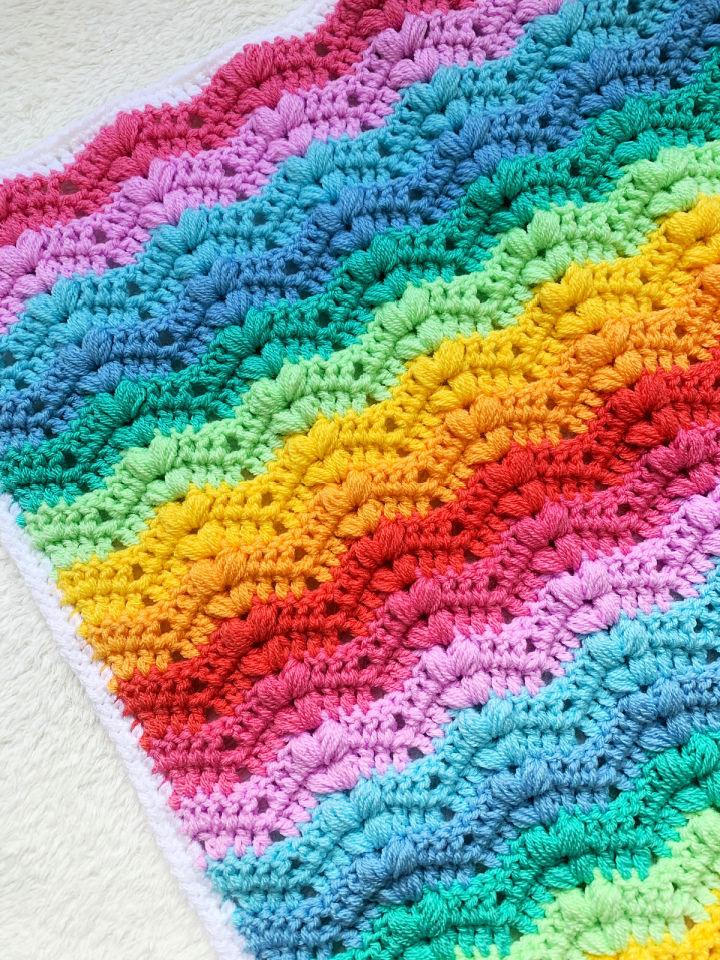 Create an adorable addition to a nursery with the bobble ripple baby blanket-free crochet pattern. This simple but fun pattern is sure to be a hit with its cute bobbles and ripples that make it unique! Get your copy of the free pattern today and make this adorable baby blanket for a special little one. With just yarn and some simple tools, you can create something amazing! trulycrochet
24. Best Zohal Baby Blanket Crochet Pattern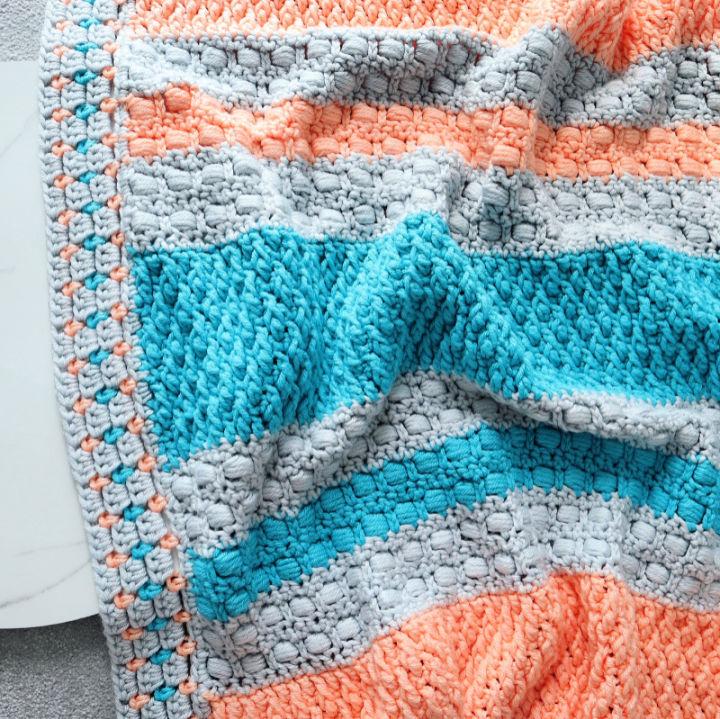 Discover the amazing world of crochet texture with the zohal baby blanket! This pattern combines popular crochet stitches like alpine stitch and bead stitch to create a beautiful and tactile texture that is a pleasure to create and use. The border is made in the boxed stitch for an extra special look, making this project fun for anyone wanting to learn a variety of popular stitches. Choose a zohal baby blanket for your next homemade blanket – it'll surely be a hit! exquisitecrochet
25. Crochet Kaleidoscope Baby Blanket Pattern

Introducing the kaleidoscope baby blanket—a beautiful crochet pattern with gorgeous texture! Using brava worsted yarn, it's a favorite for its extreme softness and squishiness. With an array of colors to choose from, you can create a unique baby blanket that is both stylish and affordable. Try this new pattern today and bring life to your next project! smileygoose
26. Free Crochet The 6-Day Baby Boy Blanket Pattern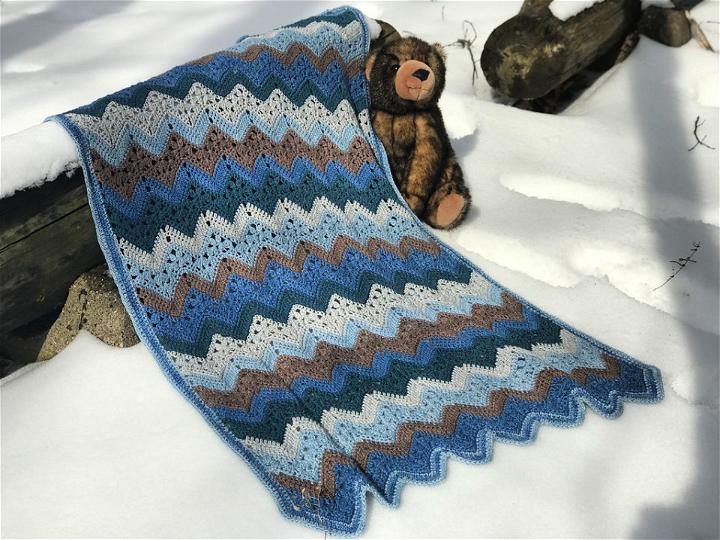 Introducing the 6-day baby boy blanket, a beautiful and unique baby blanket made with nurturing fibers eco cotton. The traditional little boy blues are accented by grey and brown stripes in a vivid chevron pattern that includes a special two-row border. Finished at 30″ x 41″, this intermediate-level project is suitable for any skill-level crocheter or knitter! Give your little one something special with the 6-day baby boy blanket today! bettymcknit
27. Peachy Crochet Baby Blanket With Super Bulky Yarn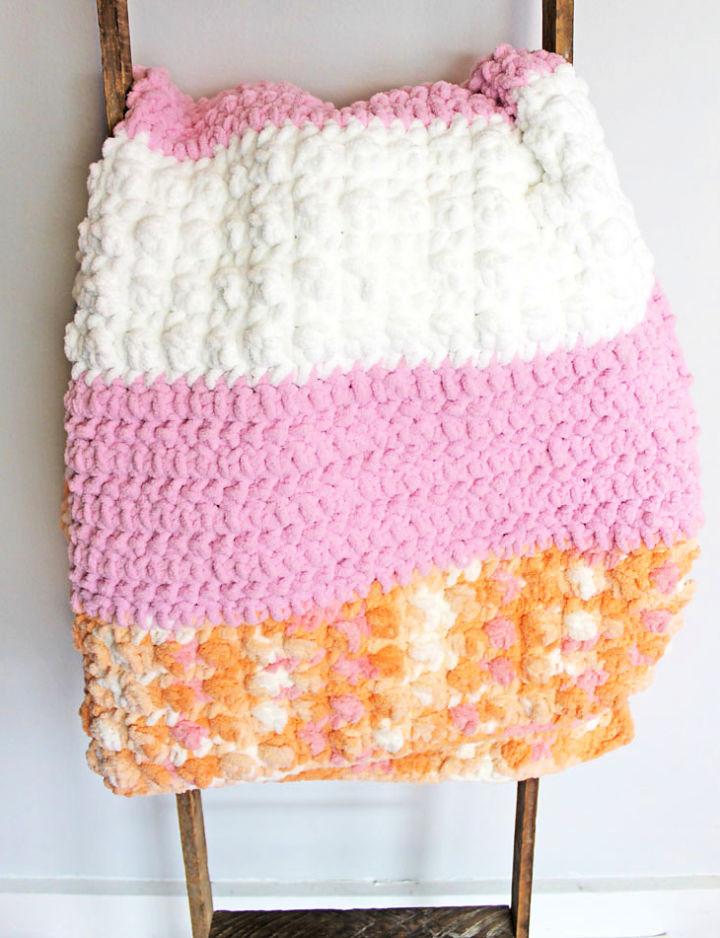 Make a soft and practical gift for your little one with this easy peachy crochet baby blanket with super bulky yarn. This easy free crochet baby blanket pattern has 3 stitches (single crochet, even berry and herringbone half double crochet, an easy variation of the half double crochet stitch) to make a textured square, making it perfect for beginners! Get creative and customize colors to give this crocheted baby blanket a unique look. Make your own beautiful keepsake today! amorecraftylife
28. Cute Crochet Monster Hooded Baby Blanket Pattern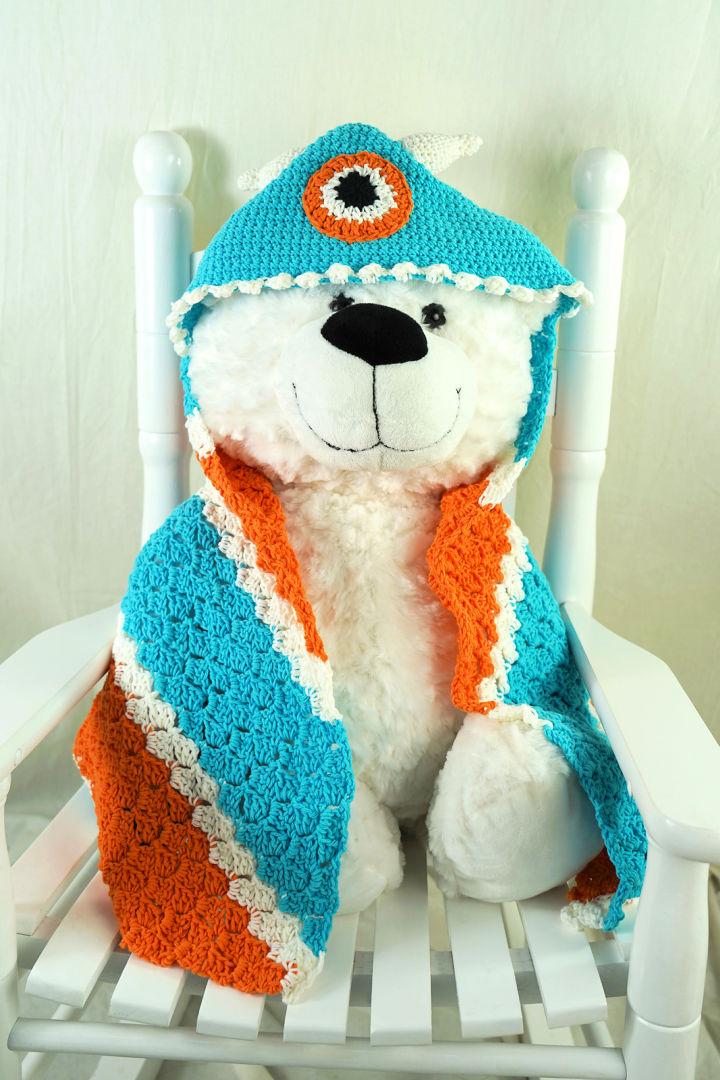 Looking for an affordable, easy and adorable way to keep your little ones warm? Look no further than this cute crochet monster hooded baby blanket pattern! Perfect for DIYers of all levels, it's best suited for baby girls and boys. Not only is the pattern simple to follow, but it also ensures a cozy fit that will be loved by kids and adults alike. Get creative – make one today! cascadeyarns
29. How to Do You Crochet a Crossed Cluster Baby Blanket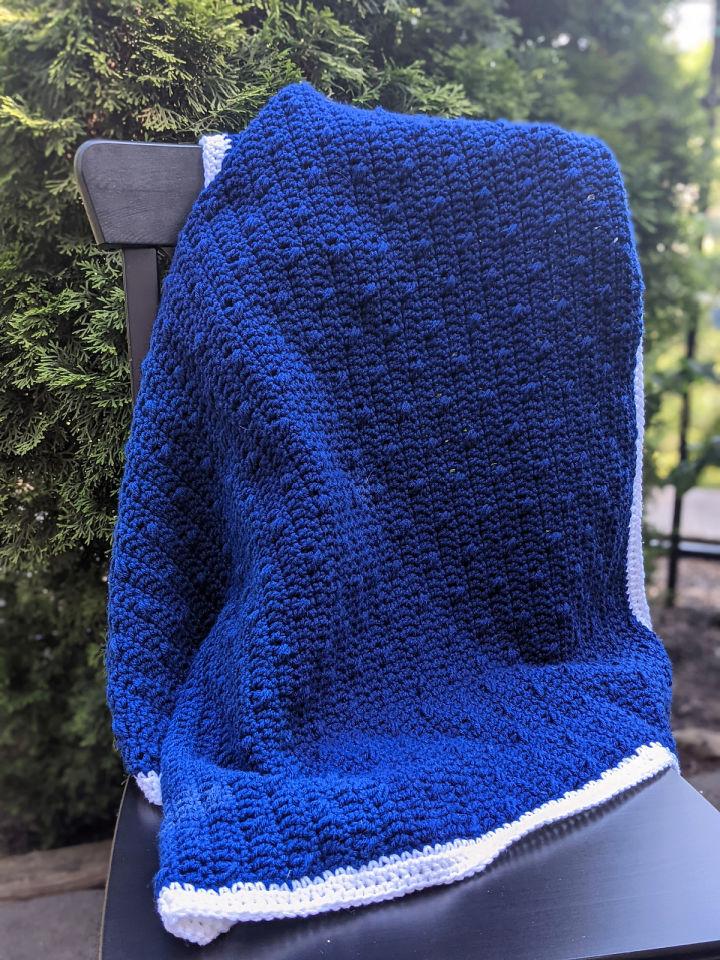 Are you looking for a beautiful and unique crochet project? Look no further! This crossed-cluster baby blanket is perfect. It features an easy stitch with repetitive patterns that can occupy your hands while creating something special. The crossed cluster stitch adds texture and looks stunning from both sides of the blanket, making it just the right addition to your repertoire. Quick and convenient – get started on this baby blanket today! craftematics
30. One Skein Crochet Baby Blanket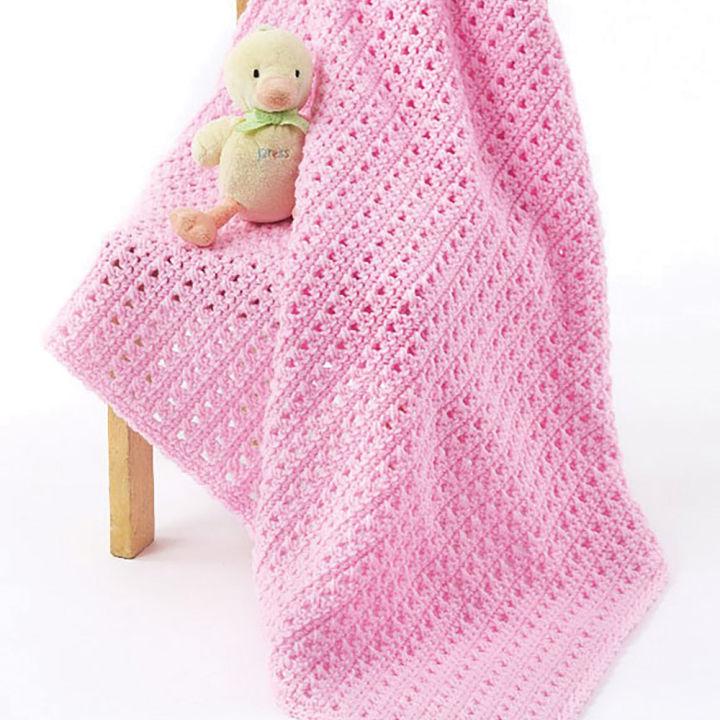 Make a special gift for the little ones with this caron skein baby blanket. Choose from many shades of caron one pound, a machine washable and dryable worsted weight yarn, to create an easy-to-make project to keep them smiling. Whether you are making it as a donation or keeping it for yourself, this blanket made popular by the caron pound yarn is sure to withstand all sorts of kids' messes! yarnspirations
31. Chunky Crochet Baby Blanket Pattern

Make the perfect baby gift with this free modern chunky crochet blanket pattern! It works quickly in Bernat blanket yarn and can be easily customized to make different sizes. You won't be able to resist making one for yourself, too – feel how soft it is! Get the free pattern now and start crocheting a timeless piece for your special one. makeanddocrew
32. C2C Crochet Big Star Baby Blanket Pattern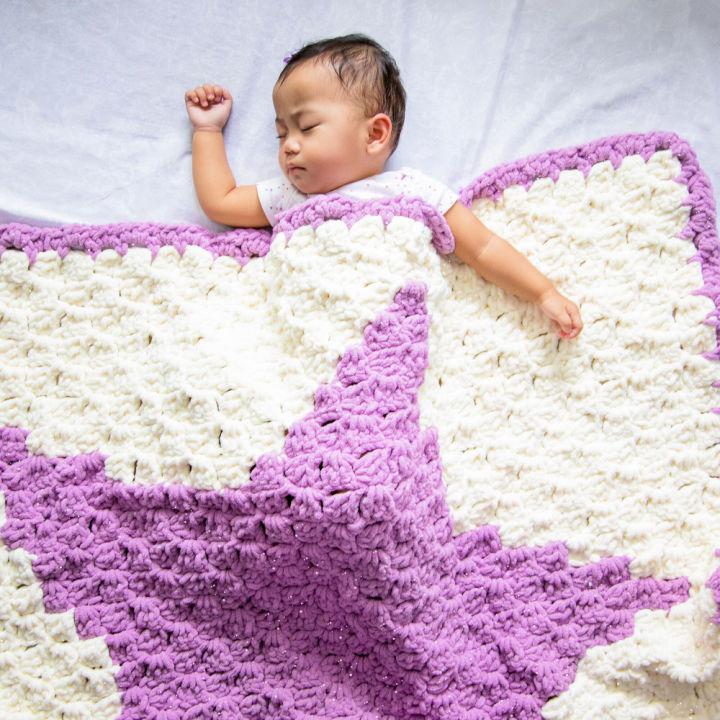 Stay cozy and stylish with the Bernat crochet c2c big star blanket. This plush crochet blanket is featured in Bernat baby blanket sparkle and is designed to make a bold statement that will be the star of the nursery. The popular "c2c" graphgan technique creates an extra layer of warmth in soothing shades customized to match any decoration. Enjoy this easy-level pattern which combines intarsia, color blocking and double crochet techniques for added texture and style. Try out this special project today! yarnspirations
33. Crochet Extended Basket Weave Baby Blanket Pattern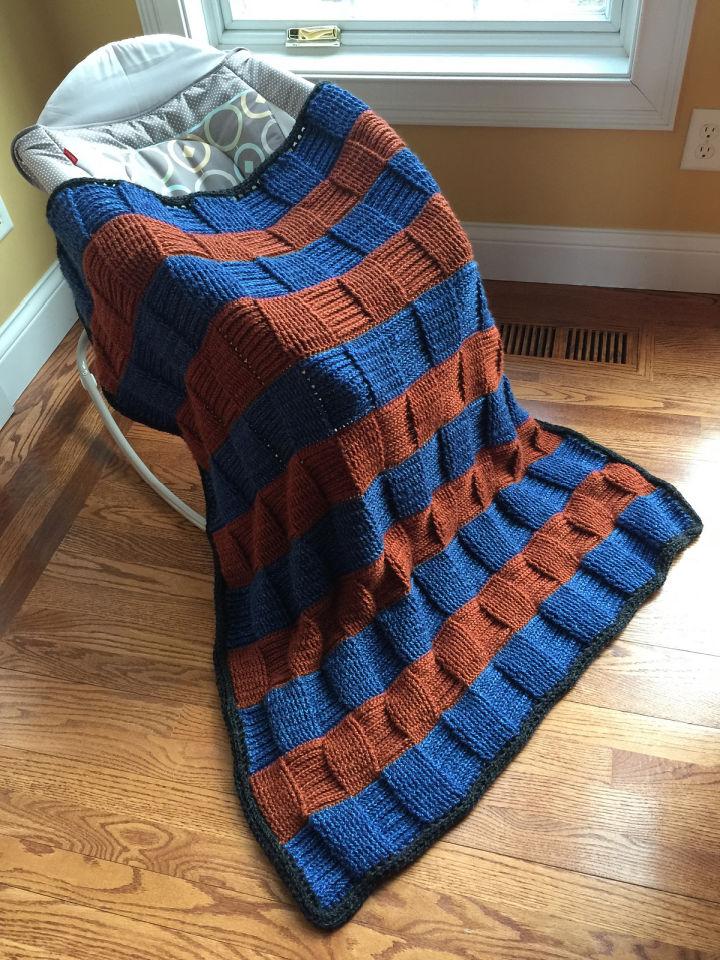 Handwoven with love and care, the extended basket weave blanket is a memorable gift that can be passed down from generation to generation. Perfect for both baby and lap blankets, this blanket can be customized in one color, two colors, or more. The basket weave stitches add visual interest while ensuring durability. This thoughtful handmade gift is perfect for celebrating new births, first-year birthdays, or other special occasions. Make sure it's included in your next presentation. purpleneedle
34. Little Love Elephant C2C Crochet Baby Blanket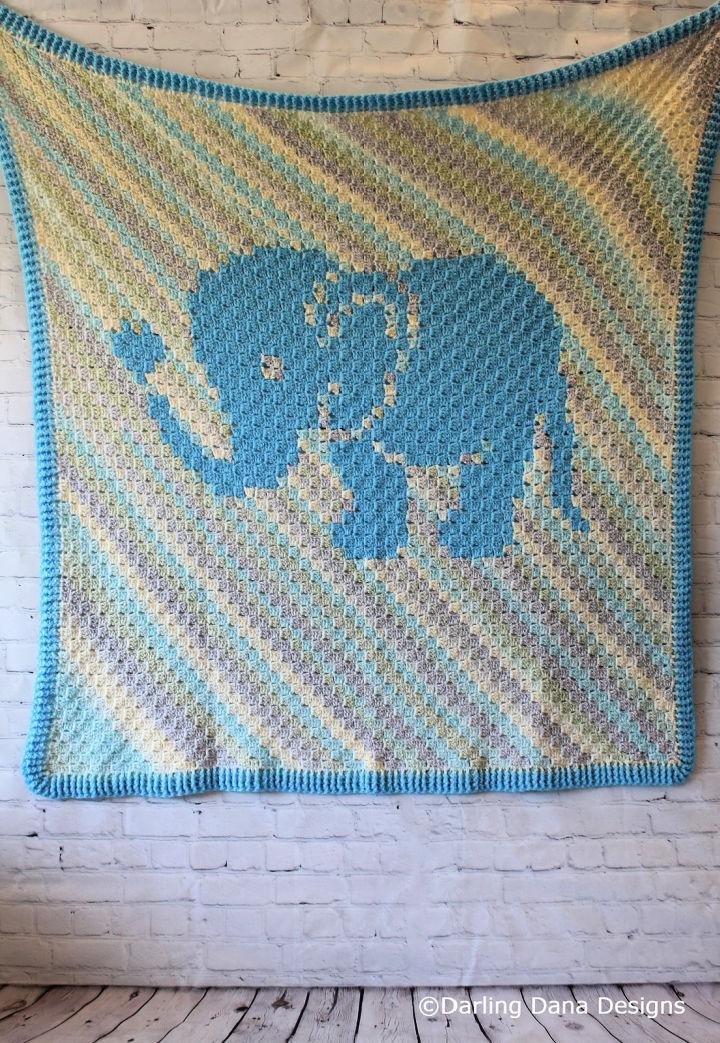 Create a cozy and unique blanket for your special little one with this little love elephant c2c crochet baby blanket. Babies need a blanket, and what better way to show them your love than crocheting it? This pattern uses corner-to-corner (c2c) crochet, which allows for the creation of intricate designs without too much effort. The finished product measures 4′ x 4′, making it perfect for cuddling up or taking on adventures. Show off your skill at crochet with this beautiful design that will become everyone's favorite baby blanket! darlingdanadesign
35. Tributary Crochet Baby Blanket Pattern for Beginner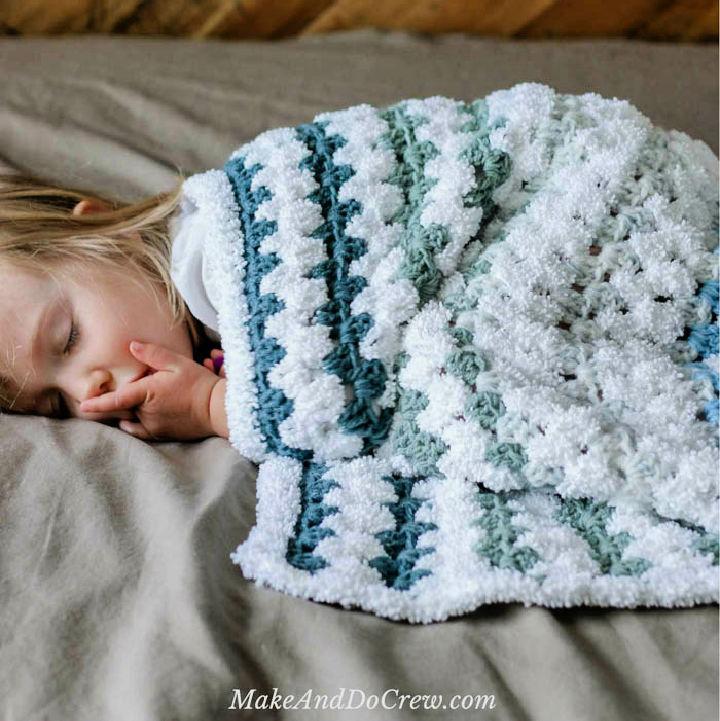 Make a beautiful beginner crochet baby blanket with this free pattern and tutorial! It's an easy project that requires few ends to weave in, leaving you with the softest finished product. The tricky thing about yarn is spotting your stitches, but don't worry – follow the guide, and you'll be on track for success. Get the free pattern to start crocheting the perfect cozy blanket for your little one. makeanddocrew
36. Easy Crochet Baby Blanket – Free Pattern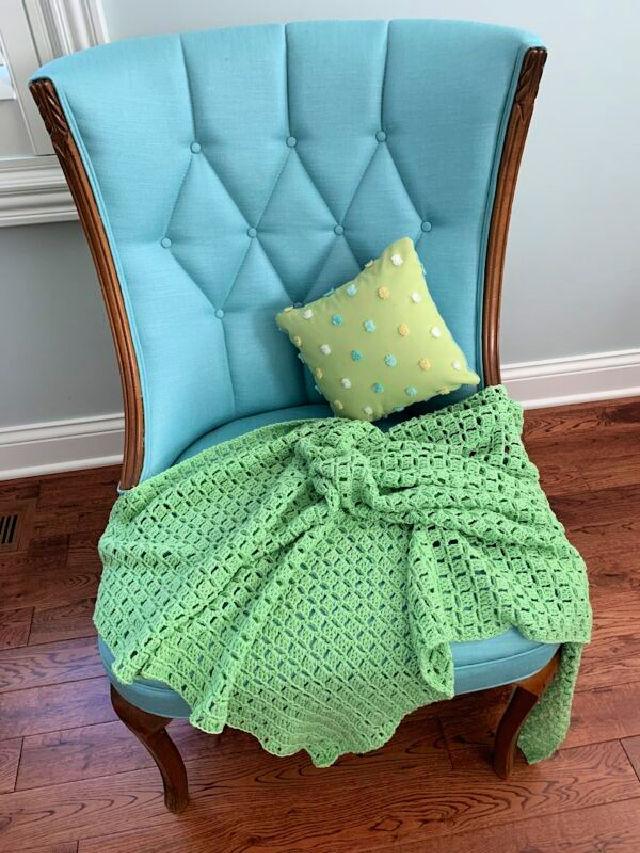 Looking for a beginner-friendly baby blanket pattern? Knitcroaddict's easy crochet baby blanket is the perfect project! It includes instructions and a video tutorial to help you make your own. You can use this stitch pattern for any blanket size, from lap blankets to baby blankets—endless possibilities! The best part? It's easy to adjust so that you can go in any direction. Get started today with Knitcroaddict's easy crochet baby blanket! undergroundcrafter
37. Crocodile Stitch Crochet Baby Blanket Pattern

Create a one-of-a-kind blanket for your little one with the Bernat crocodile stitch baby blanket. This wonderful textured creation features ribboned and ruffled edges, crocheted in Bernat softie baby yarn. It is extra cozy and safe to cuddle – this yarn is oeko-tex standard 100 certified! With its unique layers of texture made from the crocodile stitch, you'll want to keep baby warm all year round with this beautiful Afghan. yarnspirations
38. Easiest Double Crochet Baby Blanket Pattern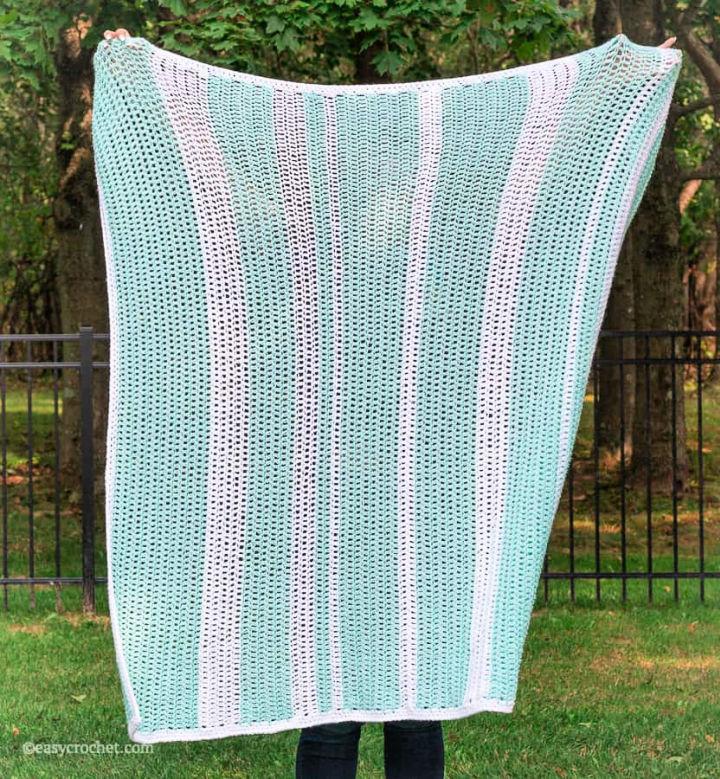 Crochet a beautiful, easy double crochet blanket in any of the 8 sizes available – from lovey to king. All patterns are free to use, and the complete yardage for each size is provided. Perfect for a new crocheter looking to try their hand at this amazing craft! Keep your loved ones warm with cozy double crochet blankets you made yourself. easycrochet
39. Crochet Waffle Stitch Baby Blanket Pattern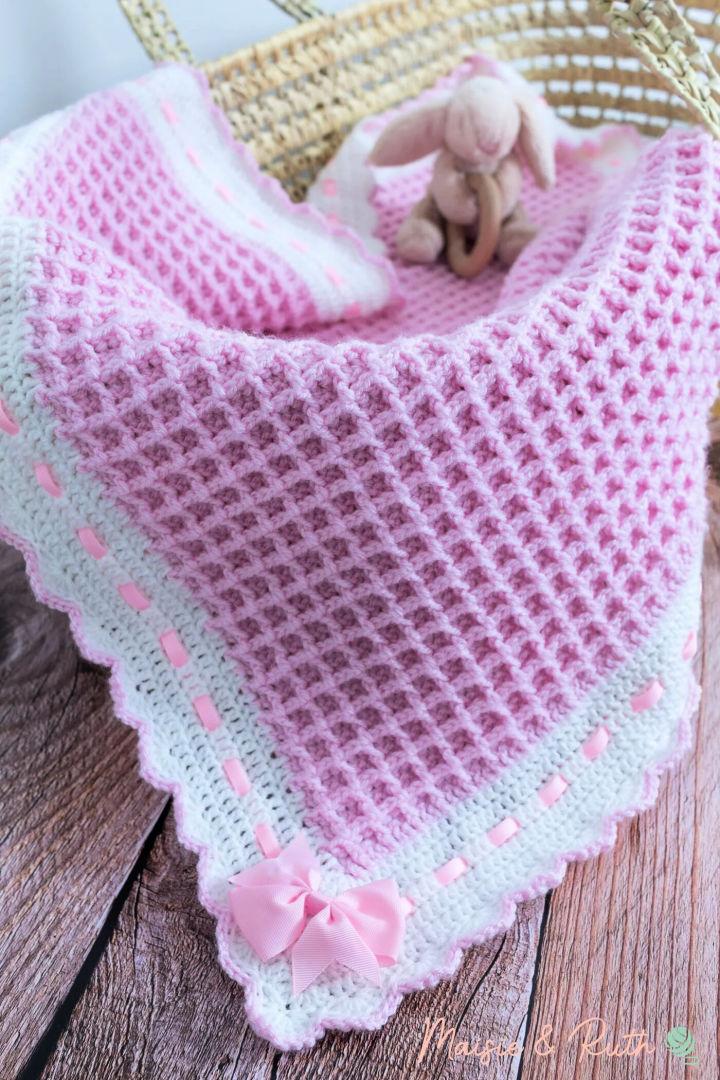 Create a beautiful and cozy crochet baby blanket with the Annabel blanket! Enjoy this step-by-step video tutorial which will teach you how to make an attractive and textured waffle stitch. This easy pattern only requires a simple 2-row repeat with five rounds of double crochet stitches, one round of shell stitches and a final round of single crochet stitches in a contrasting color for the border. Make your own heirloom-quality baby blanket today! maisieandruth
40. Quick and Easy Crochet Baby Blanket Pattern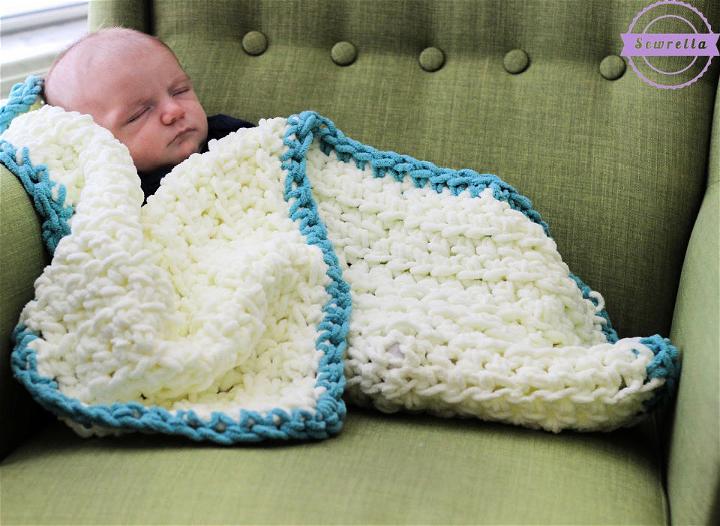 This super easy beginner baby blanket crochet pattern is perfect for those cuddly little ones in your life! With just half double crochets, you'll create rows and softness. Finish the look with a single crochet border in blue to really show off all that cuddliness. In no time, you'll have a beautiful handmade gift for them to enjoy for years to come. Get started on this quick and simple crochet pattern. sewrella
Related Free Crochet Patterns:
Explore new possibilities and unlimited creative potential with our free crochet patterns! Get inspired to create stunning designs for all skill levels.
Related Easy Crochet Patterns for Beginners:
Discover simple crochet patterns perfect for novices. Get started on your crochet journey with easy-to-follow designs.
Conclusion: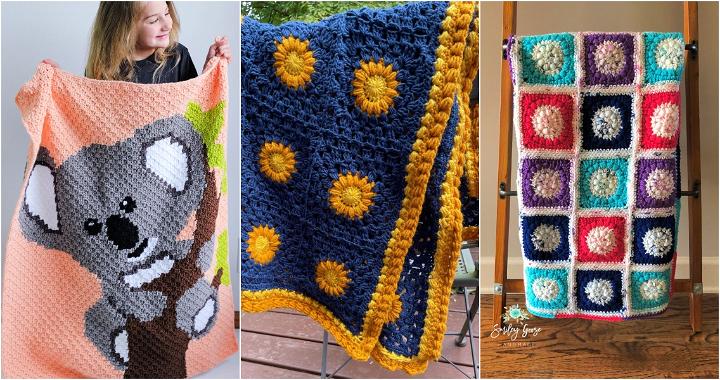 In conclusion, free crochet baby blanket patterns are a great way to make something special for any newborn. They can be easy or detailed depending on your skill level and the instructions provided. You can find many of these patterns online in PDF format that you can view and print out. Each Beginner-friendly crochet baby blanket pattern with step-by-step instructions are available for those just starting, as well as more advanced designs for experienced crocheters. Crochet baby blankets come in all shapes and sizes, from traditional afghans to unique children's blankets, making them perfect gifts for both boys and girls. With so much variety, it is easy to find the best pattern that suits your style!