Crochet turtles are the perfect way to add a handmade touch to any home decor. Let's explore the world of crochet turtle amigurumi with our collection of 25 free crochet turtle patterns suitable for all skill levels. These charming and lovable crochet turtle patterns are perfect for creating adorable stuffed turtles that will captivate your heart. With various free turtle patterns, including baby turtles, sea turtles, and even turtle plushies, you can craft a unique crochet turtle pattern for yourself or as a gift for someone special.
Our carefully curated crochet turtle pattern collection provides easy-to-follow, step-by-step instructions and detailed pdf guides to ensure a seamless and enjoyable crocheting experience. Whether you're just starting your crochet journey or already have advanced skills, these free crochet turtle patterns cater to everyone's needs. The comprehensive tutorials in each free crochet turtle pattern make it simple for even beginners to create their own turtle amigurumi.
Enhance your crochet skills and explore new stitches and techniques as you work on these delightful crochet turtles. Utilize different yarn colors and textures to personalize your creations and bring these adorable creatures to life. Don't hesitate any longer – grab your crochet hook and embark on your next crocheting adventure with our 25 free crochet turtle patterns!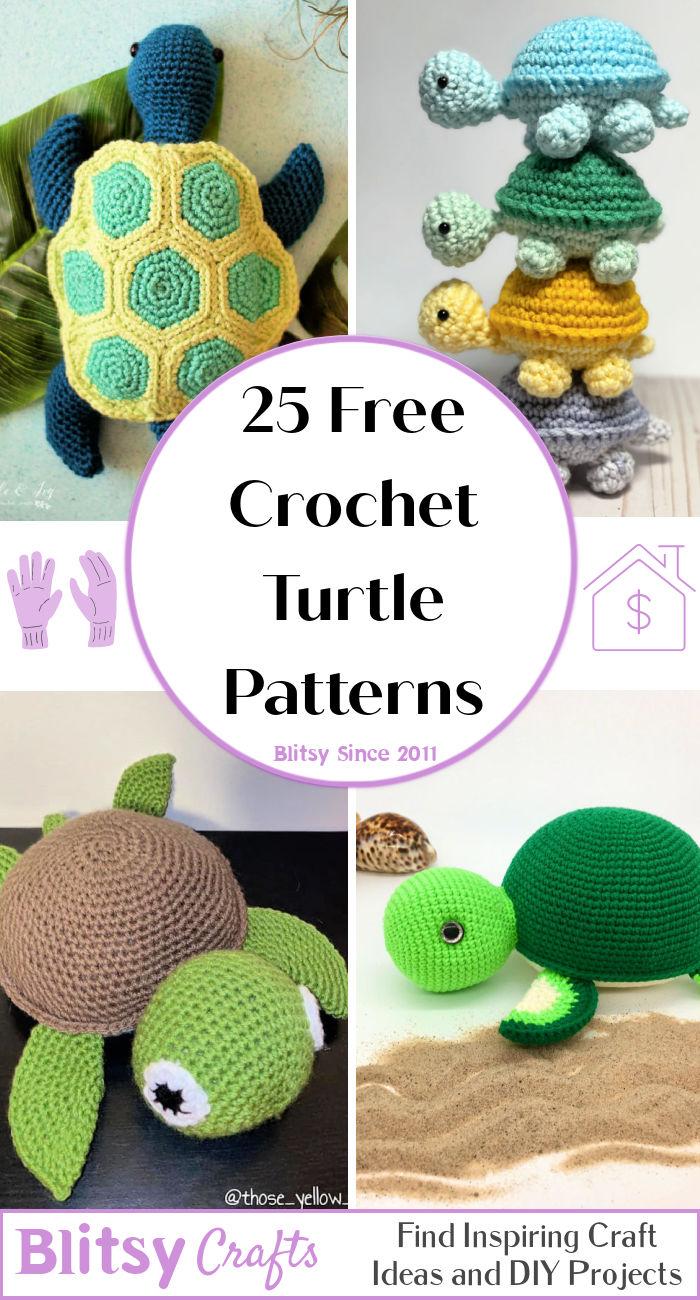 Uses and Benefits of Crochet Turtle
Crochet turtles are a great way to relax and enjoy yourself. They are easy to learn and follow, even if you have never tried crochet before. Here are some benefits of Crochet Turtle Patterns:
Calming Effect: Crochet has a calming effect and is useful in treating insomnia, anxiety, and depression. According to a study by students at the University of Wollongong Australia, crocheting can yield significant mental health benefits, including improved focus and memory, and relief from depression and anxiety.
Fun to Play With: Crochet turtles are great because they are fun to play with and easy to hold. They also have friendly faces, perfect for children as young as six. The different patterns allow you to make a turtle that looks just like the real thing or is more cartoonish.
Soft and Pliable Bodies: Crochet Turtle Patterns have long been popular among animal lovers because they have soft, pliable bodies that easily relax against the baby's body. The best part about these animals is that they grow with you, keeping their personality even as they age.
Great for Home Decor: Crochet turtles are a great addition to any home decor. They can be used as a centerpiece on a table or as a decoration on a shelf. They are also great for children's rooms and nurseries4.
Easy to Make: Crochet turtles are easy to make and require only a few pieces. The head and body are made as one and the legs and tail are made separately and sewn on. The turtle shell is created in three pieces, two for the top of the shell and one piece for the bottom with leg, head and tail holes. This pattern only uses chain, slip stitch, and single crochet.
Material and Stitches for Crochet Turtle Patterns
The materials you need for a crochet turtle pattern are:
Yarn: You can use any type of yarn for your crochet turtle pattern. However, it is recommended that you use worsted-weight yarn. This type of yarn is easy to work with and is perfect for beginners.
Crochet Hook: You need a crochet hook to make your crochet turtle pattern. The size of the hook will depend on the size of the turtle you want to make. A size G or H hook is recommended for beginners.
The stitches you will need for a crochet turtle pattern are:
Single Crochet: This is the most basic stitch in crochet. It is used to create a tight, dense fabric.
Chain Stitch: This stitch creates a foundation chain for your crochet turtle pattern.
Slip Stitch: This stitch is used to join rounds and to create a smooth edge.
Magic Ring: This stitch creates a tight center for your crochet turtle pattern.
Increase: This stitch adds stitches to your crochet turtle pattern.
Decrease: This stitch is used to remove stitches from your crochet turtle pattern.
Free Crochet Turtle Patterns
With our free crochet turtle patterns, you can create your own magnificent turtle in no time at all. These patterns are simple enough for a beginner and can be dressed up with a sweater, hat, and scarf.
We've shared 25 free crochet turtle patterns available below. Some patterns include a sea turtle amigurumi, a turtle applique pattern, and a turtle keychain. The stitches in these patterns are single crochet, chains, slip stitch to join the legs and body, sc around the eyes and mouth, and a magic ring. Let's explore our collection of crochet turtle patterns below:
1. How to Crochet a Timmy the Turtle – Free Pattern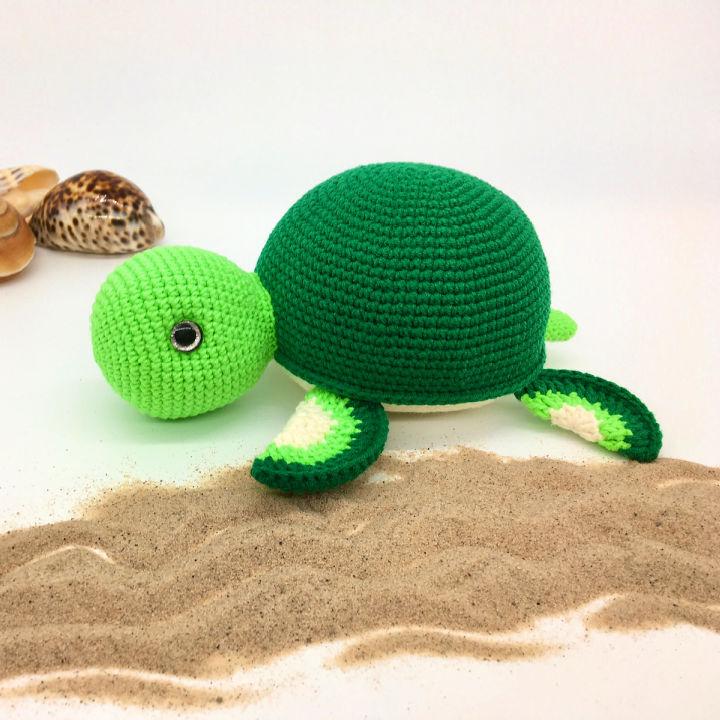 Create an adorable companion with this free crochet turtle pattern! Timmy the turtle is perfect for gifting to your loved ones and will bring a smile to everyone's face. This amigurumi sea animal is suitable for basic/intermediate crocheters – you'll need some fine sport #2 yarn, a 3mm hook and fiber fill. Make this cute friend today & show off your handiwork! cuddlystitchescraft
2. Crocheting a Sea Turtle – Free Pattern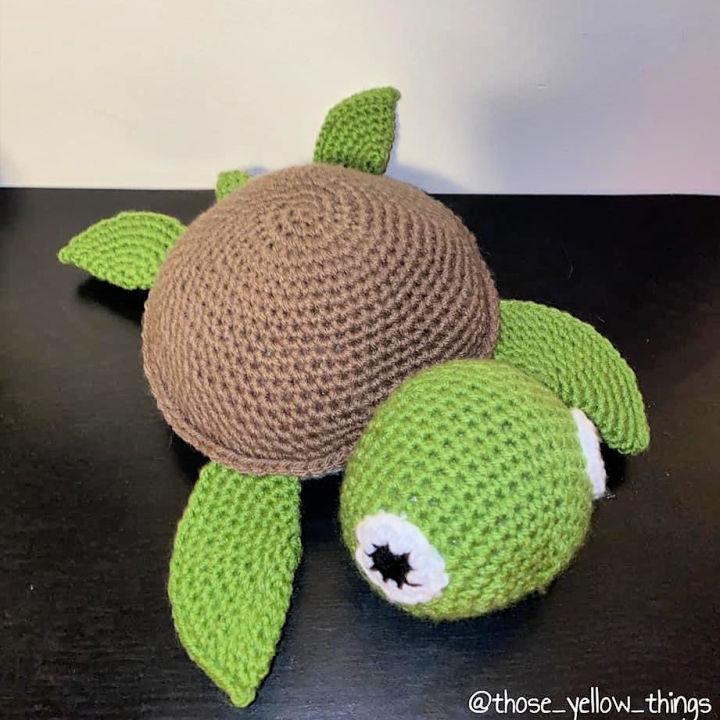 Looking for an easy DIY project to make a handmade gift? Look no further! With this free pattern, you can crochet a sea turtle using basic items in your local store. You'll have the perfect present for any loved one in just a few moments. Show them how much they mean to you with this amazing crocheted sea turtle – it's sure to bring lots of joy and appreciation! Get crafting now and create something special today. ravelry
3. Chunky Crochet Plushie Turtle Pattern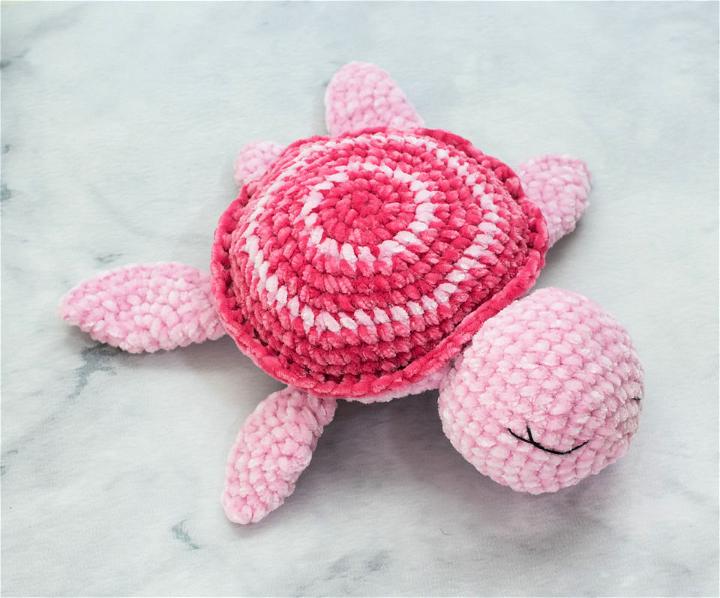 Make your chunky turtle with this free amigurumi pattern! This beginner-friendly project requires a 5mm crochet hook, two colors of chunky yarn, stuffing material, a sewing needle and embroidery thread. The finished size will be 32 cm (about 12.5 inches). Create the perfect addition to any toy collection, or use it as an adorable gift for someone special. With this fun-to-follow pattern, you will surely create something unique and memorable that everyone can enjoy! littlecrochetfarm
4. Charming Crochet Baby Sea Turtle Pattern

Bring the ocean to your home and let your kids explore with a one-of-a-kind crochet sea turtle! With its adorable hexagon shape and tiny flippers, this free amigurumi baby sea turtle is the perfect toy for any child. To make this delightful creature, you only need bernat handicrafter cotton yarn, a 4mm hook, polyfill stuffing, and 8mm safety eyes. Make him in two or three colors for even more fun! Get creative with your design and show off your amazing work with pride. Hurry up and get started on this adorable project today! whistleandivy
5. Free Crochet Strawberry Turtle Pattern for Baby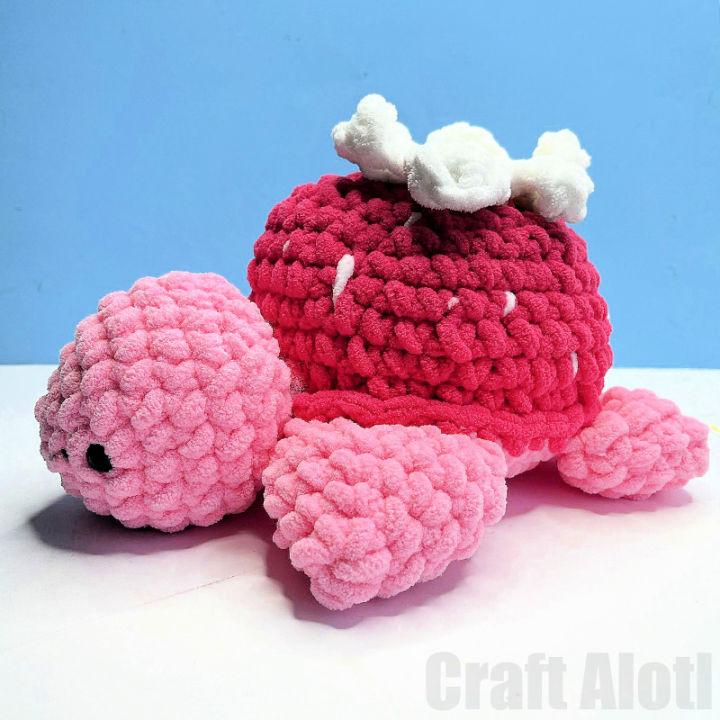 Crochet your very own lovable strawberry turtle with this free pattern. Perfect for a plushie toy, use super chunky chenille yarn in colors of your choice, and the pattern calls for 10mm and 8mm crochet hooks and safety eyes in 10/12mm size. Stuffing will be needed to complete the project. This free pattern is perfect for any level crocheter looking to add fun and cuteness to their home! redtedart
6. Free Crochet Tiny Turtles Pattern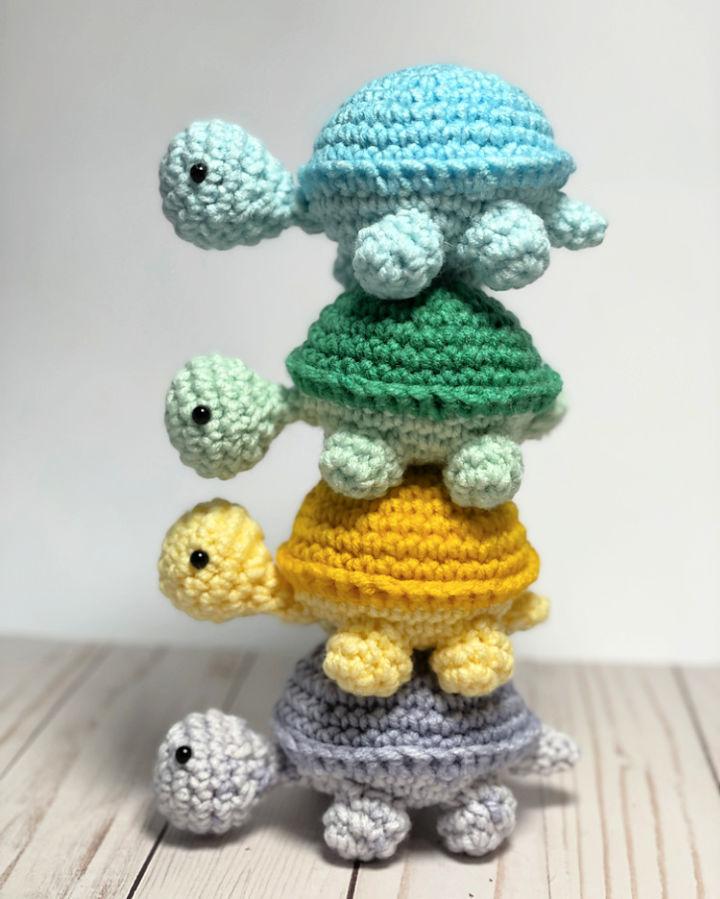 Let your imagination run wild and craft an unforgettable moment with these delightful tiny turtles! Perfect for your child's stuffed animal collection, these tiny turtles are only 2.5″ tall and 5″ long, so they fit comfortably in the palm of your hand. Plus, you can customize them with worsted-weight yarn in two colors and a g crochet hook. Complete their look with small 6mm safety eyes – making it easy & safe for children to enjoy them! Get started on creating these unique little friends today! 5littlemonsters
7. Crochet Birthday Amigurumi Turtle Pattern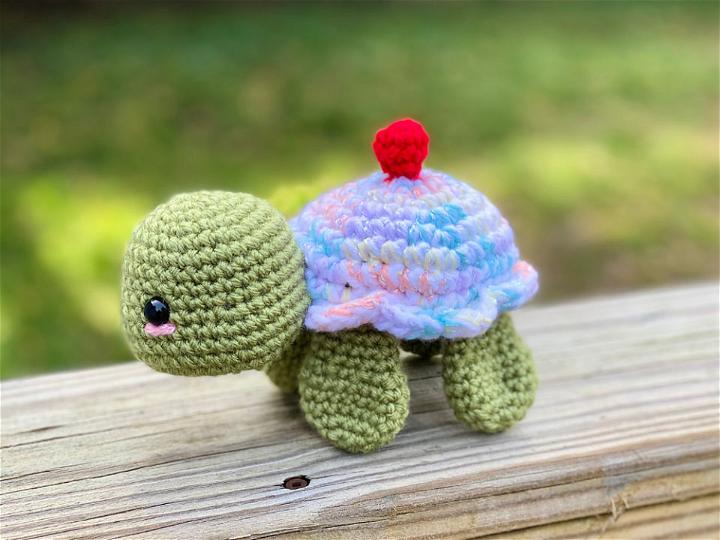 Celebrate any birthday with this delightful, easy-to-make amigurumi turtle pattern! The "shell" is made to look like an adorably decorated cupcake, complete with a cherry on top. Perfect as a gift or commemorating your special day, this birthday turtle can be made in two sizes – regular and large plushie! It's great for beginners and experienced crafters alike; all you need are medium-weight yarn in various colors, size d/3 – 3.25 mm crochet hook, size h/8 – 5.0 mm crochet hook, 10mm safety eyes and fiberfill stuffing. Enjoy crocheting up something fun that will make every birthday even more special! craftykittycrochet
8. Crocheted Mini Amigurumi Turtle – Free Pattern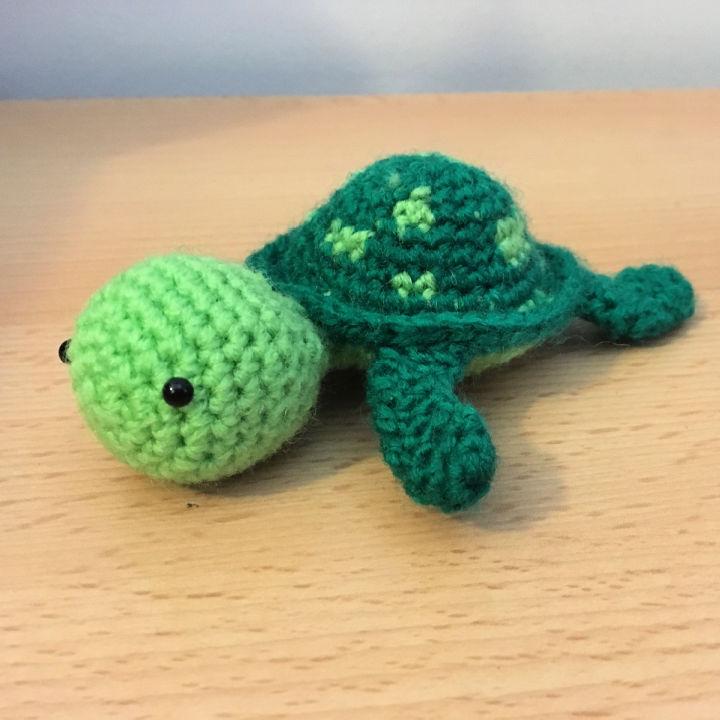 Add a burst of joy to your child's day with this adorable mini amigurumi turtle! This quick and easy project requires only a 3mm crochet hook, yarn (approx 15g or 45m), and soft toy filling. With its delightful little face, the finished product will surely be a loved companion for your children. Try out this free pattern today – it'll be done soon! amyscrochetcave
9. Modern Crochet Amigurumi Turtle Pattern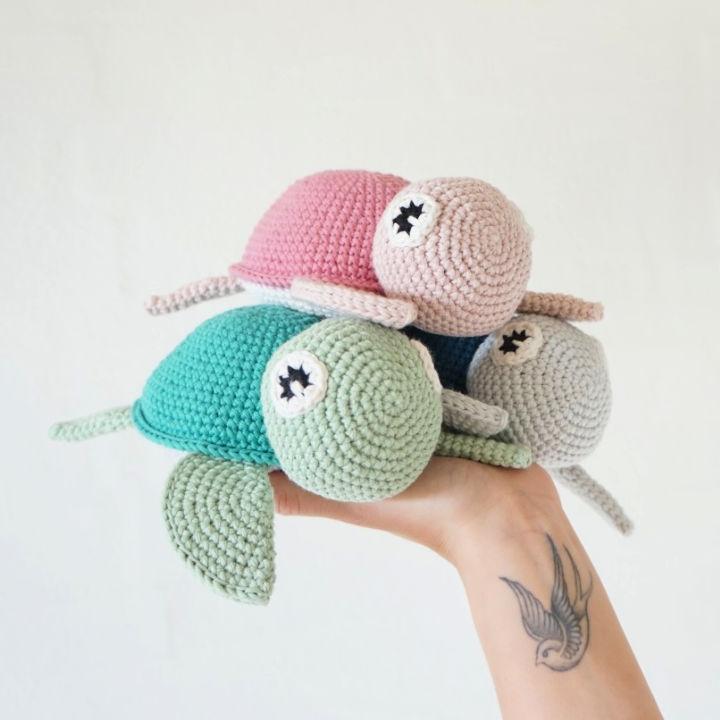 Are you looking for a fun and modern crochet project? This crochet amigurumi turtle pattern is perfect for rainy days when you want to stay indoors. Plus, it makes a great handmade gift for your little ones! You only need a 3,5 mm crochet hook, needle, stuffing and scissors. With these simple items, you can create a cute companion that your kids will love to take everywhere they go. Why not start crocheting this turtle today and brighten someone's day with an unforgettable present? vibemai
10. How to Crochet a Plush Turtle – Free Pattern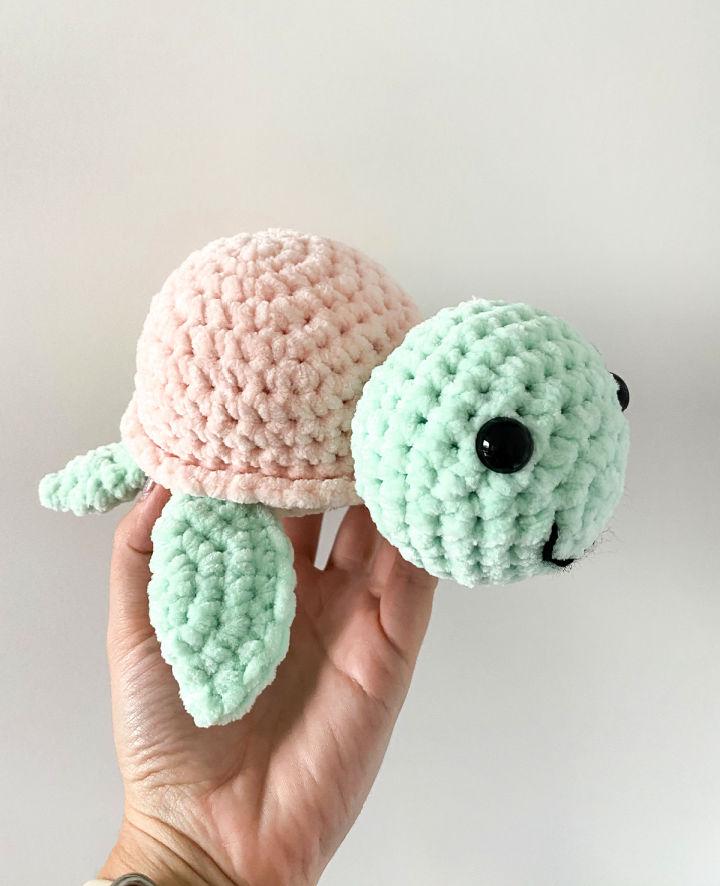 Unlock your child's creative potential and add a special, handmade touch to their bedroom with this free crochet pattern for a plush turtle! This project is quick and easy to make using chenille chunky yarn in three colors, a 6mm crochet hook and 10mm plastic eyes. The end product will make an adorable addition to any kid's room that they will love taking to bed at night! Get creative and whip up your version of this cute critter today! abigurumii
11. Pretty Crochet Stuffed Animal Pattern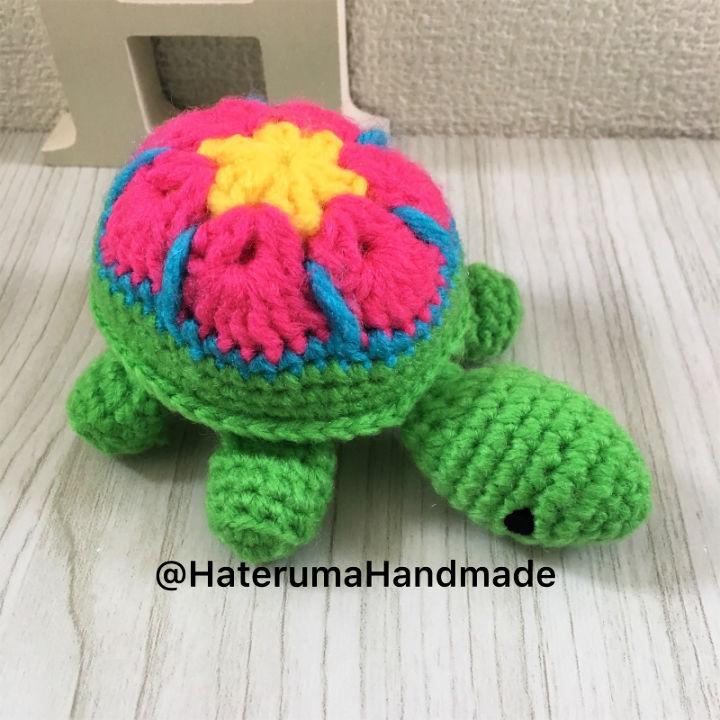 Finding the perfect project for your children's delight is just a few crochet stitches away! This pretty crochet stuffed animal pattern for no-sew turtles is stylish, customizable and perfect for any kid's bedroom decor. Choose from the best yarns and matching crochet hooks to create your original design. This fun craft will not only look great in their room, but they'll also have a new friend to take everywhere with them. Get creative and start making memories today with this beautiful no-sew turtle pattern! haterumahandmade
12. Small Crochet Sea Amigurumi Turtle Pattern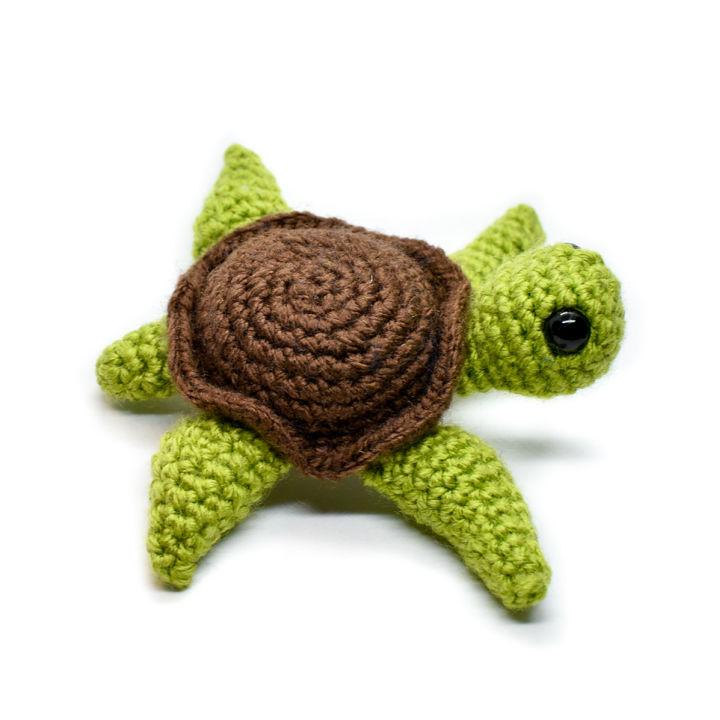 Bring a unique combination of beauty and playfulness to your home with this mini sea turtle amigurumi! This beginner-friendly crochet pattern is perfect for those just starting.
With its bright colors and easy shaping, it's sure to delight everyone in the family. Enjoy crafting this little turtle using dk weight/#3 yarn and a size c / 2.75mm crochet hook – no experience necessary! The instructions also include how to attach two 8mm black safety eyes so that he can look around and explore his new home.
Once complete, you will be left with an approximately 4″ long sea turtle full of personality from nose to tail! waywardpine
13. Free Crochet Pattern for Itty Bitty Turtle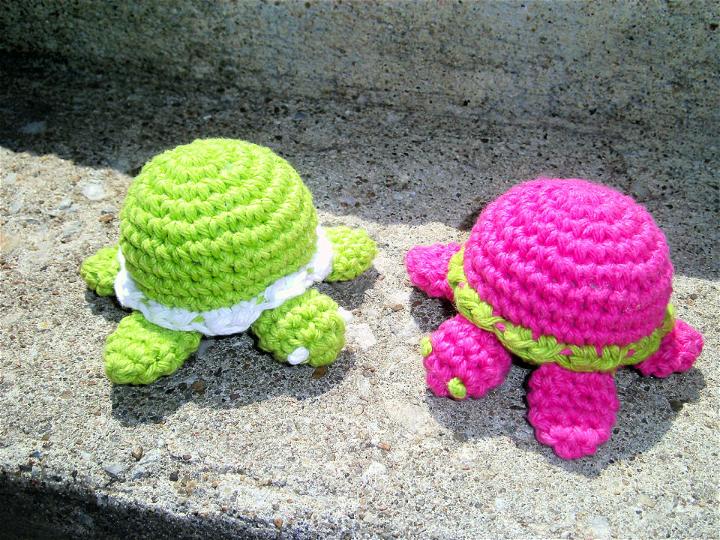 Discover free crochet turtle patterns and create adorable, handmade gifts with these easy-to-follow instructions for all skill levels. Craft a unique, adorable amigurumi toy with this free crochet pattern for an itty bitty turtle! Not just a cuddly plushie, it can also be used as a pincushion or bath toy. With only requiring worsted weight yarn and 3.75 mm (f) hook size, you can customize the turtle size according to your preference — bigger or smaller by changing the hook size. For those who love crocheting projects that don't require an exact gauge for measurements, this is perfect for you! ravelry
14. Crochet Stuffed Turtle Amigurumi Pattern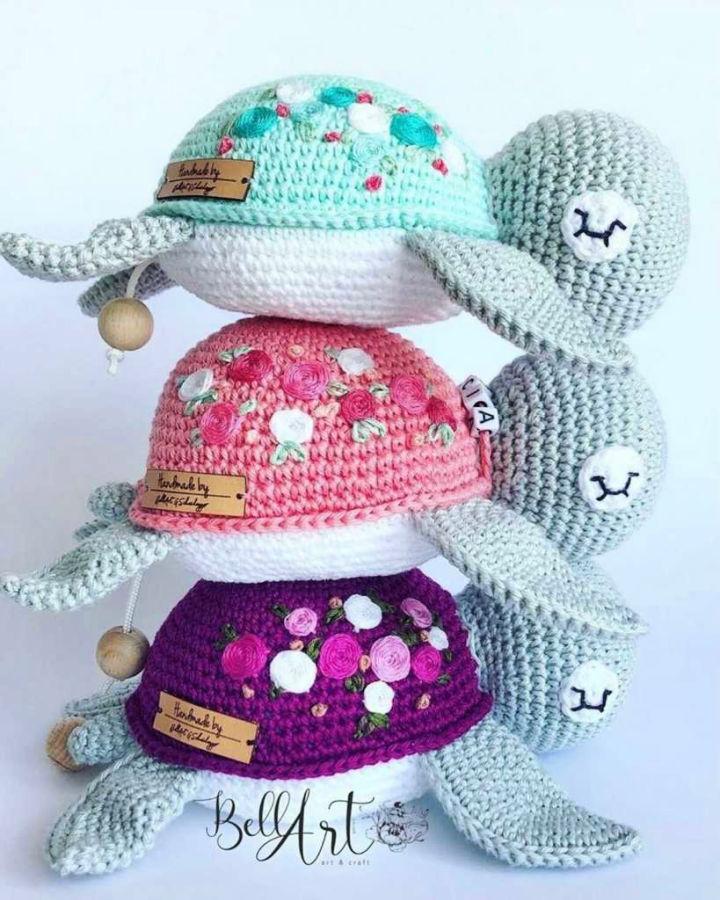 Find free crochet turtle patterns that easily and precisely transform your yarn into adorable, huggable, and decorative turtle masterpieces. Get ready to crochet an adorable amigurumi turtle with this stuffed turtle free pattern! This easy and fun pattern is perfect for making a cuddly friend for your little ones. All you need is a 3.5mm crochet hook, needle, stuffing, and scissors to get started immediately! Plus, this free pattern ensures that your creations will be one-of-a-kind! Get inspired by the possibilities of crocheting with this free turtle pattern today! alwaysfreeamiguru
15. Cool Crochet Ninja Turtle Pattern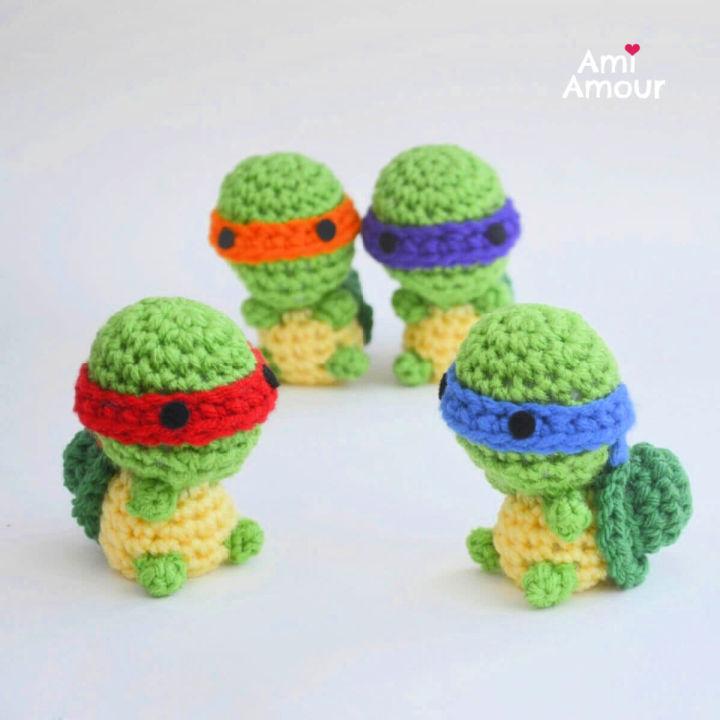 Create your teenage ninja turtle gang with this free crochet pattern for a ninja turtle amigurumi. Each has its color bandana, tiny legs and arms, and a green shellback for authenticity. This project is suitable for all skill levels, using red heart super saver yarn and tools such as yarn needle and polyfill stuffing to achieve the finished size of approximately 3.5in/9cm tall. Unleash your inner ninjas today with this fun DIY project! amiamour
16. Adorable Crochet Baby Sea Turtle Pattern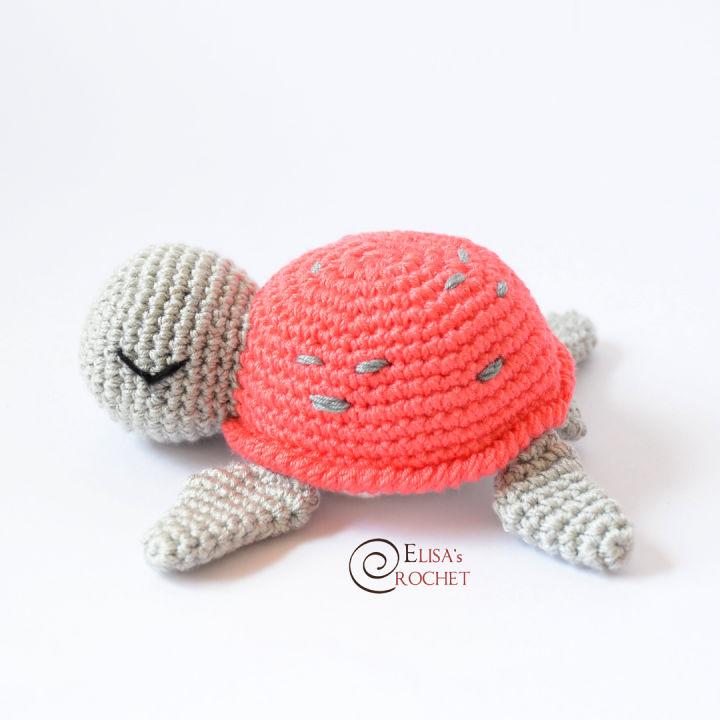 This adorable baby sea turtle crochet pattern is perfect for beginners or intermediates looking to create a unique plush toy. Crafted with medium-weight cotton yarn, this craft project will bring joy and delight to any child. Plus, the included polyester fiber filler makes the turtle soft and cuddly! You only need e/3,50 mm crochet hooks and basic supplies to make this cute critter. Take your crocheting skills up with this easy-to-follow free crochet pattern – baby sea turtles can be yours in no time! elisascrochet
17. Free Crochet Tilly the Sea Turtle Pattern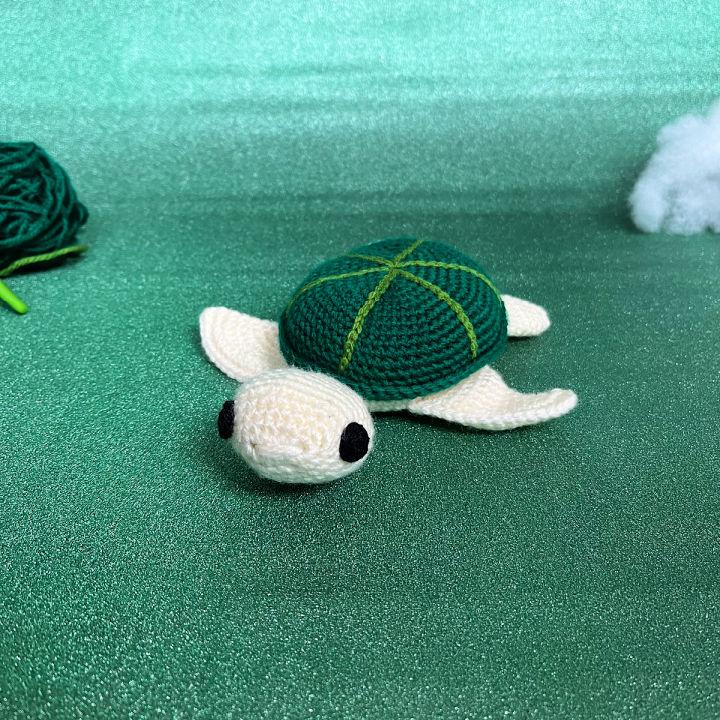 Bring the beach into your living room with this adorable free crochet tilly the sea turtle pattern. Perfect for crochet fans of all skill levels, this pattern walks you through each step clearly and easily – giving you an excellent opportunity to practice some more complex stitches! All that's needed is dk yarn in off-white, dark green and light green, and black 8/4 (4 ply) cotton for the eyes and a 3.5 mm (e) hook – or feel free to switch it up with your favorite colors. Download now and make your very own sea turtle buddy today! ravelry
18. Simple Crochet Tina Pincushion Turtle Pattern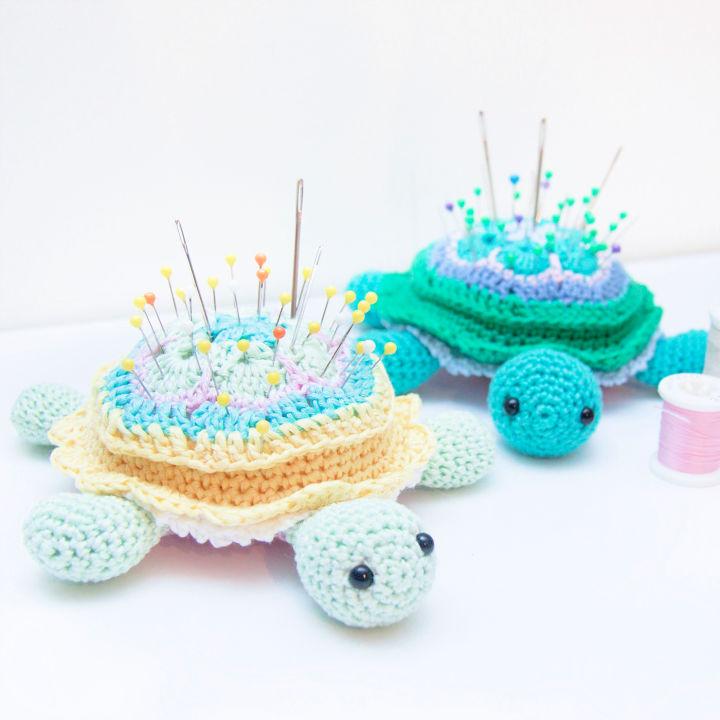 Uncover unique crochet turtle patterns for your next project today! Make a friendly and fun addition to your home with the tina turtle african flower turtle pincushion pattern! This project will only take a little time to complete using easy-to-find materials. With this creative pattern, you can craft an adorable turtle measuring 15 cm from head to back using a 2.5mm hook size – perfect for holding all your pins and needles! Get creative as you watch your favorite show on the tv and make something special for yourself or someone else today! inart
19. Cute Crochet Little Turtle Amigurumi Pattern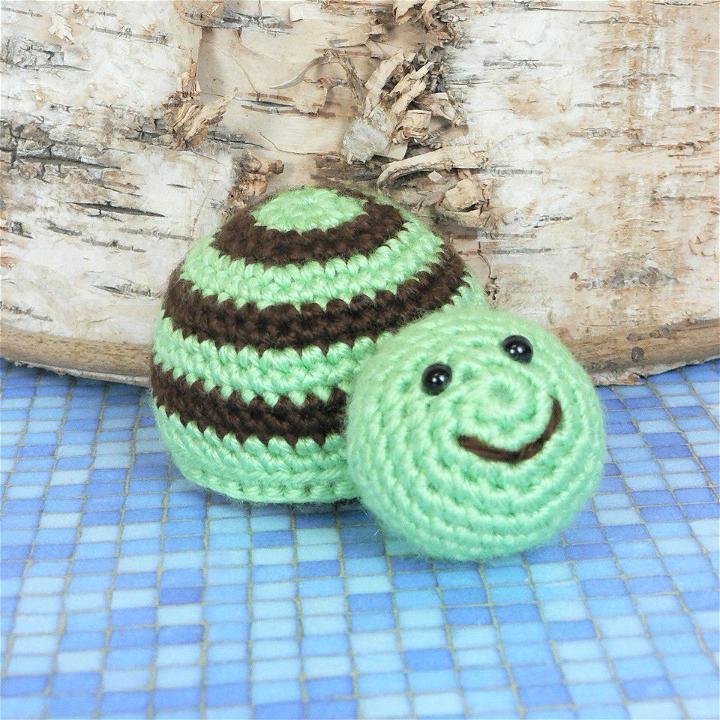 Introducing the adorable cute crochet little turtle amigurumi pattern! This delightful little fellow measures 4″/10cm long and will surely be a favorite with his bright green shell and smiling expression. Crafted with caron international's simply soft yarn and us f-5 (3.75 mm) crochet hook, he requires two 6mm safety eyes, fiberfill stuffing and your creative skills for assembly. Ideal as a unique gift or decoration for any home, get ready to make your charming little amigurumi turtle today! naturallycaron
20. Crochet Pumpkin Pie Turtle Amigurumi Pattern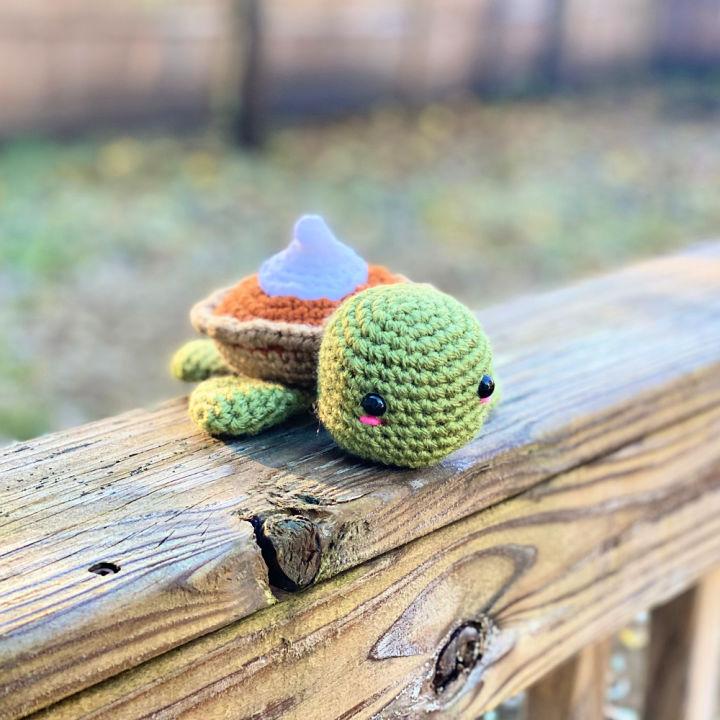 Here is this little pumpkin pie turtle amigurumi that is the perfect way to add a touch of kawaii cuteness and holiday cheer to your thanksgiving dinner or Christmas gift list! The shell is designed to look like a mini pumpkin pie with whipped cream, adding an extra layer of sweetness. Just imagine how adorable it would look on your mantlepiece or as a special treat for friends and family.
All you need are two crochet hooks, medium-weight yarn in various colors, fiberfill stuffing and some safety eyes – then you'll be ready to start stitching this festive plushie! Let's get creative this holiday with an amigurumi pumpkin pie turtle crochet pattern! craftykittycrochet
21. Wonderful Crochet Sudsy Sea Turtle Pattern

Dive into the depths of crafting with this crochet sudsy sea turtle pattern! With this pattern, you can make a cute and cuddly sea turtle that measures 5″ in shell diameter. All you need is some us size h-8 (5mm) crochet hook or whatever size is needed to obtain gauge. This wonderful pattern will surely bring joy to all ages, so why not try it? premieryarns
22. Cool Crochet Nala the Turtle Pattern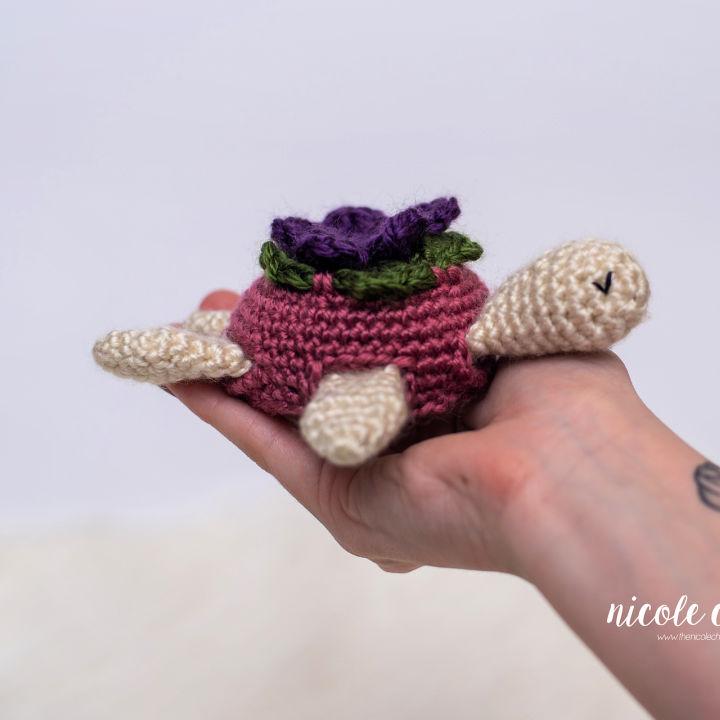 Looking for a fun, free crochet project? Look no further than nala the no-sew turtle! This adorable little turtle is perfect for any crocheter – advanced or beginner. It measures approximately 5.5″ long and 2″ tall, so it's the perfect size to cuddle up with or tuck into your pocket. Use a 3.75mm hook and medium (4) weight yarn to make this cutie come alive, then stuff him full of poly-fil stuffing for an even cozier companion! Get your hooks ready – nala the no-sew turtle will brighten up any room quickly! thenicolechase
23. Crochet Tessa the Turtle Amigurumi Pattern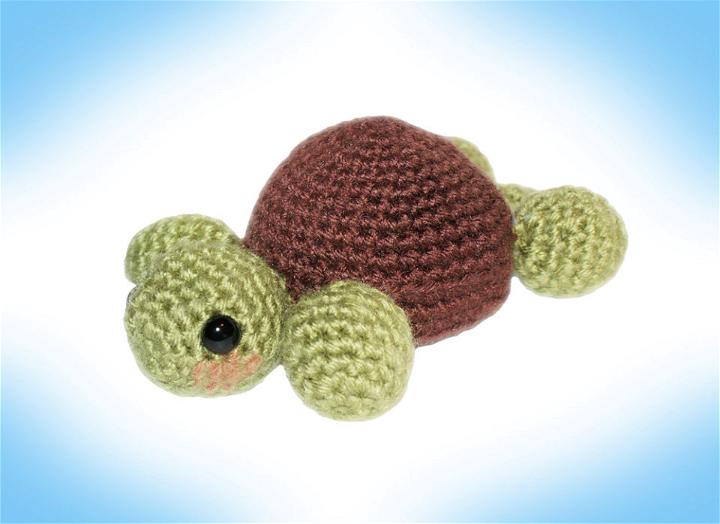 Crochet your tessa the turtle amigurumi with just a few supplies from your local store! This handmade gift will bring joy to the recipient's day and won't cost you much. Get creative by personalizing it for them, or use different colors to add that special touch. The perfect way to show someone how much they mean to you – get crocheting today! knitandcrochetever
24. Free Crochet Secret Turtle Box Pattern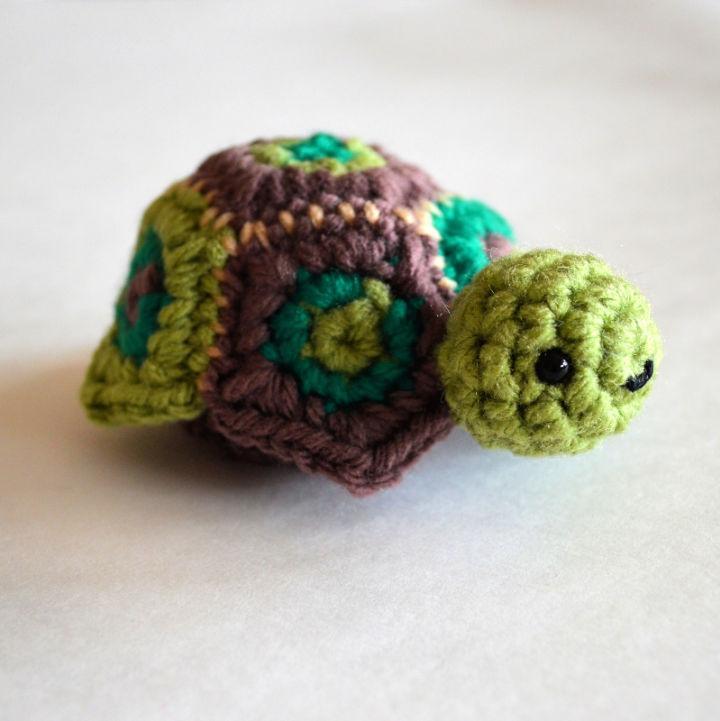 Surprise someone special with a unique, handmade turtle box to show them how much you care! This pattern will help you create a 4″ long turtle-shaped box that can be used to store jewelry, hair accessories, or even just for decoration. The worsted weight yarn of your choice and size 3.75 mm hook make it easy to customize the look of your box, while the included fiberfill ensures it's stuffed and ready to go! Give someone a unique present they'll never forget with this adorable turtle box crochet pattern. popsdemilk
25. Free Turtle Crochet Pattern for Beginners

Bring a smile to your kids' faces and start crocheting them a new friend with this easy turtle tutorial! Perfect for beginners, this step-by-step tutorial will show you how to crochet these adorable amigurumi turtles. With just a few supplies, you'll have a kid's room decor that will delight you. So grab some yarn and a hook, and let's make something fun together – an easy crochet turtle tutorial!
Related Free Crochet Patterns:
Discover a world of creative fun with our collection of free crochet amigurumi patterns. We have something for all levels and tastes, from cute animals to fashionable accessories. Start creating beautiful handmade gifts today!
Conclusion: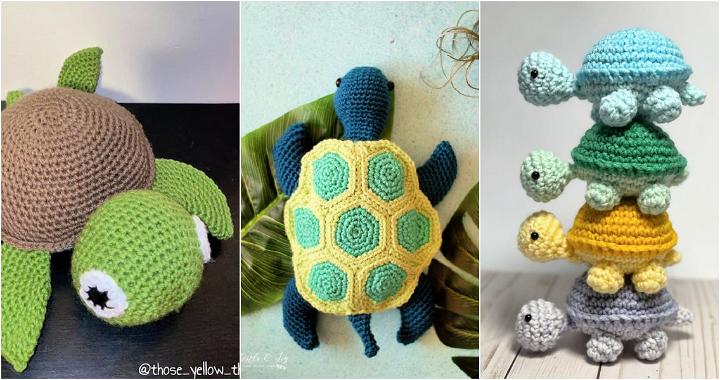 In conclusion, this variety of 25 free crochet turtle patterns provides a fantastic range of amigurumi turtle projects to suit every skill level. From easy crochet turtle patterns for novices to more elaborate designs for experienced crocheters, there's a perfect option for everyone. Each free crochet turtle pattern comes with step-by-step instructions, detailed guides, and video tutorials, ensuring you have all the resources needed to create an adorable crochet turtle plushie. So, delve into the captivating world of crochet turtles and craft a delightful, handmade keepsake for yourself or a loved one.