Tunisian crochet is a captivating technique that combines the best of crochet and knitting to create stunning textures and patterns. Explore 25 free Tunisian crochet patterns for beginners designed to help you learn this versatile craft and create beautiful projects. These patterns cover many projects, including Tunisian crochet blankets, sweaters, cardigans, cowls, and more. With easy-to-follow step-by-step instructions, these free Tunisian crochet patterns are perfect for those who are new to this engaging technique.
As you delve into the world of Tunisian crochet, you'll be amazed by the variety of stitches and designs you can create. From simple stripes to intricate honeycomb patterns, these free Tunisian crochet projects will have you hooked quickly. With detailed instructions and helpful illustrations, you can confidently tackle new projects and expand your crochet repertoire.
So, gather your Tunisian crochet hooks and some lovely yarn, and embark on an exciting creative journey with these beginner-friendly Tunisian crochet patterns. Whether you choose to make a cozy blanket, a stylish sweater, or a fashionable accessory, these free Tunisian crochet patterns will provide endless inspiration and satisfaction. Start your Tunisian crochet adventure today and immerse yourself in the captivating world of this unique craft.

Tunisian crochet is a unique and versatile technique that combines some elements of crochet and knitting to create a dense and textured fabric. In this article, you will learn everything you need to know to start with Tunisian crochet, including the basic stitches, the tools and supplies you need, and some inspiring patterns to try.
What is Tunisian Crochet?
Tunisian crochet, even known as Afghan crochet, is a type of crochet that holds multiple loops on the hook in style similar to what is done in knitting. It differs from knitting in that it uses a crochet hook, not knitting needles. The result is a fabric that is beautifully textured using a technique that combines the best of knitting and crochet.
Tunisian crochet is worked in two passes: the forward pass and the return pass. In the forward pass, you loop the yarn onto the hook and leave it there, creating multiple stitches on the hook. In the return pass, you loop the yarn back off the hook, working each stitch off one by one until you have one loop left on the hook. This completes one row of Tunisian crochet.
Tunisian Crochet Stitches
There are various types of Tunisian crochet stitches, each with its own look and feel. Some of the most common and basic ones are:
Tunisian Simple Stitch (Tss): This is one of the best-known and easiest Tunisian crochet stitches to learn. It creates a fabric that has vertical bars on the front and horizontal ridges on the back. To make this stitch, you insert your hook under the front vertical bar of the next stitch and yarn over, pulling up a loop.
Tunisian Knit Stitch (Tks): This stitch mimics the look of the stockinette stitch in knitting. It creates a fabric that has V-shaped stitches on both sides. To make this stitch, you insert your hook through the center of the next vertical bar, between the front and back loops, and yarn over, pulling up a loop.
Tunisian Purl Stitch (Tps): This stitch mimics the look of reverse stockinette stitch in knitting. It creates a fabric that has bumps on both sides. To make this stitch, you bring your yarn to the front of your work, insert your hook under the front vertical bar of the next stitch, bring your yarn to the back over your hook, and yarn over, pulling up a loop.
Tunisian Reverse Stitch (Trs): This stitch is worked through the vertical back bar of each stitch. It creates a fabric that has horizontal ridges on both sides. To make this stitch, you insert your hook under the back vertical bar of the next stitch and yarn over, pulling up a loop.
These are just some of the basic stitches you can use in Tunisian crochet. There are many more variations and combinations you can explore to create different effects and textures.
Tunisian Crochet Supplies
To do Tunisian crochet, you will need some special tools and supplies:
Tunisian Crochet Hooks: These are longer than regular crochet hooks and usually have a stopper at the end to prevent your stitches from falling off. They come in different sizes and materials, just like regular hooks. Some Tunisian hooks are double-ended or have a flexible cable attached to them for working in rounds or with multiple colors. For certain projects, especially those with shorter widths, you can use a regular crochet hook instead of a Tunisian hook. Just make sure it has a straight shaft without any thumb grip or ergonomic handle.
Yarn: You can use any yarn for Tunisian crochet, but keep in mind that this technique tends to create a dense and thick fabric. Therefore, you may use a lighter-weight yarn or a larger hook size than what your yarn suggests. You should also check your pattern for any specific yarn recommendations or requirements.
Notions: You will also need some basic notions such as scissors, yarn needles, stitch markers, etc.
Tunisian Crochet Tips
Tunisian crochet is relatively easy to learn, but it has some quirks and challenges you should be aware of. Here are some tips to help you master this technique:
Tension: Tunisian crochet tends to curl at the edges, especially when working with a simple Tunisian stitch. To prevent this, you should use a looser tension than usual for regular crochet. You can also use a larger hook size, block your work, or add a border to your project.
Gauge: Tunisian crochet also tends to have a different gauge than regular crochet. It usually has more stitches per inch but fewer rows per inch. Therefore, you should always check your gauge before starting a project and adjust your hook size accordingly.
Edges: Tunisian crochet has different ways of working each row's first and last stitches. These stitches are important for creating neat and even edges. You should follow the instructions for each pattern carefully and pay attention to how you insert your hook into these stitches.
Colorwork: Tunisian crochet can create stunning effects with colorwork, such as stripes, fair isle, intarsia, mosaic, etc. However, colorwork also means more yarn ends to weave in and more chances of tangling your yarns. You should plan your color changes ahead of time and use bobbins or butterflies to keep your yarns organized.
Tunisian Crochet Benefits
Tunisian crochet may seem like a lot of work, but it also has many benefits that make it worth trying. Some of the benefits are:
Versatility: Tunisian crochet can create a variety of fabrics, from dense and warm to light and lacy. It can also mimic the look of other crafts, such as knitting, weaving, or embroidery. You can use any yarn and any color combination for Tunisian crochet.
Creativity: Tunisian crochet allows you to explore new stitches, techniques, and patterns that you may not find in regular crochet. It also allows you to design projects and express your style.
Satisfaction: Tunisian crochet can be very satisfying and rewarding, especially when you see the results of your hard work. You can make beautiful and useful items for yourself or others and enjoy learning and improving your skills.
Tunisian Crochet Patterns
Now that you have learned some of the basics of Tunisian crochet, you may wonder what you can make with this technique. The answer is almost anything! From blankets and scarves to hats and bags, you can create plenty of projects with Tunisian crochet. Here are some free Tunisian crochet patterns to inspire you:
1. Simple Tunisian Crochet Stripes Blanket Pattern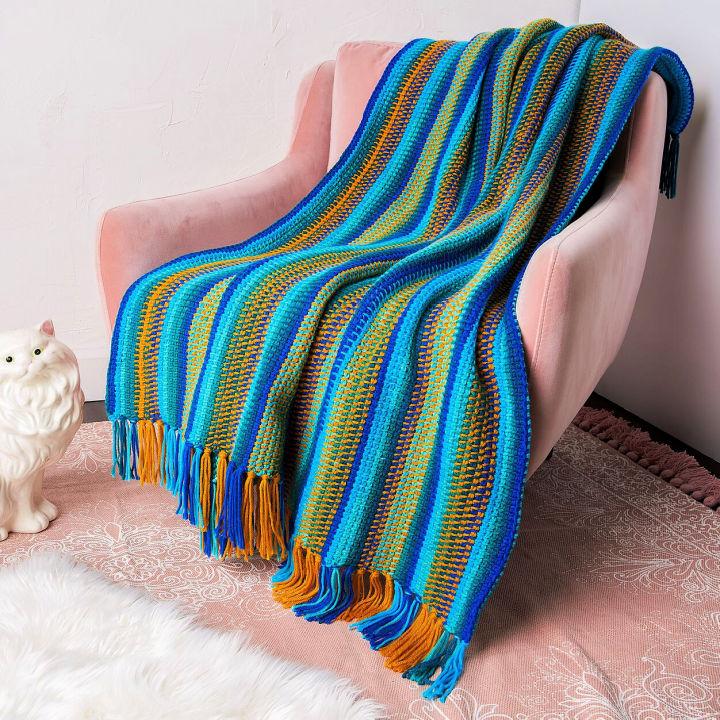 Bring your creations to life with this tunisian simple stripes crochet blanket! With its approximate measurements of 46″ x 58", this cozy blanket will keep you warm and snug all year round. Using red heart super saver o'go™ yarn, you'll need 6 o'gos of contrast a in peacock and contrast b in gold. The pattern calls for a size us l/11 (8 mm) tunisian crochet hook plus an additional j/10 (6 mm) one for the edging. Whether you're a beginner or an experienced crocheter, this project is perfect for impressing anyone! yarnspirations
2. Easy Tunisian Crochet Mercantile Cardigan Pattern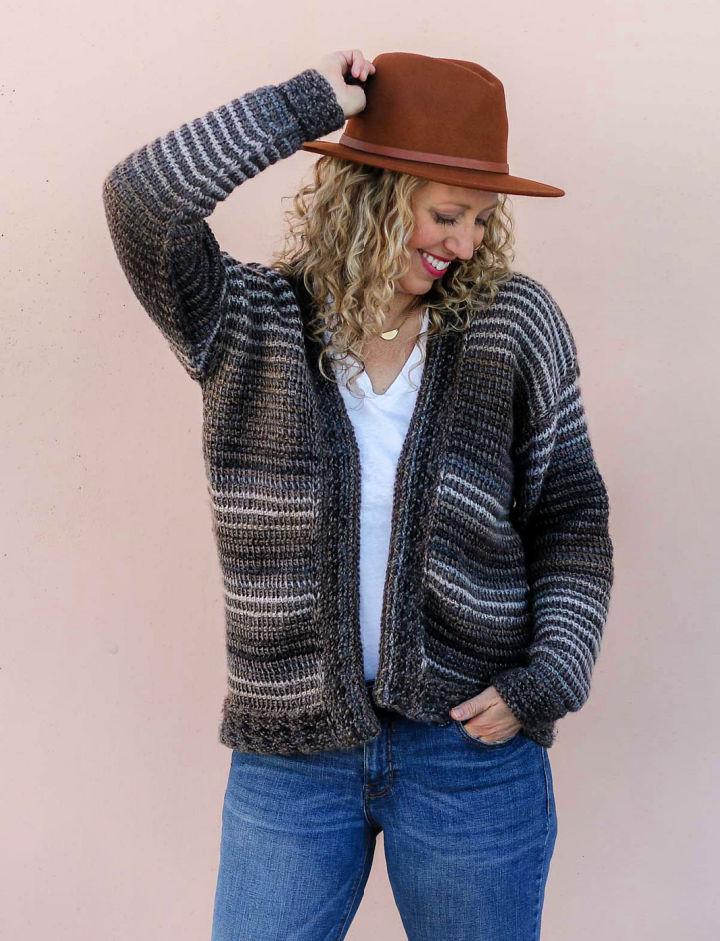 Embrace the new season with a cozy cardigan made from your own hands! This tunisian crochet pattern brings even confident beginners to their desired look – an easily reversible sweater.
Get your lion brand heartland and ferris wheel yarns, tapestry needle, size k and l tunisian crochet hooks, stitch markers or safety pins ready for this project. The detailed photo and video tutorials will help you master all the necessary skills quickly. With sizes ranging from s-5x (the sample shown on a 5'9″ model with a 40″ bust was created in m), the gauge of 14 tss is easy to achieve! makeanddocrew
3. Tunisian Crochet Scrap Cowl Pattern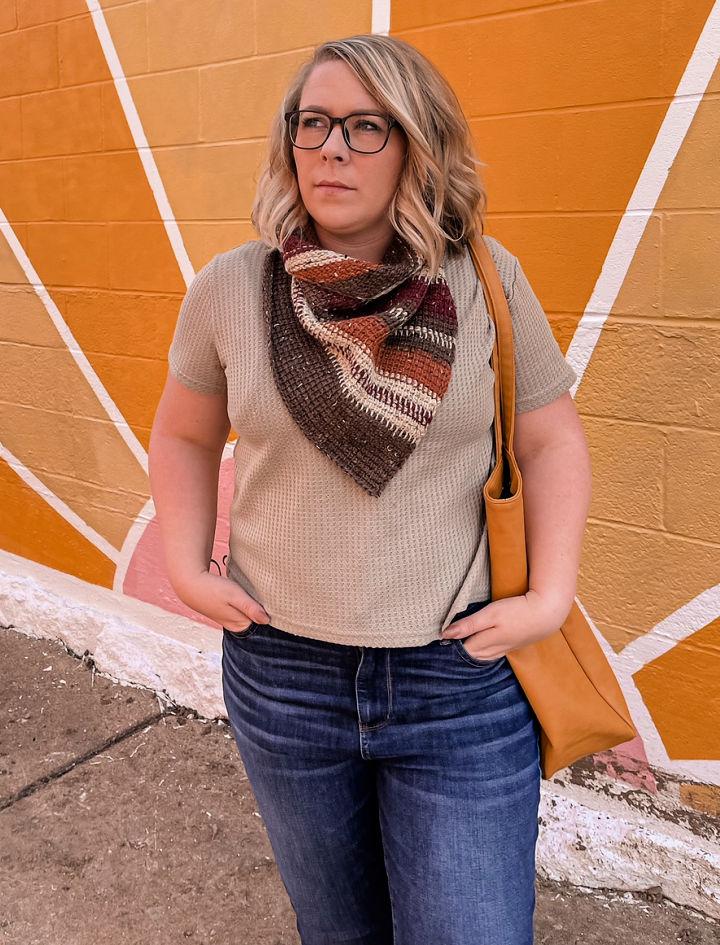 Why not transform those pesky yarn scraps into something stylish and cozy? Try tunisian crochet to give your cowl a unique twist. The city tweed dk pattern from wecrochet randomly switches colors for a textured look. All you need is some yarn, a hook and basic skills! Get the full instructions here. Time to get creative with tunisian crochet! hookedhazel
4. Best Tunisian Crochet Fade Shawl Pattern for Gift

Stay warm and cozy this winter with the tunisian fade shawl! This beginner-friendly crochet project is perfect for crocheters of any skill level. Ultra-soft, squishy, and lightweight, it features a beautiful faded look created using light grey and hot pink stripes. Download the free pdf pattern to get started on your own shawl today – all you need are just a few materials, including dk yarn and interchangeab hooks! Wear your finished accessory as a stylish shawl or thick scarf for the cold days ahead. withalexofficial
5. Tunisian Crochet Raglan Blouse Pattern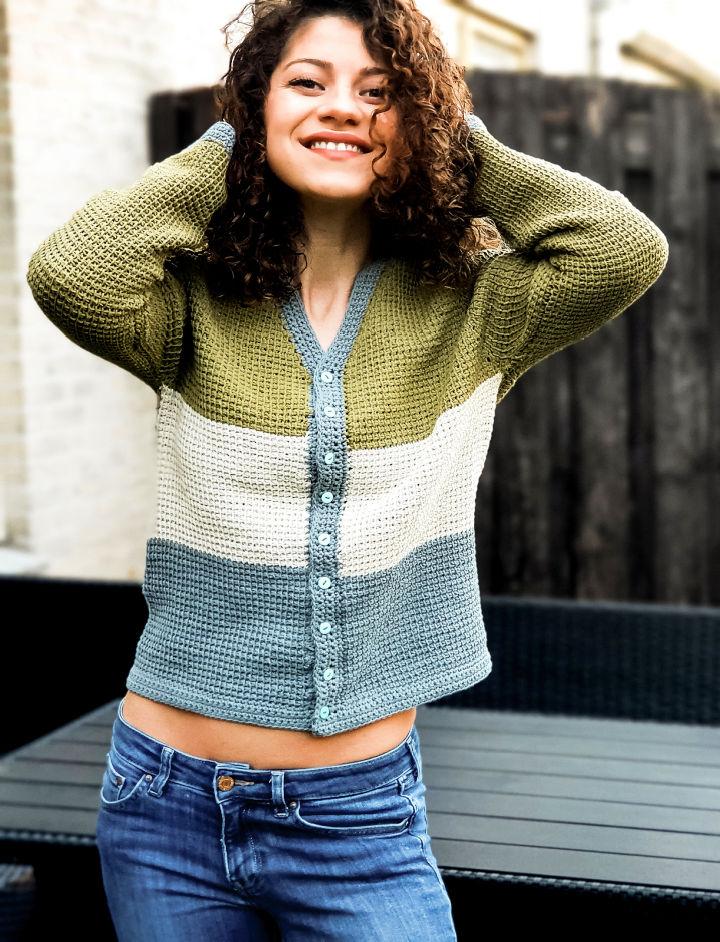 Dive into the world of tunisian crochet with this one-of-a-kind tunisian raglan blouse pattern! Perfect for beginners, learn how to increase, change colors, work in rounds and bind off while creating a stylish v-neck design with raglan sleeves. You'll love using dk weight yarn and a 5mm tunisian crochet hook to create an incredible texture that can be customized to your desired length. Take advantage of this amazing opportunity – grab your materials now! by katerina
6. Cute Tunisian Crochet Double Brim Beanie Pattern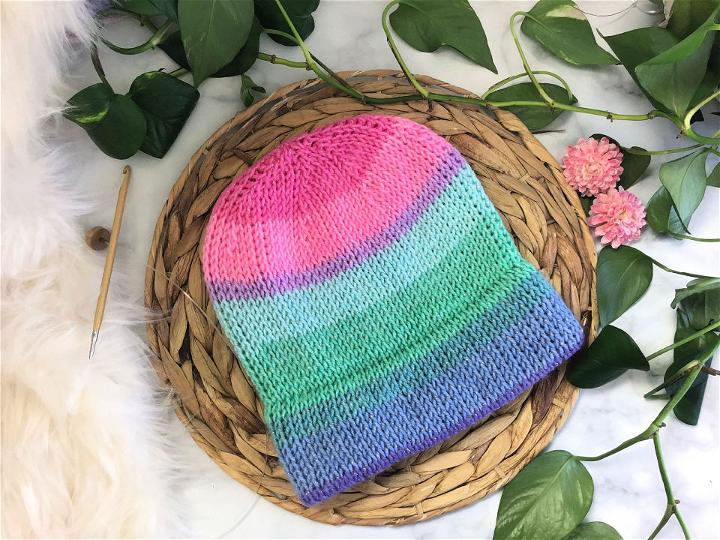 Cozy up and look great this winter with the double brim tunisian beanie! This stylish pattern is perfect for both beginner and experienced crafters alike. Made using dk weight yarn and a clover interchangeable tunisian crochet hook, this chic beanie features a double brim to keep you extra cozy during all those cold days. Three sizes are available so everyone can enjoy this easy-to-make project while listening to their favorite movie or music. Get ready for the next snowstorm with this must-have accessory! clover usa
7. Tunisian Crochet Headband – Free PDF Pattern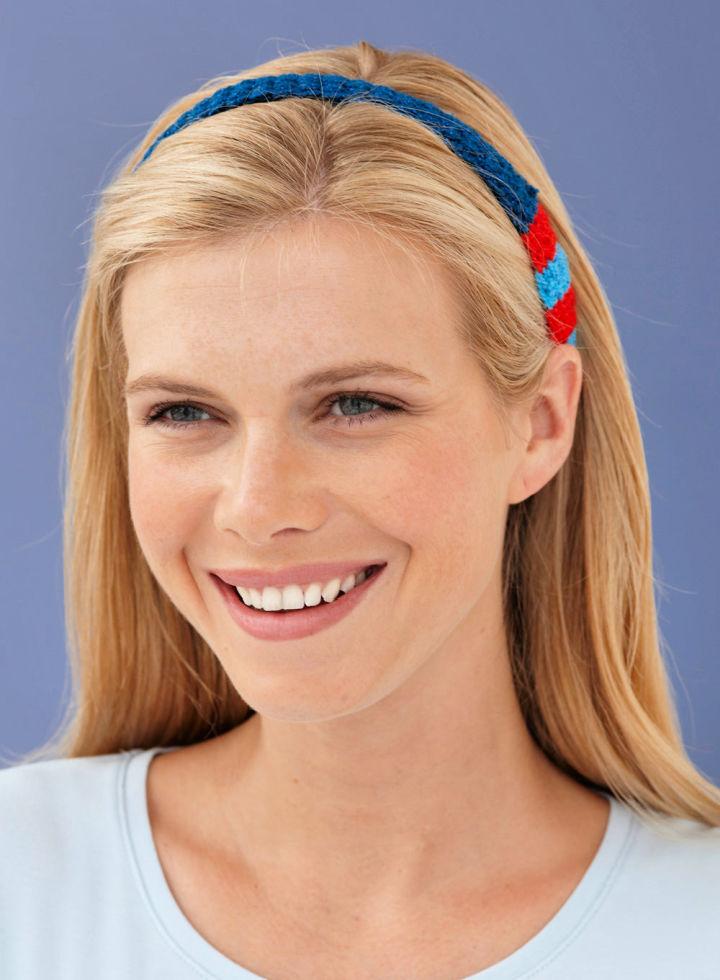 Unleash your creativity with these tunisian crochet headbands! This easy crochet pattern requires just one ball of lion brand bonbons yarn in the celebrate colorway. These headbands stretch to fit many sizes, measuring 1 inch in width and 20 inches in circumference. Grab a crochet hook (size h-8/5 mm) and large-eye blunt needles (set of 6) to complete this project. Remember some hair elastics to hold it all together – perfect for both beginners and experienced crocheters alike! lionbrand
8. Free Tunisian Crochet Honeycomb Handbag Pattern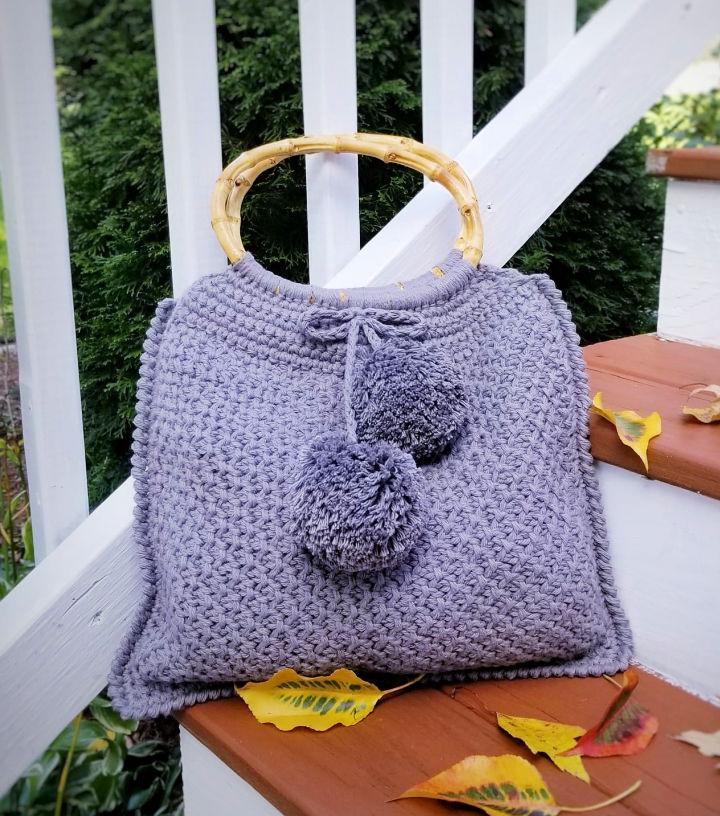 Add a touch of style to your wardrobe with this gorgeous honeycomb tunisian handbag! This intermediate-level crochet pattern requires 6 skeins of worsted weight cotton yarn, crochet hook size j and bamboo interchangeable tunisian crochet hook size k. Plus, don't forget the purse-n-alize-it bamboo handbag handles for an extra special finish! With a tapestry needle, tape measure and scissors in tow, you'll quickly have a 14.5-inch wide and 13-inch tall bag ready. stringsandcuddles
9. Crochet Tunisian Stitch Mulberry Afghan Pattern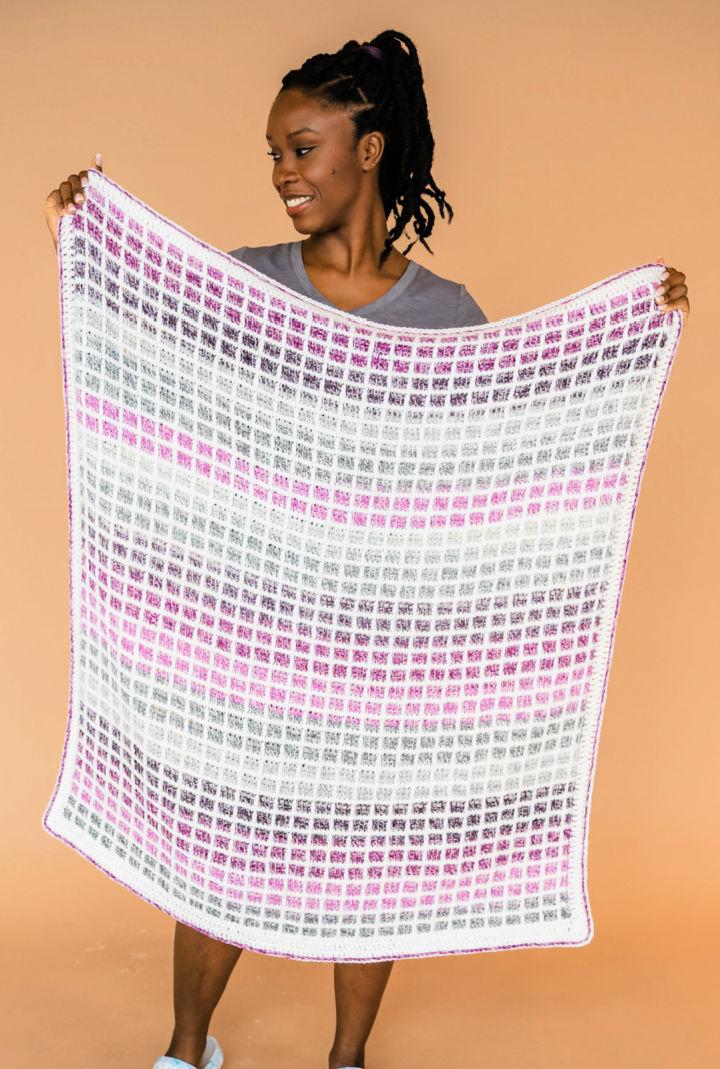 Crochet an eye-catching baby blanket in no time with the mulberry afghan free pattern and tutorial video! Tunisian crochet block stitch design is perfect for beginners, as only lion brand basic stitch anti-pilling yarn in white and mandala ombre in joy, a 6.5mm tunisian crochet hook, scissors, tapestry needle are needed to make this gorgeous 35″ x 38″ baby blanket. Follow the step-by-step instructions to craft this breathtaking afghan today – experienced or not! tlycblog
10. Attractive Tunisian Crochet Stained Glass Cowl Idea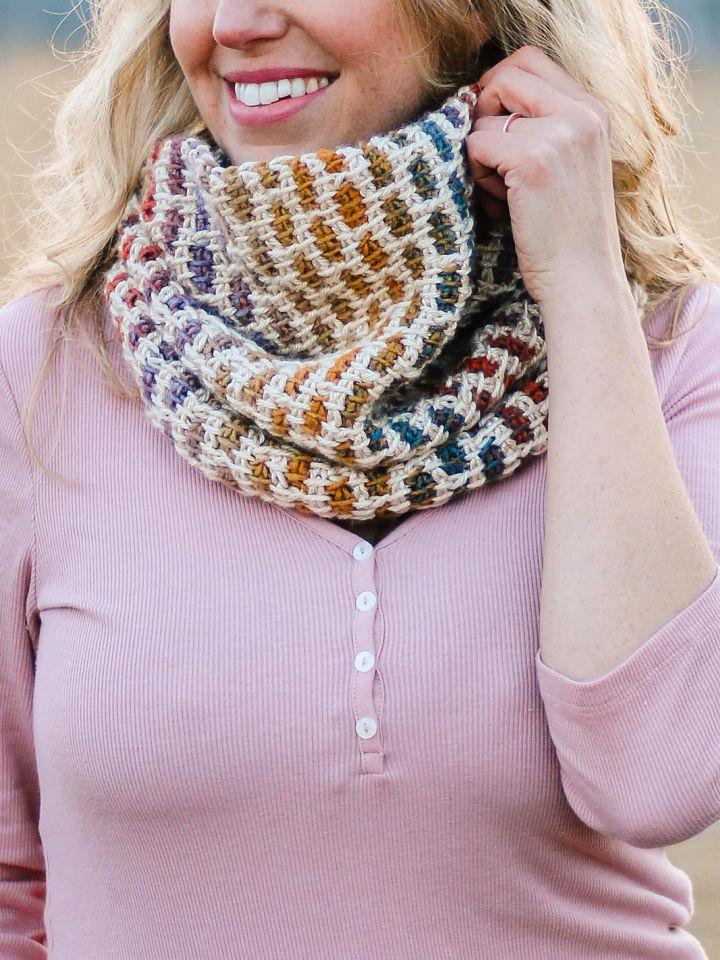 Bring out your style with a free brick stitch tunisian crochet cowl pattern! Combining simplicity and modernity in this fiber art, you can create something that looks great. Special materials include the lion brand heartland yarn in color acadia and ferris wheel yarn buttercup. You'll also need a size l (8.00 mm) hook, stitch markers, and a tapestry needle to finish it off. This piece measures 25″ around & 14″ tall – perfect for staying warm without compromising fashion! makeanddocrew
11. Tunisian Crochet Colors of the Wind Wrap Project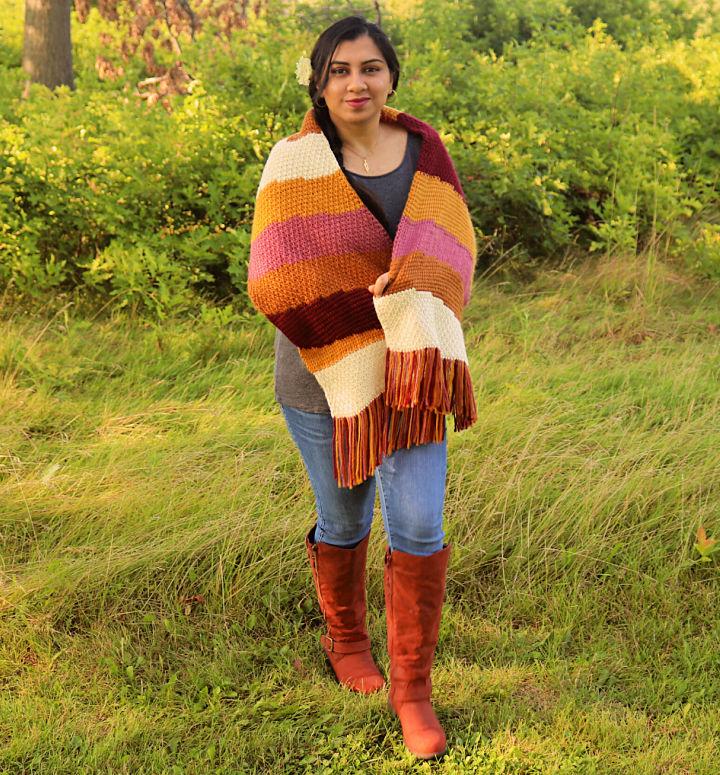 Stay warm and fashionable this fall with this colorblock crochet wrap pattern, the colors of the wind wrap! This advanced-beginner level project uses size 4 worsted weight 100% acrylic yarn and a size j 6.5mm tunisian crochet hook for textured stitches perfect for practicing basic techniques. Measuring 64″ long by 14″ wide, it's an ideal addition to your seasonal wardrobe. Try it today and make this stylish yet practical piece all season long! noorsknits
12. Free Tunisian Crochet Throw Pattern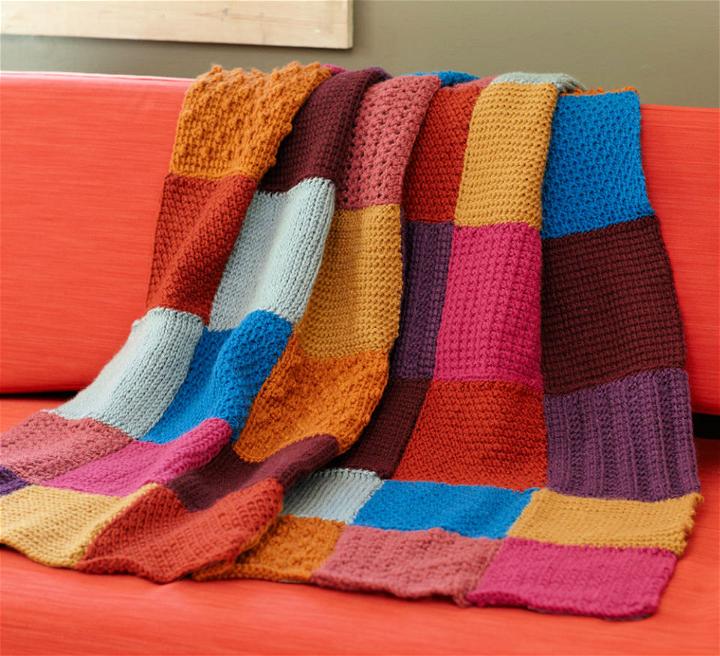 Time to bring your tunisian crochet dreams to life with this free crochet pattern! Create a gorgeous 42 x 42 inch throw using lion brand vanna's choice yarn in 10 stunning shades like burgundy, magenta, silver grey and more. To complete this project, you only need a size j-10 (6mm) tunisian/afghan hook and large-eye blunt needles – plus the included gauge of 1 square. Get creative and transform any space with this beautiful throw! lionbrand
13. Free Tunisian Crochet Ribbed Hat Pattern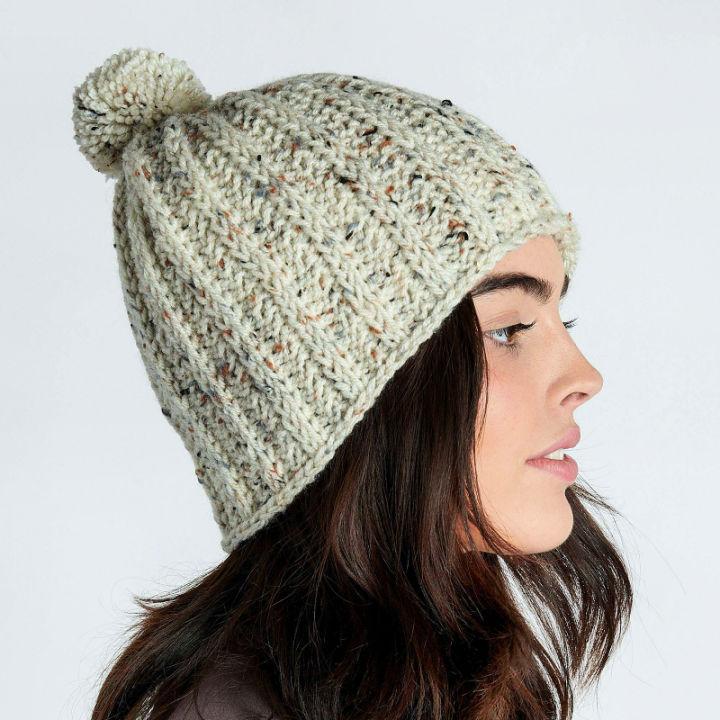 Add some charm to your outfit with this tunisian crochet ribbed hat! It's perfect for beginners who want to stay warm and stylish. Using a size us j/10 (6mm) tunisian afghan crochet hook, this hat measures 10 inches. For the gauge of 20 stitches and 14 rows in a 4-inch square, you'll need a size us g/6 (4mm) tunisian crochet hook and a regular 4mm crochet hook for assembly too! Remember the stitch marker to keep track of your progress – start crocheting now! yarnspirations
14. How to Do Tunisian Crochet Hot Cocoa Poncho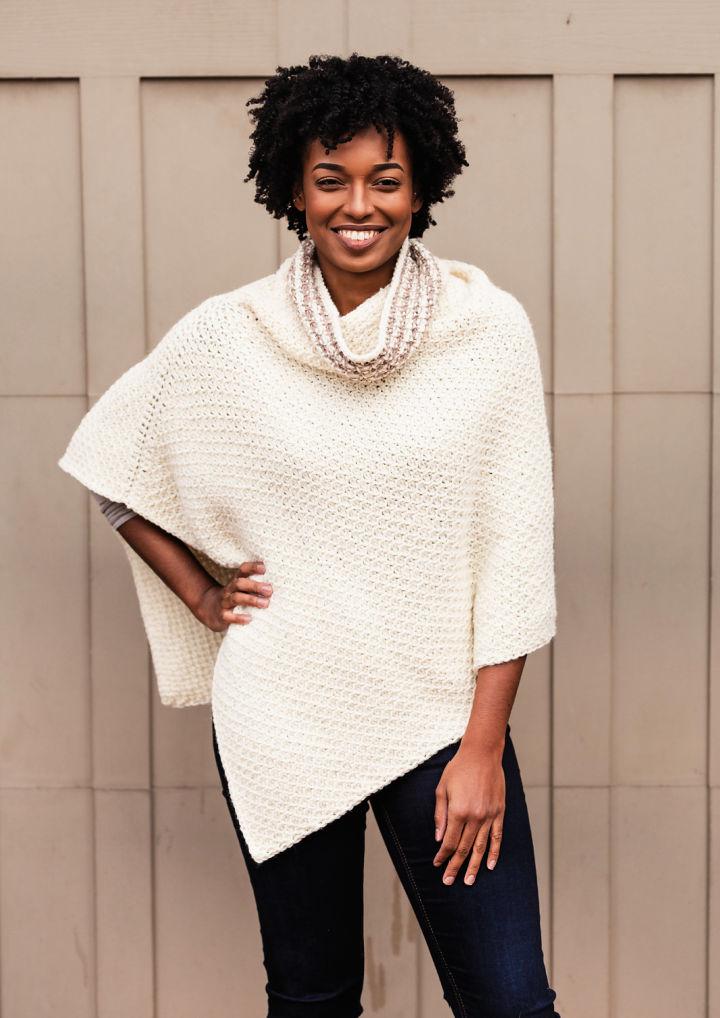 Elevate your style with this crochet hot cocoa poncho! Perfect for layering, this stunning tunisian crochet wrap comes with a striped cowl neck and is available in three sizes. All you need is 5 (7, 10) balls of lion brand wool-ease in fisherman plus 2 (2, 3) balls in mushroom to complete the project. You'll also require a US size l/11 8mm tunisian crochet hook and 24″ cord for maximum coziness. So don't wait – start crafting today! tlycblog
15. Free Tunisian Crochet Tie Pattern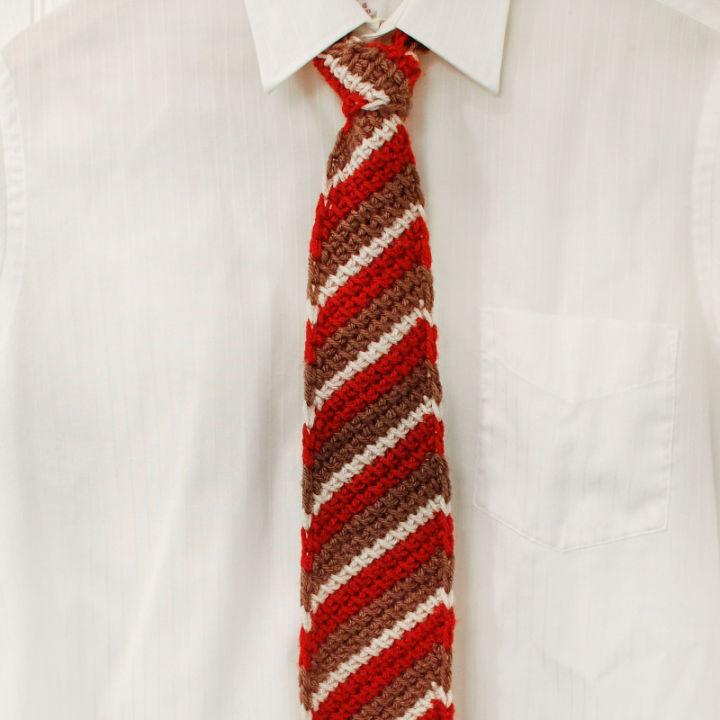 Show him how much you care with a one-of-a-kind gift! Create this tunisian crochet tie to give his outfit an eye-catching and handmade look. With three colors of worsted weight yarn and a US k-10½ / 6.5 mm tunisian hook, the possibilities are endless – from choosing his favorite colors to matching them to his team or company's brand colors. Give him something special for any occasion! petalstopicots
16. Adorable Tunisian Crochet Book Sleeve Pattern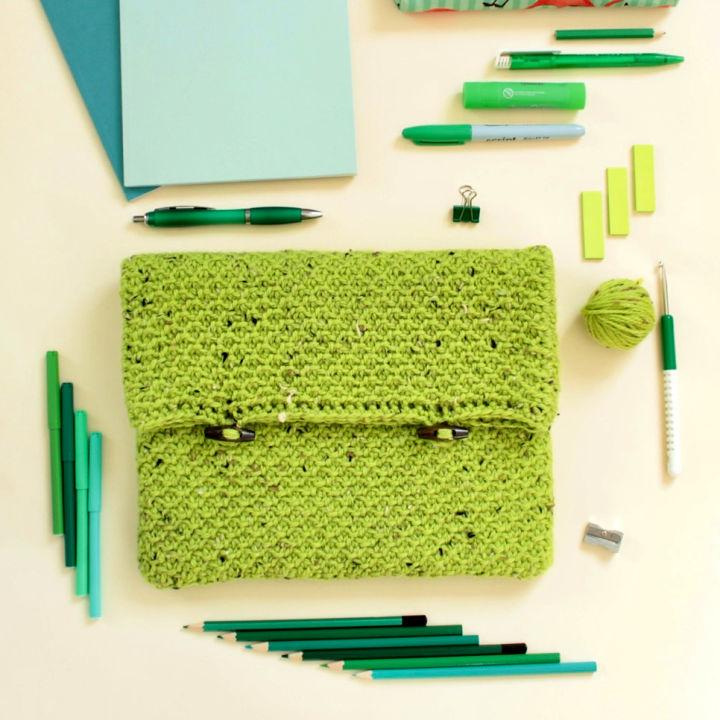 Be a step ahead with this stylish and functional crochet book sleeve! Perfectly designed to hold your documents, laptop and more, it's essential for any on-the-go lifestyle. The pattern requires vidalana tweedy sheep yarn, an 8 mm tunisian crochet hook, and toggle buttons for secure closure. The finished size, when laid flat, is 30 x 35 cm, while folded oversize is 30 x 24 cm – make sure you get the right measurements depending on what you plan to store in it. Pick out your favorite colors to create the perfect personalized look! bluestarcrochet
17. Best Tunisian Sherpa Sweater Crochet Pattern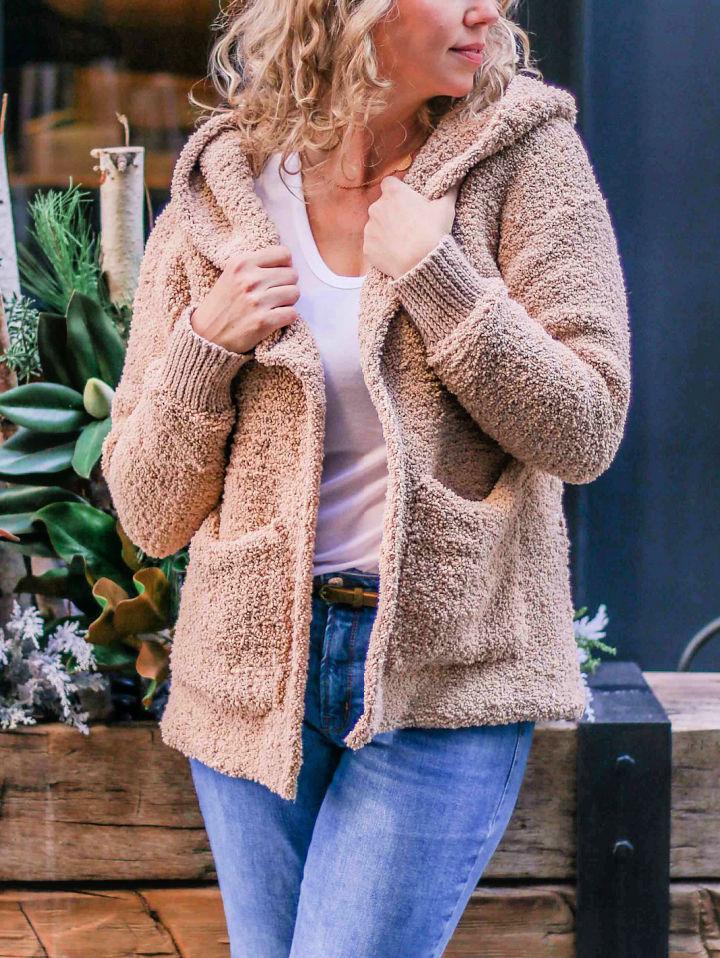 Feel the warmth and look fashionable with this crochet sherpa sweater jacket! Perfect for newbies to tunisian crochet, it's easy to make with bulky weight yarn and a standard crochet hook. Fuzzy yarn makes it look like teddy bear fleece, giving off that cozy yet stylish vibe. Get yours now in sizes up to large for a loose fit, perfect for chilly winter days. Add this must-have piece of clothing to your wardrobe today! makeanddocrew
18. Tunisian Crochet Honeycomb Stitch Blanket Pattern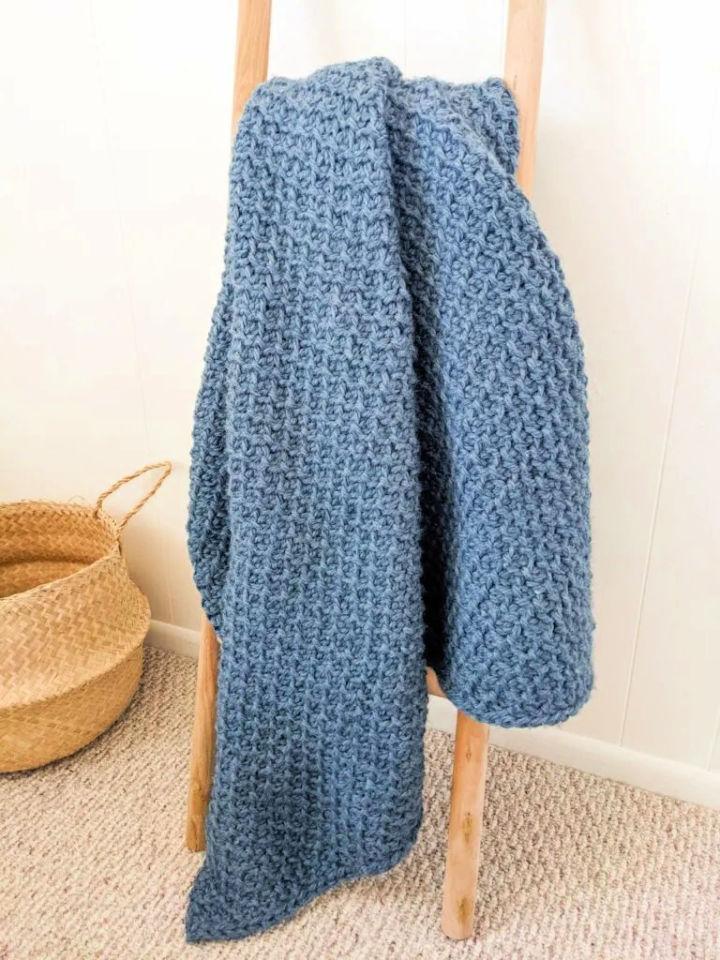 Curl up into comfort with the tunisian honeycomb stitch throw! This easy blanket pattern is ideal for beginners and seasoned crocheters, using just two stitches and bulky weight yarn. Wrap yourself in its warmth during the mornings or chill out with it in the evenings – whatever you choose to do, you'll be sure to stay cozy all year long. And don't worry – you will get a guided video tutorial ready to help you! Get going now and enjoy a stylishly warm crochet masterpiece. jewelsandjones
19. Tunsian Stitch Crochet Washcloth Pattern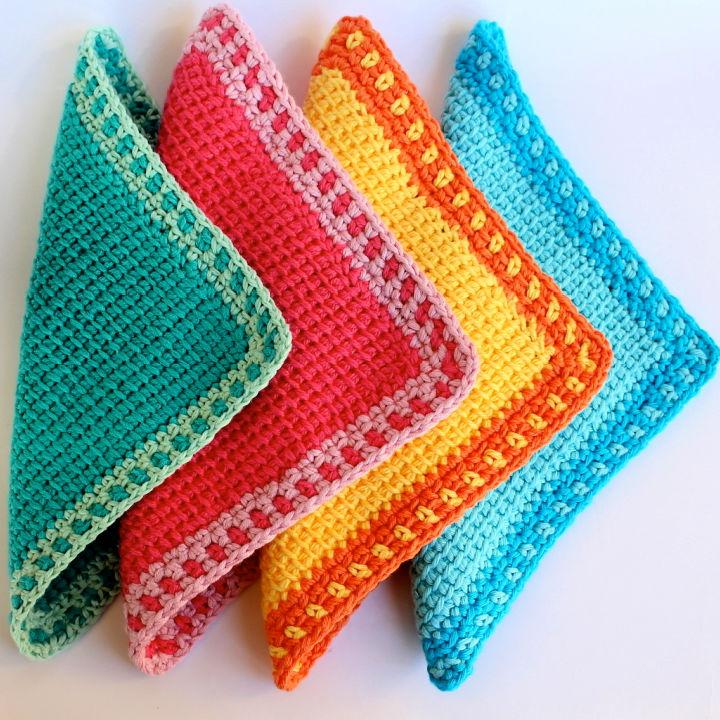 Get ready to bring a unique style to your bathroom with these tunisian crochet washcloths! This quick and simple project will give you a beautiful crochet border in the linen stitch, perfect for gift-giving. Get creative with two colors of worsted cotton yarn, a 6mm tunisian hook and a 4mm crochet hook. Not only practical but stylish too, these washcloths will add coziness to your daily routine. Start crafting today! mypoppet
20. Tunisian Crochet Honeycomb Blanket Pattern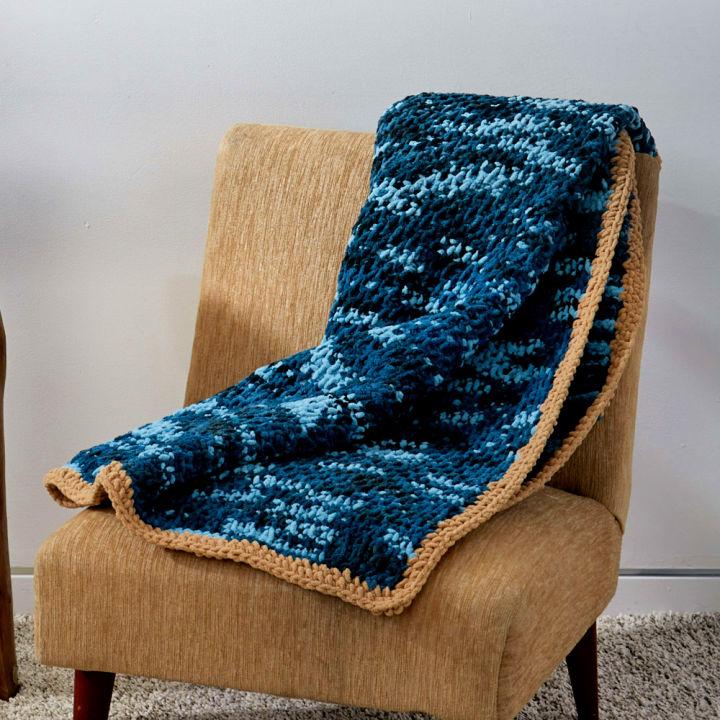 Treat yourself to a luxurious, stylish home decor piece with the tunisian honeycomb blanket! This blanket is perfect for beginner and expert level crocheters using bernat blanket yarn in teal dreams and sand. Measuring an impressive 50″ x 60″, you'll need just 6 balls of contrasting colors, a us m/13 flexible cable tunisian crochet hook, and a size us l/11 standard crochet hook for edging. Wrap up in this warm & inviting blanket that will make your guests swoon! yarnspirations
21. Tunisian Crochet Sweetheart Scarf Pattern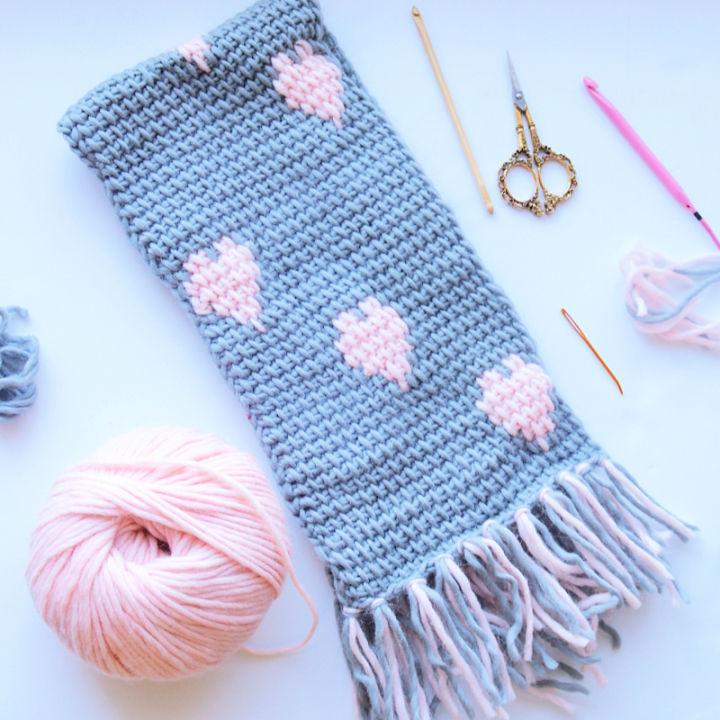 Let your little ones feel the love this valentine's day with a sweet and adorable tunisian crochet scarf! Crafted with fluffy petite wool, it's ultra-soft for maximum comfort. Experiment with different sizes to suit any age – add more repeat rounds! Get your hooks ready and make the perfect gift for your special someone. Make sure they know how much you care with this fun and cute design today! noorsknits
22. Tunisian Crochet Blue Moon Jumper Pattern for Adults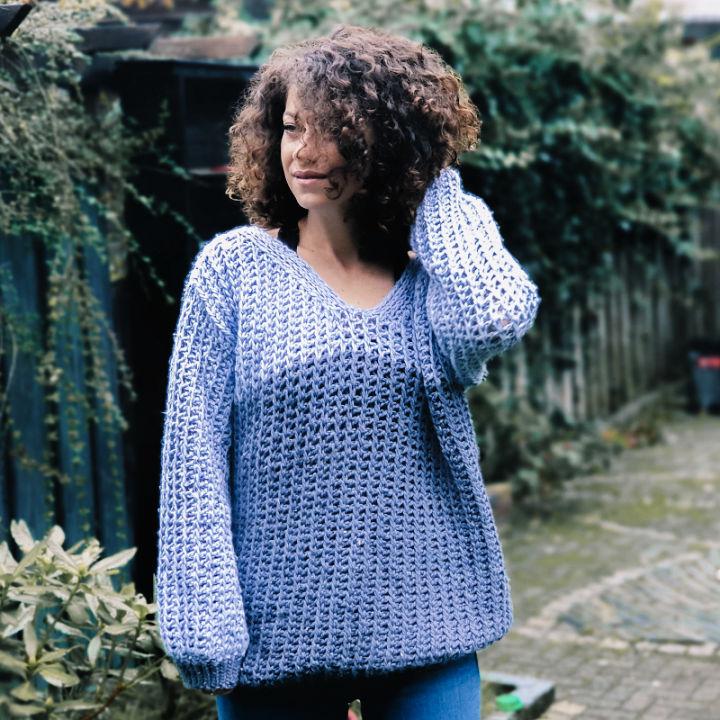 Experience the magic of tunisian crochet with this stylish blue moon jumper pattern! Learn how to bridge the gap between knitting and crochet by creating a cozy, one-row repeat sweater. You'll love experimenting with different yarn crafts and mastering simple techniques that result in an endlessly comfy piece for all your winter activities. So grab your hook and join this creative journey – it's time to make your unique jumper! by katerina
23. Tunisian Crochet Blanket Sweater Pattern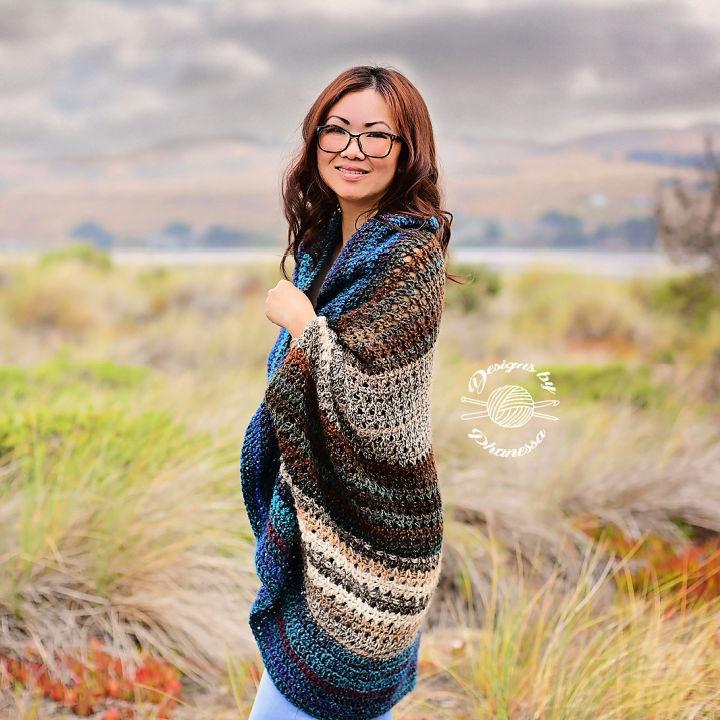 Embrace the beauty and comfort of this cozy tunisian blanket sweater. Perfect for those chilly days, it's made using the new tunisian lace stitch with just one ball of each color yarn. Tunisian wood hooks interchangeably come with different size cords to help you along! It's easy to learn, too — tutorials are included in the project. Oversized at 37.5 x 52 inches, this piece is constructed from just one piece and finished with a double crochet collar. designsbyphanessa
24. Tunisian Crochet Brushland Wrap Pattern – Free Download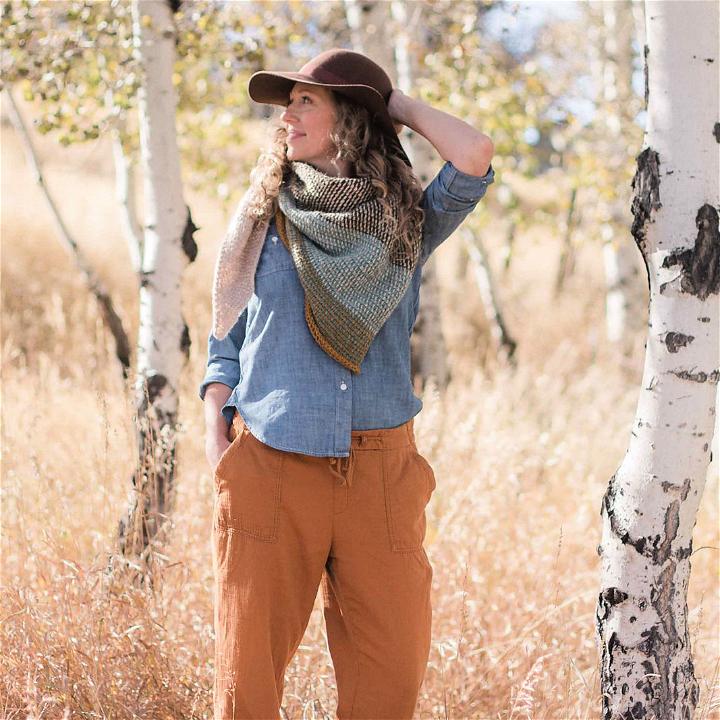 Jump into this cozy crochet project! Show off your style with the brushland tunisian crochet scarf. This beginner-friendly triangle wrap only requires basic crochet skills and can be completed with any worsted-weight yarn from your stash. For a luxurious feel, try lion brand lb collection chainette yarn. Color blocks are customizable for infinite design possibilities – grab those hooks and get crocheting now! makeanddocrew
25. Colorful Tunisian Crochet Cocoon Shrug Pattern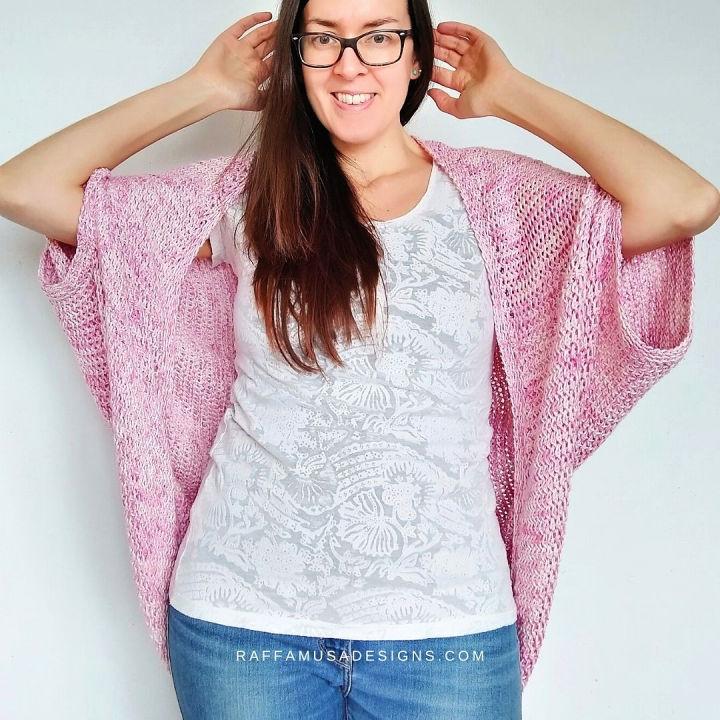 Welcome to the comfy and stylish crochet world with this amazing comfy cocoon shrug! With this free tunisian crochet pattern, you can easily make an easy-breezy cardigan for spring and summer. All you need is a tunisian hook and some yarn, and you're ready to start creating a square or rectangle piece that can be folded into a shrug. Pick any stitch; use a hook with a cord extension that will fit your entire project. Let's get started! raffamusadesigns
26. Tunisian Crochet Double Trouble Afghan Pattern

Discover the beauty of tunisian crochet with the tunisian double trouble afghan. Perfect for beginner and experienced crocheters alike, this blanket works quickly with just two colors of yarn – a variegated and solid color. With this free pattern and step-by-step video tutorial, you'll have your cozy masterpiece in no time! Customize to make it one-of-a-kind – you won't regret it! rohnstrong
27. Tunisian Crochet Hayfields Pillow Pattern for Beginners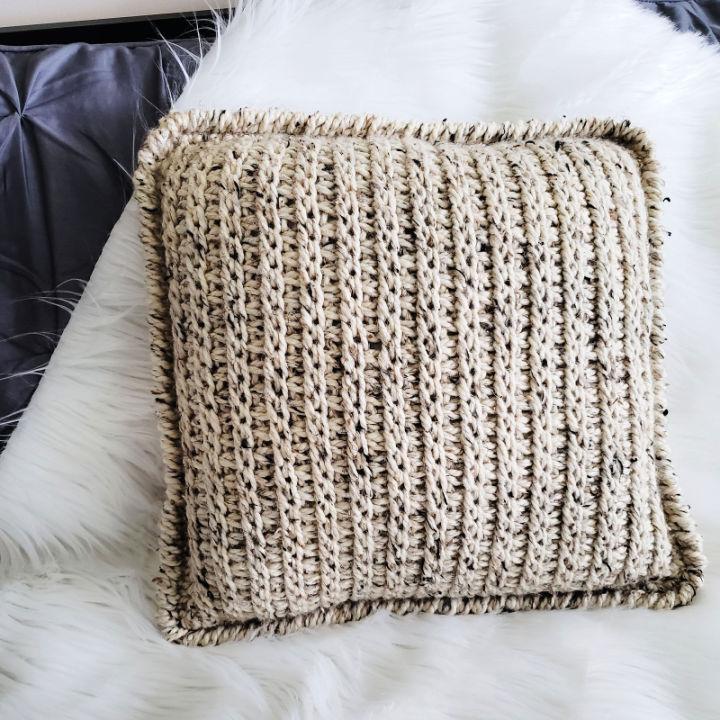 Give a touch of elegance to your living space with the tunisian crochet hayfields pillow cover! Learn this new stitch – the tunisian crochet straw stitch and create an eye-catching texture. You only need a 12mm tunisian crochet hook, a traditional crochet hook, a yarn needle, and three lion brand wool-ease thick & quick skeins. The finished product measures 18 inches and is an impressive addition to any room. Get your free pattern now! onelittlehook
28. Tunisian Crochet Peek-A-Boo Baby Blanket Pattern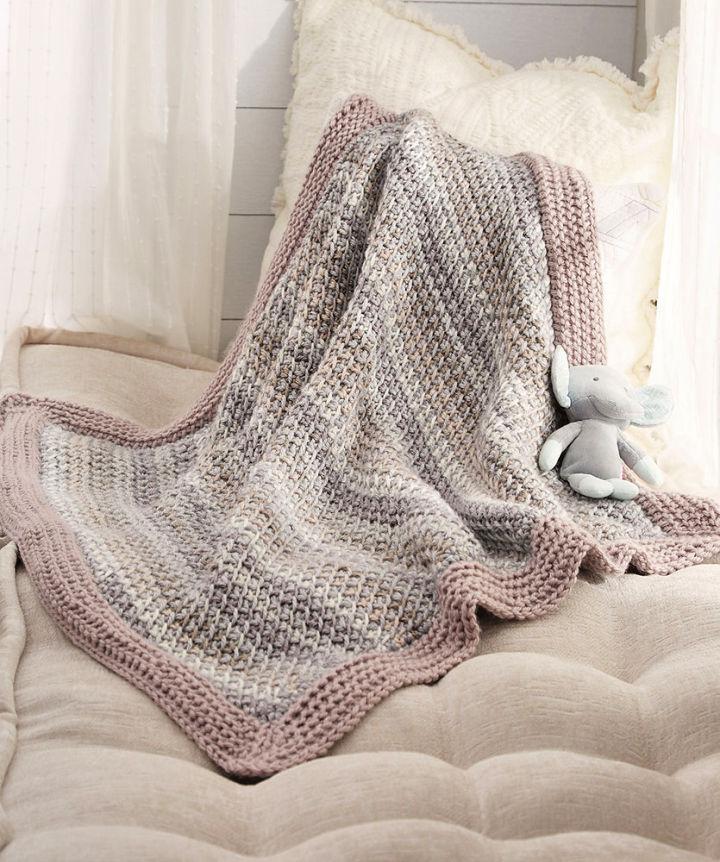 Show off your crochet skills with the tunisian peek-a-boo baby blanket pattern! This intermediate project is perfect for creating a soft, shaded effect that your little one will cherish. Choose your yarn and grab those hooks to start this fun project – it measures 35″ x 35″ when finished. With some skill and patience, you'll have an amazing baby blanket in no time. yarnspirations
29. Free Tunisian Crochet Socks Pattern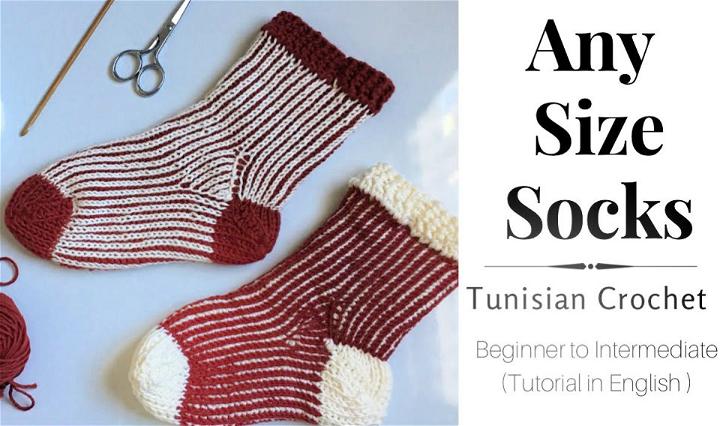 Ready to get creative with your crochet skills? Join this DIY video tutorial and learn how to make tunisian crochet socks! This pattern is great for all levels of crocheters – it's customizable to any size, so you can be confident that your finished product will fit just right. With a cozy tunisian stitch design, you'll soon have a pair of stylish socks perfect for lounging around the house or going out on the town! Grab your hook and yarn, and follow along – you'll love wearing these comfy socks year-round.
30. Simple Tunisian Crochet Jumper Tutorial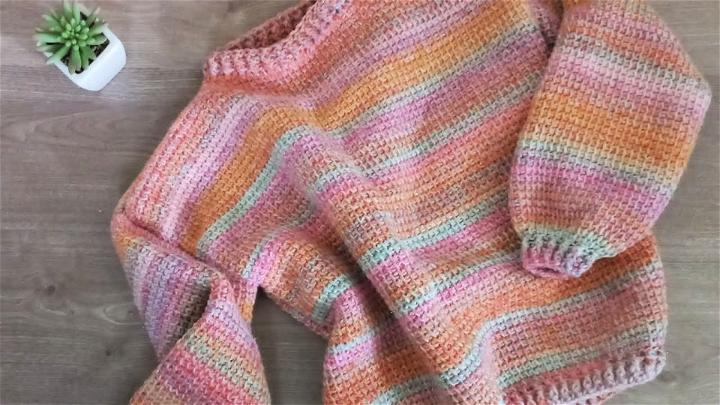 Make your own unique tunisian simple stitch jumper today! With this easy-to-follow project, you can create a stylish and comfortable sweater with just your favorite yarn and a set of tunisian crochet hooks. In sizes from small to x-large, you'll be able to make the perfect fit for any wardrobe need. Plus, as a beginner project, it's quick and simple. So don't wait – check out the pattern now and start crocheting your tunisian simple stitch jumper!
Related Free Crochet Patterns
Unlock your crochet passion with our amazing collection of free patterns! From beginner to advanced, find the perfect project for any level and get creative with a variety of yarns, colors, and stitches.
Conclusion: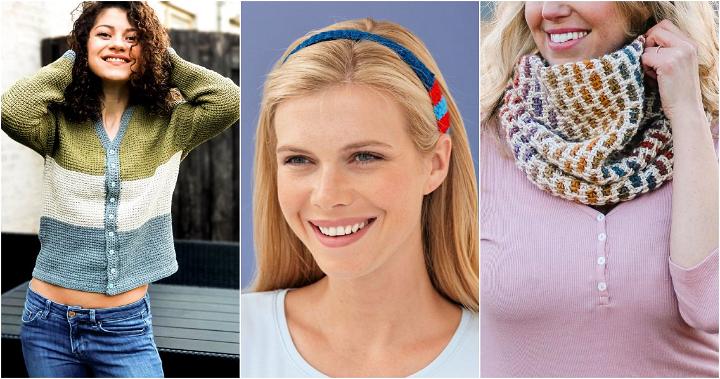 In conclusion, these 25 free Tunisian crochet patterns offer a wealth of creative inspiration for novices and seasoned crafters alike. You can expand your skillset and try new techniques by exploring easy Tunisian crochet projects such as blankets, cardigans, and accessories. With a wide range of patterns available for download, including sweater, blanket, and baby designs, your next Tunisian crochet masterpiece is just a few clicks away. So, grab your Tunisian crochet hook and immerse yourself in this captivating craft.
Tunisian crochet is a wonderful technique that can enrich your crochet experience. It is not hard to learn but requires some practice and patience. With the right tools, supplies, patterns, and tips, you can master Tunisian crochet and create amazing projects that you will love.
We hope this article has given you an overview of what Tunisian crochet is, how to do it, what to make with it, and why you should try it. Happy crocheting! 😊