Crochet granny square blankets are a timeless and classic way to create a beautiful blanket. They come in a huge variety of colors, styles, and sizes. Learn how to crochet a granny square blanket with these 40 free granny square blanket patterns with step-by-step instructions, detailed pdf pattern and beginner-friendly designs, making granny square afghans simpler for beginners. Plus, most granny square blanket patterns provide invaluable advice on the best types of yarns to use.
These 40 easy crochet granny square blanket patterns are not only perfect for any beginner crochet lover, but also give experienced crochet makers a wealth of new things to explore with one special technique. Each crochet granny square blanket pattern offers its own style and texture and an enjoyable challenge that will bring out your creative instincts. These free crochet granny square blanket patterns will undoubtedly have your crochet projects coming along in style.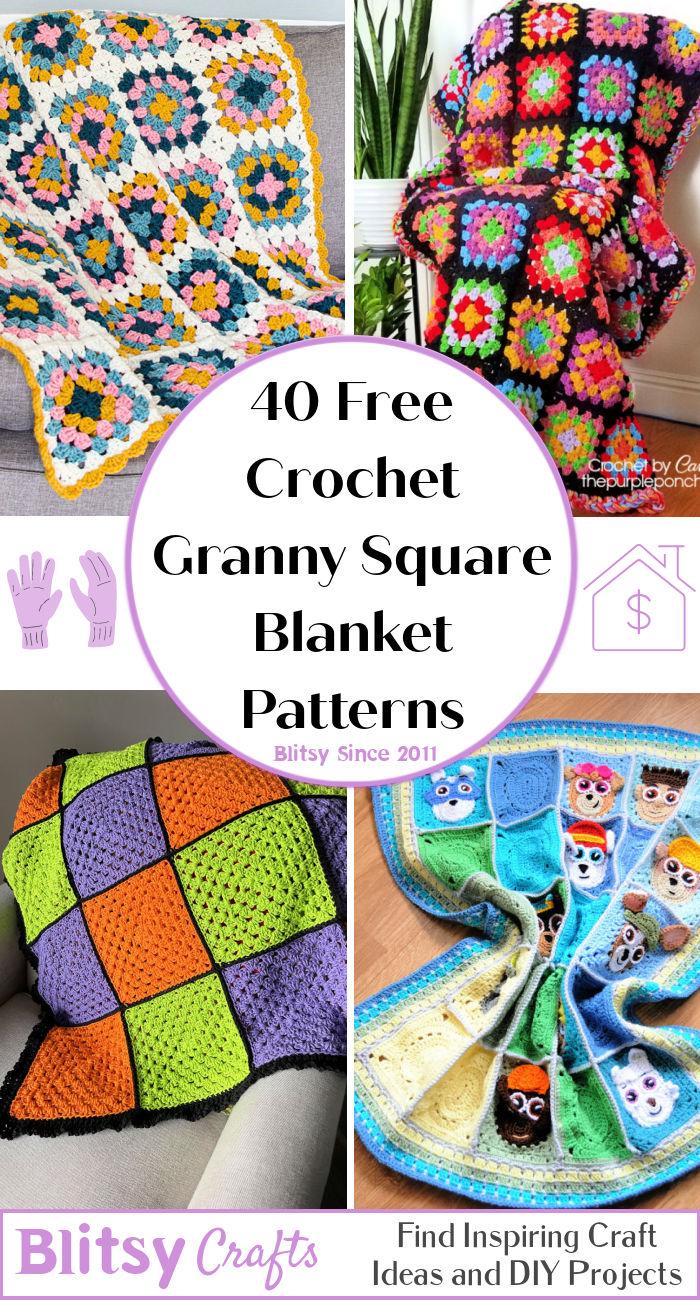 Free Crochet Granny Square Blanket Patterns
Let's discover 40 free crochet granny square blanket patterns for beginners with detailed step by step instructions. From baby blankets to afghans, learn how to make beautiful crocheted granny square blankets with these free pattern resources! Create stunning blankets and throws that can be treasured heirlooms or effortless gifts using the helpful tutorials provided. With everything from easy one-color designs to more intricate combinations of colors and stitches, you'll find a crochet granny square blanket pattern that will fit your skill level and crafting needs.
Granny Square Blanket Benefits
1. Versatile: The beauty of crochet granny square blanket patterns is that they are incredibly versatile and can be used to make all kinds of different projects, including afghans, shawls, rugs, wall hangings, garments and even bags. With a wide variety of colors and styles to choose from, you can create something unique that fits your individual style.
2. Quick Projects: Crochet granny square blankets are relatively quick and easy to make, making them great for beginners or those who only have a little time to devote to crafting. They're also small enough projects that they can be completed in just a few days or weeks, so you can have a beautiful finished product in no time.
3. Colorful: The color possibilities are endless regarding granny square blankets, and the fun of mixing and matching colors is part of the appeal. You can choose coordinating shades that blend or create a bold contrast with two-tone designs. This makes them perfect for brightening up any space in your home.
4. Affordable: Crochet granny square blankets are an affordable way to add a touch of style and warmth to any room without breaking the bank. With just a few skeins of yarn, you can start a cozy project that looks great and won't cost much.
5. Customizable: Granny square blankets can be customized to create a one-of-a-kind look that is unique to you. Making granny square blankets is also a great way to get creative and have some fun. Whether you're working on a simple or complex pattern, crocheting can be incredibly calming and therapeutic – just spend an hour or two each day, and soon enough, you'll have made something beautiful that you can be proud of.
1. Crochet Halloween Granny Square Throw Pattern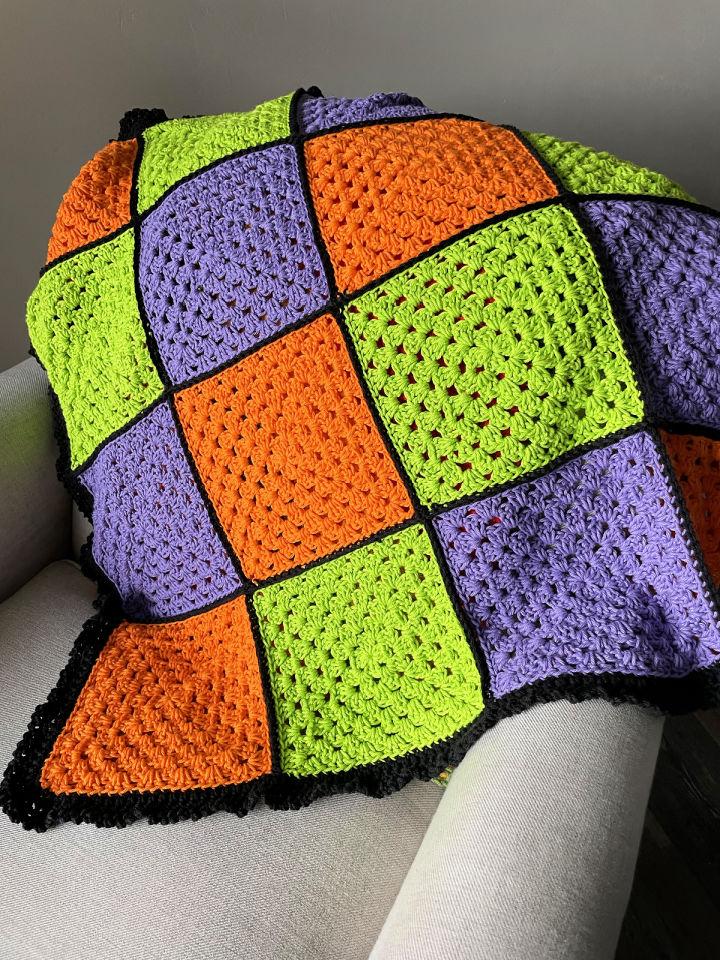 This Halloween-themed granny square crochet throw is the perfect spooky project for intermediate crocheters! With instructions on how to make and join granny squares in four festive colors, this pattern will provide plenty of enjoyment. The finished size measures 34″ x 34″, and you'll need a worsted weight 4 yarn and a size G/4.25 mm crochet hook to complete it. Get ready to create an eye-catching throw that will be the star of any Halloween celebration! lakeviewcottagekids
2. Crocheting a Small Granny Square Blanket Pattern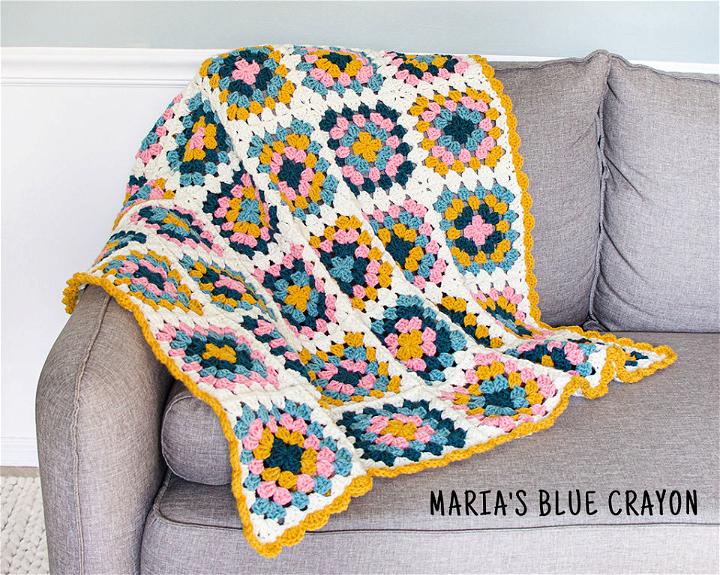 This fun crochet granny square blanket pattern brings tons of coziness to your home! This lapghan-sized (36″x48″) blanket is made using i love this yarn in sea blue, pink, antique teal, and ivory, plus paintbox simply aran in mustard. Use the join-as-you-go method or add a 5th row with ivory yarn to join the squares. Adjust the size by adding or removing squares and use a J/6.00mm hook and a tapestry needle for assembly. Follow the color order sheet included and use our information sheet for blanket size guidelines – achieve a gauge of ~5″ per square after 4 rows! mariasbluecrayon
3. Free Crochet Flower Medley Blanket Pattern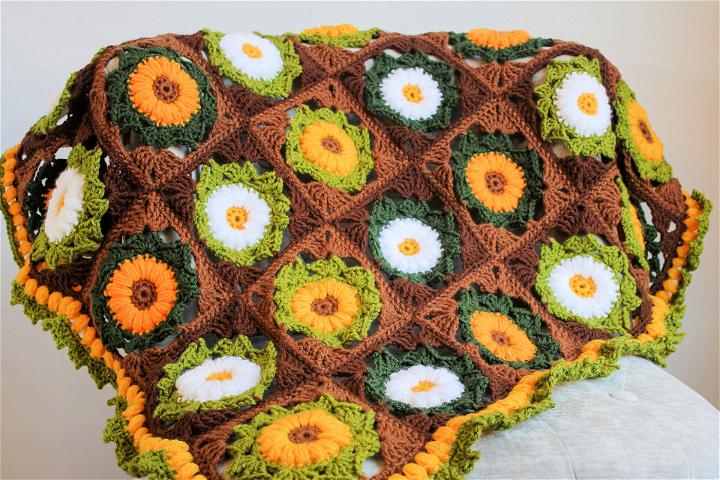 Crochet a stunning crochet flower blanket to add color and style to your home decor! This striking pattern is made up of granny flower squares in multiple colors. Follow the free pattern, join the squares with mattress stitch, and finish off with a simple border – perfect for stash busting or mixing and matching colors for unique results. Use worsted yarn in caution, canary, white, avocado, dublin, brindle & sienna, but you can get creative with it and make it in any spring shades too! Enjoy the satisfaction that comes from finishing each granny square and being able to take it anywhere on the go. nanascraftyhome
4. Crochet Granny Square Blanket Pattern for Beginners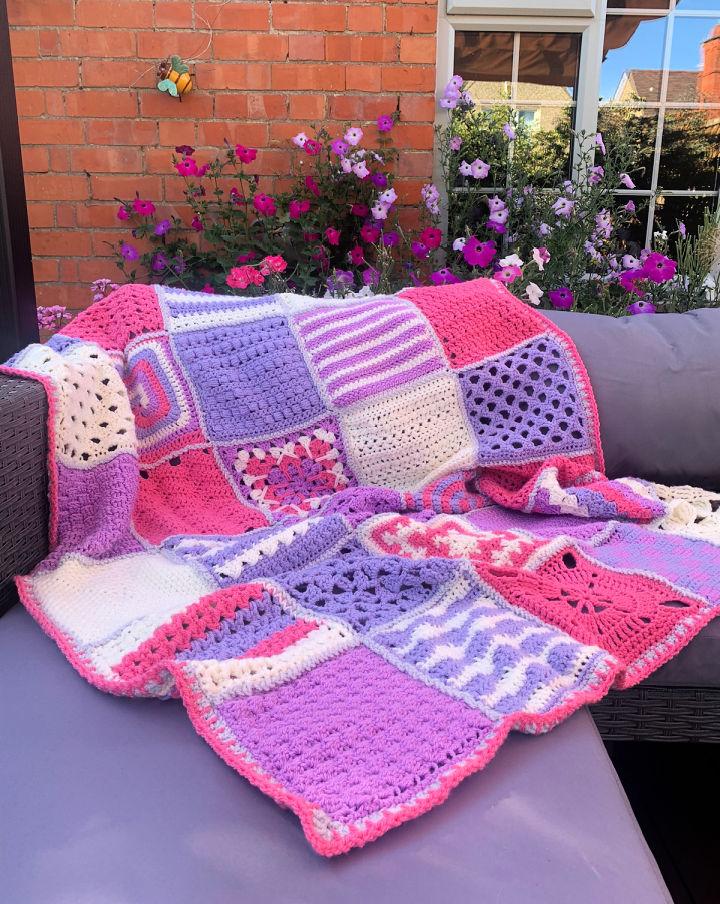 Willing to add a modern crochet blanket to your home? Create a modern and cozy granny square blanket with this free pattern for beginners! Learn new crochet techniques like working in the round, filet crochet, and color change. With 30 granny square patterns, this lapghan blanket measures 40″ x 48″, perfect for snuggling up on your couch. Gather worsted/aran weight yarn in 4 colors, a 5mm hook, scissors & tapestry needle – all you need to make your masterpiece! Follow the easy-to-understand instructions and create something special you'll look forward to curling up with! cosyrosieuk
5. Modern Crochet White Waterlily Baby Blanket Pattern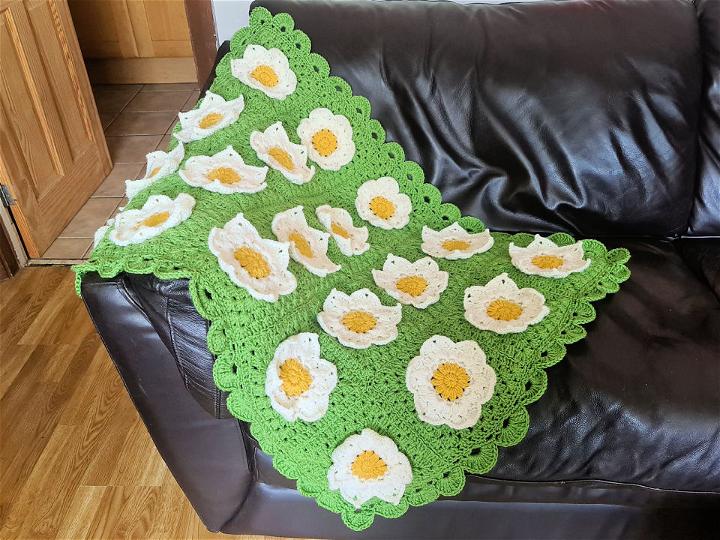 This crochet pattern for a white waterlily baby blanket features intricate waterlily designs that will stand out. The blanket is made using adjustable waterlily granny squares sewn together with an invisible, seamless join technique and finished with a large scalloped edging. You can adjust the size according to your preference, make them larger or add more squares to adjust the spacing of the flowers. Made using aran yarn, you can choose any other yarn weight and color as desired.
The pattern is intermediate level and includes video tutorials for each step – from making the waterlily granny square and scalloped edging to finishing it off with the invisible, seamless join technique. Grab this pattern today and make your little one something special! The finished size measures 115cm by 95cm. craftinghappiness
6. Free Crochet Gingham Blanket Pattern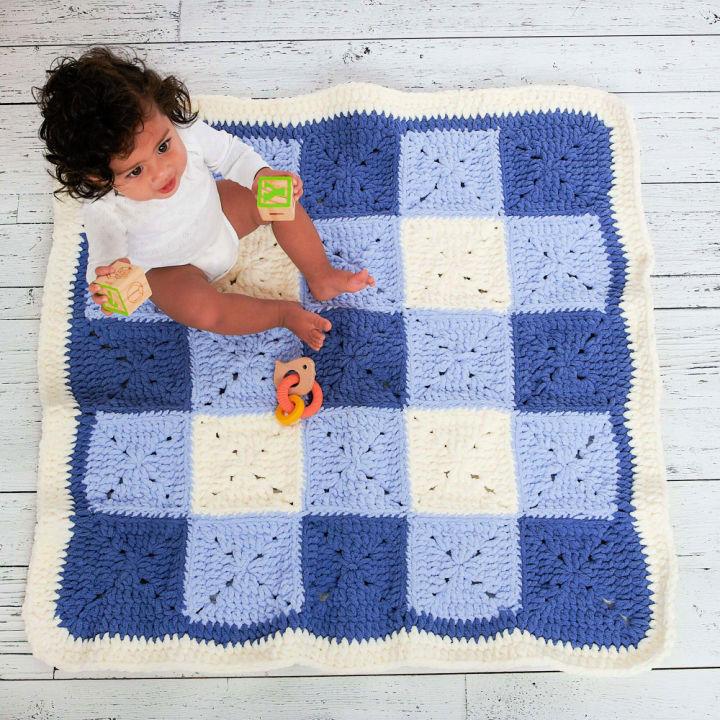 Enhance your crochet skills by crocheting this cozy classic with the crochet granny square gingham blanket pattern! This easy-level project is perfect for beginner crocheters, measuring 37 inches square when finished. The yarn used – bernat baby blanket in baby denim, baby blue and vanilla – will add warmth, comfort and style to any room. Get snuggled up with your family while you work on the 7 inch motifs that make up this blanket. With a gauge of 7 single crochets & 8 rows equaling 4″, use US L/11 (8mm) crochet hook or any size necessary to obtain the correct gauge. Be sure to have a yarn needle handy too! yarnspirations
7. Crochet Paw Patrol Puppy Blanket Pattern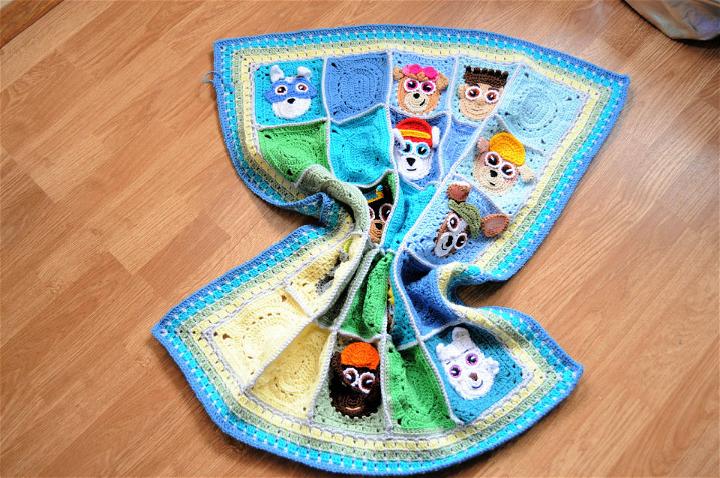 Make sure your little paw patrol fan stays warm and cozy with this lovely crochet granny square blanket featuring the whole rescue team! This pattern is designed with DK weight yarn in various colors – perfect for creating all the characters' details. You will need a 3.5 mm crochet hook to make the main squares and a smaller one for stitching on the eyes – plus a tapestry needle and scissors for the finishing touches. passionatecrafter
8. Fun Crochet Tropical Getaway Blanket Pattern

Experience a getaway to the tropics with this classic granny square join-as-you-go blanket! This unique accessory is made with aran weight yarn in your favorite colors and features sweet blossoms in the center. You'll need a 6.5 mm "K" crochet hook, 10 balls of yarn, a tapestry needle, scissors and a ruler (optional). Perfect for adding a tropical feel to any home decor or gifting – start your crochet journey now! Create something special with the 'tropical getaway blanket pattern' today! fiberfluxblog
9. Modern Crochet Granny Square Afghan Pattern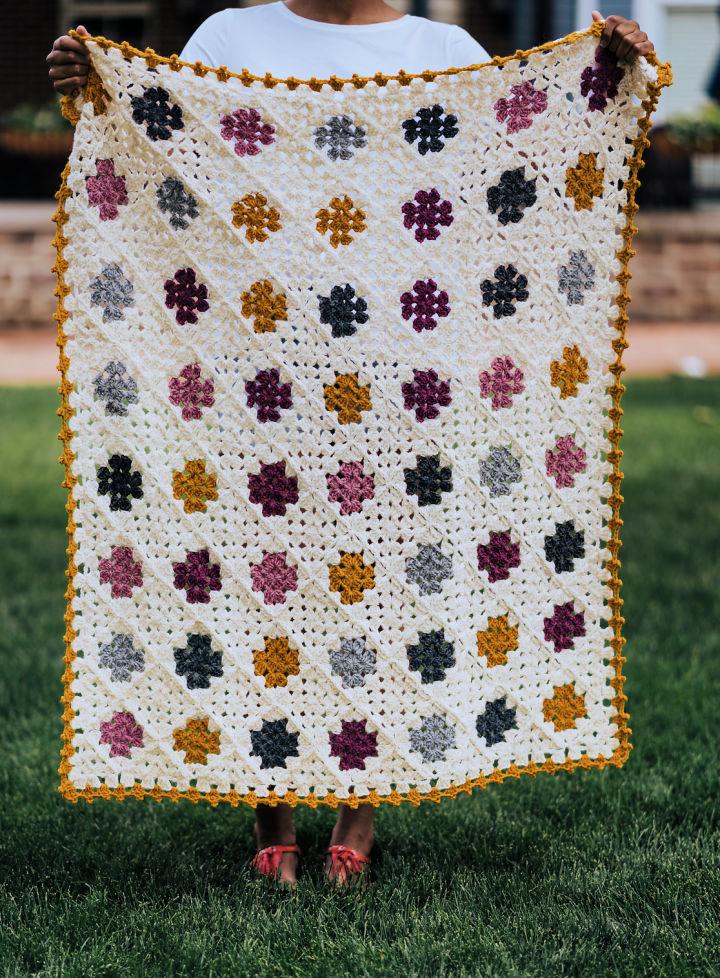 The sweet granny baby blanket is a modern take on the classic afghan. This granny square pattern features a beautiful color palette and is crocheted from a soft blend of yarn, acrylic and wool for easy care. The pattern includes a helpful chart and row-by-row instructions with the join-as-you-go method, so there is no need to seam squares together later! Finishing off with a 2 round picot border, this beautiful blanket will surely become an heirloom piece in any home! Grab your own sweet granny baby blanket pattern today and enjoy its warmth for years to come. tlycblog
10. Cool Crochet Granny Square Little Suns Baby Blanket Pattern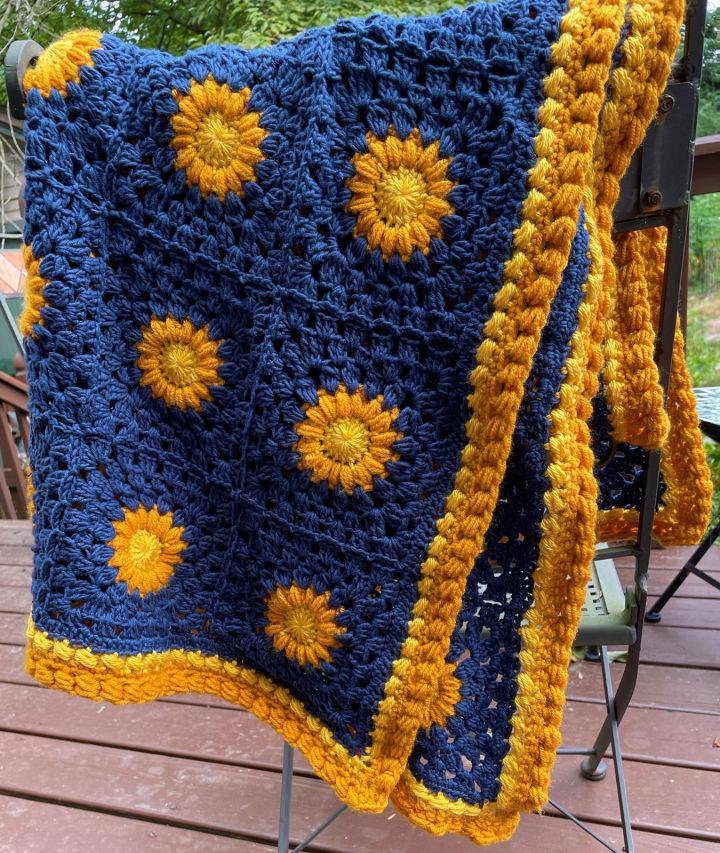 This beautiful little suns baby blanket gives your baby's nursery a special touch. Stitched from aran weight yarn, you can use either 4.0 mm (G) or 5.0 mm (H) crochet hooks to create this sunburst granny square style blanket that will measure 36in x 42in when complete. The pattern details the amount of yarn required for those dimensions, so you'll have all the materials ready! This is a delightful addition to any little one's room and is sure to become an heirloom treasure that will be enjoyed for generations! ravelry
11. Crochet All My Love Heart Square Baby Blanket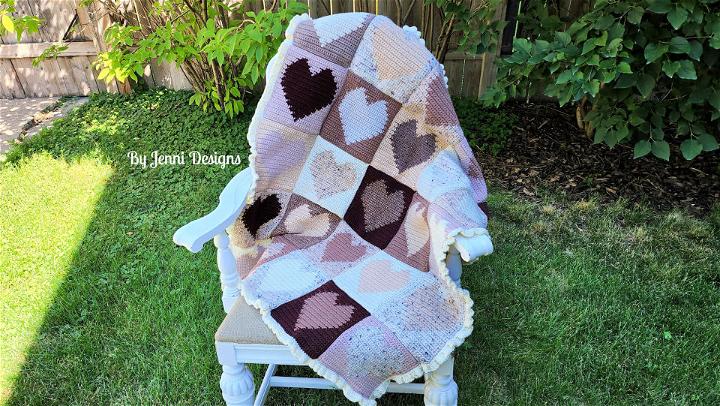 Welcome your little one with this special and unique baby granny square pattern! This all my love heart square baby blanket pattern will keep them cozy and warm, featuring a beautiful heart design in neutral colors of tans, browns, and off-whites. Its finished size of 35″ x 37″ is perfect for snuggling. Using worsted weight yarn, the pattern is easy to follow, with the video tutorial included. Make it as big or small as you wish by adding more squares – create something special that expresses all your love! byjennidesigns
12. Crochet Pumpkin Spice Solid Granny Square Blanket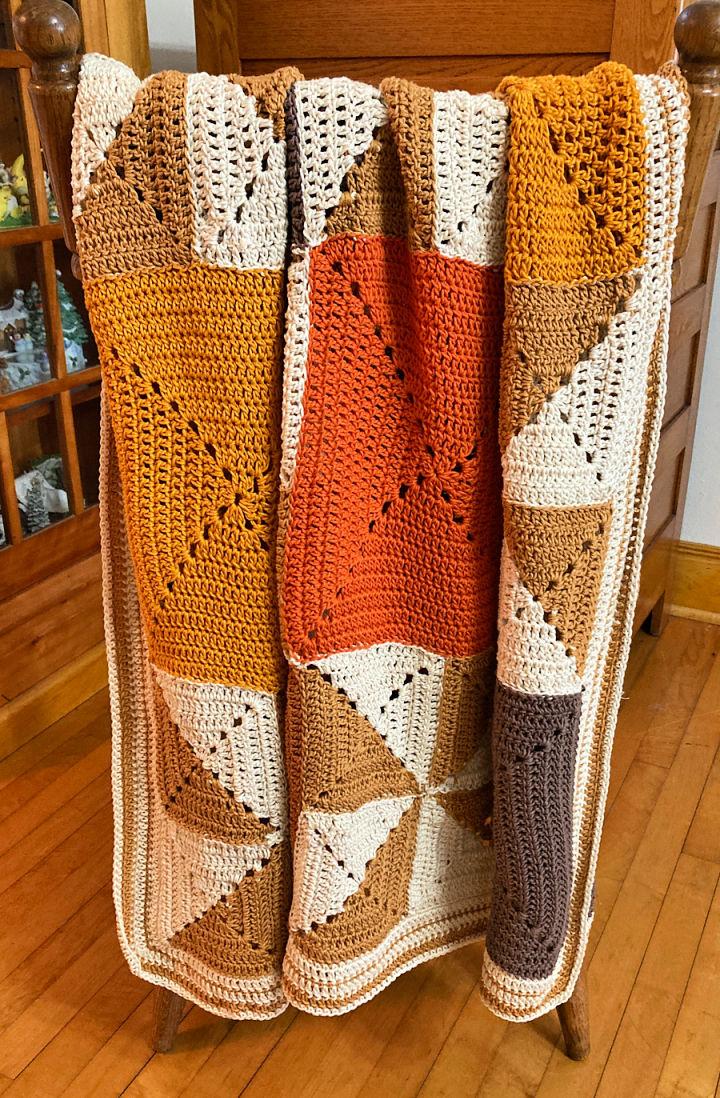 Enjoy the colors of autumn with this beautiful crochet pattern for a pumpkin spice solid granny square blanket. This cozy blanket features shades of amber, golden rod, tangerine, café au lait, ecru and camel in a modern version of a quilted blanket. Suitable for advanced beginners that know how to chain and double crochet stitch, you'll need cotton yarn in various colors, a crochet hook, and a tapestry needle to make this gorgeous 53″ x 53″ finished size piece, including border. Create something special just in time for fall! patternprincess
13. Pretty Crochet V-Stitch Granny Square Blanket Pattern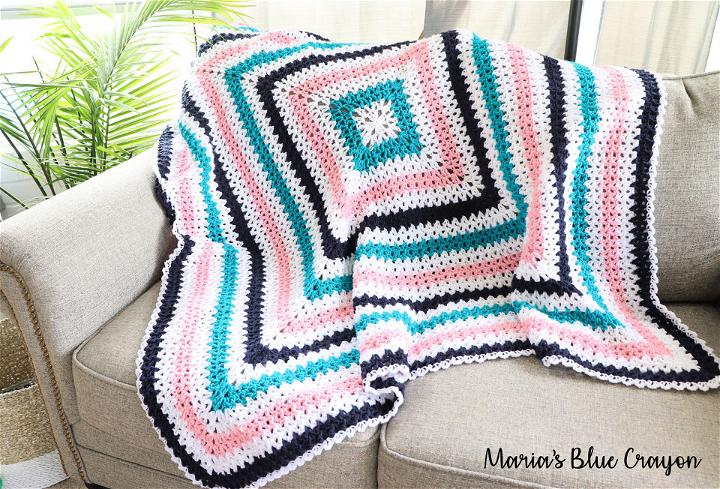 Go crochet and easily make a beautiful and textured blanket using the v-stitch granny square blanket pattern. All you need is worsted-weight yarn, a J/6.00mm hook, a tapestry needle and scissors to get started! To make the one featured in the photo, you'll need 900 yards of white yarn plus 400 yards each of pink, teal and navy. The v-stitch creates a "V" shape within your project by crocheting in chain 1 spaces of previous rows – it's an easy stitch that even beginners can master quickly! This versatile pattern allows you to customize your blanket size by repeating the same row of stitches repeatedly. Get creative with colors to create something truly unique! mariasbluecrayon
14. Single Crochet Granny Square Blanket Pattern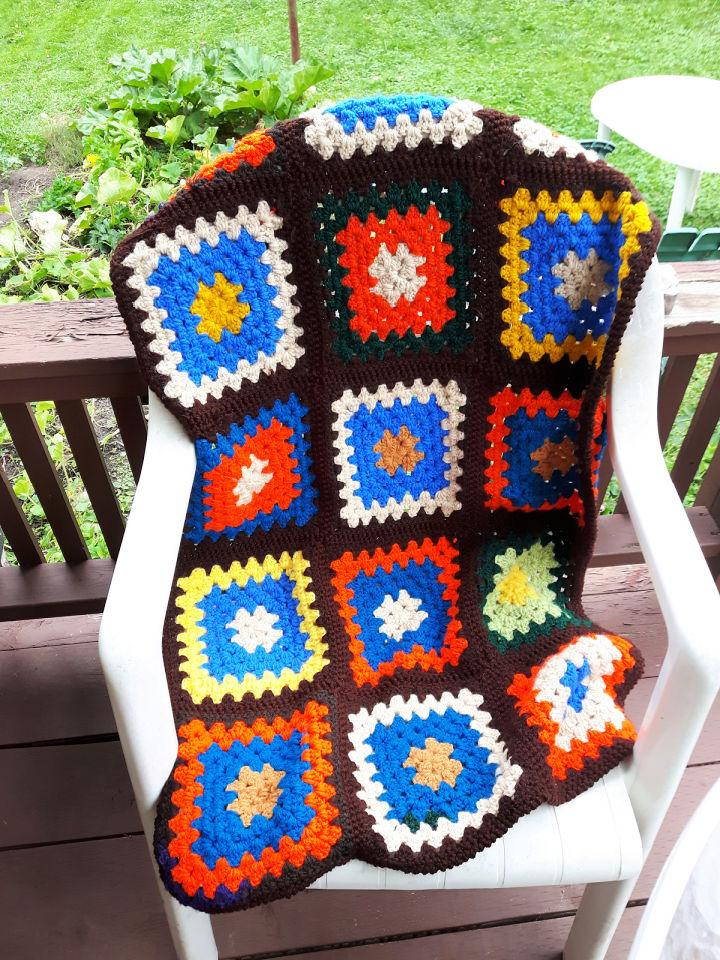 Make your own snuggly granny square blanket with this free crochet pattern! This single crochet granny square pattern is perfect for beginners and experienced crocheters alike. It's easy to follow, takes minimal effort, and produces a beautiful handmade throw that keeps you warm all winter. With plenty of colors to choose from and endless possibilities for customization, this crochet project is an ideal way to add some cozy warmth to your home décor. Add texture, color, and personality with this free single crochet granny square blanket pattern today! ravelry
15. Traditional Crochet Granny Square Blanket Tutorial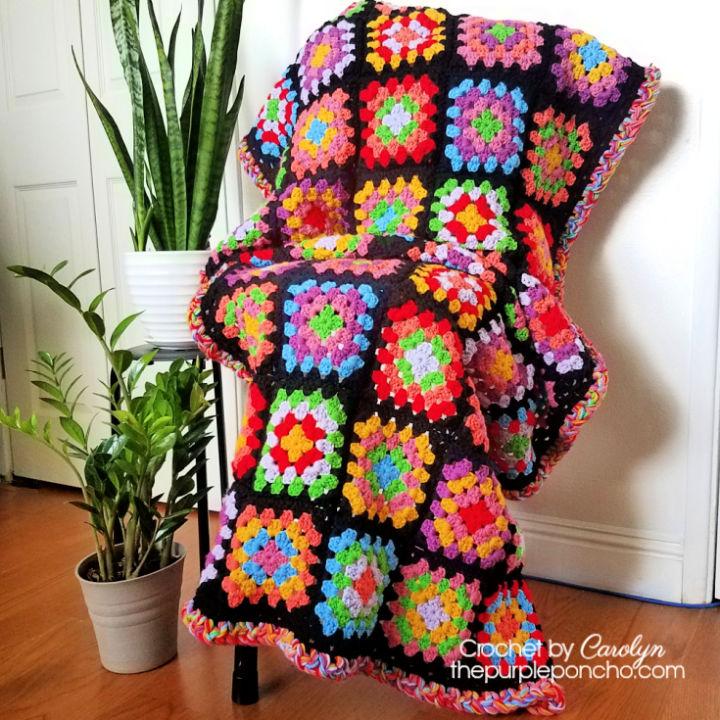 The granny square blanket is a classic crochet heirloom that will last for generations! Perfect for beginners, this pattern uses scrap yarn and simple chains, double crochet and slip stitches to create individual squares. The join-as-you-go method makes it easy to connect the pieces. With a finished size of 34.5″ x 67″, each square measures 6.5″x6.5″. This project requires 8 colors of #4 worsted weight yarn as well as a 5mm hook, 10mm hook, scissors, stitch markers, tape measure and yarn needle – gauge isn't critical for this pattern so you can make something truly unique! thepurpleponcho
16. How Do You Crochet a Mraba Granny Blanket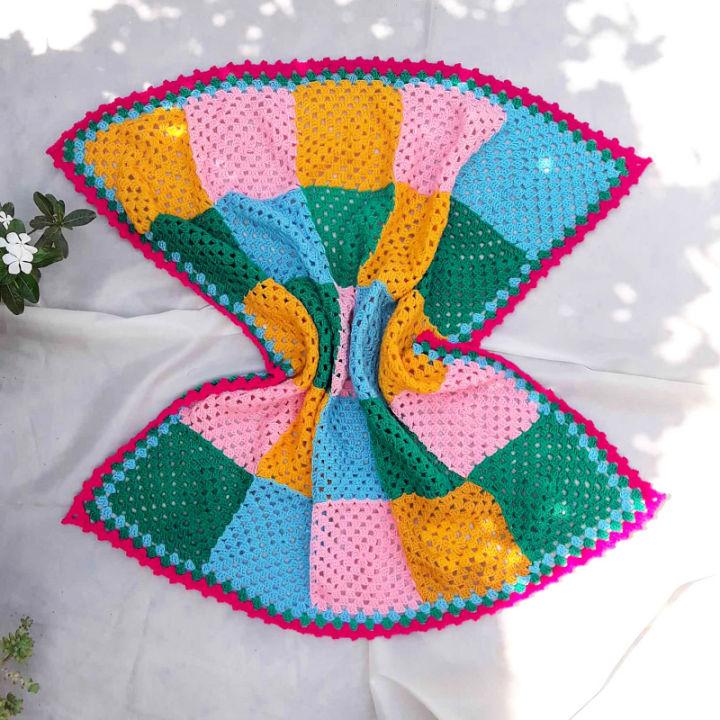 The Mraba granny square pattern is the perfect project to learn and create a beautiful crochet blanket! Featuring vibrant colors of green, blue, pink, neon pink and yellow – this 40″ square granny-square patterned blanket requires 485 yards of worsted weight yarn for the squares and 100 yards for the border! You'll also need a 5mm crochet hook, scissors & darning needle – get started today! morinesshop
17. Crochet Vintage Granny Square Blanket Pattern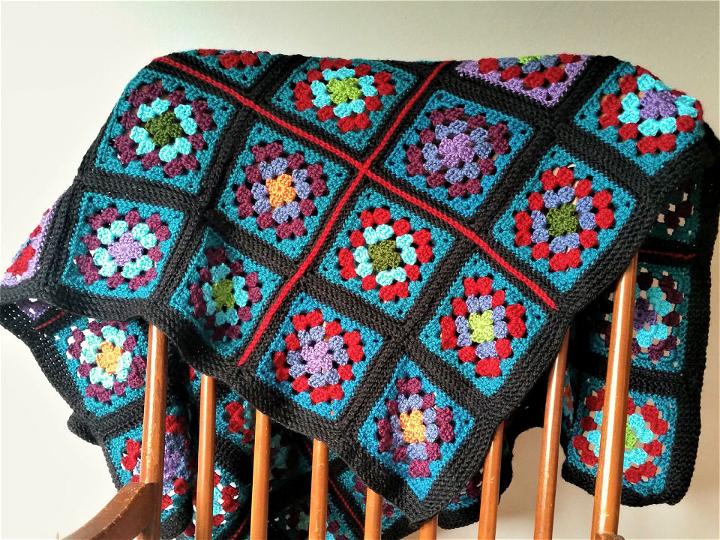 Give timeless charm to your home with this classic crochet pattern – the granny square blanket! With this easy-to-follow tutorial, you can use bright colors or pastels and an easy-care yarn for a custom look. Learn how to single crochet rows in dark, solid yarn for an elegant finish and the "invisible seam" method for a neat completion. Make something special with acrylic yarn scraps that will never go out of style! lifeadorned
18. Crochet Pastel Colored Granny Square Blanket Pattern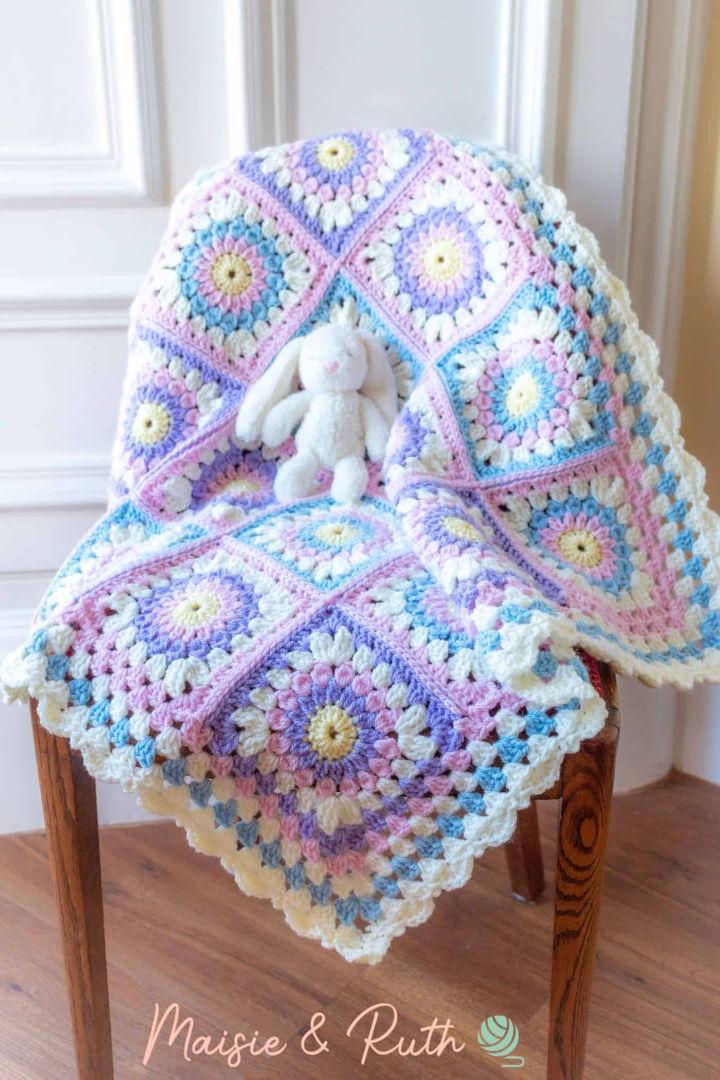 Get busy with your crochet hook and create a beautiful, pastel-colored baby blanket with this free crochet granny square pattern and tutorial for the paisley crochet baby blanket. Made with a soft, snuggly worsted-weight yarn machine washable, it's perfect for summer-to-winter transitions. Great even for beginners – easy level makes it accessible to all! Get ready fast – make your unique paisley design using the free step-by-step video tutorial. Perfect gift idea or special piece of home decor! maisieandruth
19. Crochet Classic Granny Square Blanket Pattern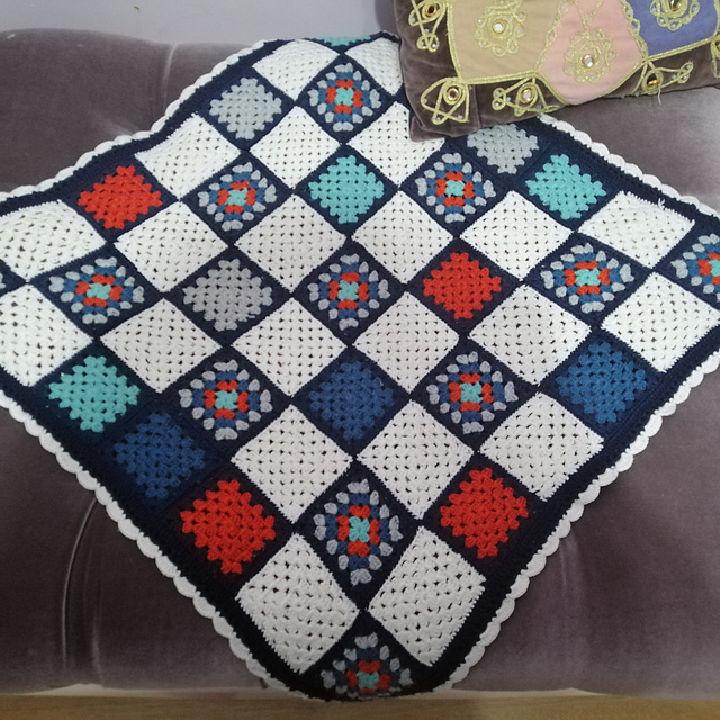 Master how to crochet a classic granny square project with this easy-to-follow tutorial! This beginner project starts as a cardigan but can evolve into a blanket or cover. With 49 classic granny squares, it will become something special. Double crochets join all the squares together and then finish with a simple shell edging for an elegant look. Whether you are just starting in crochet or looking to take on something new, try this classic granny square project today! berayla
20. Crochet Retro Stripe Sunburst Granny Square Throw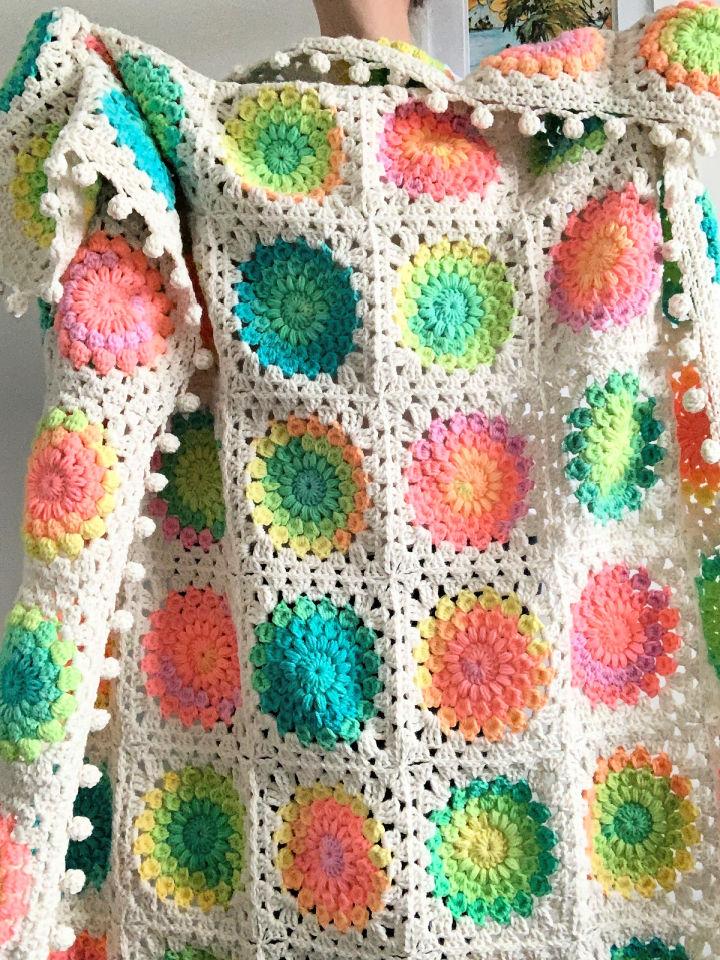 Learn to crochet a retro-inspired throw blanket with the free pattern for this easy-level retro stripe sunburst granny square throw. With an approximate finished size of 46″ x 59″ after blocking, you'll need a 5.00mm hook and yarn in red heart super saver retro stripe and Aran, as well as a large eye needle for sewing in ends. The gauge is 4 round large sunburst = 5.25″ across (unblocked). Follow the instructions today to create something special! nautikrallcrochet
21. Crochet Adelie Granny Square Blanket Pattern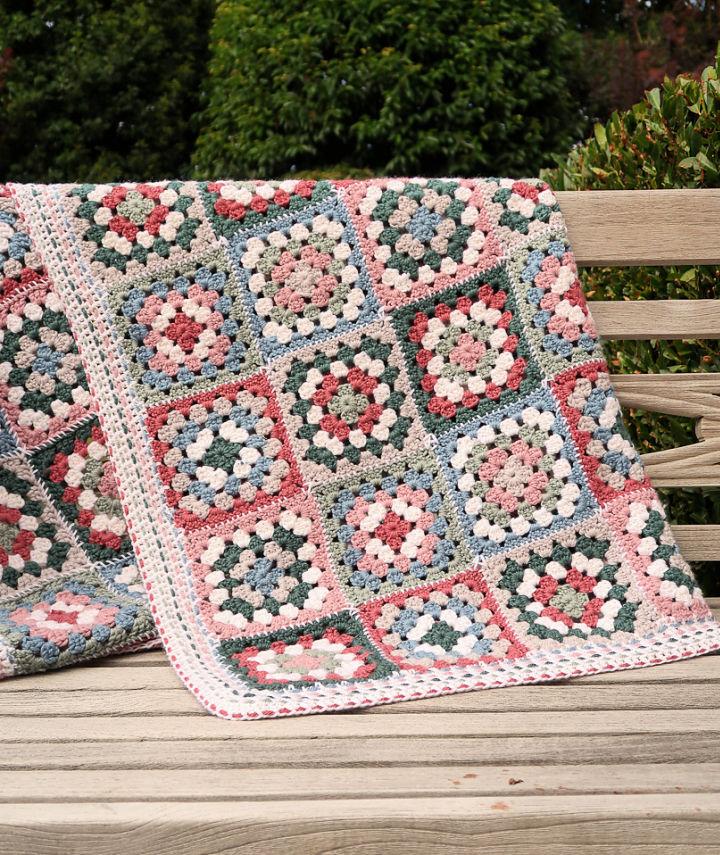 The new adelie granny square crochet blanket pattern is a free pattern that will help you make the perfect baby blanket. This pattern requires any worsted or DK weight yarn held double. You'll need a 5.5 mm and 6 mm hook, tapestry needle, and stainless steel needles, as there's lots of sewing involved. The gauge for this pattern is 14.5 stitches by 13 rows in double crochet for 10 cm x 10 cm square, each measuring 12 cm wide when finished – perfect for cuddling up with! knittingwithchopsticks
22. Crocheting a Raleigh Dog Blanket – Free Pattern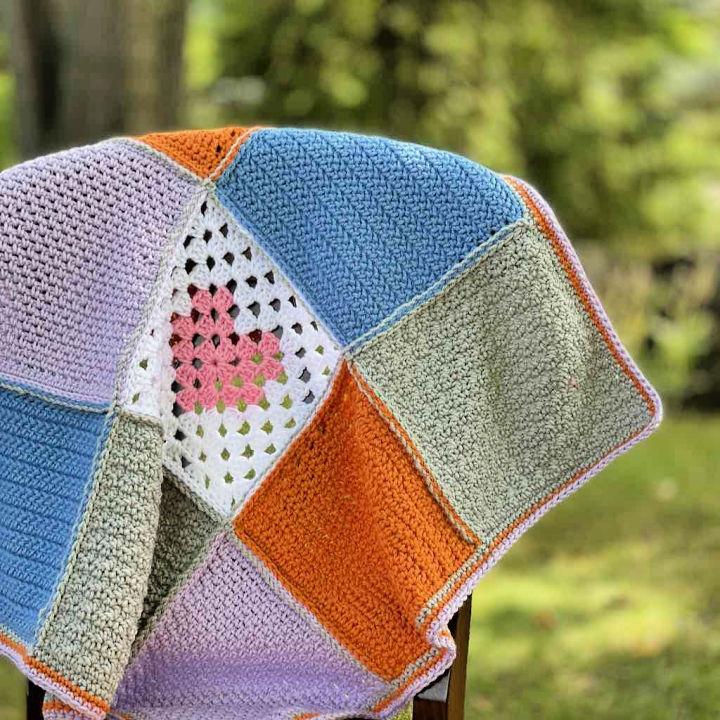 If you're looking for a special way to show your furry best friend how much you care, try this easy dog blanket crochet pattern. Named in memory of one of the family rescue dogs, Raleigh Blanket is the perfect gift for small or medium-sized dogs. Crochet with 100% acrylic worsted weight yarn and US size I-9 hook (5.5mm), it's simple to make and provides comfort for any pooch! The finished blanket measures 27″ square with 8″ individual squares – no matter what color or design you choose, your pup will love snuggling up on their cozy new bedding! madamestitch
23. Multicolor Crochet Strawflower Blanket Pattern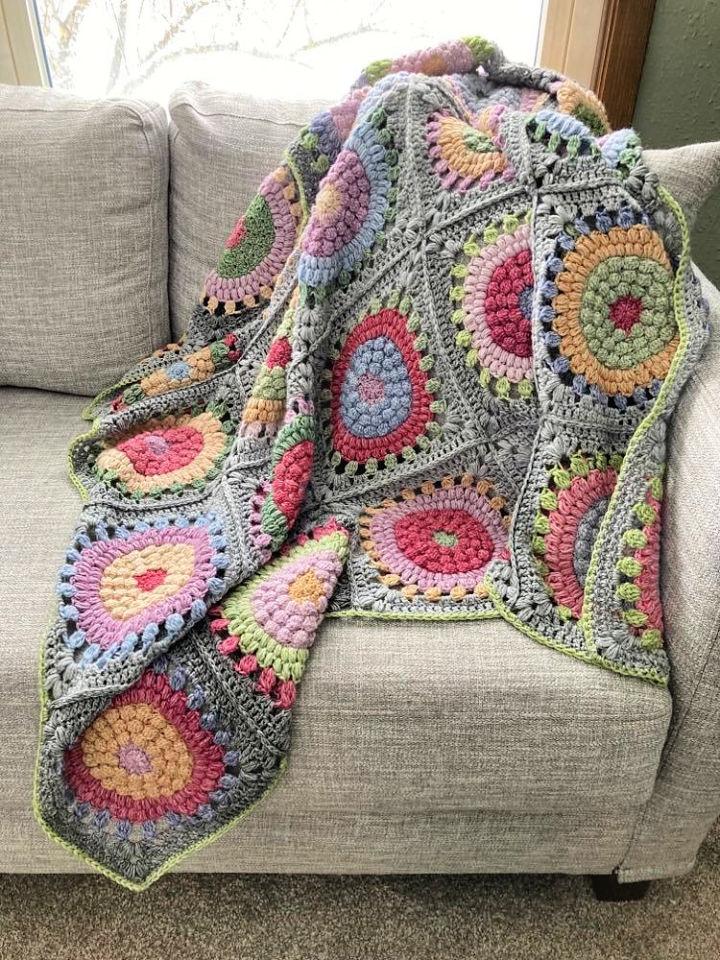 Introducing the strawflower blanket square crochet pattern – a unique and beautiful addition to any home! This pattern features multicolored flower squares that make for a cozy blanket or throw. With photo tutorials to help with stitch placement, this crochet project is perfect for both beginners and experienced crocheters. All you need is a 5mm/H crochet hook, yarn (58% Cotton/42% Acrylic) in various colors and a tapestry needle for weaving in ends. Each square measures approximately 8″ when finished! Get this stunning pattern today and start creating something special! whiletheydream
24. Chunky Granny Square Crochet Blanket Pattern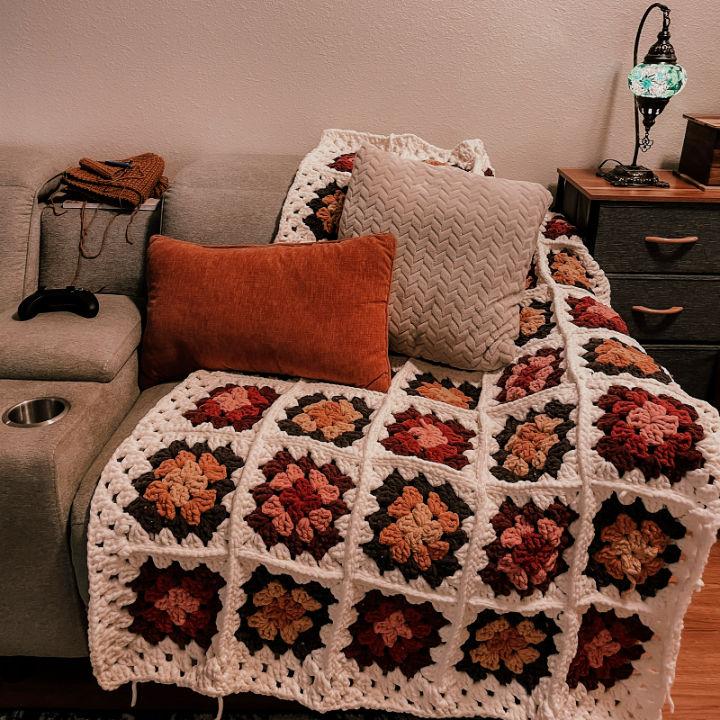 Discover the perfect cozy companion for your home with this easy-to-make chunky granny square blanket crochet pattern. Perfect for beginners, this lapghan is a quick and fun crochet project with only 35 squares to make, using super bulky #6 yarn in your favorite colors and an 8mm crochet hook. The finished size is 8 inches per square, giving you a comfortable and stylish blanket that can brighten up any room in your home! Get creative and craft something special with this easy pattern today. sigonimacaroni
25. How to Make Granny Square Blanket – Free Crochet Pattern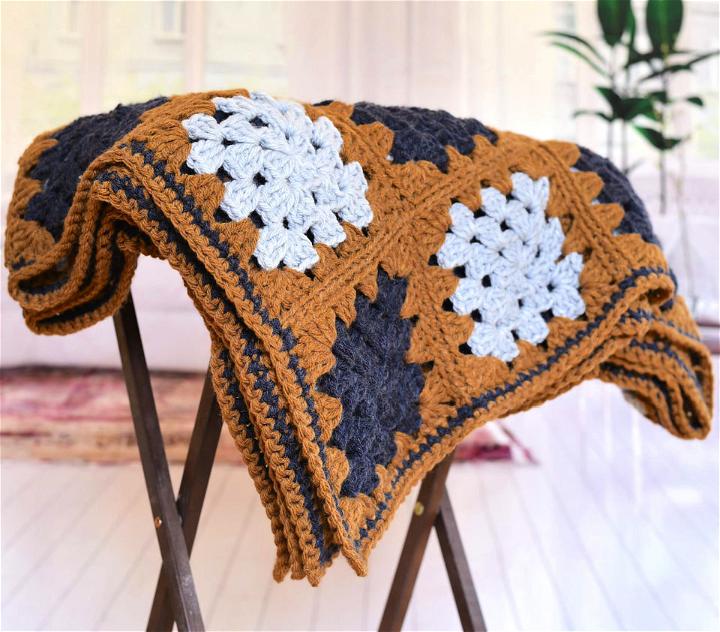 Whip up a cozy blanket with the granny square crochet blanket pattern. Perfect for beginner crocheters, it's quick and easy to make with bulky yarn. Use dreamy shades of hue + me yarn by lion brand for a beautiful farmhouse feel – only three shades are needed, so there's minimal weaving in of ends! You only need a 6.50mm crochet hook, tapestry needle, and scissors to get started – perfect for snuggling up on the couch or as a decor piece. Give your home that classic charm with this rustic granny square afghan today! zamiguz
26. Crochet a Blushing Ruffle Granny Square Blanket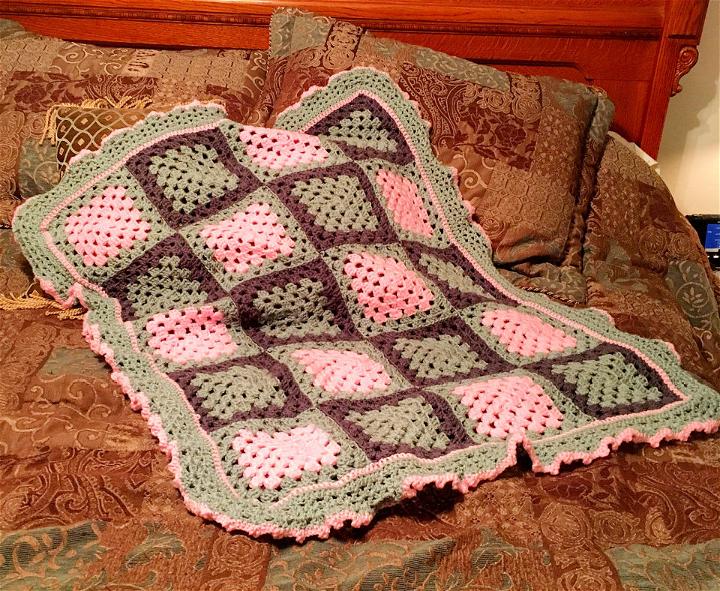 This easy crochet pattern is perfect for creating a stunning and feminine blushing ruffle granny square blanket. With three yarn colors – charcoal grey, dusty grey and petal pink – plus twenty granny squares, your finished blanket will measure approximately 32 inches wide by 40 inches long. Each square measures around 6 ¾ inches, and the whole blanket is four squares wide by five squares long. A frilly crochet border adds the perfect finishing touch, while an accompanying video tutorial makes this project simple to follow. Perfect for a baby girl's room or as a thoughtful gift! patternprincess
27. Colorful Crochet Granny Squares Blanket Pattern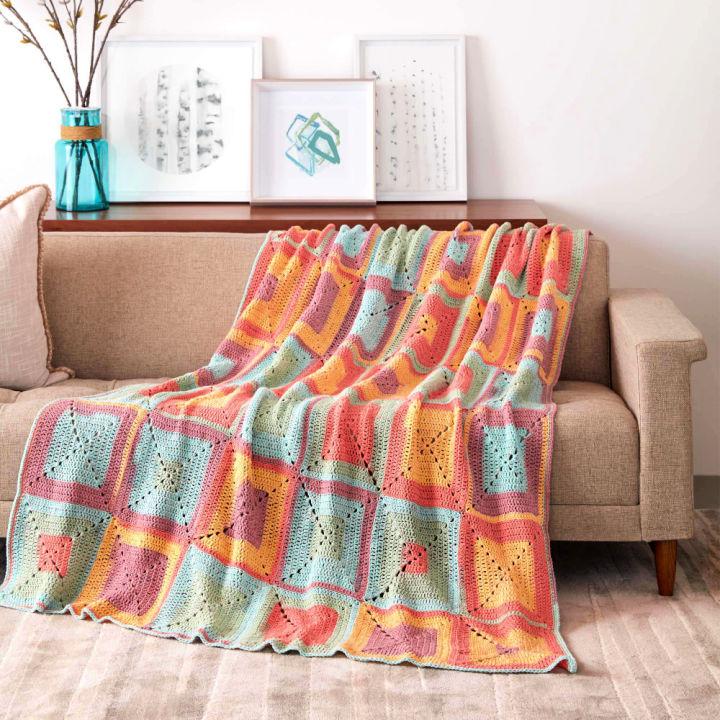 Liven up your home decor with this colorful crochet granny squares blanket. Perfect for all skill levels, this blanket is easy to make and features rich caron cotton cakes in the fruit tropics. The measurements are approximately 51″ x 59½", and you will need a US H/8 (5mm) crochet hook. Get started on making the perfect addition to your home today! yarnspirations
28. Crochet 4 Color Granny Square Blanket Pattern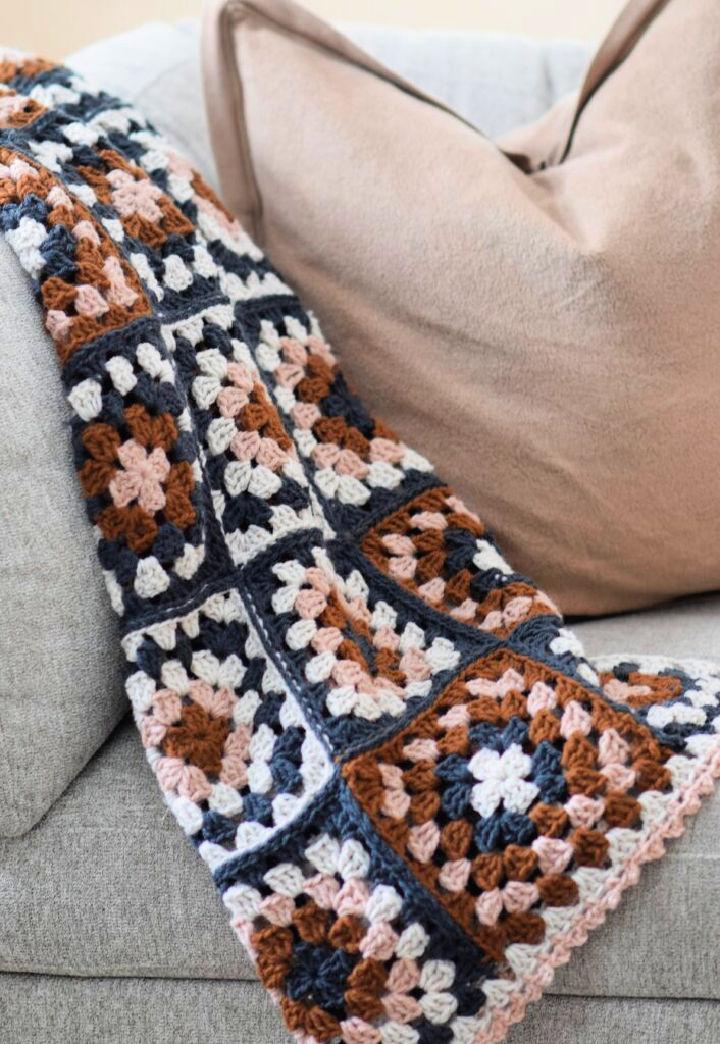 Want a lovely and cozy blanket? Crochet a unique, modern statement with this on-trend granny square blanket crochet pattern. Choose between two sizes – lapghan (43″ x 43″) or larger throw (43″ x 57″), and customize your colors with lion brand wool ease yarn in umber, canyon sunset, and linen. All you need is a US Size J 6.0 mm crochet hook, scissors, a tapestry needle and some time to craft the perfect cozy addition to your home. One 5-round square measures 7″ x 7″, plus it's easy to take it on the go as you travel! mamainastitch
29. Basic Crochet Granny Square Blanket Pattern With Written Instructions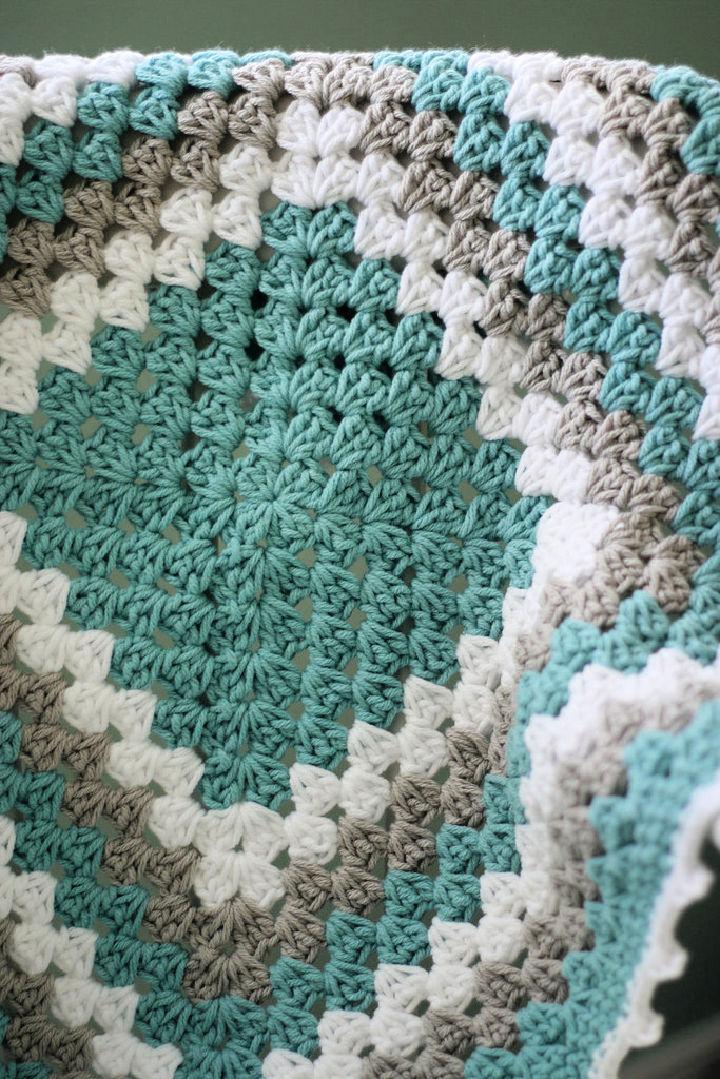 Learn how to crochet a beautiful granny square blanket with minimal holes using the aran weight yarn. This pattern is perfect for beginners and can easily be expanded for full-size blankets if desired. Create this soft, warm, lovey blanket in the dreamy colors of washed teal, slate gray and paper white. Also, check out these other easy blanket patterns, including a beautiful striped one crafted with double crochet and charming granny stripes. Find your inspiration today! daisycottagedesigns
30. Crochet Furry Motif Squares Blanket Pattern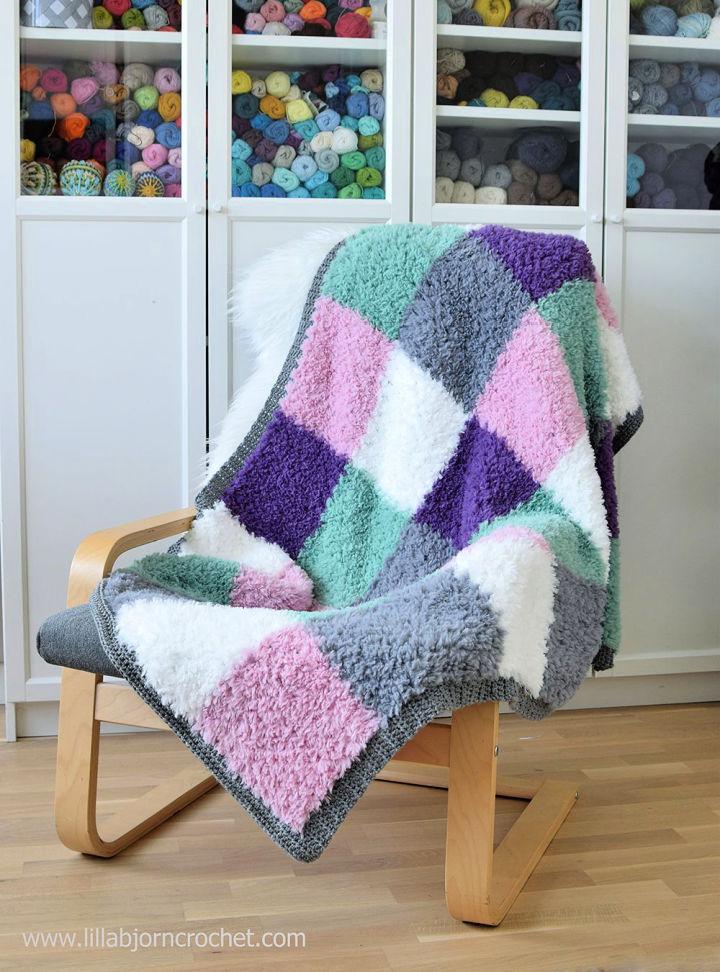 Introducing the furry squares blanket, the perfect way to add luxury and coziness to your home! This free crochet pattern is great for beginners and experts; practice with non-fluffy yarn before diving into the squares. For this project, you'll need scheepjes chunky monkey & furry tales yarn, a 6mm crochet hook & stitch markers. Choose from two colorways of this cuddly blanket measuring approx 110 x 150cm – ideal for snuggling up on chilly evenings. Add a touch of luxe style to any room with this one-of-a-kind piece! lillabjorncrochet
31. Unique Crochet Granny Square Afghan Diagram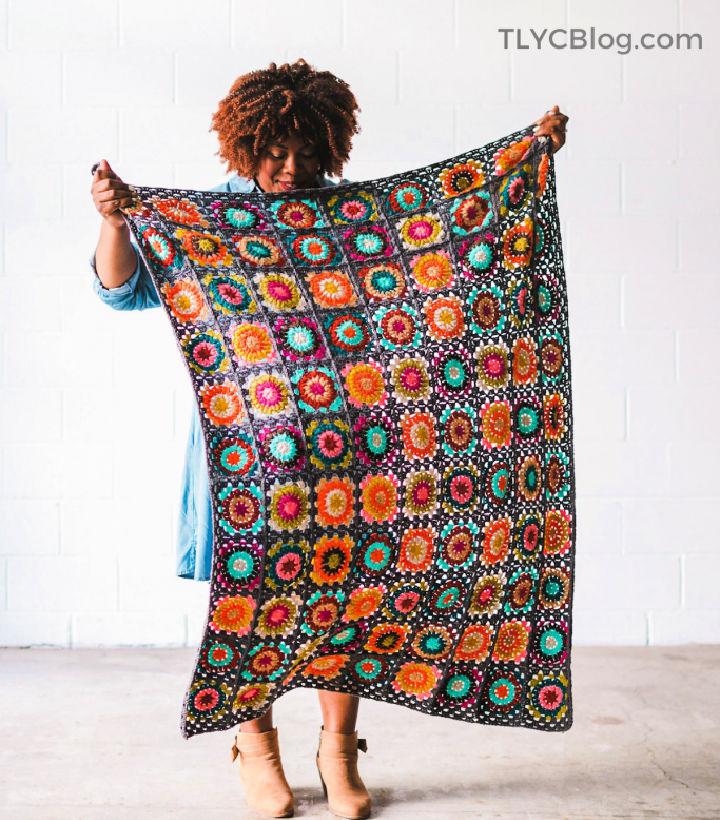 Create a unique, multicolored granny square afghan blanket with this free pattern. Perfect for beginners and inspired by fall colors, you'll need DK yarn in 11 colors, plus a 5.5mm crochet hook, scissors, tapestry needle, tape measure and blocking supplies. Follow the step-by-step instructions to make your beautiful blanket – perfect for adding a cozy touch to any home! Get creative and make something unique with this easy pattern: gather your supplies and start crafting today! tlycblog
32. Simple Crochet Two in One Granny Square Blanket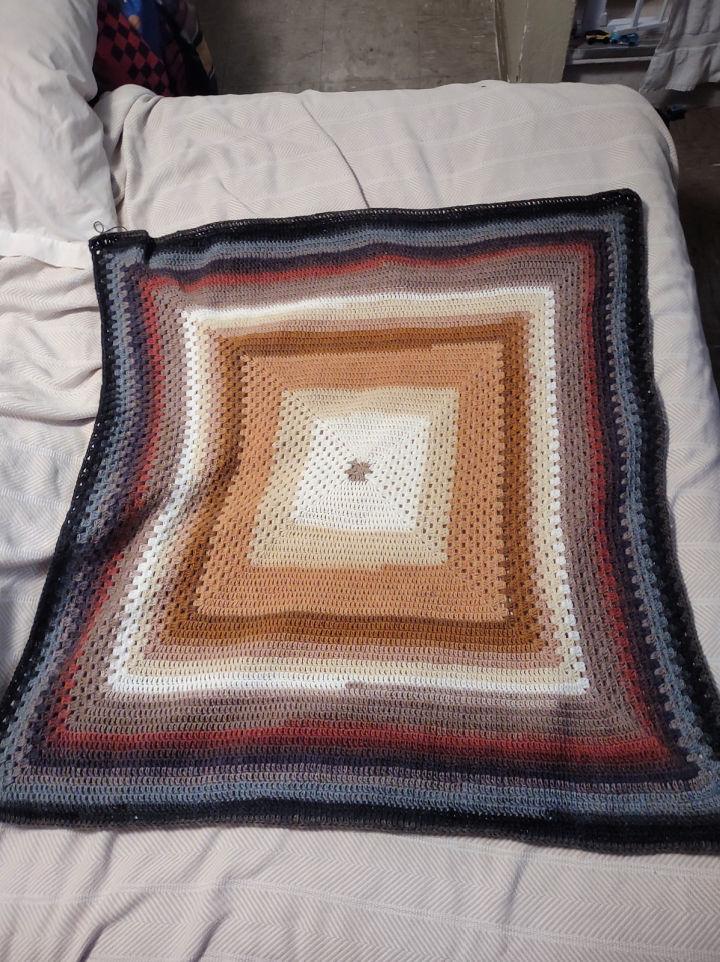 Wrap yourself warmly with this cozy blanket crafted with this two-in-one granny square-free crochet pattern! With just a 7mm hook and weight yarn, you can craft a 35×35-inch blanket that is perfect for any skill level. Bring your creative ideas to life with this amazing project today! Whether you're an experienced crocheter or just starting, you will be satisfied with the result of this cozy granny square blankie. Don't wait—start crafting now! thecrochetblog
33. Free Printable Crochet Plaid Granny Blanket Pattern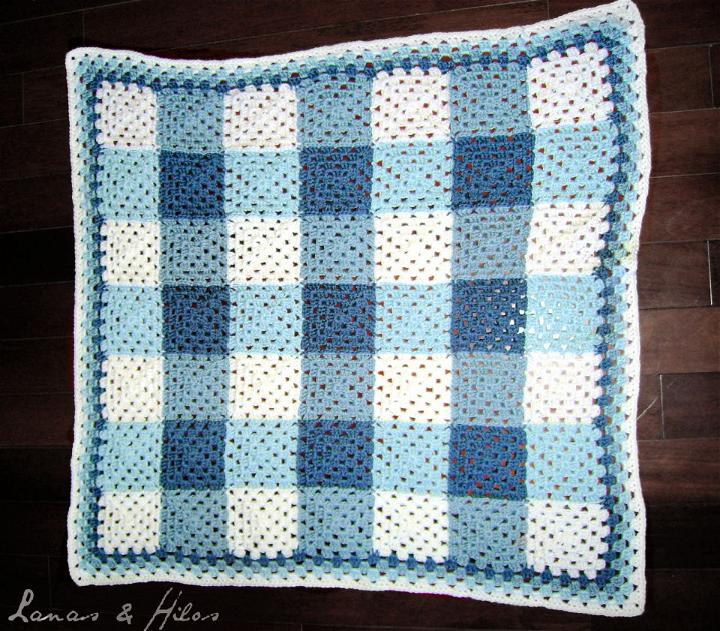 Introducing the ever-so-popular plaid granny blanket! This unique design offers a twist on the traditional granny pattern. This blanket is made with one-color granny squares that are joined together as you go, giving it a beautiful plaid look. This blanket is crocheted with worsted-weight yarn and requires 4.5 mm needles. So why not add stylish flair to your home decor with this classic yet updated blanket? Get your plaid granny blanket today for a cozy addition to any room! lanasdeana
34. Pretty Crochet Contrast Granny Square Blanket Pattern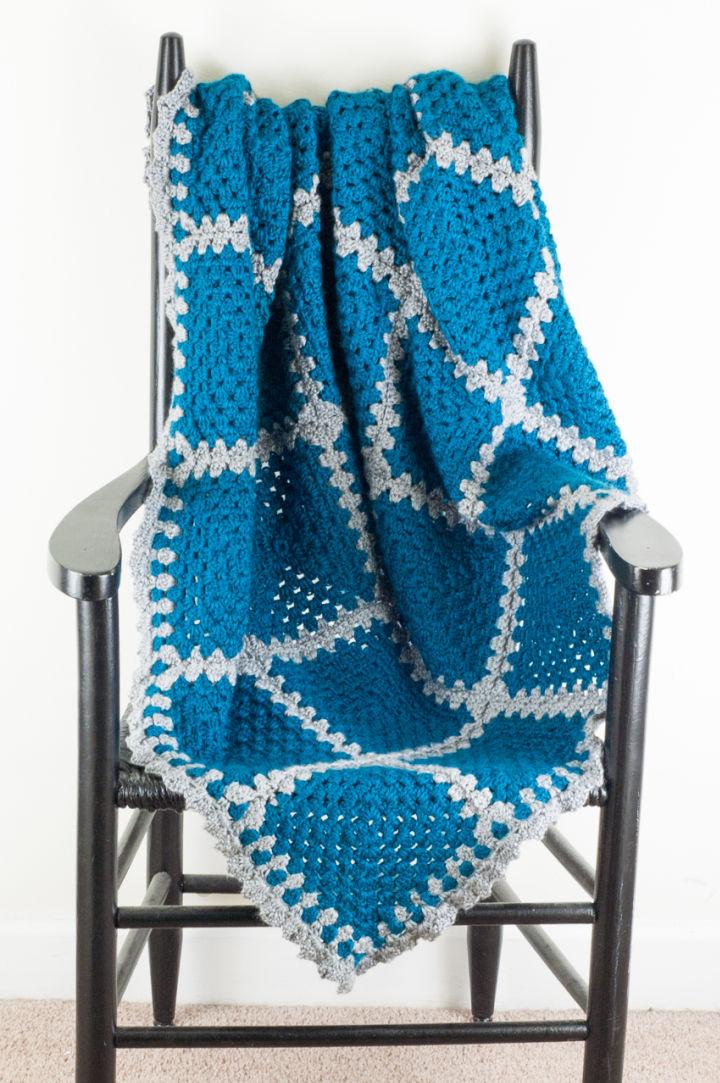 Put together a beautiful tapestry of warmth and relaxation with the granny square afghan pattern! With only two colors of worsted weight yarn, an H8/5.00mm crochet hook, a tapestry needle, and scissors, you can make the perfect afghan throw to snuggle up in. Crocheting large granny squares helps break the project into smaller pieces, so it's easy to complete – even for newbies! Enjoy your warm and comfy handmade creation when you're done. youshouldcraft
35. Large Continuous Granny Square Blanket Crochet Pattern

This easy pattern and video tutorial teach how to crochet a beautiful giant continuous granny square blanket. This cozy blanket is perfect for beginners. This cozy blanket uses simple stitches like slip stitch, double crochet, and granny clusters to create something special, even if you're starting crocheting. Choose from 4 super bulky chenille yarn colors or another size 7 jumbo yarn plus a size 10 mm crochet hook for the best results. The finished blanket measures approximately 46″ x 46″, but it can be made larger by adding more rows – so get creative! Gather your supplies, including sharp scissors, and relax and enjoy crocheting your new blanket. marchingnorth
36. Funky Crochet Granny Square Floral Blanket Pattern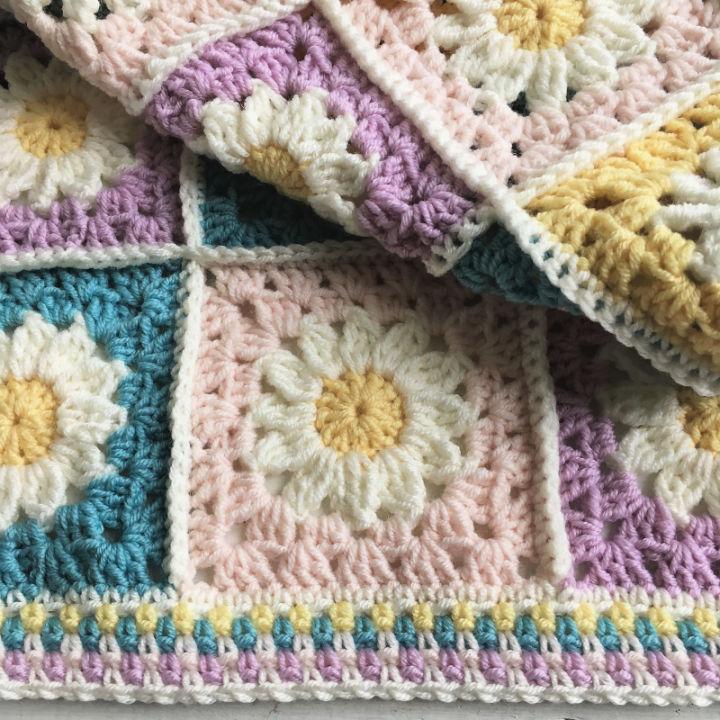 Learn how to crochet a beautiful flower square with this easy-to-follow tutorial. Suitable for beginners, the tutorial includes instructions for slip stitch, chain, double crochet, half double crochet, triple crochet, and a triple crochet cluster. All you need is a 3.5mm crochet hook and 100% mercerized cotton yarn to create your unique blanket or project full of elegance & beauty! Give it a try – perfect for those who have been wanting to learn how to crochet floral patterns! Put together the finished floral granny squares to make a gorgeous floral granny square blanket! colorncream
37. Crochet Daisy Granny Square Baby Blanket Pattern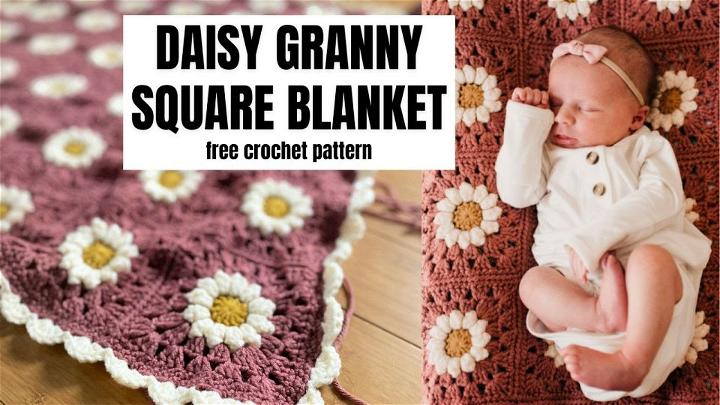 With this free crochet pattern, go crochet and make a unique and beautiful crochet blanket. Learn how to make an adorable daisy granny square blanket for spring, perfect as a baby's blanket or for any special occasion! With worsted-weight yarn in mustard, ivory and sage colors, plus a 5mm crochet hook, you'll be able to create something truly one-of-a-kind. Download this free pattern today and create the perfect handmade gift that will last a lifetime!
38. Super Easy Granny Square Blanket Pattern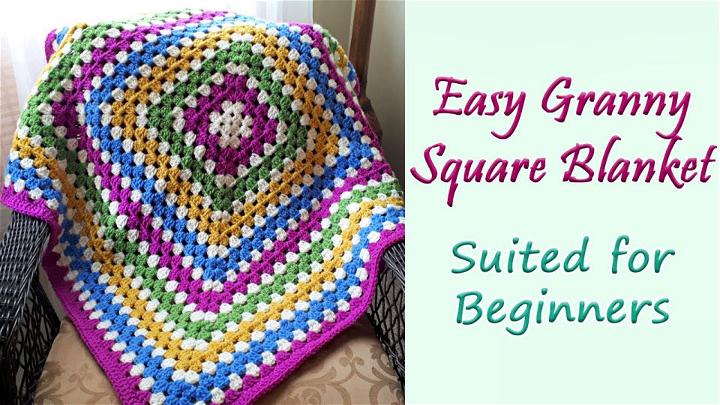 Are you a beginner looking for a crochet project? Look no further! This easy granny square blanket tutorial is perfect for new crocheters. This updated pattern includes tips to ensure your first project turns out beautifully, even with no prior experience. You can use one color of yarn or mix it up by using different colors or self-stripping yarns. Follow along with the video tutorial to learn how to make this gorgeous blanket in no time!
39. Crochet Giant Granny Square Afghan Pattern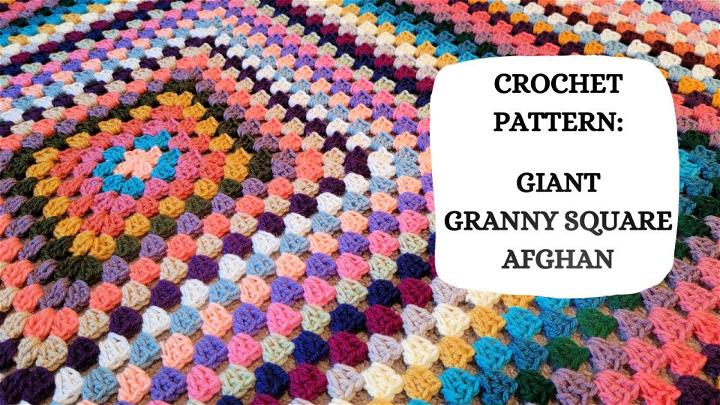 Get your inner crocheter inspired and turn this simple pattern into an exquisite masterpiece, the granny square crochet blanket! With an easy-to-follow tutorial, it's ideal for DIYers and crocheters of any skill level. All you need to get started is a 5.0 or 5.5 hook and some medium-weight yarn – make this cozy blanket in your favorite colors for the perfect snuggly addition to any home. Get creative with this simple yet versatile crochet project – try different color combinations or use different yarn weights to create something unique!
40. Spiral Granny Square Crochet Baby Blanket Pattern

Wrap your precious bundle of joy in a cozy and comforting hug – this spiral crochet granny square blanket will be the perfect companion! This continuous spiral granny square design is perfect for beginners and experts alike. Learn how to work continuously around and around until you reach the desired size without having to cut or join yarn! Plus, color-changing yarns are great for highlighting special designs. Get started on the ultimate soft and cozy blanket with easy-to-follow instructions today!
Related Free Crochet Patterns:
Discover the joy of crochet with our incredible collection of free and easy-to-follow patterns! From stylish garments to accessories, create something beautiful today.
Conclusion: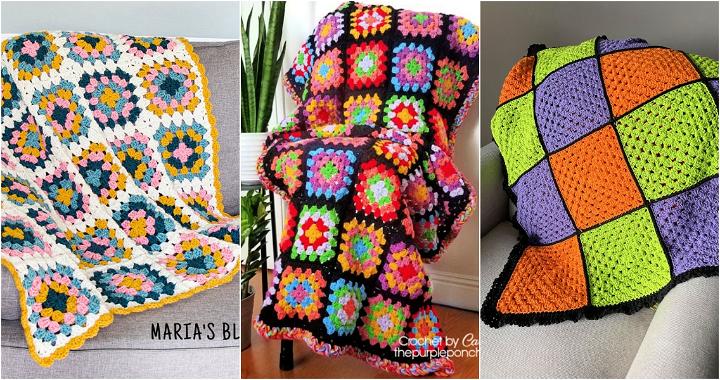 With the help of these 40 free crochet granny square blanket patterns, it is now easier to create beautiful blankets and afghans. Whether you are a beginner or an expert crocheter, each pattern offers detailed step-by-step instructions that make learning how to crochet granny square blankets easy. From baby blankets to full-size bed covers, there is something for everyone in this collection of free crochet patterns. These designs will surely be your favorite project as you learn the basics of making intricate and colorful crocheted granny squares! With all these options available, you will surely find a pattern perfect for any occasion. So grab your hooks and yarns, roll up your sleeves and start creating stunningly unique projects with these amazing free crochet granny square blanket patterns!