Explore the art of crocheting beanies with our compilation of 40 free crochet beanie patterns suitable for all ages and skill levels. These crochet beanie patterns come in various styles, including trendy slouchy beanies, textured beanies, and classic ribbed designs. Each free crochet beanie pattern provides detailed, step-by-step instructions and easy-to-follow PDF guides that make crafting your perfect crocheted beanie of all sizes.
Beginners and expert crocheters can dive into this collection of free crochet beanie patterns, which include options for men, women, kids, and even infants. With this wide selection, you'll find the perfect crochet beanie pattern to create unique and stylish headwear for yourself or as thoughtful handmade gifts for your loved ones. Customize your crochet beanie by selecting your preferred yarn colors, textures, and stitch techniques, ensuring a truly one-of-a-kind creation.
Many of these crochet beanie patterns also come with helpful video tutorials that provide clear visual guidance, making learning more accessible for everyone. So grab your crochet hook and favorite yarn, and start working on your next crochet beanie masterpiece today! Embrace the joy of free crochet beanie patterns, add a personal touch to your wardrobe, or make memorable gifts for friends and family.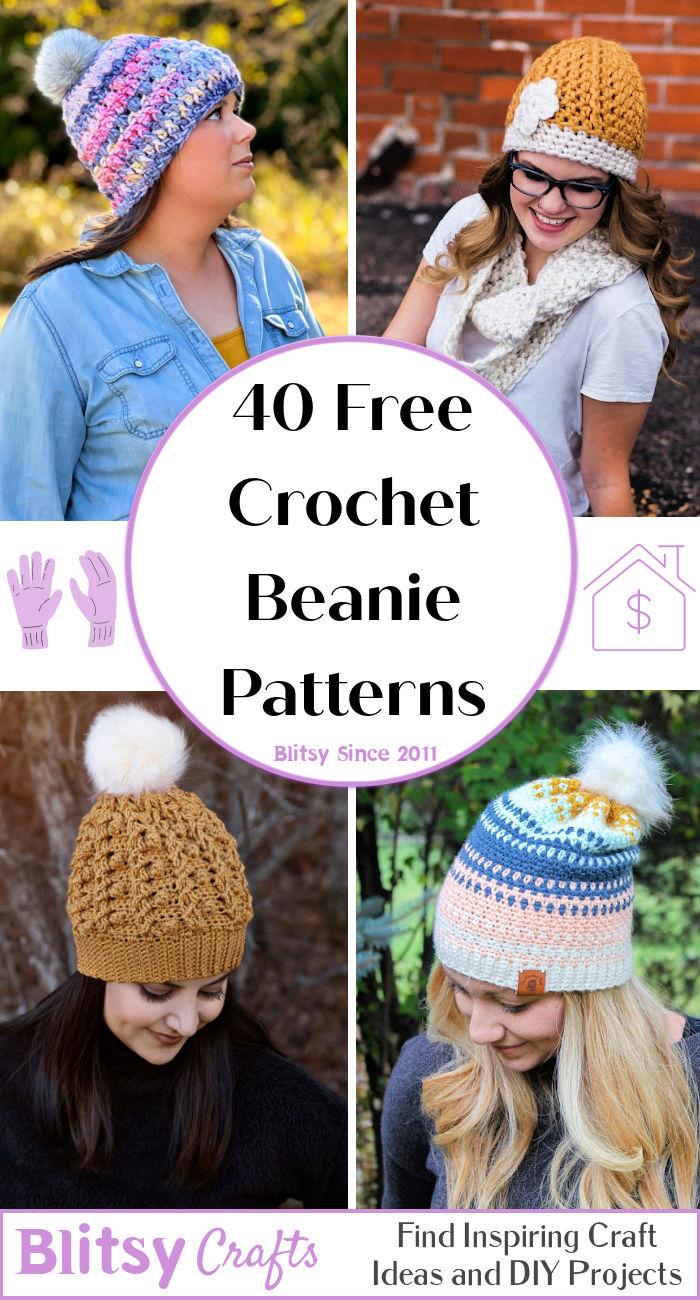 What crochet stitch is best for beanies?
The double crochet stitch is the most commonly used stitch for crocheting beanies. It creates a dense and warm fabric that is perfect for hats. However, you can also use other stitches, such as single crochet, half-double crochet, or even the Tunisian stitch, to create different textures and designs. It all depends on the look and feel you want for your beanie.
What size pattern for a crochet beanie?
The size of a crochet beanie pattern depends on the head circumference of the person who will wear it. The average head circumference for adults (women and men) is between 21-23 inches (53-58 cm). A man's average hat size will be approximately 23 inches, while for woman's average beanie size will be around 22 inches. You can adjust the length of the hat by crocheting fewer or more rounds to make it shorter or longer. Most crochet beanie patterns come in different sizes, so you can choose the one that fits you best.
What size crochet needle for a beanie?
The size of the crochet needle for a beanie depends on the weight of the yarn you are using. For worsted weight yarn, the most commonly used yarn for beanies, you will need an I/5.5 mm hook. However, if you use a different weight of yarn, you will need a different size of hook. For example, if you use sport weight yarn, you will need a 3.5 – 4.5 mm crochet hook. You can check the label of your yarn to see what size of the hook is recommended.
What size yarn is best for the crochet beanie?
The best yarn size for a crochet beanie depends on the look and feel you want for your hat. For a warm and cozy beanie, you can use worsted weight yarn, which is the most commonly used yarn for beanies. However, you can use bulky or super bulky yarn if you want a chunky and textured beanie. You can also use other types of yarn, such as sport weight or fingering weight yarn, to create different textures and designs. It all depends on your preference and the pattern you are using.
Can a beginner crochet a beanie?
Yes, a beginner can crochet a beanie. Crocheting a beanie is an easy project that can be completed in a few hours or less, depending on your pace, the size you're making, the stitch you are using, and the weight of the yarn. Many beginner-friendly crochet beanie patterns are available below that you can follow to make your first beanie. You can also watch video tutorials on YouTube to learn how to crochet a beanie.
How many skeins of yarn do I need to crochet a beanie?
The amount of total yarn you need to crochet a beanie depends on the size of the beanie, the stitch you are using, and the weight of the yarn. The general rule of thumb for both knit and crochet is that a typical 100g skein of yarn will safely make you a hat. However, if you are using a different weight of yarn or making a larger size beanie, you may need more yarn. You can check the label of your yarn to see how many yards or meters are in one skein and calculate how many skeins you need based on the pattern you are using.
How to Choose the Right Crochet Beanie Patterns?
Crochet beanie patterns are a great way to make cozy and stylish hats for yourself or your loved ones. Crochet beanies can be customized with different stitches, colors, and details to suit different preferences and occasions. Here are some tips on how to choose the right crochet beanie patterns for your needs.
Consider the yarn weight and hook size. Different yarn weights and hook sizes will affect the size, texture, and drape of your crochet beanie. For example, bulky yarns and larger hooks will create thicker and warmer beanies that work up faster, while lighter yarns and smaller hooks will create finer and softer beanies that may take longer to make. You can also mix different yarn weights or hold two strands together for a unique effect.
Consider the stitch pattern. Crochet beanies can be made with a variety of stitches, from basic single crochet to more complex cables or lace. The stitch pattern will affect the look and feel of your crochet beanie, as well as the amount of stretch and elasticity it has. For example, ribbed stitches will create a snug fit that can be folded over for extra warmth, while shell stitches will create a wavy texture that adds some flair. You can also combine different stitch patterns for more variety.
Consider the shape and style. Crochet beanies can be shaped differently depending on how you increase or decrease your stitches in each round. For example, you can make a flat circle for a classic beanie shape or use short rows for a tapered head shape. You can also adjust the height of your crochet beanie by adding or subtracting rounds to make it fitted or slouchy. You can also add some details like pom poms, buttons, appliques, or embroidery to personalize your crochet beanie.
Choosing the right crochet beanie patterns is not hard once you know what factors to consider. You can find many crochet beanie patterns below that suit different skill levels and tastes. You can also experiment with your own designs by changing up the yarn, hook size, stitch pattern, shape, style, and details of your crochet beanies. Have fun with our list of 40 easy and free crochet beanie patterns below:
1. Free Crochet the Color Fade Beanie Pattern
Make a unique and colorful statement this fall with the color fade beanie! This free crochet hat pattern features simple stitches and gorgeous stripes for an easy accessory. With super fine (1 weight) yarn in 5 colors, you'll need a size i (5.5mm) crochet hook for the brim, and a size j (6.00mm) hook for the body of the hat. It measures 19″ around at the brim and is 9.5″ tall – perfect fit for small adults, but instructions are included to modify the size if needed! Get creative this season with your color fade beanie – a great gift idea too! knottednest
2. Crocheting a Brave Beanie in One Hour – Free Pattern
Knit up this fashionable and cozy crochet beanie in just 60 minutes! This beanie is perfect for any season. Featuring super bulky weight #6 yarn, this crochet accessory provides warmth while completing your look. You'll need a us size m/n 9.00mm crochet hook, a us size k 6.50 mm crochet hook, a 2″ coconut button to complete the project, and a 6″ faux fur pom pom for extra style points! With the gauge of 3 hdc rows x 4 hdc sts = 2″ sq., you can make this women's beanie that fits most head circumferences from 20″-22″. So grab your supplies and get crocheting! madewithatwist
3. Pretty in Gingham Beanie Crochet Pattern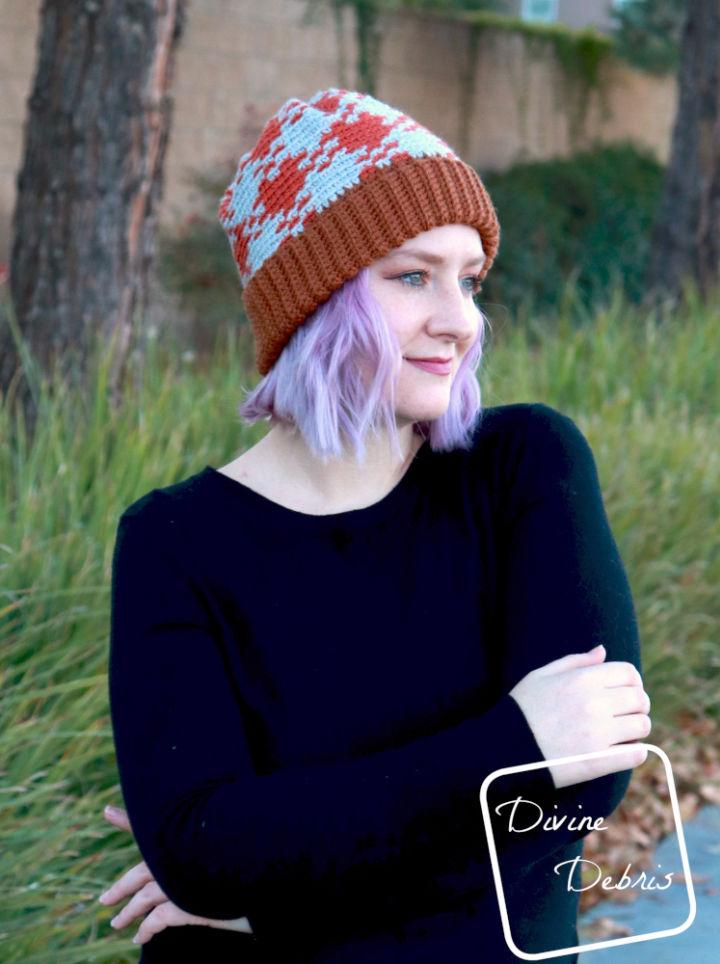 Look pretty in pink with this free crochet pretty in gingham beanie pattern! Perfect for an intermediate level crafter, the beanie uses a us h (5.00 mm) crochet hook and #4 worsted weight yarn in three colors to create a unique gingham design. With step-by-step instructions, you'll have your stylish beanie ready for winter weather in no time. Get creative with different color combinations – no two hats will be alike! Make one now and enjoy all the compliments that come your way. divinedebris
4. Best One Skein Bulky Beanie Crochet Pattern
This free crochet pattern for a one skein bulky beanie is perfect for anyone looking to make a quick, cute accessory. With only one skein of bulky yarn and a 6mm / j crochet hook, you can easily create this beanie that will fit an average adult head size of 21-23 inches. The finished beanie measures 9″ tall by 10″ across the brim laid flat, so it's sure to keep your head warm! Whether you top it with a pom or leave it plain, this one skein bulky beanie will surely be loved. okiegirlblingnthings
5. Crochet Gnome Toboggan – Free Pattern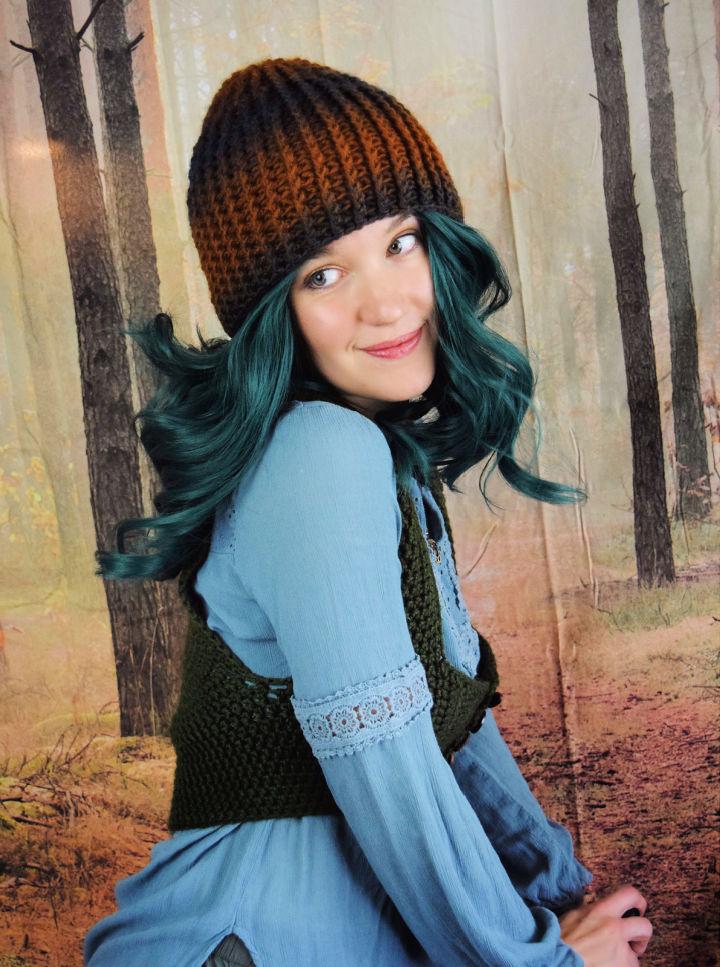 This gnome toboggan is a perfect winter accessory! Complete with two size options, the toboggan stretches to fit both adult small (20-22″ head) and adult large (22-24″ head). Make your own with one skein of lion brand scarfie (#5 312yd 150g), a 5.50mm crochet hook and this free pattern. Enjoy a cozy winter look with this stylish, playful gnome hat – get yours today! moralefiber
6. Easy Crochet Striped Elf Beanie Pattern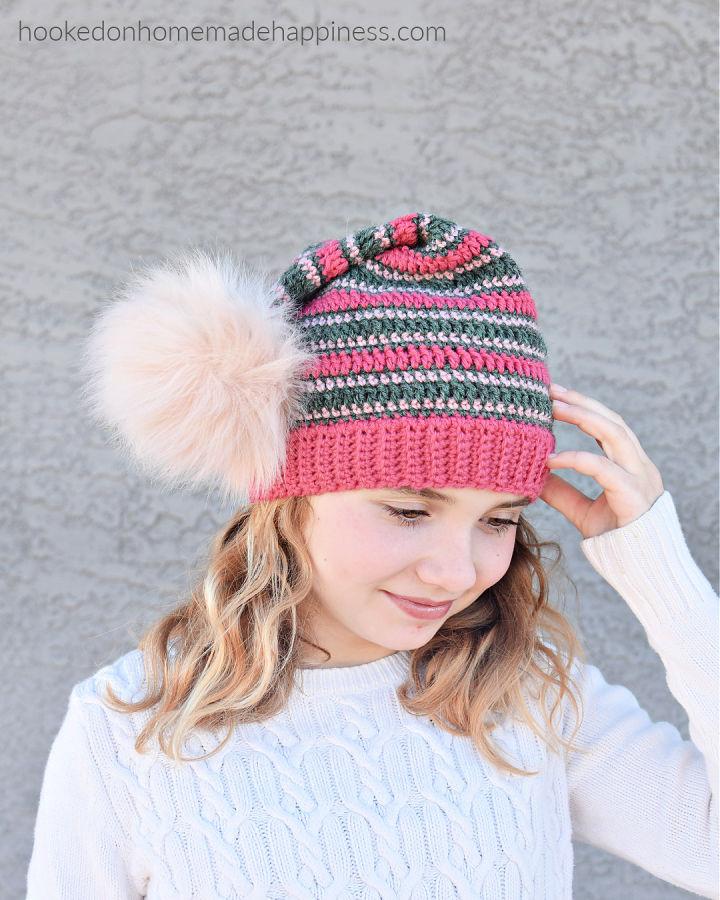 This easy striped elf beanie crochet pattern is a great holiday choice! Craft with just 100g of worsted weight yarn and h/5.0mm hook – it's an easy pattern to work up quickly. The design uses only single and double crochet stitches to create short and tall stripes, making it a great project for beginner crocheters or those looking for something simple yet stylish. Get fun crafting your christmas elf beanie with this easy striped pattern! hookedonhomemade
7. Knit Look Crochet Stripey Beanie Pattern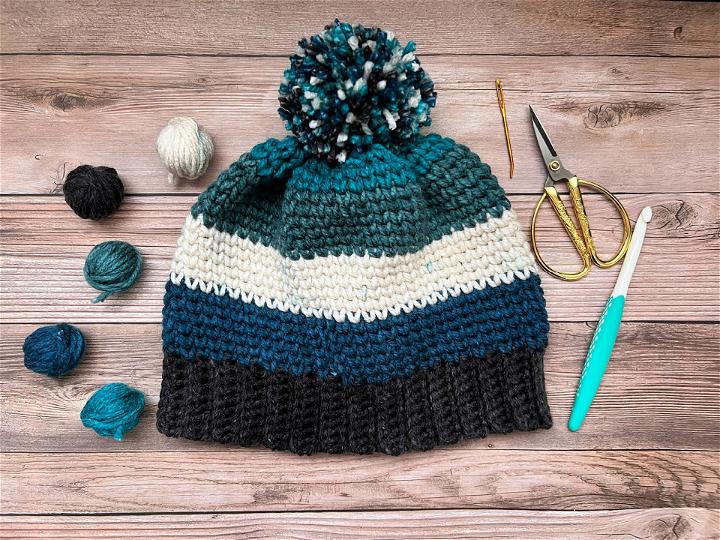 Make a stylish statement with the stripey beanie! This intermediate-level crochet pattern will have you rocking classic style in no time. Made from 200 yards of caron colorama o'go yarn in blue, this beanie is worked up using a 6.5mm us-k hook for the brim and an 8mm us-l hook for the body, creating a finished piece with approx. 20" circumference to fit most adults. Get ready to show off your crafting skills with this head-turning accessory – add it to your wardrobe today! knitandcrocheteverafter
8. How to Crochet Granny Beanie – Free Pattern
Create a unique, stylish beanie with red heart heat wave yarn! Perfect for summer nights or days at the beach, this granny beanie is an easy crochet project that can be completed in one size to fit adults. Choose from two sizes of hooks – us 7 (4.5mm) and us 8 (5mm). Contrast a summer night, and contrast b sandy shores colors of the selected yarn and bring out the best of your granny style! Crochet up a fashionable hat today with this free crochet hat pattern! yarnspirations
9. Pretty Crochet the Harvest Beanie Pattern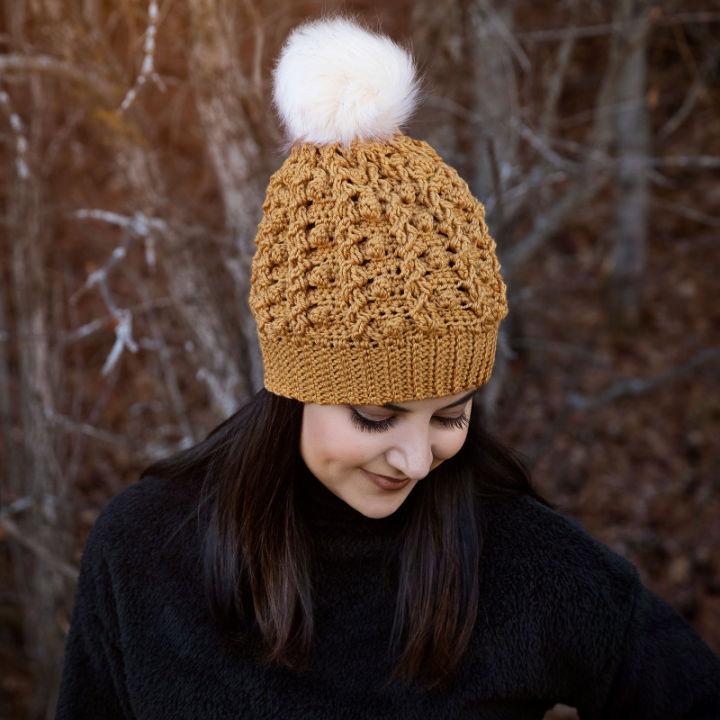 Go crochet and make a stylish and cozy beanie with this crochet hat pattern – the harvest beanie! This pattern comes in two sizes to comfortably fit both child and adult heads. You only need an h-8 (5 mm) crochet hook and worsted weight yarn in gold rush. The child size fits a head circumference of 19-21 inches, while the adult size fits a head circumference of 21-24 inches. Get ready for colder temperatures by creating your warm, autumnal beanie today! leeleeknits
10. Free Crochet Winter Moonlight Beanie Pattern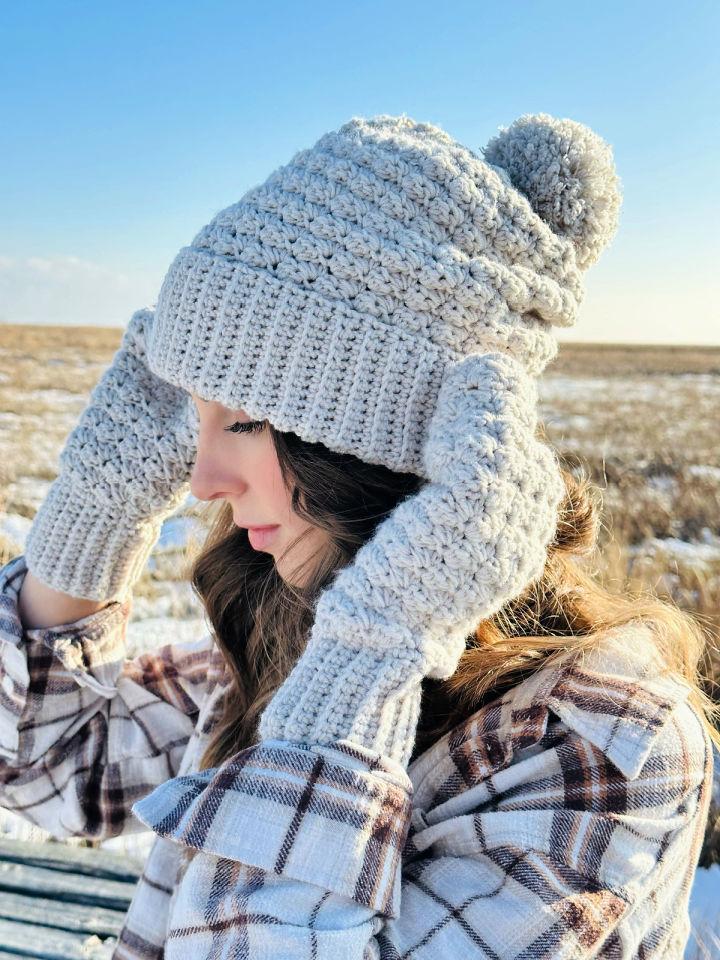 Stay cozy and stylish this winter with the winter moonlight set! This set includes a beanie and mitten pattern featuring stretchy ribbing and a beautifully textured stitch repeat for a comfortable fit. The beanie has a perfect slouchy look when topped off with an added pompom. Crochet it from lion brand color theory in moonlight (3 skeins of worsted weight yarn, 615 yards) and an i/5.5mm crochet hook, and you'll be ready to tackle the cool days ahead! eandpcrochet
11. Modern Crochet Jack Olantern Beanie Pattern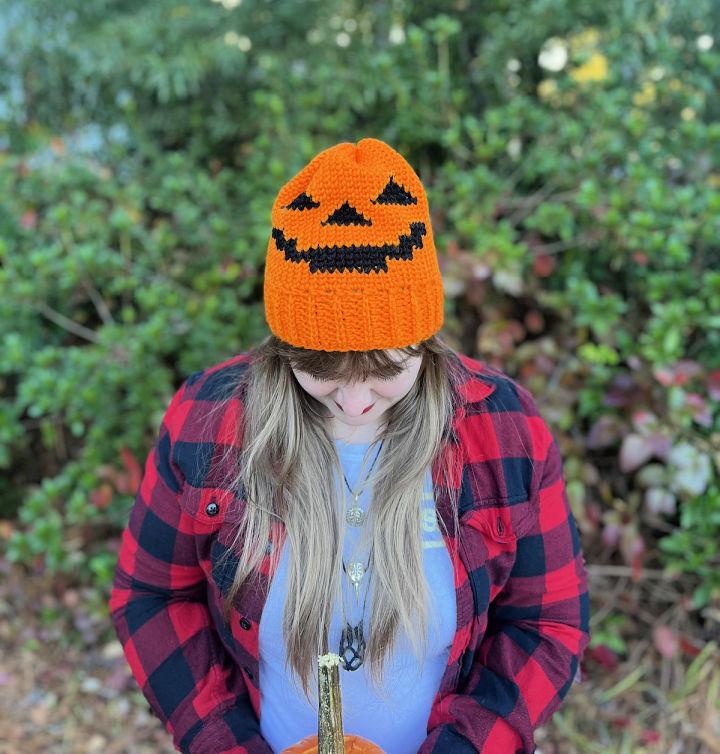 It's almost Halloween, and what better way to get into the spirit than with this festive jack o'lantern beanie crochet pattern? This unique beanie pattern uses red heart yarn, an h hook and a j hook for a cozy finish. Celebrate spookiness in style by crocheting your hat to show off to all the ghosts and ghouls at your next costume party. Perfect for anyone who loves everything about Halloween, from candy to costumes – now you can take it one step further with this easy-to-create pumpkin on your head! Get ready for some fun times: download this free crochet pattern today and start making magic happen! beaniesandweeniescrochet
12. Cool Crochet Cranberry Frost Beanie Pattern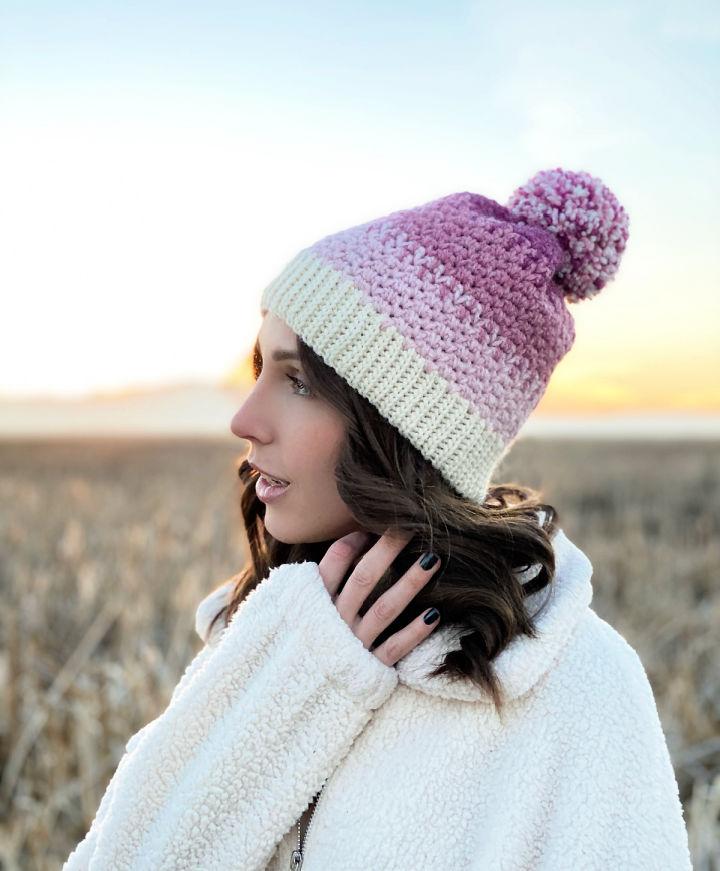 Keep warm and cozy with the cranberry frost beanie crochet pattern! This beginner-friendly beanie features a beautiful ombre look with subtle spike stitches and color variations. The supplies needed for this project are the worsted weight (4) yarn 5.5mm crochet hook, and you'll be joining and turning between each round as it is worked from the bottom up. Create your stylish winter accessory today with this fun crochet pattern! eandpcrochet
13. Double Brim Tunisian Crochet Beanie Pattern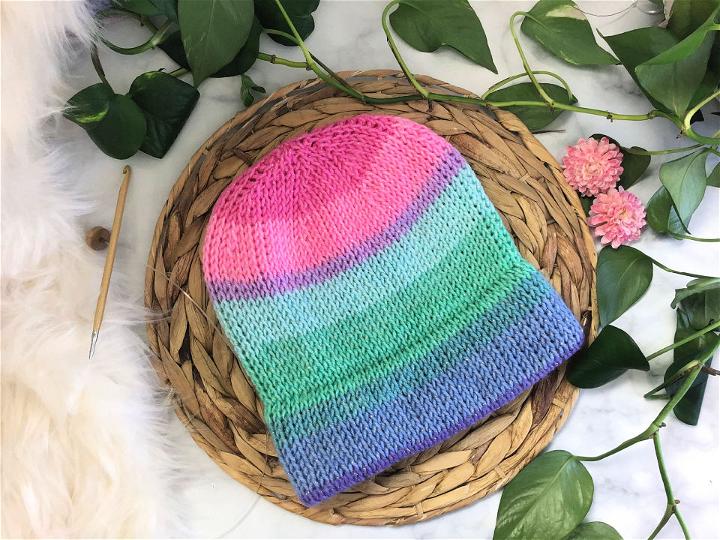 Add a unique twist to your winter wardrobe with the double brim tunisian beanie. This fun crochet pattern is easy to work, using just one main stitch (the tunisian knit stitch) and one decrease stitch. Plus, use color-changing yarn for surprises! The beanie comes in three sizes – toddler, child/teen and adult – so you'll be sure to find the perfect fit. Whether you're a beginner or an experienced crocheter, this tunisian crochet pattern will bring satisfaction! clover usa
14. Free Crochet Pattern for Unisex Striped Beanie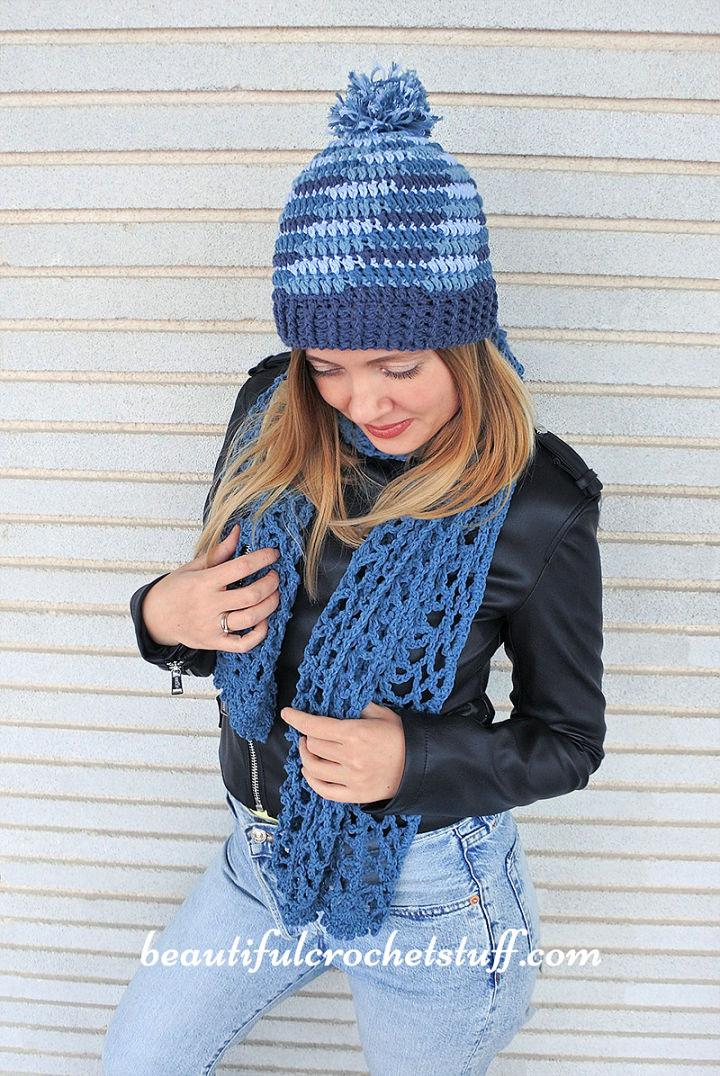 Create a stylish crochet man/woman beanie from recycled denim with this free pattern for a unique fashion statement! Follow step-by-step instructions to make an amazing hat using drops paris recycled denim aran yarn (100% cotton) and a #5 crochet hook. Get creative while working on the stitches, and choose your favorite colors or mix in some hues for an extra touch of style! Whether you are making it as a gift or just for yourself, this beanie will turn heads with its one-of-a-kind design. With minimal materials required and easy instructions, start crocheting your trendy beanie now! beautifulcrochetstuff
15. Soft and Beautiful Crochet Elizabeth Beanie Pattern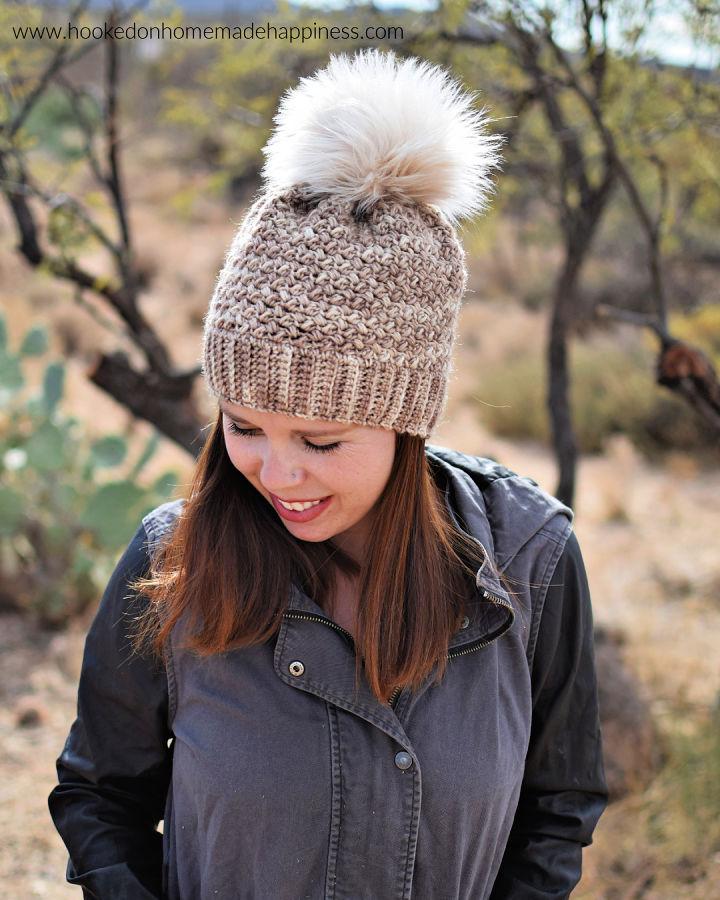 This elizabeth beanie crochet pattern is perfect for those who love a soft, feminine look! It features an easy-to-follow stitch design that uses less than one 100g skein of worsted weight yarn. Whether you opt for a semi-solid taupe color or pick something else, the result will surely receive compliments. This beanie is perfect for intermediate crocheters. This beanie looks beautiful and works quickly – so grab your yarn today and start this stylish project! hookedonhomemade
16. Crochet the Dakota Beanie Design – Free Pattern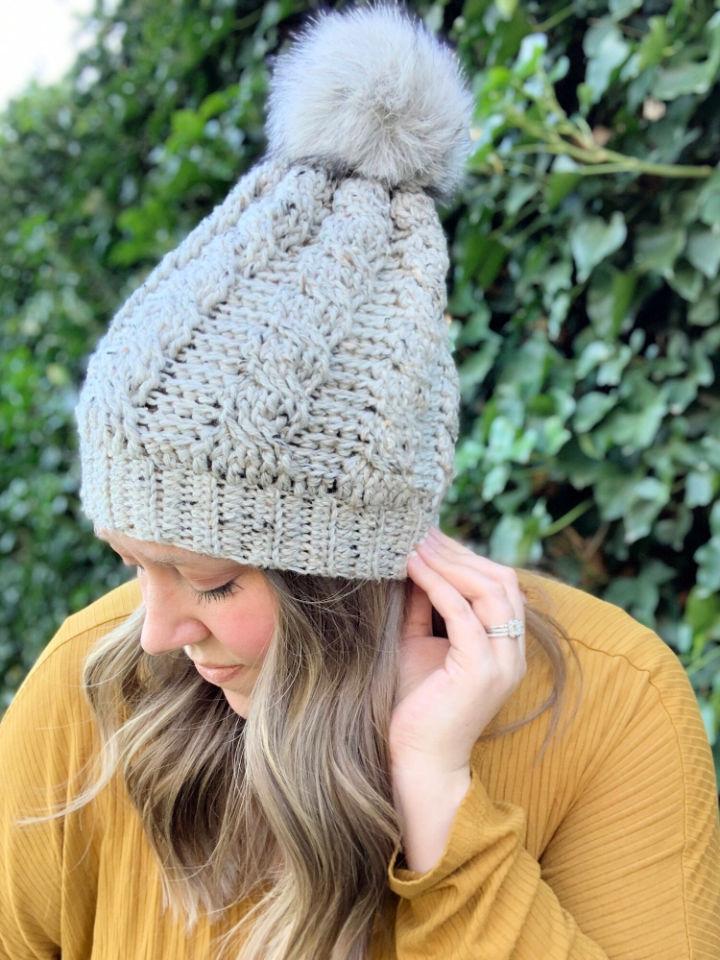 Stay warm with the dakota beanie! This free crochet pattern will have you mastering cables like a pro in no time. Step-by-step video and photo instructions make it easy to follow, while wecrochet wool of the andes tweed in down heather ensures your hat stays snug all winter. Perfect for men, women, and children alike – this is the perfect cold weather accessory. Pick up your crochet hook size g(4.25mm) today and get started on your cozy new hat! meghanmakesdo
17. Free Crochet Cat Ear Beanie Pattern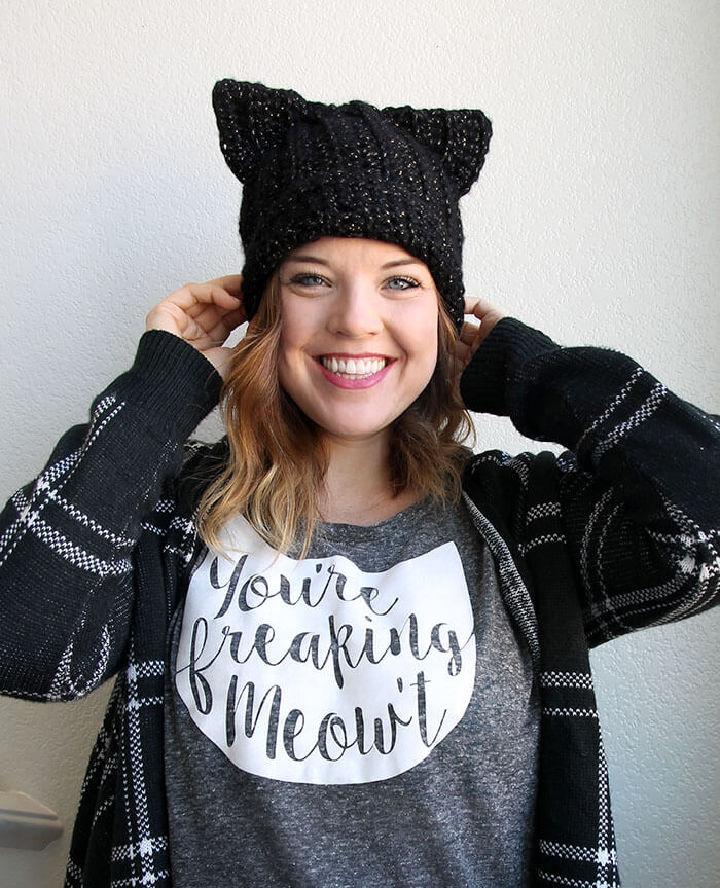 A purr-fectly stylish way to show love for your favorite feline friend! This black cat slouch hat is perfect for the cat lover in your life! With chunky ribbing and cute, whimsical cat ears, this free crochet pattern works quickly with size 6 super bulky yarn and a size l (8.0 mm) hook – making it an easy-to-make gift or just something special for yourself. If you're looking for an adorable hat that fits all sizes, try this free crochet pattern today! persialou
18. Crochet Malia Ponytail Beanie Pattern for Women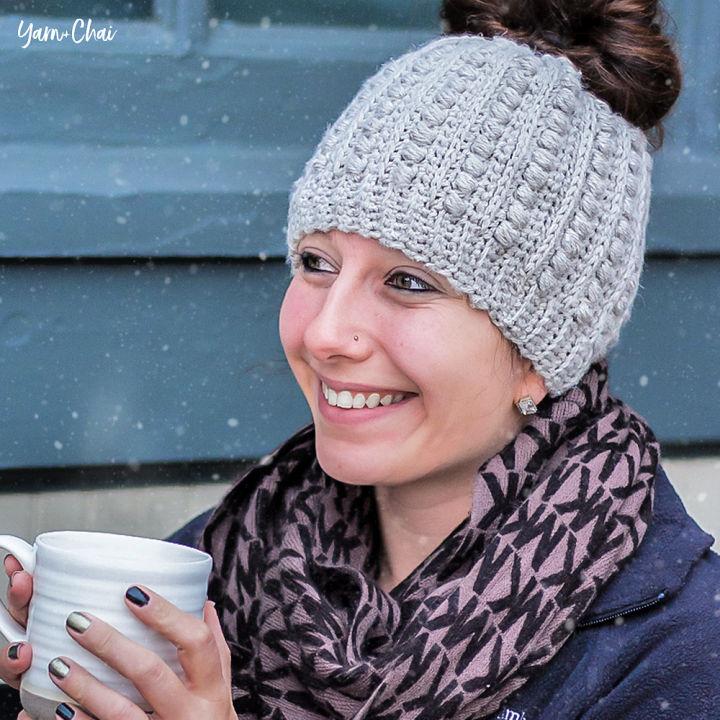 Bundle in cozy comfort this winter with the stylish malia messy bun beanie! This beautiful beanie is crocheted using #4 aran weight yarn, so it's both sturdy and soft. Available in two sizes (8.25″ tall x 18.5″ around for a teen/adult small; 8.25″ tall x 20″ around for an adult medium/large), you'll be able to find the perfect fit for everyone! The i (5.50 mm) hook means you can finish your project quickly yet still have plenty of time to enjoy all the winter activities. Get ready to hit the slopes this season with your new malia messy bun beanie! yarnandchai
19. How to Crochet Sherbet Beanie – Free Pattern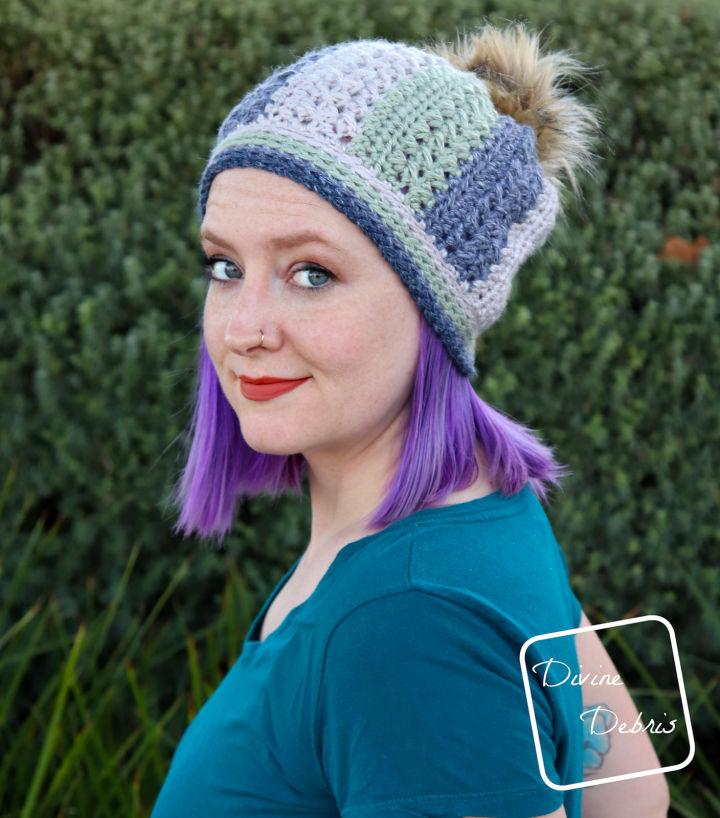 Crochet a unique and stylish sherbet beanie with this free crochet pattern! This beanie will look fantastic in any combination of 3-5 colors. The perfect project for cold winter days, it's easy to make using only bulky/size #5 yarn and a us k (6.50 mm) crochet hook. Follow the directions to work up the correct gauge of 12 hdc x 9 rows = 4″ so you get the right fit! A great gift idea or simply an eye-catching fashion accessory – get your supplies ready and try out this amazing pattern today! divinedebris
20. Easy Breezy Chunky Crochet Beanie Pattern for Adults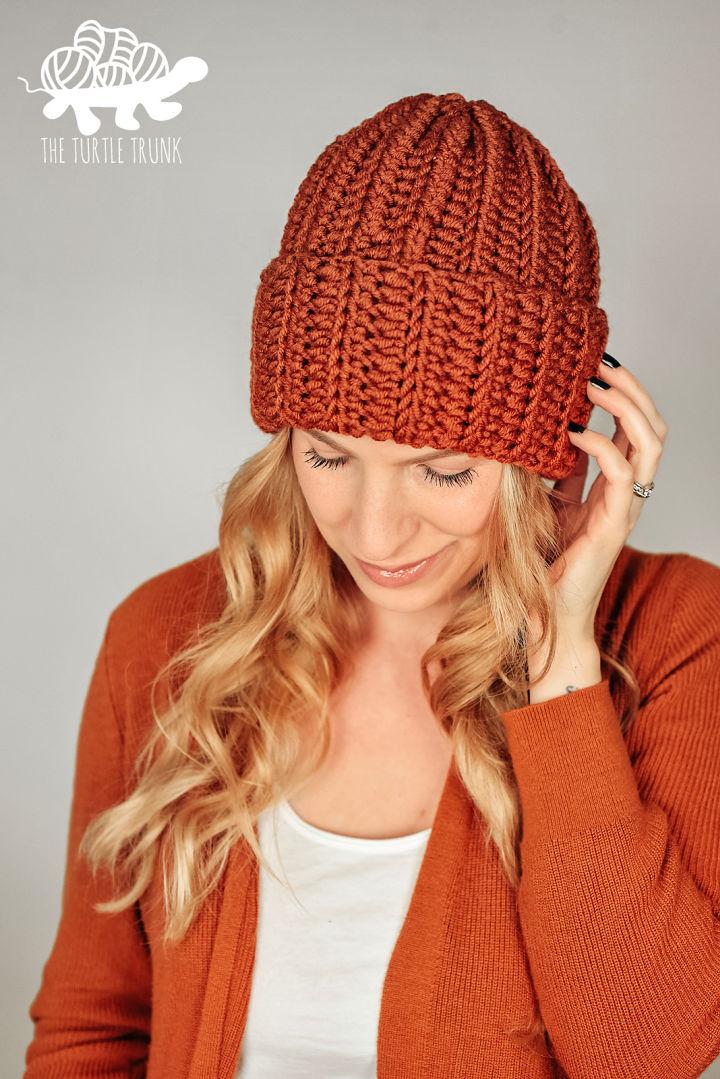 The easy breezy chunky beanie is the perfect beginner crochet hat! This unisex beanie features a classic style, ribbed texture and folded brim. The easy construction uses only one simple stitch and bulky weight yarn for a thicker, warmer feel. With sizes including baby, kids, and adults and suitable for any gender, this free crochet pattern can fit anyone! Perfect for novice crocheters looking to make something quickly that looks great, too – get the easy breezy chunky beanie crochet pattern today! theturtletrunk
Crochet Tops: Discover a wide range of crochet top patterns for beginners that are perfect for any occasion, from casual to formal events.
21. How Do You Crochet Jaidas Beanie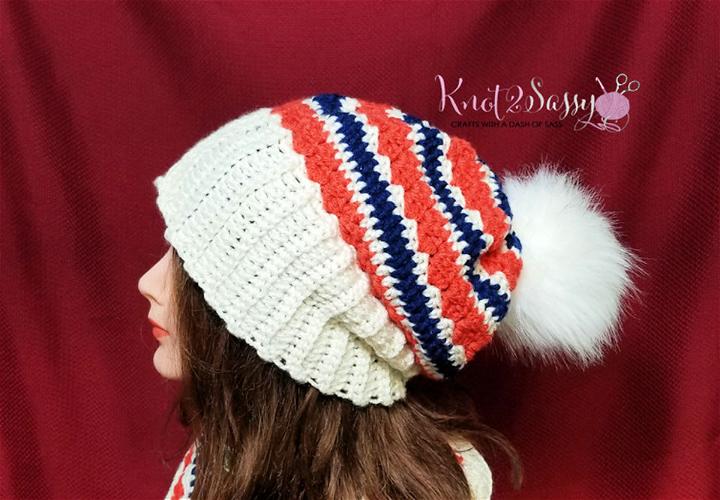 Jaida's beanie crochet pattern is perfect for the whole family! Make this great-looking beanie in three different colors with an extra wide brim. You can either fold over a cuff or leave it down for a more "slouchy" effect. It's easy to master, even for intermediate crocheters; all you need is red heart super saver yarn and h-8 and i-9 hooks. Create your unique style with jaida's beanie crochet pattern – get started today! knot2sassy
22. Crochet Hygge Beanie for Men's – Free Pattern
If you're looking for a last-minute gift, this quick crochet hat is perfect! Crafted from size 5 yarn and a k 6.5mm crochet hook, it's easy to make and sure to impress. You can whip up this hat quickly with simple instructions that are worked in continuous rounds. So don't wait – get crocheting now for the perfect last-minute gift for any occasion. windingroadcrochet
23. Hidden Rainbow Tunisian Crochet Reversible Hat Pattern
Looking for an exciting project to try out tunisian crochet? This free hidden rainbow reversible hat pattern is a perfect choice! Made with premier yarns worsted weight yarn and a 6.5mm tunisian crochet hook, this intermediate-level project creates an adult size 9 (w) x 8 (h) inch hat that will turn heads. With its double-sided hook, you can create two contrasting looks for one gorgeous result –– the perfect way to show off your cro-hooking skills! Get started today and bring your style of creativity to this fun project. nickishomemadecrafts
24. Crochet Mommy and Me Bobble Beanie Pattern Diagram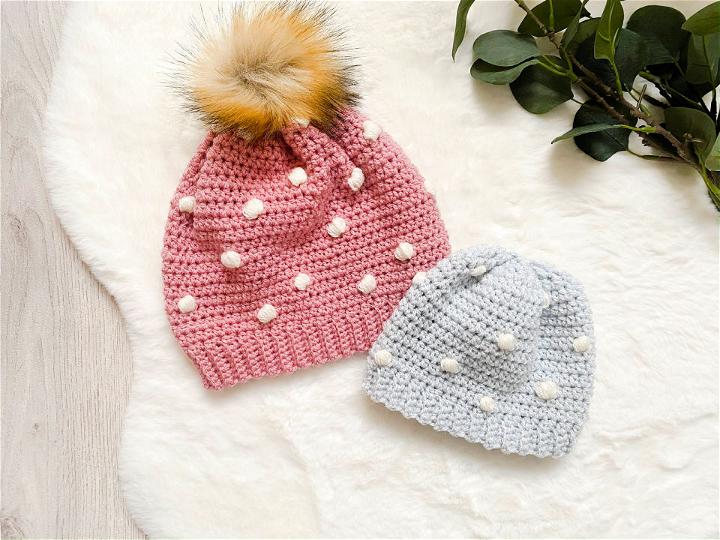 Show your style and make matching bobble beanie crochet hats for the entire family! This beginner-friendly pattern is worked in two colors of aran/worsted weight yarn using hdc & puff stitch. It's simple, quick to work up and can be made for mommy and me or one for every member of the family. All you need is a 4.5mm hook & 100g of yarn in blush to create this unique hat that will keep everyone warm all season long. burgundyandblush
25. How to Crochet Slouchy Beanie – Free Pattern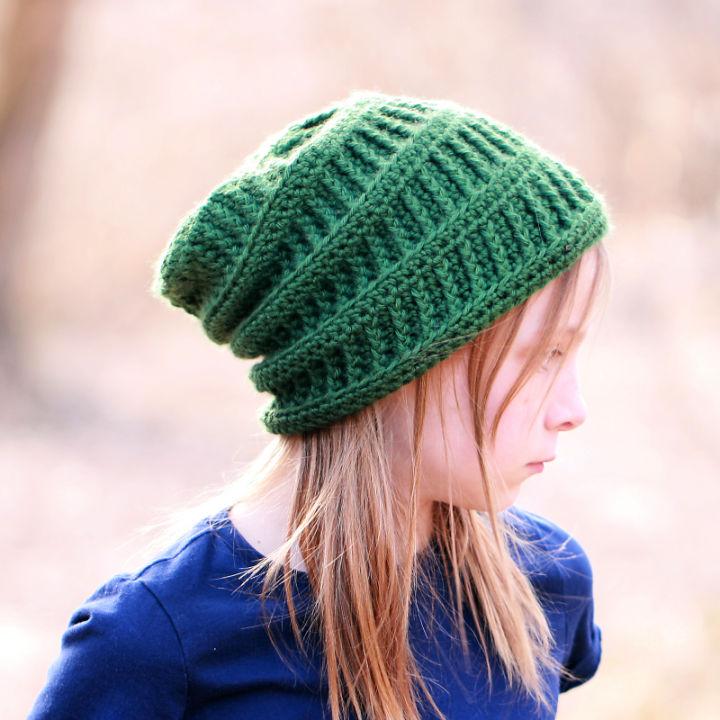 This intermediate level slouchy crochet beanie is the perfect winter accessory! Made using a size j/10 (6.0 mm) crochet hook and worsted 4-medium, 100% acrylic yarn, this beanie will keep you warm all winter long in style. With its soft fabric and unique design, this cozy hat will turn heads on the ski slopes or just out for a walk. Get ready for compliments as soon as people see your stylish crochet beanie – it'll become your go-to accessory throughout the cold months! jenhayescreations
26. Chunky Crochet Slouchy Women's Beanie Hat Pattern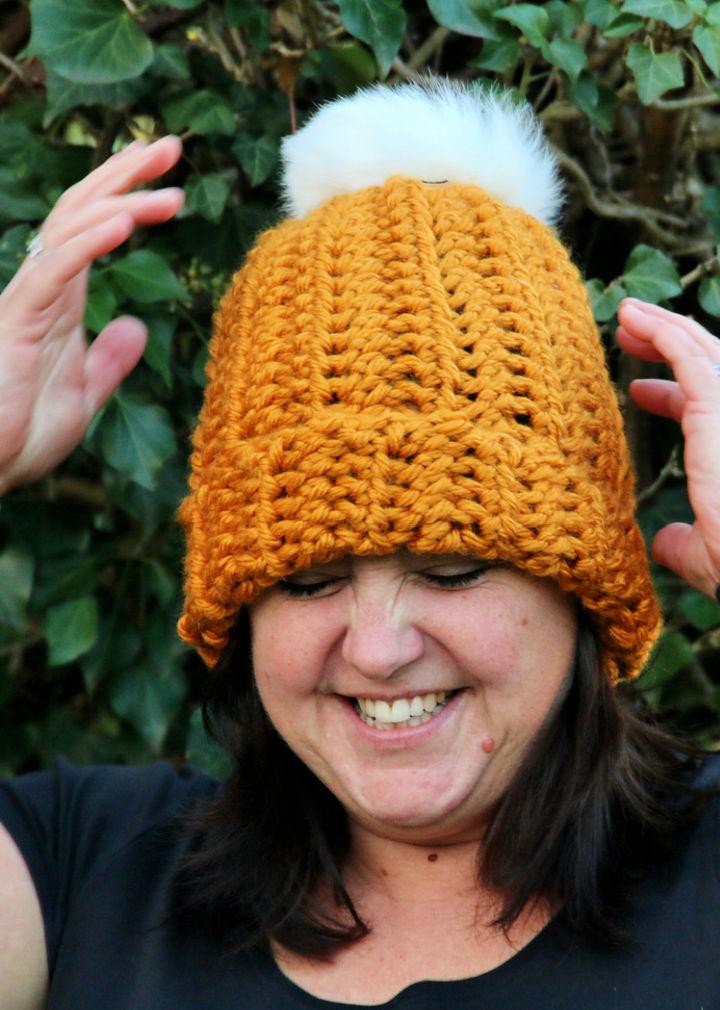 Wrap yourself in style and comfort this winter with a crochet slouchy beanie hat! This easy-to-follow free crochet hat pattern is perfect for beginners, utilizing a 10mm hook and 100% premium acrylic yarn that is durable and machine washable. You can customize your hat in any color or style by matching the yarn! This project has endless possibilities, so make sure to make your very own custom crochet slouchy beanie hat today! offthehookforyou
27. Knit look Crochet Chunky Ribbed Beanie Pattern
Cozy up with the alpi beanie – a modern, knit-look chunky ribbed crochet beanie! This free pattern is easy to make and comes in 8 sizes, from preemie baby to adult. The flat construction runs the length of the beanie for a unique look, plus you can fold down the brim or reduce stitches for a brimless style. Working up quickly with chunky yarn, it's perfect for gifting or adding some warm sophistication to your winter wardrobe! Get started now with this free crochet pattern & video tutorial – your new favorite beanie awaits! forthefrills
28. Simple Crochet Baby Beanie Pattern – 6-12 Months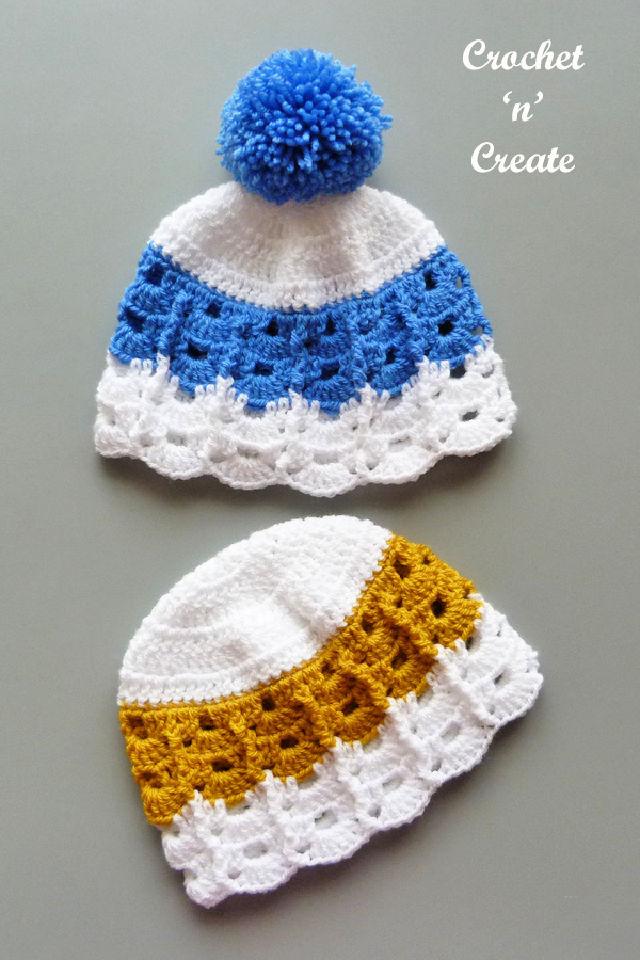 Get ready to make your baby look like the cutest kid on the block with this free crochet cute baby beanie pattern. This quick and easy-to-make hat will keep your little one's head warm and looking great at the same time. The perfect project for intermediate crocheters, it's sure to be a hit in any nursery! Download this adorable pattern for free – you won't regret it! crochetncreate
29. Crocheting a Messy Bun Beanie in Hour – Free Pattern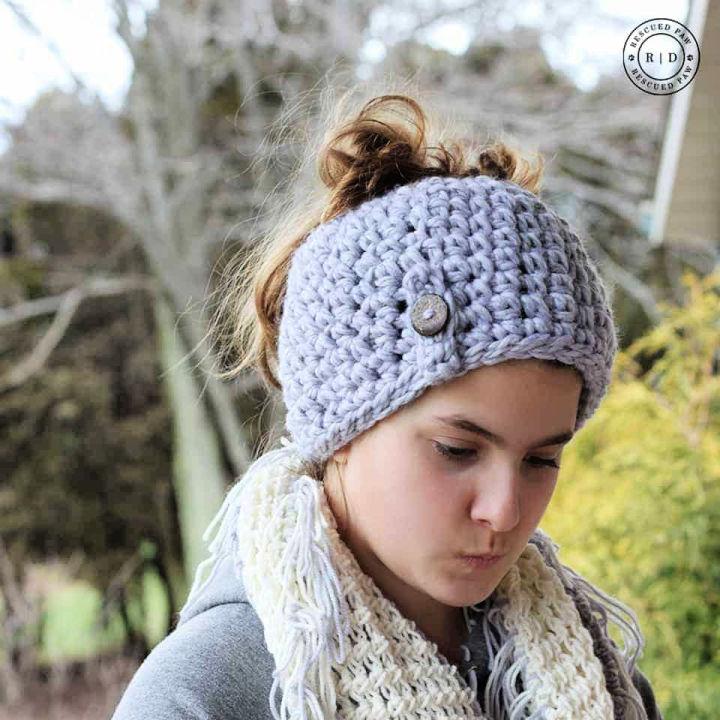 All style-loving ladies and girls will love this free messy bun hat pattern that is the perfect way to make an easy beanie! It's so simple, even beginners can do it in only one hour. Plus, you'll use basic crochet stitches – no advanced techniques are required. You're ready to go with just a hair elastic tie, some #6 weight super bulky yarn, plus a 9mm crochet hook! Get creative with colors and show off your style while keeping those ears warm this winter! Make this fashionable yet functional accessory today with this free crochet pattern! easycrochet
30. Lightweight Crochet Grace Tinley Beanie Pattern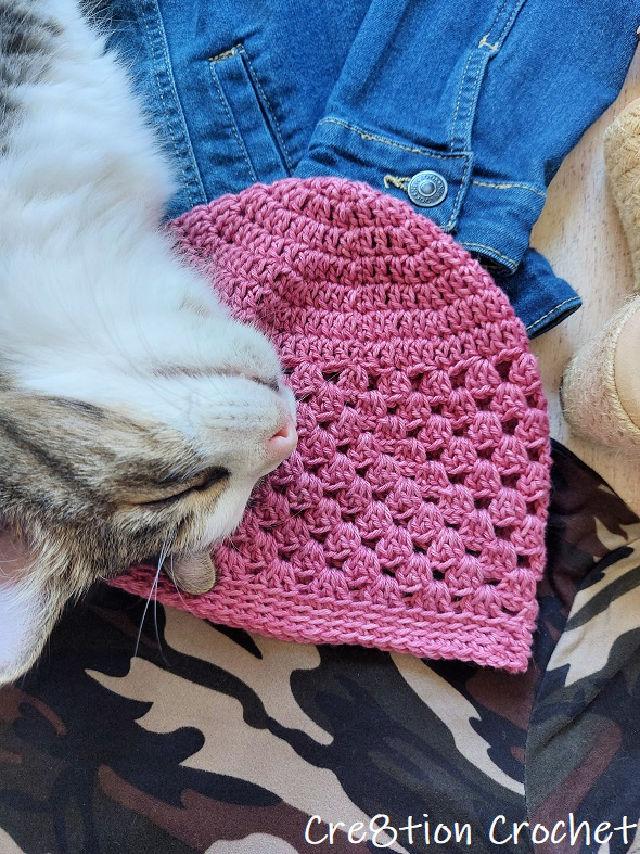 Crochet a stylish, lightweight beanie for everyone in the family with this free pattern and video tutorial! The lightweight grace tinley beanie crochet pattern is an easy-to-follow using classic granny stitch. Choose from 7 sizes to achieve the perfect fit. All you need is #3 lightweight yarn in a very berry colorway and an h8/5mm crochet hook. Get creative, mix colors and textures – make your unique version of this timeless design! cre8tioncrochet
31. Crocheted Woolly Winter Beanie Pattern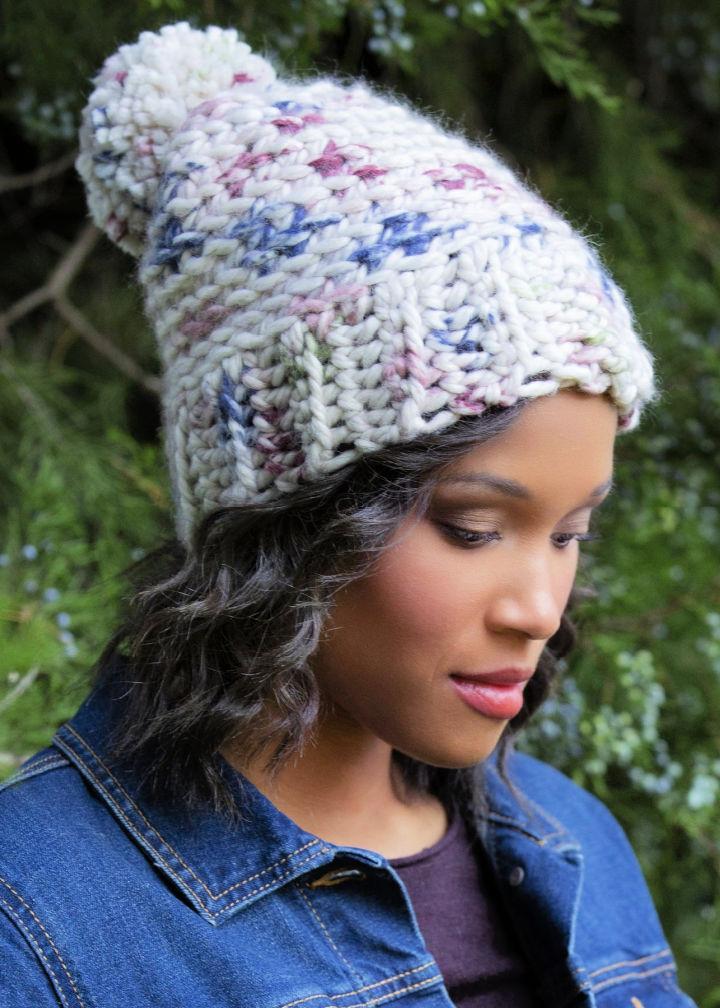 Bundle up for winter and stay toasty with this one-of-a-kind crochet woolly beanie! Crafted from premier yarns so woolly, this chic hat is perfect for chilly weather. It features a classic ribbed brim and an easy-to-follow half-double crochet pattern. The measurements are 17″ in circumference and 9½" in height (not including the large pompom). Grab your us-size p/q crochet hook to get started! This intermediate-level project makes the perfect gift or stylish addition to any winter wardrobe. premieryarns
32. Simple Crochet Crossy Road Beanie Pattern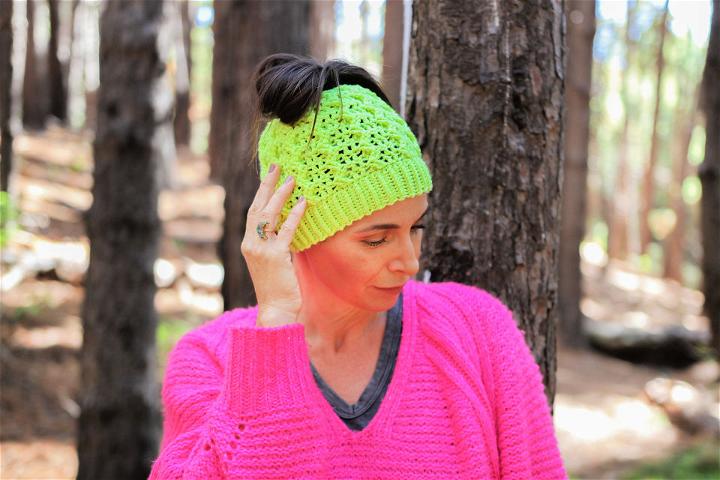 This crossy road beanie crochet pattern is ideal for staying fashionable and warm. You can keep your hair up and your head cozy with a messy bun version. The beanie's finished circumference is 18 in (46 cm) with a height of 8 in (20 cm). The messy bun has the same circumference but a slightly shorter height of 7 in (18 cm). Crochet hooks h & i and worsted weight #4 yarn are needed for this project. Get stylish today – start crocheting the crossy road beanie! clover usa
33. Basic Double Crochet Beanie Pattern for Beginners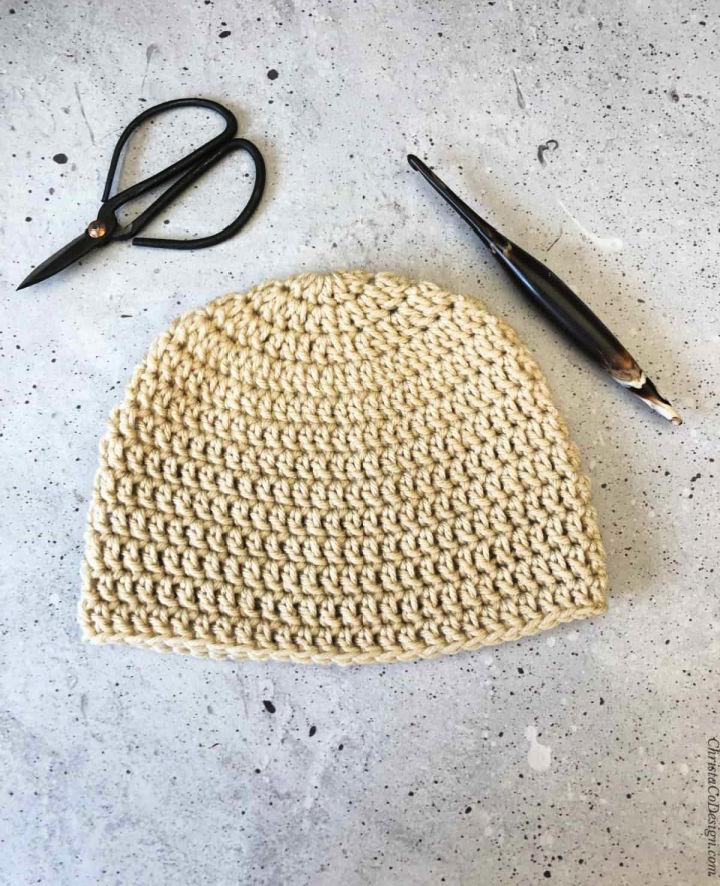 This free crochet beanie pattern is perfect for beginners! Learn how to make a basic double crochet beanie with this easy, beginner-friendly hat pattern. Includes sizes from newborn to adult so you can make the perfect fit for anyone. Crochet up baby hats quickly and easily in time for showers or other special occasions. Get started on your cozy winter wear today! christacodesign
34. Easy Half Double Crochet Beanie Pattern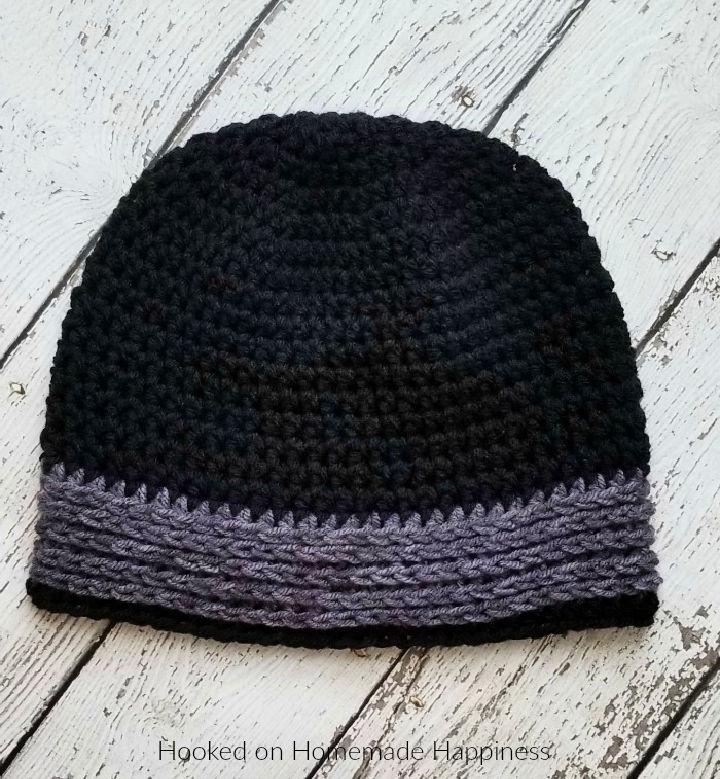 Get your crochet skills praised with this easy all hdc beanie crochet pattern that is the perfect way to stay warm and stylish this winter! Made with worsted weight yarn in two colors, black and dark gray stonewash, all you need is a j/6.0 mm hook and some basic crochet knowledge to make your beanie. This pattern is rated easy, so it's great for beginners or anyone looking for an easy project. Enjoy creating a beautiful handmade item you can be proud of wearing or gifting. Get started on your own easy all hdc beanie today! hookedonhome
35. Crocheted Striped Hipster Slouchy Beanie Pattern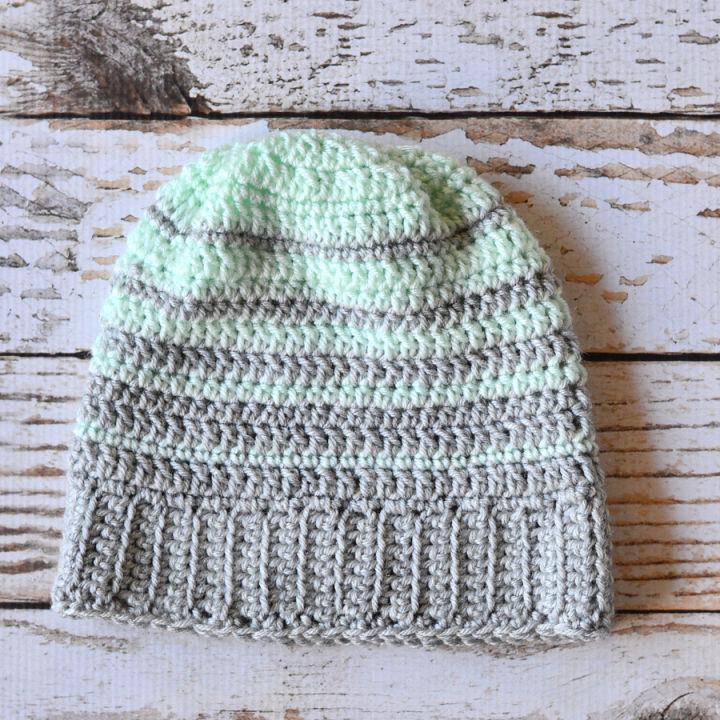 Live in style and stay warm with this striped hipster slouchy beanie! This classic beanie works quickly and is comfy enough to wear all day. You'll need medium-weight yarn and a g hook to complete this stylish beanie. Keep your head warm while looking effortlessly cool in this slouchy, striped design. Get noticed in any crowd with this must-have accessory that easily transitions from winter days to summer nights in style! whistleandivy
36. How to Make an Ollie Slouchy Beanie – Free Crochet Pattern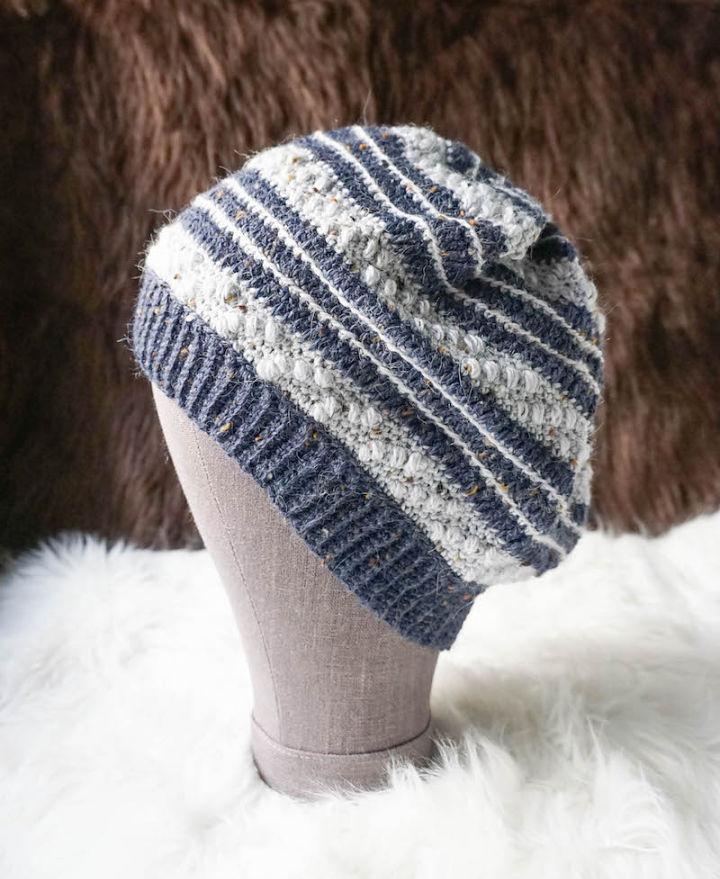 Wrapped in cozy comfort, this crochet masterpiece will ensure you look your best while keeping warm. The ollie slouchy beanie features a modern twist on the classic beanie, using double knitting (dk/light/#3) weight yarn to create stripes and texture. It's perfect for any gender and comes with a free pattern available in sizes from newborn through adult large. Take advantage of it – get crafting today and craft your own stylishly cozy slouchy beanie! undergroundcraft
37. Quick and Easy Crochet Newborn Beanie Pattern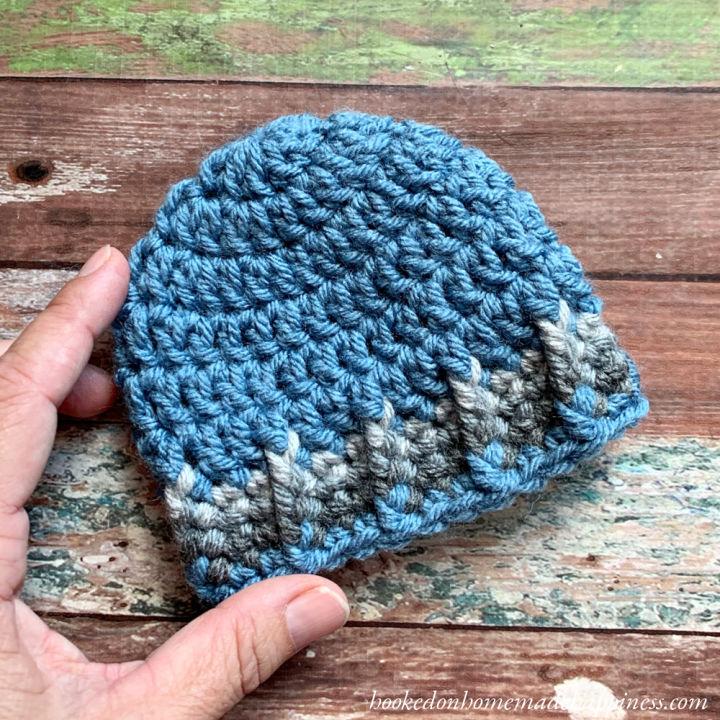 Bringing your handmade vision to life has never been easier with this premie baby beanie crochet pattern! It's quick and easy to make with only 25g of worsted weight yarn in 4 different colors, plus a h/5.0 mm hook. Perfect as a gift or to keep your baby cozy in colder weather! Get creative with color combinations and stitch patterns to create something unique and special that no one else has! This pattern is ideal for anyone looking for an easy-to-make beanie crochet pattern. hookedonhome
38. Simple Single Crochet Beanie Hat Pattern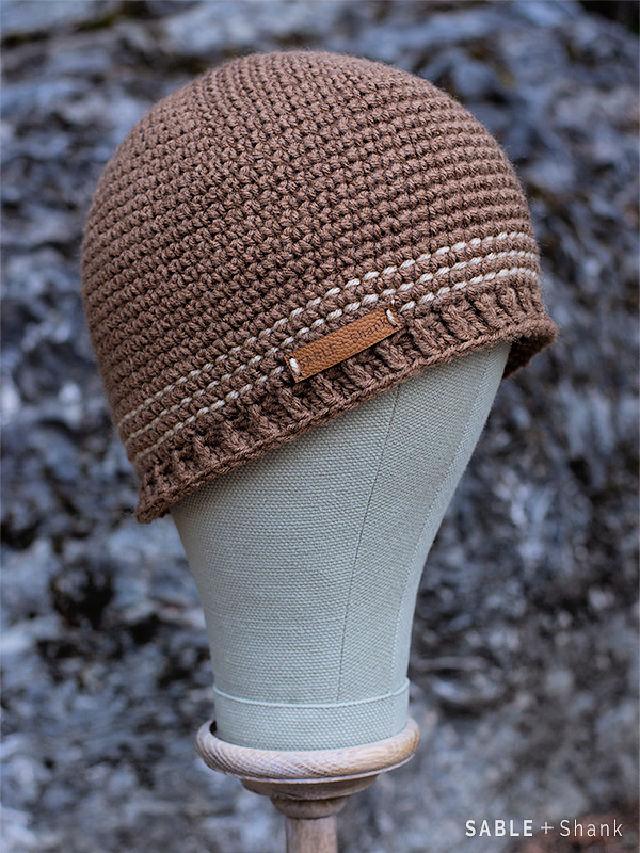 This single crochet beanie pattern fashioned for the male demographic is an optimal means to shield oneself from wintry weather. It's easy to make, requires only basic crocheting skills, and comes in 9 sizes from newborn to adult. To whip it up, you'll need a 5 mm hook and #4 worsted weight red heart super saver yarn in your favorite colors. This classic look always stays in style, so grab your supplies today and get started on this free single-crochet beanie pattern! sableandshank
39. Fast Crochet Super Chunky Beanie Tutorial for Beginners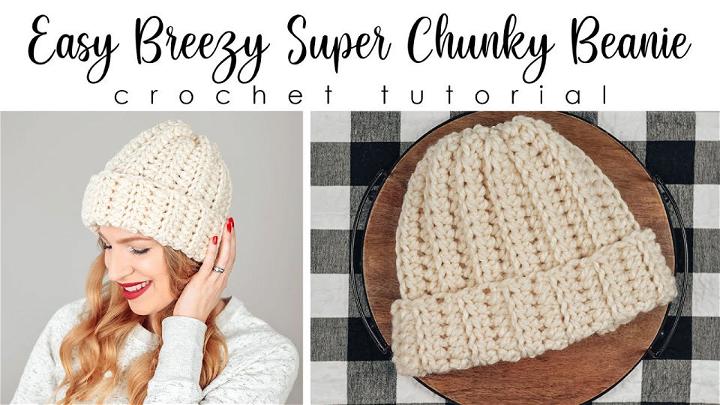 This excellent tutorial on producing a chunky beanie utilizing basic crochet techniques is an effortless pursuit and an ideal starting point for novice crafters! Work up a cozy and warm beanie in 30 minutes using 1 stitch and super bulky (6) weight yarn. Perfect to keep you warm all winter, this pattern requires basic supplies such as a 9.00 mm (m/n) hook, super bulky (6) weight yarn and a yarn needle. Learn the basics of crochet while creating this beautiful hat with ease!
40. How to Crochet a Beanie Hat – Free Pattern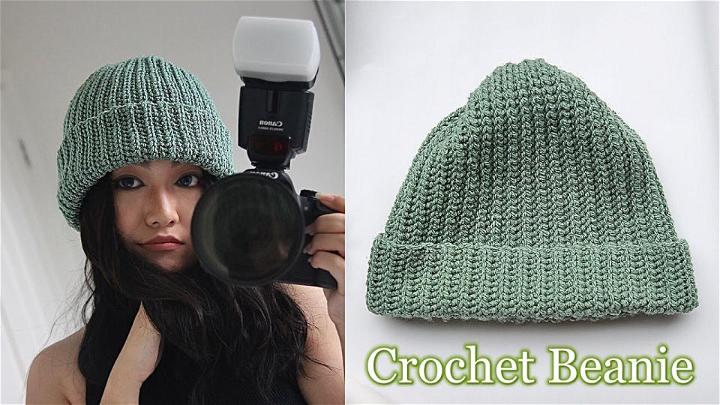 Are you looking for a unique way to create a beanie hat with the look and feel of knitting? This video tutorial will show you how to crochet a beanie hat that looks like it was knitted. Follow along step-by-step as the tutorial explains exactly what stitches and materials are needed and gives tips on customizing your style. With this easy-to-follow guide, you can make an impressive knit-look crochet beanie in no time! Whether you're new to crocheting or need inspiration for making the perfect winter accessory, this tutorial will surely provide plenty of ideas.
Related Free Crochet Hat Patterns
Get inspired with these free crochet hat patterns! Find a new favorite pattern perfect for beginners, experienced crocheters and beyond. Make a beautiful handmade gift or something special just for you!
Conclusion: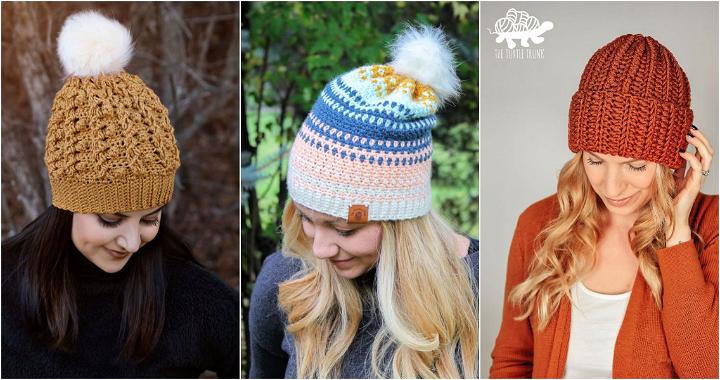 In conclusion, our 40 free crochet beanie patterns have something for everyone, from women and men to kids and adults of all ages. These crochet beanie patterns, including easy designs with step-by-step instructions, cater to various skill levels. Discover free crochet beanie patterns for adults, mens crochet beanies, and single crochet beanie patterns, ensuring a perfect fit for all sizes. Embrace your creativity and expand your crocheting skills with our comprehensive selection of easy beanie crochet patterns.